To not let work become chaotic and stop business management problems from taking a toll on your sanity, we have business management software.
Business management is a challenging task, whether you are a small business owner or the CEO of a large conglomerate. There would always be plenty of activities going on every time. Handling all these tasks on time and in an efficient way is almost impossible.
More and more companies are turning towards business management software to get things done and improve overall efficiency. Thanks to always evolving technology, we have dedicated business software for almost everything nowadays.
The Best Business Management Software in 2023
🌟 Miro – Business Collaboration & Planning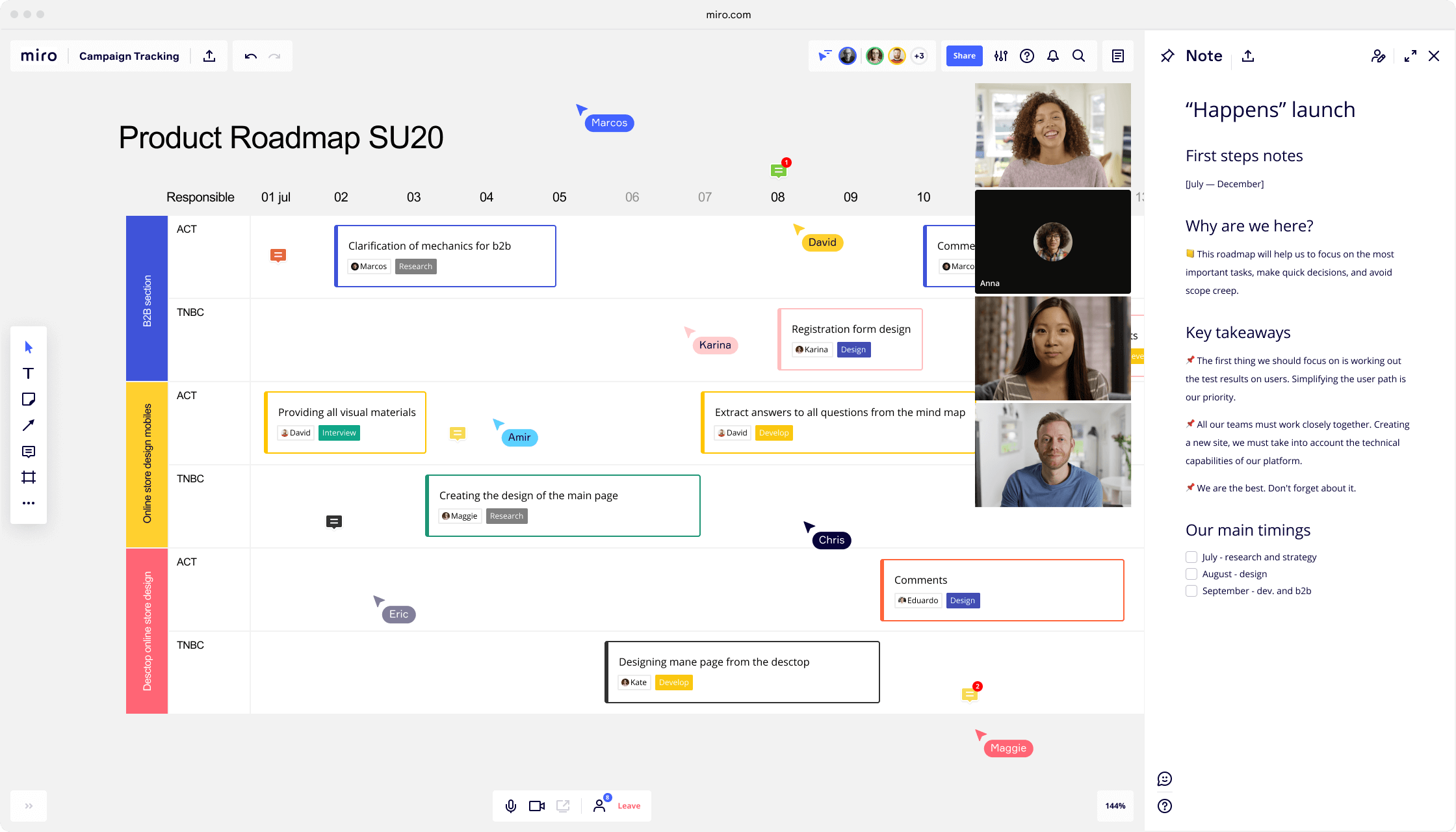 Miro is our top pick for the best business management software in 2023. And the best part is, Miro is also free to use. Ideal for a remote work environment, it can also be used on-site to manage and business and most small businesses prefer Miro.
The whiteboard can be used to plan and facilitate the whole business operations. The whole process can be enhanced on the whiteboard by using sticky notes, emojis, shapes, images, a pen tool, and connection lines.
Miro can be used by teams to video chat and comment capabilities in the software they are using. It gives the user real-time access to innovation strategy and increases the efficiency of the whole work process.
Key Features
With a simple design and easy-to-navigate user interface, a whiteboard is an ideal tool for a remote setting, especially for small businesses.
Miro is available on all devices like mobile phone apps, desktops, and interactive displays. This makes collaboration and team accessibility very smooth and easy.
All of the information shared on the Miro board is guarded with enterprise-grade data protection.
It integrates with over 100 apps such as Zoom, Slack, Google Drive, Jira, and Sketch to name a few.
The Miro board and a smart diagramming feature where help the user think of the next step by giving them different options.
Even though there is a library that is accessible to every with pre-made templates of workflow patterns, the user can even customize them to their business requirements.
Pricing
Free: is free and features are one workspace with 3 editable boards, a library of 1000+ Miro and community-made templates, and app integration.
Starter: at $10/member/month billed monthly. It has all features of the free plan as well as receiving full access to private boards with essential features, and much more.
Business: at $20/per member/month billed monthly. It has all features of the starter plan, along with advanced security measures for collaboration with people outside the team or organization.
Enterprise: the price plan is customized via the sales team. The features can be customized to the user's needs. This plan allows premium customer support to be available 24/7.
---
Business Management Software for Team Chat
Communicating properly is very essential for the smooth running of the business. Business enterprises continuously struggle to find better ways for team communication and collaboration. Team chat apps are in the industry to keep all your company's communications in one place.
These apps make it easier for everyone to collaborate within-group or private chats. Save time and energy by simplifying team chat conversations and organize tasks efficiently.
Various chat apps are available in the market with a wide range of collaborative features for quick communication.
Let's have a look at some of the best ones!
2. Slack – Team Chat App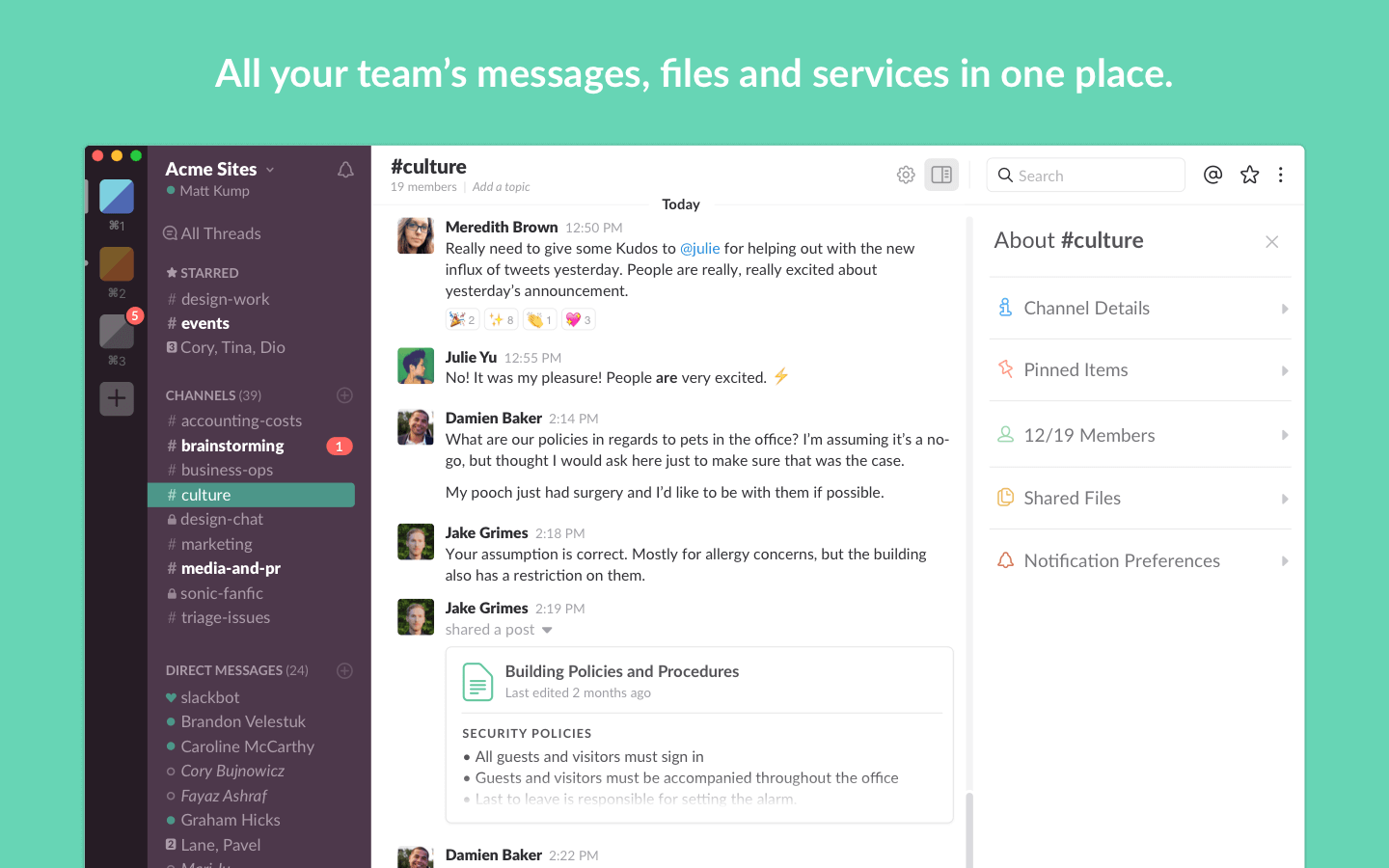 One of the best chat apps that come to mind when we hear about team collaboration is Slack. It was launched in 2013. Slack gained popularity as one of the most popular team chat apps. It assists users to share channels with colleagues. Slack has an intuitive interface and offers a drag and drop approach.
The Slack App Directory can be integrated with over 1,500 apps which makes the workflow smoother. Moreover, Slack offers a freemium pricing plan and is compatible with iOS, Windows, Android, Linux, and the web.
Slack is an excellent online collaboration tool for remote teams. It enhances productivity and collaboration by enabling users to communicate and share data from various formats freely.
Key Features
Multi-user collaboration even with people outside the organization
Audio and video conferencing for seamless collaboration of team members.
Screen sharing option to help you share and collaborate on projects with colleagues.
Discuss your projects in detail and share ideas with dedicated Discussion Threads.
Over 2,000 integrations with powerful apps to save your time from switching between the tabs
Two-factor authentication that keeps your data secured.
Pricing
Free – at $0 per month Slack offers its free version. It includes two-factor authorization, storage of 5GB, and 10 apps or services integrations.
Standard – at $6.67 per month if billed annually. This plan includes Unlimited message search, storage of 10GB, guest access, priority support, group video, and voice calls.
Plus– at $12.50 per month if billed annually. This plan includes everything offered in standard and 20Gb of storage, support for external archiving services, SAML-based single sign-on (SSO), and Real-time Active Directory Sync.
Enterprise Grid– pricing available on a quotation basis. Slack Enterprise Grid features the usage of multiple interconnected Slack workspaces across the organization. It includes unlimited workspaces, integrations with data loss prevention (DLP), offline backup providers, TB (1,000 GB) of storage per user, and much more.
---
2. Zoom – Video Conferencing Software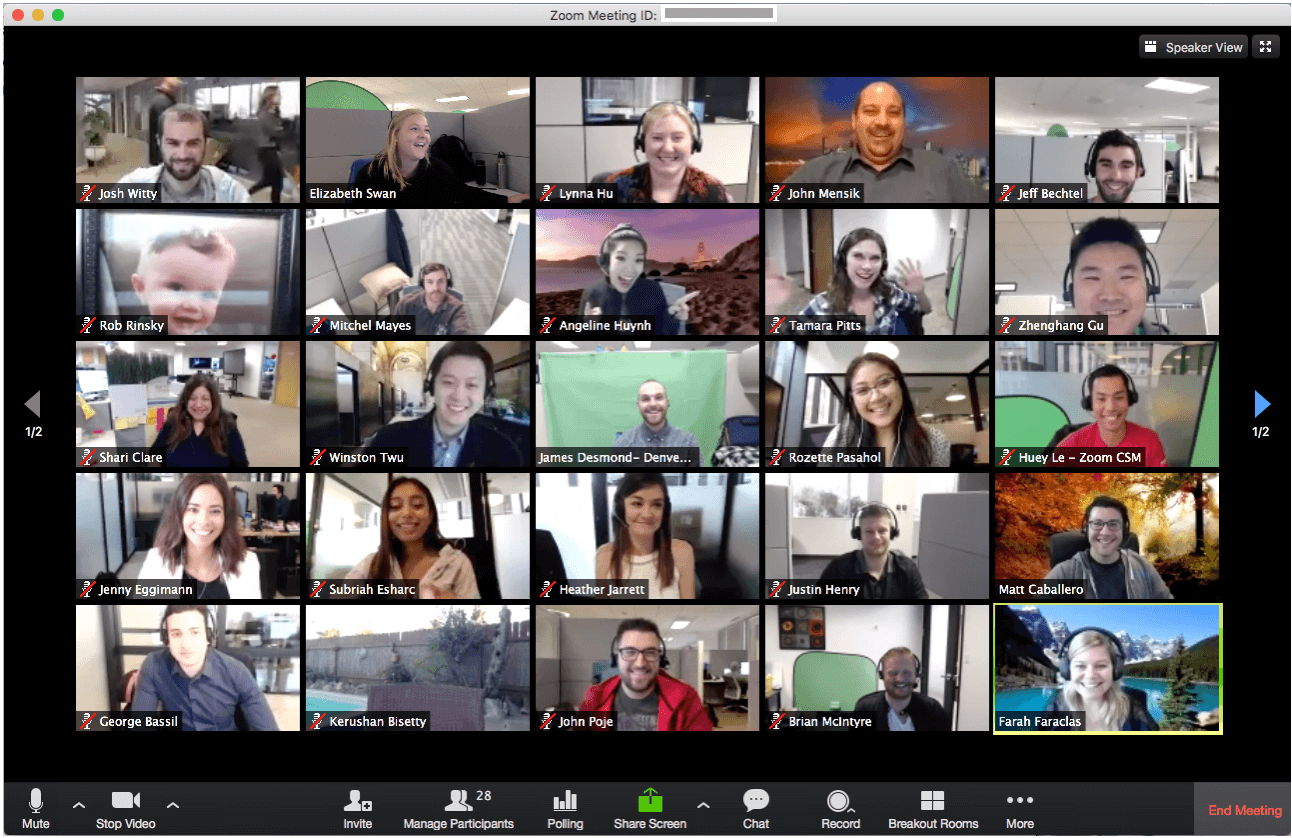 Zoom is another amazing team productivity app used for hosting webinars, conducting online training, virtual meetings, and video conference. It is a cloud-based platform and easily accessible everywhere.
Zoom is designed to cater to the needs of small to medium businesses, enterprises, educational institutions, and healthcare organizations.
From providing seamless communication channels to high-quality HD videos, zoom covers every functionality required for efficient collaboration. Zoom has proven to us that it's every bit deserving of its huge client circle.
It provides the best audio, video call services as well as a screen-sharing experience. Zoom is compatible with Windows, Mac, iOS, Android, and Blackberry.
Key Features
Video webinar with HD quality, for internal and external communications
Cloud and local recording keep your data and sessions backed up for later use.
Chat privately or create groups with Zoom Team Chat.
Integrated scheduling with Outlook, Gmail, or iCal to keep you on track with the schedule.
End-to-end encryption for all meetings, for enhanced security.
Screen sharing feature to allow the other person to view your screen or even take control if you want.
 Pricing
Basic – free of cost. Features such as Video and Web conferencing, Local Recording, unlimited meetings, desktop and application sharing are included.
Pro– at $14.99 per user per month. This plan includes Unlimited meetings admin controls, custom personal meeting ID along with features offered in the free version.
Business– at $19.99 per user per month. This plan includes everything offered in Pro and on-premise options, unlimited group meeting duration, dashboard & user management, single sign-on, and many other features.
Enterprise – pricing available on a quotation basis. Slack Enterprise Grid features the usage of multiple interconnected Slack workspaces across the organization. It includes unlimited workspaces, integrations with data loss prevention (DLP), offline backup providers, TB of storage per user, and much more.
---
Business Management Software for File Management
Nowadays data is considered as currency. Hence, managing data properly is an important task for every business. Thankfully, the evolution of technology has helped us in securing and managing the data.
Cloud storage apps and software has made our life much easier. All the data is now stored at cloud storage on servers. Mentioned below are two of the best cloud storage services for business management.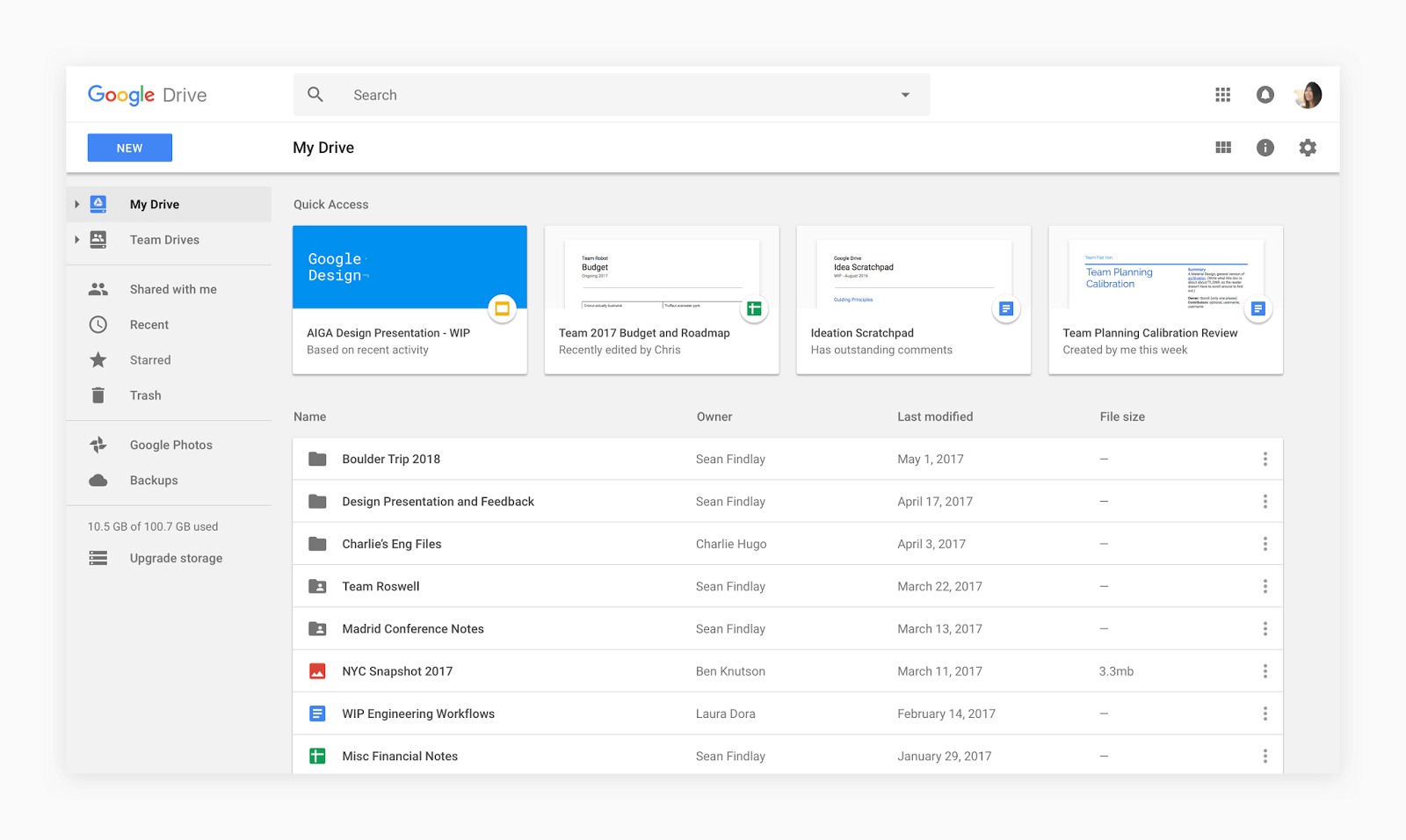 Google Drive is one of the best cloud storage services in the world. It was launched in 2012 by Google. Google Drive is a user-friendly service and is best suited for businesses looking for a reliable office suite.
Google Drive comes with powerful tools and robust features for business collaboration and internal communication. For example, Google Calendar, Hangouts, and more.
With a single Google account, users can manage all their contacts and business needs at the tip of their fingers. It offers apps with offline capabilities for Windows, Mac OS, and Android.
Key Features
Generous free storage space for you to save all your data in one place
Productivity suite collaboration with Google Docs, Google Sheets, and many other apps.
Cross-platform apps to provide easy access to users
History versions of files for the last 30 days to see the modifications and going back to the previous version.
Access your file offline as well by saving them
Pocket-friendly pricing plans for everyone.
Pricing
Google is ready to launch Google one soon. It will be an upgraded cloud sharing software just like Google Drive. Hence, pricing plans for Google Drive are not available. However, Google's offering cloud for business through G-Suite. The pricing plan for the G-Suite edition is as follows:
Basic – at $6 per user/month this plan provides 30GB of cloud storage, 24/7 support, Alert center for G Suite, Video, Messaging, and Gmail.
Business – at $12 per user/month including unlimited cloud storage, Smart Cloud Search, Data regions, and E-discovery for emails, chats, and files.
Enterprise – at $25 per user/month including unlimited cloud storage, Premium Office Suite, Cloud Premium and, Advance Controls and features for Security.
---
4. Dropbox Paper – File Editing and Sharing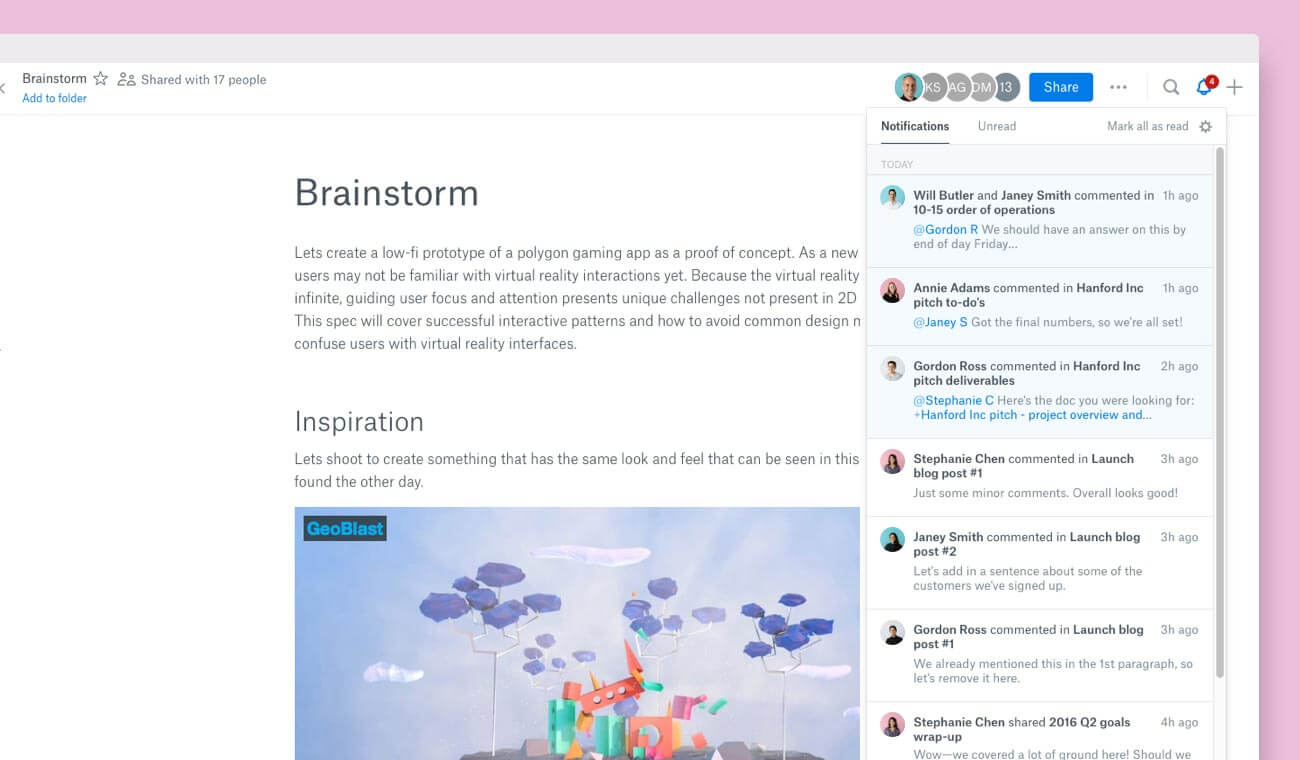 Dropbox Paper is a lightweight, web-based, word processing tool from Dropbox. It is designed to provide a new way to collaborate, organize, and work from anywhere.
It tracks the tasks and documents and assists in analyzing progress. Paper offers integrations for almost all the main cloud services on the market, services like Dropbox, Trello, Google Drive among others.
Furthermore, it provides templates that can be used for new notes, creates folders, and subfolders. Users can also invite a collaborator to work on a specific document or all documents in a folder.
Key Features
Templates for various meeting types.
Provides meeting analytics to get better insights
Malleable digital workspace for meeting participants to collaborate
Real-time sharing and document Collaboration
Support for rich media embeds such as SlideShare, Instagram, Twitter, Spotify, and many more.
Schedules and coordinates meetings between participants.
With File-hosting service, store almost all formats of files on the cloud
Pricing
Dropbox Paper is free to use.
---
Business Management Software for Collaboration
5. Monday – Project Management Software
Check out our top picks for the best Monday alternatives.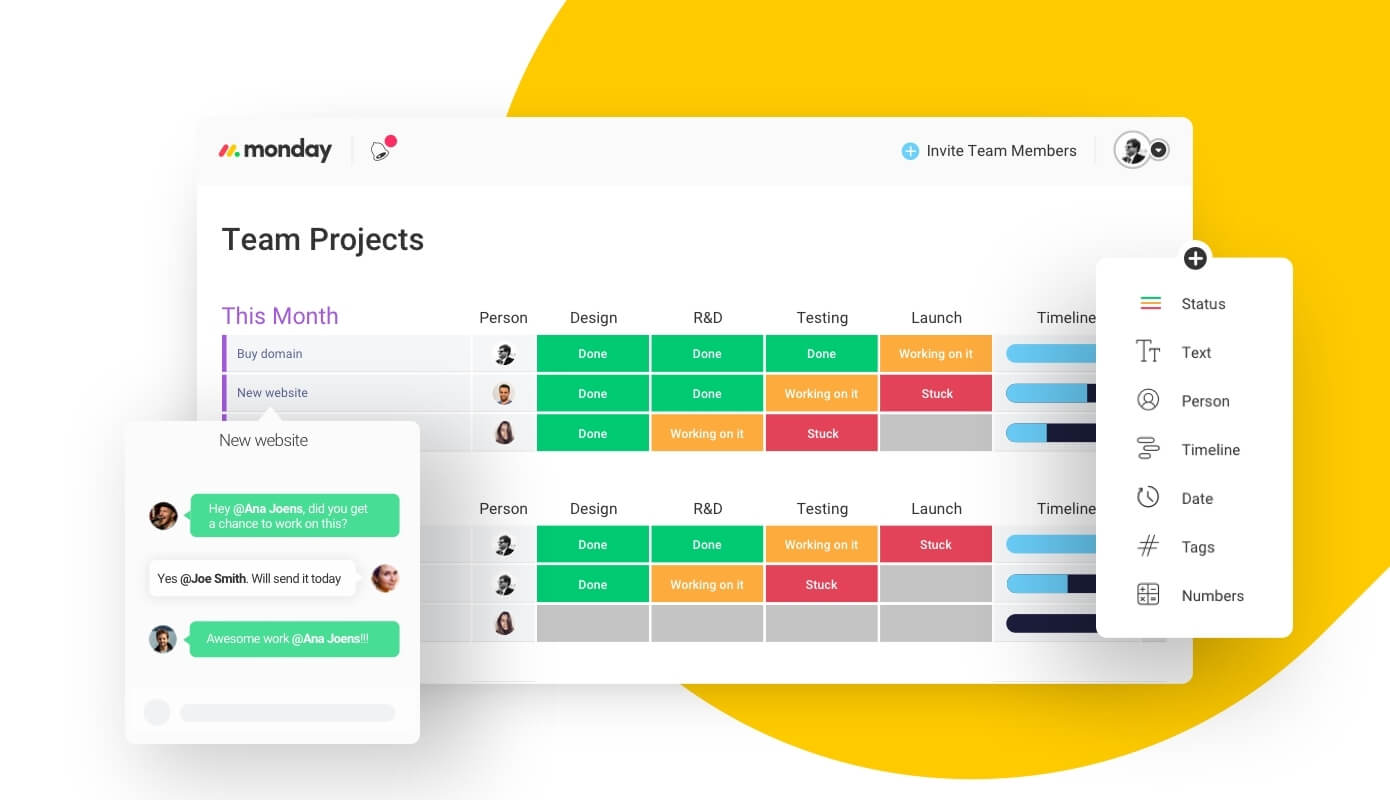 Monday is a cloud-based project management software. It simplifies the process of how teams manage workloads and communicate. The service assists users in project management and encourages knowledge sharing with colleagues.
Monday integrates with various third-party applications. Moreover, it has mobile apps for iOS and Android.
With Monday, it is fun and easy to collaborate and focus on what's important which eventually leads to getting more work done. It's the first visual tool of its kind and shows users exactly where things stand in a single glance.
Users can finally get rid of painfully long email threads and their email clients, cut down on meetings, and experience the satisfaction of turning things green when they're done.
Key Features
Personal and public boards for a more organized feed
Dropbox, Google Drive, Pipedrive Integrationsfor cross-platform collaboration
A many-to-many communication tool that enables users to collaborate across a wide channel
Motivational tool for increased productivity and motivation of team members
Email updates to keep you updated with the activities
Pricing
Monday comes with a free 14-day evaluation trial. Depending on the set of features offered, the software offers four plans, i.e Basic, Standard, Pro, and Enterprise.
Basic – from $17 per month. This version includes unlimited viewers and boards, iOS and Android apps, 5GB storage, email, and phone support.
Standard – from $26 per month. This version includes up to 50 GB storage, 3 dashboards, multiple views, and advanced search.
PRO – from $39 per month. This version includes unlimited storage space, Google authentication, advanced views, and private boards.
Enterprise Plan– available on a quotation basis. This plan all the features included in PRO, 1:1 training, and dedicated customer success manager.
---
6. Asana – Task Management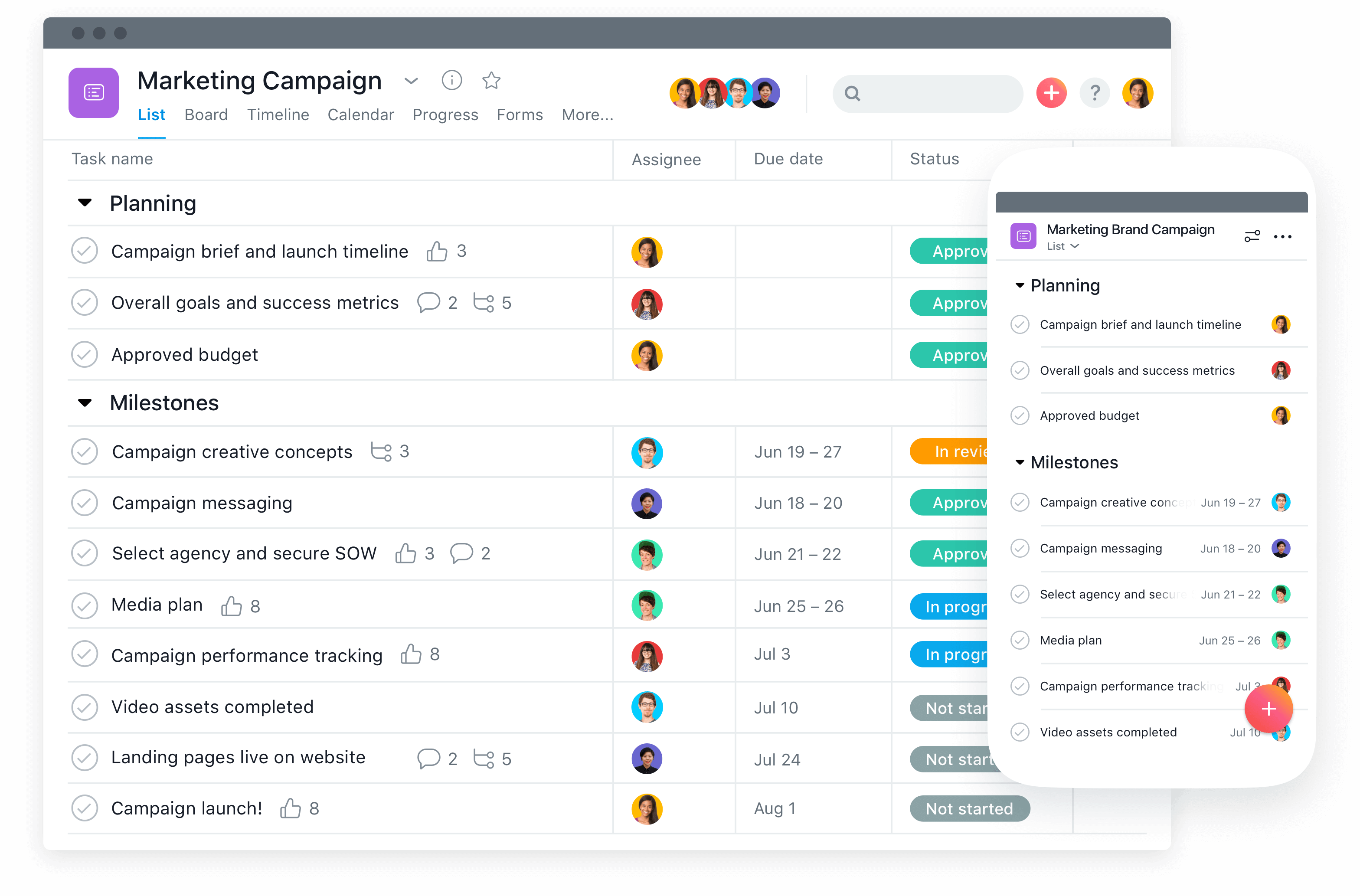 Asana is another SaaS app for flexible task management and online collaboration. It is a productivity and collaboration suite with a highly intuitive and flexible interface. The interactive interface makes it easy to work within teams of any size.
It includes a set of tools to manage task assignments, workload management, and plenty of app integrations. Asana organizes everything from company goals to routine tasks in one place. Arrangement of these tasks at a single platform, helps teams to be clear about priorities and responsibilities.
The software saves your time from shuffling between meetings, email, chat, and spreadsheets to coordinate and manage all of your team's work. Helping you manage your team faster and make a bigger impact.
Key Features
Visualization of your work with Asana's boards
Add followers and track tasks and to keep up with the progress
Automatic updates to email/inbox to help you focus on important activities and tasks
Meet your goals by developing a strategy through task priorities deadlines.
Restrict or grant access across the organization by using project permissions
 Pricing
Asana offers the following pricing plans. A free 30-day trial is also available along with a free version of the software.
Free Plan – free of cost. This version is for teams of up to 15 users. It comes with basic dashboards and unlimited tasks, projects, and conversations.
Premium Plan– at $9.99 per month if billed annually. The plan includes centralized administration, unlimited dashboards, a customer success program, and unlimited dashboards.
Enterprise Plan– available on a quotation basis. This plan includes robust controls, SAML, personalized branding, guaranteed support, and Customer Success Manager.
---
Business Management Software for Accounting and Finance
Financial planning and accounting is a daunting task that would make even the bravest entrepreneur go weak in his heart. Managing finances and accounts is complex and critical. Financing and accounting software is changing the way people do business.
This software help with everyday accounting tasks, sending invoices, tracking receipts, and even planning budgets. Let's have a look at some best accounting and finance software for business management!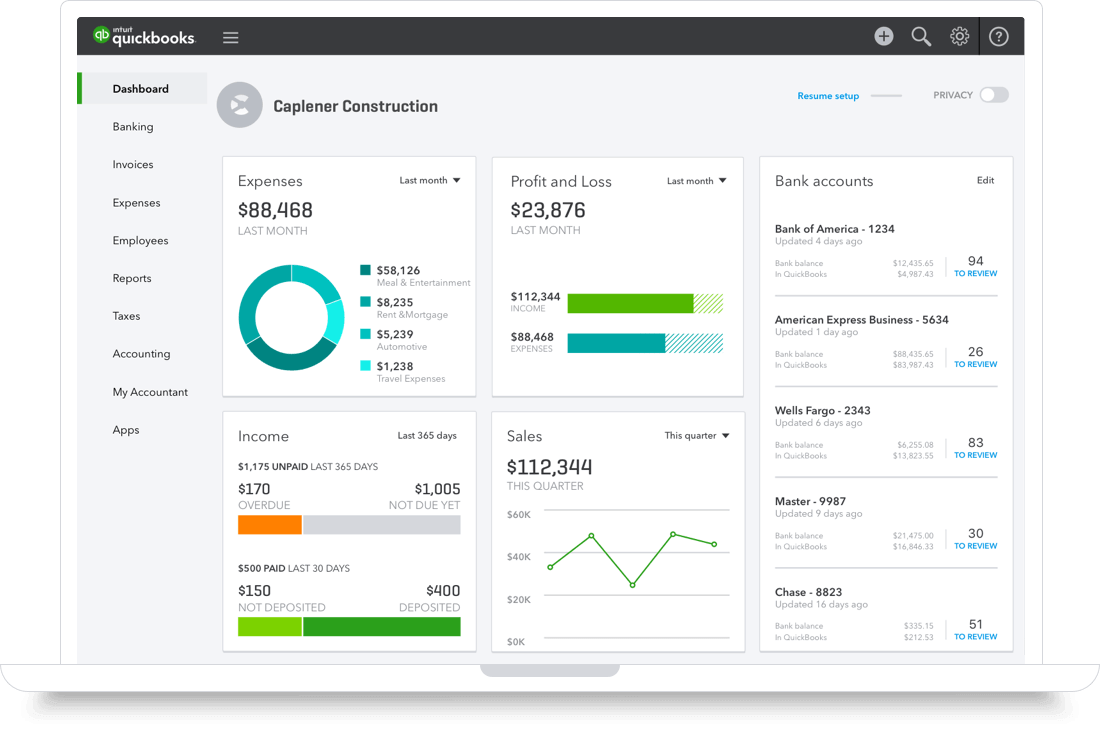 Quickbooks is an app designed to manage finances and accounts on the go. It's easy to use interface makes invoicing and other accounting tasks a breeze. Quickbooks can be used by both small and large businesses. It provides free support and upgrades with the online version.
Along with its pocket-friendly pricing plans, Quickbooks also offers a 30-day free trial. The software includes functionalities such as managing inventory, tracking sales, generating reports, and running payroll.
Key Features
Organize and save your receipts by scanning them in QuickBooks.
Business Expense tracking and sorting for easy tax deductions.
Progress invoicing for accepting payments online and throughout the projects.
Accurate Estimates & Quotes for future financial strategy.
Automated updating and tracking of inventory with reports.
Friendly and accessible Customer Service and Support around the clock.
Pricing
QuickBooks has four pricing plans with monthly subscriptions along with a free 30-day trial.
Free – free of cost. This version comes with customer support, integration with apps, and a secure bank connection.
Self-employed – at $5 per month including income and expense tracking, quarterly tax estimations, run reports, and invoices.
Simple Start– at $7 per month. This plan includes track sales, sales taxes, run reports, send estimations, and maximize tax deductions.
Essentials – at $17/month. This plan includes bill management, multiple users, run reports, track time, invoice & accept payments.
Plus – at $25/month. This plan includes managing 1099 contractors, track inventory track sales, sales tax, run reports, and maximize tax deductions.
---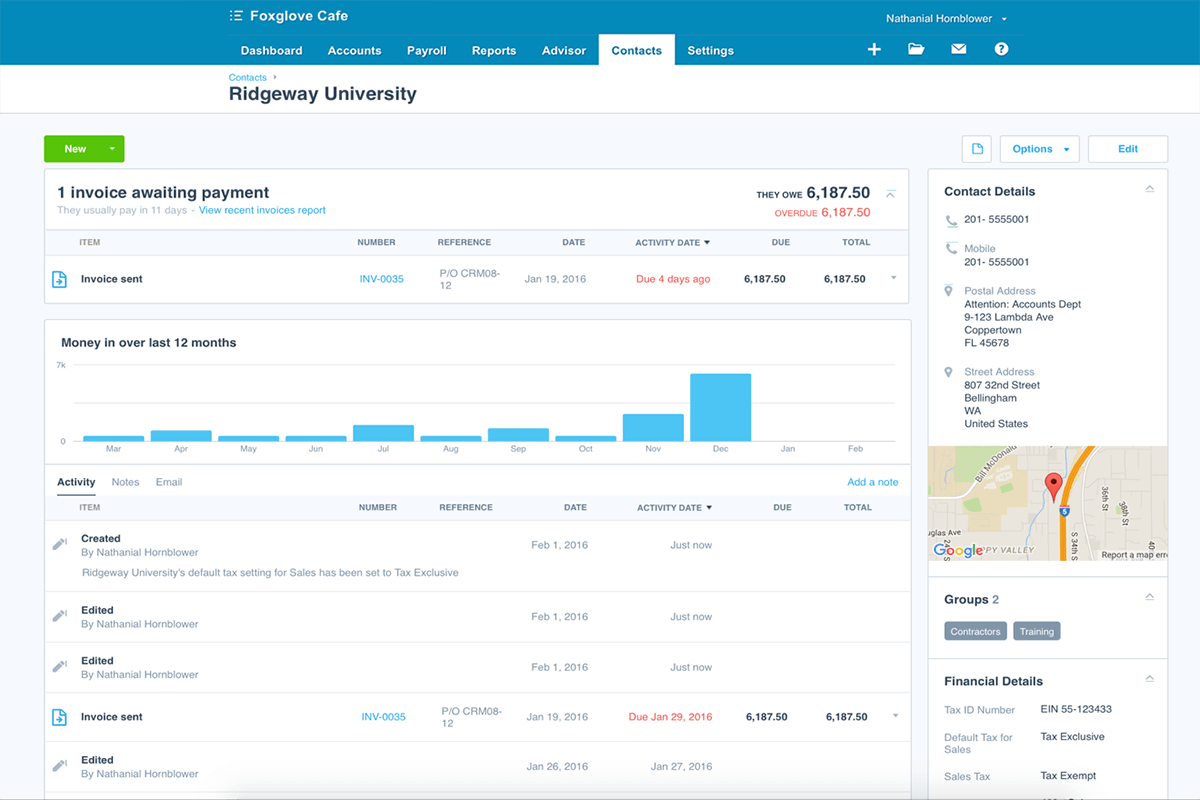 Xero is cloud-based accounting software that has been in the race for the top accounting software since 2006. It has proven its worth and has given QuickBooks a run for its money.
This cloud-based accounting app assists users to reconcile, create and send invoices, create expense claims, and record receipts. Xero can be accessed anywhere with an active internet connection. It is most suitable for small and growing businesses.
The software connects businesses with their trusted advisors and provides business owners with instant visibility of their financial position.
This business accounting software comes with robust and complex accounting features, ample reports, 700+ integrations, and unlimited users. It has an intuitive and modern UI of cloud-based software.
From handling sales and purchases to bills and expenses, Xero takes care of everything to give you a worry-free accounting experience. The company keeps on adding more features to make the software unbeatable.
Key Features
Correct and re-allocate transactions with Find & Recode in minutes
Stay updated anywhere wit Xero Mobile App
Evaluate your gains and losses across multi-currencies
Manage outstanding payments with automated reminders.
Accurate and timely financial reports and budgets to help you track your finances
Easy cash flow management with categorized bank transactions.
24/7 customer service and support at your tips for assistance.
Pricing
Xero offers three main monthly subscription pricing tiers and all of its plans include nearly every feature. It offers a 30-day free trial as well.
Early plan – starts at 9$ per month. This version comes with five invoices, reports, unlimited users, live bank feeds, and up-to 20 transaction reconciliations.
Growing – at $30 per month including unlimited users, bill management, unlimited invoices and quotes, and reconciliation of bank transactions.
Established – at $60 per month. This plan multi-currency support, project management, reconcile bank transactions, and unlimited invoices.
---
Business Management Software for HR and Payroll Management
Every successful company's success relies on its talented staff members. To maintain employee's trust and confidence, the organization needs to have a reliable payroll system and a proper channel of managing human resources.
This is where HR and Payroll Management Apps comes in. These apps are beneficial for any type of organization.
Payroll processing, payroll management, deduction and installment details, and many other similar tasks can be managed using these apps. Down below, we have mentioned the top-notch apps for managing HR and Payroll:
9. BambooHR – HR Management Software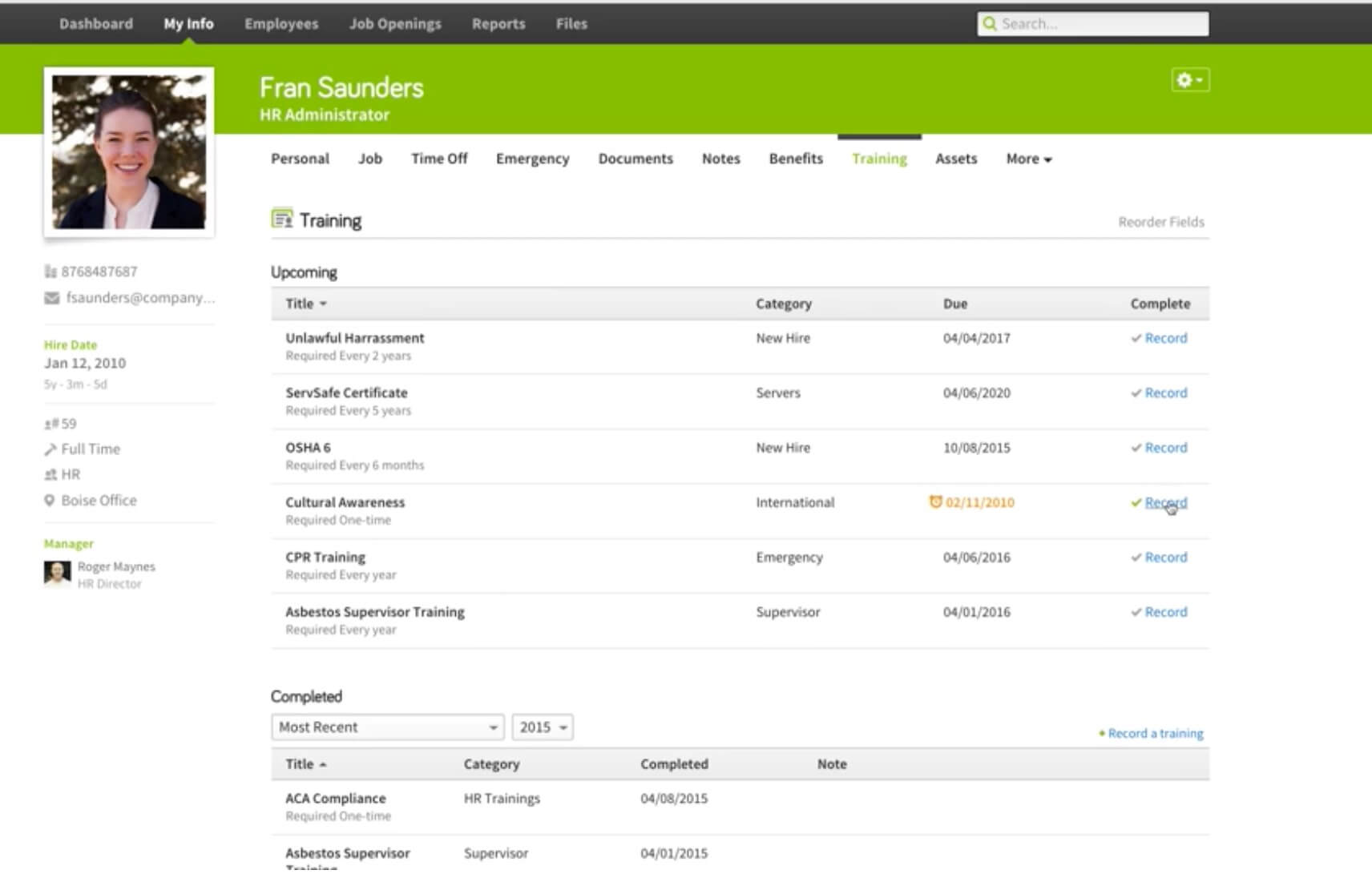 BambooHR is a cloud-based software service providing online HR solutions for small and medium businesses. With its extensive features, it has outgrown spreadsheets.
BambooHR is an intuitive and affordable solution for growing companies to manage all aspects of the employee lifecycle. HR managers are empowered to track organizational data with ease. They can customize the software according to their needs and automate the HR process.
The software is available in multiple languages and currencies. Organizations can limit access to software, maintain multiple administrator seats, and provide user support using BambooHR. Some of the famous clients of popular software include Fitbit, FreshBooks, Klout, Squarespace, among many others.
 Key Features
Extreme security with SSL for secure data storage
It can be used by different people from varying regions as it offers multi-languages.
Keep all your employee's information in one interactive Centralized Employee Database
Simplified hiring and employee management with Applicant Tracking System
Automated Email Invitations & Reminders that keeps everyone in sync with the schedule
Employee Self-Service to grant employees access to their personal information
G suite integration that enhances the overall effectiveness of the software
Pricing
BambooHR's pricing details are available on a quotation basis. However, the software offers a free version. Discounts are available depending on the number of employees managed. Pre-payment and not-for-profit discounts are also available.
---
10. Zenefits – Benefits, Payroll, Performance Management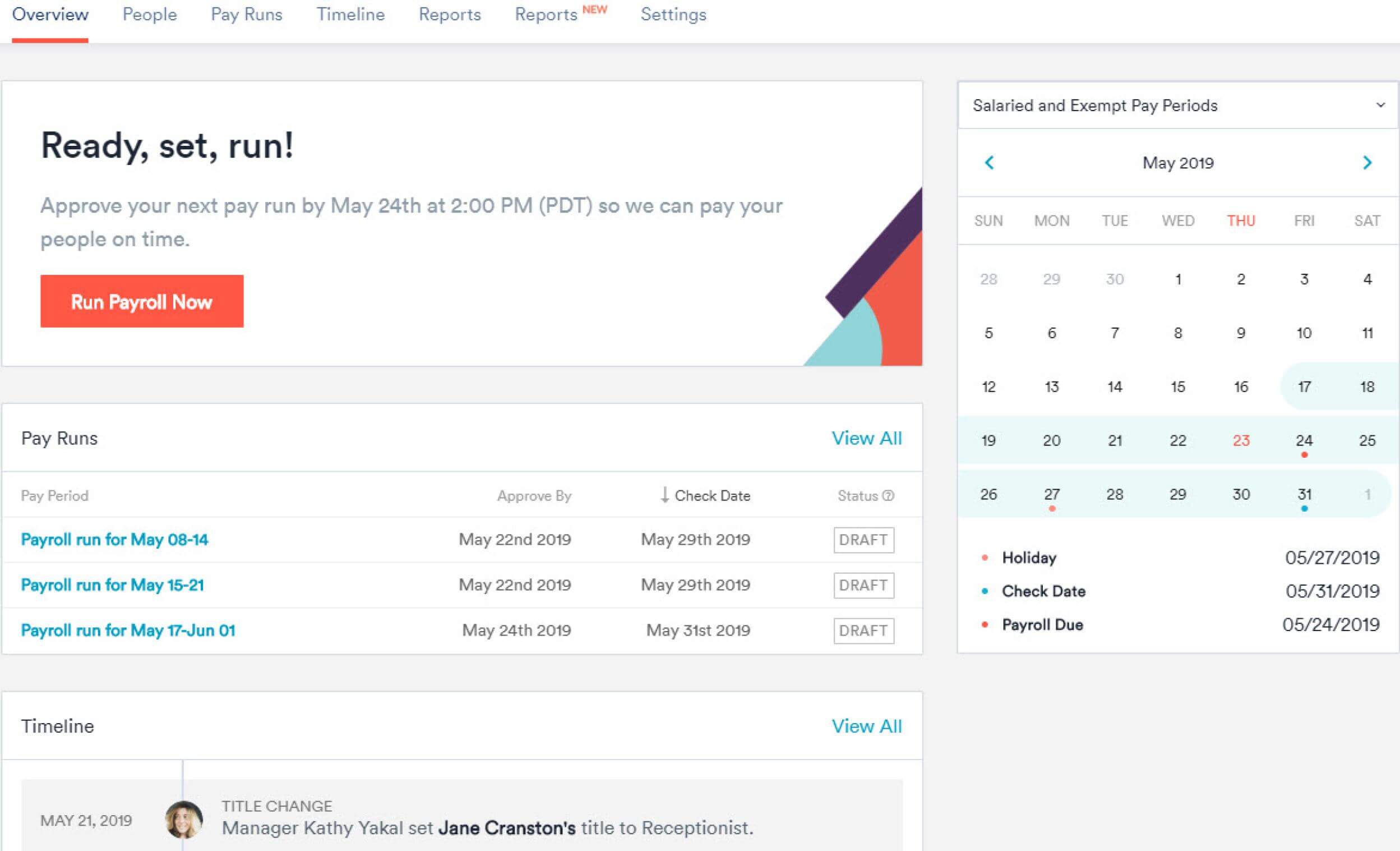 Zenefits is an all-encompassing cloud-based HR management software that is designed to help small and mid-sized companies to manage their human resources. This HR management software radically simplifies HR administration with its HR, Benefits, Payroll, Performance apps, and Advisory services.
It is integrated with partner apps to reduce paperwork and complexity so your company can focus on growing the business. Zenefits provides a platform that can be easily understood and used by an ordinary person. It stores the time and attendance of its users and supports Integration.
Another great thing about it is that it provides completely automated and electronic employee onboarding services. It integrates all the functions of HR management under one roof.
In a nutshell, the system is a great value for the price with almost all the necessary features included!
Key Features
Manage payroll earnings, deductions, and taxes online with automated data entry
Get real-time analytics and reports on employees anytime
Manages employee onboarding by digitizing the paperwork related to new hires.
Provides ultimate Security by following the highest encryption standards
Self-service portal for employees to update their personal information
Pricing
Zenefits does not offer any free trial but it has the following pricing plans to choose from:
Standard – at $5 per employee/month + $40 base fee per month. This version offers HR Platform2, custom fields, business intelligence, and documents app.
Advanced – $9/employee per month + $40 base fee per month. It includes HR library, HR Platform2, time-off tracking and it is ACA Compliant.
---
Business Management Software for Mind Mapping
With the advancement of technology, the traditional ways of organizing business have changed immensely. Mind mapping and brainstorming, nowadays, have become very beneficial for business management. These methods can save your time and energy hence improving your productivity.
Whether your business is small or large, proper organization is very important for your company's success. There are many business management software which is highly useful for all forms of businesses. Let's have a look at some of them.
11. MindMeister – Online Mind Maps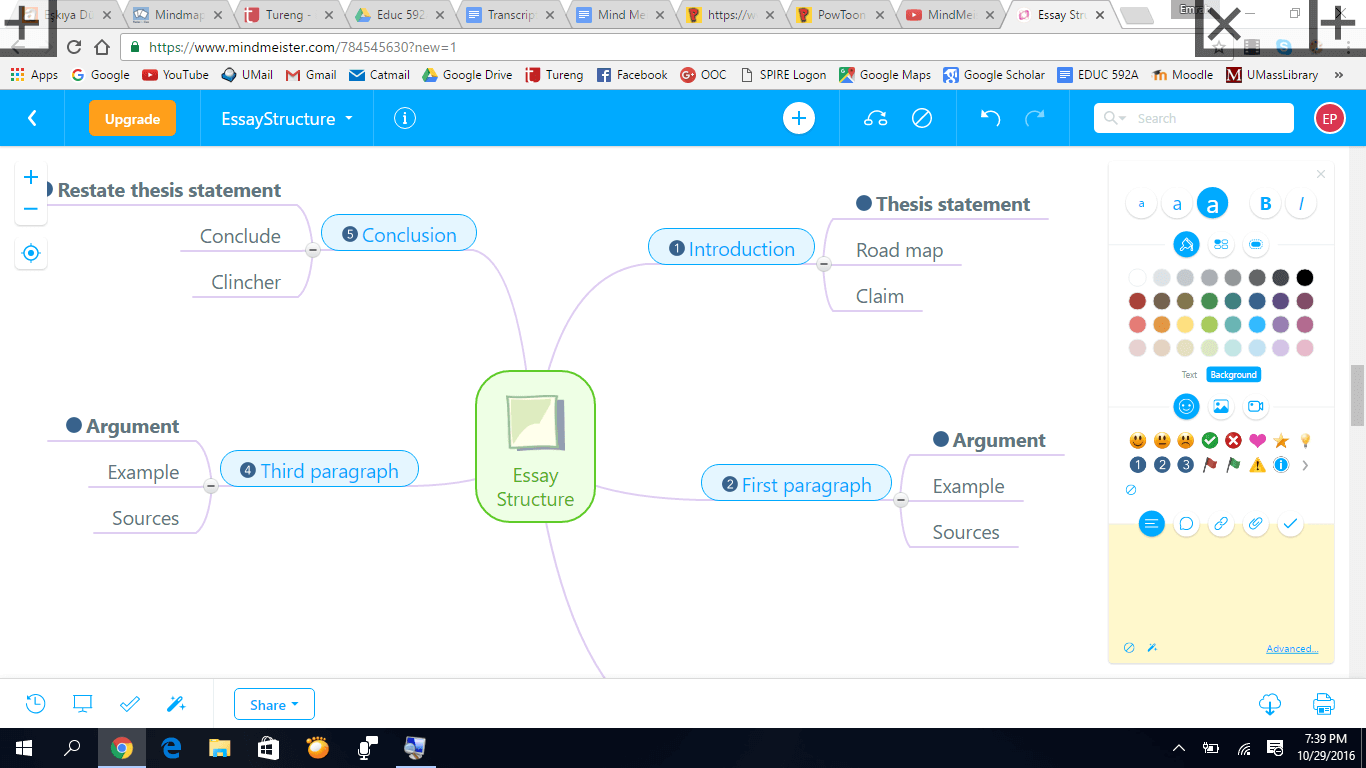 MindMeister is a web-based mind mapping tool through which you can develop, sketch, and share your ideas and concepts graphically.
It is useful for all the people who want to generate new ideas for their business, take notes on important events, and plan their projects perfectly.
Within MindMeister, there is an app called MeisterTask. After planning your project or task through mind mapping, in MindMeister, you can drag and drop it into MeisterTask for complete project management.
You can collaborate anywhere at any time and easily share your ideas with your friends and colleagues.
Key Features
Easy and effective communication with mind-blowing brainstorming of valuable ideas and that also in one place.
It is an award-winning app for mind maps that can be saved in any gadgets such as your phone, Windows PC, Linux Computer, Mac Cloud, etc.
With its History Mode, you can review and change your mind map at any time. You can also keep a track of who collaborated or contributed when to your mind map.
Importing and exporting mind maps is real quick and easy.
This software also helps educational institutions to study more successfully and creatively.
Pricing
The following paid plans are available with MindMeister:
Basic – You can choose the basic plan which is free of cost and it gives you 3 mind maps, which you can share, collaborate, and export.
Personal – Personal plan comes with a cost of $4.99 per month. This plan includes all the features of the basic plan as well as other features such as unlimited mind maps, file, and image attachments, image and PDF export, and mind map printing.
Pro – This plan is for $8.25 which is billed monthly. Pro plan includes all the features of a personal plan with multiple features. These features include multiple team members with an admin account, G Suite for domains sign-on, Word and PowerPoint export with custom designs, themes, and boundaries for mind maps.
Business – The business plan has all the features of the Pro plan and other features like groups within the teams, compliance exports and backups, custom team domain, multiple team administrators, and priority email and phone support.
---
12. Cacoo – Workflows and Processes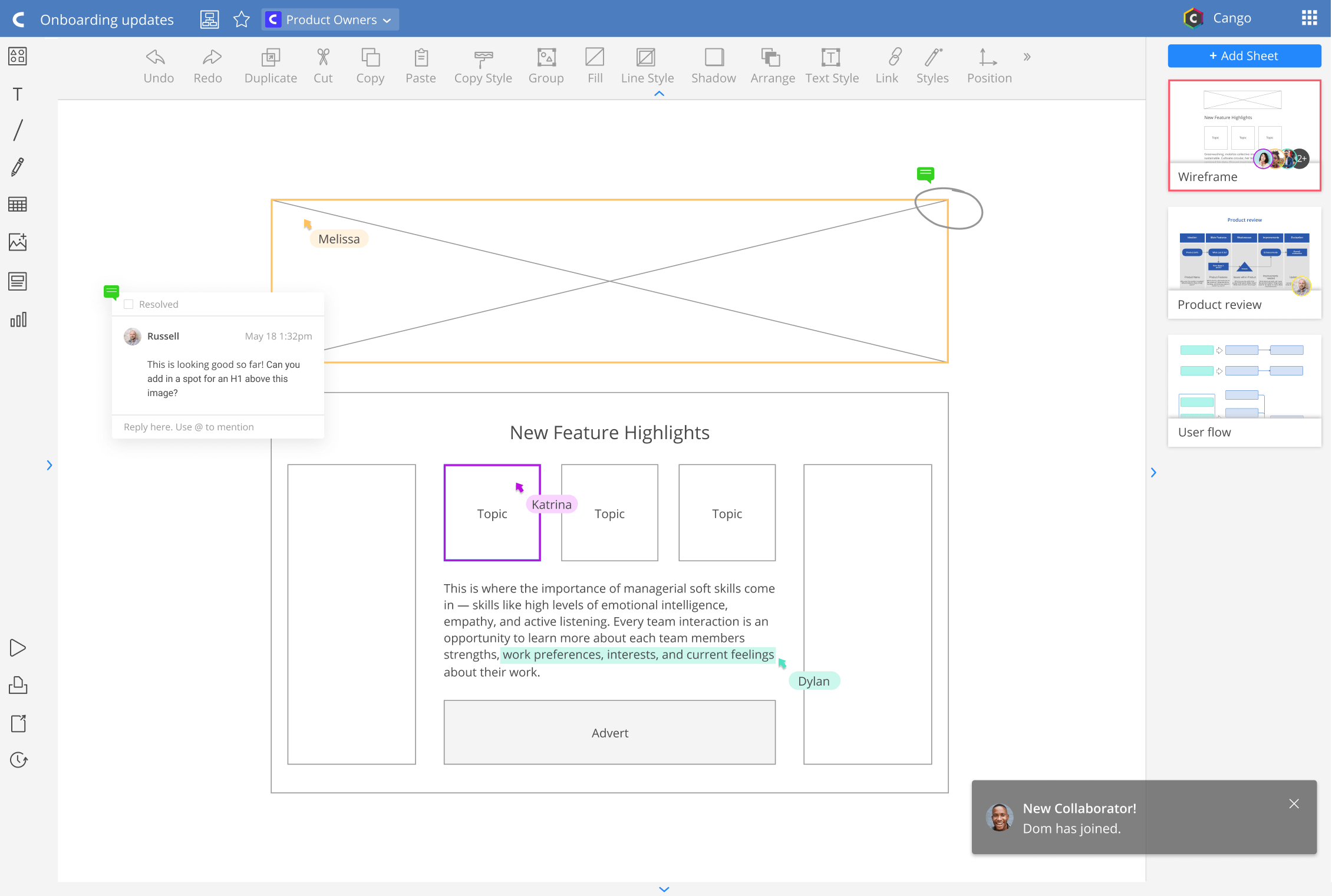 Another app for mind mapping and brainstorming is Cacoo. This app will help you to simplify and brainstorm your ideas, organize them, and present them in the form of flowcharts or mind maps. For a creative and integrated workflow, Cacoo is your partner.
With a range of different templates and app integrations, Cacoo is among the best software for business management. For team development, product design, it's marketing, project managing, and many other services, you can trust this app.
Key Features
Multi-user editing, in-app comments, revision history, and activity notifications make collaboration efficient and quick.
You can improve your teamwork association by sharing diagrams and folders with one click, you can export files as SVG, PDF, and more, you can insert diagrams in web pages and wikis and you can present your diagrams as slides in presentation mode.
The tools which can improve your workflow are revision history, exporting options, dynamic charts, embedded diagrams, Visio alternative, AWS importer, and integrations.
Pricing
Cacoo has 3 plans with annual and monthly payments and gives 2 months for free. The pans are explained with their prices below.
Free – This free plan is for 2 users. It delivers many features for its customers like 6 sheets and up to 15 collaborators, exporting files in PNG format, and up to 500 KB size file upload.
Pro – This Pro plan is for a single user and it costs $6 per month. It provides unlimited sheets and unlimited sharing to its customers. Other than this, the features of this plan include many export options such as SVG, PDF, PPT, PNG, and PostScript. The file size for upload is 10 MB along with revision history and user permissions.
Education – This is a multi-user plan with a cost of $9 per month for 3 users maximum but it is for members up to 200. It provides unlimited sheets and sharing with SVG, PPT, PNG, PDF, and PostScript export options, up to 10 MB size of file upload, revision history, and user permissions.
---
Business Management Software for To-Do Lists/Note-Taking
Note-taking and making lists of upcoming projects or tasks have become a prominent process in the companies and organizations that want to excel in the field of business.
These methods can streamline difficult tasks by dividing them evenly. Processes that are split into parts are easier to perform. Several apps can make your work easier and restructured and they are mentioned below:
13. Evernote – Note-Taking App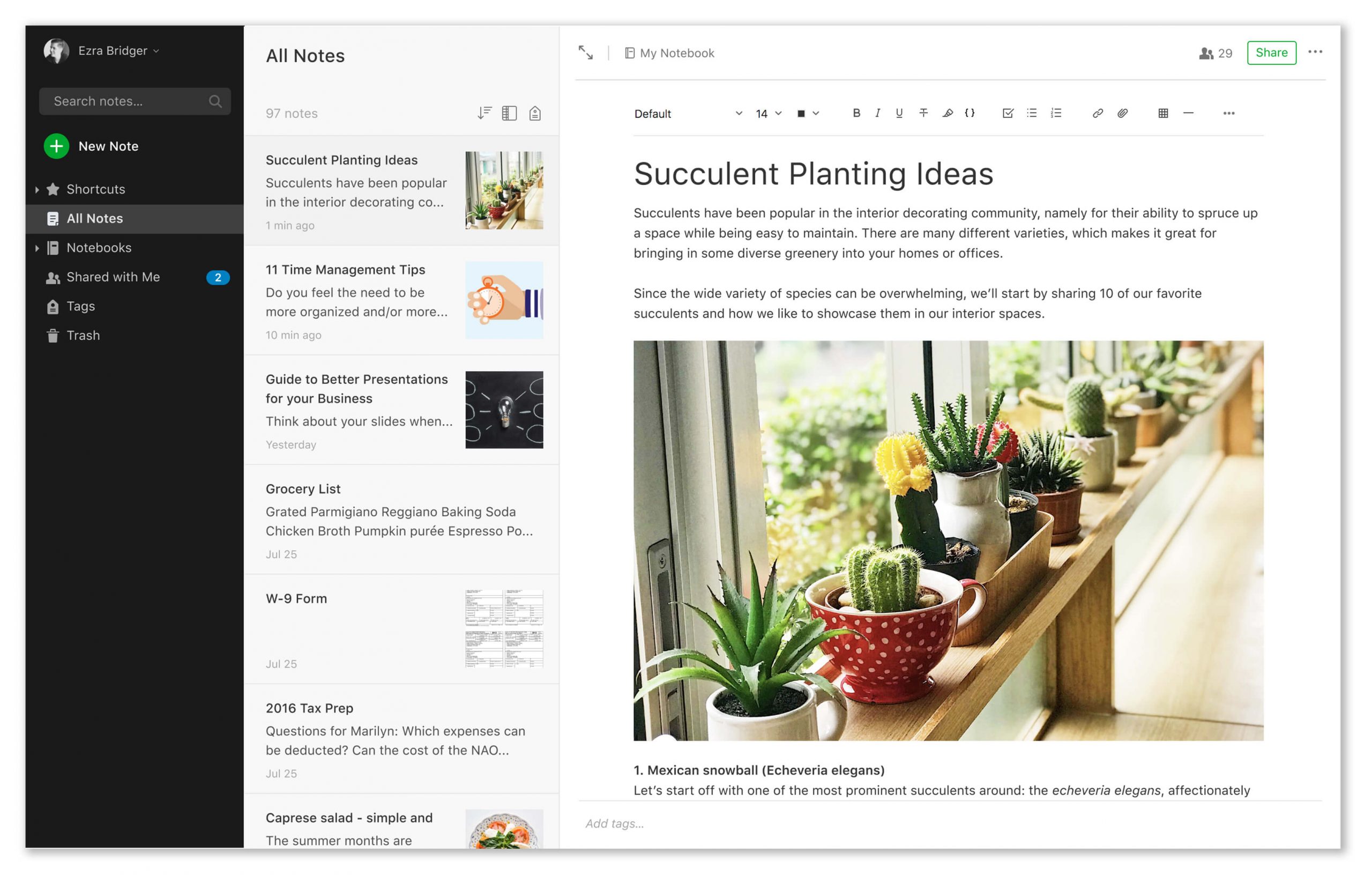 Next, we have Evernote which is an ideal software for your business management. With this note-taking app, you are unlikely to miss anything important for you and your company. It acts as an online notepad that keeps your notes secure and easily accessible.
Winning 7 Webby Awards, this app is trusted by many top companies for their business management. These companies are The Verge, Forbes, and The Manual. Not only companies but also 225 million users of Evernote confidently use this app for note-taking and to-do lists.
Key Features
There are Web Clippers that saves important screenshots to your Evernote account right away, you can even highlight the text in the screenshots.
This software can recognize 28 typewritten and 11 handwritten languages. It has a built-in camera that rapidly captures your handwritten ideas and notes.
Get paperless with Evernote and keep all your important files in your pocket with this business process management software.
It's Premium and Business plans allow you to look for PDF files and Office documents, images, presentations, images, etc.
Pricing
It offers 3 plans for business management.
Evernote Basic – This is a free plan with a bunch of benefits and features. It allows you to take great notes with rich formatting and table attachments, web clippings, 25 MB note size, and many more.
Evernote Premium – The premium plan which is for $7.99 per month, offers great features such as capturing inspirations, organizing data and collaborating, 10 GB data upload with 200 MBs note size, and many others.
Evernote Business – This plan is for $14.99 per month and provides amazing features for its customers. You enjoy all the features of basic as well as the premium plan along with other multiple features like team collaboration, administration, 20 GB + 2 GB per user monthly data, and many others.
---
14. Todoist – To-Do Lists & Task Management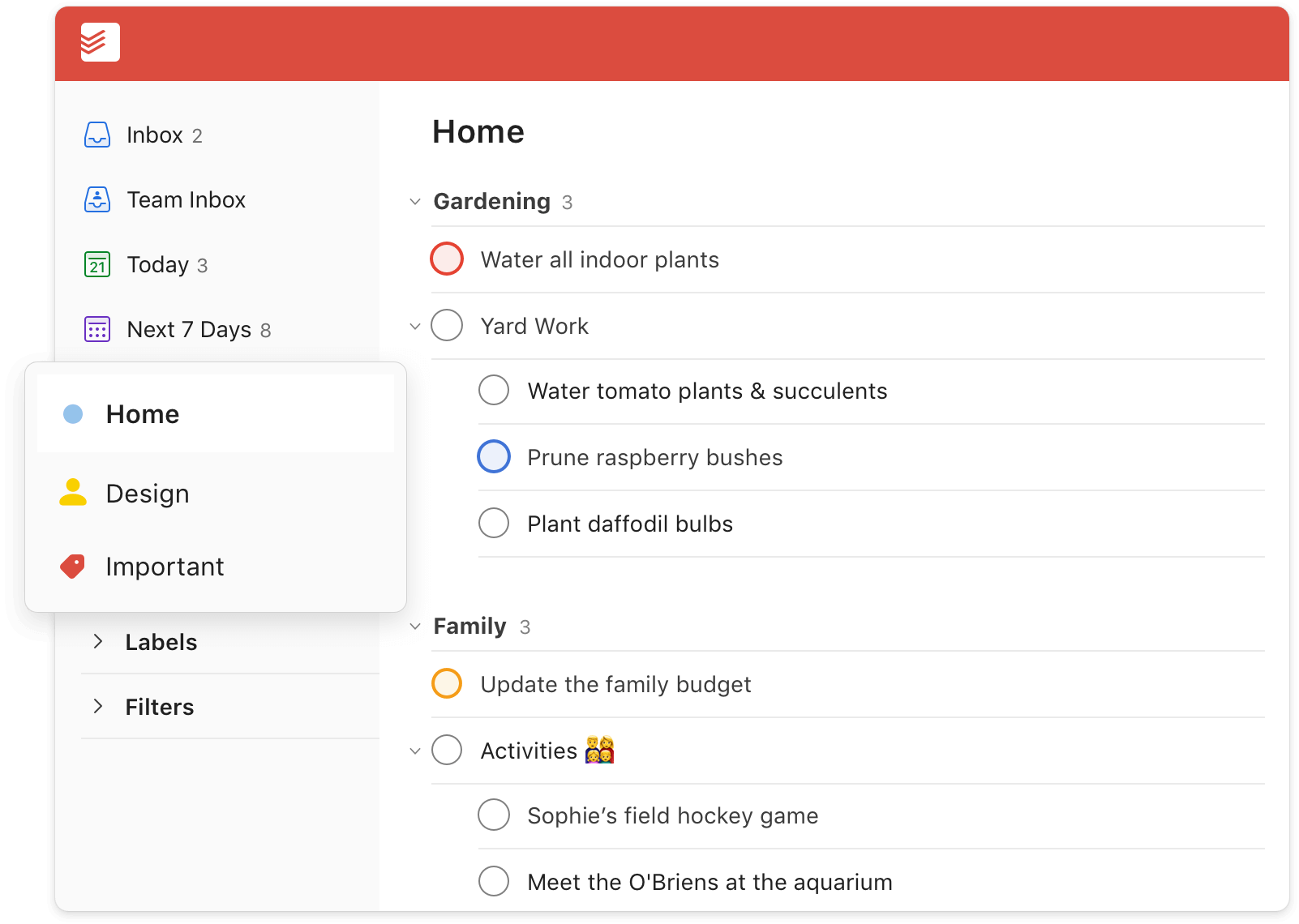 Todoist is among the best to-do list apps for your business in 2023. It is software that can do a lot for your mental peace by clearing your mind from the fatigue of remembering what you have to do at what time.
You can make your to-do lists and notes for your projects with this app which is used by millions of people around the world. Todoist is "the best to-do list app right now" in The Verge magazine.
It has 4.8 stars in the App store with 30,000+ views, and 4.7 stars with 187K+ views in Google Play.
Key Features
You can control your workflow and everything important on your devices, with a click. You can add things quickly to your notes with frequent reminders of due things or dates.
Add certain important things to favorites and priorities so that you don't lose track and stay focused.
Divide your tasks and shared projects with collaborators or colleagues so that you don't alone have to bear the burden. You can make a section of delegate tasks with notifications and comments on those tasks.
With Todoist Karma, productivity visualizations, and completed tasks you set your daily and weekly goals.
Cost-efficient and affordable for individuals and team members who want to achieve a lot with less money.
Pricing
There are 3 plans in Todoist.
Basic – This plan is for starters and it is free of cost. The top features of this plan include up to 80 projects with up to 5 people per project.
Premium – This plan is for pros and costs $3 per user, per month. The cost is billed annually with many features like it gives up to 300 projects and up to 25 people per project. It gives access to reminders, comments, file uploads, labels, filters, and productivity trends.
Business – The business plan is for teams and it costs $5 per user, per person. This cost is also billed annually but if a customer wants to pay monthly, the cost will be $6 per user, per month.
Its features include up to 500 projects, 50 people per project, team inbox, admin and member roles, team billing, and priority support.
---
Business Management Software for Time Tracking and Pomodoro
To perform any task timely, time management is the first and foremost requirement. The importance of time cannot be ignored if any company wants to enhance its productivity and efficiency.
Time managing apps are significantly useful to perform your tasks punctually. Some of these apps are briefly described below in this article.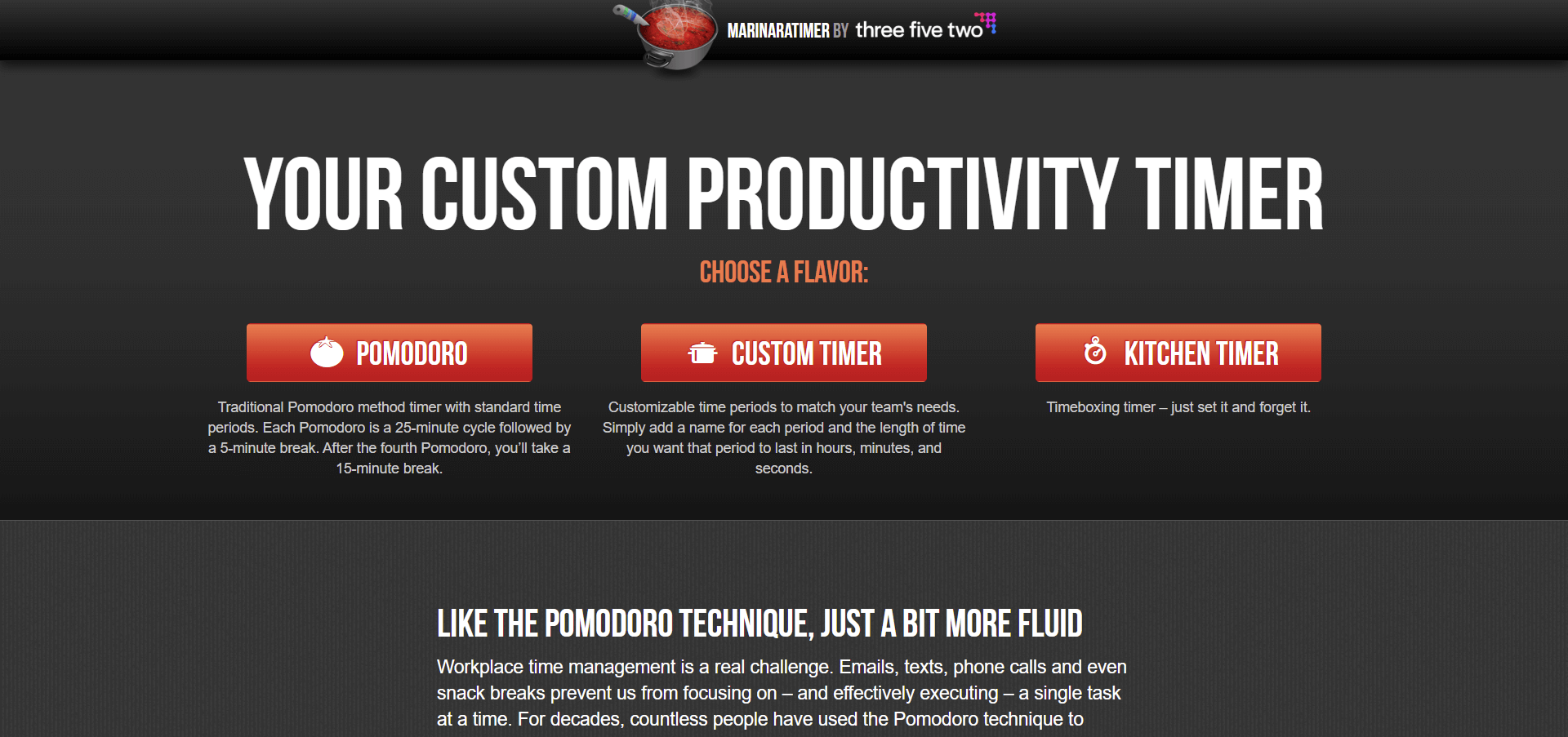 Marinara Timer is a Pomodoro timer and is among the best apps for business management. With this app, you can prioritize your tasks according to their importance and urgency.
Smooth time management is vital for any business to run successfully and this software helps you to get there.
It specifically helps with getting rid of distractions and getting your work done on time. Marinara Timer is an online productivity timer without any pricing or cost. It improves the efficacy of your company through perfectly managing your time for each task.
Key Features
There are 3 basic timers in this software that can improve your productivity. 'Pomodoro Timer' gives you 25 minutes of work followed by 5 minutes break.
'Custom Timer' is the more flexible timer. It matches your team's needs and you can control the period of each timer.
'Kitchen Timer' is a timeboxing timer, just set it and forget.
It remembers all the timers so that your time is managed and your distractions are minimized.
---
16. Toggl – Online Time Tracking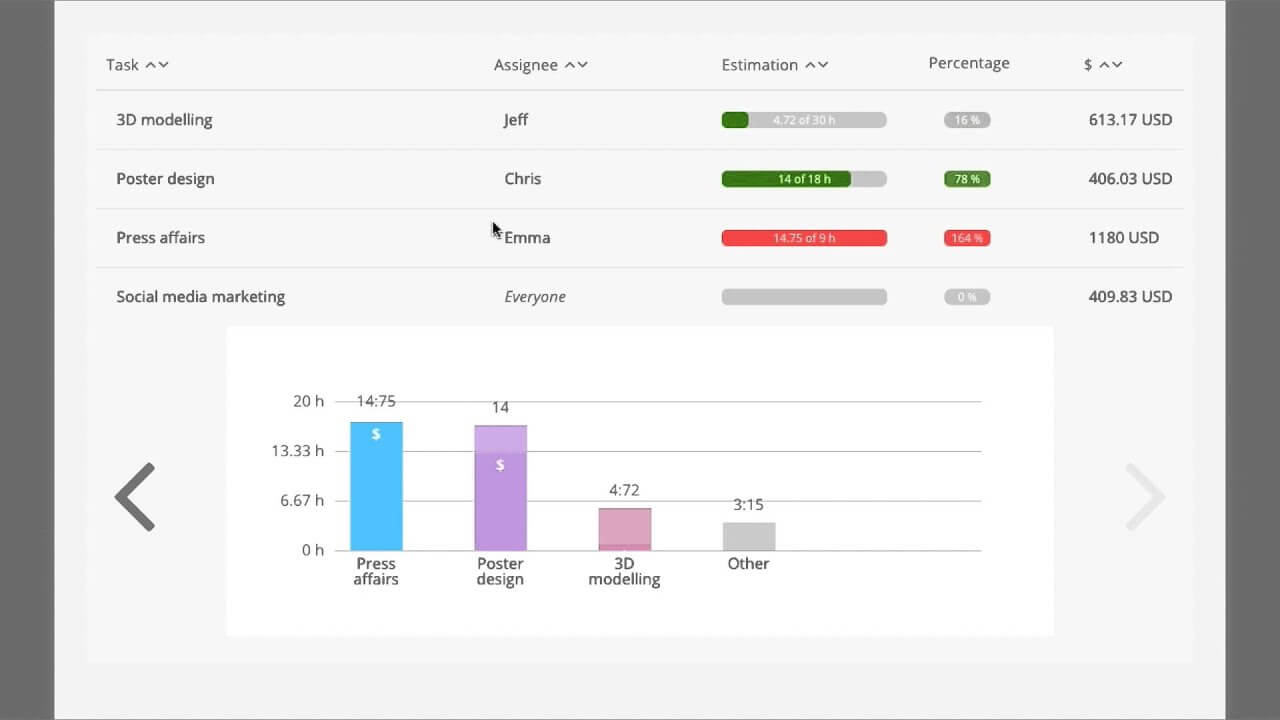 Toggl is another time tracking and reporting software for businesses. Time is money and this small business management software can help you in organizing it in a much effective way.
It goes everywhere with you and all the data is synced into your Toggl Chrome extension and website automatically.
This app helps you to give equal time to your tasks according to their worth. You can also export your data into any format or you can also utilize their public API to transfer your data.
It is trusted by the world's prominent teams such as Amazon, Google, Adobe, and many more.
Key Features
One-click timers, tracking reminders, and 100+ app integrations allow you to start a new timer and track an older one with a single click.
Export reports into Excel, PDFs, and CVCs. You can keep a track of how much you are paid for each task.
You can have quick access to how profitable a certain task or client is for your business.
Pricing
There are 3 paid plans in Toggl.
Starter Plan – This plan is for $9, per user, per month and it is best for compact time tracking and reporting. You can note your revenues, increase client satisfaction with translucent reporting, and see how well you are doing with your projects. This plan is billed yearly.
Premium Plan – The premium plan is for teams and it costs $18 per month, per user, and is billed yearly. It includes all the features of the Starter plan along with project and employee profitability charts, reports emailing, set tracking reminders, and set up your team with Toggle consultants for help.
Enterprise Plan – This is a customized plan with customized pricing which suits all your needs. It includes all the features of the Premium plan with other features such as priority support, expert training and assistance, and customizable solutions.
---
Business Management Software for Lead Generation and Email Marketing
Lead generation is a process in business marketing for catching interest in a product to grow the sales pipeline. Since the world has changed drastically into a digital one, online and email marketing is the fastest way to flourish your business across the world.
Email marketing is the process of sending emails to a group of people for advertisement purposes to attract customers for your business. Some apps that are popular for lead generation and email marketing are mentioned as under:
17. OptinMonster – Email Subscriptions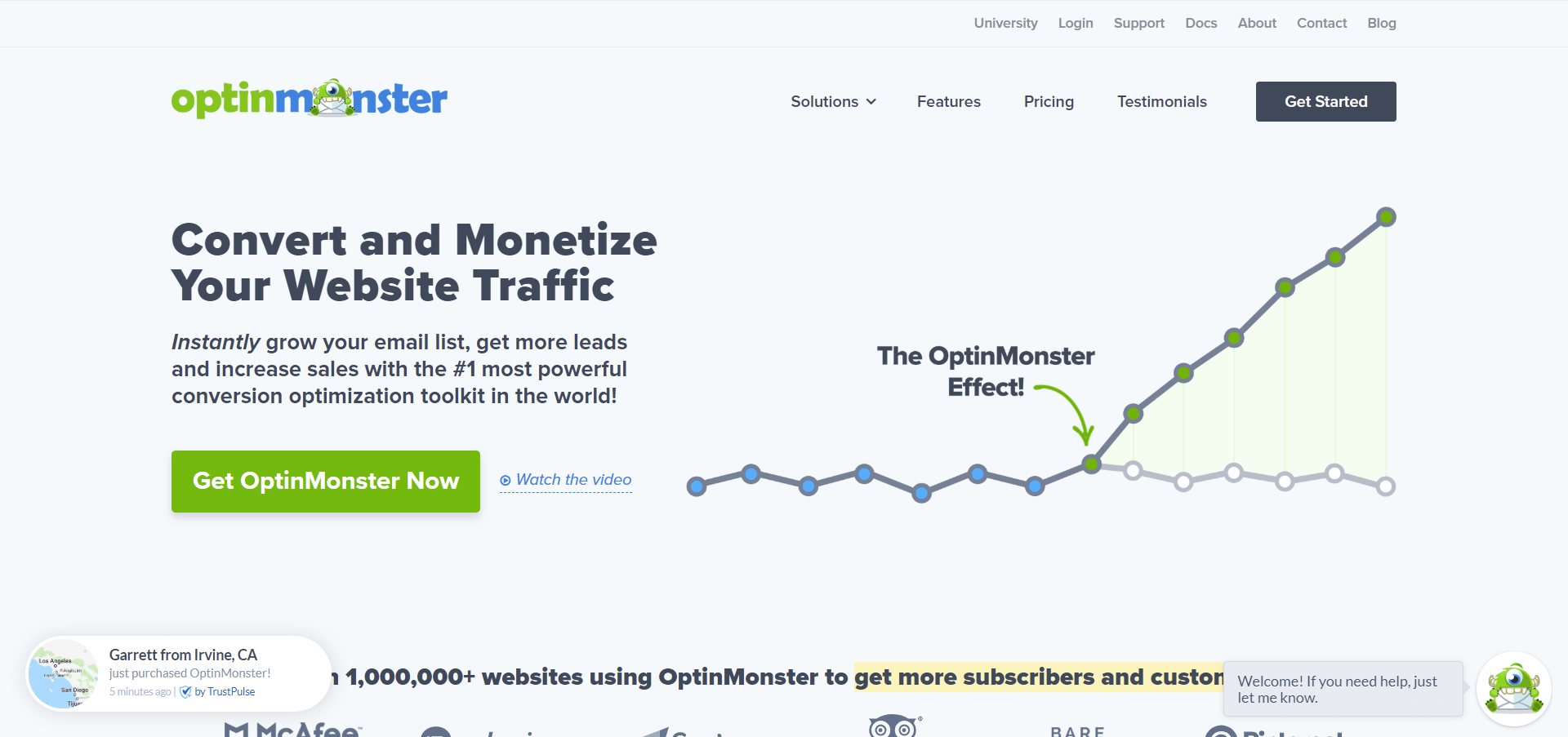 OptinMonster is on our list of business management software that can grow your email list with an increased sale. It has the world's #1 most influential conversion optimization toolkit.
To maximize your conversions and sales traffic, choose their template, target your offer, and adjust your sales.
1,000,000+ websites are using this software to flourish their business such as Patreon, McAfee, Cub Cadet, Capterra, Harvard University, and many others.
OptinMonster also gives a 14-day money-back guarantee so that if you are not satisfied, you can unsubscribe it.
Key Features
MonsterLinks 2-step opt-ins can convert your website, any link, or image into a lead generation machine to maximize your leads and conversions.
Geo-location targeting can increase the effectiveness of your website as it will target the audience and customers according to their locations.
Exit-intent technology perceives the mouse behavior of users and displays them a targeted message as they are leaving.
There are different campaign types through which you can grab the attention of your audiences such as lightbox popup, slide-in scroll box, countdown timer, inline forms, floating bar, and many others.
Referred detection, page-level targeting, on-site follow up campaigns, cookie retargeting, and many other targeted campaigns are generated to get more leads and more subscribers.
Pricing
There are four paid plans in this business process management software.
Basic – This plan is for $9 per month and is billed annually. It gives unlimited campaigns, page-level targeting, list segmentation, subscriber recognition, success messages, basic integrations, simple reporting, and many other features.
Plus – This plan is for $19 per month and is billed annually. It includes all the features from the Basic plan with integrated A/B testing, full reporting, attention activation, content locking, advanced integrations, 15,000 page views, 2 sites, and many others.
Pro – This plan is for $29 per month and is also billed per year. It has all the features of the Plus plan with exit-intent technology, mobile-specific campaigns, pro integrations, campaign scheduling, and many other features.
Growth – This plan is for $49 per month and is billed annually. It has all the features of the Pro plan with on-site retargeting, follow-up campaigns, real-time personalization, coupon wheel campaigns, geo-location targeting, success scripts, add block detection, and many more.
---
18. AWeber – Email Marketing Solution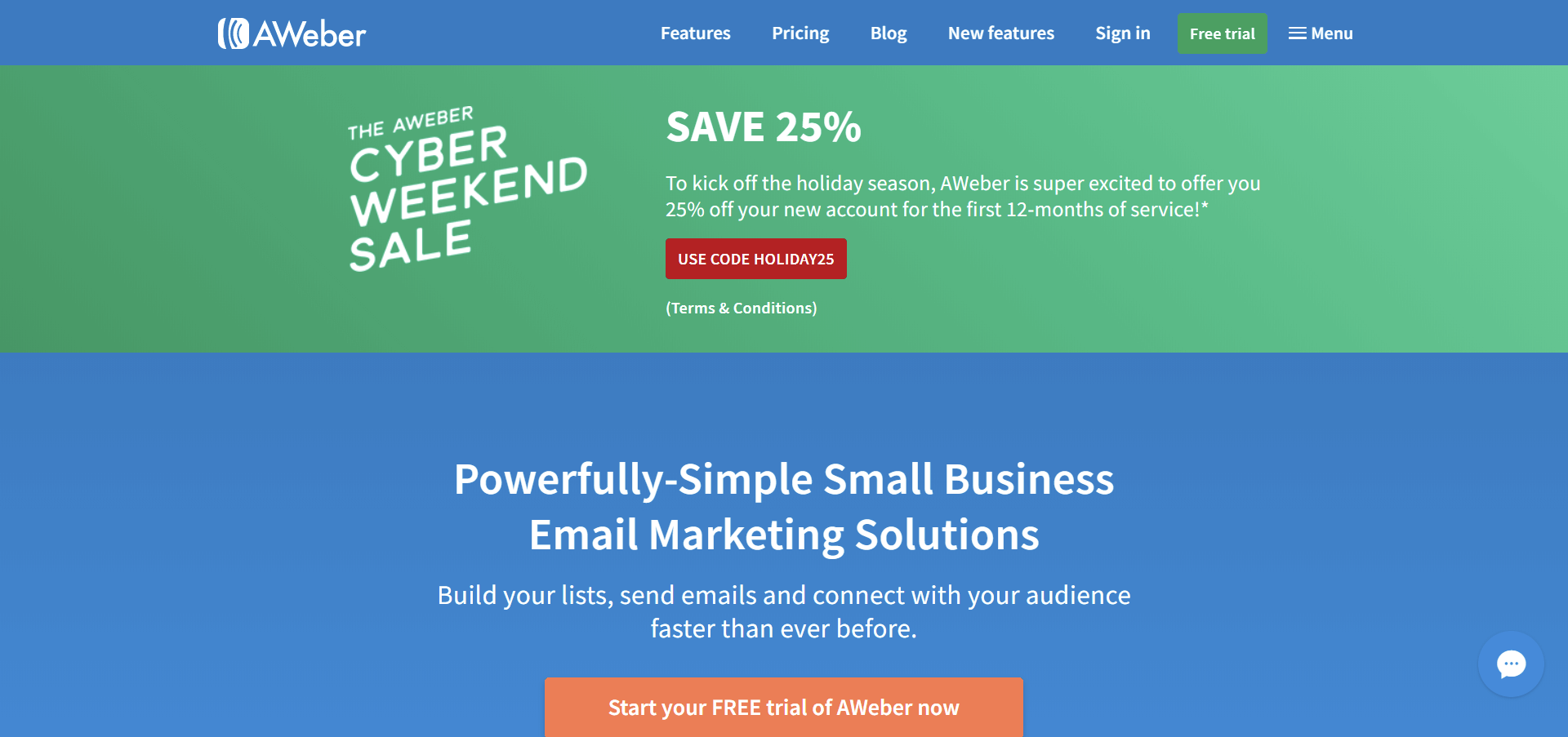 Another email marketing and lead generation software – AWeber. It is in our list of small business management software. With this software, you can build your brand by sending powerful emails from any device.
You can build up your connections and manage contact lists seamlessly.
For the past 20 years, AWeber is providing the services of email marketing to help businesses of up to 1,000,000 entrepreneurs all over the world. The email marketing tools are very simple and its customer support team is determined to provide the best services to its customers.
Key Features
HTML templates, email automation, and tagging can turn your website into a professional and efficient one.
Auto-responder follow-ups can send a sequence of automatically delivered emails so you have the mailing history.
RSS emailing can mechanically create emails from the newest blog posts and it can also connect a third-part integration with AWeber's API.
Pricing
There are different plans according to the number of subscribers. For 0-500 subscribers, the cost is $19 per month, for 501 – 2,500 subscribers, the cost is $29 per month, for 2,501 – 5,000, the cost is $49 per month, for 5001 – 10,000 subscribers, the cost is $69 per month and so on.
The features are the same for all the plans and these are unlimited emails, automation, segmenting, analytics, customer solutions, sign-up forms, integrations, image hosting, 6000+ stock photos, 700+ email templates, and education resources.
---
CRM Business Management Software
Customer satisfaction is necessary for any business. That is why CRM is given a lot of attention these days. CRM software and tools mainly deal with customer interaction, customer data, automate sales, access business information, and all customer related issues.
CRM software and tools can prove to be highly beneficial for businesses by building a long-term agreeable relationship between companies and their customers. Some apps that provide standard and quality assured CRM services to their customers are mentioned below:
19. Salesforce – Powerful CRM Software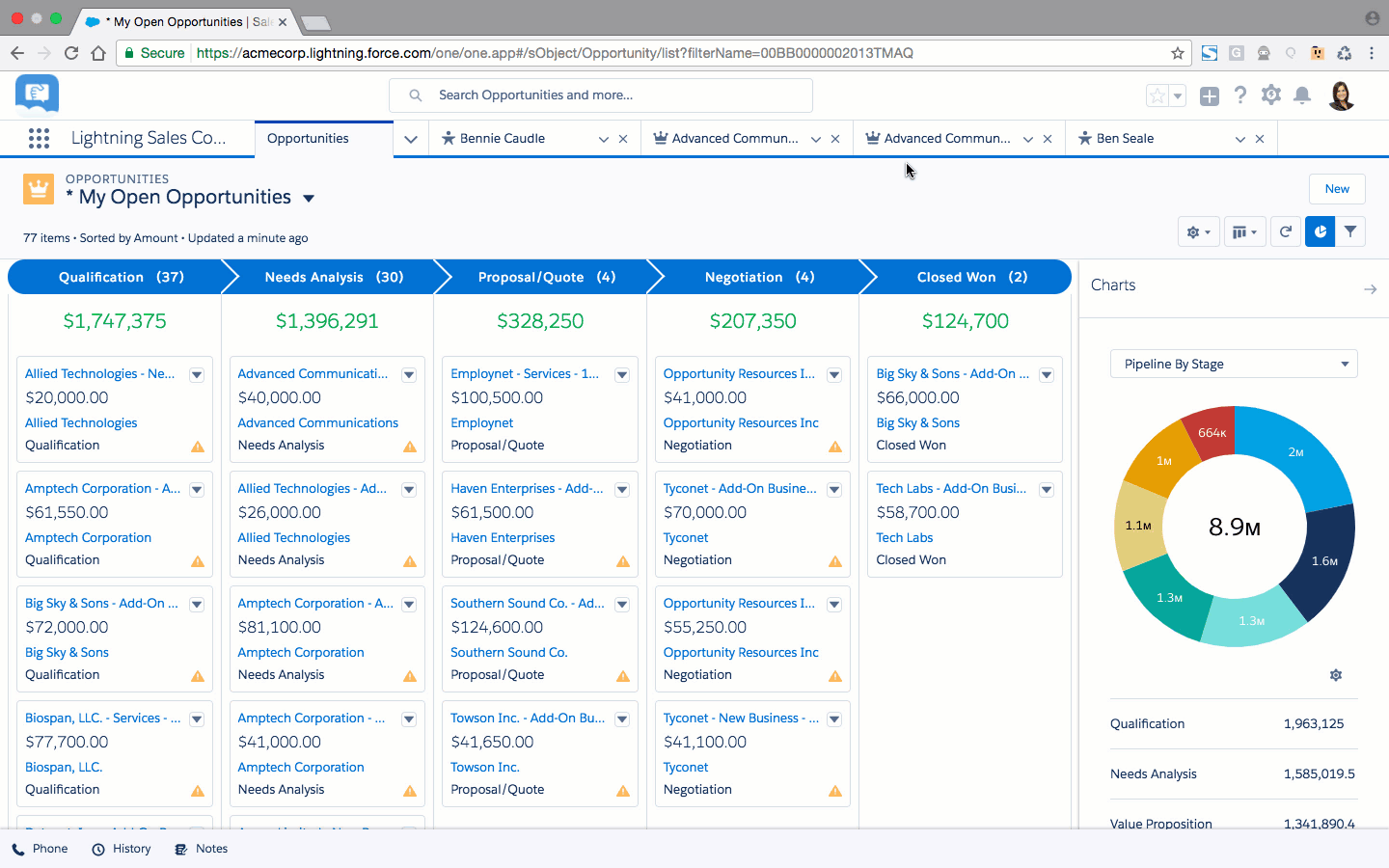 Salesforce is 19th in the list of business process management software. This is the world's best CRM software which makes sure that the relationship between the company and its customers is trustworthy and reliable along with sales automation.
It is faster with more perceptive decisions and gives the most up-to-date information to its users. It generates customer engagement by mechanizing and personalizing your email marketing with a balance.
With their simple and easy platform, you can take your customers along with you in whatever you do.
Key Features
There is guided selling which helps you to select the right product and simplify complex sales cycles.
There is a contracted price so that the buyer and the seller agree on a fixed negotiated amount and complete visibility into customers' purchased assets and subscriptions.
Advanced order management, flexible invoicing, simplified ERP integrations, and automated payments make it an all-rounder app for your business.
Pricing
Salesforce offers a diverse pricing portfolio for a range of professionals spanning across different industries. Here are some of them briefly explained with pricing and features:
Small Business – There are 4 plans; Essentials (costs $25/user/month), Sales Professionals (costs $75/user/month), Service Professionals (costs $75/user/month), and Pardot Growth (costs $1,250 per month).
Sales – There are 4 plans for sales teams. These plans are Essentials, Professionals, Enterprise, and Unlimited plans. These cost $25/user/month, $75/user/month, $150/user/month, and $300/user/month.
---
20. Pipedrive – Sales Pipelines & Client Management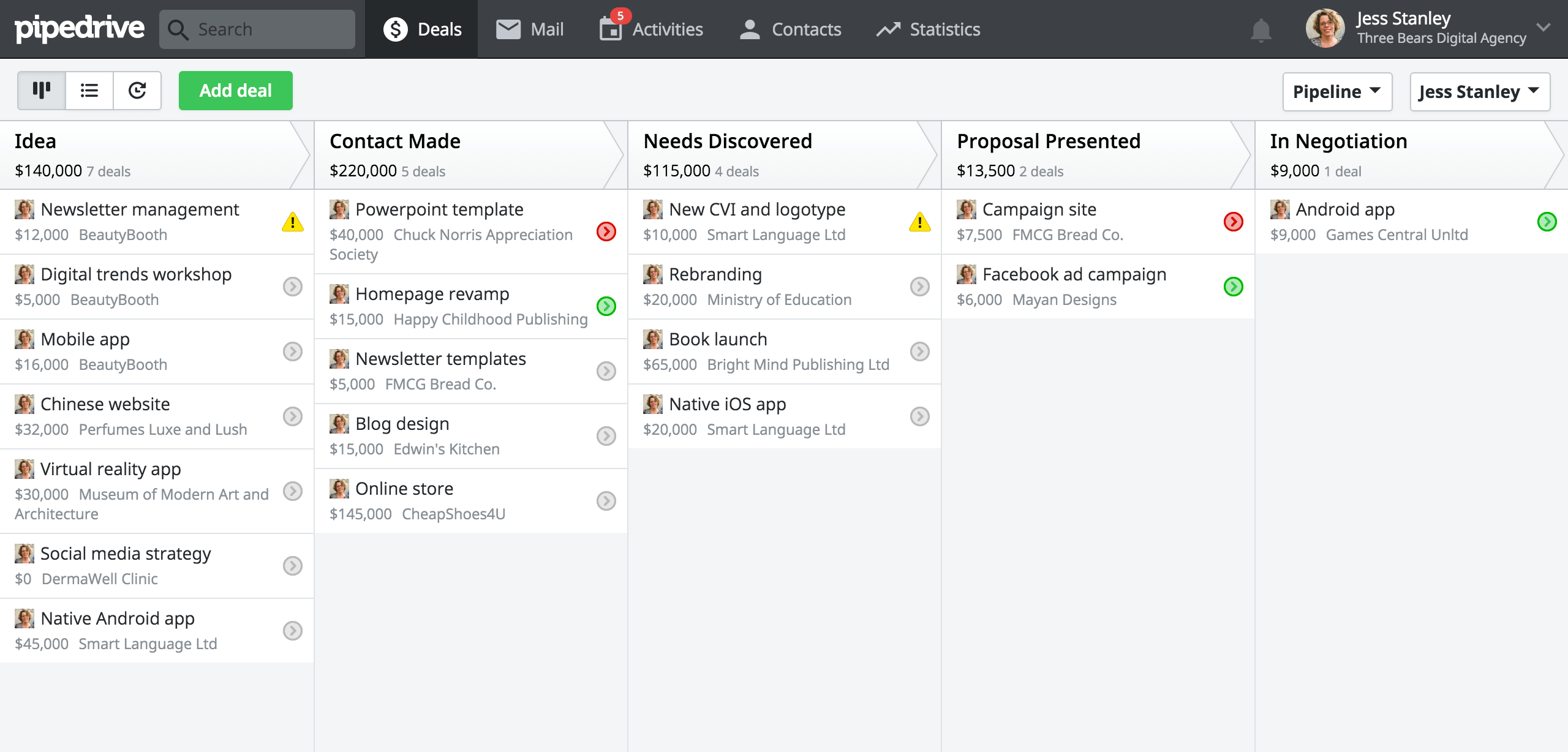 With a star rating of 4.5 for 'ease of use' by Capterra, PipeDrive is 20th in the list of small business management software. This CRM software can get your direct sales and leads at any time directly into your chatbox.
The artificial intelligence of this app allows you to get rid of repetitive representative tasks, hence minimizing your stress and maximizing your business success. It is used by over 90,000 companies in 179 countries.
Key Features
You can track your calls, emails, and contact history anywhere so that you can control and manage your schedules.
There are insights and reports which guide you about your company's progress according to your goals.
You can fully trust the transparency of this software and how your data is being used.
Pricing
Essential, Advanced, Professional, and Enterprise are the four paid plans within Pipedrive.
Essential – This plan is for $12.50 per month per user and billed annually.
Advanced – This plan is for $24.90 per month for each user and is also billed annually.
Professional – This plan is for $49.90 per month, per user, and is billed yearly.
Enterprise – This plan is for $99.00 per month, per user, and is also billed annually.
Some of the basic features of these plans are web forms, customizable pipelines, contact and org management, deal management, data import and export, sales assist, merge duplicate data, email inbox, file attachments, revenue forecast view, two-factor authentication login, the app supports 15+ languages and many other diverse features.
---
Business Customer Support/Live Chat Software
To grow your business, providing an active and responsible team for customer support is highly noteworthy. Delivering quality customer support services with live chats and helpdesks can transform your business in no time.
To grab customer satisfaction, some apps are specifically designed to counter the problems that companies are facing in giving a timely response to their clients. These apps are mentioned as under:
21. Intercom – Customer Support Platform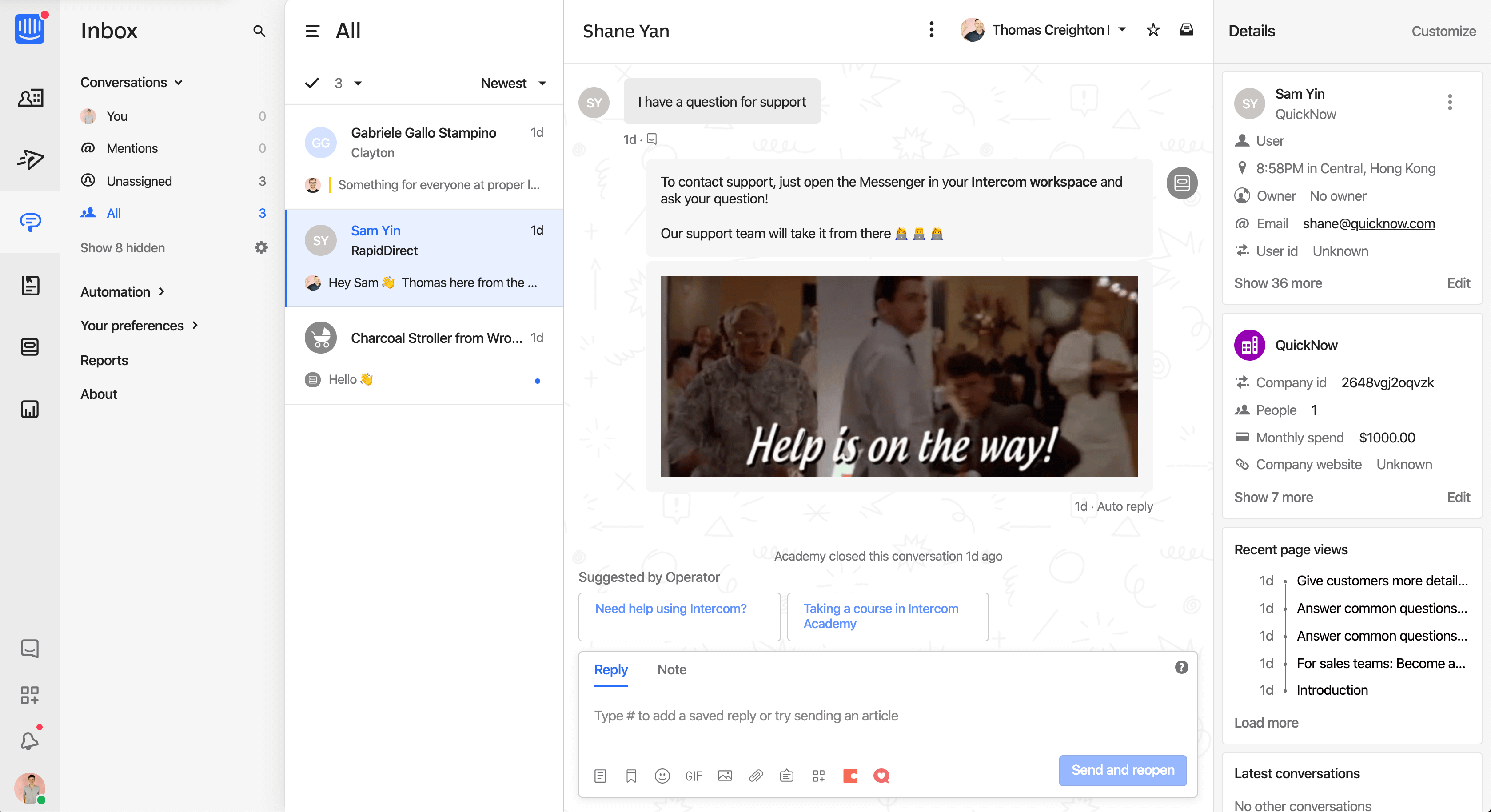 Intercom is an efficient and user-friendly small business management software. It is one of the best live chat software for websites. You can increase your visitor to paid conversion rates by 45%. With tailored onboarding and activated messages, this app is for your business success.
Around 30,000+ companies rely on Intercom for their growth and success through building a healthy relationship with their customers. It provides different apps for different people to engage more customers. Most popular are Google Analytics, Jira Cloud, and Slack.
Key Features
Business messenger, outbound messages, team inbox, reporting, and customizable bots make it a perfect app for instant communication with your customers.
You can automate your leads 24/7 and you can schedule your sales and business matters efficiently.
There are supportive bots through which you can give the fastest feedback to your customers making sure they are satisfied.
You can manage your team more effectively with insights and feedbacks to generate a self-service report.
Pricing
The plans that come with Intercom are of three types that match the needs of each one of you.
Essential – This plan is for $87 per month with main features such as business messenger, customer data, robust reporting, manage emails, targeted messages, integrate with Stripe, Hubspot, Shopify, Google, and more, track and analyze information.
Pro – This plan is for $153 per month with the main features of the essential plan including customized chats, automate multi-touch campaigns, privacy control, and many other features.
Premium – This plan has custom pricing with the features of the essential and pro plans. Other features include custom bots, actionable reports, integration with Salesforce, sandbox, Marketo, and Clearbit Reveal, and many more features.
There are recommended add-ons which are Custom Bots, Product Tours, Answer Bot, and Help Centre Articles which costs $99, $119, $99, and $49 respectively.
---
22. Crisp – Live Chat & Customer Support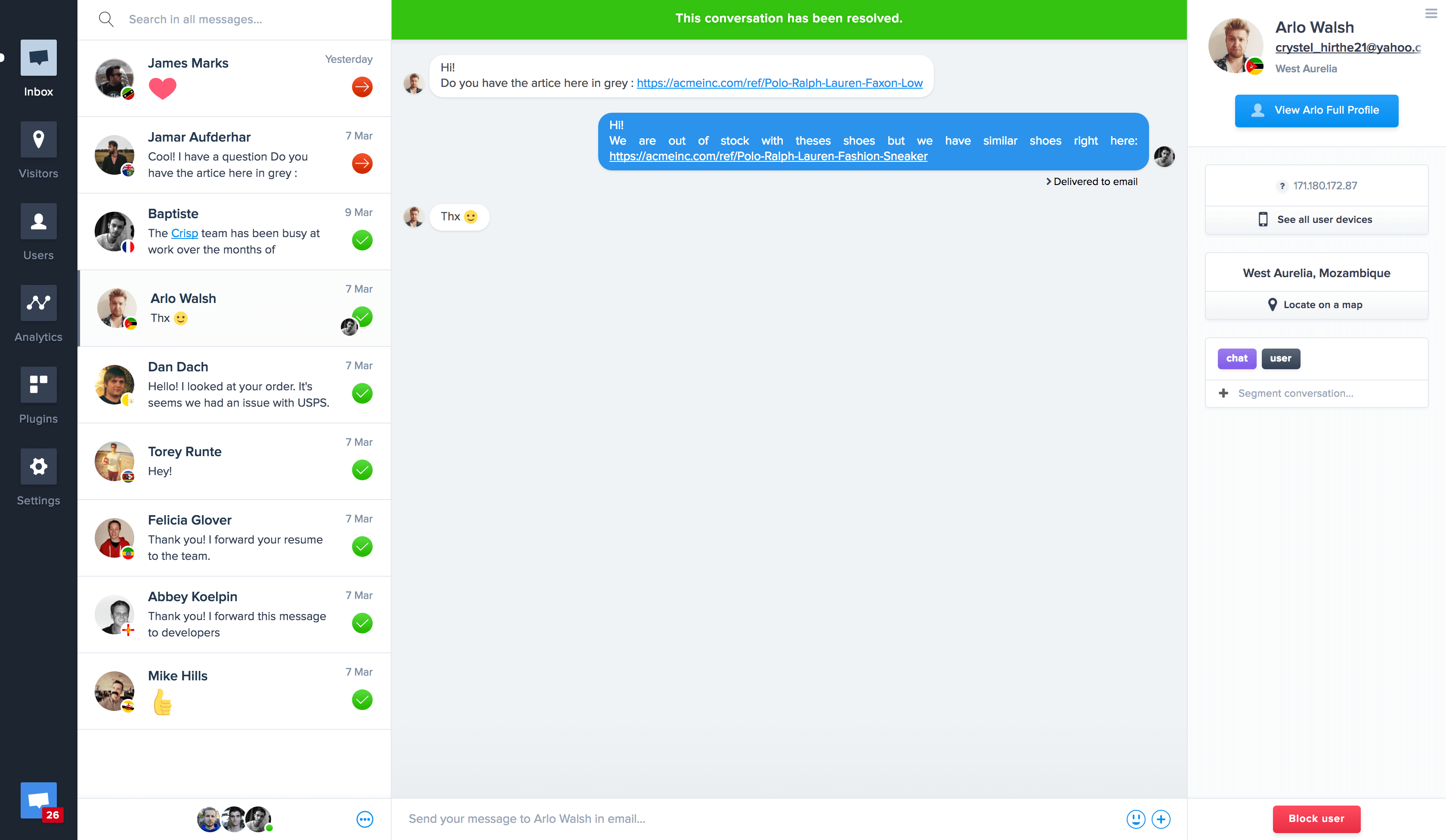 Last but not the least, we have Crisp on the list of small business management software. It is ideal for startups, customer support, marketing, and sales. This is a messaging app through which you can manage your business on the go and with a click.
Crips is a customer support app that companies can use for better communication with their clients and customers. It is available for web, Mac, Windows, iPhone, and Android.
Mailjet, Rakuten, AirFrance, Schneider Electric, and many other brands are using Crisp for guaranteed customer support services.
Key Features
Live chat improves your customer satisfaction and it simplifies the process for you by uniting all channels of a customer relationship.
You can connect Crisp to third-party apps such as Messenger, Slack, WordPress, Zapier, WhatsApp, and many more.
The customer engagement software can be used to retarget your leads and sales manually or automatically.
There is a knowledge-base which gives correct information to the customers hence making sure that your customers know the best.
The public status page alert users if there is something unexpected or wrong so that you can focus on the resolution of the problem.
Pricing
Crisp software gives 3 different plans for its customers.
Basic – This plan is free of cost and is for 2 seats. Features of this plan include live chat, team inbox, mobile apps, and notifications.  
Pro – This plan is for $25 per month, per website and 4 seats are included. The features of this plan are unlimited history, triggers, canned responses, private notes, customization, audio messages, telegram, magic map, and many others.
Unlimited – This plan costs $95 per month, per website, and is for unlimited seats. The features of this plan include a knowledge base, live translation, automated replies, Chabot, status page, video calls, and many more amazing features.
---
Other Useful Business Management Apps
23. Userlane – User Onboarding & Employee Training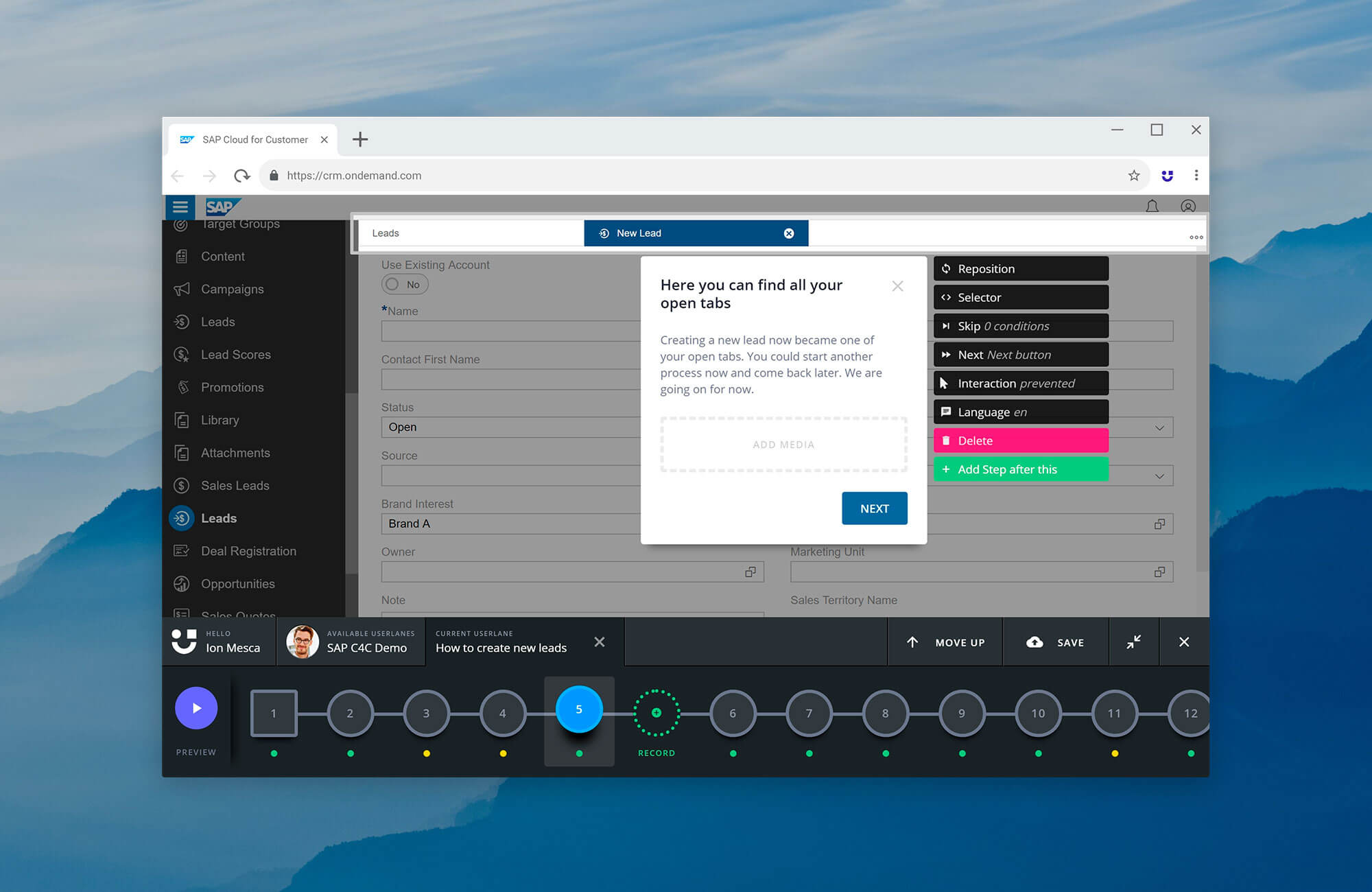 Introducing new software and technology at work is challenging and can be met with resistance from employees. In many cases, introducing new tech in the workplace fails due to this resistance to change and a lack of digital adoption.
This is why there's Userlane, which makes its spot in this list of the best business management software. Userlane is a digital adoption platform (DAP) that mid-size to enterprise companies use to maximize software adoption and overcome this resistance to change.
It is simply a guidance layer that is implemented on top of any browser-based software application. The platform provides in-app interactive walkthroughs and electronic performance support, meaning software users are guided in real-time, step-by-step, through digital processes.
Additionally, Userlane also provides a virtual assistant that gives each user constant, on-demand support.
This means companies can say goodbye to outdated training methods, such as PDFs, tutorials, and on-site training. Instead, Userlane offers a next-gen employee training platform that provides continuous performance support and in-app training.
Key Features
Employees can be trained anywhere at any time
Advanced segmentation (segment employees based on their level of proficiency, goals, in-app behavior)
Ensure any employee is productive in a new software immediately (increase ROI of your software investment ad boost productivity)
Reduce training costs by up to 75%
Improve the employee experience
Pricing
Userlane does not share its pricing details publicly on its website. A quote is only available upon request.
---
24. Forecast – Resource Planning Software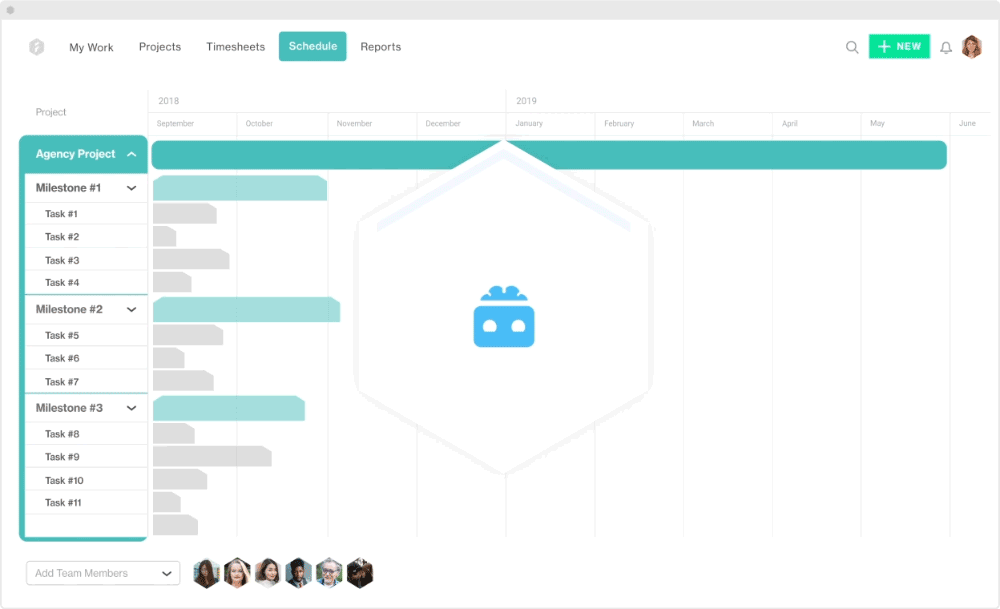 Forecast is an intelligent resource planning and management software. It is widely used to manage digital agencies, IT consultancies, and software development shops. 
It takes the headache out of many administrative aspects of project management, namely project planning, workflow management, and financial reporting. 
Forecast caters to all types of projects and budgets and fits the ways most professional service businesses prefer to run their operations. A recent update to a platform has enabled it to manage retainers and opened new doors to firms that want to improve ongoing client work and add transparency to each retainer period.   
Providing teams with the easiest and the most user-friendly way to register time, Forecast sets in motion rich digital dashboards that can update you on the status of projects, finances, and billable utilization. 
Project experts, financial managers, operation directors, and team members may each benefit from Forecast's features.
Key Features
Scoping to map out a project plan

AI-powered Auto-Schedule to instantly turn a task list into a solid project plan by assigning resources, making estimates, and suggesting the deadline for the project

Schedule for tracking the project progress and who's overbooked and underbooked

Timeline for a helicopter Gantt chart view 

Workflow for superior collaboration

Sprints to support an agile scrum-based model of work

Timesheets to register time in the most convenient way possible

Periods to manage retainers and recurring services

Budget for high-fidelity financial forecasting of a project's cost, revenue, and profit

Financial Portfolio Report to consolidate financial data across all projects
Pricing
Forecast comes with a free 14-day evaluation trial. Depending on the team size and feature requests Forecast has three plans: Standard, Premium, and Enterprise.
Standard

– from $24 per seat/month. Recommended for companies that manage multiple projects, but do not need premium integrations. 

Premium

– from $39 per seat/month. This plan is for organizations where advanced integrations are needed and compliance is highly important. Integrations with Jira, Salesforce, and AzureDevOps are only available in this plan and above. Retainers, Budget, and Financial Portfolio Report are part of the premium plan. 

Enterprise

– the plan is available on a quotation basis. It comes with a custom SLA agreement and a dedicated customer success manager.
---
Frequently Asked Questions (FAQs)
👉 What Is Business Management Software?
Business management software is an application that has been designed for businesses to support, improve, and automate their processes.
The software is made to assist in decreasing or removing errors, completing business tasks, reporting activities, and increase the overall efficiency and effectiveness.
Business management software has been created in such a way that it joins the requirements of business processes in the most appropriate real way. Different types of Business Management Tools are available in the market.
They cover different areas of the business, for example; Invoicing, Asset Management, CRM, Database software, etc.
👉 What is the Best Business Management Software?
The best business management software is that which helps a business handle its tasks in the most efficient way possible. That is the main purpose that the best business management software helps evolve and expand the business, improves efficiency, and just gets things done.
👉 What Are the Types of Business Software?
Below are some of the major categories in which Business Management Software can be divided:
👉 What Are the Most Common Business Software Programs?
Since there is a vast array of technological tools, there are also different types of business software used for various purposes. Below are some commonly used software in businesses:
Business invoicing programs
Asset management software
Customer relationship management (CRM) software
Database software
Word processing programs
Conclusion
Discussed above, are some of the best business process management software that you will need to run your business smoothly. There are different types of software available, each one of them focusing on a specific area of business.
You can consult from the above-mentioned list to choose the right software for your business or avail the trial versions of this software.
We hope, that with this knowledge about business management software, you will be able to make a better choice for your business.
---
Other SaaSy goodness on All That SaaS: