With a flood of activity among SaaS companies and countless startups emerging to be a part of the buzz it can be quite overwhelming to select the best SaaS companies or tools. We have curated a list of the 10 best SaaS apps and tools in 2023, that every company needs, falling under 5 important categories.
It is fascinating to witness the exponential growth of the software-as-a-service (or SaaS) landscape and we are thrilled to say that this is only the start! SaaS is undeniably one of the most popular business models today and according to Gartner the industry is booming at a compound annual growth rate of 18% and the revenue will rise to $143.7 B in 2023, a steep 80% increase in only 5 years.
The Best SaaS Apps, Products & Companies in 2023
Team Collaboration SaaS Apps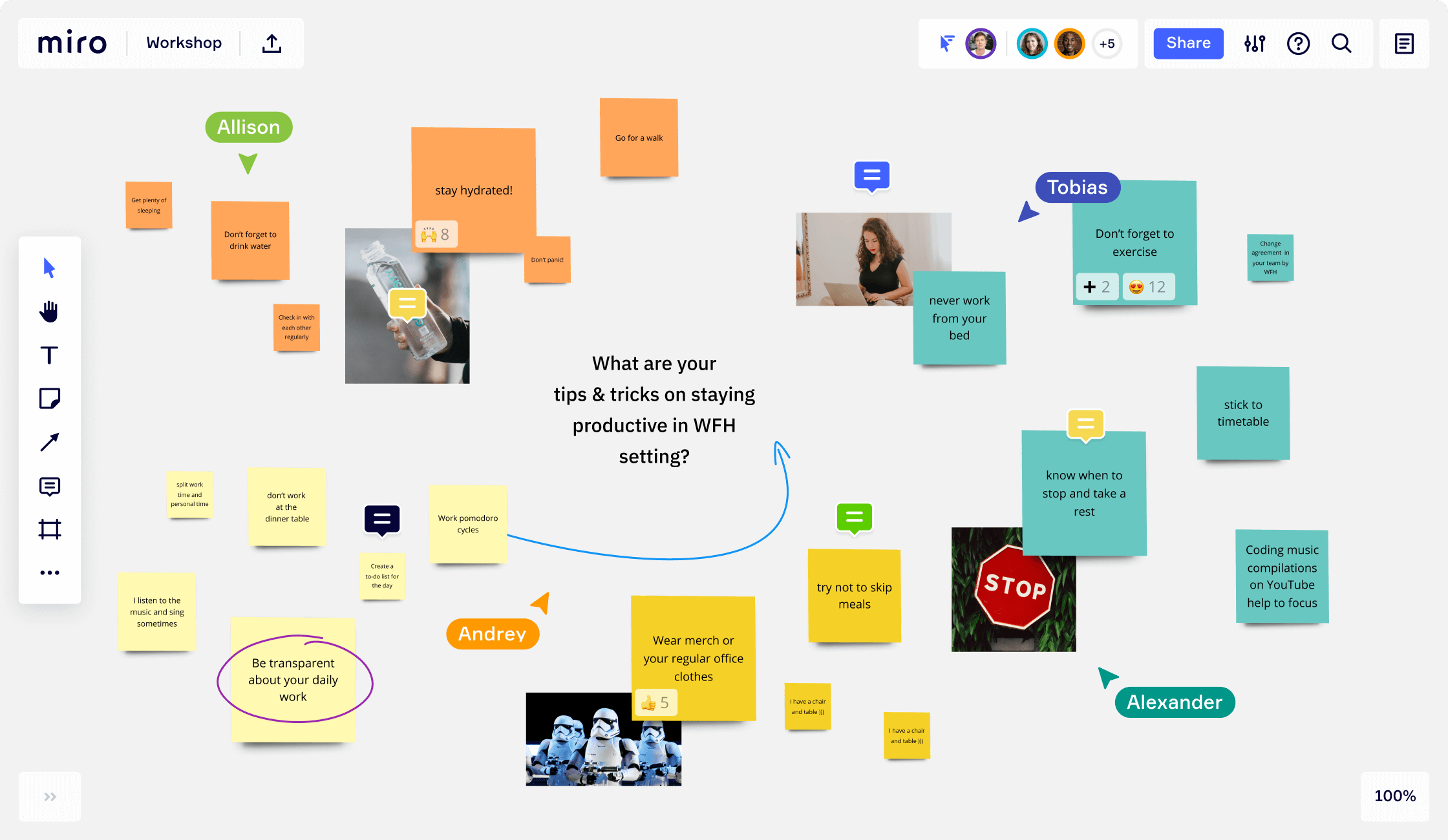 Finding an online project management tool can be a hit or a miss, or even both. Miro, on the other hand, is so much more because it has so much to offer. There are over 35 million users from organizations worldwide that love using this software.
Since it allows collaboration and communication between remote teams, making a comprehensive flowchart with a team is easy. It provides a variety of suite of tools to expedite and streamline the whole process.
Its user interface is simple and easy to use since it has an intuitive design and navigates effortlessly. The ATS team thinks that this may be one of the Best SaaS Companies.
Key Features
Whiteboards to brainstorm ideas and organize projects using sticky notes, pens, emojis, and other tools.
By using the Miro Developer Platform, users can now build processes using API, SDK, and iFrame.
Users can collaborate with their team remotely through mobile phones, desktops, and interactive displays.
Scrum events, meetings, and workshops can be held from one place by taking agile teams to meet on a video call.
With the help of enterprise-grade data protection, work, and other confidential data are kept safe.
There are quite a few brainstorming tools that are free to use and many users have unlimited access to them.
Team collaboration is made easy with all the interactive tools that it has along with third-party app integration with Google, Zoom, Jira, and many more.
Pricing
Free: This free plan allows many features such as a single workspace with 3 editable boards, a library of 1000+ Miro and community-made templates, and app integration.
Starter: The cost is $10/member/month billed monthly, and $8/member/month billed annually. It has all features of the free plan including receiving unrestricted access to private boards with essential features, and much more.
Business: The cost is $20/per member/month billed monthly, and $16/per member/month billed annually. It has the same features as the starter plan, along with advanced security measures, which are great for collaboration with people outside the team or organization.
Enterprise: It has the same features as the business plan, and the user is allowed to customize the features they want to use. Premium customer support is available 24/7 and guaranteed SLAs. For a customized price plan please contact the sales team.
---
2. Slack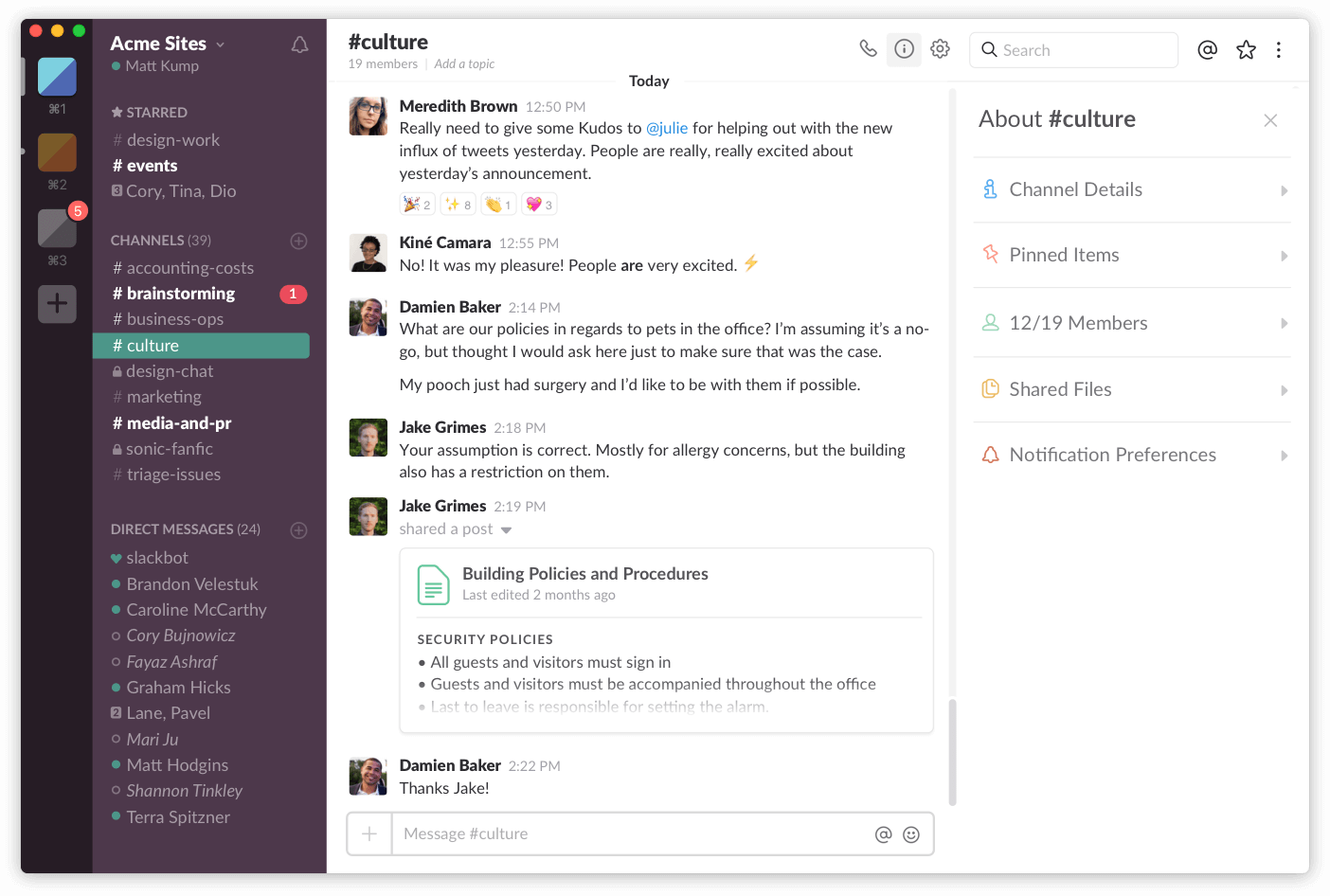 Emails, text messaging, phone calls? They are all tools from the past. With a super easy-to-use interface and intuitive design, Slack is just the right choice when it comes to online collaboration tools for remote teams.
Packed with tons of features and functionalities Slack is only growing in popularity and its 10+ million daily users prove how great a tool it is.
Slack allows teams to create channels to organize conversations around a topic, send private messages, and invite guests. It makes file sharing a breeze and its paid versions also allow for video calls and screen sharing making it especially popular for remote teams.
Its ability to integrate third-party apps makes it the perfect tool to collaborate just over anything and productivity bots allow teams to get things done, in less time, right from one interface. Terrific, right?
Key Features
Organized communication through private or shared channels revolving around a topic.
Targeting messaging using mentions to gain an individual's attention.
Boost productivity with over 1500 app integration possibilities.
Slack bots offer multiple features such as reminders, to-do lists, or ordering pizza.
Conduct audio or video calls along with screen sharing with up to 15 people.
Customize notifications from channels of choice for mobile, desktop, or email.
Easily share files through drag and drop or add files from other services on the cloud.
Pricing
Free: A great plan for small organizations or trial purposes. With the free plan, you get 10,000 searchable messages, 10 apps, and integrations, 1 on 1 video calls, and two-factor authentication.
Standard: $8.00/user/month ($6.67/user/month on the annual plan). This plan is ideal for small to mid-sized businesses. Features include smart, unlimited search, unlimited apps, group calls, and screen sharing along with guest accounts and shared channels.
Plus: $15.00/user/month ($12.50/user/month on the annual plan). This plan includes 24/7 support and 99.99% guaranteed uptime SLA – meaning Slack will refund users in case the servers are down for any amount of time. Moreover, it includes Single Sign-On and allows corporates to export messages to create an archive.
Enterprise: The enterprise plan is for large businesses with complex teams and the Slack sales team needs to be contacted to request custom pricing. This plan includes an unlimited number of workplaces for various teams to collaborate separately along with shared channels so teams can connect if needed. It includes data loss prevention and offline backup as well as customer success teams!
---
3. Wrike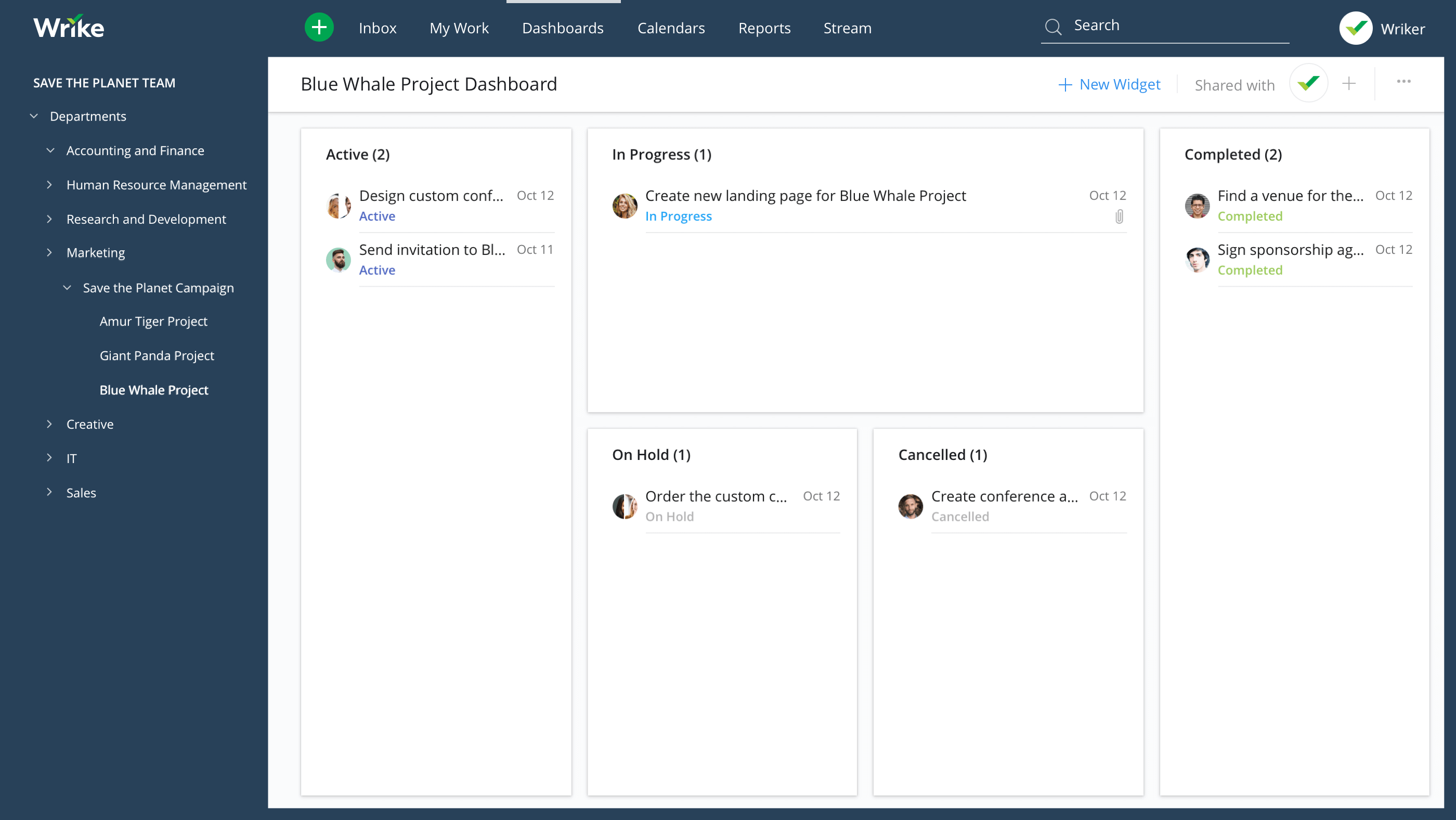 To improve workplace efficiency and productivity, Wrike is one of the best SaaS apps you can count on.  Starting from the initial stages to the final reporting point, Wrike offers a complete end-to-end solution for teams to collaborate on projects by managing and customizing an entire workflow.
It is easy to set up and can be integrated with multiple apps. It allows projects to be effortlessly broken down into sprints and adjusted into timelines to monitor the progress of all employees.
With a real-time workspace, Wrike is the ideal tool for cloud management with 360-degree visibility of overall processes. It provides complete transparency into the status of a team's work including active tasks, monitoring workload or automating time tracking, progress reporting, and more.
Key Features
Timeline and Gantt Charts
Real-time newsfeed
Robust API capabilities
Multiple integrations
Customized reporting
Workload Management
Easy document collaboration
Pricing
Free: A simple plan for small teams of up to 5 people. With 2Gb of storage space, it allows for basic app integrations such as OneDrive, Google Drive, and Dropbox. Real-time activity stream and file sharing are possible with task management inboard or spreadsheet view.
Professional: For 5, 10, or 15 users at $9.80 per person, per month this plan allows for complete project planning and collaboration. It includes 5Gb of storage space and 15Gb of monthly video uploads.
Apart from task management it also includes sub-task management and the Gantt chart. Advanced integrations such as Excel, RSS, or MS Project are possible, dashboards can be shared and multiple collaborators can be added.
Business: For 5-200 users at $24.80 per person, per month, this plan includes 50Gb storage. It allows for customization, executive reporting, and robust work management!
Volume discounts are available for a large number of users. Multiple features include custom fields and workflows, report templates, graphical analytics, time tracking, request forms, Salesforce integration, calendars, and more!
Marketers
A tailor-made solution for marketing teams is provided and Wrike needs to be contacted for a price quote. Apart from all the features of the Business plan, this includes a tailored workplace, Wrike Proof, Wrike Publish, and an extension for Adobe Creative Cloud.
Enterprise: With 100GB of storage, a comprehensive solution for corporates is provided and Wrike needs to be contacted for customized pricing.
Advanced features include high security and controls such as SAML 2.0 Single Sign-On, directory integration, user audit reports, BI intelligence integration, and more!
---
Business Intelligence SaaS Apps
4. HotJar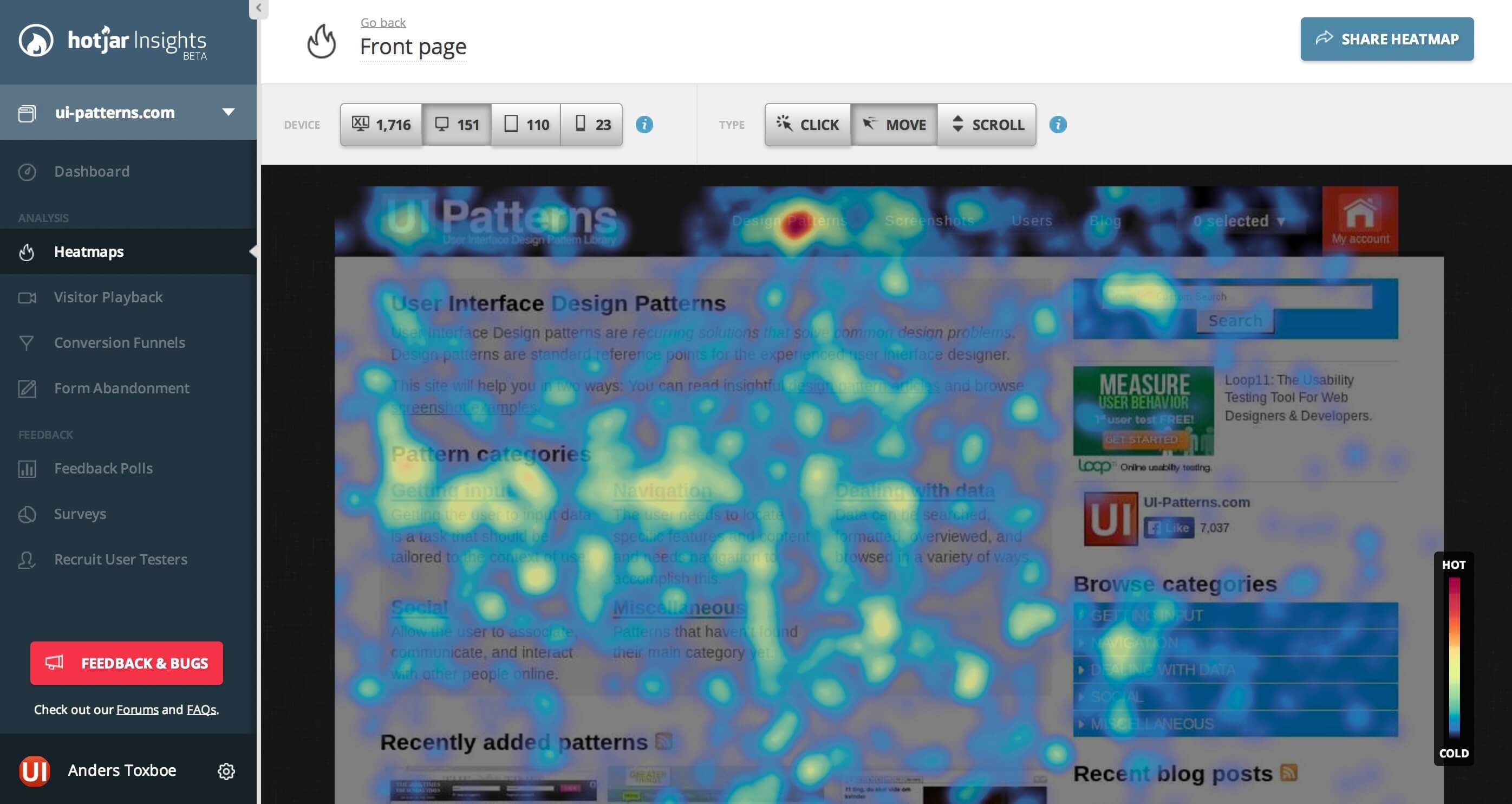 HotJar is a leading conversion rate optimizer tool that helps businesses determine exactly how users explore their site and this rich data can be analyzed to drive on-site conversions. It studies and combines data from visitors' clicks, actions, surveys, and feedback provided allowing you to analyze and work on your user experience and conversion rates.
HotJar is one of the best SaaS products and a pioneer in its category as it has combined many services that were previously available individually. The HotJar platform can thoroughly fulfill any business need for site performance evaluation and it suggests improvements based on intelligent data.
Key Features
Heatmaps to monitor user behavior
Visitor recordings to explore how users navigate a sit
Conversion funnel reports used to improve sales and other conversions
Form analysis to resolve issues with sites usability
Feedback polls to get visitors' opinion
Surveys to enhance visitors' experience
Recruit testers for an expert opinion regarding site management
Pricing
Personal: The Personal plan has two subcategories, Basic and. The basic plan is free with limited features and limitations of reviewing data from 2,000 page views per day. Plus plan costs $29 a month and is designed for startups and enables the collection of data from 10,000 page views per day with unlimited report generation and users.
Business: The business pricing plan starts from $89/month to $989/Month depending on pageview data required by the users. Pageviews per day vary from 20,000 to 800,000 a day at different prices. Customized pricing plans exist for 2 million above pageviews.
Agency: Agency pricing plans can be customized for each client belonging to an agency. Agencies can manage different sites through this plan and payment for every individual site can be managed/selected on choice. For two or more sites managed through HotJar, a 10% discount is offered on the final bill.
---
5. Tableau

Tableau is a reliable business intelligence platform that offers advanced analytics and data exploration. Among the best SaaS products for business intelligence, Tableau leads the industry in summarizing complex and raw data. The analysis generated from Tableau can be used for analyzing trends and making successful business decisions.
Tableau is simple to learn and not at all complicated making it a popular choice for businesses. Moreover, no programming or technical skills are required for operating Tableau. It can generate customized reports, and charts and it all together creates a unique dashboard that can be shared across an organization.
Key Features
Allows sharing and collaboration of analytics data in the cloud
Using the Ask Data feature questions can be simply typed in to receive an instant response
Easy representation of large data with multiple views and drilling features
Easy integration with many apps to connect to data anywhere
Tableau can be embedded within apps for secure access for external teams
Sharing of workbooks across the organization with varied visualization situated by user type
Advanced security, authentication, and user permissions
Pricing
Individuals: At $70 per user/month, this package includes Tableau Desktop, Tableau Prep Builder, and anyone from Tableau Server or Tableau Online.
Teams & Organizations: This payment plan consists of two deployment options. To deploy with the Tableau server, Tableau Creator providing products to support analytics workflow costs $70 per user per month, Tableau Explorer providing full-service analytics costs $35, and Tableau Viewer allowing interactions and data visualizations costs $12.
Embedded Analytics: Further pricing quotes can be requested for further features including APIs to manage analytics, SAML Single Sign-On authentication, custom branding, and more.
Interested in finding out more about other SaaS companies and getting general tips on how to thrive in the SaaS market? Find out the best SaaS blogs.
---
Business Accounting SaaS Apps
6. QuickBooks

QuickBooks is business accounting software that can be deployed via the cloud or on-premises. It is one of the best SaaS products for small and medium enterprises to manage billing, payments, and payroll. It integrates many accounting features for end-users and provides reports for reconciliation and accounts management.
The user-friendly interface of QuickBooks and its easy navigation through all modules set it apart from other financial software. It is highly scalable offering multiple levels of support to accommodate various needs of a company as it grows and has an open API allowing easy integration with other platforms.
Key Features
Bank reconciliation
Billing and Invoices
Asset management
Payroll Management
Purchase orders
Expense tracking
Accounts Receivable records
Pricing
Simple Start: Priced at $15 a month, the Simple Start plan is designed for small businesses with basic features such as tracking sales, recording expenses, and invoicing for one user and an accountant.
Essentials: For $23, businesses can get an Essentials plan which will enable all the basic features and additional advanced features for 3 users such as bill management, multiple currencies, and sales quotation.
Plus: Plus is the top plan for $31 which enables businesses to manage inventory, create purchase orders, and track project profitability with access for 25 users and an accountant.
---
7. FreshBooks

FreshBooks is an intuitive and straightforward SaaS app with detailed features covering all aspects of an accounting department. Invoicing, time tracking, payment claims, payment reminders, or direct payment gateways it has everything that needs to be displayed in a simple dashboard where team members can easily collaborate.
Freshbooks is considered the best accounting software for small businesses. Its unique design makes it extremely easy to understand even for those with no accounting background and it automates processes and calculations along with running in-depth reports and visualizing financial patterns without requiring multiple manual data entries.
Key Features
Unlimited invoices and expense entries
Scheduled late fees and late payment reminders
Insightful tax time reports
Workflows with 200+ integrations
Client retainers
Insightful time tracking and invoicing
Automated bank imports, invoicing, expenses, and more
Pricing
FreshBooks gives its users four payment plans options
Lite: Priced at $15 per month, Lite is for small businesses with a capacity of 5 billable clients and all the basic features including invoicing, expense entries, time tracking, bank account management, and reports.
Plus: Priced at $25 this allows 50 billable clients. All lite features are included along with late payment reminders, double-entry accounting reports, and client retainers among many other features.
Premium: The premium package is designed for growing businesses with the management of 500 billable clients, it costs $50 per month and includes all the features of FreshBooks.
Select: For businesses that need customized plans, FreshBooks can arrange a demo and design a plan just right for your business as per the requirement along with essential training for the team.
---
CRM SaaS Apps
8. Salesforce

Mentioning Salesforce is essential when speaking about the best SaaS companies as it has grown to be the most popular CRM application for businesses today. It provides an entire ecosystem of products for support, sales, marketing automation, employee communication, analytics and so much more!
Salesforce lets users manage digital sales and marketing, integrates data for the provision of the best possible services, and helps automate business processes. Salesforce upgrades its infrastructure time-to-time enabling the best possible experience for users. Among other CRM tools available, Salesforce provides the most diverse portfolio and customized tools for its users.
Key Features
The marketing cloud helps manage social media, web presence, and content creation.
Services cloud manages customer service and support.
A community cloud allows a platform for employees and customers to communicate.
The Commerce cloud enhances the customer experience by managing digital commerce.
Analytics cloud enables businesses to store and analyze data to make data-backed decisions.
App cloud enables businesses to customize apps to run on the Salesforce platform.
The health cloud helps manage data of the doctor-patient relationship.
Pricing
Salesforce has numerous pricing plans available depending on your needs. It offers solutions for sales management, customer service, marketing, analytics, and more. Pricing starts at $25 per user per month.
---
9. HubSpot

HubSpot is one of the best SaaS companies offering a complete platform for marketing, sales, customer service, and a free CRM including all the must-have customer management features. This CRM takes into account the entire sales funnel and is built to make pipeline management simple.
Its drag-and-drop functionality and user-friendly interface comprising oll necessary information from an entire sales funnel on a single dashboard make it easy to use and function. No matter the platform where customer interactions take place, HubSpot CRM can track them automatically and display them in a neat timeline.
Key Features
Company insights and records
Email marketing, scheduling, tracking, and templates
Facebook and Instagram lead ads
Contacts and client management
Customer service and live chat, chatbots, and calls
Tasks and ticketing
Analytics tools and reporting dashboard for review.
Pricing
Free: Hubspot CRM is free of cost. It allows unlimited users and data and up to 1 million contacts – there is no catch and no trial period or time limits. It is possible to purchase additional features to build on free features.
---
Marketing SaaS Apps
10. Semrush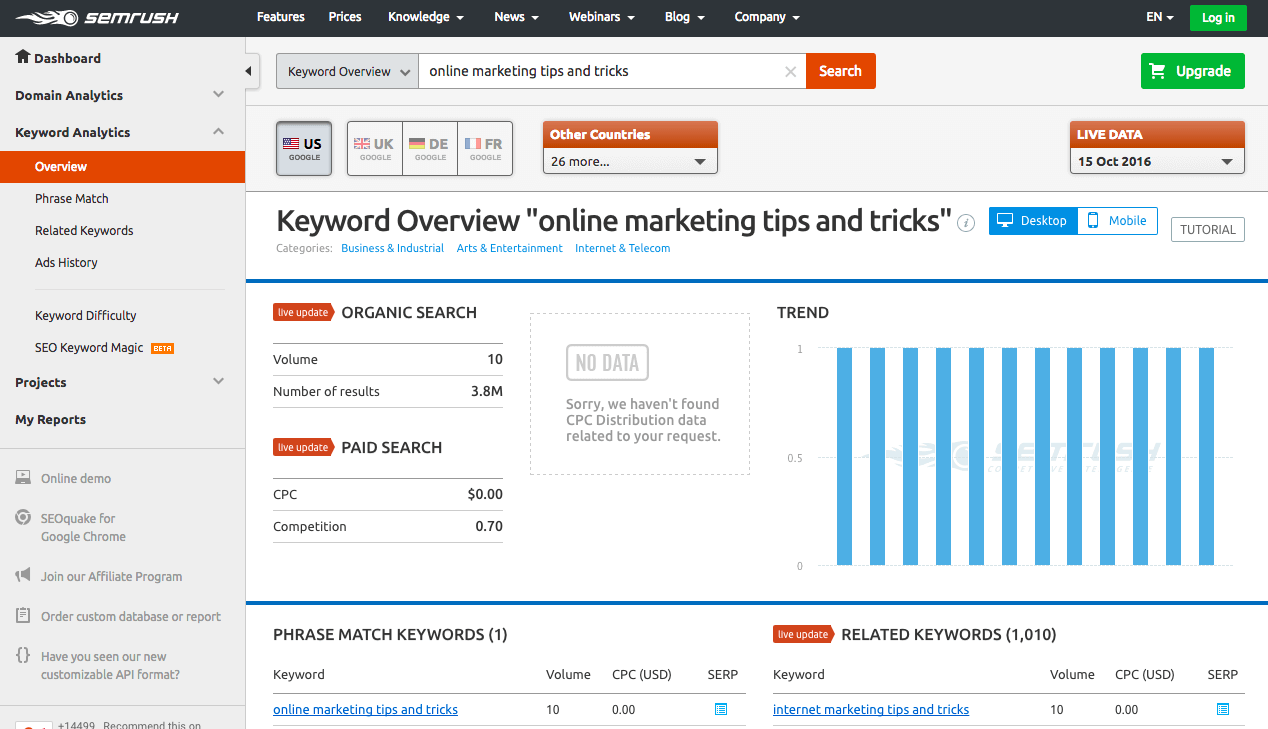 Being a complete suite for digital marketing professionals, SEMrush consists of 28 advanced tools for anything marketing-related. Whether you are an SEO professional, a PPC expert, a social media manager, a copywriter, or a content marketer, SEMrush has just the tools to achieve your goals with effective marketing strategies.
With 14.9 billion keywords and 570 million domains in its database, SEMrush provides a wealth of information to marketers worldwide making it one of the best SaaS tools. It is one of the best SEO tools for optimizations and content strategy with its advanced keyword research capabilities.
Key Features
Site audit to help, locate, and prioritize on-site SEO issues
Advanced and organized keyword research and position-tracking tool
Content analyzer to help assess and improve the value of your content
Side-by-side domain comparisons to understand and compare keywords & strategy
The Backlink audit tool helps find all your backlinks with detailed information
Traffic analytics to reveal any company's online performance and traffic
Invaluable competitor insights for multiple areas
Pricing
Free: Great for trying out SEMrush, this plan provides limited features with 10 searches per day for domain and keyword analytics, 10 results per search, sit audit for 100 crawled pages, tracking for 10 keywords, 10 SEO idea units, and 1 scheduled PDF report.
Pro: $99.95/user/month ($83.28/user/month on the annual plan). This plan provides access to all 28 tools to run SEO, PPC, SMM, and content projects making it a great tool for freelancers or startups.
Pro allows 3,000 searches a day for domain and keyword analytics, 10,000 results per search, management of up to 5 projects, 100,000-page crawls per month, tracking of 500 keywords, 500 SEO idea units, 5 scheduled reports, 50 social media profiles, and more.
Guru: $199.95/user/month ($166.62/user/month on the annual plan). This plan is suitable for growing agencies. Additional features include branded reports, historical data and limits of 10,000 search results, 50 projects, 300,000 monthly page crawls, tracking of 1500 keywords, 800 SEO idea units, 20 scheduled reports, 100 social media profiles, and more.
Business: $399.95/user/month ($333.28/user/month on the annual plan). This plan is ideal for agencies and E-commerce companies. Further features include white label reports, API access, Google Studio integration, product listing ads, and extended limits of 10,000 searches, 30,000 results, 200 projects, 5,000 keywords, million-page crawls, 50,000 results per report, 5,000 daily reports, and more.
Enterprise: If fadditionalfeatures are required SEMrush team can be contacted and custom solutions tailored to an enterprise are provided.
---
11. Ahrefs

Ahrefs is an all-inclusive SaaS marketing tool that provides comprehensive functionalities for highly effective SEO. It started as an impressive backlink analysis tool but it has expanded to include a detailed keyword tool as well as a highly efficient competitor analysis.
Ahrefs boasts a 15 trillion backlink index, the world's largest which is updated every 15 minutes with live data making it the go-to tool for link building and link tracking. It is also known for finding accurate search volumes and keyword difficulties. Ahref can be used to plan a winning SEO strategy with complete competitor analysis, keyword search, backlinking, content ranking, and more.
Key Features
Thorough keyword research with a database of over 3 billion keywords
Largest index of live backlinks for up-to-date research
In-depth competitor analysis to plan an effective strategy
Content explorer shows popular content from your niche
Rank Tracker shows continuous ranking progress
Web monitoring sends notifications when you or competitors win or lose backlinks.
Site audits to diagnose on-page SEO issues
Pricing
Lite: $99/month ($82/month on the annual plan). This option is suitable for freelancers. It allows 1 user and 5 projects with tracking for 500 keywords from 1 location, 10,000-page crawls, 25 domains and 100,000 rows for backlink indexing, top 20 ranking index, 25 daily keyword reports, 5 alerts for backlinks, and more.
Standard: $179/month ($149/month on the annual plan). This plan allows 1 user and 10 projects. 1500 keywords can be tracked from 5 locations, the crawl limit is 500,000,100 domains can be researched, 1 million rows per backlink index report, top 100 ranking index, 100 daily keyword reports, 15 backlink alerts, and more.
Advanced: $399/month ($332/month on the annual plan). This plan allows 3 users, 25 projects, 5,000 tracked keywords for unlimited locations, 1.25 million-page crawls, 250 domains, 5 million rows per backlink index report, 200 daily keyword reports, and 40 alerts for new and lost backlinks.
Agency: $8.00/user/month ($6.67/user/month on the annual plan). $832 or $999 per month for monthly or year billing this plan is for 5 users and 100 websites. 10,000 keywords can be tracked, 2.5 million-page crawls, 1000 domains, 10 million backlink rows, 1000 keyword reports per day, 100 backlink alerts a lot more!
Conclusion
For every business no matter what the size and for every category or department there are numerous SaaS solutions available in the market. It is important to research and select the best SaaS apps that suit your business needs to make the right, promising investment.
Since it is impossible to review every tool out there, we hope that our favorite SaaS products mentioned here will help you scale and make your business increasingly efficient.
---
Other SaaSy Goodness on All That SaaS: