To a lot of people, Customer Relationship Management (CRM) software is just a fancy and expensive way of managing clients.
And, because people don't hear much about CRM apps, they never actually make an effort to learn what these apps are truly capable of doing.
As a result, getting CRM software for their business never really ends up among people's priorities and they end up missing out on an extremely important tool.
So, to help raise awareness regarding CRM apps and their usability, our team decided to play its role.
Top Features to Look for in CRM Software
Although most businesses don't use a CRM app, the amount of businesses that do use them has been growing at a healthy rate. The competition for the best CRM software has been heating up over the past few years.
Software houses are always on the lookout for some innovative or lesser-known features to add to their CRM app and thanks to this obsession, today's CRM apps are filled to the brim with awesome features.
So, to give our curious but inexperienced readers a little taste of what they can expect a decent CRM software to offer, here are some great features to look out for:
1. Contact Management 🗒️
The phrase "contact management" is every person's go-to definition of CRM apps but, the funny thing is, they have no clue how advanced and helpful contact management has become.
Today's best CRM apps don't just save names, addresses, and contact info; they also allow you to organize your client's info according to demographics and datasets that are meaningful to your business.
2. Analytics 📊
Another feature that has become increasingly common among the best CRM software is the ability to go through data and build insightful reports and charts out of it.
Of course, when it comes to growing your business, having market insight is extremely valuable.
And while CRM apps can produce highly detailed charts, the reality is, that these graphs and reports won't be of much use to anyone who's not an expert.
Hence, CRM apps also offer a dashboard feature with simplified facts and figures, so that everyone can understand what the core indicators are telling.
3. Lead Management 🙋
Converting a prospect into a client requires a very capable sales team. Or at least, that's how things used to be.
When it comes to tasks like following up, tracking, and performing other repetitive tasks of a sales cycle, all the best CRM software for small businesses free up your sales team's schedule by automating these tasks.
And, because lead management and contact management are closely linked, most decent CRM apps offer synchronization features between the two modules.
4. Campaign Management 📢
If you want to find the feature that separates the best CRM software from the average one, this is it. With the campaign management feature, users can design and optimize their entire marketing campaign.
And, what's even more impressive is that once the campaign is over, users can also go through its stats to find out how successful it was, what parts worked, and what didn't.
5. Email Management 💌
Another one of our favorite modules being offered by all the best CRM apps is email management. With this module, CRM apps can integrate with a user's email accounts and save important notes and contact info in the app.
The app can also go through emails, links, and attachments and come up with potential clients which the user can then target with the lead management module.
Alright! Now, that we are clear on what CRM apps are and what kind of features they offer, let's go through 10 of the best CRM software available right now.
---
The 25 Best CRM Software for Small Businesses in 2023


HubSpot is a name that needs no introductions. From native modules built for live chat, pipeline management, contact management, collaboration, and more, it is one of the best CRM software targeted at small and medium-sized businesses.
HubSpot understands SMEs don't want big, siloed storage for different types of data. It offers a consolidated, highly customizable CRM dashboard where most of your data can be saved.
It simplifies and organizes your sales so you can stay focused on them and keep things moving forward.
Key Features
Integrates with email accounts
Can import leads from emails
Offers deal and task dashboards
Can sync social media info with contacts
Offers templates and scheduling to make marketing easy
Pricing
Along with a 14-day free trial, HubSpot offers the following price plans:
Essential: Offers basic lead and sales management features. It starts at $87 per month.
Pro: Automates a lot of sales tasks. It starts at $153 per month.
Premium: It offers deeper data analysis plus bots for different tasks. You'll have to chat with a rep through their website to decide what features you'll need and how much the plan will cost you.
---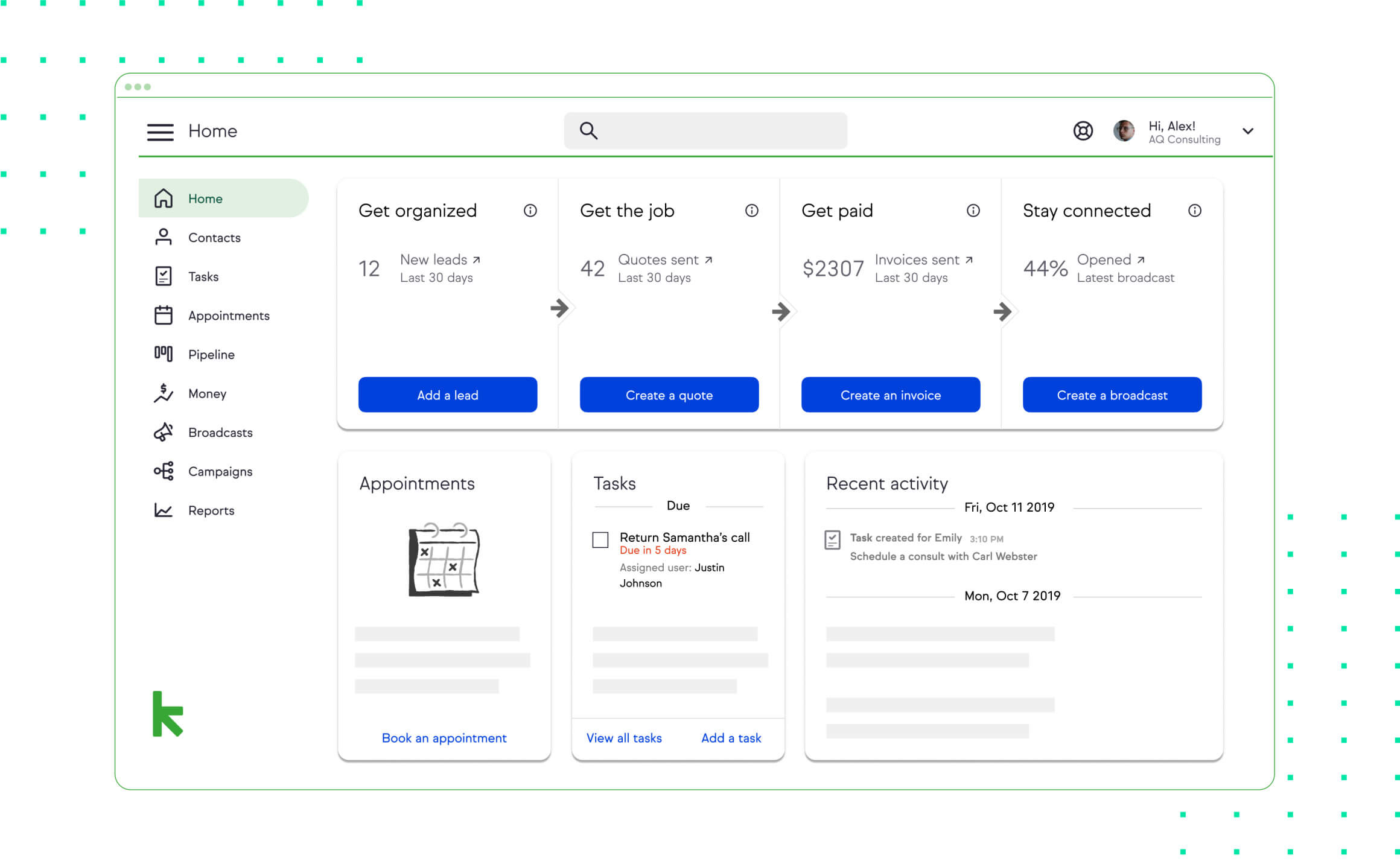 With this best CRM software, you can stay in touch with your clients and customers on the go. Their automated follow-up system ensures that you are responding to your clients on time. Existing clients get automated reminders and emails so that a repeated sales process is generated.
Keap's committed business number for your iPhone permits you to share your number with leads and customers. With this, your number stays private and you will get to know quickly if a business call hits your phone. How cool is that!
Key Features
Enables you to keep all your customer activity and communication all in one place through connecting Gmail and Outlook for constant contact updates.
Alerts you when your lead or customer needs you with a quick and on-point response. Maximum customer satisfaction is Keap's top priority.
Your sales process is much easier and more organized with this software. Their customizable dashboard organizes your lead and tracks them.
It provides the most convenient way for their clients to pay the bills. They only have to click the 'pay now button and payment reminders are sent regularly.
Pricing
Keap Grow – This paid plan provides several features for small businesses and costs $79/month. Client management, email marketing, appointments, quotes, invoices, and payments are some of the prominent features of this plan.
Keap Pro – This plan costs $149 per month and is for growing businesses. The features of this plan include marketing and sales automation, recurring payments, landing page builders, and many more.
Infusionsoft – With a cost of $199 per month, this plan is for established businesses. Its features contain marketing and sales automation, lead scoring and company records, advanced recording and e-commerce, and many others.
---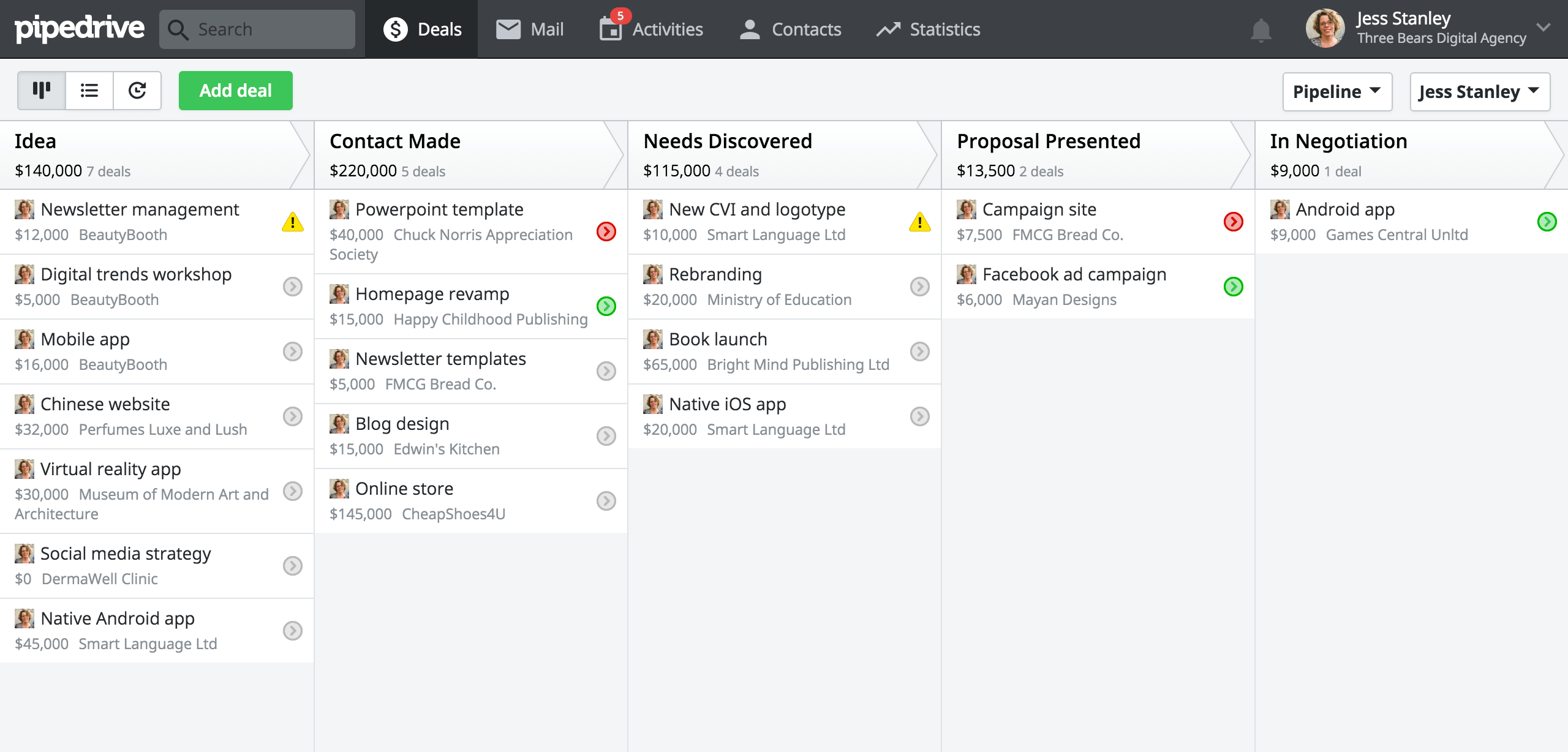 When you use Pipedrive, it's pretty obvious that the people behind this app have extensive experience in sales. We say this because the way that this app organizes your data and prioritizes sales is just really amazing to see.
Pipedrive is also extremely fast; from creating an account or analyzing data and generating a report, everything is as snappy as it can be. But, the reason we named Pipedrive one of the best CRM software is the role it plays in direct sales.
Pipedrive can crunch loads of data and help you identify great leads and priority deals which you can then easily target through the many lead management features that it offers.
Key Features
Superb sales pipeline view
Allows setting business goals
Supports multiple languages and currencies
Can be integrated with Google apps
Mobile optimized
Pricing
Firstly, Pipedrive offers a cool 14-day free trial which easily makes it one of the best free CRM software you can use in 2023. But, once the trial is over, users can choose one of the following plans;
Essential: Offers control over sales and leads. Costs $12.50/user/month and the yearly package and $15/user/month in the monthly package.
Advanced: Automates sales tasks and allows assigning roles to users. Costs $24.90/user/month and the yearly package and $29/user/month in the monthly package.
Professional: Adds more features to contact management and lets users define data access levels. Costs $49.90/user/month and the yearly package and $59/user/month for the monthly package.
Enterprise: Adds more security and customization. Costs $99/user/month. Billed annually.
---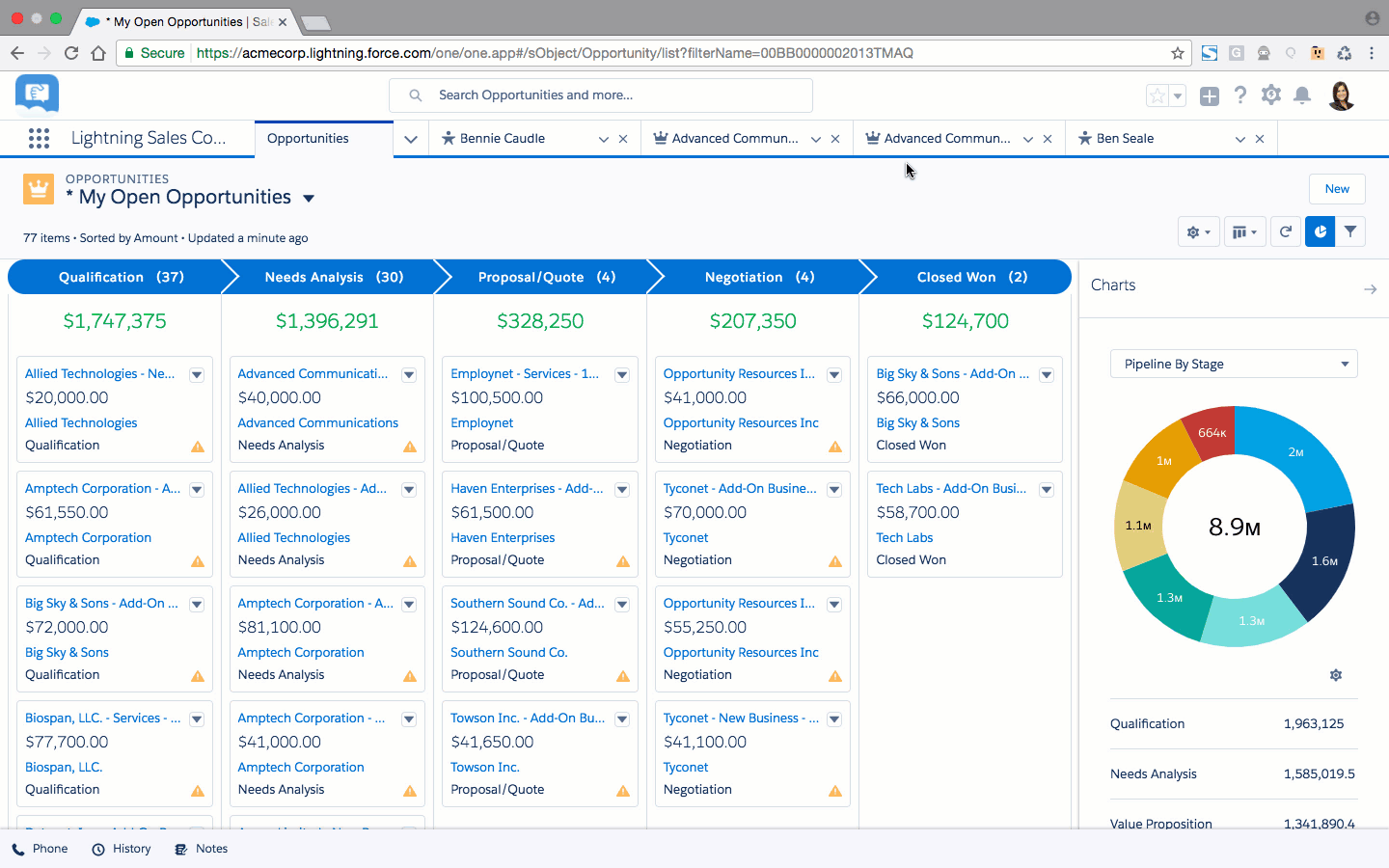 When you search for top CRM apps, Salesforce will probably pop up everywhere, and that's because it is one of the best CRM software for small businesses.
The thing that we love about this app is that it clearly understands every business is different and hence, has different needs.
We say this because unlike most of its competitors, Salesforce offers each feature separately and it lets the users decide which features they'd like to buy. And of course, users can always add or remove any features they want.
Key Features
Compatible with an extremely wide range of businesses
Allows easy import of data from third-party apps
Supports integration with loads of development apps
A huge online community (and step-by-step guides on nearly everything)
Modular design for adding/removing features
Pricing
Apart from the 14-day free trial, the following are the price plans for the basic version of Salesforce without any plugins;
Essentials: Supports up to 5 users. Costs £20/user per month.
Professional: Built for any team size. Costs £60/user per month.
Enterprise: Support deep customization. Costs £120/user per month.
Unlimited: Offers the highest level of support. Costs £240/user per month.
Salesforce charges annually for all price plans.
---

This app mainly focuses on team collaboration and project management. It does offer a CRM module as part of the whole app but, as CRM is not the main focus, the app does lack some of the CRM features you can find in other best CRM software.
Nevertheless, Bitrix24 more than makes up for its missing CRM features by offering a highly capable project and task dashboard, superb file sharing, and management features, sales and HR management, and lastly, scheduling and planning features.
Moreover, Bitrix24 also offers a free version of the app that can be used by up to 12 users and that is why it's one of the best free CRM apps.
Key Features
Calendar Sharing
Live chat with other users
Build groups for each project
Provides file storing and sharing
Task planning and reporting
Pricing
Apart from the free plan, Bitrix24 offers 5 packages:
Start: Supports up to 2 users, offers 10GB space, and basic CRM features. Costs $19/month.
CRM Supports up to 6 users, offers 50GB of space, advanced CRM, and basic project management features. Costs $55.20/month.
Project: Supports up to 24 users, offers 50GB space, basic CRM, and advanced project management features. Costs $55.20/month.
Standard: Supports up to 50 users, offers 100GB space, advanced CRM, and project management features. Costs $79.20/month.
Professional: Supports unlimited users, offers unlimited storage space, and gives maximum CRM and project management features. Costs $159.20/month.
All plans are billed annually.
---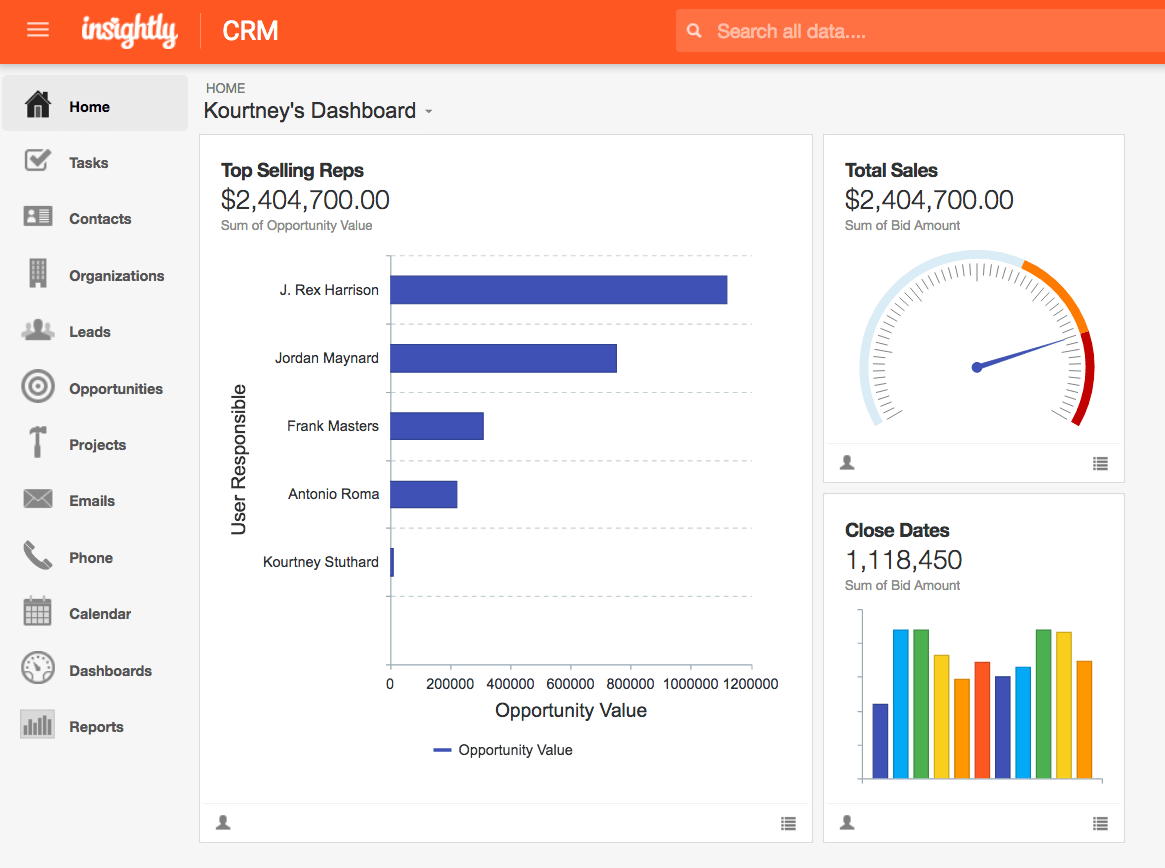 This is another one of our favorite CRM apps. The thing that makes Insightly different is that unlike a lot of its competitors, they offer many of the same features at economical rates.
Insightly is more focused on startups and medium-sized businesses and that's why it also offers some tailor-made features and discounts to that segment. One example is their free version of the app that's built for startups and allows up to two users.
The fact that people starting a new business can avail one of the best free CRM apps without any hidden charges or any strings attached is just amazing.
Moreover, Insightly has Android and iOS apps too so, working from outside the office is just as easy.
Key Features
Integrates well with development and productivity tools
Allows mass emailing by integrating with MailChimp
Pipeline task and activity view
AES-256 military-grade encryption
Mobile apps
Pricing
Apart from the free package, Insightly offers 3 price plans;
Plus: Offers team collaboration features. Costs $29 per user per month.
Professional: Adds leads and sales management. Costs $49 per user per month.
Enterprise: Adds third-party app integrations and automates lots of processes. Costs $99 per user per month.
---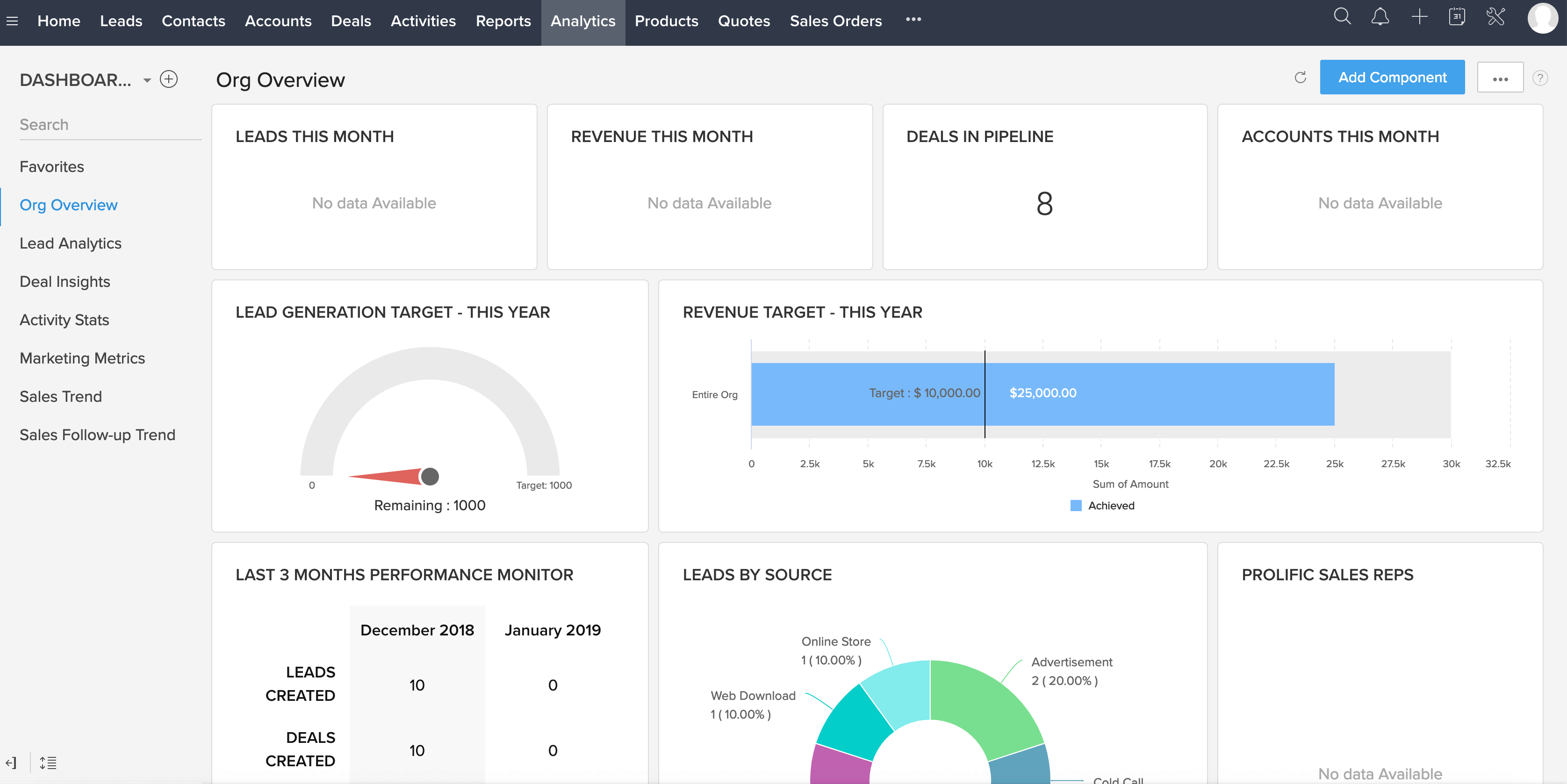 This app packs all the great features of a CRM app into one, along with a user-friendly UI and rich customizability.
What's so great about Zoho is that they don't leave any part of the business community out; from startups to multi-national organizations, this app can handle all sorts of workloads.
Talking about startups; Zoho offers a completely free version for startups that can be used by up to 3 users. The free version has essential features like sales and lead management.
When our experts put the free version through tests, every single one of them ended up naming it one of the best free CRM software for small businesses.
Key Features
Real-time sales forecasting
Sales automation
Captures lead from website, emails, etc.
Fast tracks the lead-to-deal process
Allows sending of quotes, orders, and invoices
Pricing
Other than the free version, Zoho offers these price plans:
Starter: Offers CRM and basic project management features. Costs $8/user/month on an annual payment basis and $10/user/month on a monthly payment basis.
Standard: Adds advanced project management features. Costs $12/user/month on an annual payment basis and $18/user/month on a monthly payment basis.
Professional: Adds Google Ads integration and offers unlimited records. Costs $20/user/month on an annual payment basis and $30/user/month on a monthly payment basis.
Enterprise: Adds a virtual assistant, business intelligence tools, and data encryption. Costs $35/user/month on an annual payment basis and $45/user/month on a monthly payment basis.
Ultimate: Adds dedicated database clusters and advanced customization. Costs $100/user/month and is available on an annual payment basis only.
---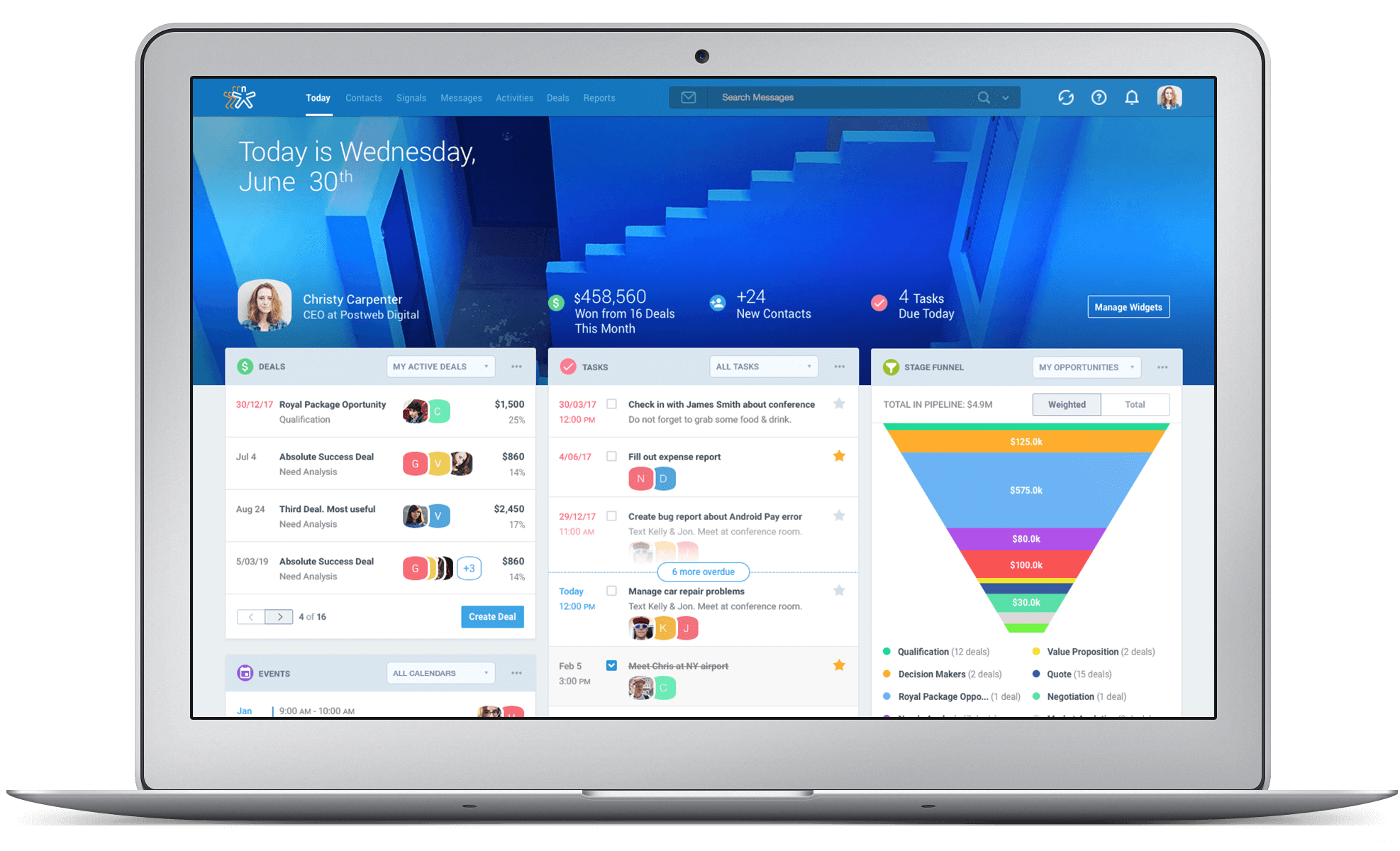 Nimble's main focus is on making communications, scheduling, and collaborations easier for everyone. For this reason, they've added quite a few features to their CRM app that make contact management easy.
The feature we loved the most about their contact management module is that it can find the Facebook, Linkedin, and Twitter accounts of your contact, and then it automatically links those accounts with that particular contact profile.
When it comes to contact management, Nimble earns its spot among the best CRM apps with ease.
Key Features
One of the best contact management modules
Sharing data with employees or teams is as effortless as it gets
Automatic contact import for easily importing everything related to your contacts
The "Today" page provides a roadmap of a daily task while "Signals" lets you know who's talking about you
Let's users add, edit, assign and remove tasks
Pricing
Unlike most of its competitors, Nimble offers its CRM app in just one price plan. The plan is called "Nimble Business" and it can be availed at $19/user per month paid annually or $25/user per month.
---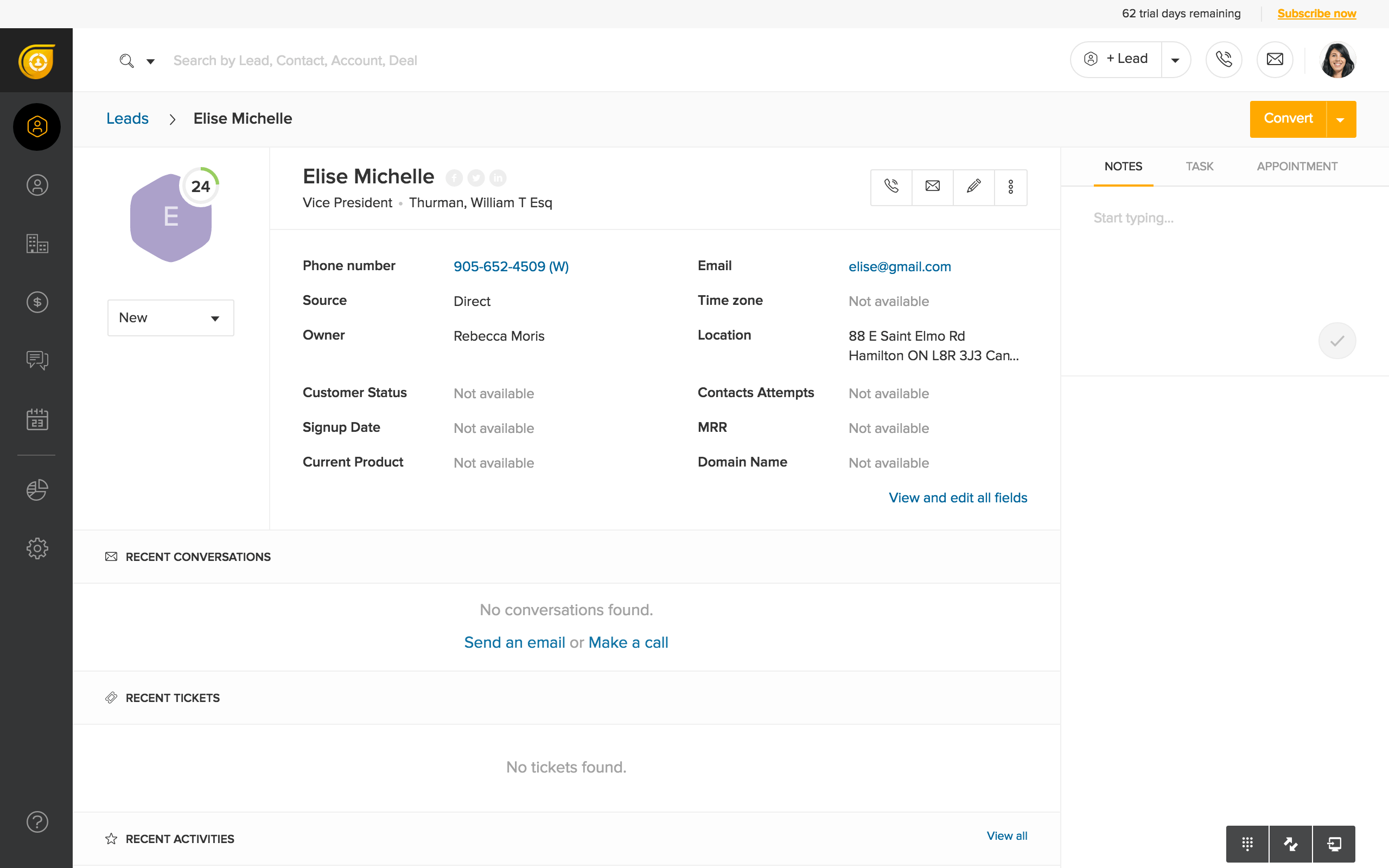 In the rapidly growing product lineup of Freshdesk, Freshsales is the fourth edition. Freshsales is built to handle huge amounts of data and present its users with valuable insights and leads.
This app can easily handle thousands of contacts (each with a detailed profile), hundreds of tasks, lead and sales management, data analysis, and last but not the least, business reports while providing users with a clean and simple UI that never overburdens the user with any extra or unneeded information.
And although this app is filled with great features the best one has to be its Sprout package; it's a startup-centric free version of the app that offers features like unlimited users, unlimited contacts, lead management, and unlimited support.
The Sprout plan easily lands a top spot among our best free CRM software.
Key Features
Efficient lead tracking and scoring features
Allows phone and email integrations
Email scheduling for easy contact management
Click-to-call and voicemail features
Offers deep analysis and custom reports
Pricing
Apart from Sprout, the "free forever" version of Freshsales, the app is available in the following price plans:
Blossom: Adds account and deal management, email sync, and SMS integration. Costs $12/user per month when billed annually and $19/user per month when billed monthly.
Garden: Adds bulk emails, 10 workflow automation, and support for up to 10 teams. Costs $25/user per month when billed annually and $35/user per month when billed monthly.
Estate: Adds advanced customizations, support for multiple currencies, 25 workflow automation, and support for up to 25 teams. Costs $49/user per month when billed annually and $65/user per month when billed monthly.
Forest: Adds audit logs, IP whitelisting, and dedicated account manager. Costs $79 per user per month and is only billed annually.
---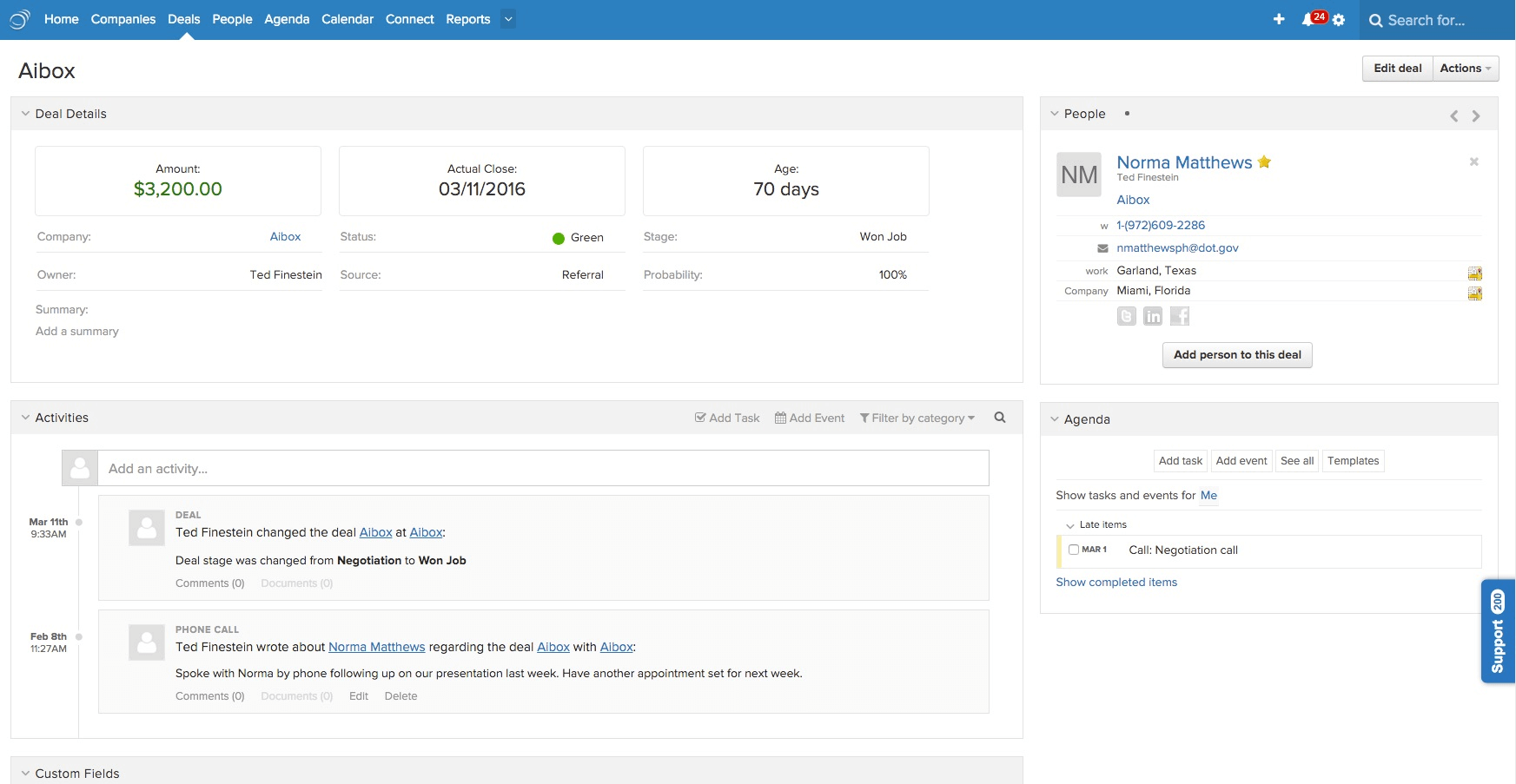 Focused on small and medium-sized enterprises, PipelineDeals offers one of the best sales management modules we've ever seen. Moreover, the high customizability, user-friendly UI, and top-notch customer support make this app even better.
With its great sales management features, PipelineDeals can make tracking and closing deals easier than ever. And, thanks to this app, users don't have to bother with the redundant and repetitive tasks involved in securing sales either because the app takes care of all that for you.
Apart from sales acceleration, this app also offers features like a sales dashboard, goal-centric tools to help your team set and achieve short and long-term goals, optimized access on mobile, and lead nurturing.
Key Features
Sales acceleration
Real-time status update
Optimized mobile access
Data access permissions
Detailed sales reports
Pricing
PipelineDeals is available in three price plans:
Start: Built for small teams, this version offers strong leads and contact management. Costs $25/user per month when billed annually and $29/user per month when billed monthly.
Develop: Adds project management features and expands on customer relationships to accelerate business growth. Costs $33/user per month when billed annually and $39/user per month when billed monthly.
Grow: Automates repetitive tasks and adds advanced analytics. Costs $49/user per month when billed annually and $59/user per month when billed monthly.
---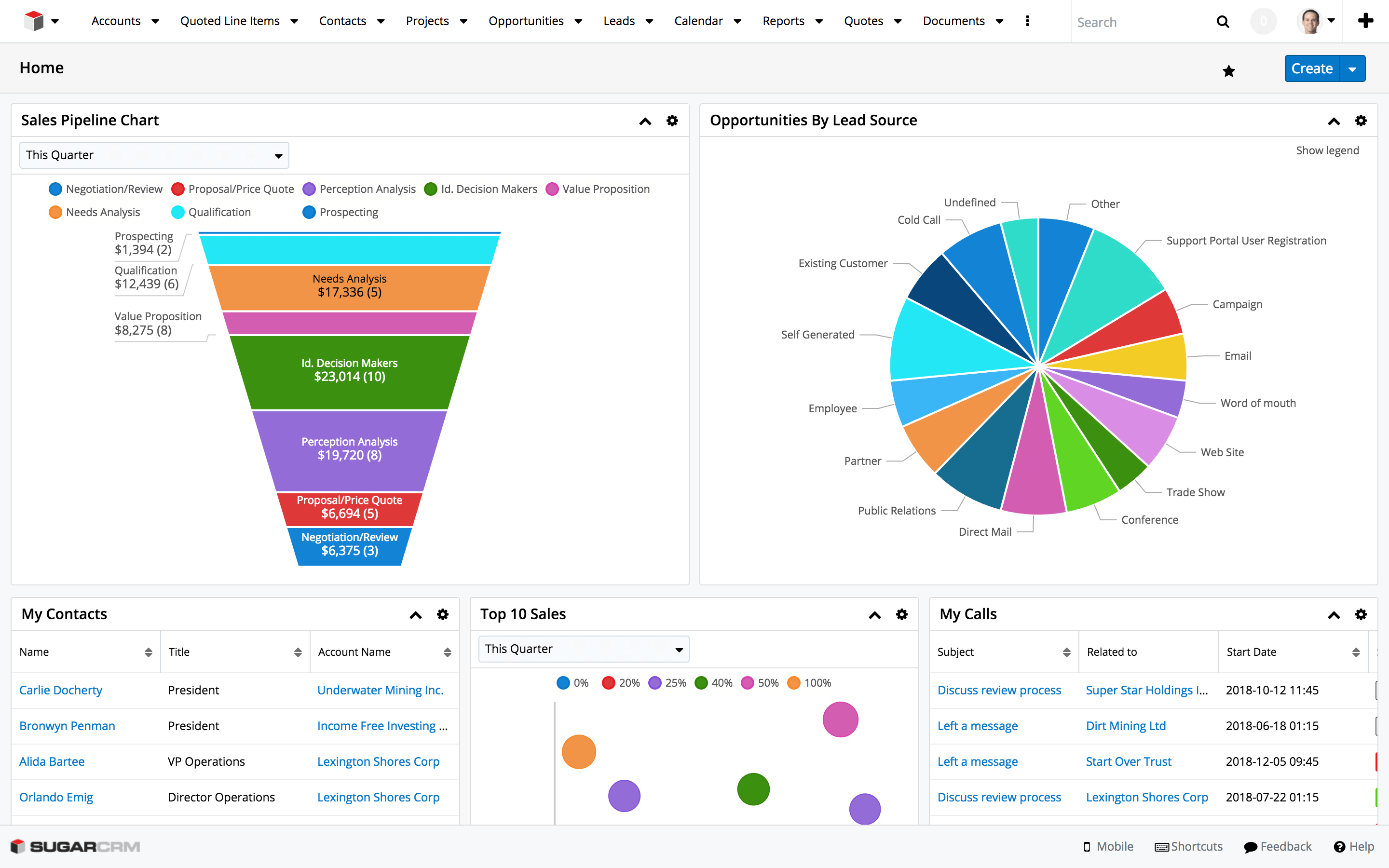 Being used by more than 50,000 companies, SugarCRM is one of the most popular CRM apps available today. Moreover, due to the app's availability in 9+ languages, the app has seen more than 7 million downloads.
SugarCRM can handle everything; from startups to organizations with more than 10,000 employees, and it does so while offering great control and customization options to the user.
SugarCRM is open-source which helps it adapt to different structures and hierarchies. And, because the app is highly-customizable, you'll need a dedicated team to operate it and keep things moving smoothly.
Key Features
Sales automation and forecasting
Call center automation
Unlimited app customization
Unlimited online customer support
Role-based views
Third-party app integrations
Pricing
Currently, SugarCRM is being offered in 5 price plans:
Sugar Professional: Built to meet the constantly evolving needs of small businesses. It starts at $40 per user per month and requires at least 10 users.
Sugar Enterprise: It offers deep customization to meet all sorts of requirements. It starts at $65 per user per month and requires at least 10 users.
Sugar Serve: Built to provide top-notch support services to customers. It starts at $80 per user per month and requires at least 10 users.
Sugar Sell: Adds advanced CRM features, 60GB storage, and phone support. It starts at $80 per user per month and requires at least 10 users.
Sugar Market: Supports unlimited users and provides 10,000 per month. It starts at $1,000 per month.
All plans are billed annually.
---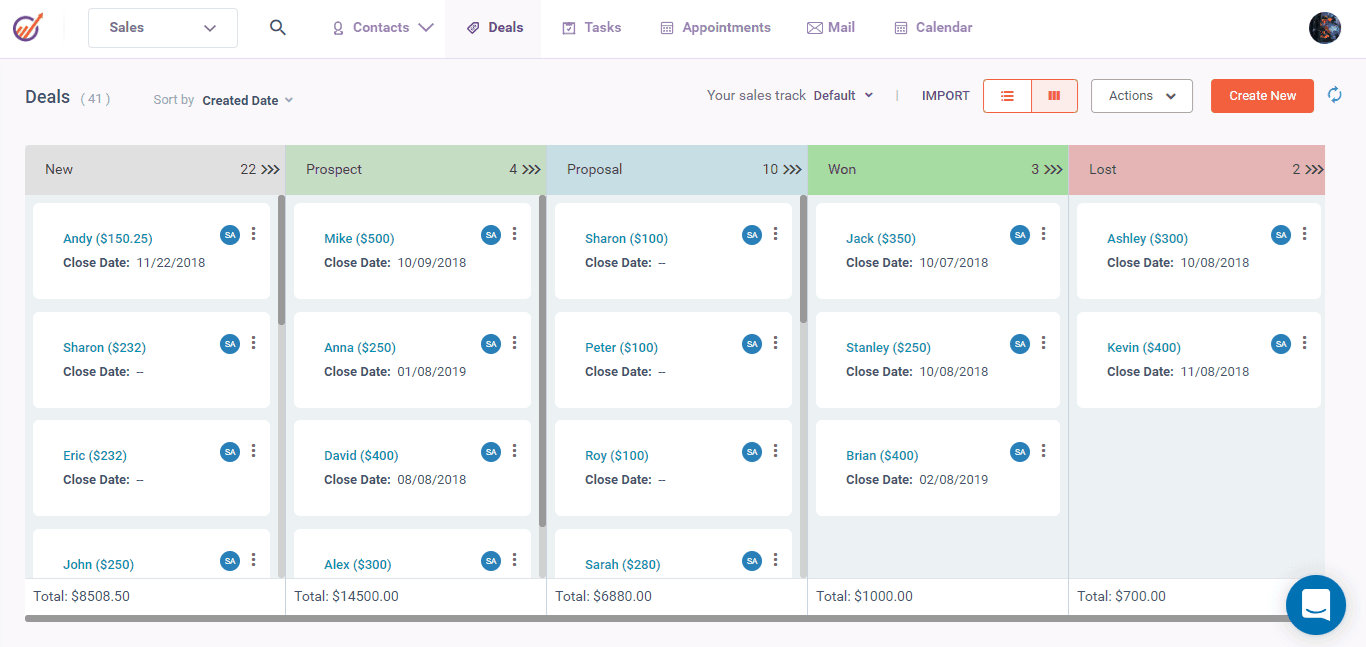 When it comes to marketing and sales CRM, you are looking for a tool that provides solutions for both of these teams. While marketing teams center their attention around customer acquisition and lead nurturing, sales teams work on converting those leads to customers.
This is why your CRM software must allow your sales and marketing teams to collaborate seamlessly. Meet EngageBay, a CRM platform built to help sales and marketing teams work together.
From web forms to email campaigns, sequencing, landing pages, live chat, and a complete CRM that gathers all data for the sales teams, EngageBay is a powerful CRM software for small businesses.
It offers some great value for money, with plans starting at just $8.99 per user/month. Since there are a lot of tools to get your hands on, EngageBay provides a free-of-cost onboarding call with their staff to help you and your team get started.
Key Features
Email Marketing: Create, launch, and monitor email campaigns through EngageBay and use autoresponders to deliver timely replies to inquiries/tickets.
Email Sequencing: Add sequences to your emails and constantly remain in touch with your leads/contacts based on their actions and behaviors.
Easily build and deploy landing pages for your website that are fully responsive and ready to help you optimize conversions for your next campaign.
Live Chat: Embed EngageBay's live chat module inside your website and enable customer support/front-desk teams to readily interact with all incoming visitors.
Ticketing: Convert messages and inquiries into tickets and assign them to appropriate staff members for timely escalation. Respond to tickets directly from EngageBay and have clear visibility of the communication history for each lead/inquiry/ticket.
Appointment Scheduling: With your leads, contacts, and communication all in one place, easily schedule appointments with clients and manage your appointment schedule from EngageBay.
Pricing
EngageBay is available as an all-in-one tool that offers solutions for sales, marketing, and support teams. Pricing starts at $8.99/user/month, however, there is also a free plan with 500 MB of file storage, a 1,000 contact limit, and other essential features.
This CRM software is also available for marketing or sales teams with team-specific features and capabilities. The standalone Marketing and Sales plans start at $7.79 per user/month with the Pro plan going up to $29.99 per user/month.
The help desk and live chat capabilities are available completely free with EngageBay. If you're looking to only add customer support and live chat capabilities to your website – you don't have to pay for anything.
---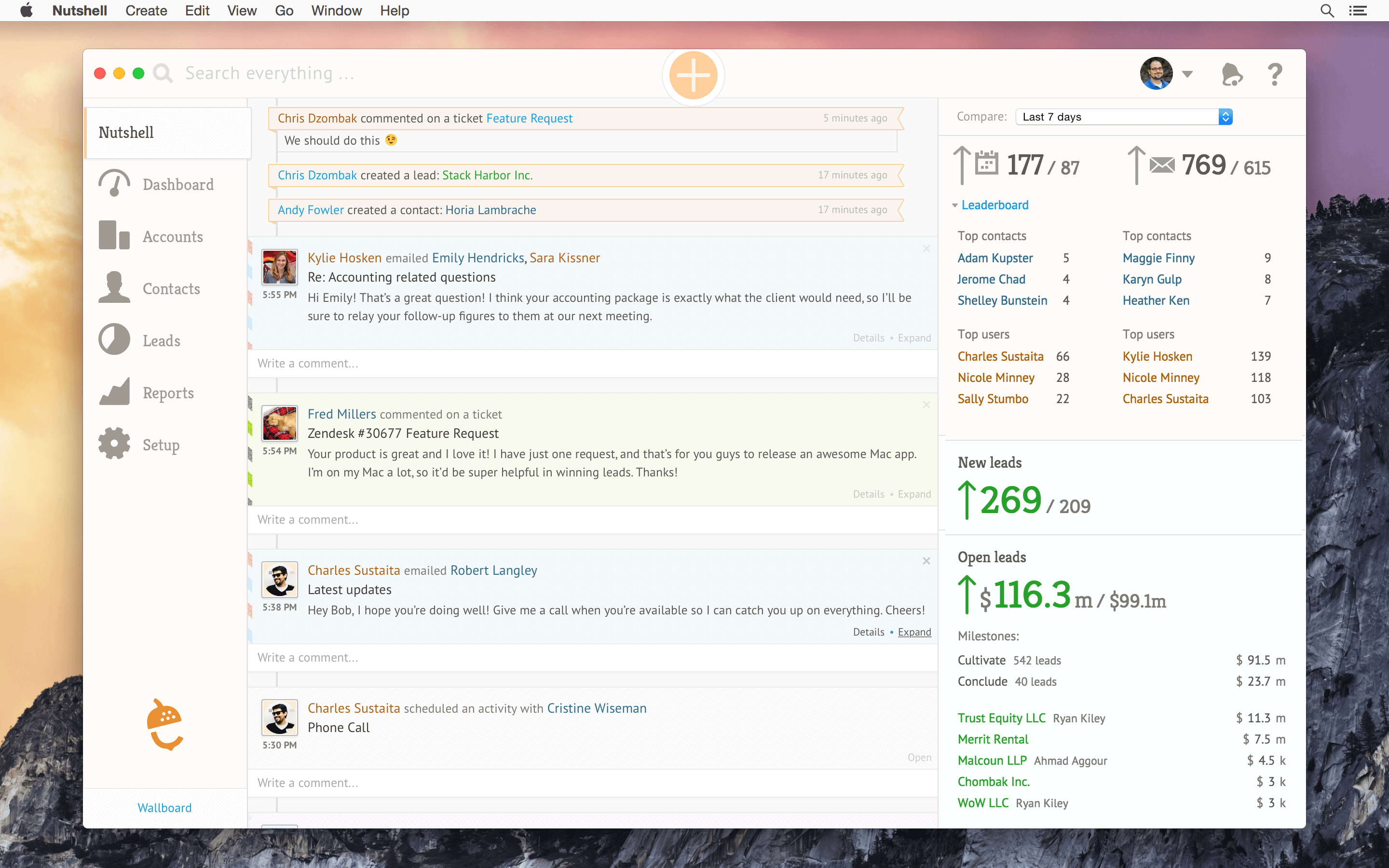 Nutshell is next up on our list – it is an online CRM tool that deals with the customization of your sales process so that you can maximize your efficiency and set up some goals to save your time and that of your customer.
Organize your leads and sales with their smart pipeline management views such as board view, chart view, list view, and map view.
It is simple yet powerful and is trusted by 25,000+ business professionals all over the world for managing and controlling their customer data.
Key Features
Automate your sale by specifying your actions and follow-ups which require accurate measurement of time and effort.
This best CRM software views and tracks your sales pipeline and provides four ways to do so, i.e., a List view, a Map view, a Chart view, and a Board view.
Reports on your performance so you can point out your weak areas and work on them for improvement.
Smart email marketing strategies with their email templates so that you can choose from them and engage with business personnel all over the globe.
Pricing
It provides a 14-day free trial and two pricing plans with no hidden costs. The following are the two affordable paid plans in Nutshell.
Starter – This plan is billed annually and is for $19 each month. Contact management, pipeline, task and communication management, reporting, and performance tracking are some of the active features of the Nutshell Starter plan.
Pro – Pro plan costs $35 per month and it is billed monthly. Sales automation, apps, integration, email automation, reporting, and performance tracking are some of the features given by the Nutshell Pro plan.
---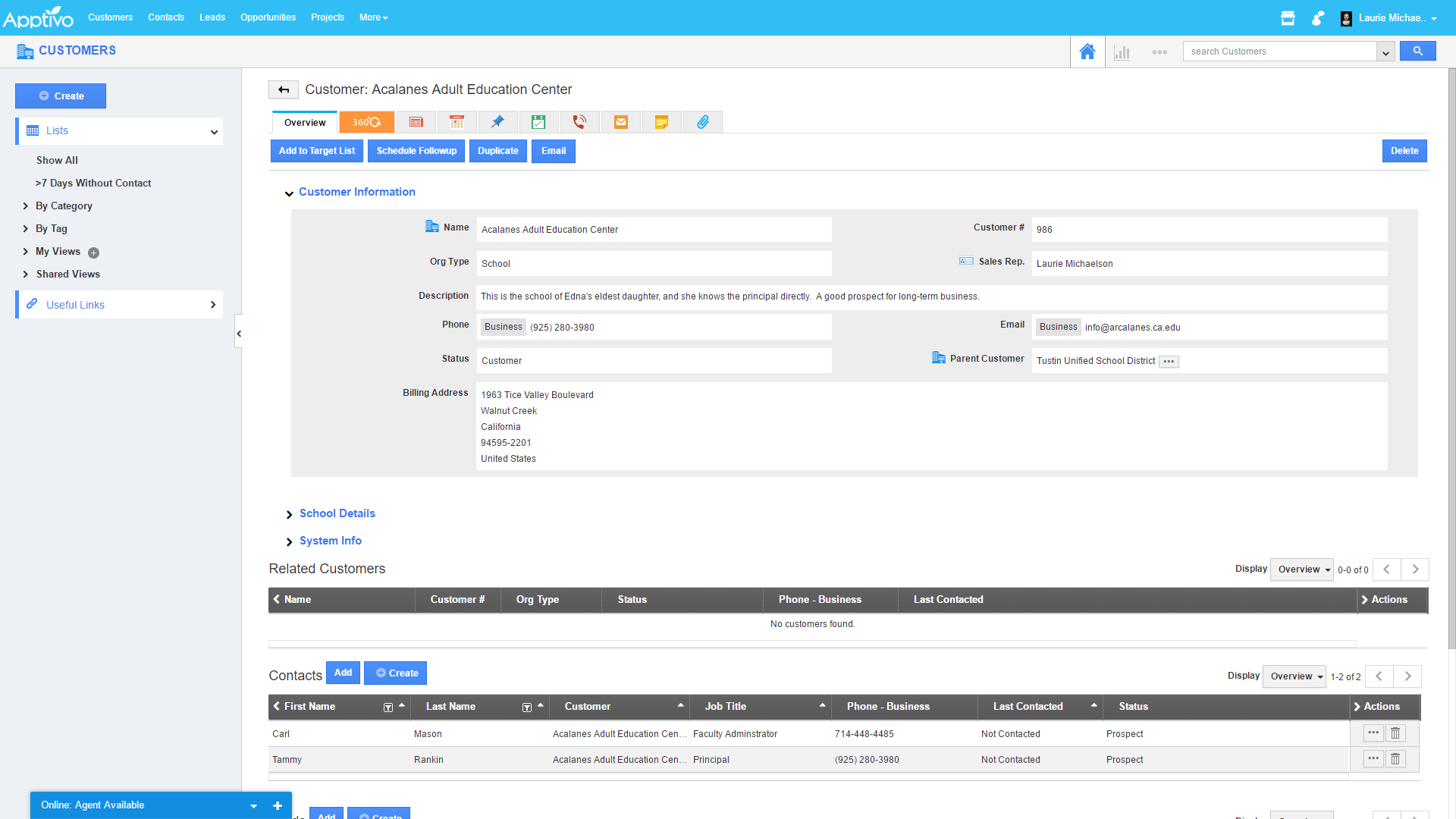 Apptivo is the best CRM software that has a cloud-based suite of 50+ applications that benefit customers to minimize inaccuracies, saving time, provide basic information, and tools to coordinate with customers more efficiently and skillfully.
CRM, project management, invoicing, and many other solutions are offered by this software. It is an award-winning app with around 200,000+ users. This CRM app has multiple solutions and integrations that make it stand out among other apps.
Key Features
Adding contacts on social media sites such as Facebook, LinkedIn, Twitter, etc., is very important to generate sales and grow your business. Apptivo helps you do that with just a click.
Manages your contacts by directly engaging with your customers and collaborating with them through the e-sign feature instantly.
Gantt charts allow you to keep a track of your projects with the Timesheets Tracking App so that you can get payments from clients on completing milestones in a specific time.
Create reports for you regarding your customers, showing estimates, summaries, activities, and a list of works.
Pricing
Apptivo comes with 4 plans and you can save 20% if you pay annually on each of them and enjoy multiple features.
Starter – This plan is free of any cost and gives features like 500MB/Business, standard reports, support, and many more.
Premium – The cost of this plan is $8 for each user giving 3GB/user, 1000 mass emails/user, 3rd party support integration, and many other features.
Ultimate – With the cost of $20, this plan gives 10GB/user, 20,000 API calls, and priority support with many more diverse features.
Enterprise – For this plan, the client has to contact the team. The features include a dedicated instance, white labeling, custom integration, and many more.
---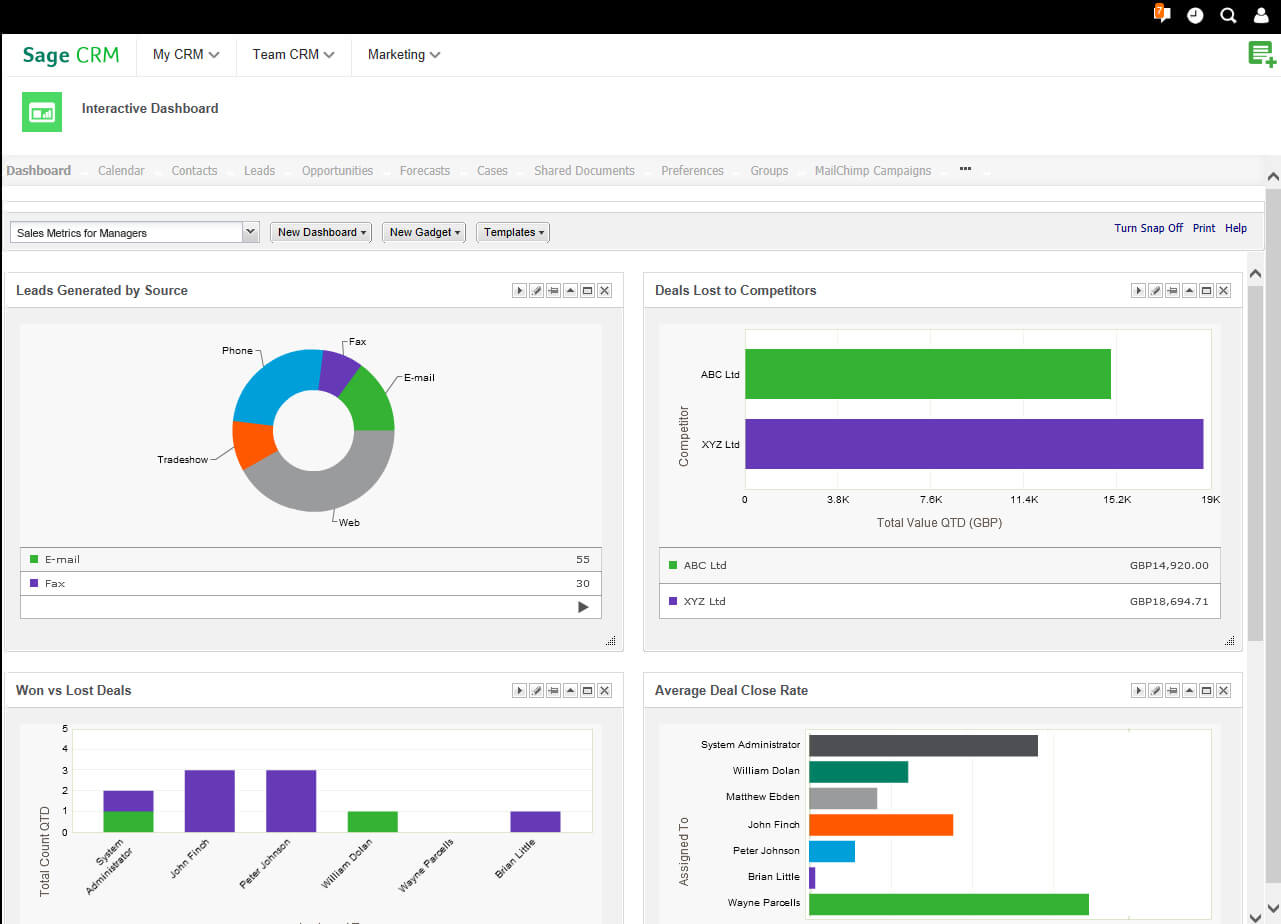 Sage CRM is one of the best CRM software, is all that you need for your business and its growth. It helps you to streamline your sales process with automated emails to be sent to customers for the next campaigns.
This CRM software generates sales tasks, for example, creating orders, estimating sales, following leads, and marketing strategies for your business's success. You can get up to a 25% increase in sales and a 60% gain in productivity through this software.
Key Features
Estimate time and expense so that your customers can manage time and budget accordingly.
Progresses the method of accounting with the automated formation of client invoices, revenue recognition entries, and budget modifications.
This best CRM software for small business saves time, optimize resources, manage business money, cash flow, and payroll, and create and send invoices.
Keeps you updated and involved in innovative business ideas through their master enterprise resource management systems and software.
Pricing
This software offers 3 plans for its customers.
Pro – It costs $50.58 per month and offers many features such as bill payment, easy invoicing of customers, job costing, smart integration with Microsoft Office 365, and many more.
Premium – It costs $78.21 per month with features such as advanced budgeting tools, unlimited online chat support, a knowledge resource library, and many more.
Quantum – It costs $197.55 per month and gives amazing features such as reconciling financials with your bank, secure remote access for employees and accountants, unlimited access to North America-based phone support, and many more.
---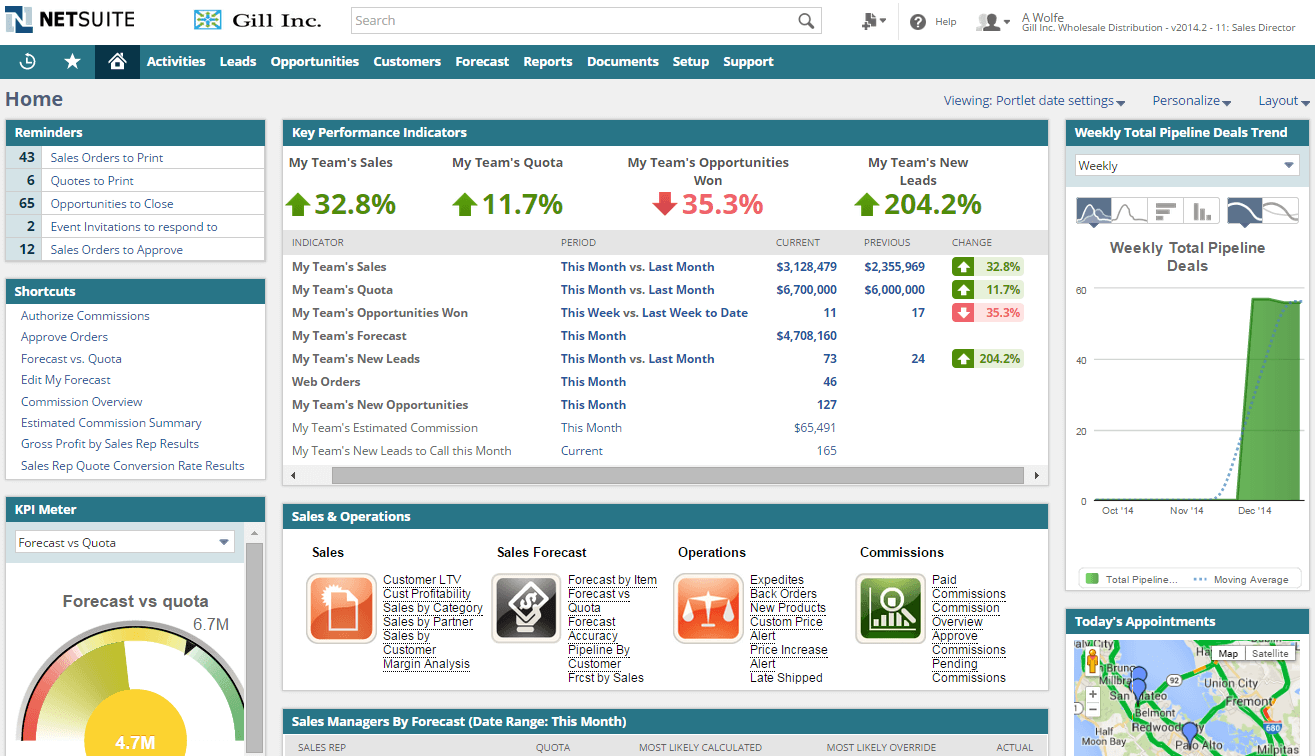 NetSuite is the cloud solution that delivers a complete view of your customers and that is why it is one of the best CRM apps. It also delivers quotes, order management, commissions, sales forecasting, and integrated eCommerce capabilities.
It gives you different solutions according to the type of your business, your role, and your current software. Its in-built flexibility and analytics enable you to keep up with your customers with a customizable, customer-specific, pixel-perfect experience.
Its professional project management solutions and services like education services, industry expertise, partner services, support, and many more make your business organized and collaborative.
Key Features
Professional resource management and project accounting enable you to optimize staffing and application and that also keeps in mind your company's finance.
Fully featured and forceful analytics gives you real-time data reporting with customizable timesheets so you can easily capture these timesheets at any time.
Increases on-time project transfer and drives maximum project accomplishment rate.
With Supply Chain Snapshot, you can have an in-depth view and control of global inventory demand and supply.
Pricing
NetSuite has Enterprise plans for its customers and to get the information about that, you have to contact their customer support team.
---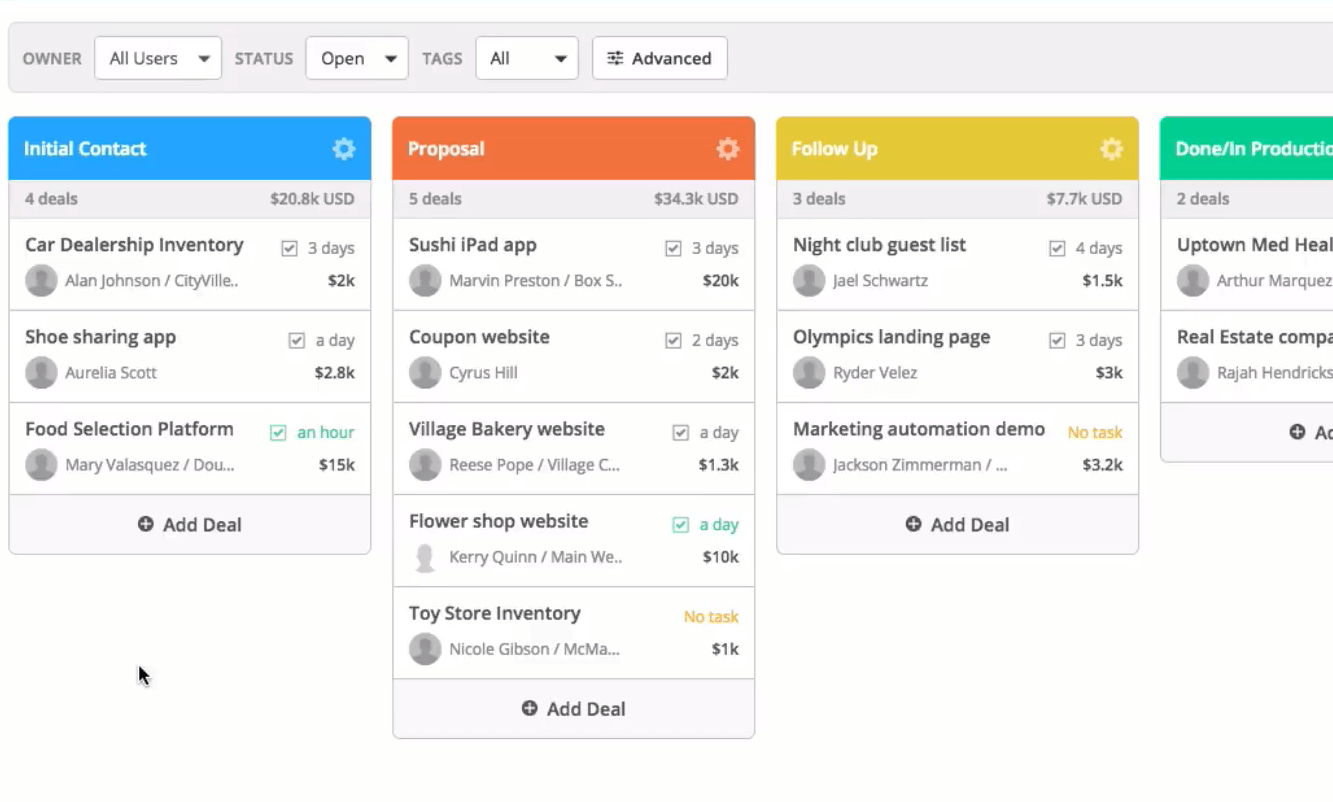 ActiveCampaign has powerful tools for CRM, email campaigns, marketing automation, and more. Emails and messages are sent according to each customer's interests and benefits.
You can always track who visits your website and you can make them your customers by getting in touch with them and providing them with exactly what they need. You can also make segregation between your customers and make groups according to their location, age, or needs.
Key Features
Their email marketing enables you to send targeted and triggered emails to increase engagement with your customers making sure you are dealing with the right person.
With their marketing automation, you can automate email follow-up with which you can find your most engaged contact and integrate your favorite apps.
This software's sales automation can help you sell more in less time by notifying your sales team, updating deals, creating tasks, and nurturing leads automatically.
The machine learning feature of this software enables you to use accurate data and it customizes the insights based on what matters to you and your customers the most.
Pricing
Lite – This plan is for $9 per month and is paid yearly. It has unlimited sending, email marketing, marketing automation, and many other features.
Plus – Plus plan costs $49 per month and it has every feature from the Lite plan with Facebook custom audiences, lead and contact scoring, integrations, and much more.
Professional – Professional plan is the most popular plan of this software and is $129 per month. Features from the Plus plan are included along with predictive sending and content, conversion attribution reporting, and many more.
Enterprise – This plan costs $229 and has features of the Professional plan. This plan also includes features like a custom mail server domain, custom reporting, unlimited users many others.
---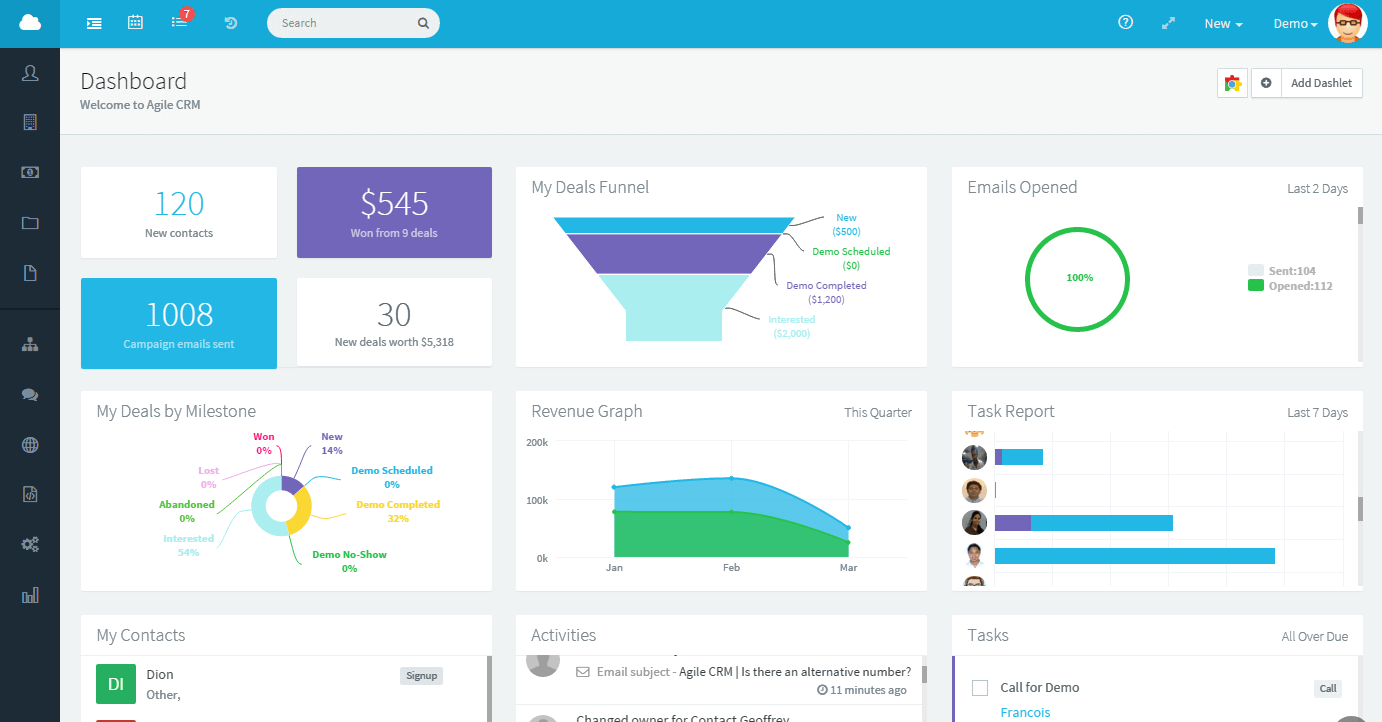 Agile CRM is affordable, keeps your data all in one place and it gives you cloud-based SaaS services that are handy, fast, and convenient to use. It keeps your data safe and allows constant messaging with your customers to enhance good customer relationships.
With its efficient marketing automation, your workflows become easy and more regulated. They have amazingly creative templates for your business website to construct highly transforming, mobile responsive landing pages.
Key Features
The sales automation of this software can automatically create new tasks with an online appointment calendar so that you don't miss anything important.
Optimizes the efficiency of your business using omnichannel environment marketing automation which improves ROI and customer satisfaction.
Engage new leads and unknown visitors on your website and you can trigger them according to their interest hence turning them into your long-term customers.
Its efficient helpdesk services provide tickets, live chats, smart views, reports, and many customer satisfactory facilities to ensure professional CRM.
Pricing
The first plan is free and has unlimited deals, tasks and documents, email campaigns, helpdesk, chrome extension, and many other features. Other plans are discussed below:
Starter – This plan costs $8.99 and has 10,000 contacts and companies, email tracking, custom deal milestones, web engagement, canned responses, email support, and many more features.  
Regular – This plan is for $29.99 with features such as 50,000 contacts and companies, appointment scheduling, 2-way telephony, form builder, reports, 10,000 API calls daily, and many others.
Enterprise – Enterprise plan is for $47.99 and gives numerous features for the clients. These include unlimited contacts and companies, automated voicemails, social monitoring, a knowledge base, an onboarding coach, and many more.
---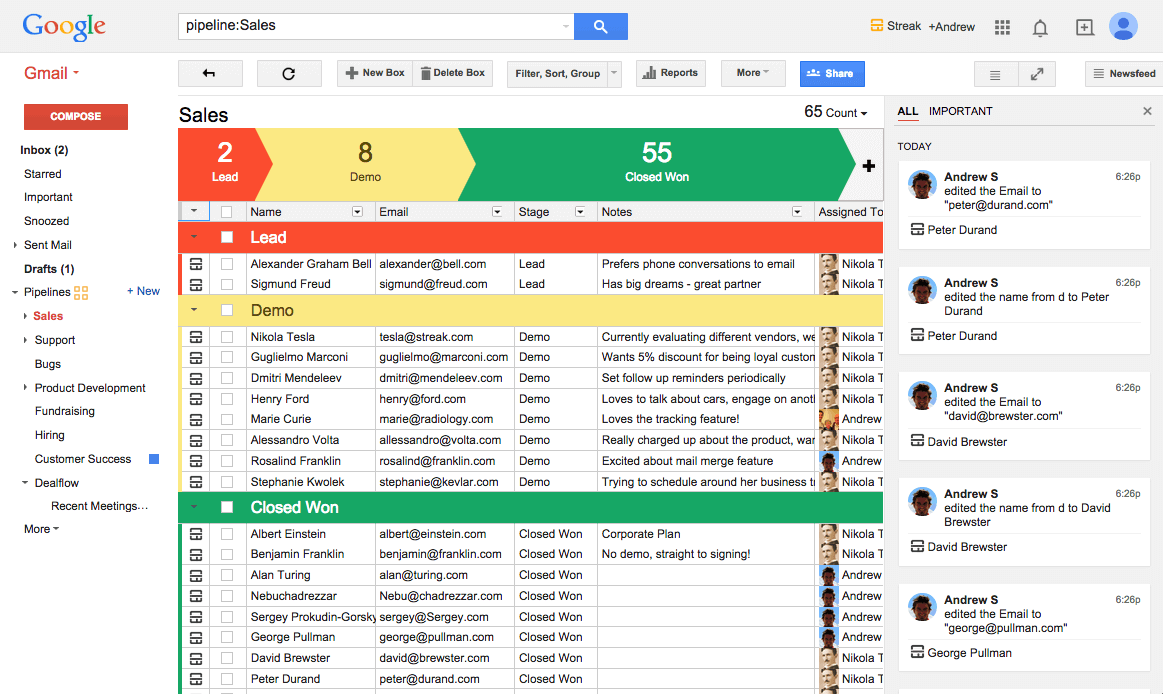 Streak is a CRM application that manages leads, projects, buyers, sellers, and investors, all in one place through being an integrated Gmail CRM.
It is not a stand-alone CRM app rather it works only inside your Gmail inbox and automatically grabs data from your Gmail contacts and emails.
It has the basic features of CRM that are to generate your website lead and pipeline and with G Suite integrations, such as Sheets, Chat, Drive, and more, you can access your Gmail inbox from either your desktop or mobile.
Being Google's Technology Partner of the Year, Streak is loved by 75,000+ users.
Key Features
Manage any sort of workflow by keeping a track of your sales, projects, and leads, prioritizing support tickets and bugs, and keep viewing resumes of new candidates.
Search, filter, make a group, or sort out your information about your pipelines, contacts, and tasks in any configuration and protect them as a custom view.
Automatically get track of every conversation going on between your team whether that is our emails, call logs, files, tasks, notes, or any other thing.
Never miss to follow-up because this software enables you to see your upcoming tasks and projects across all your pipeline and since it is a Gmail integration, you will find it easy to use.
Pricing
This best CRM app provides three plans and customers can save up to 20% if they pay the bills annually.
Personal – This plan is free with basic CRM features, unlimited personal pipeline, email power tools, G Suite integrations, and many more features.
Professional – This plan is the most popular among all the three plans with a cost of $49/user/month. Its features include a task list, advanced reports, custom views, and many more.
Enterprise – The Enterprise plan is for $129 /month/user and it is for businesses looking for deeper and advanced reports. Its features include custom permissions, full API access, required fields, API/formulas support, and much more.
---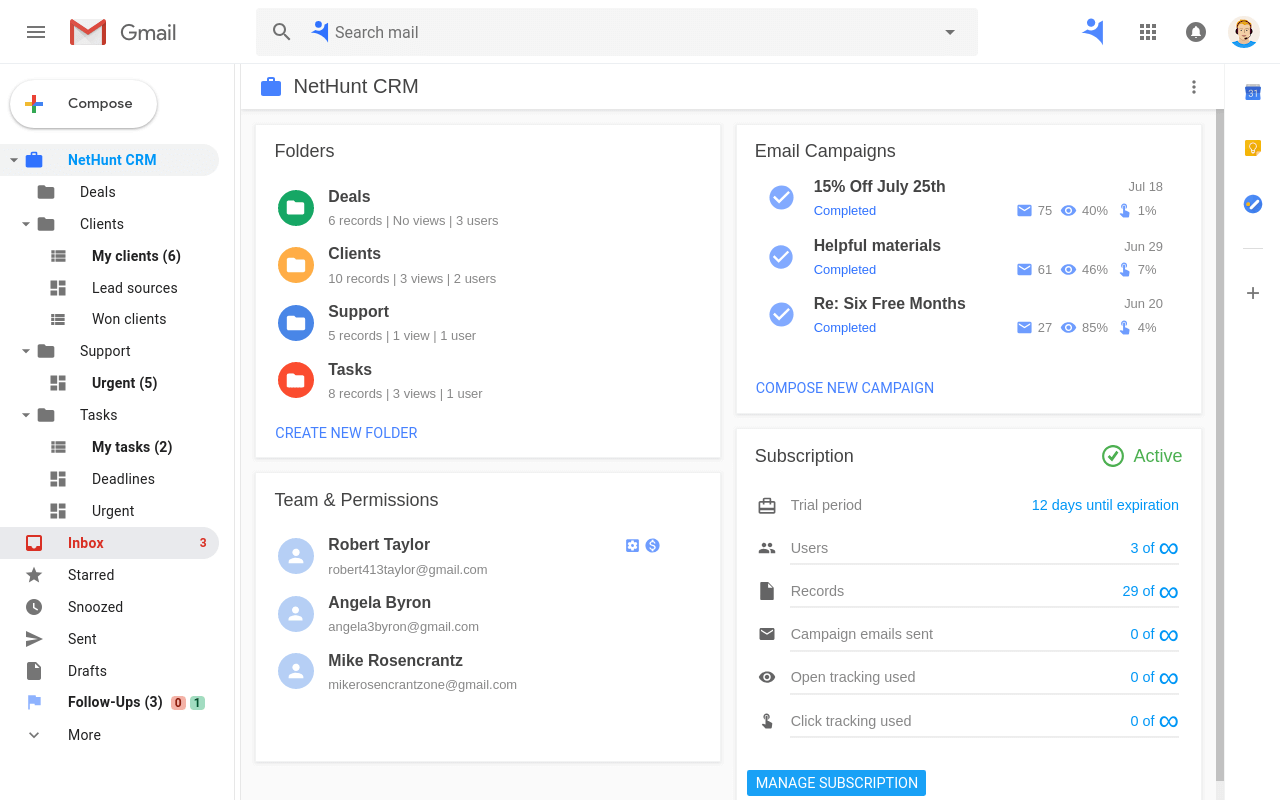 NetHunt is a completely integrated CRM for Gmail, G Suite, and other specific apps. It is best for your business since your customers' details, deals, opportunities, pipelines, and views, everything important is at your disposal.
From sales to marketing and support, all the necessary CRM tools are delivered straight to your Gmail. By creating leads from emails, social profiles, and chats with a click, NetHunt promotes sales for your business.
Key Features
Powerful CRM functions, built into your Gmail provide a better customer experience and close deals directly in your inbox. It is built inside Gmail and is very easy to stay in the context.
Gives instant answers to all your questions about deals, leads, and priority tasks with valuable insights. You can save your data in any form you want, filter it and sort it out your way.
Regulate any CRM feature you want, whether folders, permission to client cards, and pipelines, this software gives widespread customization abilities.
CRM record files are automatically uploaded to the relevant Google Drive folders and all deal-related and client-related information is displayed right next to the Calendar event.
Pricing
NetHunt gives you a 14-day free trial along with three paid plans.
Professional – Professional plan is for $24/user/month. Its features include Gmail Chrome Extension, Google Hangouts Chat, folders, mobile access, self-service support, and many more.
Professional Plus – Being the most popular plan of NetHunt, this plan is for $28/user/month. The features of this plan are extensive and smart. They include Google Drive, data import and export, custom fields, shared email templates, API access, onboarding assistance, and many others.
Enterprise – Enterprise plan costs $48/user/month with diverse features such as Google contacts sync, NetHunt Web App, custom filters and views, Zapier Integrations, phone support, LinkedIn Integrations, and many more.
---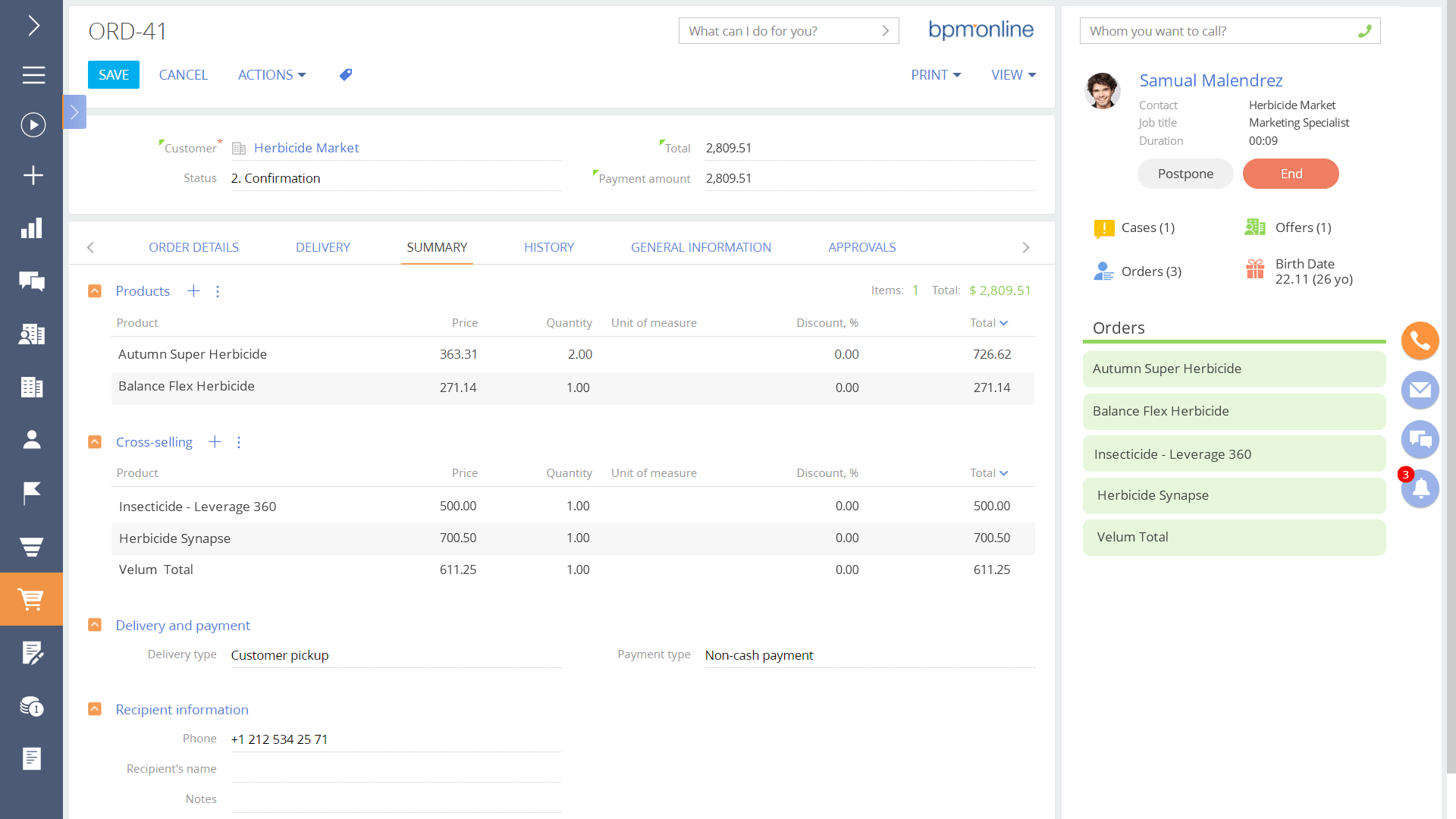 Creatio (formerly known as bpm'online) is a powerful CRM software for marketing, sales, and service automation. It provides three products that can be either used separately or combined, i.e. Marketing Creatio, Sales Creatio, and Service Creatio.
It is the best CRM software for small businesses as it helps them manage the complete customer excursion by providing superb analytics and personalized tools for ad campaigns.
Creatio is highly customizable with a user-friendly platform that does a great job of streamlining the sales process. It has also been widely recognized by top industry analysts including Gartner and Forrester among others.
Key Features
Creatio offers efficient management tools that help businesses analyze and build custom apps to tackle the problems of workflows. The company offers a low-code or no-code tool called Creatio Studio.
It offers a sales dashboard that displays options for leads, accounts, contacts, opportunities, and orders. You can even hide the options you don't use.
A virtual assistant that reminds you to complete projects and predicts what might be the next step to successful project management.
When Creatio creates a lead, it will automatically set up reminders for your convenience to follow up.
Pricing
Marketing Creatio ($995/ Year): Provides 1,000 active contacts, and 1 user alongside 360° customer view, Segmentation, Website behavior tracking, Lead management, and Trigger campaigns.
Sales Creatio: This includes three types of pricing plans.
Team ($30/ Month): Document flow automation, Knowledge management, Mobile app, Analytics, Synchronization and integration, Customization, and administrative tools among others.
Commerce ($35/ Month): 360° customer view, Collaboration tools, Business process management among Lead management and others.
Enterprise ($60/ Month): Opportunity management, Out-of-the-box process for large sales, Orders and invoices, Sales forecasting, Contract management, Products and services, and Product catalog management among others.
Service Creatio: This offers two types of pricing plans.
Customer Center ($45/Month): Unified customer database, Omnichannel communications, Service Catalog, Business process management, and Contact center among others.
Service Enterprise ($60/Month): Service level management, Configuration management, Case management, Request management, Problem management, Knowledge management, Change management, and Release management among others.
---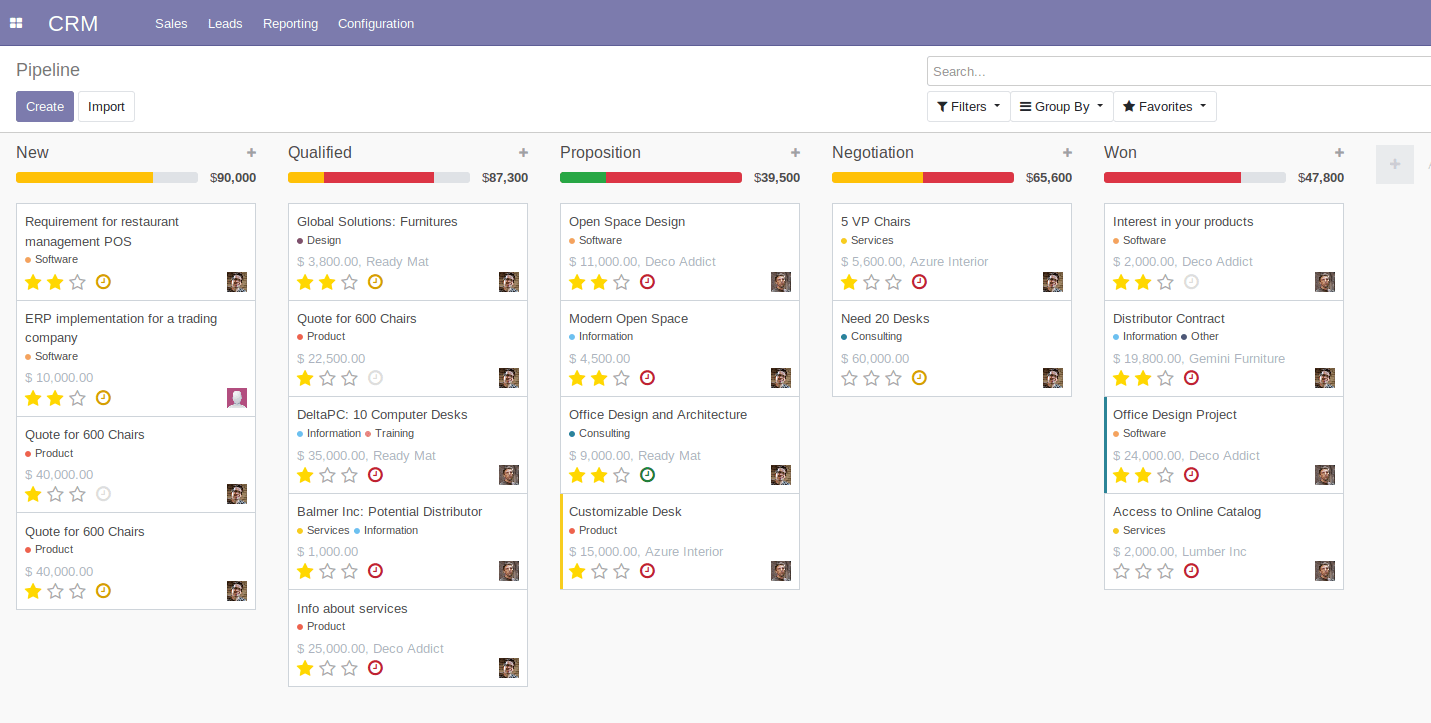 The founder of Odoo, Fabian Pinckaers specifically created this software for his father's auctioning company as a father's day gift, indeed not typical at all, yet a very revolutionary gift.
Odoo isn't just a simple bookkeeping tool; it is enterprise resource software that is specifically built to deliver a universal solution that is helpful for every kind of business. It offers 30 different small business applications that can be hosted online as well.
Odoo is open-source software- which means it can be customized according to your business's specific needs. It includes applications like Sales, CRM, Project Management, inventory, and manufacturing among others.
Key Features
With Odoo CRM, you can schedule activities based on sales scripts, calls, meetings, mailing, and quotations. You can get real-time access to data like pages viewed and mail received among others.
Access to a real-time overview of performance and activities. It also compares the results of monthly reports and assigns activities based on the target.
Stay in contact with your customers to stay productive. It lets you share ideas and important files and alarms you when you receive a call.
Odoo CRM is fully integrated with other Odoo apps that help users turn orders into invoices, automate the signing process, and turn quotes into professional-looking invoices among others.
Pricing
Basic ($6/Month): 1 user, cloud hosting, and self-service implementation among others. Various services are to be paid individually, these include accounting, invoicing, recruitment management, appraisals, and much more.
---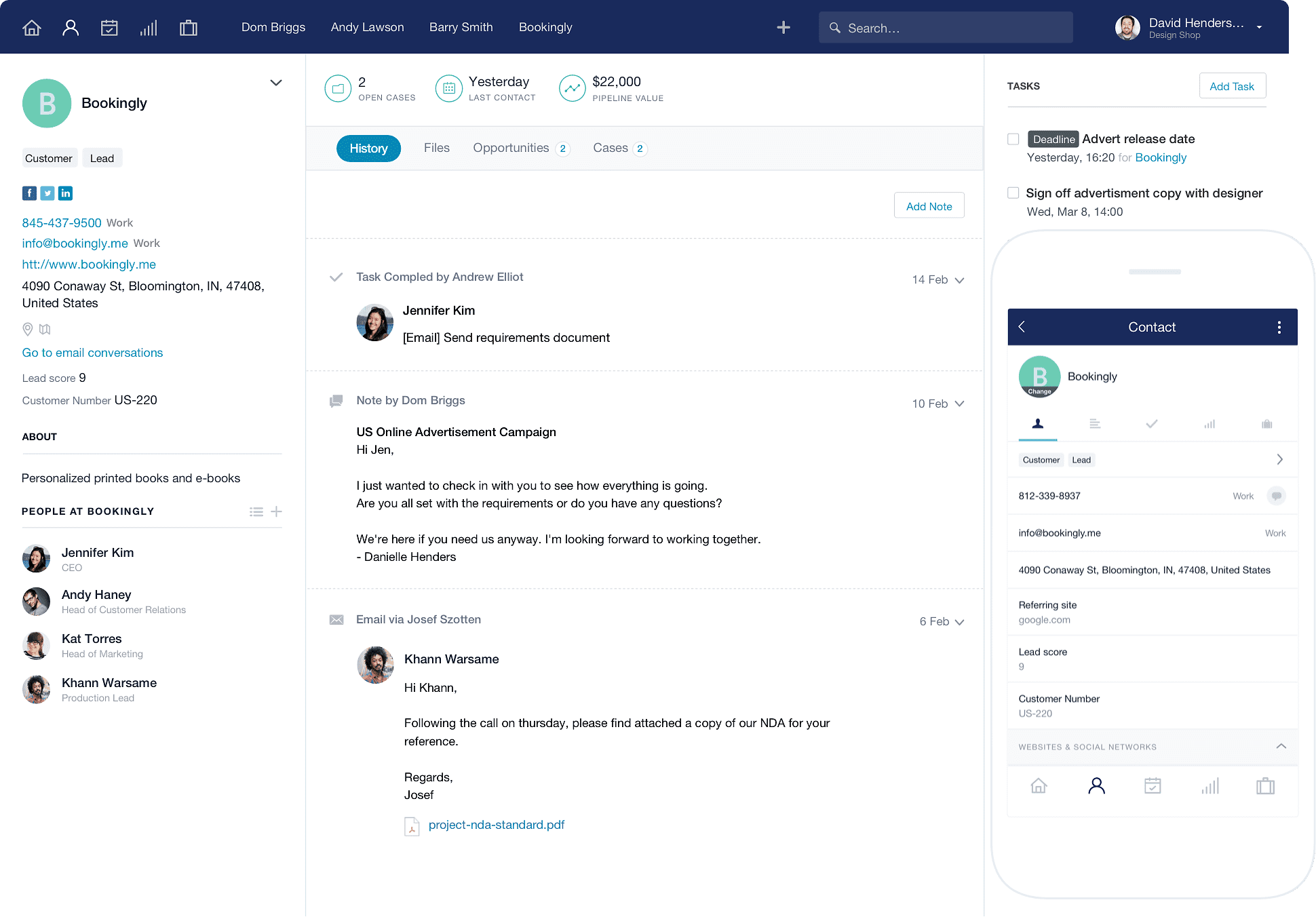 Capsule CRM rose quickly to popularity after its release in 2008. The brand itself is easy to use and highly customizable with robust features ranging from tracking relationships, managing contacts, and organizing important business documents.
It is one of the best free CRM apps due to its user-friendly experience. The core aim of the founders of Capsule was to develop CRM software that was simple to use; therefore it made it easy for its users to get access to high-functioning features through intuitive design.
Key Features
Features "Contact Management", you can manage the task that needs to be done for each contact and attach important documents and proposals. You can have a glance at important statistics as well.
Features "Sales Pipeline", you can keep of each sales opportunity by using milestones like prospects, meetings, proposals, and won.
One of the most dominant features includes contact-specific tasks that include a comprehensive task calendar for your business like color coding, details, and repeat settings among others.
Advanced sales analytics will reveal important insights like average time per sale, leakage of the sales pipeline, and the number of leads lost and won among others.
Pricing
Free ($0/month): For up to 2 users, 250 contacts, 10 MB storage, Unlimited custom fields, Unlimited sales opportunities, Unlimited cases, and unlimited tracks, Calendar, Task Management, Customizable Sales Milestones, and Kanban Visual Pipeline among others.
Professional ($18/Month): Per user, 50,000 contacts, 10 GB storage, unlimited custom fields, unlimited sales opportunities, unlimited cases and unlimited tracks, Calendar, Task Management, Customizable Sales Milestones, and Kanban Visual Pipeline among others.
Team ($36/Month): Per user, 50,000 contacts, 10 GB storage, unlimited custom fields, unlimited sales opportunities, unlimited cases and unlimited tracks, Calendar, Task Management, Customizable Sales Milestones, and Kanban Visual Pipeline among others.
---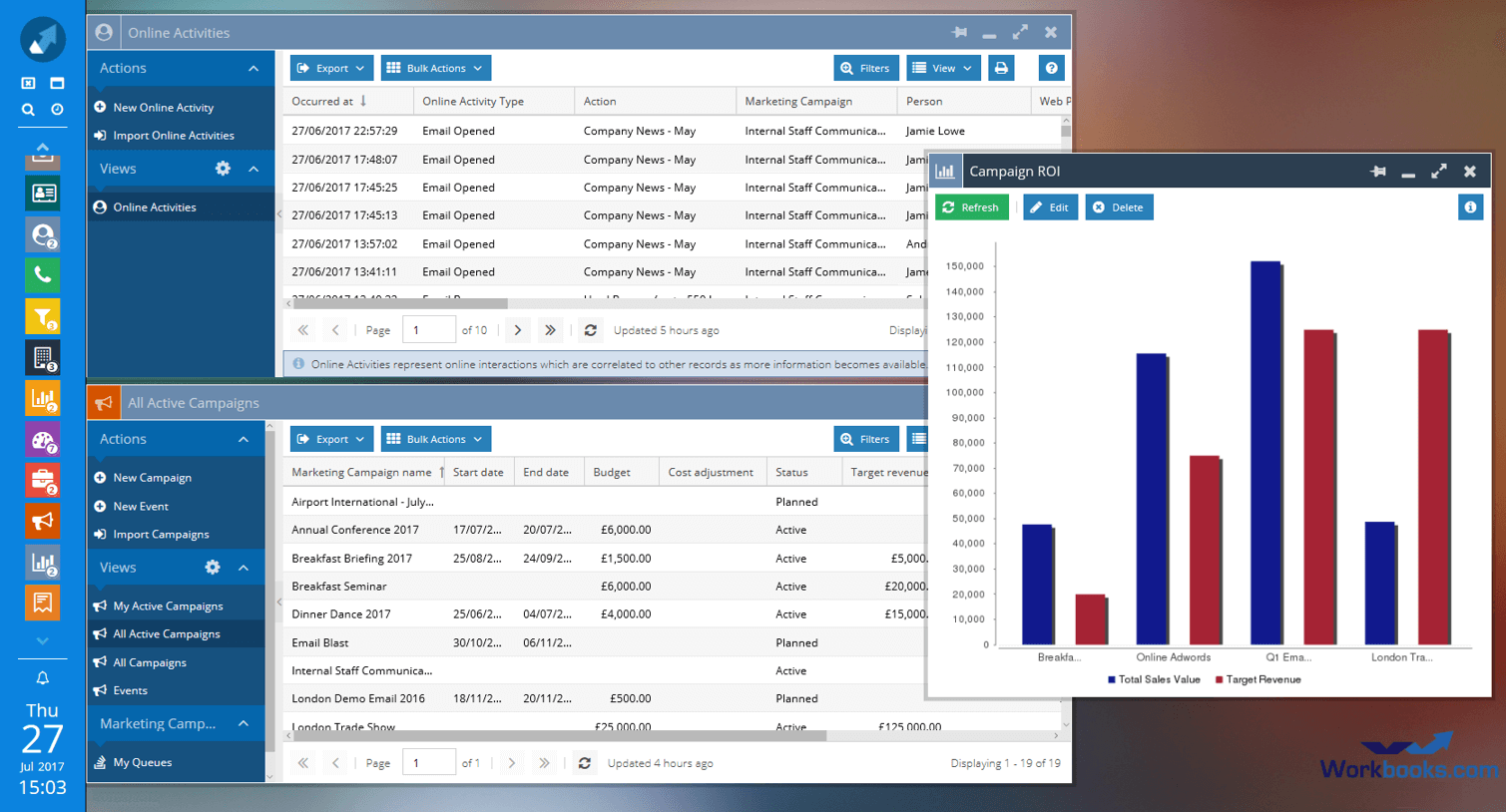 Workbooks is another powerful CRM tool that offers a comprehensive feature set for:
sales management,
leads/contact management,
marketing and campaigns,
opportunity tracking,
support,
invoicing and order processing, and more.
With pricing plans starting for as low as $30 per user/month, Workbooks is an ideal choice for small businesses that are looking for powerful CRM software without making compromises on the offered features.
There is also an order processing module, enabling sales teams to create and dispatch sales orders seamlessly.
Sending quotes, creating sales orders, invoices, and tracking payments can be quite daunting, especially if your business involves working with remote teams on multiple projects. Not with Workbooks – everything is there in one place.
Key Features
Track marketing campaigns right inside Workbooks.
Pre-built useful marketing templates for all your targeted email campaigns
Easily track and review performance for all ongoing and historic marketing campaigns
Event management features: simple self-registration, automatic scheduling, and marketing communication
PO/Budget management and Supplier management modules
Smart contact management to keep track of all interactions made by the sales team
Full visibility of account management activities undertaken by team members
Effortless order creation from quotation with just a single click, and lots more
Pricing
CRM – at $30 per user/month, account and contact management, marketing management, sync with mobile apps, reporting dashboards, and more
CRM Pro – at $45 per user/month, multiple extensions are included for multi-currency operations, audits, custom records, and more.
Business – at $60 per user/month, order processing, invoicing and credit notes management, events management, and more
Business Pro – at $80 per user/month, all the features of the Workbooks CRM platform
---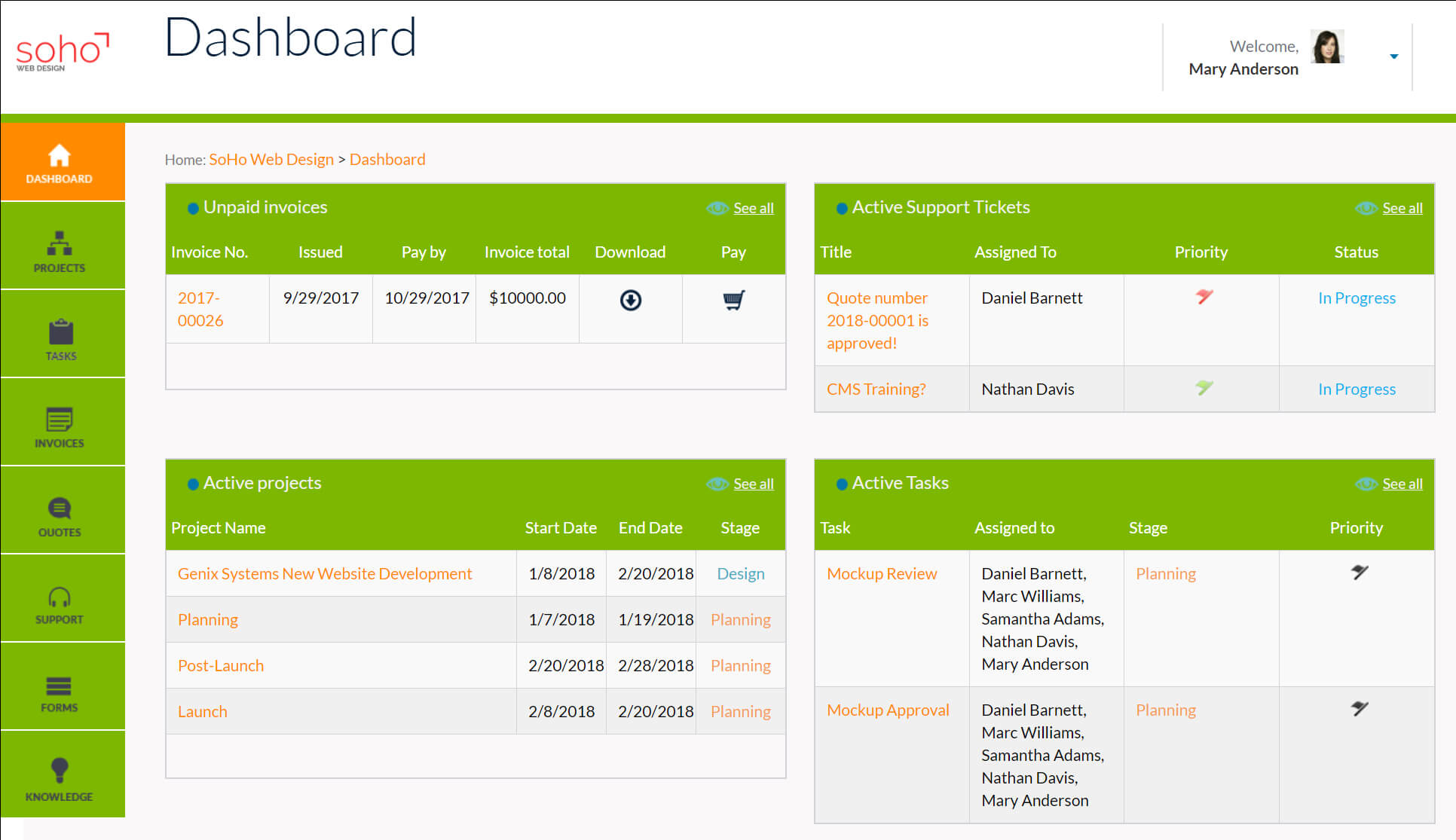 The founders of WORKetc define it as a total business management solution rather than just CRM software. That is because, in one single platform, you can manage your activities no matter where you work or what kind of role you have, you can have access to information 24/7.
WORKetc covers it all from initial sales to quotes, Projects, product deliverance, invoicing, and customer support. On the other hand, you can turn any email into a lead through integration with google widget and Outlook add-in.
Key Features
Every sales email, support ticket, invoice, or product purchase is stored online. On the other hand, you can filter customer activity by keyword, and create up-to-date lists from contact variables.
You can automate the sales process by capturing leads with web forms, creating custom sales reports, and assigning values among others.
To ensure revenue is not overlooked, every billing item is automatically captured. You can create detailed budgets of tasks within your main project.
With the time-sheet module, you can have the flexibility to enter data according to your style and capture time without having access to the web application.
Pricing
Starter ($78/Month): 2 users, 2,000 contacts and 3GB storage.
Team ($195/Month): 3 users, 10,000 contacts, 15GB storage, Social Media, Email Marketing, Customer Portal, Accounting Integrations & Reporting.
Foundation ($395/Month): 3 users, 20,000 contacts, 50GB storage, everything in team play alongside Contractor Portal & Deep Reporting.
Conclusion
We looked at some of the best CRM software in our roundup and, while each one is powerful in its own right, you'll have to take a look at all of them and choose the one that meets your business needs the best.
Our main goal with this post was to tell people just how advanced and important CRM software is in this age and to help them find a suitable CRM app for their company.
Considering how advanced and capable CRM apps have become, there's no doubt that they can be the main difference between success and failure.
---
Other SaaSy goodness on All That SaaS: