While SaaS can be a complex landscape for marketers to navigate, we have put together a roundup of 20 go-to SaaS marketing ideas.
Software as a Service (SaaS) is a thriving business model with software investments shifting from cloud-first to cloud-only and revenues expected to grow to $143.7 Billion in 2022.
Increasing popularity may make SaaS marketing seem like a walk in the park, however with some of the biggest players adopting SaaS and countless startups emerging, your marketing strategy needs to be flawless and on point to succeed among a rich pool of competitors.
The beauty of SaaS lies in the continuous buildup of relationships with your customers. Unlike purchasing a one-time product or license, your sale is only the start when you are marketing a SaaS product. To keep your customers interested you need to offer consistent value and also market to existing customers.
Top 20 SaaS Marketing Ideas for 2023
1. Easily Accessible Information
Our first SaaS marketing tip relates to your website which lies at the center of your SaaS marketing strategy. Your product website needs to consist of all the crucial elements a customer will be looking for when considering your product.
If a potential customer has arrived at your website, they should be able to easily determine the capabilities of the product, pricing, and contact information in case they have any queries – adding a live chat solution is always helpful!
The hero section and the home page of a website receive the most views thus you must highlight all critical information in these sections. Customers can get easily annoyed if they have to dig for the required information and can easily switch to another site providing a smoother user experience.
Key Takeaways:
Provide a seamless user experience
Highlight software features and pricing
Make CTAs for contact clear and include options for live chat
Example:
Intercom clearly displays the main features and selling point on the hero of the home with pricing one click away and a live chat pop up. Scroll down and it clearly displays the benefits of using Intercom.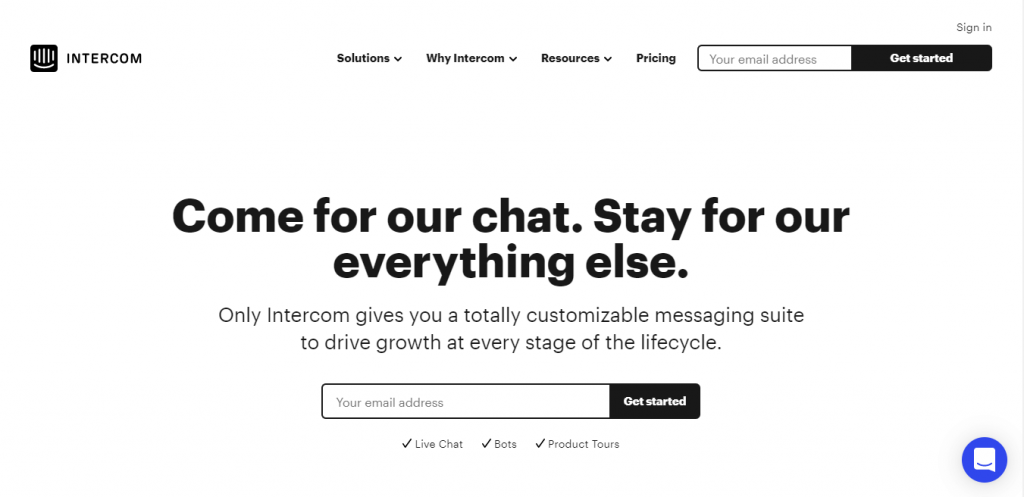 ---
2. Elaborate Pricing Plan
People are purchasing a service and for that, the price is one of the most important factors that need to be considered. Pricing must be clear, upfront, and must include a complete list of components for customers to know exactly what to expect.
Customers shouldn't have to conduct calculations or scroll back and forth to decide on a package. Plan out multiple options, but not too many as to confuse the customer, and display them on a table to make it easy to decide.
Key Takeaways:
Be clear about pricing options
Include between 2 to 5 packages
Organize pricing in a table
Example:
Zapier provides an extremely straightforward pricing model displayed with perfection. The first table includes prices, main features, and details of who it is for. Once users scroll down a detailed list of features is also available.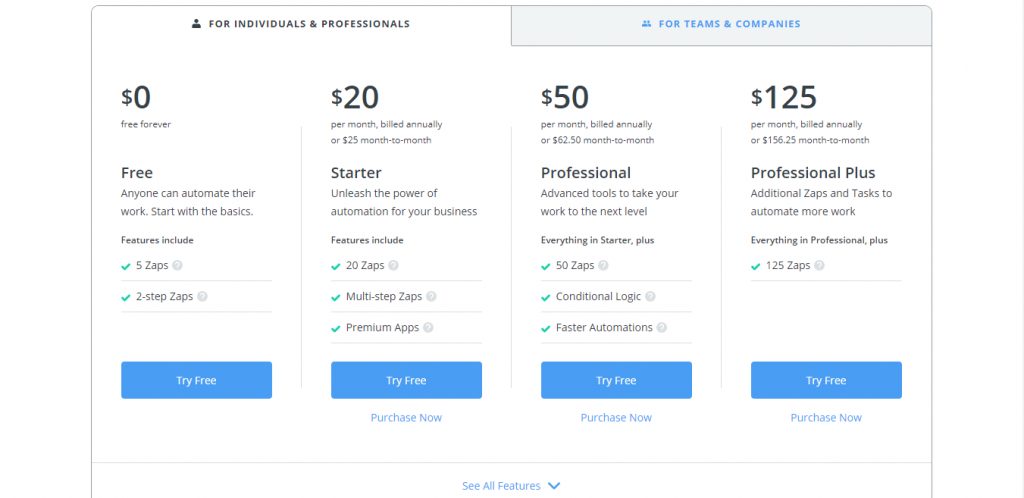 ---
3. Detailed Feature List
It may seem obvious to market your SaaS product's features as that is of course what you are selling but multiple vendors seem to ignore the little details. It may be excellent customer service, the UX, or the nitty-gritty in your list of features that may make your product stand out.
Key Takeaways:
Focus on the benefits your product brings
Categorize your features and display them in an organized manner
Impress customers by including explainer videos or trials etc. to show the features in use
Example:
SEMrush does an excellent job of displaying its features using pictures, bullet points, and even a quick trial option.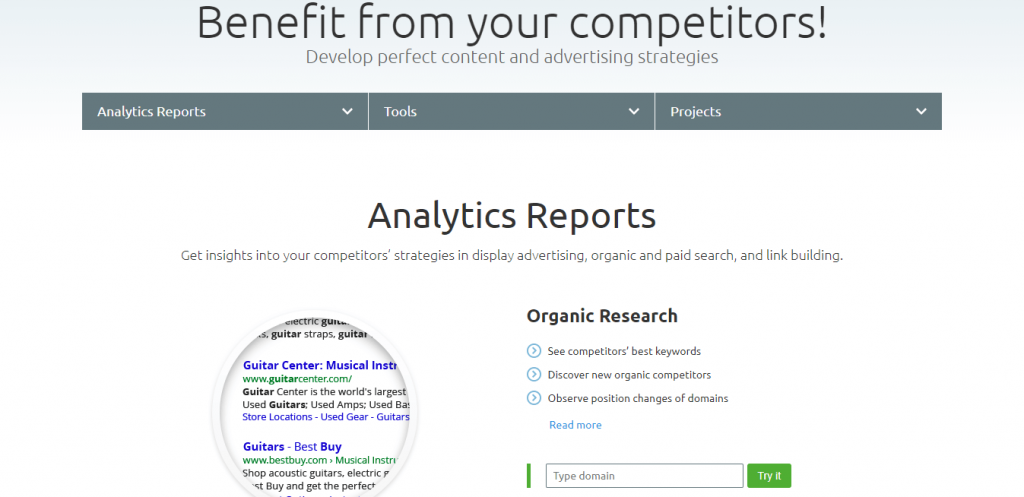 ---
4. Defined Target Audience
Research is the most important SaaS marketing tip that we can provide! Conducting thorough research and defining and understanding your target audience can do wonders for your marketing strategy. You must get in the shoes of your target market and while understanding them position yourself as an expert.
A brand's marketing content must add value to the user and you can only provide the best value and craft compelling messages if you know your audience.
Key Takeaways:
Thoroughly research your target audience
Understand the target market
Craft messages and strategies based on your target audience
Example:
HootSuite understood that the majority of their users are fans of the popular Game of Thrones series and they created a video based on the opening credits of the show receiving the attention of numerous fans. It was launched just in time, just before the last season's premiere to get ample hype.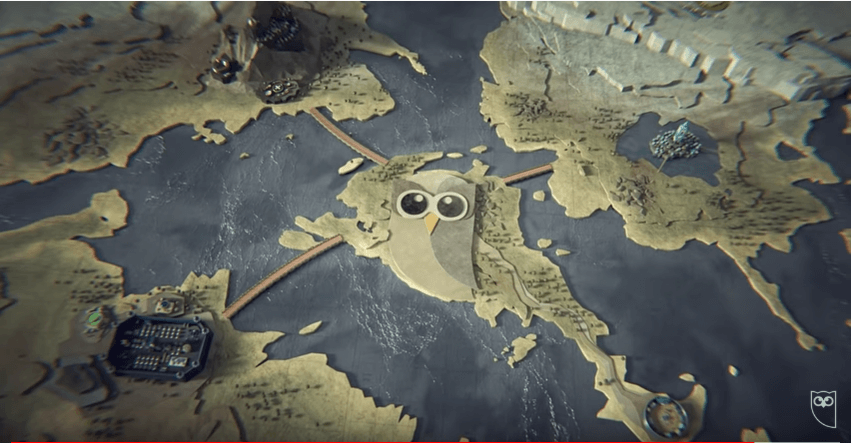 ---
5. Showcase Your Use of Your Product
Once you have understood your target audience, it is also vital, especially for SaaS startup marketing, to understand and keep an eye on your competition. It is important to differentiate your business in a crowded SaaS marketing space.
Following your competitors will provide an understanding of how your target audience is responding and may help you gain inspiration or create something tons better!
Key Takeaways:
Keep an eye on your competitor's strategy
Offer more value to your customers than your competitors
Learn from your competitors and constantly improve
---
6. Product Demos
Customers research and weigh competing products before purchase making demos crucial to the buying process. A well thought out product demo can demonstrate the value of your product to your target audience and display the best use scenarios. It should be short and crisp and not bore the prospect.
If your SaaS product is complex or designed for large businesses, offering 1 on 1 demos is an excellent SaaS marketing idea. Deliver the demo excellently, have an expert answer all live questions, and close the deal at the end with a great sales pitch!
Key Takeaways:
Keep the demo short and to the point
Focus on benefits rather than a long list of features
Offer 1-on-1 demos for high profile clients
Example:
Workday has a clear CTA for their product demo right at the start of their website, where it matters most. Once the CTA is clicked a quick form opens up requiring a name and email address and company information creating a lead that they can follow up on! They have mentioned the exact time right down to seconds to grab the attention of busy customers.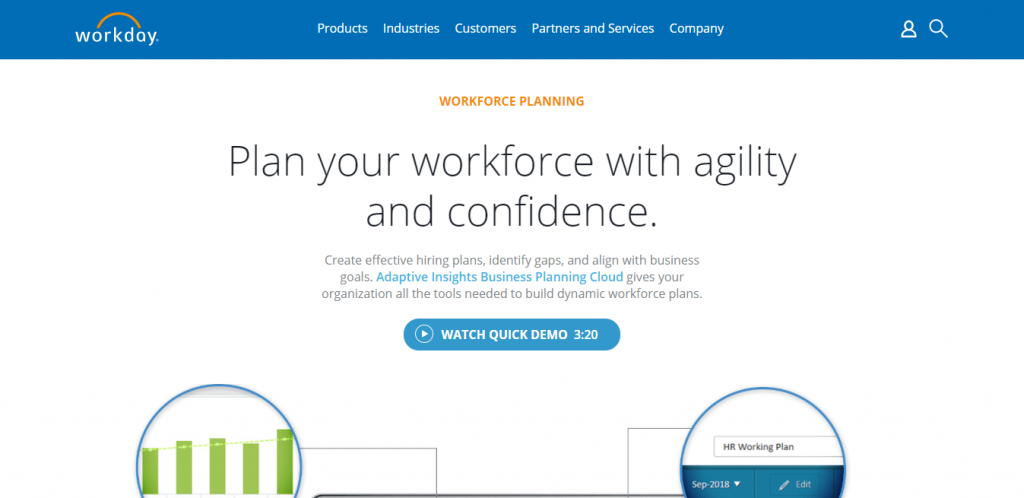 ---
7. Product Trials
Offering free trials is a proven SaaS product marketing technique to lure in customers to at least sign-up. This grants you an email address or more importantly a lead that you can tactically work on to retain.
The simpler your trial procedure is the more chance you have of attracting a client. Offer a no strings attached, no credit card requirement option to keep your customer at ease.
Key Takeaways:
Shorter trial periods are taken more seriously
The trial period must be enough to realize the benefits of your product
Have a strategy in place to convince users to switch to a paid plan
Example:
Atlassian is offering free 1-week trials for its products. The CTA is clearly highlighted in the main menu and the hero section of the website ensuring that a website visitor will at least consider testing the product.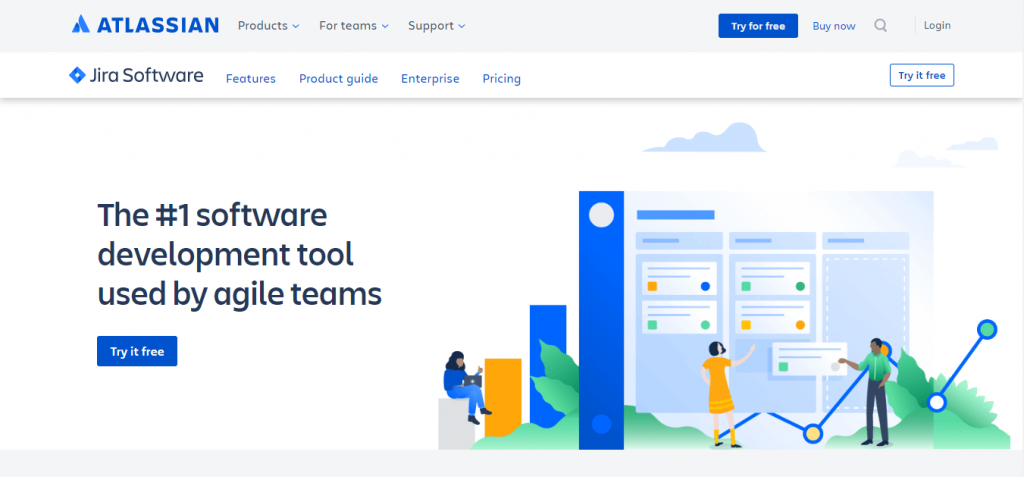 ---
8. Easy Sign-Ups & Visible CTAs
The sign-up process is the most important factor in the conversion of a potential customer. Product sign-up should be easy to fill, have fewer fields, and complete information on what the client will be getting after sign-up. The CTAs to these signups need to be present at every possible opportunity so they cannot be missed!
Key Takeaways:
Only essential information should be gathered from an initial sign up
CTAs should be clear, visible, and present everywhere
Real-time validation is important for saving clients' time
Example:
Salesforce displays at least 3 CTAs right on their homepage. The sign-up form that opens up consists of a few, simple, highly relevant fields to not scare away the prospect.

---
9. Share Relevant Content
When brainstorming SaaS marketing ideas, it is always useful to put yourself in the shoes of your customers. It may seem relevant to continuously share product features but what may be even more pertinent is to display the difference that your SaaS product will cause in the lives of your customers.
Focus your content around the user and show the benefits to them while basing your blog posts around topics that your target customers would want to read.
Key Takeaways:
Stay focused on your product offerings and don't be generic
Display the benefits of using your SaaS product
Try to think like your potential customer
Example:
CoSchedule understands that its target users are busy and manage multiple marketing campaigns and it offers relevant marketing advice and creates related content to keep their audience interested!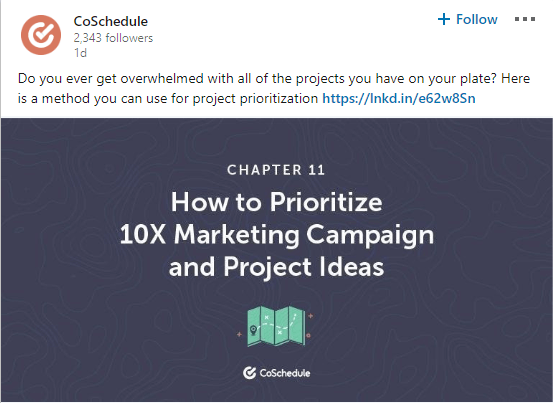 ---
10. PPC campaigns
Pay-per-Click is a paid marketing tactic where you are charged for the number of clicks on your ad. You can display ads on search engines or other websites using Google ads and other networks. The key to a successful PPC strategy is to retarget users, display relevant and attractive ads inclining customers to make a click, and define and narrow your audience to avoid spending on irrelevant clicks.
Also, focus on creating a relevant landing page to provide the customer exactly what they are looking for once they have made a click with clear CTAs to win your lead.
Key Takeaways:
Create engaging ads
Define and narrow your audience
Create a focused landing page
Example:
Chargebee is investing in a PPC campaign to conquer search traffic. Their ad copy contains direct CTAs and relevant information displaying their features and benefits.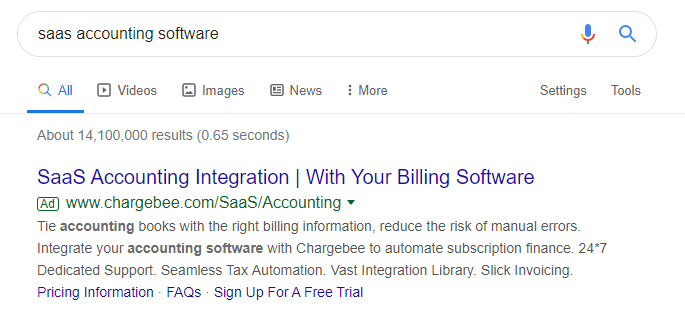 ---
11. Search Engine Optimization (SEO)
While paid marketing is an important aspect of reaching your target market, organic traffic should be the ultimate goal. SEO makes your SaaS product discoverable on search engines for related keywords and the higher you rank the better are your chances of being explored prospects.
Pay strong attention to on-page and off-page SEO and up your content marketing game to gain quality backlinks.
Key Takeaways:
Conduct a thorough keyword research
Pay attention to on-page and off-page SEO
Produce useful and shareable content
Example:
HubSpot ranks as #1 on Google organically when searching for the keyword 'marketing software'. Their SEO strategy is excellent for their multiple keyword options.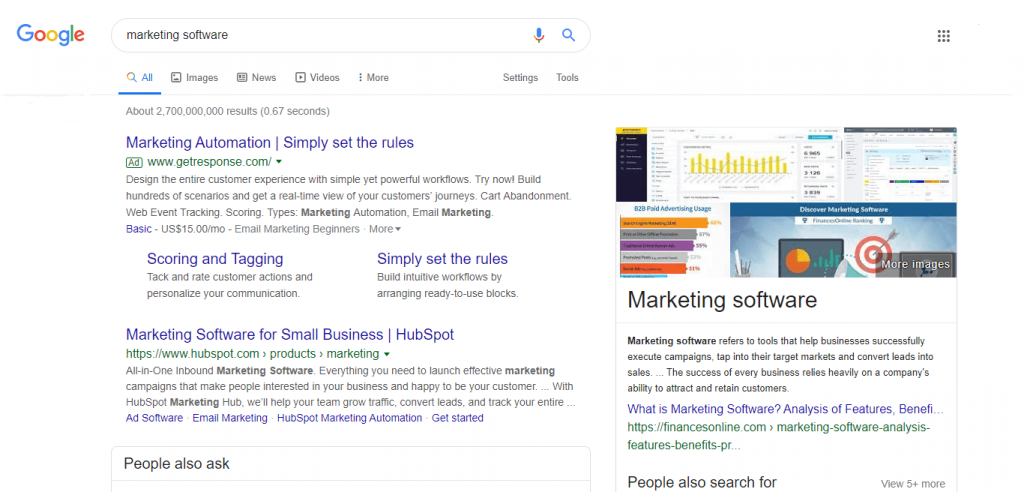 ---
12. Email Marketing
A persuasive email marketing campaign is what makes your customers remember you. Whether they have seen a demo, accepted a trial, or even bought their first subscription, you need to send them creative content to follow up and make them remember you.
Email campaigns going out from a person's email address are more effective than from a generic department address such as [email protected]. As long as your content is relevant and creative, do not take being blocked or marked as spam to heart, but do monitor the rate.
Key Takeaways:
Use human email addresses
Trigger drip campaigns for automatic emails based on user activity
Send regular emails, tips, news, blog posts, etc. making sure the customer does not forget you.
Example:
Canva does a great job providing regular updates, tips, and tricks that catch the attention of its users in an instant.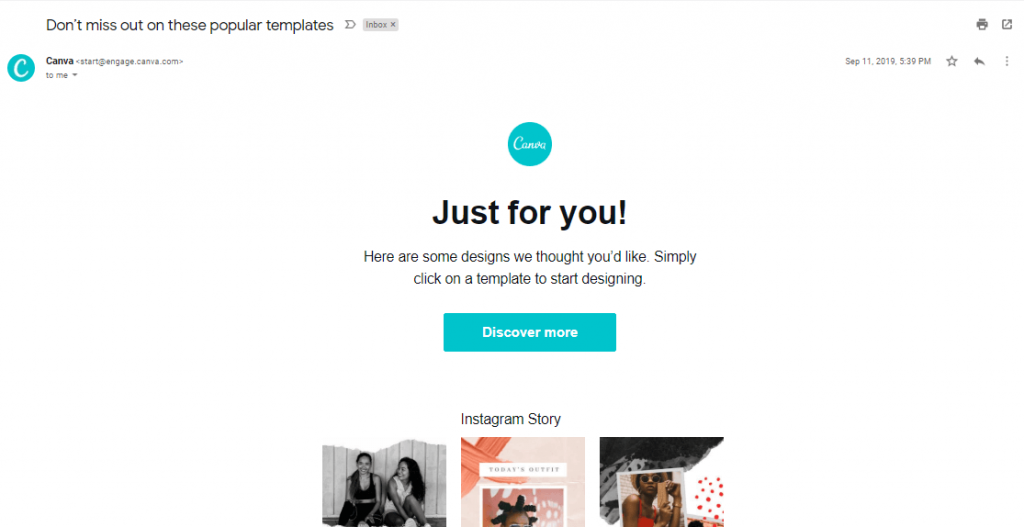 ---
13. Social Media Marketing
SMM can be an important tool for reaching your target audience and increase the visibility of your product. Ad campaigns on social media should be run regularly, and the performance of the ads should be monitored to see the effectiveness of the campaigns.
Key Takeaways:
The target audience should be defined
Presence on all social media sites is important
Content shared on social media should be relevant and appealing.
Example:
SEMrush's social media pages are always up to date with creative content. They display advertisements on social media with clear messages and CTAs.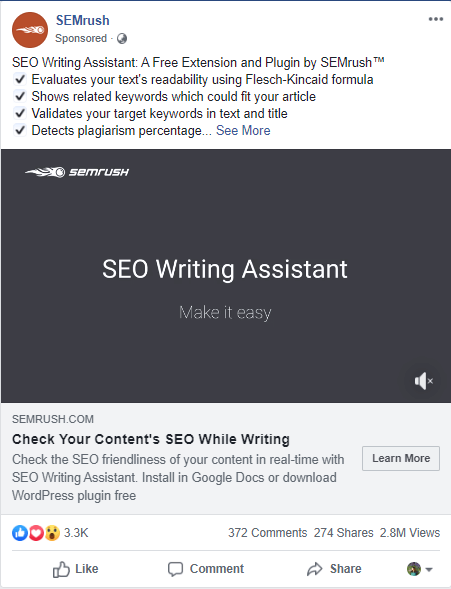 ---
14. Use Software to Plan & Strategize
One of the most important SaaS marketing tips that we give you is to plan out your content and organize it month by month before starting a campaign. This will help avoid pitfalls and provide direction to your marketing strategy.
In the current age, your SaaS company's presence on just one platform is not enough. You need to be active on multiple channels and using CRM marketing software can put you at ease and the top of your game.
Key Takeaways:
Be present and active on multiple marketing channels
Be consistent and plan out your monthly strategies and goals
Use software to automate your marketing and stay on course
Example:
Marketo is one example of marketing automation software. With over 500 customers it is trusted by multiple SaaS companies.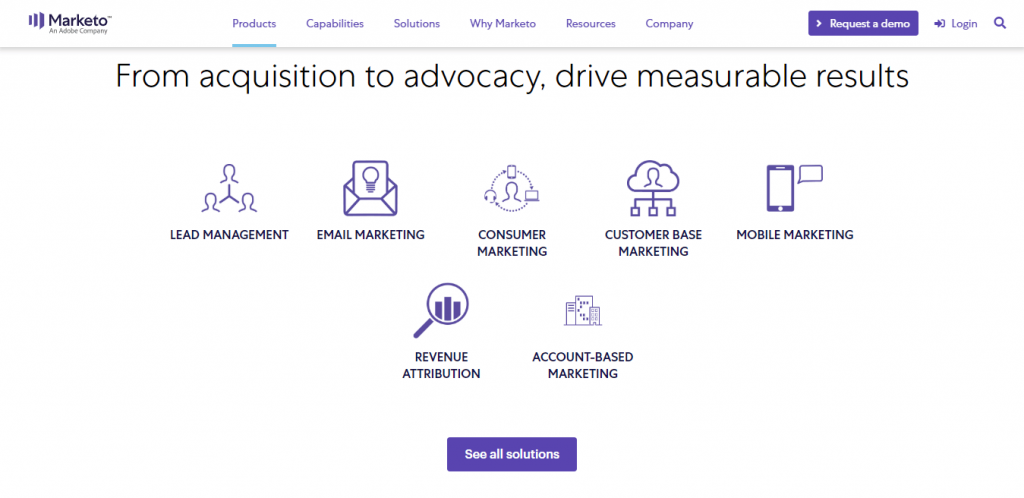 ---
15. Listing on tools list and review websites
Peoples attitude towards purchase is greatly affected by reviews. Listing your product on different tools lists available online and on review websites can bring in new customers. Review websites provide elaborate comparisons between different products which give customers insight and can attract your target audience.
Key Takeaways:
Listings can increase your product reach
They can provide a detailed analysis of your product
Provide a positive experience to gain positive reviews
Example:
LiveChat is listed on multiple websites with detailed information about the company, products, features, customer reviews, and ratings. Anyone visiting these sites will be able to easily learn more and compare with other SaaS companies offering similar products.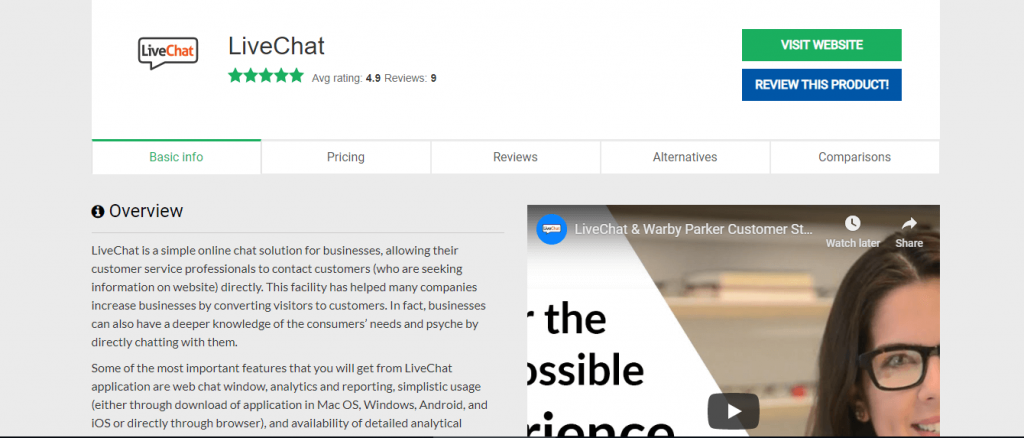 ---
16. Retargeting
Retargeting refers to re-engaging users that interacted with your ad or website at an earlier time. Users may be considering your product; they may have not made a final decision yet and they might just need a slight push to be reminded of the benefits your product brings to them.
Retargeting involves tracking these interested users and showing them ads with relevant and personalized messages based on their previous actions to turn them into customers.
Key Takeaways:
Lure back your prospects with personalized ads and messages
Launch campaigns based on specific actions such as email opens or viewing the demo
Reach users on more than one channel including email, social media, mobile, desktop, etc.
Example:
OptiMonk retargets users based on the actions they take. Below is an intelligent ad example inviting lost website visitors to participate in their free trial.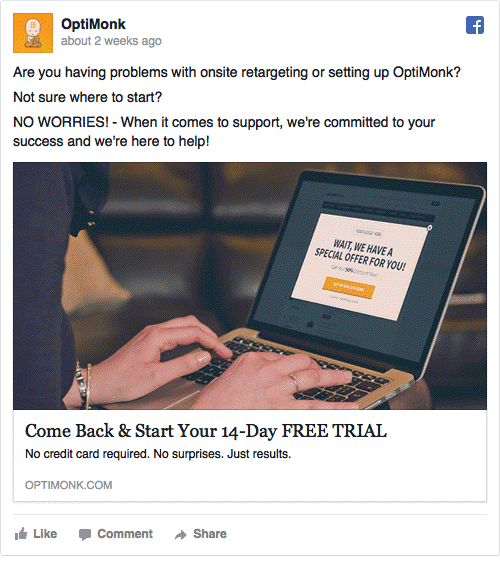 ---
17. Content Marketing
Content marketing is growing to be one of the most popular SaaS marketing ideas as businesses focus on blog posts, video content, webinars press releases, and more to generate leads. The best part about content is that you own it and it can help acquire organic leads.
Key Takeaways:
Use content to communicate your benefits
Content forms include text, video, news, webinars, articles, and more
Use content to add value such as how-to videos.
Example:
Moz runs a famous blog with new posts published every day. Their blog posts consist of worthwhile content causing their organic search results to soar.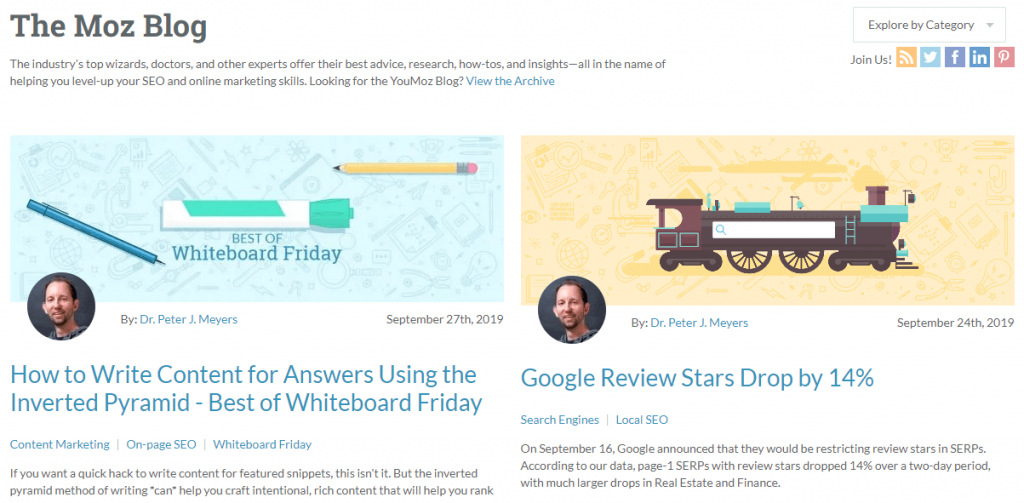 ---
18. Market to Your Existing Customers
Your existing customers cannot be ignored when marketing a SaaS product, especially for SaaS startup marketing. SaaS customers are on a subscription basis meaning each new subscription has to be achieved and you need to keep your client interested else competitors may lure them away!
Newsletters, social media campaigns, referrals, rewards, offers, discounts, remembering them on special occasions are some ways you can market to your existing customers.
Key Takeaways:
Always keep your clients interested and offer value
Retention is more cost-effective than acquiring new customers
Happy customers can help lead to new customers
Example:
Coursera advertises to its customers about new, popular, and upcoming courses through emails regularly.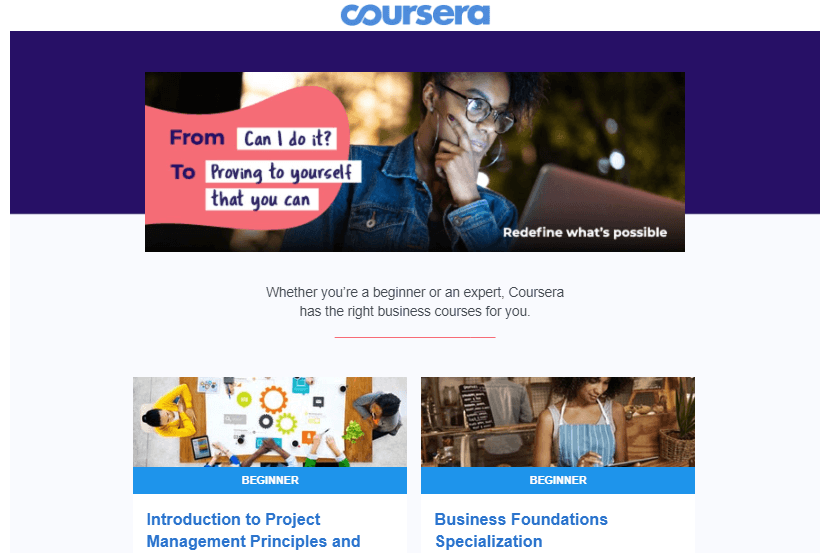 ---
19. Customer Reviews and Testimonials
Feedback from the client is not the only motivation for the team but also a good message for your potential customers. Positive reviews and testimonials should be allowed on your website and across social media pages. Negative reviews should be responded to properly, and issues should be resolved.
Key Takeaways:
Testimonials can be either be text messages or videos.
Reviews or testimonials can be shared on different SaaS review sites
Reviews and testimonials are free marketing
Example:
Autopilot posts testimonials right on their homepage to attract new clients. What's great is that they have a CTA just under a positive testimonial!


---
20. Referral Rewards for Customers
Client referrals can be a great way to reward and retain your current customers and gain new ones at the same time. SaaS product marketing can be done by offering your clients discounts, free services, or any other similar rewards for every referral.
Key Takeaways:
Make sure the rewards are valuable
Rewards can be monetary and non-monetary
Use rewards to automate your marketing
Example:
Airbnb offers $100 as a referral reward for every user that signs up and hosts a guest. This monetary value is ideal for their target market.


---
Other SaaSy goodness on All That SaaS: