We have compiled a list of the 25 best Gmail add-ons that we believe are a must-have.
Gmail is one of the most popular email service providers and 1.5 billion active users, calculated in 2018, prove just that.
Gmail's success is not only because of its astounding email service but also because it offers intuitive tools that provide incredible abilities and customization for its users.
One such feature is add-ons for Gmail that neatly lie in a sidebar on the side of your Gmail inbox. You can install as many Gmail add-ons as you like and tailor your email experience to suit your needs.
Top 25 Gmail Add-ons and Extensions in 2023
Rating: 4.7 out of 5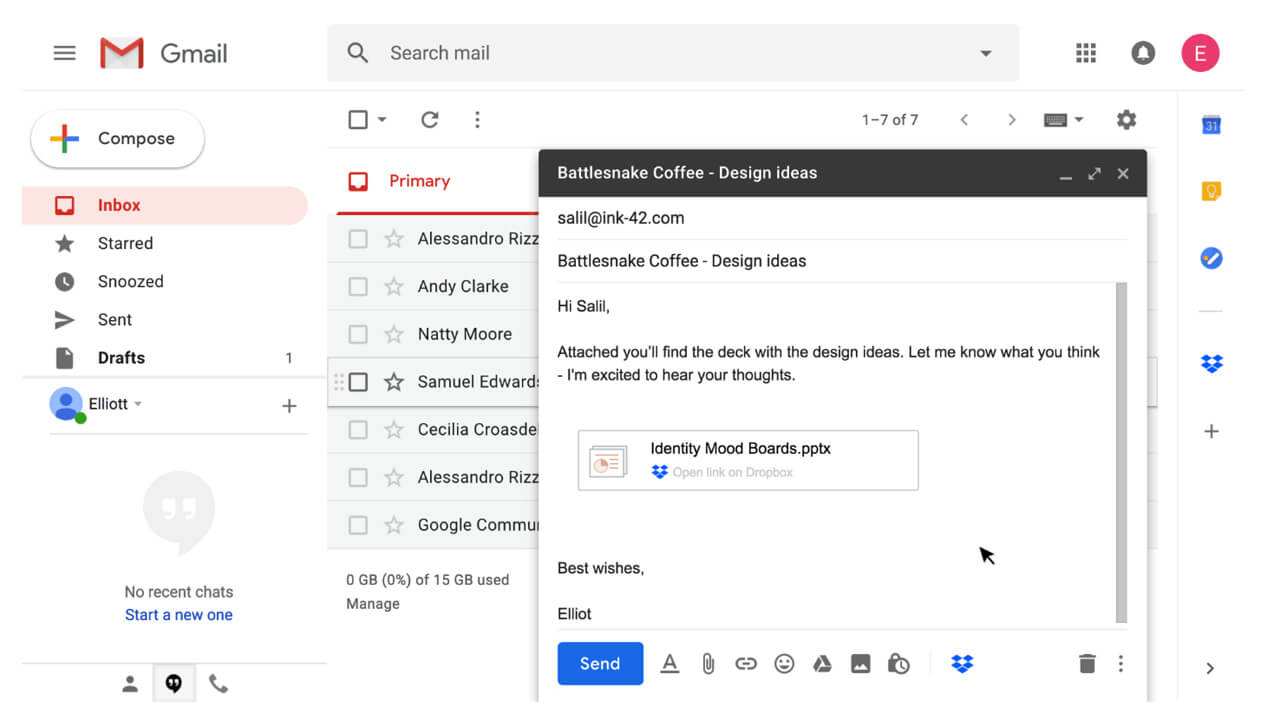 If you share files through email, Dropbox is one of the best Gmail add-ons to supercharge your productivity. With the Dropbox add-on for Gmail, you can instantly access the cloud and attach links to files or folders that are in your Dropbox account without ever needing to navigate away from your Gmail window.
The Dropbox extension allows you to be more organized by storing all your files in one secure place. Also, by sharing links instead of attaching files you free a lot of inbox space!
Key Features
Share Files: This allows you to share files/folders with anyone by sending an email with a link to the file or folder. Also, you can control who can edit, comment, or view your file when you share.
Collaboration: This allows you to collaborate with up to 50 people on Dropbox paper at a single time. It works by allowing you to mention your client in comments, and by creating a to-do list and assigning it to them.
Synchronization: automatically syncs all the folders shared with your team members to their computer's hard drive. Also, you can choose specific folders not to sync directly to a team member's computer.
Multiple Platform access: seamlessly integrates with all your favorite tools. It includes Google Cloud, WebDAV, Trello, Microsoft Azure Ad, Zapier, and a lot more.
Camera upload: automatically uploads all your pictures to your device to Dropbox. So, just by selecting the picture from the app, you can send attachments on Gmail in no time.
Preview: lets you preview files/links before sending. Moreover, the Dropbox Gmail add-on also allows you to view, comment on, and share files even without downloading.
Pricing
Basic: Free with 2Gb storage space
Plus: At $9.99 /month with 2T storage, 30-day file recovery, and more
Professional: At $16.58 /month with 3TB storage and further features
---
Rating: 4.7 out of 5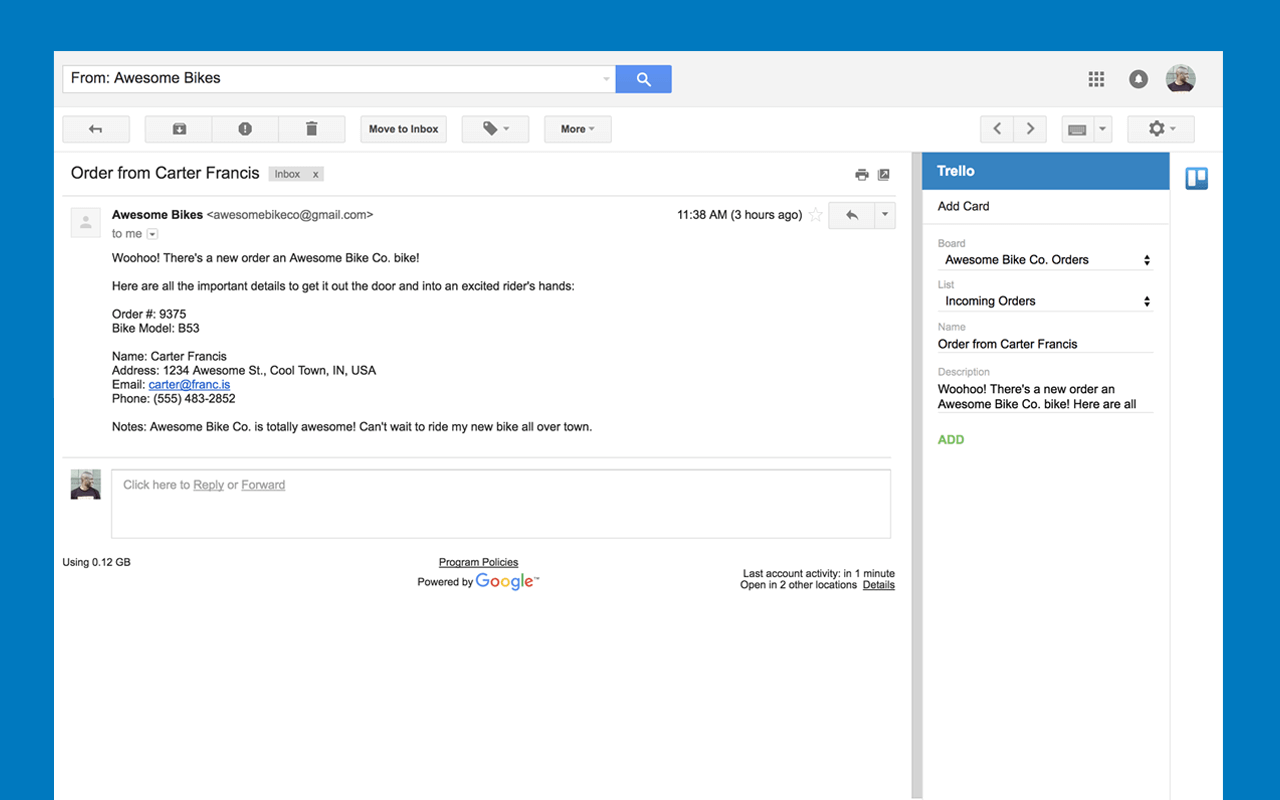 Trello boards allow you to organize just about anything, from workplace project management to planning an event. If you communicate tasks through email, the Trello extension for Gmail is a must-have to make your life easier!
It allows you to seamlessly transform any email into a card on your Trello board through a few simple clicks. Email subjects become the title of a card while the email body becomes the description.
You can, of course, edit email contents to avoid any unnecessary text in your cards.
Key Features
To-do List: automatically turns your email into a to-do list in Trello with just a single click.
Trello quickly accesses your emails and turns the subject lines to the card titles. Also, the text inside the email becomes the description of the card.
It sends your email-turned-action items to your Trello board and creates a list. So, you can easily view which tasks need to be accomplished.
Allows you to organize your emails by highlighting the important ones. So that nothing important gets lost when you have a large number of emails.
Trello lets you prioritize your important tasks by adding them at the top of the list.
Allows you to share all the tasks created from your Email with your team instantly.
Pricing
Basic: free with 2GB storage space
Plus: at $9.99/month with 2TB storage, 30-day file recovery, and more
Professional: at $16.58/month with 3TB storage and further features
---
3. Insightly CRM: Access Customer Information Instantly
Rating: 4.7 out of 5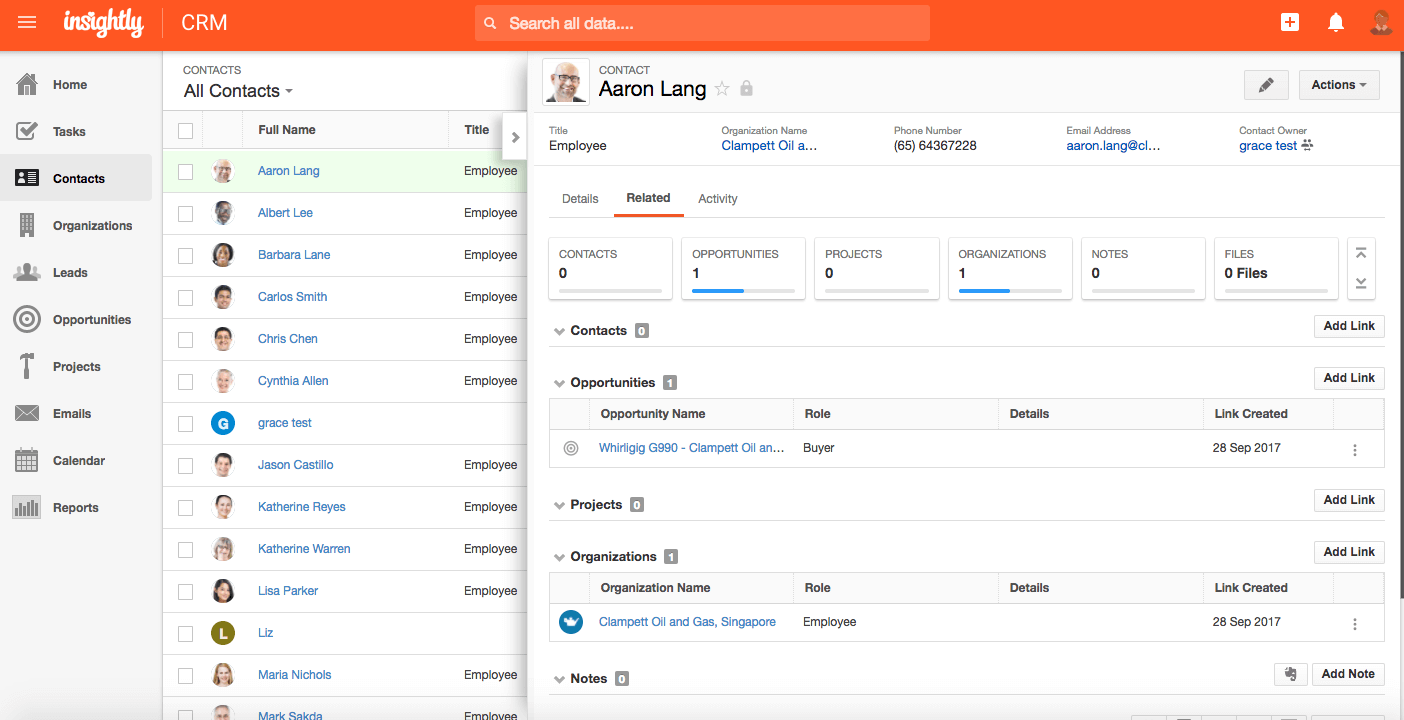 Insightly is an enterprise CRM that centralizes all your business's critical information including leads, contacts, sales opportunities, projects, reports, and more.
Imagine having all this rich information right at your fingertips while you are communicating with customers by email.
With Insightly, one of the best Gmail add-ons for CRM, you can easily manage relationships and connect with customers by accessing valuable information in a snap and leveraging it when responding to customers.
Furthermore, you can also save data from emails directly into your CRM account and make use of features such as email templates to improve your productivity.
Key Features
Organization: manage contacts, emails, events, projects, tasks, sales, reports, and a lot more.
Insightly CRM organizes all the emails received from your customers and saves them for records.
Synchronization: quickly synchronize all your data from your system/web to your mobile app. Also, it integrates well with Gmail.
Security: supports SSL, ensuring high-level protection of your confidential data.
Reports: This gives you an insight if your company's work by providing informative reports. It works by keeping track of the full history of customer interactions.
Insightly CRM ensures customer satisfaction by managing contacts at every stage of the sale process and tracking customer relationships. It also keeps track of the sales pipeline, and a lot more.
Saves data directly from emails into your CRM account, and enhances your productivity by using various email templates.
Provides a user-friendly interface and easy-to-use features with its explanation on the side. It also keeps you aware of all the important updates by sending continuous notifications.
Pricing
Free: Free for up to 2 users – manage contacts, sales, and projects
Plus: at $29 per user/month with 100,000 records and 10GB file storage
Professional: At $49 per user/month with 250,000 records and 100GB storage
Enterprise: At $99 per user/month with unlimited records and storage
---
4. Mojo Helpdesk: Customer Support with Gmail
Rating: 4.7 out of 5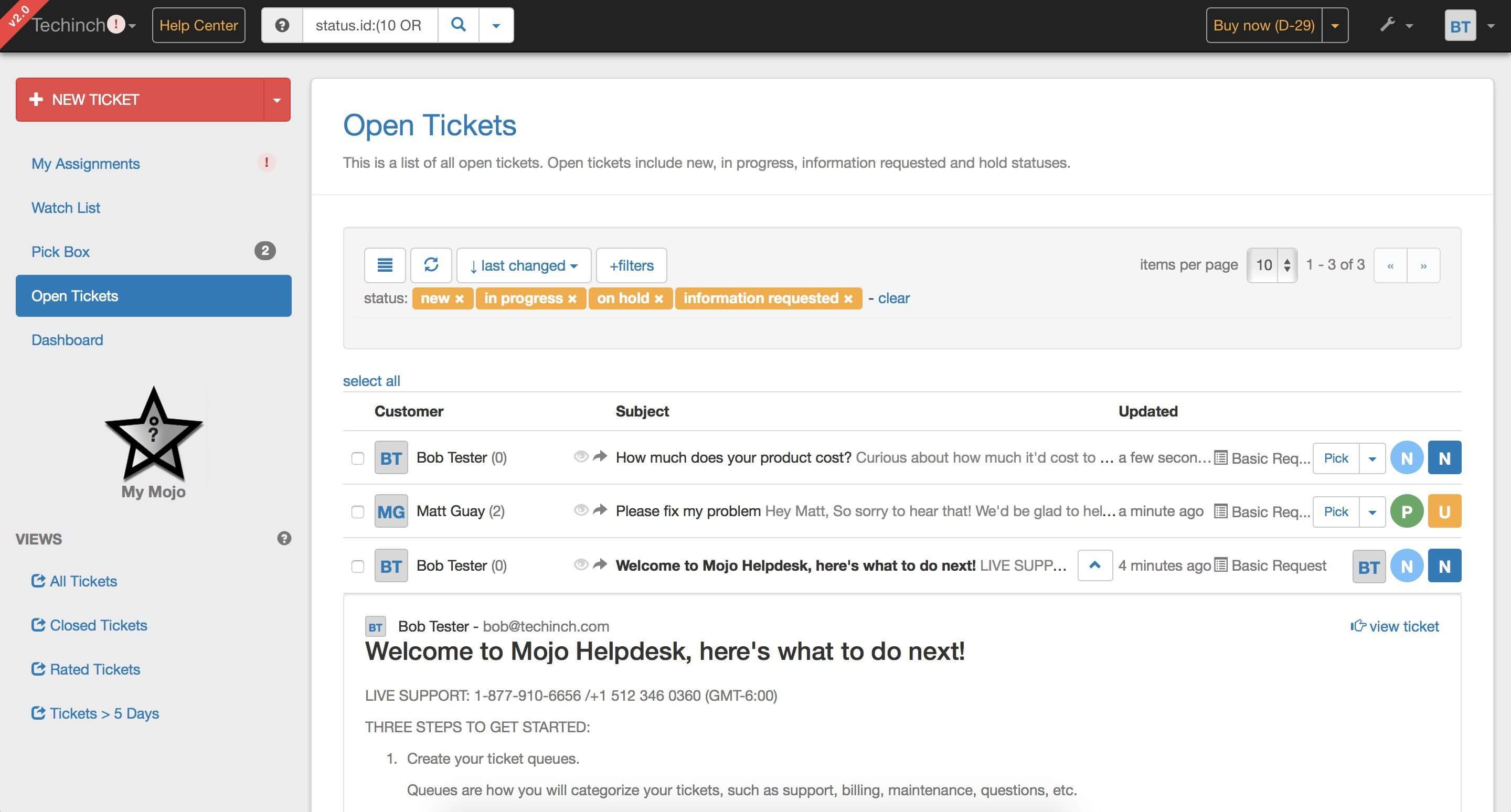 A full-fledged and cost-effective solution for Helpdesk and ticket tracking – Mojo Helpdesk consists of all the superpowers needed to handle requests and provide excellent service for internal and external customers.
With this Gmail add-on, you can efficiently solve customer issues by handling tickets directly from your Gmail inbox and easily responding to them.
Key Features
Major Helpdesk helps its customers to create and manage customer support tickets right from Gmail.
Provides reports so that you can keep track of response times, and user satisfaction.
The app supports a user-friendly and robust interface. Moreover, to solve the queries of its customers it provides IT helpdesk support.
Provides single sign-on from Google Apps account. Also, with just a single click Google users can import their data.
It provides a customizable help desk experience to its customers. This gives them an online place to submit to the support desk.
Ensures data security with SSL 256-bit data encryption. Also, it lets you use your domain for the helpdesk.
Provides multiple forms so that you can capture information on any type of customer service request.
Pricing
Mini-Me: Forever free for 3 agents with complete ticket tracking
Professional: $29 for 10 agents with $2 for additional agents. Supports Google integration, automation, knowledge hubs, and more
Enterprise: $99 for 10 agents with $3 for any additional agent. Further supports domain branding, phone support, time tracking, 50 triggers, and more.
Unlimited: $399 for unlimited agents, over 1TB storage, paper invoices, and more.
---
5. Zoom for Gmail: Schedule Zoom Meetings with Gmail
Rating: 4.6 out of 5
Check out our top picks for the best Zoom alternatives.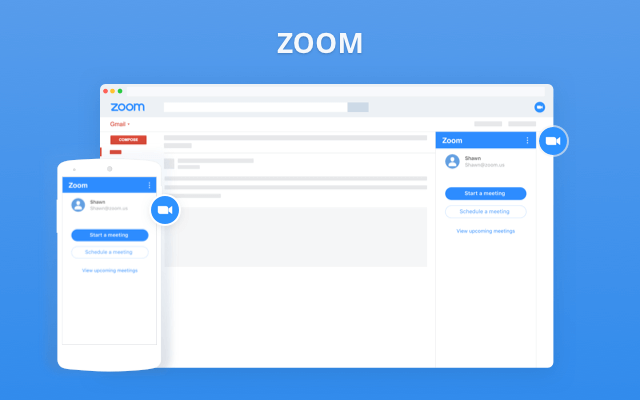 Have you ever felt that the best response to an email might just be a call? Instantly, start or schedule a meeting with the best Gmail extension for audio and video calls.
The Zoom add-on for Gmail picks up contact information saved to Google or from an email to set up calls directly from your Gmail. You can also view your calendar with scheduled meetings without having to open up any other app or window.
Key Features
Capture all your contact information from Gmail or Google and save it. It then allows you to set up calls directly from your Gmail.
Allows you to view your calendar for scheduled meetings/tasks, without even opening any other app/window.
Gives you a glance at the list of your upcoming meetings, right after you start viewing an email thread.
Automatically sends an email to everyone with the link with those on the email thread. It also sends the meeting summary, when the meeting is ended.
Provides streamlined enterprise-grade video conferencing from any device, anywhere.
With AES-256 encryption of shared content and 256-bit TLS, Zoom takes care of all your confidential data. It works by supporting tools/features such as waiting rooms, locking a meeting, screen share watermarks, audio signature, and more.
Zoom provides multiple platform access to its users. It works fine on Windows, Linux, iOS, macOS, and Android.
Pricing
Free Free for 100 participants, 1 to 1 meetings, and 40 minutes group meetings
Pro: At $14.99 per host /month with additional features including 1GB cloud recording, 24 hours meeting duration, reporting, admin controls, REST API, and more.
Business: At $19.99 per host /month for a minimum of 10 hosts with additional features including 300 participants, phone support, admin dashboard, SSO, branding, custom emails, and more.
Enterprise: At $19.99 per host /month for a minimum of 50 hosts with additional features including 1,000 participants, unlimited cloud storage, dedicated customer manager, and more.
---
6. Bookipi for Gmail: Create Invoices/Estimates via Gmail
Rating: 4.6 out of 5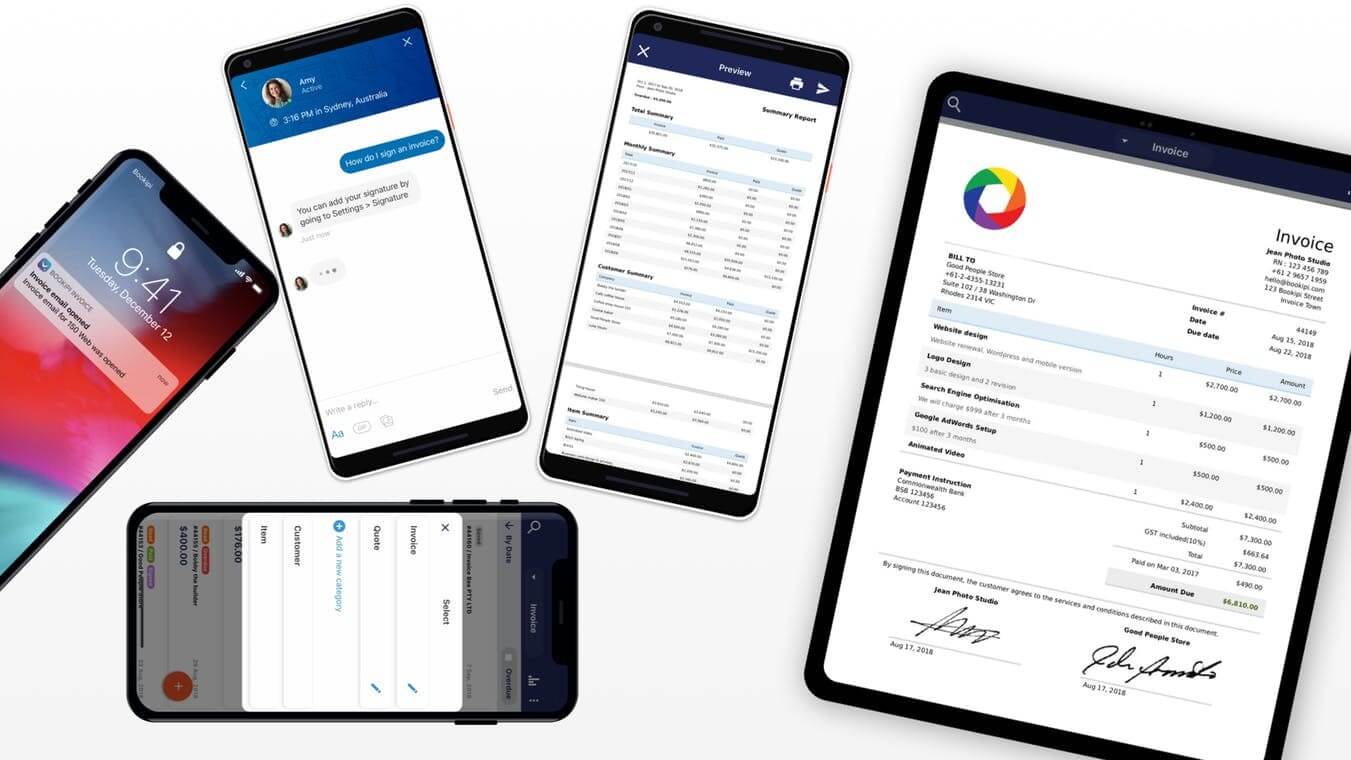 Bookipi is a lifesaver for all small businesses that have trouble managing accounts and keeping track of customer payments. Using Bookipi you can swiftly generate invoices on the go and monitor their fulfillment progress.
Thanks to Bookipi's best Gmail extension for creating invoices, you can reply to an email with a professional invoice created within seconds, in Gmail.
Key Features
Invoice Generator: lets you reply to your customers by sending an invoice/credit/note right from your Gmail.
Synchronization: Captures all your contacts/client's data from Gmail and helps you to send invoices with a single click. Also, it quickly synchronizes all the data from your mobile app.
Receipts: automatically generates receipts, once you receive the payment from the client.
Updates: Send instant notifications via Gmail, once the client has viewed your invoice.
Client's Signature: with each invoice sent to your client, Bookipi requests your clients to sign the invoice.
Support: provides rich content to resolve the queries of the clients. Also, supports a professional team that replies to all the queries within 12 hours.
Impose Surcharge: This allows you to impose a credit card surcharge on your clients.
Pricing
Free: No time limits or invoice restrictions, Bookipi is free inclusive of all features.
---
7. Gfycat for Gmail: Make Gmail Fun with GIFs
Rating: 4.6 out of 5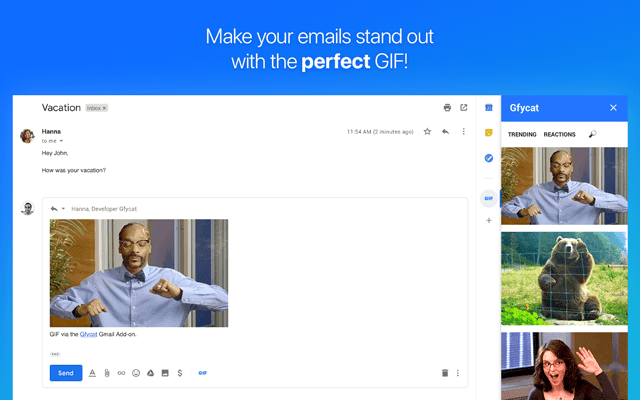 Gfycat is one of the best Gmail add-ons if you wish to add some flair to your emails using GIFs. With the Gfycat add-on for Gmail, you can access millions of GIFs, type in the search query to find one that matches what you are trying to say, insert and you are good to go!
Key Features
Supports a library of more than 50 million GIFs. You can select the one you need and send it through email with just a single click.
Allows you to send GIFS to your friend, family, and colleagues right away on any desktop or mobile.
The built-in search bar feature lets you find your favorite GIF by just typing a keyword.
Instantly inserts GIFs in Gmail, by setting the email as a draft. It then lets you choose the relevant GIF and you are all set to send an email.
Gfycat allows you to view all the GIFs that are trending currently.
Suggests you different GIFs that are most suitable and fit the best in your email. You can select multiple or one, just as you like.
Pricing
Free: Anyone can access and share GIFs from the entire Gfycat library.
---
 8. GIPHY for Gmail: Create and Share GIFs
Rating: 4.6 out of 5
When speaking about GIFs, GIPHY cannot be ignored. It is one of the most popular platforms for GIFs and with their Gmail add-on, you can search for and insert the perfect GIF or sticker in your email right from your Gmail composer.
GIPHY also allows you to easily create GIFs using a photo or video of your choice.
Key Features
Provides a large range of GIFs to its users from multiple categories.
Supports a search bar that lets you find your favorite GIFs/sticker right inside your Gmail composer within seconds.
Allows you to customize your GIFs by creating them on your own.
With just a single click, you can add the perfect GIF or sticker to your email.
View your email body/description and suggest the most relevant GIF/sticker.
GIPHY allows you to send, search, create or share GIFs on any mobile or desktop.
Pricing
Free: Anyone can access and share GIFs from the entire GIPHY library.
---
Rating: 4.6 out of 5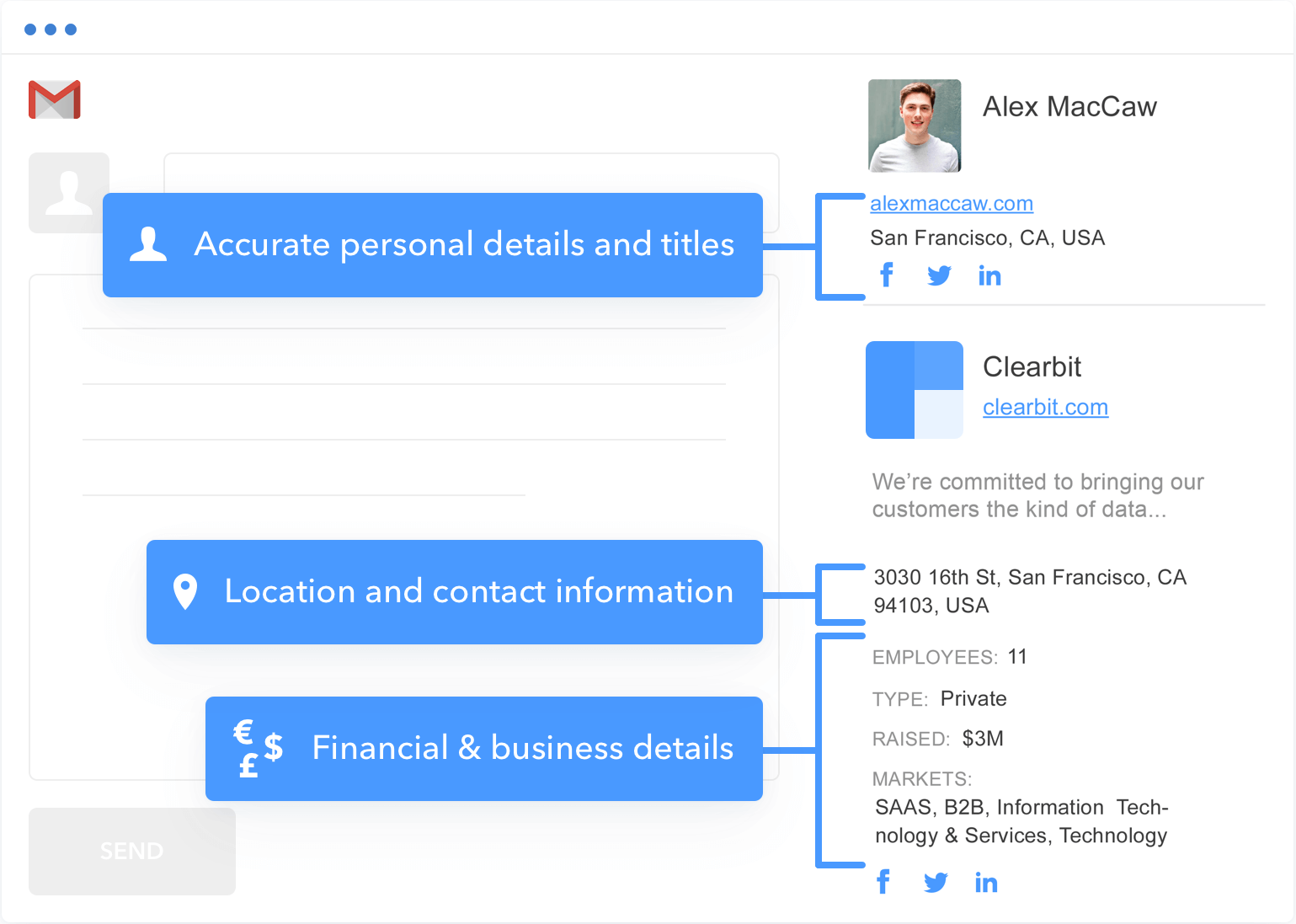 Clearbit Connect is known for the largest, accurate, and most up-to-date database of email addresses making it one of the best Gmail add-ons for Google Chrome.
With Clearbit you can find any email address in under 5 seconds and use it to power your sales, recruitment, or anything that you may require instant contact information for!
Apart from email addresses, you can view a contact's personal and company information such as an email sender's role, industry, location, company size, etc. right inside your Gmail.
Key Features
Search people by name, designation, job title to find the best contact at any company. Also, it let you search for companies, just by entering the organization name you would like to connect with.
Helps you in discovering details by providing information about your prospects. It includes location, email address, job title, and social profile.
Suggests you who you should email, by just typing the company name, and employee role in Gmail's compose window.
Provides you all the details of who's emailing you, without even opening a new tab.
Helps you in increasing your sales, recruitment, and more by providing instant information about anything.
Pricing
Free: 100 free contact searches per user /month.
Premium: For $6,000 per year it allows 1,000 monthly searches that can be shared by 5 users.
---
10. My Signature: Professional Gmail Signatures
Rating: 4.5 out of 5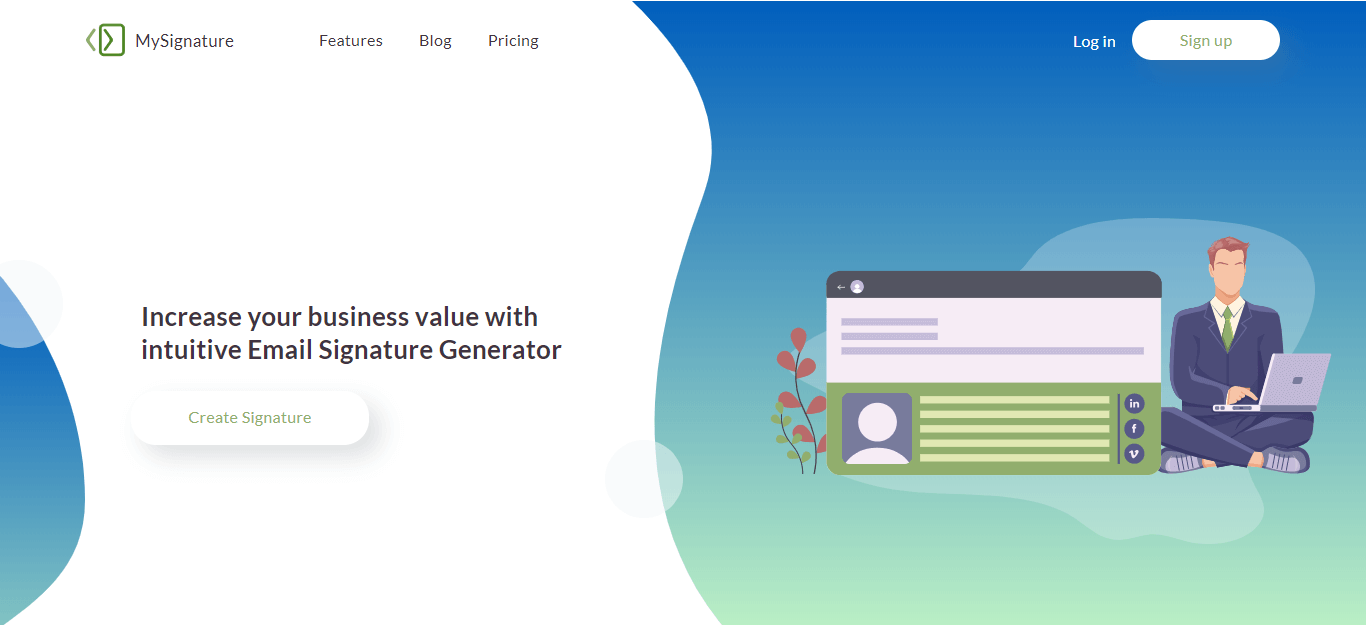 My Signature's simplicity of use makes it one of the best Gmail add-ons for email signatures. All you have to do is enter the basic information that you require in an email signature, add images if needed, choose a template, and voila!
A professional signature is created ready to be used in emails.
Key Features
Creates innovative email signatures with its powerful editor within minutes. All it requires from you is some basic information like name, company, and contact number, and it is generated.
To give more details and to make customer's loyal, you can add a logo or banner. Also, you can add a link to the logo/banner so that receivers of your emails can visit your website with just a single click.
Provides you with various professionally designed free email signature templates. You can decide what color, format, element you want according to your business needs.
Allows you to add icons to your social media, to help you in increasing traffic and engagement to your page. Also, you can type the icon's title in the Search field, and set its shape, size, and color.
You can generate email signatures from your desktop, mobile device, and tablet.
Organize all email signatures by storing them in Dashboard. It then sorts it according to its name and date.
Allows you to send an email signature directly to your email for preview and installation. Also, you can make a copy of any email signature or delete the useless one, instantly.
Pricing
1 Signature: at $4/month
3 Signature Package: at $9/month
5 Signature Package: at $12/month
10 Signature Package: at $20/month
Business Plan: starts at $45 for 25 signatures to $100 for 100 signatures per month.
---
Rating: 4.5 out of 5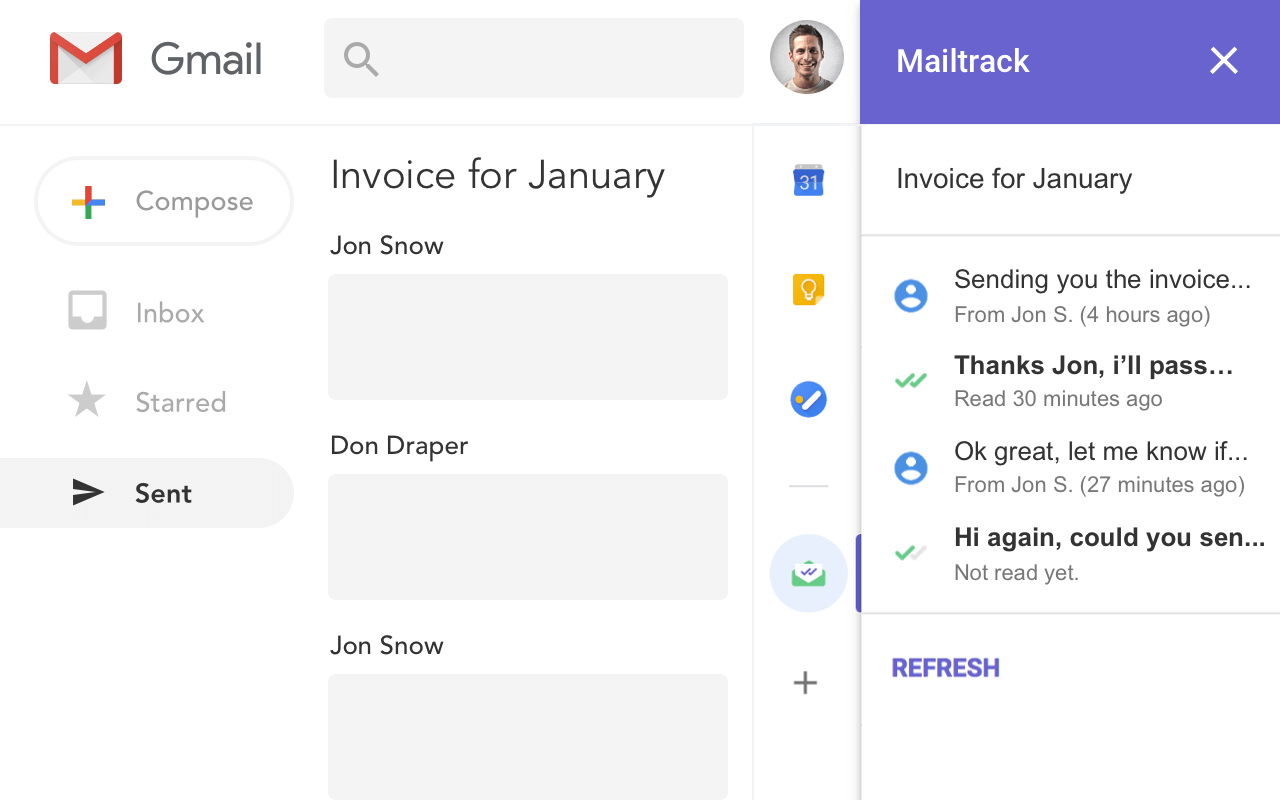 Just like with instant messaging apps, you can use read receipts in Gmail, which allows you to know whether someone has opened your e-mail or not.
That's what makes MailTrack one of the best Gmail add-ons especially for e-mail marketers as it provides read receipts in real-time accuracy.
MailTrack makes getting read receipts in Gmail super simple! As soon as you download MailTrack on your browser, it will start showing read receipts on your e-mails right away.
The single tick shows that your e-mail has been delivered, while the double tick indicates that it's been opened. And the best part is, you get an unlimited number of reading receipts at absolutely zero cost, nada!
Key Features
Get unlimited, real-time notifications the moment your emails are opened
Get reminder notifications if your emails have not been read after 24 hours
Also, get notifications when a recipient clicks on the links inside your email
Available for Gmail on Android
Measure the effectiveness of your sales emails. Improve open and link click-through rates
Your data is always safe with high security with 256-bit encryption
Pricing
Free: Free version supports unlimited e-mail tracking
Pro: At $2.90/month with full email metrics (such as exact times, or the number of times your e-mail was open), works with Gmail for Android, real-time notifications, activity dashboard, and more!
---
12. Slack for Gmail – Forward E-mails to Slack
Rating: 4.5 out of 5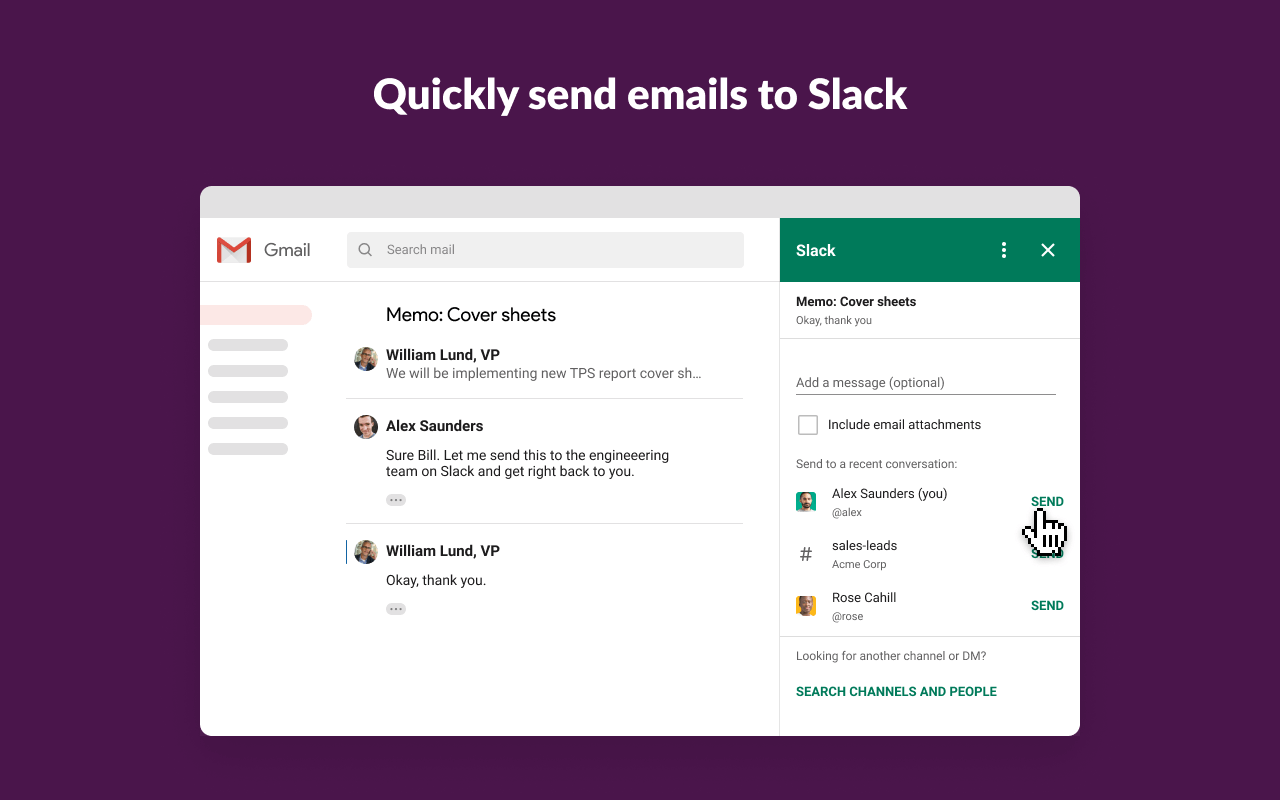 If you are an active Slack user, you might want to carry on with a conversation by bringing the context of an e-mail. With Slack for Gmail add-on, you can add a custom message and an attachment to further elaborate on what the e-mail is about.
Also, you no longer have to worry about catching up on ridiculously long e-mail chains.
This is one of the best Gmail add-ons for Customer support teams in particular. By linking e-mails from customers to a Slack conversation, teams can quickly coordinate a response to a customer query.
But regardless of your line of function, Slack for Gmail is the right tool that you need to improve the way you collaborate with your teammates.
Key Features
Slack is available on multi-platforms. It integrates seamlessly with Google Drive, Office 365, and over 2,200 more.
Automatically moves all your context from the email into the Slack channel or direct message. You can also add a message and include attachments along with the email.
Helps you in quickly answering all the customer's queries. It flags your teammates in Slack and sets the context by using the email's content.
Collaborates with teams of other organizations easily. Also, it works to strengthen client relationships in the channel by providing them with top-tier enterprise support.
Keeps you an insight into your company's conservation by providing a history of everything with its date, and time.
Ensures security by allowing only authorized users and approved devices to access the company's information. It does so with features like single sign-on, domain claiming, and more.
Pricing
Free: One-to-one voice and video calls, access 10,000 recent team messages, and integrate with Google Drive, Office 365, and 8 other apps.
Standard: At $6.67/month with group voice and video calls of up to 15 teammates and collaborate with guests from within Slack
Plus: At $12.50/month with advanced identity management, around-the-clock teamwork, and further features
Enterprise: This is based on your quotation, support for up to 500,000 users, and further features
---
Rating: 4.5 out of 5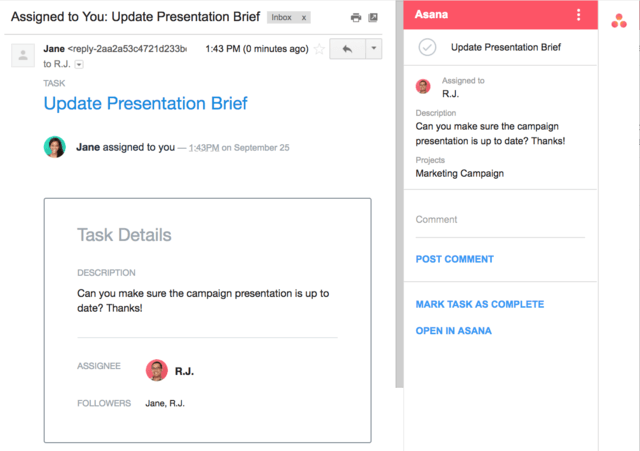 Asana is another one of the best Gmail add-ons that allows you to get all the stuff in your e-mail and put them into a proper task management solution conveniently. All it takes is simply to download it as your browser extension, authenticate your Gmail account and log in using this account.
Once you start using it, you can create tasks straightway. These tasks can also be accessed directly from your e-mail. All in all, Asana is among the best Gmail apps to streamline your task creation process right from your e-mail inbox.
Key Features
Keep a record of all your emails and quickly turn emails into tasks directly with your inbox.
Manages your tasks by assigning them to yourself, or your teammates. Also, it set due dates and connects emails to projects.
Allows you to track the task in the app with your teammates as a part of project planning.
Let's view all the updates to synced tasks made with Asana, without leaving an email.
Organize your team's work, with 'List view'. It then helps the team to know their tasks, priority work, and their due dates. Also, it lets you choose the project view that suits you the best according to your style.
Allows you to attach files from your computer, Dropbox, or Google Drive to any task or conversation. Also, you can view files on individual tasks or at a project level.
Pricing
Paid versions come with a 30-day free trial.
Basic: Free for teams of up to 15 people.
Premium: At $10.99 per user/month, supports advanced search and reporting, custom fields, forms, and much more!
Business: At $24.99 per user/month, supports custom rules builder (70+ Rules), Adobe Creative Cloud Integration, advanced integrations, and much more!
Enterprise: Based on your quotation, supports data export & deletion, block native integration, custom branding, and much more!
---
Rating: 4.5 out of 5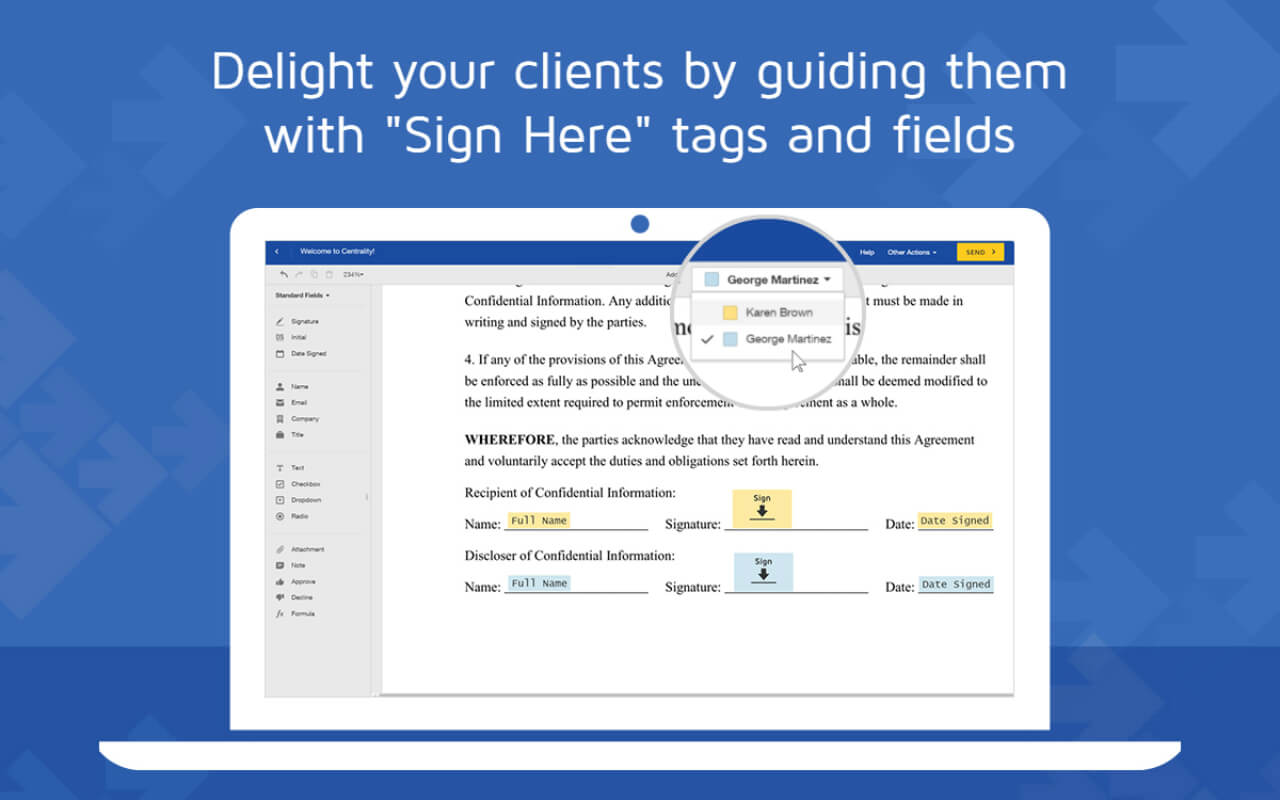 Founded in 2003, DocuSign is the market leader in the e-signature industry. When combined with the power of Gmail, DocuSign turns your e-mail inbox into a powerful e-signature tool.
Not only DocuSign is one of the best Gmail extensions in terms of functionality, but also its sleek interface allows you to perform various tasks within just a few clicks.
Just hover over an e-mail attachment and sign documents within your inbox. You can speed up your overall workflow, whether you request a sign or edit a document, it gets done within minutes.
Key Features
Ensures top-level security, privacy, and also efficiency with integrated workflows between Google and DocuSign eSignature.
Allows you to sign unlimited documents. Also, you can send up to 3 documents for others to sign.
Send instant notifications to update you on where your agreement is in the signing process.
Supports up to 43 localized languages so that users can sign the documents in their native language.
Pricing
Paid versions come with a 30-day free trial.
Personal: At $10 per user/month, available for a single user only, contains basic fields and a mobile app
Standard: At $25 per user/month, available for 3 users (for more users, contact support team), supports reminders, notifications, personalized branding, and comments
Business Pro: At $40 per user/month, available for 3 users (for more users, contact support team), contains advanced fields, supports payment collection, signer attachments, and bulk send option
Advanced Solutions: Based on your quotation, supports integrations, connectors, APIs, and much more!
---
Rating: 4.5 out of 5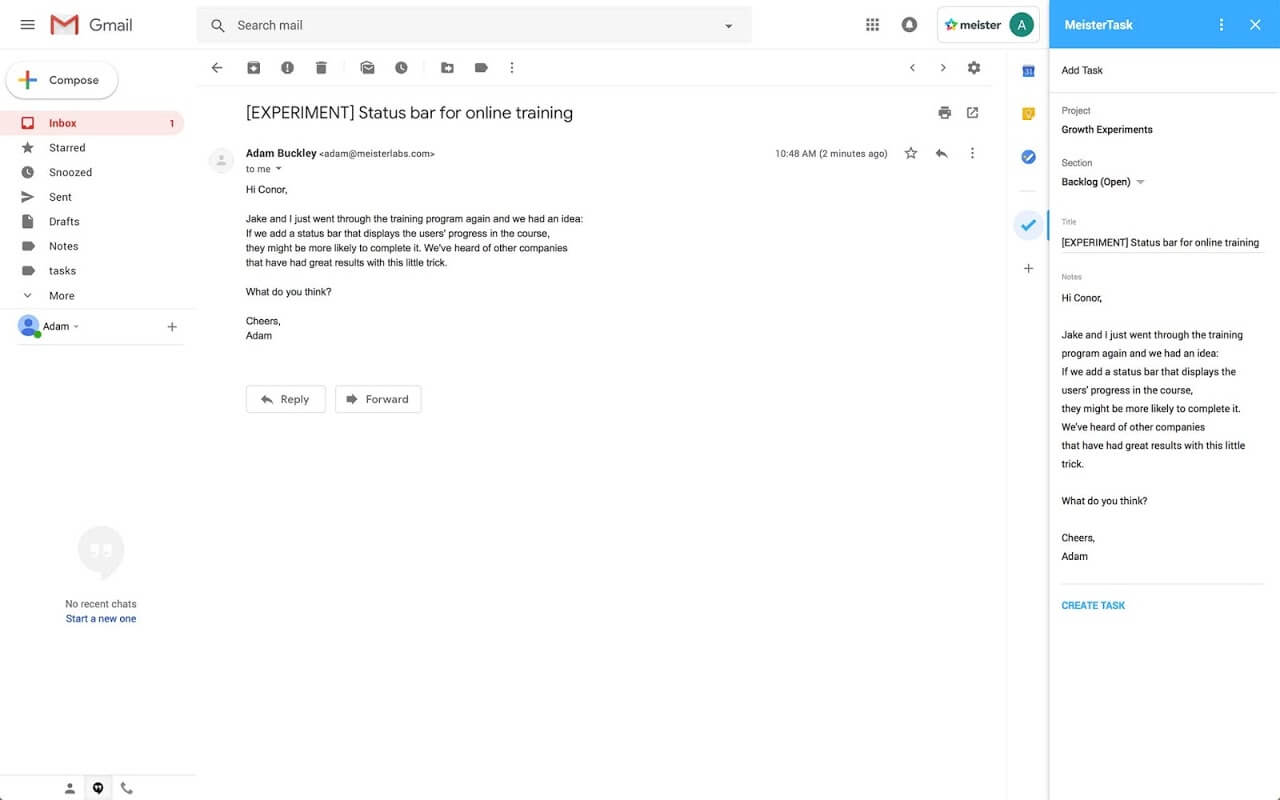 If you often receive e-mails that demand an actionable task, and you say to your team "Let's do this!", then MeisterTask is the app you should be using.
Meister provides one of the best Gmail add-ons that convert your emails into tasks within just one click and automatically move them into your agile projects.
Moreover, you can manage your to-dos right in your task management system. MeisterTask is highly intuitive, powerful, and recommended for teams working in a fast-paced environment.
Key Features
Set up an unlimited number of projects
Invite other team members to collaborate with you
Keep an eye on all your tasks across all projects using the My Tasks widget
Track your tasks that are due, overdue, or flagged, using the Focus widget
Add attachments to your Tasks from Google Drive, Dropbox, etc.
Integrate MeisterTask with Slack, Zendesk, GitHub, and more.
Pricing
Basic: Free, create up to 3 projects and unlimited tasks
Premium: At $9, supports unlimited automation, unlimited integrations, project groups, advanced statistics and reporting, and multiple checklists
Business: At $23, set up roles and permissions, create and manage user groups, share projects with user groups, priority customer support
Enterprise: Based on a quotation, therefore this package is specifically tailored to your company's needs
---
Rating: 4.4 out of 5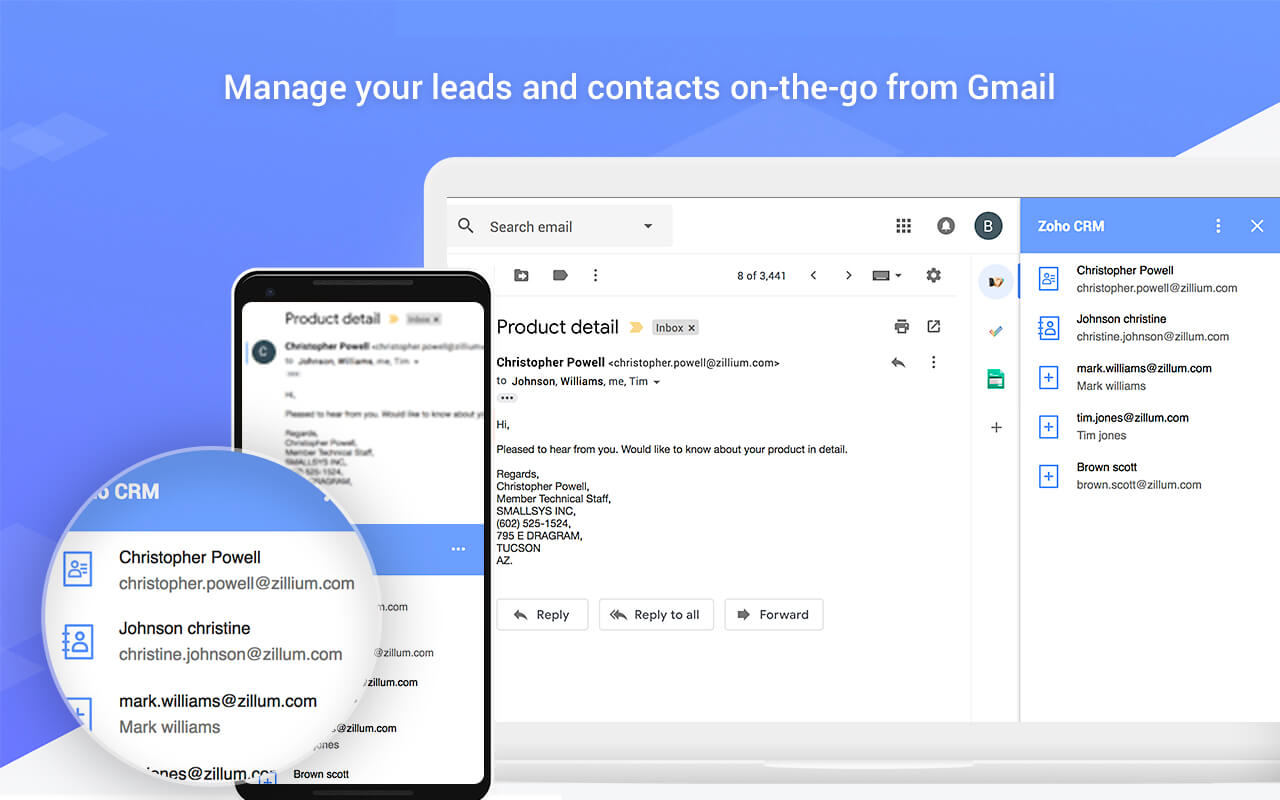 Zoho is the parent behind various SaaS-based tools and Zoho CRM is one of their leading products that comes as one of the best Gmail add-ons.
The most prominent feature of Zoho CRM as a Gmail add-on is to add new leads/contacts to your Zoho CRM account along with notes on your records from within Gmail. No need to switch back and forth between multiple screens, just handle all your CRM-related stuff via your inbox.
When it comes to the interface, not only that it's sleek and intuitive, but also you get all the information that you need within one screen.
Key Features
Zoho CRM lets you add new leads, and contacts to your account right from Gmail.
With an easy-to-use interface, you can keep track of all your information from any device.
Gives you a glance at your leads and contact details whenever you open your email from your customer.
Integrates seamlessly with multiple platforms like Zendesk, Salesforce Desk, Zoho Desk, and a lot more.
With email analytics, you can know which templates are sent to your customers, get the most response.
Pricing
Paid versions come with a free trial for up to 15 days – no credit card required.
Free: Supports 3 users, includes essentials like leads, documents, and mobile apps
Starter: At $8 per user/month, supports Slack integration, roles, and profiles, creates up to 10,000 records, and more!
Standard: At $12 per user/month, supports macros, inventory management, automatic field updates, Google ads integration, unlimited records, and more!
Enterprise: At $35 per user/month, supports custom modules and buttons, sub-forms, mobile SDK and app distribution, autoresponders, email parser, data encryption, and more!
Ultimate: At $45 per user/month, supports advanced customization, automation suggestions, data enrichment, enhanced storage, and more!
Unified Customer Experience Platform: Starting from $50 per user/month, supports helpdesk, email & social media marketing, surveys, and analytics, and much more!
---
Rating: 4.4 out of 5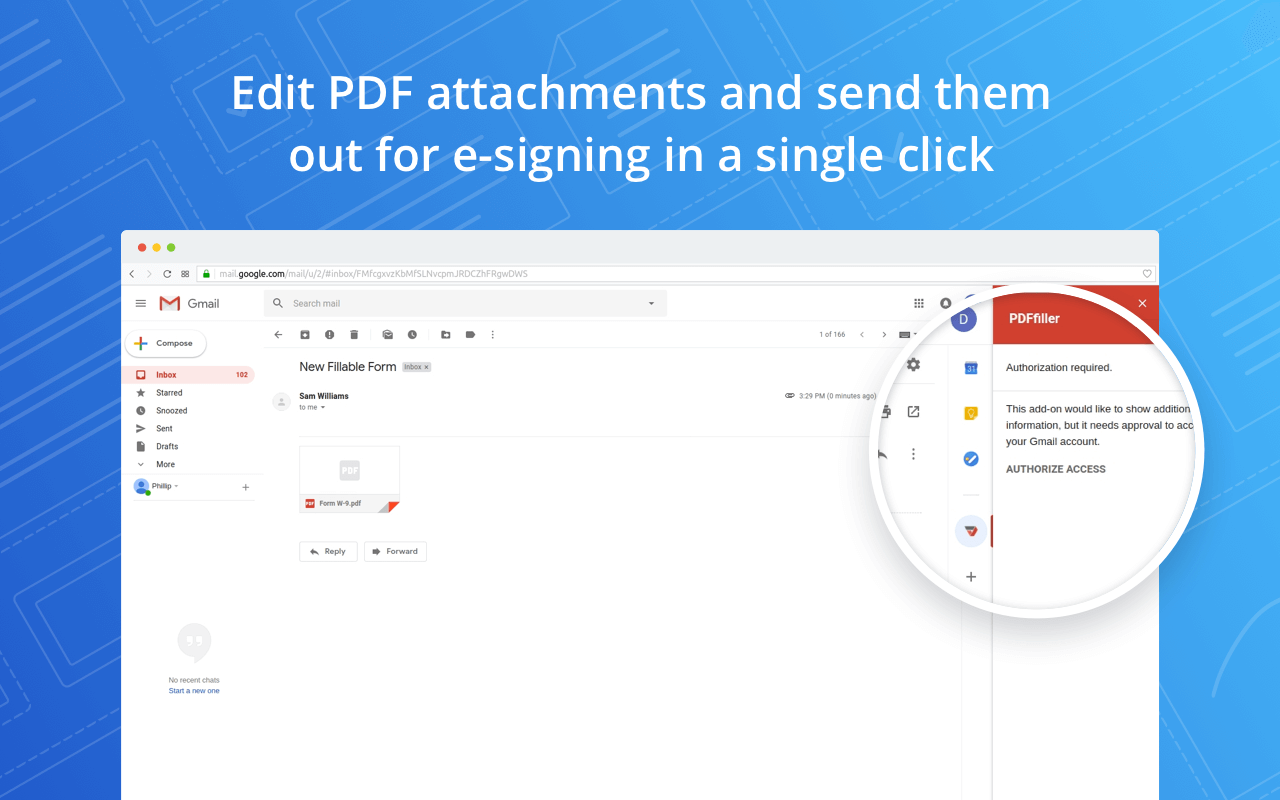 Has someone ever sent you a PDF and asked you to sign it and send it back? The manual way of doing so would be to print it out, write on the paper, and take a scan, and send it back.
This surely is a complicated process, and that's why you need tools like PDFfiller that cut out this hassle.
This is among the best Gmail add-ons that allow you to fill documents out completely online when someone sends a document.
PDFfiller makes it super easy to do that. You no longer have to take prints or take pictures on your phone and all that. Simply get it on your Gmail, and manage documents right from your inbox.
Key Features
Send PDFs to be signed and filled by multiple recipients right from your Gmail inbox
Protect access to documents from undesirable changes by setting up access levels for each e-mail recipient
Ability to modify text, images, and graphics before sending a document for signing
Upload documents to your PDFfiller account via your inbox in a single click
Instantly notifies you with emails, as the recipient signs and completes your documents.
Allows you to send invitations to your customers, to sign your document by just entering a recipient's email address. Also, you can choose who can access it, to avoid any unnecessary changes in your document.
Pricing
PDFfiller contains the following pricing, with both packages starting with a 30-day trial:
Basic: At $8/month, available for only one user, includes essential features to fill and edit documents, add-on includes an e-fax number for $19.99/month
Premium: At $15/month, available for up to 5 users, includes e-signature capability and allows for creating workflows, add-on includes an e-fax number for $9.99/month
---
Rating: 4.4 out of 5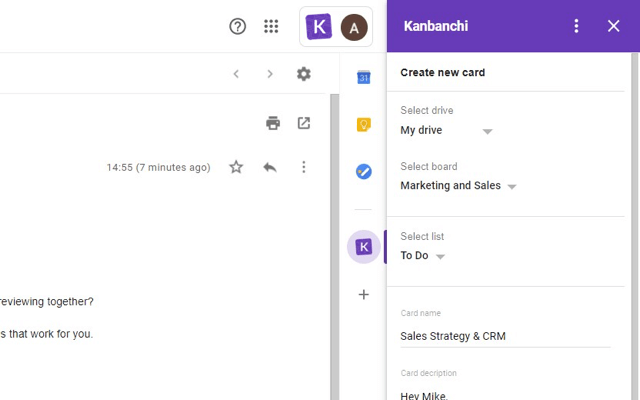 Kanbanchi on G suite is one of the best Gmail apps that deal with workflow and project management. Its interface is very sleek, colorful, and flexible. Kanbanchi starts very simple and gets sophisticated as your requirements grow.
Kanbanchi is known for being the only online project/task management or collaboration tool that comes with a Kanban board, Gantt chart, and time tracker altogether.
It visualizes your workflow displaying all tasks and activities in project boards with lists and cards, with each card having various color tags to identify its status. All of this gets right into your Gmail account with Kanbanchi; simply install it from the G-Suite marketplace.
Key Features
Accesses your emails, and turns its subject to card titles and email bodies to its descriptions, with just a single click on the Kanbanchi icon.
Send instant email notifications, whenever any of your team members made changes to the board.
Monitors your team's progress, by checking the time they spent on each task. Also, it automates weekly/monthly reports that help you gauge your team's productivity.
Manage tasks on Kanban boards and allow you to collaborate with your team members in real-time. Also, you can change the color, font, size of the card, as per your choice.
With the 'Gantt Chart' feature, you can plan projects, assign tasks to your team members, and plan the schedule.
Let's leave comments on cards for your teammates. Moreover, you can also prioritize the tasks by attaching them at the top or marking it with a color.
Pricing
Starter: At $7.95 per user/month, contains essential features for basic task management and team collaboration
Professional: At $19.97 per user/month, includes a 30-day free trial, more features for advanced project planning, and time tracking
Enterprise: Starting from $34.97 per user/month, all-inclusive solution for large companies dealing with workflow management
---
19. Gmelius – E-mail Workflow Automation
Rating: 4.4 out of 5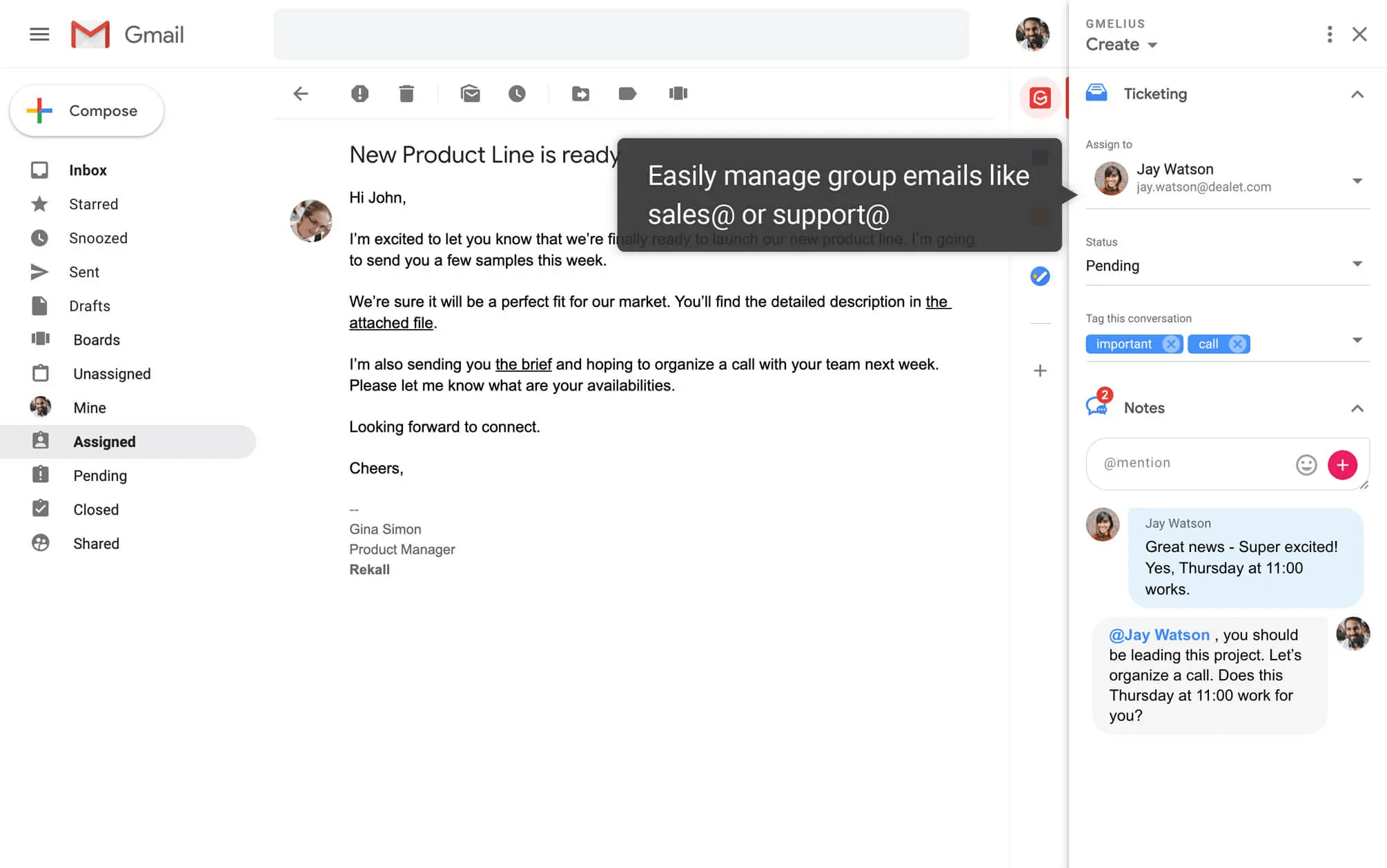 Gmelius is an e-mail automation and shared inbox tool for Gmail. This is one of the best Gmail add-ons that integrate with Gmail so well as if it were a native Google app.
Gmelius is top-notch when it comes to email tracking. It enables you to track email opens, as well as link clicks. You can save a lot of time by setting e-mail sequences to sort e-mails based on specific conditions, and then send them out automatically.
Plus, by using a shared inbox, you can easily collage with your team.
Key Features
Set up email templates, sequences, and campaigns, directly via dashboard
Get read receipts within your shared inboxes
Schedule e-mails to send them at your desired time
Set up follow-up reminders
Organize your emails in a Kanban-style board
Every e-mail you send is encrypted and protected using blockchain technology
Detect and block email tracking used by recipients
Add GIFs to make your e-mails engaging
Pricing
All paid packages come with a 14-day trial.
Free: This includes a Kanban board, e-mail tracking, 10 e-mail templates, task assigning, @mentions, and more
Plus: At $9 per user/month, up to 10 users, unlimited shared emails and cards on the Kanban board, unlimited email templates, no Gmelius branding, and more
Growth: At $19 per user/month, up to 50 users, workflows and SLA rules, team reporting, drip campaigns, mail merge, and more
Enterprise: At $49 per user/month, unlimited users, roles and permission management, groups and team management features, data recovery services, and more
---
20. Happay – Gmail Add-on for Expense Management
Rating: 4.3 out of 5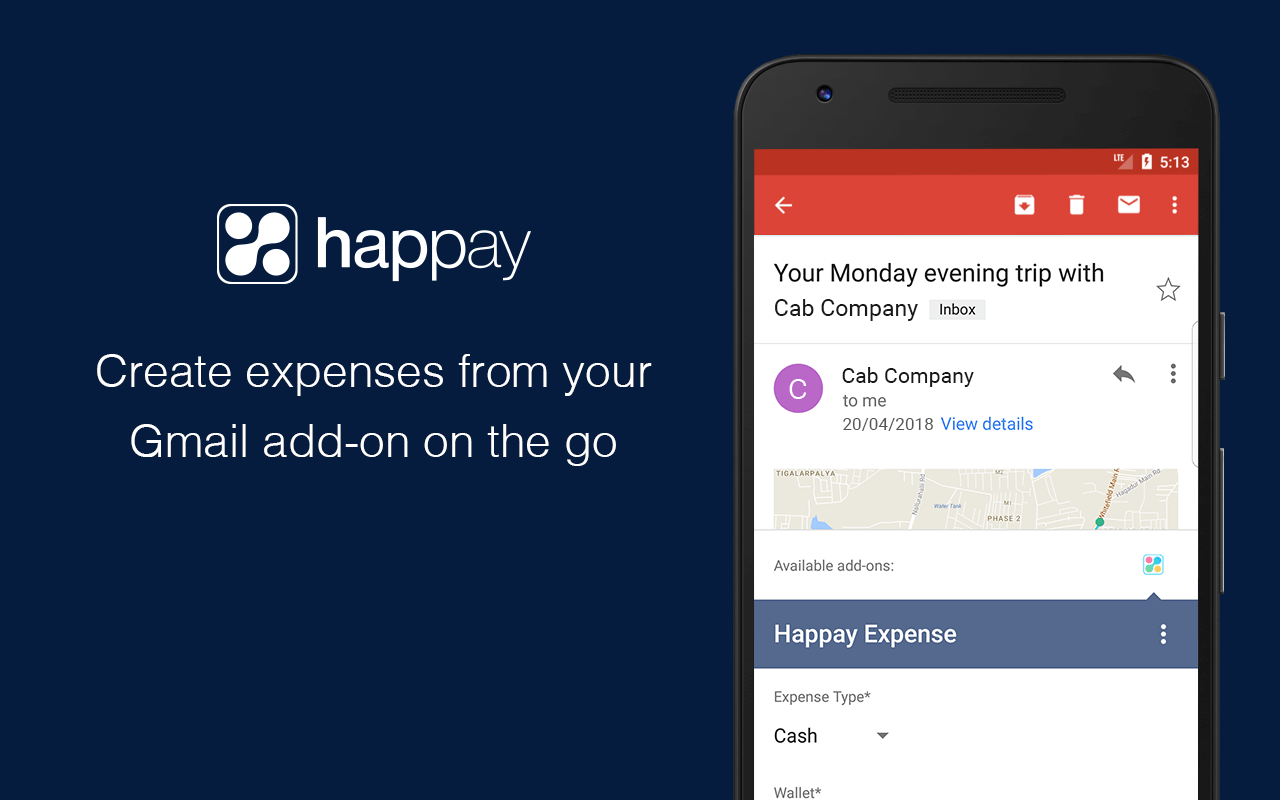 Managing expenses and collecting receipts can be very hectic when done manually. Without the right tool, it becomes difficult when, where, and how your expenses have been dealt with.
Fortunately, we have one of the best Gmail extensions like Happay, dedicated to handling your expenses.
Happay enables businesses of all sizes to automate creating expense reports, monitor fraudulent spending, and handle cash flows with unmatched accuracy.
With integration to Gmail, you can manage expenses right from your inbox. Happay automatically fetches information, such as vendor, date, and amount from e-mails that contain expense receipts.
Key Features
Offers consistent experience across multiple platforms. It integrates seamlessly with desktop, mobile devices, and tablets.
Auto fetches the receipt, identifies the merchant and amount. It then automatically creates the expense.
Using custom fields, you can fill in additional information about your expenses.
Accesses your emails, and allows you to add email as a receipt.
Happay is intuitive and super easy to use. Also, it provides 24/7 customer support to its users.
Pricing
Happay does not offer price packages. Pricing is available on request.
---
Rating: 4.3 out of 5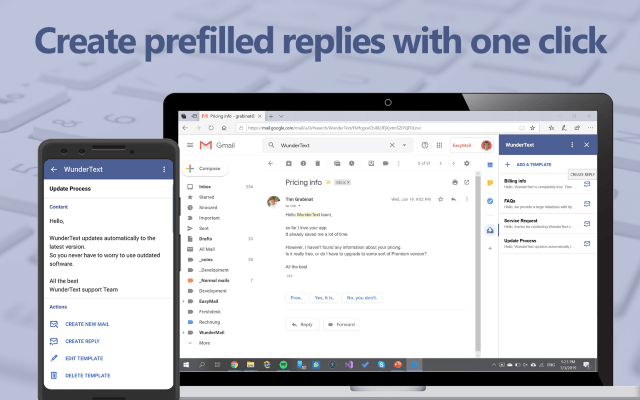 Customers ask questions all the time and most of those questions are often very similar. If you have pre-filled replies that you can send to them in a jiffy, you can save a lot of time and effort from typing all those answers over and over again.
WunderText is one of the best Gmail apps that provides all of its features for free. However, if you hate ads, you might want to get their premium version.
With WunderText, you can stock all your replies and send them in a single click. WunderText works entirely within your Gmail, so you don't have to leave your inbox.
It also provides a nifty template editor, which you can use to edit your replies within minutes.
You can also use WunderText together with PDFfiller. With this power combo, you can fill in a form using the efficiency of PDFfiller and manage the snippets with Wundertext.
Key Features
Automatically creates templates of information that you use frequently.
Synchronize data quickly across all your devices. It works very well on mobile and desktop.
Allows you to insert text snippets into your e-mails. Also, it creates full mail replies with just a single click.
Ensures high-level security and protection of your sensitive data.
WunderText is free of cost. Also, it doesn't require any software to work.
Pricing
Free: Supports all features, with banner ads
Premium: Supports all features, without banner ads, starts with a 30-day free trial
---
Rating: 4.3 out of 5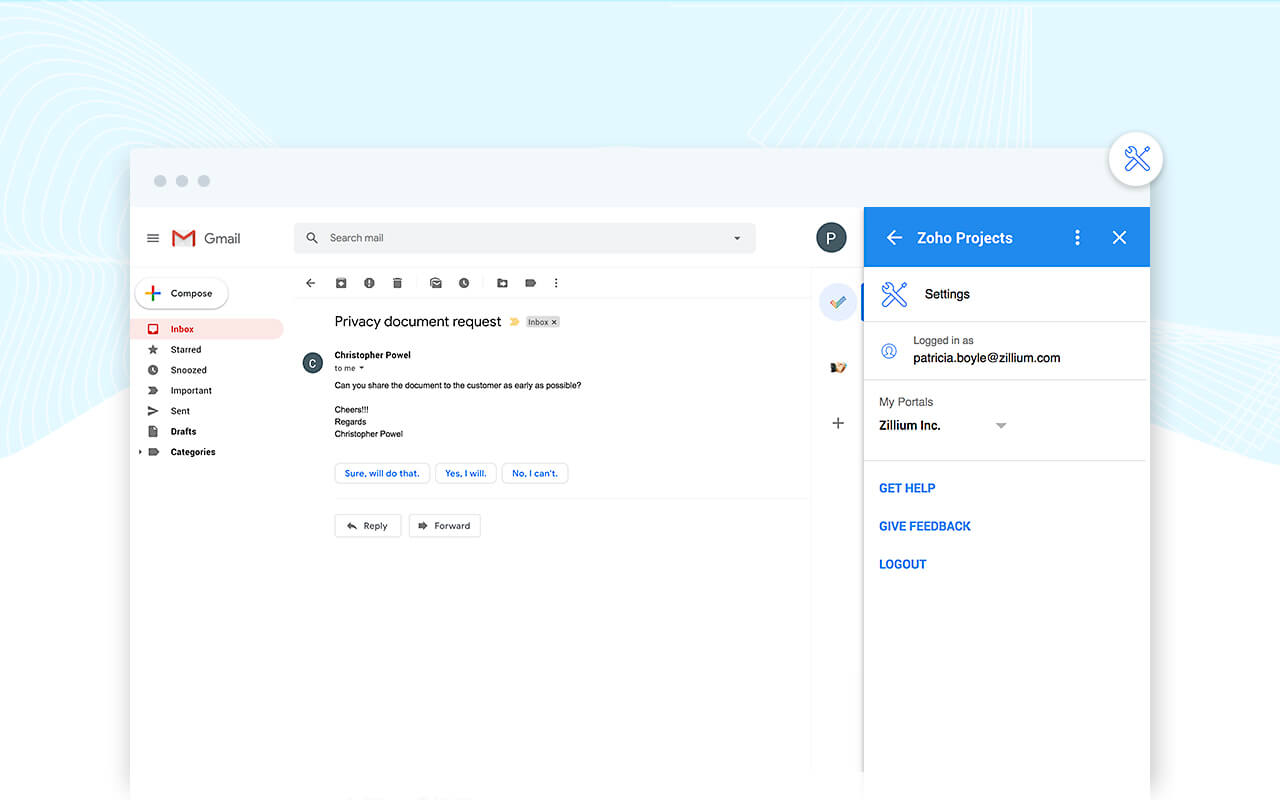 Yes, you guessed it right – this is another excellent product by Zoho.
Zoho Projects takes your online team collaboration and project management to the next level. Zoho Projects is specially designed to improve the way teams communicate, collaborate, and handle projects.
It is brimmed with abundant functionalities, such as interactive feed, charts, reports, time tracking, workflow automation, etc.
When powered with Gmail, Zoho Projects becomes one of the best Gmail add-ons for a comprehensive project management experience within your inbox. These features speak for themselves.
Key Features
Two-way data sync between Gmail and Zoho Projects
Receive notifications on project activities
Set up projects within Zoho Projects add-on without leaving the inbox
Turn an email message into an actionable task
Track time by logging work hours right from Gmail
Pricing
Free: Free plan supports 5 users, 2 projects, 5 Client Users, Google Apps Integration, and attach files up to 10MB, and further features
Standard: Starting from $150 per 6 users/month, available for up to 10 users, supports 10 projects, 10 client users, and further features
Express: Starting from $480 per 15 users/month, available for up to 100 users, supports unlimited projects, 15 client users, and further features; add-ons include $5 per 5 client users/month
Premium: Starting from $1,500 per 25 users/month, available for up to 1,000 users, supports unlimited projects, 25 client users, and further features; add-ons include $5 per 5 client users/month
---
Rating: 4.3 out of 5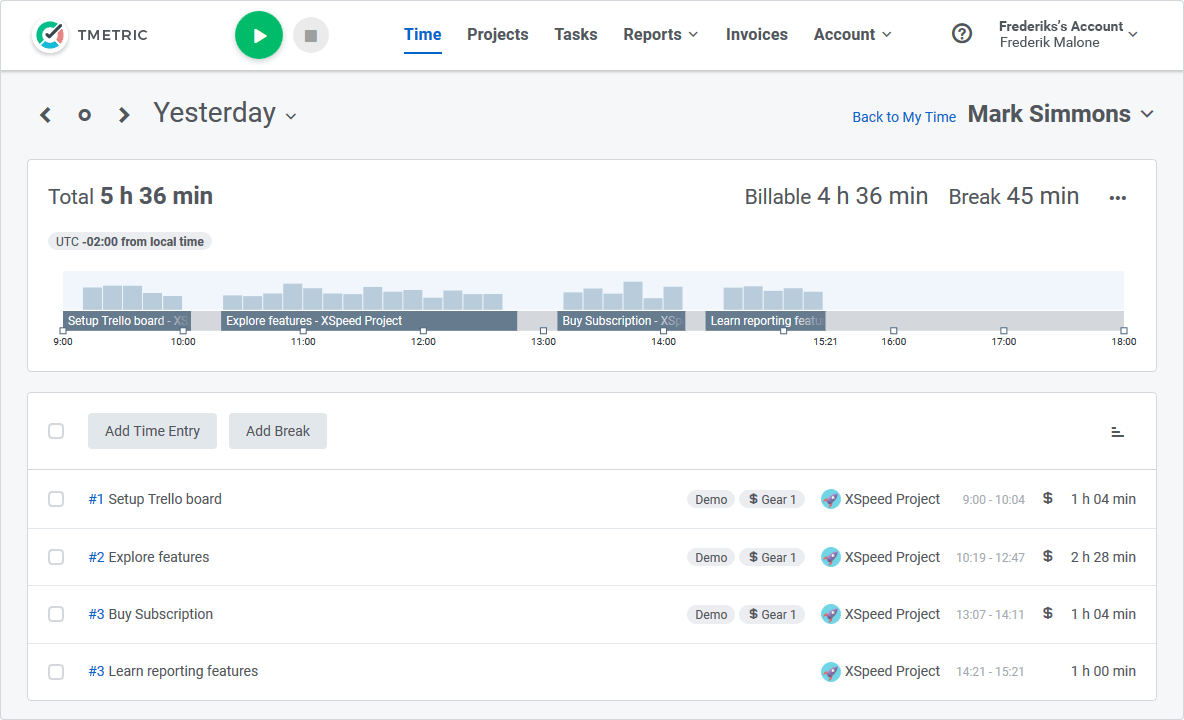 Next up on our list of the best Gmail add-ons is TMetric. It is a powerful time tracking app that lets you track time spent in various tools offered inside the GSuite, such as:
Google Keep for notetaking,
Time spent in Google Calendar for events and scheduling,
Gmail for reading and writing emails, and
Time spent using Google Docs to prepare various documents
There is a start timer button inside all these apps, that lets you record time spent and automatically syncs time entries in your TMetric account. TMetric for GSuite is a great Gmail add-on, especially for teams that use the G-Suite for online collaboration.
It offers you a free plan if you are working with a team of 05 people. The paid plans are not costly either, with the Professional plan available at just $5/month, and offers premium features such as invoicing, budgeting, task management, and more.
Key Features
Track time spent using G-Suite for team collaboration – from emails to events, notes, docs, and more
Bulk edit time entries made via the automatic time tracker or manually with just a few clicks
Categorize time spent working using labels, milestones, status, location, and more
Intelligent idle detection lets you see time spent away from your device
Offline mode to help you easily keep track of time and sync it online once you regain connectivity
Pricing
TMetric plans include 30 days of a free trial. And no credit card is required. Following are the plans;
Free: This plan is offered for free. The features offered are time tracking, unlimited projects and clients, reporting, and web app integrations.
Professional: This plan is available at $5 per month. You get all features of the free plan as well as Billable rates and money tracking. Also budgeting for projects, invoicing, and task management. It provides activity levels for employees.
Business: This plan is offered at $7 per month. Includes site usage reports, screenshot capturing, client logins for access to reports, tracking for paid time-offs, payrolls for employees, and time tracking permissions. Provides time sync with QuickBooks, Jira, and Redmine.
---
24. EmailAnalytics – Visualize Email Activity in Gmail
Rating: 4.3 out of 5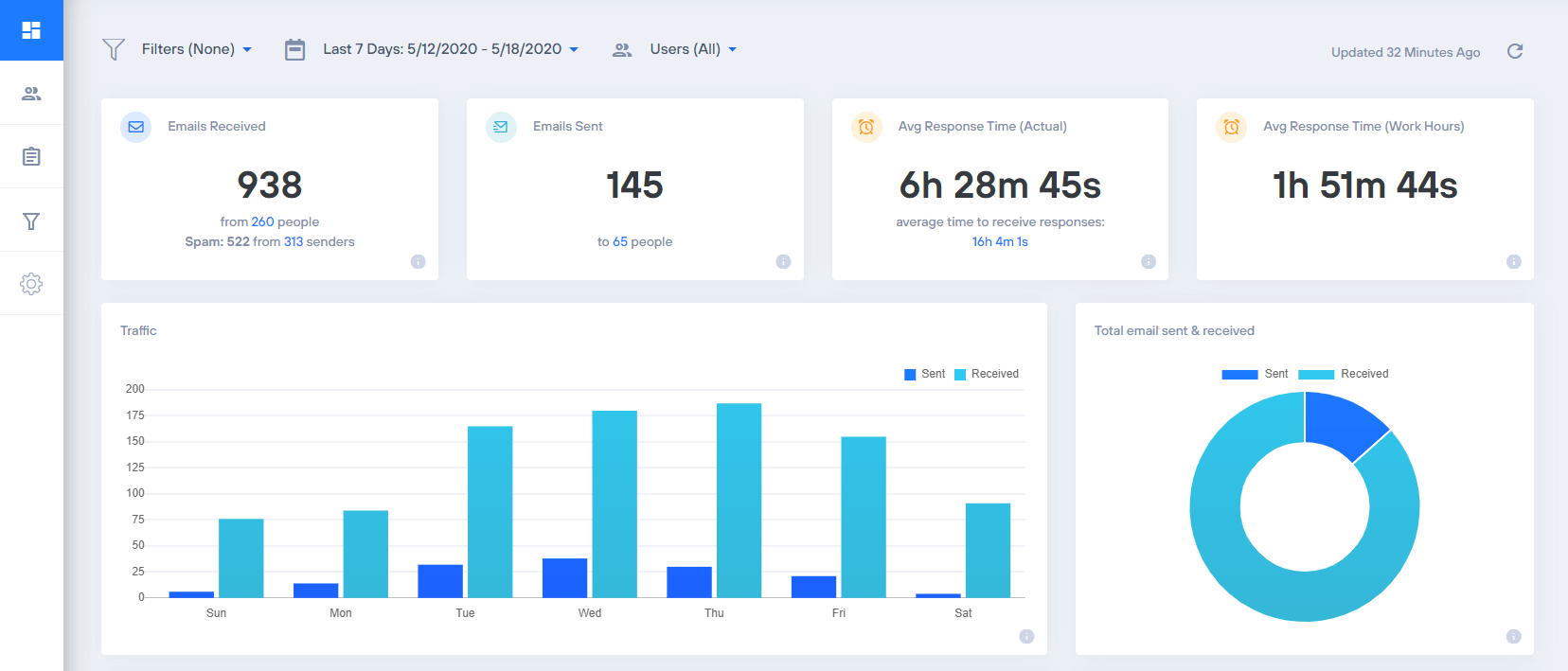 If you use Gmail or G Suite to communicate via email, then EmailAnalytics is going to become one of your favorite Gmail add-ons. It visualizes your email activity – or that of your team or employees – to give you at-a-glance insights into your busiest email days of the week, times of day, and top senders & recipients.
Perhaps most interestingly, it calculates average email response time, which is a critical KPI for sales and customer service teams.
Another of its most useful features is the ability to receive a daily email report with a summary of your team's email activity, which makes tracking and improving team email productivity as easy as checking your email.
Key Features
Invite team members and manage them within a single account
Export stats to CSV
Get daily or weekly email summary reports for you and your team
Real-time data collection and updates
Filters enable you to include or exclude emails from your reports
Set work hours so your average email response time calculates only during work hours
Pricing
Pro: $15 per user/month
Enterprise: $5-12 per user/month (with bulk user discount)
---
25. Right Inbox – Gmail Scheduling & Sequencing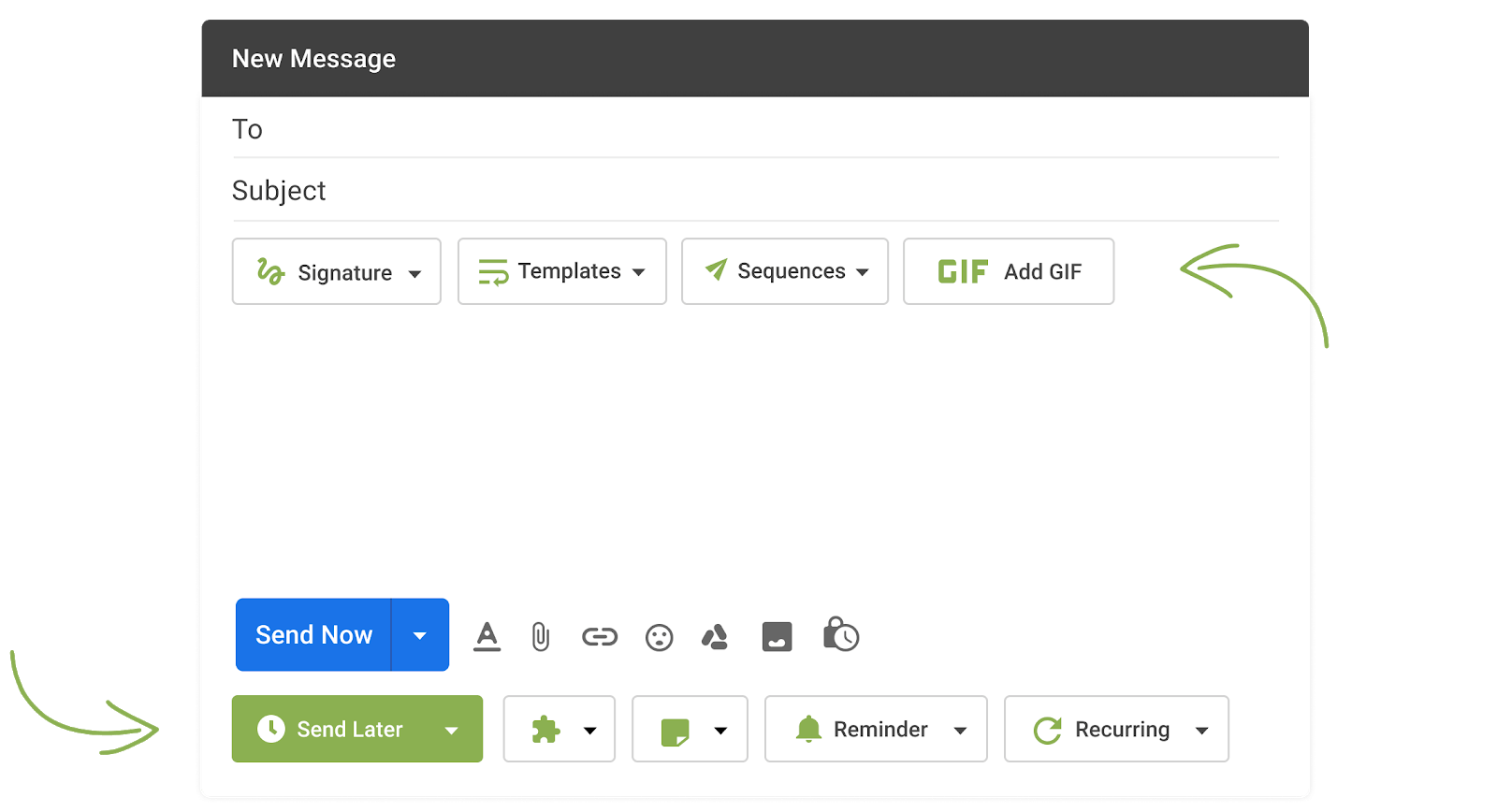 Next up in our list of the best Gmail add-ons, we have the Right Inbox. It is an email sequencing and scheduling add-on for Gmail that saves you time on repetitive tasks and helps you to send better emails, in less time consistently.
By installing Right Inbox, you'll get all the functionality that you wish Gmail included as standard.
Organize your email communications and achieve inbox zero with this Gmail add-on. Never worry about forgetting an important email again with email reminders.
Write an email now and schedule the email to be delivered at just the right time for the recipient, even if in a different time zone.
Key Features
See who opens your emails and clicks your email links with email tracking.
Automatically follow-up with prospects that don't reply to your first email with email sequences.
Turn your most effective emails into templates you can insert and optimize with one-click email templates.
Write emails now, scheduled to be sent later for perfect timing.
Pricing
Basic: Free of cost. Includes 10 free credits per month, 5 email signatures, and 5 templates.
Personal: costs $5.95 per month if paid yearly. Monthly payment plans start at $7.95. Includes unlimited scheduling, recurring emails, email sequencing, unlimited email signatures, and more.
Teams: costs $4.95 per user/month (billed annually). Unlimited access to all of Right Inbox's features for email sequencing, recurring emails, email signatures, and more.
We hope you benefit from our round-up of the 25 best Gmail add-ons and use them to increase your productivity and make emails fun!
---
Gmail Add-ons – Frequently Asked Questions (FAQs)
🌟 What Is the Difference Between G-Suite Marketplace and Google Chrome Web Store?
The G Suite Marketplace and the Chrome Web Store are two places where a person can receive the extended functionality of Gmail.
The G Suite Marketplace provides add-ons that directly integrate with G Suite apps on the backend. They are integrated with the server-side app, such as; Docs, Sheets, or Gmail.
The Chrome Web Store provides extensions that extend the functionality of your Google Chrome web browser. There are a variety of extensions to choose from, such as; ad blockers, to-do lists, to Gmail-related tools and apps.
🌟 What Are Gmail Add-ons and Extensions?
Gmail add-ons are third-party apps and services that can be integrated into your Gmail inbox. This includes for example extensions, themes, plugins, dictionaries, language packs, and even search engines.
A Gmail Extension essentially helps in extending the functionality of your Gmail inbox. It has a direct impact on the layout or function of your Gmail account.
🌟 How Do I Add Gmail Add-ons in Google Chrome?
Find the extension you would like to add in the web store and click on the Add to Chrome button.
You then confirm it by clicking the Add Extension button when it is prompted.
Once the first two steps have been completed, you will have successfully added the Gmail extension onto the Chrome browser. And you should be able to see it on the top right of your toolbar.
🌟 How Do I Remove Gmail Add-ons in Google Chrome?
All of your Gmail-related Chrome Extensions are managed in the same in the Extensions dashboard.
You can visit the Extensions dashboard by clicking the ellipsis icon next to the profile icon, clicking More Tools, and selecting Extensions from the dropdown menu that appears. Or, you can type "chrome://extensions/" in the URL bar and press Enter.
After you have selected Extensions, click on Remove, thusly removing the unwanted extension.
🌟 Where Are My Gmail Add-ons?
Gmail add-ons can be found in the G Suite Marketplace, and you can click the one you want to install. It will also direct you to that particular app's page.
🌟 Are Gmail Add-ons Safe?
It is always wise to be cautious about how many add-ons you are installing. Be aware of the permissions that each add-on requests, especially when there is a business setting.
Since these add-ons are easy to install and seem to be officially approved by Google, they may give users to believe a false sense of security. Users may think that they are safe since they are using G Suite itself, but in fact, third-party add-ons can introduce new security risks.
If you install an add-on through Google Docs or Sheets, it may send you requests to gain access to your G Suite data and Google apps, including:
Full access to all your Google Drive files
Create new documents
Edit existing documents
Share documents with others
The ability to send and receive emails in your Gmail inbox
Connect to external services to read and write data
Run the application while you are not present
View, manage, and permanently delete emails
View and manage your contacts
Once the third party has been given permission, they can have access to all of the above-stated data. Not to worry though, even for individual use, you do not have to approve all of the permissions for the add-ons and they can be revoked at any time.
Moreover, Google is very strict about the Gmail add-ons it lets its users integrate, and won't allow publishers to gain unauthorized, unneeded access to your data.
🌟 How Can I Make My Gmail Better?
Here are a few helpful tips to make your Gmail inbox better in 2023:
Use keyboard shortcuts, which are specifically designed to complete some of the most-used actions within a service, through key combinations. The purpose is to make your life easier.
You can customize Gmail keyboard shortcuts to how you want them, by activating them in the Gmail settings.
You can use the email preview pane, which lets you read the email from the Gmail inbox side-by-side with the message list.
Try using the experimental features, which give you a preview or an idea of how Gmail will evolve in the future.
You can stop email open tracking by changing the General Gmail settings.
Chrome extensions can be installed to make Gmail better.
---
Other SaaSy Goodness on All That SaaS: