In this roundup, we are going to take a look at some of the best calendar apps that you can use across all your devices to sync important events, appointments, meetings, and more effortlessly.
Calendars are vital in our lives and we rely upon them to keep a track of our days and nights, our businesses, and everything else.
According to a survey, a total of 70% of the people said they rely on calendars to plan and schedule important events/activities. The survey included 1,000 people aged between 18-64 from all parts of Australia.
46.7% of the respondents from the same survey said they rely on their smartphone's calendar apps, while another 23.3% of the respondents said they relied on their PC's calendar app.
The Best Calendar Apps to Use in 2023
1. Google Calendar – Best Calendar App for Android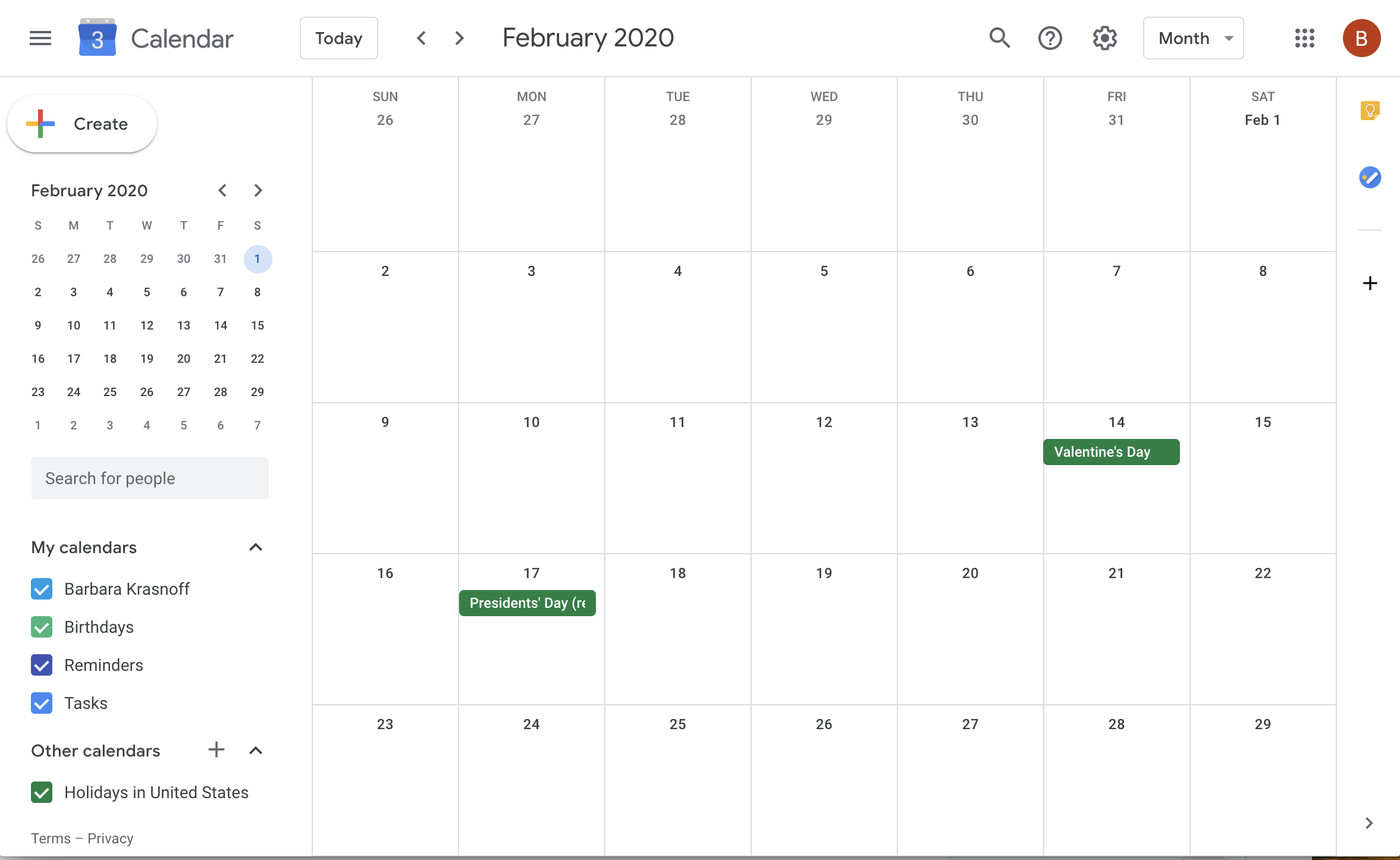 Google Calendar is one of the best free calendar apps that makes your life easier and organized. It allows you to extract the most out of your day by managing your schedules without any hassle so that you enjoy your day rather than spending more time managing it.
You can make your daily, boring schedules more fun and interesting with the views Goggle Calendar has to offer for each of your events. With all the images and maps, you can view your schedules and bring them to life through the Schedule View option.
Easily fill in your calendars with important events on the go. It helps you with creating your events with the smart suggestion for event titles, people, and places through Assists.
This is one of the best shared calendar apps with which you can synchronize your data easily with any device you want.
This is among the best google calendar apps which give you insights about your day, week, month, and year. You can invite guests to view your calendar and have a calendar on the web to have what you are looking for.
All your events are stored online and you do not have to worry about it.
Key Features
Connect your Gmail with your calendar so that whenever you get an email regarding an important event, that will appear on your Google Calendar
Easily sync your events to devices with on the go edit and view options
Directly sync emails regarding events from or to your Gmail
View your upcoming events and have everything aligned in one place
Set your goals and reminders so that you never miss out on anything in the hassle
It is a part of G Suite that is Google's intelligent app for business
Collaborate with your team and use Google's AI to share your insights with employees
---
2. iCloud Calendar – Best Calendar App for iPhone
Requires an Apple iCloud ID for iOS, not available for Android
Pricing: Free of cost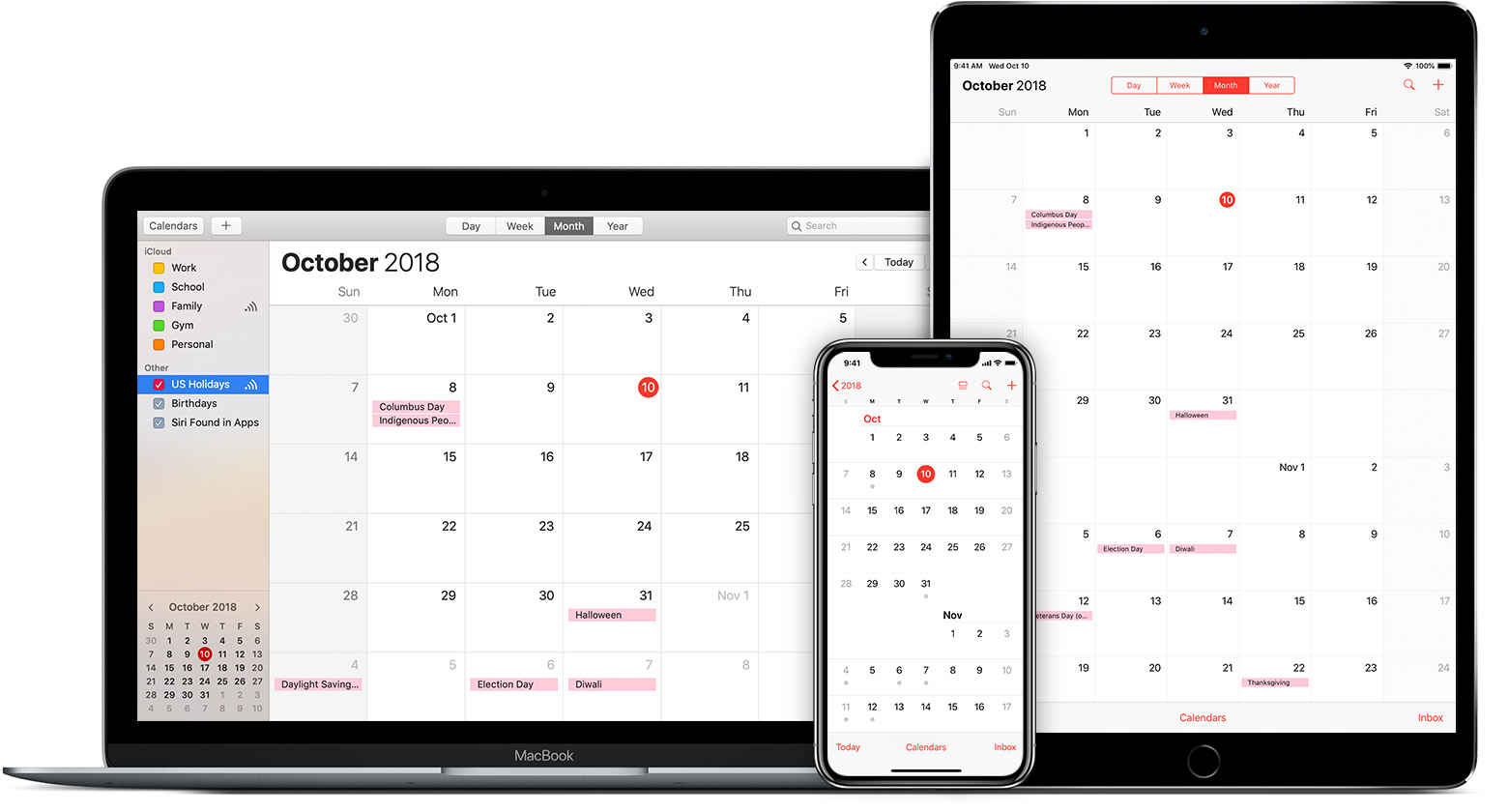 iCloud Calendar is one of the best free calendar apps for Mac you can rely on. This does not need any download or registration, if you have an Apple and iCloud ID, you can just sign in to your account and easily sync your Calendar with iCloud.
Whenever you use the Calendar app on your iPhone, iPad, iPod Touch, Mac, or Windows, the updates appear directly on your iCloud. The same is the case with any changes you make to your calendar. You can also invite or share your events with your friends, colleagues, or any other person.
It is among the best calendar apps for iOS due to its smart and unique characteristics it has to offer for its iCloud users. It sends notifications directly to your notification center of your iCloud or iOS devices such as your Mac computer, iPhones, etc., or iPadOS devices.
This easy-to-use calendar app could be one of the best calendar apps for couples where they can plan their holidays, manage their weekend schedules, make lists, and much more. This app is fuss-free and is ideal if you are an iPhone or iOS device user.
Key Features
Automatically connects your iOS devices to your iCloud Calendar, which is free
Add your calendars from your social media accounts and stay up-to-date
Your most used calendar must be your default calendar, to make settings appointments easier
Whether you schedule your appointments on Mac or enter events on the iPhone, everything appears on your iCloud Calendar
Share important events with family using this shared calendar app
It will automatically update your events according to the time zone you are in
It is available for Outlook and Windows, you only need an Apple ID
---
3. Fantastical 3 – Best Calendar App for iPad
Download: Android app not available | iOS
Pricing: from $4.99 per month, offers in-app purchases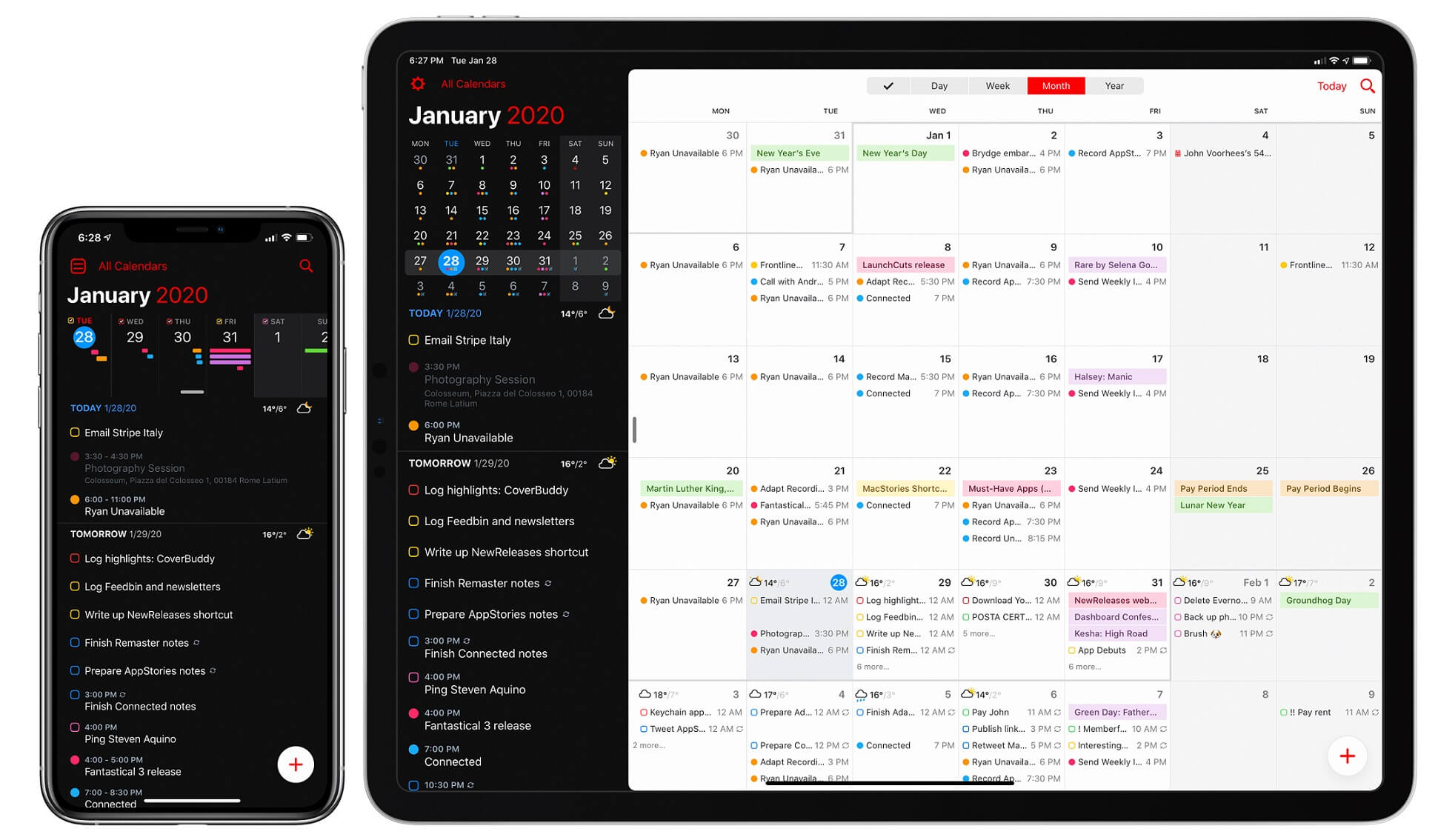 Fantastical 3 is more than just a calendar and is among the best calendar apps for Windows and iOS. Whether you use Mac, iPhone, iPad, or any other iOS device, you can easily sync your calendar to the Fantastical app and it can sync all your custom calendar sets, templates, notifications, and more.
It gives a 14-days free trial for a Premium subscription. The Premium plan has some amazing features such as weather forecast for 10 days with RealFeel and MinuteCast up-to-the-minute weather data, you can instantly browse and subscribe to calendars, TV shows, sports, and much more.
Along with your events, you can also manage your tasks with Todoist and Google Tasks. Also, respond to event notifications on the go and manage your Google Hangouts, Google Meet, and Zoom events. Moreover, swiftly add attachments to events on iCloud, Google, and Exchange.
Fantastical 3 is among the best calendar apps for an iPad that has built-in templates for your events which makes it convenient for you to add a new event, make changes to it, or delete an event.
Key Features
Sync your calendar from all your devices to one place i.e., your Flexibits account
It has a brand-new user interface with DayTicker and Calendar views and much more
Have quick access to your photos or files that you would need at an event or meeting
Fantastical allows you to work together with your partners or invitees with easy scheduling
It has a conference call detection feature with Zoom, Webex, and many other conference-calling apps
Easily view weather updates of days and weeks to come and have interesting calendars
It allows you to have your time zones aligned and in one place with clear time zone support
---
Download: Android | iOS app not available
Pricing: from $1.63, offers in-app purchases for different items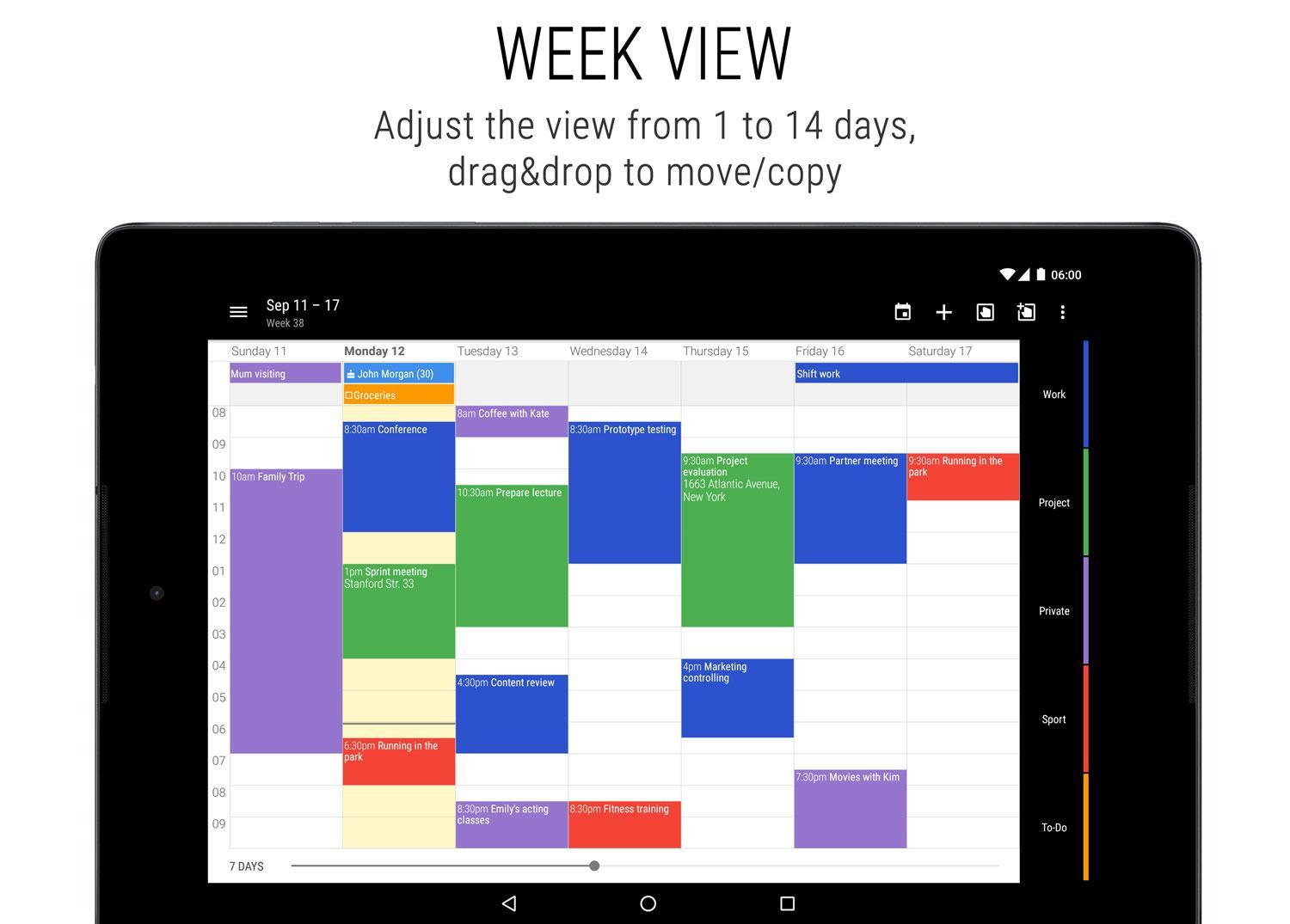 Business Calendar 2 is not only a smart calendar app but it also includes widgets, tasks, and much more. It has many solutions for businesses that will transform and innovate your business efficiently.
This is one of the best business calendar apps you must have in 2023. Its Pro plan has multiple features.
The most important step to have an organized business is time management. Business Calendar 2 allows you to streamline your work and tasks so that you are not flooded with deadlines at the last moment.
You can synchronize your calendar with Google Calendar, Google Tasks with some other adaptations.
This app is constantly striving to provide the best services to its users and is bringing up new versions and solutions to improve productivity. You can also get the latest features that haven't made it to the official release yet by downloading the beta version.
Besides Android devices, it is also available for Huawei devices and the app is reviewed by renowned blogs. Guiding Tec calls it a winner, Lifehacker calls it the favorite Android app, and many others have said amazing stuff about the app.
Key Features
Quickly view events, initiate actions directly, and switch easily between event titles and timeline bars
Have a week view or day view as per your liking
It offers 7 eye-catching widgets with more than 50 customization options and 15 different themes
Select between calendars and create groups of calendars however you want
Create your events with interesting colors, flexible repetition rules, and much more
Handle your tasks easily with dedicated task views, sync and backup options, and management
Have weather forecasts, holiday notifications, templates, and many other features
---
5. Outlook – Best Calendar App for Windows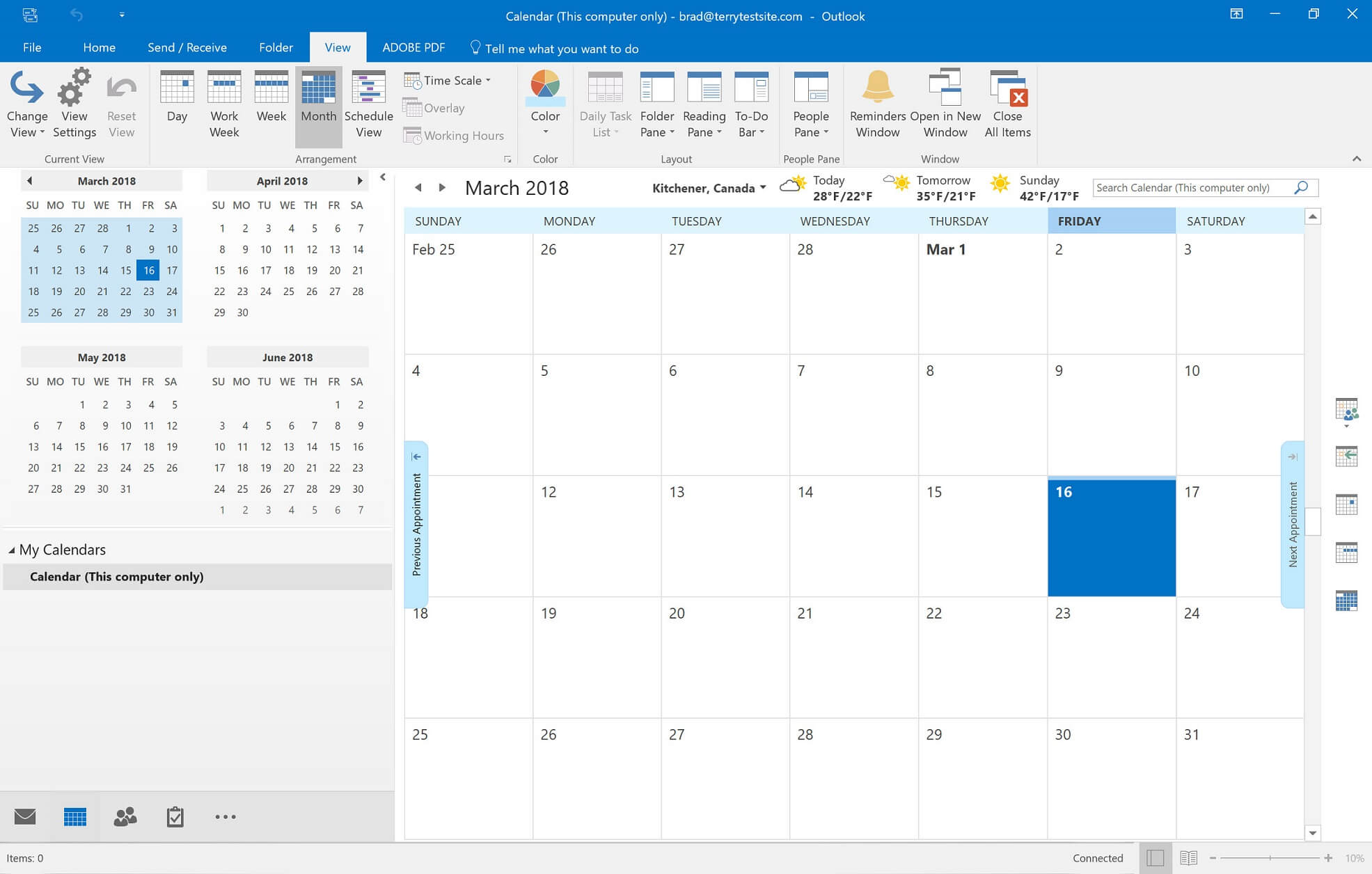 Outlook Calendar works with Microsoft Office and is a component of Outlook that is integrated with your emails, contacts, and other important features to keep you connected. It is easy to use and you can add events by simply clicking any time slot in the calendar.
You can create events and appointments just like you write in your notebook or diary. Set reminders with sound or message and highlight important events with colors, so you would never miss an important appointment with easy identification.
Just like creating events is easy, managing and organizing them is easy as well. Outlook Calendar is the best calendar planner app that minimizes your burden of inviting people to events. It finds the right time in which invitees are free and invites them accordingly.
This can be one of the best calendar apps for Mac because of the amazing features it has to deliver to its users. You can copy-paste the events or appointments between the displayed calendars easily and with a tap.
Key Features
It is one of the best group calendar apps that show schedules of a group of people around you such as people in your department
You can view multiple calendars side-by-side according to your priority
You can create an overlay view of calendars and share them with multiple people to increase coordination
With Microsoft SharePoint sites, you can have a view of a list of calendars and the changes you make with easy synchronization
You can send your calendar via emails and also have control over how much information is to be shared
With Outlook Calendar you can subscribe to Internet Calendar and the downloaded calendar is synchronized and updated
It offers a Delegate Access feature with which one person can use another person's calendar
---
Download: Mobile apps not available
Pricing: Free of cost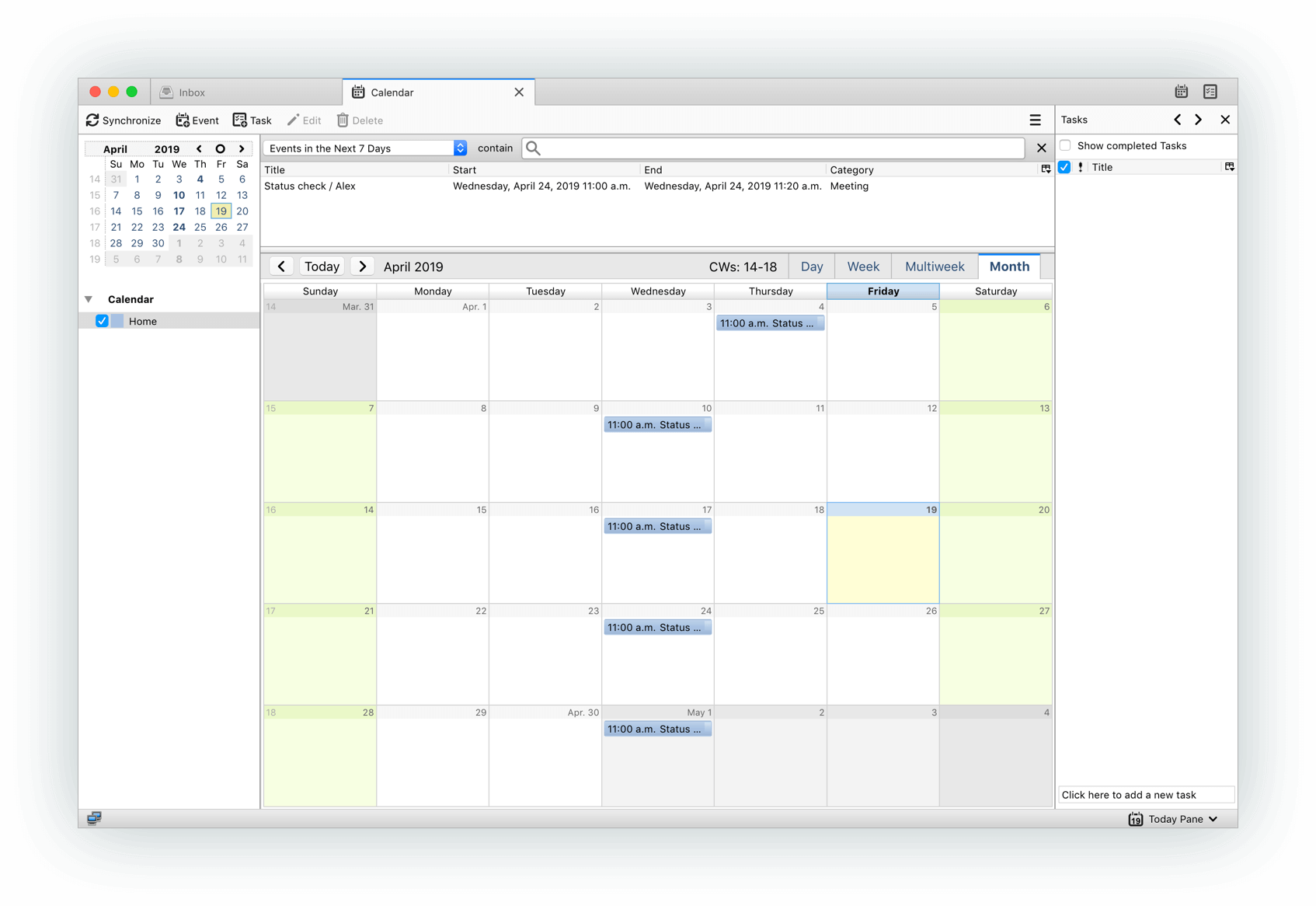 Lightening Calendar is an easy to use calendar add-on that records the important events of your life and is fully integrated with your Thunderbird or Seamonkey email. You can create events, manage your appointments, invite your friends to events, and much more.
This add-on allows you to create your calendar as well as subscribe to other internet calendars on the web, from wherever you want. You can manage all your schedules within your Thunderbird. Thunderbird Lightning Calendar is much more than just a calendar.
Lightning Calendar can be one of the best family calendar apps where you can manage everything at any time, anywhere. It is developed by Mozilla Foundation and works through the official website of Mozilla. It also allows its users to have a to-do-list so that they can have everything assembled and organized.
The Lightning Calendar add-on is an open-source calendar app that welcomes any sort of suggestions, ideas, designs, and any sort of contributions that will prove to be helpful for anyone. It is easier to set-ap with simple steps of providing your name, email, and other important information.
Key Features
It includes a task manager to manage your daily tasks seamlessly and get tabbed emails which you will love
It allows you to have an integrated calendar that syncs all your events and appointments
Users get to manage their to-do-lists with which they can make lists of important happenings and easy search tools will make life easier
You get multiple calendars all in one place, all integrated and connected, and also get large file management conveniently done
Effortlessly permit you to invite your friends to the events and stay connected
It also supports web-based calendars, for example, Google Calendar
It is available in more than 50 languages which provides internationalization support
---
7. 24me – Calendar Planner App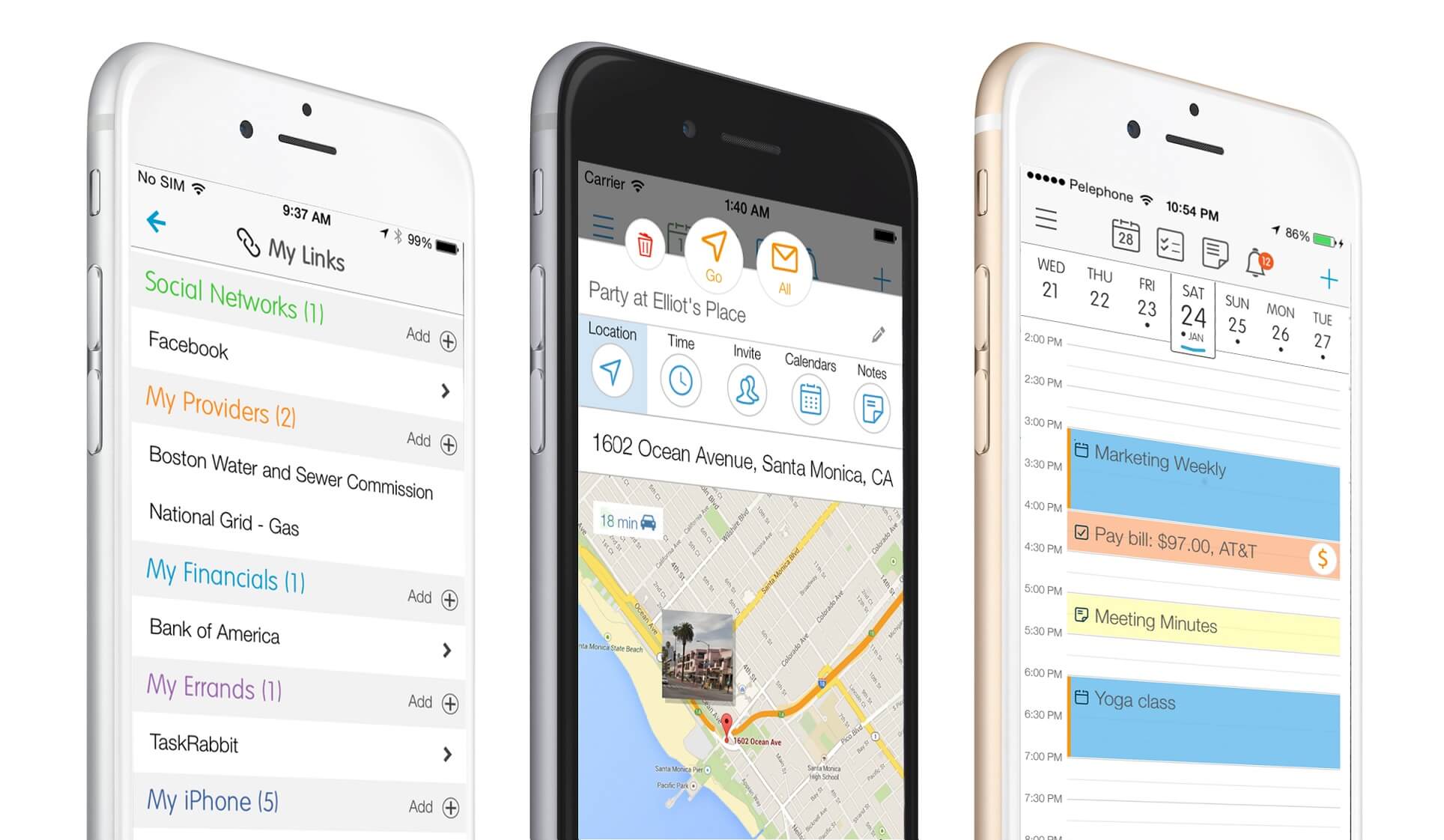 24me is an all-in-one personal assistant rather than just a calendar. This app is best for you if you want to set everything in place and boost your productivity by organizing all your business events or meetings. This can be one of the best calendar planner apps for families as well.
Your calendar, to-do-lists, notes, events, plans, everything is just a click away from you and your personal assistant is in your reach 24/7. 24me has helped millions of people in organizing their lives and that's why it is trusted by people.
The app is created by worldwide experts such as entrepreneurs, technology and IT professionals, and UI/UX experts and they all have put their efforts into it so that people get maximum benefit. It works automatically to create tasks, manage schedules, and much more.
It has been featured by many leading publications, including CNN, Forbes, and Mashable. It's a smart and efficient feature of avoiding battery drainage during the use of GPS makes it one of the best calendar apps among others.
Key Features
To-do-lists have color labels to highlight the tasks on a priority basis
It can be your note-taking app where you can preserve your precious moments and thoughts
You can connect your 24me app to your Outlook for automatic synchronization
It reminds you of your loved ones' birthdays and special events along with sending them gifts to make their day memorable
To stay on top of everything, 24me sends you reminders with the time of your meeting, when you should leave, what are the traffic conditions, and much more
You can add conference calls to your meetings to keep your remote fellows connected
With a detailed map and navigation button, you are always on time and you can use your voice to add tasks
---
8. TimeTree – Free Shared Calendar App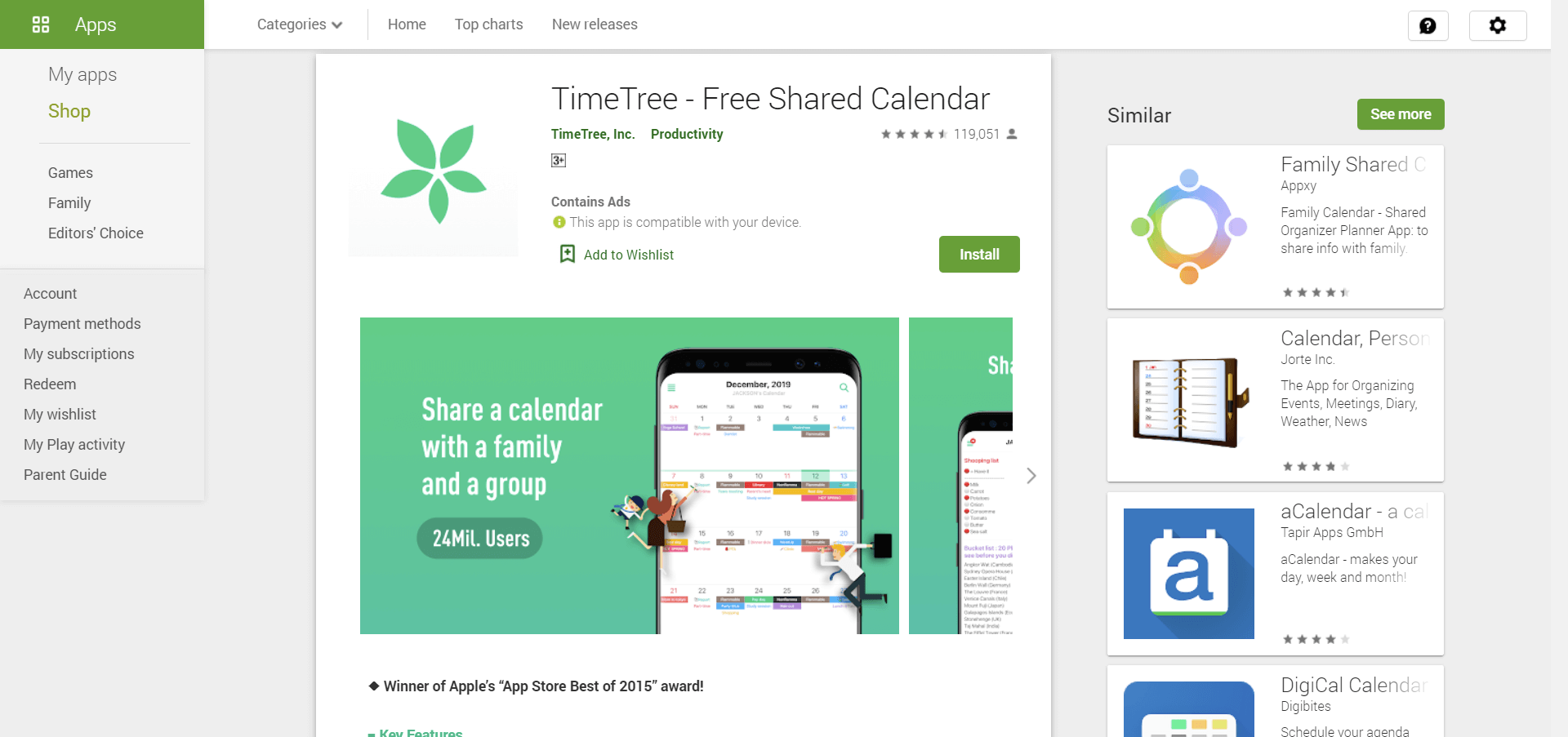 TimeTree is among the best shareable calendar apps that are specifically designed to make your schedules easy and fun. It believes that sharing and communication is an important aspect of managing one's schedules and daily events to fully utilize your day efficiently.
It can be one of the best shared calendar apps for couples where you can give equal time to your work, family, and social life. With TimeTree, you can have your room calendar, work calendar, and all other calendars in your hand, just a tap away from you which makes management easy and smooth.
You can also have a shared calendar which makes it a prompt app if you have a group of people to coordinate with or keep them in-line. You won't be in hassle if you have to give time to your family, or a friend, or attend a business meeting, TimeTree will manage everything significant.
It is an amazing app for couples who want to manage their schedule according to that of their children and have a shared calendar so that they do not miss each other's passing. It is also great for groups who are working on projects together.
Key Features
You get notifications when someone makes changes to the shared calendar so that you know instantly
Import/export with Google Calendar is easy and quick
Memos and to-do-lists can also be shared with friends, colleagues, and family members
It has a chat bar just like LINE, so you stay in touch with your group members
Post pictures and images to the events to keep them memorable or mark them as important
You can have multiple calendars and each one of them can be shared with the desired person or group
Invite friends to events and create interesting widgets through which you can easily check schedules
---
9. Any.do – Business Calendar App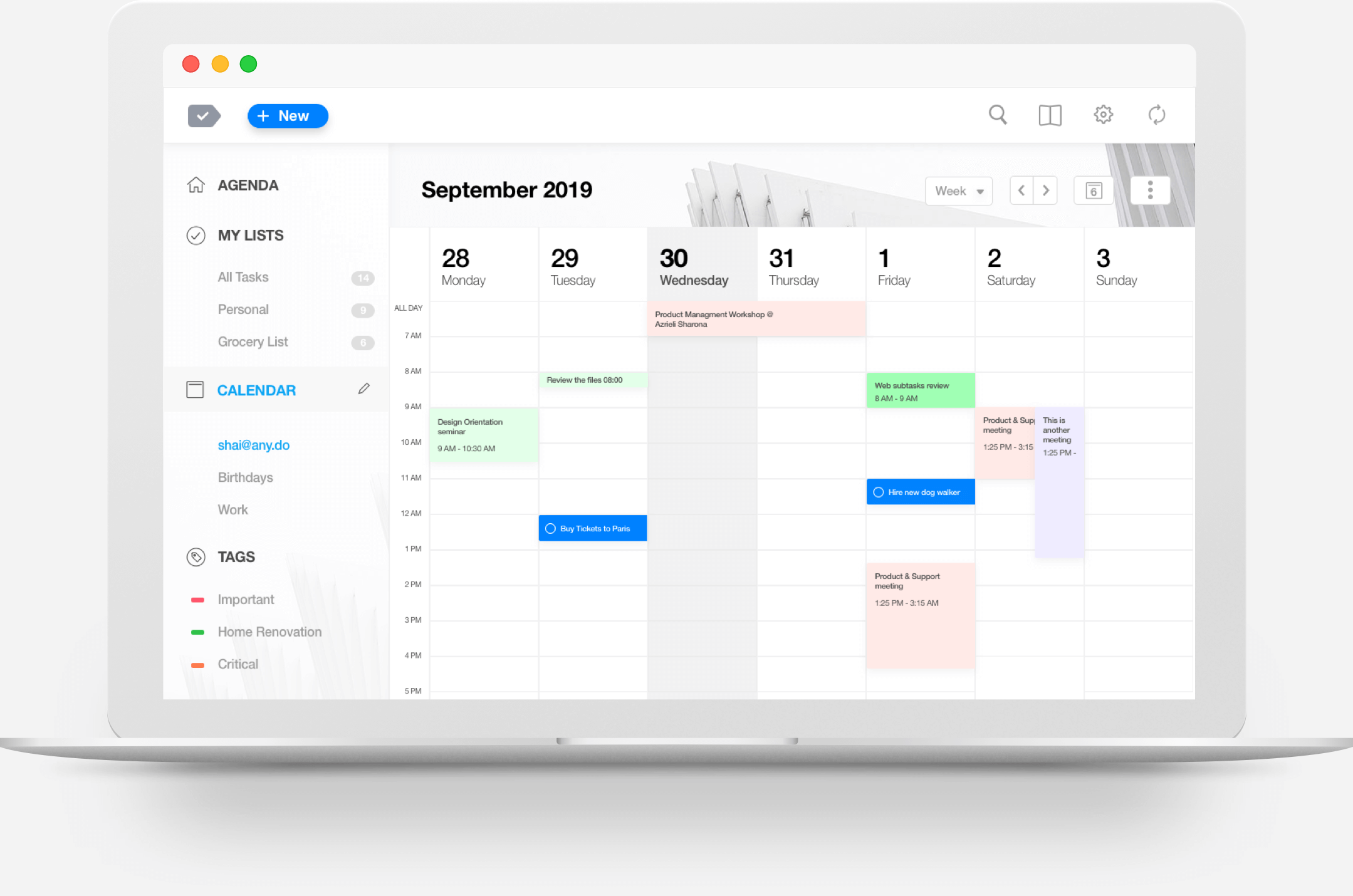 It's one of the best calendar apps for iPhone as well as Android which organizes your teams for you, no matter how big or small they are. That's not it, Any.do manage everything for you to make your life simple, easy, and aligned. It helps you to reach your goals with comfort.
It is trusted by teams worldwide such as Uber, Vanguard, Harvard University, and many others because of its simple and smart scheduling mechanism. This calendar app will do the work for you like managing tasks for your team, assigning them the tasks, and track the progress of the tasks.
It gives 2000+ integrations and syncs your calendar to Google Calendar so that you have more time for other important things. You get to review your calendar as well as your tasks side-by-side to save your time, energy, and money because it is free with in-app purchases and gives a 14-day free trial as well.
Upgrade to their Premium plan to boost your productivity with abundant other features such as colored tasks, customized themes, location-based reminders, and recurring task customization. Other than that, this plan also offers unlimited file attachments and collaboration.
Key Features
Sync your calendar from any device or to any device to keep all your data connection
Get reminders to never miss anything and work together with teams to stay associated
Add tasks in your voice, have cross-platform support, and many other options to enhance productivity
Also attach files from Dropbox, Google Drive, or your computer
It's not only a calendar, but a to-do-list, planner, family organizer, reminder app, and everything you need
Organize your tasks and projects and share them with your teams, chat with them, and much more
You get an auto-renewable subscription associated with your iTunes account
---
10. Cozi – Family Calendar App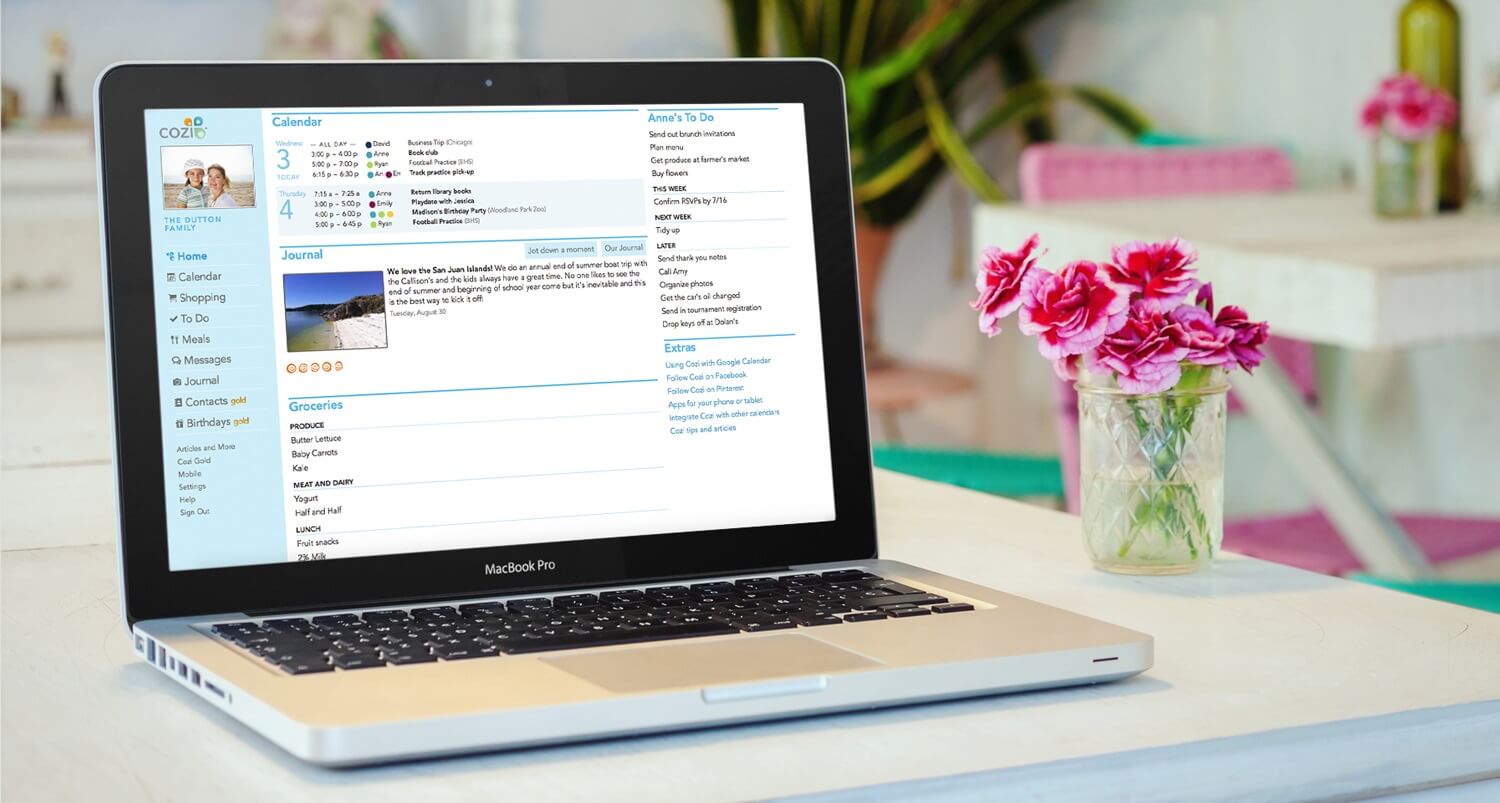 Cozi is among the best family calendar apps which keep you close to your family and loved ones. It is a simple yet innovative calendar app that calls itself a 'Family Organizer' because it works for it. It also manages your everyday family life and prioritizes things and events that are important to you.
Cozi has won Mom's Choice Award thrice and was named a must-have app in The Today Show. This app is reliable and is trusted by thousands of people around the world because it makes your life easier and comfortable because of its multiple irresistible features.
It keeps you updated with all your events and important happenings so that you do not miss anything related to your family or work. It also saves your grocery and recipe lists and shares them with other family members to guarantee real-time cooperation over daily life chores.
Key Features
It is a must-have app for families to communicate over everyday life events
Have a shared calendar for a family where you know which important event is coming up, set reminders to stay up-to-date
It allows you to have to-do-lists like grocery lists, packing lists, books to read, and more
Have sticky notes to jot down important things and email them to other family members as well
You can store recipes, add ingredients to the list, highlight what you need to buy, and get ideas for dinner
Manage a family journal having pictures of you and your family and also send them to close friends
Also, get your everyday agenda and get notifications of similar tasks, items, and more
---
11. Woven – Calendar App for iOS
Download: Android app not available | iOS
Pricing: Free of cost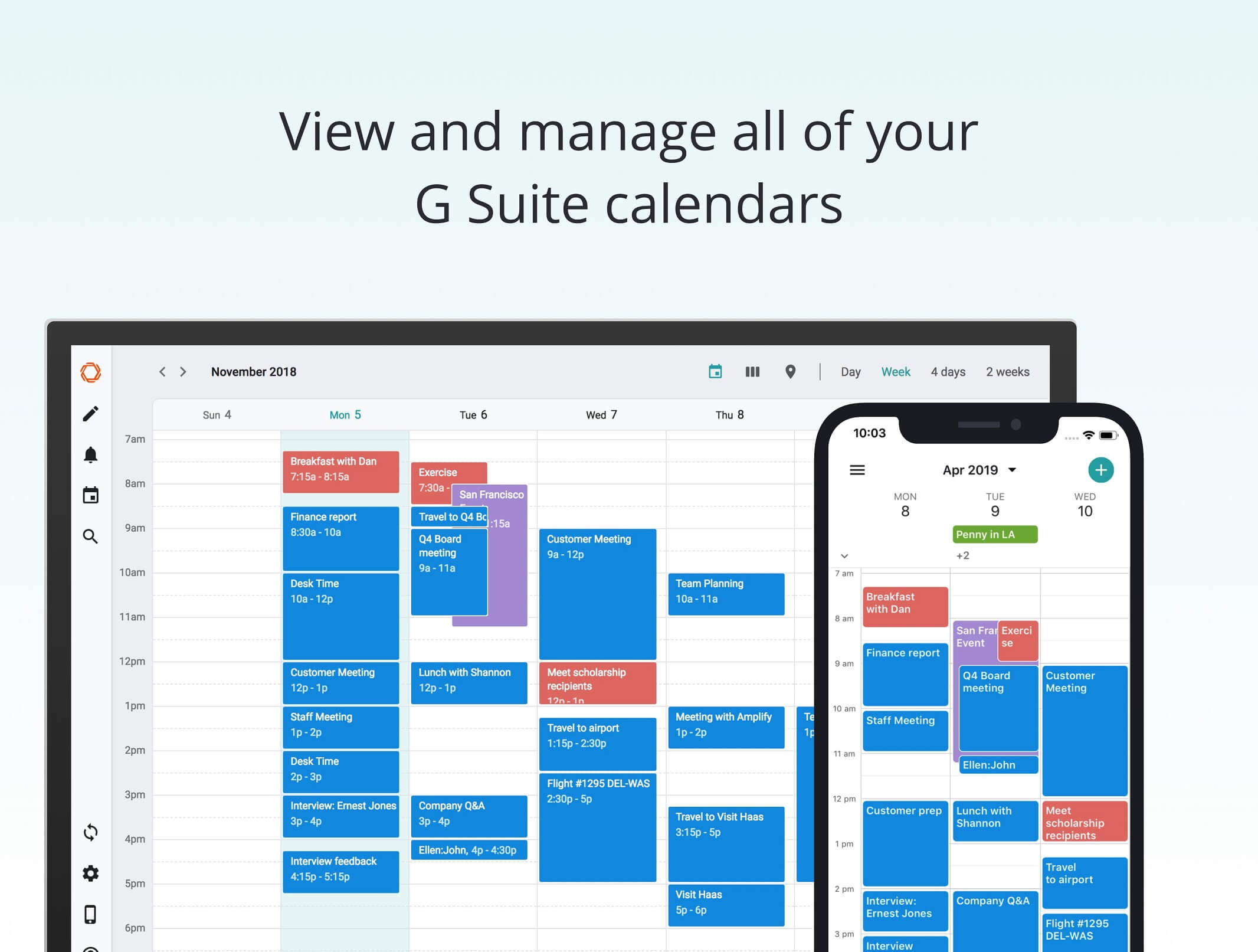 This smart calendar app is the best way you can manage your day without any trouble and make easy schedules for you. You can plan your day the way you want and make schedules that suit you the best to get the maximum benefit from your day and make it more inventive.
If your work schedule is too mainstream and boring, you can use insights to change the way you work. That will boost your creativity and you will be able to work more productively and will give time to things that matter the most to you.
This can be one of the best calendar apps if you are struggling with managing your time for work and neglecting your family, which is the most important part of one's life. Do not worry, Woven gives you multiple calendars all in one place and you can sync them across multiple platforms.
Woven offers personalized onboarding sessions, best practices, tips, tricks, and a team that is reliable and gives you the best customer support possible. It also welcomes ideas and designs that will help them become better.
Key Features
Woven has templates that best suit your need and you can customize them accordingly
There are integrated scheduling links so that you are not bothered by several emails regarding meetings
Built-in group polls keep your group aligned and connected and work according to everybody's availability
Woven Availability Sharing allows you to see who is available when as it suggests the best possible time to work
It allows you to spend your time more productively as it prioritizes your work accordingly
Get insights about your time daily so that you can track your progress
You can invite people to events by sending Schedule Link through text anytime from your iOS device
---
12. DigiCal – Calendar Scheduling App
Download: Android | iOS app not available
Pricing: from $1.47, offers in-app purchases for different items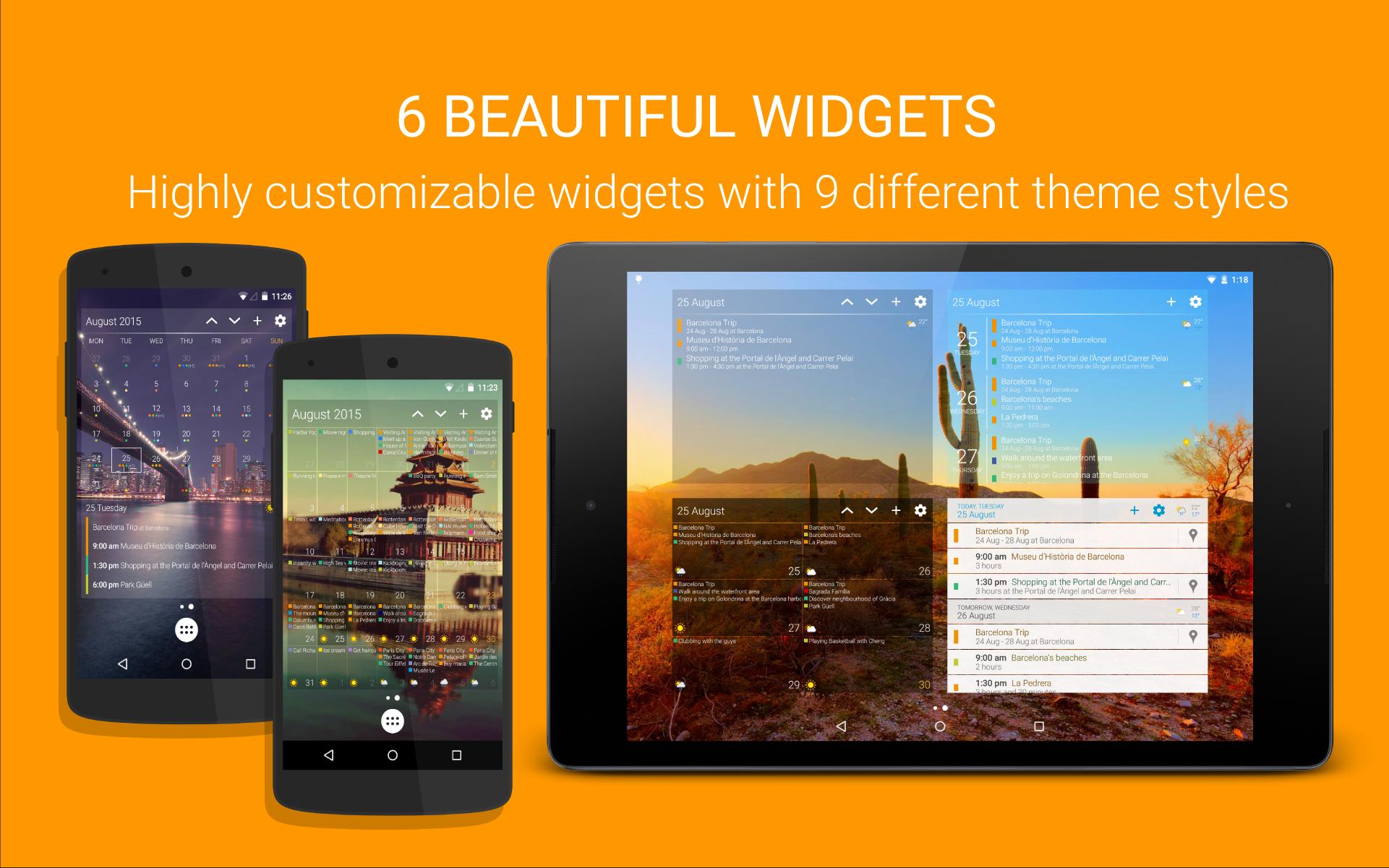 DigiCal is among the best calendar apps for Android that is your daily planner, calendar, weather app, and much more. According to 'The Next Web', it is the best calendar app for Android and is one of the most flexible and customizable calendars according to Lifehacker.
It is a stylish yet smart calendar application that organizes your life events and saves you from the everyday hassle of managing important tasks and actions. It's easy to use, syncs your data across all platforms and calendars such as Google Calendar, Outlook.com, and Exchange.
It has an interesting customizable widget that you can choose from to have an overview of your activities the way you want. It also gives you insights about the weather and many other features that you can enjoy along with having your daily planner at your service.
There is a whole page on their website that is dedicated to helping you if you encounter any issue regarding downloads, widget loading, calendar sync, purchase activation, or any other issue. Their team is working tirelessly to help you in any way possible.
Key Features
There are 7 different calendar views available in light and dark themes
Allows you to sync all your calendars to DigiCal to save time and align all your events in one place
Provides 6 widget views so that you can select your style to display your agendas
Offers free and premium subscription for weather forecast and displays 14-day weather
A unique built-in location search feature that automatically fills in the address by entering the name
With just one tap you can edit an event or add a new one with its Smart Action Bar
It is available in 27 languages which makes it a favorite app around the world
---
Download: Android app not available | iOS
Pricing: from $1.99 per month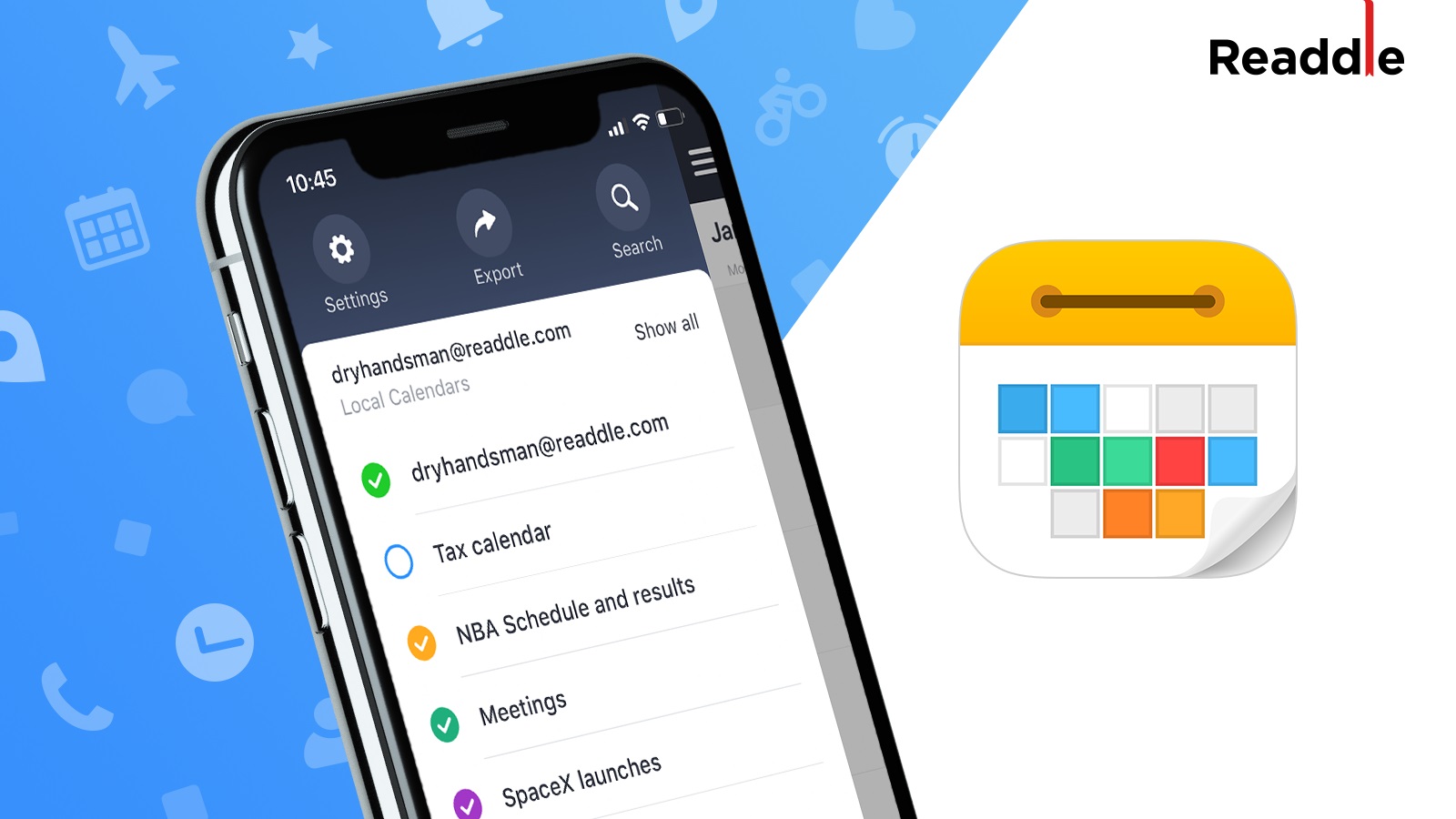 Calendars 5 by Readdle helps you organize things to do in no time, so you can enjoy things that matter to you. It is one of the best calendar apps for iOS and iPhone which is free of cost and easy-to-use, most beautiful planner apps.
This calendar app gives you a clear plan of what is there ahead of you in the coming day, week, or month with the user experience that was crafted to deliver the most from this app. It works perfectly with Google Calendar and iOS built-in calendar to make your life easier and smooth.
Calendars 5 allows you to organize your events online as well as offline, with a simple Drag and Drop option, which saves your time and energy. It has a unique interface with which you can navigate rapidly between different dates, make changes to events and reminders with custom keyboards.
Over 6 Million people rely on the Calendar 5 app for getting their things done in the perfect way possible.
Key Features
Invite friends, family members, and coworkers to events for enhanced cooperation
There is a special integration of video calls, so you can stay connected with family and friends from anywhere, anytime
You can use Apple Maps or Goggle Maps with this calendar app to quickly navigate the locations
Sync your calendars with Google Calendar and iOS calendars and also share them with others
Save time with Drag and Drop option or even ask Siri to do so
Set up recurring events that happen regularly
Set up reminders on a priority basis to make sure you do not miss out on anything significant
---
14. Jorte – Group Calendar App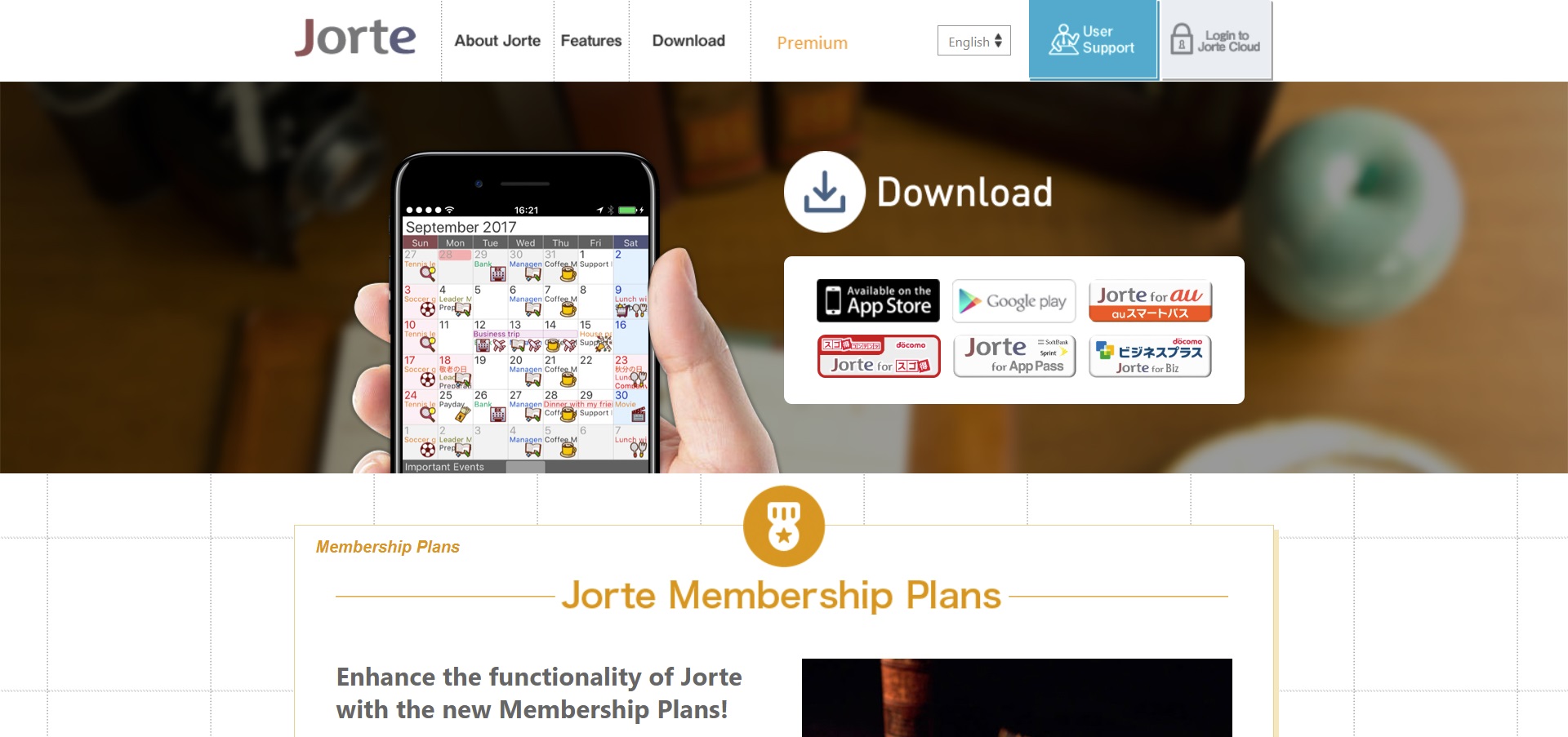 With over 30 million downloads, Jorte is among the best calendar scheduling apps that will transform your life as it is a simple and smart calendar and event organizer. With the changing world, Jorte is a reliable replacement for paper calendars that will make your time valuable.
Most interestingly, it has its cloud syncing system to make a back-up of your calendar automatically, sync your calendar, save it for you, and share it with others according to your wish. You can easily access Jorte Cloud through your smartphone or desktop effortlessly.
Jorte is free to use but it also has a Premium plan which needs a subscription and has some amazingly useful features. The features of Premium include extra storage, unlimited themes, passcodes, and secret calendars, Office 365 calendar sync, and many more benefits.
It has Membership Plans to enhance the functionality of this calendar app such as Jorte Premium, Jorte Plus, and Jorte Buffet. Premium improves the security of your calendar, Plus enables you to use different themes, and Buffet allows you to upgrade your calendar according to your wish.
Key Features
Easy synchronization with Google Calendar, Google Task, Evernote, and others to enhance your experience
It gives Apple Watch support so that you have your calendar on your palm and your wrist
Offers iOS Widget support to view upcoming events at a glance with daily, weekly, monthly, vertical views
Sync your calendar and events with the Jorte Cloud system that also with multiple devices
Set event titles, bands, dates, etc., with colors that attract you the most with adjustable font sizes
Set repeated events weekly, Bi-weekly, in repeating formats, and make Calendar tabs to view a group of calendars the way you want
Premium gives you weather forecasts GPS location permissions to show nearby events and calendars depending on locations
---
15. Calendly – Meeting Calendar App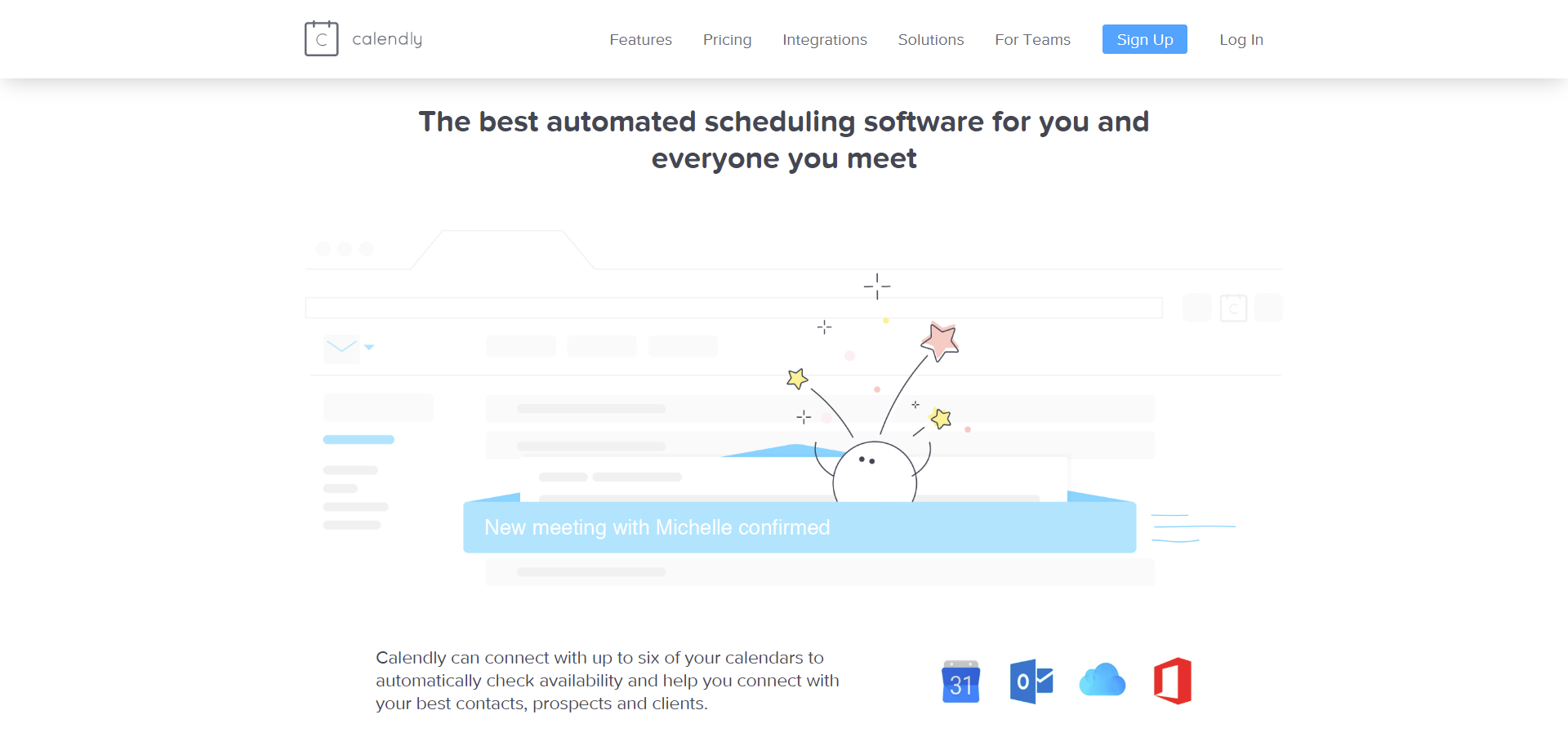 Calendly is a user-friendly app that organizes your schedules, meetings, and events without bothering you with back-and-forth emails. It will access your availability preferences and the rest of the work will be done for you. You can either embed your Calendly link to your website or email it to other people.
This app will automatically pick a time and the event will be added to your schedule. It is used by more than 5,000,000 users monthly and is trusted by leading teams from LinkedIn, Zendesk, and many others.
Calendly is among the best calendar apps that provide several solutions for its users such as sales + marketing, customer success + account management, interview scheduling, education, and much more.
These solutions are very helpful in making your schedules balanced and productive.
This app is perfect for teams that need to be organized because it offers tremendous features for teams. Individual scheduling, auto-assigned meetings, team-wide pages, centralized billing, and many others are features to maximize team collaborations.
Key Features
It connects with 6 of your calendars and syncs your calendars easily so you do not miss out on anything
This can be one of the best calendar apps for students as you can conduct all kinds of meetings, one-on-one, group, collective, or round-robin
Get reminders, meetings per day, time-zone detection, customization, and much more
Take your whole team along with you through team pages, admin features, reporting, and more
You can allow your customers to directly schedule a meeting on your website and get intercom integration
Integrate with GoToMeeting and Salesforce and connect other apps through Zapier easily
You can get payments from invitees directly through credit cards or PayPal and easy payments for team-members
---
16. aCalendar
Download: Android | iOS app not available
Pricing: from $1.48 per month, offers in-app purchases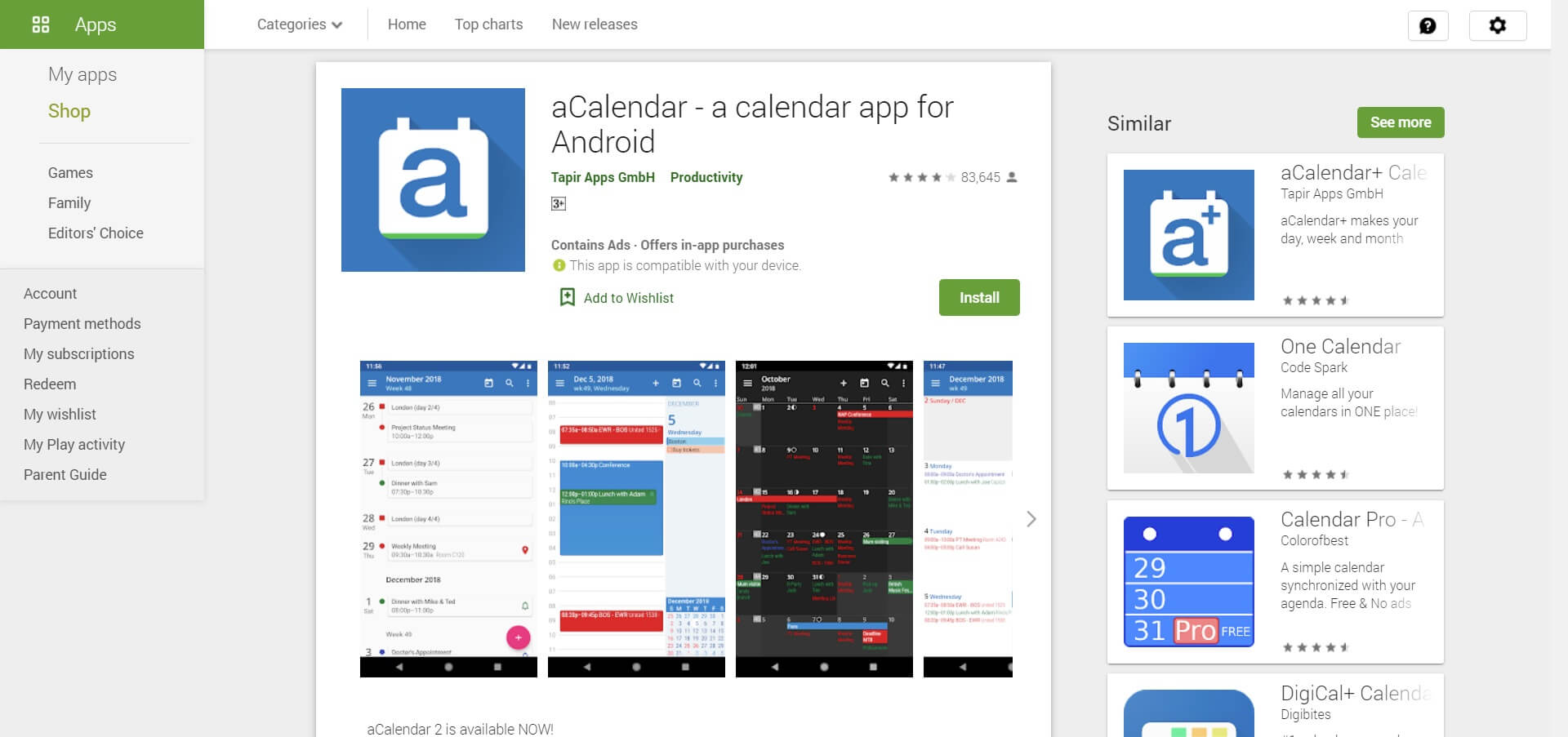 aCalendar is an easy-to-use, all-in-one calendar app that makes your life easier with abundant features that will organize your days, weeks, and months.
aCalendar is one of the best calendar apps for Android with which you don't have to worry about upcoming events or meetings, it will do the job.
You can build up your calendar the way you want with its numerous customizable options. Also, it has a unique synchronization feature that syncs all your data from Goggle Calendar and Facebook so you do not miss your Facebook friends' birthdays or any other event.
This calendar app is highly flexible with having options on which calendar you want to see and which one you don't. Similarly, it gives you options regarding which Facebook friend's birthday you want to see and which one you do not. Besides that, it has a variety of features that you will love.
It offers extra features with in-app purchases such as no ads, business features including invite attendees, link contacts, private profiles, and much more. This app is translated into more than 30 languages and accepts complaints regarding translations.
Key Features
Intuitive navigation makes switching between day, week, or month view pleasure as you move them with your fingers
It has 7 powerful widgets that give an interesting user interface so that you enjoy using your calendar
Syncs completely with Google Calendar and has a yearly calendar view
Get reminders of birthdays of your loved ones through your contacts and Facebook account
It uses Android's native calendar backend and synchronization
A unique moon phase feature that shows dates with the change of the moon
Free (but comes with ads), has colorful designs and customization options
---
17. Tiny – Calendar App
Download: Android app not available | iOS
Pricing: from $1.99 per month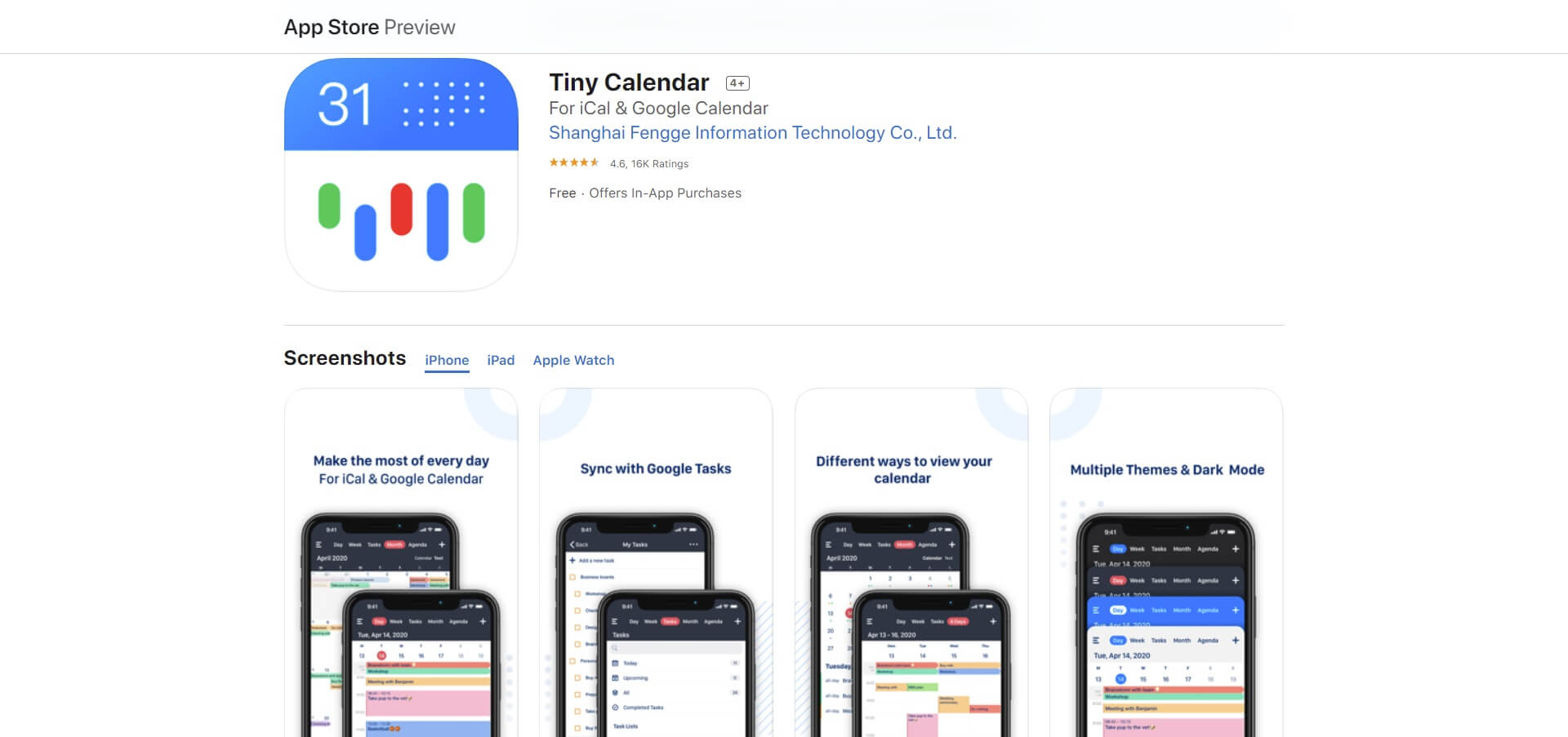 Tiny Calendar is among the best calendar apps for iPhone, iPad, and Apple Watch that produces the most of your everyday routine through organizing it properly.
It is a smart intuitive calendar that stays with you wherever you go and does the things for you that makes your whole day productive.
This smart calendar works perfectly with Google Calendar and iOS Calendar and permits you to catch up with your day, week, and the month's important events. It takes the look of basic Google or iOS Calendar but it works more efficiently than both of them.
It is one of the most reliable, simple, effective, powerful, and accessible calendars for iPhone and iPad. Tiny Calendar allows you to access your calendar and alter it the way you want, anywhere, anytime. It is available in 10 languages, making it a favorite app worldwide.
Key Features
Create the stuff yourself with nature language input, drag and drop feature, gestures, and more
Provides 8 calendar views i.e., day, week, month, 4-days, mini-month, week agenda, and agenda to give you a fun calendar you never had
Fully syncs with Google Calendar and iOS built-in calendar to support your events on iCloud, Exchange, and other calendars
If you do not have an internet connection you can still edit, create, or delete an event, Tiny Calendar will sync it as soon as you are online
Set reminders through push notifications and emails if you forget about a meeting or other important event
Works perfectly with iPhone, iPad, and Apple Watch and you do not need to pay extra to download
If you want to purchase any item, the subscription charges will be made from your iTunes account directly
---
18. Awesome – Calendar App for iPhone
Download: Android app not available | iOS
Pricing: from $9.99 per month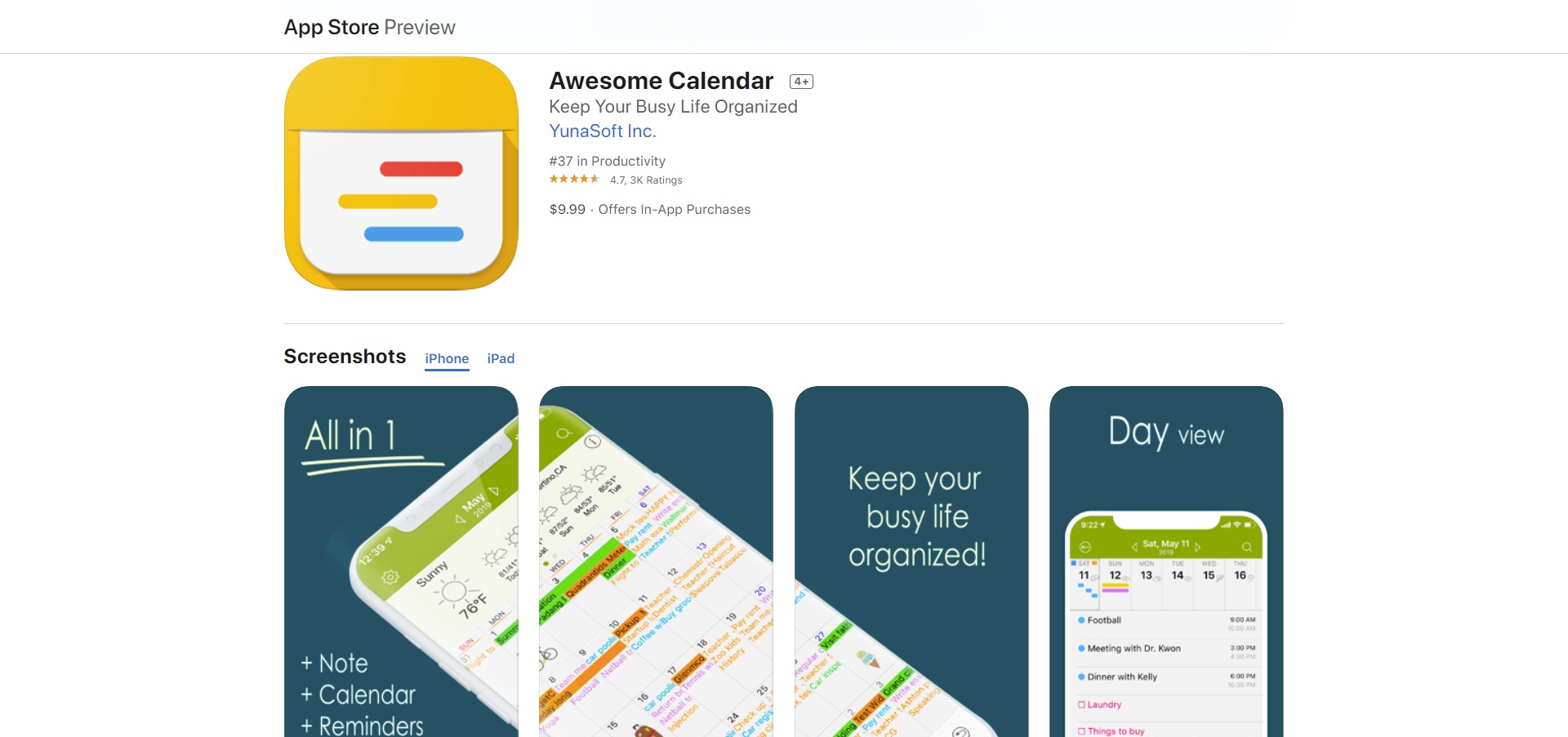 Awesome Calendar not only manages your calendar for you but also your to-do lists, notes, photos, weather, and much more. It can be one of the best calendar apps for students where they can manage their daily class schedules, make to-do lists, and much more with this one app.
Not only for individuals, but this app is also ideal for teams and groups as well to manage large projects. Even if you are away from your office you can always have a look at your projects through this Awesome Calendar app, which has all the characteristics its name suggests.
Once you enter an event you can add notes to it so that you are completely prepared for it.
You can also add a picture to your calendar if you need to repair something or anything else. Just with one tap, you can share all the relevant information regarding your meetings or projects with your team.
Key Features
It has a natural language input and works perfectly with iPhone supported calendars such as MobileMe, Google Calendar, Exchange, etc
It is fully synchronized with Google Tasks and you can customize colors, priority, notes, custom alarms, and sub-tasks
You get a 4-in-1 app – a calendar, task manager, notepad, and weather
Customize your reminders and events with colors and get iCloud support for the diary
Get time zone support with ready-made event templates, so your time is saved every time you want to make an entry
This app also works as a complete diary where you can make notes, add photos, and keep everything safe that matters to you
You get weather forecasts for 10 days and also share events, to-do lists, and your whole calendar with people you want
---
19. Simple Calendar App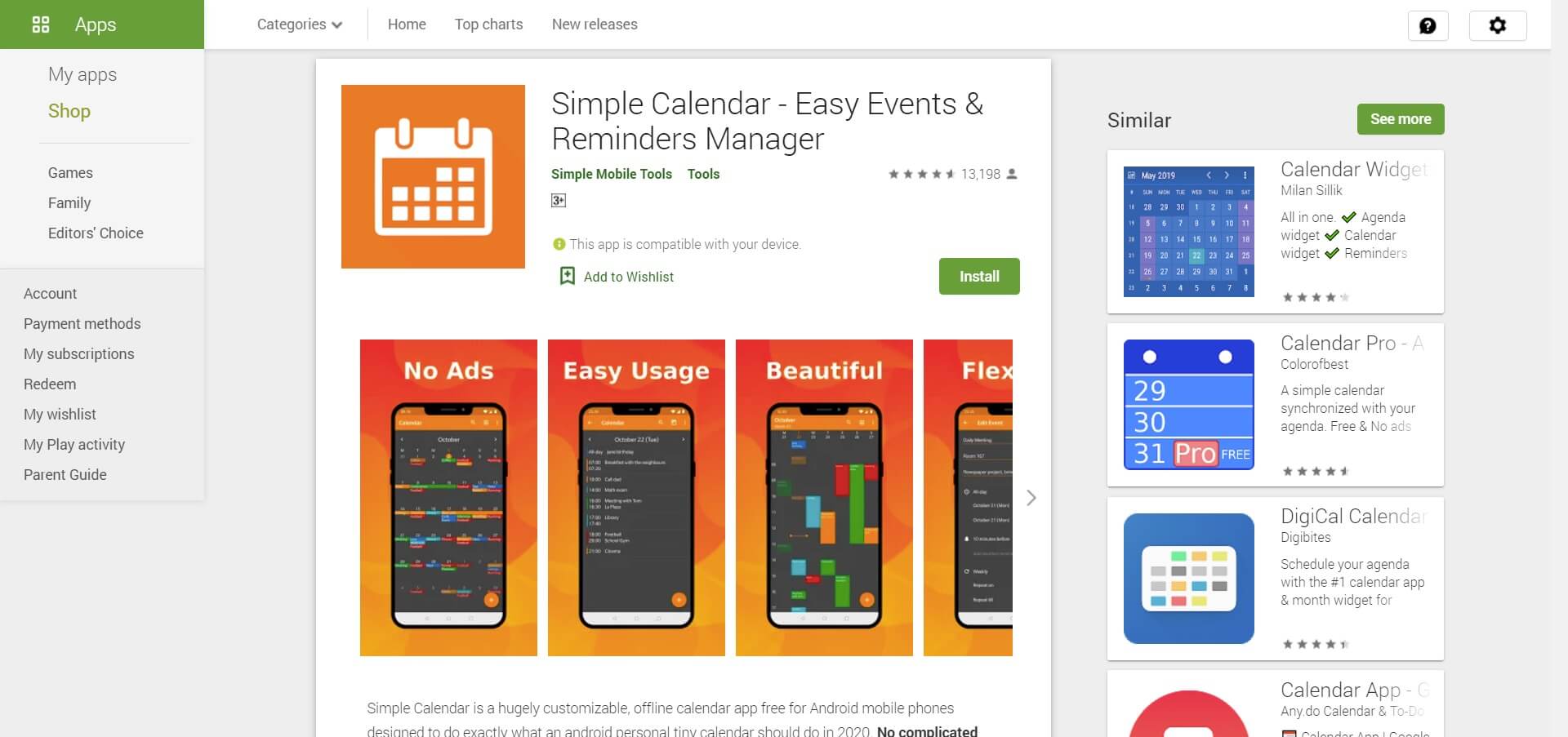 Simple Calendar is the simplest and easiest calendar app that is tremendously customizable and is specifically designed for Android devices. It works according to the mechanism of the Android calendar app and it is one of the best shared calendar apps that work perfectly even if you are offline.
There are no ads in this app, it does not require any permission, and has no complicated features that will require you to go through knowledge bases before you start using the app.
Whether it is an important meeting or an event, birthday, or appointment, the Simple Calendar app will do it for you within no time.
Simple Calendar is one of the most efficient schedule planners for Android phones that will organize everything for you. It has several customization options that can make your events more attractive and reminders more precise.
It does not access your data without your permission and provides support for daily event locations that are shown on a map.
Key Features
It is free of cost, free of annoying ads and popups that require no internet connection, and is private yet secure
It is an open-source tiny calendar for Android devices that focuses on simplicity and gives you everything that a smart calendar does
Switch quickly between daily, weekly, monthly, or event views and is translated into 29 languages
Exporting and importing events through .ics files and has properly supported notification streams from Android Oreo
Easy snooze option for reminders and allows you to create events flexibly with time, duration, etc
CalDAV support for syncing events via Google Calendar Microsoft Outlook, Nextcloud, etc
You can import dates of your holidays and birthdays and anniversaries from contacts
---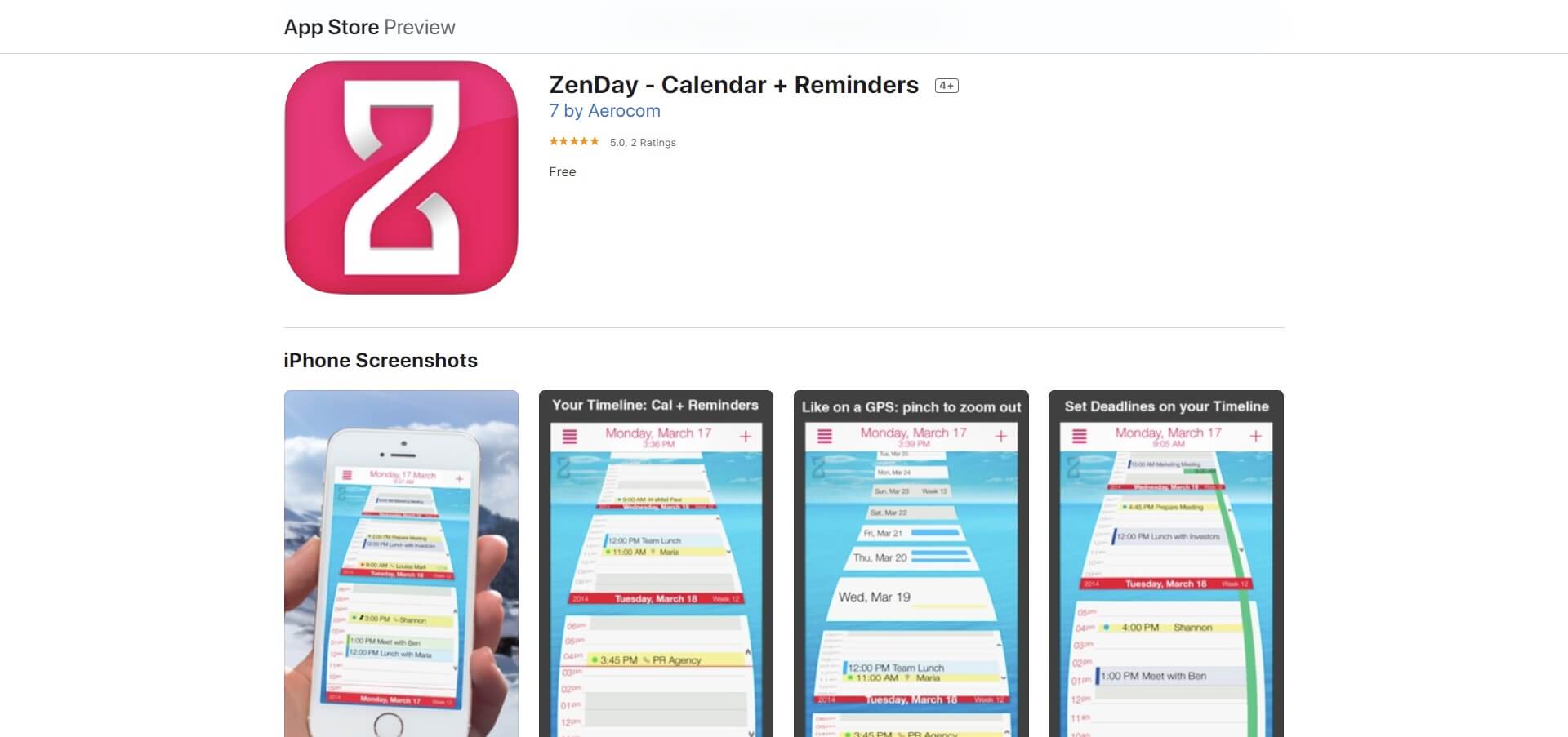 With this calendar app, stay organized, up-to-date, and managed throughout the day, week, month, year, and so on. It is among the best calendar apps for iPhone that keeps a balance between your work and personal life events, so you do not miss anything.
ZenDay is an award-winning Time Management app that shows your reminders with your Calendar events on a fluid 3D timeline. It integrates your tasks into your timeline so that it displays what you can achieve today, with the work schedule you organize for yourself.
There is no need to move your tasks or events manually. ZenDay will do that for you automatically and re-schedule all your events at the time you are available. It sends you timely reminders for which task is due or which one is overdue so that you do not miss out on anything.
It requires Android 4 or higher and it also requires permissions for your location, read call logs, read contacts, and read history bookmarks.
Key Features
Sync all your calendars, tasks, schedules, to-do lists easily and automatically to keep all your important stuff in one place
It has a unique 3D timeline display that shows what is ahead of you in a completely different way
It not only syncs with all your calendars but also with all your iOS Reminders to keep you alarmed and informed
You can prioritize your tasks or events according to the significance and set future tasks to stay prepared
It has a dynamic scheduling pattern in which your tasks follow the flow of time and manages according to your schedule
You can set your task deadlines and starting dates to keep a track of all tasks and events
Get insights and debrief on your previous weeks to check you or your team performed while carrying a task
Conclusion
All the calendar apps mentioned above are the best shareable calendar apps for all the people who have a routine to maintain, a schedule to organize, or a lifestyle to manage. All these apps will make your life organized by giving you more than just calendars.
You will have a routine where you will be able to concentrate on your work and also enjoy your leisure time with your family and loved ones.
Other SaaSy goodness on All That SaaS: