Mozilla Firefox is among the most popular web browser which is widespread all around the globe because of the features and best Firefox add-ons it provides to its users. Globally, the average Firefox client usage is 5 hours per day and in America, it is highest with 6 hours/day.
It has a total of 800+ million users worldwide and 250+ million active users per month. A reason why Firefox is one of the most popular browsers – it has a strong add-on community that allows the users to customize and control their browsing and surfing experience.
Extensions and add-ons on Firefox browser enable users to add more features to their webpage, add functionality, modify the user interface, and change Firefox appearance. Anyone can easily download these extensions and add-ons.
🛑 Firefox Ad-blocker Add-ons & Extensions
Advertisements during internet browsing can be both, annoying and distracting. Firefox ad-blocker add-ons and extensions will help you to block all those ads and pop-ups.
These add-ons and extensions will make your surfing ad-free, smooth and fast. These add-ons and extensions are the most commonly used among all others.
The following are the free Firefox add-ons for ad-blocking.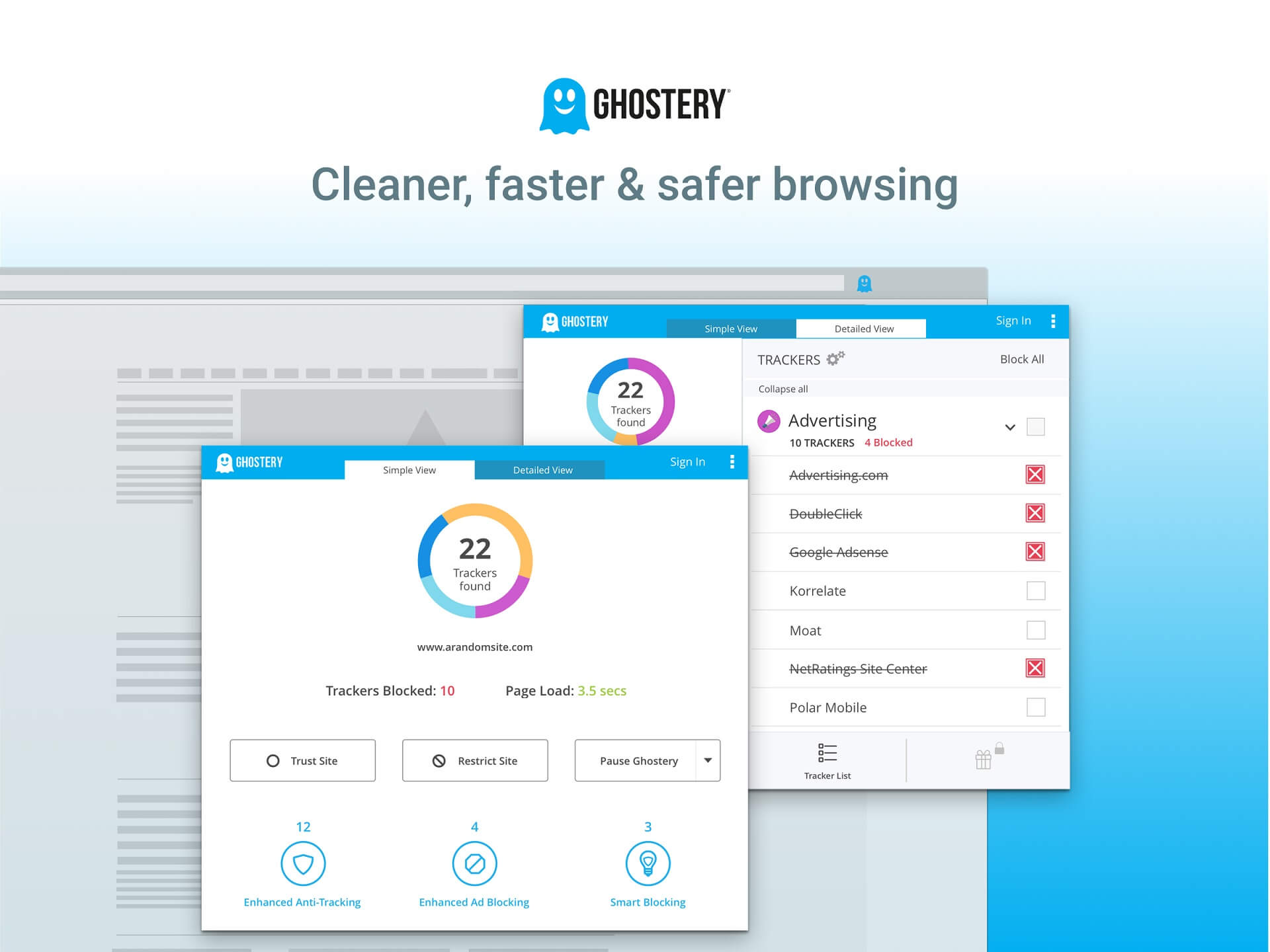 This is a powerful extension that is private and blocks ads on your webpage. It stops the trackers on websites and makes your browsing fast and secure.
It has a built-in ad-blocker that blocks advertisements from your webpage so that you concentrate on the content you want.
You can also have a look at the trackers on websites and block them to control who gathers your data. Its blocking features accelerate page loading and improves the performance of the webpage by automatic blocking and unblocking of trackers.
You can customize your display through Ghostery's multiple displays and insights dashboards where you can view the relevant information.
There is a private-by-design, optional feature of Ghostery Rewards through which you enjoy high-value offers when you place online purchase orders.
You can either directly install it or you can sign up for free to enjoy more advanced features.
---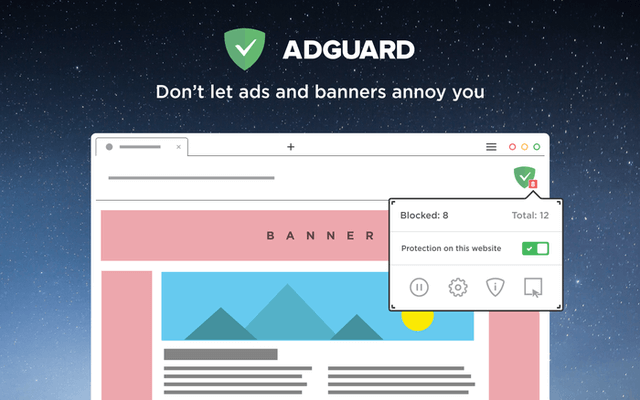 AdGuard is one of the best Firefox extensions that block unwanted and distracting advertisements on Facebook, YouTube, and all other websites.
It blocks, pop-ups, video ads, unwanted banners, texts, and rich media advertisements. You have to register and need to sign up for this add-on.
It also speeds up browsing, page loading, keeps bandwidths, blocks some spyware, adware, and dialer installers. Moreover, it shields your privacy by blocking third-party tracking systems. And lastly, it makes your browsing secure from malware and phishing.
AdGuard has one of the biggest tracker filters that comprises over 5,000 rules. By enabling AdGuard Social Media Filter you can block all the widgets and like buttons on your social media sites.
It also protects your computer from different dangerous viruses Trojan horses, worms, spyware, etc.
AdGuard requires permission to access your data and browser to safeguard page content keep a check on navigation history and block unnecessary ads and pop-ups.
---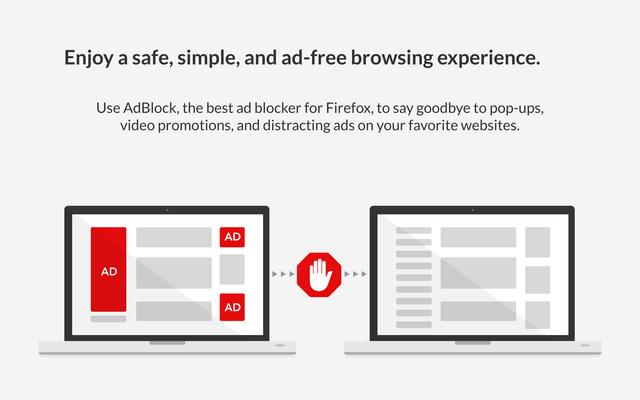 AdBlock is the most famous ad-blocking extension for Chrome, Safari, and Firefox as well. It blocks all the surplus advertisements on all the webpages such as Facebook, YouTube, and Hulu, etc.
It doesn't allow most of the ads to download even, hence making your browsing fast and secure.
Over 65 million users trust AdBlock which you can directly install on your browser. It blocks video ads, customizes your filter lists, in-page ad reporting, and a list of all the blocked ads. It makes your page loading faster and saves your internet memory side-by-side.
AdBlock also safeguards your internet data by not sharing it with advertisers to track you down. Moreover, it permits Acceptable Ads to maintain a healthy ecosystem for websites and content creators.
If you are into cryptocurrency, AdBlock will secure your computer from online fraud and "cryptojackers" which is very common these days. This extension has rules to secure your Bitcoins.
---
📹 Firefox Add-ons & Extensions for Videos
These add-ons and extensions help you to browse and download videos without any hurdle. These extensions make video downloading into any format simple and quick.
They can download videos into MP3, MP4, FLV, or any other desired format that takes the video streaming experience to the next level. Few of these best Mozilla Firefox extensions are mentioned below.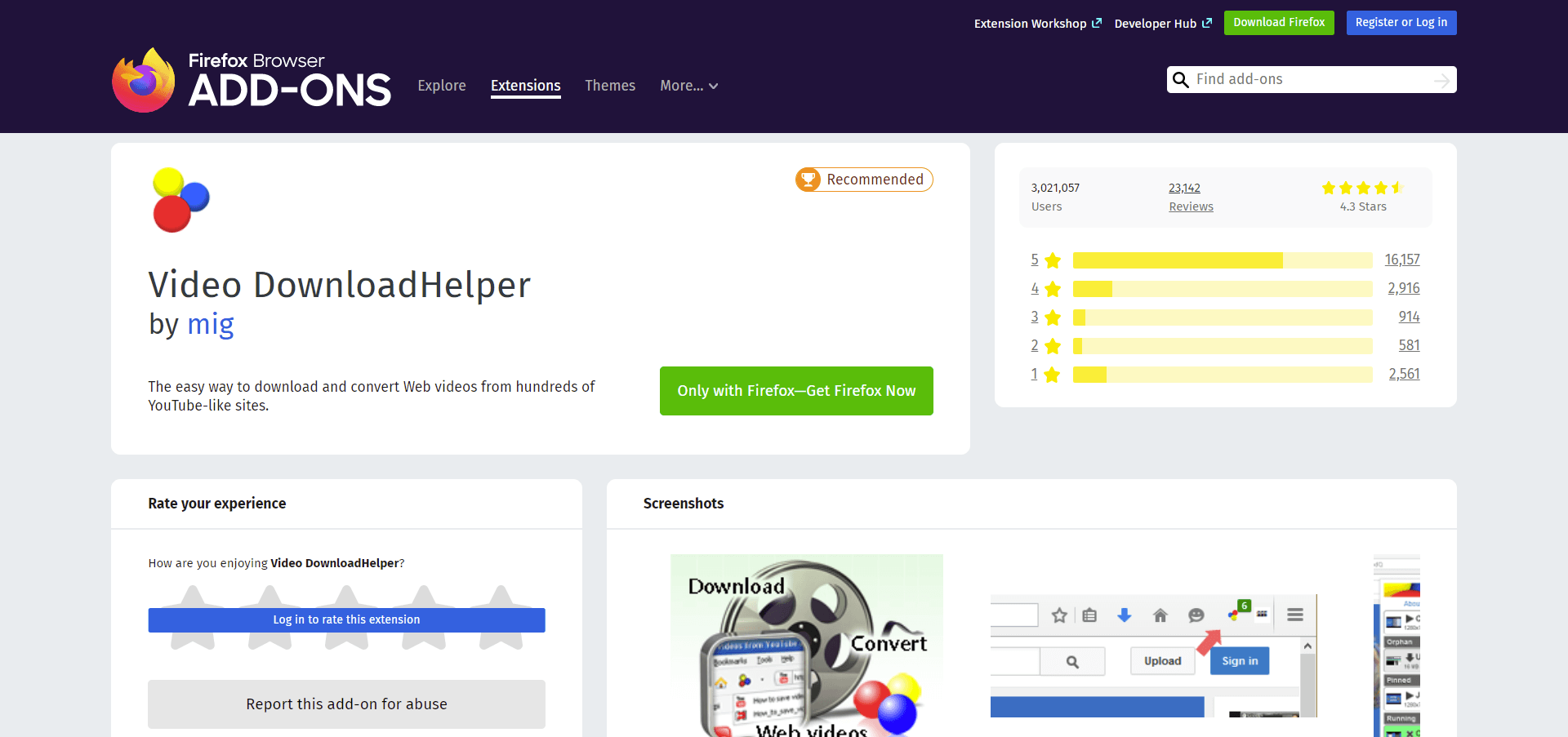 This is among the best Firefox extensions to download videos from 100s of websites. Surf normally on the browser and it will identify the embedded video and download it through a simple menu bar.
It downloads the videos easily from thousands of websites such as YouTube, Facebook, DailyMotion, Periscope, Twitch, Vine, Fox, and many others.
Besides that, it converts files such as convert audio and video formats, and also aggregations like combining separate formats into one file.
The feature of conversions and aggregations is an upgraded feature which that helps pay for the free stuff. You can also ignore this feature by simply avoid to pick up modifications marked as ADP.
It also supports several types of streaming, making it unique among the best Mozilla Firefox extensions.
HTTP, HLS, DASH, etc. are supported by Video DownloadHelper. It can capture the media right from the screen whenever a site uses a non-supported streaming technology and creates a video file.
---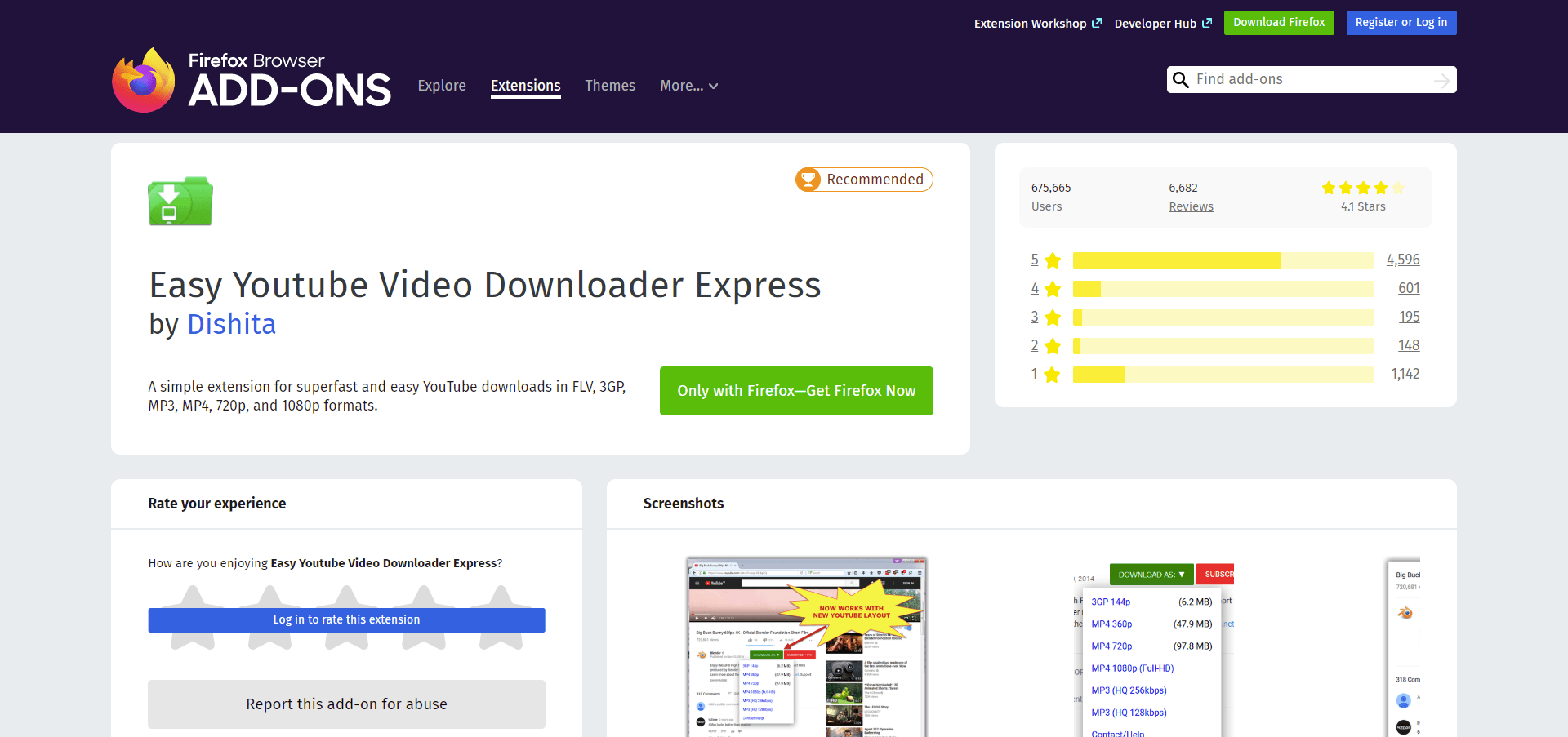 Easy YouTube Video Downloader Express is an extension to download videos easily from YouTube into FLV, MP3, MP4, 720p, and 1080p formats. This is the simplest video downloader that is directly installed from the YouTube website without any outside support.
This add-on is rated number 1 among YouTube Video Downloaders with 1080p Full-HD and 256Kbps MP3 download proficiency. It is also one of the oldest YouTube grabber add-ons in the Mozilla Firefox add-on store which can be downloaded with a single click.
Recently YouTube has changed its rules and it does not support most of the video downloaders that offer 1080p Full-HD downloads but it supports Easy YouTube Video Downloader Express. You can download a 256Kbps HQ MP3 video download with a single click.
As mentioned above, many of the YouTube video downloaders do not go well with the new version of it but this works well with its new design and rules.
---

As the name suggests, this add-on, with heaps of features, enhances the YouTube user experience in a better way. It's highly customizable and easy to use features enable this add-on to give freedom to YouTube users for an upgraded and advanced browsing experience.
It has some amazing features such as volume and playback speed control with a mouse wheel and eliminating or blocking advertisements either automatically or on-demand.
Furthermore, it removes annotations, whitelist channels to not automatically remove their ads, and loop videos.
Some other features include playing videos in 4K, HD, or any other preferred format automatically. It also uses custom themes, a large video player, pins the video player, executes your actions using JavaScript, and many more.
Since YouTube is a trademark of Google Inc. and use of this trademark is subject to Google Permissions. Also, this extension must be downloaded from its official website and not from any other website.
---
🕵🏼 Firefox Add-ons & Extensions for Privacy
These free Firefox extensions are accurate for securing your geographical location from the websites that can track it which is a violation of your privacy.
They send messages to the servers that can track the place where you are located. Some of these extensions for privacy are highlighted below.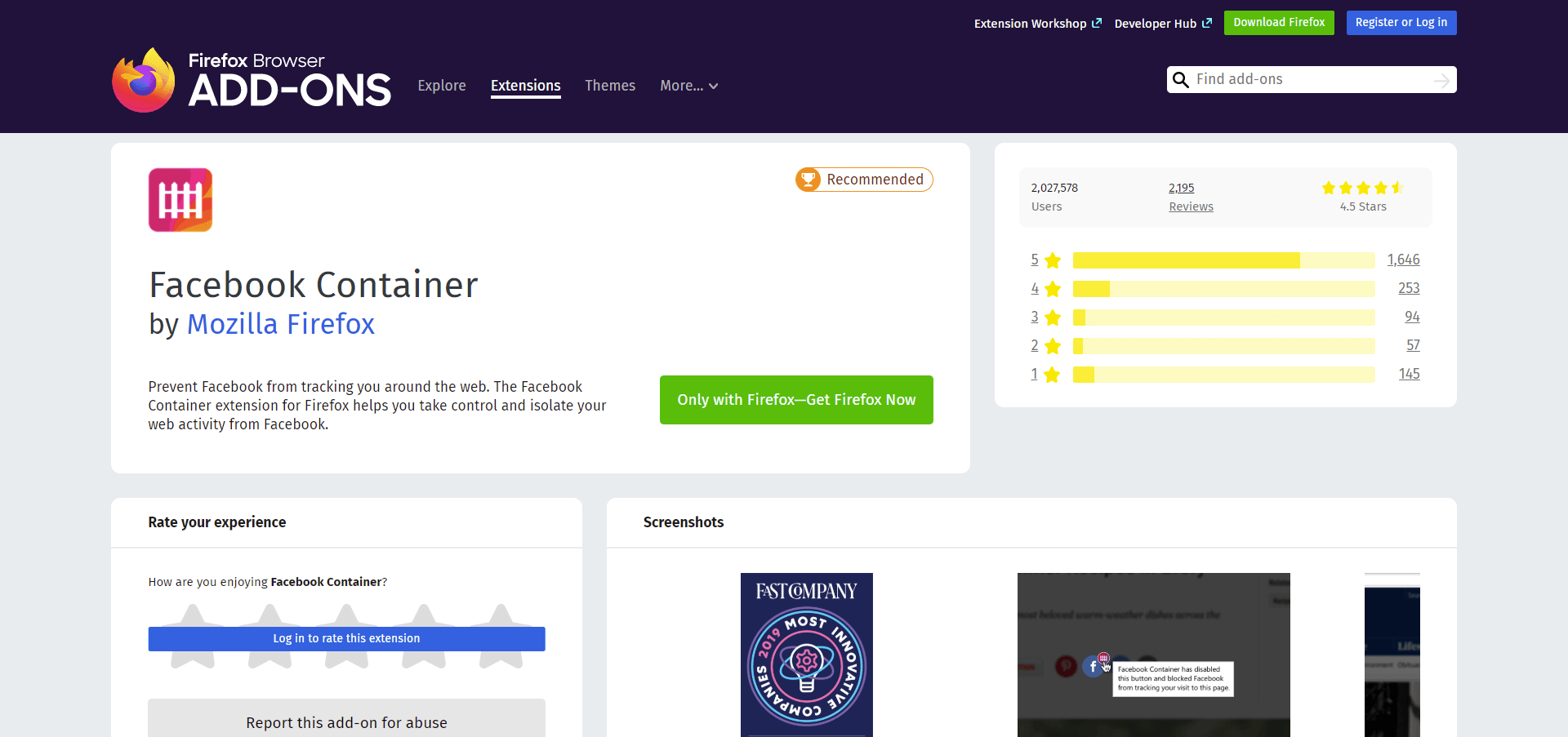 Facebook Container is amongst free Mozilla Firefox extensions that make sure your data remains private when you are using Facebook. It avoids Facebook from tracking you down on the website and it helps you to isolate your web activity from Facebook.
To install this extension, you need to have an account to sign up. This extension Logs you out of Facebook, closes your Facebook tabs, and deletes your Facebook cookies. Embedded Facebook comments and likes in tabs outside this extension will not work.
This happens because it avoids Facebook to associate your browsing information to websites outside of Facebook about your identity. The important thing to know is that Facebook Container does not inhibit Facebook to mishandle the data it already has about you.
To create your containers and access to determine which sites open in each container, you can install Firefox Multi-account Containers which is a more general extension.
---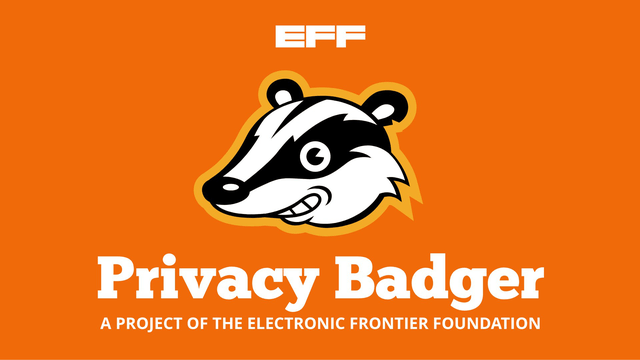 Privacy Badger is one of the best Mozilla Firefox add-ons that block invisible trackers automatically. It also constantly watch trackers that could use your data while you browse on the internet.
It works efficiently and smartly by sending a Do Not Track signal along with your browsing.
If the server or tracker overlooks this message, Privacy Badger would block it instantly. Not only it automatically blocks trackers, but it also has more privacy protection by eliminating outgoing link click tracking on Twitter, Google, and Facebook.
Privacy Badger is a project of the Electronic Frontier Foundation and you can directly download it from its official website. This is one of those best Firefox extensions that prevent advertisers and other third-party trackers from anonymously tracking your online activity.
Other ad-blocking extensions need permissions and configurations to block ads and prevent trackers from capturing your data, while Privacy Badger does not need that.
---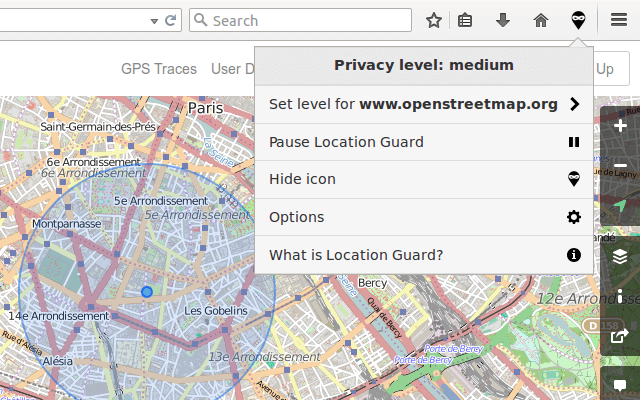 This extension is among the best Firefox add-ons to safeguard your location privacy from websites. With three configurable levels of accuracy, you can even use a fixed location while browsing on the internet according to a per-site setting.
You are also able to report a fake location or random noise to protect your secrecy. Mozilla Firefox and other modern browsers can tell your geographical location to deliver location-aware functionality.
Your location can be detected through various means and that is a harm to your privacy.
Location Guard allows you to enjoy geolocation applications along with security and privacy. This privacy extension protects your accurate location which can also be revealed through your IP address, through JavaScript API.
It can report a fake location by producing an amount of "noise" to the actual location. So basically there are three configurable privacy levels, which means that the greater the privacy level, the higher will be the amount of noise, thus maximized privacy.
---
🌨️ Firefox Add-ons & Extensions for Weather
The add-ons and extensions for the weather are handy and easy to use, which also motivate you from time to time. They are not only secure but fast as well.
These extensions have many customization options so that you can have a new tab. Few of these free Firefox extensions are described as under.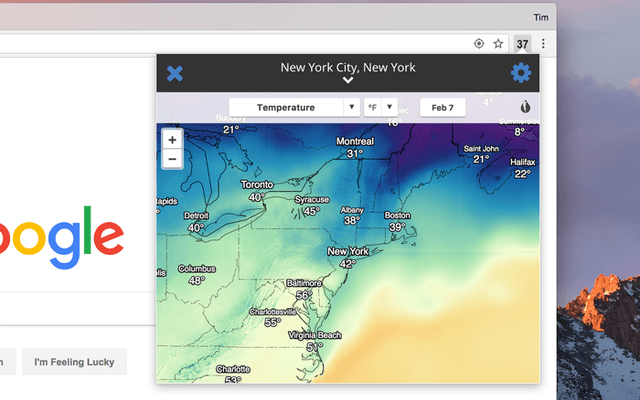 This extension helps you to have a look at the weather around you easily on your web so you don't have to peek through the window. This is among the free Mozilla Firefox extensions that give you access to easy hourly and daily weather forecasts.
Weather Extension is free and can be easily downloaded from the official website on the browsers. This extension is highly recommended by LifeHacker which is a weblog about software and life hacks and it is powered by Dark Sky API. It also offers multi-lingual support.
Dark Sky API is the best, easiest, and most advanced weather API that allows you to request weather forecasts and historical weather data programmatically. It gives access to the 7-day straight weather forecast so you know how the weather is going to be throughout the week.
You get severe weather alerts, Fahrenheit or Celsius temperature, 12 and 24-hour time format, and many amazing features.
---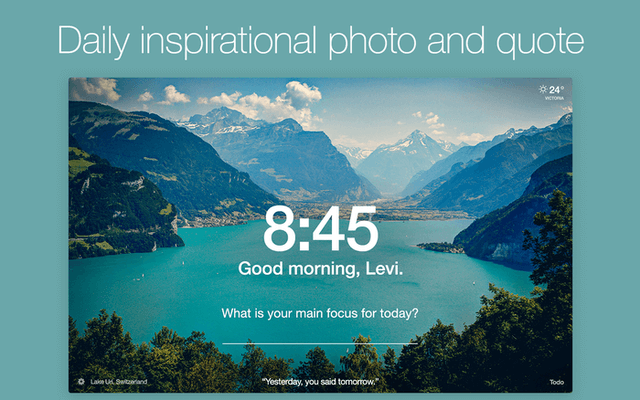 Momentum is not only a weather extension but an inspirational personal dashboard on your webpage. This is one of the best Firefox extensions that replaces your new tab with a motivational quote and photo which encourages you to be more creative and productive.
You can not only stay updated about your daily weather but you can also set a daily focus and keep a track of your to-dos daily. Since it uses your location for weather updates, it shows a profound concern for your privacy and has rules.
You can also add a routine of your uptime and downtime with Balance mode. This extension can be easily downloaded from their official website. It also offers a Plus plan which unlocks added customization, integrations, widgets, and more.
With Plus you get customizable font and color themes, add your photos and themes, priority support, autofocus mode, enhanced weather updates, and many more.
---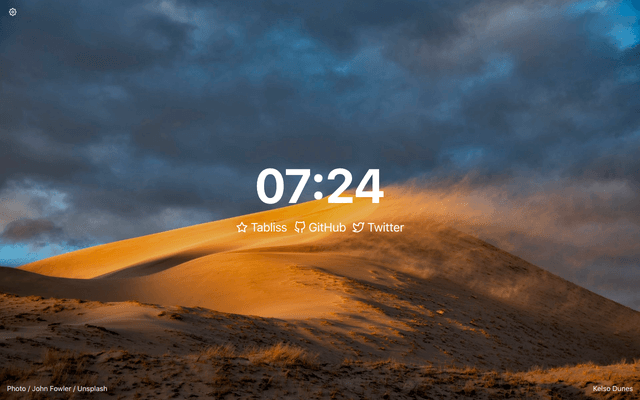 Create your new tab experience by installing this weather add-on on your desktop. It is an alternative to Momentum and is completely free. It gives you hundreds of customization options so that you can make your new tab unique and interesting.
Tabliss has a wide range of millions of backgrounds which is free, secure, and fast. This is among those free Firefox extensions that require minimum permissions to access your data. It can be easily installed on your desktops through the official website of Tabliss.
It also has widgets that are interesting and eye-catching. You can view the current time in analog, digital, or text format, personal greetings, and to-do list reminders.
Moreover, there is a search box with Google, Bing, DuckDuckGo, and more, quick links, custom CSS for style tweaking, and other widget features.
Tabliss makes sure your privacy and security are guarded and your experience of using this add-on is enhanced.
---
👩‍💻 Firefox Add-ons & Extensions for Developers
These best Firefox add-ons and extensions are ideal for having icons and many supporting features for web-developing. You can use these extensions in any way you want.
You can either develop your new page or new app with these extensions. Some of the best Mozilla Firefox add-ons for web developers are mentioned below.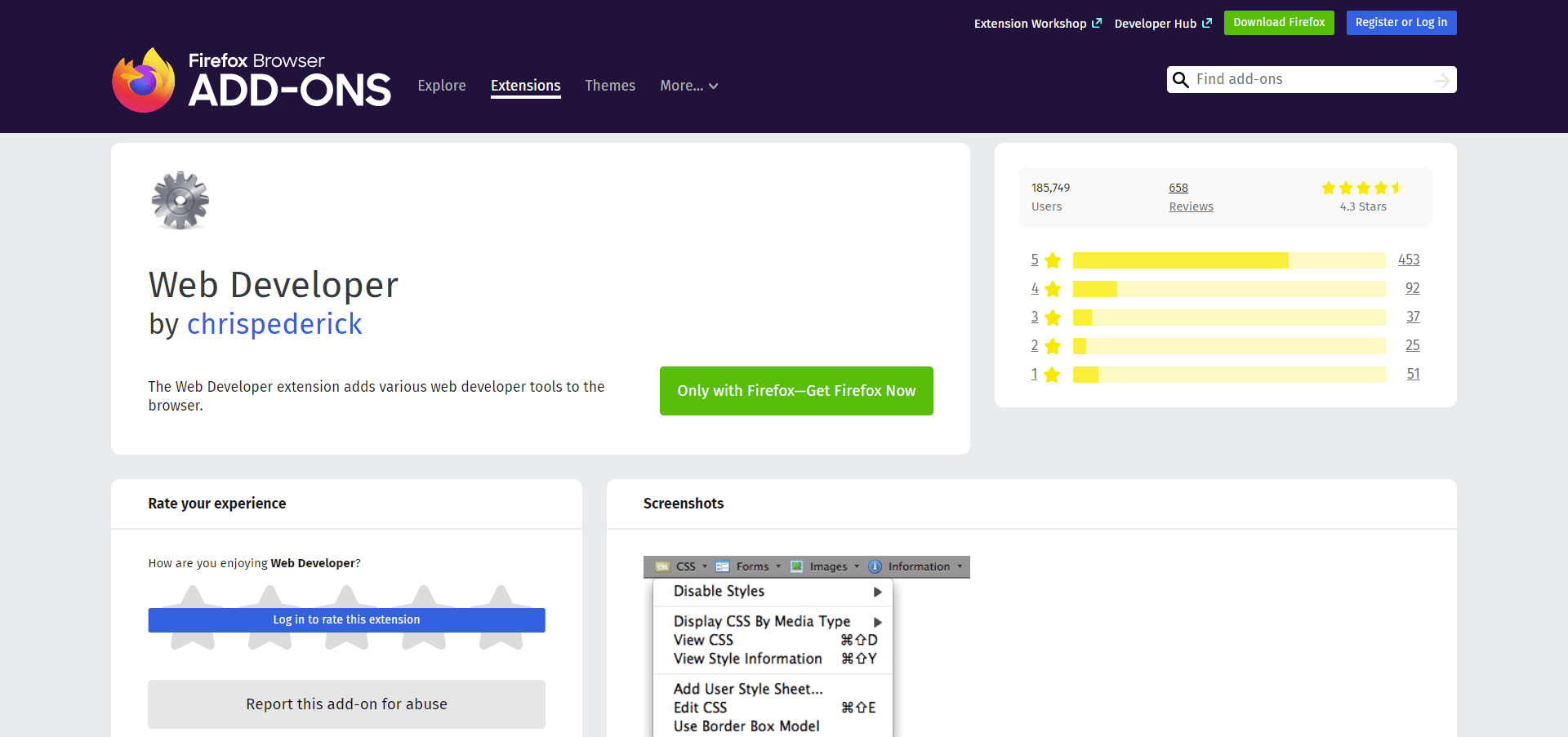 This extension adds several web developer tools to the browser. Web Developer extension is available for Firefox, Google, and Opera and it works on any platform that supports these browsers such as Windows, OS X, and Linux. The original perception of this extension came from PNH Developer Toolbar.
Different icons that come with this extension enhance your browsing experience. It comes with complex string options support and many other features that you will love.
The Clear Session Cookie will log you out automatically from all the websites that you visited and will clear your history so that your privacy is safe and secure from trackers.
It also displays Element Information, Image File Sizes, Topographic Information, and many other technical features.
Furthermore, you can also edit CSS and change your page's appearance to control your web-developing on your browsers.
---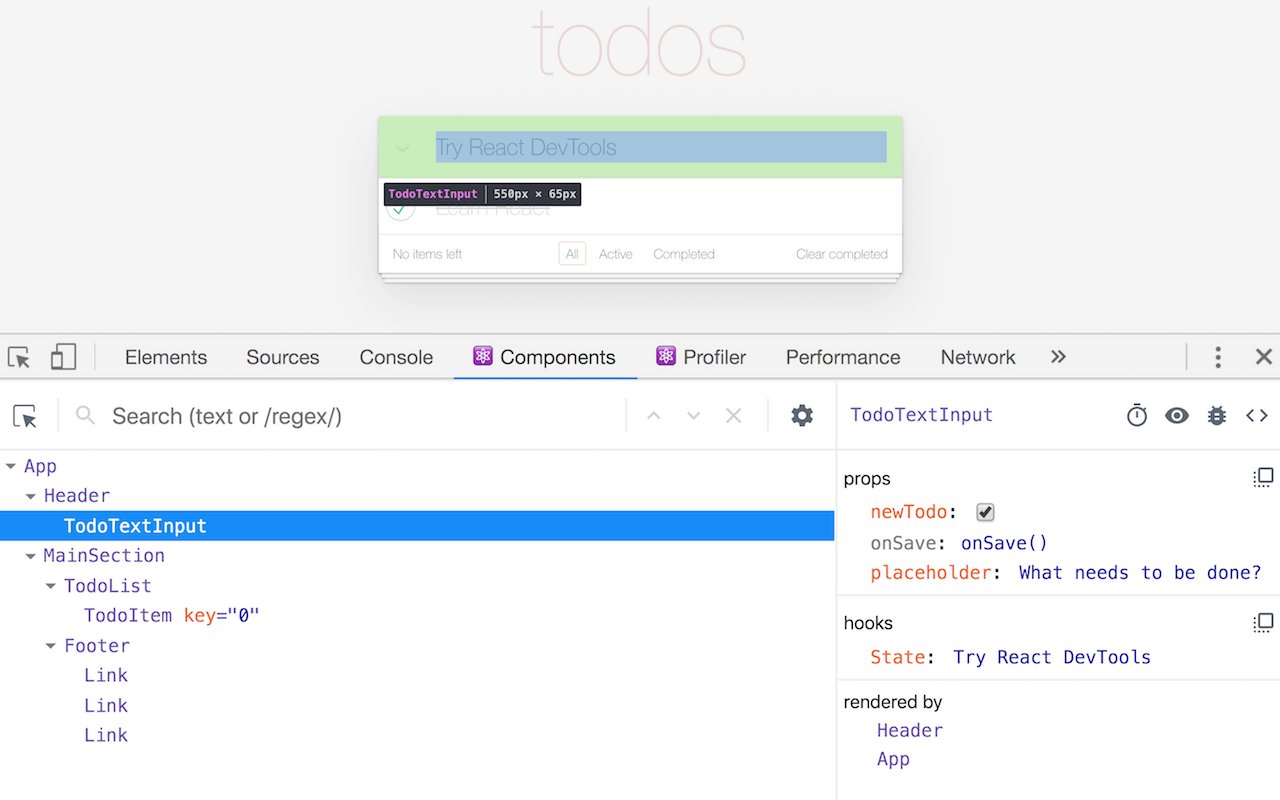 This is a web-developer extension that is a JavaScript library for building user interfaces. It allows you to examine the React tree, as well as the component hierarchies, props, state, and more.
You can install it on your browser and keep using it slowly in the beginning to as much 'React' you want to use.
It makes interactive UIs easily and painlessly. It gives declarative views so that your generated code is more predictable, easy to understand, and simpler to debug.
This Firefox add-on also builds summarized components (that manage their state) and then combines them to make complex UIs.
Since JavaScript language is used in component logic rather than templates, you can keep the state out of the DOM by easily passing rich data through your app.
Furthermore, you can also develop new features in React Developer Tools without rewriting the existing code.
React is suitable for either you want to just play around with it, make your simple HTML page more interactive or design a complex React-powered app.
---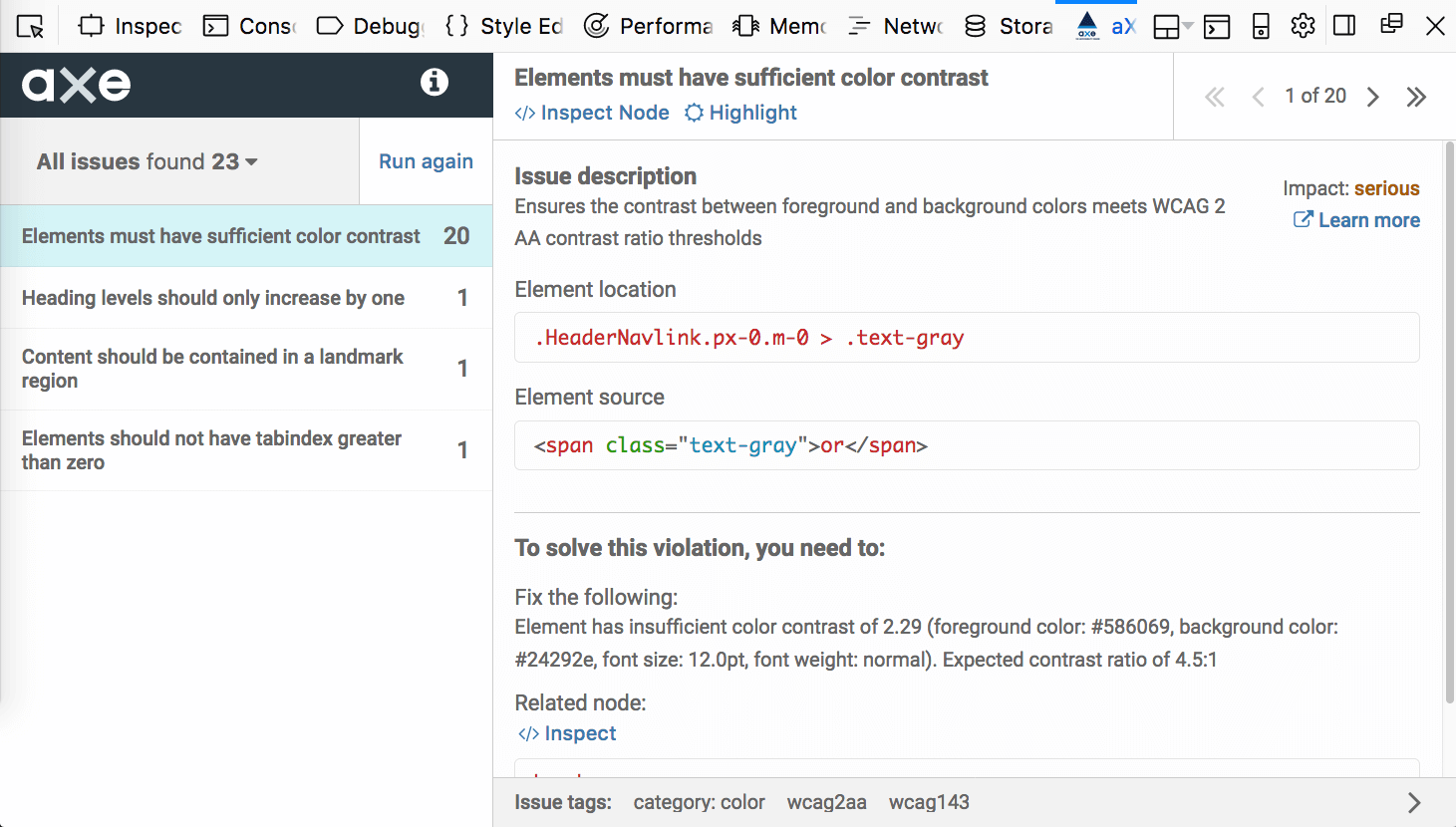 This is amongst the free Mozilla Firefox add-ons which are best for accessibility problems as an automated tool for discovering your accessibility flaws. Through automated testing tools, you can easily figure out where the problem persists.
Automated testing plays a key to gain digital equivalence. These tools provide lightweight, easy, and fast accessibility testing tools that return zero false positives. These tools are easy to use and do not require outside sources.
Created upon the Axe JavaScript library, this extension is the third generation of accessibility rules for HTML-based user interfaces that are different from other approaches. It can mechanically regulate which rules are needed for evaluation and is highly configurable.
Axe Developer Tools maintains in-memory fixtures, static fixtures, integration tests, and iframes of infinite depth and is actively reinforced by the main accessibility vendor.
It can be assimilated into your existing functional/acceptance automated tests which makes it super user friendly.
---
📈 Firefox Add-ons & Extensions for SEO
Search Engine Optimization is highly useful for marketing or digital businesses. It helps you to enhance your experience in marketing and also your website.
The best Mozilla Firefox add-ons can help you track your customers, SEO rankings, and leads. Some of these SEO add-ons are described briefly.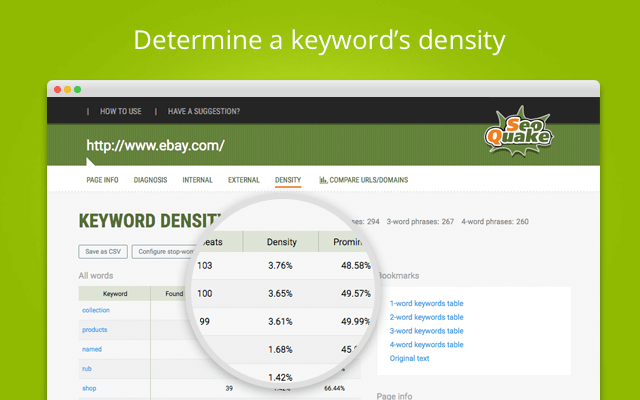 SEOquake is one of the most famous Firefox add-ons among SEOs. It allows you to access key SEO metrics for a particular page along with many other features.
Developed by SEMrush, one of the best SEO tools, SEOquake is a free Mozilla Firefox add-on offering SEO Audits, SEO Metrics Bar, and many other forms of technical features for your Firefox browser.
Companies search with certain keywords to see where their competitors stand in the search market mainly through analyzing SERPs. They receive the data and are supposed to recover data manually for each landing page which is a time taking process.
This add-on saves your time and permits you to see metrics for domains and landing pages such as Alexa Rank, Facebook, Google Index, SEMrush, and many more. It gives you easy access to analytical data on any webpage.
It gives you detailed reports straight from SERPs which is quick as well as convenient. It is compatible with many browser extensions and is updated continually.
---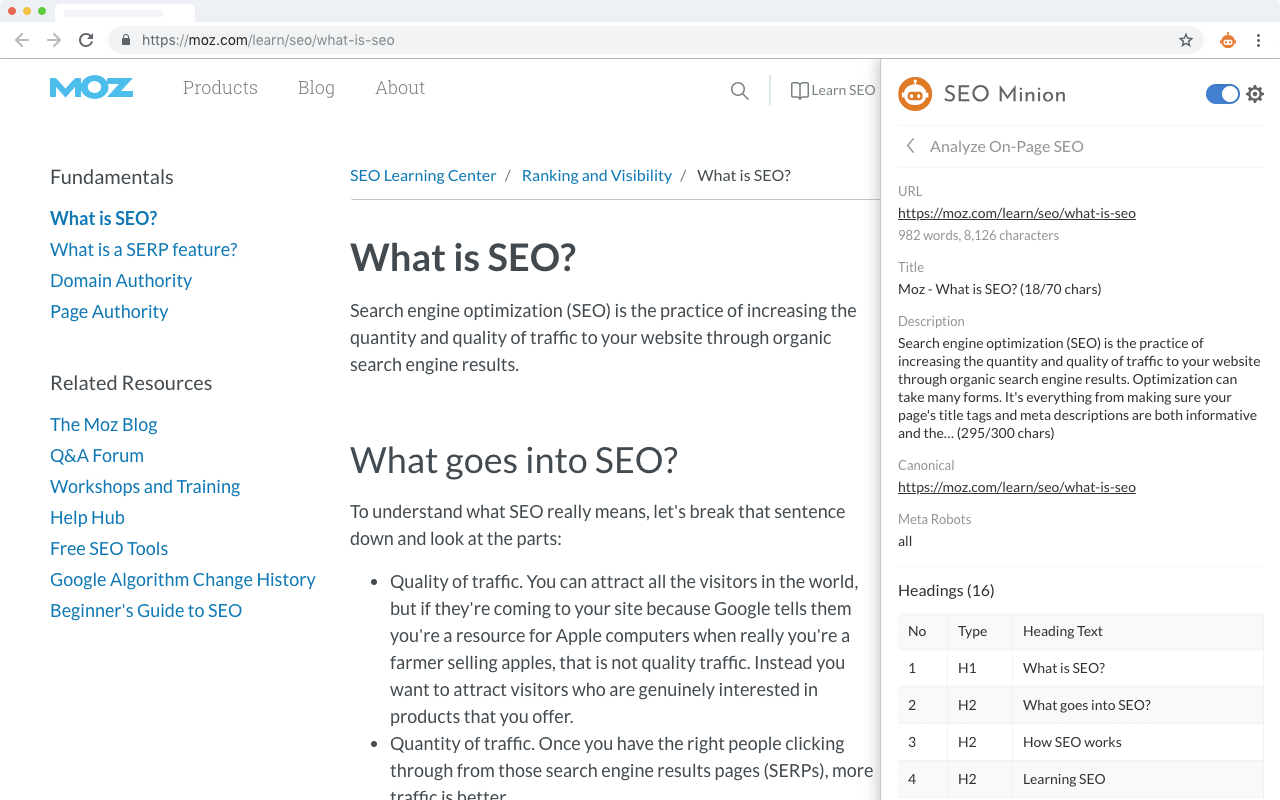 Broken Link Checking, SERP Preview, On-Page SEO analysis, Hreflang Checker, Google Location Simulator, and other tasks like these can be time-consuming and tedious. SEO Minion is a free extension that can assist you to take care of your daily SEO tasks and endeavors.
It can examine the HTML and valuable information on any page to help you optimize the On-Page SEO and also to prepare you regarding any issue. It also quickly highlights all the internal as well as external page links for any website or webpage.
SEO Minion keeps a check on all the links and if any of them is broken or if there is an issue, it gets a report immediately. It also can check hreflang tag validity and if there are return tags present. It gives you a compatible SERP Preview of your website.
This is one of the free Firefox add-ons with amazing features.
---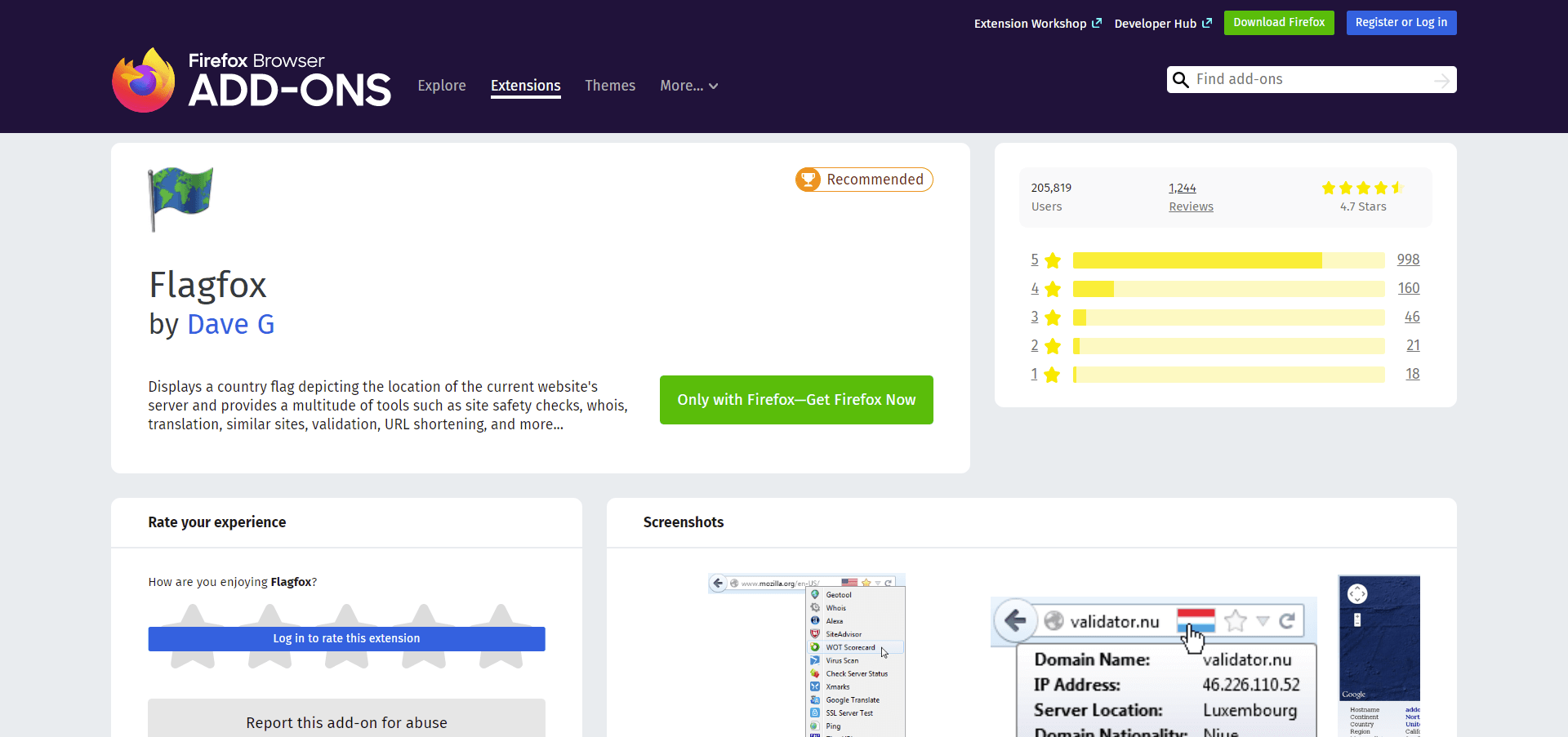 This extension displays a flag icon signifying the present webserver's physical location. With Flagfox, you know exactly where you are connected to help you identify the native language, and also it adds an extra layer of awareness which is helpful to know what legal rules or jurisdictions you might follow.
To get a detailed map view of the city in which the server is, you can load the default action Geo-tool by clicking the flag icon. It also provides other useful information such as local time and ISP.
This is amongst the free Firefox add-ons that keep the internal database accurate.
It can site safety and malware checks, finding parallel sites and reviews, automatic translation to your language, SEO and web-developer research, and Whois and DNS information.
Additionally, it also does page code validation, copying the server's IP address, and performs many other actions.
It has full IPv6 support with monthly updates.
---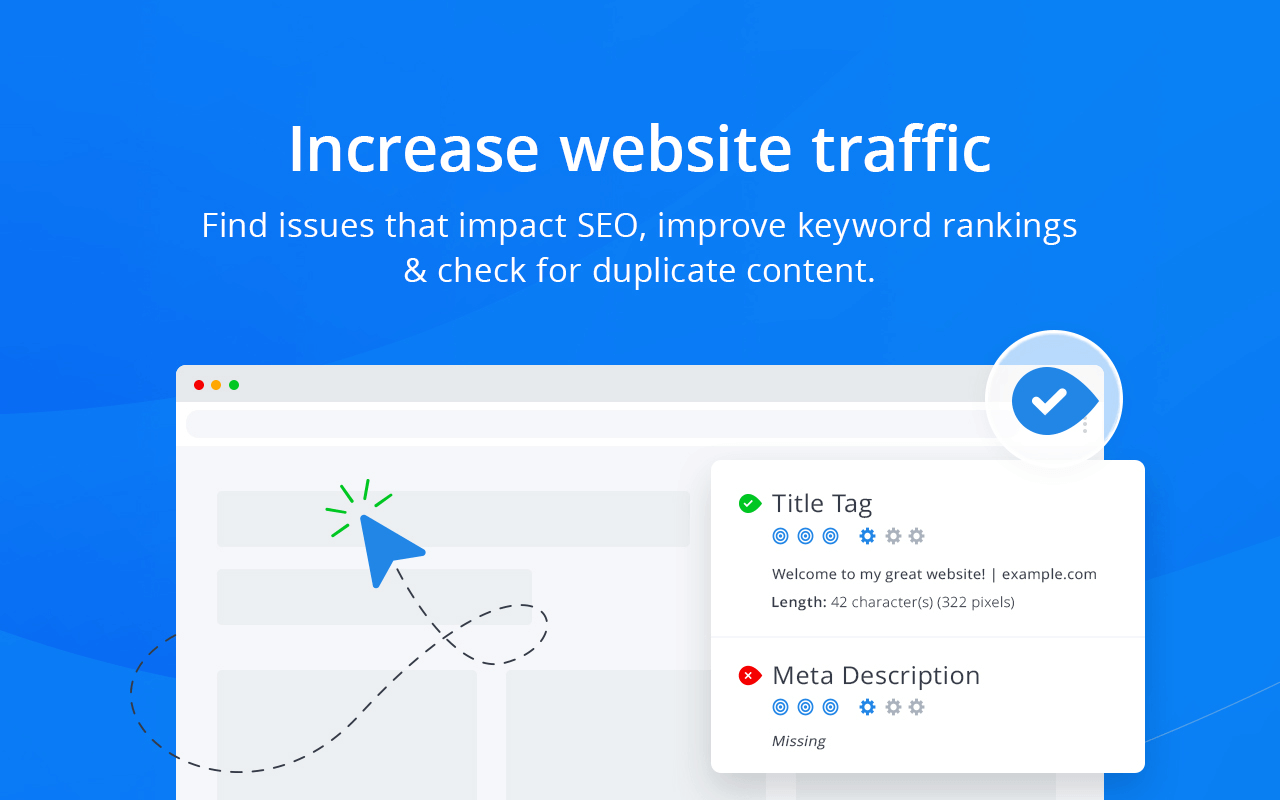 WooRank gives you an instant analysis of SEO and reviews of websites for SEO, mobile, usability, and social media. This extension provides you a quick analysis of the site's accessibility, readability, and usability that you are currently visiting.
Through this analysis, you can develop the marketing performance of your website and other's websites to examine a competitor's backlinks. You can also observe what new technology trends are being followed. It also takes care of your privacy and security by not spying on users.
The analyzed data by this extension includes Search Engine Optimization, structured data, mobile-friendliness, website technologies, and many others. You can use this analysis to improve your website, in-house marketers optimizing, freelancers and agencies, sales teams, etc.
There is a 14- day free trial available for this extension along with 3 different plans whose pricing varies accordingly. Each plan has got a different set of features and characteristics.
---
🛡️ Firefox Add-ons & Extensions for VPN
These are the best Firefox add-ons to improve your connectivity, security, and overall exposure in the digital world. They provide a huge number of servers from all over the globe.
These add-ons ensure your internet browsing is private through powerful encryption. They also permit you to view any content from anywhere. Few of them are mentioned as under.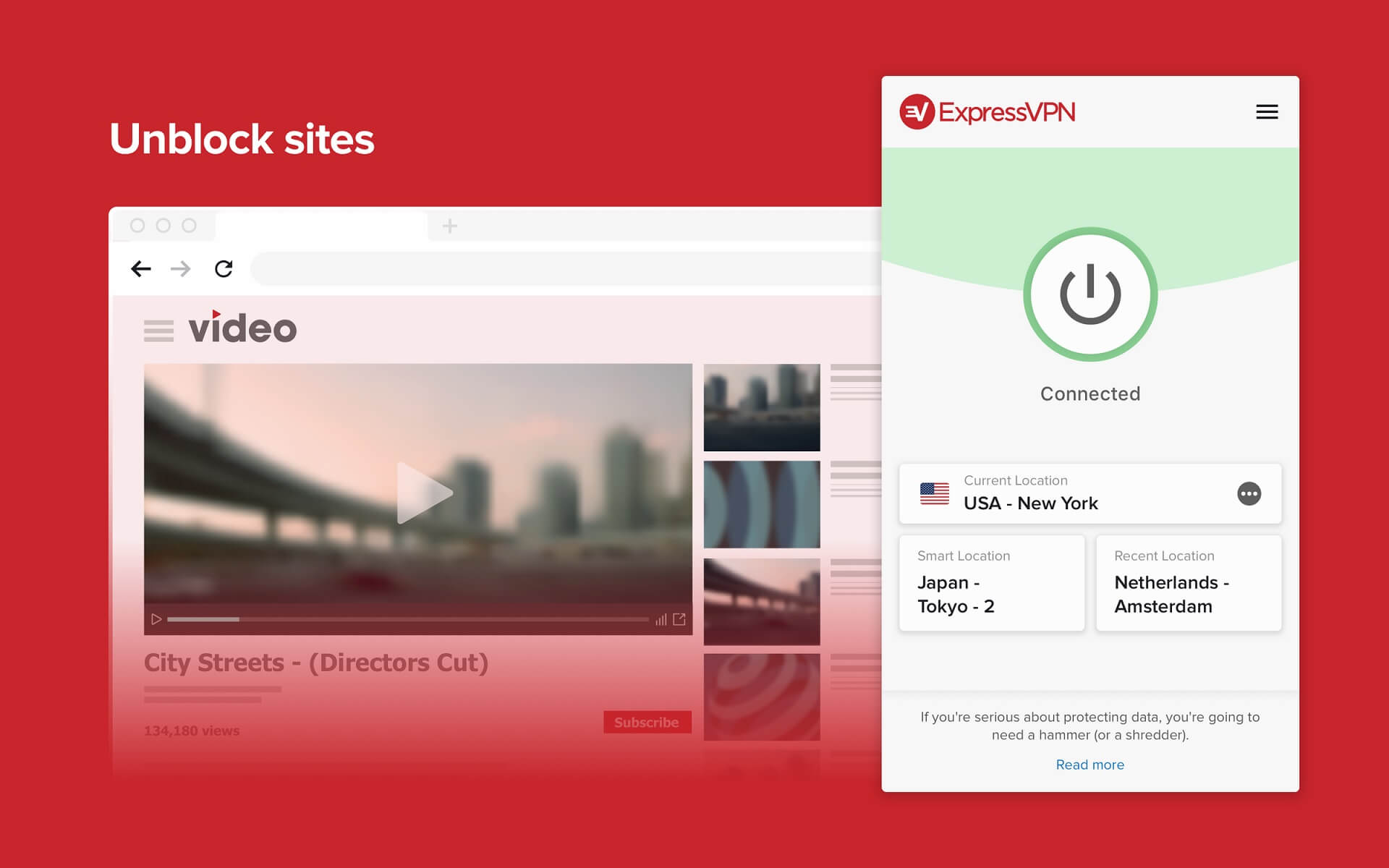 ExpressVPN is a private, secure, and fast VPN service. It controls your browsing, spoofs your location, and allows you to access content from anywhere. It easily connects and starts browsing with a single click.
ExpressVPN halts HTML5 geolocation from revealing your locations by preventing websites from tracking your IP addresses and blocks WebRTC.
The Firefox add-on for ExpressVPN automatically links to the more protected HTTPS version of websites with an ability to connect to 3,000+ VPN servers in different countries and locations.
It has a special TrustedServer technology that has the ability of powerful encryption that protects you from trackers and hackers. It makes your connection secure on public Wi-Fi hotspots.
You can easily download it from its official website on Mac, Windows, iOS, Android Linux, and many more. It keeps no activity and connection logs.
---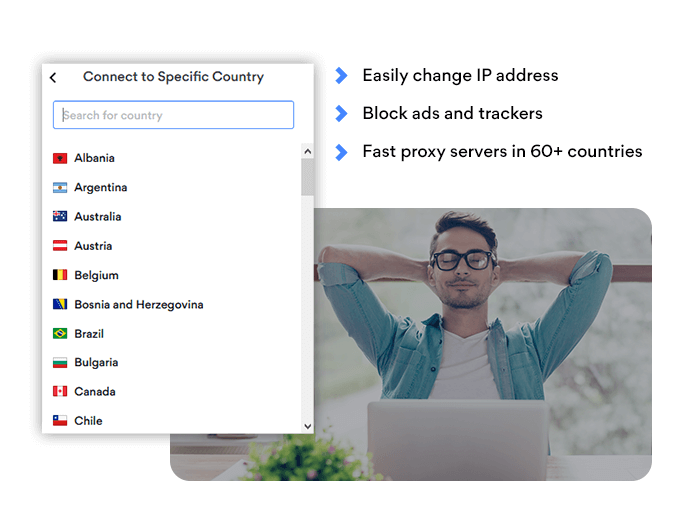 NordVPN is among the best Mozilla Firefox extensions with incomparable security of internet connectivity which not only spoofs your whereabouts but encrypts your traffic as well. With this extension, you can have access to content from anywhere with lightweight privacy.
It hides your location and IP address so that you can access the content from anywhere around the globe. There are 5000+ servers available in 60 countries with no connection logs and no activity logs because it inactivates Firefox's WebRTC protocol.
Not only it protects your privacy but NordVPN also blocks intrusive ads with its distinctive CyberSec feature. CyberSec blocks suspicious and doubtful domains to stop malware from contaminating your device. It provides live chat sessions and email services to make sure the users get instant help.
It offers 4 different plans with different pricing to meet the distinctive needs of the customers. Each plan comes with amazing features.
---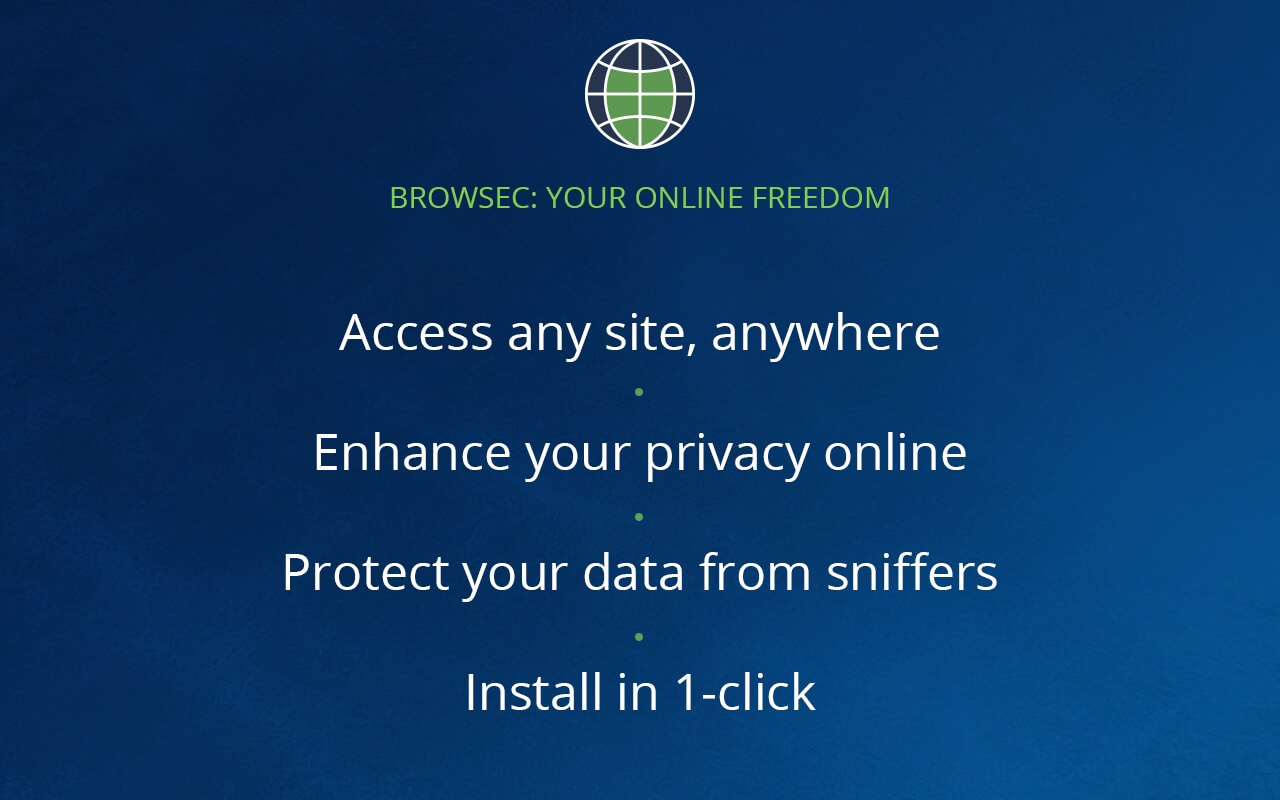 With Browsec VPN, you can protect your data, access any site at any time and from anywhere. It does not require any registration or hidden charges, you can install it effortlessly with just a click.
It gives continuous safety and support for your mobile with encryption of all traffic. This extension is compatible with Android as well as iOS devices and allows you to access content regardless of any geographical limitations.
Not only this, but you can also enjoy high-speed internet up to 100 Mbit/s with Browsec VPN. You can have a virtual location to mask your actual one.
It has some other amazing features such as anonymous browsing, secure browsing while traveling, and many more. Browsec VPN is a free extension but it also has a Premium plan which can further boost your internet surfing experience.
Features of the Premium plan include turbo speed, premium locations, and premium best-in-class servers.
---
🌍 Firefox Add-ons & Extensions for Translations
Translation add-ons assist you to translate any word or phrase or webpage instantly and securely. These are the free Firefox extensions for translation you must have.
You get access to multiple languages anytime from anywhere. They put forward some amazing features and some of the most common add-ons are mentioned below.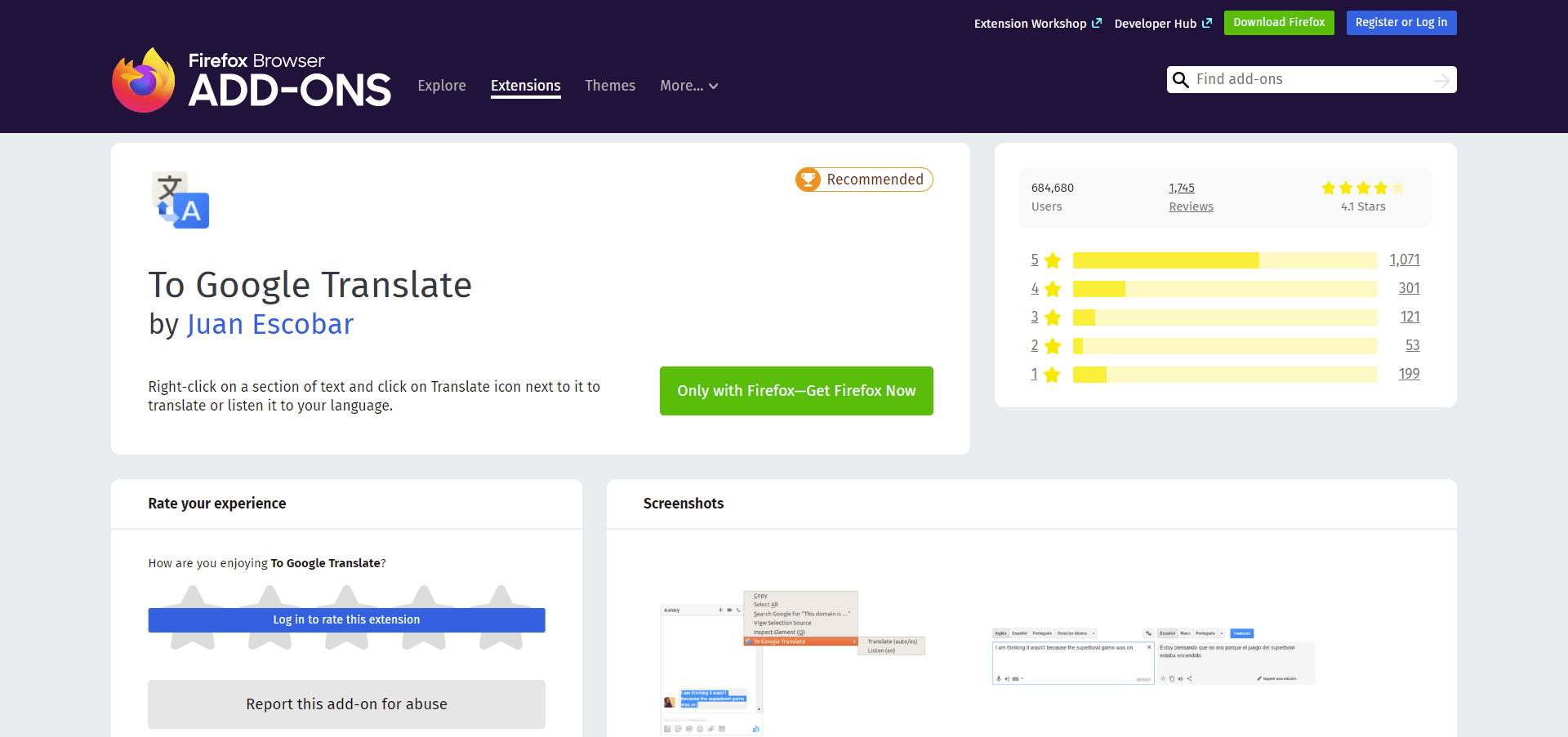 To Google Translate is an extension that is available for Mozilla Firefox creating one context menu item in Firefox. It is very convenient to use and provides you with the easiest ways to translate anything you want into any language.
You can easily translate any text by simply selecting the text and then clicking on a menu item. The recently selected text will be sent to Google Translate for translation or to Google TTS in case if you want to listen to a particular word or its pronunciation.
With this add-on, you also get an option to set default languages for translation on the options page. The privacy policy of this add-on is that it forwards user highlighted text to translate.google.com, containing the specified language.
You can also test this add-on in Firefox web-ext. Web-ext. can be downloaded with the Node Package Manager. To Google Translate can be downloaded from GitHub.
---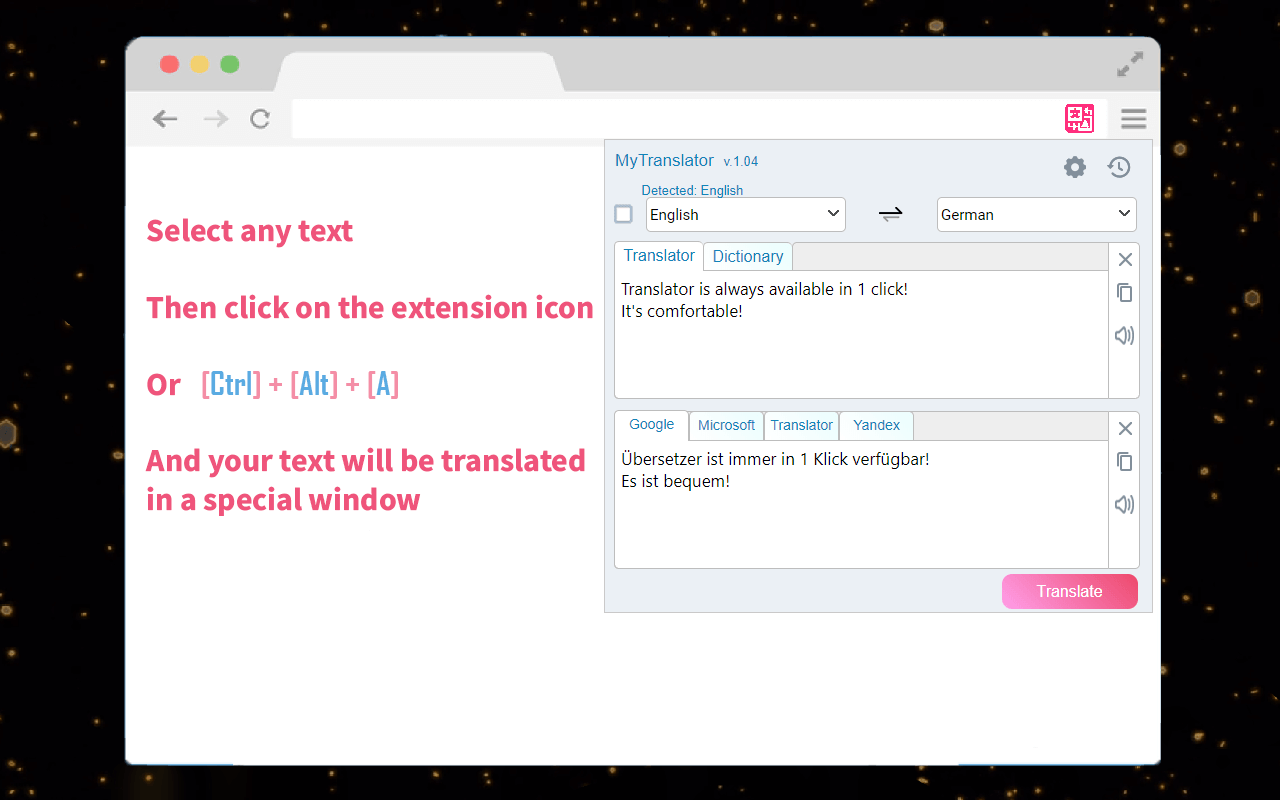 The Translator is a modern yet powerful extension that translates any language for you and it has some spectacular features. You can select up to 5,000 characters long text, words, phrases, and webpages for translation.
It has 100+ languages with 3 different translators that are Google, Microsoft Bing, and Translator itself. It has certain transfer applications such as Inline Translator, General Pop-up, Pop-up Bubble, Webpage Translation, and Dictionary.
Since it translates words using a dictionary, its authenticity cannot be questioned and you can completely rely on the translation. Along with user interface localization, you can also disable the pop-up icon in the extension settings by clicking the Pop-up Bubble tab and unchecking the 'Show Translator's Button'.
It can also translate the whole webpage, does text scoring for 30 languages, saves your history of translation, and perceives language automatically.
It does the selection and formation of keyboard shortcuts and gives you complete customization of each translation application.
---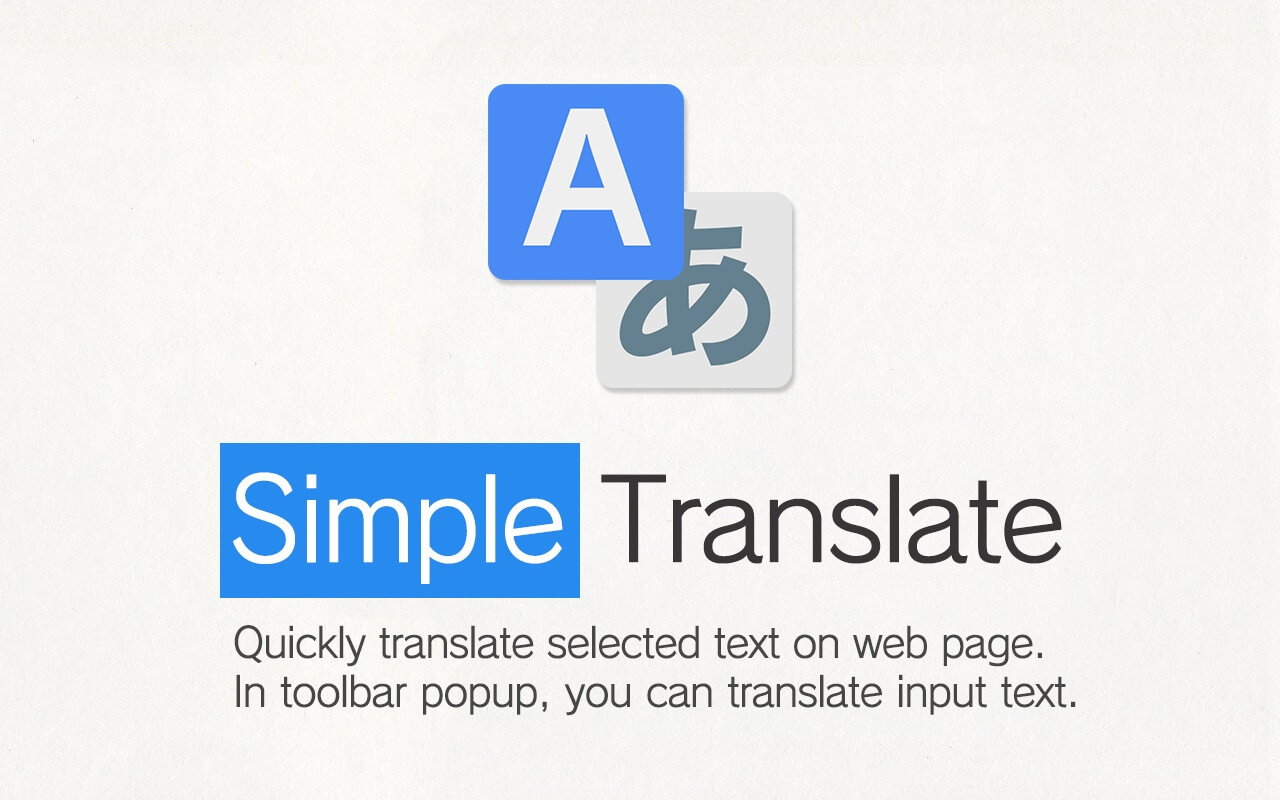 Simple Translate is another useful Firefox add-on that quickly translates your targeted text on the webpage. You can also use its toolbar pop-up to translate input text easily.
It displays the translation of your selected text instantaneously with the translation button that appears when you select the text.
With Simple Translate, you can also disable the translation button if you do not need the translation. You can enable the 'Automatically Switch to Second Language' icon to translate the input text within no time.
The Simple Translate add-on also allows you to input any language and it will automatically translate it into other languages.
It also allows you to translate from the context menu by selecting 'Translate this page', 'Translate selected text', and 'Translate selected link' from the menu on the tab or page. By doing so, you can easily translate the whole page on the web.
The recommendation is to increase the translation waiting time so that the add-on does not become unusable due to the specification change of the translation API.
---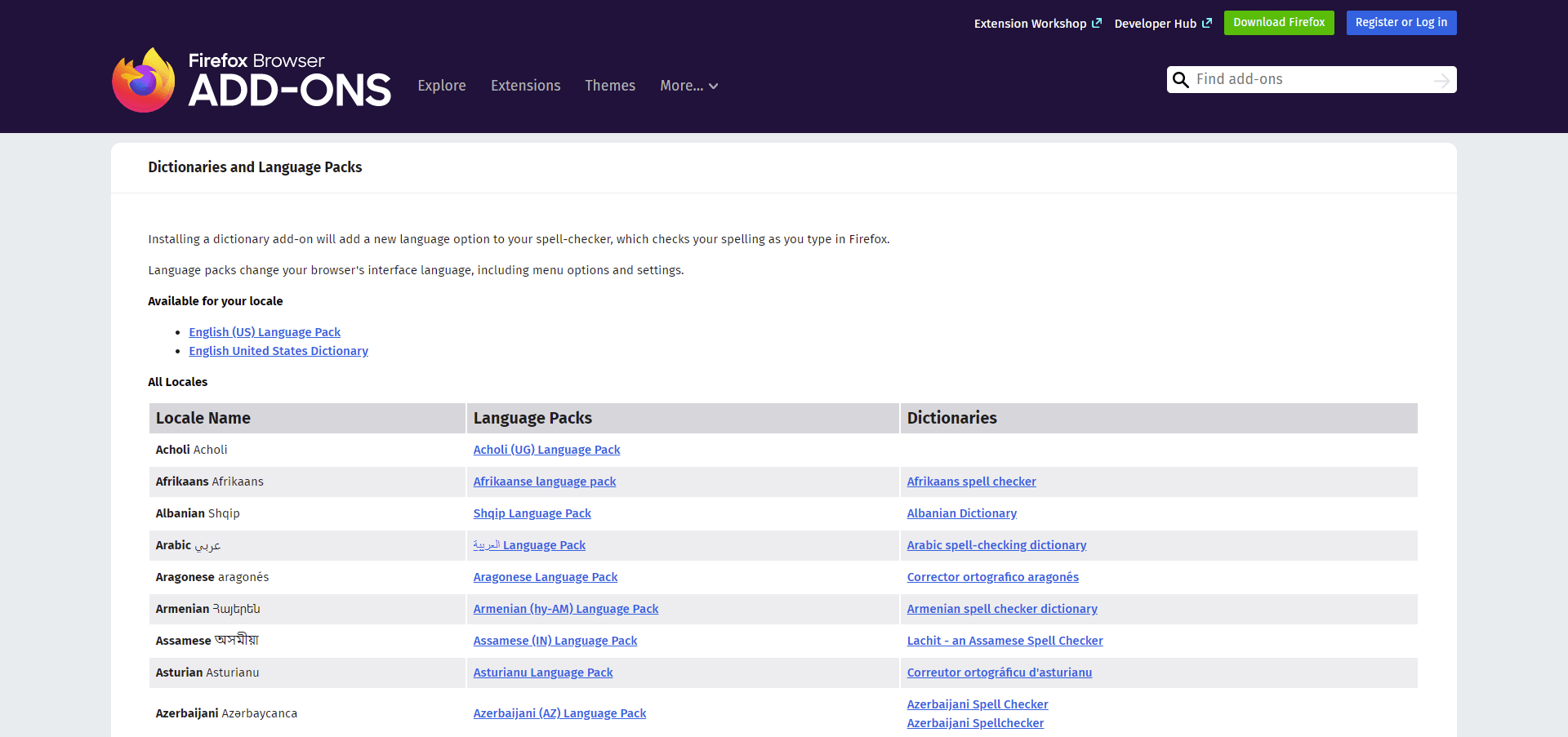 It changes the whole language interface of the user in the Mozilla application. For instance, you have an application that is in English and you want to translate it into French, you just have to download French Pack and switch the user interface to French.
You can assign a different user-interface language to each profile, command, or icon that you use to start any Mozilla Firefox application by installing the language pack. There are some limitations to this add-on as well which you need to keep in mind.
This extension does not apply to the content of emails or webpages. It also does not check the spellings, for that, you have to download the dictionary. You can install this add-on from the Mozilla Firefox add-on page or the Thunderbird website.
If you are installing it from Thunderbird, do not open the XPI file instead just open the Thunderbird Extensions or Add-ons window and drag the link from your browser.
---
🔒 Firefox Add-ons & Extensions for Passwords
Keeping your logins safe and your passwords protected, these best Firefox extensions are handy and helpful. With password add-ons, you are only required to remember Master Password.
All passwords of your accounts are secure in these extensions. They provide amazing features with easy downloads and some free Firefox add-ons are mentioned as under.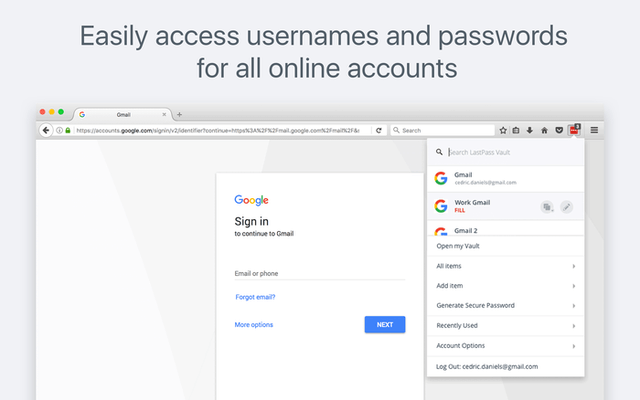 LastPass is a powerful password manager, with a free Firefox extension allowing your browser to remember your passwords for you. It also helps you to establish strong passwords for your accounts and makes logging into your sites easier and quicker, with many more benefits.
It makes synchronization between your desktop and laptop, between your computer and smartphone, between your tablet and web, to set you free from the hassle of remembering passwords.
LastPass is a free extension for Firefox that is easily downloadable from the Firefox Add-ons Store. However, LastPass also offers Premium plans that add more features for password management and security.
It saves and syncs your data with secure log-ins and safe offline access to your data. You can protect your LastPass account with multifactor authentication with flexible security features such as auto log off options and master passwords prompts.
Your sensitive data is stored in an encrypted manner which is never visible to LastPass in its unencrypted form. There are some other amazing features to ensure your privacy.
---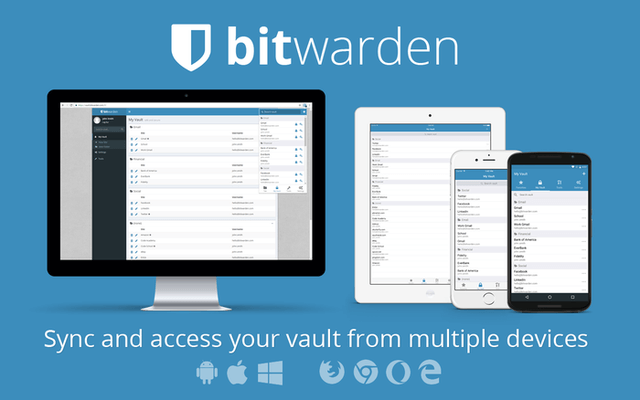 Bitwarden is one of the free Mozilla Firefox extensions for you to save all your passwords and logins. It also keeps your data synced between all your devices. The websites you visit and the sites you open every day are in danger of password stealing.
Your passwords are being stolen and security breaches occur all the time and hackers can hack your passwords if you use the same password for every website or app. They can easily access your emails, bank accounts, or any other vital account information.
Security experts and professionals recommend using different passwords for each website and app but it is difficult to manage the passwords altogether. For this reason, Bitwarden is the easiest and safest password add-on to have on your desktop.
It saves all your passwords and data which is sealed with AES-256 bit encryption, salted hashing, and PBKDF2 SHA-256. It is 100% open-source software.
---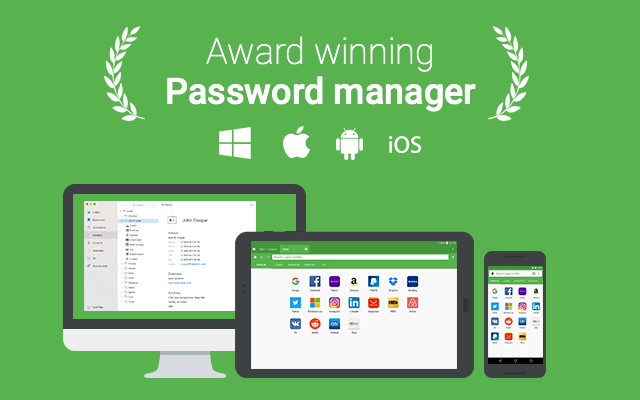 If you are used to forgetting your passwords, RoboForm is the password extension for you. You are only supposed to remember your one Master Password and the rest will be handled by RoboForm.
It contains bookmark style logins that automatically log you into your favorite website.
It has a special feature that is the Matching Logins feature that can conveniently handle multi-step logins. RoboForm gives you a safe and secure password system through which you can save, view, and edit your Logins, Bookmarks, Identities, and Safenotes.
You can synchronize your RoboForm data with multiple computers and mobile devices along with ease to fill the long web form with just a click, protected sharing, and export to CVS file.
It enables you to enjoy the built-in search feature for easy search Logins and some other multiple features. This add-on will function in standalone mode when RoboForm is not downloaded.
---
🎨 Best Firefox Themes and Skins
Mozilla Firefox offers thousands of free themes and skins to enhance the look as well as the feels of your browsers. There are dark as well as light-colored themes that add a variety for you to choose that best suits your taste.
It's important to try different themes because you might get bored with the typical browsers. These themes permit you to customize the appearance of your browser along with personalization of the address bar, buttons, menus, tabs, and window frame.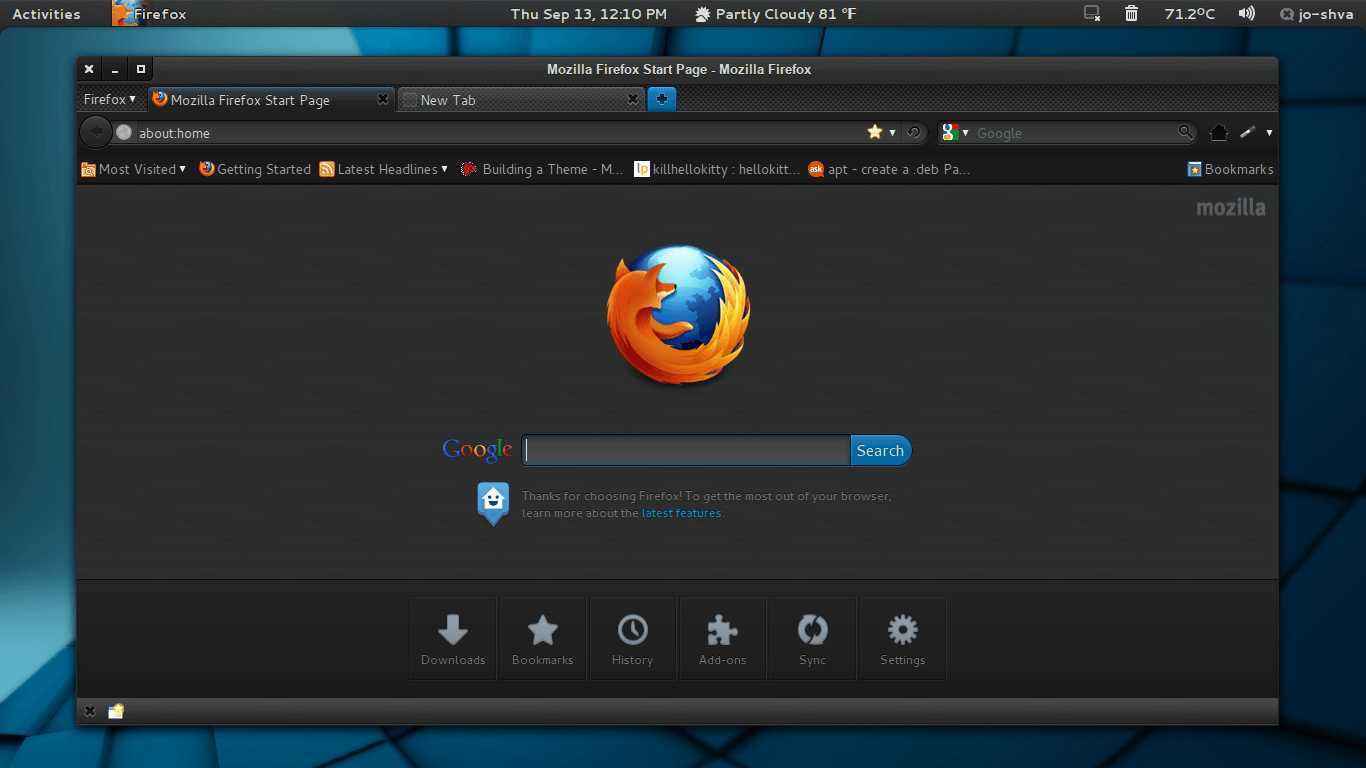 These themes and skins are very easy to install on your browsers. You just have to click on the menu bar, then click on the 'Add-ons' and select 'Recommendations or Themes'.
After that, you just need to scroll and search through the themes and click on the 'Install Theme' option.
The following are some of the best themes for your Firefox browser.
Dark Firefox Themes
Simple/Colorful Firefox Themes
---
Other SaaSy goodness on All That SaaS: