Each day we are looking for ways to increase efficiency and understanding of work and increase learning standards. The easiest way to do increase knowledge for businesses, education departments, and of course creative establishments, is through screen recording software.
Bearing this process in mind, over the past years, the marketplace has been flooding with tools that push screen recording. For businesses, it is easier to makes sales demos and pitches to make new possibilities.
It is also a great way to help show new employees how to use internal tools, by screen recording and sharing.
Universities and other educational institutes around the world and have been using screen recording software to record lectures, especially since COVID-19 has hit the world. However, these images are still and have to be edited to create a printable or online tutorial.
Below are a few screen recording software reviews that might be beneficial to you.
The Best Screen Recording Software in 2023
Supported Platforms: Windows, Mac, Linux
Price: Free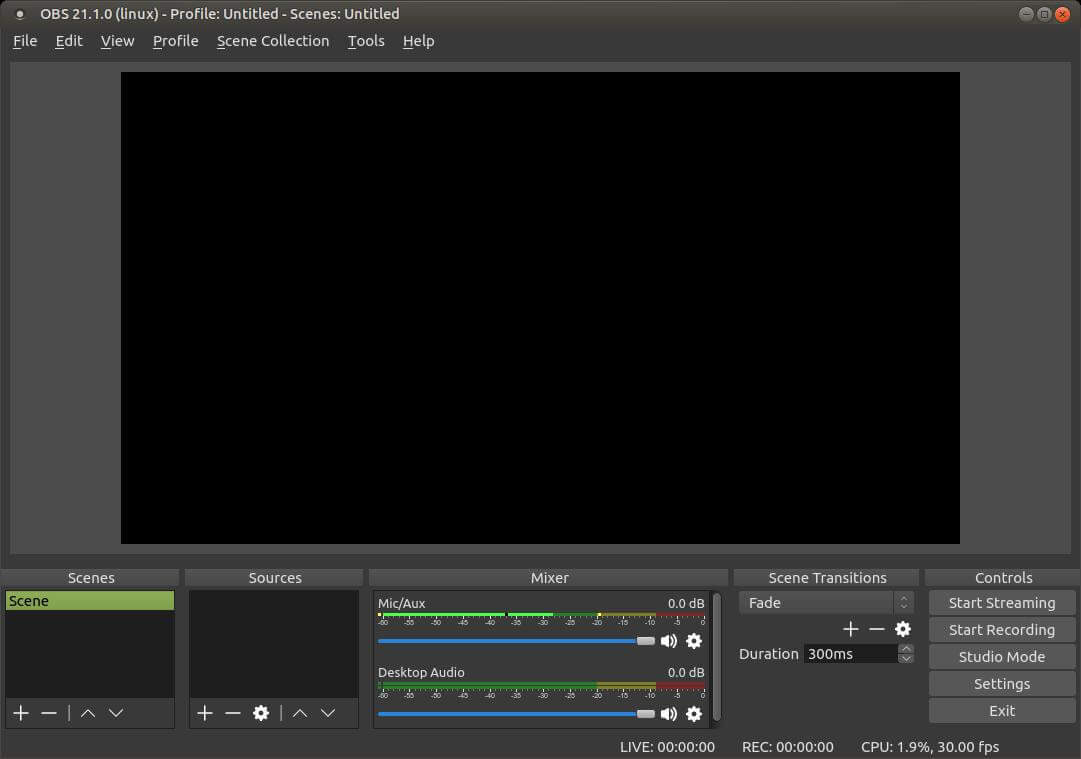 An open-source solution, Open Broadcaster Studio, is the best free screen recording software solution for game recording and live streaming. This software has been designed in such a way that several sources and mix them up to craft a seamless broadcast.
It allows the user to record from their webcam and microphone.  However, it also allows the user to include existing videos, captured scenes from the whole or part of the screen, and even add in material from gameplay.
Simple and easy to use, OBS provides top-notch recording quality for users from both commercial and non-commercial backgrounds. Since it provides a cross-functional platform, we think it is one of the best free screen recorders available online.
Key Features
OBS gives and performs with high consistency capturing and mixing real-time videos and audios.
Users can create scenes generated from multiple sources such as; window captures, images, text, browser windows, webcams, capture cards, and much more.
Customs transitions feature allows the user to switch between unlimited numbers of scenes smoothly.
It has an intuitive audio mixer, which has per-source filters including a noise gate, noise suppression, and gain.
It allows users to be able to take full control with VST plugin support.
Simple and strong configuration options are available that add new Sources, duplicate existing ones, and accustom properties seamlessly.
Users have access to multiple video source filters and themes.
Pricing
OBS Studio is free to use.
---
Supported Platforms: Windows
Price: Free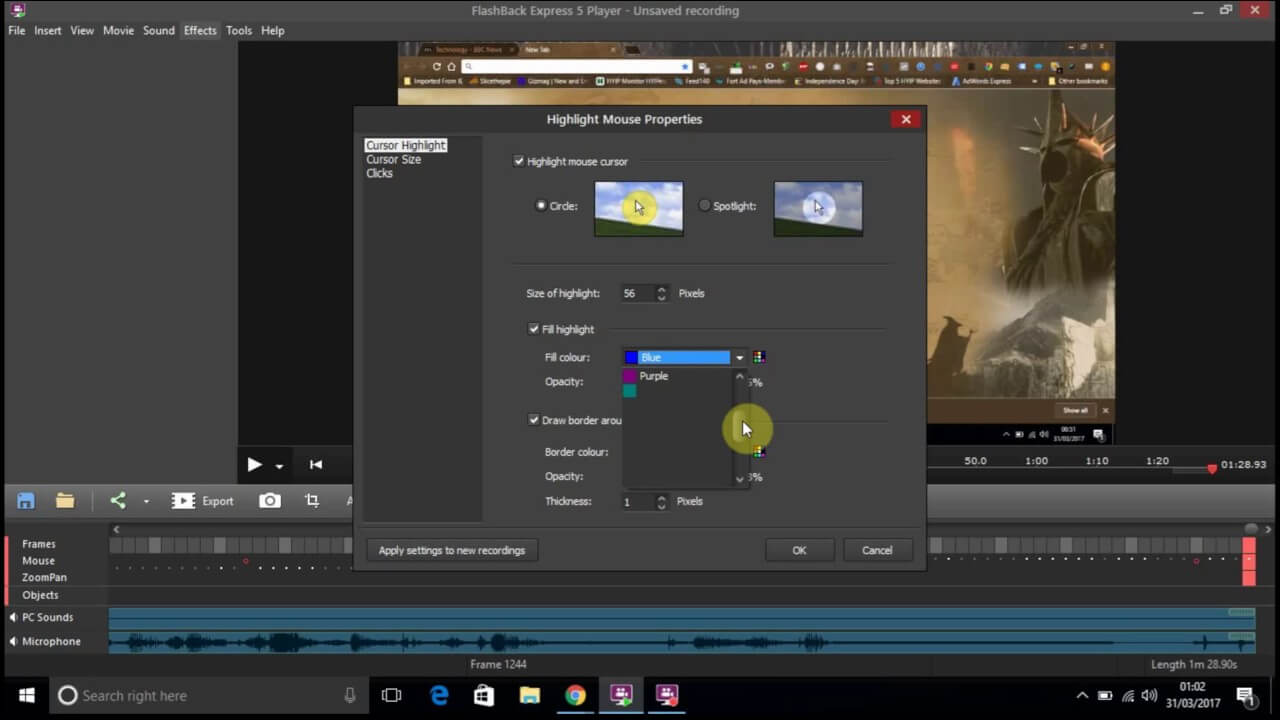 FlashBack Express is a free screen recording software that is adaptable and simple to use. It is possibly the best screen recording software for Windows 10.
This free screen recorder allows the user to schedule their recording, allowing them to capture the screen at a particular time and date.
The user doesn't have to capture the shots by starting the recording themselves or by launching a game or another program. They can also schedule the program they want to use. A stop timer can also be set when you need the recorded to automatically stop.
FlashBack Express has implemented added choices such as; the ability to customize the resolution while recording, hide icons, limit the file output size for your recordings, and use a plain desktop background.
It also lets the user determine the settings of the recording quality or allow FlashBack Express to make them.
Key Features
The FlashBack screen recorder makes a recording of any part of the user's screen, then turns it into a video format.
Video can easily be edited, add notes, images, and sounds for a more professional look.
Easy and simple uploading straight to YouTube or FlashBack Connect.
Record from; a window or region, audio from mic/speakers, and webcam.
Users can save their video files to all major formats.
Schedule recordings, can multiple monitors with high-performance recording
Watermarks can be added for content protection.
Pricing
FlashBack Express is free to use.
---
Supported Platforms: Web, Windows, Mac, Android, iOS
Price: Free. Apowersoft Unlimited: $59.95/year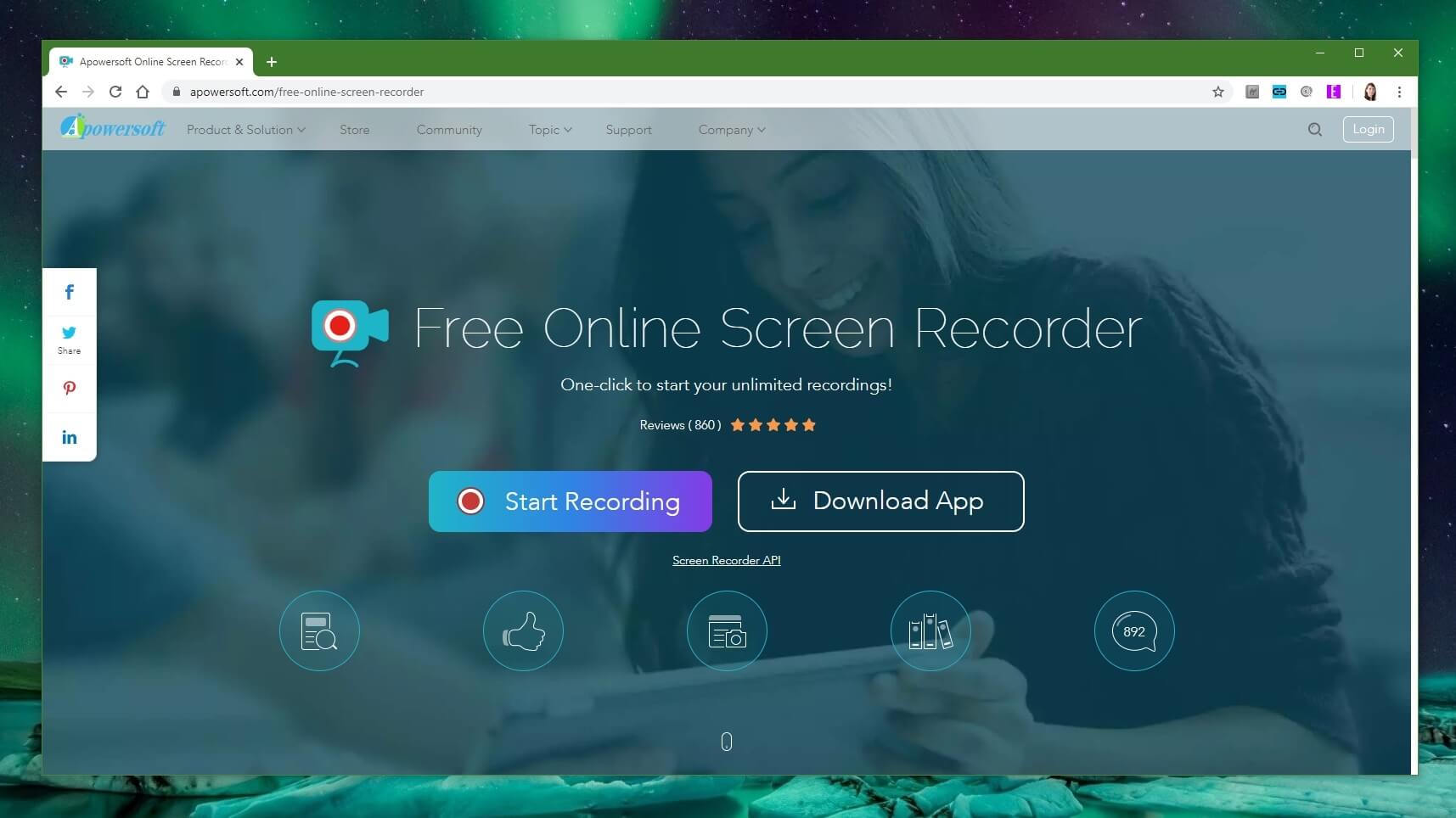 Everyone who works in content needs the best screen recorder that doesn't have a time limitation, with good quality audio and no lagging. Apowersoft is the best screen recorder for Android and the best iOS screen recorder.
Apowersoft is a free web-based screen recorder, which fulfills a user's screen recording needs flawlessly. It has an intuitive interface and allows audio recording for a video from a microphone and sound system.
Even though a launcher has to be installed for it to be used, it doesn't require a Java Applet. After installation, the user can record the screen online without any limitations later on.
Below are the steps to use Apowersoft:
Download the screen recording launcher from the website and install it on your PC/Mac
Click Start Recording on the website and the online recorder is activated
Set the recording mode and region, then begin recording
The video can be saved to the local disk drive or uploaded to RecCloud, YouTube, and more
Key Features
Since this screen recorder is web-based no software has to be downloaded and can be operated online from the web.
There are various output formats. Users can export videos to MP4, WMV, AVI, FLV, MPEG, VOB, ASF, and GIF
All sorts of activities can be recorded on the screen, such as; video stream, self-demonstration, live chat, and much more.
Aesthetically pleasing design interface that is simple to understand and easy to use.
Not only can the user record anything from the screen, but there are also no limitations on how long the video can be.
Apowersoft has a flexible screen capture feature that can be customized before recording. A particular region of the screen can be selected to be recorded or the whole screen can be selected.
The videos can be stored in the local drive and uploaded to the user's desired cloud storage.
Pricing
Free: Apowersoft's screen recording software is completely free to use, with no time limitations, paywalls, or watermarks.
Unlimited Premium: for $59.95. The product includes; ApowerMirror, ApowerREC, ApowerShow, ApowerEdit, ApowerManager, Apowersoft iPhone/iPad Recorder, Apowersoft Screen Capture Pro, Streaming Audio Recorder, Screen Recorder, Video Converter Studio, Apowersoft Photo Viewer, etc.
---
Supported Platforms: Windows, Android, Mac, and iOS
Price: Free. Premium version for $39.95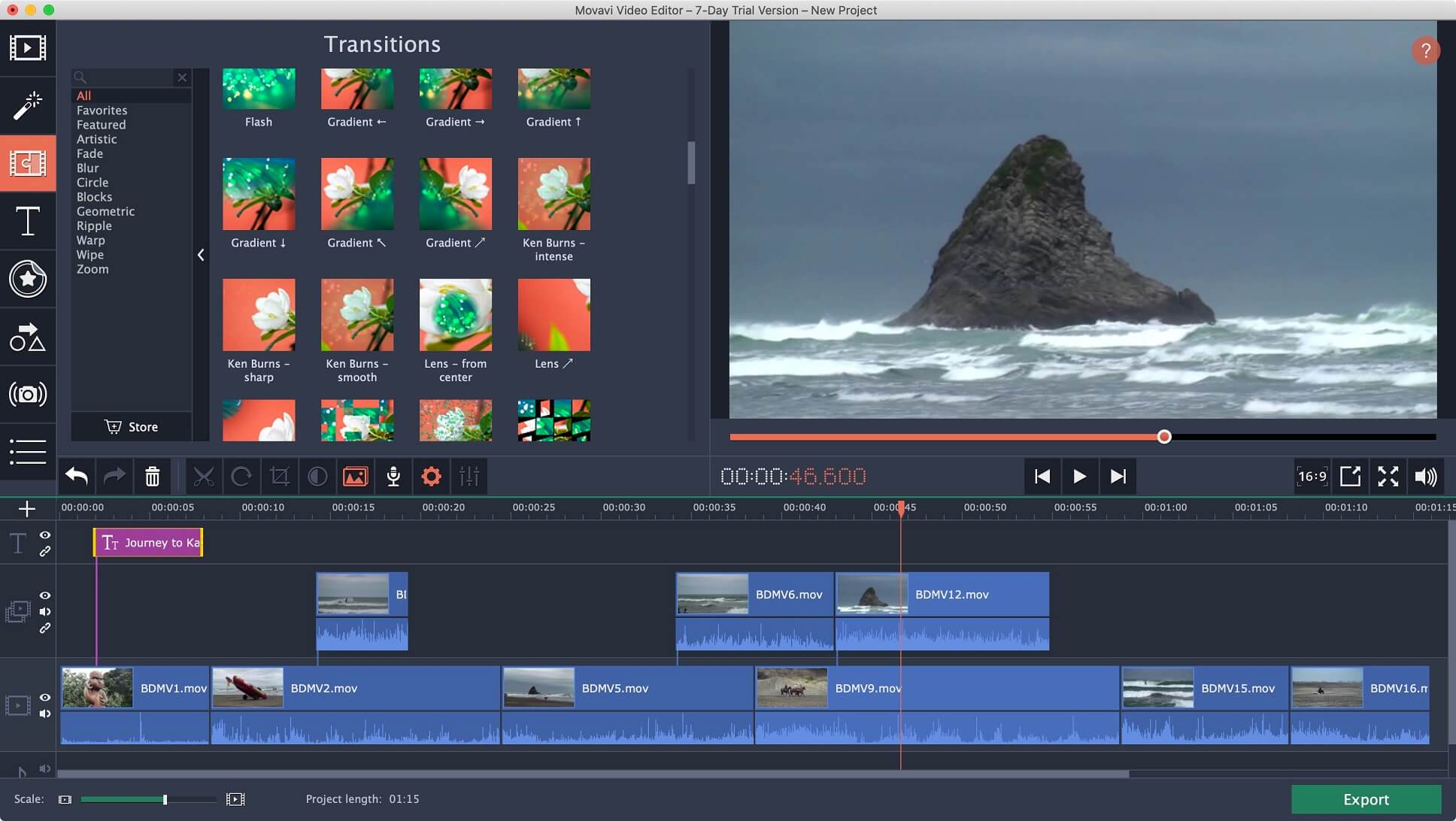 Movavi Screen Recorder is made for seamless, easy-to-use professional editing. With Movavi, you do not have to be a professional editor, nor an expert to use the software. Movavi Screen Recorder is one of the best screen recording software that the industry has to offer.
This program manages to capture a user's computer screen and also has video editing features. It is a fantastic alternative to a video editor as well. Pre-recorded videos can be added and edited, exported, and then uploaded to the chosen social media networks.
This is the best screen recorder for PC and below are the steps to use it:
Recording parameters need to be set up. The capture area then gets chosen and adjusted according to the recording settings.
Start recording the desktop by grabbing the REC button.
The file can be edited by using simple to use editing tools and give your recording the professional look. The file can be saved in any format.
Key Features
Create screencasts by using the recorder as a video screen capture.
Schedule a recording by choosing the date and time for the recording to start, along with the time limit that can be set for the capture.
Separate streams can be captured, by recording screen and audio at the same time or separately.
Screenshots can be taken and edited, all while adding graphics and annotations.
Shortcuts can be personalized to control the recordings of how the users choose.
Videos can be converted with a super-speed tool.
Uploading can be done to YouTube and Google Drive in record time. Sharing links can also be sent to other people.
Pricing
It offers a free version with not many features.
The premium or paid version is for $39,95 and the features it allows are; system sound recording, no screenshot editing, watermark on the output videos, add a description or tags to the video before sharing it on YouTube.
---
5. Bandicam – Screen Recording for Windows
Supported Platforms: Windows
Price: $39 for a lifetime license (1 device)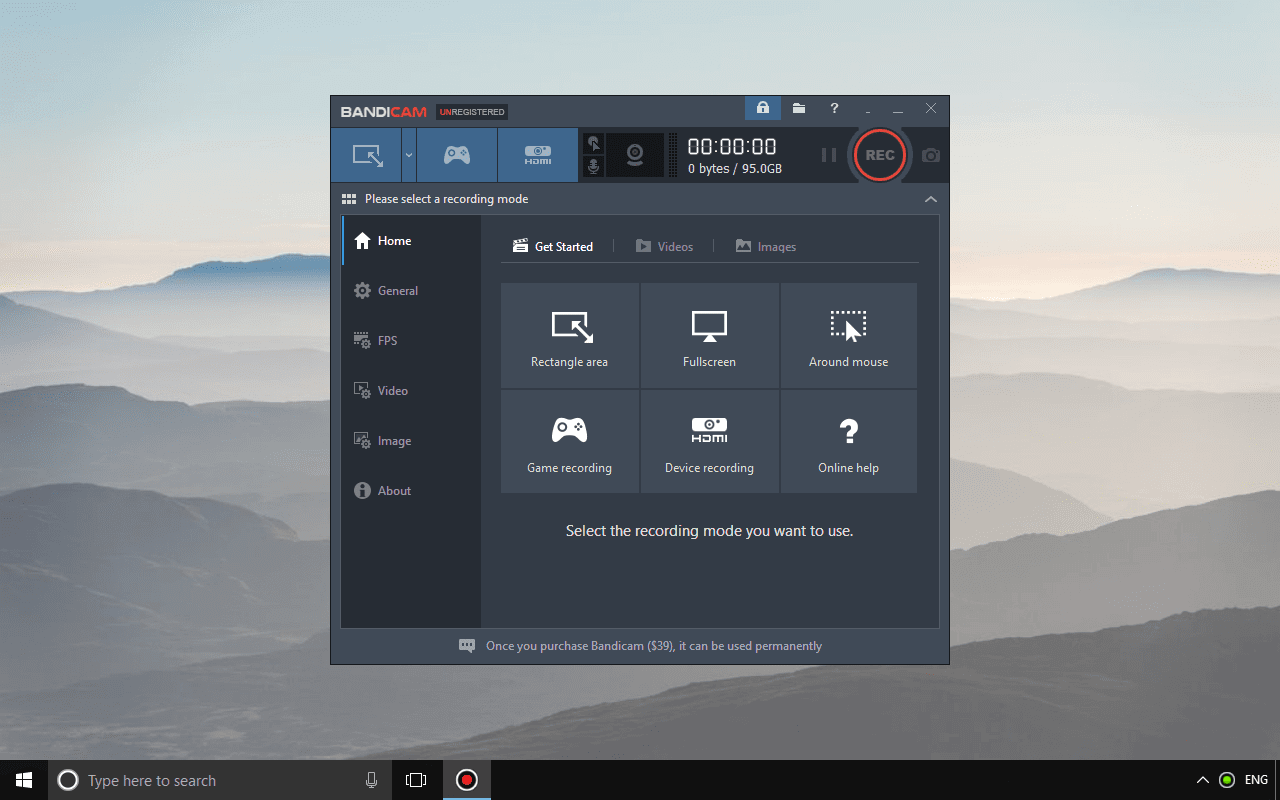 A bit of a lightweight but also one of the best screen recording software for Windows, Bandicam provides nothing but top-notch features. It can capture anything on the screen and record a particular area on the PC screen, making it one of the best screen recorder for PC.
Bandicam can also capture a game using the DirectX/OpenGL/Vulkan graphics technologies. It will also help the user complete a screen capture through a high compression ratio.
The wonderful part is that it doesn't compromise the quality of the original work, and it helps enhance it.
Computer screen recording software should be easy to customize with production, which is so with Bandicam. After a recording has been completed, the data can be saved as screencast video files (MP4, AVI) or image files.
It also captures the recordings of 2D/3D games with 4K UHD videos at up to 480 FPS.
Key Features
Users can draw and outline their real-time video or screenshot.
Users can also add webcam video of themselves on the video that is recording.
Recordings can be scheduled to start at a particular time on a daily or weekly basis.
As a person is recording the system audio, they can record their voice at the same time.
The mouse click effect and animation can also be added while recording.
While the user records their computer screen, they can make a chroma key video in real-time.
This software allows the feature to record external video devices such as a webcam, Xbox/PlayStation, smartphone, IPTV, etc.
Pricing
Bandicam is available with a one-time payment of $39 for your PC. However, bulk discounts are available for multiple devices, starting from 25% for 2 devices, going up to 40% for 20 devices.
---
6. Screencastify – Best Screen Recorder for Chrome
Supported Platforms: Chrome
Price: Free. Premium: $49/year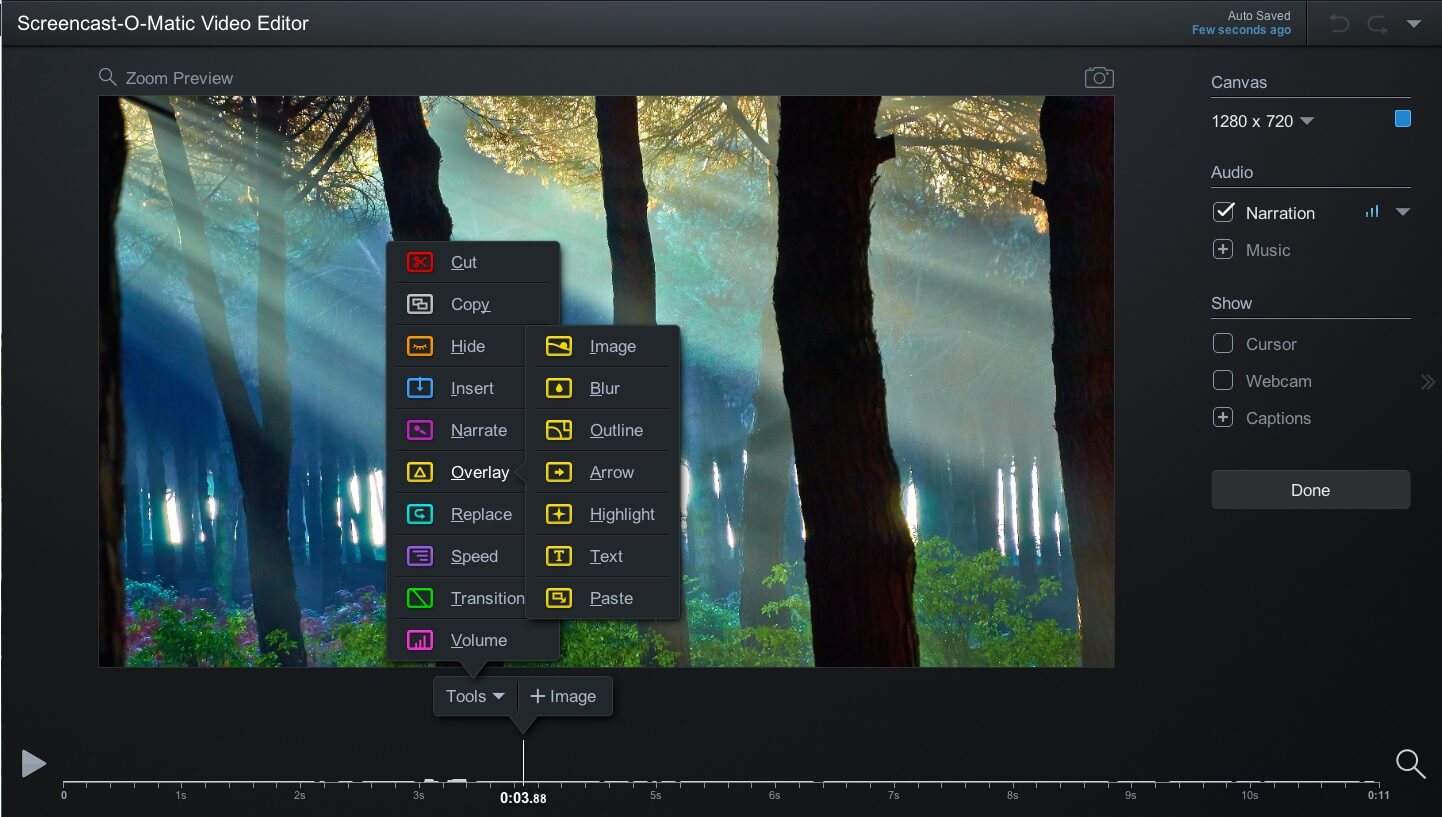 If you are looking for the best screen recorder that is easy to use and doesn't come with a mother-load of editing features, then Screencastify is the one for you. Instead of editing options, it has an uncluttered version of the desktop recording and video sharing interface.
As a Chrome extension, Screencastify takes up to two minutes to install. Once it is installed, the user can choose to enable or disable the webcam, microphone capture and just click Record. The plus point is that it can also capture a video outside of your window browser.
The Screencastify toolbox is available at the lower-left corner of your browser that has the cursor settings and the paintbrush that annotates content in the Chrome window. Even though it is just an extension of one of the top-notch free screen recording software with perks.
Key Features
Easy to understand and simple to use, no major set up hassle.
It is a free Chrome extension that is operated directly from the browser.
There is no internet require and the user can record offline.
Keep the audience engaged by using the annotation tools, such as; mouse spotlight, drawing pen tool, click highlighting.
Set up the recordings to be AutoSaved to Google Drive.
User can immediately share their generated Google Drive link, and upload the video directly to YouTube.
The files can be exported in an MP4, animated GIF, or MP3 format.
Pricing
Free: Users can create free for videos up to 5 minutes each, Record screen and webcam, trim your videos, autosave to Google Drive, export as MP4, GIF, and MP3, full HD resolution, no watermark, annotation tools, publish to YouTube. This is the best free screen recording software for YouTube videos.
Premium: $49 per year with features; unlimited recording length, merge videos and reorder clips, crop your recordings, add text over clips, priority support, and all free plan features.
---


RecordCast is an all in one tool for screen recording and video editing that helps everyone create professional-looking videos starting from recording the screenshot in just a matter of a few minutes.
You can cut a clip from your video quickly and make it far more dynamic with the combination of dynamic text and background music. With RecordCast, you can record online courses and lectures; record video tutorials; present remote studies; improve your business communication, etc.
Key Features
Completely free of charge.
Record your computer screen with a webcam easily.
Control your video clips and photos easily on a clean storyboard.
Split your videos with powerful tools.
Combine or merge multiple videos and photos into one single video.
Many handpicked text animations at your fingertips.
Edit text color, font, size, alignment, etc. quickly.
Place a logo anywhere in a video.
Drag favorite background music to the video.
Save your video under your account for further editing.
Video output resolution options include 480P, 720P, and 1080P.
Pricing
RecordCast is a completely free screen recording software.
---
Supported Platforms: Windows, Chromebook, Mac, iOS
Price: Free. Deluxe: $1.65/year. Premier: $4.00/year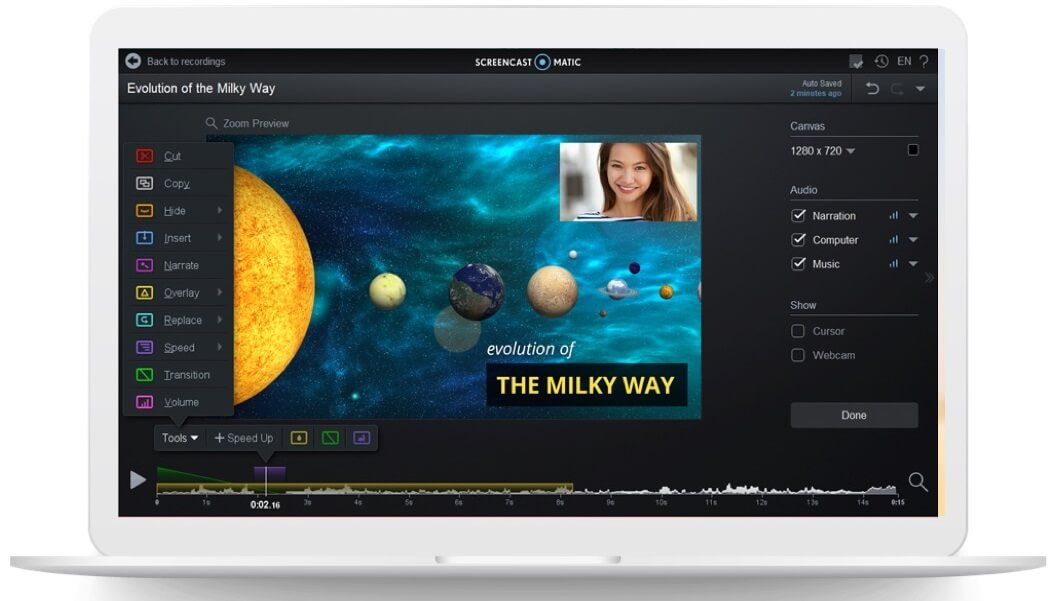 Screencast-O-Matic is the best screen recording software for Mac and the best screen recording app for iPhone. Known to have an easy-to-use video editor and of course screen recorder, even a novice can make incredible videos with the use of Screencast-O-Matic.
It only takes a few minutes for the user to easily start recording their screen or webcam. They can even import their mixed clips and videos, and enhance videos using the perceptive video editor.  Fun animations can be created, text, shapes, images, auto-captions can be use and music can be imported.
The actual screen recording menu feels a little complicated to navigate. Nonetheless, ScreenCast-O-Matic is one of the few screen recorders that can record a Mac screen smoothly.
Key Features
Screens can be captured using a still image of the desktop, a particular portion of the screen, or even a specific window.
Videos can be captured by capturing the full desktop, or a particular portion of the screen, or even a specific window.
Users can edit and annotate screen images via the image editor tool.
Screens can be captured in full, all while scrolling down a page.
Text can be extracted from screen capture.
Video capture can be saved as a video, audio, or GIF file after it has been recorded.
There are many options for publishing and sharing files.
Pricing
Free: Unlimited screen recording, special effects added by the Deluxe plan, and Premier plan have all the features.
Deluxe: $1.65/year billed annually; advanced recorder and video editing, easy video editor, record computer audio, import narration and music, scripted recordings, draw and zoom, screenshot tool, create captions with speech-to-text, green screen filter.
Premier: $4.00/year billed annually; video editing, plus personalized sharing, new! stock library beta, transfer iPhone/iPad & Android, videos to the editor, secure backup for recordings, branded ad-free site, advanced sharing and collaboration, video playlists using channels, add a password and set visibility, extra bandwidth, plus all Deluxe features.
---
9. ScreenFlow – Screen Recorder for Mac
Supported Platforms: Mac, iOS
Price: $129 for a lifetime license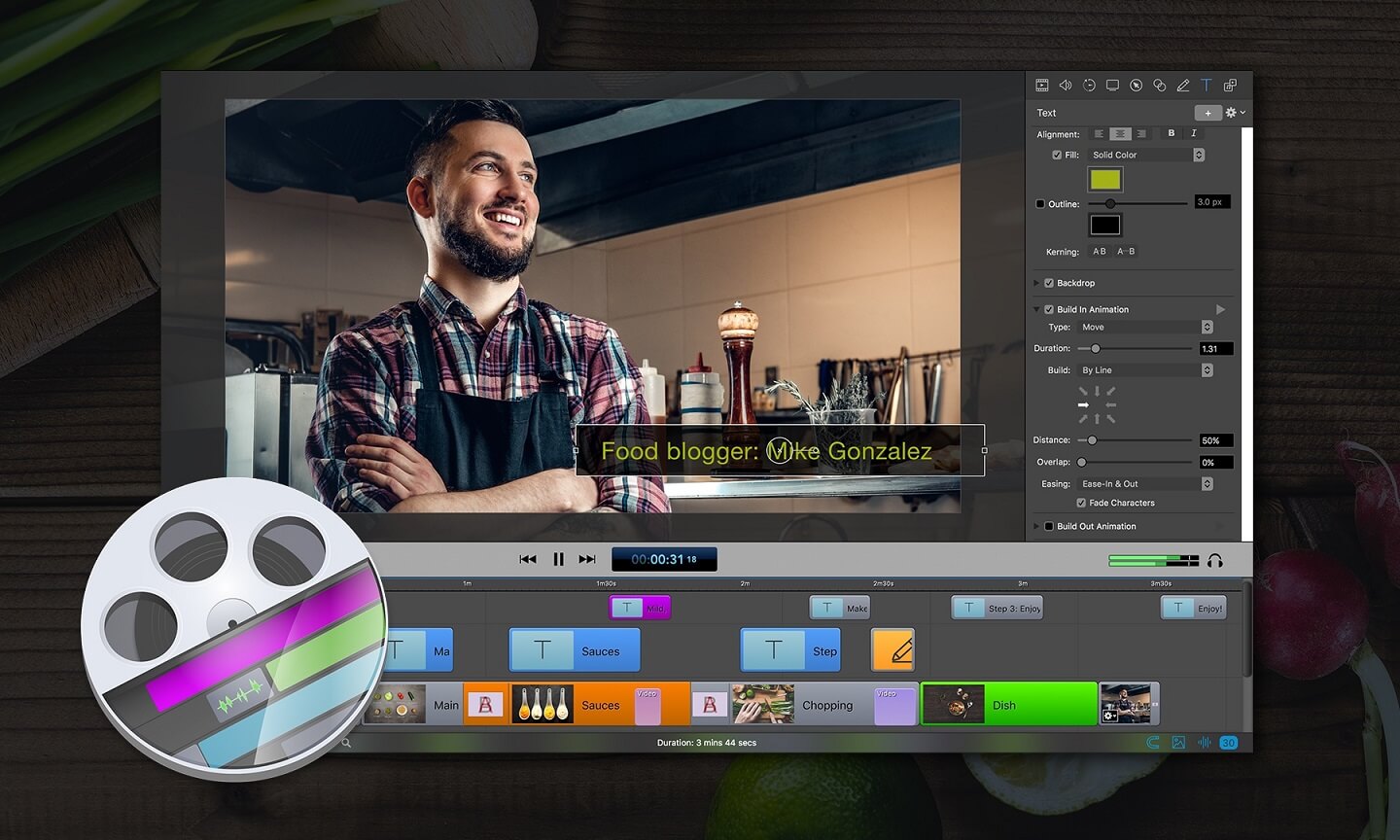 ScreenFlow by Telestream is one of those screen recording software that is deceivingly hi-tech. Even though it has a simple design, it has many features for a person to go through.
And one of the most prized tools is the stock media library, which has over 500,000 images, audio clips, and videos (some in 4k).
One of the features that stands out with Screenflow is its ability to record the desktop at retina resolution, which is a very high resolution. It also provides adequately good template options that in return decrease production.  This the best screen recording software for tutorials.
There are Styles and Templates tools, which allow users to group settings and video sections to be added in just a few clicks. The Styles tool lets the user save the audio and visual settings, and place design elements.
The Templates tool helps the user configure the whole video process professionally.
Key Features
Users can record multiple screens at once or using retina displays.
It has a built-in stock media library.
High-quality app demos can be created by recording iPhone or iPad screens. This is the best screen recorder for iPhone.
Users can easily animate graphics, titles, and logos with built-in video and text animations.
The UI allows an easy to learn and easy to use experience.
It has powerful editing tools for annotations, animations, and multi-channel use.
Promptly publish videos to content hosting sites like Imgur, Wistia, Youtube, Vimeo, and many more. This is the best free screen recording software for YouTube videos.
Pricing
Standard: $129 one-time payment, with features; high-quality screen recording, adjustable easy-to-use editing interface, create high-quality software or iPhone demos, professional video tutorials, dynamic presentations, corporate training, and much more.
Super Pak: $175 one-time payment; same features as the original plan, with the additional stock media library.
Super Pak + Premium Support: $209 one-time payment; same features as the above plans, with the additional premium tech support.
---
Supported Platforms: Windows
Price: 14-day free trial. License: $39.95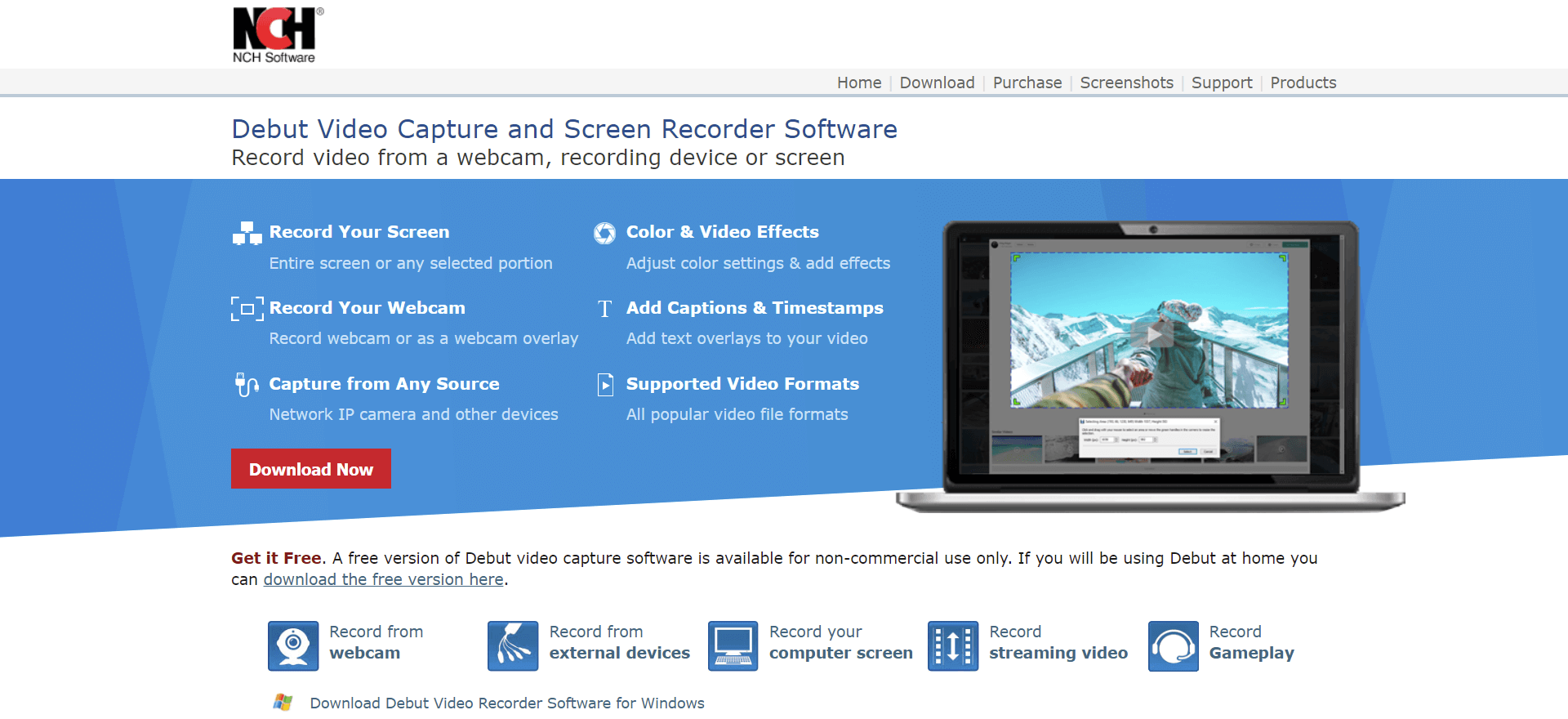 Debut Video Capture is a professional computer screen recording software. It allows the user to record a video on the PC using any image source, such as a USB video device connected to the computer.
For home use, this software is free and has everything a user needs to capture material from their screen. Video input sources such as webcam and security CCTV cameras can also be used. This is one of the best screen recording software for Windows 10.
These features are normally what customers expect from expensive premium types of software. Unfortunately, it is not designed for recording games, nevertheless, it is the real deal as a screen recording software.
Key Features
Users can record their whole screen or a particular selected portion.
Recordings can be done with a webcam or as a webcam overlay.
Screenshot capturing can be done from any source, network IP camera, and other devices.
Stylize the videos using color & video effects, and adjust the settings to these additional effects.
Captions, timestamps, and text overlays can be added to videos.
All of the popular video file formats are supported by Debut Video Capture.
Recording of a video can be done from a webcam, recording device, or screen.
Pricing
Home: one-time purchase of $34.99, unlimited use, only licensed for non-commercial use
Pro: one-time purchase of $39.95, full feature access
Pro Quarterly: billed $9.99 quarterly, unlimited ongoing use of all professional version features and all upgrades
---
11. ShareX – Free Screen Recording Software
Supported Platforms: Windows
Price: Free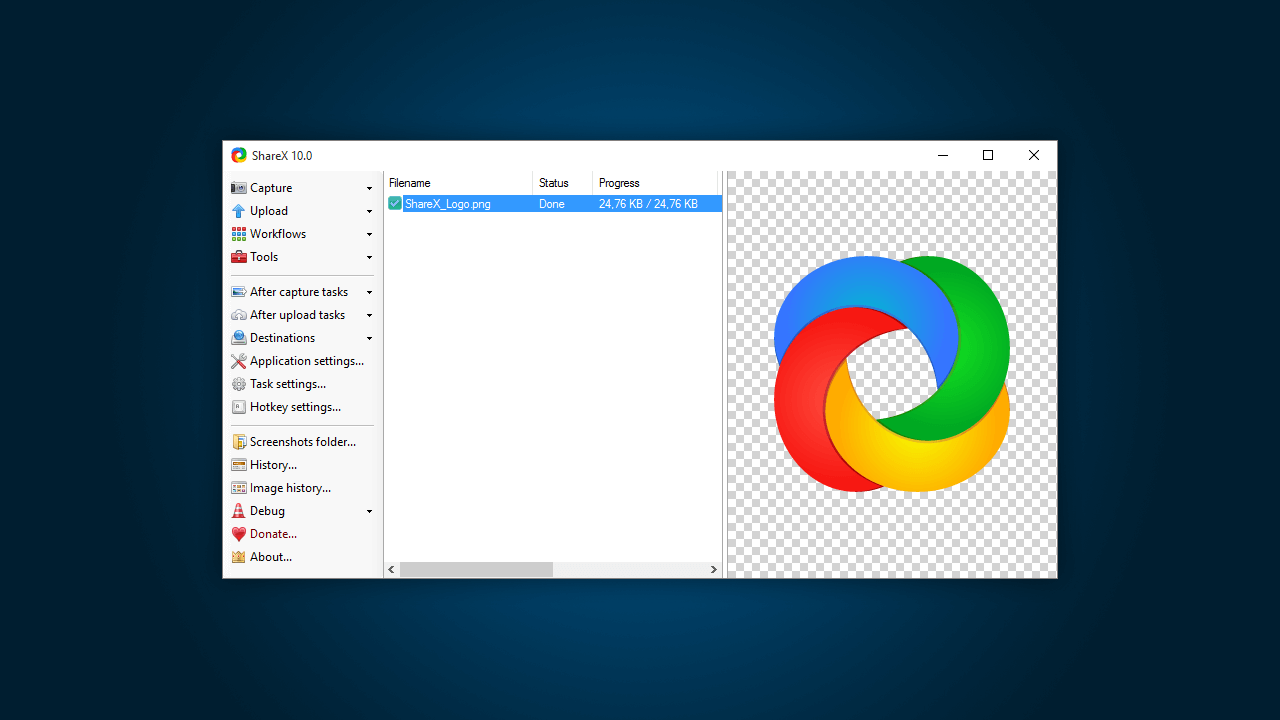 An open-source program that is free to use, ShareX is no lightweight when it comes to screen recording. It lets the user capture any chosen area of the screen and share it with one keypress. It took about nine years for ShareX to be actively developed.
ShareX allows uploading images, text placement, and other types of files that support over 50 destinations that can be chosen from. It is a free screen recording software, which has no advertisements making it one of the best screen recording software for Windows.
It has an easy screen capture feature that supports sharing to over 80 places.  ShareX also has customizable workflows. Users are also allowed to search the platform for stock images, saved screens, and video captures.
Key Features
Users have the feature of capturing the still image of the full desktop screen or even a particular portion of the window or screen.
Users have the feature of capturing the video of the still image full desktop screen or even a particular portion of the window or screen. Same as the screen capture but it is a video capture instead.
The image editor edits and annotates screen/video captures using markup and image editing tools.
The scrolling capture feature lets users capture the full screen whilst scrolling down the page.
Text extraction can be done from the screen captures.
Screen captures can be saved as a video or audio file, or GIF file.
Files can be saved on many platforms with numerous publishing options.
Pricing
ShareX is free to download and use.
---
Supported Platforms: Windows, Mac, iOS
Price: $249 for a lifetime business license (2 devices)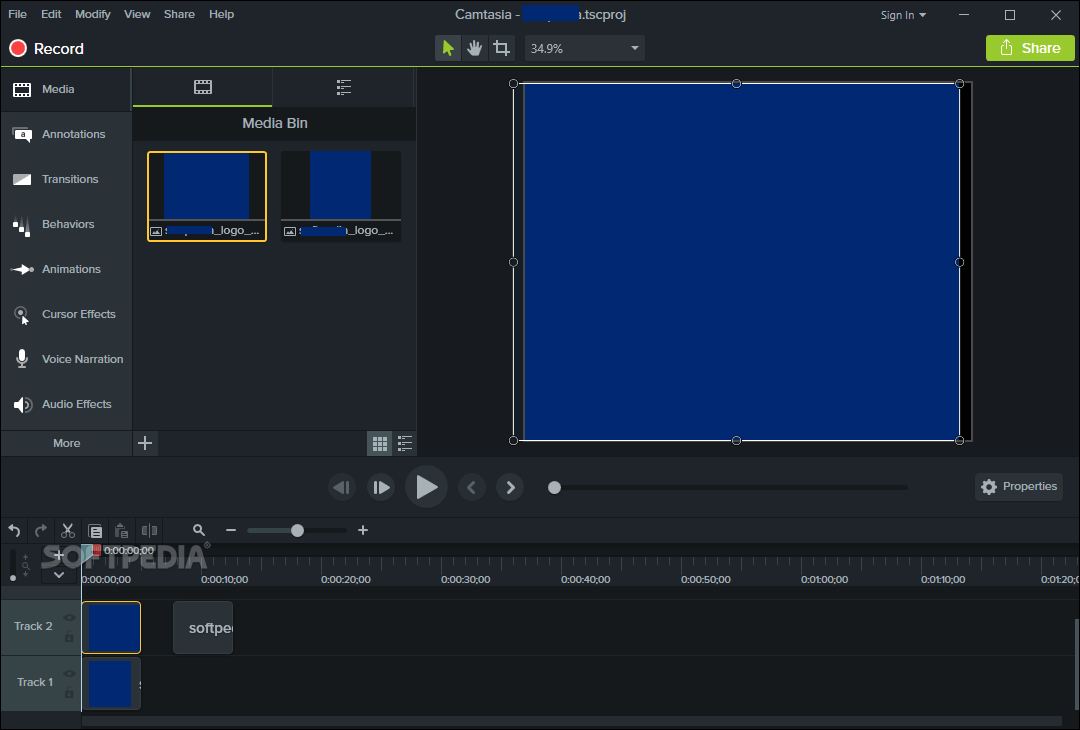 If you want to work with no-nonsense and straightforward video capture software, Camtasia is for you.
The user can choose the area they would like to capture, they can even choose if they want to use a webcam or microphone in their screen recording. Camtasia is one of the best screen recorders for both iOS and Mac devices.
It has a built-in video editor, which has a vast number of editing options, and yet when operating those features one does not feel overwhelmed.
There is also a pretty good selection of stock media, click-and-drag effects, customization properties that appear whenever an element from the timeline is selected.
Camtasia provides its users with incredibly detailed tutorials for those who are not great with operating editing tools. This allows them to see what they can add, interact with, and what will help them make their videos look professional.
Key Features
Record screen, capturing a crisp audio and video visual from the desktop. Webcam recording can even be used.
Add in pre-made animations, music, and audio with a drag and drop feature. These effects are customizable and simple to use, giving a professional overall look and feel.
Include titles, annotations, and callout all with effects to grab the audience's attention.
Zoom in and out, and pan animations can be added to screen recording.
To encourage interactivity, quizzes can be added this will keep a check on the learning potential from the videos.
Smooth transitions between slides and scenes can be added.
Presentations can be turned into videos. PowerPoint presentations can be recorded and added directly to Camtasia.
Pricing
Individual/Business: One-time purchase of $249 for 2 devices. For Business plans, volume discounts are available.
Single Education: One-time purchase of $169 for 2 devices. Volume discounts are available.
Government and Non-Profits: One-time purchase of $223.97 for 2 devices. Volume discounts are available.
Upgrade to Camtasia 2019: One-time purchase of $99.50
---
Supported Platforms: Mac, Windows, Chrome, iOS
Price: Free. Pro: $5 per month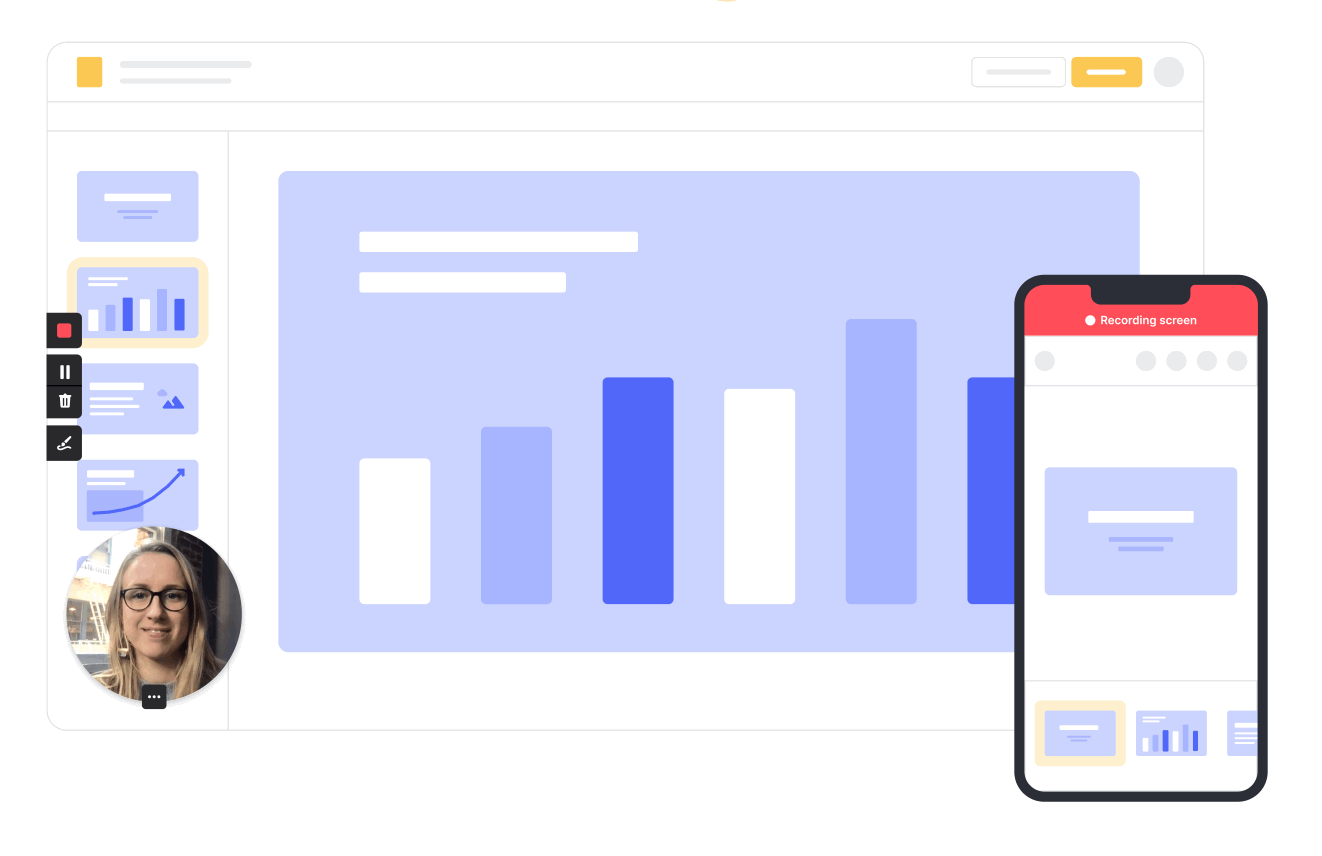 Even though Loom is known to look similar to Screencastify, it has a different minimalistic control interface that substitutes the annotation toolbox in Screencastify.
The webcam capture configuration, in Loom, can be controlled within the browser, which makes it easier on the eye and swifter to handle. Users can also pause their screen recordings in the middle as they seem fit. When the recording has been completed the video gets uploaded to Loom's cloud storage, and all users have unlimited storage space.
There is an integrated Slack feature for sharing videos to a specified group of users, and this can be done without the user having to leave the Loom dashboard.
The Loom admin dashboard gives the authority to password protect videos as well and much more. This is one of the best screen recorders in the market.
Key Features
It has a one-click feature; to record, finish, and share the URL publically (it is automatically copied to the clipboard making it easier).
The recording feature allows full desktop recording, a front-facing camera, or only the tab.
Whether it's downloading or sharing a video, the user receives nothing but a high-quality video.
Users are given unlimited storage, so they no longer have to worry about running out of space.
Loom automatically generates an embedded HTML, therefore, allowing users to put it up anywhere on the internet.
Instantly converts videos to the MP4 format, making them available for download.
There is unlimited recording, it can be used to record long or short videos.
Pricing
Basic: Free, limited video access, unlimited video recordings supported, basic editing features, no analytics or insights
Pro: $5/month (billed monthly) and $4/month (billed annually). Best suited for users that need advanced screen recording and editing features with analytics for their screen recordings.
---
Supported Platforms: Windows
Price: $49 for a one-time payment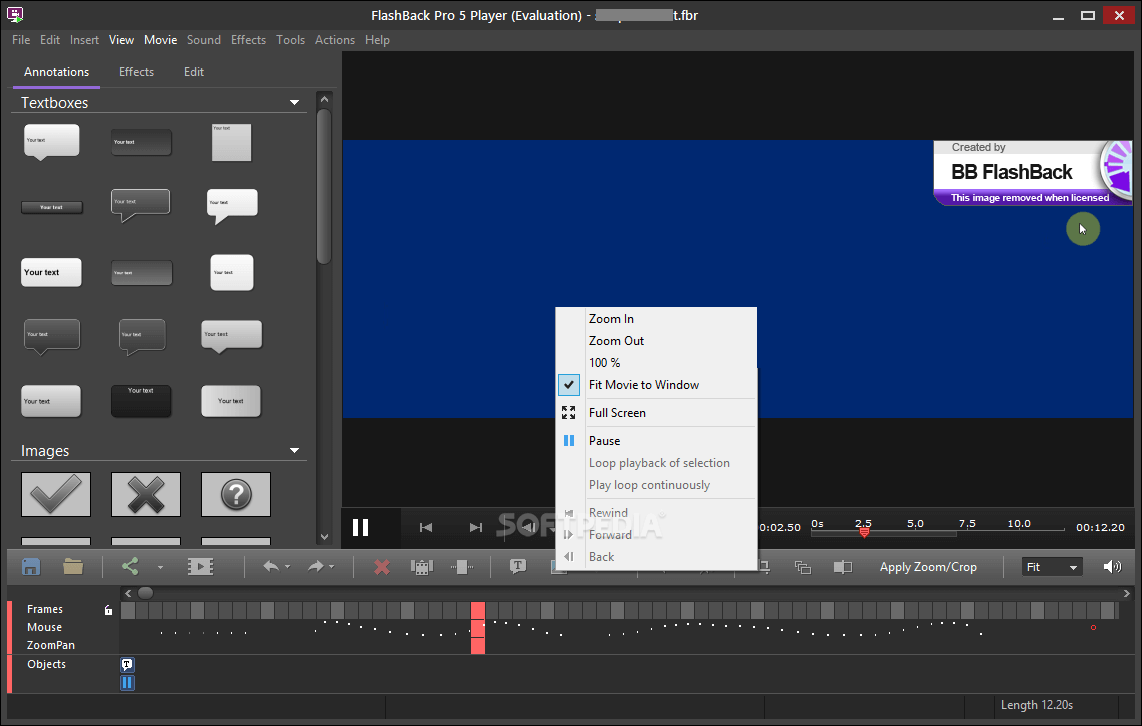 A Windows screen recording software, FlashBack Pro is the premium paid counter-part of FlashBack Express (mentioned earlier). It comes with pretty strong editing tools. It has more features that are extremely easy to use, and any changes can be made by clicking undo.
The features include; frames that can be added and deleted, the video can be paused, text can be added, sound effects can be added and edited, along with soundtracks and the fading in and out effects in-between frames.
FlashBack Pro also has some different video editing features such as; immediately highlighting sections of an inactive screen and removing or re-cording the mouse cursor without making any other changes in the video.
Key Features
Users can record screen and sounds.
Recording can be done from a webcam.
Users can add their commentary.
There are no time limits set on the video creation and watermarks can be added.
Videos can be enhanced by the full video editing suite.
FlashBack Pro enhances videos by allowing users to add text, images, sounds, and video effects.
Files can be saved in all formats.
Pricing
FlashBack Pro is available for $49 for a lifetime license that supports a single device. For 2 devices, FlashBack Pro is available for $74.
It includes all premium features, such as no watermarks, lifetime license, free tech support, and a 30-day refund guarantee. You can also opt for priority support, available for an additional $12.25.
There is a 50% discount applicable for students and education providers.
---
Supported Platforms: Windows, Mac
Price: $199 for Standard edition, $399 for Pro edition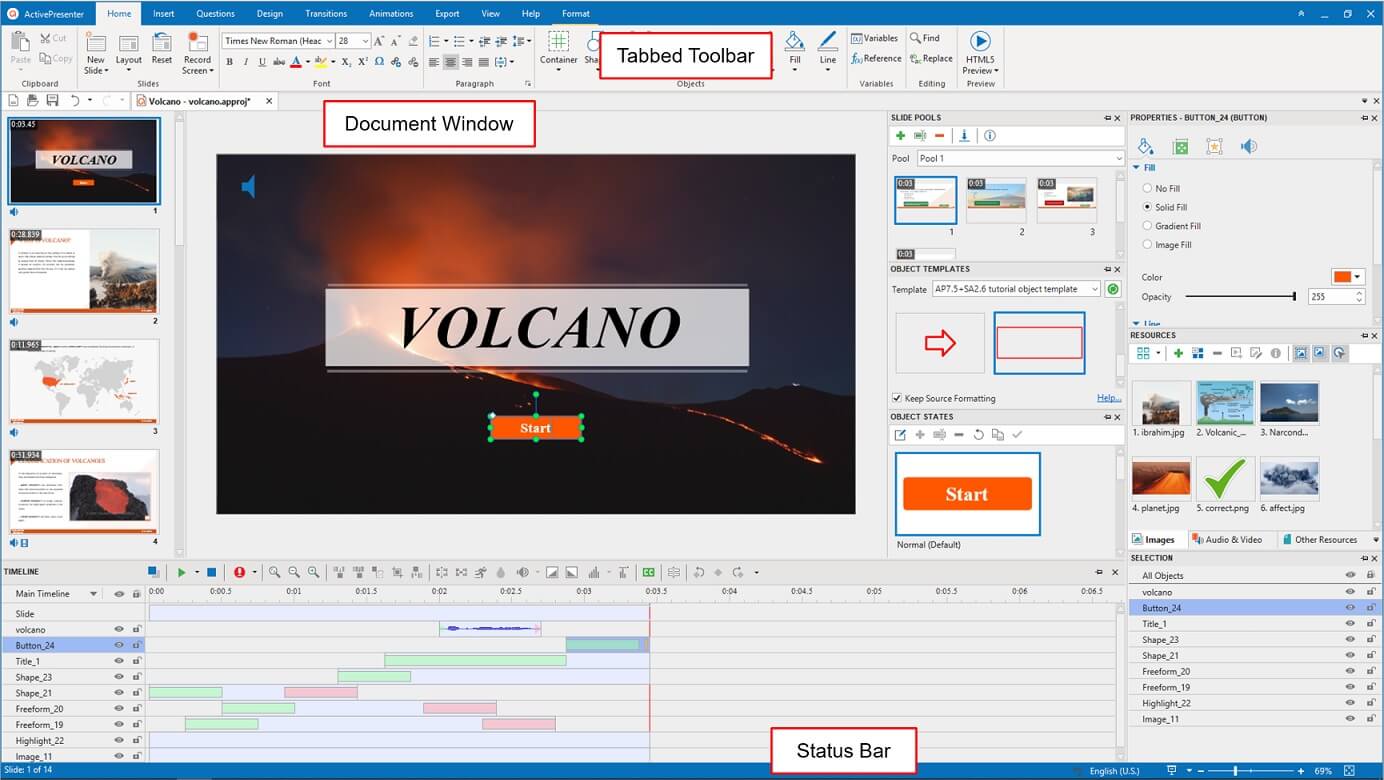 ActivePresenter has all the tools that are needed to screen record, annotate, screencast edit videos, and make interactive eLearning content in HTML5.
Like previous screencast software, Loom also combines the PowerPoint slides with timeline video editing. It is one of the best screen recording software for Windows.
The format is as such; a) on the left side of the screen there are several slides b) inside each slide there is a different timeline that has its mix of video and interactive elements.
It may seem tedious and complicated, but once a person starts using it they find it easy to use to create interactive screen captures.
ActivePresenter 8 is the only screen recording software that lets users' playtest their activities quizzes without having to export the whole project. This allows them to test them properly as opposed to transforming them into a separate learning management system.
Key Features
In screen recording, it has; smart capture, full-motion recording, webcam recording, audio recording, and much more.
It has advanced editing features such as; image editing, region spotlighting, text animations, blurring, text to speech and so much more.
Files can be created and saved in multiple outputs and formats.
Advanced audio effects, which fade audio in and out, remove background noise, and normalize the audio.
It provides an interactive HTML preview with just a click.
PowerPoint presentations can be combined in the timeline with video editing.
Provides backup so just in case there is a power failure and the system crashes, backup has the user's back.
Pricing
Standard: $199 for a one-time purchase. With features such as; advanced recording features, Multiple Audio/Video Layers, Interactivity & Branching, Report & Tracking in LMS.
Pro: for $399 for a one-time purchase, has the standard features as well as added interactive features.
---
Screen Recording Software – FAQs
👉🏼 How Do I Record My Screen with Good Quality?
There are three simple steps to improve the quality of screen recording videos:
Record in the highest resolution possible of your video in pixels. The maximum resolution that you capture, using screen recording, gives the display a full-screen resolution. The resolution should be at least 1080p Full HD.
Increase the frame rate to 60 frames per second, this will allow your video will look smoother, with improved recorded movement fluidity.
Encode the video in the right settings, because the format you chose will help increase the quality of the video and it will not look like the format was compressed.
👉🏼 What Screen Capture Software Do Youtubers Use?
RecMaster: It permits YouTube to produce a video with webcam overlay, add commentary with the content, and adjust the recording area. This app is a one-stop solution for YouTubers.
OBS Studio: This is known as the most popular free open-source screen recorder, with rich features. It lets the content creator develop unlimited scenes with simple video effects, and broadcast livestreams.
Bandicam: It lets the YouTuber screencast high-quality video with high FPS.
👉🏼 What Is the Best Free PC Screen Recorder?
It is difficult to choose free screen recorders that have impressive tools and can capture everything that is happening on your screen. What is frustrating is finding the best free PC screen recorder without any limitations.
OBS Studio is the best free screen recorder in the industry.  It has a wonderful feature set in its program, which would put the premium paid tools to shame. It can record everything happening on your desktop, capture footage from your webcam, and you can use it for a picture-in-picture video.
OBS even allows you to record the audio from a microphone. You also have the option of saving results to the format of your choice, and even stream with whatever service you choose. Both gamers and professionals prefer using this software. However, unfortunately, it is not easy to use and takes time to understand.
👉🏼 Are Screen Recorders Safe?
Legitimate screen recorders are safe to use. If you do for some reason, download software from an unsafe website, there is a high chance you downloaded malware and other harmful things alongside it.
Below are the top four safe screen recorders that anyone can use.
Camtasia: It is a good screen recording software that allows you to record, edit and upload your videos to your computer.
FBX Game Recorder: It has the main focus of recording games, but FBX can also record Chrome in good quality. However, this feature was temporarily removed in the March 2019 update, and the development team said it is coming back soon.
Bandicam Screen Recorder: It is nice software, which can record both browsers and games. If you purchase the paid version, you can then remove the watermark that shows on the free version.
OBS Studio: This is by far the most commonly used software for recording games, and many YouTubers prefer using OBS. It lets you have a vast range of settings, allowing you can tweak around until the content seems in order.
👉🏼 How to Share Screen Recordings?
Screen recordings can efficiently be shared in several ways, on various platforms with numerous tools.  However, if you don't have the right tools, sharing screen recordings can turn into a stressful endeavor. This is especially stressful when you have large-sized video files that can't be sent via email.
Here are some tools that will help you share a screen recording:
Dropbox: This is a workspace that backs up and stores all of your files.
YouTube: Is a video sharing and hosting platform.
Droplr: It is a wonderful computer screen recorder, screencast, and file-sharing tool.
Google Drive: This tool stores your files and you can access them from anywhere.
Slack: This is an email alternative, which is organized to streamline communication in workgroups.
Don't forget, the tool you choose will go hand-in-hand with your screen recording sharing needs. The platforms could be cloud storage services to link-sharing or even video hosting sites.
In some of these applications you just have to share the file through the drag and drop feature or send files through a communication platform. A great way to send large video files is through mobile apps, internet extensions, and cloud storage solutions.
The options mentioned above can and do work on multiple platforms, such as; Windows, Mac, as an extension, or on mobile apps. All you have to do is turn on your screen recording and make a video, then share it where ever you want.
👉🏼 How to Choose a Screen Recorder?
Below is a list of complied criteria to be looked at when choosing a screen recorder. Your screen recorder should:
Be easy-to-use and have a simple interface
Be able to record an entire screen, a particular area, or just one window
Give users the freedom to annotate the recorded footage
Include systems and microphone audio
Be able to capture footage from external sources
Provide a range of export options that come built-in
Offer HD screen, webcam, and browser recording capabilities
You make also want to check whether you need a desktop screen recorder or an online screen recorder. The major reason is that offline functionality makes all the difference between these two types of recorders.
Desktop screen recorders can work without an internet connection. However, an online screen recorder will require you to have stable internet.
Online screen recorders are great if you want to make a tutorial, but not the best option when trying to capture gameplay.
It seems pretty obvious that you don't have to be a pro to be able to try and use screen recording software. These tools are a great way for a business or educational institute to share information with the world.
Which screen recording software is your pick and why?
---
Other SaaSy Goodness on All That SaaS: