GanttPRO - Gantt Chart/Project Management Software
$7.9 per user/month
🧐 A Closer Look:
Features and Functionality
😊 Key Takeaways:
Advanced project visualization
Intuitive and easy interface
Automatic task scheduling
Maximum management efficiency
😷 Some Let-Downs:
No mobile apps
No browser extensions
Not enough hotkeys
This GanttPRO Project Management software review will take a close look at the user experience for this application by delving deep into the details of design, mobile applications, integration, and security.
Introduction
Project and resource planning can be challenging tasks. Nearly one in every three projects fail, caused largely by lack of project or resource planning. To cater to this challenge, there are project management tools like GanttPRO.
GanttPRO is an award-winning platform currently being used by over 500,000 project managers and product creators.
It claims to 'skyrocket your project management efficiency online' and from the ratings, reviews, and feedback from users, the software does quite a decent job at it.
In our GanttPRO review, we will see how the software helps by letting users be able to organize tasks and meet internal and external deadlines. How effective are GanttPRO's Gantt charts, project scheduling, and progress tracking features? Let's find out.
GanttPRO Review (2023) – Gantt Chart & Project Management Software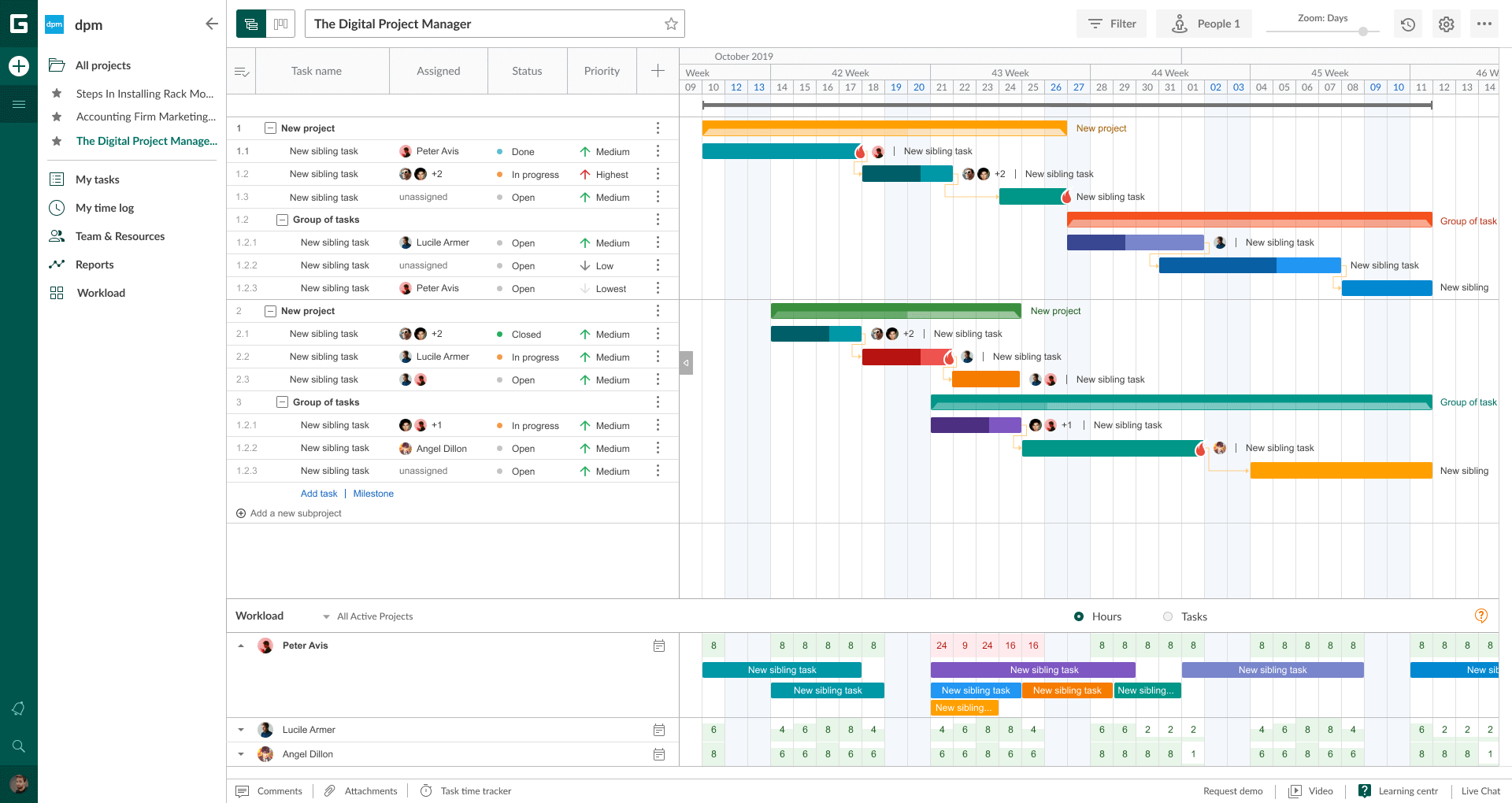 Several GanttPRO reviews describe the software as being 'intuitive' and that is the most accurate description of using the application itself.
Using the application feels natural and instinctive where users do not have to spend long hours trying to figure out how to do something.
1. Pricing – 4.6 out of 5.0
When it comes to GanttPRO's pricing, this app has one of the most enticing offers that specifically meet the needs of individuals. Plus, you get scalable pricing packages if you are working in a team.
You can opt for a free trial as well if you want to get acquainted with GanttPRO's nitty-gritty before deciding what package suits you the best.
Even if none of these packages work out for you, you can ask for a demo and their support staff will draft a custom pricing plan based on your specialized requirements.
While GanttPRO offers remarkable pricing packages, they also make payment options and subscription offers a breeze. You are free to upgrade and downgrade pricing packages whenever you need to.
1.1. Free Trial
For the free trial, as well as for the demo, you do not need to provide credit card information, nor is there any obligation to buy. So if we talk about pricing freedom in our GanttPRO Project Management software review, GanttPRO is truly exemplary.
Once your free trial expires and just in case you choose not to purchase a paid plan immediately, GanttPRO will retain data for one month.
Our GanttPRO Project Management software review takes a closer look at what GanttPRO has to offer for you and your company:
Plan
Pricing
Features
14-Day Free Trial
Free of cost

All the features, except for Export and Share with Public URL functions.

Individual
$15 per month

Customizable export to PDF, PNG, and XLSX
Custom Templates
Unlimited number of projects
Premium support, security and data protection
Multiple Gantt chart baselines
Resource management
Working hours and project costs estimation

Team

$7.90 per user/month for up to 5 users with 5 GB file storage

$6.90 per user/month for up to 10 users with 10 GB file storage

$5.90 per user/month for up to 15 users with 15 GB file storage

All Individual plan features
Team progress tracking
Team training sessions
Team collaboration
As for the pricing plans, you can opt between either of their two: Individual or Team.
1.2. Individual Plan
The Individual plan is best suited if you are a freelancer, or if you're the only person in your company who's going to use this app. Your Individual account costs $15 a month (annually billed) and provides all the basic features needed.
While if you work in a team and need collaboration features for your projects, the Team plan is your go-to option.
1.3. Team Plan
There are different packages within the Team plan that are primarily based on the number of team members and the space needed for file storage.
The Team plan is specially designed to enable multiple team members to manage projects in a team along with their own projects and task lists.
However, if you wish to take a demo instead, simply fill in the form given in GanttPRO's demo page. GanttPRO's support team will get back to you and develop a custom plan.
1.4. Discounts
Speaking of discounts, if you are a student, or working at a non-profit organization, university or school you are eligible for 50% discount on both Individual and Team plans.
It's worth noting that both packages are billed very differently. While Individual pricing is billed annually, the Team pricing allows you to pay as you go month-to-month.
This allows you to cancel your Team subscription at any time. Plus, they also offer a 33% discount on annual subscriptions.
---
2. Features and Functionality – 4.6 out of 5.0
Our GanttPRO Project Management software review notes that GanttPRO is one of the most feature-rich and all-inclusive apps available on the Internet. Be it resource management, project planning, team management, or Kanban boards, they've got it all.
This online Gantt chart creator is a powerful hub of several holistic features and functionalities that provides managers everything needed for efficient management.
GanttPRO not only boasts a myriad of features, but it also excels in the level of performance, speed, responsiveness, flexibility, and user-interface. The sleek and intuitive user-interface and the short learning curve makes it simpler for users within your team to get started with your projects without ado.
Overall Workflow
Before getting to know more about GanttPRO's features, let's take a detailed GanttPRO review of its overall workflow:
Create Tasks: GanttPRO allows you to create as many tasks based on your project's requirements. It takes just a few minutes to get a task ready and displayed on your dashboard.
Create Subtasks: A task can be broken down into other mini-tasks called sub-tasks. You can further organize your sub-tasks by creating a hierarchy of your every assignment.
Add Milestones: By adding milestones, you can create any significant event in your project schedule. By achieving each milestone, you can make sure that your project is going right on track.
Add Dependencies: This way you can link tasks simply using drag and drop function.
Track Progress: Finally, after adding milestones and dependencies in your tasks, you can start tracking progress.
So what else are those features that make GanttPRO a quality project management software? This GanttPRO Gantt Chart software review takes a look at GanttPRO's features and functionalities in detail:
2.1. Team Management Our GanttPRO Gantt Chart software review suggests that if you're a Team pricing plan user, you're in for top-notch team management and collaboration.
With GanttPRO, you can instantly build a workflow for your team and add powerful project management practices to your team's toolkit, including but not limited to:
Add and assign tasks,
Track task progress,
Cost and resource management,
Status updates and task prioritization,
Work with virtual resources
You can invite team members, clients, or colleagues to join your project to work on it as a team. You can also send comments, make attachments, and receive notifications about any changes in your project.
Plus, if you need to display your project to someone outside of your team, simply share it using a public URL.
2.2. Task Management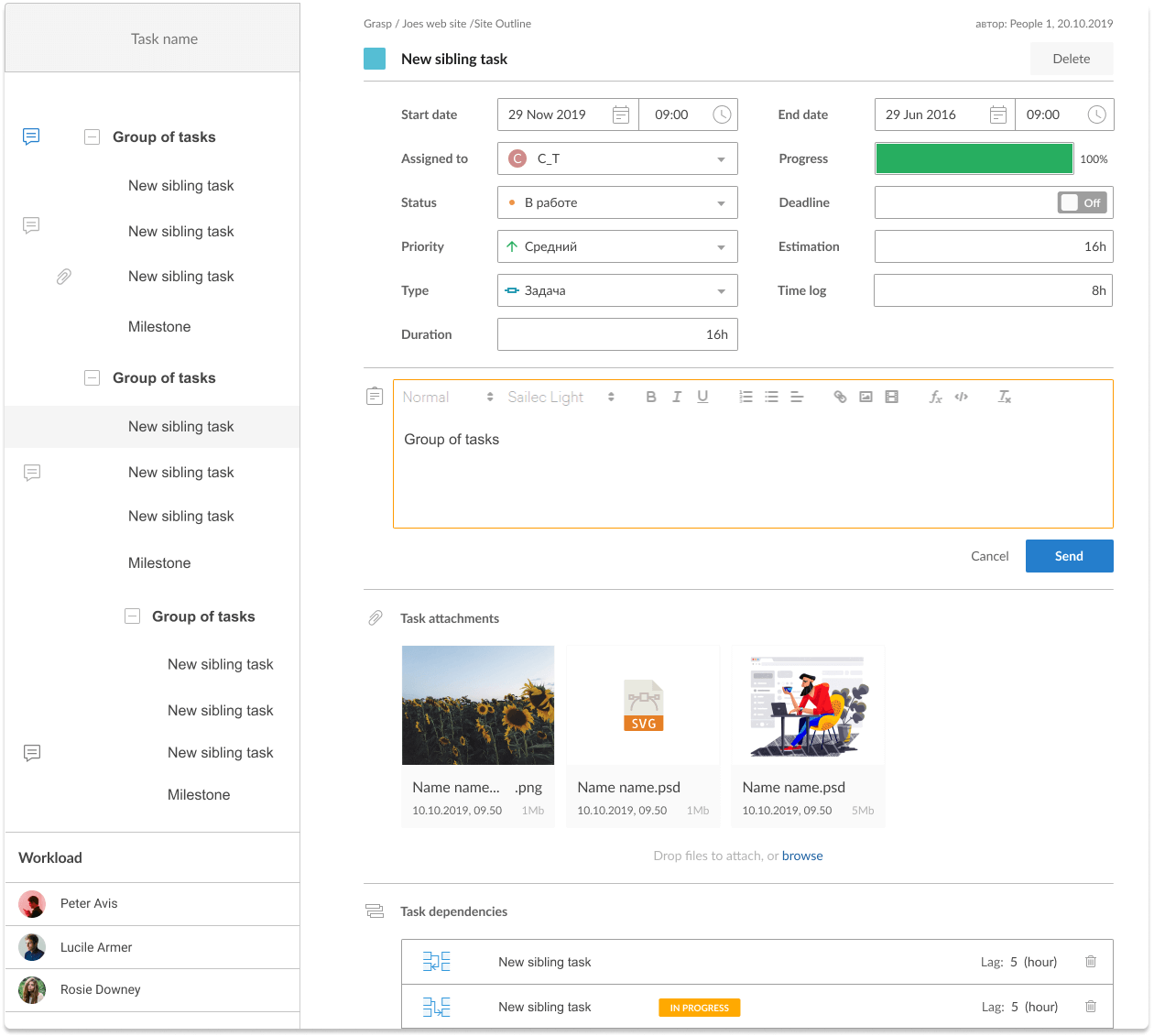 Here's some more stuff that you can do with GanttPRO to effectively manage your team:
Task Communication: With GanttPRO you can effectively communicate within your team and leave feedback through comments and file attachments without having to navigate from one page to another.
Set Deadlines for Assignments: Create deadlines for tasks in your project. One of the coolest things about GanttPRO is that it visually shows you any missed deadlines.
Project Exports: Team collaboration becomes far more efficient with the share and export features. You can showcase a project to your team members, customers, clients, stakeholders, etc. Also, it takes just a few clicks to import your project scheduling from Excel or MS Project.
Manage Tasks: You can add tasks within a few clicks, set duration, estimation, cost, priorities, assignees, statuses, and more!
Visualize Tasks: Since this is primarily a Gantt chart software, you can use Gantt chart views to visualize the progress of your team. The vertical and horizontal axes will clearly show you how your project is panning out.
Team Progress Tracking: Keep your team in the loop about the progress of your project progress and be able to complete it on time.
2.2.1. Additional Task Management Capabilities
Instant Notifications: Your team can stay up to date on your plan with GanttPRO's website notifications. Never miss out on assignments, mentions, changes, start dates, and deadlines of your plan.
Cloud Storage: All of your charts are stored in the cloud so you and your team members can access them anytime, anywhere.
Virtual Resources: Not only you can invite team members to join your project, but also you can properly allocate who's supposed to do what task. With effective resource and task allocation, you can make sure that your team members do not get under-assigned or overloaded and reassign tasks if needed.
History/Changes Log: You can easily track if any changes were made by your team in a task right from the beginning. If a project undergoes too many changes, you can restore your project anytime.
Baselines: You can also create a baseline of your chart and compare it with your initial plan. By doing so, you can analyze whether your project is going as it was planned right from its beginning.
Scheduling Visualization: You can visualize your schedules using custom-made Gantt charts. But once your tasks are scheduled, you can save your custom Gantt chart as a template for future projects.
Cost Estimations: This is another great feature that GanttPRO offers. It equips you with the ability to provide cost estimates and calculations. As you may need, you can set up the price per hour for each of your resources, per item or a fixed price for the project.
2.2.2. Project Planning and Scheduling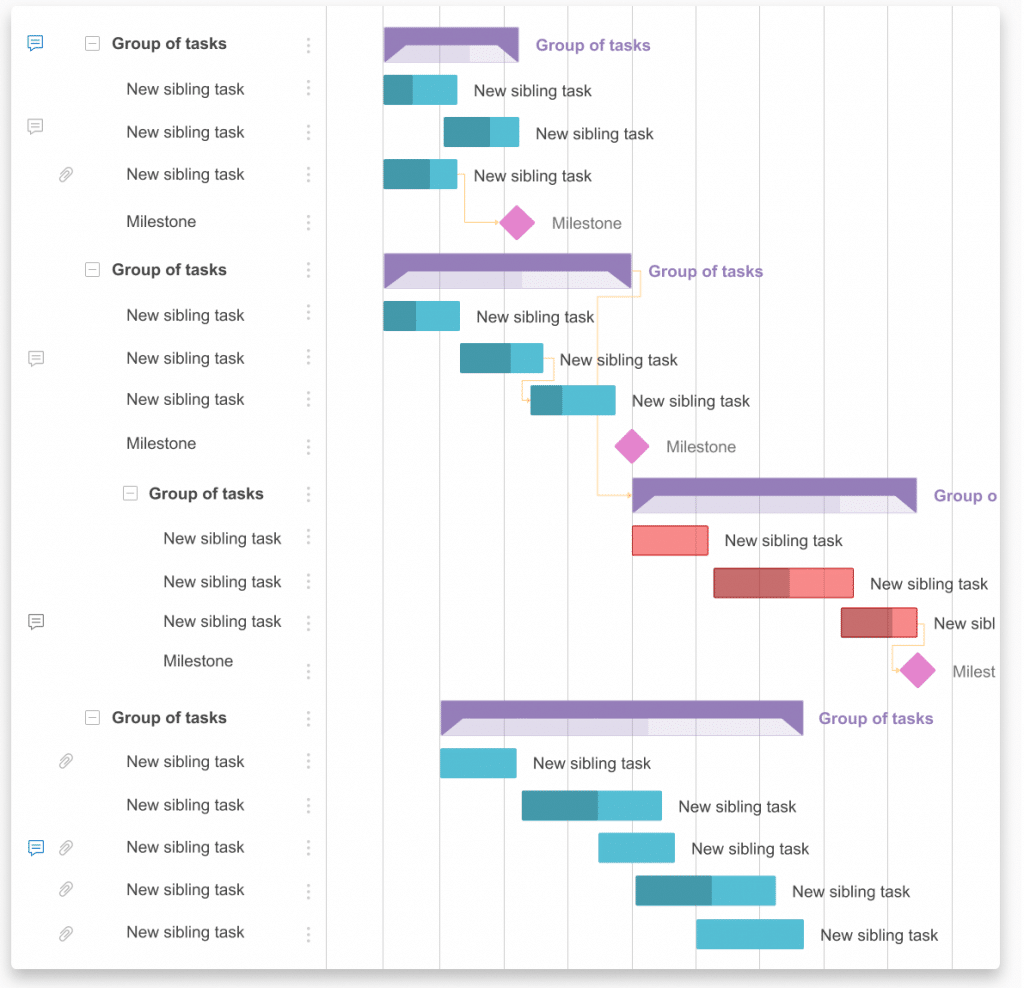 Our GanttPRO Gantt Chart software review finds this application as a great choice when it comes to swiftly handling tasks in your projects.
All it takes is just one click, then you can monitor each task along with their schedule. An effective task interface combined with the power of Gantt chart timelines gives you an eye-catching task dashboard to manage your assignments, milestones, deadlines, and dependencies.
A project scheduler is a much-needed tool in any effective project management software. GanttPRO's project scheduler is specifically designed to simplify planning and foster coordination between team members as they collaborate in real-time while keeping every stakeholder in the loop.
2.2.3. Kanban Board View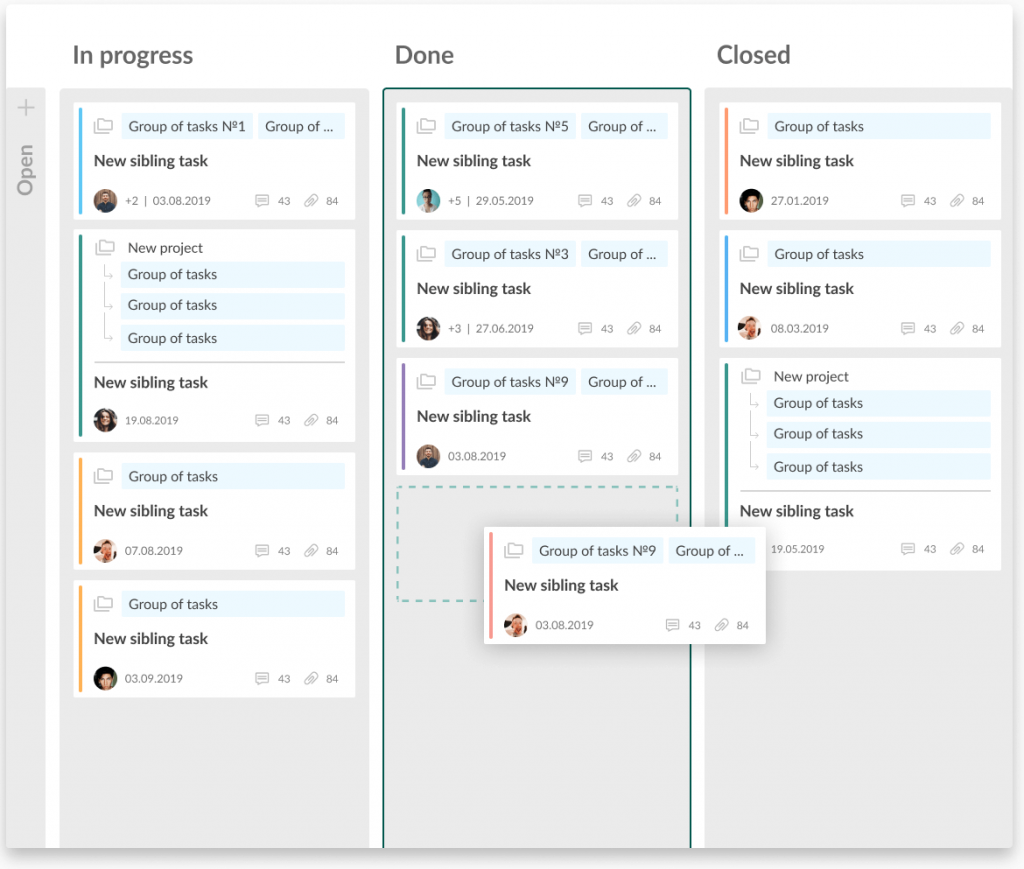 Okay, we know this is GanttPRO, but there's more to just Gantt charts with this software. It allows you to take a look at your project from another perspective by providing Kanban view, so yes technically speaking GanttPRO also serves as a Kanban app.
From the Kanban Board view, you can view all your assignments in one spot where they are displayed as cards.
All you need to do is simply select the Kanban view using the view switch button. As in this GanttPRO review, I mentioned that it's just a "view" thingy, you can't create or add new tasks or milestones from here.
But, the bottom line here is that you can make the most of Kanban Board view to manage existing tasks and move them along the board as they get close to completion.
2.2.4. Progress Tracking
GanttPRO keeps you aware of your tasks and project statuses with the progress tracking feature. You can set the progress of your tasks and let the software automatically calculate the percentage. This will help you complete the project on time and keep any potential risks at bay.
With GanttPRO, it's so easy to deal with progress tracking. Even if you forget to mark down the progress of a project, you can manually change its progress from 0 to 100% and handle the statuses as you want to.
2.3. Gantt Charts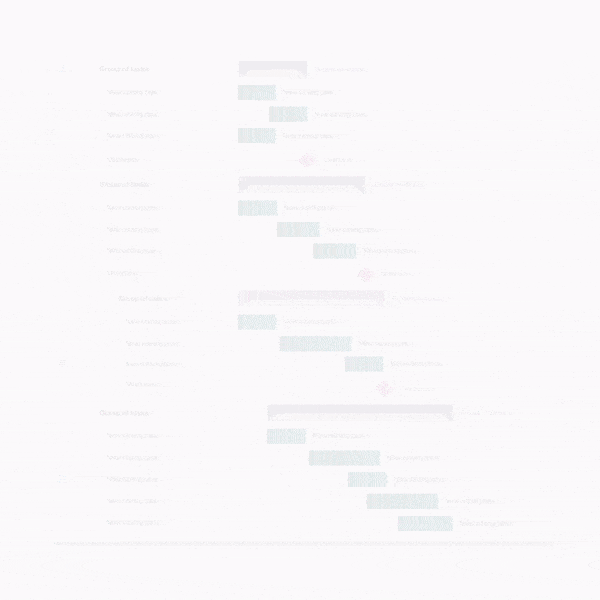 Our GanttPRO review finds that this application truly lives up to its name by providing one of the best means of visualizing your project tasks — a Gantt chart.
The process of creating Gantt charts with this software is hassle-free and the outcome will meet the requirements of any industry.
The best thing about GanttPRO is that it provides ready-made templates so you can quickly jump to your project and these templates don't even cost a single penny! Plus, not only are they free but are also easily customizable.
2.3.1. Auto-scheduling
In the earlier part of our GanttPRO review, we discussed creating dependencies for your campaign. You can also add dependencies using a Gantt chart.
Even more so, you can use the auto-scheduling feature that recalculates the dates in your Gantt chart timeline automatically. This way you can reflect any changes accurately based on dependencies.
2.3.2. Planning & Milestones
With GanttPRO, you can set your Gantt chart timeline in a jiffy by selecting between hours, days, weeks, months, quarters, and years.
You can also visualize milestones and every important event in your project and make sure that your project is on the right track in meeting its goals.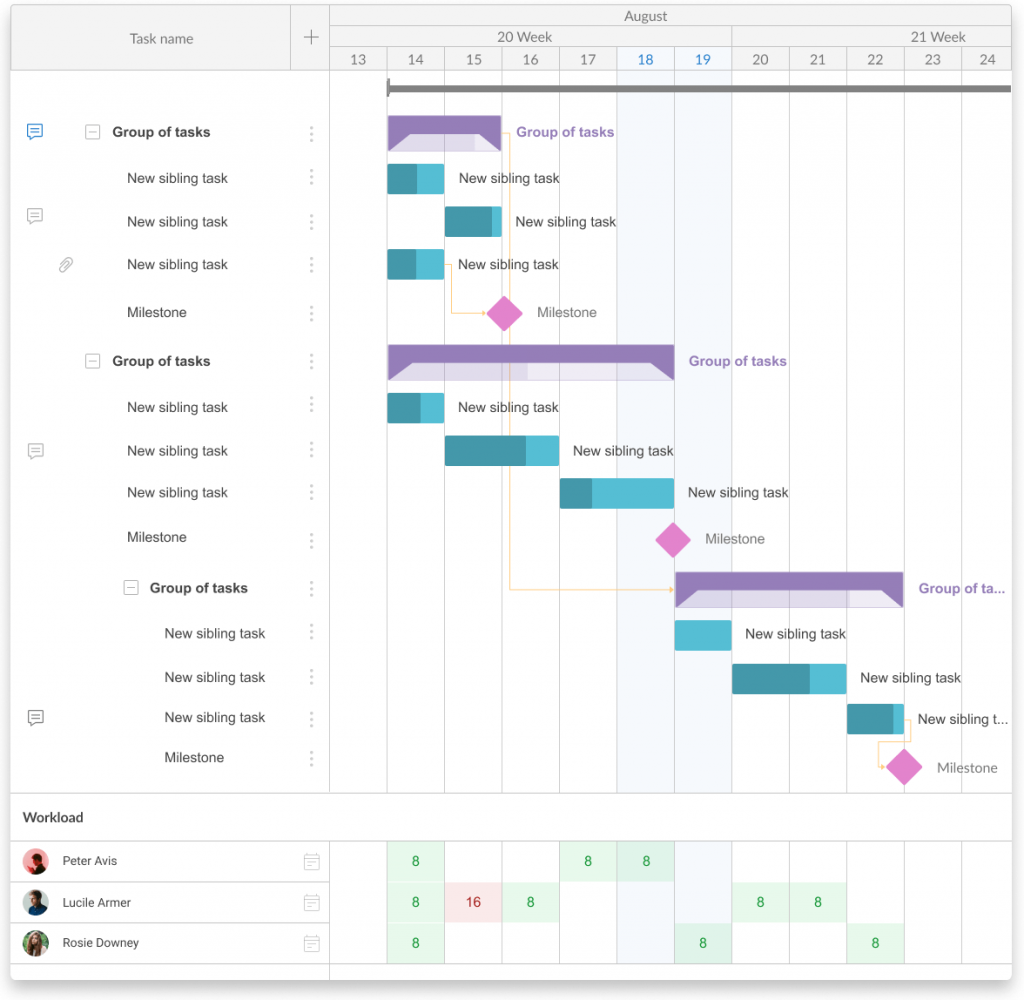 2.3.3. Customizable Filters
Apart from the generic Gantt chart view, you can also set a custom, personalized view of your project timeline. You can narrow down the information, or broad it up by making the most of the rich filter options.
2.3.4. Version Control
For your Gantt charts, you can track any changes made by your team right from the scratch. If a project undergoes too many changes that you didn't want to make, you can restore your project at an earlier stage in GanttPRO.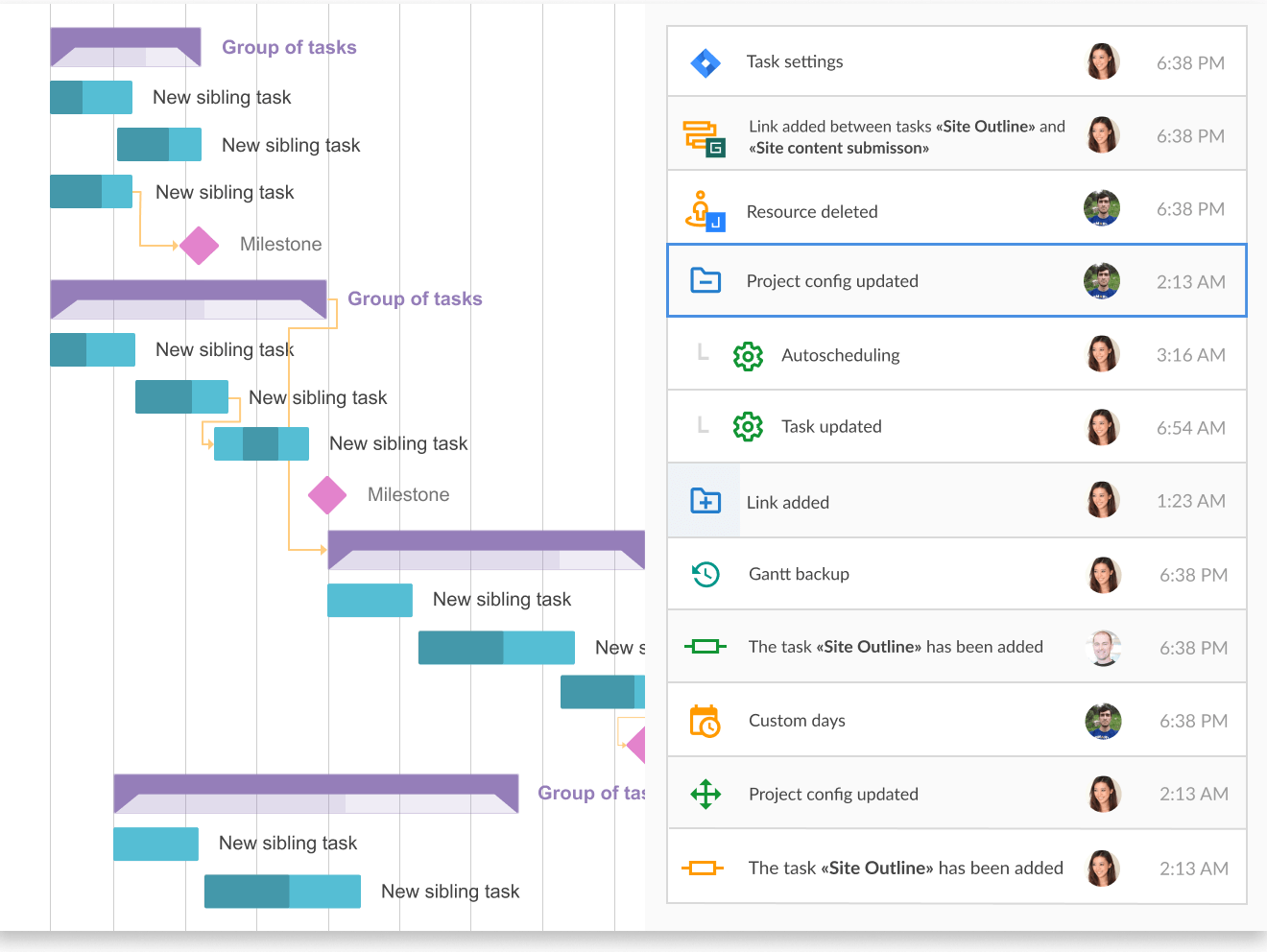 2.3.5. Excel-to-GanttPRO Import
GanttPRO serves as an alternative to mainstream project management software like Microsoft Project and Microsoft Excel. So if you've got a Gantt chart in .XLSX format and it fits right for your team, or if a chart has already been scheduled for a project, you can simply import it to GanttPRO in a click.
2.3.6. Export and Print
GanttPRO offers export options in PDF, PNG, XML, XLS, and XLSX format. For hardcopy reports, you can take out optimized prints with the gull size, letter, legal, tabloid, ledger, A4, A3, A2, A1, and A0 page sizes.
2.4. Gantt Chart Templates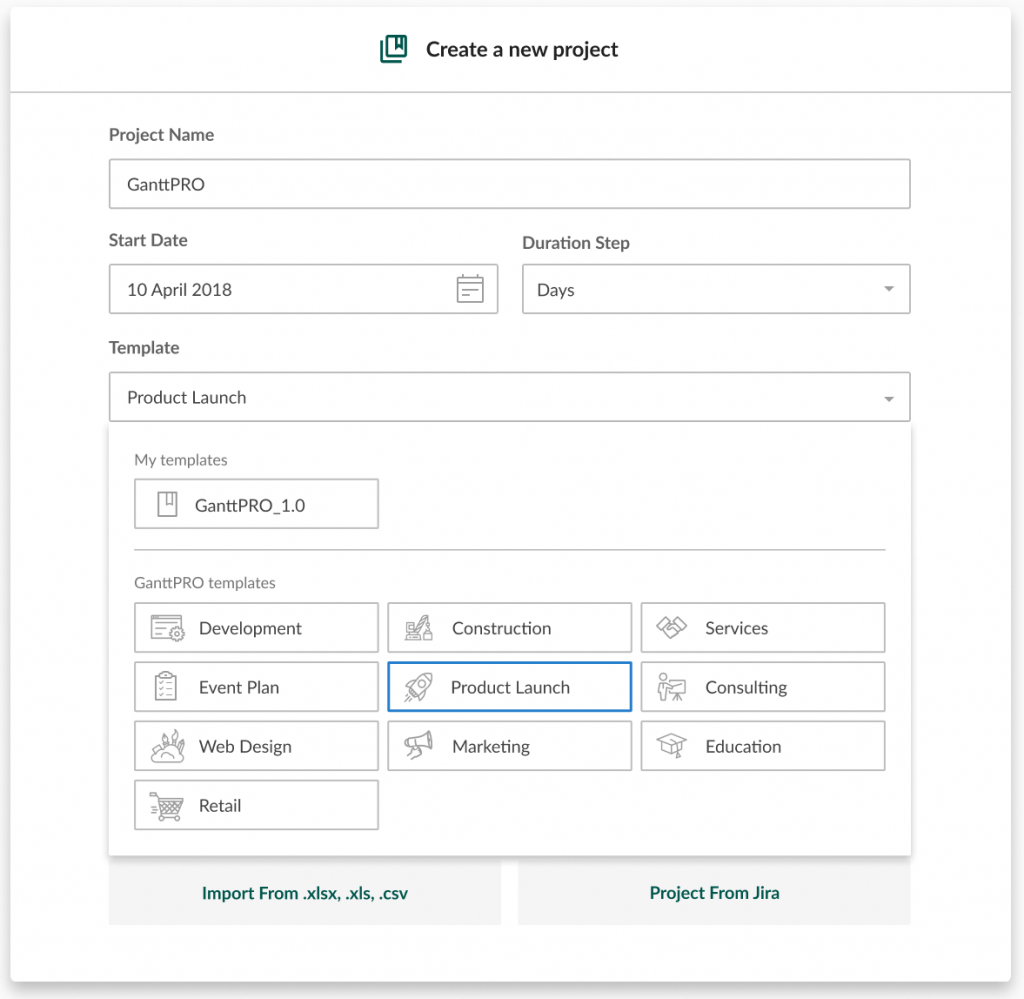 Gantt chart templates make project management a breeze. When you create a new project, you can simply choose Gantt chart samples that meet your project requirements.
Speaking of requirements, you can create Gantt charts based on your specific industry. This GanttPRO review finds the following industry-based Gantt chart solutions that GanttPRO has to offer:
2.4.1. Gantt Chart Templates for Software Development
GanttPRO offers Gantt chart templates specially designed to meet the needs of the software development industry. You can use them to manage and track everyday tasks, items, resources and activities of your software project.
This chart can be used right from the iteration planning and requirements definitions until architectural definition and development. These charts are fully customizable and can be modified at any stage.
2.4.2. Gantt Chart Templates for Construction
Some construction companies and builders have a lot of projects, so using a Gantt chart is a must. By using a purpose-built template, you can compose a building construction schedule that involves everything from planning to contracts and permissions and design.
2.4.3. Web Design Project Management Templates
Using a dedicated web design project template, you can set durations for assessments, outlines, and reviews, artworks, coding, validation, etc.
This gives you a headstart when setting up, and you can easily customize the template project to meet the specific needs of your team.
2.4.4. Multi-Purpose Gantt Chart Templates
As the name implies, you can use it for any type of project. Such charts can serve as a stepping stone in developing your own plan and unifying various scopes of work. You can also use it as a base for projects, or as an example for your team members.
2.5. Resource Management Managing resources is never easy. While project management software applications make it much easier, with GanttPRO, it gets done in the easiest way. GanttPRO empowers you to assign tasks to your resources while setting the cost for labor and material resources in one go.
The Resource Workload screen in the application shows how your resources are involved in your project. Here, it literally takes seconds to invite your team members or add unlimited units to your project.
2.5.1. Personalized Calendars
You can create custom calendars for each team member with working hours, non-working days, and annual leaves.
2.5.2. Resource Allocation
Not only you can invite team members to join your project, but also you can properly allocate who's supposed to do what task. With effective resource and task allocation, you can make sure that your team members do not get under-assigned or overloaded and reassign tasks if needed.
2.5.3. Resource Tracking
You can visualize how your resources are being allocated using custom-made Gantt charts. Once your tasks are scheduled, you can save your custom Gantt chart as a template for future projects.
2.5.4. Financial Control
You can set differentiated resource cost values: per hour, per item or just a fixed value for various resources.
2.6. Other Features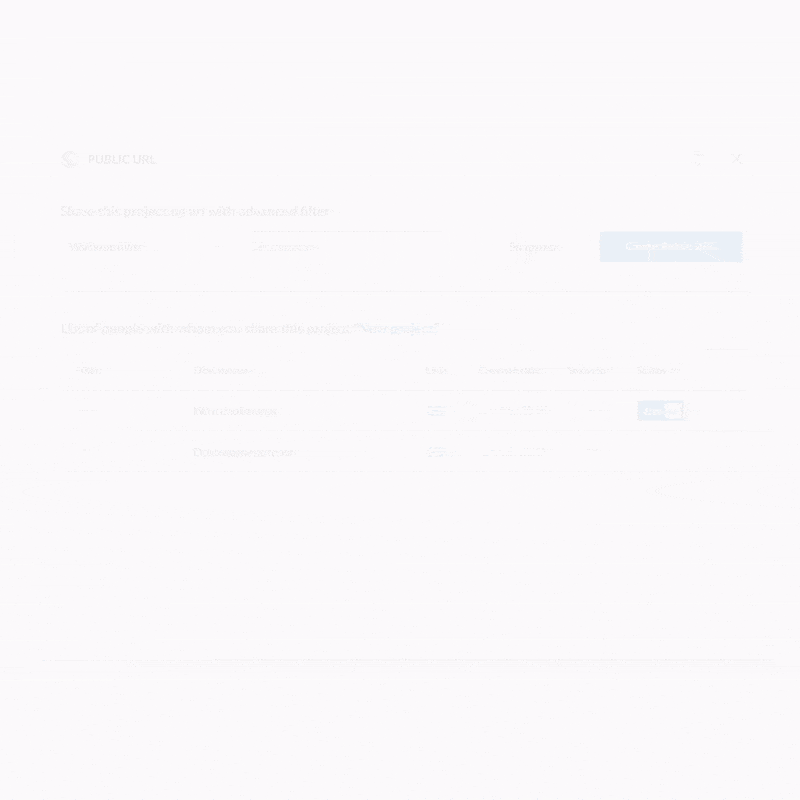 Even though they might sound trivial, these features are highly sought-after by GanttPRO users:
Time Log: Automatically create a log of your time in order to track how much you spend on tasks.
Reports: Create custom reports for all of your projects and tasks.
Date picker: This new and handy date range picker can be used for time tracking purposes.
Public URLs: Create public URLs to give third parties view-only access to your projects and tasks in GanttPRO.
2.7. GanttPRO Integrations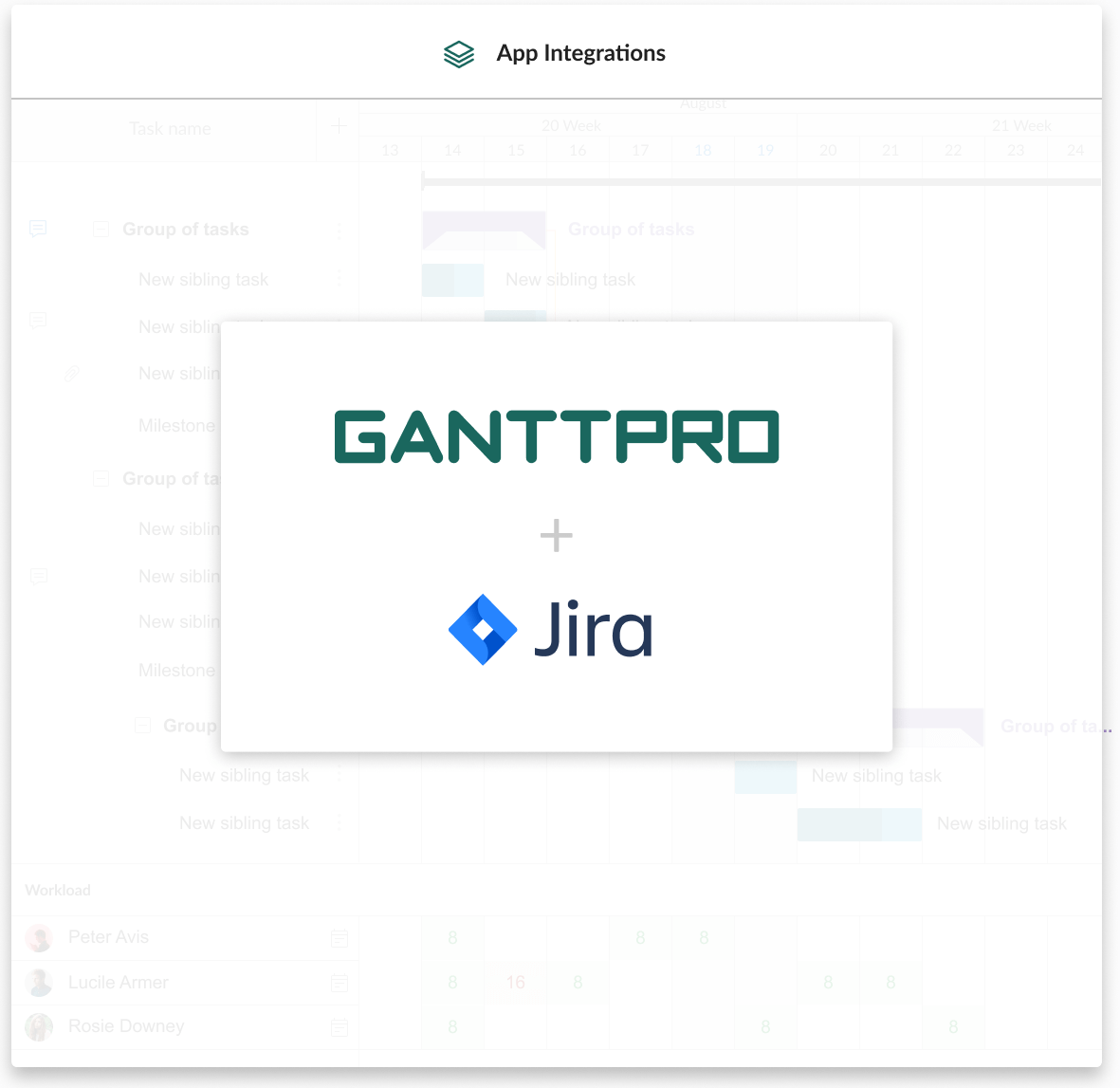 GanttPRO provides integration with Jira, but now they have allied with Google Docs as well. and more integration options are available for users.
2.7.1. JIRA
If your team follows agile project management and uses JIRA for reporting and tracking purposes, you can integrate Jira with GanttPRO and make the most of the powerful project management duo.
Whenever you have a new request, tasks or subtasks in your project, GanttPRO, and JIRA Cloud functionality will show you how they will affect your timeline.
Jira does not support built-in Gantt charts, but GanttPRO excels at it. Yes, Jira does have some plugins that let you create a Gantt chart but you will ultimately miss some of the key features that GanttPRO provides, such as exports, history logs, public URL, etc.
Our GanttPRO review finds this integration best-suited for large teams as it helps in streamlining a large amount of information, track income expenses, and improve overall business efficiency.
Note that GanttPRO's Jira integration is still in the beta phase.
2.7.2. Google Drive
GanttPRO links up with Google Drive that lets you create and work with Google Drive documents directly in GanttPRO. This integration works for both individuals and teams.
2.8. Language Support
Presently, GanttPRO is available in English, Spanish, German, and Portuguese.
---
3. User Experience – 4.1 out of 5.0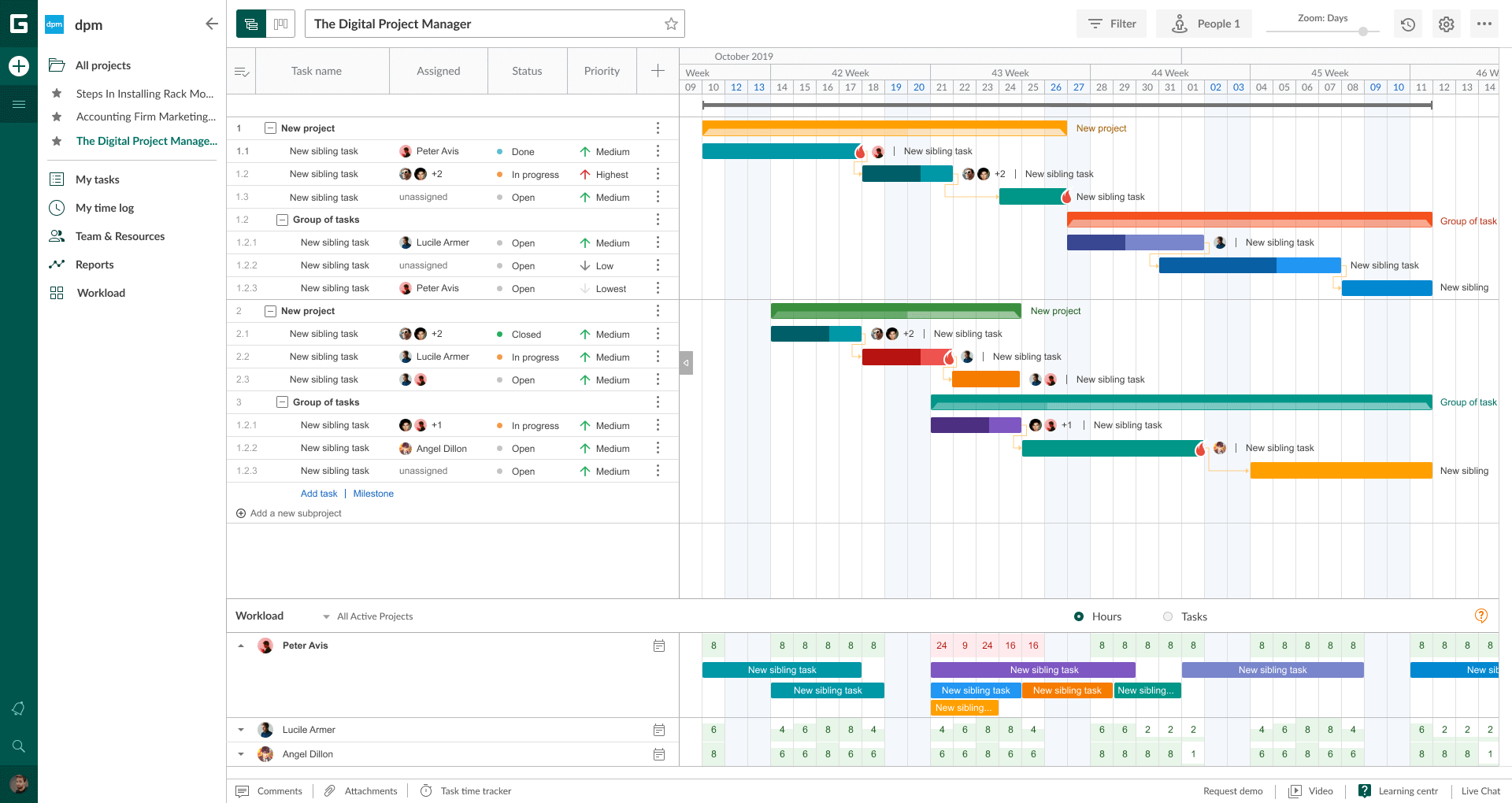 3.1. Design
Few minutes into using GanttPRO, users will be relieved to find out that enough thought and consideration has been put into the design and layout. Once you have registered and successfully begun using the GanttPRO application, you will notice that it closely resembles a project planning board.
3.1.1. Gantt Charts
In the auto-scheduling view, to the left is a bar that spans vertically across the screen and includes a list of tasks that have been created by the user themselves.
The tasks are part of the project that the user has created. To the central right of the screen is the main Gantt chart that handles and represents the flow of project management.
The top horizontal bar has hourly, daily, weekly, monthly, and quarterly timeline views. It shows how much time is left to complete a particular task.
Color indexed bars represent how much of a task has been completed and where it currently stands in its journey to being completed.
The Gantt chart also shows if there is a possible overlap between two tasks or a narrow completion margin. The app design interface lets you be able to check notifications and even view a summary of the project's completion.
3.1.2. Board View
The board view in GanttPRO lets you take a simplified look at tasks that are in progress and others which have been completed already. One of the major focuses of GanttPRO is being collaborative in nature so that it is useful for large teams and companies.
The Team Management panel in GanttPRO allows you to be able to assign tasks to people and even be able to check the status of tasks (in-progress, done or closed).
If a change is made by another team member who is part of the same specific project, then you will be notified of this through the notifications center.
Several GanttPRO project management software reviews will cast the design for this application as being resourceful in nature.
3.2. Mobile Apps
Unfortunately, GanttPRO does not have any mobile applications that are supported for either iOS or Android. Currently, there is no phone support in the form of a custom application interface suited to mobile use.
3.3. Integrations
GanttPRO also offers strong integration with JIRA Cloud. Instead of combining plugins and juggling between tools, you can combine GanttPRO and JIRA to further enhance your project management experience.
With GanttPRO and JIRA integration, you will be able to enjoy features that are available to both. You will get 100% of the tools that you could otherwise access in the stand-alone application.
This integration allows you to be able to enjoy the best of both worlds. Planning and management can be handled by GanttPRO and complex IT tasks can be left to JIRA software.
---
4. Security – 4.5 out of 5.0
Security takes the top place with GanttPRO's priority list. The application makes use of several security measures to ensure the safety of your software and sensitive information related to project management.
4.1. Certifications
GanttPRO is certified by ISO 27001 (the international Standard for best-practice information security management systems (ISMS) and ISO 9001 (the international Quality Management System standard (QMS).
Additionally, GanttPRO's payments comply with the Level 1 Payment Card Industry Data Security Standard (PCI-DSS) requirements.
The company has gone lengths to be able to acquire the necessary security certificates to ensure its users can have a dedicated, agile, and secure online platform for online collaboration.
For further information on GanttPRO's privacy policy and GDPR compliance, click here. For more information on GanttPRO's security practices, click here.
4.2. Quick Questionnaire
We asked GanttPRO a few security-related questions, here are their answers:
Is on-premise installation available?




A: No.

Is an SSL certificate installed inside the app?




A: Yes.

Is Google SSO available?




A: In progress, coming soon.

Is SAML available for secure login?




A: Yes.

Is 2-factor authentication available?




A: No.

Can users make local backups of their online data?




A: No.

Are there dedicated servers available?




A: No.

Are data export & data deletion options available?




A: Yes.
---
5. Customer Support – 4.7 out of 5.0
Online live chat support available
Documentation: Click here
Video tutorials: Click here
Email for customer support: 

[email protected]

Phone calls and demos: Available on request
Multi-language support: Available in English and Russian
---
6. The ATS Staff Verdict
GanttPRO is a powerful tool for task and project management, Kanban and Gantt visualization, and online collaboration for teams.
It offers a complete suite of features and functionalities and is one of the most trusted collaboration platforms in the world.
We give GanttPRO a big thumbs up for all the features, security measures, and the user experience that it offers. What do you think of GanttPRO?
Have you tried it within your team before? How has your experience been? Let us know and rate GanttPRO using the comments below.
---
Other SaaSy goodness on All That SaaS: