Today we are going to talk about the best sleep apps for 2023. As we all know, for some of us, putting ourselves to sleep is a difficult task. It is safe to say that we are not alone in this struggle, a significant number of people do not get proper sleep daily and struggles with maintaining sleep hygiene.
For those of you who don't know what sleep hygiene is, it is promoting regular sleep patterns and healthy sleep habits in your daily routine.
We all are aware of the countless benefits associated with getting a night of proper sleep. Besides, who doesn't love a good night's sleep? Not getting enough sleep can affect both your physical and mental health.
Though the good news is, the resource for getting more mindful sleep can be right on the tips of your finger. If you are someone who is struggling to put yourself into slumber or suffers from insomnia, you have come to the right place!
In 2017, apple editors named the 'sleep and meditation' category as "breakout" trends in app culture. During our research for finding the best sleeping app for both Android and Apple, we saw the proliferation of sleeping and meditation apps.
This proves that there is an audience looking for guidance and the scope of this category in the SaaS world.
What is a Sleep App?
Nowadays, there's an app for everything, aimed at simplifying your life. Similarly, to help you with sleep, there are plenty of sleep apps available. In fact, you will feel overwhelmed by the number of choices you'll get while choosing an app to help you sleep.
Sleep apps are designed to help users regulate their sleep patterns and get sound, restful sleep. These apps feature meditational exercise to help with anxiety, stress, and other factors that affect your sleep.
From tracking your sleep to waking you up in the morning, these apps manage to take care of all your sleep problems.
Key Features to Look for in a Sleep App
Since to choose the best app for yourself, you need to know about the must-have features of a sleep app. We have short-listed these features to get you started:
Sleep Tracking System –to help you track your sleep movements and analyze your sleep better.
Soothing Sounds –it is very essential for a sleep app to have relaxing sounds to help you wind down and get a restful sleep
Timer –a built-in timer will shut down the app automatically after you drift off to sleep.
Sleep and Meditational exercises– getting to sleep is a difficult task for most of us. The sleep and meditational exercises help to put your mind to rest and drift off to sleep much easier. These exercises can include sleepscapes, bed-time stories, and narrations.
We have scoured the app stores and jotted down this list to help the restless sleepers to rise above the digital distractions and carve out time for peaceful sleep using these amazing apps.
We've selected these apps based on their rating, features, quality, popularity, and positive news coverage. Take a look at our list of best sleeping apps of 2023 to get yourself the sleep, you so desperately need!
What are the Best Sleep Apps in 2023?
1. Headspace – Best Sleep App for Android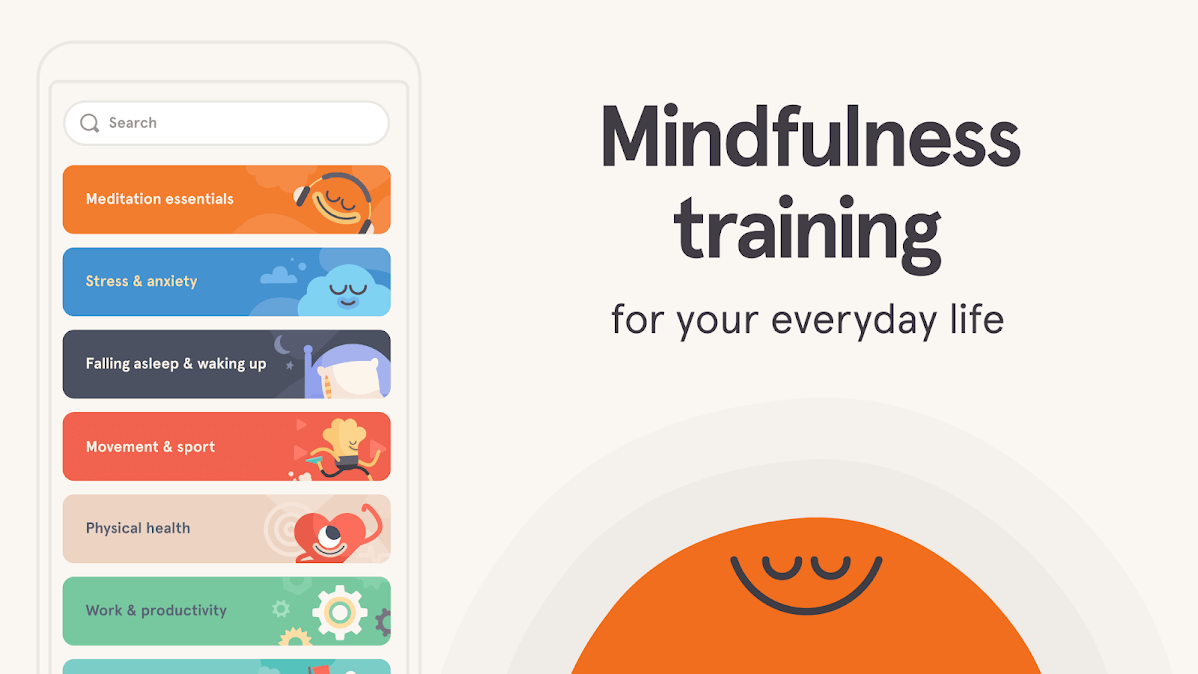 For anyone looking to get help with mindfulness, meditation, and sleeping, Headspace is the answer. Headspace is a well-known meditation and sleeping app designed for people of all ages to improve their sleep cycle and have a mindful life.
The app provides modern access to fundamental techniques of meditation and mindfulness. Troubled sleepers can rejoice as this app will make it easier to wind down and drift off within minutes. It includes specially designed sleep sounds, sleep meditations, and even sleepcasts for better and sound sleep.
Headspace can prove to be your very own personalized guide to health and happiness. In a moment of anxiety and stress, users can bring calm and balance with just a tap. Headspace includes SOS exercises to skillfully manage anxiety and stress. Even more so, the app has an animation library filled with tips and wisdom to keep users on track.
It also lets you add friends to keep yourself motivated. Headspace is famous among Android and iOS users. It is without a doubt, the best sleep tracking app for your Apple watch. Because of all the robust features, we find Headspace to be the perfect app to include in our list of best sleeping apps!
Key Features
Headspace provides hundreds of guided meditations based on all the topics such as focus, meditation, and sleep.
Headspace allows its users access to an animation library filled with tips and skills.
Sleepcasts is a feature that makes it one of the best sleep sounds app, it has narrations with sleep sounds to make the bed-time routine further relaxing.
Headspace has also integrated with Apple Health, which we believe makes it one of the best sleep apps for the Apple watch.
There is a special feature with Headspace, which provides SOS sessions for anxiety and stress relief for its users.
If users require short healthy breaks in the middle of the day, mini-meditation exercises for a quick mental reset are a part of the program.
There is also Headspace guided meditation for kids, which includes: sleep, wake up, calm, paying attention, and much more.
Pricing
Headspace offers a subscription-based pricing model. The subscription cost can vary based on platforms (iOS or Android) and countries.
    Monthly subscription –at $12.00 per month
    Yearly subscription –at $69.99 per year that is less than $5.99 if billed monthly
    Lifetime subscription –at $399.99
---
2. Calm – Best Sleep App for Apple Watch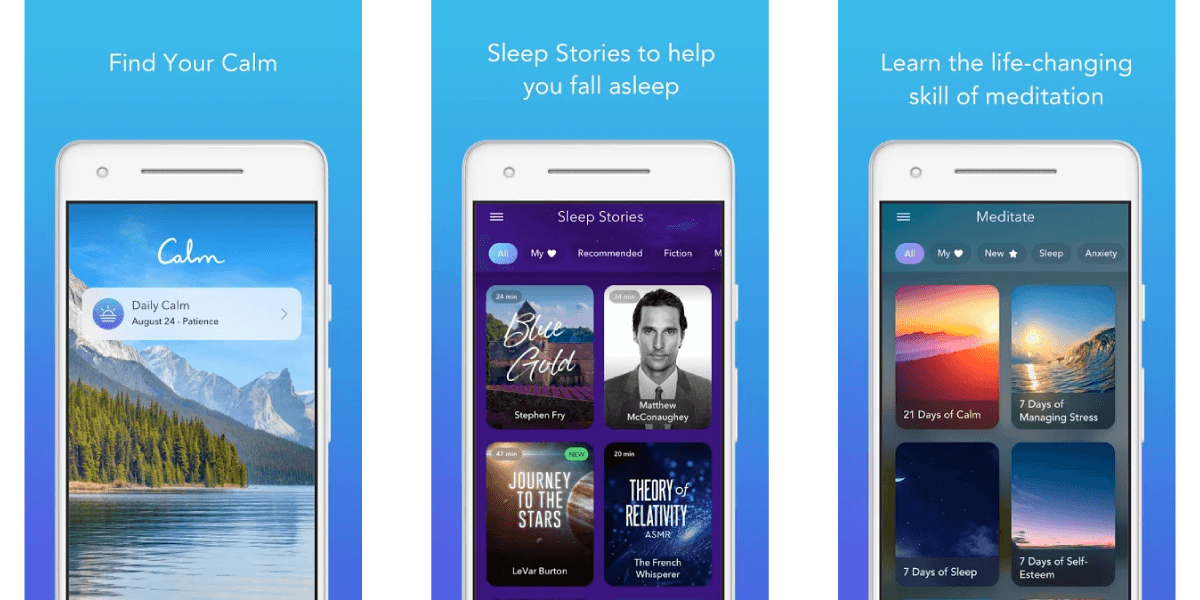 Our list would not be complete without mentioning Calm, one of the most successful sleeping apps. Calm is a San-Francisco-based startup that's now valued at $1B, the industry's first "mental fitness unicorn". It is Apple's award-winning sleeping and meditating app.
The Calm app claims to make meditation easier, boost confidence, improve concentration, and sleep better. The application uses guided meditations, soothing music, and bedtime stories to help users practice a relaxed and stress-free lifestyle.
Calm offers a library of Sleeping Stories that are quite helpful to get to sleep quickly. The notable feature of Calm is that it caters to the needs of beginners and advanced users efficiently. Guided and Un-guided meditation lessons are available on the app to assist beginners as well as experts with meditation. It features beautiful imagery and soothing sounds with Daily Calm sessions on a variety of topics.
Just like Headspace, Calm is available on Android as well as iOS. It is one of the best sleep trackers if you use the Apple watch as it uses the accelerometer to track your sleep movements.
Calm comes with a free trial that comprises a seven-day course of guided-meditation exercises. Monthly and lifetime subscription plans are also offered.
Key Features
Calm provides its users with a vast library filled with more than a hundred bedtime stories to help them sleep.
It also has an un-guided timed meditation feature, which allows the user to adjust the meditation time according to their needs.
Users have access to more than 30 ambient sounds, which makes it one of the best sleep sounds apps.
Calm also helps its users relax with the help of breathing exercises, which is a great way to control anxiety.
Calm has gone out of their way to make sure that they take the title of one of the best sleep apps, by making experts teach the masterclasses.
Users have access to multi-Day Meditation programs, however, some of these programs are available with calm premium in-app purchases.
Calm measures their user's daily streaks to track progress, which we believe is one of the best sleep tracker app features.
Pricing
Pricing plans of Calm are somehow budget-friendly as compared to other top-notch sleeping apps. Calm also offers a 7-day free trial. Here are the subscription details:
Monthly subscription –at $69.99 if billed annually. It features 100 sleep stories, exclusive music tracks, access to Calm Body classes, and life-changing Calm Masterclasses.
Calm for Life –at $399.99 users get a lifetime subscription to the app with all the premium features.
---
3. Pzizz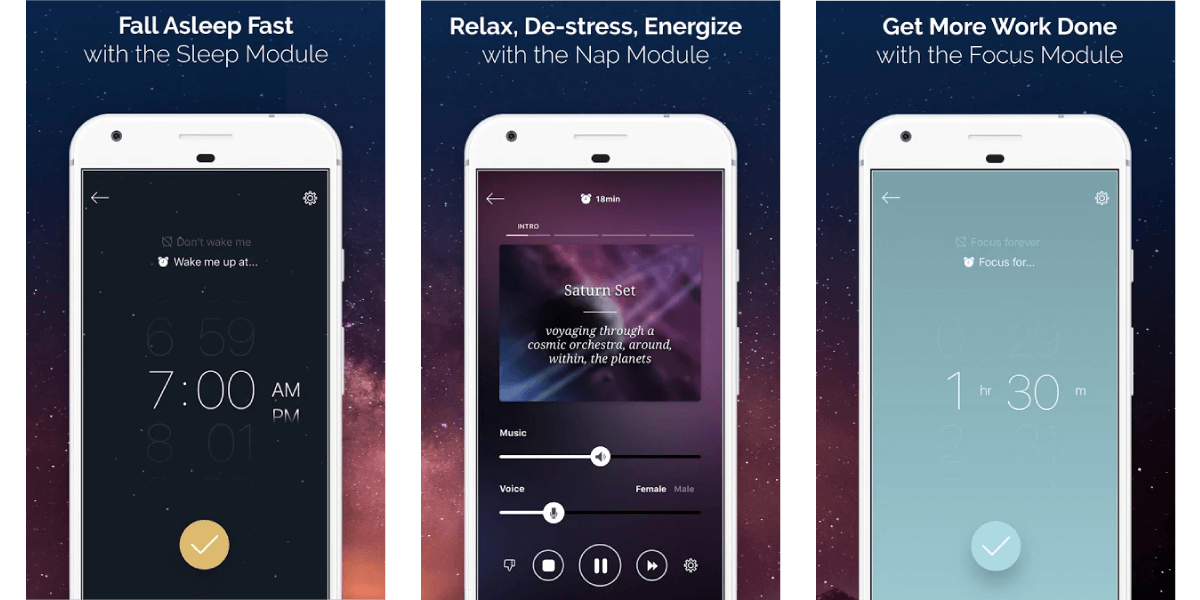 When it comes to sleep and meditating apps, it is hard not to mention Pzizz. It was launched in 2016 and since then its popularity has only increased. Pzizz is designed to help users get to sleep or get a relaxing power nap. The application claims to help users "fall asleep fast, stay asleep, and wake up feeling refreshed".
Coming to the details of the app, the interface alone is quite simple and calming. There are quite a lot of sounds available on Pzizz which are generated through the combination of binaural beats and soothing narrations.
The narrations are available in male as well as female voices. Pzizz is clinically validated to help with insomnia as it implies the NLP (neurolinguistic programming) techniques to help wind you down before you go to bed.
There are two modules available in the application, namely Nap Module and the Focus module. Users can use these modules according to their needs. It generates a new tailor-made playlist for you every time you tune in, so you will never have to listen to the same sound twice.
Pzizz is worth the download if you want to treat your insomnia or improve your sleep cycle. The app is available for both Android and iOS devices with budget-friendly subscription plans as well as Free Classic Pzizz version.
Key Features
Pzizz has exclusively designed a Nap Module to improve your sleeping experience, which we believe makes it one of the best sleep tracking apps.
To increase productivity Pzizz has created a focus module called 'focuscapes', which is designed to aid in enhancing the environment of the user.
Pzizz has made sure that the user interface is simple and easy-to-use, and the design is aesthetically pleasing.
Pzizz has also made sure that the app is clinically validated to be effective in improving sleep quality, which we believe makes it one of the best sleep apps.
Users can enhance their sleep by trying a variety of unique sleep sessions and choosing the best technique for them.
This app makes sure that new features are being added on an ongoing basis, and the app is updated regularly.
Pzizz also has added voice-overs based on progressive relaxation and hypnosis, to allow users to feel calmer and at peace.
Pricing
Pzizz users have two versions to choose from. One is free of cost – Classic Pzizz. The Pro Pzizz is the paid version and has more features relatively.
With Pzizz Pro users get features like Dreamspace, Focuscapes, Narrations, and updates. Monthly and yearly auto-renewed subscriptions are available along with a free 7-day trial for Pzizz Pro. If you want to test the app first, opt for the Classic version and later get a subscription that suits you best.
Monthly subscription –at $9.99. Auto-renewed monthly though users can cancel anytime.
Yearly subscription –at $69.99, renews annually with an option to cancel anytime.
Also, check out these super useful Google Chrome extensions and Gmail add-ons if you're looking to skyrocket browsing and email productivity.
---
4. Slumber – Best Sleep App for iOS
Rating: 4.7 out of 5
Available for: iOS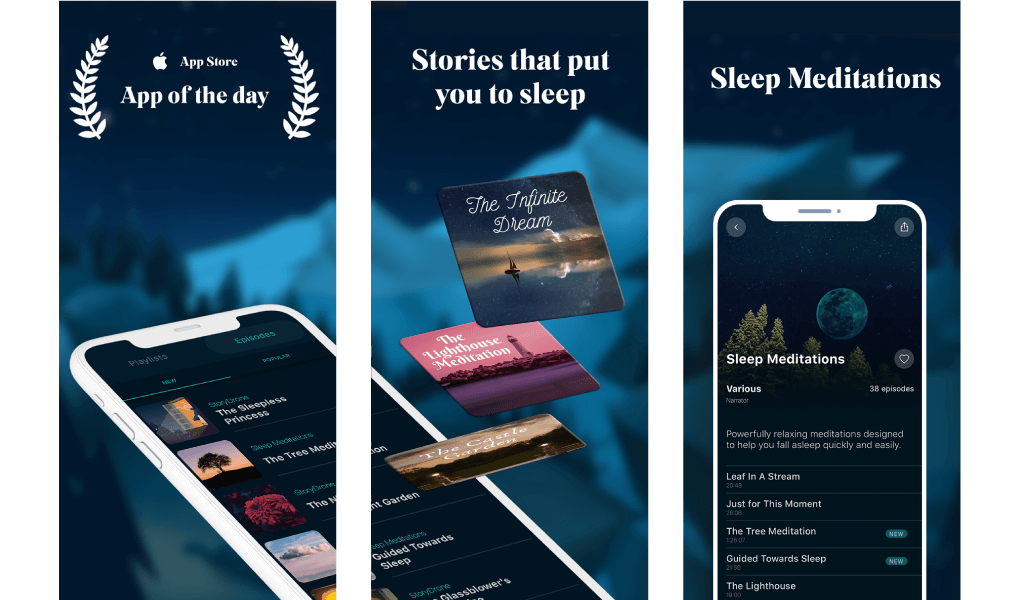 Packed with a collection of relaxing sleep-inducing stories and meditations, Slumber is one of the best sleep tracking apps designed to beat insomnia and help you fall asleep instantly. Slumber offers a variety of slumber episodes that put users into a state of deep calm, making it easy to drift off.
To provide the experience of perfect ambiance for sound sleep, the app allows you to adjust the nature sounds and background effects. Moreover, the background effects are endorsed with Binaural beats to encourage alpha stage sleep.
There is also an option available to play the background music for up to 10 hours even after the main track ends. Slumber is updated weekly with new stories and meditation.
The free version of Slumber offers up-to 10 stories however, users can always get their hands on all the stories by getting the subscription.
Key Features
Slumber happens to be one of the best sleep tracking apps because it retains all the records of the user's sleep quality.
This app also gives access to its users to a large library of meditation sounds, bedtime stories for kids, sleep-inducing stories, and ASMR soundscapes.
There is a delayed ending feature to help users get the experience of relaxing background ambiance for as long as they like.
We believe that Slumber is one of the best sleep sounds app since it has new sleep sounds and stories every week.
Users also have access to their favorite sounds when they are offline, which is convenient especially if they don't have an internet connection.
Slumber also provides suggestive hypnosis and meditational guides to help users relax and fall asleep.
This app is designed in a way that users can adjust the nature sounds and background effects, to help them sleep better at night.
Pricing
Auto-renewable yearly subscription at $49.99 per year.
---
5. Sleep Cycle – Best Sleep Tracking App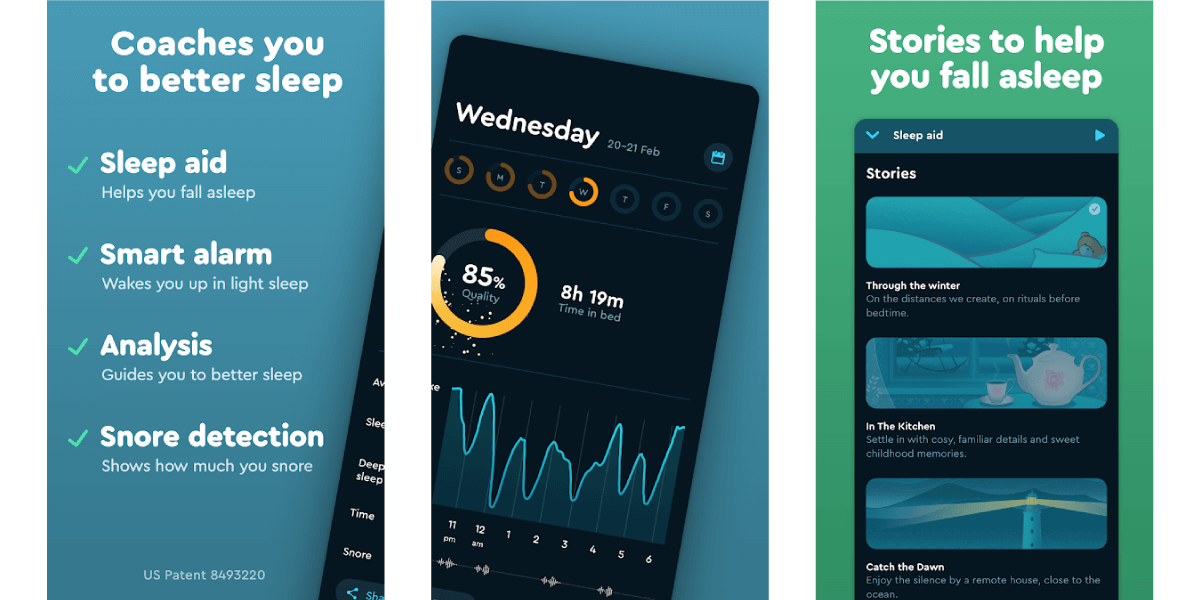 Sleep Cycle is an iOS app that serves as an alarm clock as well as a sleep monitor. It is a new modernized form of the standard alarm clock. Sleep Cycle utilizes the microphone and accelerometer in the phone to detect movements and sleep patterns.
You can set a window from 90 to 10 minutes long during which you want to be woken. Based on this information, it wakes you up at the optimal time of the sleep cycle, rather than waking you up in deep sleep. This action makes sure that you do not wake up feeling groggy and feel significantly better about waking up.
Another amazing feature of the Sleep cycle is that it plots your sleep movements onto a graph to give an almost accurate representation of how you slept. An option of sleep history is also available on the app for you to compare your sleep quality over time.
Overall, Sleep Cycle is a simple yet effective and functional app to help you wake up. We suggest you give this application a try if you want to wake up feeling good and be productive for the day!
Key Features
The Sleep Cycle conducts a whole sleep analysis with its own patented sound technology or accelerometer, which makes it one of the best sleep tracker apps.
They provide the user with detailed sleep statistics and daily sleep graphs, allowing the user to how their sleeping pattern works on particular days or events.
The app has been fully integrated with Apple Health and is deemed as one of the best sleep apps for the Apple watch.
Users can carefully select alarm melodies, which won't startle their sleep cycle and help them wake-up in a peaceful manner.
The app has a simple snoozing option by shaking or double-tapping the phone lightly.
The Sleep Cycle- Best Sleep Tracking App has been programmed to carefully backup the user's data online.
All the user's favorite sounds and stories can be tagged with ease for offline listening.
Pricing
Sleep Cycle is offered as a free app on both Android and iOS. The app also offers auto-renewable paid subscription plans with premium features.
Free –free of cost with basic features.
Premium Yearly subscription –at $29.99 per year with features such as online backup, the option to export sleep data, weather, long-term sleep trends, sleep notes, heart rate monitor, and sleep aid.
Also, check out this roundup of the best online collaboration tools to improve cross-team collaboration at work.
---
6. 10% Happier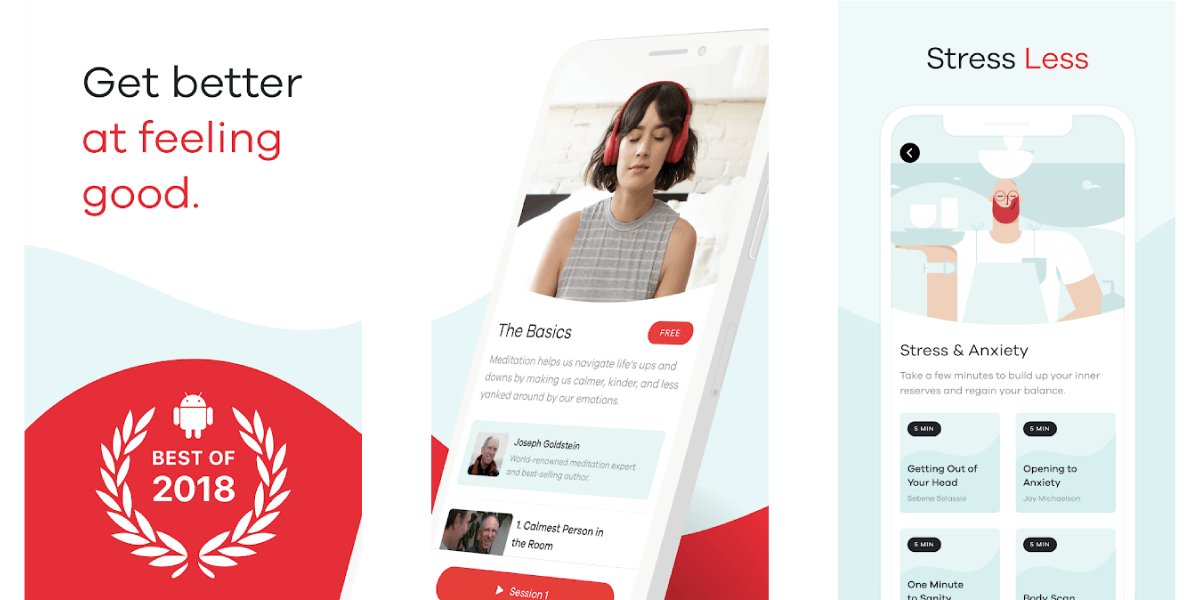 Developed by a television anchor and journalist Dan Harris, 10% happier is an Apple award-winning meditation and sleep app. It was listed Number#1 is the list of top apps in the New York Times 'How to Meditate' guide. 10% happier promotes itself as "meditation for fidgety skeptics". If you are keen to feel the benefits of mindfulness without making much effort in your daily routine –this app is designed to win you over.
10% happier offers refreshing courses based on specific emotional challenges and mindfulness techniques. The app features personalized coaching sessions and challenges to achieve a meditational goal.
The unique feature of this app is that it lets you start a conversation with expert meditators, who usually reply within a day. You can set reminders for meditating sessions. Moreover, 10% happier lets you add friends to keep you motivated and on track.
Key Features
10% Happier makes sure that their users are indeed happier and satisfied, and they do this by providing them with quick meditation lessons.
This is one of the best sleep sounds app, since it gives its users access to a library of 500+ guided meditations on various topics.
To keep their users engaged and of course happier, 10% releases new content released every week.
This app also has a sleep section filled with relaxing meditations to help its users decrease stress and anxiety.
10% Happier also has a timer feature, in which the user can set the time they need for meditation.
This app also provides users with stories, wisdom words, and inspiration for users to listen to while on the go.
A new milestone feature has been added, which celebrates the user's accomplishments, such as meditation sessions completed, coaching goals achieved, and much more.
Pricing
Subscription plans for 10% happier are as follows:
Free –free for lifetime, includes basic features
Monthly subscription –at $9.99 this subscription gives access to all the premium features of the app such as 350+ video lessons on meditation.
Yearly subscription –at $99.99 with all the premium features.
Lifetime Access –at $399.99 with all the premium features.
---
7. Sleepa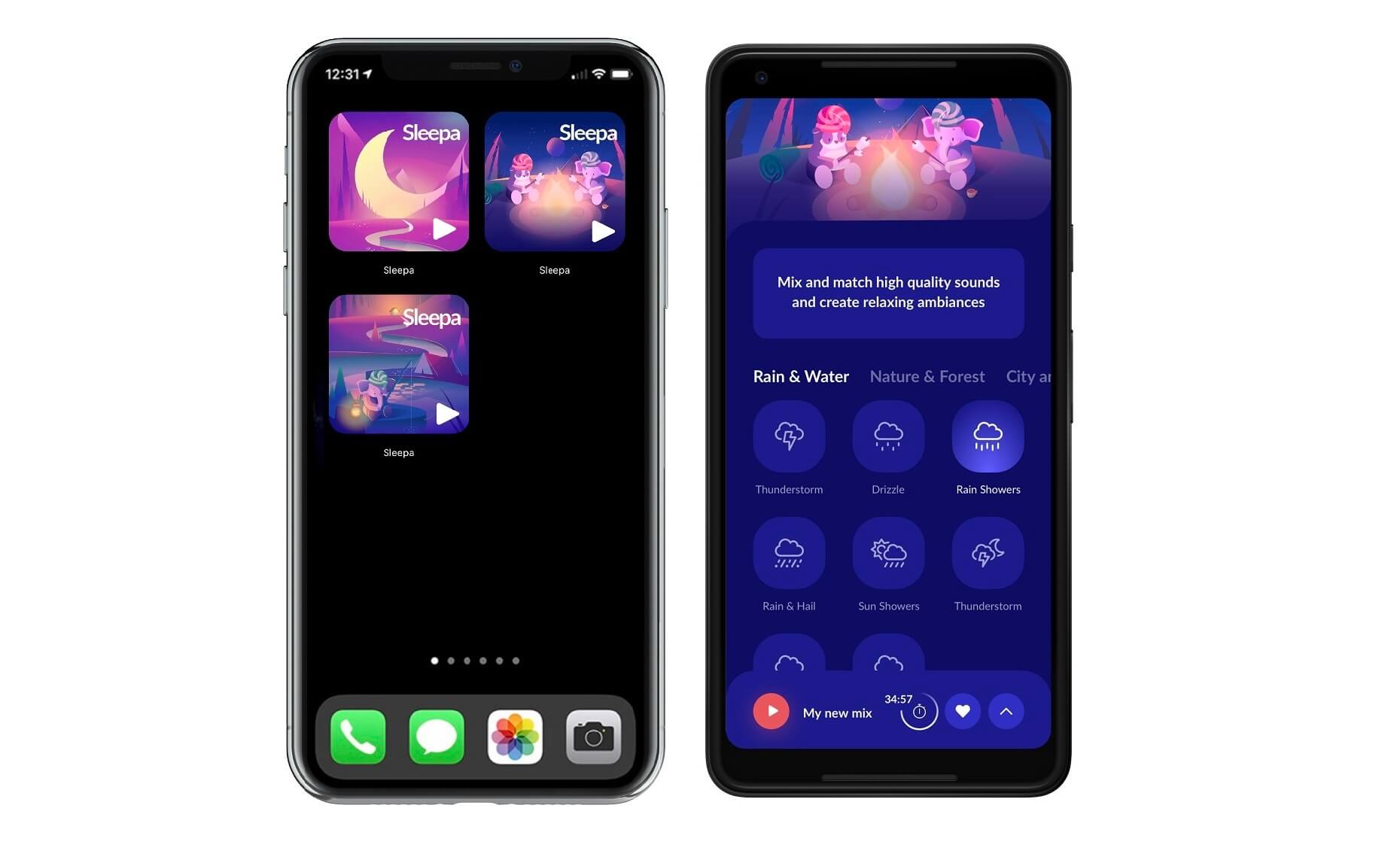 Sleepa features a great collection of high-definition sounds to fall asleep to. The sounds can be combined to make personalized mixes with relaxing ambiances. Sleepa also includes a sleep timer designed to automatically turn off the app after you drift off to slumber. The time can be set on the timer, ranging from one minute to up to eight hours.
Users can create atmospheres in the app as they desire just by clicking the corresponding icons. The app design is also very intuitive and user-friendly.
There are 32 relaxing and carefully selected sounds available on the app from four different categories — rain, nature, city, and meditation. Sleepa provides you with the option of saving your mixes and playing them later as well with just a tap on your screen. Even more so, Sleepa has three different kinds of noises, namely white, pink and brown noise to help you put yourself to sleep in minutes.
From the wide collection of sounds available, it is guaranteed that you will find a selection that works for you. The app is however only available on Android.
Key Features
Sleepa provides its users with more than 32 High-quality soothing sounds to choose from.
Sleepa is one of the best sleep tracking apps because it helps not only track sleep data but it allows users to save personalized mixes for consistent sleep.
This app has a timer feature for users to turn off the app automatically, therefore, increasing productivity and efficiency.
We feel Sleepa might be one of the best sleep sounds app since it gives three different noise selection options. They can choose from white noise, pink noise, and brown noise.
The user interface was simple-to-use and intuitive, the design aesthetics are soothing and very pleasing to the eye.
Sleepa does not require an internet connection, so it can be used on-the-go, anywhere, at any time.
Sleepa's Better Bedtime subscription allows users to unlock all the current and future features.
Pricing
Sleepa is available free of cost on Google Play Store and offers in-app purchases to remove ads as the app is ad-supported and to save the custom mixes.
---
8. Pillow
Rating: 4.6 out of 5
Available for: iOS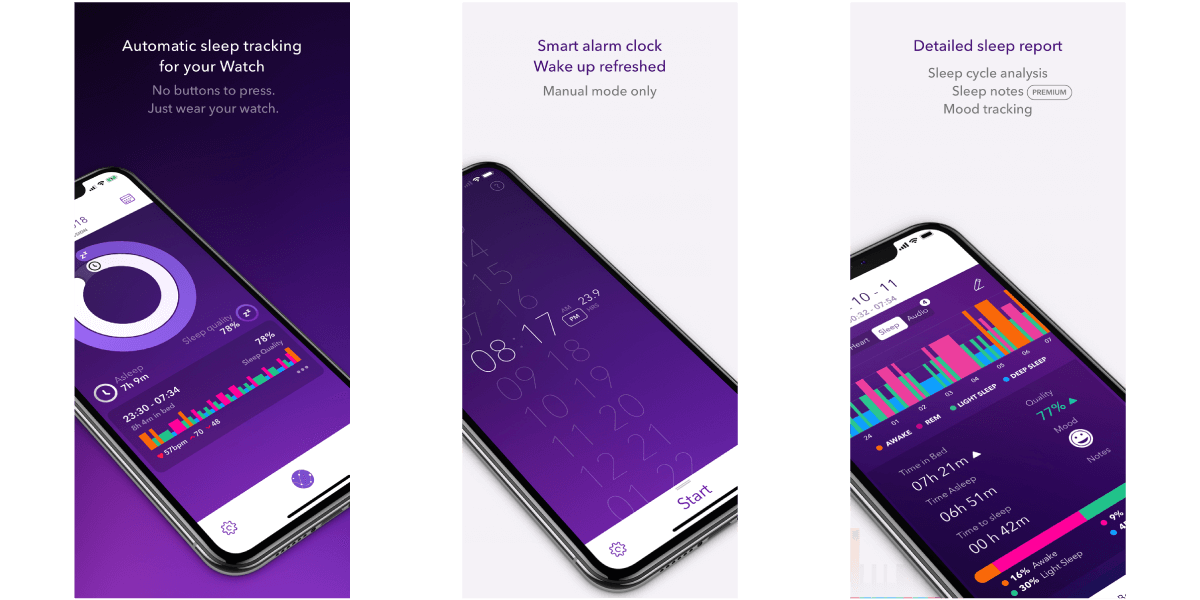 Pillow is the perfect sleep tracking app for those who want to monitor their sleep and its quality. Pillow's smart alarm clock analyzes your sleep quality and wakes you up at the lightest possible sleep stage.
Pillow monitors and provides information regarding your heart rate, your REM cycles, and how long it took you to get to sleep. This information can help you improve your sleep quality. Pillow can be downloaded on any Apple device such as iPhone, iPad, or Apple watch. The app will securely synchronize all your data seamlessly across your devices.
Furthermore, Pillow also supports audio sound recordings to record important audio events such as snoring, sleep apnea and sleep talking. Pillow uses color graphs which are easy to interpret, to show sleep quality and trends.
Pillow has been featured on The New York Times, Forbes, The Guardian, BuzzFeed multiple times and has been rated as one of the best sleep tracking apps by users.
Key Features
Pillow is one of the best sleep tracker apps since it provides users with Sleep and Heart Rate analysis with graphs.
It is also one of the best sleep apps for the Apple watch because it is synchronized with Apple Health to help users compare their sleep quality.
As mentioned before it is one of the best sleep tracking apps since it records sounds and listens to important audio events during sleep.
Pillow gives its users three different Nap Modes – Power Nap, Recovery, and Full Cycle Nap.
It has many sound options and choices for its users to pick from Sleep aid Melodies and Soundscapes.
Personalize experiments and recommendations based on sleep analysis done through an advanced sleep analysis algorithm.
Pillow gives all of its subscribers' detailed sleep history with week, month, year, and all-time overviews.
Pricing
Pillow is available free of cost on Apple App Store however, to access its premium features, users have to get a subscription. Premium features offered in the app include unlimited sleep history. The application offers 4 tiers of subscription plans as mentioned below:
Pillow Premium – at $4.99
Monthly Premium Features – at $4.49
Yearly Premium Features – at $27.49
Quarterly Premium Features – at $9.49
---
9. Sleep Sounds
Rating: 4.5 out of 5
Available for: Android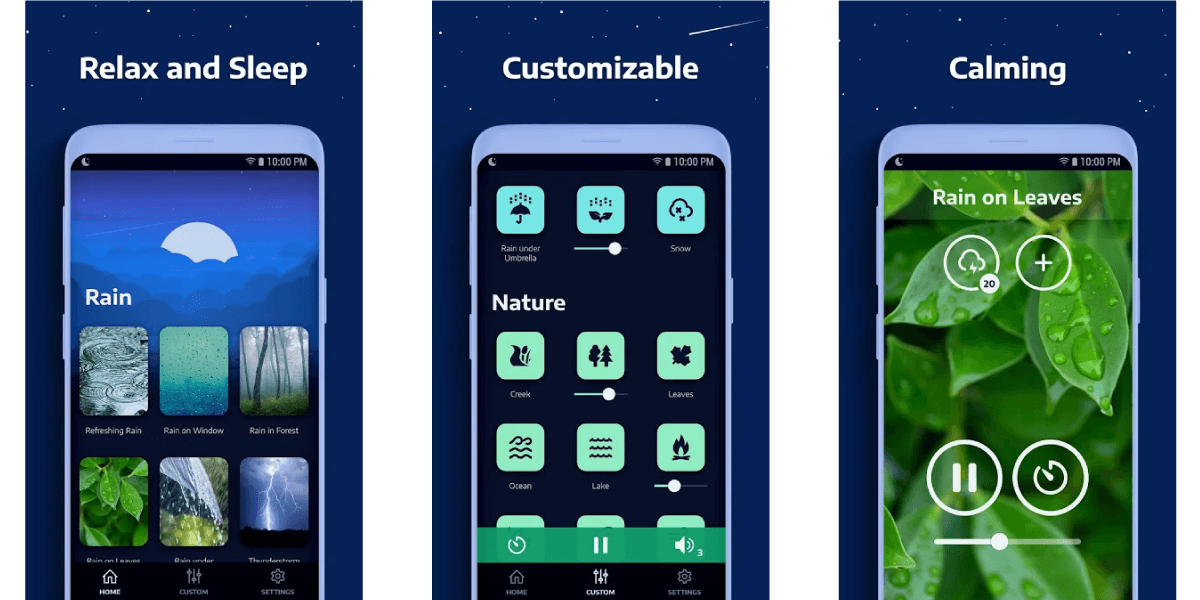 As the name suggests, Sleep Sounds feature high-quality, soothing sounds for better, uninterrupted sleep and it is the best sleep sound app you can get on Android. Science has proven that ambient sounds aid in sleeping as well as in increasing productivity.
Sleep Sounds aim to help the users relax and put themselves to slumber sleep in no time. It has a collection of different customizable nature sounds, to choose from.
These calming sounds guarantee to give you a quick and sound sleep experience. Sleep Sounds also have a timer. You can set the timer as you see fit, so the app turns off automatically after you have drifted off to sleep. The app is, however, only available for Android devices.
Key Features
Sleep Sounds is one of the best sleep sounds app since it provides its users with high-quality soothing sounds.
Users don't have to worry about internet connectivity issues with this app since it works offline as well.
Sleep Sounds have a timer feature to turn off the app automatically, which is highly convenient and helps set a healthy pattern.
This app is one of the best sleep apps since it lets everyone using it to customize the atmosphere to their specific needs.
This app can be easily installed on an SD Card, so there are storage space issues.
Sleep Sounds is also programmed to help users who suffer from snoring and help them stop.
To ignite a sense of calmness and tranquility, this app has beautiful background images installed.
Pricing
Sleeping Sounds are available free of cost on Google Play Store, though it still offers in-app purchases.
---
10. Noisli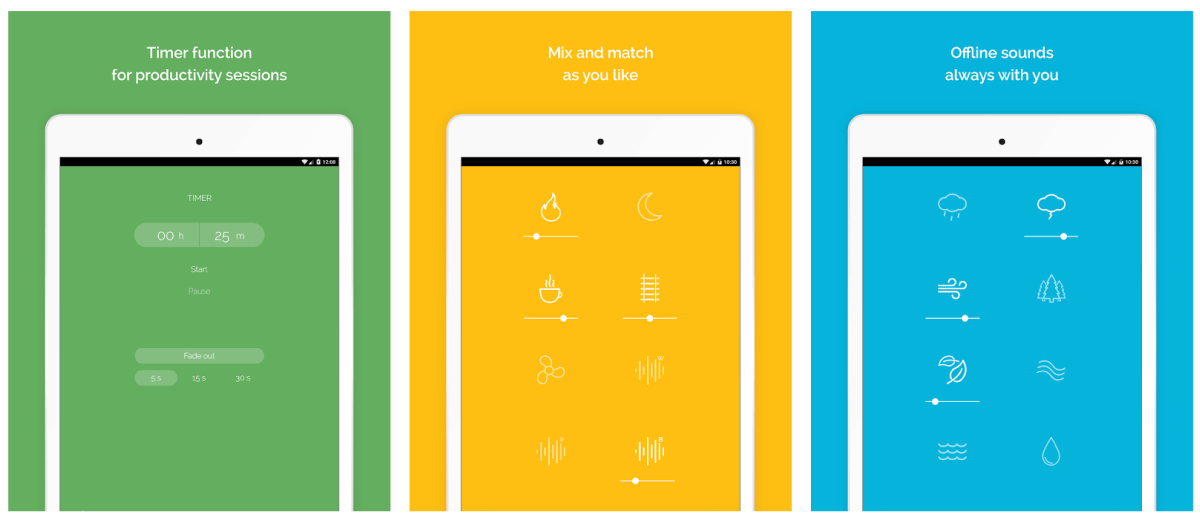 Noisli is a collection of high-quality ambient sounds to drown out annoying noises to enhance concentration and productivity. It comprises 16 different sound loops such as rain, forest, thunder, etc.
The sounds can be played and mixed to generate a sound combination of your preference. These sound combinations can be saved as Favourite Sound Combos. Users can also adjust the volume as they like.
Other than calming sounds, Noisli offers a minimalistic yet colorful interface. Its background color changes according to the sounds being played to enhance productivity and relaxation. The application has a built-in timer and text-editor. Furthermore, Noisli provides background support for users to work or study in peace.
It is a must-have application to improve your concentration and stay sane even when the world around is crushing down.
Key Features
Noisli has its background audio support, which can be used for any event such as working or relaxing.
All the sounds are available offline and can be played anywhere, anytime.
Noisli subscribers can synchronization their accounts on all devices, and they can use it from any device without having to worry about losing sleep data.
The user can play and mix sounds to design personalized Sound Combos, which helps them set a consistent mood and enhance their sleep therapy.
Noisli has a built-in countdown timer feature with a fade-out function, this feature is highly convenient especially for those who want to set a healthy pattern.
Noisli is also used to mask Tinnitus and to help with ADD and ADHD. The purpose of Noisli is to improve a person's health and feel better.
This app can help with situations such as insomnia, relaxed reading, and decrease stress, soothe headaches & migraines, and enable a spa environment. It can also be used to help babies fall asleep.
Pricing
Noisli is available on the website as well as an app. It is priced at $1.99 on Android and iOS. However, it is available free of cost as a web app and Google Chrome's extension.
---
Conclusion
There are plenty of great apps available out there, and we know how confusing it gets to find out the best one among them. We have tried our best to help you get the app to learn about your sleep patterns and get a deeper, more restful sleep.
However, the question for the ideal sleeping app for you remains.
To select the app that is most compatible with you, check these few things to get started. For example, are you an Android user or do you own an Apple device? Depending on the platform, choose the app that provides the most features and is also light on the pocket.
We are sure that with our list you will be able to narrow it down to the app to regulate your sleep patterns and get a better night's sleep. Most of the apps mentioned above offer a free version, you can always try and go back in case the app does not align with your requirements.
Download any of these best sleep apps today to see how it helps you fall asleep quickly.
---
Other SaaSy goodness on All That SaaS: