What is the first thing that comes to your mind when someone tells you that they have tried using the best dating apps to find their better half or just not be single?
Ease? Convenience?
For those of you who don't know which one of the best dating apps to use, don't worry, we will give you detailed reviews of different types of apps that would fit your persona and simplify your dating lifestyle.
Below we are going to share with you the overall top 15 best dating apps rated by the users.
The Best Dating Apps in 2023
1. Tinder

Launched in 2012, Tinder, is one of the most popular dating apps to date. If the user likes the other person's profile, they swipe right. If they don't think it's the right match for them they swipe left.
However, if both users swipe right that means it's a match! They then can chat with each other.
Key Features
Facebook/Google sign-in: Social-ins allow Tinder profiles to be made with ease and user-friendly.
User profile: Making a good user profile allows the match-making to happen with ease and effectively.
Location-based suggestions: A person can opt for local area wise suggestions or if they would like to meet someone from another country that is also possible.
Search functionality with filters: Users can find the type of person they would like to meet. They can set the filter function search based on their preferences.
Live video chatting: After the initial chat has been done, users have the option of activating this feature and talk online before they meet.
Offline access: This app can be accessed by users when they do not have an internet connection.
Block users: Users can apply the block feature to prevent any future communication with people they do not wish to interact with.
Personal Security: This feature was recently added to protect the LBGTQ users. It is for those who may be using this app in a country with an oppressive state, that doesn't legalize relationships with the same-sex. This key feature puts this app in the best gay dating apps and best lesbian dating apps.
Pricing
Tinder is available on both OS and their pricing plans are as follows:
1. Tinder Plus
Tinder Plus Premium Features:
Get unlimited Likes.
Redo or Rewind your last swipe.
Users can receive 5 Super Likes a day, in which they can tell other users that they stand out.
Users can Boost their profiles once a month, which allows them to get 10x more profile views.
Get the Passport option, where users can connect to other people and swipe around the world.
No ads
Tinder Plus (Age: less than 28
| | |
| --- | --- |
| Duration | Cost |
| 1 Month | $9.99/month |
| 6 Months | $5.83/month |
| 12 Months | $4.58/ month |
Tinder Plus (Age: 28+)
| | |
| --- | --- |
| Duration | Cost |
| 1 Month | $14.99/month |
| 6 Months | $10.00/month |
| 12 Months | $6.67/month |
2. Tinder Gold
Tinder Gold Premium Features:
Users get to see who likes them before they swipe, using the Likes You feature.
The New Top Picks feature is given every day, which allows them to see their highlighted potential matches.
Get unlimited Likes
Redo or Rewind your last swipe
Receive 5 Super Likes a day.
Users get 1 Boost/month.
The Passport option is also available.
No ads
Tinder Gold (Age: less than 28)
| | |
| --- | --- |
| Duration | Cost |
| 1 Month | $9.99/month |
| 6 Months | $8.83/month |
| 12 Months | $6.92/month |
Tinder Gold (Age: 28+)
| | |
| --- | --- |
| Duration | Cost |
| 1 Month | $19.99/month |
| 6 Months | $15.00/month |
| 12 Months | $10.00/month |
---
2. Badoo Dating App

Badoo is a social network app, with dating being its primary focus.  It has many features that allow users to meet, chat, and make new friends as well. This dating app is available in 47 multi-languages and is operational in 190 countries around the world.
Badoo provides its services free of charge, however, it charges a premium for any additional features a user may want to use.
Key Features
Profile: Where users set up information about themselves to let other people know more about themselves.
People Nearby: Allows users to search for people nearby. However, if you can also search for people in other parts of the country or world.
Encounters: This feature allows users to swipe right for liking a profile or left for not liking it.
Messages: All the chat messages are stored in this inbox feature.
Favorites: When a user favorites another profile, their name and picture are then saved in the form of a reference.
Visitors: This enables users to check who has been visiting their profile, by pressing the Visitors screen button.
Blocked: A user is allowed to block another person from viewing them and sending them messages.
Added Security: Recently, Badoo added several safety features to make sure that the users are genuine and verified. For example; the "selfie request" button, where a user may ask another user to send them a selfie to check if it is the same person in the pictures.
Pricing
Badoo is available on both OS and their pricing plans are as follows:
Duration/Credits
Cost
Total
Badoo Premium
1 Month
12.99 USD / Month
12.99 USD
3 Months
10.66 USD / Month
31.99 USD
6 Months
8.00 USD / Month
47.99 USD
Badoo Credits
100 Credits
0.03 USD / Credit
2.99 USD
550 Credits
0.02 USD / Credit
9.99 USD
1,250 Credits
0.02 USD / Credit
19.99 USD
2,750 Credits
0.01 USD / Credit
39.99 USD
Badoo Premium Features:
Badoo Encounter: Users are allowed to look for matches easily.
Profile Score: Other users rate your pictures and if your score is high, the more visible your profile will be.
Lookalikes: If a certain user's appearance appeals to them, they can search for someone who resembles them.
Visits: Users can check who visits their profile.
Likes: Users can receive email and browser notifications if someone likes their profile.
Favorites: Users can put others on their favorites list and see who has put them in theirs.
Lookalikes: Users can find other users who look like them using their photo, or other users with particular facial features that appeal to them.
Gifts: Users can purchase gifts for others, such as emojis, to get their attention.
---
3. Bumble – The Feminist Tinder

Bumble is a social and dating application, which is also location-based. It has the same mechanics as the previous apps; swipe right to accept and swipe left to reject. Bumble is considered the "feminist Tinder".
Key Features
Verified Profiles: This feature allows Bumble to check if the users are authentic, by requiring them to take a picture with an assigned motion.
Female Control: In heterosexual relationships, once the users have been matched, only the woman can message the man first.
Caters to all sex preferences: If you are a lesbian, gay, or even bi-sexual; the female first rule is omitted.
Socialize: Bumble is not just a dating app, it is also a social app where you can make new friends.
Photo Security: Bumble has a tool where unwarranted lewd pictures are detected and blurred went sent or received, deeming it as inappropriate content.
Color coding: When potential friends are matched, their conversations are color-coded green and yellow for dates.
Voice calls: In-app voice and video calling has been enabled on all of Bumble's platforms, since June 2019.
Easier Login: Instead of using Facebook, people can now use their phone numbers to log in.
Pricing:
Bumble's dating app is available with the following premium plans:
1. Bumble Boost
| | |
| --- | --- |
| Duration | Cost |
| 1 week | $8.99/week |
| 1 Month | $24.99/month |
| Per Month for 3 month | $16.66/month |
| Per Month for 6 month | $13.33/month |
2. Bumble Credits
Credits are used as currency for the special paid features, such as SuperSwipe.
| | |
| --- | --- |
| Coin Amount | Cost |
| 1 Coin | $1.99/coin |
| 5 Coins | $1.60/coin |
| 10 Coins | $1.50/coin |
| 20 Coins | $1.25/coin |
Bumble Premium Features:
BumbleBff: If users are not into dating, they can find friends.
BumbleBizz: Users can find business connections, this is a LinkedIn version of the app.
SuperSwipe: The super swipe is to let others know they are being given special attention.
Bumble Hive: Real live events that allow all the members to meet.
The BeeHive: Bumble's blog, which gets updated and published regularly.
---
4. OkCupid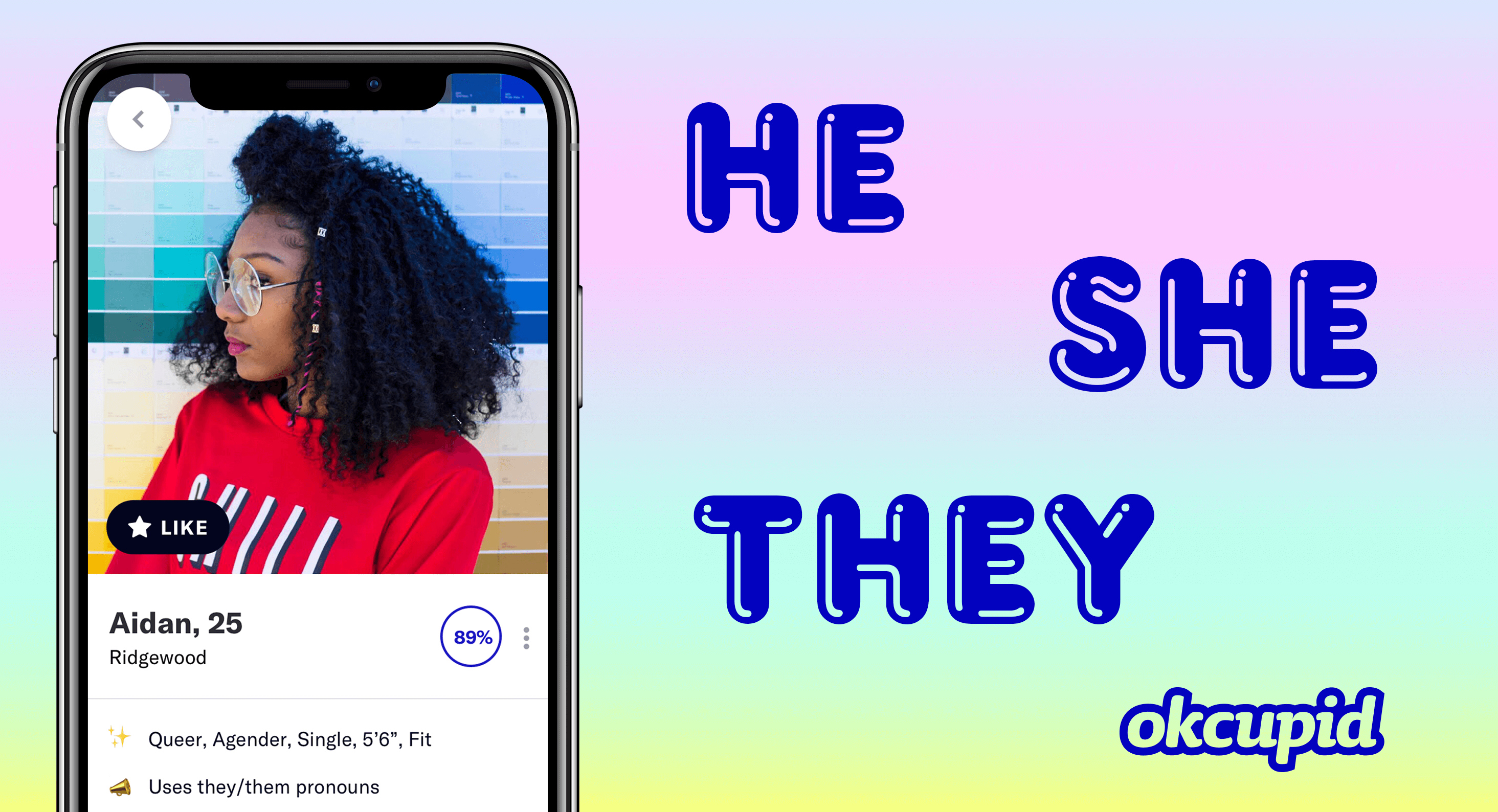 OkCupid is known as one of the pioneers of online dating. Huge supporters of the LGBTQ movement, they have made their app and site a safe place for all sexual orientation preferences.
Key Features
Profile: Creating a profile on OkCupid is done with ease and is fun! They ask questions that won't compel someone to lie.
Social Acceptance: OkCupid plays a heavy role in socially accepting people the way they are.
Liberal: They ask questions that align users with like-minded individuals.
Swipe Easy: They use the standard, swipe right if hot or left if not
Matched Messages: Random users cannot message you, they have to match each other before they do.
Free Win: The free subscription is worth it!
Recommendations: OkCupid will make recommendations to you, based on your profile.
Safety policies: Users are required to use their real names and not made upIDs or nicknames.
Pricing
The OkCupid dating app is available with the following premium plans:
Duration/Credits
Cost
Total
A-List Basic Subscription
1 Month
7.95 $ / Month
7.95 $
3 Months
6.35 $ / Month
19.05 $
6 Months
3.95 $ / Month
23.70 $
A-List Premium Subscription
1 Month
24.90 $ / Month
24.90 $
3 Months
22.90 $ / Month
68.70 $
6 Months
19.90 $ / Month
119.40 $
Boost
1 Credit
1.99 $ / Credit
1.99 $
5 Credits
1.89 $ / Credit
9.45 $
10 Credits
1.69 $ / Credit
16.90 $
OkCupid Premium Features:
Double Take: A roulette-type matching feature
See Who You Like: Users can see a list in a tab form of who they like and message them freely
See Who Likes You: Users can see who likes them
Boost: Users can have their profile highlighted for the Double Take feature and to get more likes
OkCupid Blog: Publishes tips on how users can use the OkCupid app to the max
---
5. Happn – Date Locals

Happn lives up to its name and makes matches happen almost immediately. Once you complete your profile, it helps you locate a match that you have crossed paths with.
It has the same operational process of, swipe right to like and swipe left to dislike. It is also the best dating apps for Android.
Key Features
Simple Registration: Users can use their Facebook account to login into the application.
GPS Locator: Uses your GPS settings to find people within your vicinity. For example, People that you may have met crossing the street.
Secret Crush: Users can "like" a match secretly, therefore people won't know if you're interested in them until they are interested in you.
Job Security: Every match has to include the company and their job title for where they work. This allows a user to do their own research if necessary.
Personal Security: Since this app only allows you to connect people within your radius, it is easier to do background checks on them.
Free Charms: This app is free for women to use, but men have to pay for charms or the option to like.
Spotify integration: Users can add their favorite songs to their profile, which is a great conversation starter.
Matched Chats: Users can only chat with one another if they have matched mutually.
Pricing
Happn is available with the following premium plans:
1. Happn Premium Subscription
| | |
| --- | --- |
| Duration | Cost |
| 1 Month | $24.99 per month |
| 6 Months | $15.00 per month |
| 12 Months | $10.00 per month |
2. Happn Credits
| | |
| --- | --- |
| Coins | Cost |
| 10 Coins | $0.30 per coin |
| 60 Coins | $0.25 per coin |
| 100 Coins | $0.17 per coin |
| 250 Coins | $0.16 per coin |
Happn Premium Features:
Hello: Users can purchase a "Hello" and send it to someone whom they want to talk to. The first ten are free.
Voice Messages: Users can send voice messages to their crushes.
Crush Time: In-app game, where the user can guess which member likes them from a group of four. If they are correct, they can then message the member.
I'm up for…: Users can show what their plans are and what they are probably going to do in the next six hours.
---
6. Grindr – Gay Dating App

Grindr is a social mobile networking app that is known as the best gay dating apps. It is a staple social interaction app for the gay, bi, trans and queer community.
Grindr is also the world's first best free dating apps for the gay community, but it isn't a relationship app.
Key Features
User profiles: Can be created via email and users can customize the information they share about themselves.
Push notifications: Notifications alerts can be set to user preferences. They can get alerts about likes, messages, and Grindr news.
Favorites: Users can select their favorite men and save their profiles for later. They even have an option to block users they no longer wish to interact with.
Chat: Chat with people all around the world and share photos.
Geolocation: Allows users to search for almost 100 men around in the area and share their location with them.
Search Settings: These settings can be filtered and customized to their needs.
Security: Aside from being able to block unwanted users, they can be reported with ease and safety.
Premium Features: These paid features have no ads in them, extra search filters, and users can see up to 600 male profiles at a time.
Pricing
Grindr gay dating app is available with the following premium plans:
1. Grindr Xtra Lite
| | |
| --- | --- |
| Duration | Cost |
| 1 Month | $9.99 per month |
2. Grindr Xtra
| | |
| --- | --- |
| Duration | Cost |
| 3 Months | $6.99 per month |
| 6 Months | $4.99 per month |
| 12 Months | $47.88 per month |
Grindr Premium Features:
Gaymojis: Customized LGBTQ emojis, which make it fun to communicate.
Tap: A flame icon appears if a user likes another's profile.
Explore: Users can search for members outside their country.
---
7. Coffee Meets Bagel

Coffee Meets Bagel is ideal for those who want to be in committed relationships, therefore deeming it to be in the best dating apps for relationships category.
Known for their female-focused orientation of the app, they proudly call their effort "Ladies Choice". Coffee Meets Bagel doesn't discourage casual hook-ups, but rather push dating and relationship socializing.
Key Features
Easy to use: Has a particularly user-friendly interface, with several guides and communicative step-by-step tutorials.
Points system: This system allows users to have a successful rate, as long as they increase the use of the app.
Mutual Matching: The app normally picks matches for you through the "friends of friends" Facebook algorithm. Thusly, this transparency allows a much easier background check and feedback.
Efficient Matching: There is a limited number of matches a day, therefore, allowing the user to make a more effective dating process.
Ice-Breakers: Along with limited matches of the day, the app also provides ice-breaker information for the users to apply when approaching their match of the day.
Chat limit: Coffee Meets Bagel sets a seven-day limit to how long you chat before setting a meeting.
Beans: They have their own currency, which users can buy and use to acquire the premium features.
Discover: If users are not happy with the suggested matches, they are allowed to browse through different profiles through the "discover" tab.
Pricing
Coffee Meets Bagel is available with the following premium plans:
1. Premium Membership
| | |
| --- | --- |
| Duration | Cost |
| 1 month | $34.99/ Month |
| 3 Months | $25.00 / Month |
| 6 Months | $20.00/ Month |
| 12 Months | $15.00/ Month |
2. Beans (In-App Currency)
| | |
| --- | --- |
| Credits | Cost |
| 100 Credits | $0.02 per credit |
| 2,000 Credits | $0.01 per credit |
| 3,000 Credits | $0.01 per credit |
Coffee Meets Bagel Premium Features:
Give: Lets users become a matchmaker for their friends. They can "Give" them daily matches through the Discover feature mentioned above.
Take: This feature allows users to maximize their exposure to matches, by "taking" a match through the Discover
Woo: Similar to the Super Like mode, users can let others know they are interested in them.
Photo Lab: Members choose which photo of yours they like better. This also allows them to earn free beans.
Open Sesame: Users can unlock the identities of mutual friends of their matches on Facebook.
Rematch: If a user misses a match, they can rematch to send a like or message.
Mirror Mirror: Tells users their CMB app ranking.
Express Delivery: For the cost of 50 beans, users can send their match a message quickly.
Question of the Day: Users can record a video of themselves that is up to eight seconds, answering a daily question. Other users browse them in the video section.
---
8. Match.com

Match.com is a dating service that is available in eight languages and functional in 25 countries. Established in 1993, they are one of the pioneers of online dating. Match.com is one of the best dating apps to meet new single people.
Key Features
Profile: Create your own profile after signing up. The user gets to choose how much information they choose to share, along with pictures.
Search Options: The search algorithm is based on what a user chooses when they sign up. This allows the search options to be narrower.
Matches: Matches appear in two forms; "All Matches" (for which the name speaks for itself), and "Daily Matches", which is the "best of the day".
Connections: This tab is a record of all your past interactions. These are other profiles that have been liked, winked, and clicked favorite.
Messages: This tab holds all the messages that have been sent and received.
Free Profile Viewing: Users don't have to pay a subscription to view profiles.
Free-Trial Offer: To check the premium features, users are offered to use them for free for three days before canceling or making full payment.
No-Live Chat: It does not offer a live chatting feature for users to interact.
Pricing
Match.com is available on both OS and their pricing plans are as follows:
Duration/Credits
Cost
Total
Premium Plan
3 Months
14.99 USD / Month
44.97 USD
6 Months
11.49 USD / Month
68.94 USD
12 Months
8.99 USD / Month
107.88 USD
Standard Plan
3 Months
12.99 USD / Month
38.97 USD
6 Months
9.99 USD / Month
59.94 USD
12 Months
7.99 USD / Month
95.88 USD
Boost
1 Credit
0.99 USD / Credit
0.99 USD
5 Credits
0.80 USD / Credit
4.00 USD
10 Credits
0.60 USD / Credit
6.00 USD
Match.com Premium Features:
Boost: The profile gets boosted for one whole hour in the discover section.
Reverse Matches: Redo or undo previous matches to connect with them.
Likes: Users can create a tab of a list of all their likes. And they can see who likes them.
MatchPhone: Members can make voice calls to one another.
Match Me: Puts users at the top of the other members' discover list.
Match Guarantee: Offers users a free six-month membership if users don't match, during the membership.
---
9. Facebook Dating

Facebook launched its dating option for the very first time in the USA on September 5, 2019. However, there is no separate date app for the purpose. It appears in certain updated Facebook applications in the form of a tab feature.
This feature or dating app design is still under development and doesn't appear on Facebook in most countries.
Key Features
Profile: Users have to make a profile for Facebook Dating through a tab on the app. In this, they will have to fill in personal details. Facebook may also make information and picture suggestions.
Secret Crush: This is a feature list a user puts together of their friends that they have might feelings or a crush. Once both users/friends match their crush, they are then matched.
Instagram Integration: Facebook Dating also enables Instagram picture sharing. Recently they have allowed Instagram to use the Secret Crush feature.
Location Settings: Users can see events and go to places with potential dates. Marking these events makes it safe for them.
No swipe: People can message others without matching in the hopes to hear back.
Separate Profile: Profiles, messages, and chats are all separate from the original app.
Safety: The profiles that are shared are normally "friends of friends", this allows users to conduct their own background checks.
Block mode: Users can block others from seeing their profile, even if they are active on their regular Facebook App and Instagram.
Pricing
Facebook is not offering any paid subscriptions for the Facebook Dating app at the moment. The app is free to use.
---
10. Ship

The Ship is the first dating app that allows your friends to find your match for you! It has been said that about 53% of the matches made on Ship have been made by friends.
It is considered to be more intense because allowing your friends to make matches for you requires a certain level of trust. However, it can be fun if you are just trying to meet new people, especially if they get a thumbs up from one of your friends.
Key Features
Profile: A user's profile can be set by them or their friends.
The Crew: Once the profile is set, the user's friends and family can be added to the Crew list and they can control the profile matching.
Not Single User: Even if a person isn't single, they can become a Ship-mate by stating their status. This allows them to become a Crew member for another friend.
Enjoyable Experience: The purpose of this app is to make dating a fun experience.
Cruise Control: If the users of this app are all members of a friend squad, then there is a high chance the search will be stable.
Trying New Matches: With the Crew mostly in control of the swiping, users get to try new matches that they would normally ignore.
User Control: Even though the Crew has control, the user can opt to turn off this feature.
Free to use: The app is completely free on both OS.
Pricing
Ship is not offering any paid subscriptions for the Ship dating app at the moment. The app is free to use.
---
11. Tastebuds
Download: Android (not available) | iOS

Tastebuds is social networking and dating app that allows people to match according to their taste in music. Launched in London in 2010 as a website, it now has over 500,000 users from all over the world.
The app is only available on iOS and is the best dating apps for iPhone.
Key Features
Profile: Users, over 18+, can get a personal profile and fill it out or sign up using a Facebook account.
More info, more matches: If the users fill their profiles to 100%, they have a higher chance of making more matches.
Search Options: After signing up, users can click on "People" or "Get Lucky" to randomly find someone.
Say "Hi!": Users have the option of introducing themselves to other people.
Filter Options: When setting the search options users can set the filters to find their matches to their preferences.
Spotify and iPhone Library: The app is linked to both Spotify and iPhone music libraries.
Scanner: Users can scan their iPhone music library or add their favorite tunes to search for people nearby with the same music taste.
Networking: This app is great for making new friends, finding concert-going buddies, and not just dating.
Pricing
Tastebuds is not offering any paid subscriptions for its dating app at the moment. The app is free to use.
---
12. Hinge
Hinge is one of the biggest competitors of Facebook Dating, however, Hinge charges a subscription for its premium features.
They have branded themselves as the dating app that is designed to be deleted. This means they use insights to increase their dating success rate. The New York Times' wedding section, has rated it the number one first dating app.
Key Features
Profile: Members have to substantially fill out the profiles.
Authenticity: The number of fake profiles and bots are marginal.
Free Features: Members can contact one another without any premium payment.
For Serious Users: The members of this app are looking for serious relationships. It is one of the best dating apps for relationships.
Verification Process: Members are required to put up six pictures and verify the sign up through their phone number.
Quick Sign-Up: People signing up are required to use their Facebook account or their phone number.
Match Messages: Only mutual matches can message one another.
Open Profiles: Members can visit those profiles that have liked them.
Pricing
Hinge dating app is available with the following premium plans:
Duration
Costs
Total
Preferred Member
1 Month
9.99 USD / Month
9.99 USD
3 Months
6.99 USD / Month
20.97 USD
6 Months
4.99 USD / Month
29.94 USD
Hinge Premium Features:
Who liked me: Members can view the profiles of other members who have liked them.
We meet: Users provide private feedback to the Hinge Team about their dates.
---
13. Plenty of Fish

Plenty of Fish was acquired by the Match Group and is available in five different languages. They claim to make about 55,000 sign-ups a day and they have about three million users active daily – just on their site.
It is free to use, however, extended features have a subscription payment plan.
Key Features
Easy Sign-Ups: New users don't have to fill in extensive information and are required to upload a picture as well.
Testing Process: Plenty of Fish has a requirement of new users taking a lengthy, but interesting, chemistry test to assess their compatibility.
Data-Driven Results: The results of the matchmaking are based on the data received from the test, therefore, the room for error is minimum.
Provide Dating Training: They claim to provide dating training to suggest what a member might need in a relationship and not to repeat past mistakes.
Messaging: After all the sign-up and testing steps have been completed, it is up to the users to decide whether they want to message or not.
Unlimited Free Messaging: Users can send and receive messages for free without a time limit.
View Matches: Users can view their matches for free.
Singles App: Plenty of Fish is the preferred singles dating app, therefore, maximizing the matchmaking algorithm.
Pricing
Plenty of Fish is available on both OS and their pricing plans are as follows:
Duration
Costs
Total
Upgraded User
2 Months
19.35 USD / Month
38.70 USD
4 Months
12.75 USD / Month
51.00 USD
8 Months
10.18 USD / Month
81.40 USD
Plenty of Fish Premium Features:
Top Prospects: Ranked compatibility with people you interacted with in the last 30 days
Nearby: Members can find someone close to their location
Meet Me: Users can browse to see which members are willing to meet up
Super Yes: This feature lets other users know how much another user likes them
Send Priority Message: Allows you to skip the queue and send messages in advance
Today's Catch: Special profile highlighted for the day
Token: Boosts a user's profile to be noticed
---
14. The League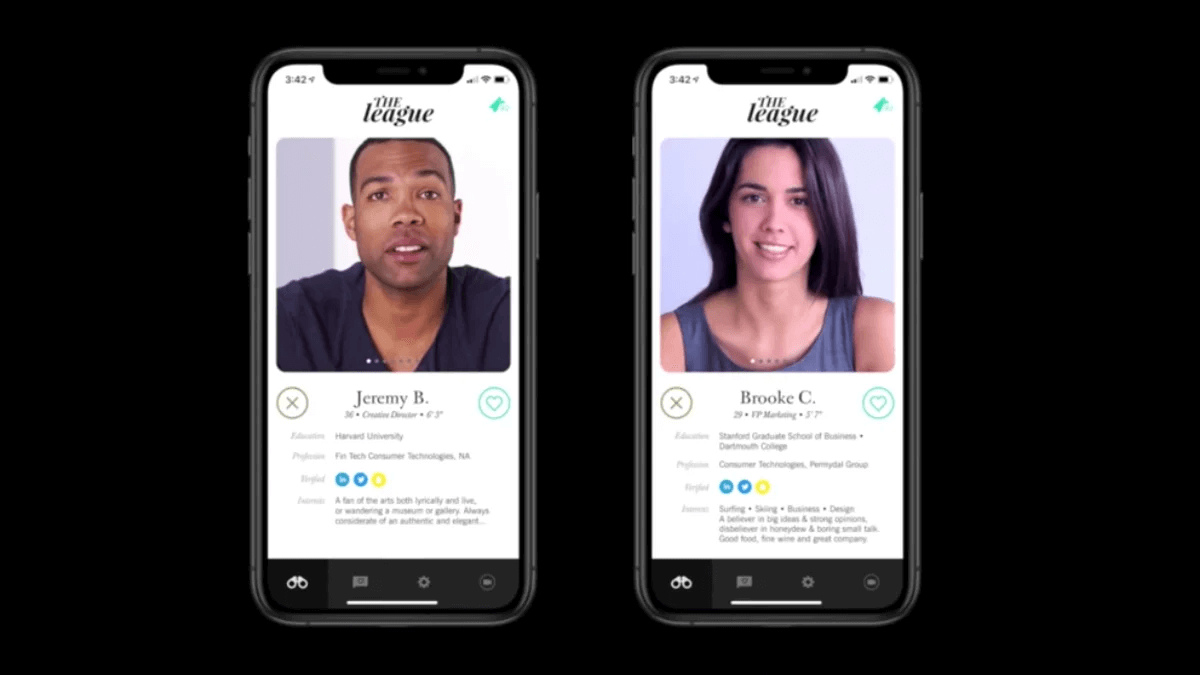 The League is a social and dating application, with the same swiping mechanism.
The purpose of this app is to bring matchmaking to professionals and matches are accepted with the use of LinkedIn and Facebook. The League shows its users only five potential matches a day and is one of the best dating apps for iPhone.
Key Features
Profile: Once a user has completed their profile, it must be screened for safety precautions.
Detailed Screening: That means there are no fake profiles and users are sharing information in a secure place.
Limited Daily Matches: The quality of matches is quite high, therefore, allowing an increased success rate in matching.
Match Exclusion: Even though The League uses LinkedIn and Facebook to verify a user's profile, they don't use their social network contacts for matches.
Customer Service: Impeccable service, where "the concierge" (real-time tech support) helps the user optimize their profile.
Online and Offline Interaction: They hold events and mixers so matches can interact in real life.
Subscription: The usage of this app is free, however, the premium membership is a little steep.
User Experience: The app design is simple and easy to use.
Pricing
Duration/Credits
Costs
Total
Membership Plans
12 Months
29.08 USD / Month
349.00 USD
6 Months
33.17 USD / Month
199.00 USD
1 Month
99.00 USD / Month
99.00 USD
Ticket Bundles
5 Credits
5.00 USD / Credit
25.00 USD
15 Credits
4.00 USD / Credit
60.00 USD
50 Credits
3.98 USD / Credit
199.00 USD
300 Credits
3.33 USD / Credit
999.00 USD
Owner Plans
12 Months
83.25 USD / Month
999.00 USD
1 Month
199.00 USD / Month
199.00 USD
The League Premium Features:
Tickets: Broaden the perspective of finding a suitable partner with the purchase of these tickets.
League Owner: Invest in the app and have the League Ownership.
Groups: Users can form groups and clubs to find like-minded individuals.
---
15. eHarmony

eHarmony was founded by a clinical psychologist, which is why an in-depth analysis of compatibility.
eHarmony has a strict application and sign-up policy. They reject users who are not single, over 60 years old, and have been married four times or more. They try to push relationships and deter casual dating.
Key Features
Registration: Users can register and take a compatibility quiz for free.
Free Access: Registered users can receive matches and view profiles for free as well.
Compatibility Analysis: Users are allowed to see the compatibility quiz details to be aware of how their matches and they will get along.
Icebreakers: Matches can send each other Smiles and Icebreakers as conversation openers.
Favorites: Users can favorite their matches for future references.
Notifications: Push notifications are sent to the user when a match visits their profile.
Psycho-Analysis: The compatibility quiz also gives an in-depth analysis of a person's character.
Premium Membership: Allows the views of unlimited photos of a match, customized messages, and profile viewing.
Pricing
eHarmony dating app is available with the following premium plans:
| | | |
| --- | --- | --- |
| Plan | Duration | Cost |
| Lite | 6 Months | $34.97 /Month |
| Plus | 12 Months | $22.97/Month |
| Extra | 24 Months | $17.97 /Month |
eHarmony Premium Features:
Send questions: Users can send other members questions to get to know them better and check for compatibility.
What if?: This paid feature gives users 30 extra matches who are out of the preference list.
Final Thoughts
The best thing about the year 2023 is the diversity it brings along with open minds that are willing to cater to people with different needs and wants without any judgments. Today's tech has designed apps that even have sub-categories to cater to a different group of people.
The best free dating apps are Facebook Dating, Tastebuds, and Ship. These apps are definitely light on the pocket.
The best gay dating apps and best lesbian dating apps are; Grindr, Bumble, OkCupid, and of course Tinder.
Unfortunately, from this whole lot, only Coffee Meets Bagel is one of the best Asian dating apps. However, Tinder is one of the apps that allows people from all over the world to connect, so it could fall into this category as well.
Hopefully, all this information will have helped you find your significant other, if not, at least a new experience!
---
Other SaaSy goodness on All That SaaS: