Lead generation software automates the process of attracting visitors and gathering useful information so you can contact them later on.
With all these businesses going digital, lead generation has become highly in-demand. Why so? Well, for one, the purpose isn't just to bring visitors to your website but is to also collect their information.
You can use this information to pitch later and convert these targeted audiences into returning customers. Besides, it's fair to say that finding quality leads online is a challenge for digital marketers and sales professionals alike.
These challenges get streamlined and simplified when you find the best lead generation software that meets your needs. Once deployed to your systems, a lead generation tool helps your marketing department become capable of generating several times more revenue and keep up an impressive customer retention rate as more leads begin converting into well-paying and long-lasting customers.
But hey, there are so many options out there. How would you know which software aligns the best with your requirements? This roundup will walk you through the best lead generation tools available this year along with their key features and pricing plans.
What is Lead Generation Software?
Lead generation software is a tool, plugin, or application that typically has its data stored in a SaaS or cloud-based technology. The key to success for a lead generation software is in one word: conversion.
Since lead generation applications can connect to your email, CRM, social media pages, or landing pages, these applications instantly provide accurate data that is used by marketers or department managers to make key decisions for a marketing campaign.
With the right information combined with the right strategy, more and more conversions become a possibility thanks to the lead generation software.
Whether you use a paid/premium version, or free, lead generation software may specialize in a specific activity. For example, some are built to attracting visitors to perform a call-to-action activity, while others may provide quality sign-up forms that can be developed without the help of a software programmer.
In a nutshell, lead generation tools make life easy for your marketing department and that they don't have to rely on guesswork, perform repetitive data-entry processes, and send a sales pitch to irrelevant people.
How to Generate Leads for SaaS Products?
Now that it's sorted that companies do need lead generation software, let's narrow it down to one specific industry: SaaS startups and their lead generation strategies.
As one of the leading online cloud computing service providers, SaaS startups have to stay ahead in the game of technology. Some of the tips and tricks that can be employed here are as follows:
1. Create a Precise Buyer Persona
To generate leads successfully, it is essential to create a clear buyer persona for your SaaS startup. The more precise your buyer persona is the more concrete insight into customer's interests, pain points, and buying behaviors you will achieve.
This strategy will allow you to reach clients and peak their interests sufficiently to make them willing to give you their information and find out what more you have to offer.
2. Set SMART (Specific. Measurable. Agreed. Realistic. Time-Bound) Goals
These characteristics allow companies to set clear, achievable goals. It's important to set SMART goals because they guide everyone through the necessary steps that have to be taken to achieve them. How do you set SMART goals? The process is fairly simple: companies SaaS companies need to ask themselves the following queries to set the goals:
Specific – What do you want to achieve?
Measurable – What is the benchmark for your goal achievement?
Agreed – Do all the stakeholders agree to your goals?
Realistic – Do you have sufficient financial, technological, and human resources to achieve these goals?
Time-bound – What is the deadline to achieve them?
3. Extensively Research Competition
A keyword refers to the word/string of words that people use when they try to find something on the internet. This serves as a bridge between your target customers and your content. If your company provides cloud computing services, for instance, then you have to use this specific term in your blog and website.
By doing so, you can increase your chances of landing on search results when a prospective client searches for this word. But how would you know what exact words your targeted audience tend to use more? Here are a few tips to carry out successful keyword research:
Think Like a Customer: You have to put yourself in your customer's shoes and then ask yourself which phrases or words would you type to search for a service or product.
Include General Terms: Include general keywords along with your long-tail keywords to help reach potential customers who you may not be considering.
Use an SEO Tool: A powerful SEO tool such as SEMrush, Ahrefs or Amazon Alexa will help you dig deeper into keyword-related insights, crucial to the success of your overall SEO content strategy in place.
4. Optimize Your Webpage Speed
Your website will have only 3 seconds to fully load; a little longer and you" end up losing both potential customer and Google search engine ranking. To improve your website's speed, you can:
Enable Compression: For doing so, you can use Gzip software. This will allow you to reduce the size of all code files larger than 150 bytes.
Minify HTML, JS & CSS: Remove code comments and formatting, along with spaces, commas, and other unnecessary characters.
5. Write Blog Posts
Having a blog is another powerful way of generating leads for your business. Why? Well, it provides you a platform to establish the authority of your business in a specific niche by explaining and sharing the expertise that you offer to reduce specific problems of your targeted customers.
Here, consistency is the key to converting your blog into an effective tool for lead generation. An optimal schedule would be 3 blog posts a week.
---
The Best Lead Generation Software in 2023
Choosing the right lead generation tool can take some time and budget, but it can do wonders!
With the right software, you get to generate and convert more quality leads from multiple channels, achieve higher conversion rates, expand your customer base, and eventually boost your sales and revenue.
Therefore, in this article, you can find the list of top 10 best lead generation applications, so that you can decide which ones suit the best for your business.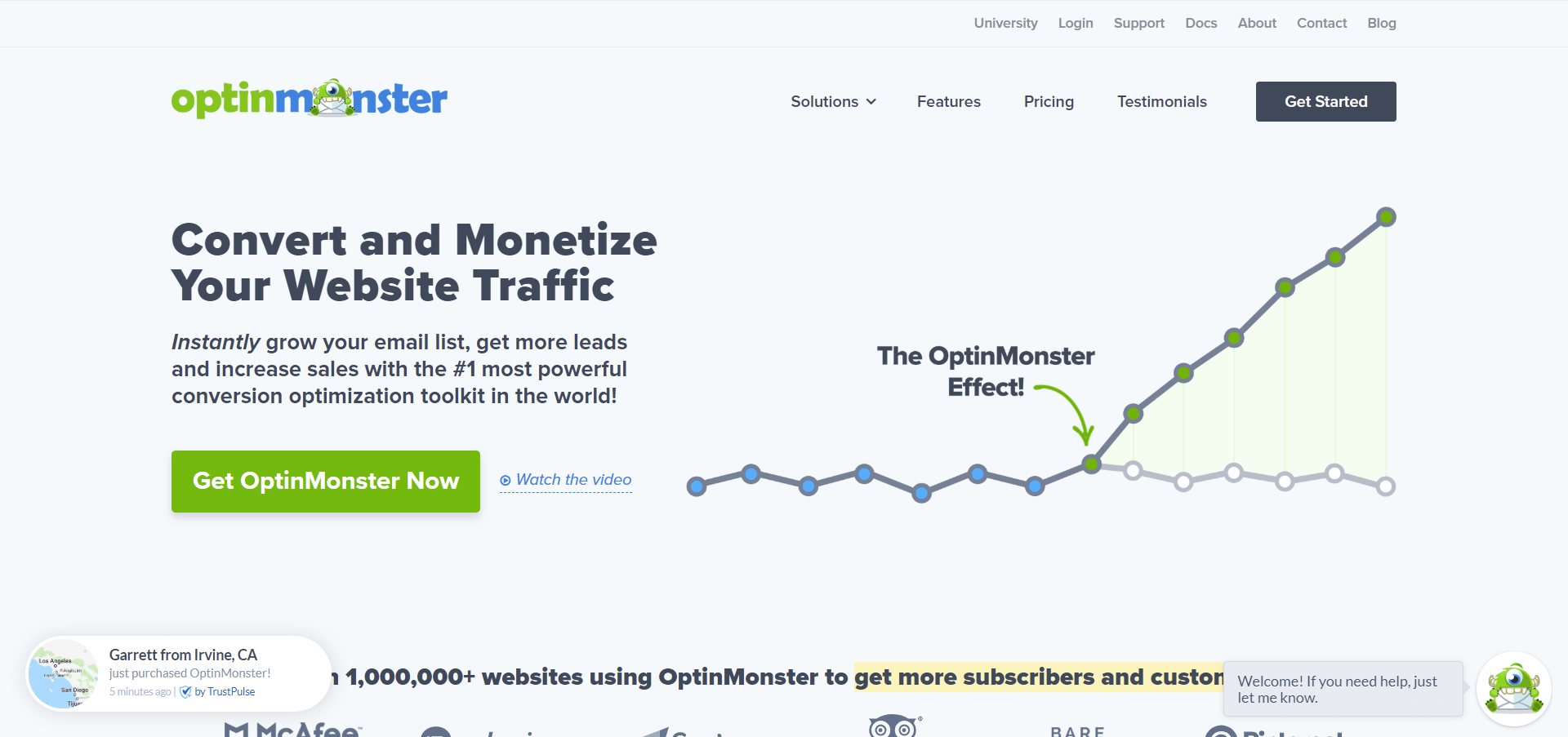 Having served numerous customers since its inception in 2013, OptinMonster has become one of the best lead generation applications that help converting website visitors into subscribers and eventually, customers.
Whether you are a publisher or an eCommerce marketer, OptinMonster will supercharge your e-mail list growth through its powerful lead capture forms. You can simply install OptinMonster as a standalone plugin and then integrate it into web platforms, such as WordPress, Magento, Shopify, Drupal, and many others.
OptinMonster stands out from other similar applications as it is founded by industry experts Syed Balkhi and Thomas Griffin. Owing to their partnership with various e-mail marketing companies, you can integrate the OptinMonster plugin with over 20 service providers, including MailChimp, AWeber, CampainMonitor, and GetResponse.
Key Features
Create exquisite sign-up forms using their drag-and-drop form builder
Improve your conversion rate with targeted, responsive pop-ups
Send customized thank you messages to foster customer engagement
Run campaign scheduling for holiday promotions by using time-sensitive campaigns
Increase upselling by geolocation, cookie, and device-based retargeting alongside their unique Onsite retargeting®
Perform A/B testing to see which campaign works the best
Send targeted messages through lead segmentation and Follow-up Campaigns®
Find out exactly when customers leave your website, by using ExitIntent® technology.
Pricing Plans
OptinMonster offers the following subscription tiers:
Basic – at $9 per user/month, the starting package, best suited for individuals who run just one website; features include lightbox popups, list segmentation, subscriber recognition, and more.
Plus – at $19 per user/month, offers everything in Basic, alongside additional features including floating bars, inline forms, content locking, and more.
Pro – at $29 per user/month, offers all features available in Plus, as well as new ones including their trademark Exit Intent ® technology and more.
Growth – at $29 per user/month, you get everything in Pro, together with their trademark OnSite Retargeting ®, Follow-up Campaigns ®, and much more.
---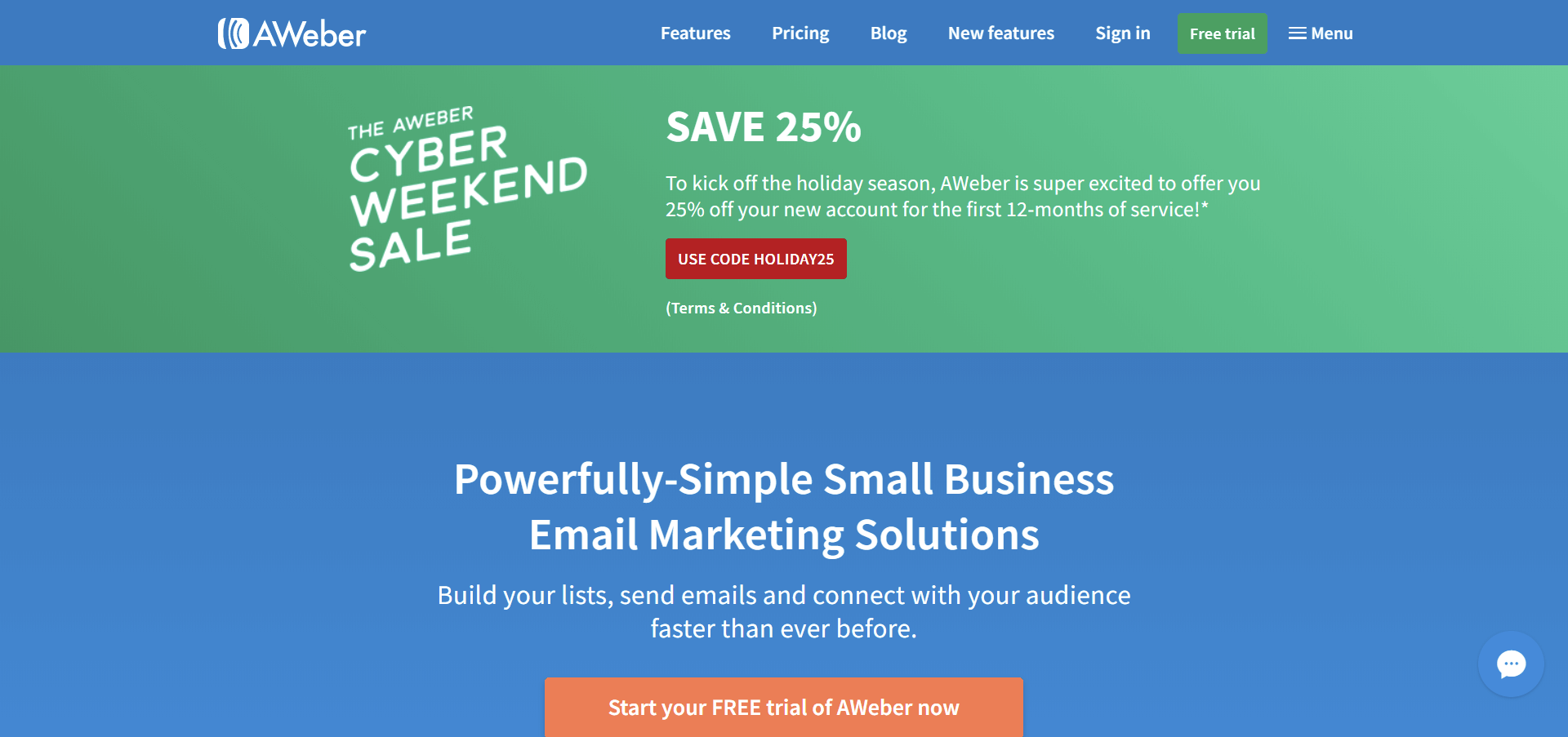 Keep your subscribers engaged and updated with AWeber. This web-based email marketing software is easy-to-use and helps you streamline newsletters emailing, auto-responding, and RSS-to-email converting features.
AWeber was founded in 1998, so it is fair to say that this product is mature, stable, and hence trusted by entrepreneurs, organizations, podcasters, bloggers, and marketers around the world.
You can integrate AWeber with your website, social media, webinars, CRM tools, and various other applications and platforms.
Key Features
Attract clients to your new offerings using the newsletter template designer
They also offer drag and drop Form Editor which you can use to set up signup forms without help from a programmer
Select which campaigns work the best using split testing
Send the right e-mail at the right time through automated e-mail sequences
Keep an eye on your campaigns wherever you are using mobile app suites (both iOS AND Android)
Work together as a team through multiple user collaboration
Get the most of your email marketing campaign through e-mail API
Send targeted messages to subscribers by in-app segmentation
Pricing Plans
AWeber includes the following paid plans:
Free 30-day Trial – make the best use of the free trial to see if AWeber is the right tool for you
$19/mo – ideal for new businesses with 0-500 subscribers; offers plentiful features including unlimited e-mails, sign-up forms, 6,000+ stock photos, and much more
$29/mo – provides every feature; if you have subscribers range from 501 to 2,500 then this package is right for you
$49/mo – provides all features; best suited if you have subscribers between 2,501-5000
$69/mo – includes all features; if you have a subscriber list between 5,001 to 10,000, you should opt for this package
$149/mo – this top tier package not only includes all features but also covers a gigantic list of subscribers from 10,001 to 25,000
Get a Quote – likewise, this package has it all, but if you have 25,000+ subscribers, this is a go-to option
---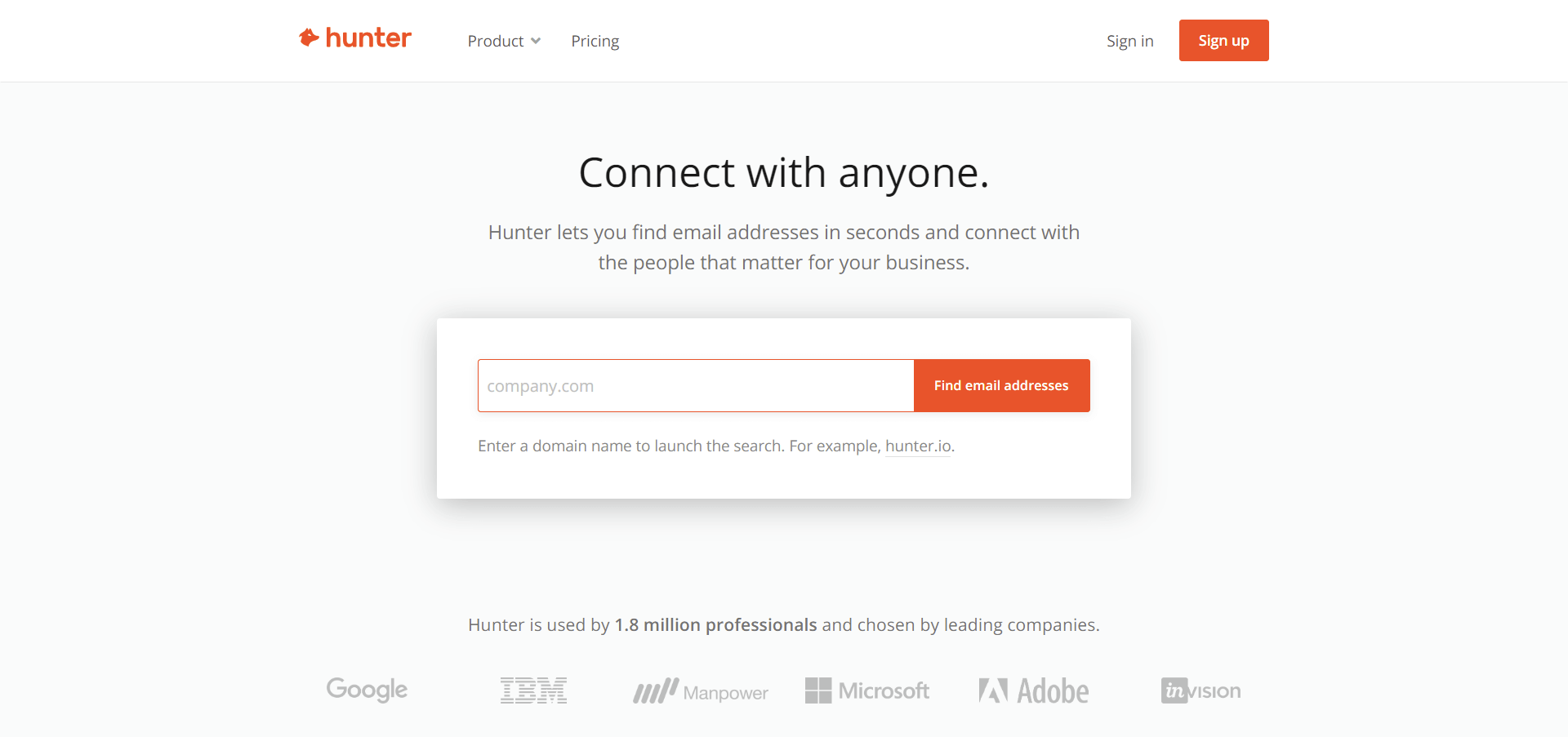 This isn't any ordinary hunter, but a "lead" hunter.
Hunter is a web-based plugin that lets you discover and verify business emails, both individually and in bulk, through its search filters within a few seconds.
Widely appreciated for its ease-of-use and quality customer service, Hunter comes with several features that process emails, domains, and company names in a jiffy. Also, it has CRM integration that lets you add and email candidates with tracking options.
Not only that this plugin serves as a quality lead generation tool for marketers, but it also helps recruiters find and verify the e-mail addresses of potential candidates.
Key Features
Perform e-mail verification to communicate with the right audience
Find more leads by using the e-mail and domain finder
Export comma-separated value (CSV) files to integrate your data with other platforms
Collab with your team as the subscriptions are available for the entire teams
Feel free to create cold e-mail campaigns
Get access through your browser by using Chrome and Firefox extensions
Pricing Plans
The following are the monthly billing packages offered by Hunter:
Free – for up to 50 requests (domain search, e-mail finder, e-mail verification), this version doesn't offer any CSV exports but allows you to send cold e-mail campaigns
Starter – at 49/month, send up to 1,000 requests with all features
Growth – at $99/month, send up to 5,000 requests with all features
Pro – at $199/month, send up to 20,000 requests and get all features
Enterprise – at $339/month, send up to 50,000 requests and get all features
---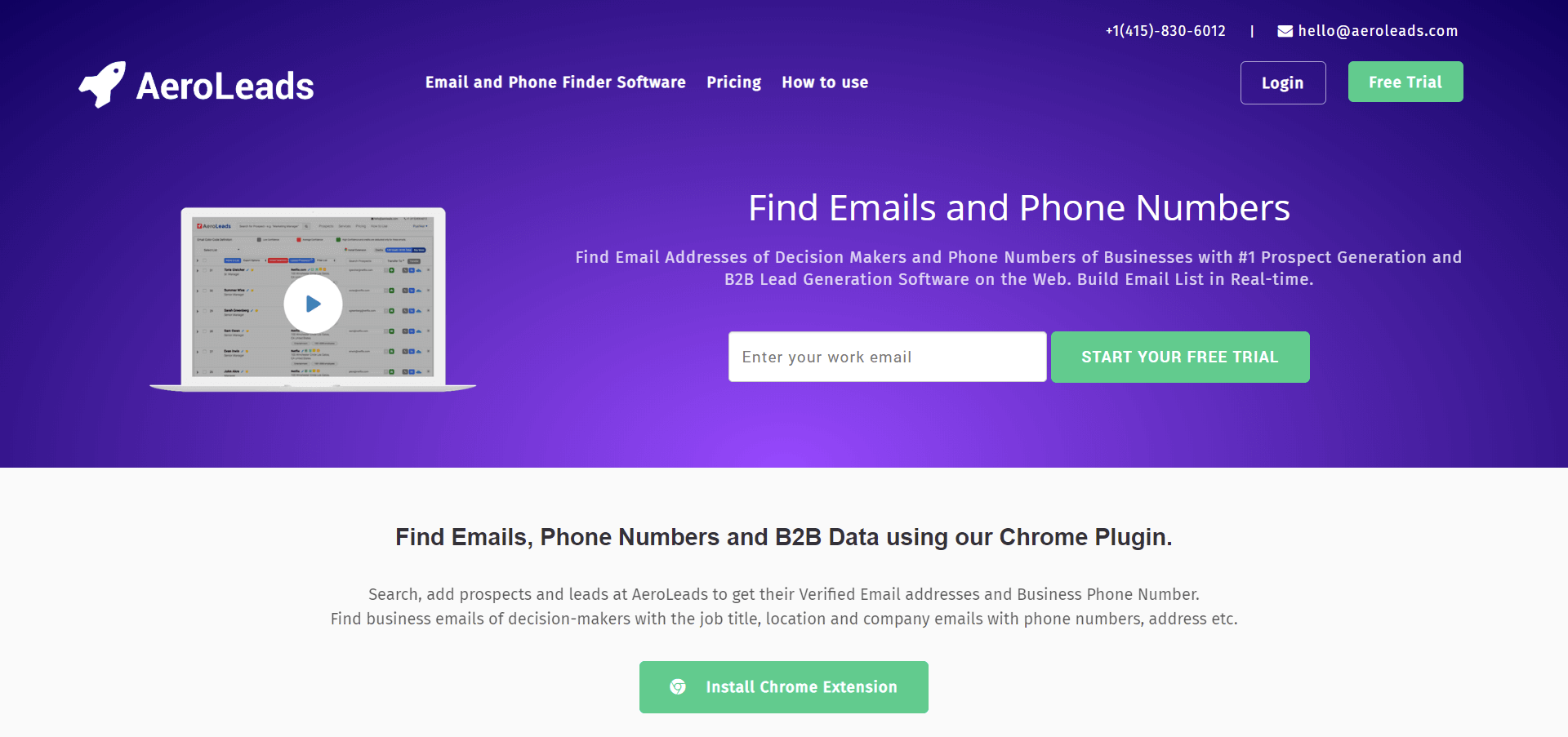 Similar to Hunter which finds e-mails of businesses and individuals, Aero Leads is another big name among the best lead generation software.
Aero Leads distinguishes itself by serving B2B businesses. This software not only finds email addresses and numbers of prospective clients but also allows you to build an email list in real-time for marketing and sales work. Its customers include giants like IBM and GrubHub.
What more of an endorsement you can ask for? You can export the data into CSV or transfer to other CRM and Marketing Software, such as Salesforce, HubSpot CRM, and Zoho CRM.
Key Features
Through Lead Database Integration, connect your Aero Leads data to multiple platforms
Access Aero Leads through your browser using the Google Chrome extension
Create new contacts through the tagging feature
Export your data efficiently to CRM
Work together as a team as the team collaboration feature is available with Aero Leads
Deploy REST API to enhance data accessibility
Pricing Plans
Aero Leads offers the following price packages:
Take Off – at $49/month, add up to 50 records; however, this package is only available for just 1 user
Climb – at $149/month, add up to 1650 records, the limitation here is that you can get access for only 5 users
Cruise – at $449/month, add up to a humungous amount of 6000 records, with unlimited users, a massive upgrade from the Climb plan
Enterprise – Contact Hunter for a quote, price varies according to needs
---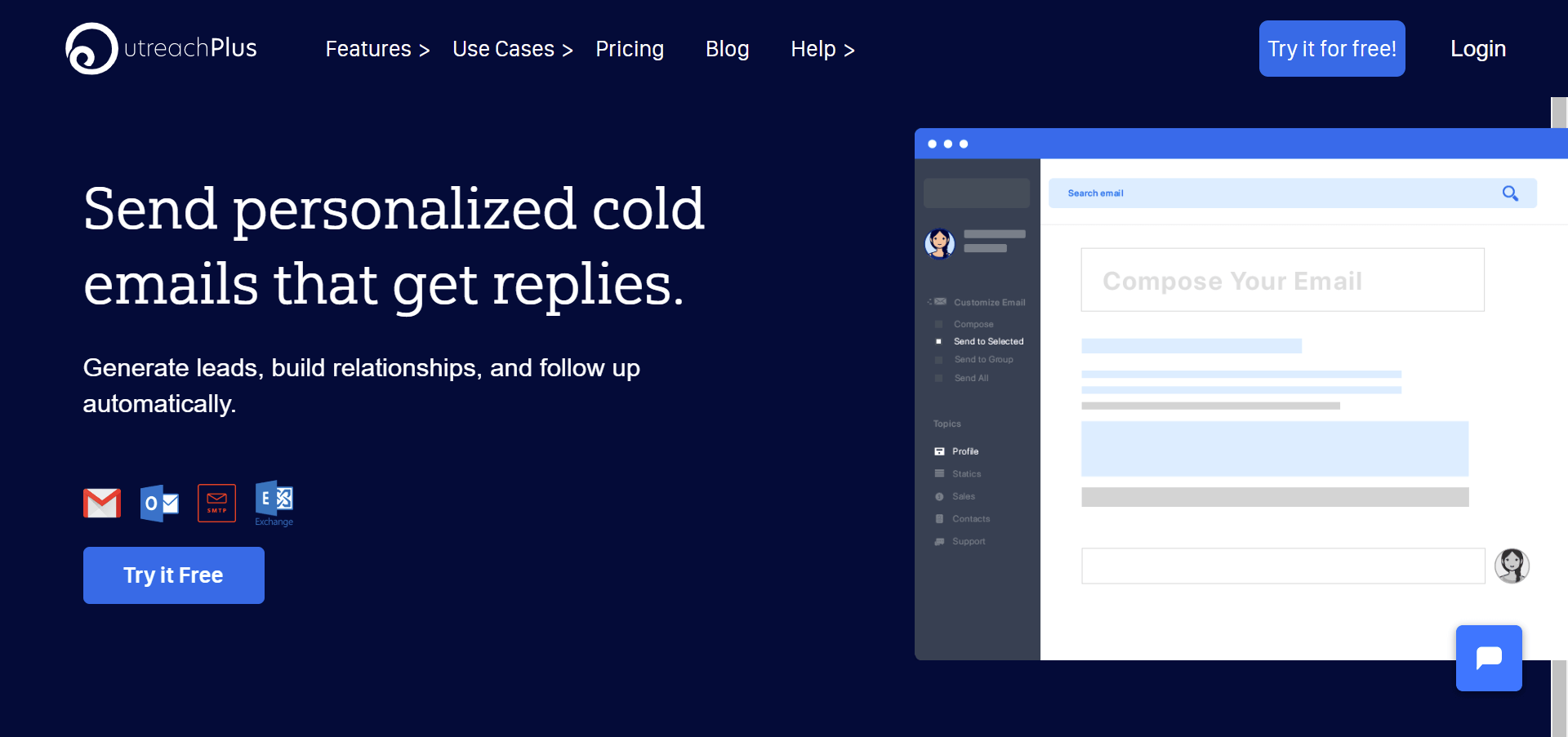 As the name suggests, Outreach Plus is a cloud-based e-mail outreach software that helps publishers generate leads that result in improved sales, enhanced SEO backlinks, and increased press mentions.
Outreach Plus offers amazing price packages that allow plentiful features even with the lowest price plan. Their Solo package starts at $9/month for each user, and provides a variety of functionalities including reply, click, and open tracking; automated follow-ups; Gmail/Outlook/IMAP e-mail integration; which truly makes up for the lack of team collaboration feature.
Key Features
Automate e-mails to send them just at the moment using the event triggered e-mail feature
Create and modify e-mail newsletters
Check how many users ignore your e-mails through Bounce tracking
Manage extensive mailing list management
Set mailing frequency limits to avoid flooding your clients with e-mails
If you're busy, set autoresponders so that clients can don't have to wait for your reply
Integrate and configure Outreach Plus through API support
Pricing Plans
Outreach Plus offers these pricing plans:
Free – All features available except Basic Team Functionality, also you can only add one user and e-mail address the contact database and e-mail limit is set at 100
Solo – at $18 (flat monthly) all features available except Basic Team Functionality, only lets you add one user and e-mail address, but the contact database and e-mail limit increases from 1000 to 100
Multi-user – at $38 (flat monthly) all features available with Basic Team Functionality, provides unlimited e-mail addresses, contact database as well as e-mail limit
Agency – at $79 (flat monthly) all features available with Basic Team Functionality, same as Multi-user, but with an advanced team and multi-client functionality included
---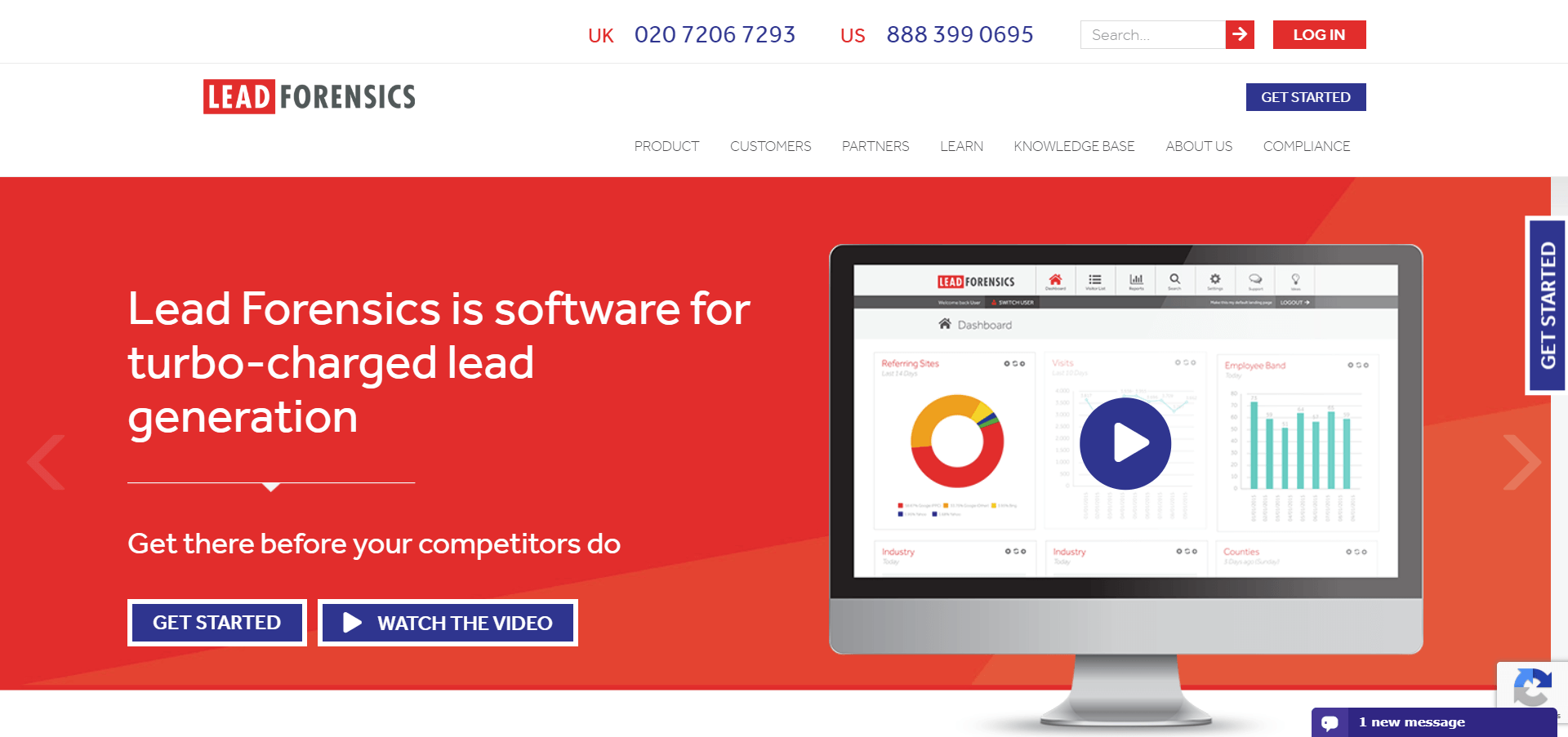 Lead Forensics is a UK-based SaaS app built to turbo-charge the lead generation process. This might be the most unique entry in this list as it reveals the identity of your anonymous web traffic, and converts them into quality leads in real-time.
Therefore, Lead Forensics goes one-step ahead of its competitors by providing access to names, job titles, and email addresses of individuals matching your website visitors. Likewise, you can find details about the business that visit you online, including business name, owner name, e-mail address, phone, etc.
Further, this tool provides visitor analytics, such as time spent on your website, buying decisions, cart abandonment, etc. You can incorporate this information into your marketing strategy and create your sales funnel accordingly.
Key Features
Perform entire contact management campaign through one application
Import/export contacts for multi-app integration
Score and capture leads efficiently with advanced lead generation tools
Lead database integration to easily connect lead information to other platforms
Perform Visitor identification and segmentation
Pricing Plans
Lead Forensics offers a free trial.
Pricing is only based on quotation, typically ranges from $99 to $2000/month.
---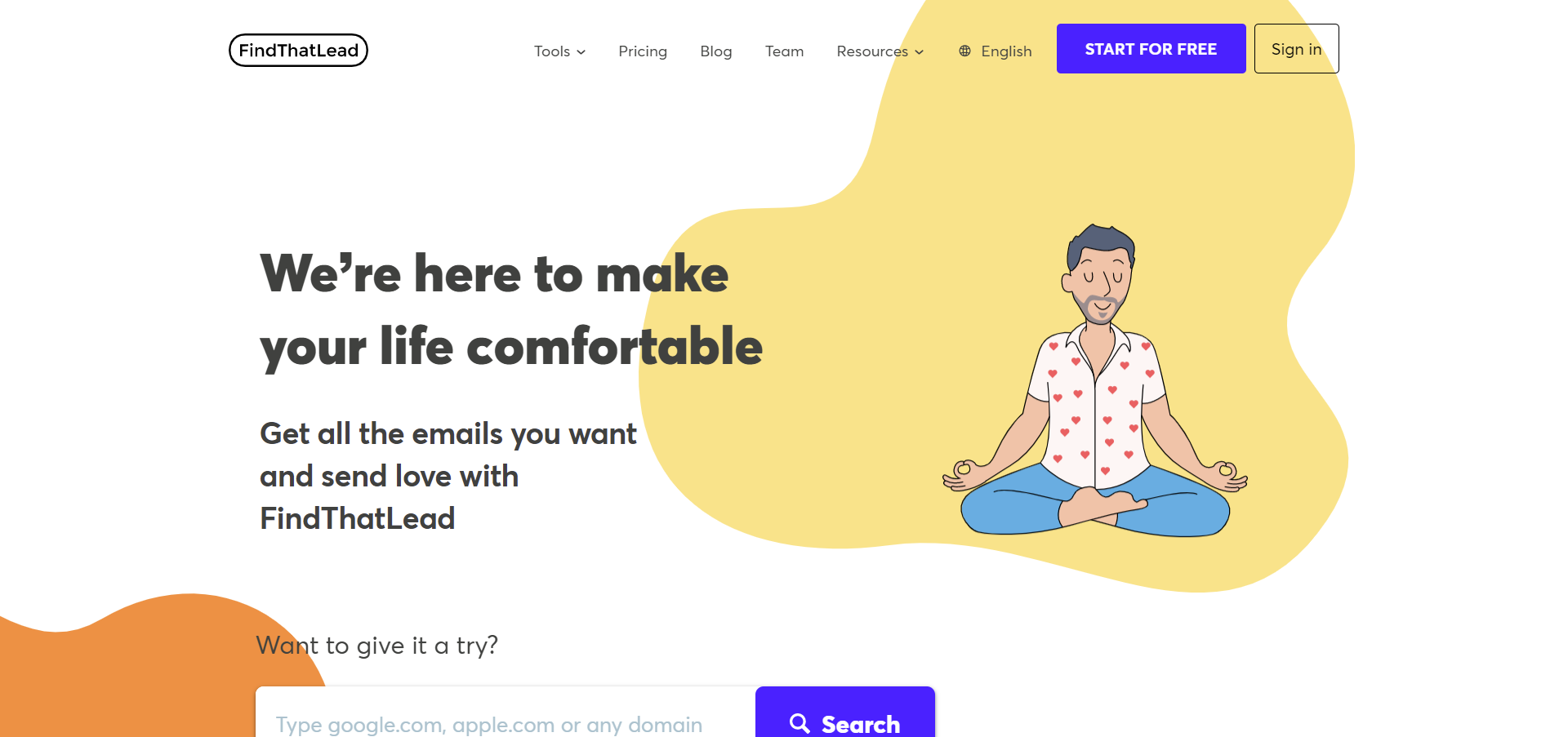 FindThatLead is a lead generation tool that helps you automate lead search, understand your targeted prospects, and set up personalized email campaigns to help you turn them into potential customers.
The app shortens the time you usually take to find your target accounts, the right connections to turn them into leads, automatically capturing the details of these accounts through LinkedIn, Twitter, and web domains.
The lead generation tool is best suited for businesses across different industries to enable their sales by keeping their pipelines healthy and optimized for a better sales cycle.
Key Features
Automatically capture lead details through Google, social media, and individual websites.
Collect and verify new leads in bulk by conveniently exporting them into a CSV.
Enhance your data with additional lead information to generate targeted email lists.
Segment your audience by location, position, and keyword to create lead lists you can communicate with.
Build drip email campaigns to set up more personalized marketing and build a relationship with your leads.
Pricing Plans
FindThatLead offers the following pricing plan:
Free plan – Get started with the lead generation app on their free plan. The plan provides you with 50 monthly credits, audience segmentation, target email campaign setup, bulk prospect management, and customer support.
Growth – At $49 / month, this plan provides you with 5000 monthly credits, Chrome extension, and 2 campaign accounts, and lets you send 400 daily emails. This plan allows only 1 user.
Startup – At $150 / month, this plan is made for teams, letting 4 users manage your leads in one place. Use 18000 monthly credits, send 500 daily emails, set up 4 campaign accounts, and get 2 accounts for the LinkedIn lead generation tool, Scrab.
Suite – At $399 per month, this plan lets 6 users access and use the lead gen tool at once, providing 30K monthly credits, 10 campaign accounts, and 4 LinkedIn lead generation accounts (Scrab). With this account, you can send up to 750 daily emails.
---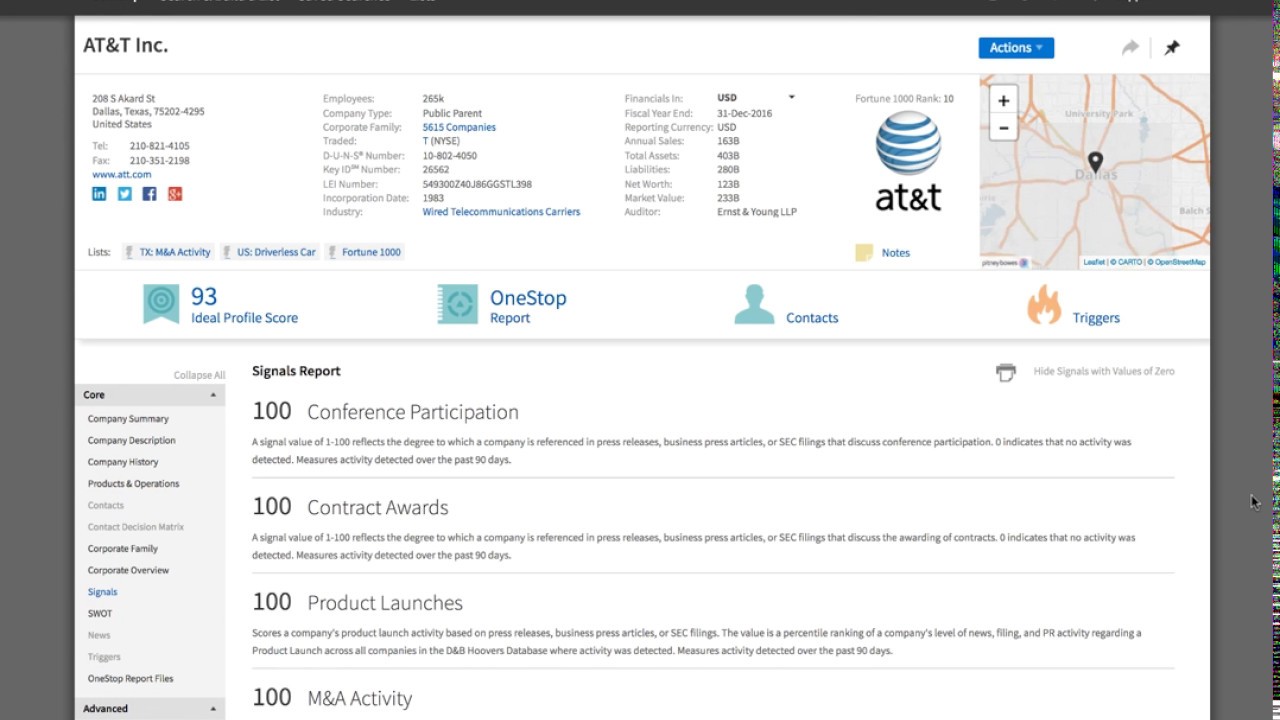 Take your lead generation campaign to the next level with Hoover's.
Founded in 1990, this is the oldest and among the best lead generation applications. D&B Hoover's powers the world's largest business database of 120+ million records and insights to provide a business intelligence solution that enables marketers to generate leads on the right prospects and ultimately benefit their business.
Hoover's exceptional data collection alongside highly-detailed content delivers businesses a comprehensive understanding of their leads.
Key Features
Offers real-time business intelligence so you can perform in-depth lead generation reporting
Robust search capabilities to easily find what you need
Search and capture detailed information of company profiles
Segment your leads based on their data
Provides vast downloadable company profile database
Quick and reliable CRM integration
Pricing Plans
Hoovers offers both free and paid versions:
Free –  including customizable list building, powerful analytics, and new prospect search
Essential – at $89/month, or $899/year to access the entire Hoovers database
Research – at $3,500 for up to five users
---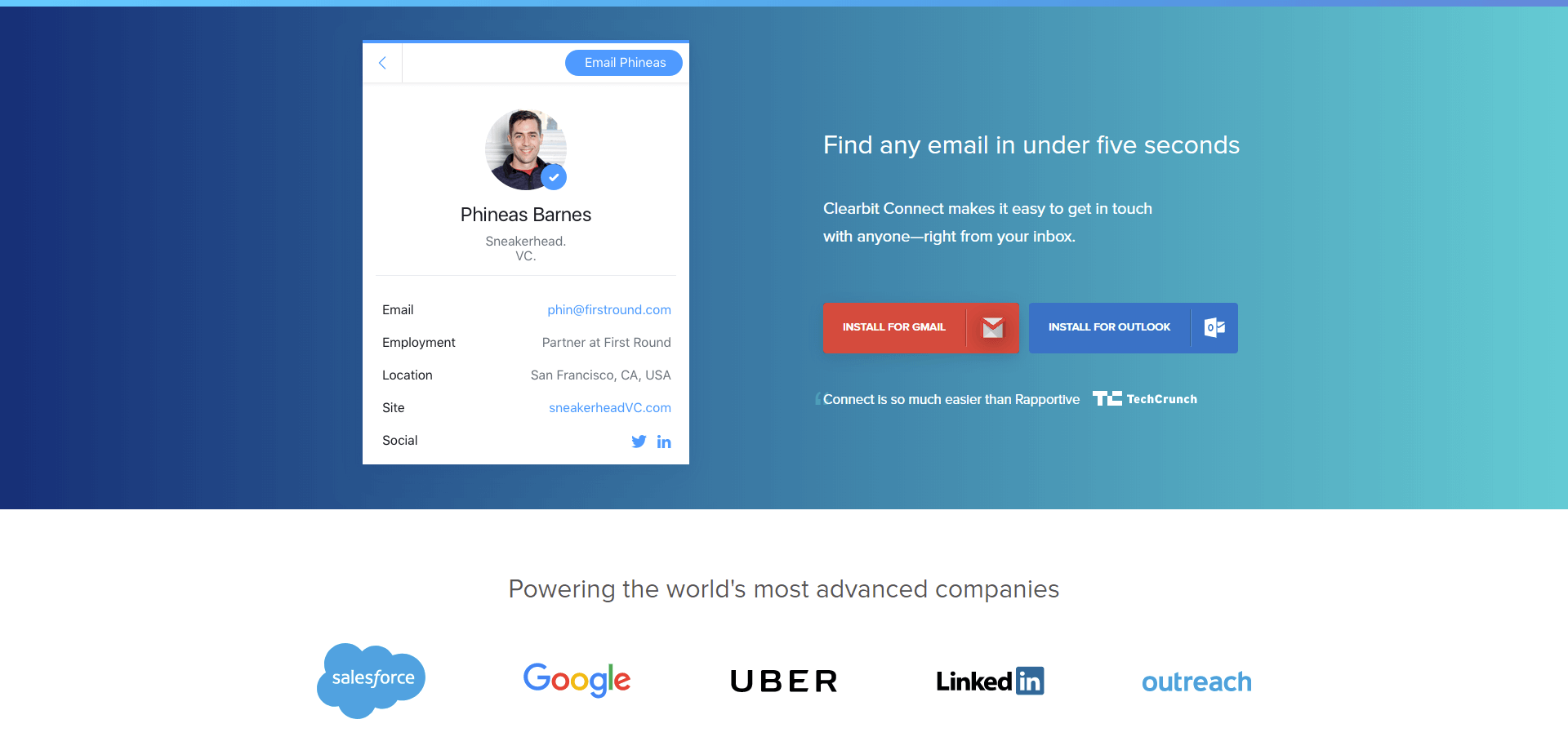 Dubbed as replacement of Rapportive (now only works with LinkedIn), which comes within your Gmail or Outlook inbox. The purpose of Clearbit Connect is to show in-depth information about your email senders and find anyone's email address within your inbox.
Key Features
Perform entire contact management campaign through one app
Integrate and configure Outreach Plus through API support
Link Clearbit Connect data with over 1500 applications
Provides Guaranteed uptime (for Enterprise-level plans only)
Supports 1+ million contacts
Also available as a Google Chrome extension
Perform visitor identification to increase more leads
Pricing Plans
Clearbit Connect offers the following price plans:
1,000 requests: at $99/month – all features included
2,000 requests: at $199/month – all features included
---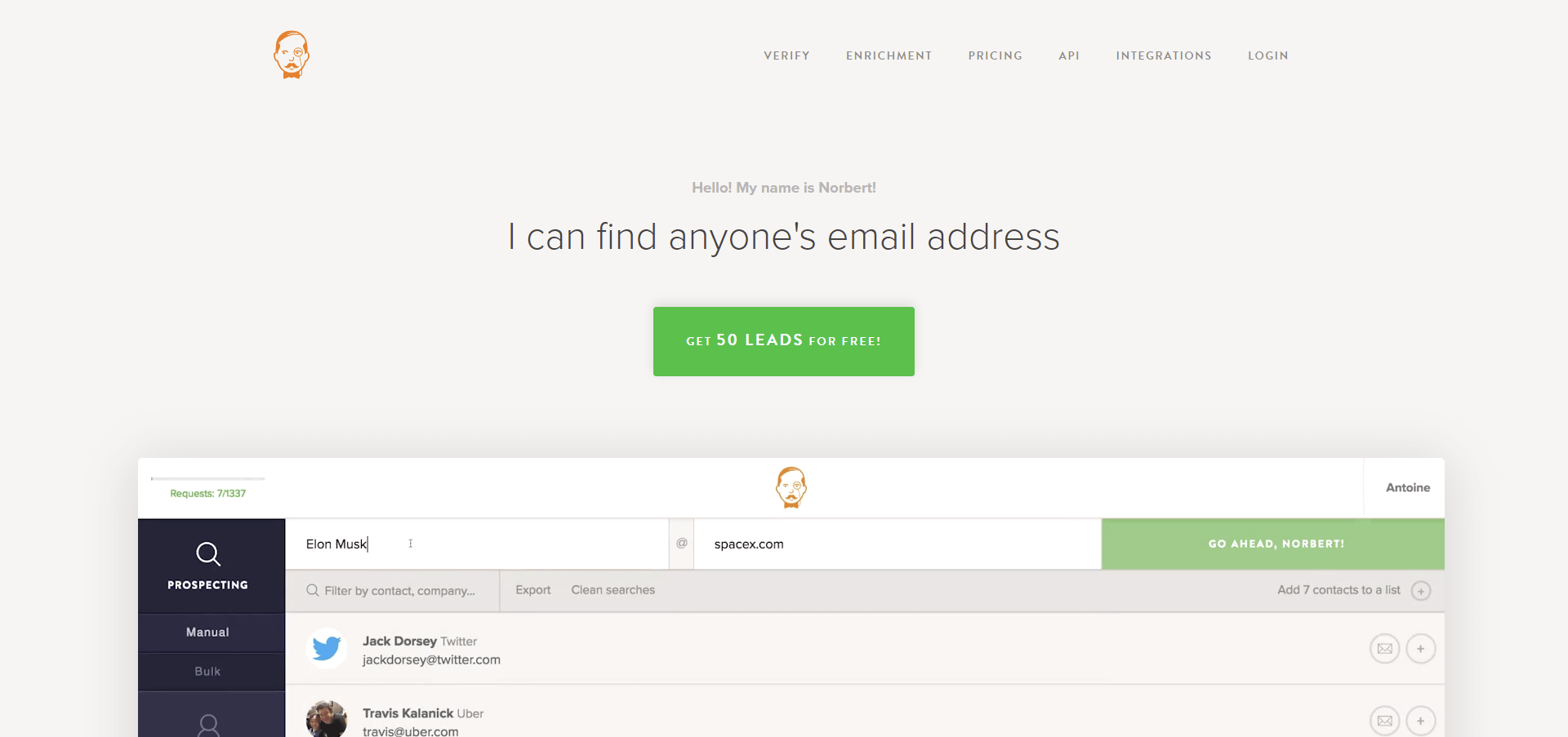 Pump up your sales conversations and increase your marketing productivity with Norbert.
Norbert is like a "millennial" – they are good at a lot of things and they focus on the coolest functionalities. Apart from the core features such as sales pipeline management, building e-mail lists, etc., this lead generation software comes with additional features such as content marketing (to outreach online publishers) and media management (to outreach journalists).
While it is primarily a B2B lead generation software, Norbert offers benefits for recruiters too.
Key Features
Includes easy-to-access B2B lead generation software tools
Increase leads and sales with Norbert's pipeline management
Customize the way you work with Norbert's native integrations and API support
Boost lead generation further with email identification feature
Outreach journalists and publishers with the media management feature
Pricing Plans
The following price plans are offered by Norbert:
Valet – at $49/month for up to 1,000 leads a month, all features included
Butler – at $99/month for up to 5,000 leads a month, all features included
Advisor – at $249/month for up to 15,000 leads a month, all features included
Counselor – at $499/month for up to 50,000 leads a month, all features included
---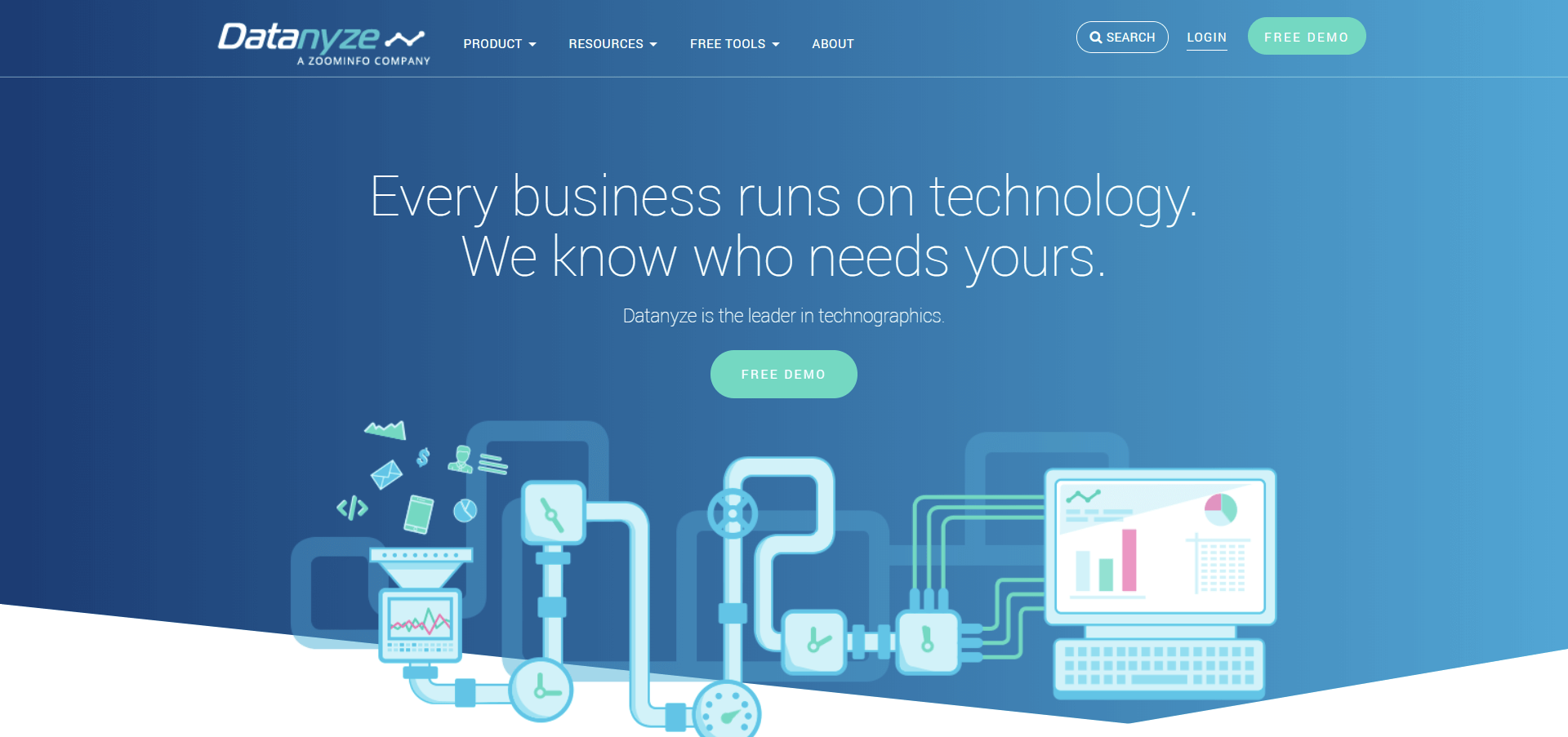 Touted as "the leaders in techno graphics", Datanyze uses the power of data sciences to nurture your leads.
Used by 600 companies around the world, Datanyze promises to be among the elite quality lead generation tools, that helps track your leads, research into your data, find prospects, and integrate all this information to SalesForce.
Datanyze is designed to support almost types of businesses — whether small and medium-sized, large enterprises, and freelancers.
Key Features
Export comma-separated value (CSV) files to integrate your data with other platforms
Identify trends when companies add and drop technologies with Customer Migration
Perform entire contact management campaign through one application
Get access through your browser through the Chrome extension
Find prospective leads directly via e-mail
Highly advanced customer retention algorithms to evaluate consumer behavior
Cross-platform access, available on both Windows and Mac
Pricing Plans
Datanyze's pricing is based on your quotation; you get what you pay.
---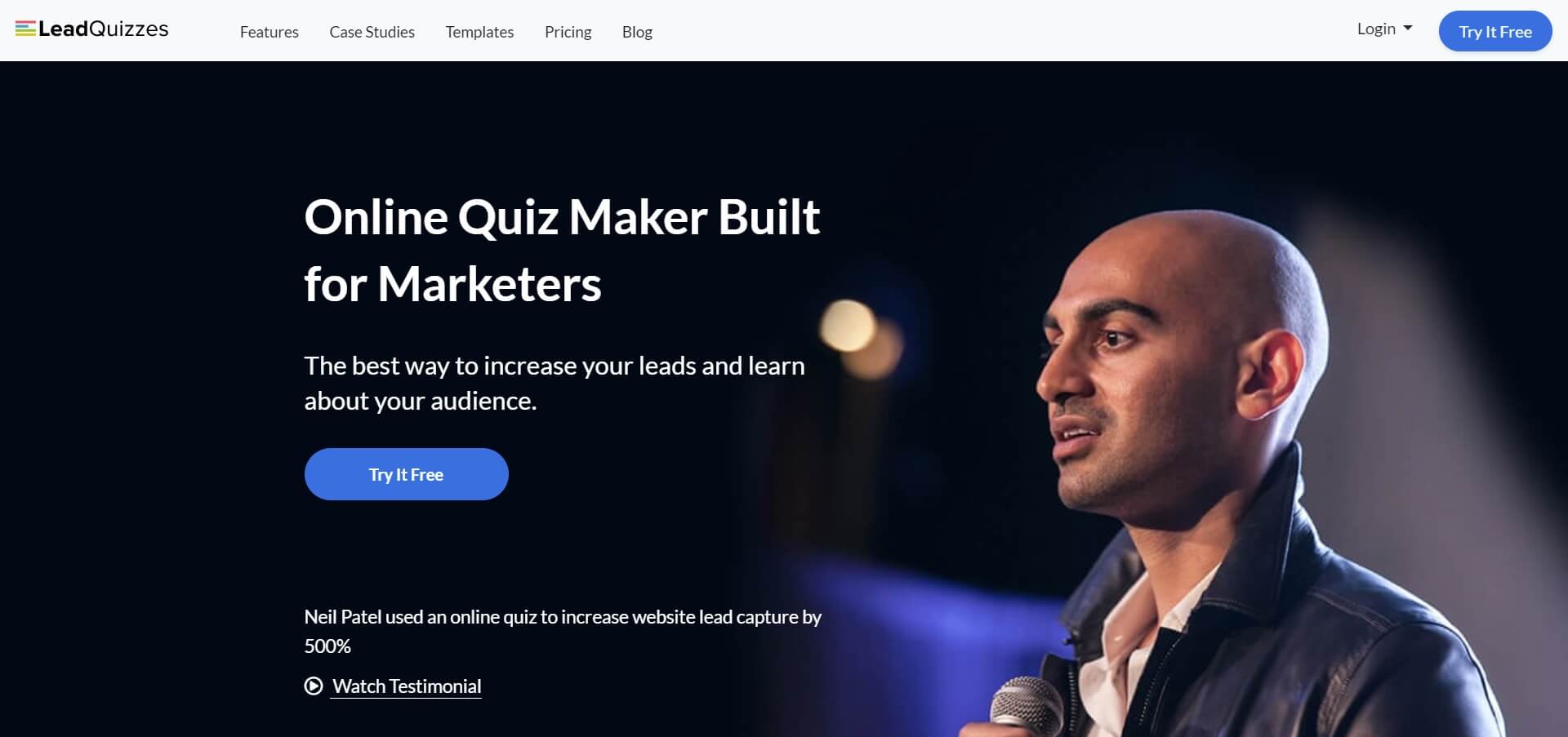 Next up in our roundup for the best lead generation software, we have LeadQuizzes. As the name suggests, this online lead generation tool allows marketing teams to create surveys and engaging surveys to be used in various inbound and outbound marketing campaigns.
Each survey submission is then considered a lead that you can work on to move down the sales funnel. There are various types of quizzes that you can build using LeadQuizzes, including personality, diagnostic, trivia, true/false quizzes, etc.
With this lead generation software, you can also create multiple types of surveys, including surveys for employee engagement, user feedback, marketing research, website feedback, Net Promoter Score, and more.
Key Features
Create multiple types of surveys (trivia, diagnostic, personality, etc.) and quizzes (employee engagement, user feedback, NPS, etc.) with just a few clicks
Supports both text and image-based questions so you can keep things interesting during surveys and are not limited by available options
Easily customizable, embeddable forms that you can use to capture information tailored to your needs, such as name, email, phone number, ZIP code, etc.
Over 75 templates available for quizzes, surveys, and forms to choose from and get a headstart to rolling out your next lead generation campaign
Native integration with Facebook Pixel so you can track each conversion and event with complete visibility
Pricing Plans
LeadQuizzes lead generation tool is available with the following paid plans:
Premium: starts at $186 per month (annual plan), includes 15 web accounts, supports unlimited visitors per month, and includes all features from LeadQuizzes to create and manage surveys, quizzes, and forms.
Pro: starts at $74 per month (annual plan), includes 5 web accounts, supports 50,000 visitors per month, and includes all features of LeadQuizzes.
Standard: starts at $37 per month (annual plan), includes 1 web account, supports 5,000 visitors per month, and includes all features of LeadQuizzes.
Conclusion
Making the final decision depends on factors such as your budget, workflow, team size, and objectives to mention a few.
As discussed above, there are multiple different types of lead generation software – and each one of them specializes in different domains. It is essential to focus first on who your potential customers are and then choose the right software accordingly.
But still, if you find it hard to settle on a specific application, you should go for a trial version first. This way you can get try and test free lead generation software experience and make a wise decision for your business.
---
Other SaaSy goodness on All That SaaS: