Using different online collaboration tools, team members can effectively communicate with each other and complete their tasks without any delays or misunderstandings.
As technology has advanced and made communication faster and easier, it has also greatly amplified our need to communicate. In this age, regardless of whether you're an employee or running your own business, there is no way you can go about your day without having to talk to several different colleagues about work-related issues.
But, the thing about collaboration tools is that not all of them are great. A decent online collaboration app does not only offer task management features but is packed with project management, cost management and even, document management features as well.
Without collaboration apps, businesses can never reach optimal efficiency and that means, collaboration apps can be the difference between a business becoming successful or going bust. So, to help you find some great team collaboration apps, here are some of our favorites.
Best Online Collaboration Software
Online Collaboration Tools for Team Chat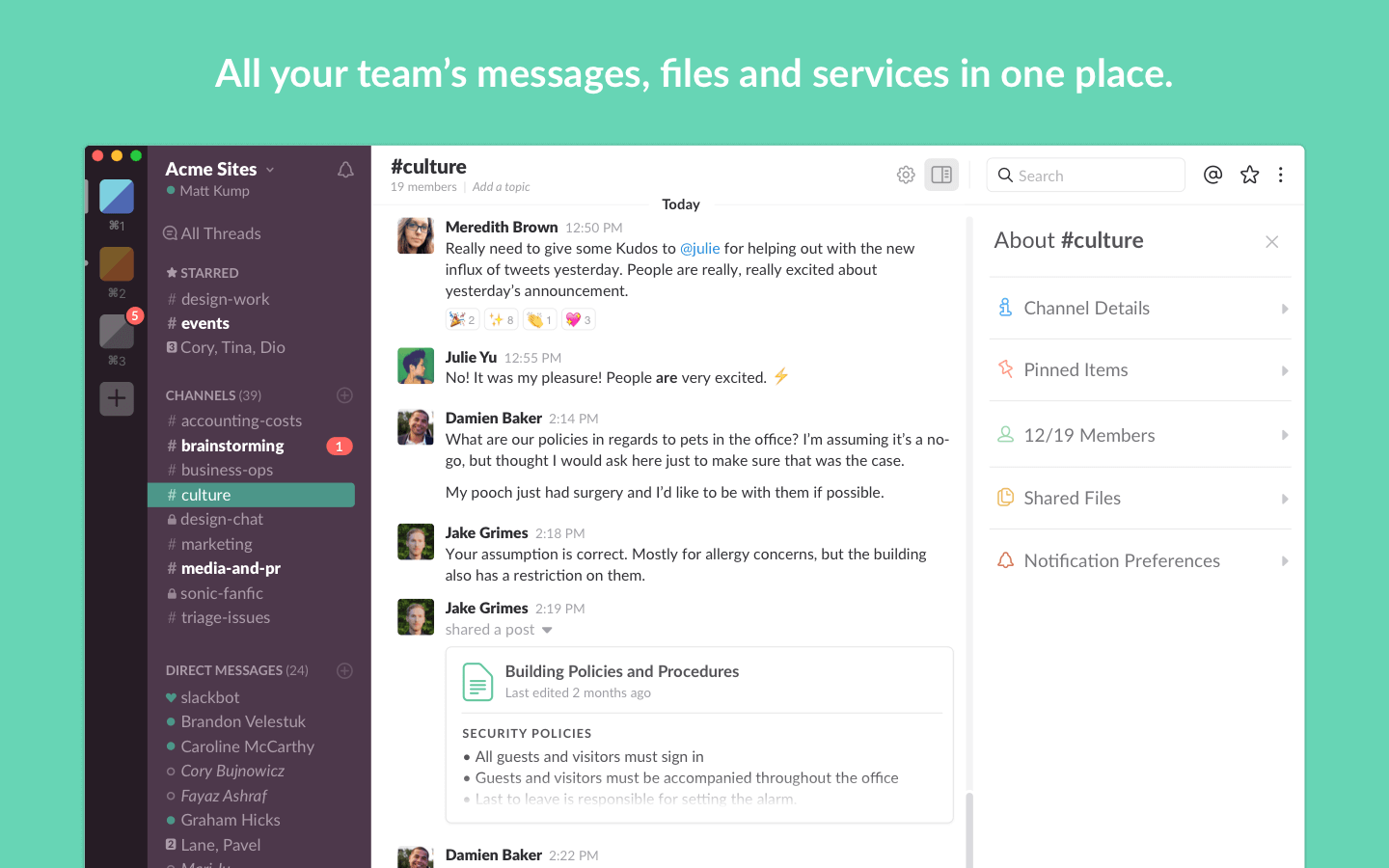 When it comes to online collaboration tools, there's no way you end the conversation without mentioning Slack. Built as a direct competitor to Skype, Slack does not only offer instant messaging but audio and video calling as well. With that being said, when you use this app it quickly becomes obvious that the app's main focus is on instant messaging.
Don't take this in the wrong sense, there's nothing wrong with Slack's audio and video calling features, it's just that Slack's instant messaging features are much more detailed.
Slack is one of the most customizable team collaboration software out there and while this can be a little daunting to new users, for experienced users, this is one of the best things about Slack.
Key Features
Offers a separate space for each conversation called a channel
Offers an easily searchable archive
Shared channels allow users to work with clients and external partners
Integrates with a lot of third-party apps and productivity tools
Great instant messaging features make it one of the team chat apps out there
The app is highly customizable
Pricing
Slack is available in 4 different price plans:
Free: Built for small teams.
Standard: Costs $6.67 per user per month when billed annually (and $8 per user per month when billed monthly). Built for teams and small businesses looking for a capable team chat app.
Plus: Costs $12.50 per user per month when billed annually (and $15.00 per user per month when billed monthly). Built for teams and businesses that require a team chat app with advanced capabilities.
Slack Enterprise Grid: Built for large teams and companies. You'll have to contact Slack to get a quote.
---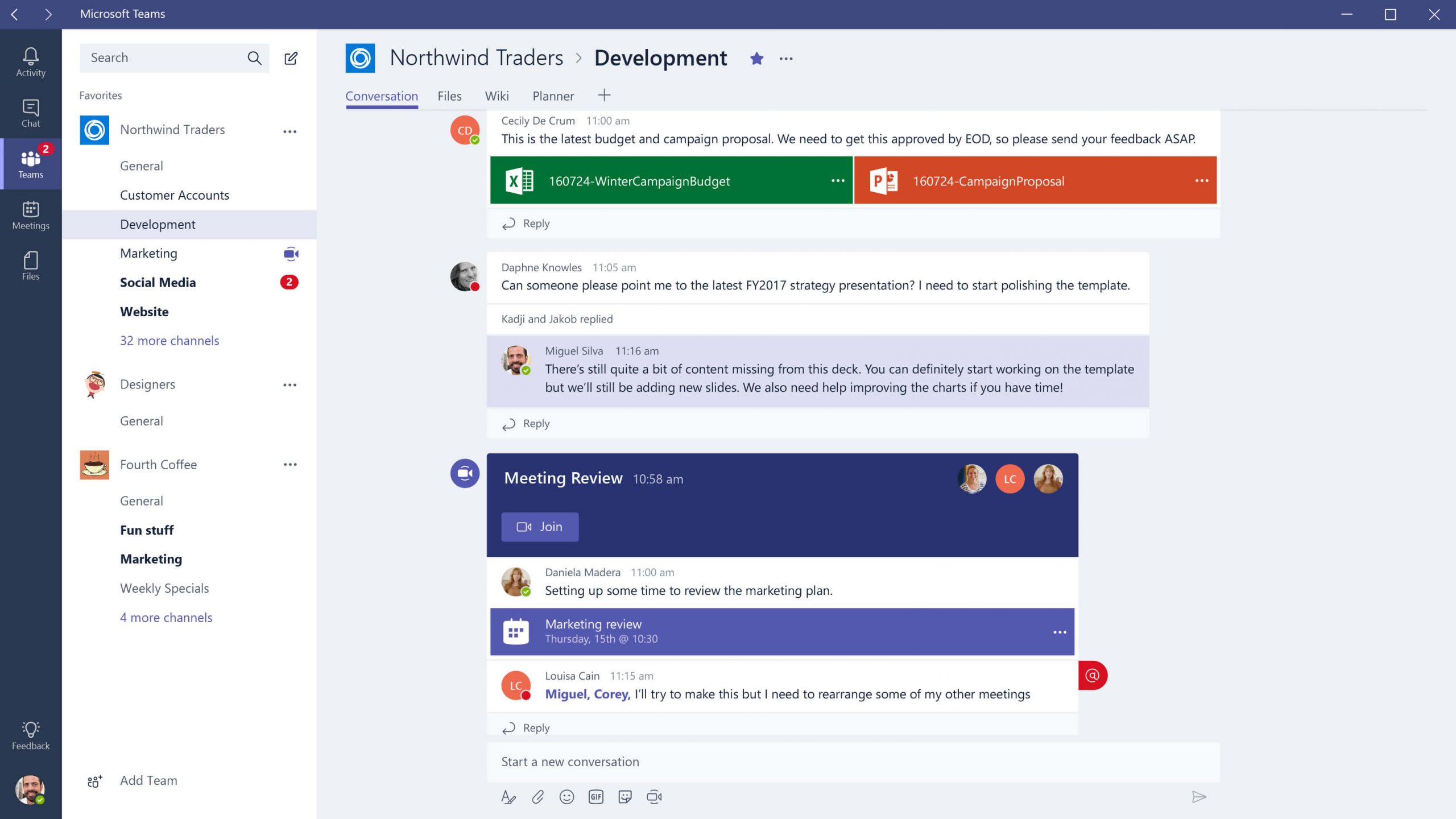 Specifically built for businesses, Teams is all set to replace Skype for Business as Microsoft's primary team chat app. The thing about Teams is that it's highly decentralized; everything has a separate, dedicated section. This can confuse new users but once you get used to the UI, Teams is hands-down one of the best collaboration software available.
The most frequent complain Skype's users often have is that it never really worked seamlessly with other MS products and with Skype being a stepchild, Microsoft never really succeeded at fully integrating it with other Microsoft Office products to deliver an immersive, seamless collaboration experience.
Fast-forward to 2020 and Microsoft is set to challenge all the top team chat apps with their homegrown collaboration app.
Key Features
Integrates with loads of third-party apps
Works seamlessly with other Microsoft products
Highly customizable
Allows easy organization of interactions
Users have more power and control over conversations
Supports GIFs, embedded images, polls, and other media
Pricing
Microsoft Teams is available only as a part of the Office 365 suite. Here are the plans Office 365 is available in;
Office 365 Business: Costs $8.25/month. Offers MS Word, Excel, PowerPoint, Access, Outlook, and OneDrive
Premium Business: Costs $12.50/month. Offers everything in Office 365 Business plus Exchange and SharePoint
Office 365 Business Essentials: Costs $5.00/month. Offers only web and mobile versions of MS Word, Excel, PowerPoint, Access and Outlook. Product offering includes Exchange, SharePoint, and Teams
All plans are billed annually.
---
Online Collaboration Tools for Team Conferencing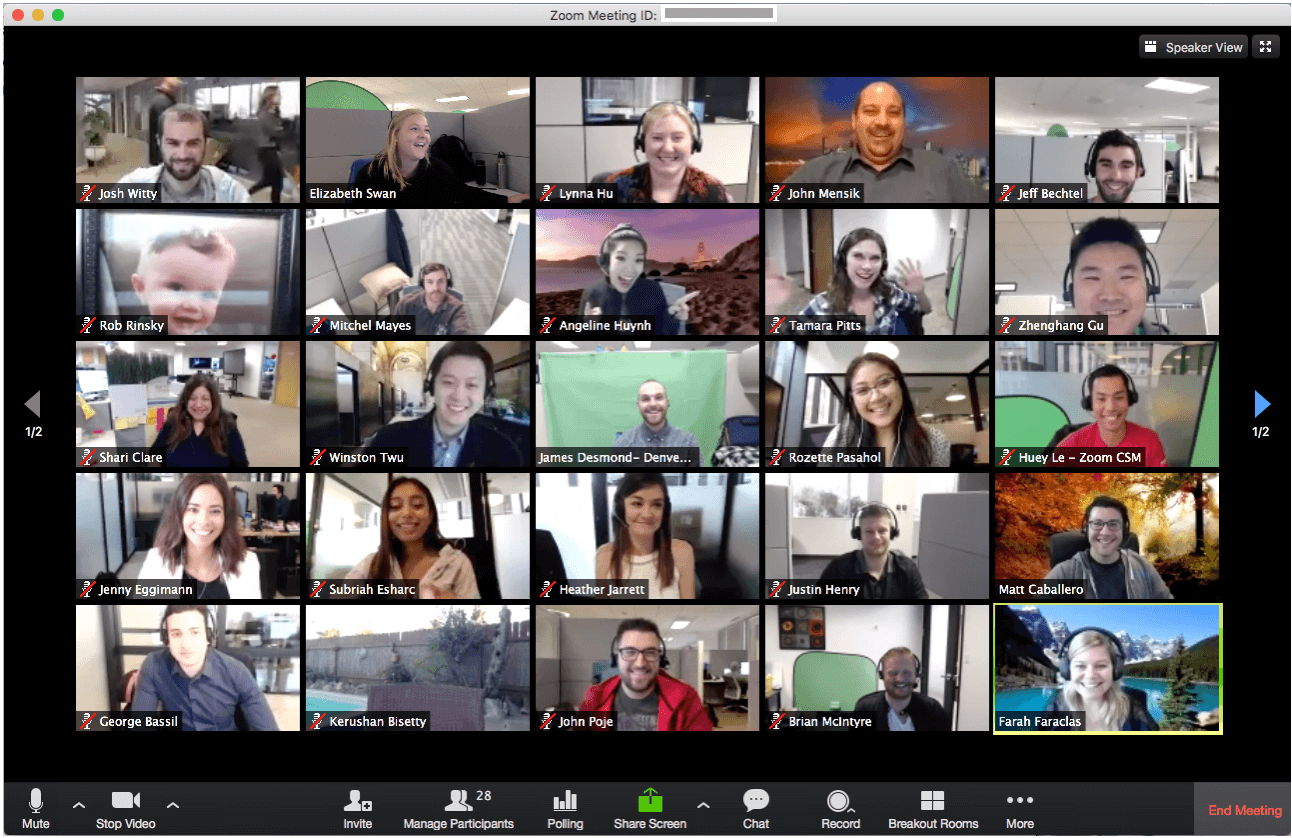 When it comes to online collaboration tools, team conferencing software is another important app that almost every company needs these days. And, when it comes to team conferencing apps, Zoom deserves to be mentioned among the best.
Zoom's team conferencing app, Zoom Rooms, has impressed everyone so much with its capabilities that even big organizations like Box, GoDaddy, Pandora, and Slack are using it.
What we loved about Zoom Rooms the most is that instead of aiming for big enterprises by packing too much into their app this app settles for an app that's really easy-to-use and packs a healthy amount of features.
Key Features
HD audio and video
One-click wireless sharing of content
Interactive whiteboarding capabilities
Open up to 12 whiteboards simultaneously
Save whiteboarding sessions
Budget-friendly plans
High participant threshold
Pricing
Zoom Rooms costs $41.58 per room per month when billed annually and $49.00 per room per month when billed monthly. Zoom also offers 6 paid add-ons with the app.
---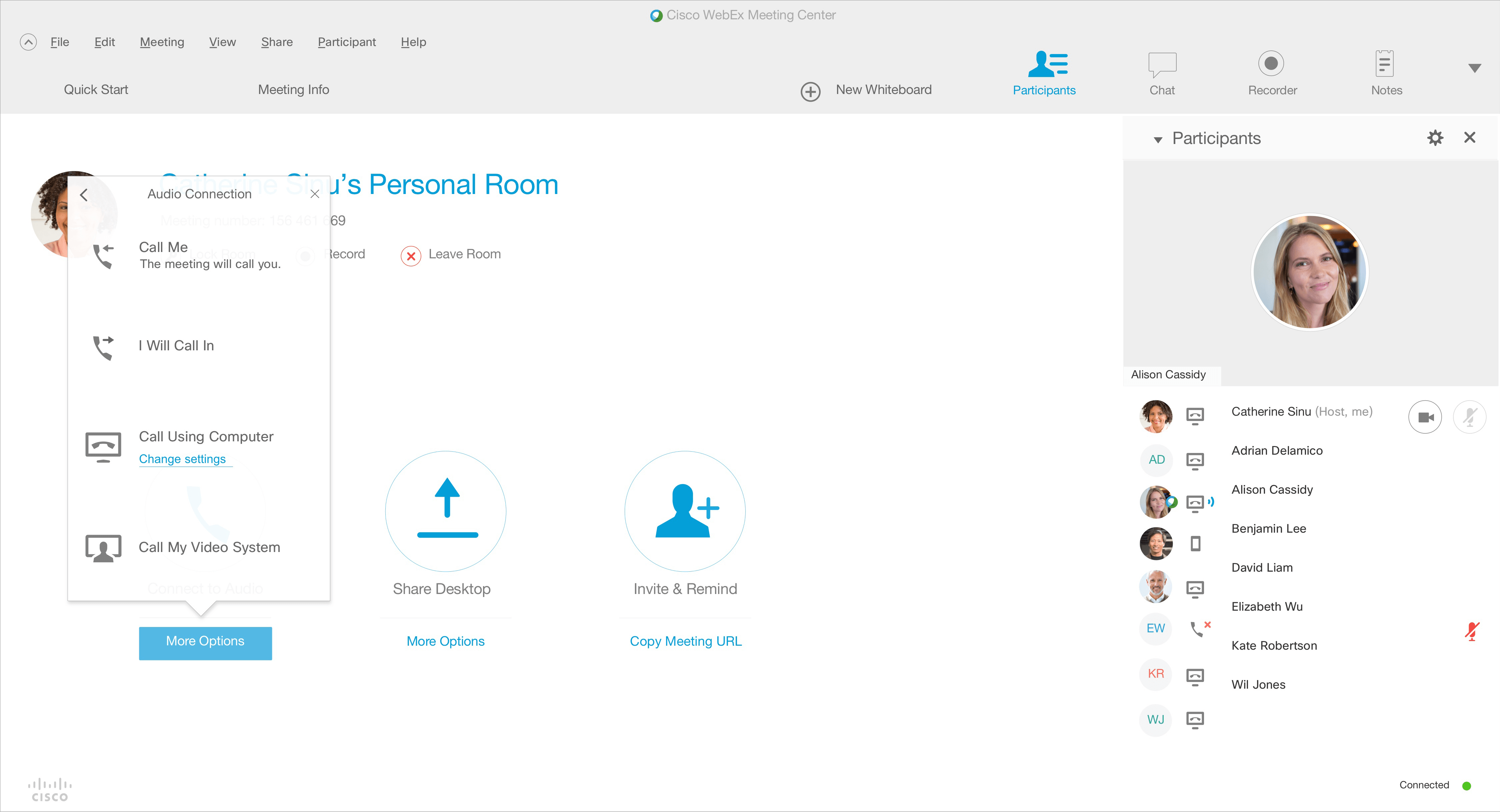 Cisco is not a name that comes to mind when one is talking about conferencing software but, once you get to know Cisco WebEx, you will be mentioning this app every time you hear the term team collaboration software.
WebEx is the kind of app that tries ticking all the boxes. Take session storing as an example, WebEx has the ability to store company-wide meeting for as long as you want. Another great thing about this app is that it's web-based so, you don't have to download or install anything. All you need is a web browser in order to access it.
Key Features
Offers easy to use whiteboarding features
Compatible with external VoIP services
Share screen and record sessions with just a click
Allows up to 100,000 people in a webinar
Integrates with calendar apps and allows easy scheduling of meetings
Join meetings right from your web browser
Allows up to 1,000 participants in training classes
Pricing
Cisco WebEx doesn't offer any info on the price plans that they offer. Interested parties can fill a form on their website and then their sales team will get in touch with them.
---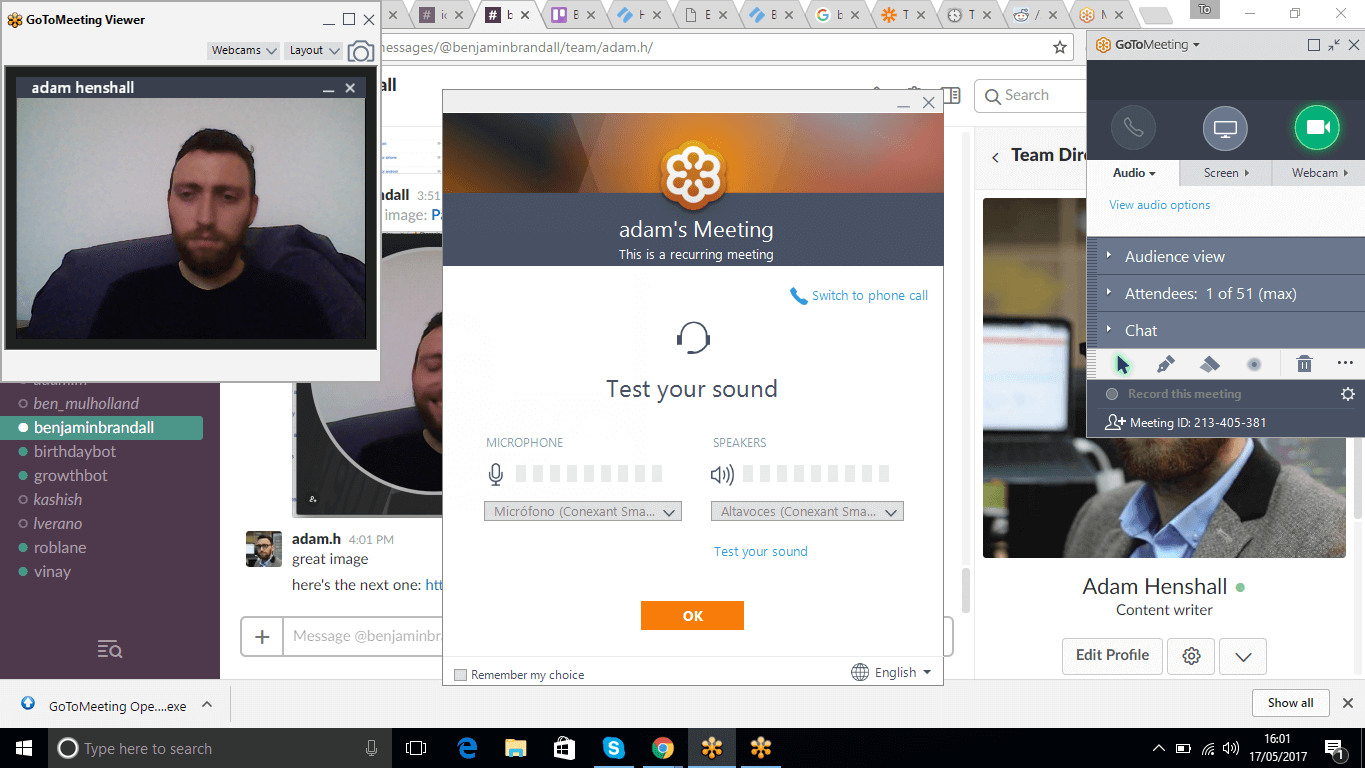 Another app that deserves a mention among the best collaboration software is GoToMeeting. Acquired by LogMeIn in early 2017, GoToMeeting is being marketed as a more economical, small-sized, business-oriented alternative to LogMeIn's more expensive team conferencing software, join.me.
GoToMeeting comes equipped with all the features that you expect from a decent video conferencing app; scheduling meetings, being able to access recent meetings and, whiteboarding with the participants of a meeting.
Key Features
UI is one of the friendliest we've ever seen
Scheduling meetings is extremely easy
Integrates with existing conference room hardware
Offers a commuter mode for easy muting and un-muting
Offers a 14-day trial (without asking for credit card info)
Supports multiple languages
Video recording feature records video feeds and audio as well
Pricing
GoToMeeting is available in 3 different price plans;
Professional: Costs $12 per month when billed annually and $14 per month when billed monthly. Supports up to 150 participants
Business: Costs $16 per month when billed annually and $19 per month when billed monthly. Supports up to 250 participants
Enterprise: Supports up to 3000 participants. Interested parties can contact GoToMeeting's sales team for a quote
---
Online Collaboration Tools for Screen Sharing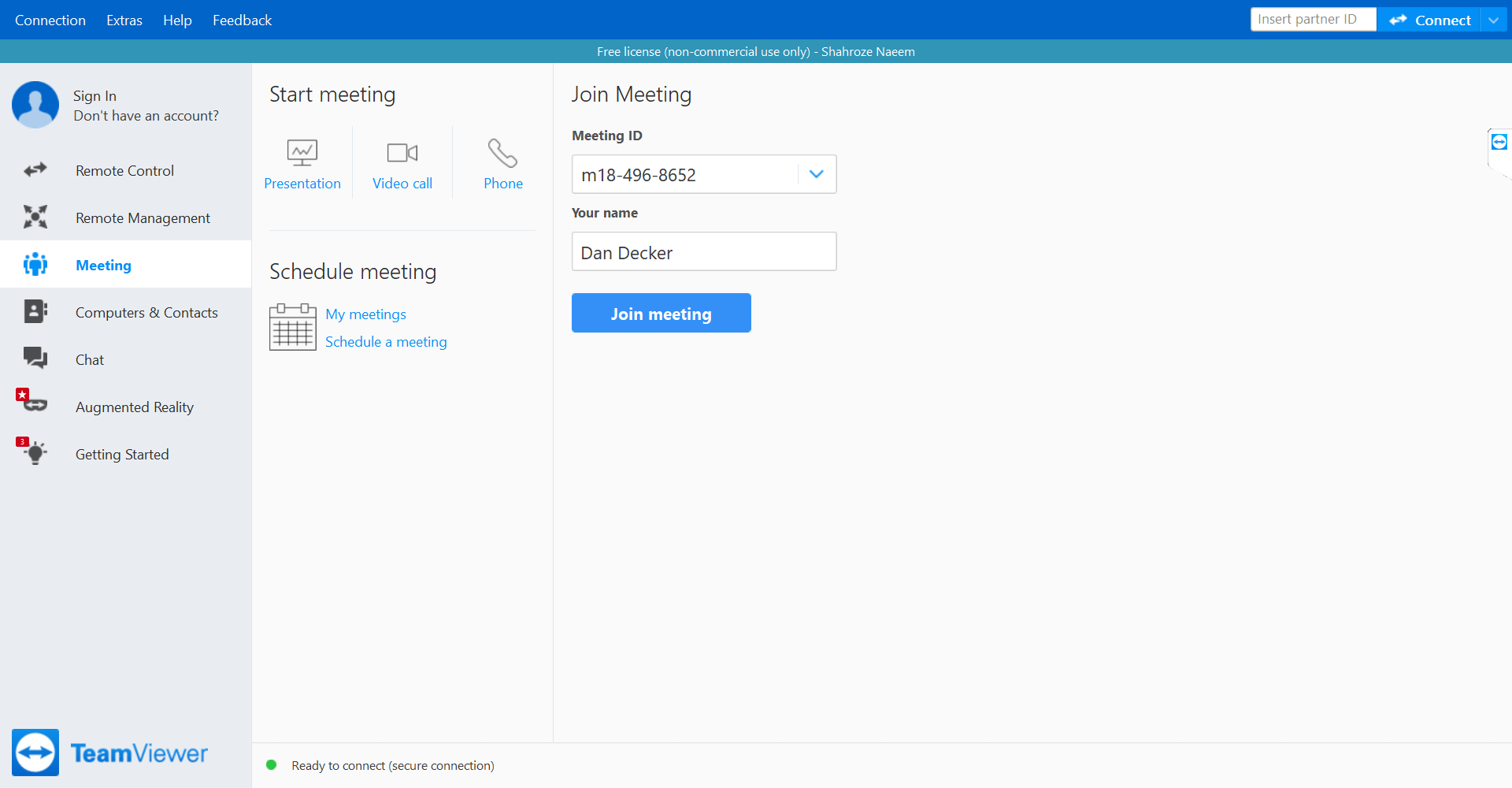 When it comes to screen-sharing software, TeamViewer is like that amazing sports car that everyone loves and desires. And, as it is with all sports cars, TeamViewer is expensive. But, if you're looking for collaboration software that is filled to the brim with amazing features, this is the app that you should go for.
Not only does TeamViewer have a client for Windows, macOS, ChromeOS, Android, iOS and BlackberryOS; it also offers a web-based platform for smaller OS to access the app through.
What surprised us about this app the most is that it also offers a toned-down, free version of the app for non-commercial use.
Key Features
Multi-layered security features
One of the most user-friendly screen-sharing apps around
Offers multi-monitor support
Supports all major platforms
Offers a free version for non-commercial use
Can use VPN for safer links
Pricing
TeamViewer is available in the following 3 price plans;
Business: Costs $22.90 per month. Allows one licensed user to initiate device connection one session at a time
Premium: Costs $45.90 per month. Allows multiple licensed users to initiate device connections with just one session open at a time
Corporate: Costs $89.90 per month. Allows multiple licensed users to initiate device connections with up to three sessions open at a time
All plans are billed annually.
---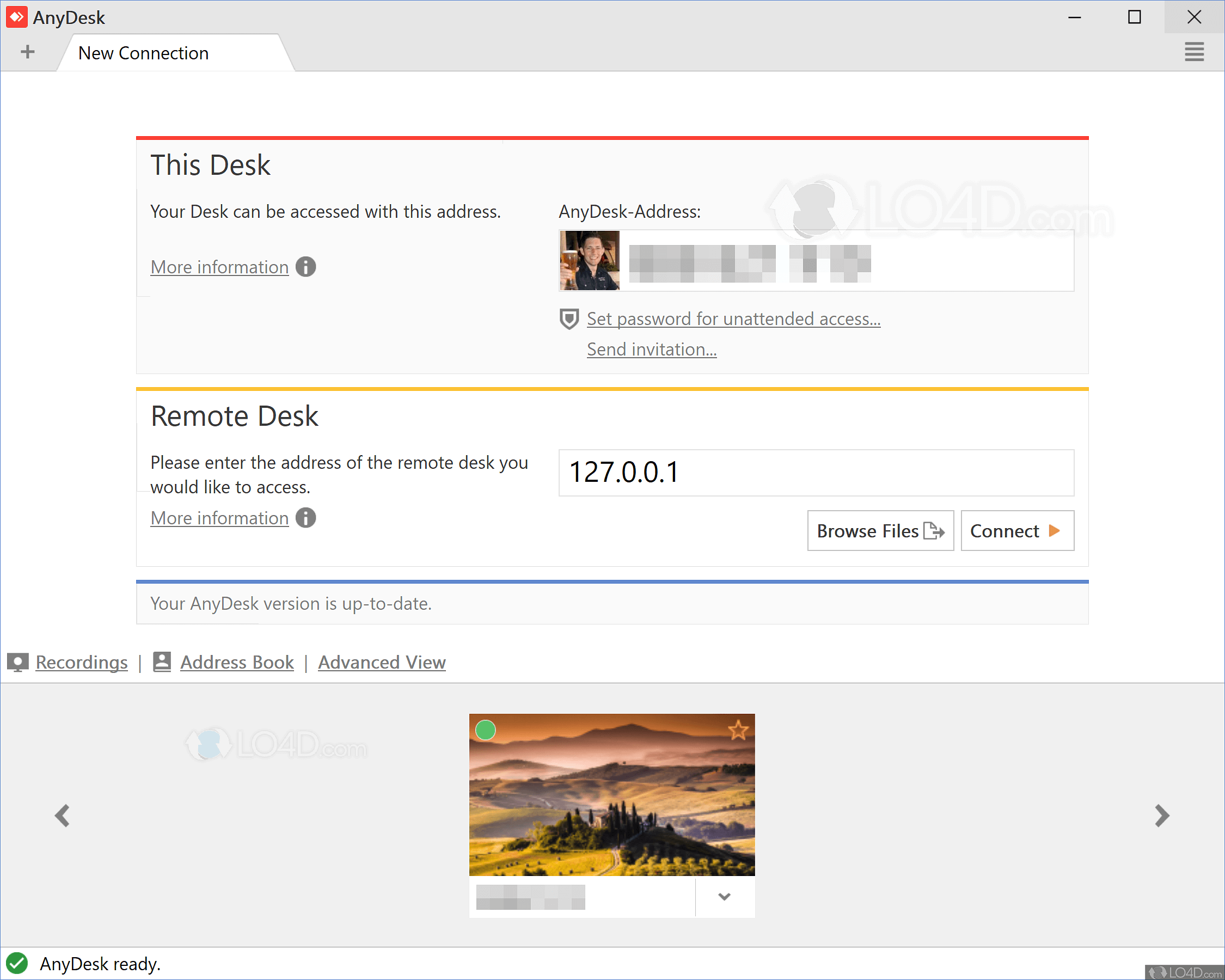 AnyDesk really earns its spot among the best screen-sharing software by not only providing topnotch features but also budget-friendly prices. Their cheapest version is available for just $10.99. How amazing is that?! And, what's more, they are also offering a free version of the app for personal use.
What I really liked about AnyDesk is that it's built for beginners, people who aren't tech-savvy. A person who hasn't used a screen-sharing app in their entire life can learn their way around AnyDesk in about 10 minutes. That's how user-friendly it is.
Key Features
Quick and easy installation
Offers a free version for personal usage
Allows easy file sharing
Supports session recording and session transfer
Allows easy customization of UI
Uses TLS 1.2 and RSA 2048 to secure data
Pricing
AnyDesk is currently offering 3 different price plans;
Lite: Costs $10.99 per month. Allows one licensed user to initiate device connection one session at a time
Professional: Costs $20.99 per month. Allows multiple licensed users to initiate device connections with just one or more sessions open at a time
Power: Costs $52.99 per month. Allows multiple licensed users to initiate device connections with several sessions open at the same moment
---
Online Collaboration Tools for Document Sharing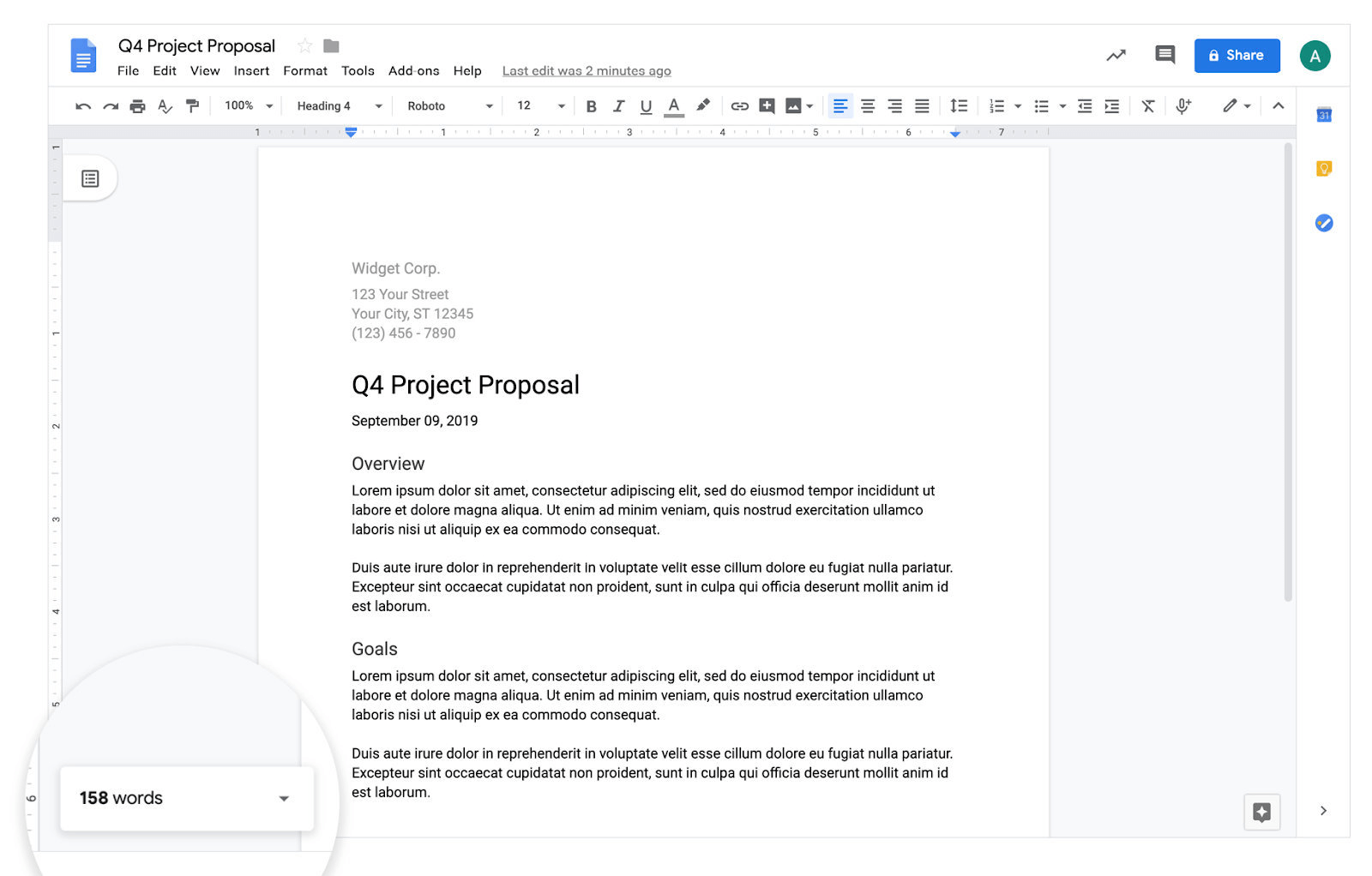 While all the best collaboration software offers a desktop-based office, Google is probably the only company that manages to provide a top-notch office suite that is entirely cloud-based. Right from its inception, Google Docs has always been an online, easy-to-use office suite that offers all the essential features.
And, honestly speaking, the amount of features that Google manages to pack into their cloud-based office suite easily makes it one of the best online collaboration tools. But, the thing that made Docs even better was a major update that came back in 2016. Not only did it fully integrate the suite with other Google products but it also made the app a lot faster.
Key Features
Free to use, all you need is a Google account
Don't have to download or install the app
Accessible from all sorts of devices and platforms
Easy collaboration and effortless tracking of changes made by team members
Can create a file in multiple formats
Elegant design and easy-to-use
Pricing
This is another category where Google Docs really impresses the user. Google offers such a capable and snappy office suite completely free. There isn't even any premium version with some extra features. Bottom line: there is only one version and it's free to use.
---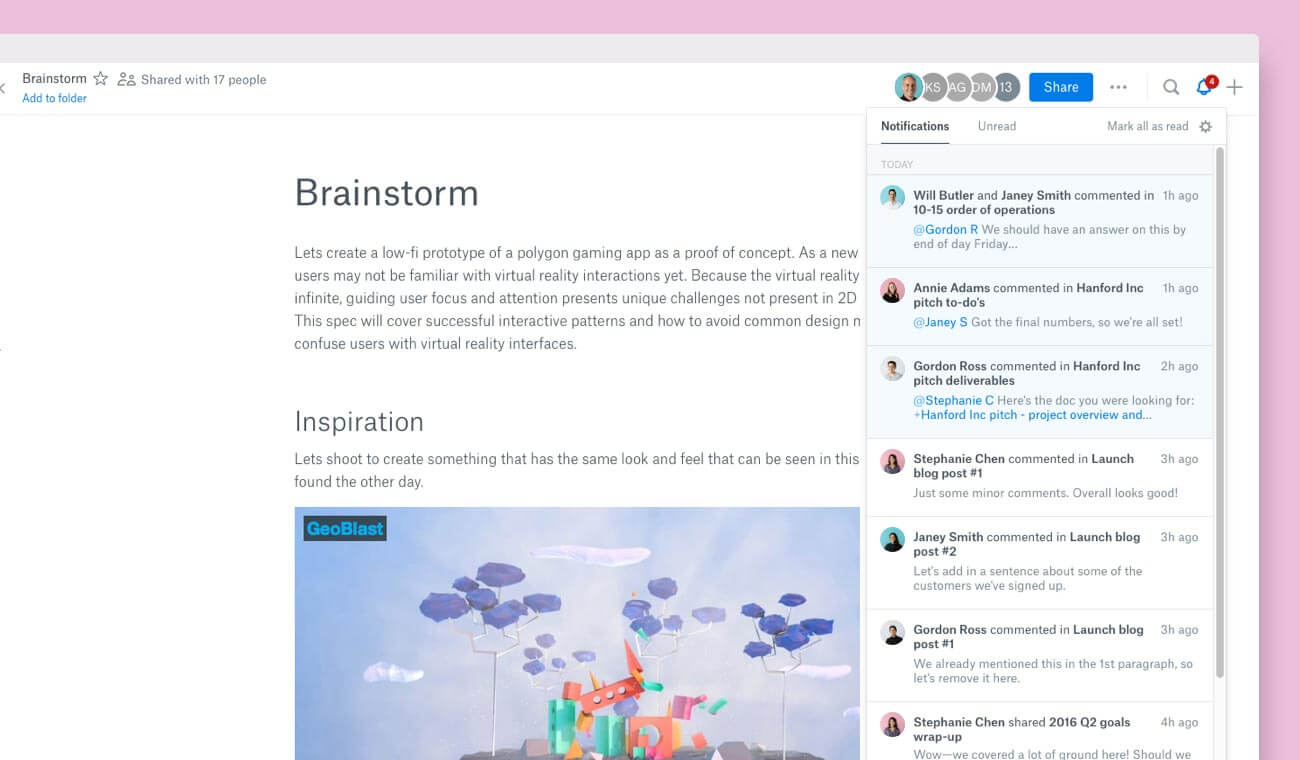 Back when Dropbox said it was going to release a team collaboration software, the media was churning out all kinds of stories regarding how Dropbox had had enough of Google Docs and wanted to give it a fight. But, using Dropbox Paper you quickly realize how different it is from Drive and why there's room for both in the industry.
Looking at Paper's features, you soon realize that this collaboration software is aimed at three specific groups; presenters, creators, and collaborators.
Of course Paper hasn't been around as long as Google Drive and OneDrive and so, it does lack some of the advanced features. But, when you consider how they managed to add something for each kind of user in an app that's still budding, you just can't stay away from Paper.
Key Features
Embeds media from about 30 websites and services in-page
Integrates with numerous third-party apps
Users can write code in a code box and Paper will detect and highlight syntax
Uses LaTeX for easy writing of equations
Easily share a file by creating a file link or directly sending an invite to someone
Can set different levels of file access for guests
Keeps track of changes made by users
Pricing
Pricing is an aspect where Dropbox Paper shows great similarity with Drive. Paper is available to all Dropbox users and it's absolutely free. To access Paper, users can either create a Dropbox account or sign in with their Google account.
---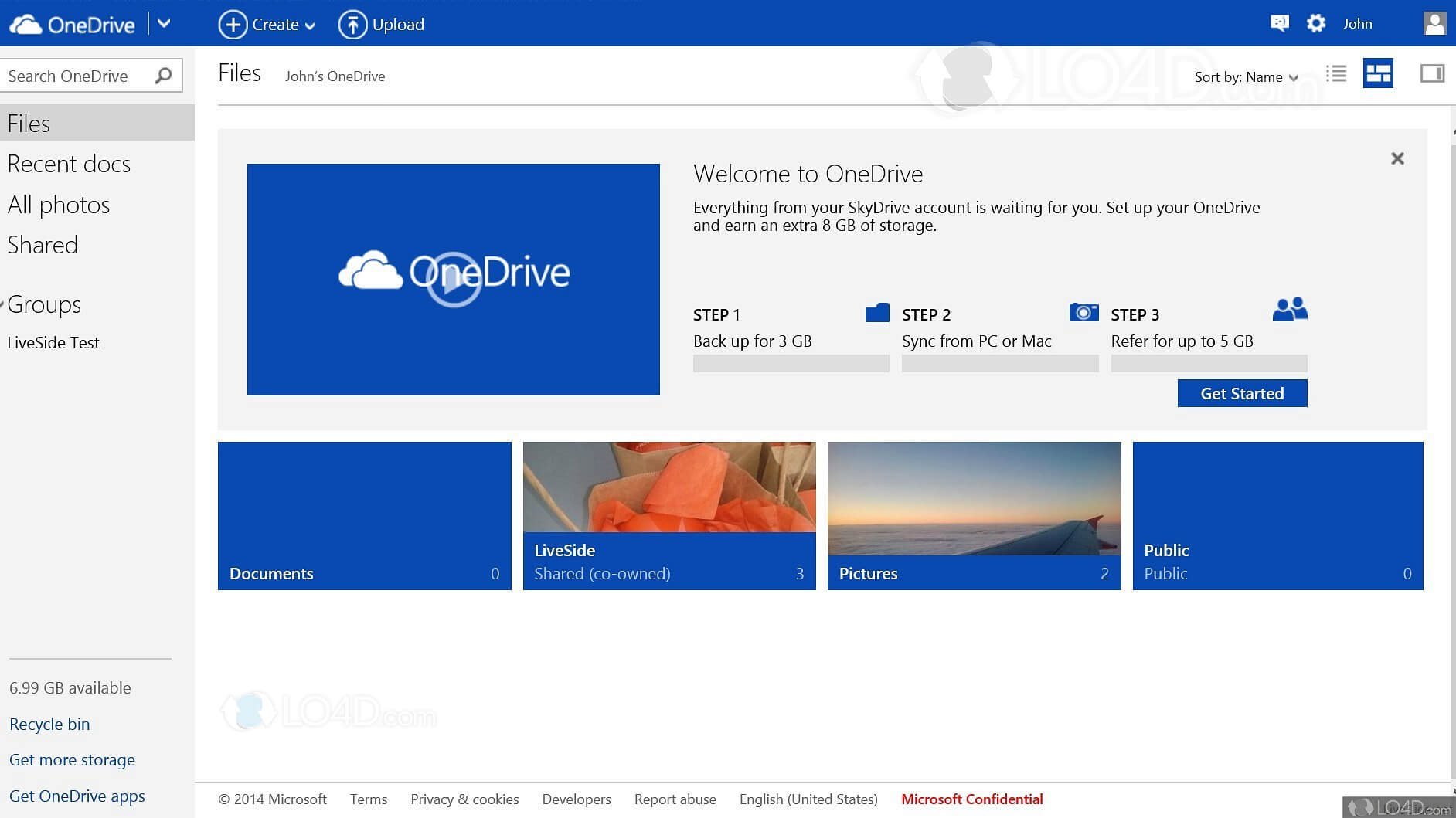 When talking about the best online collaboration tools, it's hard not to talk about OneDrive. Although Google has gotten ahead when it comes to the number of people using its cloud service, you can't miss the fact that Microsoft launched its cloud service 4 long years before Google Drive came around.
Today, OneDrive is much more than just an online collaboration service, it's become the cord that connects all Mircosoft products and services to each other. And, let's not forget Office Online, a free version of the Microsoft Office that is available to anyone with a Microsoft account.
Key Features
Dedicated clients for all major platforms
Deeply integrated with Windows 10 and Office 365
Excellent user interface
Can open media files
Offers great file sharing features
Offers Office Online
5GB free storage space
Pricing
OneDrive is available in 3 different price plans to businesses;
Business Plan 1: Costs $5.00 per user per month. Offers 1TB space and can hold files up to 15GB in size
OneDrive for Business Plan 2: Costs $10.00 per user per month. Offers everything in Business Plan 1 plus unlimited storage space
Business Premium: Costs $12.50 per user month on an annual payment basis (and $15 per user per month on a monthly payment basis). Offers everything in Business Plan 1 plus desktop version of all Microsoft apps. Moreover, each user can use Microsoft apps on up to 5 devices
---
Online Collaboration Tools for Email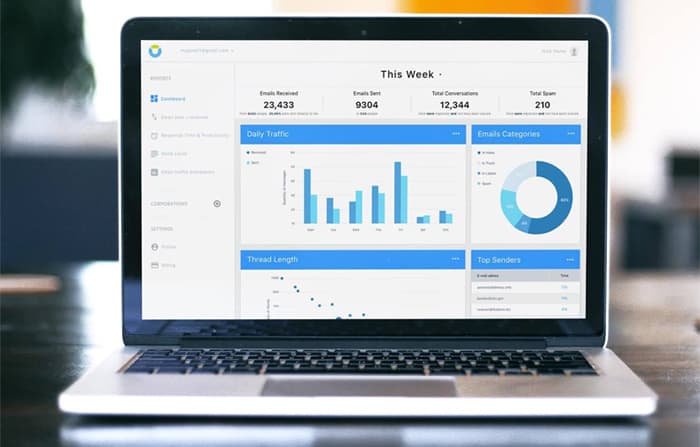 Obsessed with email at work? Most people are. Want to make your team's email collaboration more productive? Email Analytics helps with that. It is a Gmail add-on aimed at providing useful insights into how you and your team members leverage email communication to get things done.
It integrates seamlessly with Gmail and G-Suite to provide analytics on key metrics, such as:
Emails sent/received
Email traffic by day/hour
Emails by category
Average word count per email
Average email response time
Key Features
Gmail API is used to ensure 100% data privacy & security
None of the content of your emails is stored on servers
Email analytics are updated in real-time for up-to-the-minute fresh reports
Group segmentation of team members to compare their Gmail metrics
Pricing
Email Analytics is available with a 14-day free trial, after which you are charged $15 per month per mailbox.
---
Conclusion
In this day and age, if you or your business is not relying on collaboration software, you're not only hurting your company's productivity but you might also be letting go of a healthy amount of revenue.
And, worst of all, you are making your own life harder by relying on old and inefficient ways of communication. So, what are you waiting for? Make your life easier and start using team collaboration apps now!
Also, check out Apium Hub's article on distributed Agile teams for deeper insights on improving team productivity.
---
Other SaaSy goodness on All That SaaS: