Using different online collaboration tools, team members can effectively communicate with each other and complete their tasks without any delays or misunderstandings.
As technology has advanced and made communication faster and easier, it has also greatly amplified our need to communicate.
The Best Online Collaboration Tools in 2023
Online Collaboration Tools – Frequently Asked Questions
But, the thing about online collaboration tools is that not all of them are great. A decent online collaboration app does not only offer task management features but is packed with project management, cost management, and even, document management features as well.
What Are the Best Online Collaboration Tools in 2023?
Without collaboration apps, businesses can never reach optimal efficiency and that means, online collaboration tools can be the difference between a business becoming successful or going bust. So, to help you find some great team collaboration apps, here are some of our favorites.
1. Slack – Team Chats and Messaging
Check out our top picks for the best Slack alternatives.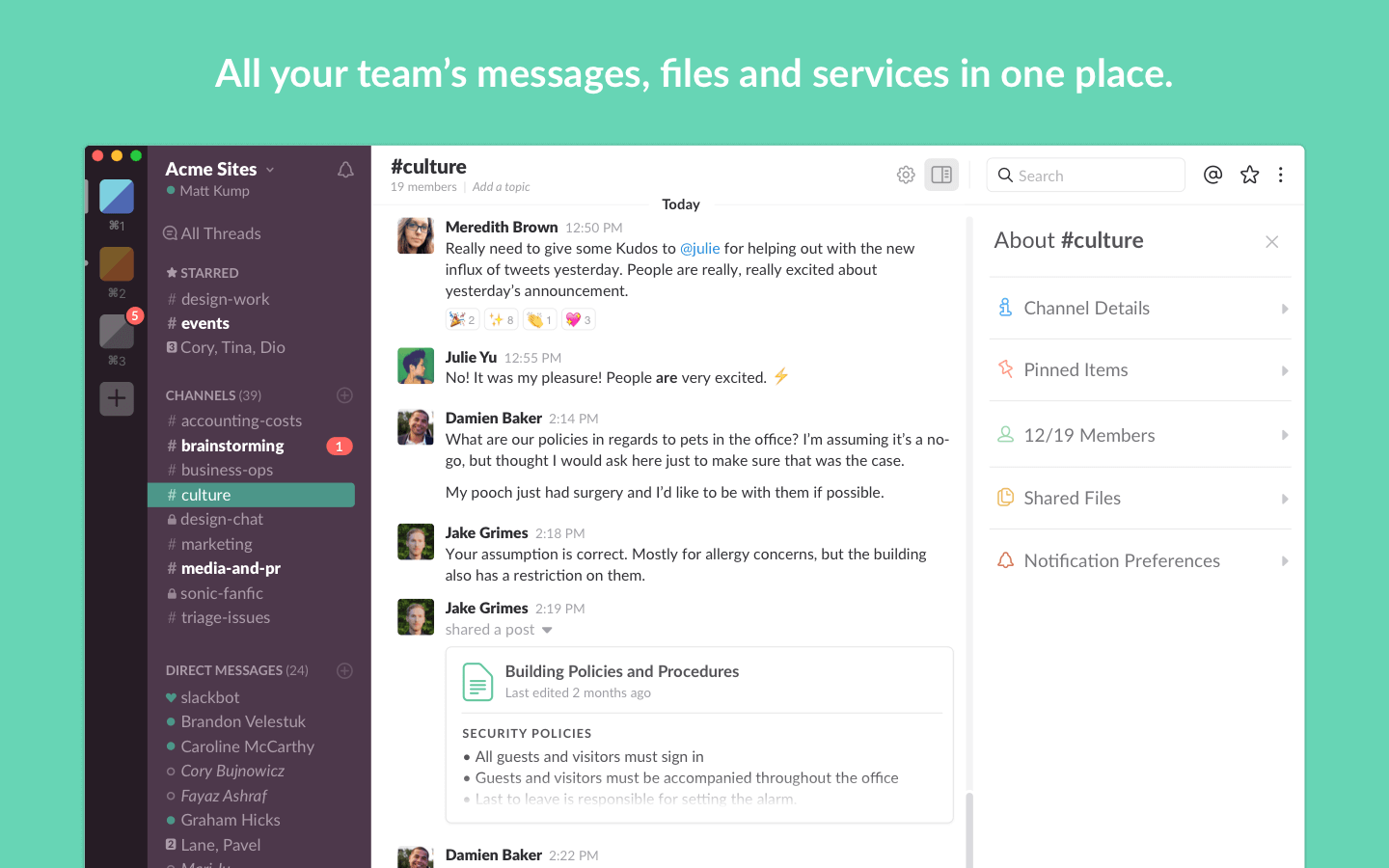 When it comes to online collaboration tools, there's no way you end the conversation without mentioning Slack. Built as a direct competitor to Skype, Slack does not only offer instant messaging but audio and video calling as well.
With that being said, when you use this app it quickly becomes obvious that the app's main focus is on instant messaging.
Don't take this in the wrong sense, there's nothing wrong with Slack's audio and video calling features, it's just that Slack's instant messaging features are much more detailed.
Slack is one of the most customizable team collaboration software out there and while this can be a little daunting to new users, for experienced users, this is one of the best things about Slack.
Key Features
Teammates can communicate freely and separately, through an individual space for each conversation called a look up of the features
Slack has an easily searchable archive, which makes it easier for users to look-up previous projects.
Collaboration between clients and external partners is much easier since it allows users to work with them through shared channels.
It allows third-party apps such as Gotenfoldve & Office 365 and productivity tools to integrate with ease and increase work efficiency by ten-fold.
It is a great instant messaging feature that makes it one of the team chat apps out there.
The app is highly customizable and allows users to tailor the app to the project or to what suits their teams.
Slack allows encryption keys to give the user complete control and visibility to access their data, optimizing their security.
Pricing
Slack is available in 4 different price plans:
Free: Built for small teams.
Standard: Costs $6.67 per user/month when billed annually (and $8 per user/month when billed monthly). Built for teams and small businesses looking for a capable team chat app.
Plus: Costs $12.50 per user/month when billed annually (and $15.00 per user/month when billed monthly). Built for teams and businesses that require a team chat app with advanced capabilities.
Slack Enterprise Grid: Built for large teams and companies. You'll have to contact Slack to get a quote.
---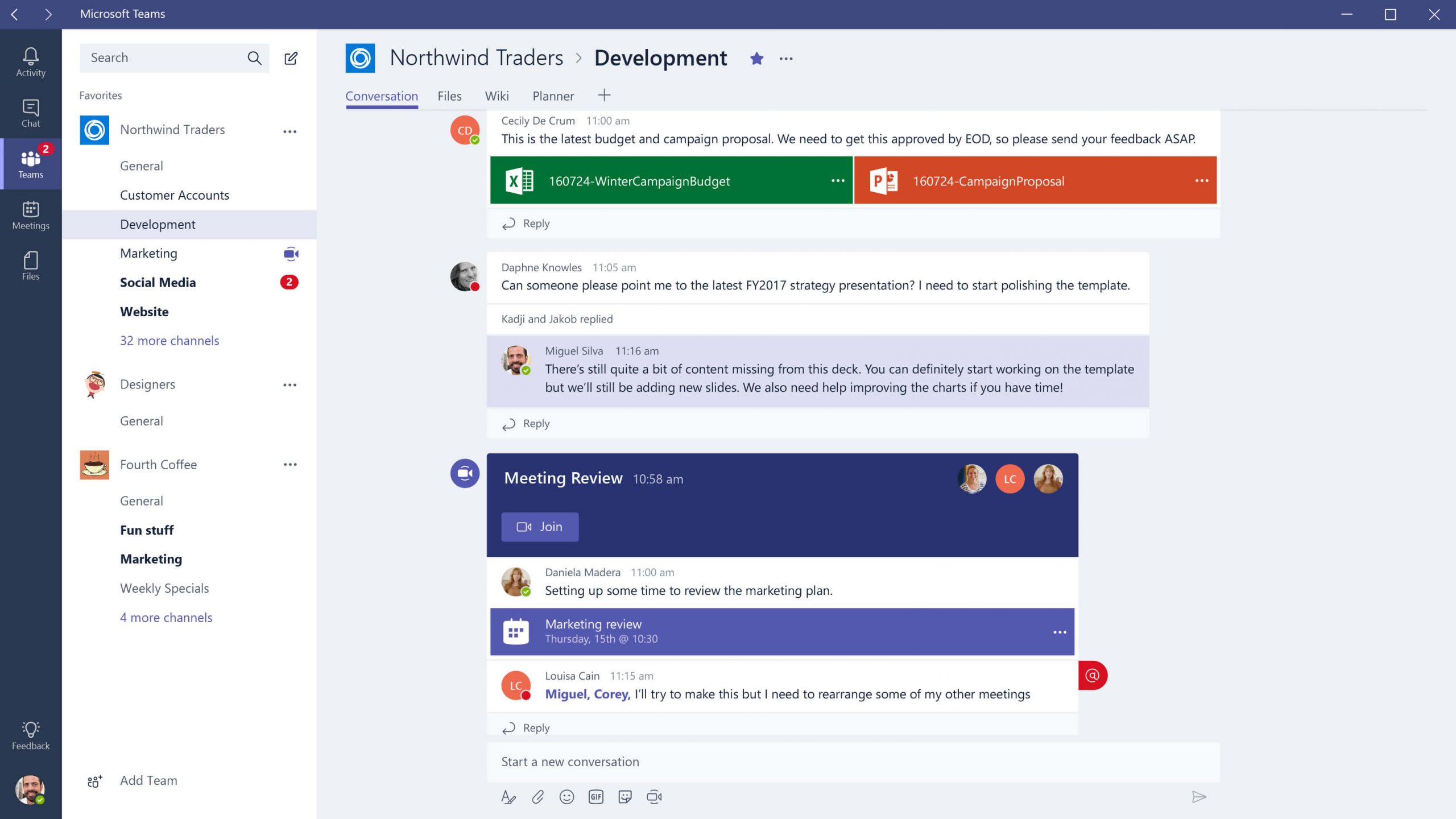 Specifically built for businesses, Teams is all set to replace Skype for Business as Microsoft's primary team chat app. The thing about Teams is that it's highly decentralized; everything has a separate, dedicated section.
This can confuse new users but once you get used to the UI, Teams is hands-down one of the best online collaboration software available.
The most frequent complaint Skype's users often have is that it never really worked seamlessly with other MS products and with Skype being a stepchild, Microsoft never really succeeded at fully integrating it with other Microsoft Office products to deliver an immersive, seamless collaboration experience.
Fast-forward to 2023 and Microsoft is set to challenge all the top team chat apps with their homegrown collaboration app.
Key Features
Microsoft Teams integrates seamlessly with a variety of third-party apps, which enhances collaborations.
Files can be easily found, shared, and edited in real-time using Microsoft apps like Word, PowerPoint, and Excel in Microsoft Teams.
All of Microsoft Teams' features are highly customizable, so they can be tailored to the user's per project needs or on the whole.
Microsoft Teams has been designed to make interactions easy, and it is done so with the optimized organization features of the software.
Supports GIFs, embedded images, polls, and other media, and it allows people to send them in a group chat or one-to-one messages.
Users can immediately go from group chat to video conference with just a click. It supports teams of two or 10,000 to meet in one place.
Calls can be made and received with Microsoft Teams with advanced features such as group calls, cloud voicemail, and call transfers.
Pricing
Microsoft Teams is available only as a part of the Office 365 suite. Here are the plans Office 365 is available in;
Office 365 Business: Costs $8.25/month. Offers MS Word, Excel, PowerPoint, Access, Outlook, and OneDrive
Premium Business: Costs $12.50/month. Offers everything in Office 365 Business plus Exchange and SharePoint
Office 365 Business Essentials: Costs $5.00/month. It offers only web and mobile versions of MS Word, Excel, PowerPoint, Access, and Outlook. Product offering includes Exchange, SharePoint, and Teams
All plans are billed annually.
---
3. Zoom – Video Conferencing Tool
Check out our top picks for the best Zoom alternatives.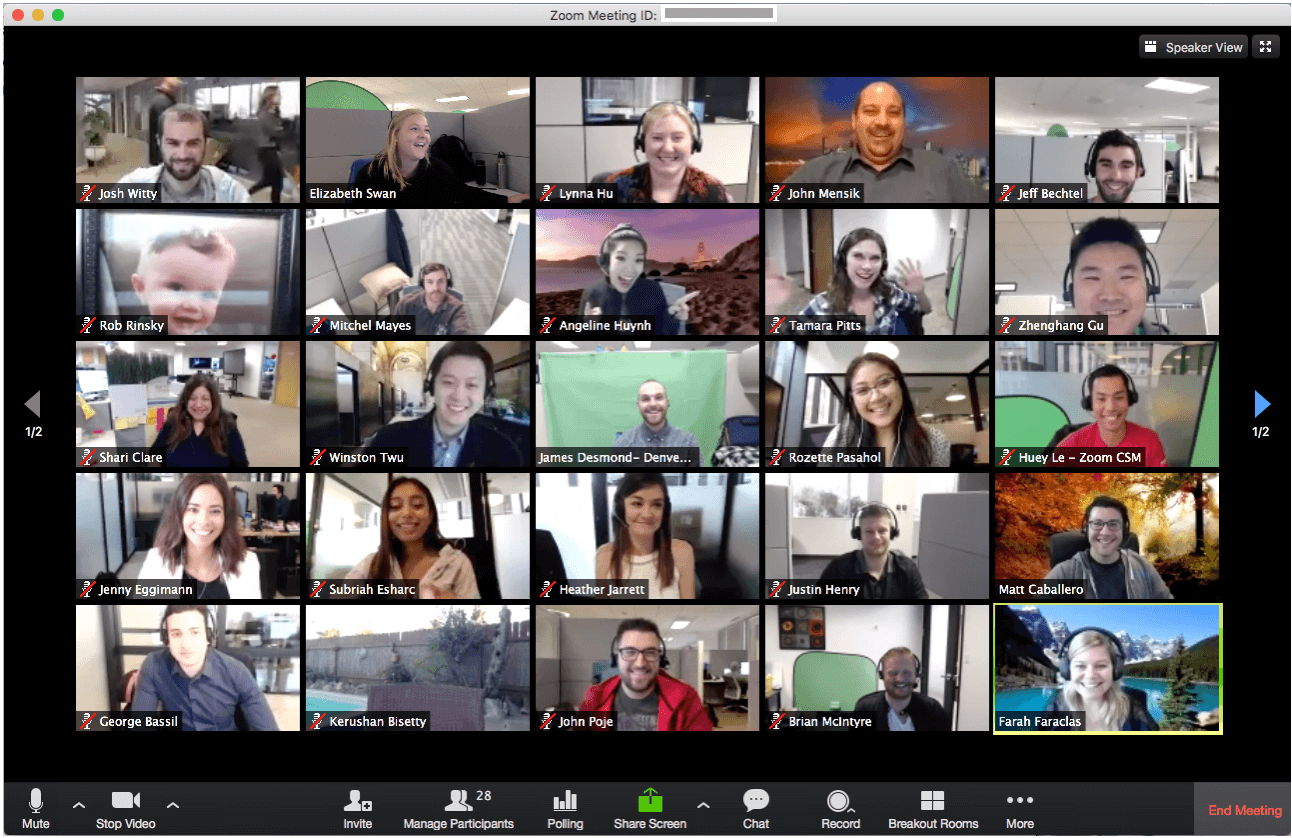 When it comes to online collaboration tools, video conferencing software is another important app that almost every company needs these days. And, when it comes to team conferencing apps, Zoom deserves to be mentioned among the best.
Zoom's team conferencing app, Zoom Rooms, has impressed everyone so much with its capabilities that even big organizations like Box, GoDaddy, Pandora, and Slack are using it.
What we loved about Zoom Rooms the most is that instead of aiming for big enterprises by packing too much into their app this app settles for an app that's easy-to-use and packs a healthy amount of features.
Key Features
Zoom's video conferencing software has a free-plan for everyone to use.
Content can be shared with one just one-click, and it allows screen-sharing as well.
Interactive white-boarding capabilities, where other participants can place annotates on.
It is great for brainstorming various projects since it opens up to 12 whiteboards
All the participant white-boarding sessions can be saved and shared to different screens.
Even though most people choose to use the free plan, Zoom also provides budget-friendly plans.
All of Zoom's plans allow audio and video recording for all of the sessions.
Pricing
Zoom Rooms costs $41.58 per room per month when billed annually and $49.00 per room per month when billed monthly. Zoom also offers 6 paid add-ons with the app.
---
4. Cisco WebEx – Team Meeting Software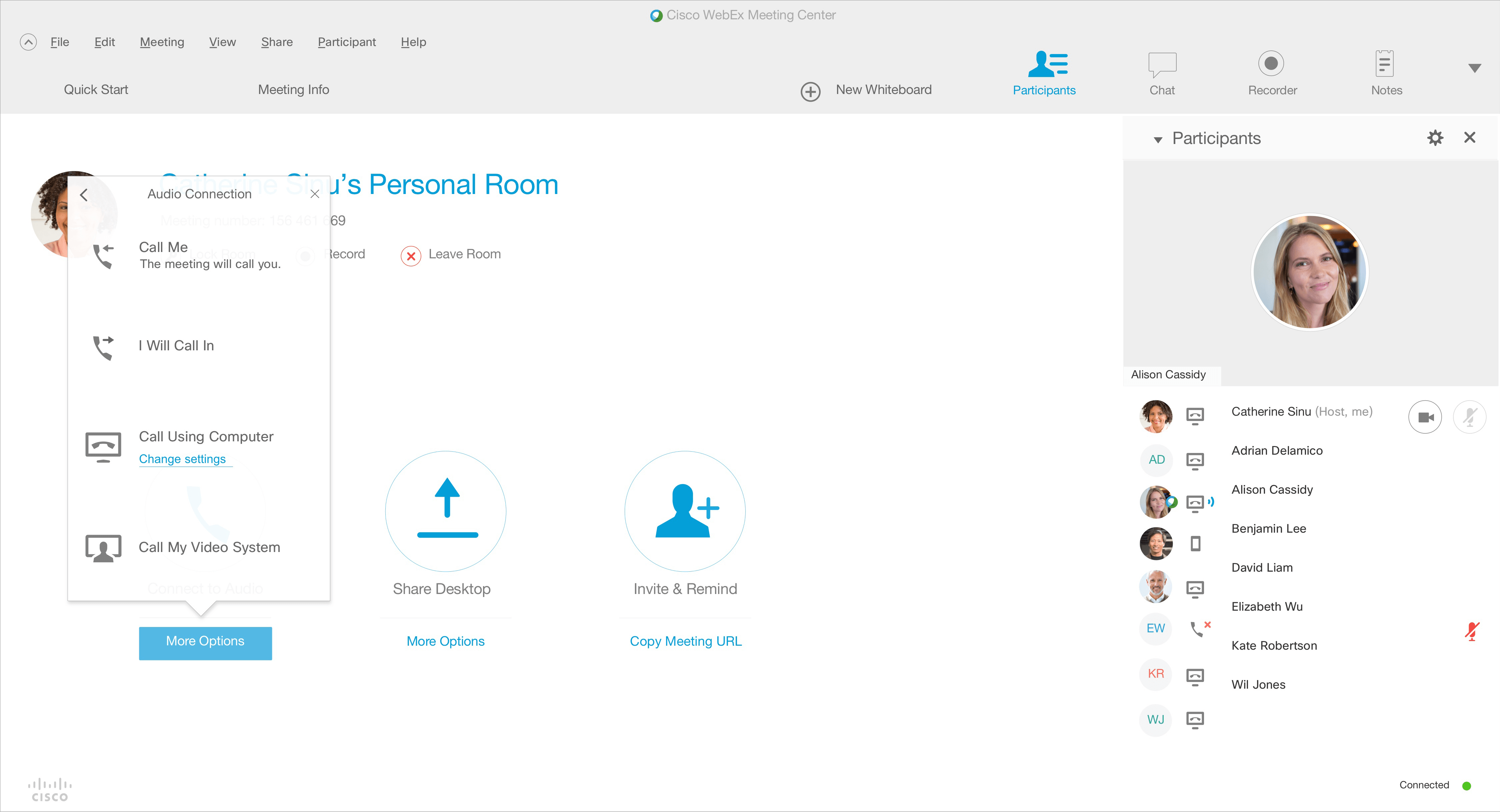 Cisco is not a name that comes to mind when one is talking about conferencing software but, once you get to know Cisco WebEx, you will be mentioning this app every time you hear the term "online team collaboration tool".
WebEx is the kind of app that tries ticking all the boxes. Take session storing as an example, WebEx can store company-wide meeting for as long as you want. Another great thing about this app is that it's web-based so, you don't have to download or install anything. All you need is a web browser to access it.
Key Features
Cisco WebEx provides user-friendly white-boarding features, enhancing annotation collaboration.
This software is highly compatible with external VoIP services.
It is easy for the user to share screen and record sessions with other participants, with just a click.
Cisco WebEx has a high- participant collaboration, it allows up to 100,000 people in a webinar.
Customer service agent experiences are AI-powered, which makes sure that customer support is top-notch and highly receptive.
Users can join meetings directly from their web browser, there is no hassle to download the app.
Since it is a complete and connected cloud phone service, which means it integrates with all of the user's collaboration tools.
Priciout ng
Cisco WebEx doesn't offer any info on the price plans that they offer. Interested parties can fill a form on their website and then their sales team will get in touch with them.
---
5. GoToMeeting – Meeting Management Software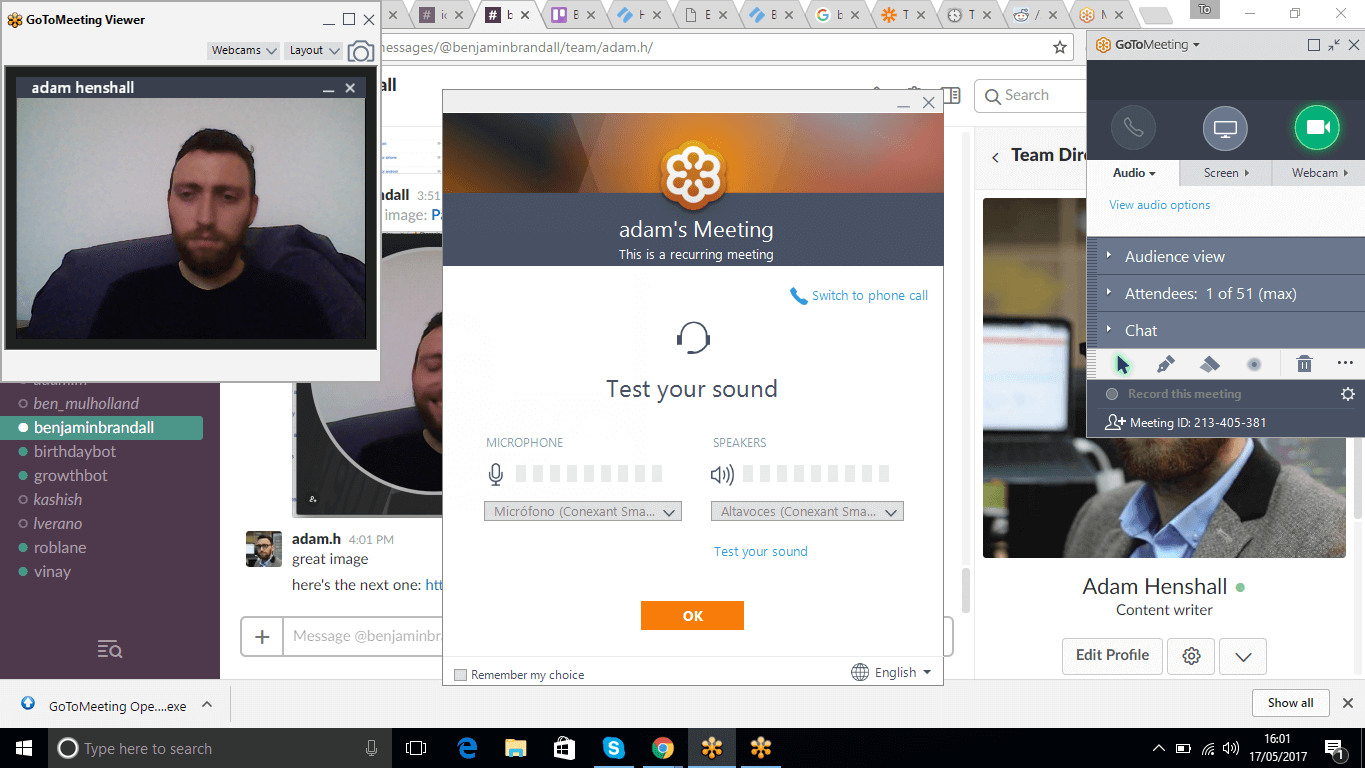 Another app that deserves a mention among the best collaboration software is GoToMeeting. Acquired by LogMeIn in early 2017, GoToMeeting is being marketed as a more economical, small-sized, business-oriented alternative to LogMeIn's more expensive team conferencing software, Join.me.
GoToMeeting comes equipped with all the features that you expect from a decent video conferencing app; scheduling meetings, being able to access recent meetings and, whiteboarding with the participants of a meeting.
Key Features
GoToMeeting has one of the most easy-to-use user interfaces we have ever seen.
Living up to its name, GoToMeeting has made it easy to schedule meetings, with extended features.
If the user has any existing conference room hardware, GoToMeeting integrates with it seamlessly.
Communication is made easy in case of certain situations because it offers a commuter mode for easy muting and un-muting.
GoToMeeting offers a 14-day trial and it can be done without asking for credit card information.
Since it supports multiple languages, it is easy to use with remote teams around the globe.
It has a video recording feature records, with video feeds and audio as well.
Pricing
GoToMeeting is available in 3 different price plans;
Professional: Costs $12 per month when billed annually and $14 per month when billed monthly. Supports up to 150 participants
Business: Costs $16 per month when billed annually and $19 per month when billed monthly. Supports up to 250 participants
Enterprise: Supports up to 3000 participants. Interested parties can contact GoToMeeting's sales team for a quote
---
6. TeamViewer – Screen Sharing Software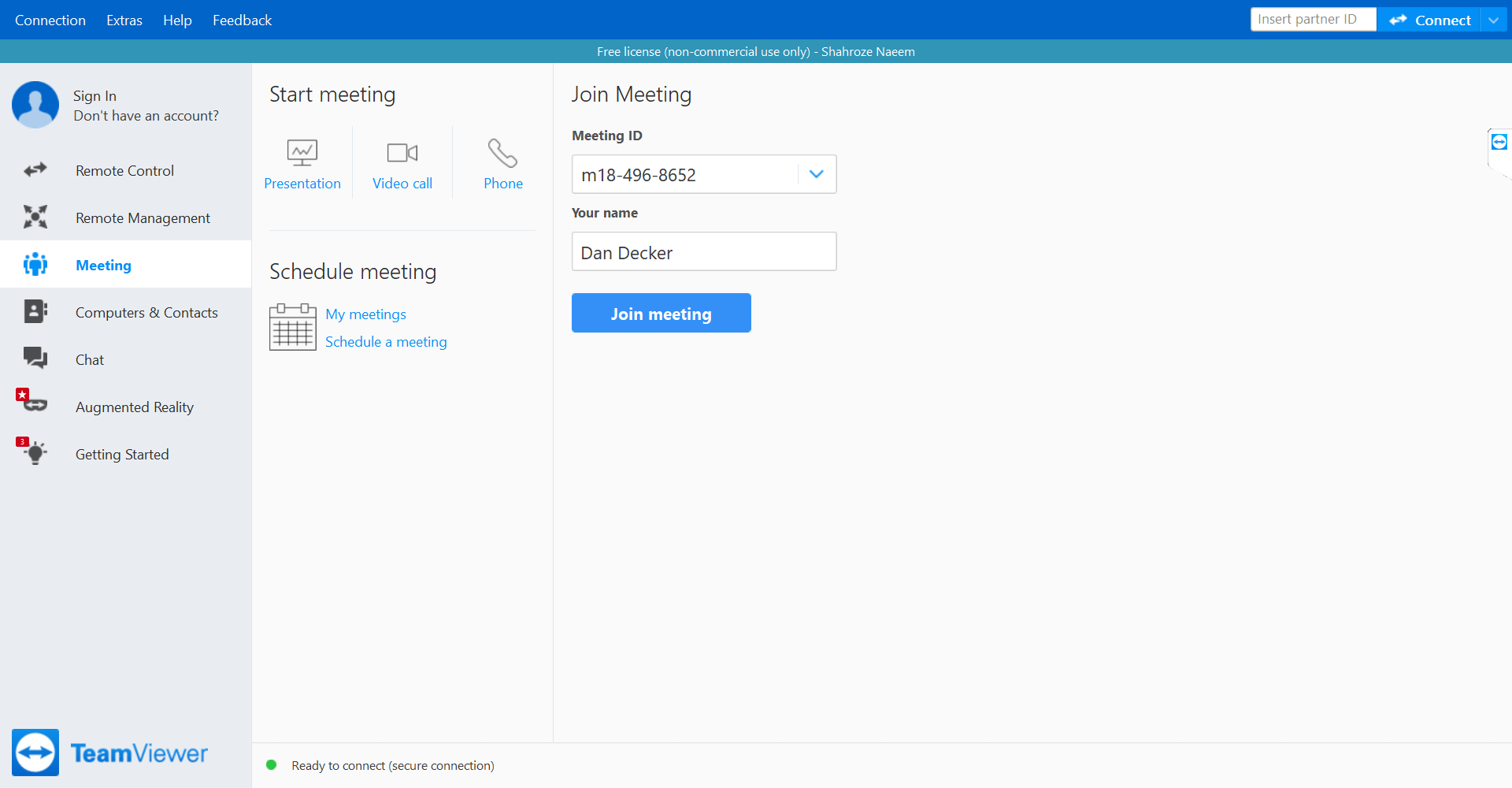 When it comes to screen recording/sharing software, TeamViewer is like that amazing sports car that everyone loves and desires. And, as it is with all sports cars, TeamViewer is expensive. But, if you're looking for online collaboration tools that are filled to the brim with amazing features, this is the app that you should go for.
Not only does TeamViewer have a client for Windows, macOS, ChromeOS, Android, iOS, and BlackberryOS; it also offers a web-based platform for smaller OS to access the app through.
What surprised us about this app the most is that it also offers a toned-down, free version of the app for non-commercial use.
Key Features
TeamViewer provides multi-layered security features, which keep private information and data encrypted.
We felt that TeamViewer was one of the most user-friendly screen-sharing apps around.
It is easy and hassle-free to host secure online productive meetings, messages, screen-sharing, video-conferencing, and much more.
TeamViewer is easy to access since it supports all major platforms, and is readily available.
There is also a free version of the software that can be used for non-commercial use.
TeamViewer also uses a VPN for safer links, data security, and safety precautions.
Pricing
TeamViewer is available in the following 3 price plans;
Business: Costs $22.90 per month. Allows one licensed user to initiate device connection one session at a time
Premium: Costs $45.90 per month. Allows multiple licensed users to initiate device connections with just one session open at a time
Corporate: Costs $89.90 per month. It allows multiple licensed users to initiate device connections with up to three sessions open at a time
All plans are billed annually.
---
7. AnyDesk – Lightweight Screen Sharing App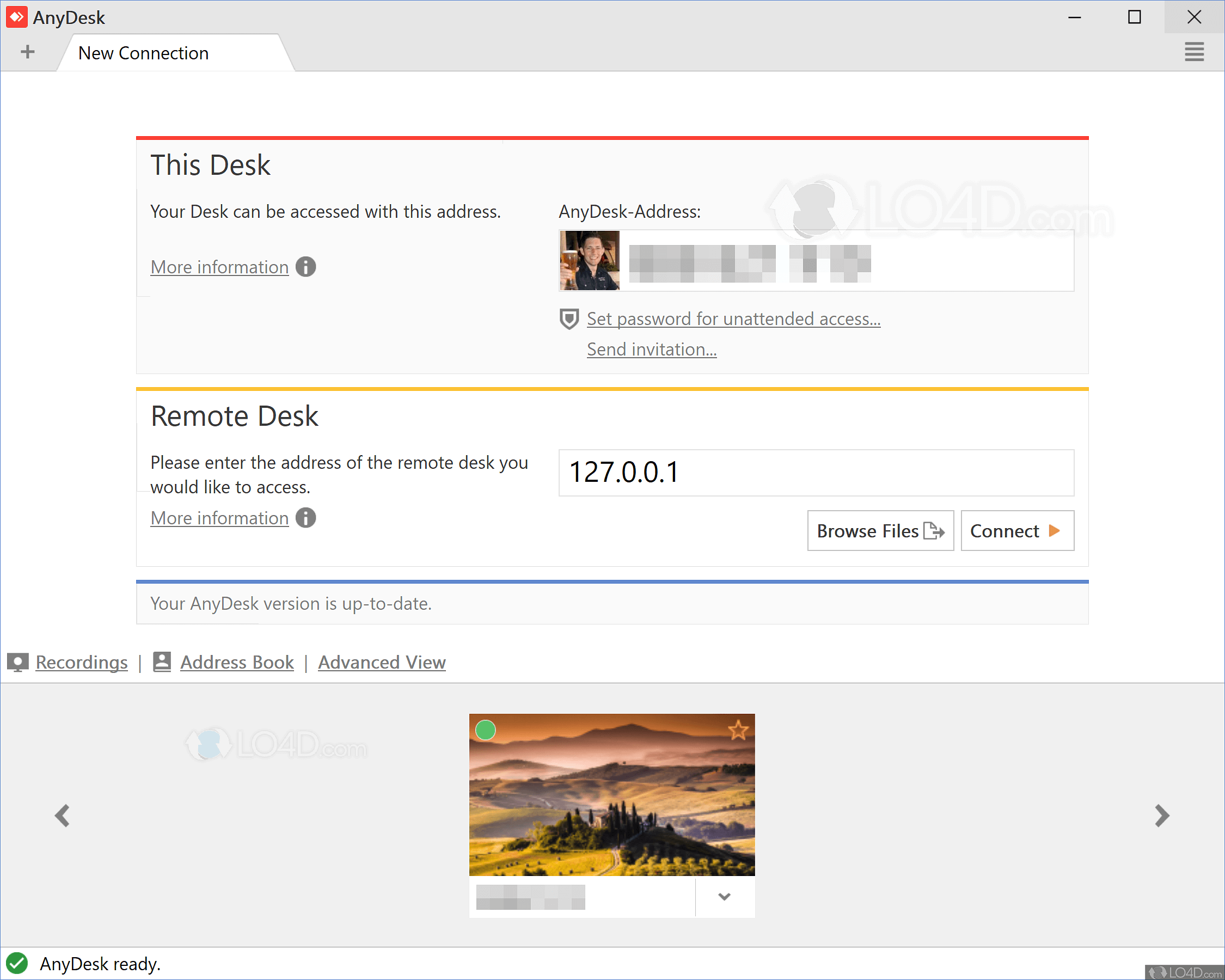 AnyDesk earns its spot among the best screen-sharing software by not only providing top-notch features but also budget-friendly prices. Their cheapest version is available for just $10.99. How amazing is that?! And, what's more, they are also offering a free version of the app for personal use.
What I liked about AnyDesk is that it's built for beginners, people who aren't tech-savvy. A person who hasn't used a screen-sharing app in their entire life can learn their way around AnyDesk in about 10 minutes. That's how user-friendly it is.
Key Features
AnyDesk is easy to use and very user-friendly, and it is quick to download and easy to install.
This software can be run from any platform, such as Linux, Windows, Mac OS, FreeBSD, iOS, or Android. Plus, and mobile apps without extra charge.
It is easy to share files with other participants, all they have to do is copy-paste or use the new transfer tab.
AnyDesk allows the user to record sessions and session transfer, which is great for heavy-weight projects.
Features can be tailor-made for the AnyDesk user because it allows easy customization of the user interface.
AnyDesk supports over 28 languages and also international keyboards, which is perfect for teams and individuals worldwide.
Pricing
AnyDesk is currently offering 3 different price plans;
Lite: Costs $10.99 per month. Allows one licensed user to initiate device connection one session at a time
Professional: Costs $20.99 per month. Allows multiple licensed users to initiate device connections with just one or more sessions open at a time
Power: Costs $52.99 per month. Lets multiple licensed users initiate device connections with several sessions open at the same moment
---
8. Google Docs – Document Collaboration Tool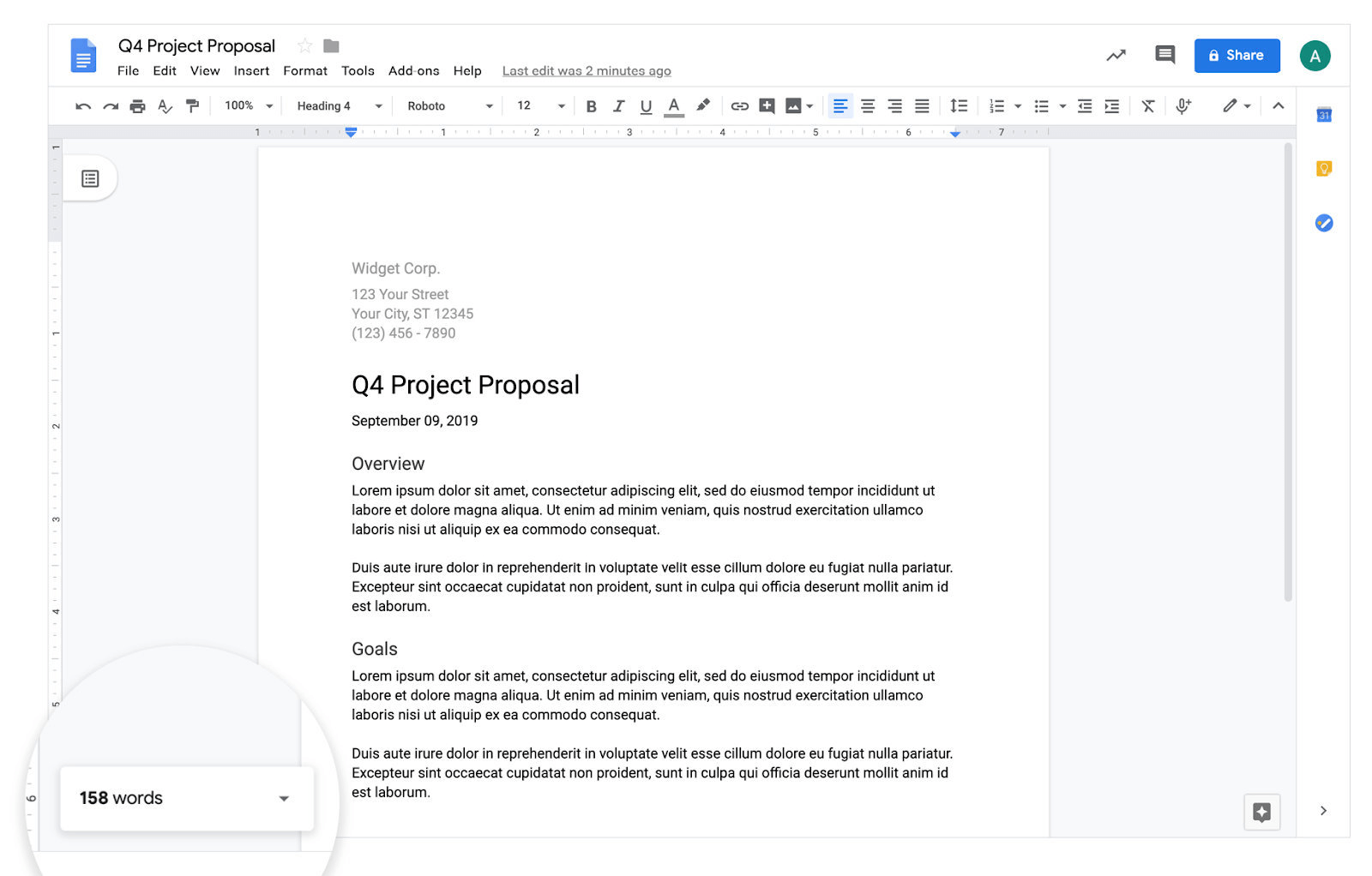 While all the best collaboration software offers a desktop-based office, Google is probably the only company that manages to provide a top-notch office suite that is entirely cloud-based. Right from its inception, Google Docs has always been an online, easy-to-use office suite that offers all the essential features.
And, honestly speaking, the amount of features that Google manages to pack into their cloud-based office suite easily makes it one of the best online collaboration tools. But, the thing that made Docs even better was a major update that came back in 2016.
Not only did it fully integrate the suite with other Google products but it also made the app a lot faster.
Key Features
It is completely free to use and to use it a person only needs to have a Google account.
To be able to use Google Docs, the user doesn't have to download or install the app.
Not only is it easy to use, but it is also accessible from all sorts of devices and platforms.
Google Docs allows easy collaboration and effortless tracking of changes made by team members.
It supports all types of formats and can create a file in multiple formats.
The user-interface has been designed elegantly and it is easy-to-use, so even inexperienced users can operate it with ease.
Pricing
This is another category where Google Docs impresses the user. Google offers such a capable and snappy office suite completely free. There isn't even any premium version with some extra features. Bottom line: there is only one version and it's free to use.
---
9. Dropbox Paper – Document Management Tool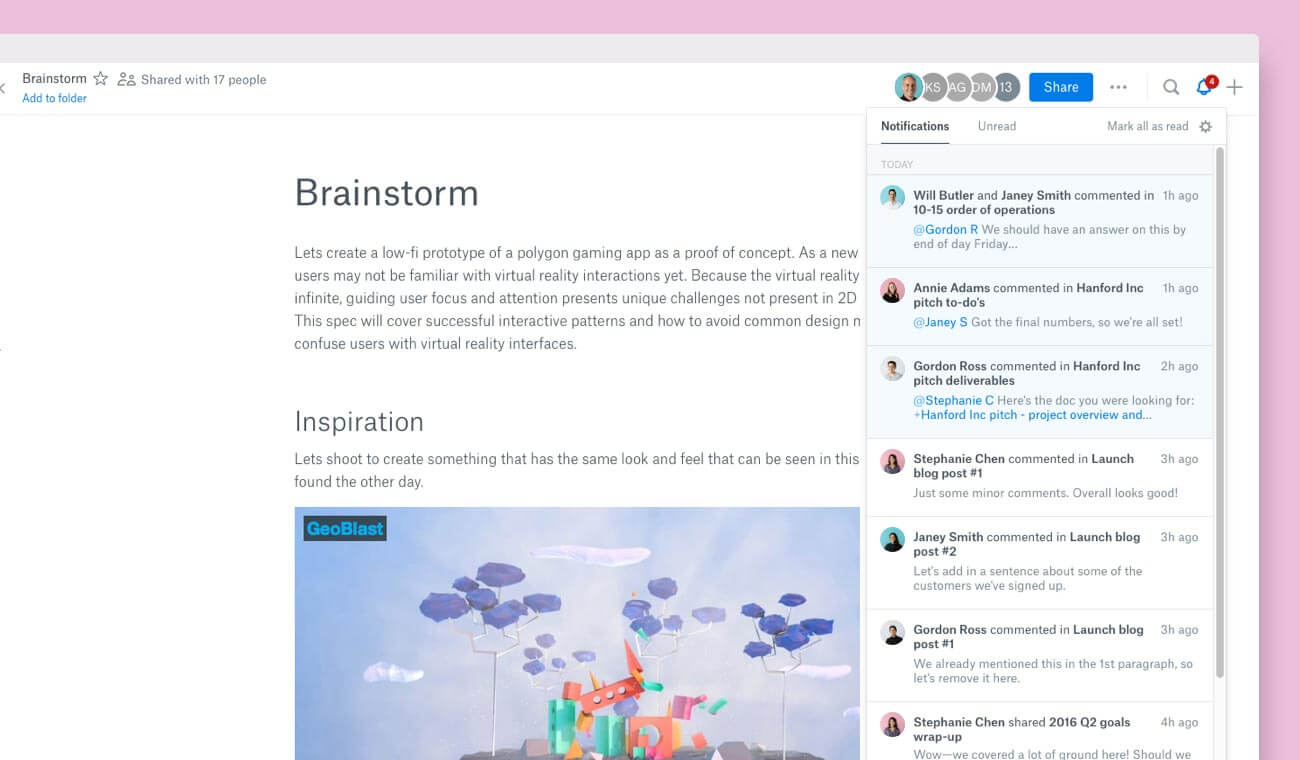 Back when Dropbox said it was going to release a team collaboration software, the media was churning out all kinds of stories regarding how Dropbox had had enough of Google Docs and wanted to give it a fight. But, using Dropbox Paper you quickly realize how different it is from Drive and why there's room for both in the industry.
Looking at Paper's features, you soon realize that this collaboration software is aimed at three specific groups; presenters, creators, and collaborators.
Of course Paper hasn't been around as long as Google Drive and OneDrive and so, it does lack some advanced features. But, when you consider how they managed to add something for each kind of user in an app that's still budding, you just can't stay away from Paper.
Key Features
Dropbox Paper manages to embed media from about 30 websites and services in-page.
This software with other devices and also integrates with numerous third-party apps.
It is easy for users to write code in a code box and Paper will detect and highlight syntax.
Dropbox Paper uses LaTeX for easy writing of equations, and it is considered user-friendly.
It allows easy to share a file by creating a file link or directly sending an invite to someone.
Guests can be allowed to access files and different levels of file access can be granted to them.
The software is programmed in such a way that it keeps track of changes made by users.
Pricing
Pricing is an aspect where Dropbox Paper shows great similarity with Drive. Paper is available to all Dropbox users and it's free. To access Paper, users can either create a Dropbox account or sign in with their Google account.
---
10. Email Analytics – Email Productivity Analytics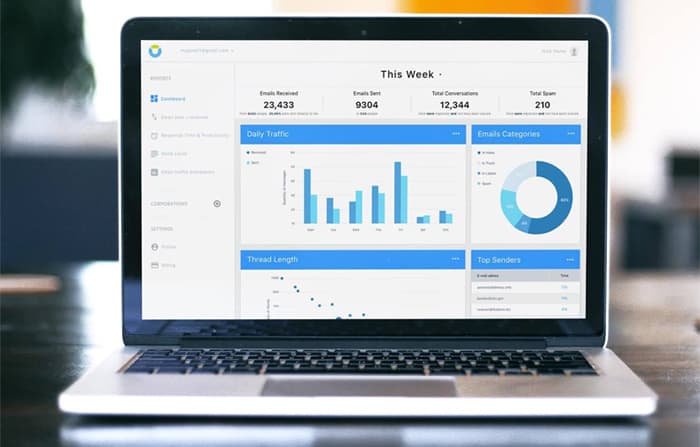 Obsessed with email at work? Most people are. Want to make your team's email collaboration more productive? Email Analytics helps with that. It is a Gmail add-on aimed at providing useful insights into how you and your team members leverage email communication to get things done.
It integrates seamlessly with Gmail and G-Suite to provide analytics on key metrics, such as:
Emails sent/received
Email traffic by day/hour
Emails by category
Average word count per email
Average email response time
Key Features
Email Analytics uses the Gmail API to make sure that 100% of data privacy & security are guaranteed.
Users don't have to worry about their email privacy because none of the content of their emails is stored on servers.
Email analytics are updated in real-time for up-to-the-minute fresh reports, this feature is great to analyze any problem areas.
It is easy to make and assess the performance of group segmentation of team members to compare their Gmail metrics.
Email analytics gives a 14-day free trial period, and the paid plans can be canceled at any time, completely hassle-free.
It is easy to set-up and there is no software to install, and it only takes 60 seconds for email data to be shown in graphs and charts, etc.
Email Analytics is 100% compatible with Google Workspace, however, it doesn't work with any other email provider.
Pricing
Email Analytics is available with a 14-day free trial, after which you are charged $15 per month per mailbox.
---
11. Brandfolder – Digital Asset Management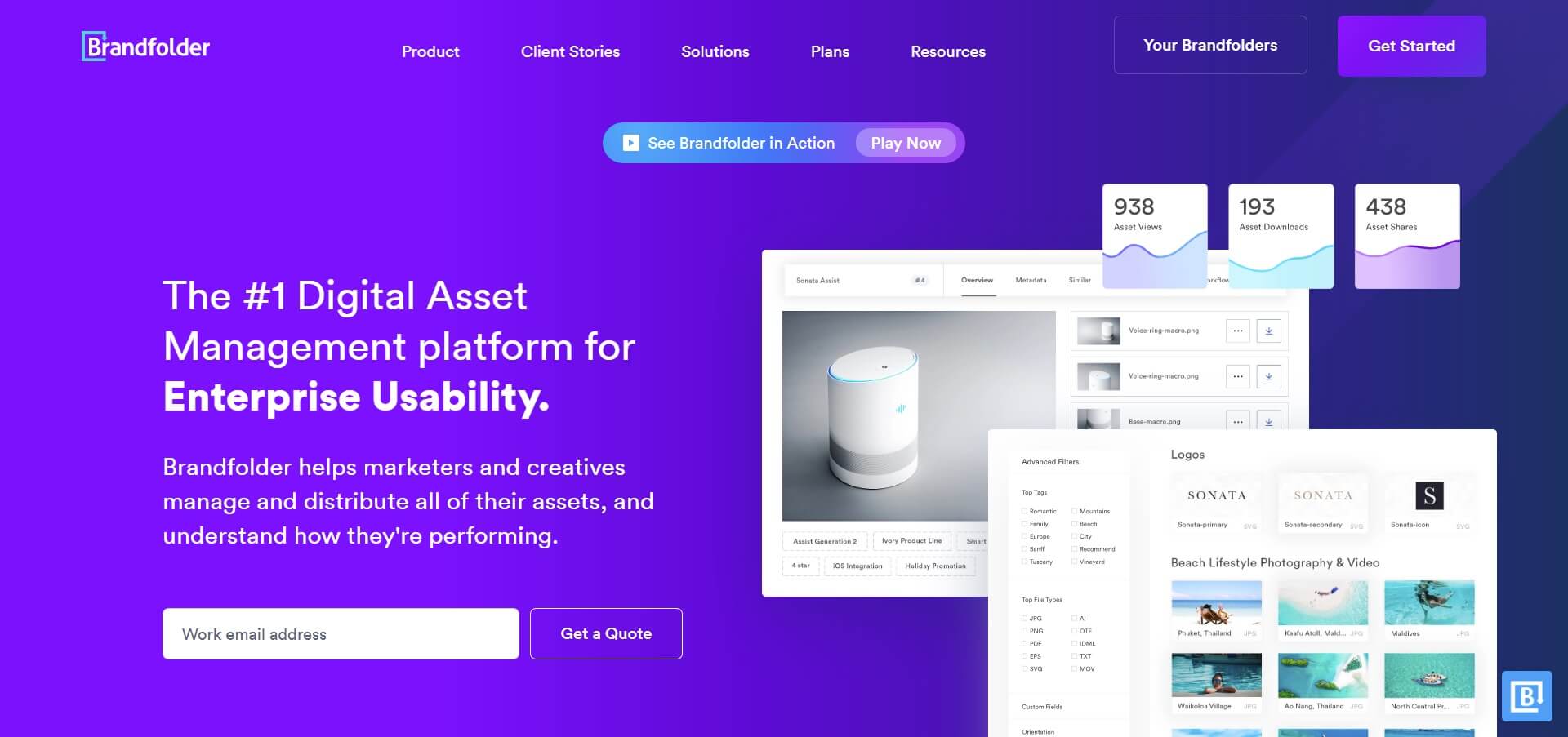 It can be a hassle to organize, access, and collaborate efficiently on all the digital assets needed to run successful online marketing campaigns.
Oftentimes, marketers are wrangling ad creatives, website graphics, email images, product screenshots, feature images for blog content, and many more in a range of different file types.
This can become a huge headache, especially when working with larger clients or campaigns.
Meet Brandfolder, an awesome digital asset management platform that helps over 5,000 leading teams, including Slack, Kroger, and TripAdvisor upload, store, organize, and share digital assets at scale.
This online collaboration tool is perfect for marketing teams that want to share, edit, and collaborate remotely on a range of file types.
From vector art to illustrations, rasters, creatives, video exports, audio files, and more – Brandfolder allows you to upload, store, share, and collaborate on just about everything. Brandfolder is a great tool to add to your marketing toolkit for this year.
Key Features
Store and organize multiple file-formats with collections, sections, labels, pins, and more
Smart search to help with quick and effortless file discovery and pin search queries to quickly go back to repetitive search results
In-app file conversion so you don't have to use bulky creative software to export in multiple formats
SAML & SSO Identity Management for secure login and prevention against unauthorized access
Privacy controls and user management so your team members can only have access to what they need
Built-in creative + video editing tools to bridge the gap between marketing and creative teams
Asset analytics dashboard to give you useful insights into how frequently stored assets were accessed/edited
Hundreds of integrations, including Adobe Creative Cloud, WordPress, Salesforce CRM, Jira, etc.
Pricing
Brandfolder offers custom pricing plans based on the needs of its customers. To get a quote, you will have to contact their sales team. Essentially, the plans are divided into two categories:
Premium: Includes powerful features of the Brandfolder collaboration platform, including privacy control capabilities, scalable asset storage, dedicated Brandfolder expert for team onboarding, user permission management, and more
Enterprise: For larger teams that require extensive security and advanced control over their creative assets. Includes features such as SAML/SSO identity management, video storage & multi-format transcoding, asset & usage analytics, and more
---
12. OneDrive – Cloud Storage & Online Collaboration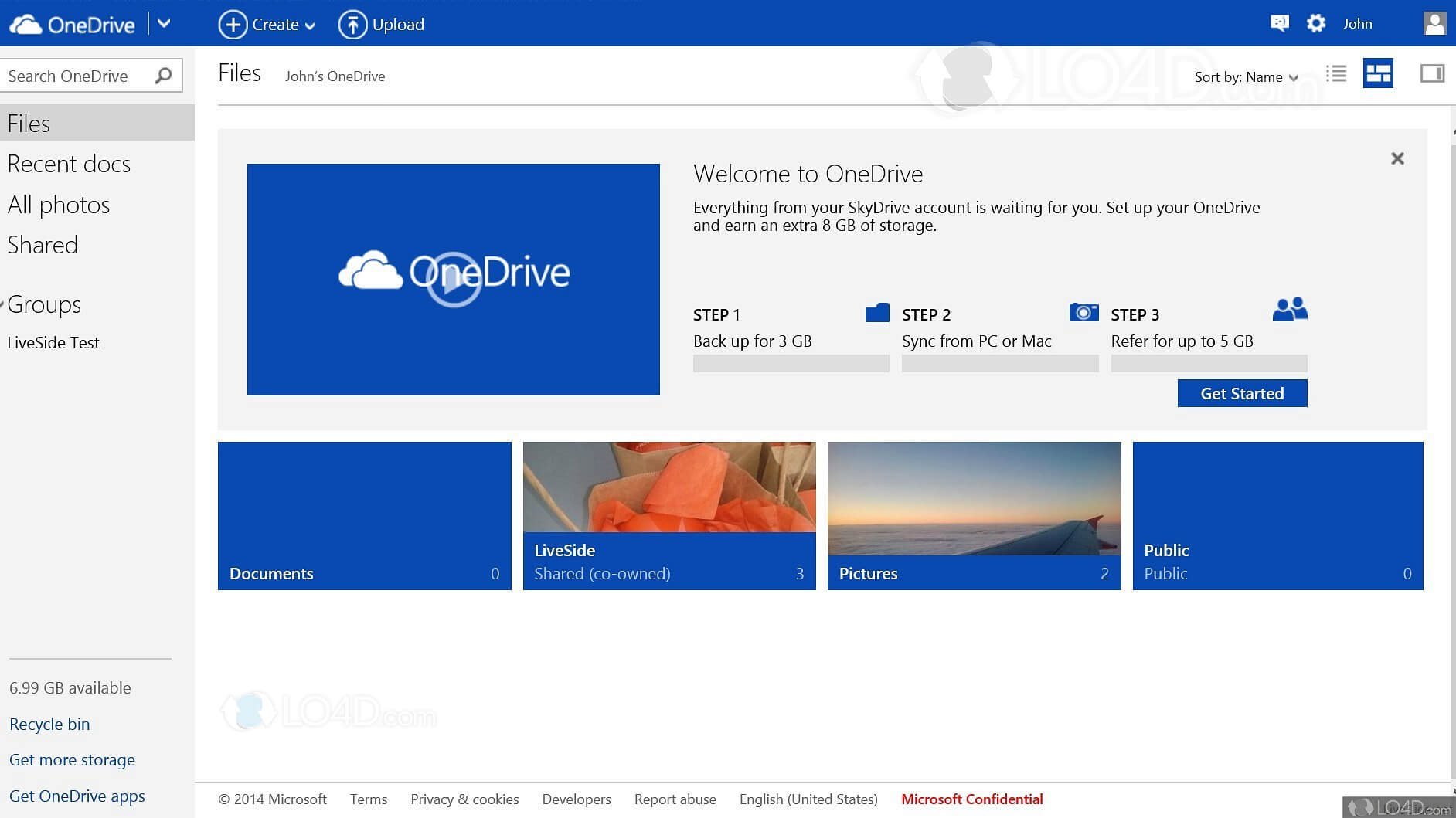 When talking about the best online collaboration tools, it's hard not to talk about OneDrive. Although Google has gotten ahead when it comes to the number of people using its free cloud storage service, you can't miss the fact that Microsoft launched its cloud service 4 long years before Google Drive came around.
Today, OneDrive is much more than just an online collaboration service, it's become the cord that connects all Mircosoft products and services. And, let's not forget Office Online, a free version of Microsoft Office that is available to anyone with a Microsoft account.
Key Features
All the files on OneDrive can be accessed in Windows 10 without taking up space on the PC.
OneDrive is seamlessly integrated with Windows 10 and Microsoft Office 365.
A mobile device can be used to scan and store documents, receipts, business cards, notes, and much more.
Users can stay connected, share documents and photos with friends and family, and collaborate in real-time with Microsoft Office apps.
If someone happens to lose their device, they don't have to worry because all their data (files and photographs) are saved on OneDrive.
OneDrive allows its users to use Microsoft Office Online, and they can edit share their files wherever they are on any device.
OneDrive provides its users up to 5GB of free storage space, and the premium paid version offers up to 1 TB.
Pricing
OneDrive is available in 3 different price plans to businesses;
Business: Costs $5.00 per user/month. Offers 1TB space and can hold files up to 15GB in size
OneDrive for Business: Costs $10.00 per user/month. Offers everything in Business Plan 1 plus unlimited storage space
Premium: Costs $12.50 per user month on an annual payment basis (and $15 per user/month on a monthly payment basis). Includes everything in Business Plan 1 plus desktop version of all Microsoft apps. Moreover, each user can use Microsoft apps on up to 5 devices
---
13. SoapBox – Meeting Management App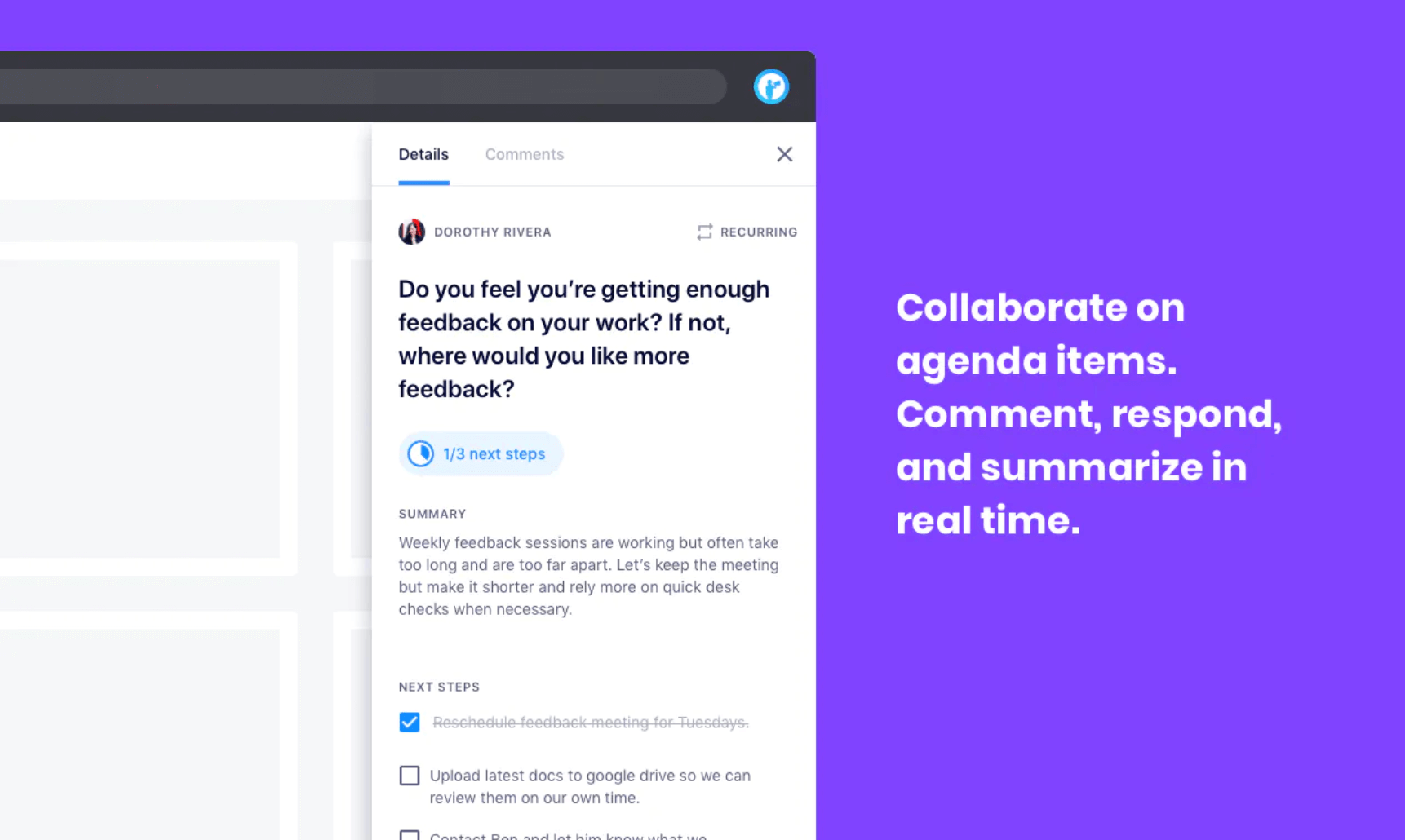 No more meetings that should have been an email. SoapBox is a one-on-one and team meeting agenda app that's trusted by over 30,000 managers and their teams. This app ensures that every meeting has a shared goal, agenda, notes, and follow-up.
This is especially helpful for remote teams because meetings are generally the only "face-to-face" time remote workers get with one another. SoapBox helps remote teams prepare for meetings, facilitate productive conversations, collaborate before, during & after meetings, and build accountability through the next steps.
Key Features
SoapBox lets users create customizable meeting agendas, from one-to-one, team meetings, and other follow-up meetings.
Users can take meeting notes and minutes, and they can be emailed to all the participants afterward.
Analytics are provided to a user and the team members' resources, knowledge, and data to help them manage the team effectively.
SoapBox integrates well with a variety of other apps, such as Slack, Microsoft Teams, Asana, Todoist, and much more.
It has a next-step tracker, which makes it easy for follow-ups, action items, and figure out what the next steps will be.
SoapBox gives real-time employee feedback to track time and meeting effectiveness.
This software is great for a team to collaborate on shared agendas, taking notes, sharing feedback, assigning next steps, etc.
Pricing
SoapBox is a freemium app, offering both a free and a paid version. For paid users, the pricing breakdown is:
$10 for small teams of up to 10
$7 per user for teams of 11 or more
Cost per user goes down as the team size grows (100 users, 150 users, 250+)
Plans are billed monthly or annually. Teams on the annual plan receive a 15% discount.
---
14. GanttPRO – Project Management Software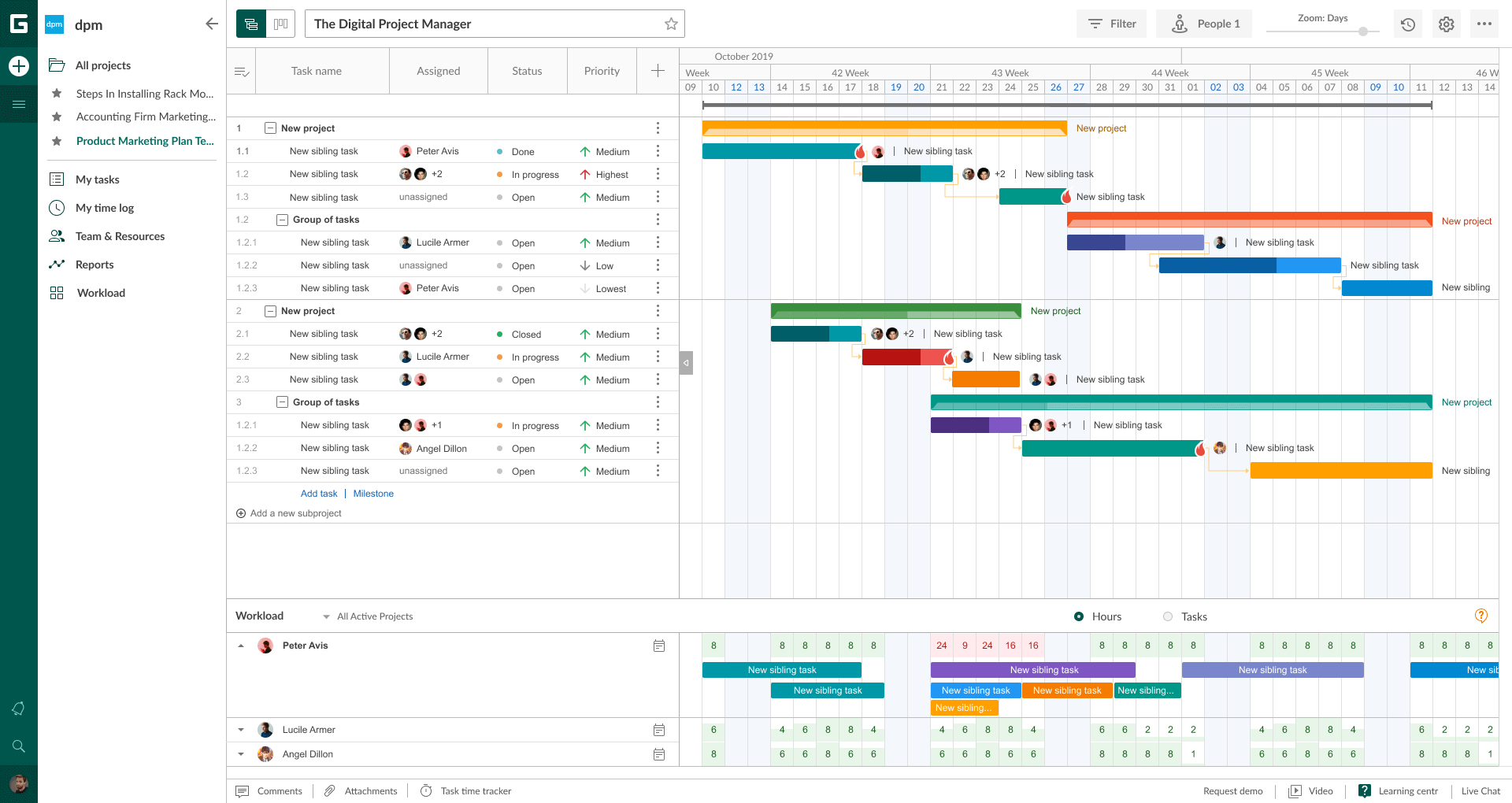 Efficient collaboration can't go well without proper task and project planning. GanttPRO, the online project management software, is one of those tools that becomes a game-changer for teams all over the world.
Collaboration in the tool will be a breeze thanks to robust features: comments, attachments, mentions, and real-time in-app and email notifications. Besides, GanttPRO offers space for resource workload, cost and budget management, and time tracking.
The app has a nice and intuitive UX/UI design with a short learning curve. Even new team members will be able to start their tasks right away not spending time on learning.
Key Features
Visually appealing Gantt chart timeline and a Board view for task management
To make GanttPRO user-friendly and efficient, there is the drag & drop functionality to prioritize tasks.
Users can use GanttPRO to make separate project and personal calendars, this optimizes organization and increases efficiency.
GanttPRO works seamlessly with JIRA cloud integration for software and development teams.
Resource workload visualization to know exactly where your resources are being utilized
Comments, attachments, mentions, and instant notifications for team collaboration
One of the most recognized user-friendly Gantt chart app with a short learning curve
Pricing
The following plans are available with GanttPRO (comes with a 14-day free trial):
Individual: Costs $15 per user/month billed annually. Built for single users.
5 Users: $7.90 per user/month billed annually. For teams with up to 5 team members, all features available.
10 Users: Costs $6.90 per user/month billed annually. Built for teams with up to 10 team members. All the features are available.
15 Users: $5.90 per user/month billed annually. For teams with up to 15 team members, all features available.
---
15. Project Central – MS Office Project Management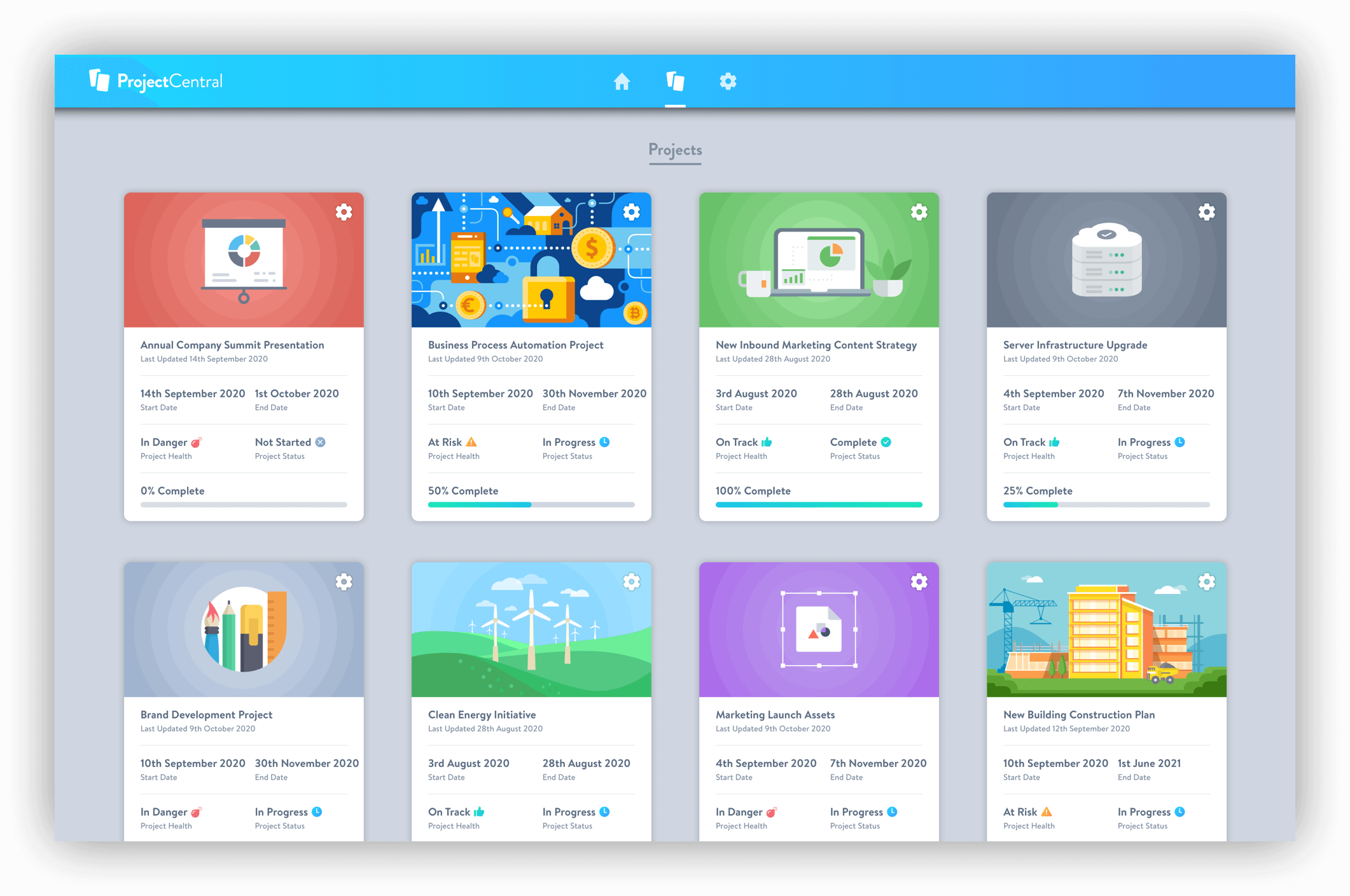 Using the Microsoft Office Suite at work? Great – integrate your Office 365 collaboration suite with Project Central. It is a smart project management tool dedicated to Office 365 users.
It simplifies your approach to manage tasks and projects. Project Central is being used by thousands of organizations that need a simple, beautiful project management tool integrated seamlessly inside their primary productivity platform.
Project Central offers an activity dashboard that shows updates from the rest of your team on the Office suite, adds task tracking and management capabilities, allows you to create projects and track their progress, and more.
Key Features
A beautiful reporting dashboard to visualize team progress and present it to the management. Includes key KPIs such as Project health status, completion status, upcoming deadlines, top contributors, and more
Smart project management and tracking features, such as description, start, and due dates, project teams, tags, and more
Project Central has a simple project set-up that lets the user set-up tasks, and save a project as a template for future projects.
Team management is done with ease, and this software can be used to keep them organized, supervised, and provide them with clarity for their tasks.
Task management including task description, start and due dates, assignees, flagging, drag and drop, and more
File management (links directly with the Office 365 Document Libary), and access them directly within Project Central.
Pricing
Project Central is available with a single premium plan, starting at $65 per month. It offers unlimited users and projects, task management, file management, project tracking, reporting capabilities, in-product support, and more.
---
16. XMind – Mind Mapping Tool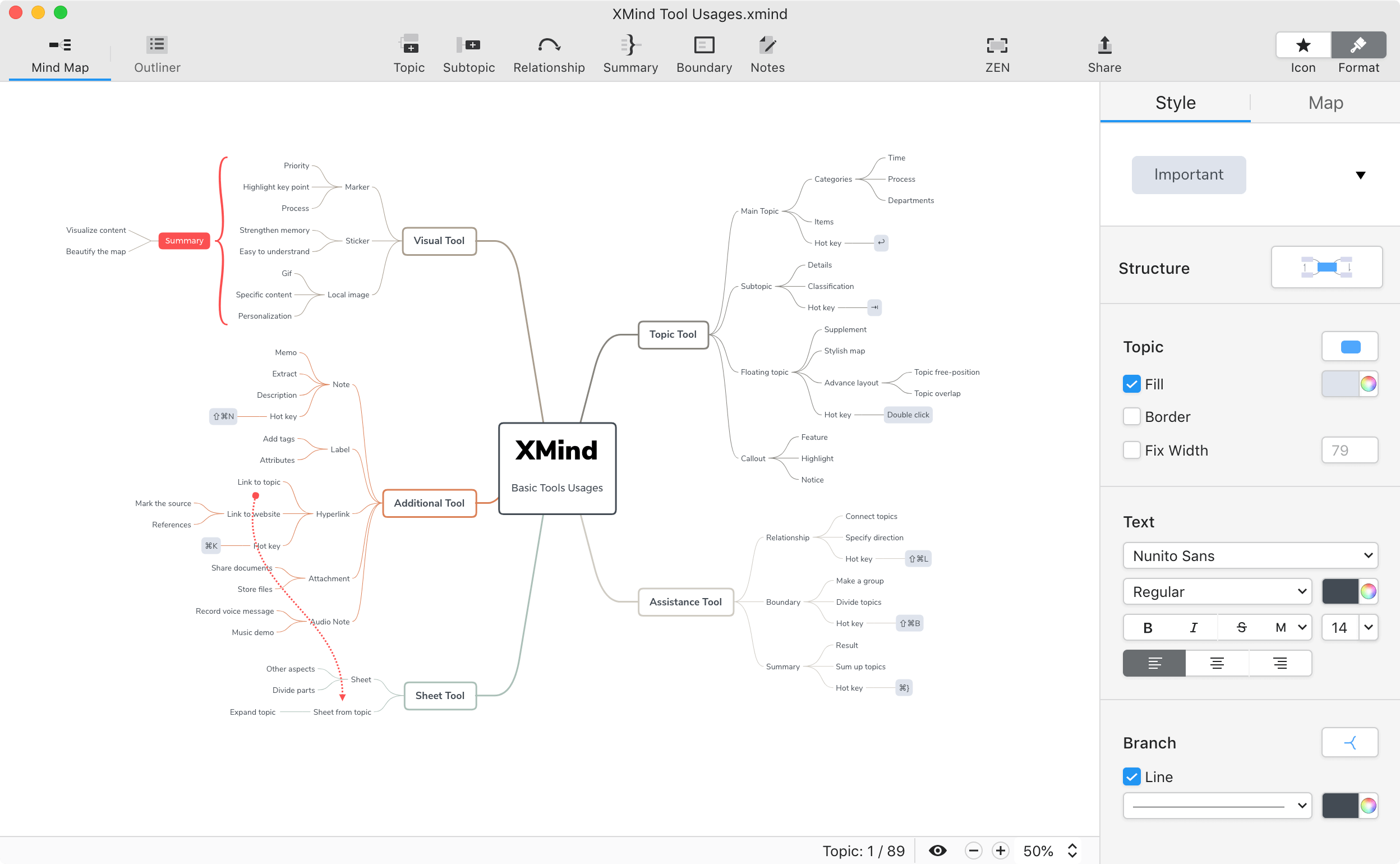 Probably one of the best mind mapping apps in the market, XMind, is used by tens of millions of people all over the world. Even though it is mostly used for idea management, it is normally used for its simple and easy to use interface.
One of the best things about this software is that it has features that are straightforward to understand.
XMind is a prize-winning idea management software, which is a full-featured mind mapping and brainstorming tool. It is designed to generate ideas, stimulate creativity, and helps the user balance work and life efficiently.
It is one of the most effective online collaboration tools in mind mapping software.
Key Features
It is available on Microsoft Windows, Apple OS X, and Linux.
XMind has several options to mind map, such as; Tree Chart, Org-Chart, and Logic Chart to name a few.
It provides a brainstorming module, which allows the user to categorize the ideas into groups.
XMind also has a presentation-slide base and a Gantt view method, which makes it easier to streamline ideas and make an effective way to present information.
XMind 8 is allowed integration with Evernote and Microsoft Office.
The XMind Zen Mode 2020, helps users focus on one mind map, thusly finishing their tasks efficiently and effectively.
Pricing
XMind: Zen & Mobile
The latest version is available for subscribers and continuous use from desktop to mobile.
Students & Educators – the cost for 6 months is $22.49/ $34.99 per annum for XMind: ZEN Desktop and a mobile version, only one subscription is permitted on 2 Macs/PCs and 3 iOS/Android devices.
XMind
XMind 8 Pro – a one-time fee of $129, 30-day money-back guarantee, 2 Macs/PCs, free updates for XMind Pro 8.x version, upgrade from XMind Pro 7.x
Students & Educators + NPOs – $59 for students & teachers, $64.5 for governments & non-profits.
---
17. MindManager – Mind Mapping App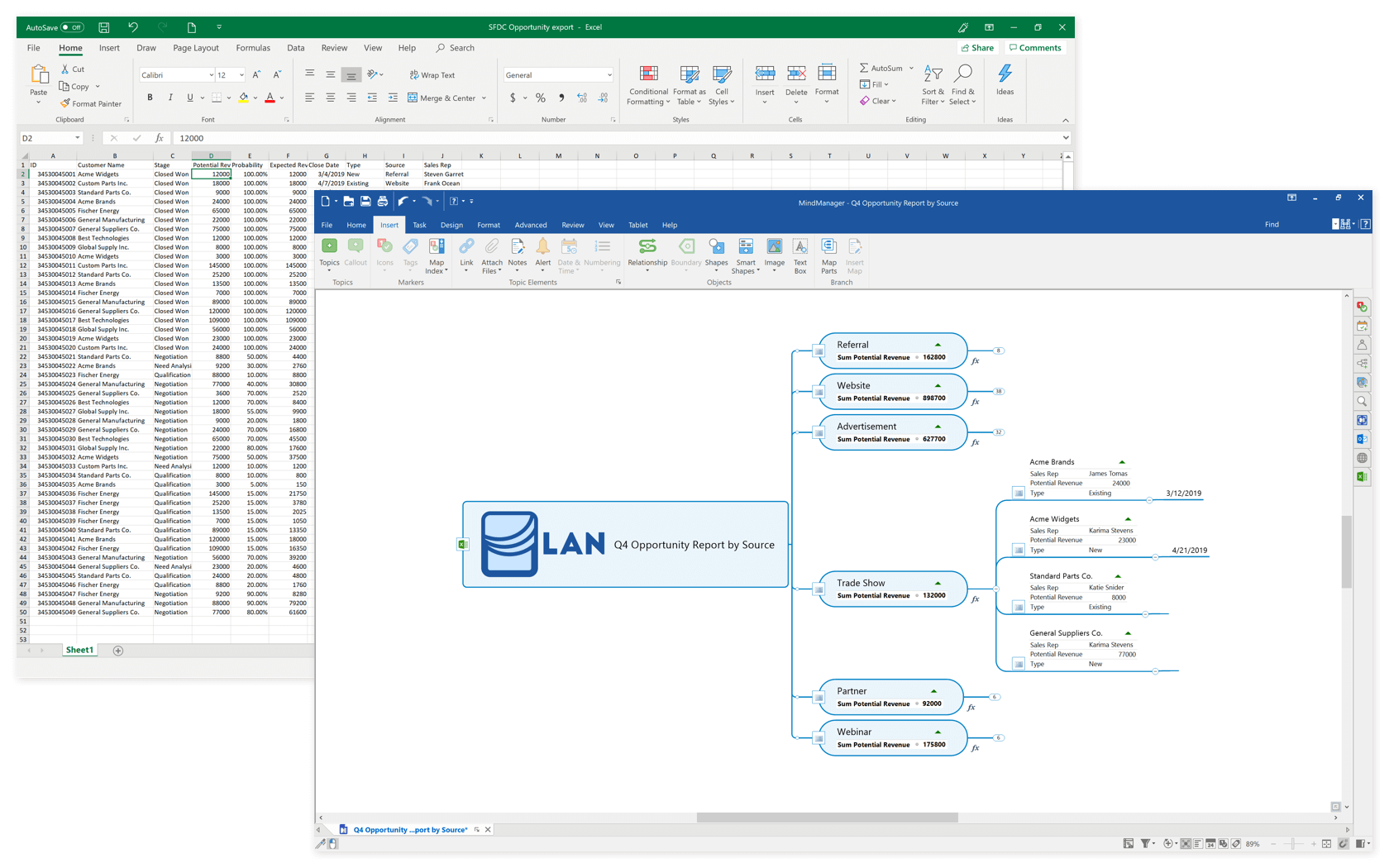 Previously a product of MindJet and acquired by Corel Corporation in 2016, MindManager is one of the best mind mapping apps you can use to brainstorm, visualize ideas, collaborate, and create mind maps online.
It is a powerful application and comes with lots of useful features for not just managing ideas but also creating Gantt charts and managing project teams.
With such versatility in use, it is safe to say that MindManager is one of the best online collaboration tools for today's remote teams.
With MindManager, you can create quick layouts and then organize work with philosophies, statistics, diagrams, and visuals for collaborative use by yourself and your team members.
This mind mapping app can cater to various visualization needs, such as information maps, outlines, Gantt charts, organization charts, tree diagrams, and more.
These features make this app the best collaboration software.
Key Features
MindManager for Windows supports English, Chinese, Dutch, French, German, Japanese, Russian, and Spanish.
MindManager for Mac 13 supports English, French, and German.
Quickly and effortlessly switch between projects to visualize team performance and manage progress.
Dedicated Gantt Chart view to help project managers stay on top of projects, teams, and deviations as they arise.
Collect ideas, throw them on the whiteboard, and create beautiful mind maps that can then be used to plan.
Easily contract and expand nodes to view/hide details for ease of use and simplicity.
Pricing
Windows – cost is $349.00 for a one-time buy with a 30-Day free functional trial period; co-editing, capture tools, mobile viewers, excel integrations and project management enhancements, and collaboration software.
Mac – cost is $199.00 for a one-time buy with a 30-Day free functional trial period, ability to organize plans from floating ideas, new touch bar support, dark mode, SmartRulesTM, smart shapes.
Enterprise – for teams of 5+, allows teams to connect with tools to work efficiently and effectively, streamlines the IT strength, and enables the growth of the business.
---
18. TickTick – To-Do List App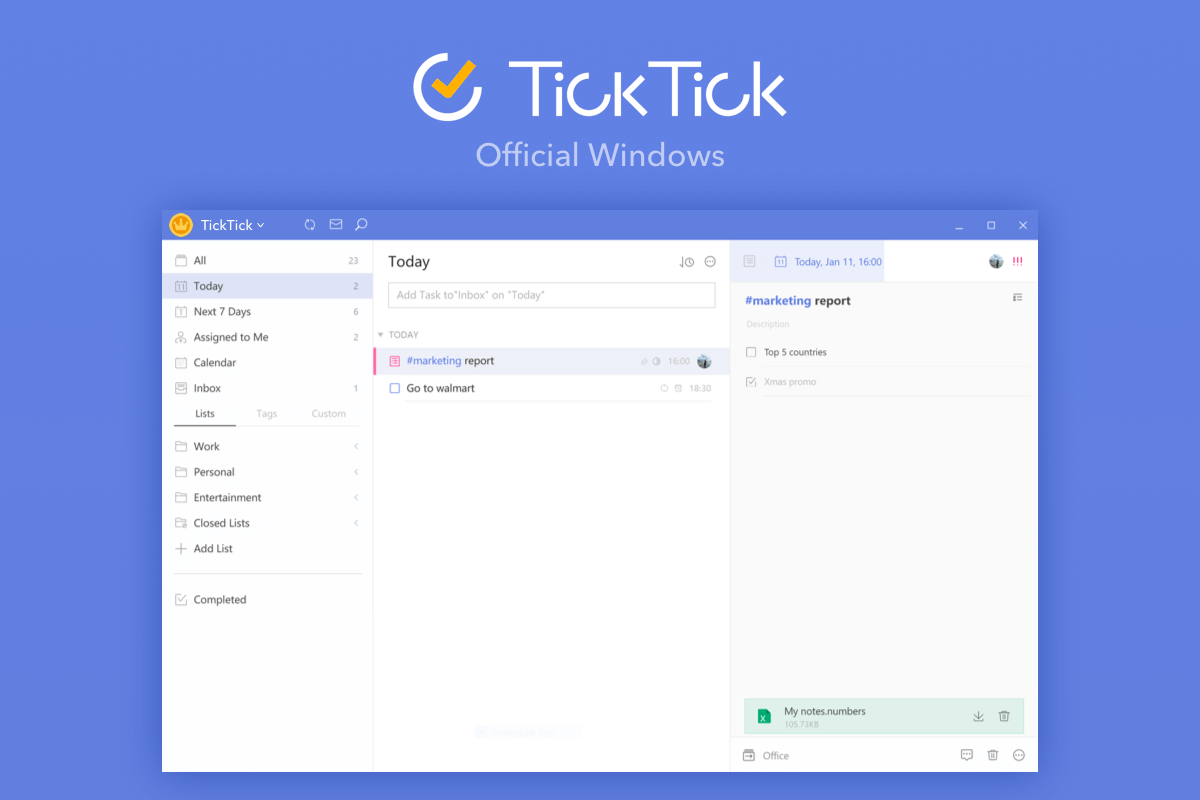 If you are looking for a simple task management tool, then TickTick is the one for you. It is easy to use and offers flexible usage of its features. It also is one of the best online collaboration tools that are effective.
Designed with a high-quality interface and a powerful collection of vast features, TickTick is a smooth task management application. It seems to be the right balance of "easy to use" and "complex", therefore, it still manages to keep its main purpose of stable and efficient usage.
TickTick also uses the Pomodoro Technique for time management per task, to increase focus and productivity.  This online collaboration tool also has a detailed data analyzer that allows the user to calculate any TickTick has a reasonably priced Premium plan with extended features.
Key Features
The user can organize their work and personal life by compiling a "To-Do" list.
There are many ways of adding tasks, such as; voice input, emails can be turned into tasks, and integrate widget, Siri, and Quick Ball.
Keep deadlines in check by; smart date parsing, adding in the task duration, reminders called "annoying alerts", Pomodoro timers, location reminders, and recurring tasks.
Strategize and organize together by prioritizing tasks. This can be done by keeping the "To-Do" list in folders, lists, tasks, and subtasks. Smart-lists can be made and can be customized. Tags, multi-priority, sorting, and searching are also added features to the TickTick organizer.
Calendars can be integrated to see all the events, tasks, and projects.
Collaborations can be made with anyone. Tasks and activities can be assigned to others. Lists of projects or even shopping lists can be shared with others. This allows it to fall under the online collaboration tools category.
Pricing
Premium – cost annually for $27.99. Full calendar functionality, subscription to third party calendars, and use calendar widgets, customization of the Smart List feature, and historical statistics feature.
---
19. Things 3 – Task Management Software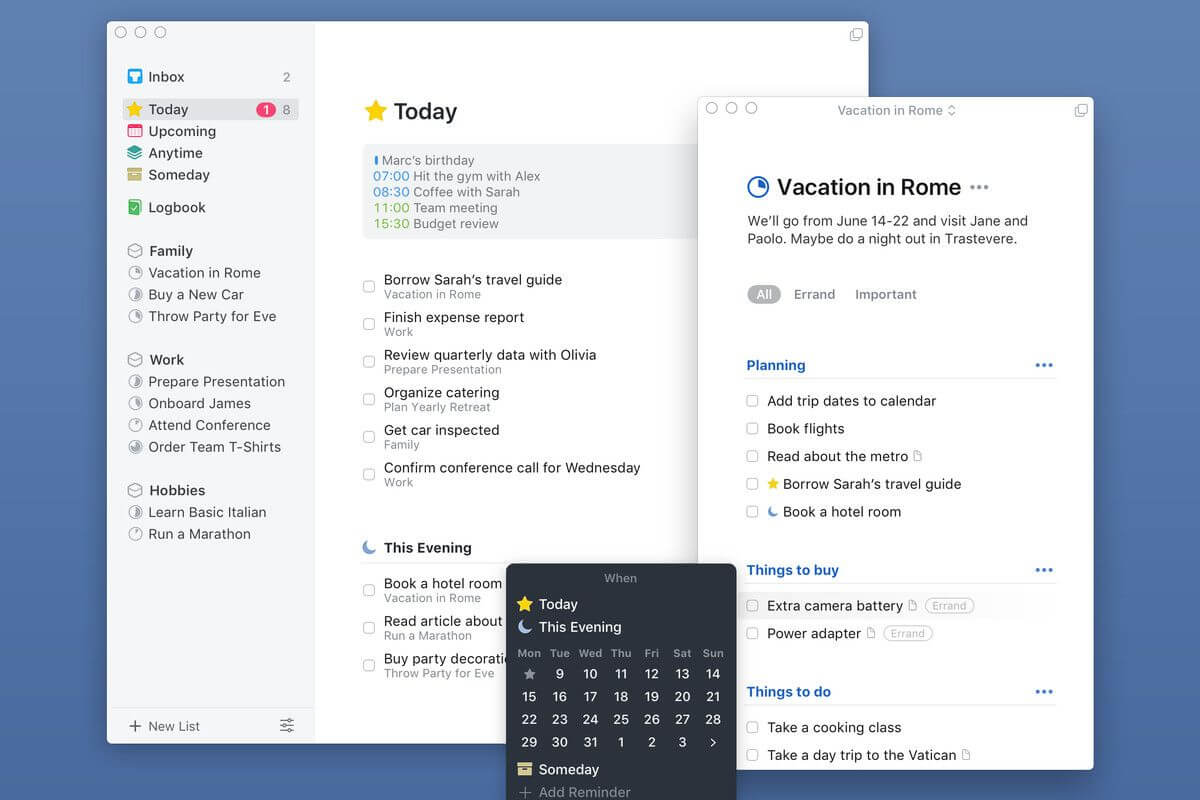 Primarily made for Apple users, Things 3, has a lot to offer as a software. It works on three platforms; Mac, iPad, and iPhone. The look and feel of the third version of Things are better than before and they have added refined animations and quick keyboard animation.
Even though there is no free version of this app, nonetheless, it is a one-time purchase rather than a subscription. Sadly, however, there are no collaboration features, location-based reminders. Also, no web app is available.
Things 3's previous and current versions are known for their neat & clean interface and it is a well-designed app.
Key Features
The all-new design feature allows a smoother interaction, with structured and clearer content and concepts.
The "To-Do" list has a today and a separate this evening feature, which then synchronizes with your calendar events.
With the new "Upcoming" feature, users can now plan their week. It shows the schedule for future days: scheduled to-dos, repeating to-dos, deadlines, and calendar events.
To check that the project or task isn't out of proportion nor is it overwhelming, the checklist feature makes sure the user doesn't miss a critical step.
The Magic plus button provides the option of immediately altering, adding, or removing items from all lists – seamlessly.
Users can access all and work on different tasks simultaneously by using the multiple windows feature.
Pricing
As said before, Things 3 isn't free, and you have to purchase the apps. Each app sells separately. The cost for macOS is $49.99, the cost for iPhone and Apple Watch is $9.99, and for the iPad, it is $19.99.
To purchase Things 3 for all your Apple devices, you can get the whole set for $80.
---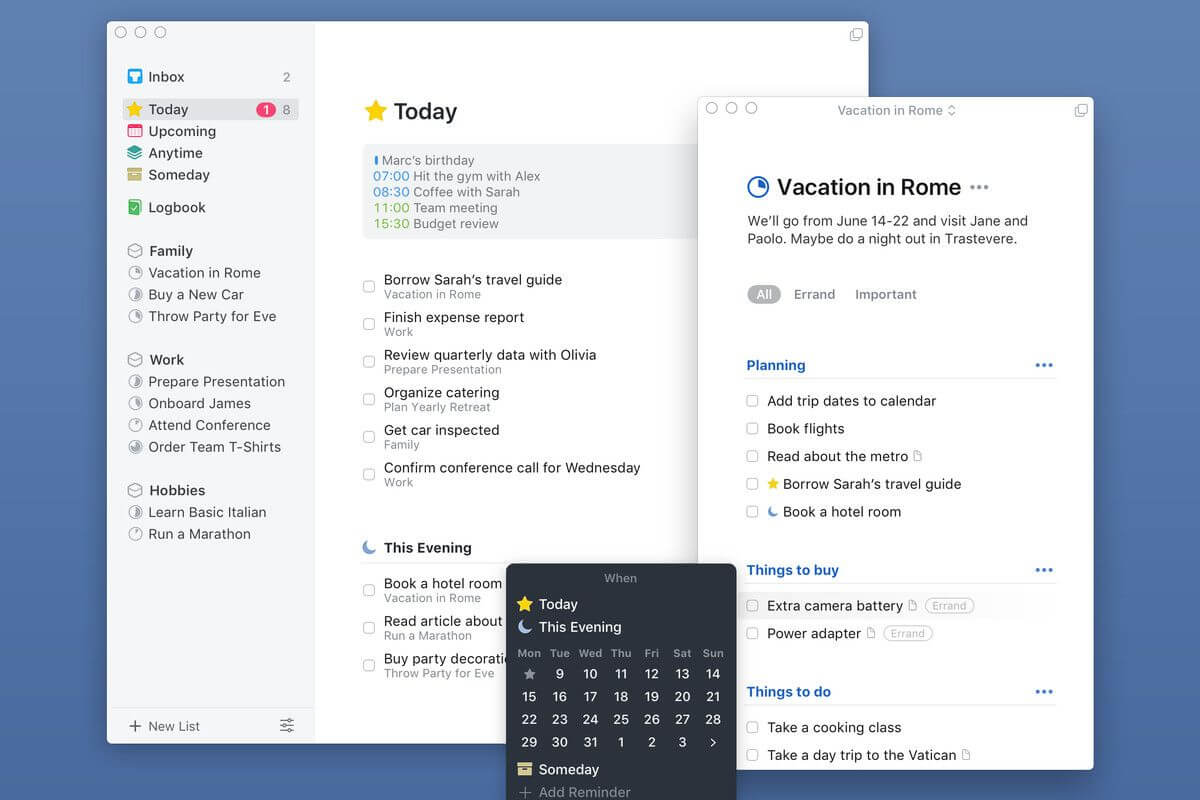 Rated as one of the top Pomodoro timer apps, Focus Booster, is simple to use that automatically records each session when it starts. This app allows users to track their work, read in-depth review reports enabling them to plan how to spend the time they use effectively and efficiently.
When this app software was initially developed in 2010, the purpose of Focus Booster was to help employers to keep track of their employees' working process. Now, however, it is vastly used to improve and assist in collaborating online.
Freelancers prefer to use this app the most because it helps them keep track of multiple clients. It allows them to plan tasks and strategize the workload with efficiency.
Even though it has both free and premium price plans, users only have access to the Pomodoro in the free plan. Focus Booster is available on the Web, Windows, macOS, iOS, and Android.
Key Features
User is allowed to customize the lengths of their focus and break time.
The timer makes an automatic switch from focus work time to break time.
Allows the user's data to automatically synchronize from across the web, mobile, and desktop apps.
Focus Booster also has extra paid tool features, which is that it acts as a time tracking app allowing the user's productivity to increase.
It has easy tracking and reporting features, which allows the data to be collected and analyzed easily. Data reports can be downloaded to make invoicing simpler.
This app is simple to use and has an intuitive design interface, which makes it easy on the eyes.
Pricing
Free Starter – permits up to 20 free Pomodoro sessions a month.
Individual – cost is $2.99 per month, allows up to 200 Pomodoros per month.
Professional – cost starts at $4.99, allows unlimited Pomodoros, client tracking, and data export.
---
21. Toggl – Time Tracking Software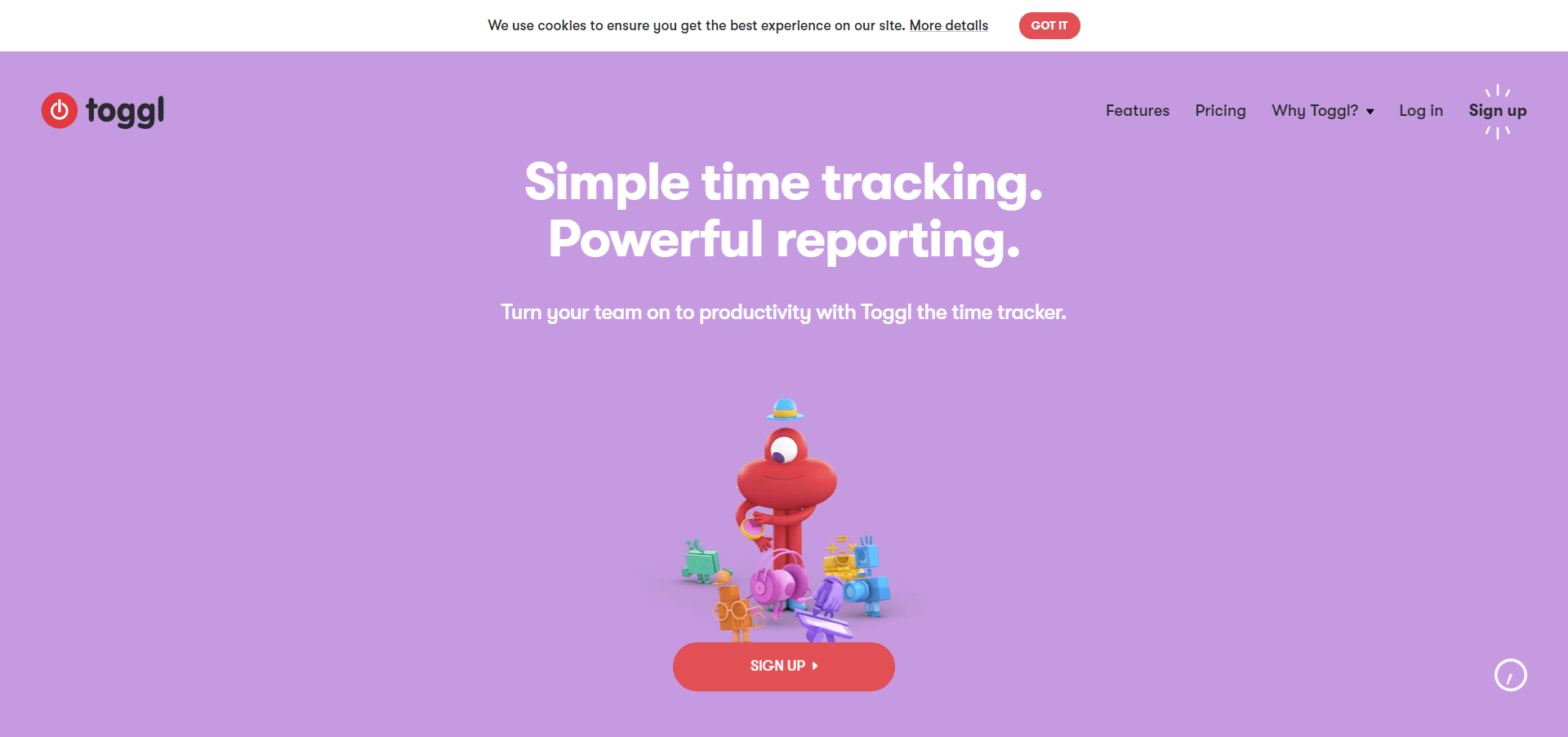 Toggl is a Pomodoro and time tracking software that is known to be an effective productivity tool. It has simple time tracking and efficient reporting features.
Since it has straightforward and easy-to-use features, most users prefer using this time management app for this specific reason.  Toggl has an idle detection feature, which helps the user to remind them not to lose focus on the task and time needed to complete it.
Toggl also has a special feature that lets the user break down the time depending on the task, project, or the priority of the client. The user, therefore, can moderate and assess whether the project is lucrative to take up.
This app also computes numbers for the user, that way they can focus on planning. The best part is that these reports, after calculation, can be converted to any format.
This tool can be used on various operating systems, such as; iPhone, Android, Windows, Mac, and Linux.
It calculates the numbers for the user so they can focus on planning. Reports can be calculated and converted in any format. It is an optimal app for time tracking.
For optimal time tracking, Toggl is the app for you.  However, some users have complained that there are unnecessary additional features that are not needed.
Key Features
It has an easy set-up system. The user just has to connect the current task management system being used and within three seconds they can use the app.
It has a third-party integration feature. With over 100 app integrations, Toggl decreases the chances of distractions when it is activated.
Toggl immediately starts to track how much time is being spent on a task.
This app has a simple and easy to use interface that is stress-free to control and complete tasks.
Toggl allows users to sift through data and share the activity logs with others, enhancing strong reporting skills.
No matter where the user may be, Toggl can be used from your phone to the desktop in record time
Pricing
Starter – cost is $10 per user/month billed monthly and $9 per user/month billed annually. Users can find time sinks and see revenue earning, transparent reporting.
Premium – cost is $20 per user/month billed monthly and $18 per usand er/month billed annually, has everything in Starter plus, and more. Profitability charts are created, reports can be scheduled to be emailed.
Enterprise – cost is customized, has everything in Premium plus, and more, priority support is given, along with assistance and expert training are given and solutions are customizable.
---
22. Hunter – Email Finder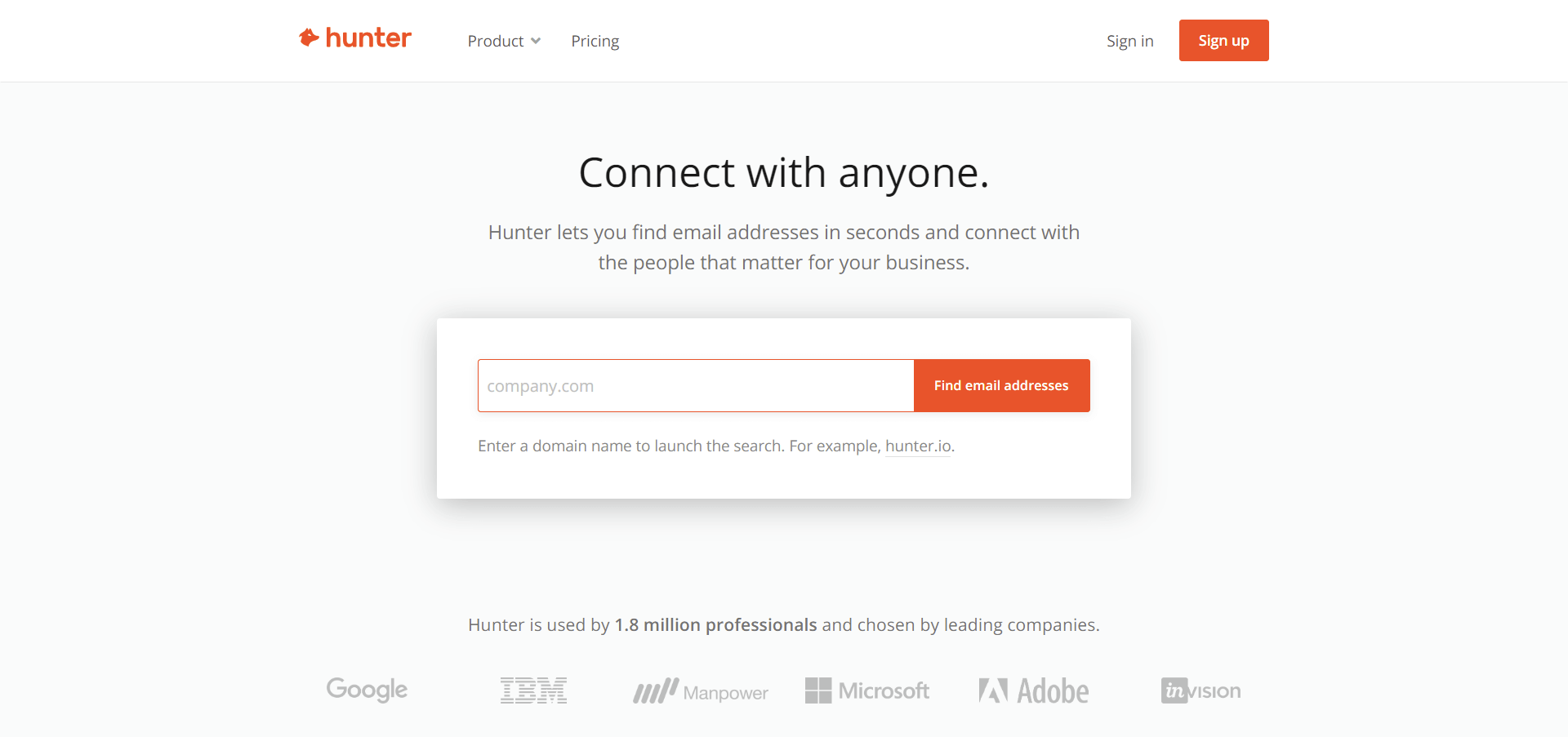 Hunter is a web-based lead generation and management tool that aids users to find and authenticate professional email addresses from companies and domains. It is by far one of the best email verification tools for confirmation.
This software is great for quick and steadfast functions for finding mailing data ahas nd confirming data in large quantities. It is super easy to use and great for speedy research. Hunter simple functionality and everything shows on the homepage that way the user doesn't have to access different tabs in the browser.
It is known to give detailed resources, which show where those verified emails were found (web pages or PDF documents etc).  Although not always 100% accurate, it is still known to give solid confirmations.
In Hunter, a person's usage is counted by theIn therequests. One request is counted from 1 to 10 email addresses that are found in the domain search.
The very same way one request is counted for every mail processed in the email finder for verification. However, requests are not counted if the search has been futile.
Key Features
The ein mail finder helps find the email address of any professional and this can be done in a single form or bulk.
The email verifier confirms the deliverability of the email address, this way a complete check of the address can be made.
Data is sourced through the most transparent methods. Every email that is found has the source data along with the time and date attached to the information.
It has a free Google Chthe rome Extension and it conducts powerfuto-the-point.
Email addresses can be found in spreadsheets with free Google Sheets Add-On.
Simple and to the point email campaigns can be composed, personalized, and scheduled with follow-ups. These emails can be sent from Gmail accounts.
Pricing
Free – The user receives 50 free requests a month.
Starter – cost is $49 per month billed monthly and $34 per month billed annually. The user receives 1,000 requests* a month, domain search exports, multiple Gmail connections, and priority support.
Growth – cost is $99 per month billed monthly and $69 per month billed annually. The user receives 5,000 requests* a month, domain search exports, multiple Gmail connections, and priority support.
Pro – cost is $199 per month billed monthly and $139 per month billed annually. The user receives 20,000 requests* a month, domain search exports, multiple Gmail connections, and priority support.
Enterprise – cost is $399 per month billed monthly and $279 per month billed annually. The user receives 50,000 requests* a month, domain search exports, multiple Gmail connections, and priority support.
*Note: With eversign-up, users get 50 free requests/month.
---
23. AeroLeads – Lead Management Software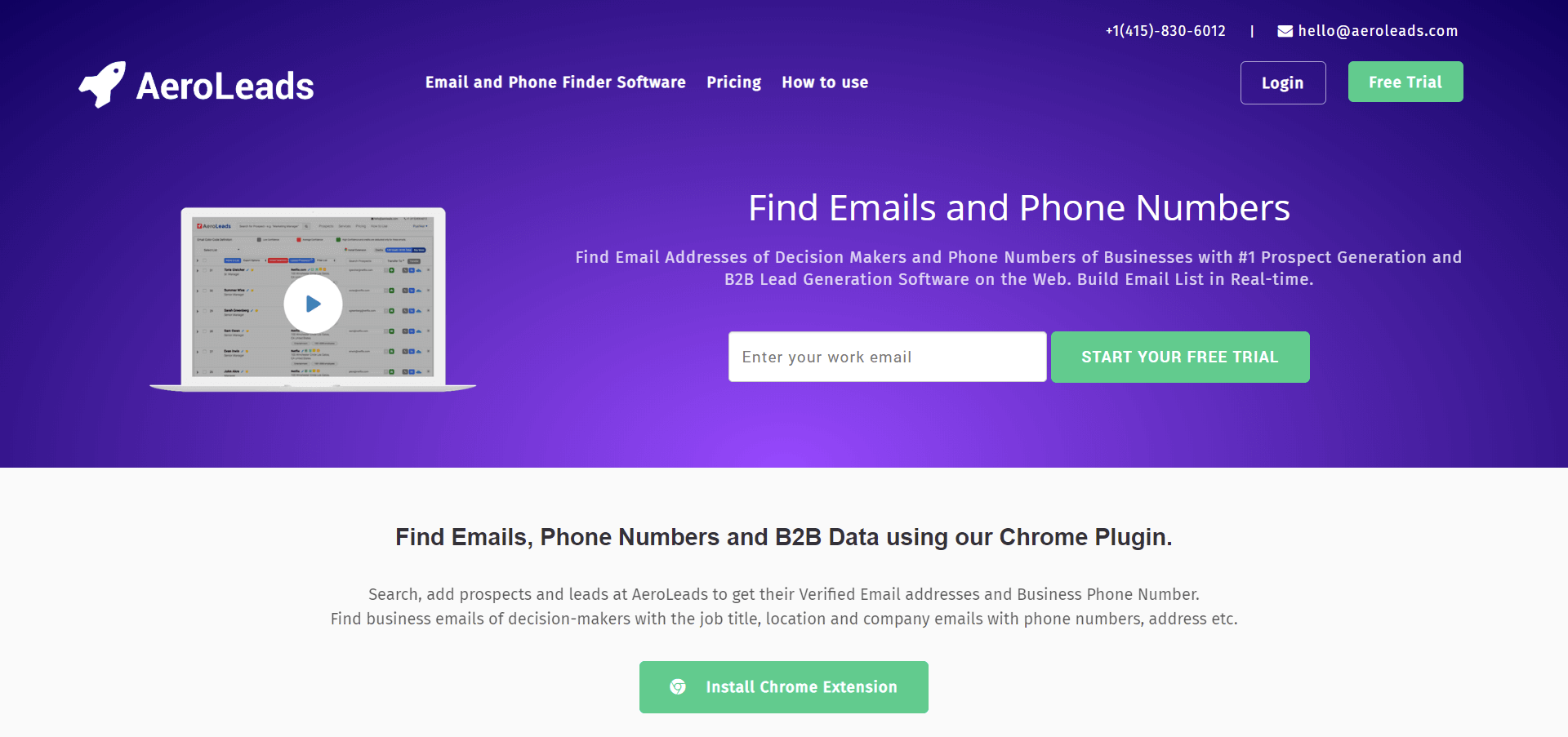 If anyone needs a powerful B2B lead generation software, AeroLeads is a web-based software that is the tool for them. This tool is best for those businesses that are looking for increased leads and prospects for contact information.
It will find business emails, phone numbers, the company name and URL, job title and location, etc. The data is shown on the default prospects page of the user's Aero Leads account.
AeroLeads is a strong prospect generation software that finds emails and phone numbers of businesses and people. Data can be exported into CSV or it can be transferred to other CRM and Marketing Software.
It is a simple tool that can be used with ease and prompt service with verified contacts is expected, which has great customer service.
Key Features
LinkedIn can be used to find business emails and phone numbers. Emails can also be found by inputting the name and the company.
About 15 data points can be found, such as; full name, job title, location, generic company emails, business phone numbers, etc.
Data can be exported to CSV oand r data can be transferred with one click to Salesforce, HubSpot CRM, Pipedrive, Zoho CRM, FreshSales, Zapier to name a few.
Aero Leads provides great customer service through chat, email, and phone.
After signing up for AeroLeads, the user can install the free Google Chrome plugin.
AeroLeads also has a widget that can be used to find significant leads and prospects.
Pricing
AeroLeads has a free trial period where the user receives 10 credits to find prospects. Below are the extended pricing plans.
For reference: 1 credit iwas s 1 record.
Take Off – cost is $49 per month billed monthly and $149 one-time purchase. Only one user allowed, given 700 credits. Find Email, full identifications, URL, and Title of Prospect and prospects from social media.
Climb – cost is $149 per month billed monthly and $499 one-time purchase. Five users are allowed, given 2,500 credits, with the same features as the Take-off plan, plus more.
Cruise – cost is $409 per month billed monthly and $1,499 one-time purchase. Unlimited users are allowed, given 10,000 credits, with the same features as the Climb planand , plus more.
Enterprise – cost is based on the customer's quote of need. Unlimited users are allowed, credits are given as per user requirements.
---
24. Insightly – CRM Software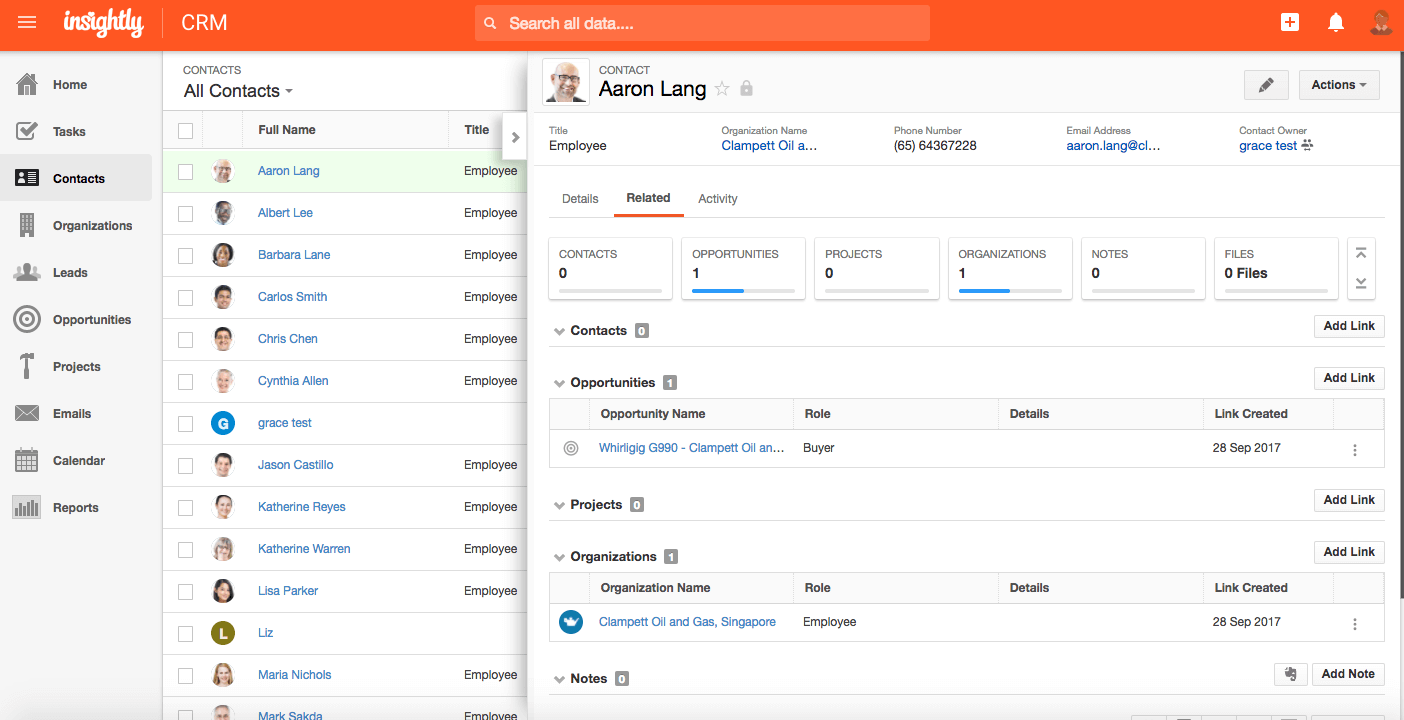 If you are looking for CRM software that is easy to use yet has a strong CRM with project management and delivery, then Insightly is the software for you.
The beauty of this cloud-based CRM solution is that it allows the user to track everything from one platform. From prospects to project deliverables, everything can be tracked with Insightly.
Moreover, Insightly also is the favorite software in the industry to improve customer communication, internal collaborations, and boost productivity and efficiency.
It can be used on Android, Kindle, and iOS apps, which is great for people who need to work on thbuildo this CRM app falls under the best collaboration software category. This app is a great way to builds teams by using this team collaboration software.
Insightly is segmented more towards startups and medium-sized businesses, it offers tailor-made features and discounts to that segment without any hidden charges. They also include a free plan for start-ups and small companies.
Key Features
Has a third-party app integration feature. It integrates well with other applications such as; Google Apps & Gmail, Evernotes, MailChimp, Office, and Outlook. Which makes it a good collaboration software.
Implements the best practices feature of CRM by organizing the user's customers, vendors, and suppliers. This feature gives a 360-degree holistic view of the user's contacts.
Since it has integrated prdashboardsagement features, it oversees every stage of engagement with the customer.
Features such as; dashboard, milestones, pipeline activity, and opportunity reports give the user an overall economic perspective of the business.
Insightly is easy to use and has user-friendly tools.
It also has a social media detecting tool, where the user enters an email address and they can check where the user has participated.
Pricing
Insightly has three product pricing plans which are listed below.
Marketing:
Plus – the cost is $299 to start per month, billed annually with 10,000 contacts included, captures more leads, automates marketing, and more.
Professional – cost is $599 to start per month, billed annually with 10,000 contacts included.
Enterprise – cost is $1, 299 to start per month, billed annually with 10,000 contacts included.
CRM:
Plus – the cost is $29 to start per month, billed annually. Find and manage leads, build stronger customer relationships, sell more productively, and much more.
Professional – cost is $49 to start per month, billed annually.
Enterprise – cost is $99 to start per month, billed annually.
Custom Bundles: Make your custom bundle combining Insightly's CRM and email marketing capabilities. You can contact a sales representative to learn more.
---
25. Zoho – CRM for Small Businesses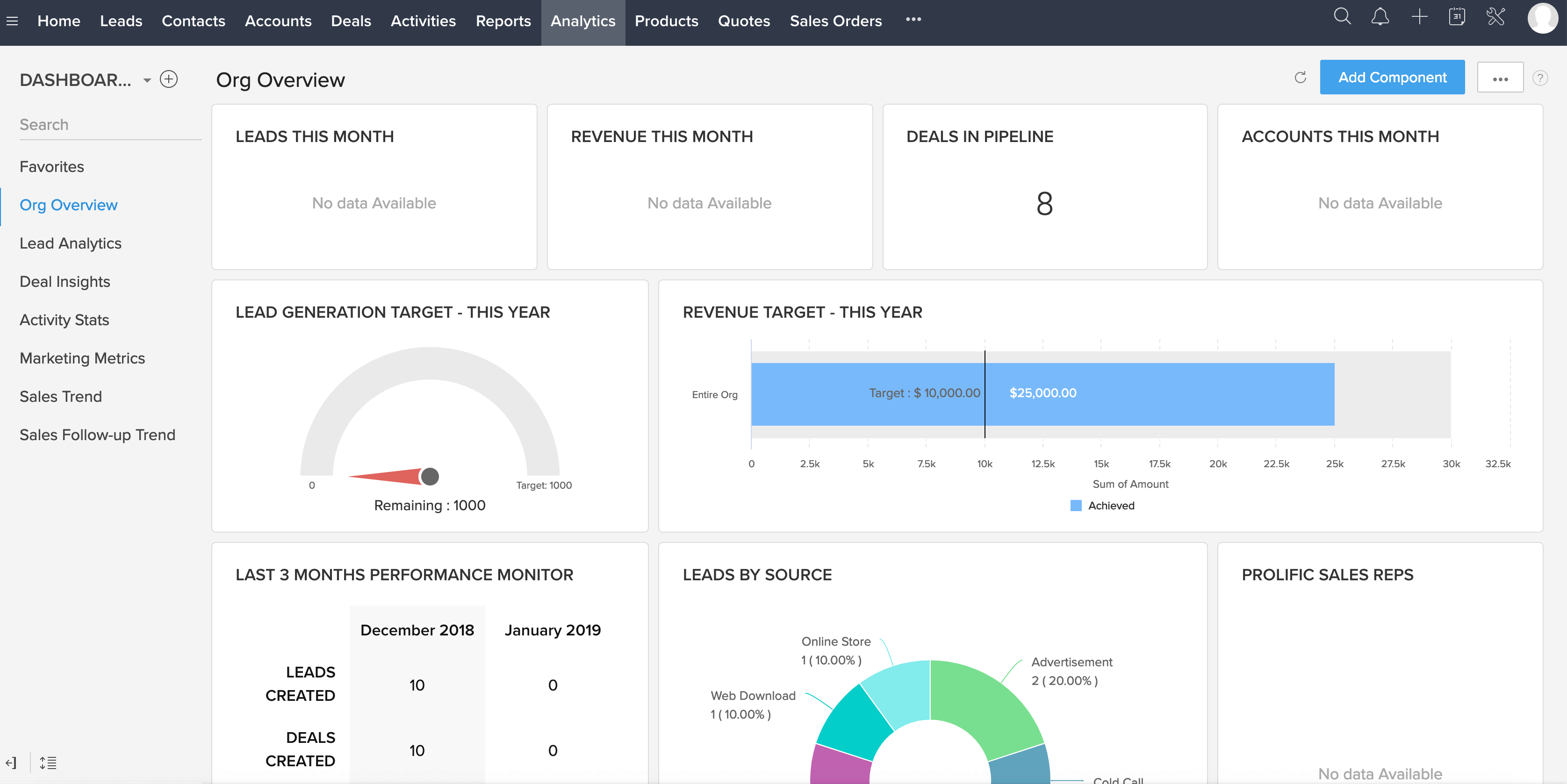 Zoho CRM is an app that is beautifully designed, easy on the pocket, and great for small businesses. Easily customizable and simple to use this app is great for those who are starting to use CRM.
From startups and medium-sized businessesis  to multi-nationals, teams of all sizes use Zoho's products to collaborate better.
Additionally, this a great app for startups, because it allows them to use it for free with three users being able to operate and access it. Zoho is an affordable CRM tool, however, they have put together pricing plans for all sorts of business models.
It may feel like a lightweight cloud product, but it has plenty of high-end features and personal customization choices for serious-minded business owners, who have a tight budget.
Key Features
Zoho allows users to connect with their customers via live chat, email, social media, and telephone – wherever and they might be.
Users save more time through automation, which helps them streamline their businesses, increase productivity and efficiency.
Subscribers can use real-time reports and insights, which help identify key performance indicators, current trends, and future paithird-partyo has a conversational AI-powered sales assistant, named Zia, for smarter selling.
Has the third party app feature, where business apps are integrated for everyday usage.
Zo15-day a customizable UI app design to make it user-friendly for first-time users.
Pricing
Zoho has a 15 day free trial period and no credit card is required.
Starter – cost is $10 per user/month, $8 per user/month billed annually. Custom fields, web forms, social CRM, workflows, reports and dashboards, Slack integration, roles and profiles, and 10,000 records.
Standard – cost is $18 per user/month, $12 per user/month billed annually; scoring rules, email insights, custom unique fields, custom reports and dashboards, and 100,000 records.
Professional – cost is $30 per user/month, $20 per user/month billed annually; Salessignals – real-time notifications, the blueprint – process management and 2,500,000 records.
Enterprise – cost is $45 per user/month, $35 per user/month billed annually; conversational AI, bi tools- target meter, comparator, anomaly detector, multi-user portals, and 5,000,000 records.
Ultimate – cost is $45 per user/month billed annually; advanced customization, automation suggestions, data enrichment, enhanced storage, and email sentiment.
Begin – cost is $7 per user/month billed annually. Streamlined customer pipeline solution that does not need a complete and operational CRM.
CRM Plus Unified Customer Experience Platform – cost is $50 per user/month billed annually. The complete CRM solution for customers that need an amplified engagement experience.
---
26. Drift – Live Chat App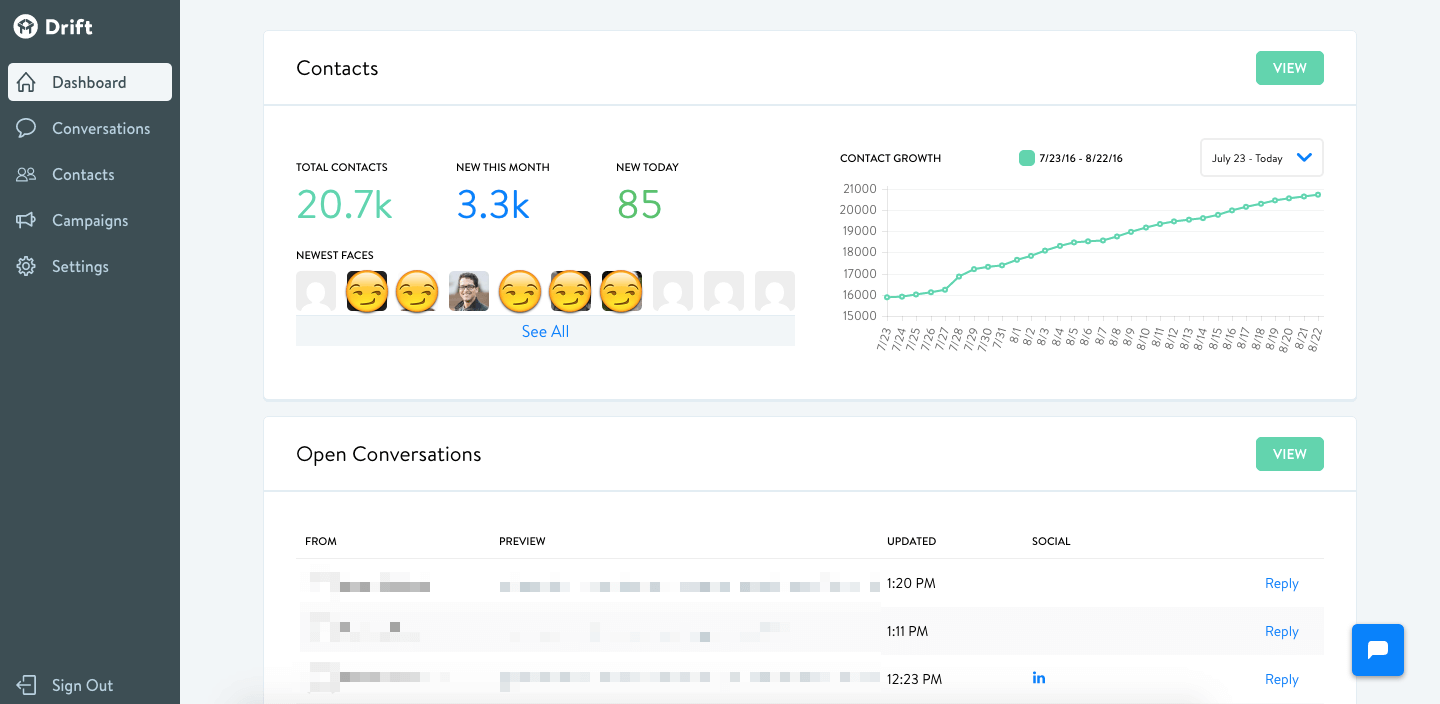 Everything is evolving these days especially tools and strategic playbooks. t, as a live chat software, is not far off from it all and become one of the top leading tools in conversational marketing platforms.
Top-tier businesses trust Drift and use it regularly. These enterprises are Ellie Mae, GrubHub, InVision, Marketo, MongoDB, Okta, Outreach, Eventbrite, Vidyard, along with over 150,000 other businesses around the world.
Moreover, this software is great for sales and marketing teams that are eager to push sales prospects to buy immediately or now. Drift helps keep users engaged, answer their questions quickly, and turn possible leads into clients.
The content derived from automated communication is fantastic, it provides a lot of ease and support for businesses to build-up and great collaboration software.
Key Features
The messaging feature for user engagement is excellent, it makes it easy to reply to questions instantly.
Simple interface that is easy to use and set-up and customize according to the user's needs.
Top-notch customer support service, which gives great insight into the needs and wants of the user demographic.
This software has an integration outreach feature, which allows the efforts of the marketing and sales development to be integrated.
The chatbot flow feature not only helps direct prospective customers to appropriate resources but also gives a personalized experience.
Historical records of the conversations are kept for future references.
Pricing
Individuals:
Free – cost is free, gives sites basic chat capability, live chat, profiles & calendars, and mobile apps.
Standard – cost is $50 per month billed monthly; Chat seats at $20 / month, welcome message, live view, data integrations, drift help & knowledgebase integrations
Teams:
Pro – cost is $400 per month, billed annually; Chat seats at $40 per month; Calendar-only seats at $20 per month, custom bots, CRM routing, CRM integrations; sales enablement integrations.
Premium – cost is $1,500 per month billed annually, Chat seats at $80 per month; Calendar-only seats $20 per month, account-based marketing; multiple teams; single sign-on; marketing automation integrations.
Enterprise – The customer lets Drift representatives know whether they want to become a strategic partner or a transactional vendor. After a detailed discussion, plans and packages are made accordingly.
---
27. JivoChat – Customer Support Software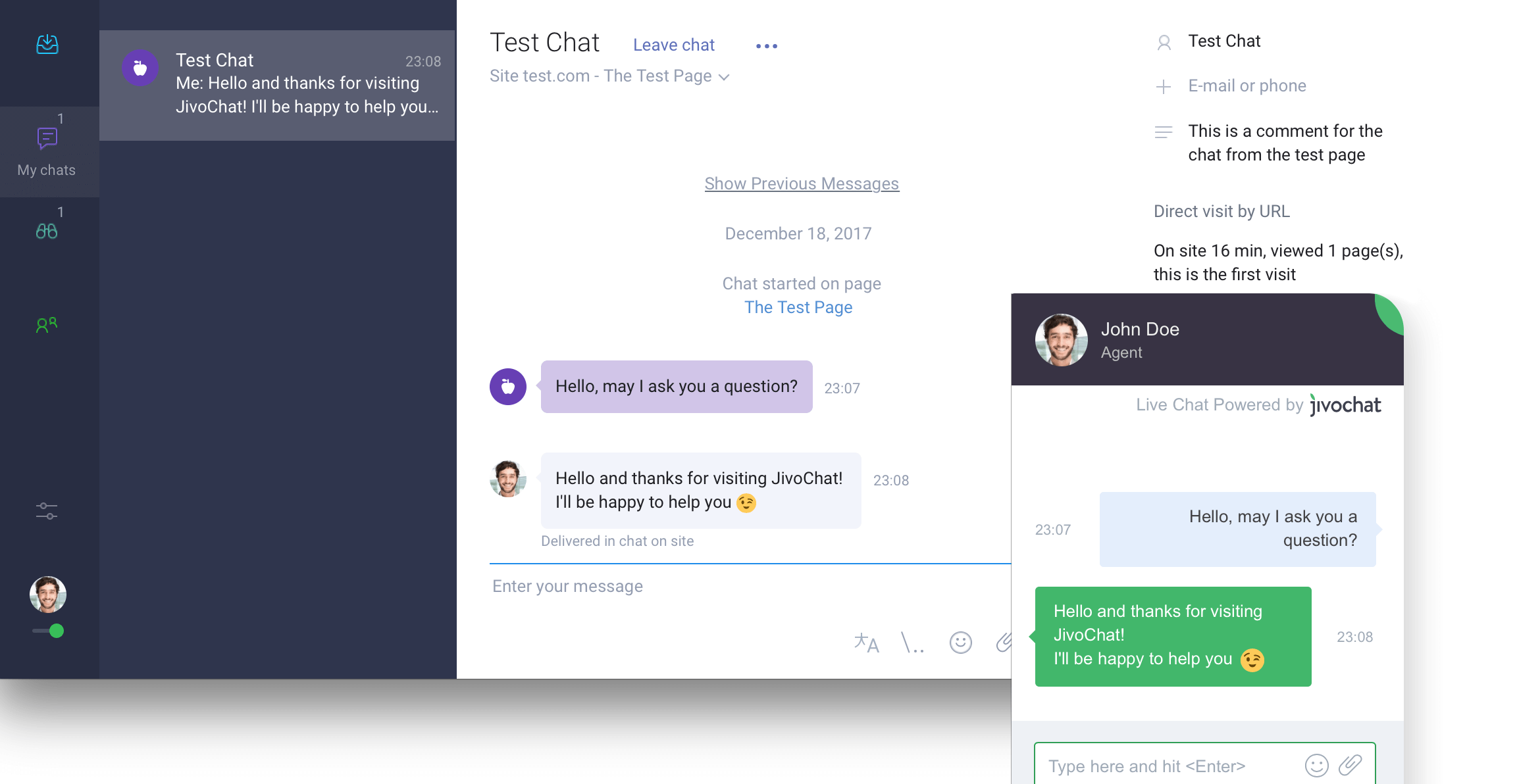 JivoChat software is great for those website owners who want to talk to their visitors directly. This app is a game-changer for eCommerce solutions, real estate developers, educational institutions, and any enterprise that requires immediate engagement.
As a business messenger solution, JivoChat has all the perks that the software needs to push online engagement. Since it is a live chat function, it also has the facility to oversee the visitors and communicate with them.
However, communication isn't limited to web online chats, it can also happen through; phone calls, emails, Facebook Messenger, Viber, Telegram, and other applications. This way the user never loses the opportunity to connect with their prospective future client.
The only problem some users have come across is that the chat doesn't let the user nor the client know if the chat has ended or if either one of them has left it. This can make othese brilliant features a little untidy.
Key Features
JivoChat is easy-to-use, simple to install, and is a one-stop-shop customer service solution.
Top-notch customer service and support system, and is the top-rated mobile customer-support app.
JivoChat allows a 30-sec callback period to clients, therefore, providing them round-the-clock service.
Third app integration service which allows apps to synchronize communication.
Training tools for representatives are given to improve their product quality.
Lightning-fast response tools are given to representatives to interact quickly, distraction-free, and efficiently with clients.
Pricing
JivoChat has two pricing plans, which are stated below:
Basic – free of cost. Unlimited chats and websites are allowed use, chats in 20 languages are customizable, unlimited chat history storage, and 24/7 customer support.
Professional – cost is $13 per agent/month if billed annually. Unlimited chats and websites are allowed use, chats in 20 languages are customizable, unlimited chat history storage, and 24/7 customer support.
---
28. Hygger – Project Management Tool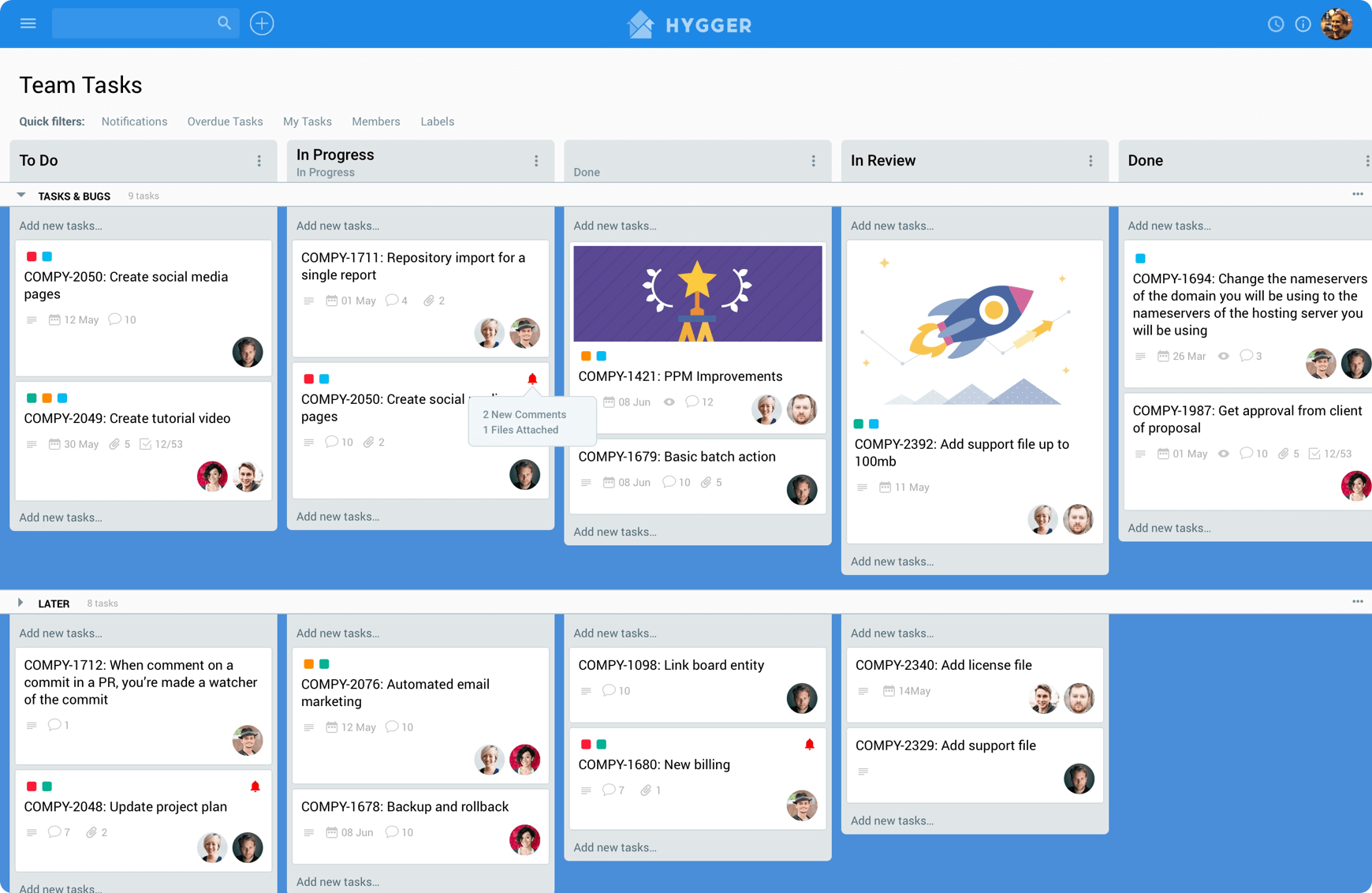 Hygger comes next up on our list of the best online collaboration tools for this year. It is an Agile project management tool aimed at removing work-related complexities between remote and centralized teams of all sizes.
We found Hygger to be a great platform for teams to track their progress. There are powerful features for project planning, task management, Kanban visualization, Sprint teams, and more.
Furthermore, for teams following the Kanban workflow, you can also set a limit on your tasks that are presently in Work in Progress using Hygger. This is a very useful feature, especially for small teams that find it difficult to prioritize tasks.
Talking about task prioritization, Hygger offers both RICE and ICE prioritization techniques. A scoring table inside Hygger weighs the importance of tasks at hand using 4 key metrics – Reach, Impact, Cost, and Ease.
Teams looking to better manage workloads and improve visibility should try Hygger as their go-to collaboration app.
Key Features
A beautiful, minimal interface that is simple to use and easy to understand
Project timelines to help you plan every element of your project before you start working
Tasks list to get complete visibility on who is doing what and how they make progress
Kanban boards for teams following Kanban workflows with the ability to set a WIP limit
 Value/Effort Matrix, RICE/ICE prioritization, and weighted scoring tools to help you prioritize work for your team
Task comments so your team can quickly share thoughts and feedback, all the while keeping a record of past conversations
Release management and versioning for teams following the Sprint methodology for project management
Mobile apps for both Android and iOS so you and your team can always stay connected – at work and on the go
Pricing
Hygger offers the following pricing plans for its work management and team collaboration platform:
Free – unlimited users, unlimited projects and boards, 100 MB storage
Standard – at $7 per user/month, unlimited users, storage, projects, boards, and unlimited tasks
Enterprise – at $14 per user/month, all the features in the Standard plan plus multiple projects per board, branding features, SAML SSO, Google SSO, API access, and premium support
---
Online Collaboration Tools – FAQs
🙋🏻‍♂️ What Are Online Collaboration Tools?
The modern, data-driven, tech-enabled era that we are in today is all about collaboration. It is an important part of any team's/organization's day-to-day activities. From communication to ideation, task management, visualization, and more – everything relies on efficient collaboration.
When you exchange ideas, communicate, research, and share all of this with your team, you are collaborating with others so they can learn, adapt, and grow.
Collaboration tools help ensure that your collaboration processes are smart and efficient and that a culture of learning and growth can be in place at your workplace.
🙋🏻‍♂️ What Are Examples of Online Collaboration?
According to a study by Cisco, the majority of the study's participants provided a clear, concise definition of collaboration. As per the study, collaboration means having:
Shared goals
Common vision
Teamwork
Working together
There are a lot of leading teams and organizations around the world that thrive on the concept of working remotely and online collaboration.
A study in 2019 estimated that 16% of global companies are now working fully remotely. Here are some successful teams from around the world thriving on remote work and online collaboration:
Basecamp – allows its employees to live and work from wherever they'd like
Automattic – a distributed team spread across 43 countries around the globe
Buffer – ditched the office in 2015, now works completely remotely
Zapier – one of the pioneers for distributed teams. Use tools like Trello and Slack to collaborate online
Trello – the entire marketing team works remotely and collaborates online, with most of the employees from other teams doing the same
🙋🏻‍♂️ How Much Does Online Collaboration Software Cost?
It depends on what kind of online collaboration software you are looking for, your needs for customization with this online collaboration tool, and the number of team members that are going to be collaborating via this software.
Various collaboration tools have tiered pricing plans. This means that the more features you want your collaboration software to offer, coupled with your team size, the more expensive it gets.
🙋🏻‍♂️ What Are the Benefits of Online Collaboration?
Another study conducted by Stanford University indicates that collaboration can have lots of benefits for the organization as a whole as well as its people on an individual level.
The participants in this research reported they were 64% more likely to engage in tasks and assignments as opposed to colleagues/peers that worked alone. This research also identified that the participants reported collaboration helped them experience:
Higher engagement levels,
Lower fatigue levels, and
Higher success/completion rates
In another study, over 85% of office workers in North America expect their employers to enable them with technology that allows them to work from anywhere they choose.
The study reported that 83% of employees use technology to collaborate in real-time with people working from different locations in different parts of the world. However, 78% of the participants also reported that they experience frequent technical difficulties impacting the online collaboration experience.
74% of the participants in this study said that they would leave their jobs to work for an employer that allowed them to collaborate remotely.
This shows the growing importance of remote work and how today's workforce heavily relies on online collaboration tools and virtual teamwork to feel engaged, motivated, and committed.
🙋🏻‍♂️ What Are the Different Types of Online Collaboration Tools?
Above, we have listed over 25 of the best online collaboration tools that you can use with your team for various collaboration purposes, including but not limited to:
HR and People Management,
Digital Marketing and Growth Marketing,
Team Chat, Video Conferencing & Messaging,
Task and Project Management,
Data Analytics and Insights,
Workload Management, Time Tracking, etc.
Conclusion
In this day and age, if you or your business is not relying on collaboration software, you're not only hurting your company's productivity but you might also be letting go of a healthy amount of revenue.
And, worst of all, you are making your own life harder by relying on old and inefficient ways of communication. So, what are you waiting for? Make your life easier and start using online team collaboration apps now!
Also, check out Apium Hub's article on distributed Agile teams for deeper insights on improving team productivity.
---
Other SaaSy goodness on All That SaaS: