In this roundup, we are going to evaluate Slack's team chat abilities and the key features it might be missing that might make it unfit for your team's needs. We will also discuss the best Slack alternatives available in 2023.
Since 2019, over 12 million people have been using Slack daily, using up to 10 hours a week on it. Most people use up to 10.4% of the workday screen time on emails and 5.2% on messaging. Many people use Slack for their workflow process.
However, 2023 has a new story to tell.
COVID-19 hit the world hard, and overnight the world had to adopt new productive work processes. Most organizations have transitioned their teams to the WFH schedule using applications like Slack, conducting meetings and they struggle to stay motivated/productive when working from home.
Even though Slack is very useful and has made remote work so effortless for most teams today, it doesn't fulfill all the requirements for every team.
😥 Features Missing in Slack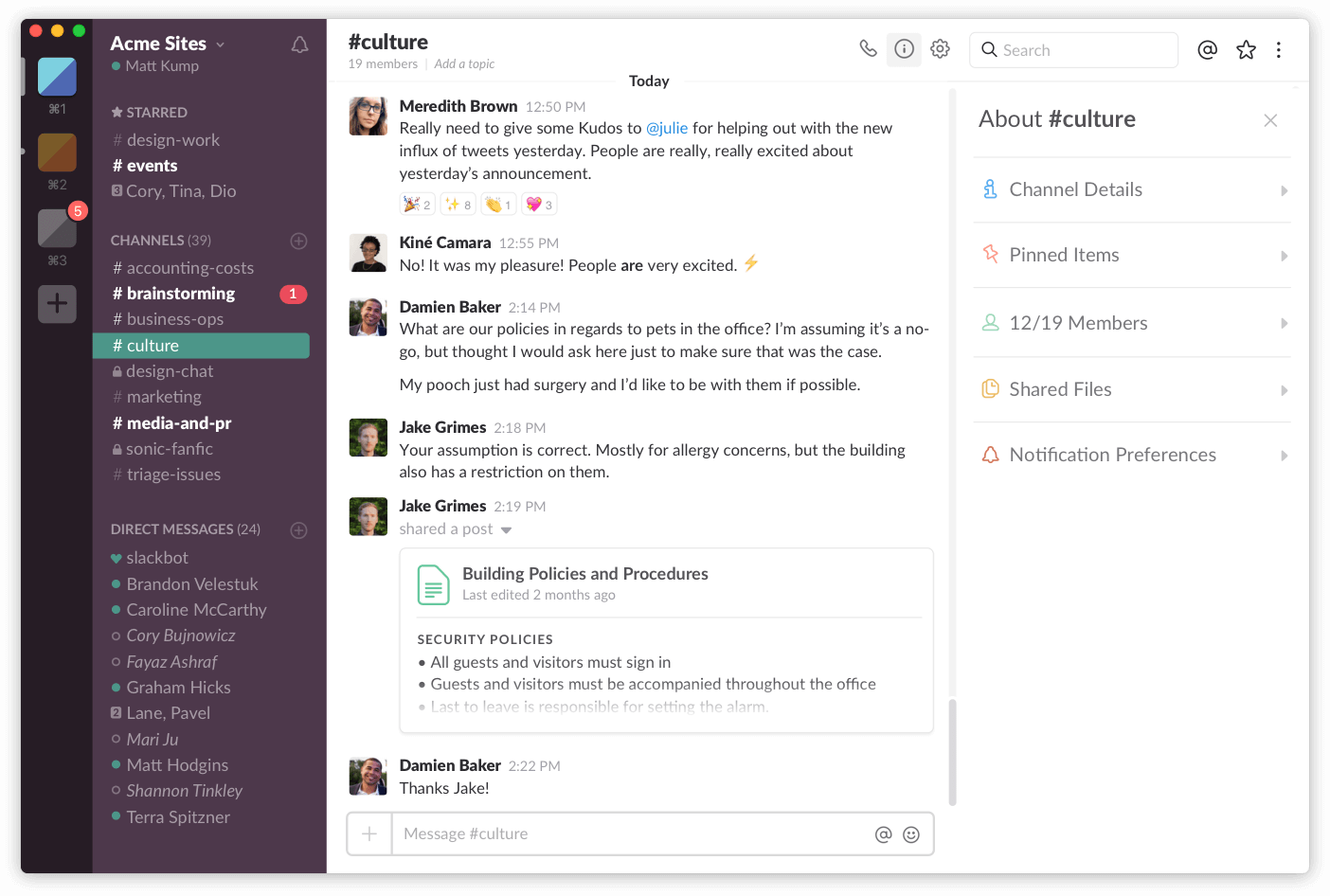 As mentioned before, Slack doesn't have all the requirements a person may need to work efficiently and effectively from home. Below are some features that are missing from Slack.
If a Slack channel is created privately, it cannot be made into a public channel later.
The built-in video feature is not up to the mark and is missing the HD features. Other free Slack alternatives offer better and less choppy video conferencing capabilities.
The search feature is not efficient in finding information that is needed at the time, and it misses or skips a lot of it at the time of the search.
It does not have a whiteboard for annotations. Therefore, it is difficult for teams to mind mapping and brainstorming, create ideas together and synchronize their workflows.
There isn't a comb-through feature for notifications, therefore, every group member reads irrelevant notifications.
Luckily, there are many alternatives to Slack that people can use to replace the missing features.
---
Our team of tech enthusiasts at All That SaaS has compiled a list of the best Slack alternatives down below.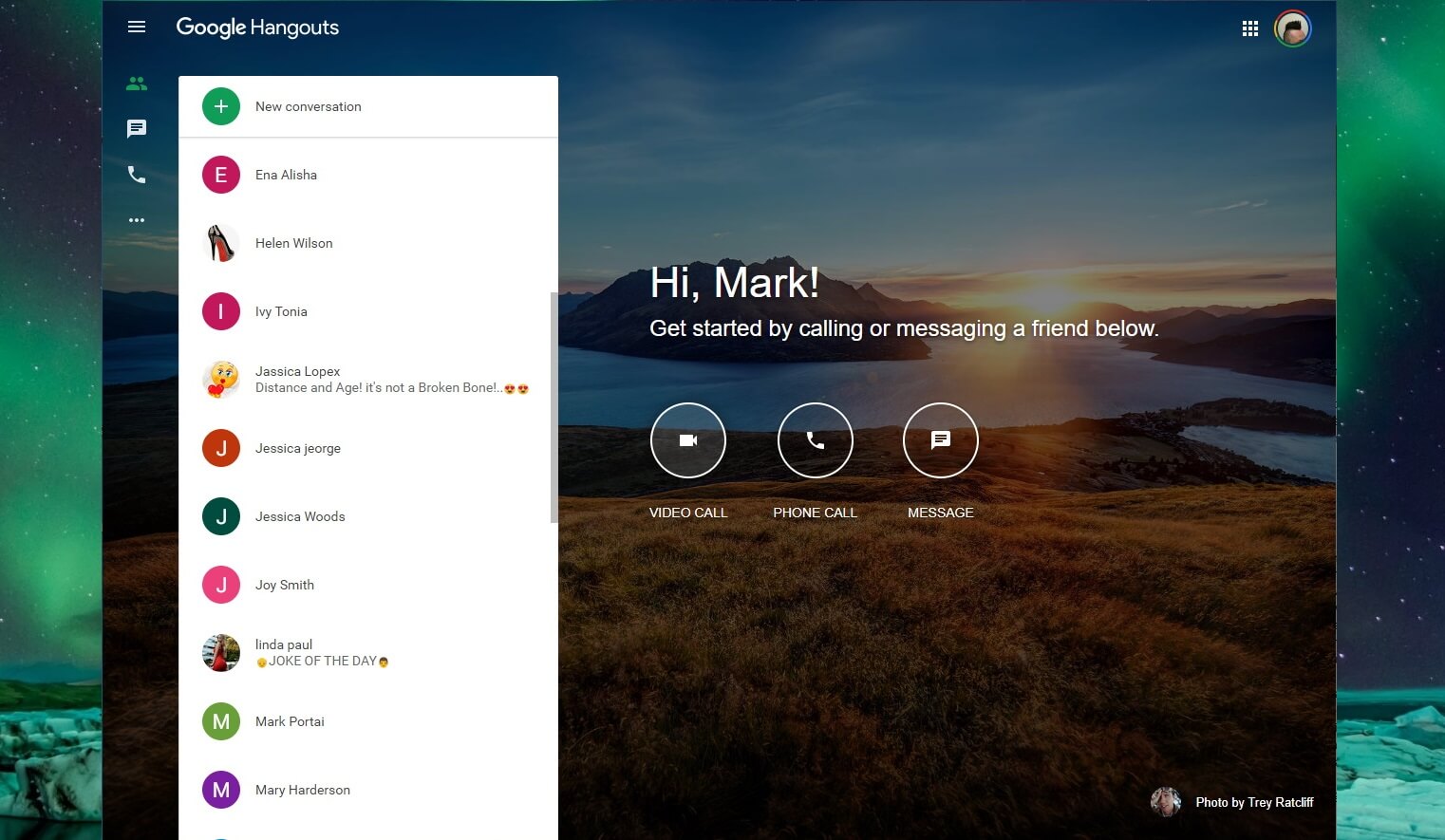 As a team collaboration software, Google Hangouts allows its users to message their contacts, start free video or audio calls with more than one person.
Hangouts also have a set up for team chats for up to 150 people. It is probably one of the better Slack alternatives for team communication. It synchronizes and works well with other Google applications.
This free Slack alternative also has a Chrome extension, which can be used across all devices. The mobile and web-based Google applications allow small to large businesses to send messages, chat sync, and conduct audio/video calls with clients or colleagues.
Hangouts are one of the best free Slack alternatives available among all the other types of team chat software. It allows people to be more productive with higher levels of connectivity, especially if you are working remotely.
Key Features
Group chats can include up to 150 people.
Use status messages, photos, emoji, stickers, and animated GIFs to communicate.
Any conversation can become a free group video call allowing up to 10 friends.
All calls to other Google Hangout users are free and can call any phone number around the world.
The user can integrate their Google Voice account for a phone number, SMS, and voicemail.
Using any device, users can keep in touch with friends anytime, even if they're offline.
Use Google Cloud to remotely manage the mobile app.
Pricing
Video conferencing, calls, and team chats inside Google Hangouts are free but the mobile carrier and ISP charges may apply. Calling rates can be viewed here.
---
2. Chanty – Best Slack Alternative for Android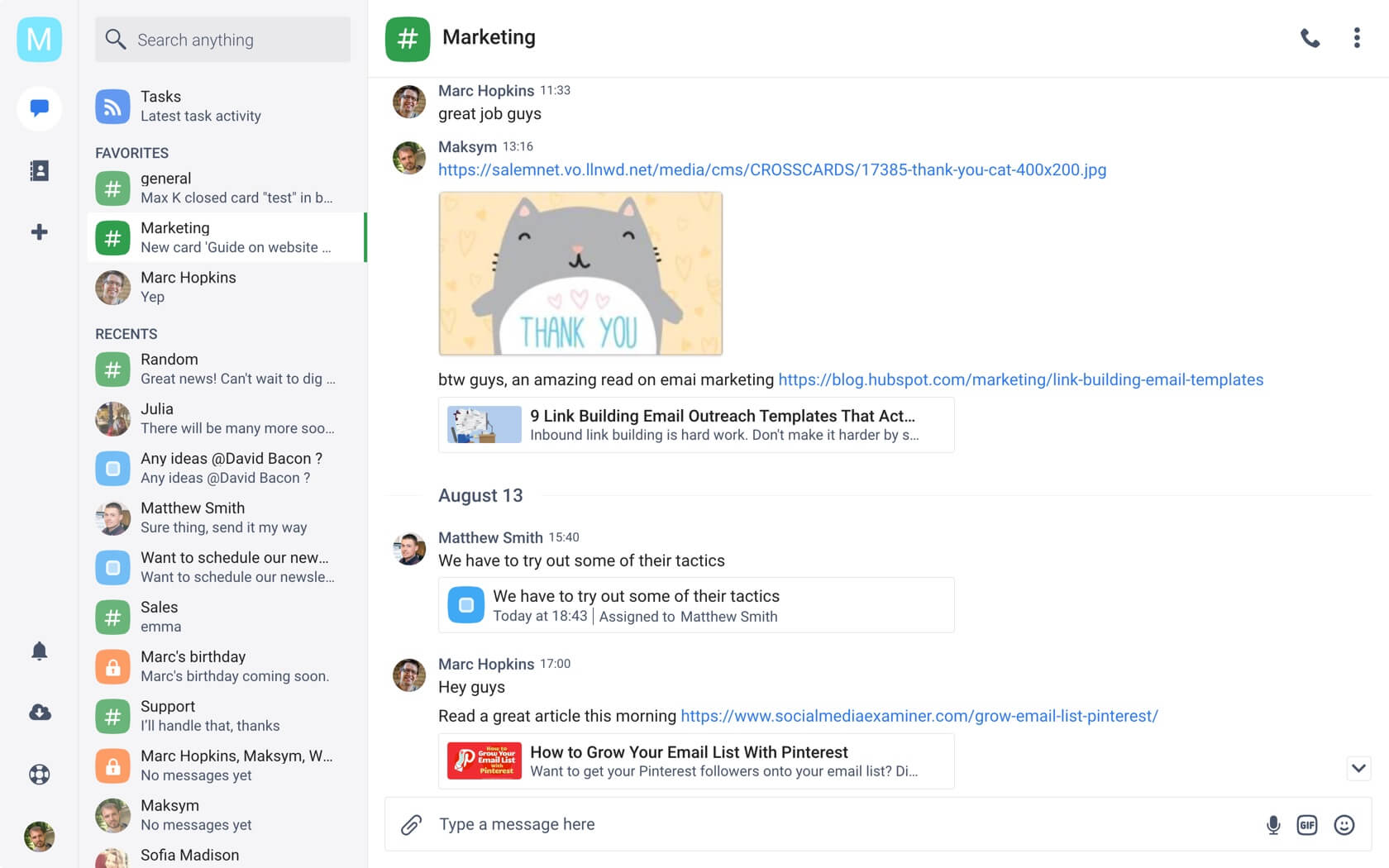 Known to boost productivity, Chanty likes to keep it simple with an intuitive user experience design to befit its user's needs. One of the best Slack alternatives, it allows easy access across all devices and platforms.
The purpose of Chanty's design is for the small-sized teams to be led to the path of productivity.
Some top-notch features that it has are; unlimited message history, task management, file sharing, and a pragmatic organized notification thread. Chanty also allows, to integrate messaging with many apps, such as; Google Drive, Dropbox, Trello, GitHub to name a few.
It also has a simple AI-powered team chat, which is constructed by an unlimited message history has designed to make the work process effective. With this tool, team members can chat with each other via video and audio calls, and screen sharing.
Key Features
Content can be shared multiple times from a single app. Sharing can be done from; YouTube, Coub, GIF, and social media content. This saves time from constantly switching apps.
Teammates can be highlighted and pinged with @ mentions, for immediate actions and reactions.
Ideas, reports, or pictures can now be saved through the pins feature, therefore, allowing innovation not to be missed. Save innovative ideas with pins.
Messages can be pinned on Chanty and the user can get back to it at any time.
Open Source Slack alternative, Chanty, has code snippets that come with developer-friendly formatting. This way teammates simply have to share the code, rather than waste time sending files, to get the immediate reaction.
New tasks can be created from scratch in a message, assigned with deadlines, teammate wise and collaborations, etc.
Discussions can be started with just one click, making sure everyone is on the same page.
Pricing
Chanty has two pricing plans:
The Free plan is for a 10 member team limit. One of the better free Slack alternatives.
The Business plan starts at $3 per user/month or $4 per user/month billed annually. It delivers additional features and unlimited members
---
3. Microsoft Teams – Powerful Alternative to Slack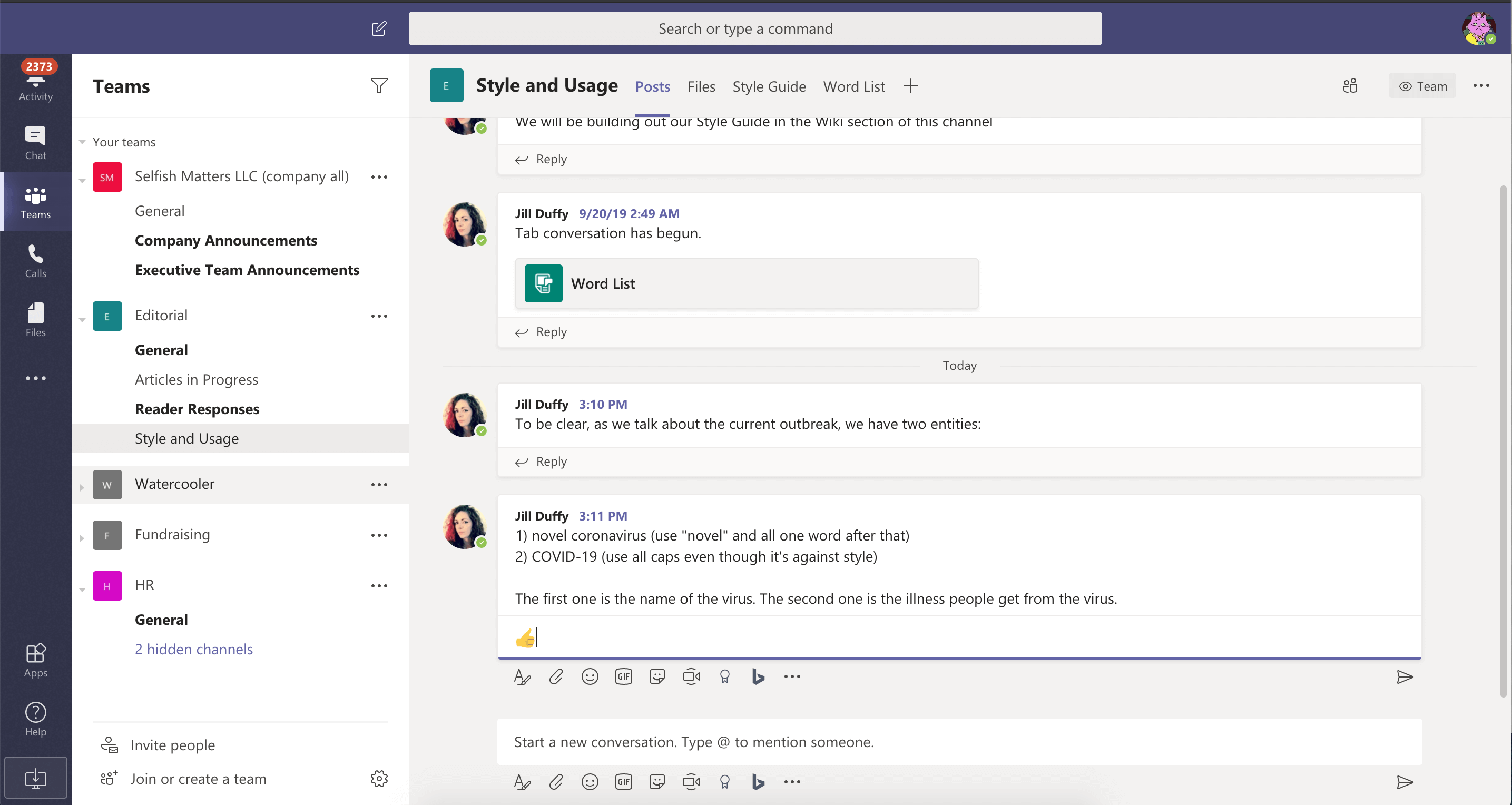 As a chat-based workspace in Office 365, the purpose of Microsoft Teams (MT) is to bring people together. This way the tools used by the teams, allow content collaboration to do with ease, and collaborate efficiently.
One way MT achieves this is by combining both video conferencing software with team collaboration tools.
MS Office users are allowed to use this communications platform, enabling them to conduct conference calls and share files through SharePoint.
It also allows them to join or start a group chat. The best part is that it allows certain groups to be created where ideation can occur without any distractions.
Teams can be made and met by the lowest number of 10 to the highest of 10,000 people. MT allows users to host audio/video web conferences in or outside the organization, and even go to big live events.
Its phone system features permits PBX means, which includes call control in Office 365 and replaces on-premises PBX.
Key Features
Users are allowed to send and open different types of files, and it also notifies other users to let them know they have been tagged or contacted.
Screen sharing is enabled so users can share their screens with the conference.
PowerPoint presentations or other slideshows can be placed for display at a conference.
As a collaborative tool, MT provides a virtual whiteboard.
Microsoft Teams allows its users to conduct audio and video calls.
Calendars can be integrated with email software and web meetings can be scheduled and streamlined.
Microsoft Teams integrates well with outside software.
Pricing
Microsoft Teams has pricing three tiers, which are;
This first one is a subscription-less, free option that offers the same features paid tiers. However, it doesn't offer admin tools such as; analytics and access to on-premise servers, or support features like 24/7 phone and web support.
Office 365 Business Premium price plan begins at $12.50 per user/month, billed annually. Customization to the user's needs is allowed.
Office 365 E3 is best for slightly larger enterprises, it begins at $20 per user/month, also billed annually.
---
4. RocketChat – Open Source Slack Alternative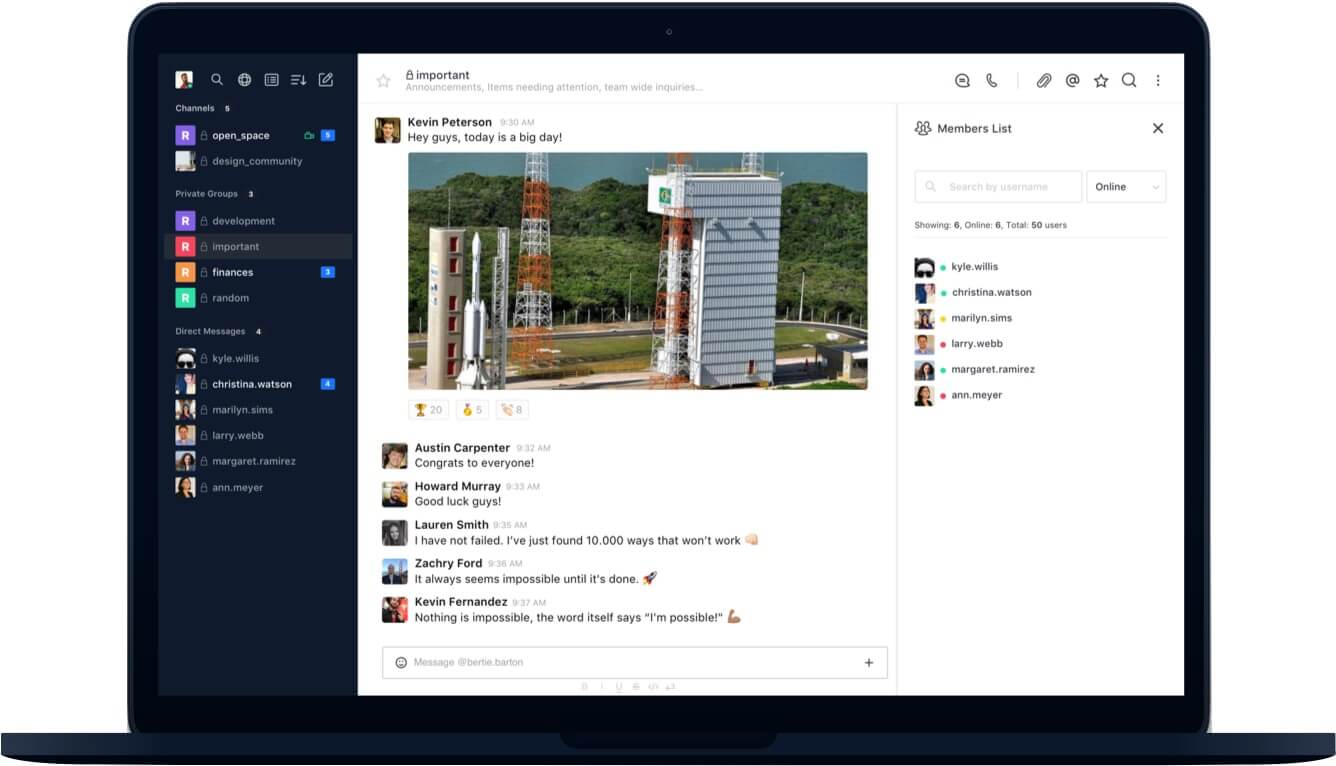 If you are looking for an Open Source Slack alternative, then look no further, RocketChat is one of the best Slack alternatives and communication software.
It allows users to create team chat collaborations in real-time, on the web through mobile, desktop across various devices.
Users can customize the interface of the app by altering the wide range of plugins, themes, and integrations with other key software.
It oversees the work-stream collaboration & omnichannel customer engagement control, by allowing users to manage their data to boost productivity.
RocketChat has over 1,000 developer-contributors and over 25K stars on GitHub.  It also has one of the largest online active chat developer communities in the open-source communication area.
It is also an encrypted Slack alternative, which provides unlimited users, guests, channels, and messages.
Key Features
Users can create channels and private groups to speak to their teams openly. There is no need for BC/CC features.
Connect and notify the relevant team member by using the @username mention. For important announcements use @all to ping/notify everyone.
Users can communicate and collaborate with the whole team using team chat.
Users can share files, chat in real-time, or switch to video/audio conference calls.
Encrypted Slack alternative that provides a safe workspace with username restriction and admin transparency.
Gives users complete access to the source code, so they can customize it.
Blockchain projects such as; Aragon, Brave, Hyperledger, Golem, Tokenly, and others in migrating from Slack can be joined.
Pricing
Rocket Chat has two tiers of plans, which are as follows:
Self-Managed: Users can host on their premises or in the cloud
Pro: for $3 per user/monthly; $30 per user/annually. It has more features than the community plan and consumer focus on businesses.
Enterprise has customized and tiered pricing and its main agenda is providing unlimited features and high-level management specialties.
SaaS (cloud hosting by Rocket Chat and has a 14-day free trial)

Bronze: $2 per user/month; $20 per user/annually for teams to centralize their communication.
Silver: $4 per user/monthly; $40 per user/annually. It has more features than the bronze plan and focuses on consumer communication.
Gold: customized and tiered pricing with volume discounts, it provides unlimited features and high-level management specialties.
---
5. Fuze – Best Slack Alternative for iOS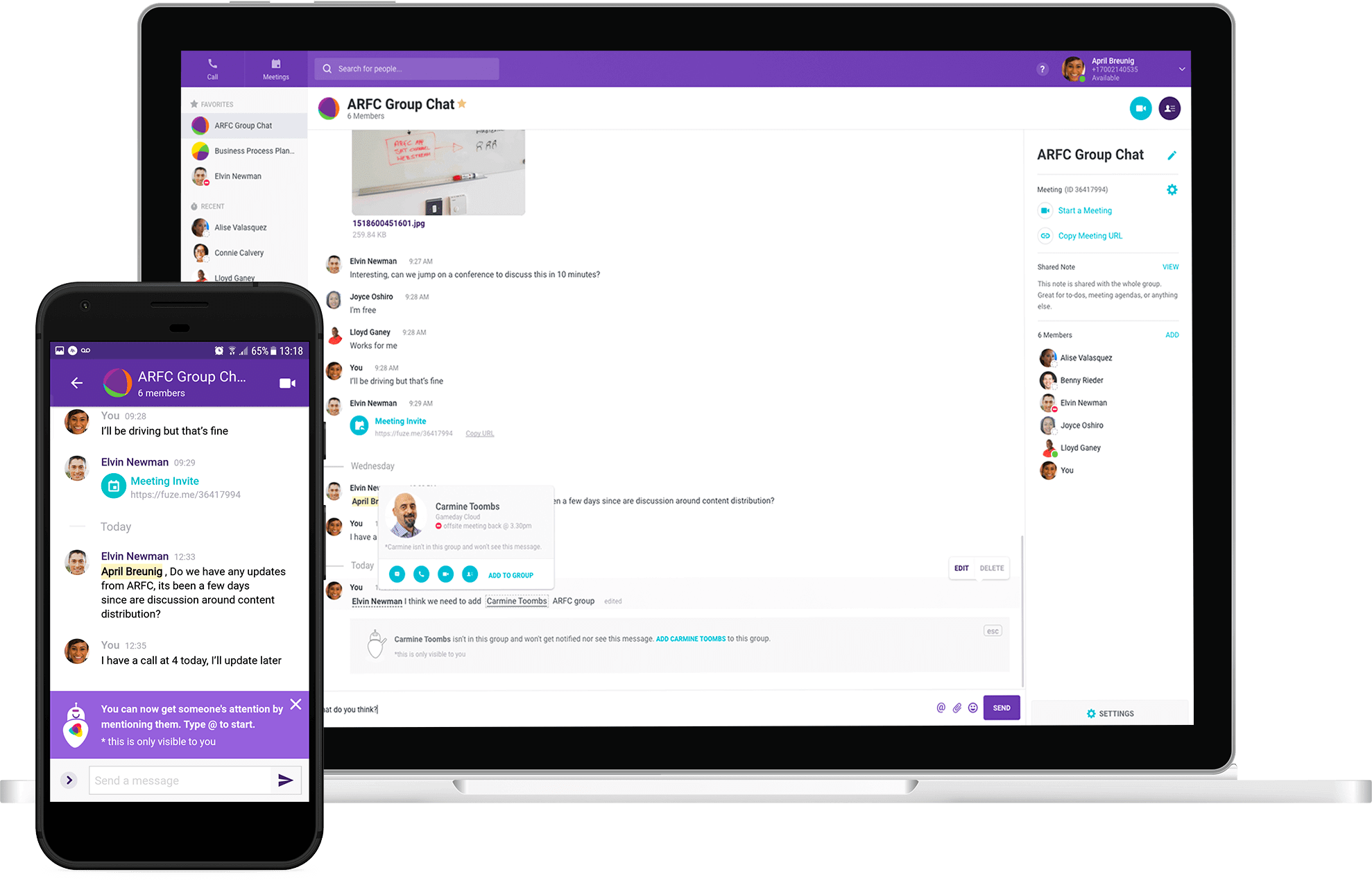 Fuze is a powerful business communication and contact center platform.  This one-stop solution allows a smooth transition for users in between calls, meeting, chatting, and sharing.
Fuze is of the leading intelligent cloud structures and Slack app alternatives.
Since Fuze's main agenda is to modernize the communication experience, they have inspired the digital platform and proven to be one of the better Slack alternatives for team communication.
Fuze allows teammates to connect anytime, anywhere using any type of device.
As software, it offers top-grade HD audio and video conferencing features, which allow up to 1,000 members at a time. Fuze also allows screen and content sharing.
It very consistently allows teamwork through any device, conference systems, and calendar integrations for Google and Office365.
Key Features
Features for strong communication are; unified voice, HD video calling and conferencing, integrated chatting, content sharing, and contact center.
Provides a single intuitive application experience, for both end-users and admins.
Created and developed specifically for the enterprise with over 10+ years servicing it.
Allows unmetered calling for up to 110 countries and gives more than 50 carrier relationships, powering superior voice quality.
Provide local enablement and high-quality customer service.
One of the best Slack alternatives, reliable, secure at scale intelligent cloud architecture.
A one-stop-shop solution for All Your Communications and Collaboration Needs to be created for an organization.
Pricing
Customers can create the Fuze experience tailored to their regional or global needs.
Fuze Meetings: $15 per user/month
Calling: for $25 per user/month
Pro: for $35 per user/month
International: for $45 per user/month
Unlimited Global: for $65 per user/month
Note: All Fuze plans have varied services that change their featured variants with each plan. Some of those services include unlimited internal & incoming calls, metered outbound calling unlimited outbound calling, PBX features (call forwarding, call transfer, etc.), voicemail management, to name a few.
---
6. Skype – Best Free Slack Alternative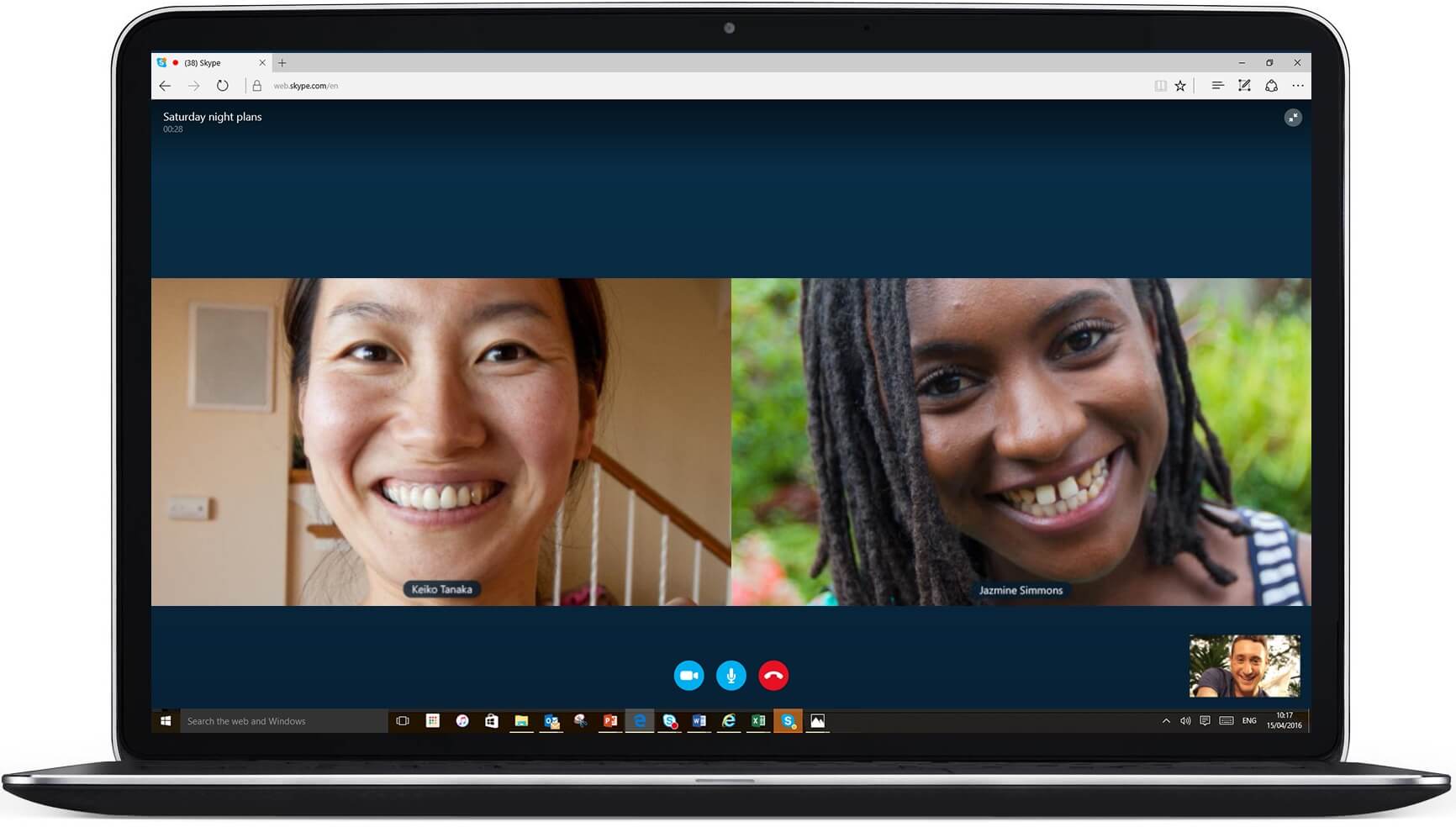 The slack alternative for families and professionals has to be the all-time favorite, Skype.  The personal edition of Skype allows free web meetings, video conferencing, and VoIP software.
However, they also provide a free version that has many features and is one of the better free Slack alternatives.
Skype's free version also allows instant messaging, audio and video Skype-to-Skype calls, the ability to call mobile phones and landlines, paid international calling, and conference calling capacity for up to 25 people.
Users have the option of screen sharing during the video sessions with other people.
There is a Skype version for phones, desktops, tablets, browsers, Alexa, and Xbox. It also provides other unique features that allow background blurring, voice and text translation, location share, and conversation search.
It also can have its services integrated with Microsoft's Digital Assistant, Cortana.
Key Features
Hi-definition video calls, which allow up to 25 people to engage with one another.
Use Skype as an instant messenger and chat with people instantly. In group messaging the @mention feature can be used.
The sharing option allows users to share the screen and the photos and videos to the camera roll.
Voice calls are also an option. Users can also call mobile and landlines at low rates.
Liven up the chats by clicking on the "+" in chat to send a Giphy or images from the web, and annotate images with words, lines, etc.
Skype to Skype calls are completely free.
There are affordable rates to call landline and mobile phone numbers and send SMS messages anywhere in the world using Skype. This can be done through Skype Credit or Skype subscriptions.
Pricing
Skype to Skype calls are completely free.
Skype Credit can be used as a pay-as-you-go option to call and SMS.
To call specific destinations, users can subscribe to monthly subscriptions.
Subscriptions begin at $2.99 a month for the US and can vary by destination.
---
7. Mattermost – Cost-Friendly Slack Alternative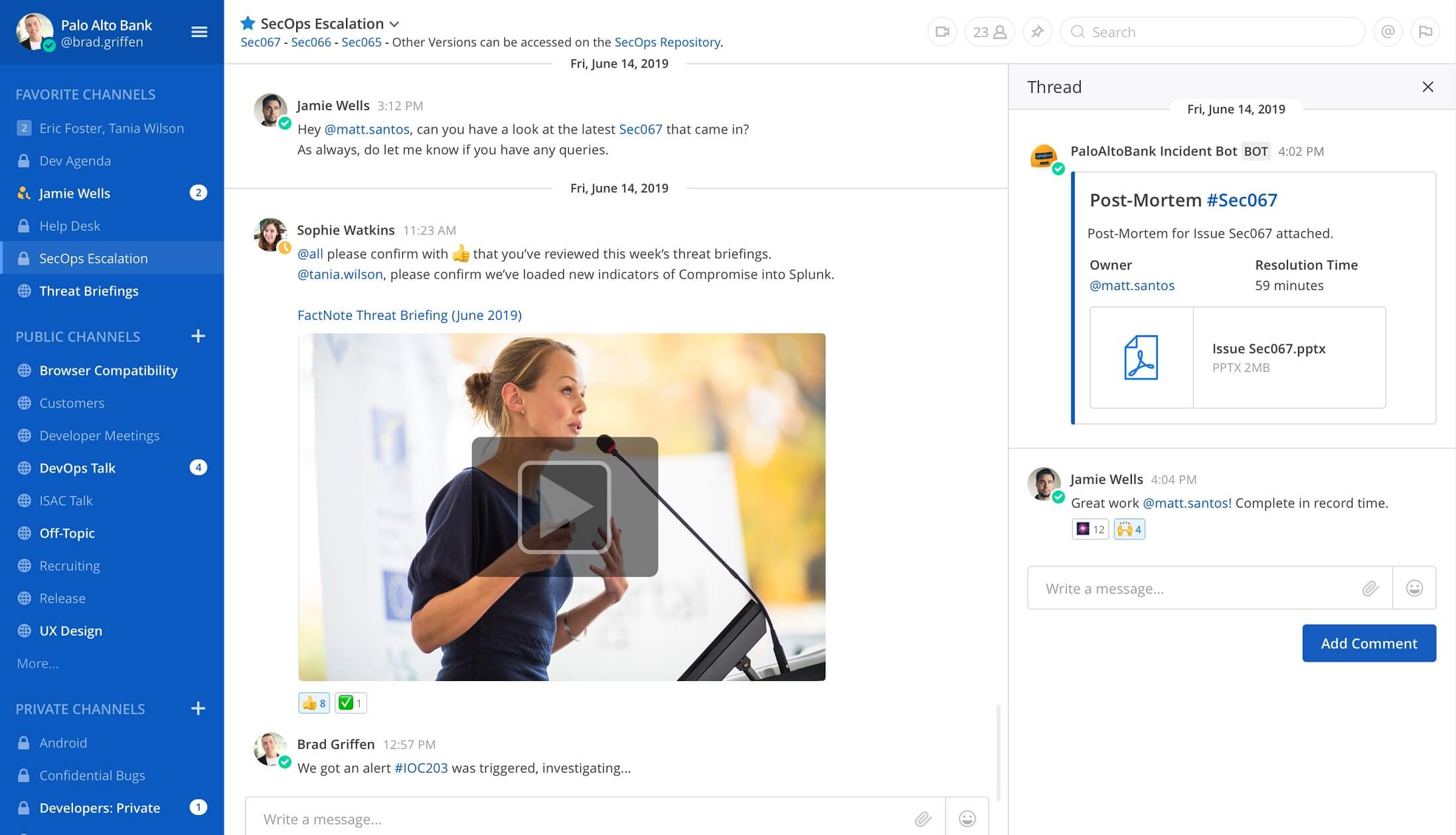 Mattermost is an Open Source Slack alternative, which reeks of software innovation. It is also an Encrypted Slack alternative, which helps maintain control and strong security over the most vulnerable data.
Therefore, collaboration is also done with immense care taken with innovative measures. Developers are given complete sovereignty and control to befit the organization's IT and security requirements.
The main reason why organizations use Mattermost is to automate their workflows, optimize organizational dexterity, simplify their coordination, and maximize efficiency.
All these operational software features, make it easier to search for information, allowing data integration with other tools and systems. Mattermost is a secure platform for messaging at the workplace.
It allows the user to message from behind the firewall, letting them discuss topics in private groups or collectively as a team.
Key Features
Their cloud is compatible with hybrid architectures and can use with public and private clouds.
Powerful security system, which protects and layers data to preferred customization.
Easy to use and simple to install, with pre-built open images supporting AWS, Azure, and Google Cloud.
One-stop solution for messaging, tools, and files, which are accessible from the web or device—iOS, Android, Windows, Linux, and Mac.
Integrated tools that allow speeding up workflows, such as; DevOps integration set, Incoming and outgoing webhooks, Custom slash commands, Plugins and extensions, Bots, and developer toolkit, Robust API library, OAuth 2.0 applications.
Users are given complete control over their data, which is enabled with the command line and database management tools, and performance and system monitoring.
There is a free trial for everyone to use the test.
Pricing
Mattermost pricing plans are as follows:
It offers a free trial and there is also a free version.
Enterprise E10, which starts at $3.25 per user/month and is billed annually. This is great for small companies and departments that have data security requirements.
Enterprise E20, which starts at $8.50 per user/month and is billed annually. This is built to scale for high-trust organizations and companies in regulated industries.
---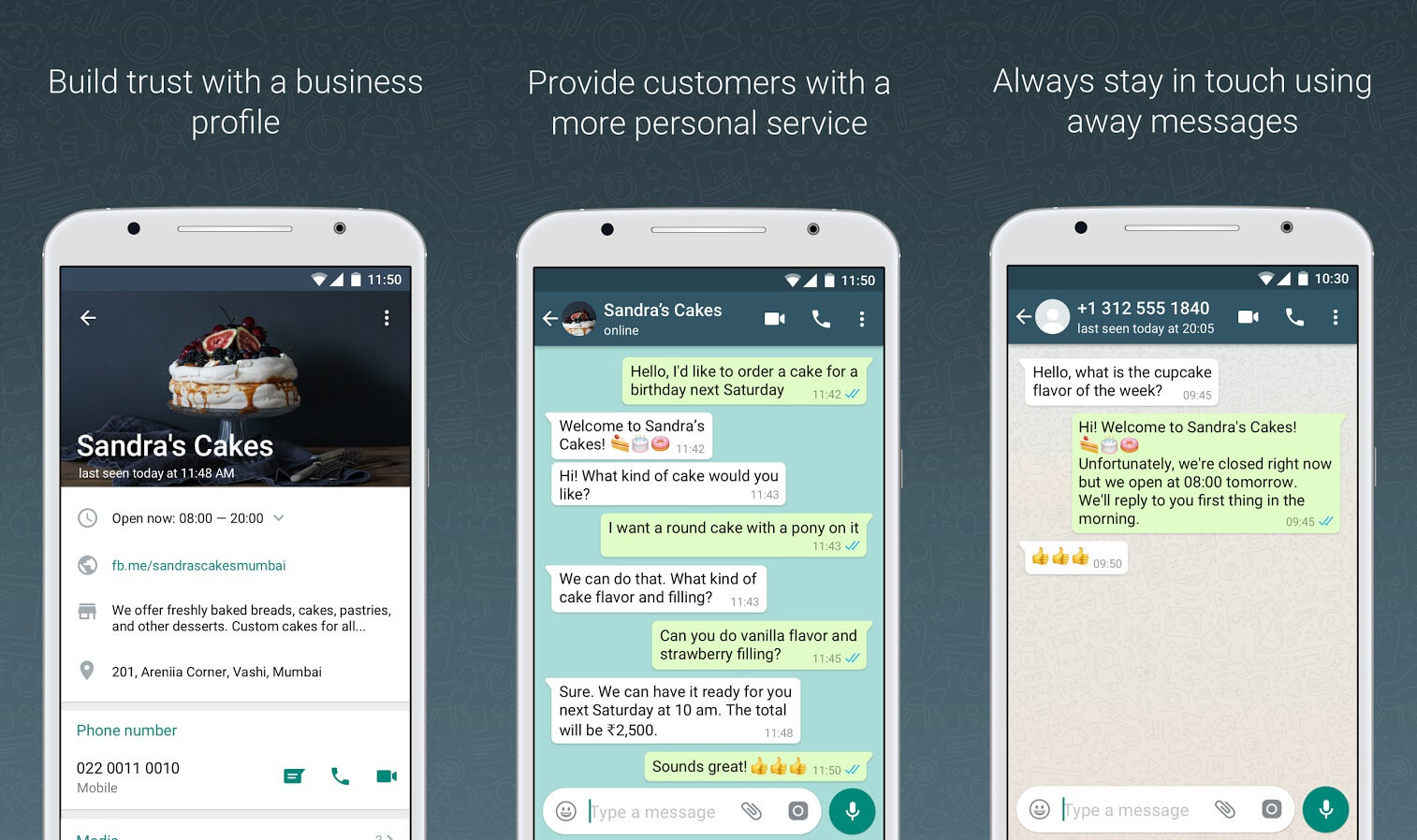 Another one of the Slack app alternatives is WhatsApp Business. It is free to download and the purpose it was created was to cater to the small business owner's needs, and it can also help medium and large businesses.
This app allows the user to create their own catalog/portfolio and showcase their services or products.
WhatsApp Business lets users connect with their customers with extreme ease through the use of automated tools, which sort out and respond to messages quickly. It provides customer support and delivers important notifications.
As an encrypted Slack alternative, it keeps personal moments shared, safe.
When end-to-end encryption is enabled, the user's messages and calls are secured so only they and the person they are communicating with have access to them. That means even WhatsApp cannot have access to encrypted communication. It is one of the free Slack alternatives.
Key Features
Simple and easy to use, reliable messaging that only uses the phone's internet connection to message contacts.
Sharing in group chats has never been easier, it allows sharing content with up to 256 people in one go.
WhatsApp can also be used via the web and desktop. This allows all contacts to be synced in and they can chat on whichever device they feel comfortable with.
Audio and video calls are free, no matter which country the person is calling from.
End-to-end encryption is allowed to be activated on the messages, which maximizes the user's privacy concerns.
Users can send documents up to 100MB. Documents such as PDFs, documents, spreadsheets, slideshows, etc.
Voice messages can be sent instead of typing texts.
Pricing
The WhatsApp Business app is free to download.
---
9. Discord – Powerful Team Chat App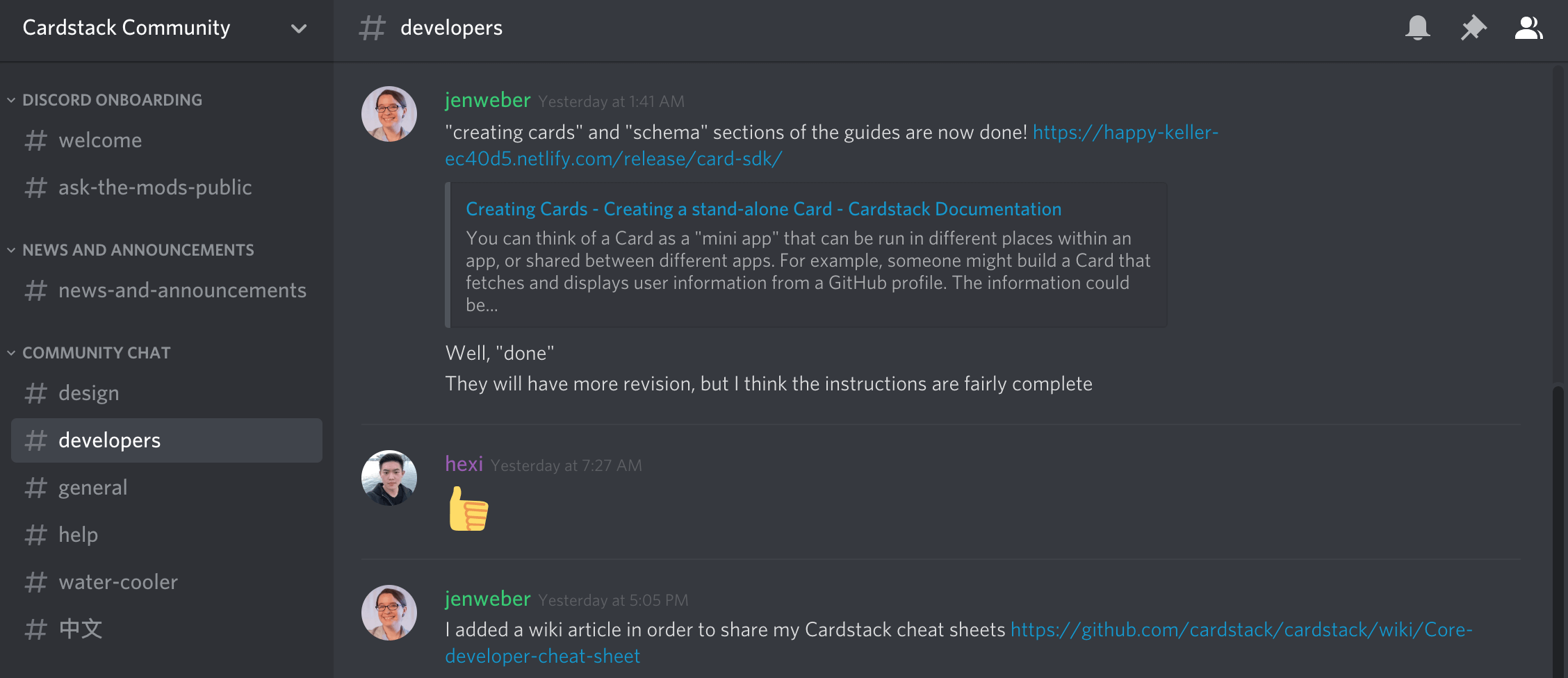 For those who want an all-in-one communication app, Discord is the one for you. It is one of the Slack alternatives for team communication and Slack alternative for families.
It connects communities, friends, and allows gaming. People can chat, organize text channels, and open voice channels.
However, as a cross-platform voice and text chat app, Discord is specifically designed for gamers. Moderation and admin roles can be assigned to people or chat group members.
Different types of channels can be created where people can just chat and stay connected daily.
Discord has fixed many bugs and enhanced the performance of the app for seamless functioning. Most of its users prefer using this as opposed to social media platforms.
This app provides far better security and performs more efficiently. However, it is essentially made for gamers and they use it to talk while playing games.
Key Features
Discord has smooth communication, which is reliable, high quality, and can switch from mobile and desktop whenever the user wants.
Video calls, screen sharing, and friends streaming their games are all possible with Discord.
Images can be customized to emojis, and users can express themselves with customized GIFs and reactions.
Content can be shared in the form; images, videos, etc. and it can be pinned to remember later on as well.
Communities can be built via groups, and custom permissions can be build up by your friends.
Users can assign roles to members to give them moderation powers.
Create private and VIP channels where admins and certain people can chat and communicate.
Pricing
Discord doesn't have major pricing plans, but there are a few worth mentioning:
There is a free version available with free core features.
Discord Nitro: Cost is $4.99 per month for Nitro Classic $9.99 per month for Nitro. Features are; profile customization with a unique tag, access animated emojis, enjoy bigger file uploads, boost your favorite server.
---
10. Flock – Beautiful Team Chat Software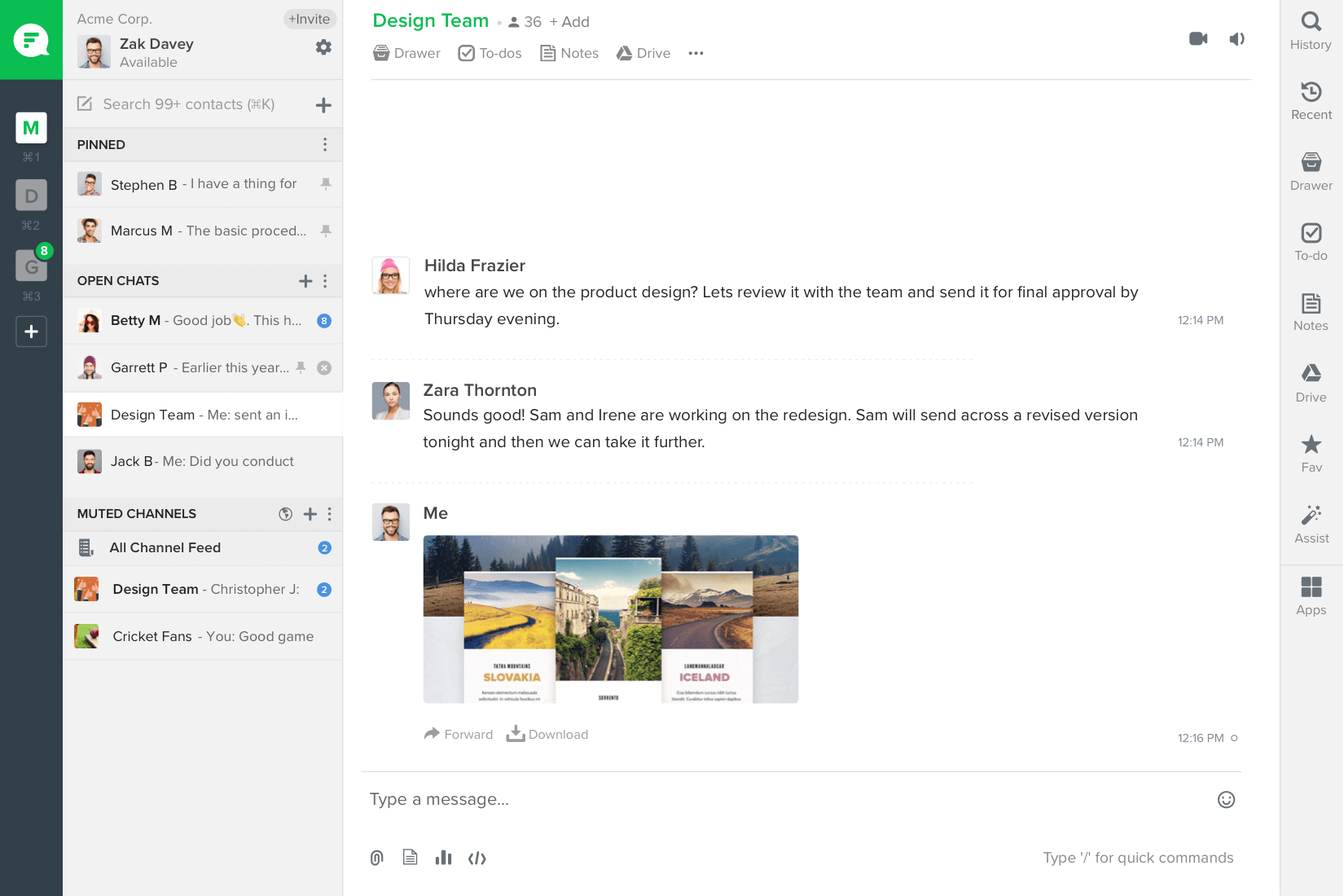 Flock is one of the software programs similar to Slack and it was created to compete with Slack. Developed by the company of the same name, Flock's purpose is to be a collaborative business messaging application.
Communication with this app is fast and reliable, and the best part is that there is a free version.
The Flock was made especially for modern teams and businesses, so they could amplify their communication through collaboration. It gives them a variety of features, such as shared notes, reminders, to-dos, polls, audio/video calls, and screen sharing.
These are more or less noted as in-built productivity tools. This is a great one of the Slack alternatives for team communication, especially since most teams now work remotely.
Flock also allows third-party integration with other apps, such as Google Calendar, Analytics, JIRA, Asana, Github, Twitter, Facebook, and many more. Users no longer have to switch between apps.
Key Features
Communication can be done with teammates through 1-on-1 chats and group messaging. Files can be shared and sent on the go.
Different channels for projects, departments, or topics can be created. The primary focus being communication.
Conversations can be searched with ease in channels.
Audio and video calls can be done with the screen-sharing feature.
Users can apply built-in productivity tools such as to-do's, reminders, and polls to increase workflow.
Users can integrate with all their most applied tools and services, especially Google programs.
Encrypted security for data and private conversations, makes it easier for communication to stay safe.
Pricing
Flock has three pricing tiers, which are as follows:
Pro is for midsize teams & companies, $6/month billed monthly and $4.5/month billed annually. It has a free 30-day trial. Features are; unlimited 1-1 & group messages, unlimited searchable messages, unlimited private & public channels, 10 GB per team member, multiple team admins, group video calls, screen sharing, 24*7 priority support.
Enterprise is for large enterprises & organizations, $10/month billed monthly, and $8/month billed annually. Has the same features as Pro, with the added extra; 20 GB per team member, active directory sync single sign-on.
The starter is for small teams getting started, is free to use. The features it has are; unlimited 1-1 & group messages, 10,000 searchable messages, 10 public channels, 5 GB total per team, single team admin, 1-1 video calls.
---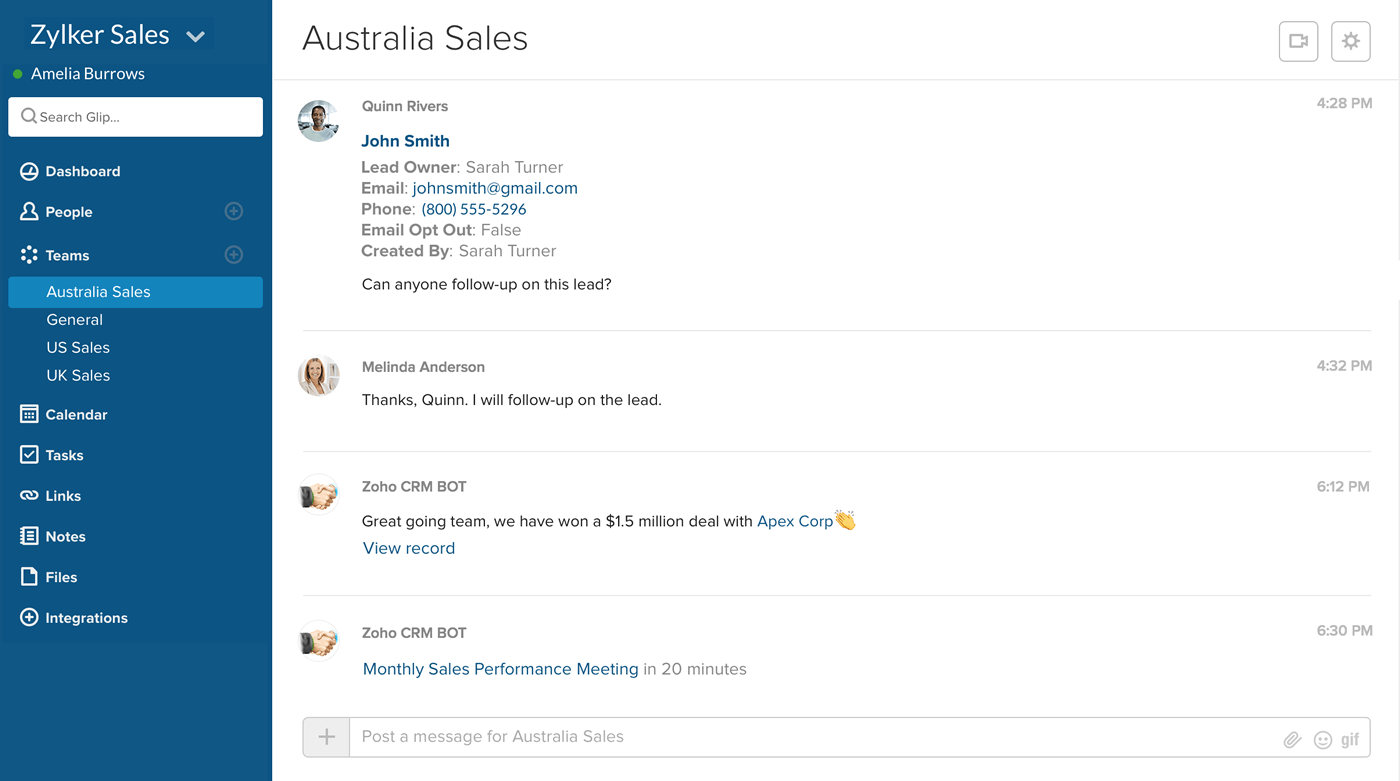 Glip is one of the software programs similar to Slack that is known to boost efficiency and productivity. Simple to understand and easy to use, Glip is one of the top-notch collaborative team messaging apps. Its features are built with the purpose to unlock the full potential of every team's work process.
As one of the free Slack alternatives, the features it offers are; chat, file sharing, and task management.  This allows a safe, single, and unified space for work and team building. By using Glip, there is a high chance that users and their teams will collaborate and communicate much more effectively than before.
Wasted and disjointed resources, scattered discussions, and a massive barrage of emails usually decrease with the application of Glip. Conversations within teams are shared, along with files, tasks, and calendars. Glip can be used on any device, anywhere, and at any time.
Key Features
Stronger team and customer bonds can be built, especially if the work is done remotely with higher connectivity.
Links, files, and posts can instantly be shared in Glip.
Teams can be created based on projects, themes, or departments. This helps everyone to get working on the same page.
Provides free built-in services, with one-click dialing capabilities for video calls and meetings.
Integrates well with third-party apps such as; Google Drive, Box, and Jira.
Comments can be added to files and still keep everything organized, accessible, and visible.
Works seamlessly and smoothly with every critical business app.
Pricing
Glip has two pricing tiers, that are as follows:
Free is use and the features it has are; unlimited chat, unlimited storage, unlimited guest users, unlimited integrations, unlimited teams, shared video time for 500 min total.
Standard is for $5 per user/month and it has the same features as the free plan. However, the added feature is that the shared video time is for 1,000 min/​user/month.
---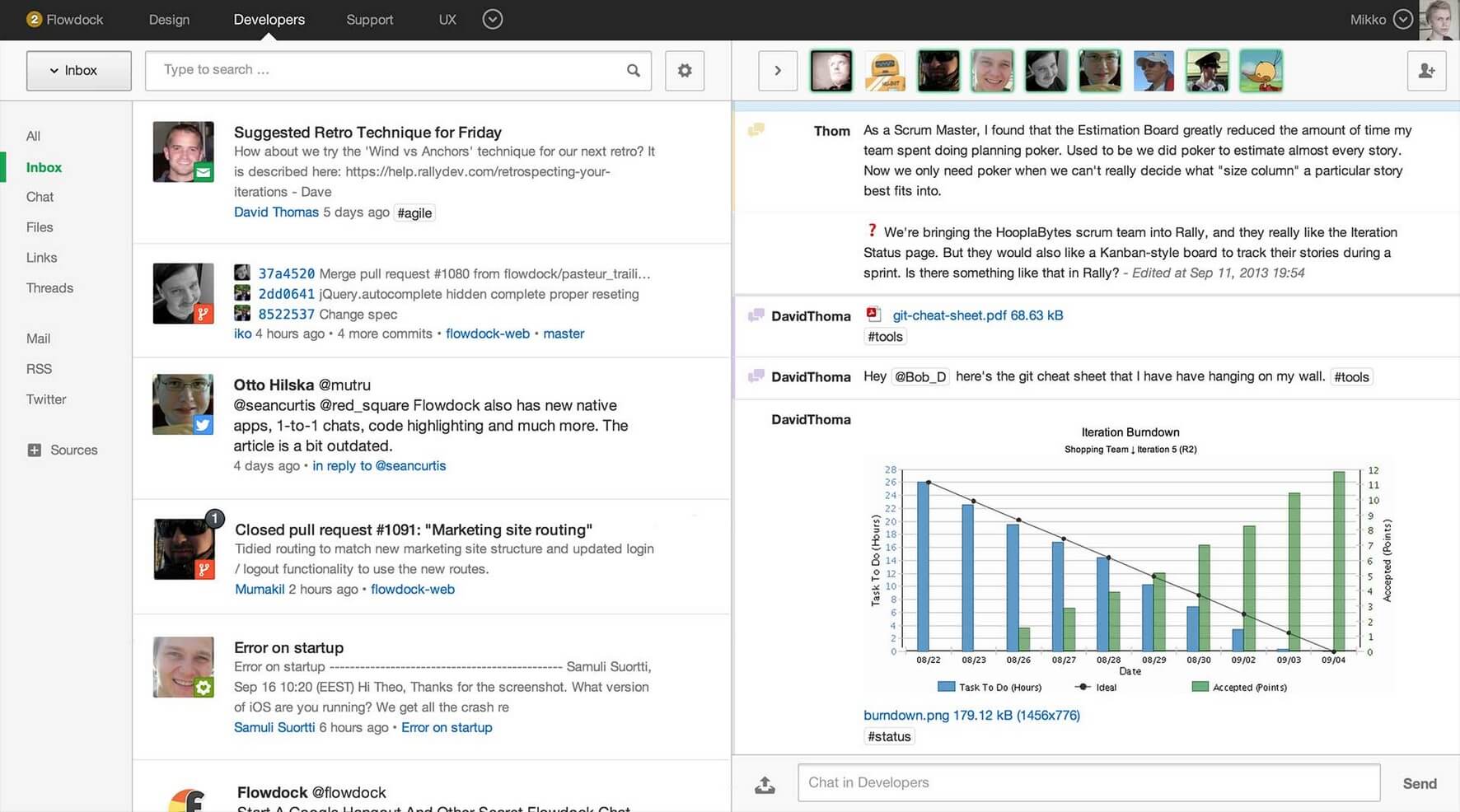 One software that might be better than Slack, is the collaboration aligned Flowdock. It brings all conversations, work items, and tools into one unified place.
It also helps the user prioritize tasks, become a problem solver, organize teams with easy search, location, and real-time features.
Flowdock's main purpose is to make sure teams stay connected and organized. This tool allows teams to stay equipped, react instantly to any hindrances or changes that need to be made in a high-profile project. It makes it easy to search, filter, and locate work items, requests, or attachments in the user's integrated inbox.
The workflow design of Flowdock is such that it enhances strategic processes, team growth, and compatibility.
This app also offers other personalization features, such as GIPHY for emojis, and custom emojis to help teammates express themselves in different ways. Open API can also be used to integrate the team's needs.
Key Features
Stakeholders can be invited to join your Flow to participate in discussions, see updates from the used tools, and receive particular notifications.
Conversations are put in Threads, keeping topics organized by color-coding.
Confidential topics can converse privately through 1:1 Flows.
The /appear command can be used to activate instant video chat and the link is available for anyone on your team to join.
There is an integration catalog that helps teams install tools.
Group Threads have a tagging functionality for easy filtering.
The tools have updates, which is convenient for the whole team.
Pricing
Flowdock is available with the following pricing plans:
30-day trial for free to use. It has all the standalone features.
Standalone is for $3/user per month. The features it has are; unlimited flows, endless history, infinite integrations
Enterprise is for $9/user per month. It has the same features as the standalone plan, however, the added features are; SSO, integration auto-removal, custom data retention policies, flow-level administration, data encryption, advanced API for auditing.
---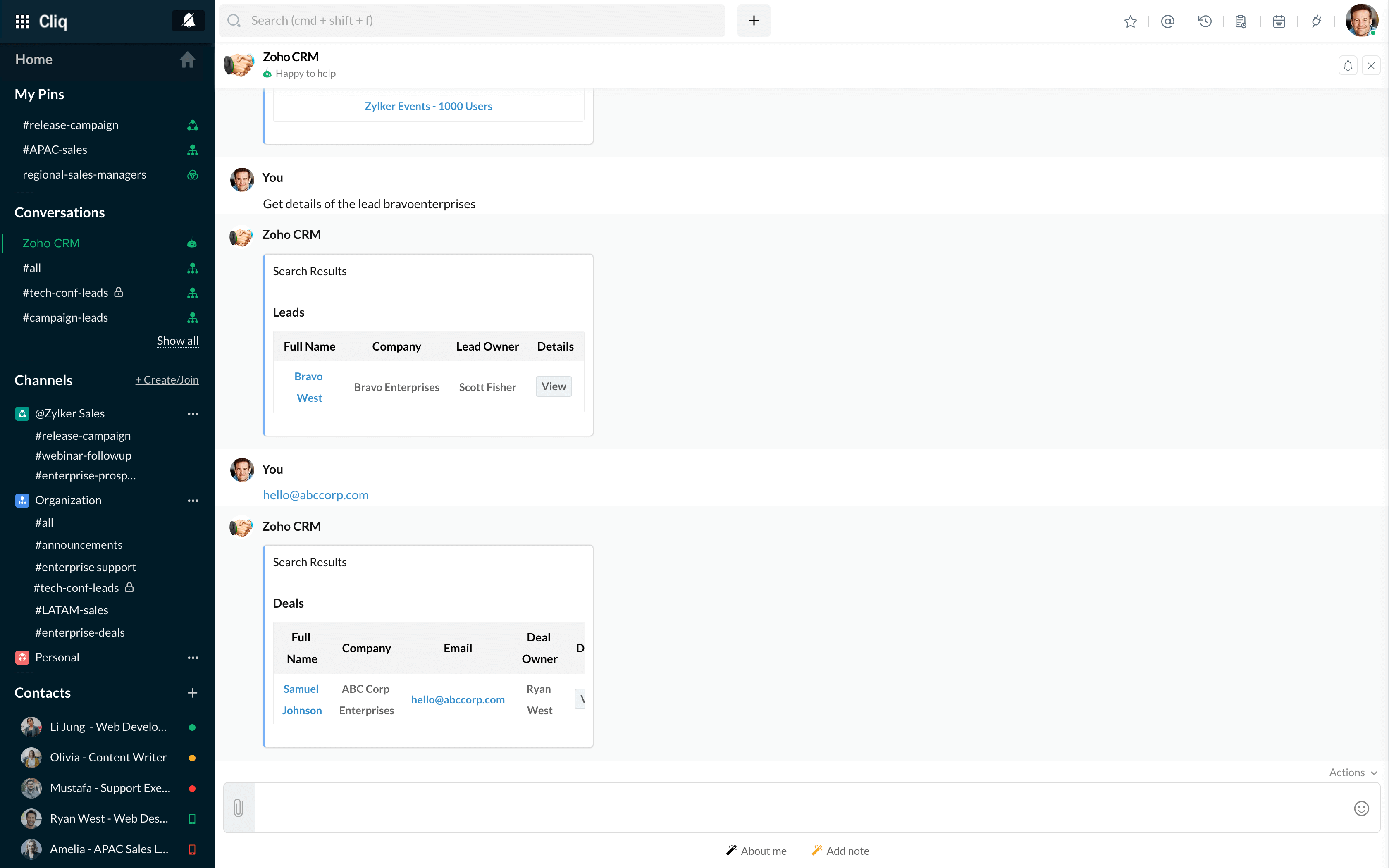 Zoho Cliq is software that seamlessly streamlines communication between teammates and helps them move forward.
The purpose of Cliq is to simplify internal team communication, by organizing conversations, search for information with ease, and connects users to the tools they love to use.
It doesn't matter if the organization is a startup or a large enterprise, collaborative communication is the key to great teamwork. Zoho Cliq allows team members to talk to one another with real-time messaging, share data or important information, or even have casual conversations.
Separate channels for particular teams can be created. These are great because they eradicate unnecessary time that is wasted in meetings, and it also keeps everyone informed. These channels can make audio and video calls. Group video calls can have up to 100 participants.
Key Features
Channels call to be created to ease and simplify group collaboration.
Conversations are easily searchable for messages, files shared in the conversations, and any other data/information that may have been shared.
Teams are only one tap away, users can connect with them using any of their favorite devices.
Day-to-day tasks are integrated with the calendar, never letting you miss or forget a task or a meeting.
Users can centralize their workflows intelligently, and bots can be built to automate commands for daily activities.
Top-notch data security system, with data encryption and secret chat, keeping information completely safe.
Remote teams can collaborate instantly through virtual meetings or even ideation.
Pricing
Zoho Cliq's pricing plans are listed below:
Free: It offers unlimited users, 10,000 searchable messages, 100 GB file storage, 100 max. participants per channel, Google/Google apps sign-on, SAML, screen sharing, and more
Unlimited: Includes everything in the free edition, plus, unlimited searchable messages, 100 GB/user file storage, rebranding, custom domains, new custom email, custom roles and permissions, user groups (teams), multi-team channels, and more. The unlimited plan is itself tiered based on the total number of users in your team:

$3 per user/month for 10 users
$2.5 per user/month for 50 users
$2 per user/month for 100 users, and so on.
---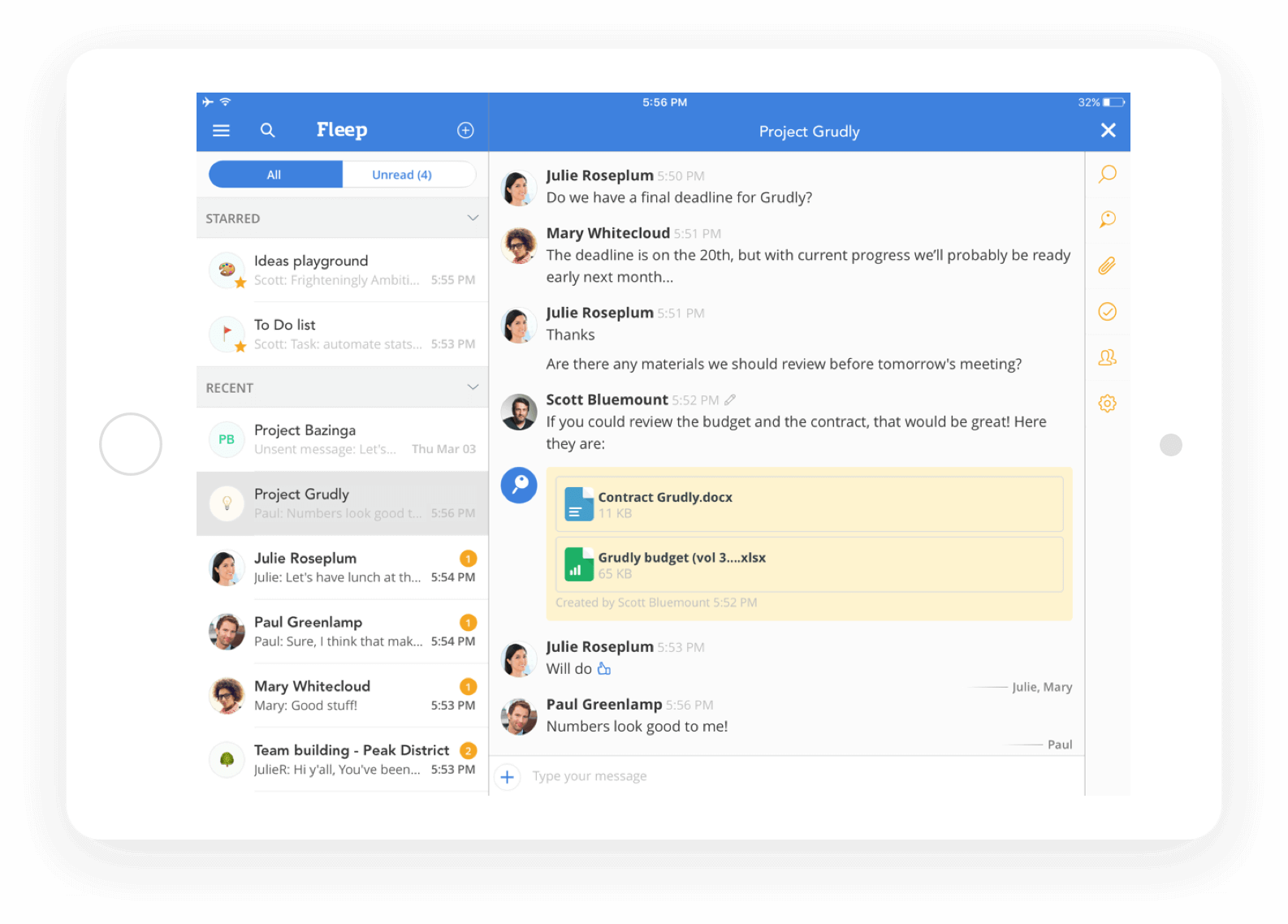 Fleep is a collaborative communication solution that is specifically designed as one of the Slack alternatives for team communication. Teams mainly use this for project groups, for both internal and external communication. It is known for its flexibility and is deemed better than Slack.
As an app, Fleep integrates well with any email client so connectivity for contacts before signing up is possible. This integration also allows the users to send and receive emails through the app. Apart from team communication, it is also great for one-on-one tête-à-têtes. It can also store and share files and assets.
One of the unique features it has is that Fleep has a file drawer that gathers all the images and documents. There is also a pinboard feature that attaches links, contacts, notes, editable messages, and much more.
Key Features
Teams can stay connected, make plans, and synchronize execution.
Fleep users don't have to sign out and sign in separately to connect with other users.
Plans can be highlighted on the conversation's Pinboard, keeping everyone in check.
Task-boards can be created to coordinate execution and increase efficiency.
Presence features allow users to check who is available to connect.
Read and Writing Indicators are set to see who had read or is writing a message.
Make audio and video calls with ease.
Pricing
Fleep has three pricing plans, which are:
Basic is free to use and it is best for students, friends & communities. The features it has are; full message history, unlimited 1:1 conversations, up to 3 group conversations, 10 GB file storage, native apps.
Business is for €5 which is approximately $6 per user/month, billed annually and it is best for small and medium-sized businesses. The features it has the same as the basic plan and added are; teams, user account management, premium conversations, organization settings, retention policy for files, customize Fleep with your logo, my tasks, status message, 10 GB file storage.
Enterprise has a customized price package and it is best for corporations & large businesses. The features it has the same as the business plan and added is; volume discount.
---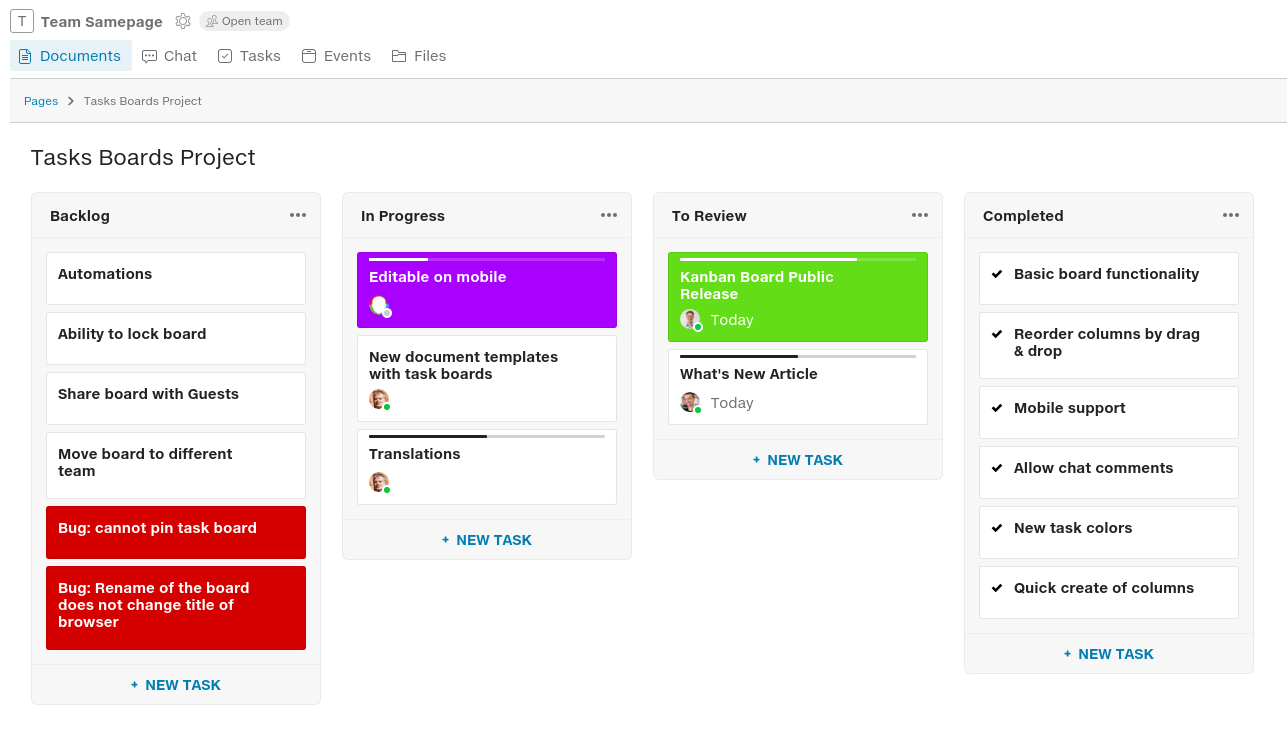 Samepage is a tool that enhances communication and collaboration.  It amplifies the user's unlimited potential by working on the same page; organizing, chatting, tracking, using one tool to get the work done. It is an extraordinary app that acts as a single cloud-based collaborative workspace.
This software is known for its collaboration expertise. It has some pretty slick features where it; runs meetings, manages projects, and coordinates events. Users can write articles and take part in real-time brainstorming sessions together all with this single app. Tasks can also be assigned and executed.
Users can work from any device when they tap into Samepage. They can add text, images, diagrams, videos, maps, spreadsheets, making immediate changes to documents as needed. Customers can also be invited to collaborate on Samepage, allowing them to give feedback and increase their satisfaction.
Key Features
There is a collaborative canvas that helps with planning.
It has a chat tool, which is linked directly to the content the user is working on.
Large projects can be organized and executed with task boards and scheduled execution.
There is one single collaborative document, allowing the user's to schedule meetings, prepare an agenda, take calls and notes, and capture and assign action points.
It has free features that come with chat, direct messaging, and video calling.
Collaborate and engage with customers & contractors to boost results.
Perfect to use for remote and distributed teams.
Pricing
Samepage has three pricing plans:
Free has no cost: free for unlimited users, perfect for small teams, and personal use. The features it has are; unlimited members & guests, unlimited folders, unlimited pages, unlimited chat & search history, 2GB Storage, with additional communication & collaboration.
The starter is for $7.5 per user/month, billed monthly, and it is perfect for small organizations in need of advanced collaborative features. Users can sign up for a free trial. The features it has the same as the free plan and added are; folder access rights, auto-join, track changes, 1TB storage, live, and in-product support.
Pro is for $9 per user/month, billed monthly, and it is perfect for larger organizations in need of advanced administrative features. The features it has the same as the starter plan and added are; admin-controlled membership, extended admin capabilities, content manager mode, 1TB storage per member, with an added team, and support controls.
---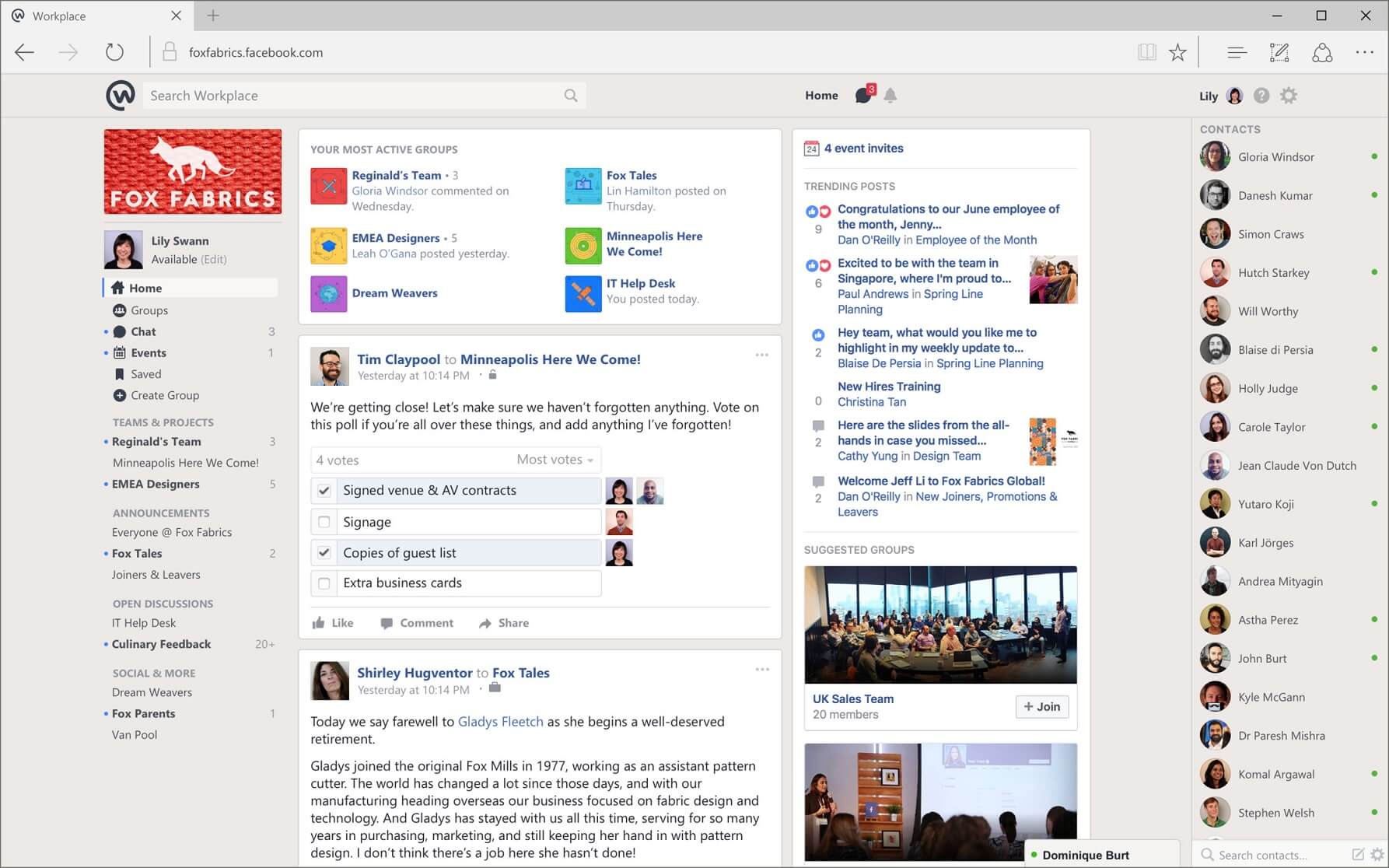 The purpose of the Workplace by Facebook is to place the role of a collaborative platform for the whole organization. Like other software programs similar to Slack, this also provides messaging and video calling. It provides apps both for the desktop and mobile, with seamless and smooth swapping.
Workplace by Facebook helps its users develop team projects, run meetings, share news, and collaborate securely with other organizations. It integrates well with other apps such as; Office 365, G-Suite, Sharepoint, and Jira. Tracking and finding important files, documents, and issues are done with ease.
This is app is perfect for those organizations that have many employees or who work remotely. Connectivity is no longer an issue with this app, it helps teams of large sizes connect quickly and achieve their goals with good speed.
Key Features
Users can send and receive various types of files.
Users are notified when they have been contacted or tagged.
There is search capability in the message content.
It allows users can make audio or video calls.
There is a downloadable mobile application from which the software can be accessed.
It can also be accessed through a downloadable desktop app or a cloud-based site.
Users can connect immediately, share various documents or files, and create different groups for different projects, within seconds.
Pricing
Workplace for Facebook has three pricing plans.
Standard: free of cost. Best for teams; it has teams and project groups for up 50. Features are; auto-translate, live video streaming, mobile apps, tools for secure collaboration between companies, workplace chat, group video calls, file storage of 5 GB per person.
Advanced: $4 per user/month, billed monthly; best for organizations; has the same features as standard, with added org chart, safety check, surveys.
Enterprise: $8 per user/month, billed monthly; best for complex organizations; has the same features as advanced, however, there is an extreme priority and unlimited usage given in this.
---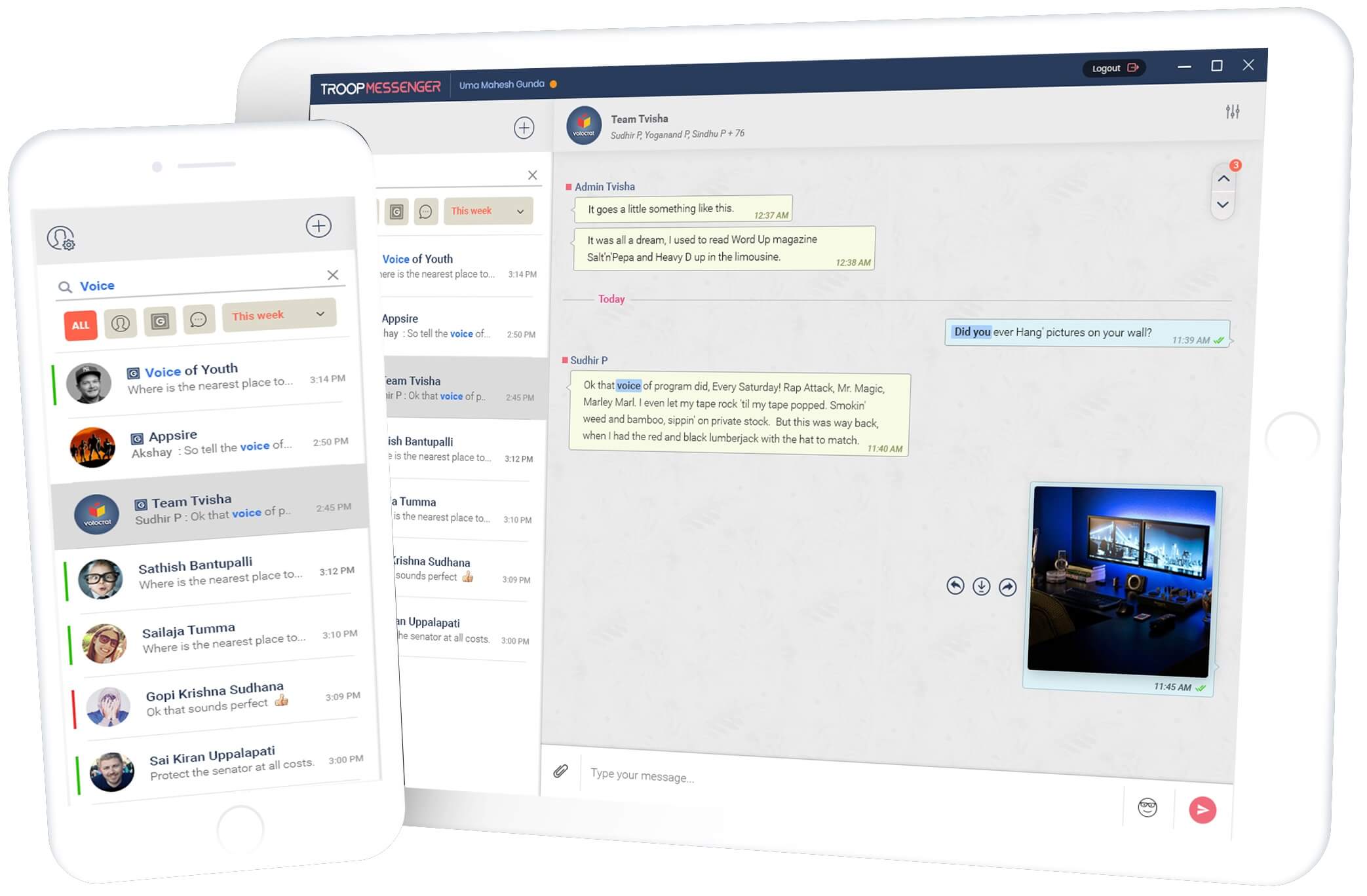 Troop Messenger is a team chat application that keeps both the communication and collaboration between teams in one place. Using Troop Messenger, you can send or receive text, files, images, media, and other important data seamlessly.
Whether you're working from home or the office, Troop is a great Slack alternative to quickly send messages and chat with your colleagues.
Without hassles, this tool lets you assign the work to the remote teams, track the progress, monitor and manage all your teams wherever you are.
Let's talk accessibility – Troop is accessible over the web and has its mobile apps for both Android and iOS. For security, Troop uses security PIN verification and fingerprint access to ensure privacy and data confidentiality.
Key Features
Troop Messenger allows guest collaboration that lets your clients and vendors communicate for the short-term. You can add/remove anybody as and when required.
Burnout (incognito chat), Advanced filters, Forkout (send a direct message to multiple people at the same time), message recall, mute conversations, audio messaging, flag conversations, etc.
Share your live location with your colleagues and let them track your whereabouts for work
Make audio and video calls and share your screen in real-time
Cattle Call (coming soon) – lets you organize video conferences, meetings, webinars, webcasts, training sessions, etc.
Third-party integrations with leading services, such as Google Drive, Dropbox, and LDAP.
Pricing
Premium: costs $1 per user/month. 150 GB of storage space. Provides most of the features that Troop Messenger offers, including messaging, global search, Forkout, audio/video calling, and more
Enterprise: costs $5 per user/month. 1 TB of storage space. Added features include screen sharing, reminders, flagging, third-party integrations, and more.
Self-Hosted: starting at $5 per user/month. Include more enterprise-class features targeted at NGOs, government bodies, and large businesses.
We need to make the most of these difficult times and motivate one another, especially our teammates to excel in their work.
Which Slack app alternatives have you used? Which one is your favorite and why? Share with us your thoughts and comments below.
---
Other SaaSy goodness on All That SaaS: