In this blog post, we are going to take a look at some of the best online timeline makers that are available, and how to use them for your timeline making needs.
Whether you're a student, a business professional, or just an individual trying to achieve a goal or complete a project, it's always better that you break down the process into smaller milestones.
That way, it'll get easier for you and your team members to follow up on the latest updates. An even better way to achieve your target is to create a timeline!
It has been proved through various research that the human brain processes visual information 60,000 times faster than text.
What is a Timeline?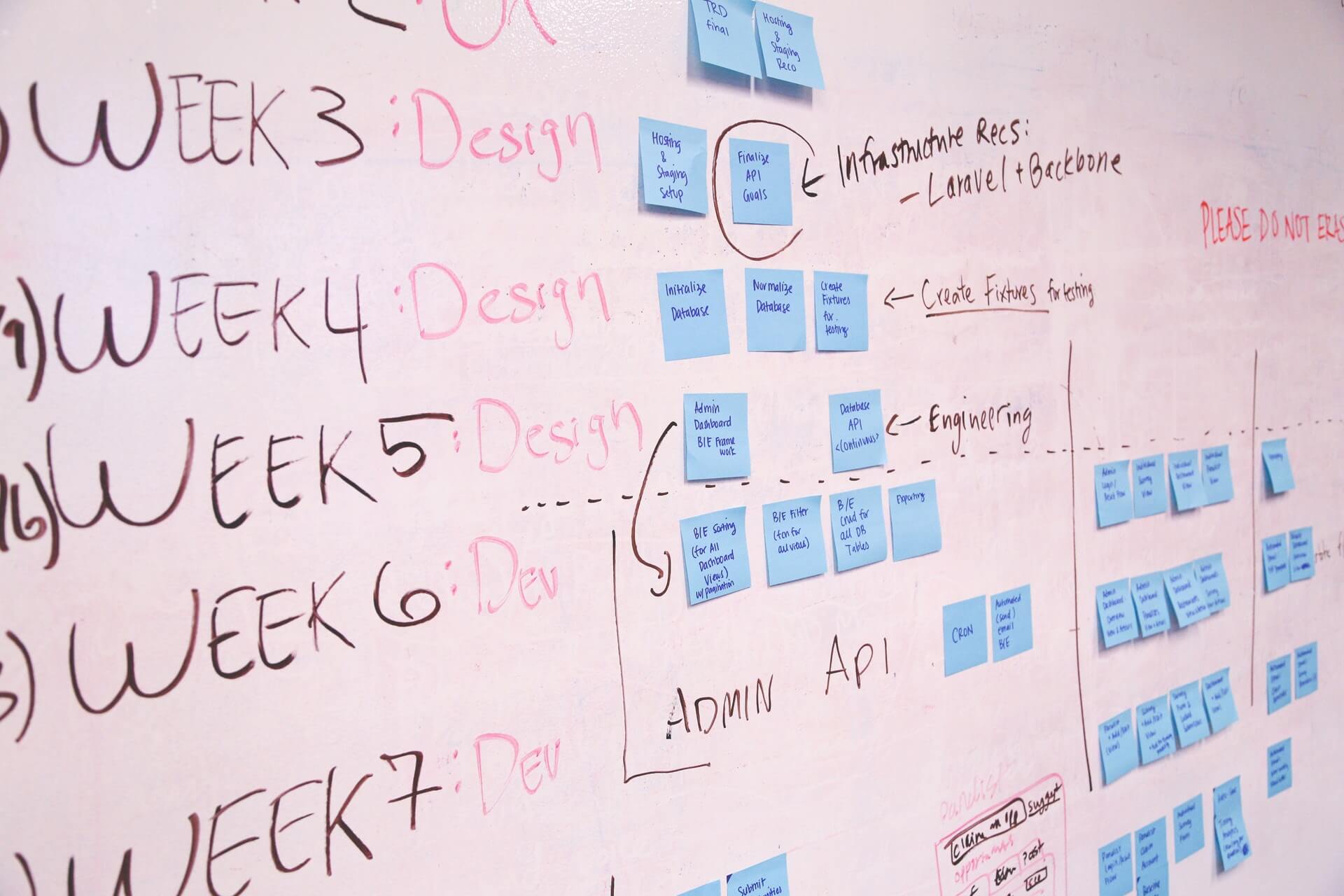 Timelines are not only visual representations of information but they also help categorize processes involved in the completion and execution of literally all the projects ever.
They are a great way to develop an insightful understanding and have a quick overview of what's going on. A timeline can be professional, personal, or educational. Dates and duration are the key components of a standard timeline.
Some of the most common implementations are seen in Historical Studies and Project Management.
How to Make a Timeline?
It's fair to say that timelines are certainly a better way of expressing information in chronological order than plain text. They are easy to grasp and save plenty of time in reading. Now it's time that we discuss how to make one.
But before we begin it must be noted that essentially there are various types of timelines. Some are designed for educational purposes, while others are for businesses and organizations. There are, however, some common points that exist in every archetypal timeline.
First and foremost, the purpose has to be determined. Think about two things: the title of your timeline, and the period it covers.
Research as much as you can. Think about how much information you can cover in the timeline.
Organize this information and arrange what information comes first and what's next.
Build your timeline. It's time to put into the app every piece of information that you have.
The Perfect Timeline Checklist
For your timeline to be effective and presentable, you might want to consider the following:
Make sure it's clean and easily understandable. Avoid clutter, always.
Do not include anything if you're not entirely sure about it. Only provide accurate information.
Your timeline should be scalable. As you proceed towards your goal, there would be a lot of things that would need to be customized and the timeline should be able to adapt accordingly.
Define your ultimate goal and outcomes within your timeline.
Avoid descriptions and instead, use labels for the events and milestones.
Features to Look for in Timeline Makers
The range of options that various timeline makers provide is vast. They can be so basic that any layman can get a hold of them or they could have such complex tools that could take days for you to learn.
However, here are the most important features that make a timeline maker stand out:
Templates and Diagrams: A timeline maker with a vast library of templates, styles, shapes, and graphs, saves an incredible amount of time and effort, compared to when you start right from scratch.
Cloud Storage: This ensures that your data is accessible from anywhere and you can continue working where you left off from any device.
Embed Feature: This should work both ways; you should be able to embed your timeline on your website and embed external content on your timeline as well.
Collaboration: If you work in a team, then your timeline maker must allow for multiple content creators to work in collaboration.
Responsiveness: If your timeline appears great on the desktop but appears truncated on your phone, you should better look for another app.
Customization: Not every app will contain every feature, but with customizations, you can get exactly what you need. From events to data formats, milestone markers to backgrounds, the more customization options you have, the better your output will be.
---
The Best Timeline Makers in 2023
There are a lot of timeline makers available for you to choose from. However, we have listed down those that have made it to our list of the best timeline makers for 2023.
1. iSpring Suite – Editor's Choice: Best Timeline Maker
First up on our list is iSpring Suite. This timeline marker works with PowerPoint, like a toolkit. iSpring Suite helps you create slide-based courses, quizzes, dialog simulations, screencasts, video lectures, and other interactive learning materials.
You can create a wide variety of interactive timelines using one of its tools called 'Visuals'. iSpring Suite allows users to add hyperlinks, voice notes, audio, and videos into their timelines.
For collaboration and approvals, iSpring Suite allows you to share an online link with your team and they can all work with you to edit, review, or leave comments.
What I liked about iSpring is that it makes timeline creation inside Microsoft PowerPoint seem like a walk in the park. It's powerful, neat, and quite useful.
Key Features
Create interactive online timeline experiences in HTML5 and share the live links with your team or third parties for use, reviews, feedback, and approval.
Easily merge key events on your timeline into periods to facilitate learning and give your online timeline depth.
Take advantage of a wide collection of fonts and other text formatting options.
Get a headstart with 14 ready-made templates for making glossaries, catalogs, references, and timelines.
Swiftly add a video narration, record a screencast, insert a quiz, and lots more to enrich your timeline.
Import multimedia files, such as video, images, and audio, or record voiceovers right in the timeline maker.
Secure your timelines with various content protection options. Efficient access management controls are also available.
Text-to-speech functionality so your timeline can tell interactive, immersive online stories.
Pricing
With the iSpring Suite, you can get a free trial that lasts for up to 14 days. Thereafter, three use cases are available for you to choose from:
Academic
Freelancers
Business
Any of the three use cases above have the following two pricing options available:
iSpring Suite – includes HTML5/SCORM courses, quizzes & assessments, video lectures, screencasts, engaging interactions, and more

Academic: at $490/user/year
Freelancers: costs $490/user/year
Business: available at $770/user/year

iSpring Suite Max – includes all of the iSpring Suite features, content library, team collaboration features, text-to-speech, and cloud storage 

Academic: at $670 per author/year
Freelancers: costs $690 per author/year
Business: available at $970 per author/year
---
2. Timetoast – Best Free Timeline Software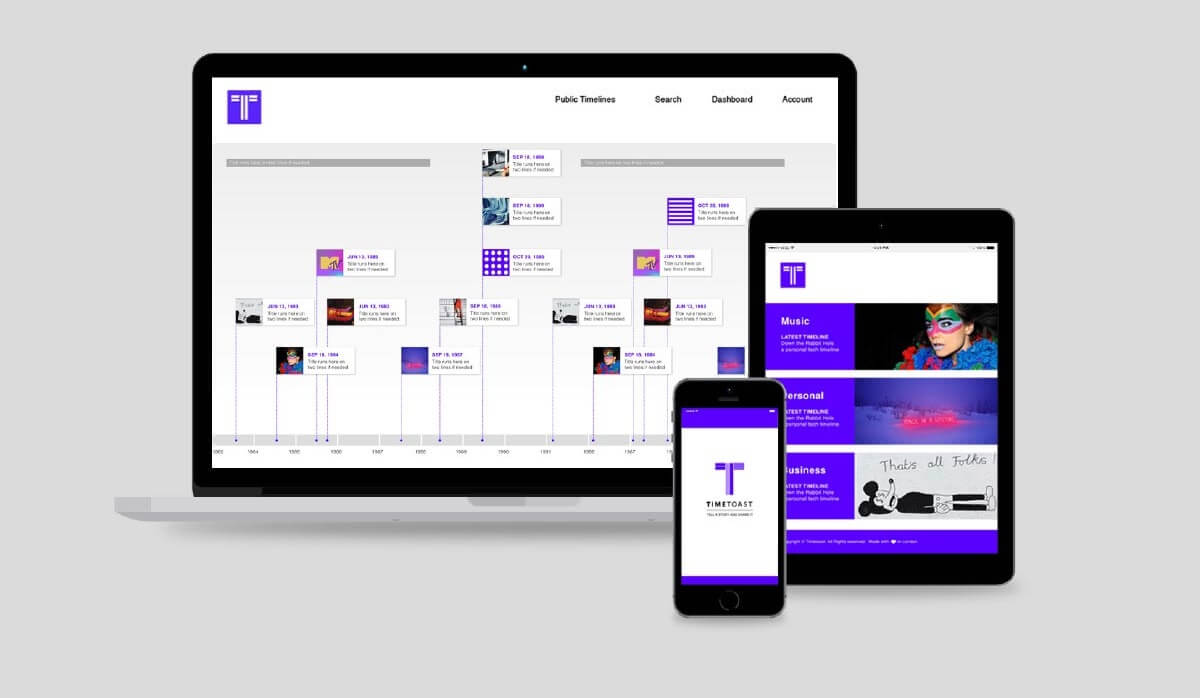 Timetoast markets itself as more of a story-teller. It is a user-friendly application that lets you create your own timeline right away. Timetoast offers a public plan that allows a single user account with 1 draft timeline for free.
The vibrant color schemes and eye-catchy designs make Timetoast one of the best timeline makers for kids. It proves to be a very helpful tool in creating educational assignments and projects.
Just like a social media platform, users can publish their content on the Timetoast website.
There are multiple categories available on the site, including Music, Film, Science & Technology, Business, Politics, and more. You can make and share your timeline under each of these categories.
Features
Insert events or multi-date timespans and directly add text, images, or links.
Automatically have your events placed on the appropriate timescale.
Zoom and pan your timeline.
Additional date options such as BCE dates, year-only dates, as well as dates with a specific month and day.
Adapt to any screen size with a responsive timeline design.
View timelines in both horizontal and list modes.
Pricing
Public: Free of cost, for a single user, contains ads,1 draft timeline, unlimited public timelines
Basic: at $5.99/month, 5 users, no ads inside, unlimited draft timelines, unlimited public timelines, embed timelines, collaboration, and more.
Pro: at $8.99/month, 35 users, no ads inside, unlimited draft timelines, unlimited public timelines, embed timelines, customize embed colors, and more.
---
3. Preceden – Best Online Timeline Maker
An intuitive and quick tool with an impressive aesthetic. It helps you customize your timelines efficiently. You can add a title, date, and description in this interactive timeline maker.
Preceden is an online timeline maker therefore, it is compatible with all Operating Systems and Web Browsers. It is equally useful for both students and professional users.
You can try Preceden, one of the best timeline maker applications for free! Just sign up and design your first timeline and include a maximum of 10 events with this free timeline software.
Features
Keep your timeline organized by adding "layers" that group related events together.
Insert events one by one or use a bulk editor to add multiple events rapidly.
Add a legend to your timeline to guide viewers on what each color represents.
Instead of choosing a specific date, you can simply specify "3 weeks" (as an example) and Preceden will automatically calculate the end date for you.
Capture the viewer's attention to important events by marking them as milestones.
Embed your timeline to display it on other websites.
Pricing
Free: At $0, create 1 timeline with a max of 10 events
Student: At $29, create 1 history timeline with unlimited events
Basic: At $69, create 1 timeline with unlimited events
Pro: At $129, create unlimited timelines with unlimited events and collaborate with others
---
4. Edraw Max – Easy Timeline Maker
Next up on our list of the best timeline makers, is Edraw Max. It is an online timeline maker, best suited for creating vector-based timelines.
You can add events or periods in your timelines created on Edraw Max. Users can easily create professional-looking timelines using this application.
Users can easily learn this printable timeline maker on their own and won't require any professional help in this regard. You can create your timeline online or download the Edraw Max software and use it offline.
Features
Advanced functionality with automatic functions supported by the drag-and-drop interface and point-and-click editor.
Import files or export your drawings to a variety of familiar file formats, such as Visio, PDF, Word, PPT, JPEG, Html, etc.
Create more than 280 sorts of diagrams effortlessly allowing you to create timelines in 10 minutes.
The Edraw Cloud Sync allows multiple team members to freely work on the same project.
Cross-platform availability – works seamlessly on both desktop and mobile.
In addition to timelines, you can design flow charts, mind maps, organization charts, network diagrams, and floor plans with a huge array of examples and templates.
Build task dependency, distribute resources, set priorities, set milestones, and more!
Pricing
Sketch: At $99, 1 year of updates, 1 year of Sketch Cloud
Pingboard: At $0, organization charts, plan & collaborate, directory & profiles, calendar, mobile apps
Samepage: At $0, unlimited members & guests, unlimited teams & sub-teams, unlimited pages, unlimited chat & search history, 2GB storage
---
5. Venngage – Free Timeline Creator
Venngage is one of the best timeline makers that offer tons of customizable templates for almost all sorts of design needs. Choose from dozens of minimalist or extensively customizable timeline templates and create your own compelling timeline using this tool.
With its advanced features, you can create a timeline on Venngage in under 30 minutes. Using this free online timeline creator, you will find an extensive gallery consisting of design inspirations that are updated frequently.
You will find timeline templates of all levels of complexities to work with. It also offers a drag and drop feature which makes it more convenient to use.  You can create 5 designs for free and will have to subscribe for more.
Features
Drag-and-drop editor makes creating timelines quick and effortless.
Select from hundreds of beginner-friendly timeline templates that include project timelines, historical timelines, product sprints, user journey timelines, and more!
Export your timeline in HD PNG, PDF, and Interactive PDF formats, or simply share it privately with your team.
Save time by adjusting your design objects with automatic alignment.
Customize your timeline design by picking from over 40,000 icons.
Upload your brand colors, fonts, and logos in just 1-click using the Brand Kit feature.
Pricing
Free: 5 infographics, Venngage branding, share publicly
Business: At $49/month, business and premium templates, custom templates, unlimited infographics, 100 image uploads, and more!
Premium: Based on a quotation, Premium templates, 50 image uploads, add multiple pages, charts and icons, export png and pdf, email/chat support, privacy control, and more!
---
6. Sutori – Best Free Timeline App
Sutori is a famous digital timeline maker, and one of our tops picks for the best timeline makers this year. It's mostly used for classroom presentations. It comes with a unique feature that lets you enter quizzes within your timelines.
A favorite timeline maker of educators around the globe, Sutori is also used by hundreds of schools.
Sutori enables teachers and students to create interactive stories through a simple and intuitive interface. It comes with a free trial version allowing a maximum of 200 students' stories.
Features
Add further interactivity and engagement by embedding quiz questions and a commenting system within the timeline
Multiple users can work in real-time on the same project, such as a team or a classroom
Share your timeline project by embedding Sutori into any website or social media
Access insightful student data to see who is excelling and who needs help
Add references, conclusions, and sources, at the bottom of your timeline story
It contains dozens of pre-made stories available to teachers across several different subjects, such as American History, Social Studies, etc.
Pricing
Sutori offers 1 free and 5 paid plans. Anyone can try all the features for free for the first 30 days.
For Education
Essential: Basic features such as create stories, add text and images, embed timelines into a website for free.
Unlimited: An unlimited number of students can be added to the account. Additional features such as adding quizzes into the timelines, customization, Class discussions and story analytics, etc. Charged at $99/year/educator.
Departments: Upgrade 6 educators in one go to Sutori Unlimited. Charged at $500/year.
Schools: School-wide license for unlimited use. Includes LTI integration. Charged at $2000/year.
For Business
Essential: Users can avail of basic story creation features for free.
Pro: Avail unlimited branded stories, use templates, and add media and quizzes into your timelines for $399/year.
---
7. ReadWriteThink – Best Timeline Maker for Kids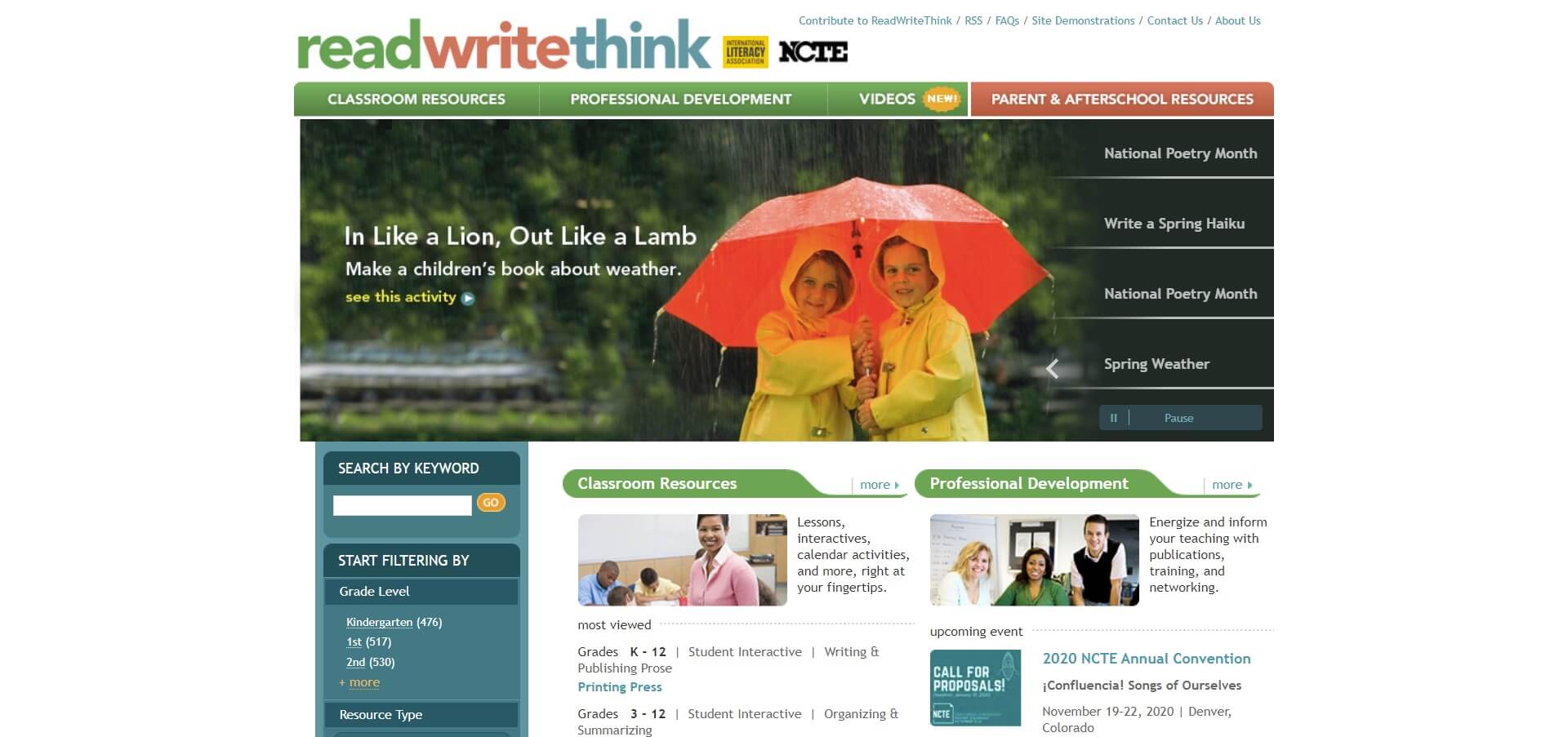 As the name suggests, ReadWriteThink is a timeline maker tool specially designed for students. It comes with a distinctive feature where you can organize events at different times of the same date as well.
You can also label different components of your timelines with short or long descriptions using this timeline maker. ReadWriteThink is easily adaptable and aids various learning levels. Moreover, it's completely free!
Features
Designed for use in a schooling environment, this app contains a simple profile system so that multiple students can create and store their own timelines using the same device without confusion.
A simple, minimal interface allowing K-12 students to create timelines on their own.
Users can send their editable .rwt files created in Mac app to an email address and then open their timeline right in their online version.
For easy access, timelines can be organized by time of day, date, or event.
Cloud saving capability allows students to return to their work and make revisions.
Final work can be shared via e-mail or saved to the device's camera roll.
Pricing
ReadWriteThink is completely free to use.
---
8. Office Timeline – Timeline Maker for Office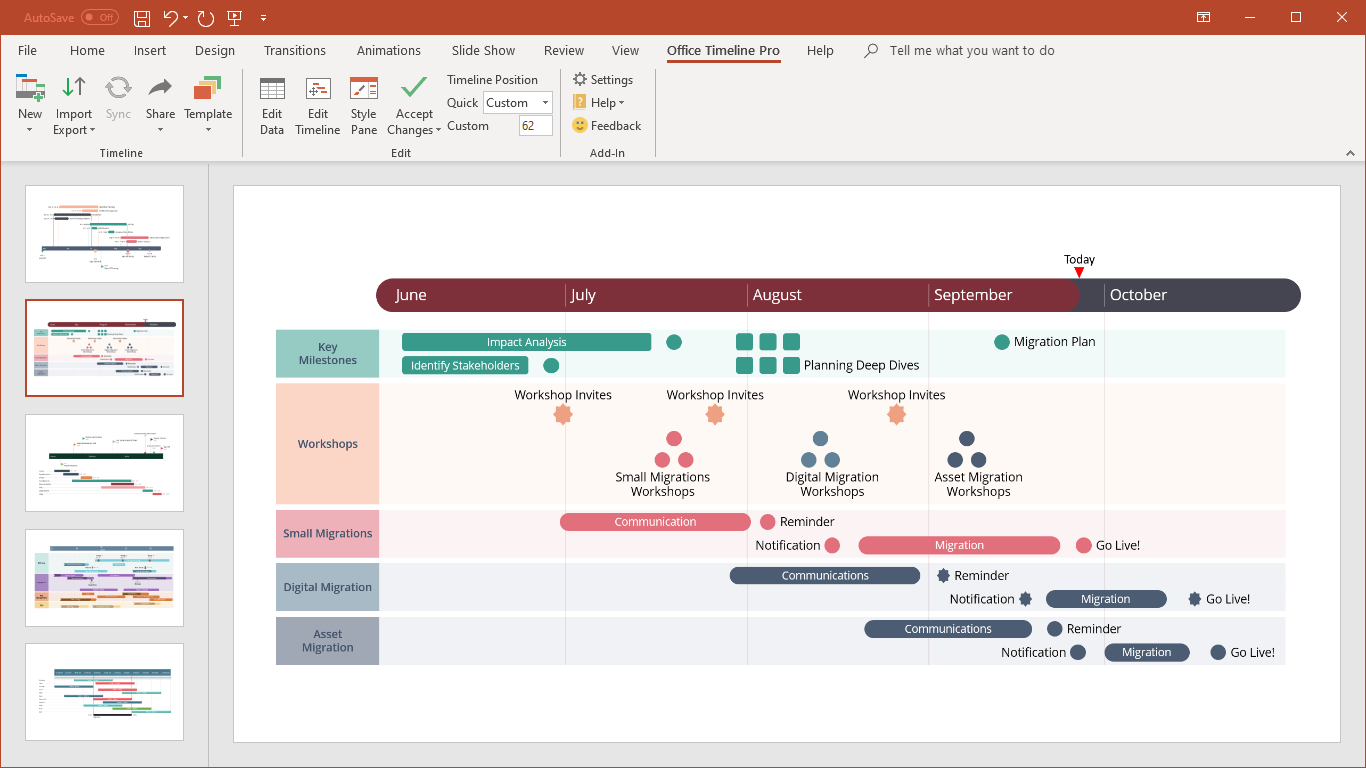 Office Timeline is an online timeline maker add-in developed by Microsoft Office. It is used by professionals from all fields and allows them to easily add timelines to their PowerPoint presentations.
If you're bored of using the plain old timelines in your presentations and want to add something attractive then this is the right tool for you. It comes with many simplified templates for you to choose from.
Features
Build native PowerPoint timeline slides online.
Works inside PowerPoint or in your favorite browser.
Ability to create Gantt Charts and Swimlane diagrams.
Add status indicators to tasks and milestones so you can easily track the health of your project.
Make unique timelines with tasks both above and below the timeband.
Show tasks and milestones scaled down to hours or minutes.
With the Tasks-in-a-Row feature, break activities into sub-phases or workstreams.
Pricing
Office Timeline offers two types of usages and payment methods. You can either choose to download the application as a PowerPoint add-in or use it online.
Add-in: 1-year Pro license is for $99 and a 1-year plus license is for $59. It will require a Windows Operating System and PowerPoint application.
Online: 1-year Plus license, for $59. Will work on any browser on either Windows or Mac Operating System.
---
9. Tiki-Toki – Best Timeline Creator for PC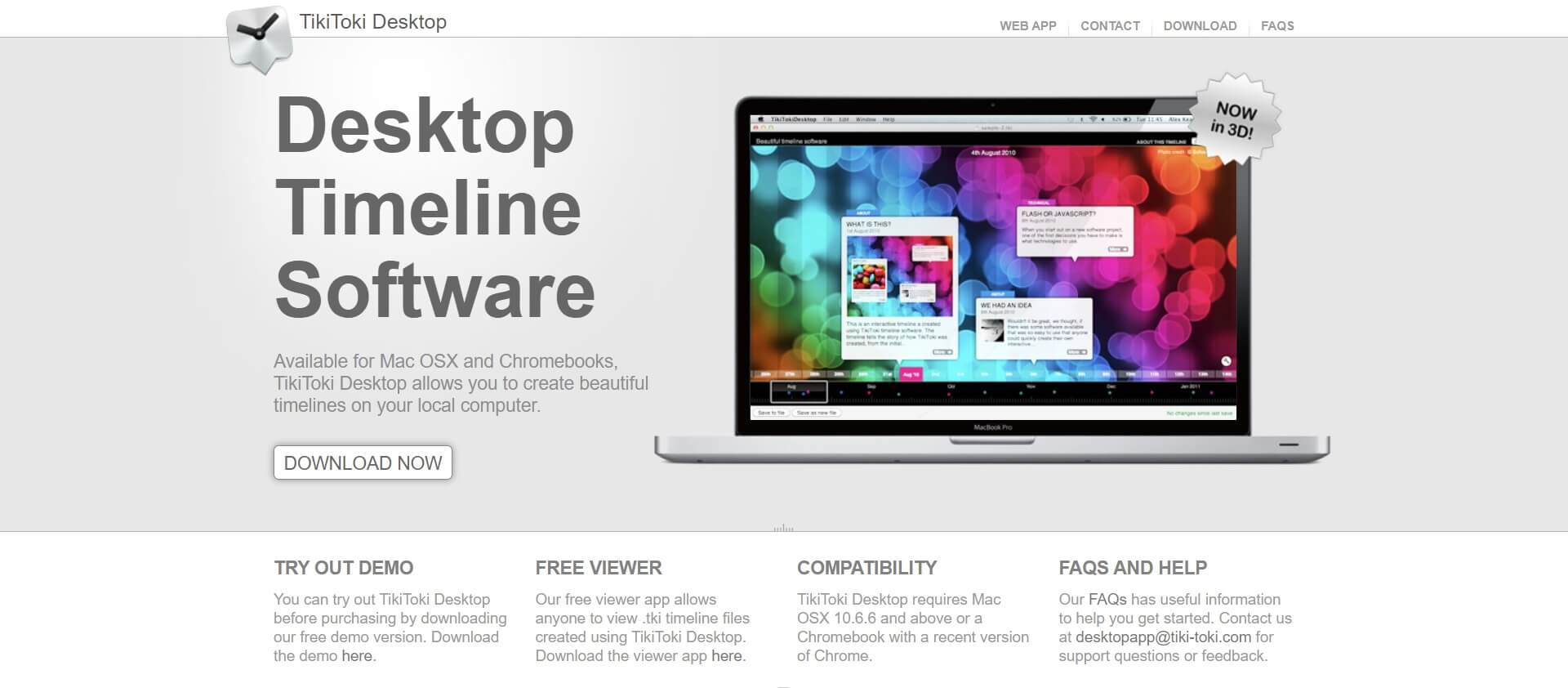 Next, we have one of the most popular online timeline makers this year. Tiki-Toki has been able to stand out amongst all the best timeline software because of its huge array of templates, designs, and lots of other powerful features.
Apart from all the necessary tools that some of the best timeline creators have to offer, you can also make 3D timelines on this cool app. It is a handy tool that anyone can learn within minutes. Just add the Tiki-Toki extension to your web browser and you're good to go.
Features
Elegant timelines that support Web video and audio.
Choose from multiple views to suit your project.
Provides integration with images and videos (from YouTube and Vimeo).
Each timeline you create with Tiki-Toki has its own unique URL that you can share with your friends or colleagues.
Embed the timeline directly on your website or blog.
Special features for people with eye-sight issues, including zoom out function, adjustable 3D version, and equal spacing modes, etc.
Pricing
Tiki-Toki offers 4 types of plans:
Free: A basic account that allows you to create one fully functional timeline.
Bronze: For individuals and small groups. This account lets you create up to 5 timelines. Price: $7.50/month
Silver: For smaller businesses and professional bloggers. You can create up to 25 timelines using this account. Price: $25/month
Education/Teacher: One teacher and up to 50 pupils can use this account. It includes one silver account for the teacher and 50 bronze accounts for students. Price: $125/year
---
10. Time.Graphics – Free Timeline Generator
Time.Graphics is a completely free online timeline maker that has been appreciated by Steve Jobs himself. It is loved by professionals and educationists alike.
Time.Graphics help individuals, students, and business professionals to easily create Gantt charts without having to use any templates.
This free online timeline maker supports a wide variety of options to embed multiple types of content in your online timelines. It has a rather simple interface that can be effortlessly grasped by users of all ages.
Features
8x better display than 4k Ultra HD.
Various options to customize your background.
Integrates with Google Drive, Google Search Console, Dropbox, and more!
Download and print in various formats including PDF, PNG, JPG, PPT, JSON, XML, etc.
Includes server reporting APIs for insightful analytics.
It provides access to data from all countries.
Embed timelines to your website or blog.
Pricing
Free: Time.Graphics is primarily free to use containing all the basic features you need to create a timeline.
Premium: At $14.99/month, it provides some additional benefits, such as media customization, duplicate timelines, ad-free experience, no watermark, background image options, and custom date range.
---
11. SmartDraw – Powerful Timeline App
SmartDraw helps you to create timelines that provide a broad overview of a sequence of events in time. It is mainly used by businesses and educationists. SmartDraw allows users to embed links to events, information, and images within their timelines. 
SmartDraw has a lot of popular names in its clientele – FedEx, Tesla, NIH, Nestle, SAP, Pepsi, they all trust SmartDraw. The reason why SmartDraw is a preferred choice for many is because of its powerful tools and templates.
Be it software deployment, process development, or planning, SmartDraw's timelines efficiently serve their purpose.
Considering its range of use, functionality, and client base, SmartDraw makes it to our list of the best timeline makers this year.
Features
Whether you add or remove events, SmartDraw realigns, and auto-arranges all the elements in your timeline.
Create timelines on your computer, browser, or mobile device – Windows, Mac, Android, iOS, or any other platform with an internet connection.
Export timeline to MS Office in a single click.
Available in 100 languages.
Integration with Confluence, Jira, MS Office, GSuite, and more.
Over 4,500 templates and 34,000 built-in symbols.
Pricing
Single User: At $297, one-time Purchase, no monthly or annual fees, includes both the SmartDraw Windows Desktop and Online Editions, 4,500+ Templates, 34,000+ Symbols, and more!
5+ Users: At $595/year – same features as the Single User plan, but also contains multi-seat administration features.
---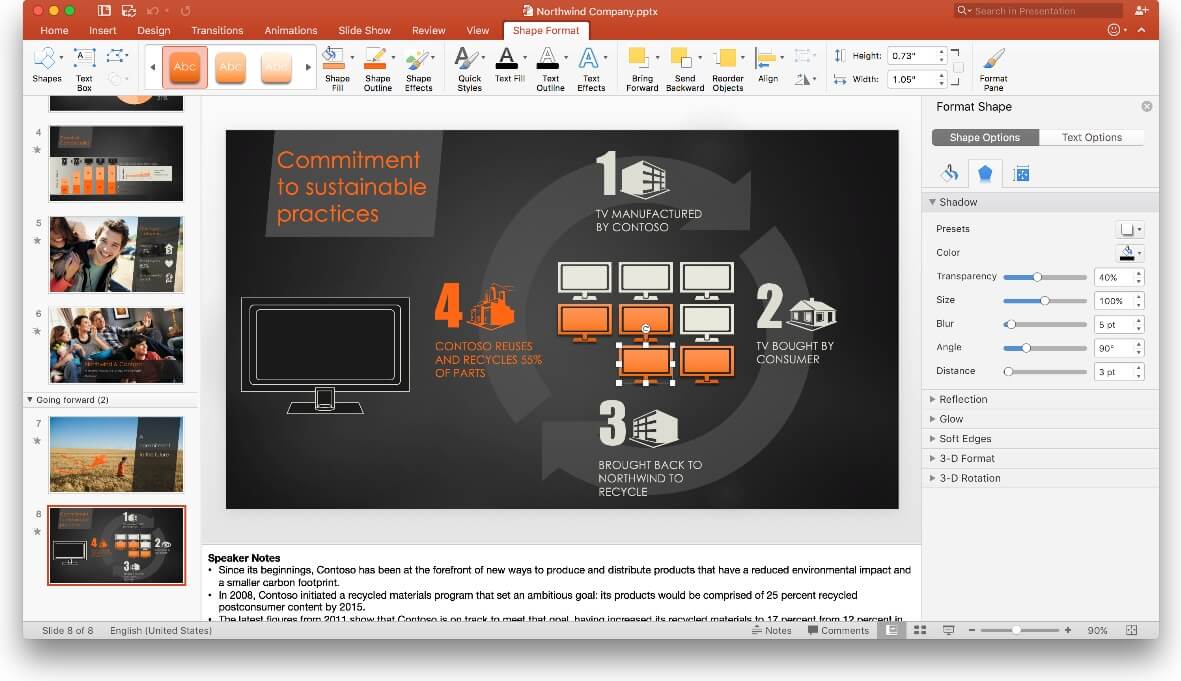 Microsoft PowerPoint is a world-known presentation maker software. It comes as a part of the Microsoft Office Suite. It provides a vast variety of options to customize your presentations.
The best thing about using MS PowerPoint for your timelining needs is that it's also available offline as a PC/Mac client. PowerPoint also allows you to create your customized timelines within the software. It has a lot of themes, color schemes, and templates to offer.
Just explore the option of inserting 'SmartArt' within your presentations and you can create from basic to refined timelines using this software.
Features
Embellish and customize your timelines using SmartArt Styles.
Create stunning Gantt charts and Swimlane visuals.
Easily design roadmaps for your most important communications.
Switch between templates at the click of a button
Import and sync Microsoft Project or Excel files
Group multiple tasks on a single horizontal line to easily show sub-phases or arrange activities into workstreams.
Pricing
Free Trial: Just like the rest of Office products, Microsoft offers a 30-day trial for PowerPoint
Purchase: If you wish to get a permanent license, you can buy PowerPoint for $139.99
Microsoft 365: Alternatively, you get can PowerPoint for free if you are a Microsoft 365 subscriber – subscription is available at $6.99 a month; that also includes Word, Excel, Outlook, and One Drive.
---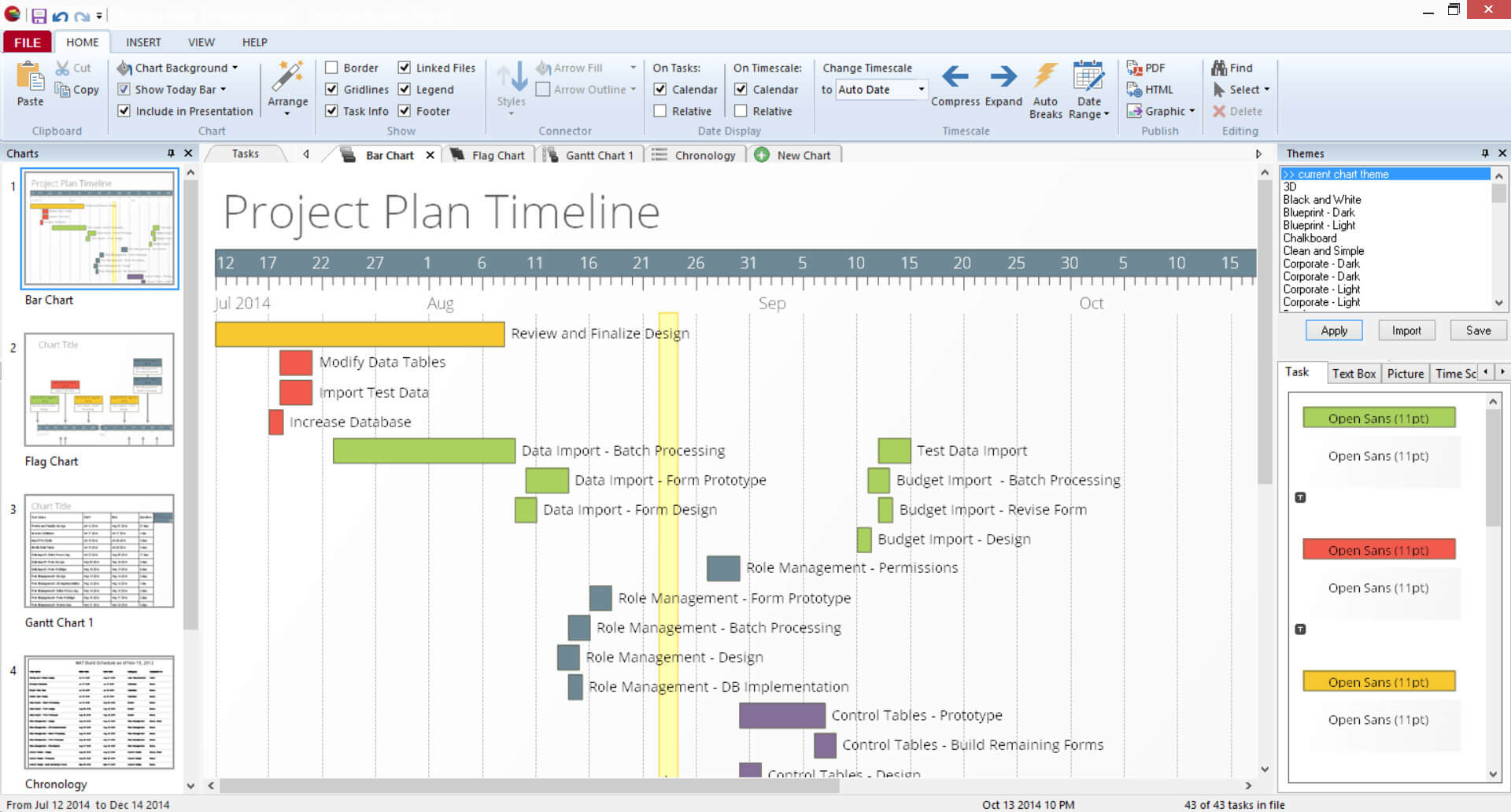 Timeline Maker Pro is a Microsoft Office-like offline timeline creator application. There are a huge number of templates in horizontal, vertical, and Gantt chart formats available on this software.
You do not require any special skills to operate this software. You can create mind-blowing timelines on this software within minutes. It is a rather automatic timeline maker that creates a timeline for you once you enter all the information that you'd like to see in your timeline.
What makes this app stand out is the focus on a short learning curve, tons of automatic features, knock-out charts, and interactive presentation capabilities. Furthermore, you get a variety of timeline styles (e.g. vertical, horizontal, Gantt, etc.), and there are quite a few themes that enhance the quality of your project.
Features
Seamlessly import data and images from Microsoft Office tools.
Five timeline styles to choose from; Vertical, Chronological, Bar, Flag, and Gantt.
Includes 12 background themes to make your projects look elegant.
Quickly expand or compress your timeline to change timescale options (e.g. Years, months) anytime.
Save timelines in TXT, CSV, MS Project, or TLM.
Create multiple charts from the same Timeline Maker file so you don't need to create separate data files.
Pricing
Free Trial: Free usage for up to 14 days.
Individual: At $149, Perpetual License, includes PowerPoint add-in,30-day money-back guarantee, no subscription fees, email + phone support, free updates + themes, transferable license
Small Business: At $299, Perpetual License, includes PowerPoint add-in,30-day money-back guarantee, no subscription fees, email + phone support, free updates + themes, transferable license, install on any 3 computers
Enterprise: At $535, Perpetual License, includes PowerPoint add-in,30-day money-back guarantee, no subscription fees, email + phone support, free updates + themes, transferable license, volume discounts, deployment assist
---
14. Visme – Online Timeline Tool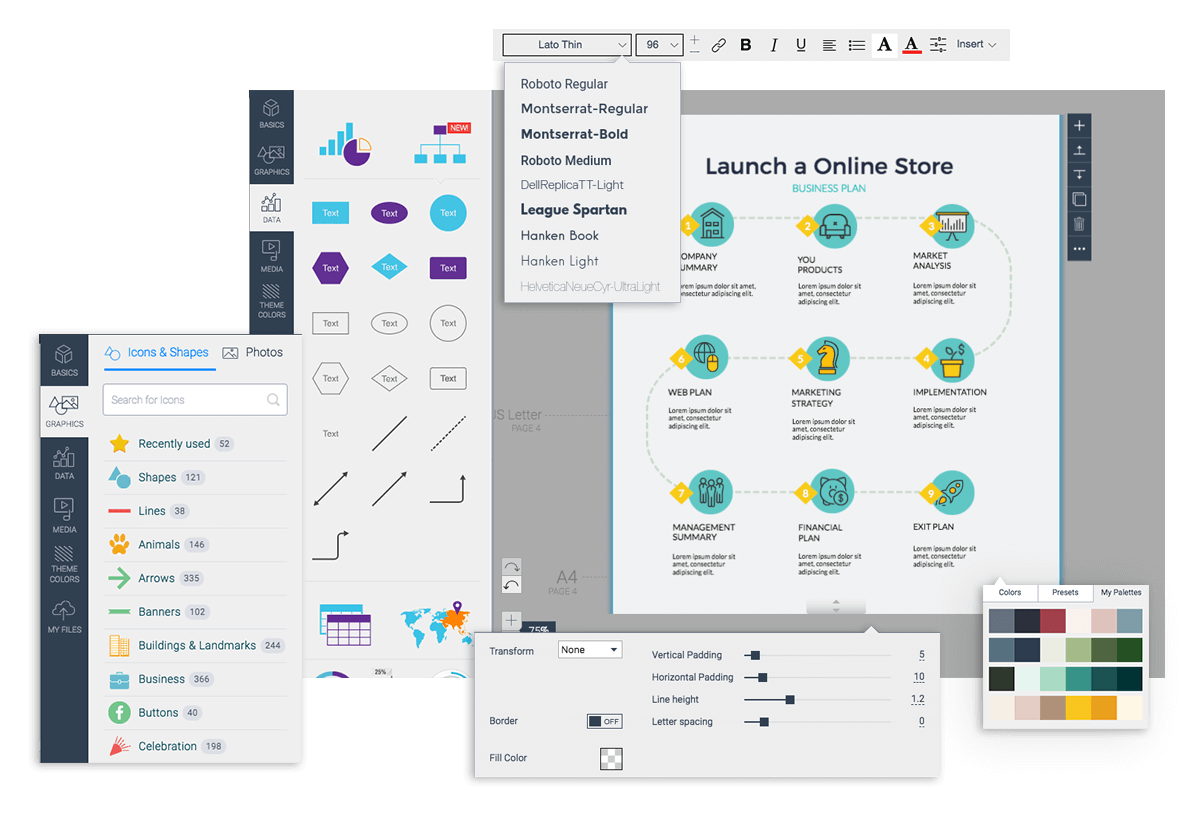 Visme is famous for being used by a lot of high-end brands such as Netflix and IBM. It has an interactive interface and allows team collaborations. Visme has a user base of more than 4.5 Million.
There is a huge variety of timeline templates available on Visme. The users can choose or create their themes with icons, colors, and backgrounds of their choice. Up to 5 designs can be created for free; however, for a complete package one has to subscribe to their services.
Using the built-in expansion tools, users can customize every aspect of their timelines. No wonder it is often referred to as one of the best timeline software.
Features
You can convert any existing project into a template and create custom content much faster.
Set your own brand colors so you or your team cannot apply colors outside of your own brand's colors.
Share template designs across multiple projects; any changes you make will reflect across all projects containing that design.
Track the number of visitors and the duration of visits to your published timelines.
Create and store an unlimited number of projects.
You can create timelines in HTML5 and share them with a URL.
Pricing
Single: at $25/month, for 1 user, unlimited projects, 10 GB storage, download as HTML5, slide library, privacy controls, and more!
Team: at $75/month, for 3 users, everything in single plus, add and manage users, 10 GB storage per user, and more!
Enterprise: based on quotation, everything in the Team plan, plus: unlimited projects, 25 GB storage per user, Single Sign-On (SSO), and more!
---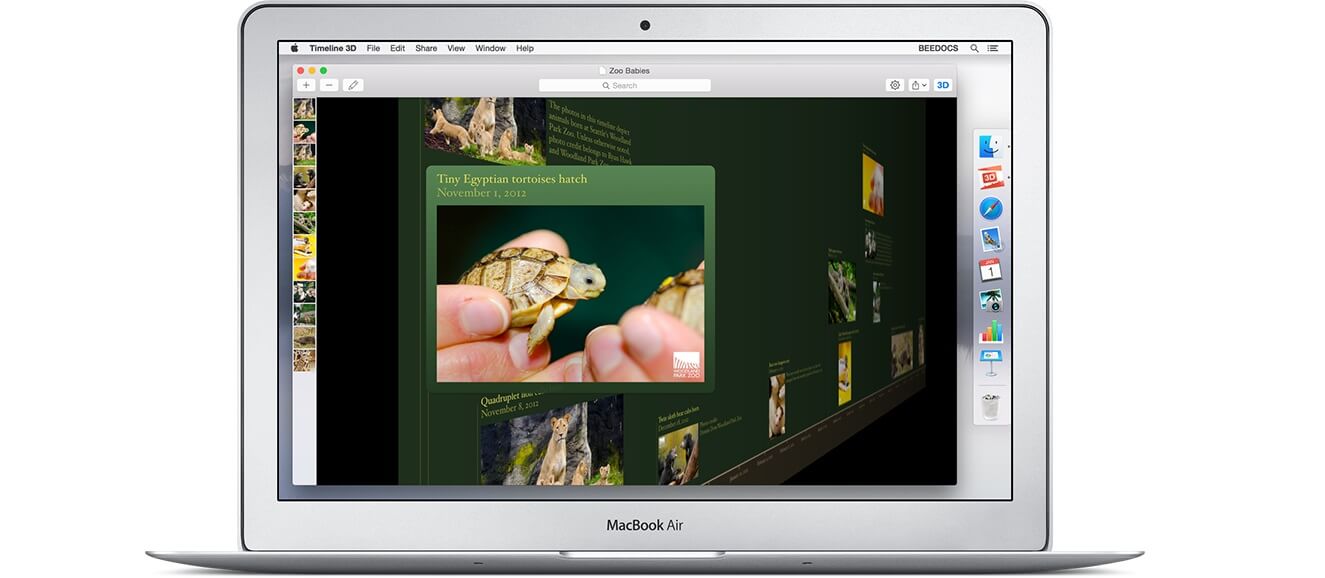 Timeline 3D is a timeline maker software for Mac Operating System. It is a downloadable application that helps you create visually interesting timelines. You can add multimedia to your timelines made in Timeline 3D.
You can create interactive timelines using this software that can be viewed on mobile devices such as iPhones and iPad. It also allows you to tweak the colors and fonts within your timelines.
Features
Print your timelines on a single page, formatted for your paper size
Export timelines in PDF format to easily share them with anyone
You can export movies of your animated timeline sized up to 4K
Export a WebGL website to add interactive 3D timelines to your website
Display your timelines in full screen and with a 3D perspective
Include optional information such as notes, web links, and tags
Pricing
Timeline 3D is free to use on the App Store and the Mac Store. However, it does charge for in-app purchases. The charges are different in the App Store and Mac Store. Let's take a look:
Everything Bundle: Mac Store at $24.99, App Store at $9.99
Movies: Mac Store at $8.99, App Store at $3.99
Slideshows & Image Sequences: Mac Store at $8.99, App Store at $3.99
WebGL Websites: Mac Store at $8.99, App Store at $3.99
Printing & PDF: Mac Store at $4.99, App Store at $1.99
---
16. Aeon Timeline – Best Timeline Maker for Mac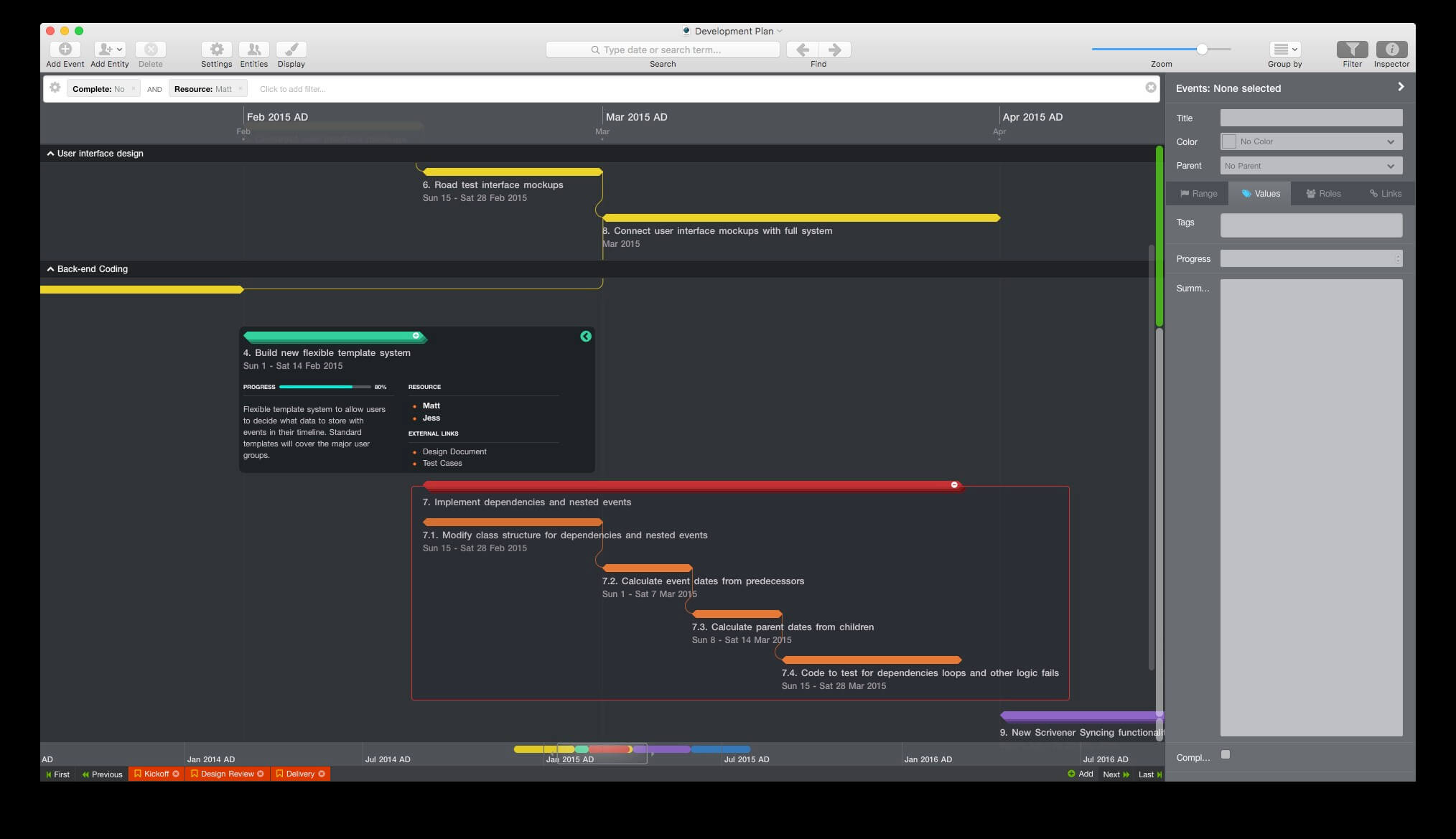 Aeon Timeline is an offline timeline maker that works best for users who want to create timelines for project management purposes. It is primarily used by writers and creative content creators. It is an easy-to-use application that helps you create detailed timelines.
Aeon Timeline maker provides you the flexibility to add date ranges in your timelines as per your liking. You can also color-code and label all parts of your project for easier understanding.
Features
Advanced story structuring for novel writers.
Events are easy to move around to reflect schedule changes.
Includes special tools for legal practitioners.
Apply filters to gain new insights and focus on what matters more.
Add the custom fields that you wish to track for each event.
Insert bookmarks to easily switch between key milestones.
Pricing
Aeon Timeline costs $49.99 on the Mac Store and $19.99 on the App Store, with no add-on charges or monthly fees involved.
---
17. TimelineJS – Best Timeline Maker for Websites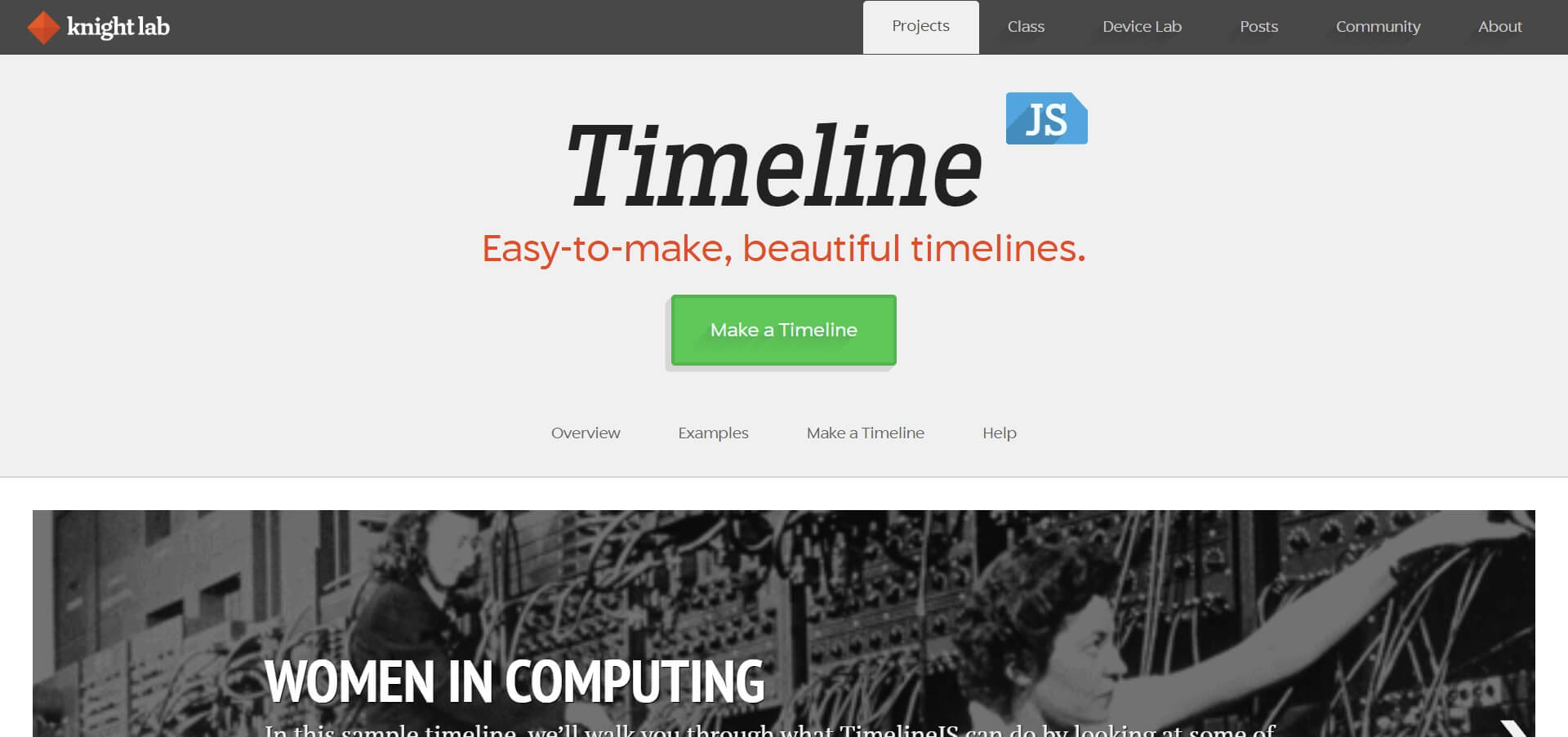 Primarily created to facilitate the news media industry, TimelineJS is a free, open-source timeline maker. It allows you to create visually interesting timelines using just a Google Spreadsheet.
For advanced customization, you can use JSON and create fully tailored installations.
You can create interactive timelines using this software. TimelineJS is a plugin that can be enabled on your website. Just create a Google Spreadsheet, enter the data you need to see in your timeline and this plugin will automatically generate a timeline for you.
Features
Open-source platform – allowing anyone to build visually interactive timelines.
Integrates with Twitter, Flickr, YouTube, Vimeo, Vine, Dailymotion, Google Maps, Wikipedia, SoundCloud, Document Cloud, and more
Embeds on any website or blog.
Create your desired filters and templates using JSON.
Also available as a WordPress plugin.
Add BCE dates by simply entering a negative value for a year.
Pricing
TimelineJS is free to use.
---
18. Liniaa – Best Free Timeline App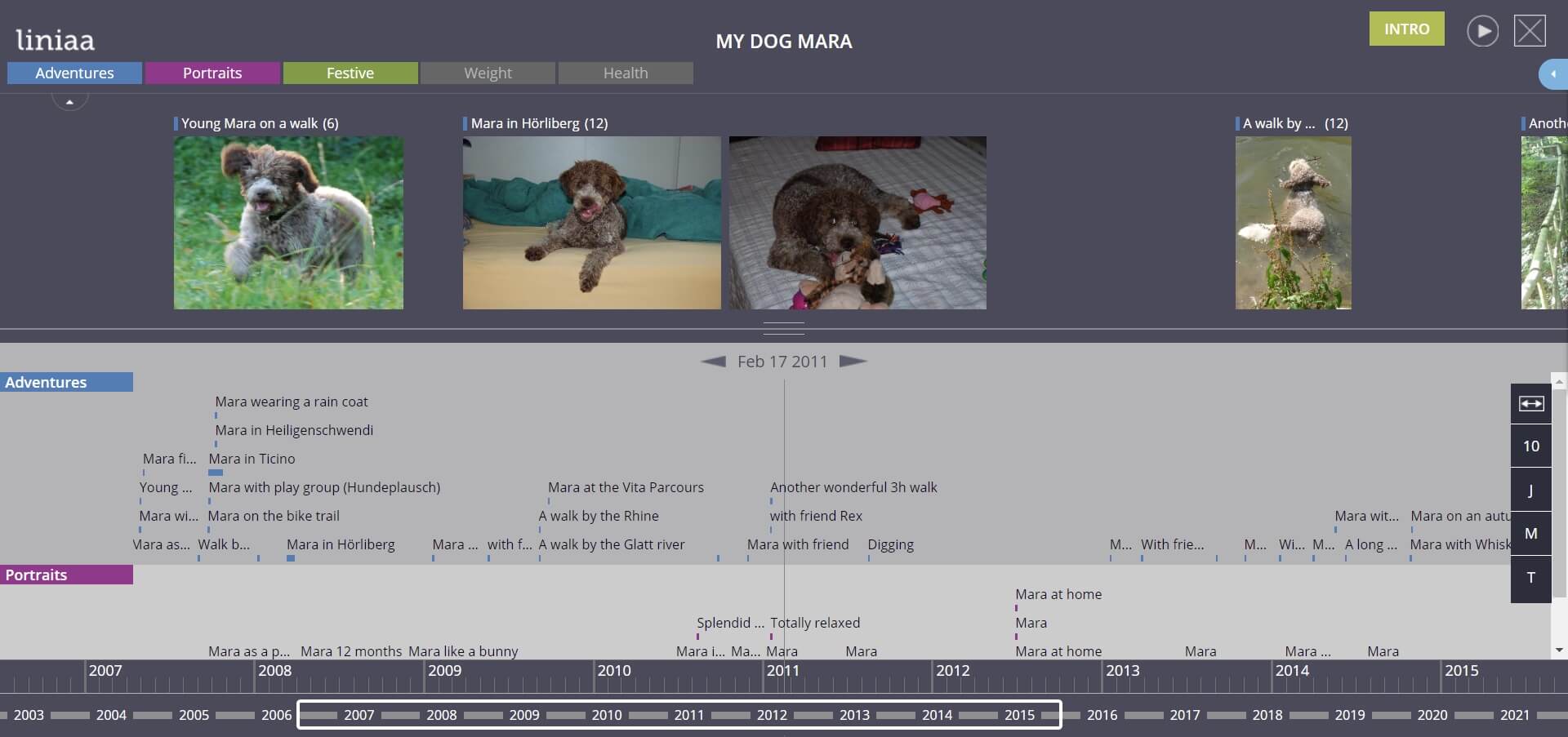 Liniaa is specially designed to create a personal timeline so that you can view all your life's memories in a horizontal timeline. It's available online and it's easy to share your timeline with others or keep it all private.
This tool is particularly intended for individuals, groups, and families.
So, if you want to document your children growing up, showcase a reel of your last vacation abroad, or highlight your unforgettable life moments over the years, then Liniaa is truly the 'go-to' option when it comes to choosing a timeline software for you.
Features
High-resolution images are automatically scaled for optimal web viewing – max. 3000 px in height or width – during upload.
Arrange your content in categories such as 'office', 'apartment', 'travel', or 'birthday'
Adjust the duration of the slideshow and each slide as you desire
Enable your family, your club, or your organization to collaborate on the same project
Seamless zooming, multi-upload, and drag and drop
Available entirely online with cloud storage so you don't have to worry about data loss.
Pricing
Free: 1 Timeline, 40 MB, (~80 pictures)
Basic: At $22, 3 Timelines, 1 GB, (~2,000 pictures)
Premium: At $33, 10 Timelines, 3 GB, (~6,000 pictures), +3 admins/timeline
Pro: At $66, 50 Timelines, 20 GB, (~40,000 pictures), +20 admins/timeline
Conclusion
Gone are the days of keeping huge piles of data that doesn't come in handy when it's needed. Timeline Makers are here to save you the hassle. You can visualize and creatively present your projects now with timelines.
If you're not well acquainted with how they work, now is the time to try! Get your hands on some of the best Timeline Creators and let us know about your experience.
Other SaaSy goodness on All That SaaS: