How do you ensure your passwords always follow password uniqueness and security policies? By using a password manager. Today, we are going to talk about the best password managers in 2021, and the features that they offer.
Managing passwords can be quite a hassle. Make your password too simple, and you are risking a hack attempt. Make it too complex, and you won't remember it.
Oh, and then there are various password qualification policies – uppercase characters, lowercase characters, alphanumeric combinations, and symbols. And the average internet user has at least 7 online profiles that require a password to sign in.
Why Do You Need an Online Password Manager?
Before we start listing our favorite password managers, let's talk about the benefits of using online password managers. Without going into big explanations, here's a quick mention of the most prominent ones;
First, these apps free you from having to remember passwords for all your accounts. All you'll need to do is remember just one master password which you can then use to access all your stored emails, passwords, card numbers, etc.
Secondly, all the best password managers can generate new access codes too. And, the great thing about passwords created by a password manager is that they're exceptionally strong and hence, almost impossible to crack.
Moreover, thanks to online syncing, your passwords are always available across all the devices that you use. If you update a password from one device, it automatically updates that password across all devices.
Lastly, password managers store all data in encrypted form, meaning, it's impossible to steal your passwords without the master password.
What is the Best Password Manager in 2021?
1. Zoho Vault – Best Password Protection
Supported Platforms: Web, Android, iOS, Windows
Browser Extensions: Chrome, Firefox, Safari, and Edge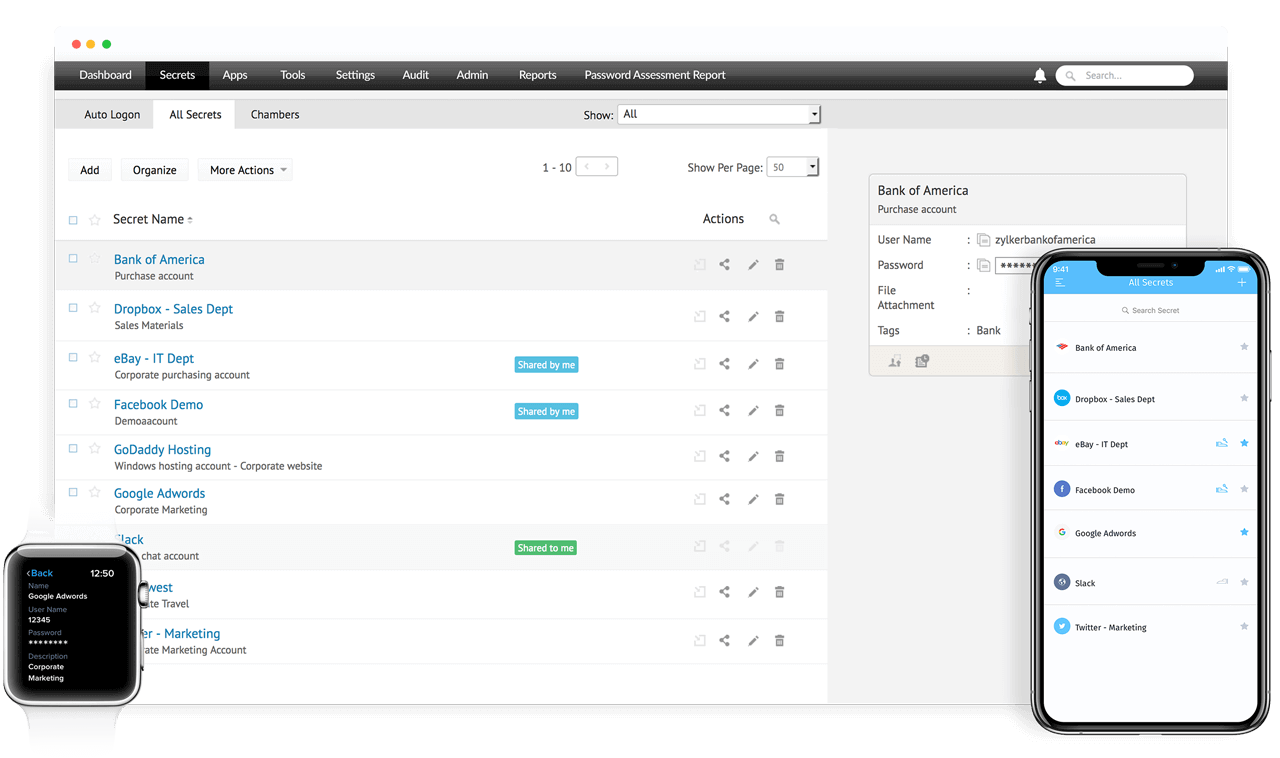 While some may find the interface a tad confusing, Zoho Vault is a great password manager for anyone looking for all-around security.
The free version of Vault is probably the most feature-filled free version being offered right now and easily lands this app a spot among the best free password managers.
One thing you should keep in mind when considering Zoho Vault is that it's built for teams, not individuals. Also, the user interface can get a little busy which ends up confusing and annoying the users.
The place where this app impresses is third party app integrations. From Box and DropBox to Office-365 and Lucidchart, Vault can integrate with a lot of apps.
Key Features
Password Vault: allows you to save unlimited passwords, notes, and other confidential data. Moreover, you can also import passwords from the browser, or other password managers.
Role-based Access: manages all your personal and business passwords. It assigns roles to the respective users and manages their access privileges.
Real-Time Audits: keeps track of all the activities carried out in your organization's vault. It works by capturing the time snaps and IP addresses of the admins and send instant alerts in case of any critical action performed.
Data Backup: works to backup all your vault data to restore it in case of accidental deletion or whenever needed.
One-click login: saves all your passwords in one place, to help you save time when you log in.
Intuitive Reports: this gives you an insight into the happenings of your organization. Also, it keeps an eye on frequently accessed passwords, deletes old or weak passwords, and gives you reports weekly/monthly.
Pricing
Currently, Zoho Vault is available in 4 different options;
Free: Offers features like unlimited password storage, file upload, cross-device sync, password generation, import and export of passwords, offline access, automatic log-in, etc.
Standard: Costs $0.9 per user per month. It offers everything in the Free version plus password sharing, admin control, cloud backup, priority support, and integration with Office 365.
Professional: Costs $3.6 per user per month. Offers everything in Free and Standard plus emergency access feature, ability to create and manage groups, view user access, and activity report, etc.
Enterprise: Costs $6.3 per user per month. Offers everything in Free, Standard, and Professional plus Active Directory integration, Helpdesk integration, notifications on password-related events, password access control workflow, etc.
All price plans are billed annually.
---
Supported Platforms: Web, Android, iOS, Mac, Windows, Linux
Browser Extensions: Chrome, Firefox, Safari, Opera, Edge, and IE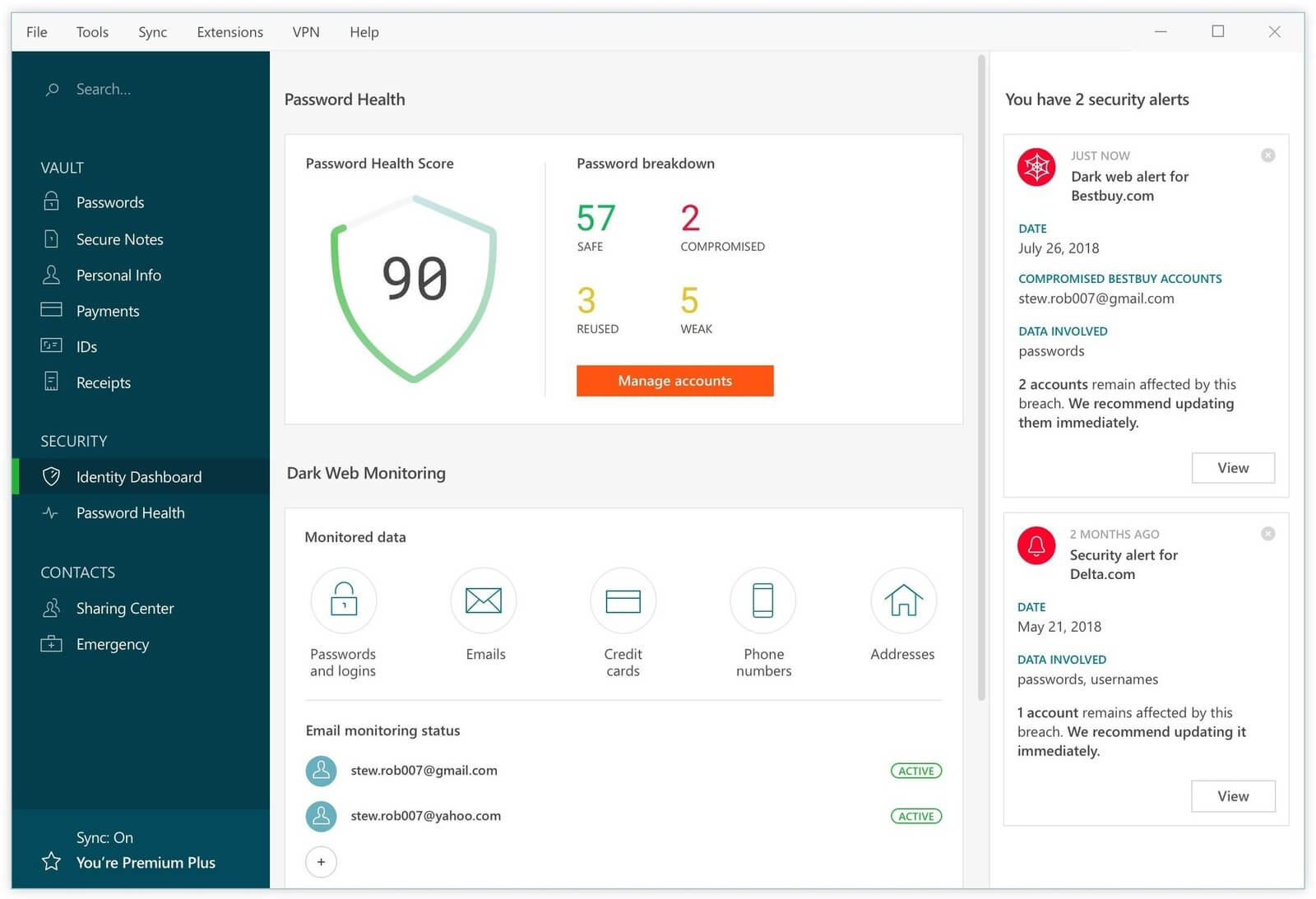 Dashlane is the kind of app that you fall in love with the moment you lay your eyes on it. Great features, foolproof security, and reasonable price plans make this app one of the best password managers available today.
Dashlane is easy to use, secure, and most importantly, provides great value for your money.
Dashlane offers a free version as well which, honestly speaking, is one of the finest ones around. But, with features like multi-device sync and priority support, the paid versions are just too good to miss.
What impressed us about this app was that although it's packed with features, it allows password management with great ease and simplicity.
Key Features
Dark Web Monitoring: constantly searches the web and gives instant alerts whenever your data is being used.
Password Storage: gives access to store unlimited passwords. Also, it synchronizes your data so that you can access it from all the devices at the same time.
Password Generator: helps you to generate strong passwords.
Password Sharing: allows you to share unlimited passwords and secure notes. You can also import your data from a browser or any other password vault.
Automatic Login: logs in to your online account, and fill out all your forums instantly.
Unlimited VPN: allows you to browse safely, unlock geo-restricted streaming content, and runs faster.
Pricing
Currently, Dashlane is being provided in three different price plans:
Free: This is one of the best free password managers being offered right now. It can store up to 50 passwords but supports only one device.
Premium: Costs $3.33 per month and is billed annually. This version stores unlimited passwords that work on multiple devices and can sync. It also offers dark web monitoring and secure storage space for sensitive files and documents.
Premium Plus: Costs $9.99 per month and is billed annually. What makes this version one of the best online password managers is that along with all the features offered in the Premium version, this version also offers credit monitoring, identity restoration support, and up to $1 million in identity theft insurance.
---
3. LastPass – Best Desktop Password Manager
Supported Platforms: Android, iOS, Mac, Windows, Linux
Browser Extensions: Chrome, Firefox, Safari, Opera, Edge, and IE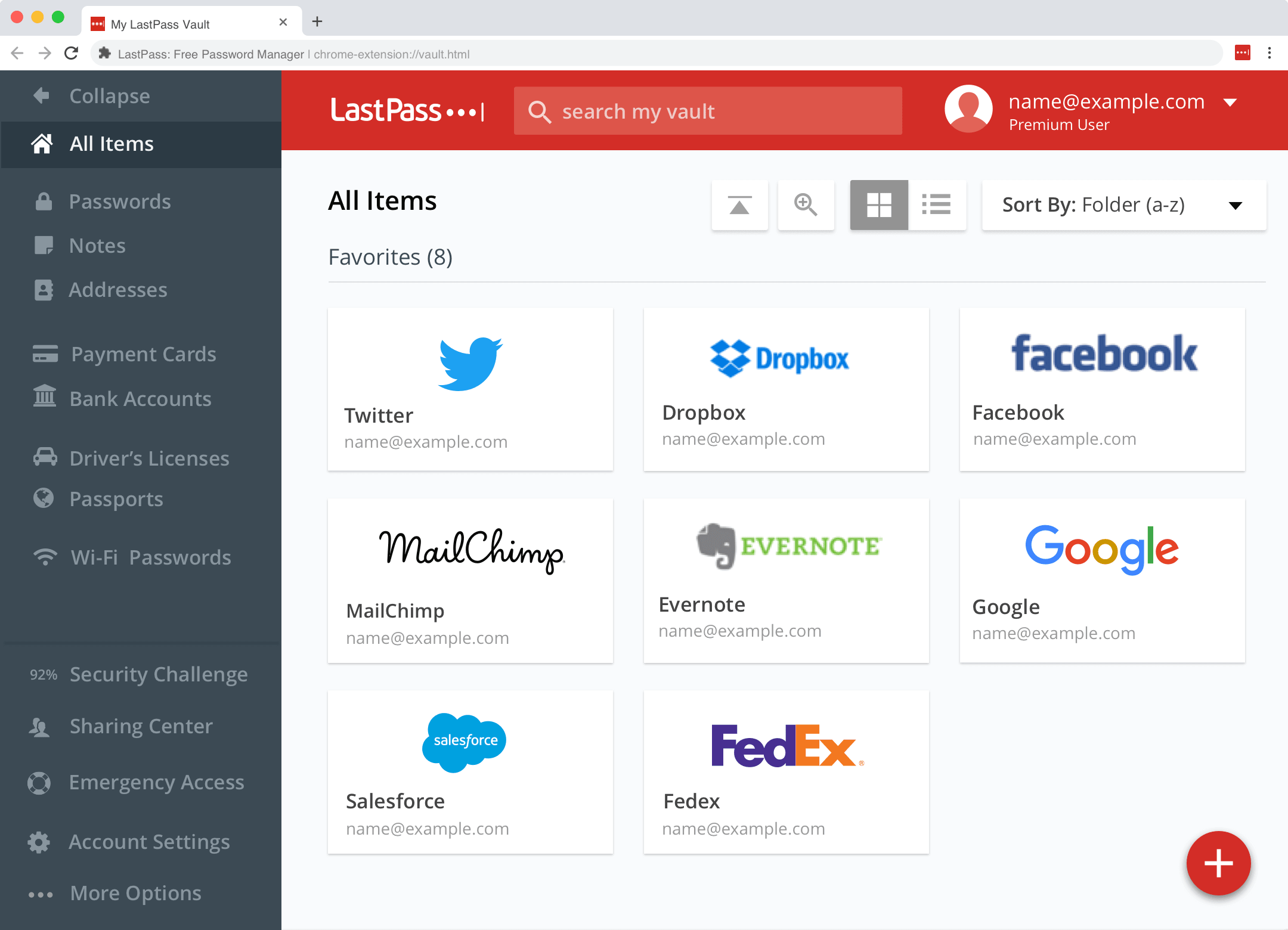 Ask anyone which password manager they think is the best password manager for Chrome and it's quite likely that that person will say LastPass.
Being one of the oldest password managers around, this password manager has seen more development and updates than any other app on this list.
When it comes to security and ease of use, LastPass is right up there with the best in the game. But, what we think spoils LastPass's success is its dismal support system.
Moreover, their free version lacks a lot of features but they kind of makeup for that by providing their paid versions at budget-friendly prices.
Key Features
Built-in password generator makes strong, unique, and randomized passwords. This helps in protecting against hacking.
Logins into all your online accounts with just a single click, once you save your password in it.
Allows you to keep all your confidential data such as insurance cards, Wi-Fi passwords, and notes safe in one place.
Helps you to safely your passwords, or notes with anyone.
Monitors and searches the web constantly, and alerts you when your data is found.
Synchronizes all the data across all of your devices quickly.
Pricing
Another thing that makes LastPass one of the best password managers available today is the huge variety of price plans it offers.
Free: A very bare-bones version of the app. Offers secure password storage to one user.
Premium: Costs $3 per month. Adds device syncing, form auto-filling, password generator, priority tech support, 1GB secure file storage, and lots of multi-factor options.
Families: Costs $4 per month and supports up to 6 users. Offers separate vaults to each user, unlimited shared folders, and a family dashboard for adding-removing members.
Teams: Costs $4 per user per month. Supports up to 50 members, offers Admin Dashboard, Zero-knowledge security model, and password management.
Enterprise: Costs $6 per user per month. Support unlimited members and adds Directory Integration and single sign-on.
MFA: Costs $3 per user per month and offers advanced multifactor authentication methods.
Identity: Costs $8 per user per month and is the most advanced and feature-filled version that LastPass is currently offering.
---
4. 1Password – Best Password Manager App
Supported Platforms: Web, Android, iOS, Mac, Windows, Linux, ChromeOS
Browser Extensions: Chrome, Firefox, Opera, and Brave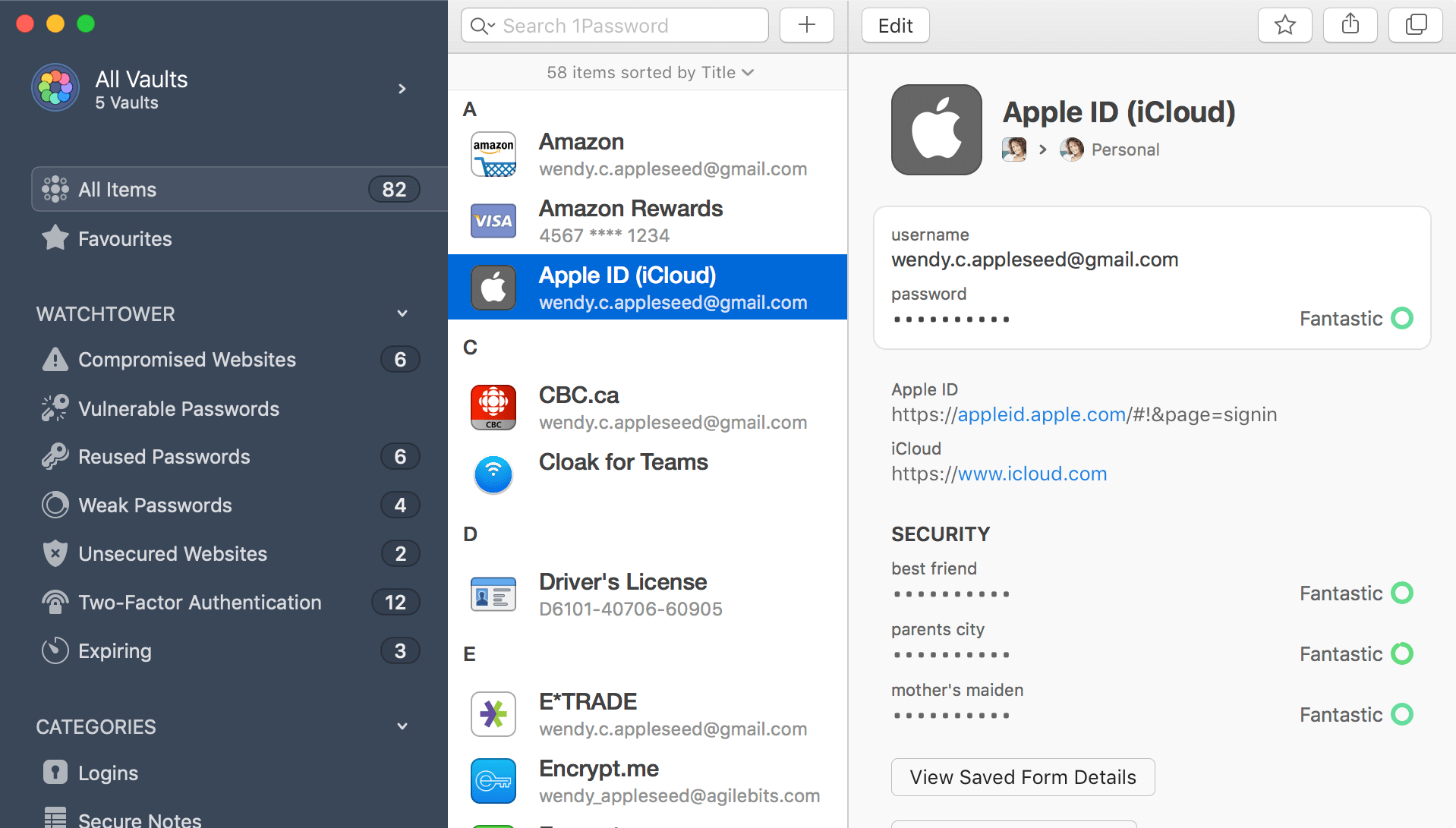 When talking about online password managers that are more suited to team or family usage rather than personal usage, you cannot miss 1Password.
Security and simplicity are two things that a lot of password managers get right but 1Password offers a pretty good support system as well.
Unfortunately, 1Password doesn't offer a free version which might turn away some users but its paid versions are quite economical so, it's a pretty good bargain for top-notch password management and security features.
Key Features
Records your usernames and passwords, and automatically logs in and fill up forms in your online accounts.
The Multiple-platform access feature allows its use from any device, browser, or operating system.
Seamlessly synchronizes all the data between devices, so you can have all your passwords everywhere.
Alerts you whenever you access a malicious site or creation vulnerable passwords. This helps you to take action to stay secure.
Provides one-on-one support from the 1Password Team 24/7.
Enables Travel Mode by accessing your location. It works to remove confidential data from your devices every time you cross your borders and restores it with a click.
Advanced Encryption features provide AES-256-bit encryption. It uses multiple techniques to ensure your data stays protected.
Pricing
Here are the price plans 1Password is currently offering;
Personal: costs $2.99 per month and is for individual users. It offers 1GB of safe storage space as well
Families: costs $4.99 per month and allows up to 5 users
Teams: costs $3.99 per user per month and offers admin control
Business: This plan costs $7.99 per user per month and it offers 5GB of storage to each user and 24/7 support
Enterprise: cost depends on the client's demands. Offers a dedicated account manager and an onboard engineer
---
Supported Platforms: Web, Android, iOS, Mac, Windows
Browser Extensions: Chrome, Firefox, Edge, and IE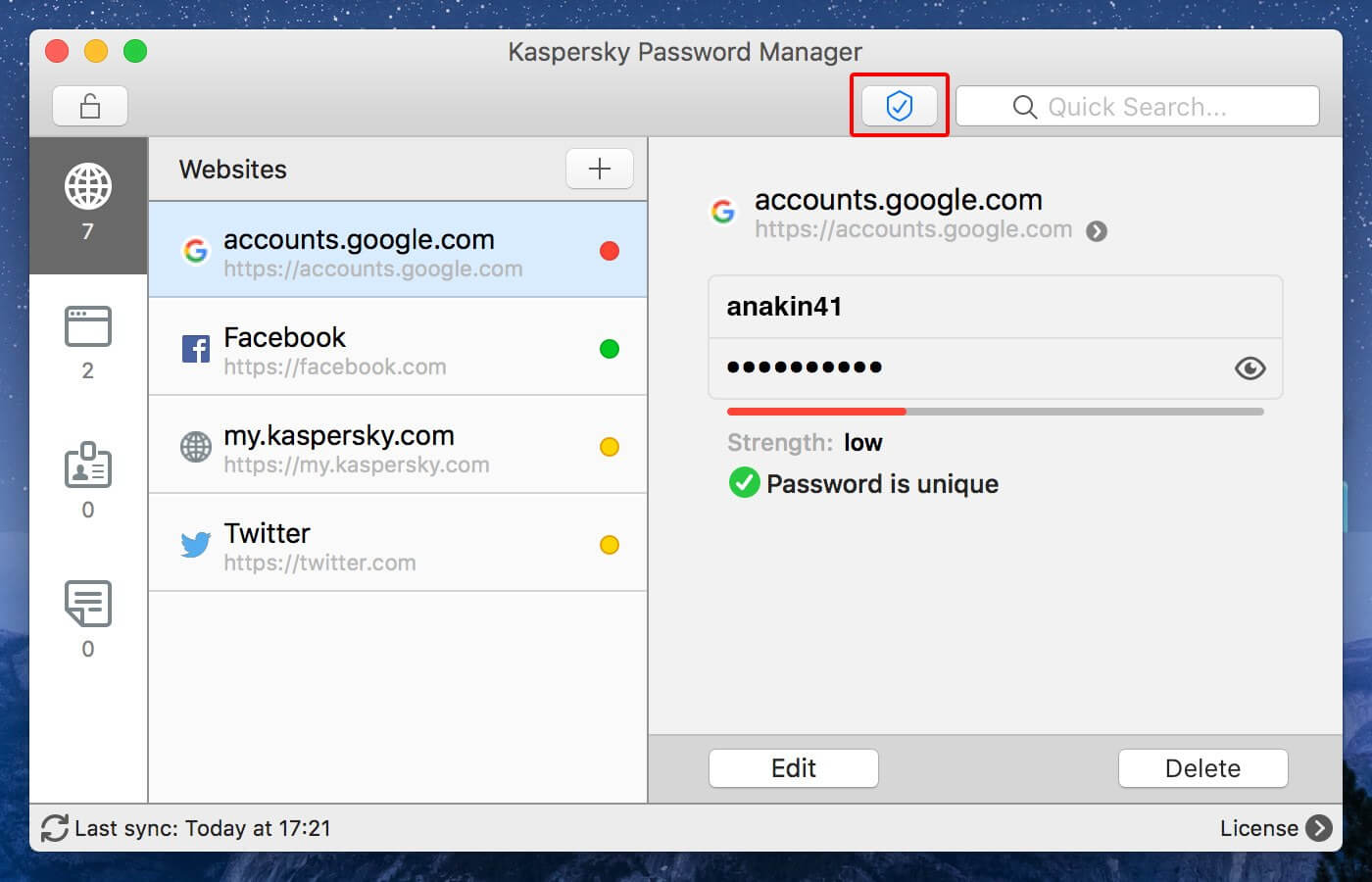 Since day one, Kaspersky has been a big name in the world of digital and cyber-security. Kaspersky's password manager's features and pricing allow this software to live up to that reputation.
Some features in this app bring it on par with the best of the best but then, the unavailability of features like two-factor authentication and item sharing hurt its position.
Apart from usernames, passwords, and credit card info, users can also stores contact info, addresses, notes, and images in the vault.
Another feature this app impressed us with was its support for offline apps. Meaning, it can store passwords for offline applications too and with its autofill feature, logging in is just as easy as with online apps and sites.
Key Features
Capture your password credentials, and the next time it fills in the web logins automatically.
Manages your password effectively, and saves your time by allowing you to star the most used passwords.
Password check feature lists all your weak, and non-unique passwords, to ensure protection against hacking.
Change password features help you create a password by suggesting strong, and unique passwords.
Allows encrypted cloud secure storage to unlimited data such as Passports, Id cards, insurance cards, and more.
Keeps all your data in sync whenever you install it on Windows, Android, iOS devices, or macOS.
Pricing
Kaspersky currently offers very simplified price plans;
Free: This is one of the better free password managers available today but it has the only restriction; it allows only 15 password entries.
Premium: At $1.25 per month, this is one of the most economical "premium" version of a password manager available today. This version has no restriction on password entries but the fact that it only supports one user leaves much to be desired.
---
Supported Platforms: Android, iOS, Mac, Windows
Browser Extensions: Chrome, Firefox, and Safari

Not only does Avast offer a password manager – but it also integrates with Avast Antivirus which, from a security standpoint, is genius.
In Windows, the password manager comes bundled with the antivirus app which might be bad news for those who've already committed to some other antivirus but, if you've already got Avast antivirus, this is great news.
Besides, Avast Antivirus is one of the best ones out there so, changing your antivirus won't be that bad.
The app itself is a little basic when compared to other top-notch password managers. It's got lesser features and can only secure passwords, credit card info, and notes.
Key Features
Provides complete protection to all your devices by its Advanced Protection. It works to give your devices defense against viruses, ransomware, malware, and more.
With Avast VPN you can surf the web securely, dive into your favorite geo-restricted sites, and hide all your history.
Detects if your account is vulnerable or has been hacked with its 'Password Guardian' feature.
Provides an efficient search bar for fast retrieval of data.
Unlimited backups of all your data, and allows multiple platform access.
One-touch login feature allows you to access all your accounts quickly.
Pricing
Avast Password Manager is easy of the best free password managers of today, and the reason behind that is its integration with Avast Antivirus. The antivirus software comes with a huge number of cyber-security features and the fact that you can combine those with your password manager is something that must be applauded.
Here's a breakdown of Avast Password Manager's price plans:
Free: Supports multiple platforms, syncs across devices, and can import passwords from all major web browsers.
Premium: Costs $1.66 per month in a yearly-subscription but can be availed at $1.53 per month in a three-year subscription. Adds Password Guardian, one-touch login and offers a 30-day money-back guarantee.
---
Supported Platforms: Android, iOS, Mac, Windows
Browser Extensions: Chrome, Firefox, and Edge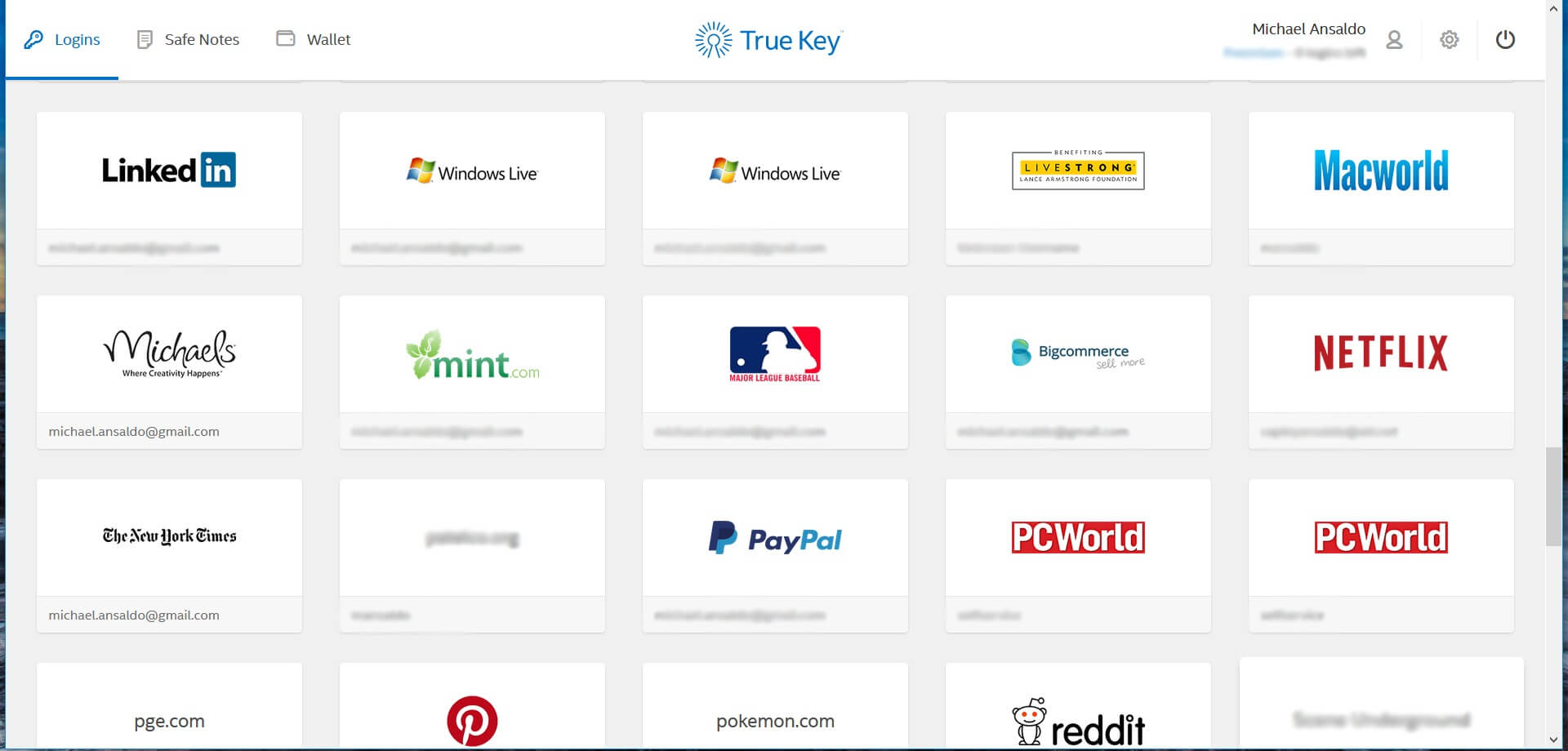 Although a little behind in the features department, McAfee True Key still managed to earn a spot among the 10 best password managers thanks to its top-notch security features and intuitive user interface.
Moreover, its multi-factor authentication feature is one of the best ones out there.
Previously owned by Intel, True Key has its main focus on multi-factor authentication and in this regard it's wonderful. But, apart from that, it lacks some important features that a password manager should have.
Features like password sharing, tracker blocker, and email masking are greatly missed on the app but, the app does manage to provide most of the basic features.
Key Features
Stores your password locally on your device and syncs it to your profile by the strongest encryption available.
Gives instant access to your online accounts, by saving your login credentials automatically.
Syncs across all your devices to help you to use whenever you need it.
Enables Multi-Factor Authentication to verify at least two factors before you sign in. This keeps your data secure.
The software secures one of the strongest encryption algorithms, AES 256. This allows only you to decrypt and access your sensitive data.
Contains a digital wallet, which helps you to make your online transactions fast, and secure.
Pricing
McAfee True Key comes in only two options:
Free: This version is completely free and offers all the same features as its "premium" counterpart but, the only limit this version has is that it limits password entries to 15.
Premium: Costs $1.67 per month and is billed annually ($19.99). This version allows unlimited password storage and when you look at the small price that it's asking for it, the upgrade is quite justifiable.
---
Supported Platforms: Android, iOS, Mac, Windows
Browser Extensions: Chrome, Firefox, Safari, Seamonkey, Yandex, Comodo Dragon, and IE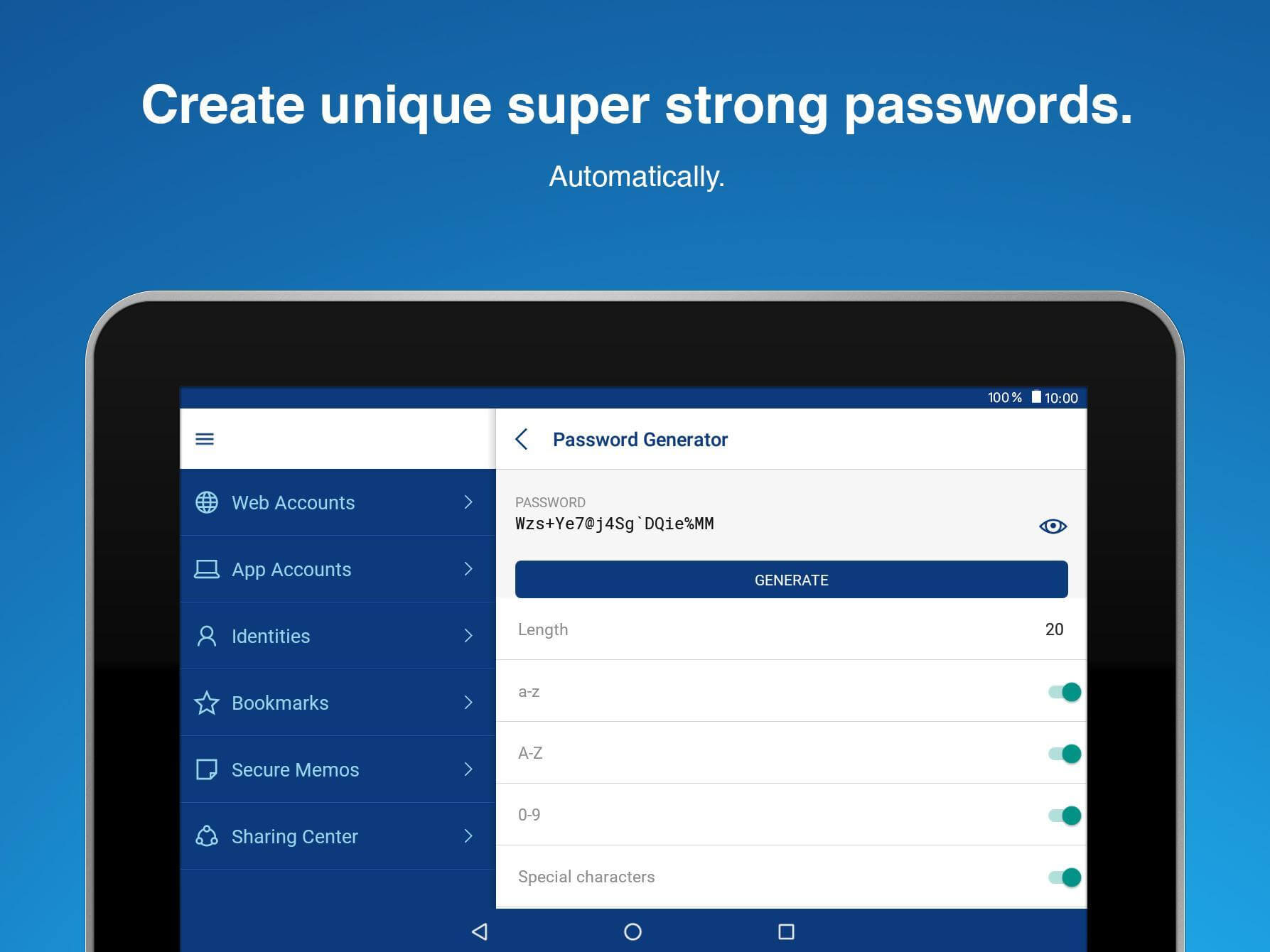 With individuals and personal usage as its main focus, Sticky Password impressed every single one of our experts with its great features, security, support, and price plans.
Mentioned quite often among the best password manager for iPhone, one doesn't have to look hard to see Sticky Password's appeal.
Sticky Password has got all the usual features like autofill, cross-platform sync, and identity storage but the app offers much more than that. One impressive feature is provided by the app is cross-WiFi syncing.
Through this feature, the app syncs your passwords across all your devices connected to the same network. This eliminates the need to access the cloud and hence, chances of interception are eliminated.
Key Features
Allows you to share your passwords by giving access to team, company, or family accounts securely. Also, you can set the access criteria different for different people according to their roles.
With Digital Wallet, you can keep your credit card numbers securely. And within a click, you can pay your bills.
Secure your texts, passport details, IDs, software licenses, and more with AES-256 encryption.
Security Dashboard feature identifies and changes weak, and old passwords. It also helps you to create strong passwords for each of your accounts.
Organizes all your logins, credentials, and credit card details safely in one place.
Makes a portable copy of the software and allows it to save it on your USB. It helps you to access your encrypted on any device anywhere.
Compatible with Windows, Mac, Android, iOS, Mobile, tablet, desktop, and more.
Pricing
To the average user, Sticky Password's UI might seem a little old and outdated but the app still manages to score a spot among the best password managers for Android, thanks to its great price plans. Currently, Sticky Password is available in two options:
Free: The fact that this app offers a free version when most password managers don't must be appreciated. Especially when one considers the password generator, form auto-fill, and unlimited entries being provided in the free version.
Premium: This version can be availed for $29.99 per year or $199.99 for a lifetime. It adds goodies like cross-platform sync, cloud backup, and priority support.
---
Supported Platforms: Android, iOS, Mac, Windows
Browser Extensions: Chrome, Firefox, Safari, Opera, Vivaldi, and IE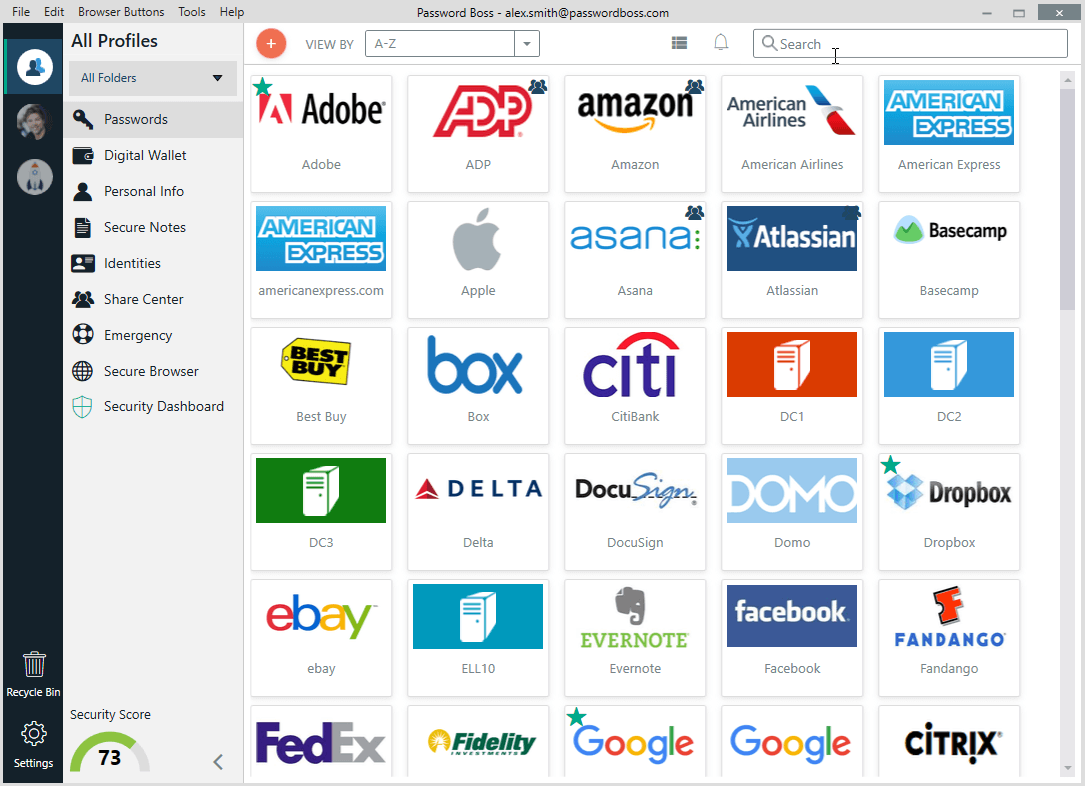 Password Boss manages to pack almost all great security features into one very good-looking and very reasonably priced app and that is why we consider it to be one of the best password managers for Mac and Windows PC.
The app allows the storage of passwords as well as credit card info and notes. The app has also got a security evaluator that monitors the internet and lets you know if your info is at risk or has been compromised.
Moreover, apart from the free version, the app also offers a 30-day money-back guarantee on the paid version so that users can test the paid versions themselves and decide if they want to continue.
Key Features
Remote Control Integration: allows you to log in instantly, and access your remote application.
Role-Based Access: works by assigning different roles to your team members. They can view, setup, manage, and access the customer's password accordingly.
Two-Factor Authentication: increases the security of the customer data by verification.
Multi-Layered Security: secures data with a unique key, created from each customer's master password.
Multi-Device Access: quickly access your and your customer's password and syncs it across all devices.
Dark Web Feature: secures data from possible security breaches by continuously monitoring the data.
Auto-Logins: allows fast and easy login to all accounts.
Pricing
Currently, Password Boss is being offered these options:
Free: Offers some basic features and restricts usage to a single device.
Premium: Costs $2.50 per month and offers almost great features like sync, unlimited password storage, multiple-factor authentication, digital wallet, etc.
Families: Costs $4 per month and while it offers the same features as the Premium version, it allows up to 5 users.
Standard: Costs $3 per user per month. Offers everything in Premium plus team management and sharing features.
Advanced: Costs $4 per user per month and offers everything in Premium and Standard plus some advanced security and reporting features.
---
Supported Platforms: Web, Android, iOS, Mac, Windows, Blackberry, Linux
Browser Extensions: Chrome, Firefox, Safari, Opera, Edge, and IE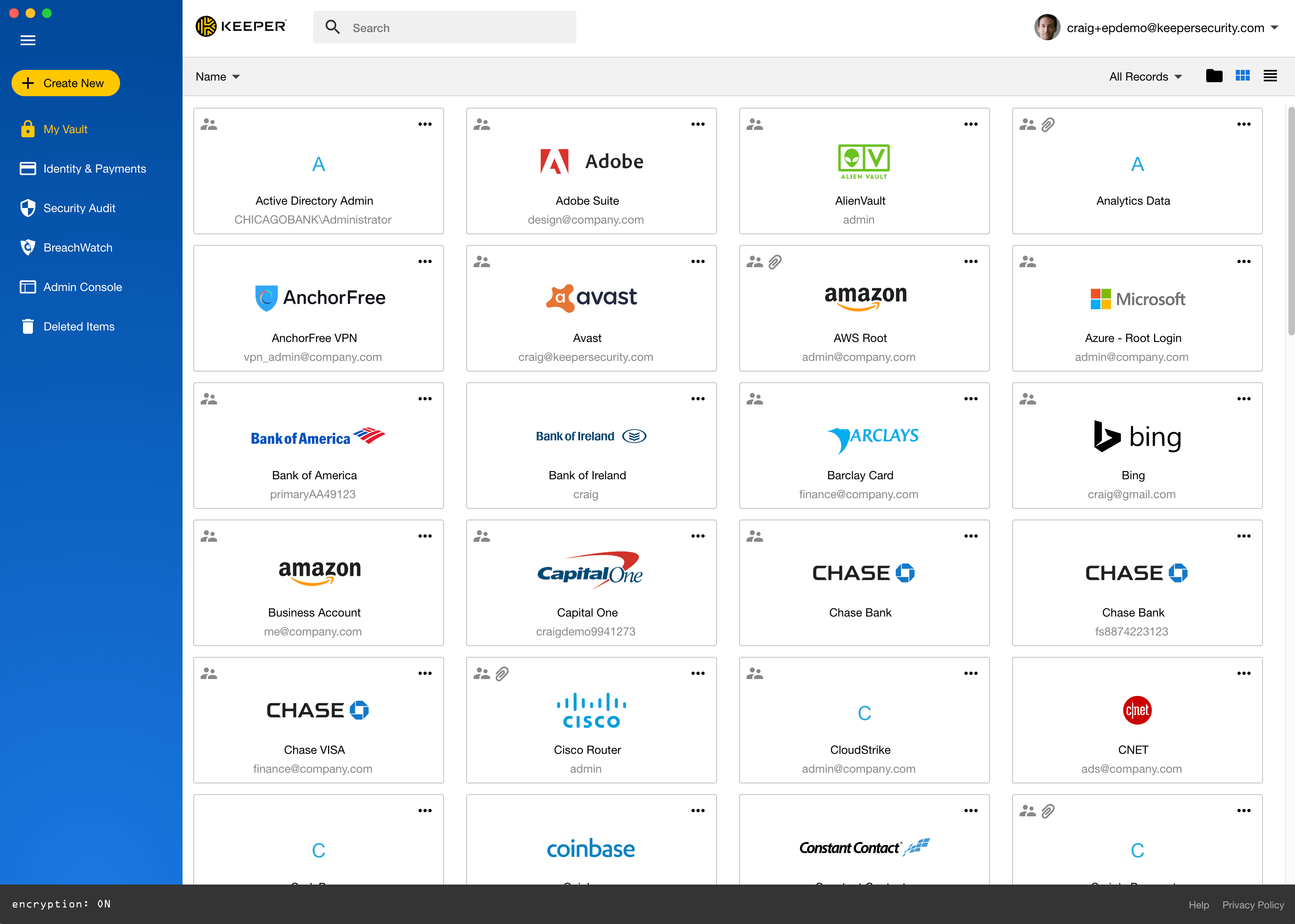 Keeper Password Manager does not concern itself with doing anything fancy, security is the only thing that matters to this app and it does incredibly well in that department. So well that we can't help but place it among the best online password managers.
Although the app's UI could use some overhauling when you consider the security features that the app offers at such economical rates, it's hard not to like it.
Moreover, with features like application autofill, custom fields, emergency access, and version history, Keeper easily jumps ahead of most of its competitors.
Most password managers like to skip such things and provide basic functionality, but the fact that Keeper added them shows their level of security and professionalism.
Key Features
Improves your passwords by eliminating the weak ones, and creating new strong passwords.
Keeps your password secure by Two-factor authentication. It requires both your master password and fingerprint while logging in.
Auto fills your forms and passwords by storing the persona and payment data saved.
Allows you to share your password record, and maintains the control just the way you like.
Emergency access works by giving read-only access to your trusted contacts. So, in case of an emergency, they can access your data.
Captures password to save your credentials, to fill your forms, and save your time.
Pricing
Keeper Password Manager is currently being offered in three options:
Free: Offers basic features and is restricted to one device and one user.
Personal: Costs $29.99 per year and offers all the features but it's restricted to one user. This version offers features like unlimited password storage, device syncing, cloud backup, password generator, etc.
Family: Costs $59.99 per year and it allows up to 5 users. This version offers all the features being offered in Personal plus 10GB secure file storage space.
---
11. RememBear – Best Free Password Manager
Supported Platforms: Mac, Windows, Android, and iOS
Browser Extensions: Chrome, Firefox, and Safari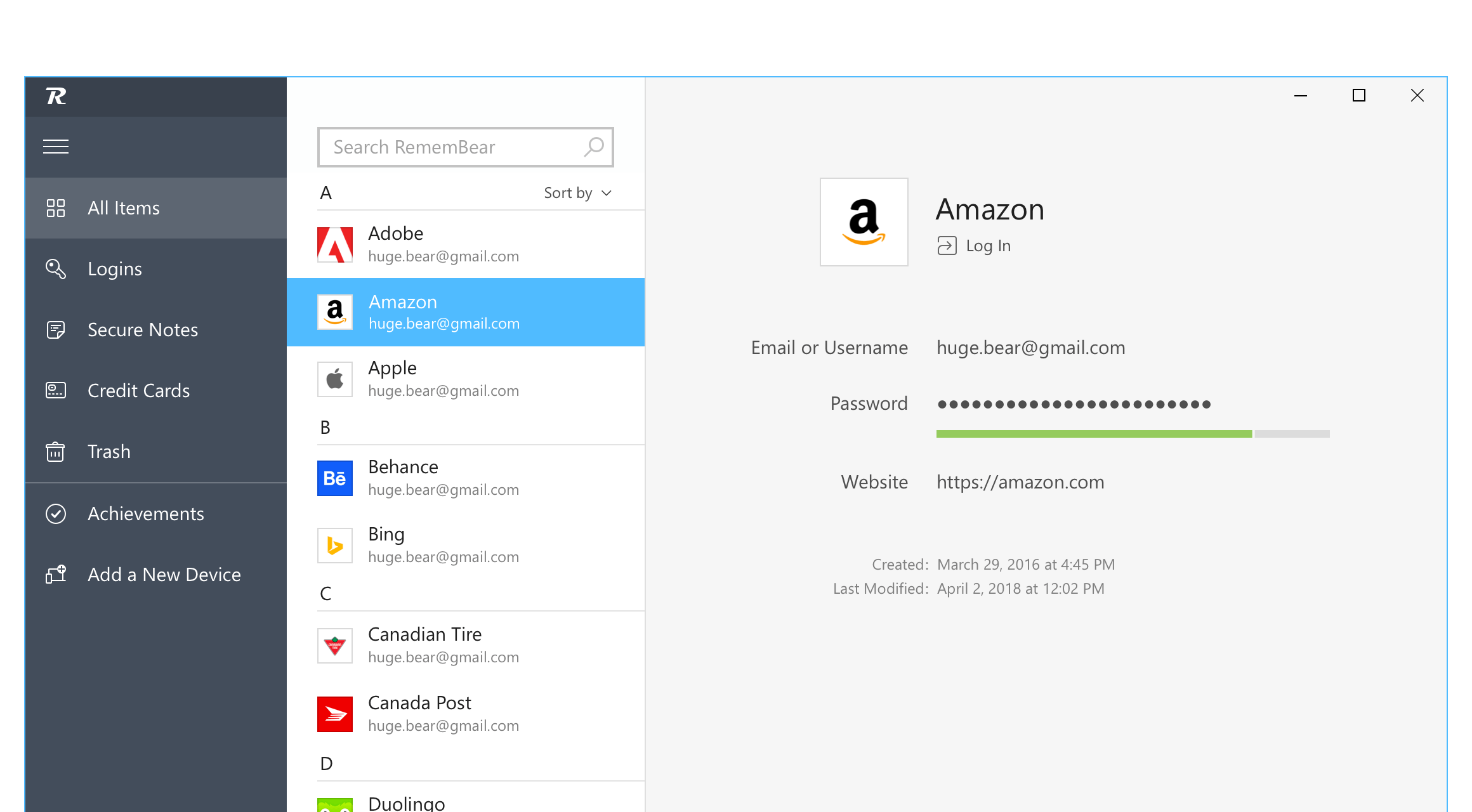 We believe that RememBear is a good addition to the password manager software family. It has all the necessary features that a customer may need.  The top-notch features it has are secure password storage, import passwords from browsers, function as a digital wallet for credit cards, and much more.
Even though RememBear is easy to use, it isn't the best free password manager since its important feature has to be paid for to be used.
RememBear is one of the best password managers, and it is developed by the same company that gave us TunnelBear VPN.
Key Features
There is an auto-fill feature, which saves and sync's all of the user's passwords and credit card details to their devices.
It provides secure and-to-and sensitive data protection allowing the user to store sensitive information or notes.
RememBear supports fingerprint ID and face recognition and can automatically be audited for security.
It not only manages passwords for all of the user's website accounts, but it also saves credit card information securely onto websites.
Pre-existing passwords can be imported from browsers such as Firefox, Google Chrome, and even from some of RememBear's competitors 1Password and LastPass.
A browser plugin can be installed for Firefox, Chrome, or Safari. There is also a standalone app for Windows, macOS, iOS, and Android devices.
Every account comes with a recovery backup kit.
Pricing
RememBear is free to use. After signing up, all features can be used for free for 30 days. Unless you pay for premium, you won't be able to sync your passwords, notes, and credit card information across multiple devices. You can still use RememBear on different devices.
Premium: costs $3 per month or $36 billed annually. Features include sync passwords, notes, and credit card information throughout various devices.
---
Supported Platforms: Windows, macOS, iOS, Android, and Linux
Browser Extensions: Chrome, Firefox, Edge, Opera, Safari, and more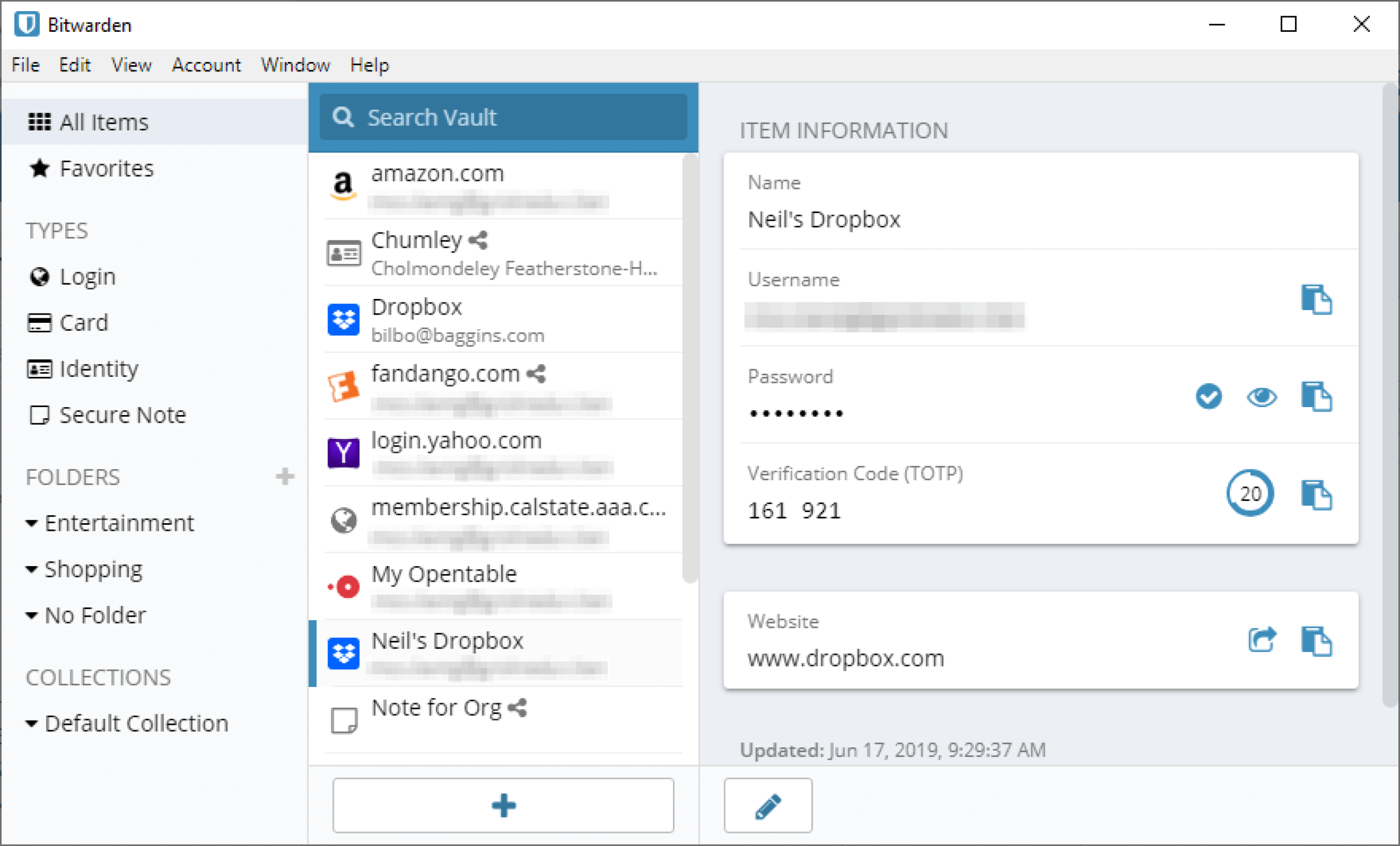 Bitwarden is probably one of the safest and best open-source password management software. It saves sensitive personal information in encrypted storage space. Teams, businesses, and even individuals can use it to store and sync data.
Bitwarden has a Premium version, which gives the feature of advanced two-factor authentication and can serve as an authenticator as well. The free version has quite a few features to offer, however, the paid version doesn't cost that much and is pretty budget-friendly.
It allows for hassle-free browser integration. User groups love this tool since it gives them seamless control and management over teams and various departments.
Key Features
It shares and manages the user's logins, secret keys, and much more with other users within the company with the utmost security protocols.
It provides a vault health report, which gives insight into the user's audited data.
Audit trails can be sought out and reviewed through event logs. These logs leave traces of the activities and tasks completed by the organization's users.
There are multi-factor login policies that can be implemented for many users through the integration of duo security.
It gives flexible API access, which lets the user integrate their organization with other systems and tools.
Provides a highly secured file storage facility that allows the user to store & share sensitive files, such as private keys, certificates, documents, photos, etc.
Groups and users can be synchronized from an active directory, along with other LDAP, G-Suite, Azure, and Okta.
Bitwarden can easily be implemented and hosted on-premises without being dependent on any external cloud services.
Pricing
Bitwarden has a free version in which all the necessary features a user may need.
The Premium plan has a cost of $10 annually. It gives some very useful bonus features for an extra $1 per month for complete control of the secure sharing feature.
Team and Enterprise licensing is charged according to per seat being used.  Bitwarden accounts can be hosted in-house instead of being dependent on the cloud.
---
13. KeePass – Best Password Manager for Linux
Supported Platforms: Windows, Linux, Mac OS X, and mobile devices
Browser Extensions: Firefox and Chrome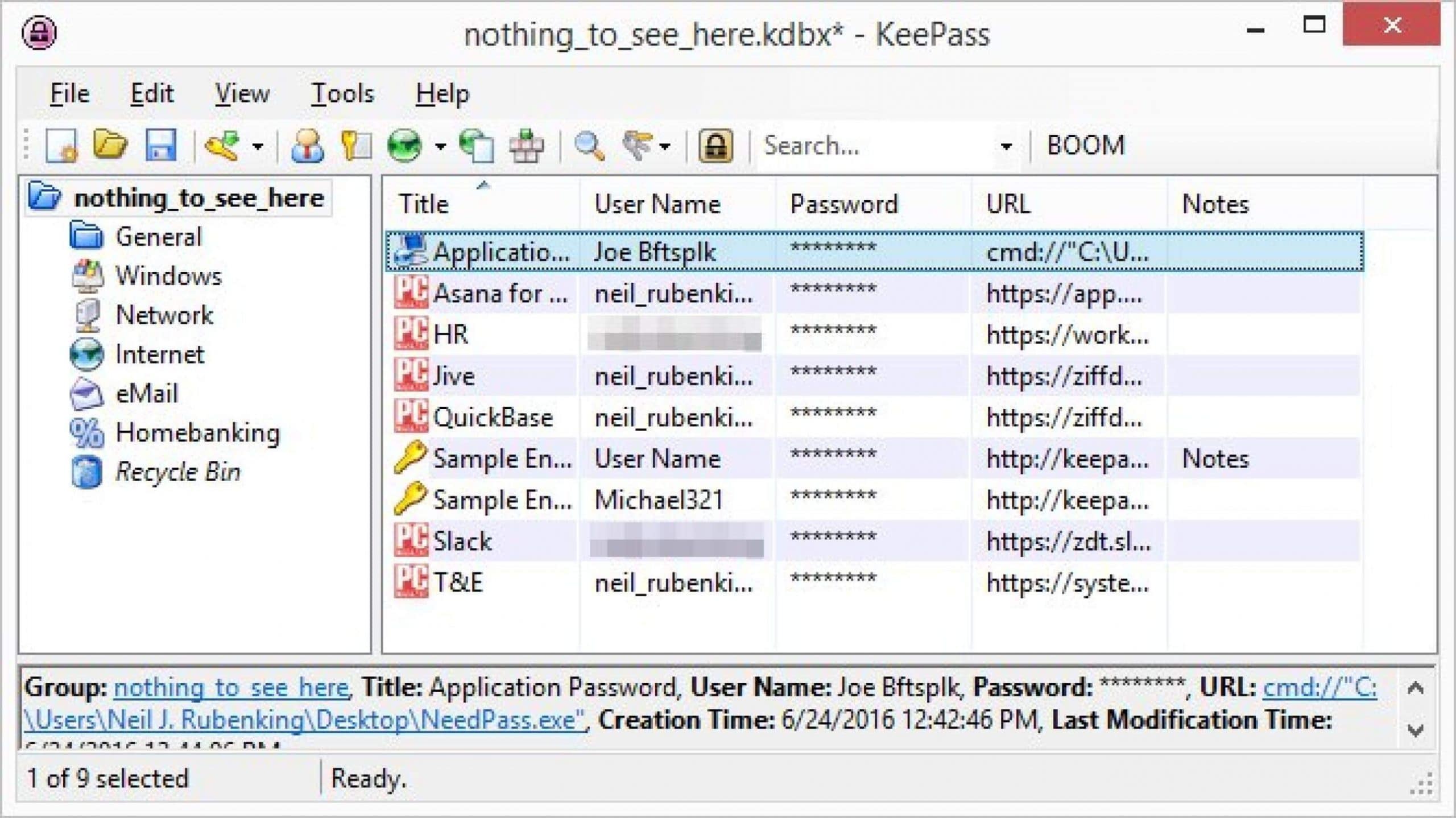 KeePass is one of the best open-source password managers for tech-savvy users. It is free to use, easily customizable, and has rich features. This tool is great for those who like working with a basic interface, integrating plugins, and doing some manual work.
The user can store all of their passwords in one database, and a master key is used to keep it locked. This is extremely convenient because the user only has to remember one master key to unlock the whole database.
Even though KeePass is not a glamorous easy-to-use software, it has an amazing variety of features, security strength, and flexibility. It can be customized to the user's needs and has numerous plug-ins, which is great for those who like to fix things.
The best part is that KeePass is completely free and open-source software.
Key Features
Provides one master password that gives access to the whole database, which also allows only one file to be easily transferred from one computer.
It is highly transportable and compact, and it can be carried on a USB stick. It can also run on Windows systems and doesn't have to be installed.
KeePass has a password generator, which creates passwords for each of the user's logins. The password list can be exported to different formats, such as XML, HTML, TXT, and CSV.
It is easy for people around the world to use KeePass because it can be translated into many different languages.
It has a browser extension that integrates the tool with the browser in use for ease.
KeePass has a mobile app that integrates with the device to use with other apps.
There is two-factor authentication, which gives extra security because it requires the user extra verification of the password.
Pricing
KeePass is completely free of cost for all users. Desktop users have a choice between KeePass Classic and Professional editions.
Classic: runs only on Windows Vista through Windows 10.
Professional gives many more features, especially in the most needed one: the synchronization of data on all the devices. It runs on the same versions of Windows as the Classic version. The Professional Edition also runs on Mac, Linux, and BSD. However, KeePass users on all platforms are required to have the Microsoft .NET framework. They can also have the open-source, multi-platform Mono installed as well.
---
Supported Platforms: Windows/Mac desktop, on iOS and Android
Browser Extensions: Chrome, Firefox, Safari, and Internet Explorer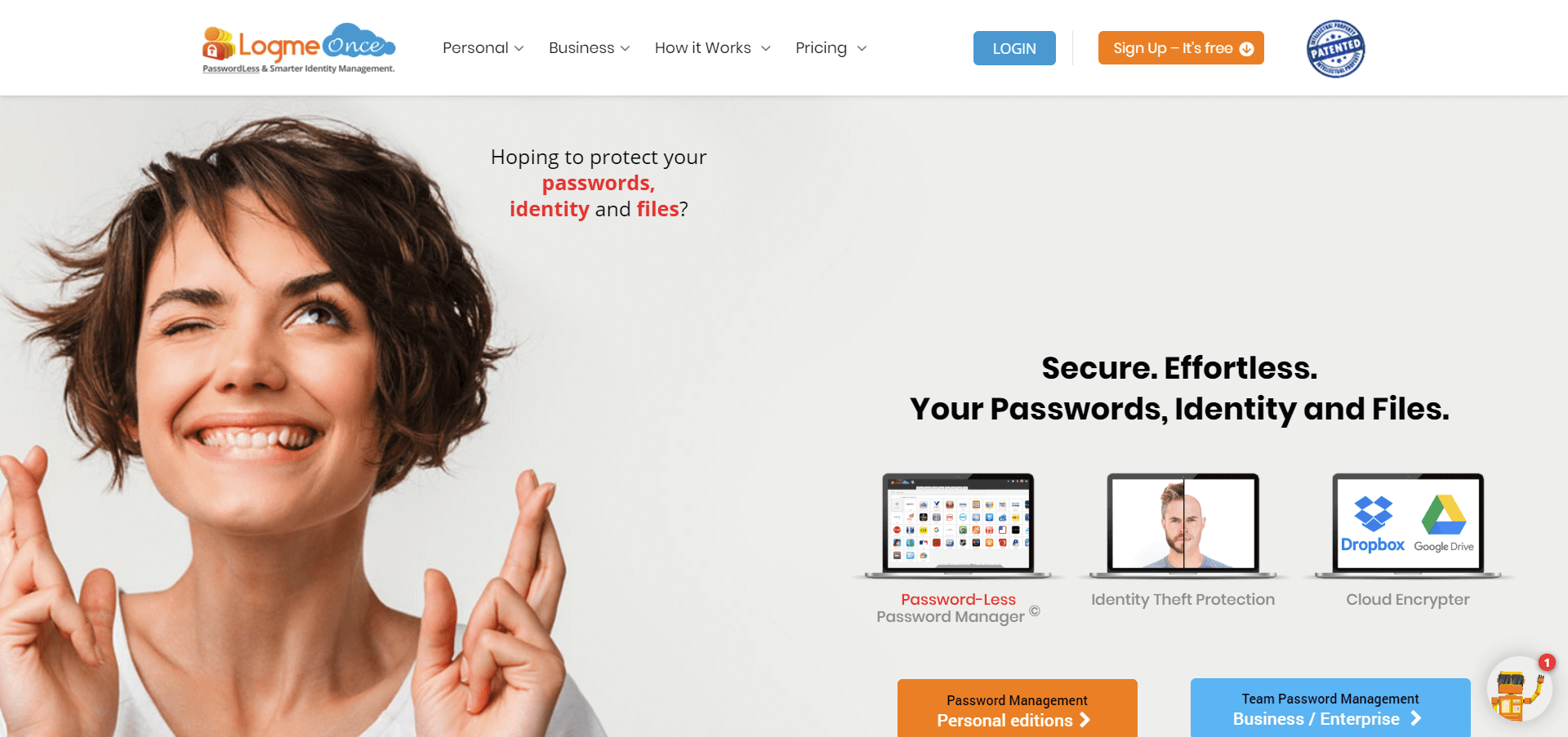 As a password management software, LogMeOnce suite gives its users so many more features than its competitors. As a tool, it can generate strong passwords. It also has a password capture and replays feature, which is extremely convenient.
The best part is that LogMeOnce has a default login process that is passwordless, and this is executed by using smartphone-based authentication. We do this that LogMeOnce is one of the best password managers in the market, and it has more features than any other software.
Key Features
Password Manager: manages all your passwords, IDs, and credit card information in one place.
Compatible with all your iOS and Android devices, making it easy to be accessible from any device.
Anti-Theft Protection stops a hacker from hacking your online information.
Dark Web Monitoring: continuously monitors browser and alerts you in case of any stolen data.
Ensures high-level security with fingerprint Id, face recognition, two-factor authentication, and more.
Digital Wallet: stores all credit card details, and makes your online shopping easy, and secure.
Cloud Encrypted: encrypts files, images, and documents stored on your storage sites with your password.
Pricing
LogMeOnce offers the following paid plans:
Premium: The cost is completely free of cost. The Premium plan gives its users access to almost all of the paid features, but with limitations. It does not have the location information for the login attempts feature, and nor can it schedule logins in advance. The Premium plan is great for those who just want to use the password management feature.
Professional: The cost is $1.00 per user per month. This plan is very budget-friendly and even though there aren't many added paid features, except for these: expanded encrypted storage and anti-hacking tools on more devices.
Ultimate: The cost is $3.25 per user per month. Unfortunately, this plan increases the monthly fee more than its committed price.
Business & Enterprise are two different price tiers for larger teams. Business costs $2.00 per month and Enterprise costs $4.00 per month. The cost is billed per user, and there is a requirement of at least three users to sign up.
Nonetheless, this price hike allows the user to get features such as password less metadata. The user can see the login attempts geographic location, and schedule advanced logins, etc.  They also receive larger free encrypted space storage access for up to 10 GB.
Unlike most services, LogMeOnce allows the user to try all the features before accepting a commitment to the monthly fee. They have a 30-day money-back guarantee policy.
---
15. RoboForm – Password Manager for Chrome
Supported Platforms: Windows, macOS, iOS, Android, Linux, and ChromeOS
Browser Extensions: Chrome, Safari, Firefox, Microsoft Edge, and Internet Explorer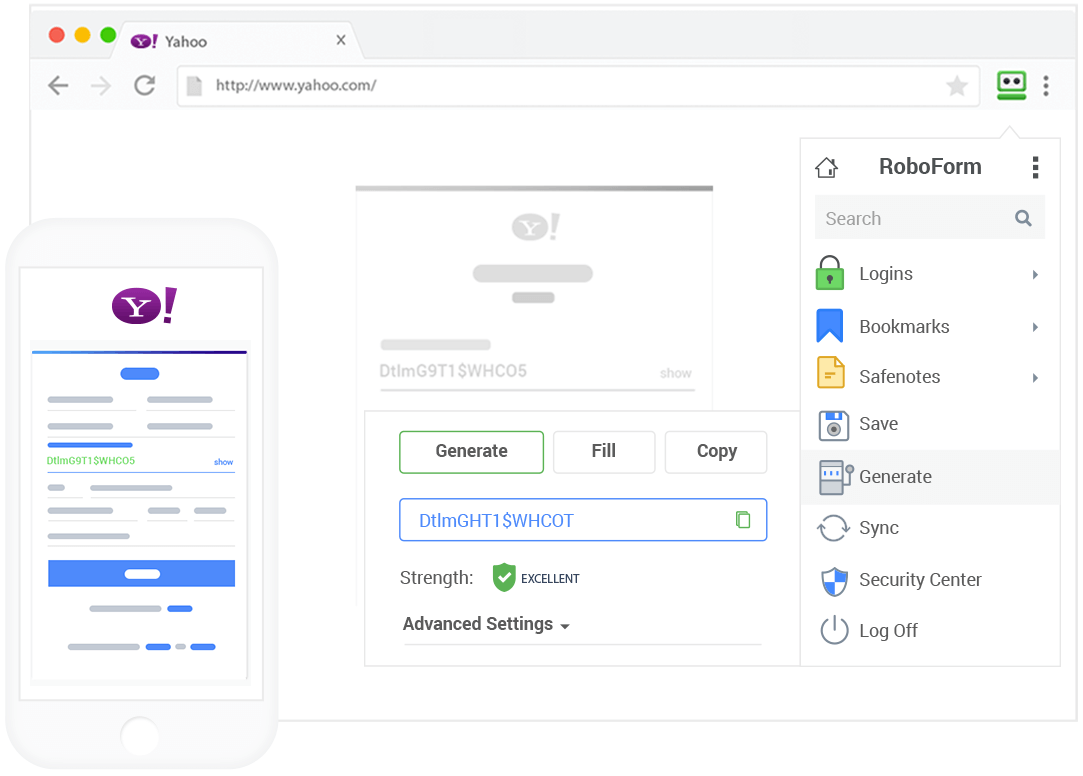 RoboForm is a convenient and time-saving tool, which allows the user to safely store and access their passwords. The auto-fill feature can be used to enter personal data for long web forms. It has an auto-save new passwords option and saves all the passwords in one place.
AES-256-bit encryption with the PBKDF2 SHA-256 algorithm is used by Roboform to protect data. We feel that it is the best free password manager for Android, iPhone, and Linux.
The app locks after timed inactivity. It also syncs all the passwords throughout all devices and computers.
Key Features
It lets the user share information securely with other users, and data with family and friends can also be shared.
RoboForm gives users unlimited password-less login entries for their apps.
There is also a password auditing feature, which lets the user examine the security strength of the website.
It allows one-click logins to web accounts with the RoboForm browser form, and data can easily be accessed from all the supported browsers and apps.
RoboForm supports the multi-step logins and lets users log in to other applications with the accessibility service.
If the user misplaces their device, they can still access their data since it is synced and available on all supported platforms.
RoboForm supports the two-factor authentication and the optional PIN and Touch ID features.
Pricing
Free: Lets the user save unlimited passwords, auto-fill web forms, and access data offline. Users can also store links to their favorite websites through the Bookmarks feature. And it synchronizes all the bookmarks throughout numerous browsers and devices. Unfortunately, RoboForm Free can only be used on one device.
Everywhere: Costs $3.98 per month and gives five accounts as a Family option, and this is the best password manager for families. They give discounts on multi-year payments. Once the user has upgraded to this plan, they can sync their private data across all browsers and devices.
Upgrading to RoboForm Everywhere allows Emergency Access and Secure Sharing. Additional features are cloud backup and two-factor authentication with support for TOTP apps.
Premium: Costs $1.99 per month, which has RoboForm Everywhere subscription features, along with additional secure backup, syncs across all devices, and priority support. The Premium cost is in addition to the Everywhere plan cost.
---
Supported Platforms: iOS, Android, Windows Phone, macOS, Windows, and Blackberry
Browser Extensions: Chrome and Firefox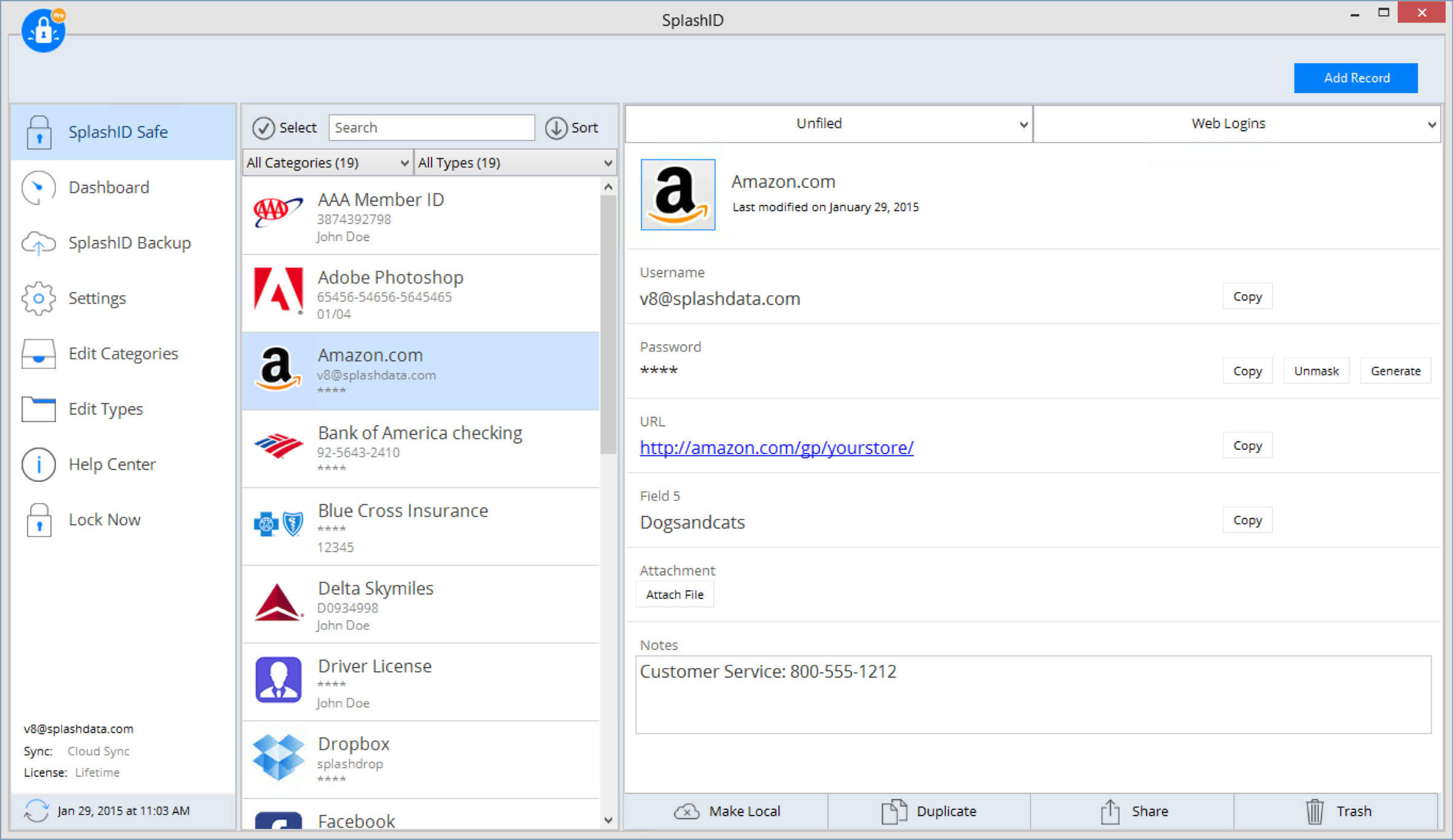 As a password management solution, SplashID aids its users to access their accounts and sensitive information securely. They can get access to their important information instantly and can share information with other people securely.
SplashID does give its users the most basic and necessary features, such as a password generator, limited auto-fill, and two-factor authentication.
Unfortunately, it does not provide a reasonable free plan and automated import features. It is considered a sub-par tool compared to its competitors.
Nonetheless, it is one of the best Android password managers and we highly recommend it for Android users.
Key Features
Users have complete control of passwords and important information throughout the web.
Backups can be securely downloaded and restored with ease, and it provides multi-layer security of data with hashing.
As a tool it gives its users flexibility, providing them with an unlimited number of customizable records and categories that store various types of passwords and personal information.
The user interface is easy to use and is also customizable. The user can alter or define list views, support custom icons, and field labels.
SplashID uses AES and 256-bit Blowfish encryption, which is top-notch protection for safe password management.
It synchronizes data seamlessly between the desktop software and other various platforms, such as iPhone, iPad, Android, and BlackBerry.
Pricing
SplashID's Free plan can only be used on one device, and it is great for users who don't need to sync their data.
The Pro plan costs $1.99 per month or $19.99 per year. It gives the user the features to access the app on many devices, cloud backups, the dashboard, sharing features, and priority support.
---
Supported Platforms: Windows, macOS, Linux, iOS, Android
Browser Extensions: Chrome and Firefox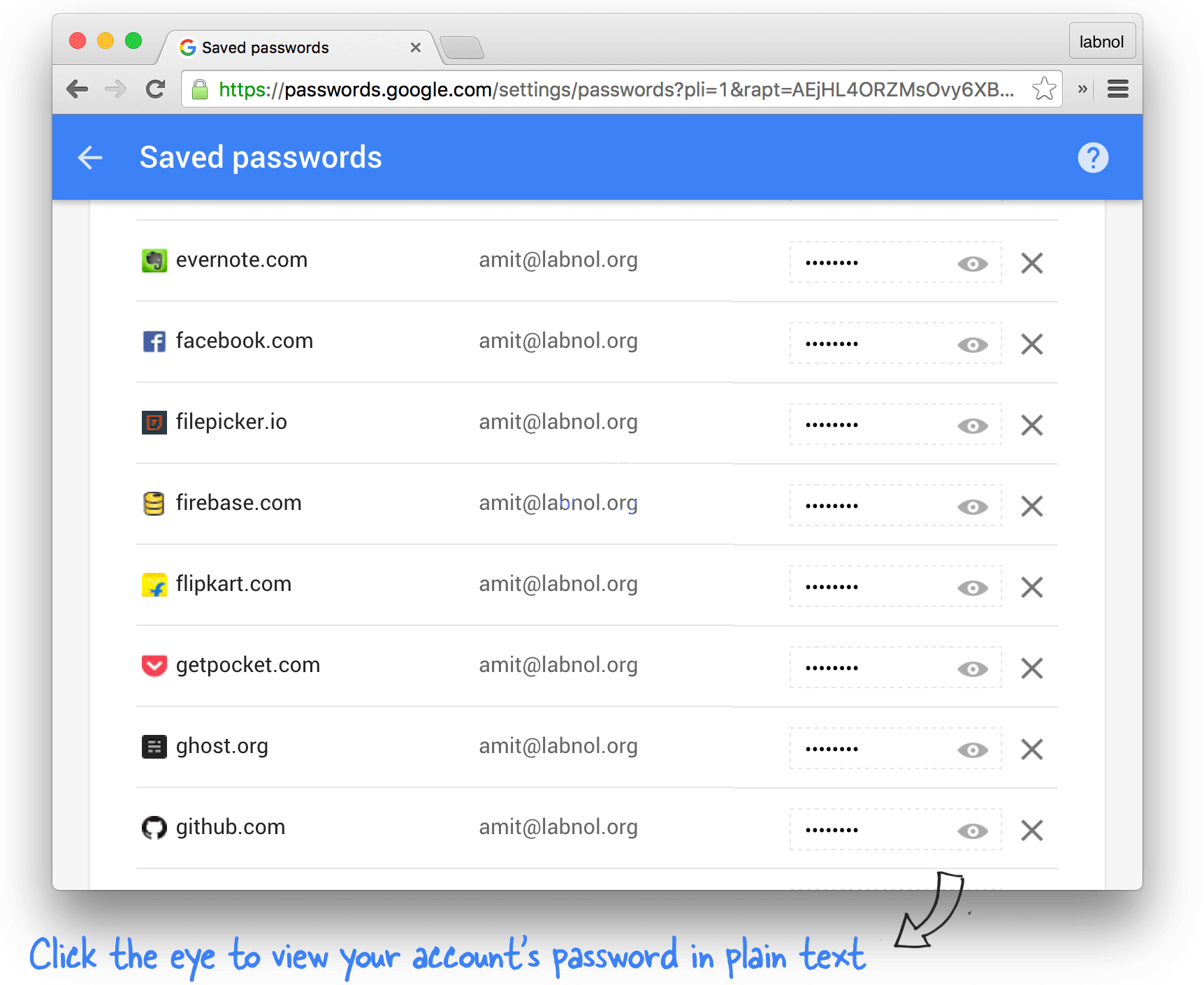 The Google Password Manager comes with many benefits, such as registration is done quickly, and making sure every account has a different password. However, some feel that being tied into Google's ecosystem may be considered a drawback.
The purpose of a password manager is to generate secure and different passwords that are centrally controlled. Google Password Manager has already been built-in Chrome, therefore, saving the user time and resources needed for another software.
Key Features
Since it is linked to Google's ecosystem, it will automatically detect the registration forms and fill in the password.
It makes it an important feature to make sure that all the passwords generated are unique, strong, and are encrypted, and safe. This tool can immediately detect weak passwords.
The user can access their account through the Chrome browser or online, and passwords are automatically saved onto their account.
It is completely free to use, which is great for those who have a tight budget.
Google Password Manager monitors the dark web. It scans to keep an eye out to make sure the user's information isn't drifting in unfit places making it easily accessible.
Passwords are made even more secure by activating the two-factor authentication.
It provides secure document storage to store a digital backup of the most sensitive files. This is, in particular, is helpful, especially if the user needs to securely share files or wants a backup.
Pricing
Google's Password Manager is completely free of cost, the only requirement is that the user needs to have a Google account for access.
Pricing
Google's Password Manager is free of cost – you only need a Google account to get started.
---
Supported Platforms: Windows, Mac OS, Linux, iOS, and Android
Browser Extensions: Firefox, Chrome, Safari, Edge, Opera, and Vivaldi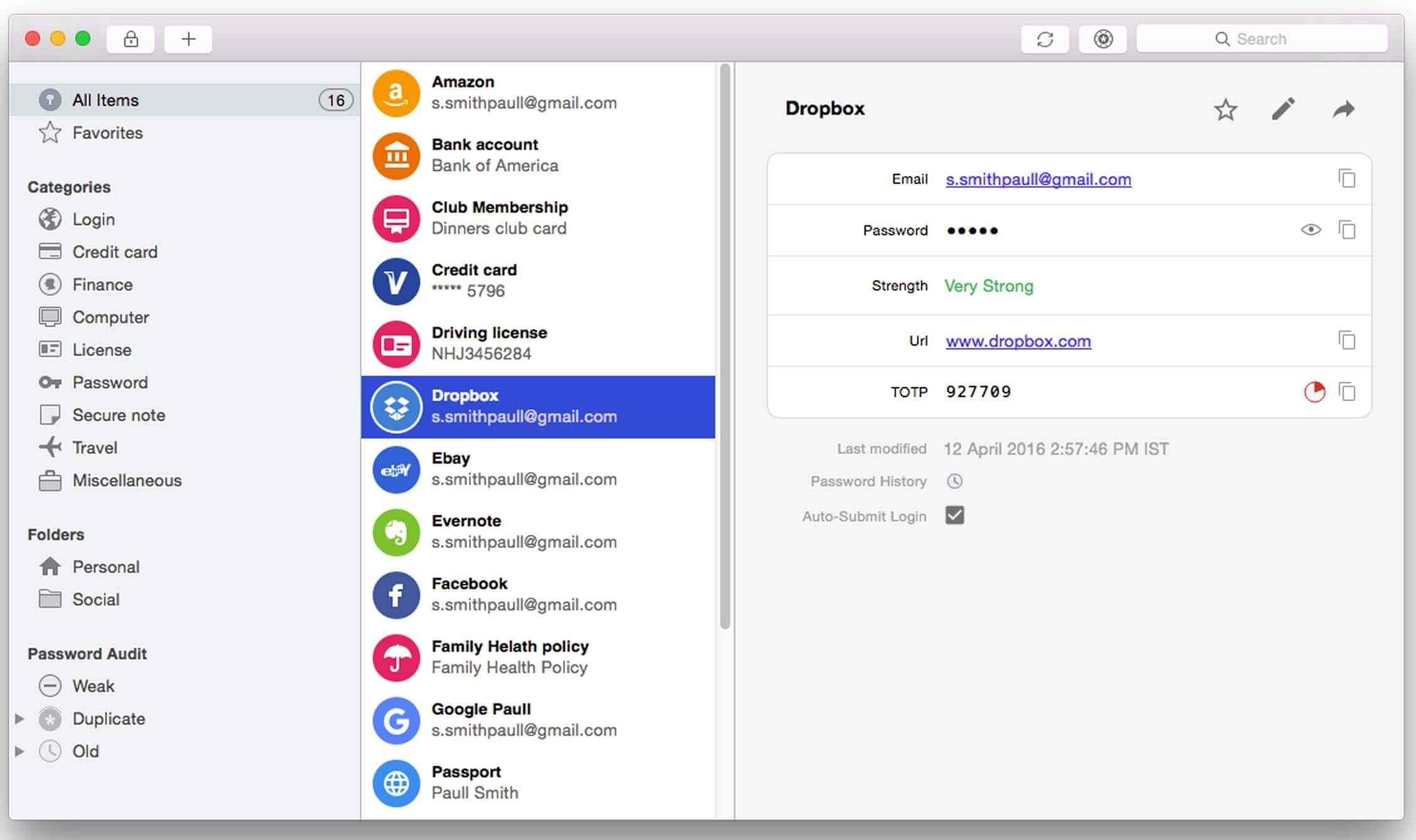 As a software, Enpass is a good cross-platform password manager. Using a master password securely saves passwords and other records. However, since it only gives users basic features, we believe it is best for individual and business users.
The desktop app is useful with its customizable password generators that allow the user to save all sorts of important data securely, such as passwords, financial information, and much more.
This way other than just saving a password, the user can also turn it into a digital wallet and save credit card & bank info, and personal IDs. As a password manager, it is pretty secure and lets users protect and operate many accounts through numerous devices.
Key Features
Data is securely stored locally on the user's device, and not on Enpass's servers. It allows access to the data through smart-watches as well.
Not only does it support the cross-platform feature, but it also has an auto-fill tool that allows automatic logins, fills in credit card and identification details.
Data can be categorized and segregated according to the work environment. For example, there can be separate filling for personal, work, or family.
Synchronization of data can be done seamlessly in Dropbox, Google Drive, iCloud, OneDrive, WebDAV, or a folder on a device.
A password strength check can be done, allowing the user to get rid of weak, old, and duplicate passwords.
There is an auto-lock feature that makes sure nothing is unprotected or left open. The best part is that unlimited accounts are protected for free on any desktop machine.
Enpass has a PIN feature that is used for a quick unlock if the password manager is already logged in using the master password.
Pricing
Enpass is free of cost, however, the free version entertains limited features if the mobile version is being used. The desktop free software version has no limitations. To use the fully functional mobile version, the user has to pay a one-time fee of $11.99 per platform.
---
Supported Platforms: Windows PC, Mac, Android, and iOS
Browser Extensions: Microsoft Edge, Firefox, Safari, Google Chrome, and Opera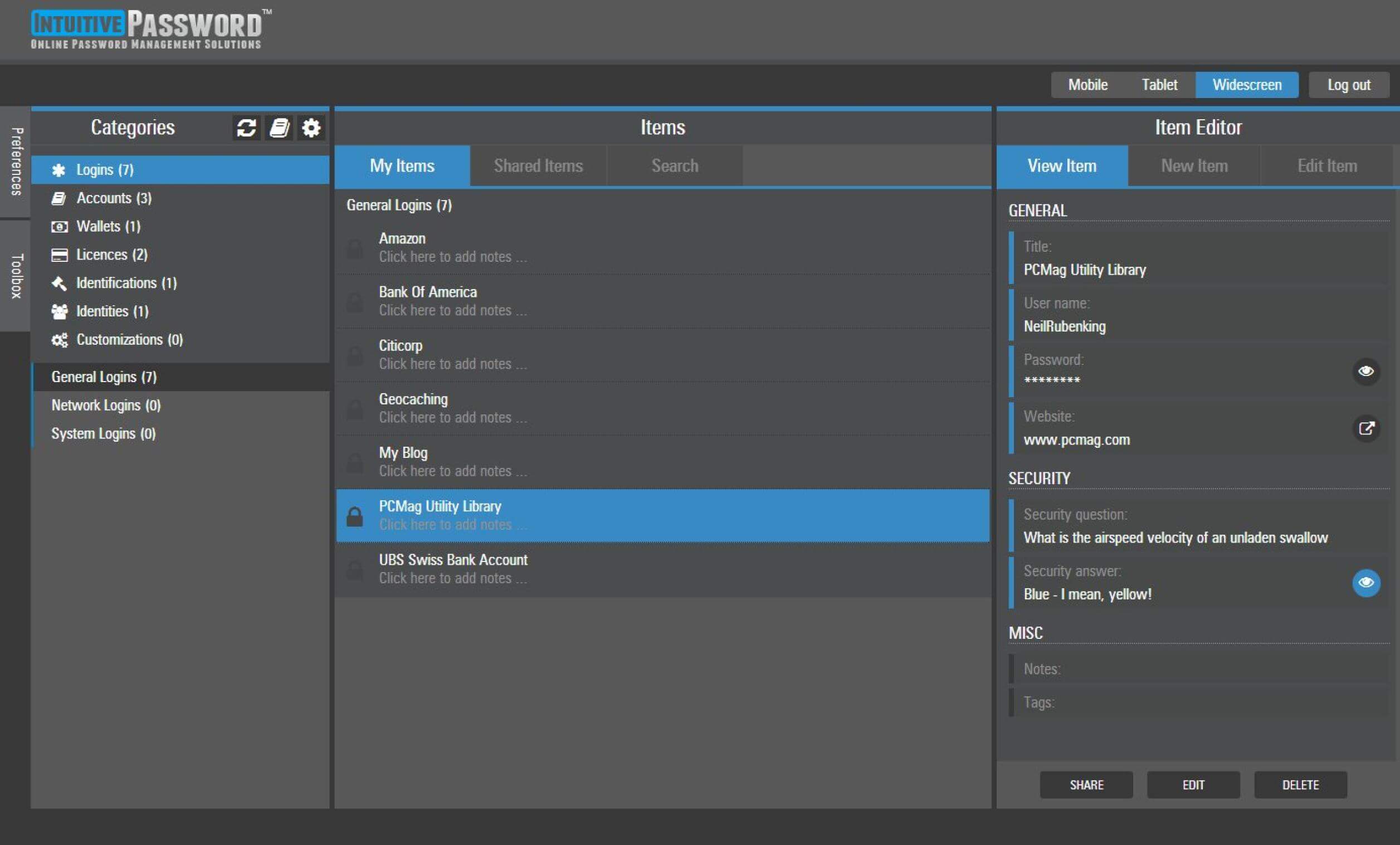 An intuitive Password is a tool used as a password manager and a generator. Once the password is saved, it will immediately be available on all devices. This tool was made to follow military standards, however, anyone can use it for any purpose.
Intuitive Password is a strong and dependable tool that changes the way individuals and businesses manage their passwords. It secures passwords to different: accounts, profiles, and access to critical systems.
The best part is that all confidential information is centralized. That means important details such as bank information, contracts, and other confidential documents are available from one place.
Data is automatically synchronized from all devices (mobiles and computers), allowing the user to access their profile, accounts, and info immediately. This software is great for those who want to beef up their digital security on social media and financial details and keep them safe from malicious activities.
Key Features
Data is automatically synchronized from all devices, which gives the user access to their data from anywhere and at any time.
This software can be used on various devices such as smartphones, tablets, desktops, and laptops.
Intuitive Password uses AES-256 encryption and two-factor authentication to store data reliably.
Not only is it a strong password generator, but it also has a security dashboard available for the user for control.
It has the automatic logins and password capturing feature, and it also immediately logs out of the user's account after long periods of inactivity.
It allows its users to have offline access to the data and an emergency access mode as well.
Users are given control and customization of folder management for their info.
Provides military grade level security for the user's online identity against fraud, phishing scams, malware, and cybercrime.
Pricing
Intuitive password manager gives the following price plans:
Basic: This plan is free of cost, and lets anyone start their accounts with strong passwords. It doesn't have many features but it does give the most important one, which is allowing the user to store 20 passwords. If they need more, they need to pay to use more storage.
Express: The cost is $1.34 per month. It has all the Basic plan features, including export passwords, offline access, and can backup and restore passwords
Advanced: The cost is $3.36 per month. This has the added feature of account inheritance to the features set, which means that the user can authorize access to their passwords in an emergency.
Pro: The costs are $10.07 per month. It has all the features of the previous plans, along with premium support, unlimited shared passwords and restores points, and an increased field size capacity and note length (48,000 characters).
Enterprise: The cost is $3.36 per month. Users can self-host their passwords, remove the branding via white-label service, add company branding and client features to integrate it into the business' needs.
They can also add SMS or email address authentication to the account, to receive security updates on failed login attempts, etc.
---
Supported Platforms: iPhone, iPad, Android, and other smartphones
Browser Extensions: Google Chrome, Opera, Firefox, Safari, and Internet Explorer 7+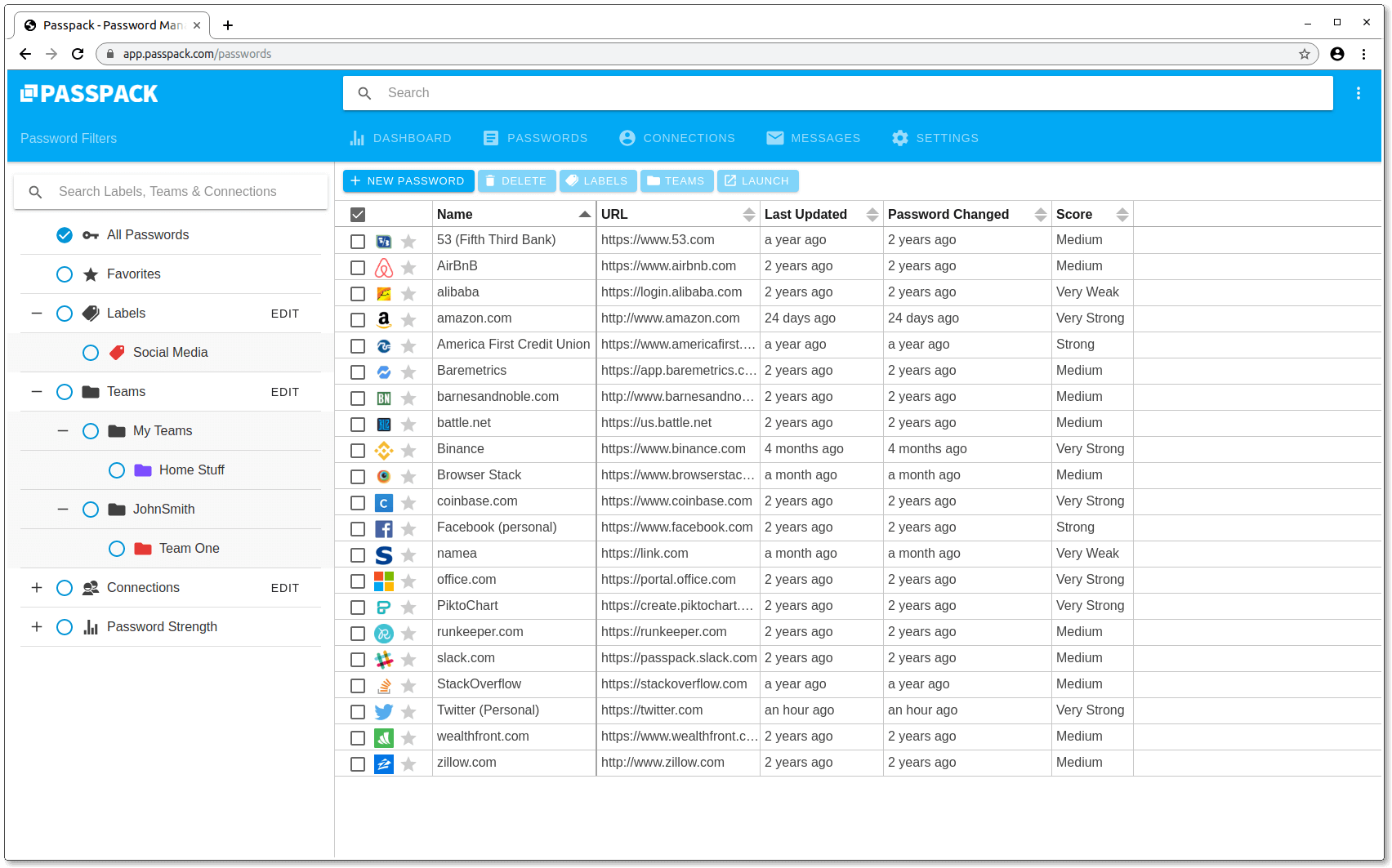 Passpack happens to be one of the web-based solutions that save and organizes usernames and passwords. It can be accessed from any device such as mobile, tablet, or desktop. Both customers and staff can be managed through this tool.
PassPack is a safe and dependable tool that keeps the user's data secure even if servers are hacked. Once the user has installed it in their browser, they can log in to any website. This is easier than importing passwords from CSV files.
Passpack is a great software for organizing passwords and storing them in one place for immediate access. It is also considered to be the best password manager for the iPhone.
Key Features
It gives the browser extensions allowing seamless website password management.
Not only do imports and exports passwords seamlessly, but it also has the backup and restores feature.
Users can access their information offline and they can use the single sign-on (SSO).
Has been built on AES-256 encryption, and provides multifactor and two-factor authentication, which allows secure password sharing.
The user can change the settings of their mobile device to skip two-factor authentication.
Not only does it allow third-party integration, but there is an unlimited number of passwords that can be shared.
Passpack allows the user to efficiently supervise various projects, team members, clients, and employees.
Pricing
Free: This plan is completely free of cost.  The features it has are password limit (100), two-factor authentication, unlimited outgoing sharing to a single connection, seamless import and export, and much more.
Premium: This plan is divided into four tiers:

Professional: The cost is $18 per year. Features are: 1000 a password limit, allows 3 shared users and 5 groups.
Group: The cost is $48 per year. Features are: password limit of 1500, allows 15 shared users and 25 groups.
Team: The cost is $144 per year. Features are: password limit of 2000, allows 80 shared users and 100 groups.
Business: The cost is $480 per year. Features are: password limit of 10,000, allows 1000 shared users and 300 groups.
---
Supported Platforms: iOS and Android
Browser Extensions: Opera, Firefox, and Google Chrome

A German company named Avira created a new security software called Avira Password Manager.  However, it is known for being one of the best antivirus software.
This password manager gives one of the simplest solutions in the industry. Even though it provides basic user features, such as: storing and recalling passwords, it still has many features to offer.
It is more or less impossible to hack into the encrypted vault of the Avira Password Manager, the security features are extremely strong. It also allows cloud syncing between devices.
Key Features
Create different, secure passwords, and store them safely. It also includes automatic checks for weak or reused passwords.
Notifies or sends the user an alert if one of their online accounts has been hacked.
Band grade encryption and two-factor authentication. It also allows touch and face id.
The latest iOS 13 release supports the new dark mode. Users can now switch between the Dark and Light appearance on an iOS device and the app will adjust the mode automatically.
There is a new Security Status feature that shows the user in one view how to secure their passwords, accounts, and listed websites are. It also shows if their valuable information may have been compromised, and take immediate action.
There is also a web dashboard available for users to access the Avira Password Manager.
Users can select the auto-fill feature manager and all their logins across all their favorite websites and apps will be filled with relevant information.
Pricing
Avira Password Manager lets all devices sync by default. It also offers a 14-day money-back guarantee and a refund will be given, no questions asked.
Free: The cost is completely free. Features it offers are unlimited password storage and cloud syncing, backup, and auto-login for accounts.
Pro: The cost is $2.99 per month or $2.66 per month billed annually. It has all the features the Free plan has, including security monitoring, password strength evaluator through the password analyzer, security breach alert, and website monitoring.
---
Supported Platforms: iOS, Android, Mac, and Windows
Browser Extensions: Safari and Chrome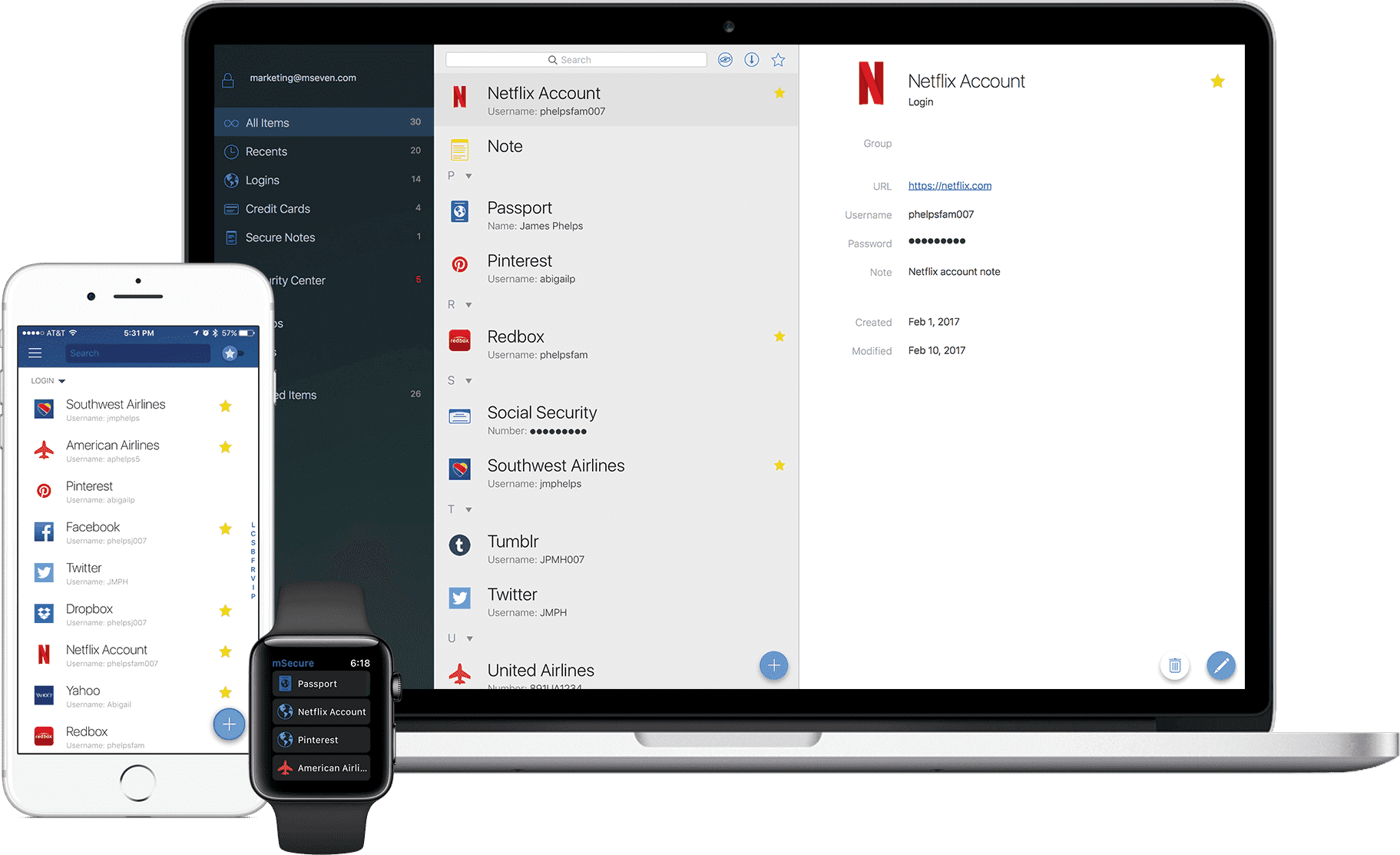 mSecure is known to protect a user's important information, which passwords and their digital wallet details that they may use every day. It lets the user access their data from all of their devices and platforms through the combination of pixel and byte.
mSecure has an all-new Advanced Encryption Standard. It doesn't matter if the person using it is tech-savvy or a novice, mSecure has an aesthetically pleasing and user-friendly interface.
They have wonderful customer support, which gives priority to all their users, along with the auto-fill functionality and a top-notch password generator system. As a result, mSecure has to be one of the best password managers for Mac.
Key Features
A Digital Wallet App operated with the best type of security that protects private and important information.
To make sure that the security in mSecure is unbreakable they have installed the AES 256-bit encryption.
Users can synchronize their data and keep it safe on all of their devices, through auto-sync via dropbox, or sync manually through Wi-Fi.
The password generator creates random and unique passwords, and the Security Center identifies and fixes old, weak, or repeated passwords.
It supports the Auto-lock and Auto-backup features, and the Touch ID and Face ID to keep data safe and allow quick and secure access.
Custom templates can be created with over 20 built-in templates, which help make a quick and easy data entry.
Pricing
mSecure has two price plans, which are:
Free: The cost is free, and the features include: unlimited records, over 20 built-in templates, group & filter records, and a robust password generator.
Pro: The cost is $29.99, which is a one-time purchase and a 30-day free trial is also given. All the Pro features can be used on all devices on multiple platforms. It has all the Free plans, including backup & restores, data sync across all devices, customizable templates, and much more.
---
Supported Platforms: iOS, Android, Windows, and macOS
Browser Extensions: Chrome, Firefox, Opera, Edge, and Linux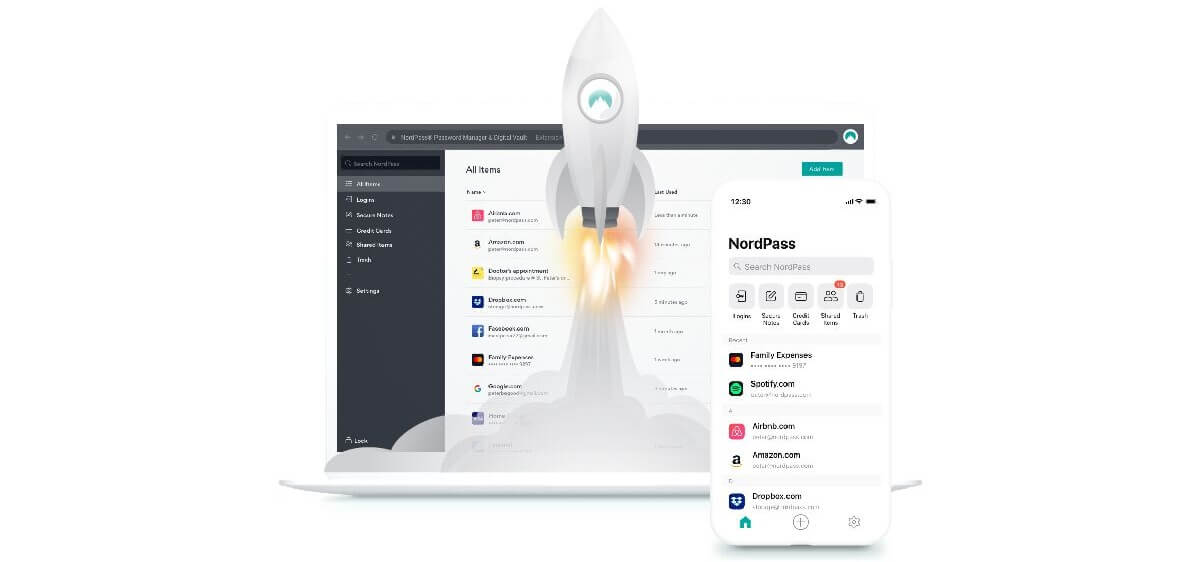 The NordVPN team has created a completely free password manager called NordPass. It is easy to use and a simple service that helps the user securely access their passwords from all their devices.
NordPass gives its users basic yet strong features, such as the generation of strong passwords, save them once entered, and the auto-fill login forms feature. We believe that NordPass is one of the best password managers for iPhone.
Key Features
Users can save and systematically arrange their logins, private notes, and credit card details in a protected password vault.
NordPass allows users to share passwords securely.
It is known to generate secure passwords that can be saved immediately.
Important and sensitive data is guarded in a vault through top-level security.
There are no limitations of when and how to access passwords since they can be accessed from all devices anywhere and anytime.
NordPass data is protected by zero-knowledge, a strong security architecture tool.
Pricing
NordPass is free to use for one device at a time.
Premium: The cost is $4.99 per month, and the one year plan is $35.88 and the two-year plan is $59.76. This lets the user access passwords on six devices and share items. It also has a free 7-day trial period, which we recommend to try before committing to a plan.
NordPass and NordVPN can be purchased on a three-year plan for $125.64, which is $3.49 per month.
---
24. Passwork – Beautiful Password Manager
Supported Platforms: Mac, Windows, iOS, Android, Cloud, SaaS, and Web
Browser Extensions: Chrome and Firefox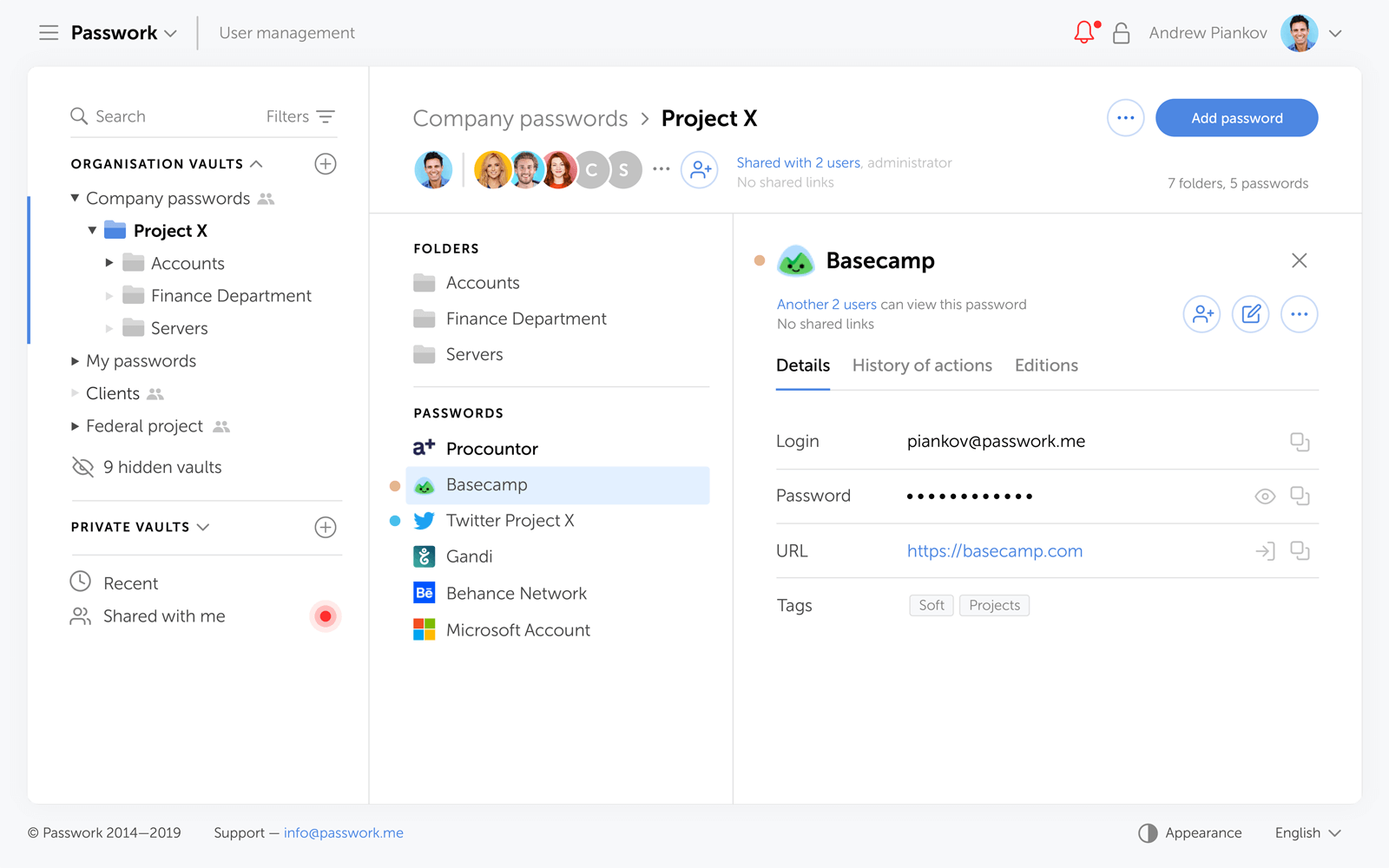 Passwork is a pretty good password manager. However, if you are looking for the best password manager for business, then Passwork is your go-to software.
As a business-focused password manager, Passwork lets the user choose between storing their passwords locally or in the cloud.
Passwork is known as an expensive yet efficient business password manager. It lets the user take a 5-day free trial, making us think that it is one of the best password managers for businesses.
Key Features
The user does not have to worry about secure password management since it is understood and a part of the software.
Has the industrial-strength AES 256 encryption, which stores and shares passwords securely.
Not only is it available on all platforms and has browser extensions, but it also has a cloud portal allowing easy access from anywhere at any time.
It also has an auto form fill feature, which can only be used via browser extensions.
Passwords can be imported and exported easily, and there is an effective label and search feature for finding passwords.
Customized setups for invites sent through authorized permission can be done to give access to vaults and folders. Teammates can be invited to be given passwords for vaults and folders.
Passwork allows the user to self-host their password server so they don't have to use Passwork's servers.
Pricing
Passwork handles subscriptions a little differently than other password managers. It gives a 5-day free trial with no credit card required, and has different types of pricing plans below:
Cloud: This is a one-year plan with a cost of $1.50 per month per user or $18.00 per year billed annually.
Small Team: The cost is $190.00 for a one time purchase, and it gives access for up to five users.
Start: The cost is $490.00 for a one time purchase, and it gives access for up to 20 users.
Standard: The cost is $990.00 for a one time purchase, and it gives access for up to 20 users.
Premium: The cost is $1,990.00 for a one time purchase, and it gives access for up to 100 users.
If you just want to try Passwork, you can take advantage of a five-day free trial, and no credit card is required.
---
Supported Platforms: Windows, Web, and Android
Browser Extensions: Chrome and Firefox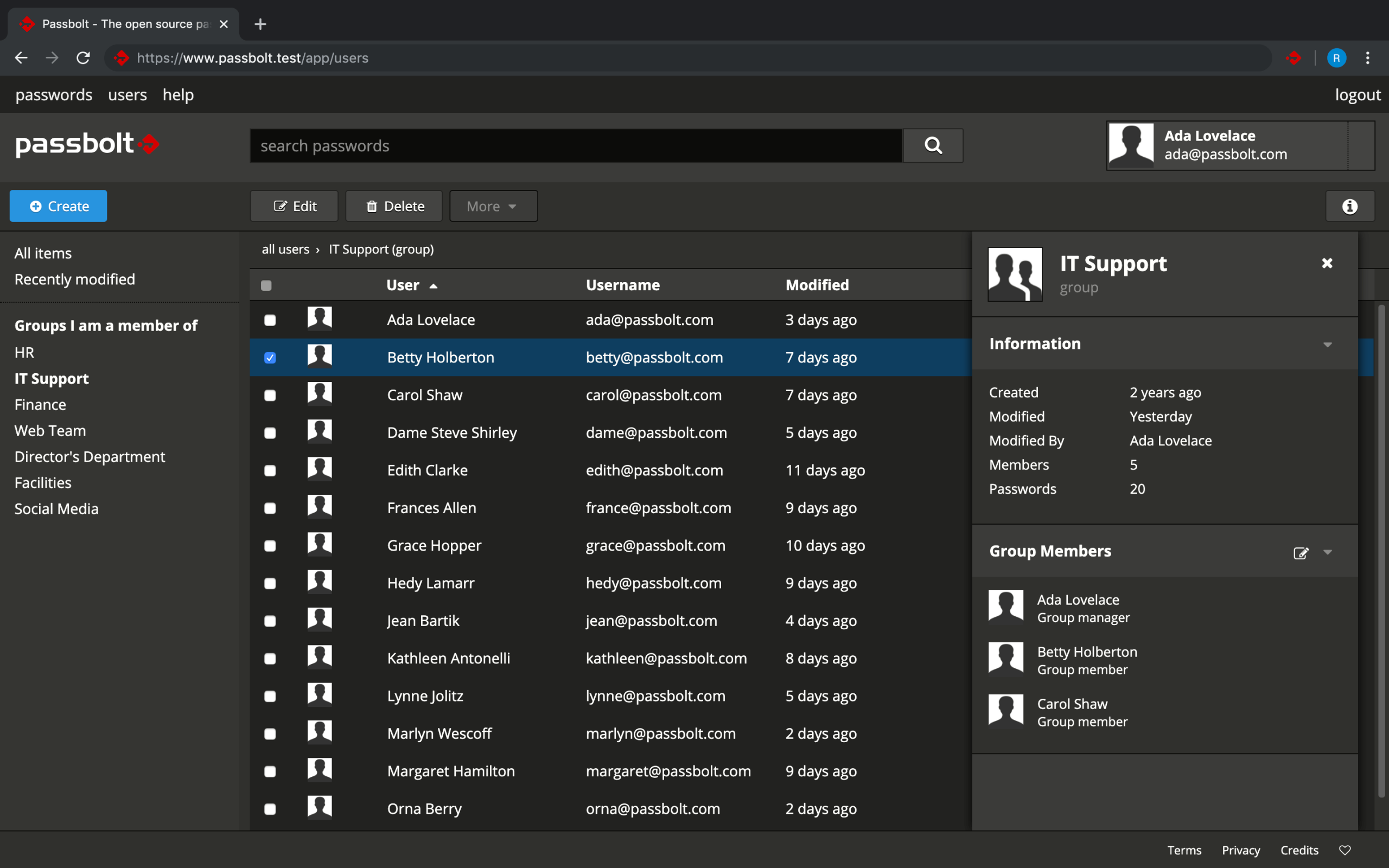 Designed for enterprise and for teams to use, Passbolt is an open-source password manager. Users can self-host it on their server or self-manage it on rented server space. Passbolt can also be fully hosted by Luxemburg developer Passbolt SA.
It can only be used for small and large businesses, and its purpose is to make managing a group of users seamless. This is one of the best password vaults for tech-savvy users. As software, Passbolt is great for startups and big businesses to share information.
Key Features
It provides optimal user and group management processes.
It has a dark theme option, which is retina friendly especially for users who spend long hours in front of the computer.
Passbolt has secure password storage and sharing, which means all passwords are saved on user-specific servers and protected via OpenPGP encryption all the time.
Instantly share passwords and credentials with teammates, which gives them secure access to corporate assets.
An unlimited number of users can be added along with an unlimited number of passwords that can be stored.
Passbolt can be used on browsers and added via extensions, which lets users add log-ins from specific web pages with a one-click option.
Email notifications are sent when passwords are changed or added, tags and comments to annotate passwords, and passwords can be exported in KDBX and CSV formats.
Pricing
Passbolt has the following pricing plans:
Community: It is completely free of cost. The features are unlimited users, password & user group management, granular password sharing, import and export, and much more.
Business: The cost is at $2.2 per user per month or $2 per user per month billed annually. The features it has are: allows up to 250 users, gives all Community features, also, a multi-factor authentication, activity log, VM appliance, and much more.
Enterprise: The customized for every organization's needs. The features it has are: allows 250 users, gives security and priority support, has a disaster recovery feature, on-premise management, and much more.
After the payment customers can try a package for 15 days, and if for any reason they are not satisfied they can cancel the subscription at any time no questions asked. However, the cancellation has to be within this period.
---
Supported Platforms: Android, iOS, macOS, Windows, and Linux
Browser Extensions: Chrome and Firefox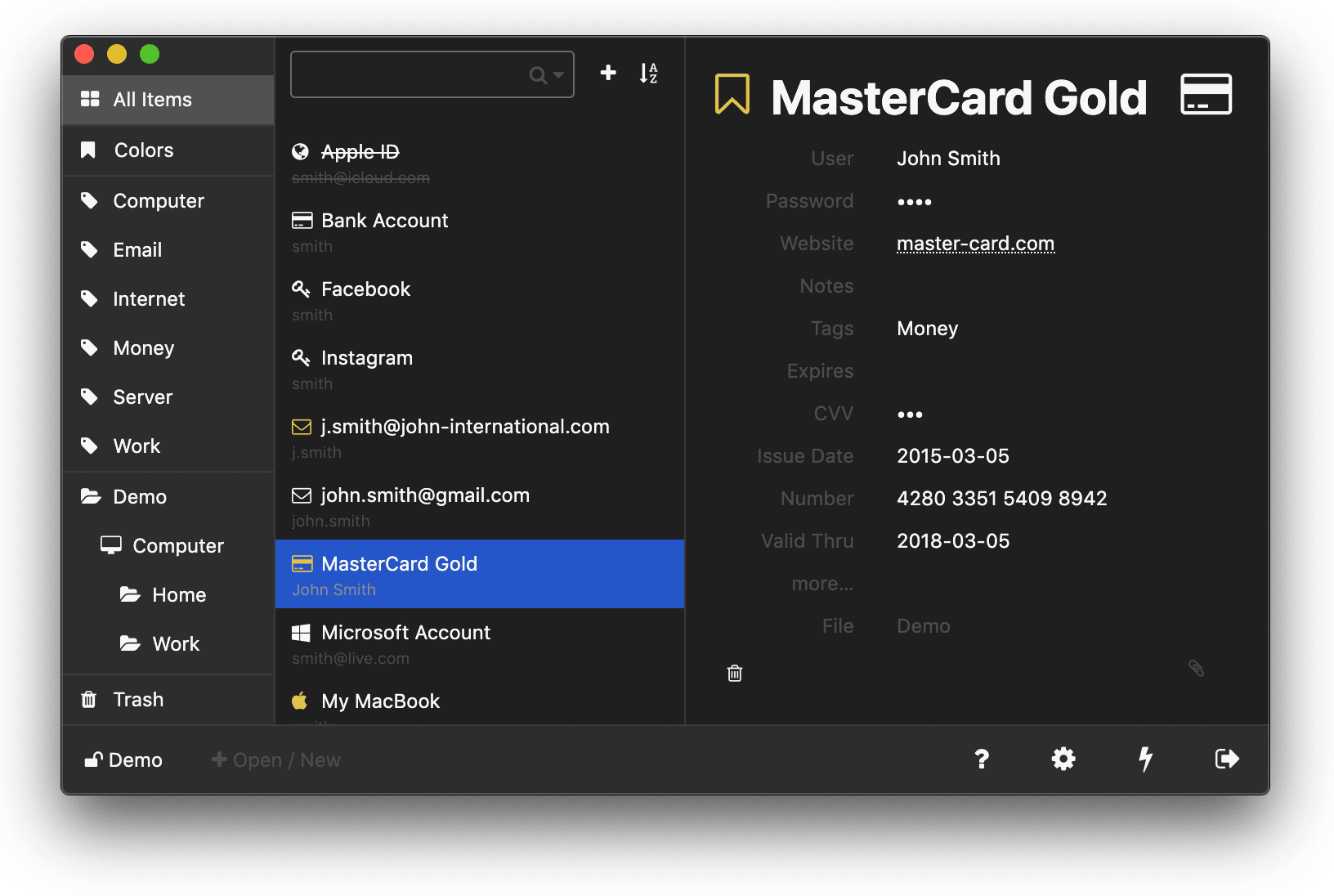 KeeWeb is one of the top-of-the-line password management tools that is great for the tech-savvy. It is completely open-source software.
Are you one of those people that uses their DOB or initials as passwords? With KeeWeb users can use the free version of the password manager on all of their devices.  This software gives the user the ease that their accounts are safe and secure, both online and offline.
Also, users are given one master password to remember for all of their data, and it has desktop apps for all its platforms.
Key Features
Offline access: allows you to use saved files when you are offline. Also, all the changes you made while working offline will be synced automatically when you are online again.
Supports Advances Search options for quick search of passwords, history, and more.
Open-source: you can build, and make changes according to your needs from the source itself.
Tag inputs: adds tags to arrange entries. You can quickly select them in the list or add new ones.
Built-in Password Generator: generates custom passwords of a specific type of characters given by the user.
KeeWeb allows you to extend its functionalities with plugins. Some of these plugins are translations for other languages.
Allows you to backup to a specific path, and set it to backup periodically, or just whenever the file is changed.
Pricing
KeeWeb is an open-source password manager and is free to use.
Conclusion
We would find it difficult to pick our favorite password manager, mainly because there are many reasons each password manager is unique. However, that doesn't mean you can't choose one!
Once you have picked one according to your needs and budget, be sure to share with us your thoughts in the comments section down below!
---
Frequently Asked Questions (FAQs)
1. What Is a Password Manager? 🤔
A password manager is an online secure, encrypted vault that stores all your passwords in one place. It keeps stock of and runs all passwords and other login credentials that a person uses to gain access to online websites, applications, e-stores, and other services they use.
What the password manager does is that is stores the user's passwords using an encrypted formula so they are protected from hackers and snoopers.
Login credentials are selected and displayed so the user doesn't have to remember the mother-load of passwords, except for just one to sign in to the device or software.
In some cases, the manager uses a PIN code instead of a password. Some password managers allow the user to gain access via facial or fingerprint recognition, other than using the master password.
Some password managers use the Google Authenticator, biometrics, or SMS-based to retrieve access, however, it depends on the app or device they are using.
---
2. How Do Password Managers Work? 🧐
A password manager does just that manage your passwords. What they do is that they help the user create, recover, and keep track of the long and random passwords through the many accounts the user has.
They do this while they protect the user's critical online and offline information. This online information consists of not just passwords, but also; PINs, credit card numbers that come with three-digit CVV codes, security question answers, etc. This is done with encryption that will drive the hacker crazy.
For a user to get all this security, all they need is to remember a single password to unlock their vault. This will allow their login data to be completely locked but at the same time only available to you and your fingertips.
Nevertheless, it is wise to take other security precautions, such as; setting the locks on the screens to all the devices, using 2FA on important accounts, and only use trustworthy devices.
---
3. Are Password Managers Safe? 🛡️
Good password managers are high on security, safe to use, and give users the confidence they need to safeguard their array of digital presence. However, this all boils down to choosing the right one.
A robust password manager will protect the password vault with solid encryption, such as AES-256.
Strong encryption will protect password management even it is stored in the cloud. Nonetheless, passwords that are on the PC, phone, or even tablet will be protected with a master password.
Also, the master password makes all the passwords on the devices unreadable by anyone that doesn't have that particular password.  On up-to-date devices, the vault can be unlocked with biometric authentication.
Password managers do several things that help users improve and secure their password protocol. Some of those things are;
They require the user to create new passwords and they will also alert them to let them know if they have used them before, more than once.
They compel the user to create stronger passwords, that score well on any password score matrix. Strong passwords usually have the following characteristics:

Longer than 12 characters,
Contain alphanumeric combinations,
Comprise of symbols, and intrusive characters,
Contain both UPPERCASE and lowercase alphabet combinations

They give the user reminders to use and apply a 2-Factor Authentication (2FA). This is an added layer of security to the password manager. So, even if someone was to gain access to your master password, they will still need the 2FA code to bypass the second security layer and access your password vault.
---
4. Can Password Managers Be Hacked? ⛏️
Yes, password managers in the past have been hacked and are sometimes vulnerable to malware. However, a person has to keep these glitches in mind before using this software.  The thing is hacking passwords can only be done if the hacker has already managed to install malware into the device.
Fortunately, a computer's OS has a built-in defense system that fights aggressively against these types of memory access attacks. Unfortunately, if someone can look into a user's password manager's cached data, then their whole system is compromised.
Malware such as Keyloggers, spyware, ransomware, and remote access software can do a lot of damage.
The good news is that developers are coming up with new and revised methods to password managers against memory and malware attacks, which will decrease cleartext exposure.
Everyone needs to take good security measures on their computers that will keep them safe.  They can do so by patching regularly whilst keeping their software updated, using strong passwords and security software, and of course enabling the 2 Factor Authentication (2FA).
The security practices mentioned above are the best ones for people to apply to keep their devices safe, and of course the use of a password manager.
---
5. How to Manage Passwords Effectively? 😤
There are many ways to manage a multitude of passwords. What most people don't understand that a password is a person's defense system against acts of malice.  Devising passwords in a cryptic form for a multitude of devices, apps, and an online presence can be incredibly taxing.
We recommend the following when creating passwords:
Make them at least 16 characters long,
Use a password generator, such as this free password generator from LastPass
Let your passwords have both lowercase and UPPERCASE letters,
Put in random numbers and digits,
Insert random symbols in your passwords
However, to remember these many cryptic passwords, you would have to have a super-human memory. Below are some ideas you can keep in mind when managing passwords.
Create unique passwords for each account
Make your passwords as unpredictable and random as possible
Use 2FA for all your online identities + your password manager
Do not reveal passwords to other people. If, for some reason, you need to; immediately change the password once the requirement is fulfilled
Use a secure and trusted password manager to store all your passwords for you
---
6. How Secure Are Password Managers? 🔒
If you are looking for a guarantee that all password managers are 100% foolproof, then we would be wrong.
There isn't a piece of software – online or offline – that is completely secure. Even though we cannot give 100% assurance for every password manager there is, it is wiser to use a reliable one rather than not using one at all.
Password managers are secure, encrypted vaults. Also, many offer their users a random, secure password generator feature. This password generator helps in generating secure, hashed, and completely random passwords.
Most password managers also come with 2FA, which adds another layer of security.
Since quite a few password managers use encryption of protecting passwords and critical account information, this adds to the safety feature. Data access is limited by encrypting and decrypting it on devices, therefore, allowing the master password to be only available to the user.
The purpose of password managers is to increase safety and security for users.
---
7. Do Password Managers Track My Information? 😟
Many passwords offer users similar features. They are supposed to save, store, create, and sync information across trusted devices. They should also offer 2FA. Nonetheless, they all have unique encryption methods and processes that set them apart.
The purpose of password managers is for them to keep track of all the user's passwords and vital login information.
That means they are supposed to keep track of a person's information so there is no security liability. However, the purpose is not to breach the user's trust and invasion of privacy, but to provide an impenetrable vault for the user.
All of the best password managers use the zero-knowledge protocol. And this means that the user's information is encrypted before it is stored on the servers. Therefore, most password managers can't read or access your passwords.
---
Other SaaSy goodness on All That SaaS: