We hate ads just like you. Therefore, it is strongly recommended that you only pick the best ad-blockers, so you can enjoy an ad-free browsing experience online.
Therefore, we decided to do a roundup of the best ad blockers for desktop, Android, and iOS. From the user's perspective, online ads that keep unfurling on web pages and mobile apps can be very intrusive and frustrating.
Why Do You Need an Ad-Blocker?
Even though the key goals of advertising are to educate, raise awareness, and re-call their message, most ads sway from this direction. The purpose, instead, becomes getting a user's attention by hook or by crook.
If you're tired of online ads that keep interrupting you, all you need is an ad blocker. Not only that ad-blockers keep annoying ads at bay, but they can also protect you from intrusive popups, malware, spyware, and phishing.
Some ad-blockers also help speed up web page loading and keep trackers away from collecting your online data.
---
What is the Best Ad-Blocker?
Ad blockers enable privacy protection and act as a safeguard from the browser or device, in use, from getting infected.
However, it is important to choose an ad blocker that will provide full protection. Once an ad blocker is installed, the user experiences faster loading, and an intrusion-free, zero-ad online browsing experience.
There are different types of ad blockers out there, such as:
VPNs that come with dedicated ad blockers
Browsers that have built-in ad blocking software
Extensions that can protect browsers that are chosen as third-party blockers and can be customized
There are dedicated ad-blocking routers or even virtual routers that can be set up by a DNS filter. These devices immediately block requests from servers, which are known to run adware or tracking services.
---
Best Ad-Blockers for Web 🌍
You can protect your browser from adware by installing browser extensions and VPNs with built-in ad blockers. Take a look at the best ad blockers for the web, with both free and paid options:
Browsers Supported: Google Chrome, Mozilla Firefox, Safari, Microsoft Edge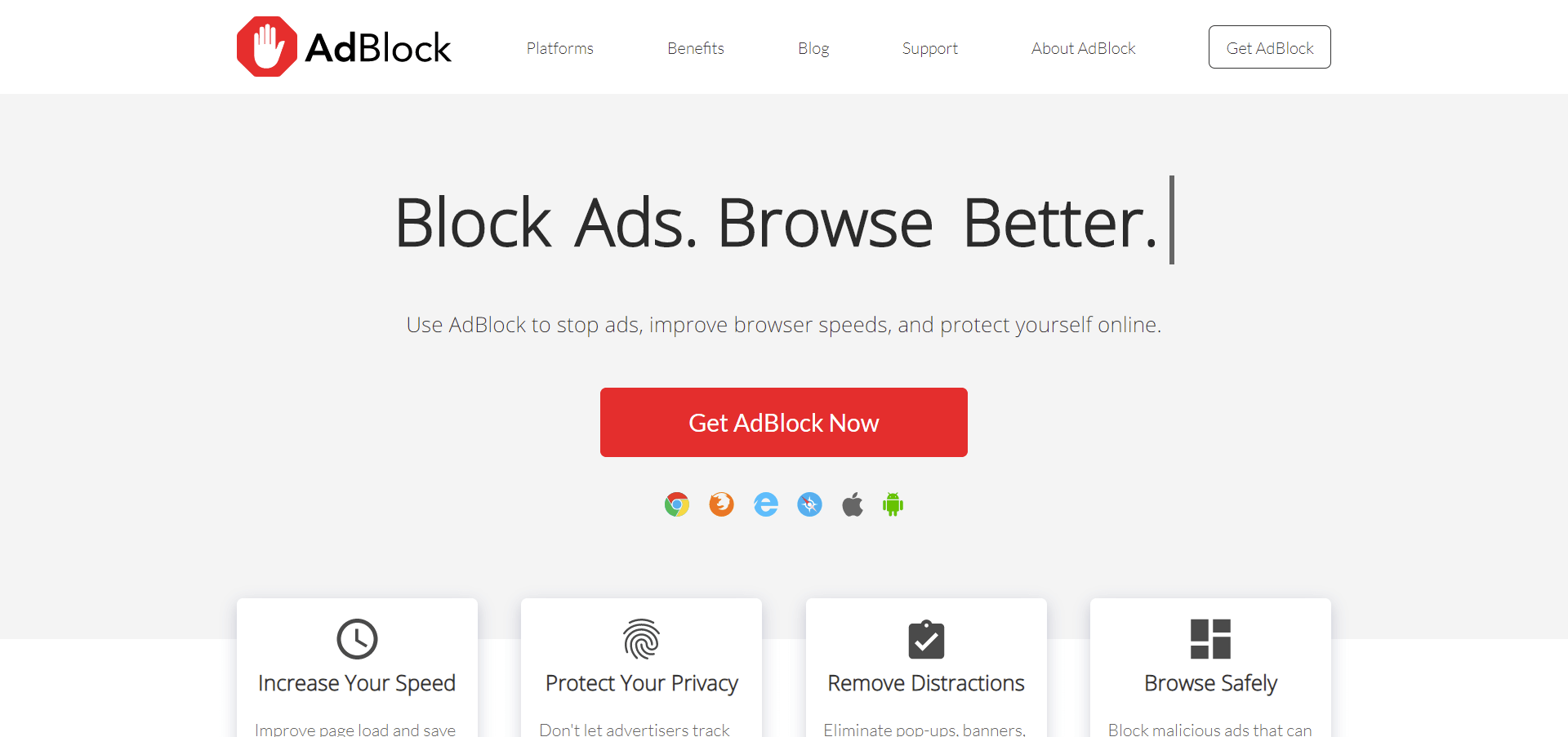 AdBlock has deservedly earned its reputation as of the best ad-blockers for Chrome ever. It blocks 1,500 ads for an average user every week. AdBlock is reliable and simply one of the best ad-blocker extensions for Google Chrome. No wonder why it is trusted by over 10 million Chrome users. The numbers speak for themselves.
Installing AdBlock to your browser simply means it's time to bid adieu to annoying ads. Not only AdBlock eliminates banner ads, but it also hinders ads that appear on social networks. Whether it's promotional videos or intrusive pop-ups, AdBlock simply blocks all kinds of voracious ads.
Features
Block virtually all kinds of ads including pop-ups and video ads
Protect your privacy and keep third-party trackers away
Get rid of ads with malware, scams, and cryptocurrency miners
Available in more than 30 languages
Boost page load times
Whitelist your favorite websites and publishers
Available in night mode, and various other themes
Pricing
AdBlock is free forever. This product is open-source and relies on donations (minimum $0.99 per month) to keep the service going.
---
Browsers Supported: Google Chrome, Mozilla Firefox, Internet Explorer 10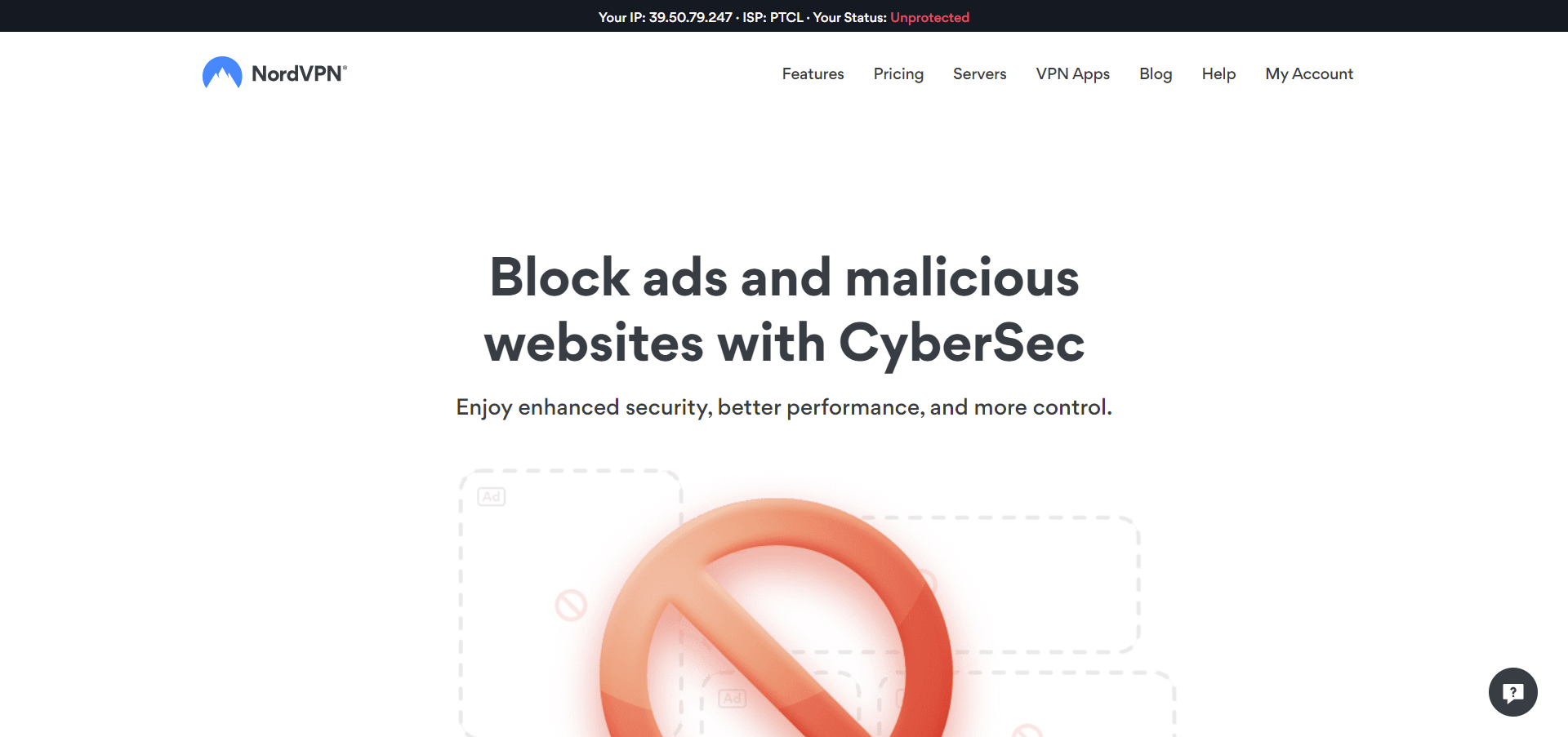 CyberSec is created by NordVPN, an online VPN service that has made a huge name in the world of online privacy and cybersecurity. So you can be sure of getting the best ad-blockers out there that excel in protecting your cybersecurity.
CyberSec has an enormous database that contains blacklisted websites. So whenever you're about to visit them, it will prevent you to access them to make sure you surf safely.
Features
Blocks unwanted pop-ups, video ads, and various forms of ads
Protection from phishing and other cyber threats, such as DDoS (distributed denial-of-service) attacks)
Specialized protection from DDoS (distributed denial-of-service) attacks as well as the removal of DDoS botnets from already infected devices
Prevents access to websites that are known for hosting malware, spyware, trackers, or other harmful software
Available in NordVPN apps for Windows, iOS, macOS (OpenVPN only), and Linux
Boosts website speed and saves you precious mobile data
Pricing
CyberSec is only available for NordVPN users. To get access to CyberSec, you might want to purchase any of these packages to get NordVPN's full-access subscription:
1-month plan: $11.95 per month
1-year plan: $6.99 per month, save 41%
2-year plan: $4.99 per month, save 58%
3-year plan: $3.49 per month, save 70%
---
Browsers Supported: Google Chrome, Mozilla Firefox, and Safari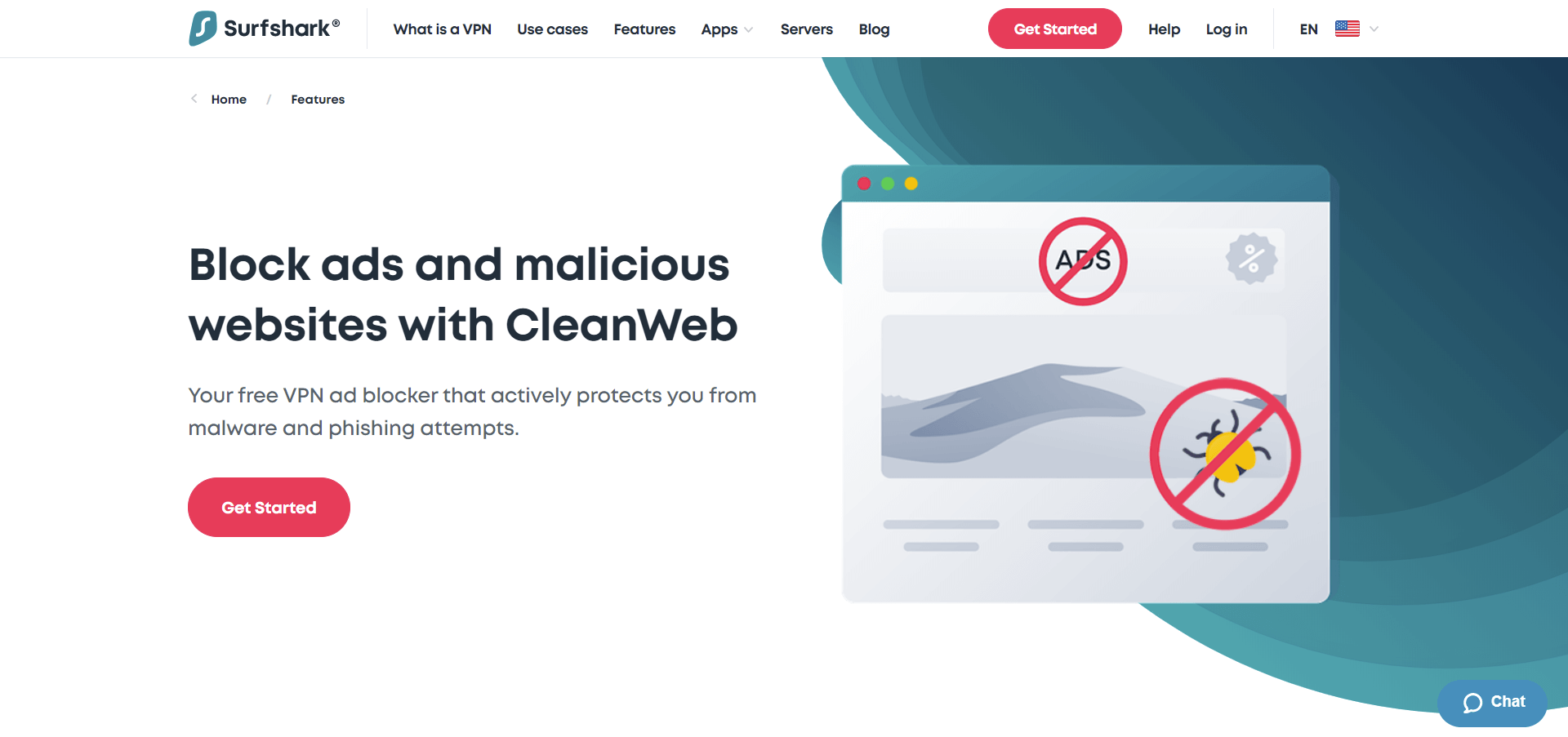 This entry is also a creation of one of the leading VPN brands, Surfshark. While providing ad-blocking services, Surfshark provides an additional layer of protection from phishing and spam through CleanWeb.
Being one of the best free ad blockers for Chrome, CleanWeb cleans your browser from ads, malware, and an awful lot of unwanted stuff.
Features
Blocks ads, pop-ups, banners, video ads, etc.
Blocks phishing links to protect you from falling prey to scammers
Protection from malware and phishing attempts
Prevents access to malware-infected websites
Available on Windows, macOS, Android, and iOS apps
Pricing
1 month: $11.95 per month
24 months: $1.99 per month, save 83%, this plan includes the biggest savings and is fully refundable for 30 days
12 months: $5.99 per month, save 50%
---
Browsers Supported: Google Chrome, Mozilla Firefox, and Opera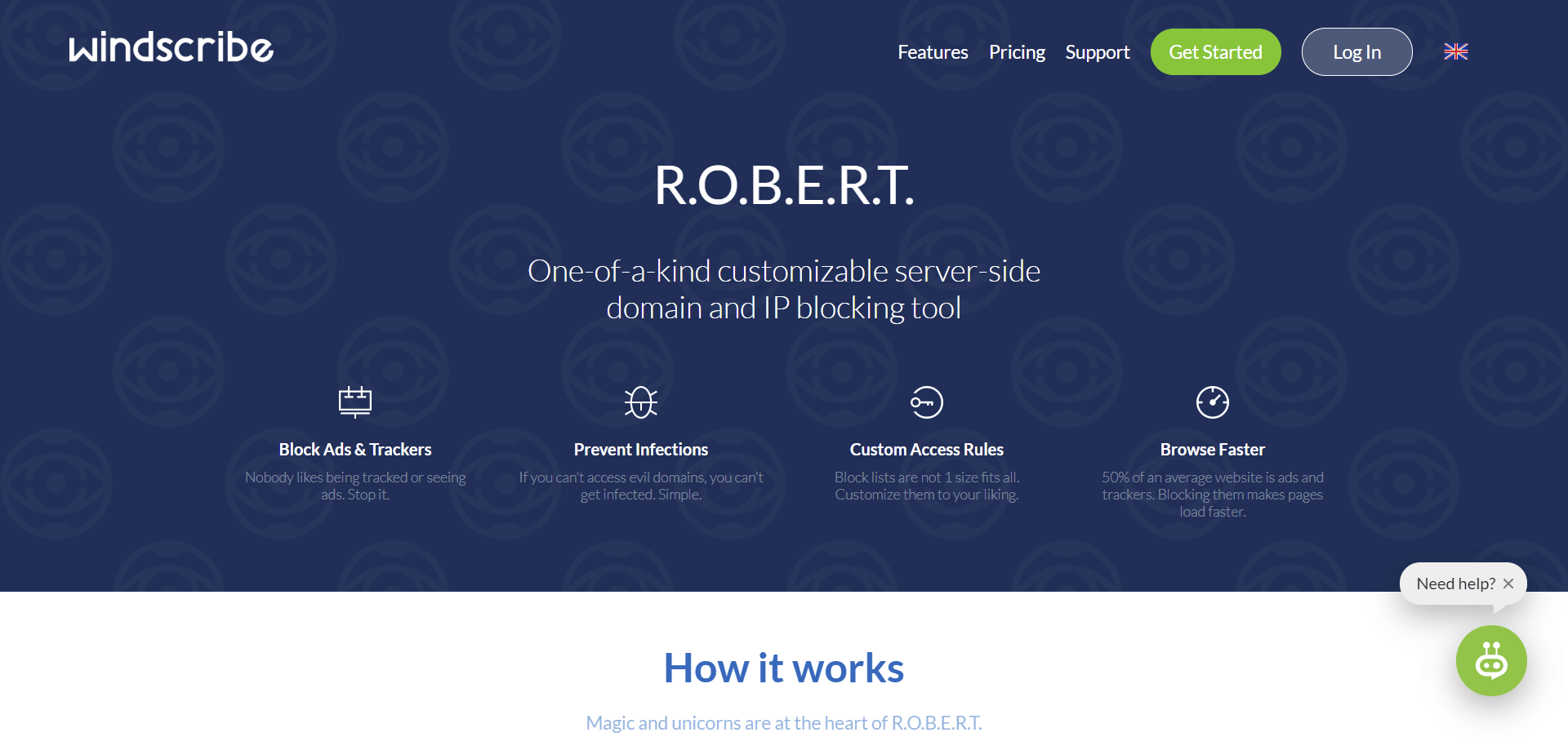 R.O.B.E.R.T. is one of the best ad-blockers that gives you good riddance from online ads and also lets you categorize exactly what kind of content you wish to block in a single click.
It comes with both built-in and custom categories, such as malware, trackers, social, gambling, porn, etc. so it's totally up to you to decide what to allow and disallow.
Features
Blocks ads, spam, and trackers
Blocks DDoS botnets, malware-infected, and phishing sites
Create block lists of websites and IP addresses. Whitelist certain domains that you want to access
Contains an IP blocking tool that prevents access to malicious websites
Any server-side changes are instant without having to wait or reconnect
Pricing
Monthly Plan: $9.00 per month
Yearly Plan: $4.08 per month
---
Supported Browsers: Google Chrome, Opera, Mozilla Firefox
CyberGhost is essentially a VPN product that has highly-advanced ad-blocking capabilities.
CyberGhost's ad-blocking arsenal contains full-fledge blocking from ads, protection from trackers, data compression for mobile traffic, and forced end-to-end encryption. With so much to offer, you can count on CyberGhost as one of the best ad blockers.
Features
Block ads from web pages and apps
Removes malicious content, and suspicious websites that track your browsing behavior
Compresses images and web content to save your mobile's data usage costs
Forces the use of SSL certification for websites, if available
Pricing
1 Month: $12.99 per month
1 Year: $5.99 per month
3 Years: $2.75 per month + 2 Months Free
---
Supported Browsers: Google Chrome, Opera, Microsoft Edge, Mozilla Firefox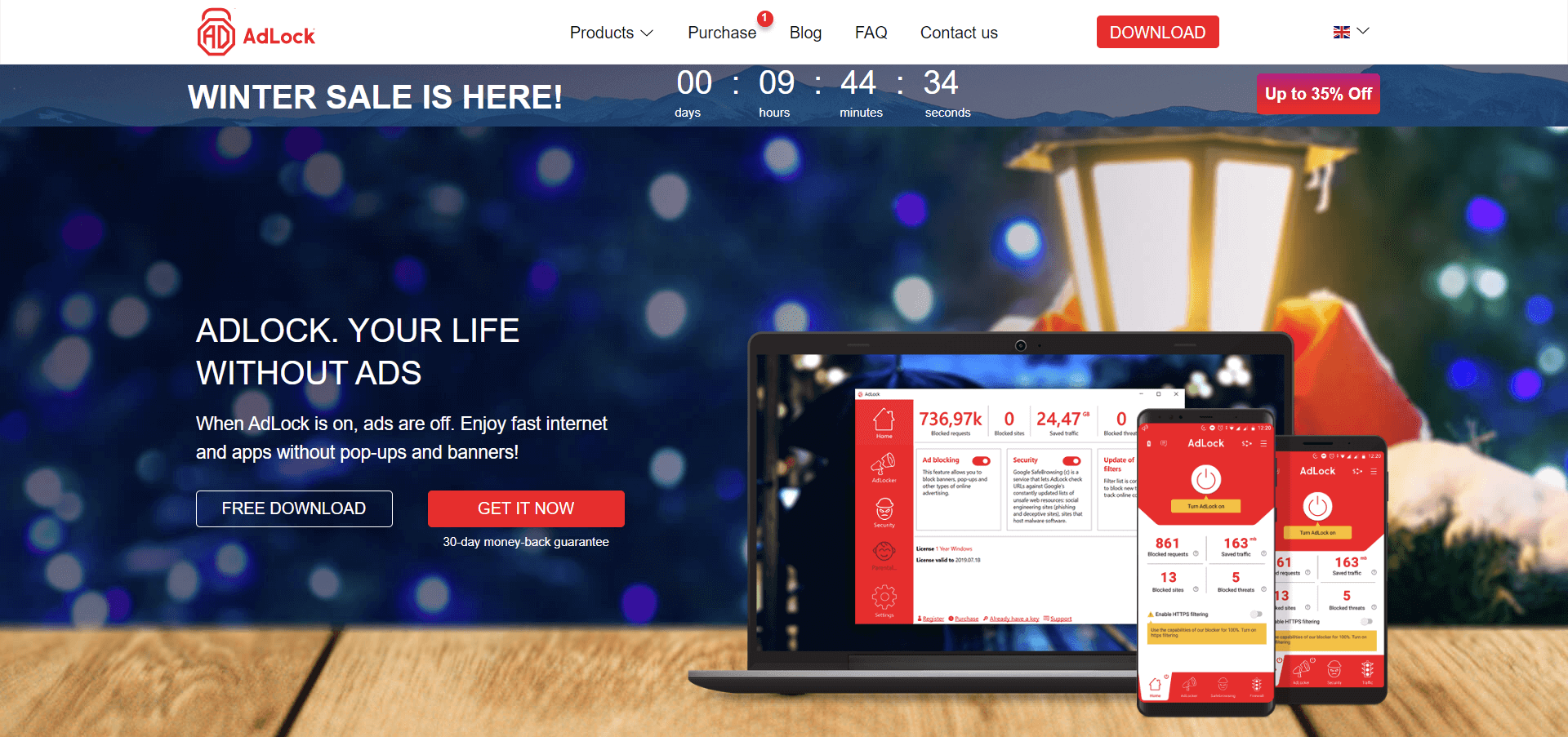 AdLock is a feature-rich ad blocker that does a great job in removing ads and also educating its users through its blog on how to efficiently get rid of ads that somehow remain.
Based in Slovakia, AdLock sets itself apart as one of the best YouTube ad blockers. Moreover, AdLock also compresses your images to save your mobile's cellular data.
Features
Blocks all pop-ups, banners, text ads, and video ads
Protects your data from phishing
Evaluates URLs of suspicious websites and prevent access if malware is found
Removes ads from programs as well, including Skype, KMPlayer, uTorrent, etc.
Pricing
Mobile Protection: At $0.83 per month, supports 2 Android devices for 1 year
Desktop protection: At $1.67 per month, supports 2 Windows devices for 1 year
Multi-Device Protection: At $1.63 per month supports both Windows and Android for 1 year
---
Supported Browsers: Google Chrome, Opera, Internet Explorer, Safari, Microsoft Edge, Mozilla Firefox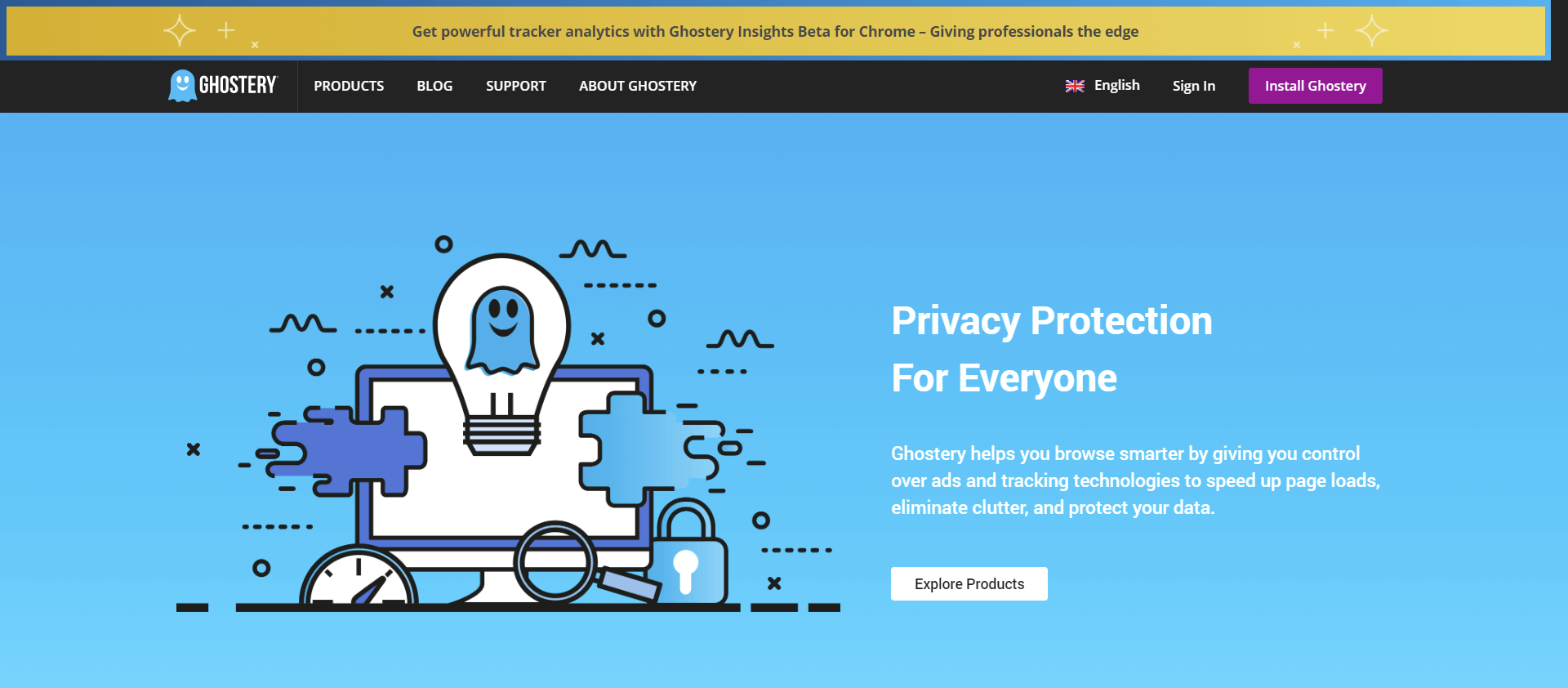 Ghostery goes one step ahead of archetypal ad blockers. They not only block annoying ads but also tell who's tracking you and how you can block them. For this reason, Ghostery becomes a must-have for people who wish to keep themselves or their children safe from online intrusion.
Ghostery is among the best ad-blockers for Safari, Chrome lots of famous browsers. Ghostery has more than seven million monthly active users. You could be one of them too.
Features
Optimizes web page performance as you browse
Protects your privacy with superior quality anti-tracking
Available on Windows, Android, Mac, and iOS
Blocks trackers to declutter webpages and speed up page loads.
Pricing
Ghostery for Web is free to use.
---
Browsers Supported: Google Chrome, Mozilla Firefox, Opera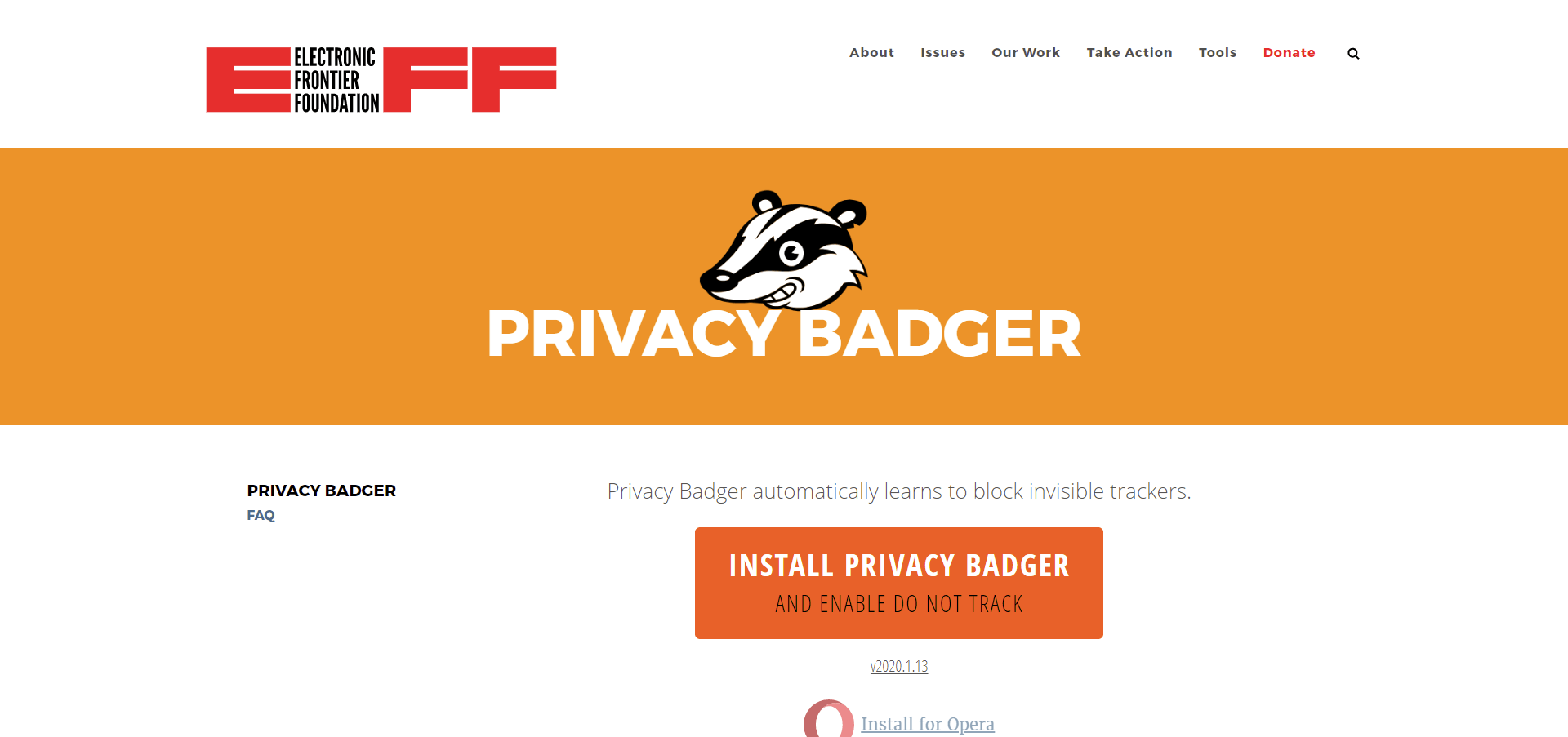 Being one of the best ad blockers for Chrome, Privacy Badger is free and open-source. It is a project of the Electronic Frontier Foundation (EFF) which advocates best practices in internet privacy between consumers and content publishers.
Privacy Badger specifically blocks ads and prevents cookie tracking from sources that do not respect the Do Not Track setting in a user's web browser.
Features
Protects from ads and malicious content
Sends the Do Not Track signal to websites and blocks them if trackers ignore the request
Removes outgoing link click tracking on social media
Pricing
Privacy Badger is free to use.
---
Browsers Supported: Google Chrome, Safari, and Opera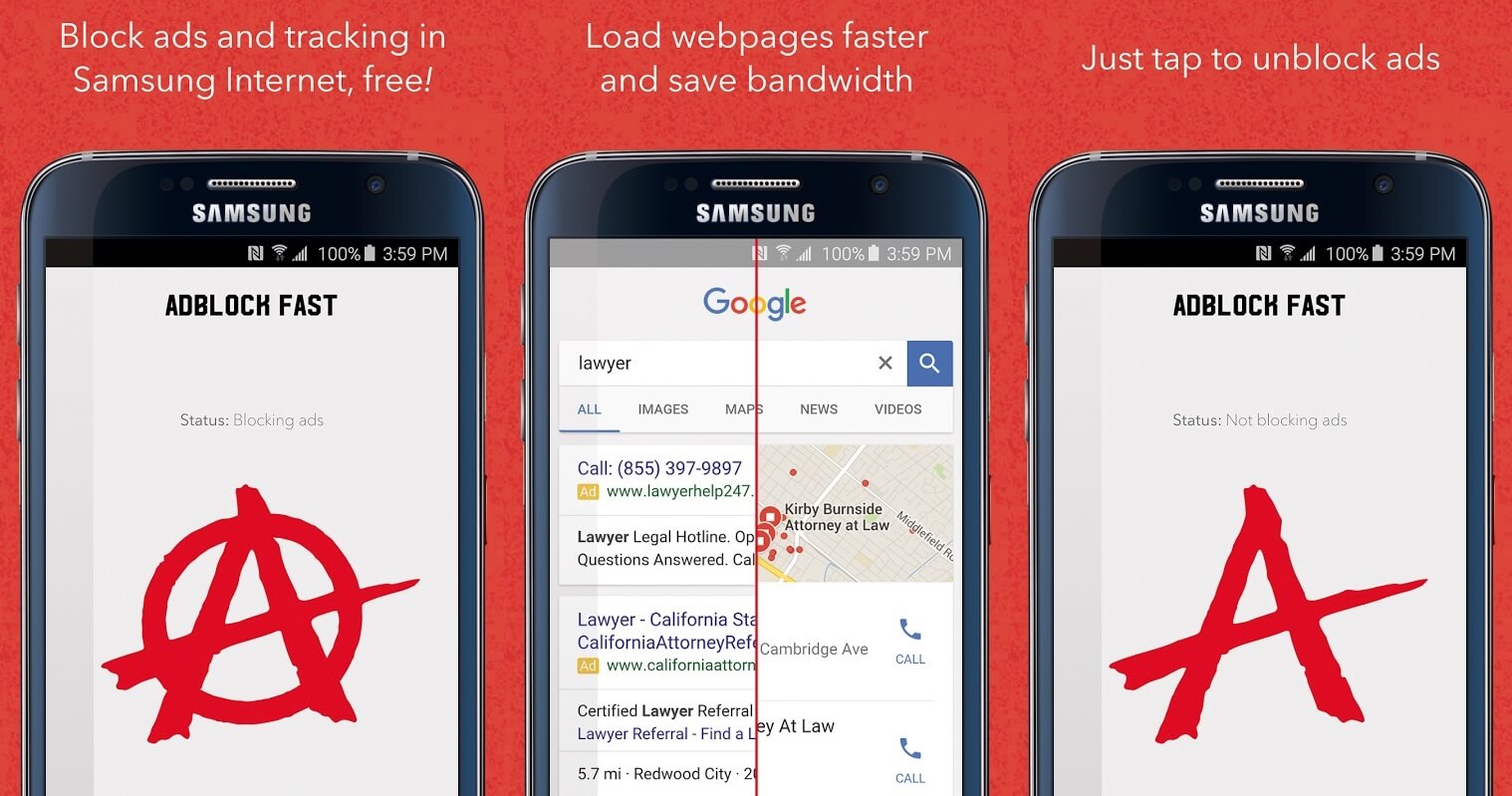 Adblock Fast is next up on our list of the best ad blockers for Chrome. It claims it is the fastest ad blocker for browsing. Adblock Fast blocks unnecessary ads and enables webpages to be viewed 8 times faster than the average load speed with any other ad-blocker.
It is faster than before and it is also an open-source adblocker. Unlike other adblockers, it has extensive filtering rules that do not sap the speed or overtake the user's computer disk space.  It doesn't disrupt the computer's CPU cycles and its memory.
The best thing about Adblock Fast is that it runs 7 optimized filtering rules to accelerate pages 8x more than their regular speed.  However, adding the cherry to the top consumes 6x fewer system resources than the other ad blockers.
Features
It performs a smaller number of filtering rules on each page
Adblock Fast gets through 7 times fewer kilobytes
It increases the page loading speed by 8 times
Uses 3 times lesser resources out of your CPU
Adblock Fast burns up 3 times fewer megabytes of memory
Pricing
Adblock Fast is free to use and its source code is also free to modify.
---
Browsers Supported: Google Chrome only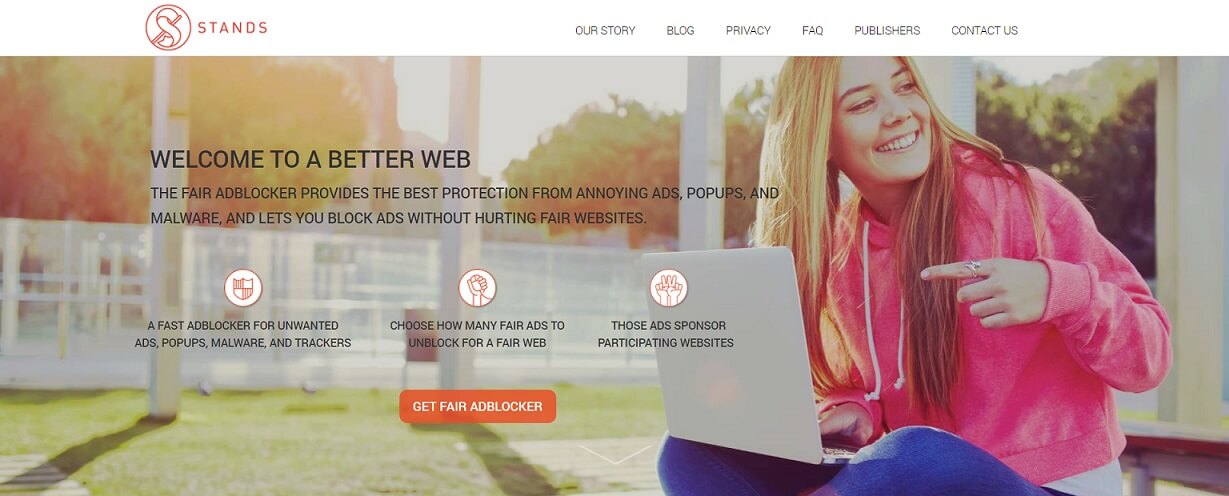 Fair Adblocker is known as one of the best ad-blockers in the industry, especially for popup protection on the web.  This ad blocker gives the user full control of the extension, letting them choose which ads they would like to block or keep on advertising while they browse.
One of the added features is that it doesn't damage the free web if the user chooses to whitelist certain sites or ads the user can enable this with ease.
This ad-blocker uses smart algorithms to recognize and block popups and malware, which is more effective than huge resource-intensive lists.
Features
Fair Adblocker blocks annoying ads, popups, malware, and tracking, making it one of the best YouTube adblockers
Users can click anywhere on the page and it immediately blocks pop-ups and other intrusive ads
Fair Adblocker enhances the web browsing experience, making it much faster
Users can control their experience, they can allow certain types of ads or whitelist the websites they want to support
Pricing
Fair Adblocker is free to use and download.
---
Browsers Supported: Google Chrome, Mozilla Firefox, Safari, Microsoft Edge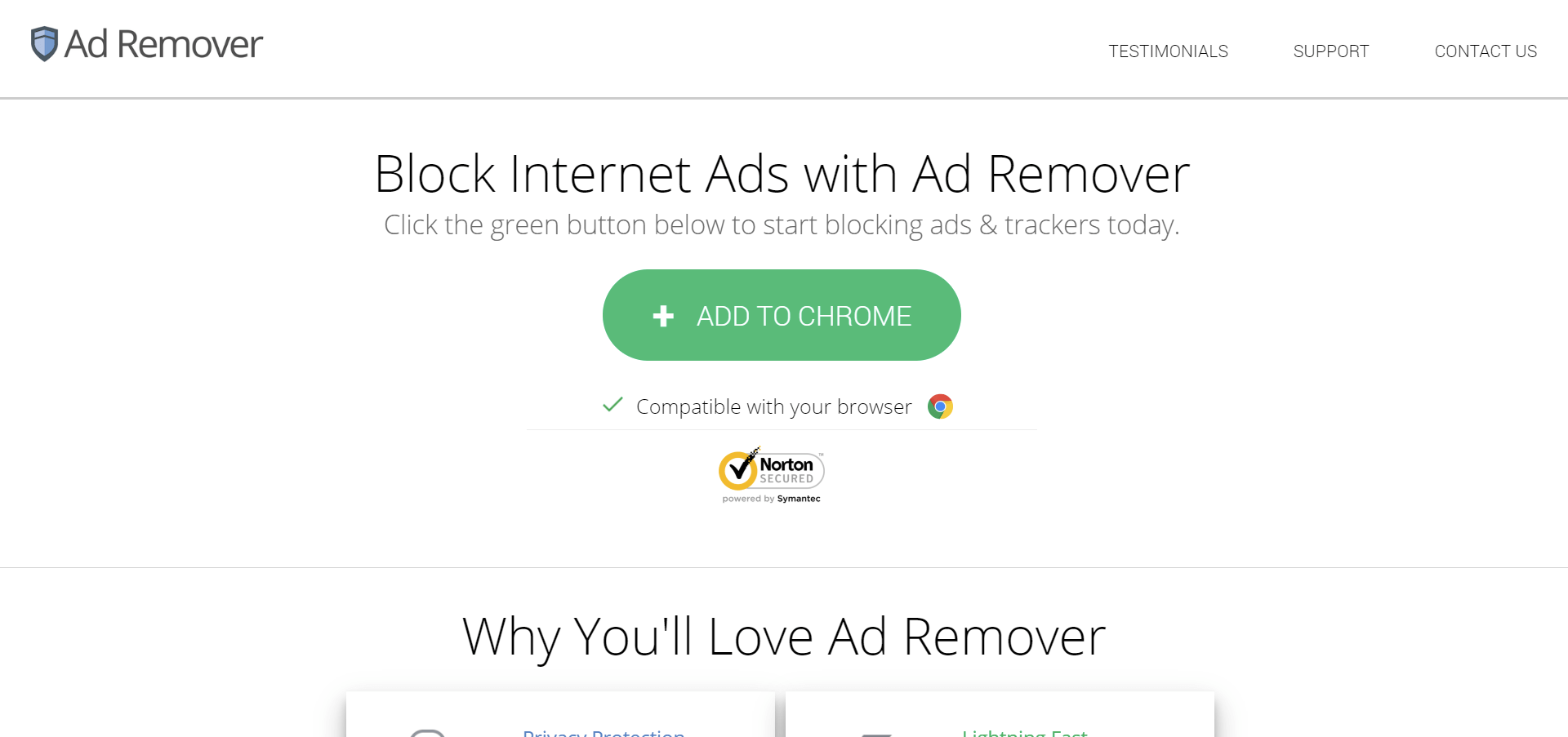 Ad Remover is another powerful ad-blocker that works quietly in the background as the user browses the web. It provides a faster, tidier online experience that is free of intrusive, obstructive ads.
Since it has an easy-to-use interface it shows the user live results of all the ads that the user is blocking. This is the best ad blocker for Chrome.
If the ad clutter makes you skip Gmail on purpose, then Ad Remover is probably the best ad-blocker for you.
Even though Ad Remover is not free, its free trial version doesn't have configuration options, but it still does a pretty good job keeping the ads away.
All the user has to do is, visit the official site to download it. Once the user clicks on download, the browser immediately detects the correct extension for your browser. It effectively blocks unwanted ads, disengages tracking, and increases internet browsing speed.
Features
It has an impeccable privacy protection plan since it blocks companies from tracking users online
They implement lightning-fast browsing speed, which increases website speed by an average of 44%
Users can start blocking ads by clicking twice and can enable them with just two clicks
It's user-friendly and has an in-browser control, which eliminates complicated settings
Ad Remover works seamlessly in the background and there is no requirement for the user interaction
Pricing
Ad Remover gives a 7-day free trial.
Premium: at $39.99/annum or $9.99/month. Unlimited ad blocking, tracking, cookie blocking, VIP telephone support, 5 licenses for 5 devices, 44% faster website load speed, 19% less data usage, 30-day money-back guarantee.
---
Browsers Supported: Google Chrome, Mozilla Firefox, and Safari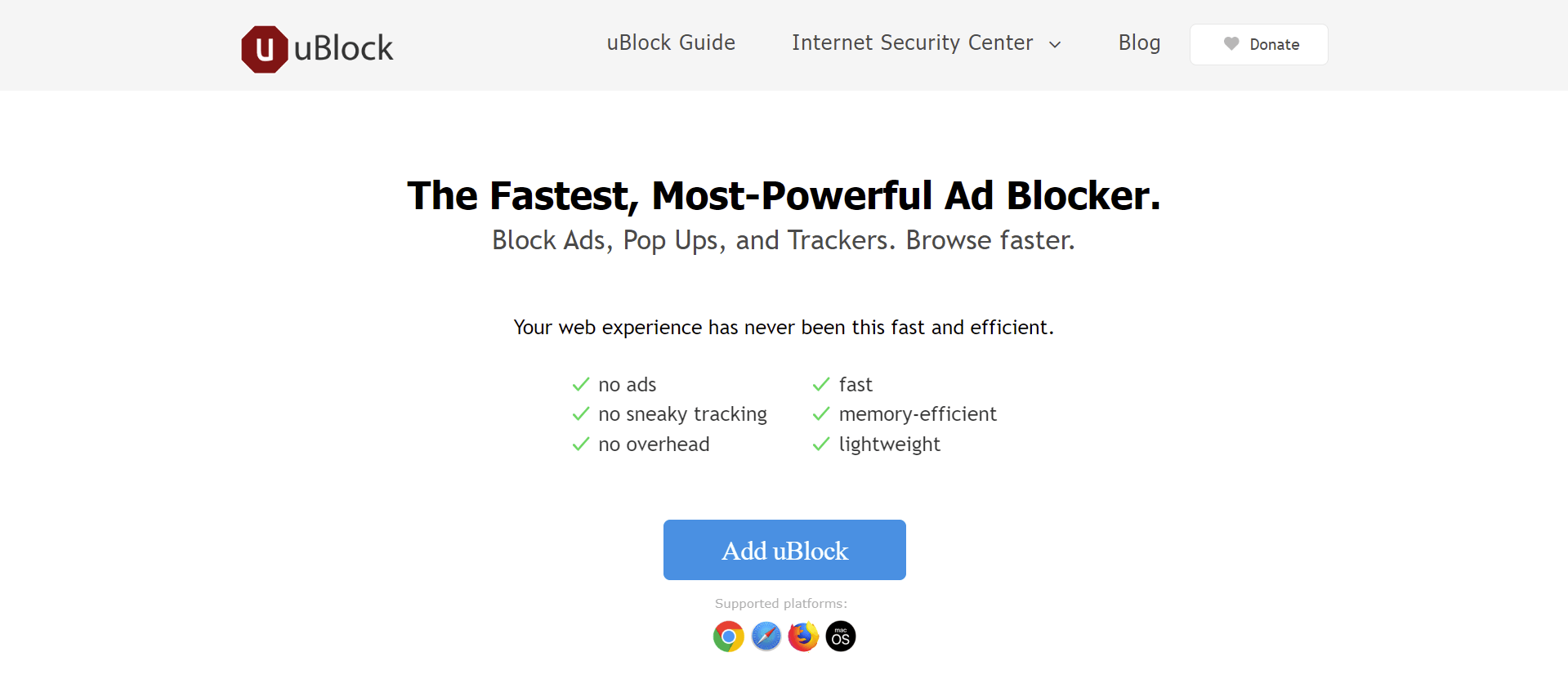 Next up on our list of the best ad-blockers is uBlock. It is great for putting a halt to unwanted ads and increasing the speed of the user's browsing experience.
Other than irritating ads, it also blocks annoying video ads, and invasive trackers, and aids in putting up protection against certain types of malware.
uBlock is great for people who are looking for a tool that will remove ads, amplify their overall internet experience, and advance their online security. This is one of the original and popular ad blockers that are up-to-date with the latest online advertising techniques.
This tool's purpose is to continue blocking ads and always stay a step ahead of sites that use adware and trackers to spy on the user's online presence.
Even if the user is not tech-savvy, uBlock makes it easy for them to navigate this extension without any difficulties.
Features
It is easy to install and very simple to use
uBlock also works on Windows and Mac platforms
It is constantly working in the background to smooth out the browser functionality
Designed to make the user's web experience fast and efficient
uBlock's main attractive feature is that it blocks ads, pop-ups, and trackers
Pricing
uBlock is completely free to use.
---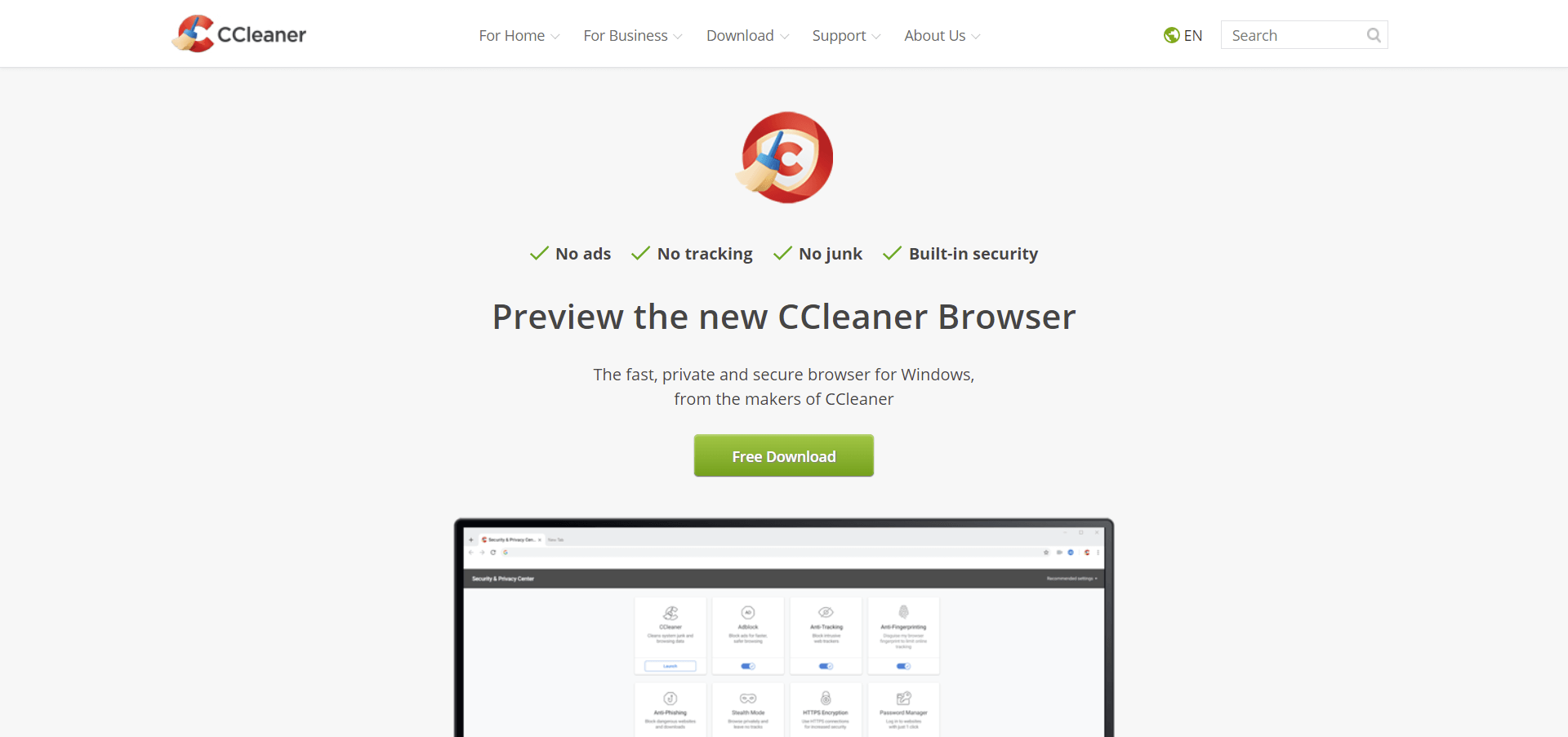 If you are looking for a desktop browser that has one of the best ad-blockers built-in, the CCleaner Browser is considerable.
It protects the user's privacy and makes the computer run faster and more securely. It also blocks all ads and allows the user to choose which ones they would like to whitelist.
These features help the web pages load faster and also give privacy protection that stops websites, advertisers, and other malware from tracking a person's online activity. It also provides high-level security, which keeps the user's unique browser profile hidden.
Features
Stops the user's browsing history from being stored and removes tracking cookies or web cache picked up during any browsing session
Makes a mandatory requirement for supported websites to use encryption, therefore, data sent to and from a browser cannot be read by anyone else
CCleaner also stores, creates, and auto-fills login details for the user's favorite sites, allowing access to be faster and safer
Immediately stops Flash-based content from running and using the computer's valuable resources, unless the user allows it
It also halts all applications and malware from accessing the user's webcam without their consent
It blocks unwanted add-ons or plugins and lets the user install the ones they know and trust
Pricing
CCleaner is free to download and use.
---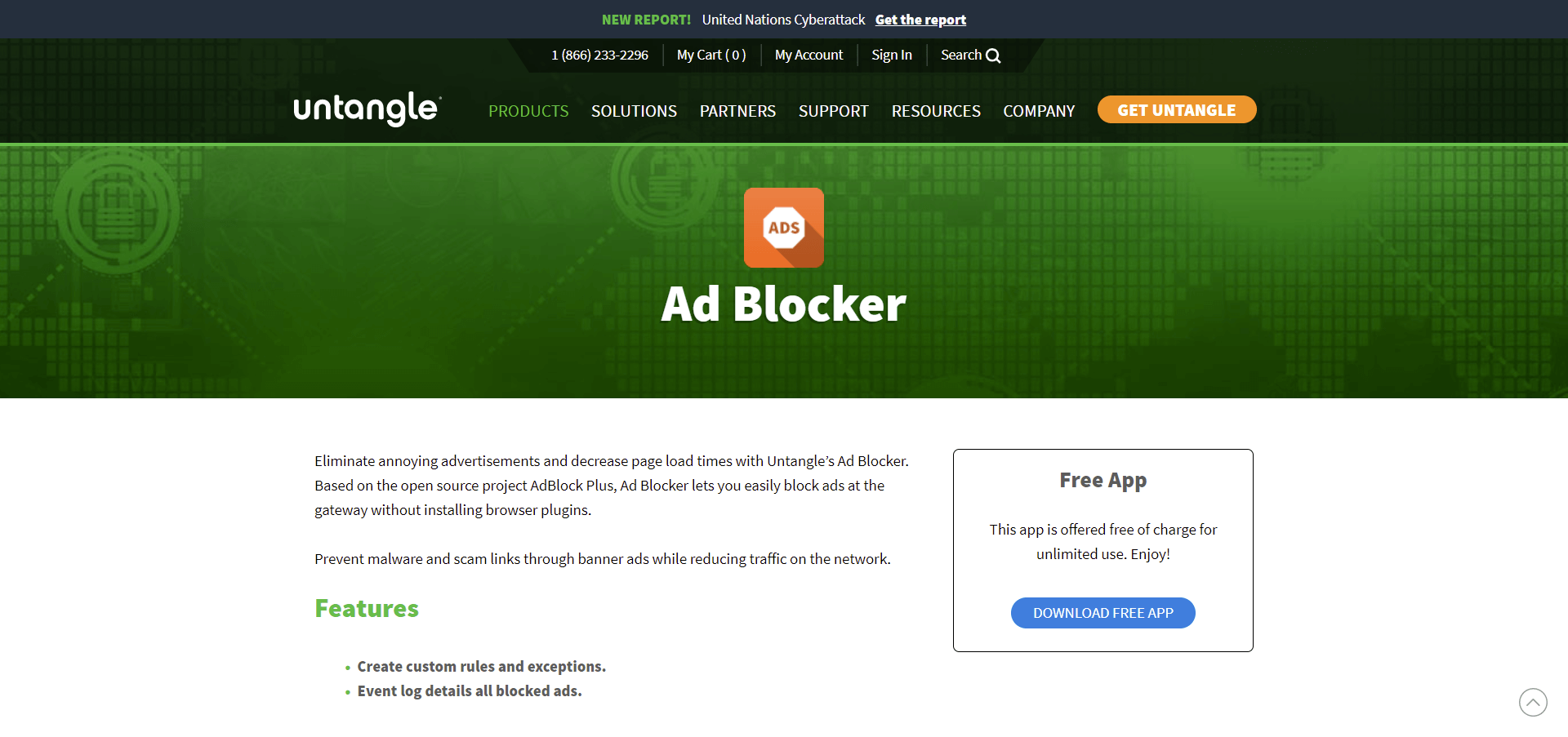 Ad Blocker by Untangle is an ad-blocker app you can install on your PC/laptop to remove all annoying ads. It is based on AdBlock Plus, an open-source ad blocker.
This tool also helps prevent the intrusion of malware and scam links through banner ads and also reduces the traffic that is on the network.  Many customers have stated that Untangle's support is friendly, helpful, and provides good service.
As a tool, Ad Blocker saves a lot of time and money as it works quietly in the background. This is especially helpful when guests use the company's network.
Apart from being easy to use, Ad Blocker gives the user the upper hand during the selection process, by letting them choose their preferences.
Features
Users can customize the rules to their exceptions
There is an event log that gives the details of all blocked ads
Ad Blocker gives the option to block ads, tracking intrusive malware and ad cookies
Users can utilize the standard filters and add their preferences
The standard cookie filters can be utilized and add your preferences can also be added
Users can add sites and IP addresses that they want to be whitelisted by Ad Blocker
Pricing
Ad Blocker by Untangle is offered free of charge for unlimited use.
---
Best Ad-Blockers for Android 🤖
Now it's time to discuss the best ad-blockers for Android, this list will make your selection a breeze: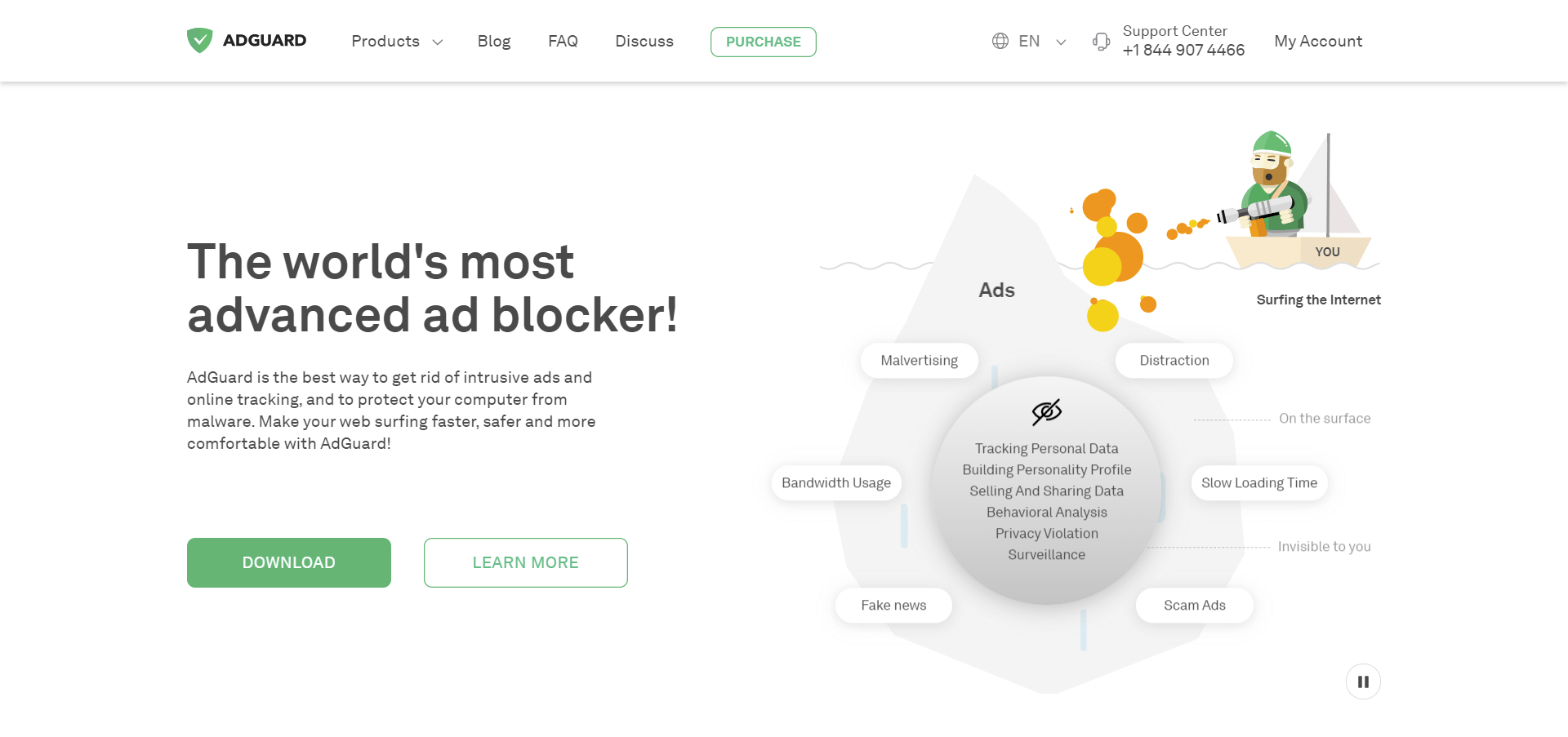 AdGuard is super interactive. This product sets itself apart thanks to its cool and sleek interface. It's a multi-purpose tool that focuses on improving the web experience.
Features
Whitelist your favorite publishers by adding them to the list of exceptions.
No need to turn AdGuard off when you visit a reliable website that doesn't have any invasive ads
Blocks spyware, trackers, "malvertisers" and phishers
Blocks most of the known crypto-jackers through the NoCoin feature
Ability to filter fake news
Pricing
AdGuard is free to use.
---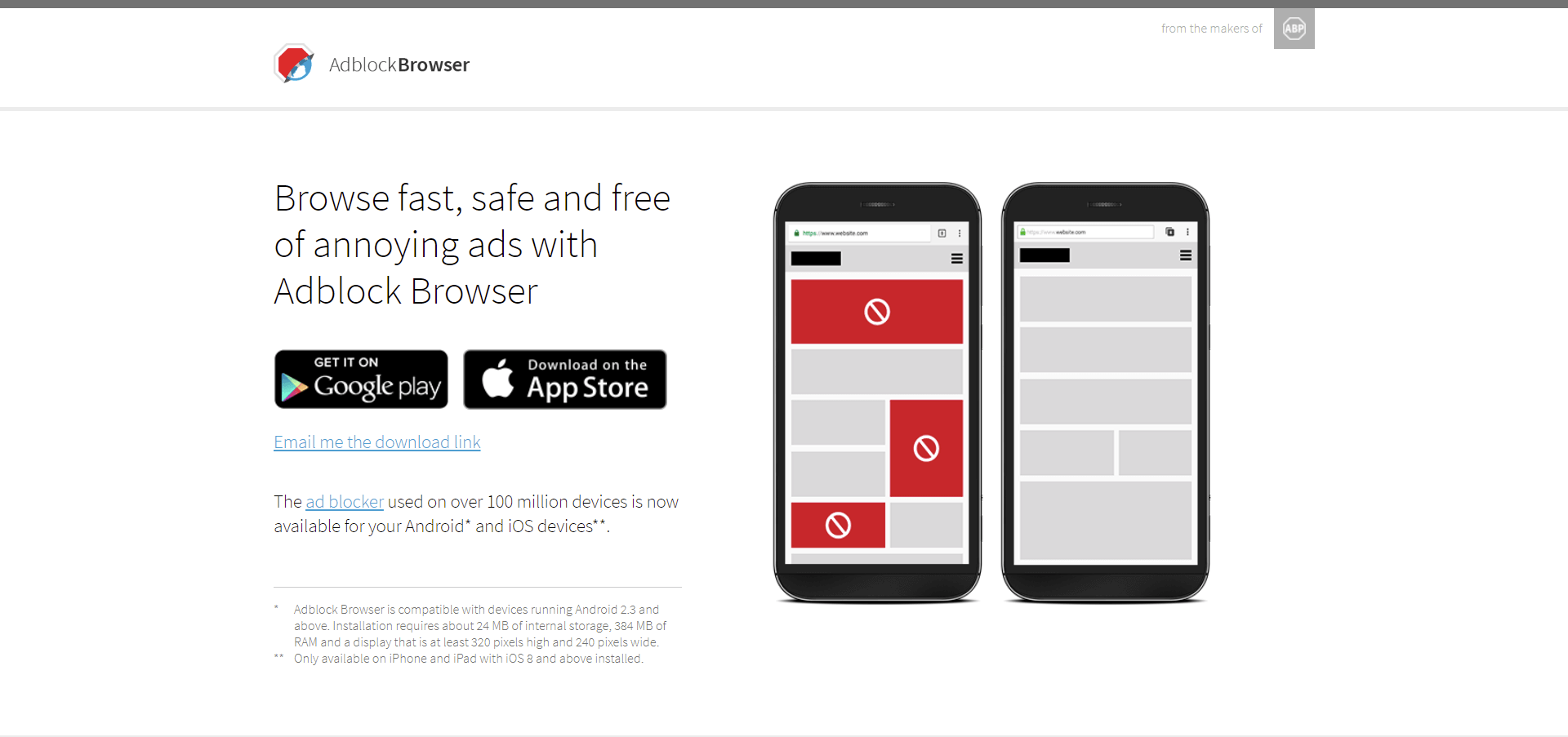 AdBlock is one of the best ad blocker apps that excel in blocking ads within a web browser, it's compatible with popular browsers, including Chrome, Firefox, etc. It's a reasonably lightweight app that does not put any burden on your battery life.
Be careful not to confuse this with Adblock for the web, albeit the same name, this is an entirely different brand, created by another company.
Features
Blocks all ads including pop-ups, video ads, interstitial ads, and floating ads
2. Speeds up webpage loading and saves bandwidth
3. Save battery life by only loading the content you care about
4. Blocks spyware, adware, and malware, by disabling access to infected domains
5. Protects your privacy from being tracked
Pricing
Free: AdBlock's basic version is free to use.
Premium: At just $1 (lifetime), unlimited use time, website startup speed increased by 35%
---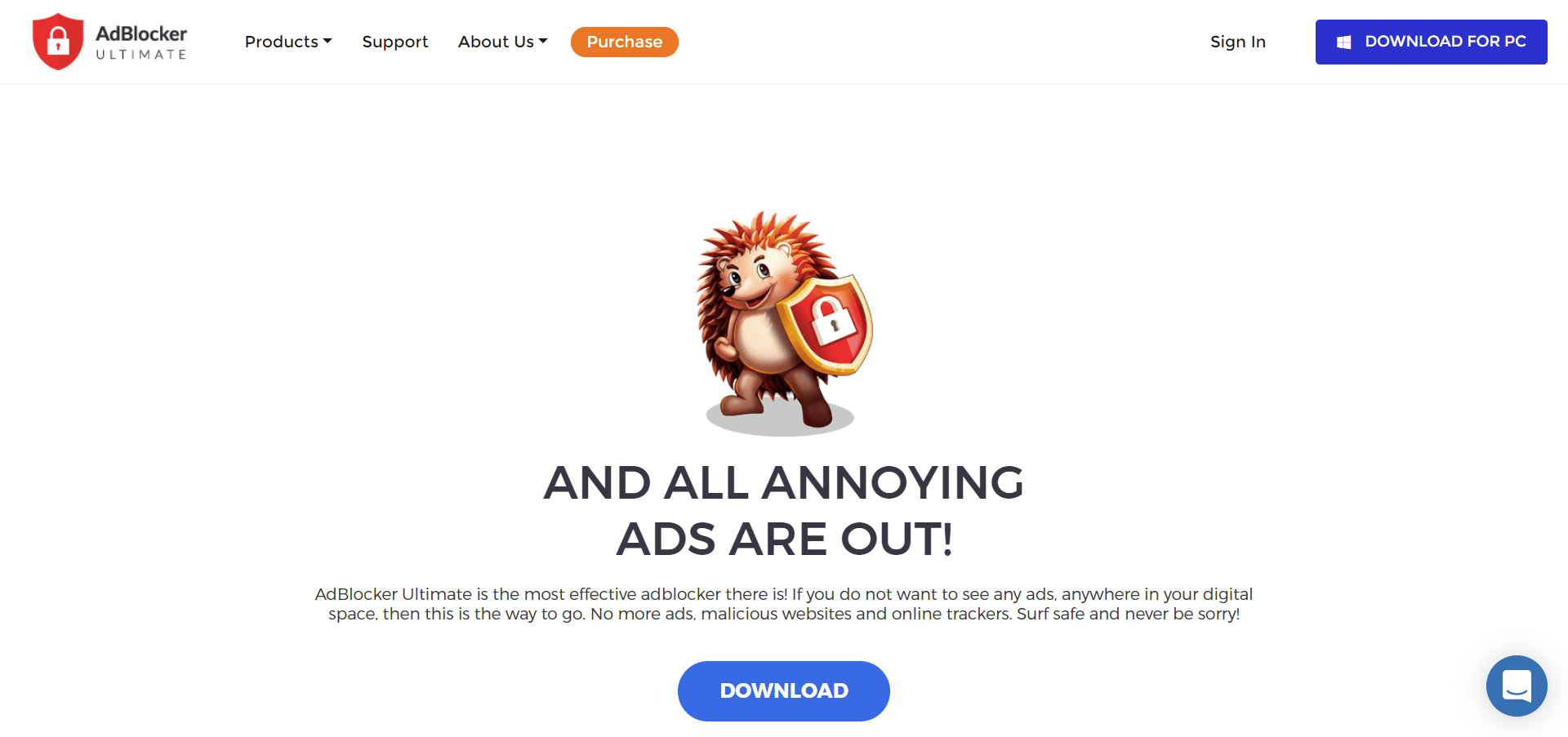 This browser is one of the best ad-blocker apps when it comes to web surfing from your Android phone.
AdBlocker Ultimate Browser has a major emphasis on securing users' privacy. So if you wish to access Facebook, YouTube, or any of your favorite apps, simply browse them through AdBlocker and it will fend off all the ads for you.
Features
Comes with a built-in ad blocker
Blocks regular ads, pop-up, and pop-under ads
Blocks online trackers, malware
No predefined acceptable ads
Pricing
AdBlock Ultimate Browser is available for free.
---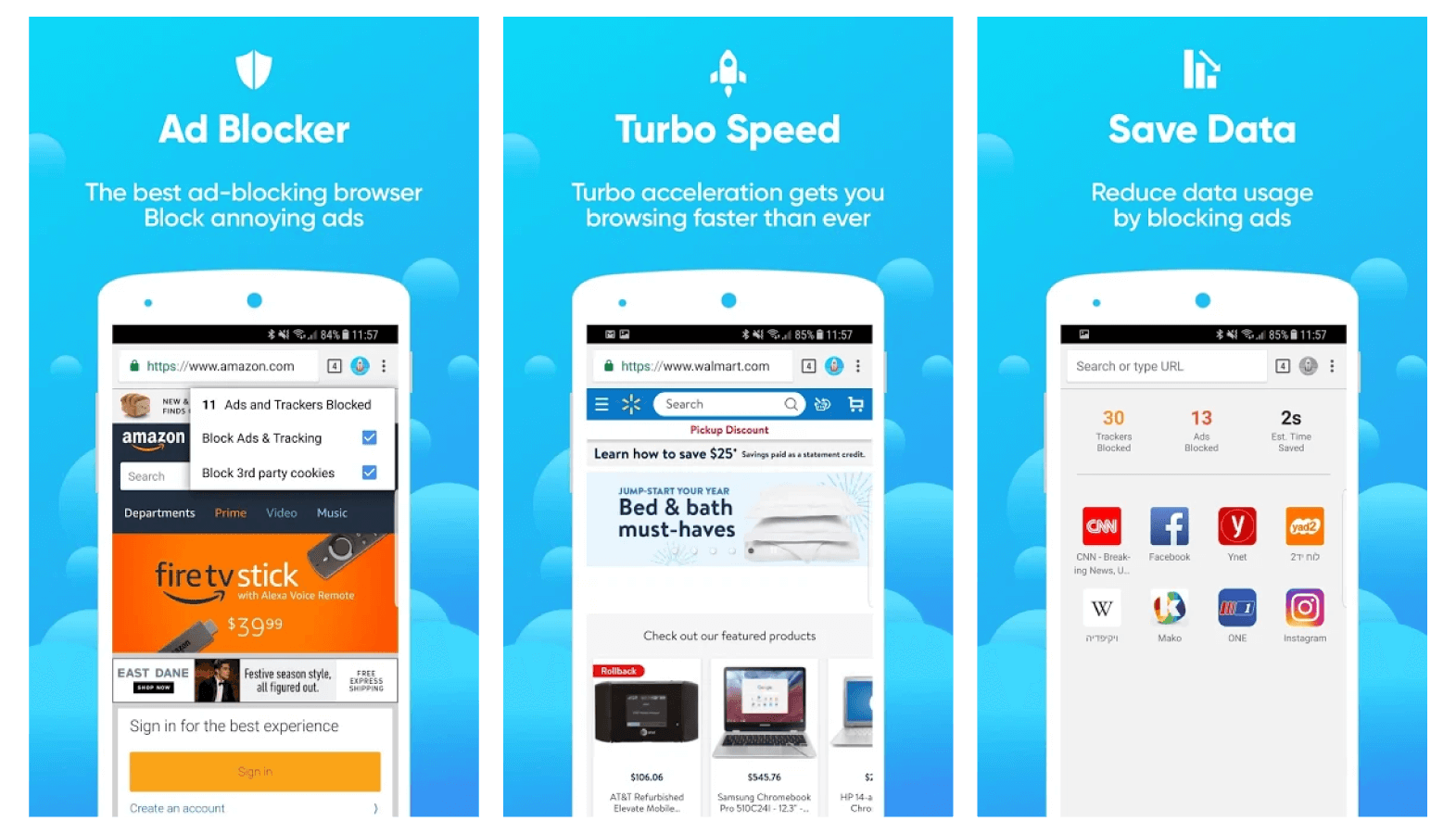 No matter how big the website is, this browser will unstoppably block ads on your Android device.
Ad Blocker Turbo is one of the best free ad blockers that contains all the basic features that an ad-blocking browser must contain. As their name suggests, their focus is on speed.
Features
Blocks annoying ads of all kinds, be it banners, popups, video ads, and interstitial ads while improving website speed
Save up to 80% of data on the biggest websites which are loaded with many ads and popups
Contributes to preventing malware and adware
---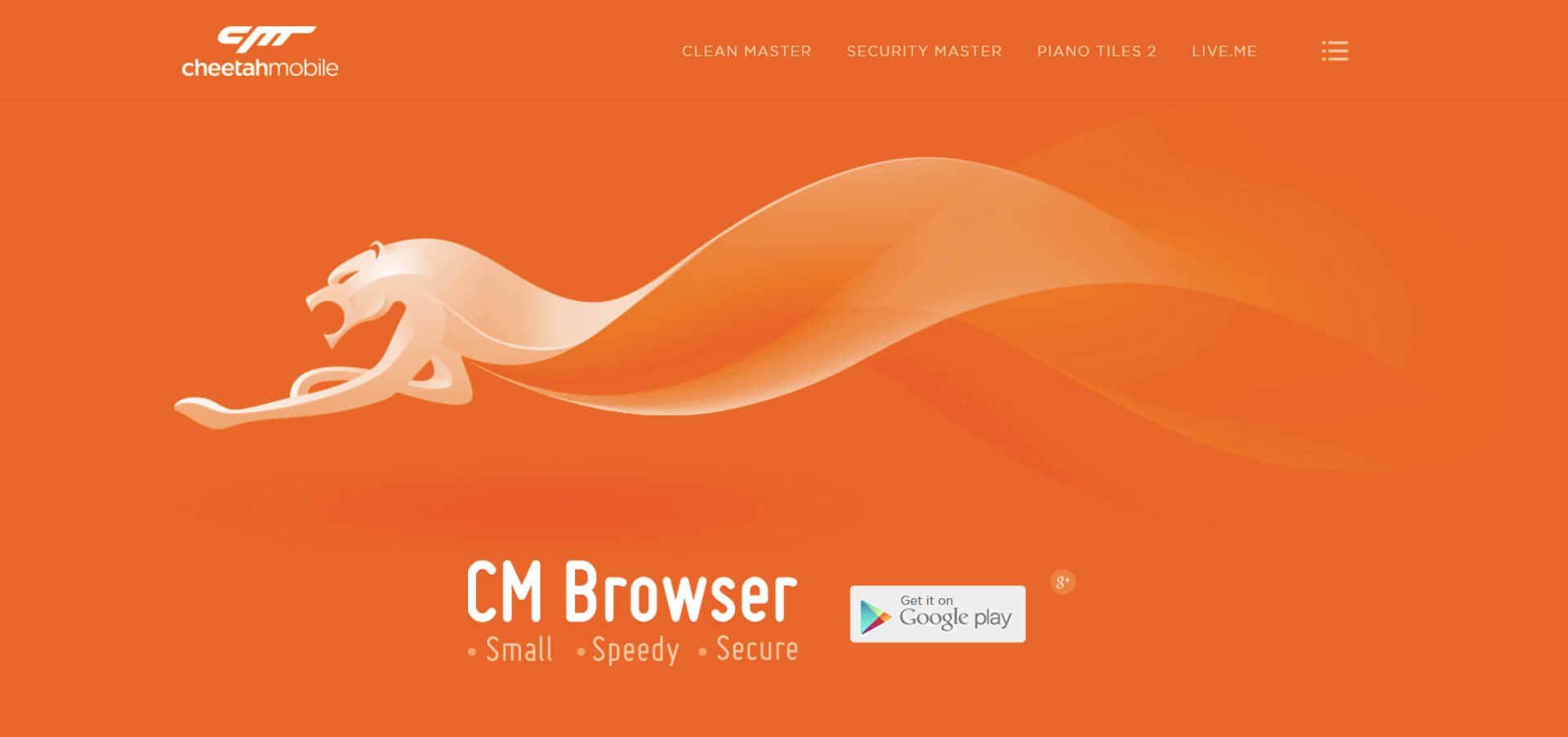 CM Browser excels in blocking ads, but it's its high-quality malware protection service that sets them apart from other ad-blocking web browsers. It is the best free ad blocker that has been rated number 1 rated by AV-TEST for containing the best antivirus engine in mobile web browsers.
CM Browser comes with a built-in ad blocker that efficiently blocks annoying ads, pop-ups, and banners, along with some specific Javascript codes so that you can enjoy a serene browsing experience.
Features
Blocks all kinds of ads including pop-ups, videos, etc.
Boosts page loading speed while reducing internet data usage
Inform users in real-time if a website contains malware-infected pages
Scans .apk file downloads for malware
Clears cache, cookies, and browsing history when you exit the browser
Pricing
CM Browser is 100% free to use.
---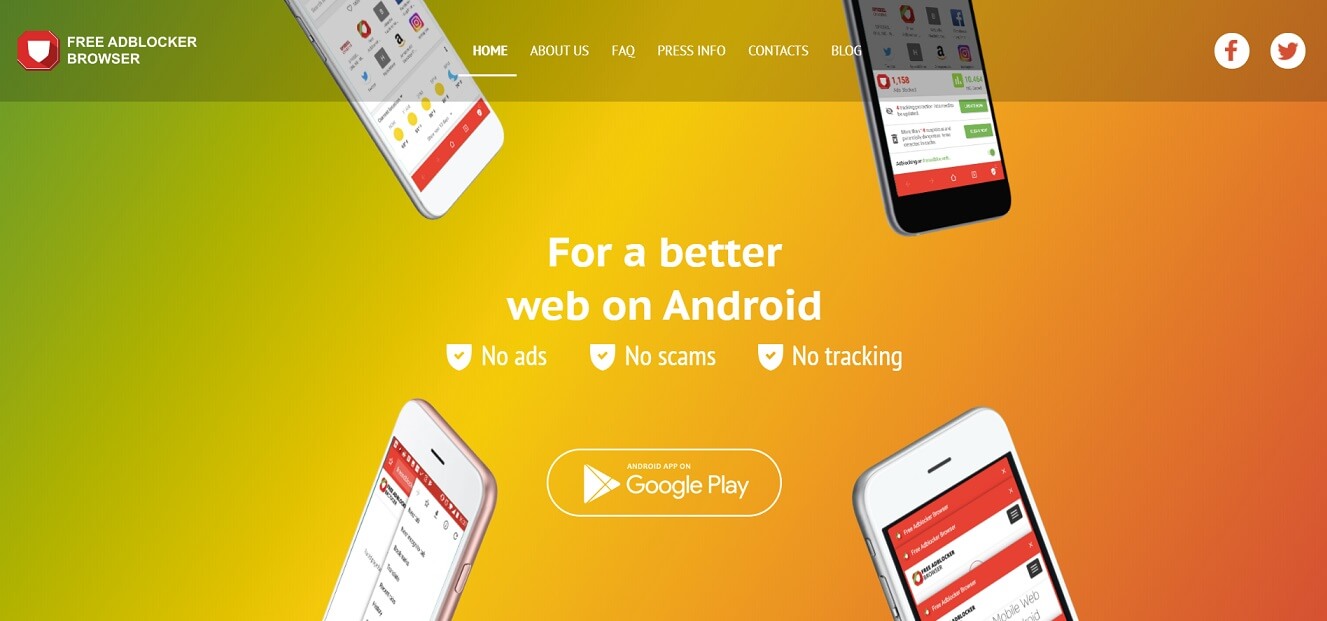 Looking for one of the best internet browsers for Android? Well look no further, Free Adblocker Browser (FAB) is one of the best internet browsers for Android. It has an integrated feature that blocks ads and malicious trackers before they get downloaded to the device.
This amplifies the user experience, by blocking irritating ads and malware the browsing speed increases and saving money by not having to download any extra advertising and foxy trackers. Free Adblocker loads pages twice as faster as other browsers.
The mission of the developers of this browser was to create a better web experience for Android users. FAB goes out of its way to protect the privacy of the user's online activities.  It protects them from malware, viruses, ransomware, and other notorious phishing scams.
Features
This tool blocks ads and sly trackers even before they are downloaded to the device.
Ads or trackers are not downloaded, therefore, they make the browser speed very fast and quick to use.
Free Adblocker blocks all the trackers and by doing so it protects the user's privacy from third-party tracking activities.
This tool protects against malware, ransomware, viruses, and other scams.
Since there is no unnecessary downloading that requires data, it saves up to 20% battery life and money.
Free Adblocker Browser also provides all the features that users utilize in a web browser.
Pricing
Free Adblocker Browser is free to use, however, some features are only available through subscription.
Additional Features: reader mode, customized themes, protecting data with a PIN code, deleting ads within the app, and more.
---

Private browsers do not make user data invisible. If a user wants complete privacy and security, they need a built-in VPN with data encryption.  The Tenta VPN Browser provides such functionality and much more!
Tenta is a private and encrypted browser that protects the user's identity digitally, rather than selling it.
It has a Zones feature that allows different locations for your browser or a particular tab. Servers no longer need to be switched manually anymore, as Tenta tabs can each be set to any of the VPN's eleven locations.
This browser has a built-in DNS system that makes sure the user's ISP and other spies won't be able to invade your browsing privacy.
An open-source software powers the system, allowing the user to set up and use the DNS server on their other devices, whether or not the browser is being used.
Features
Tenta allows automatic privacy by providing full data encryption by default.
Features free unlimited VPN protection, allowing the user to unlock the internet to its full potential.
Crypto-friendly, which allows access to blockchain protocols along the lines of centralized DNS.
Immediately blocks invasive ads and trackers to surf the internet safely and quickly.
Users can download and encrypt videos and play them within Tenta's built-in media players.
Tenta has secure tools such as; VPN, DNS over TLS, HTTPS everywhere, PIN lock, and many more.
Pricing
Tenta browser is free, however, Tenta Pro unfolds more features at the price of $7 per month or $5 per month billed annually. Tenta Pro gives a device-wide VPN, where the app traffic will also be protected.
---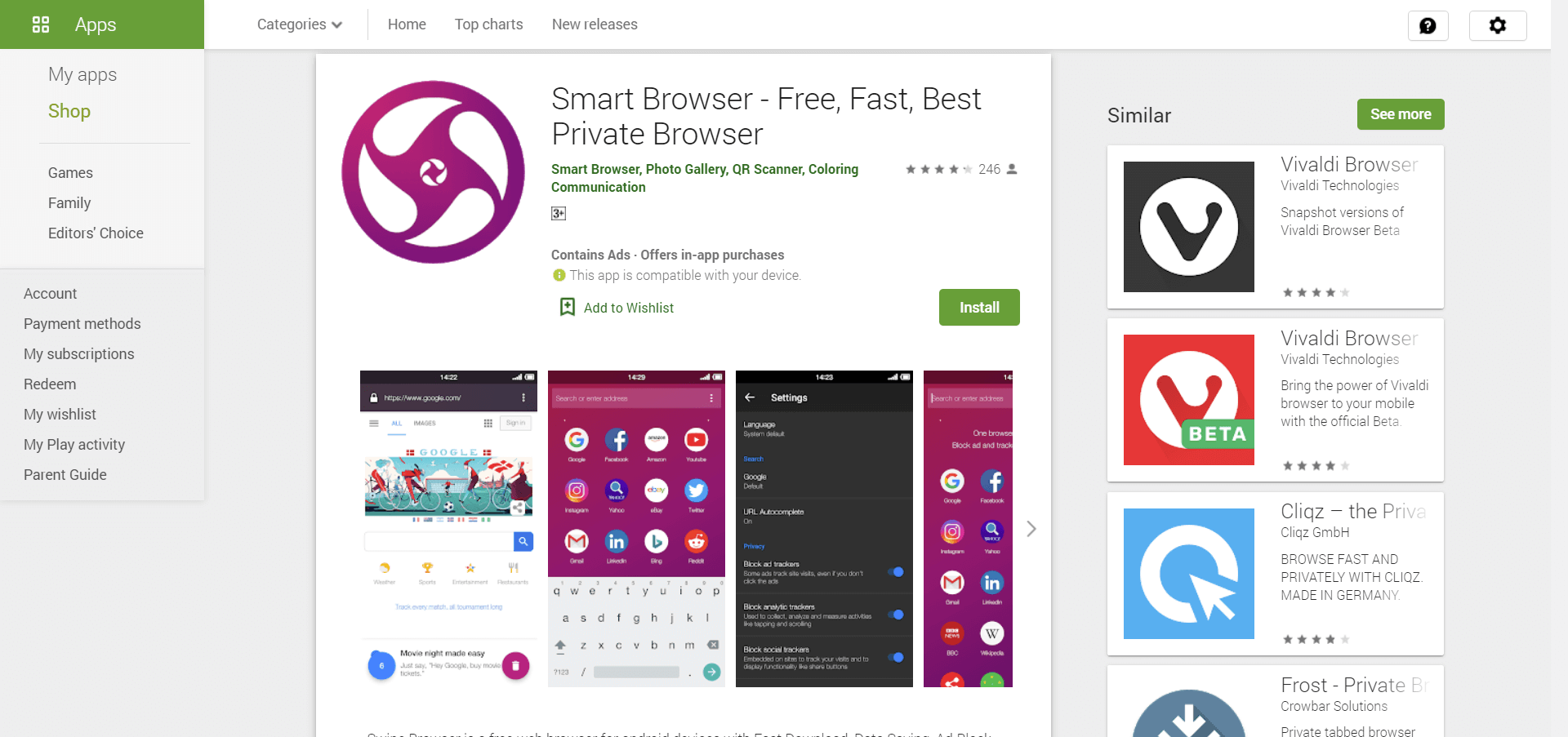 Smart Browser is a free, fast, secure browser that provides a smooth user experience. The user can have access to music, video, ad-block function, data saving, and fast downloading with this browser.
It even provides cricket information, users can watch it live stream or even check out the match scores.
If users want to use the train as a mode of transport, they can check the train status, book tickets, check seat availability, and enquire about other trains as well – through the Smart Browser. Smart Browser is also called Swipe Browser. This is the best ad blocker for Android.
It can be downloaded and used on android devices supporting 21 API and above. Swipe Browser enables faster browsing by removing nosy trackers and annoying ads.
This browser also includes a wonderful variety of vibrant Swipe themes that allow the user to personalize the UX & UI.
Features
Automatically blocks a wide range of public web trackers without any prior setting needed.
It erases user history with ease, therefore, no information makes users vulnerable such as; passwords, cookies, and trackers.
The browsing speed is at an optimal level, since it removes trackers and ads, allowing the page to load quickly.
It has next-level privacy that is practically free, it blocks trackers and erases history to eliminate unwanted ads.
Since there is no unnecessary downloading, users can save data and money.
Apart from being a smart browser, it also has a photo gallery, QR Scanner, and coloring.
Pricing
Smart Browser is free to use, making it the best free ad blocker for Android.
---
Rabbit Incognito Browser provides its users with a private and secure browsing experience. The incognito mode makes no historical record, therefore, calling it Secret or Private Browsing. These features make it one of the best private browser apps that is available for Android.
For those people that want to visit adult sites, dating and medical sites, or even do an in-depth online investigation – this private browser is the one for you! There is no trace left behind what a person searches or browses online.
There are a few new recent features that have been added in are; changing the UI, adding more pleasant colors, adding swipe up to open the tabs, ad blocker added, enhancing browsing speed, and now completely incognito.
Features
It has a multiple privacy tab, where the user can go incognito and make each tab private
It has a default privacy mode, which makes each browsing and search experience incognito
Safe and secure browsing are insured by Rabbit Incognito Browser once the user exits, everything is deleted including history, cache, cookies
Users can customize the browser settings to their needs, by applying the User-Agent Setting
Supports search engines such as; DuckDuckGo, AOL, Bing, Google, and Yahoo
It also supports agent cloaking, which means websites believe the user is browsing through a desktop and not a mobile
It also has in-app video support that will click on any video link and the history will be removed once existed
Pricing
Rabbit Incognito Browser is free to download and use.
---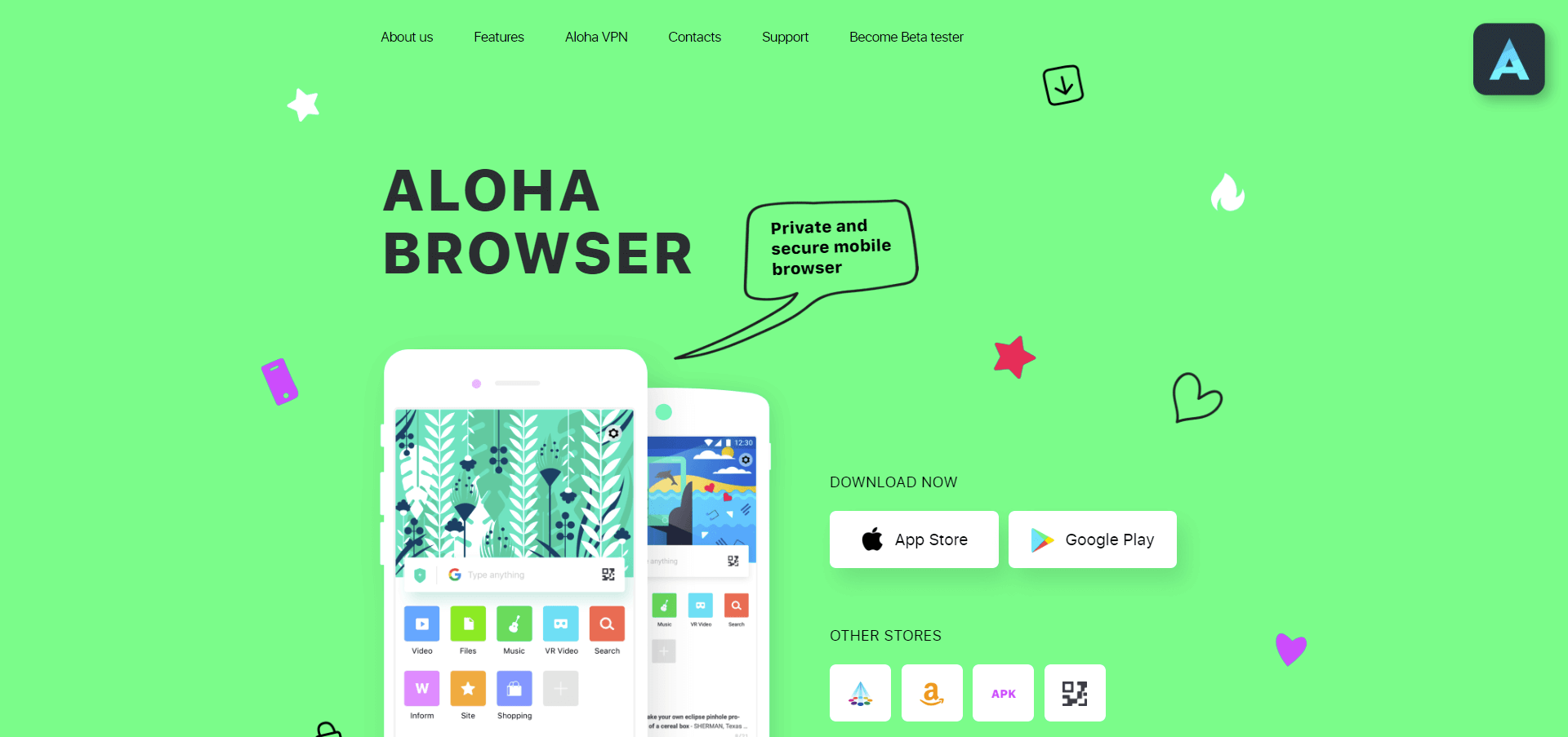 Aloha Private Browser was created by a group of enthusiasts that wanted to amplify user privacy online. The purpose was to keep users safe as they browse the web to their content by making their browsing as private as they want to keep it.
What sets it apart from other browsers is that it has a powerful download manager. Videos can be downloaded and watched directly from the media player. Users can also watch them online or download them and files as if they were using a desktop.
The Aloha Browser is fast, and free, with features that are used in full capacity. It provides maximum privacy and security.  Users can keep their files privately in a secret folder protected by a passcode or a fingerprint.
Features
Free unlimited VPN is available allowing users to surf the Internet freely to a whole new level
Immediately blocks ads and unwanted pop-ups smooth browsing
User profile and intimate information is not logged, or shared with anyone and online tracking isn't allowed either
Private tabs can be locked with a fingerprint or passcode and be kept private
Files can be securely encrypted and kept under protection from anyone
The VPN connection is fast and secure whenever and wherever needed
There are VR players that enable users to watch VR videos directly from the browser
Pricing
Aloha Browser is free to download.
---
Best Ad-Blockers for iOS and iPad 🍎
Whether you're looking for the best ad-blockers for iPad or iPhone devices, this list will help you decide based on what suits you the best: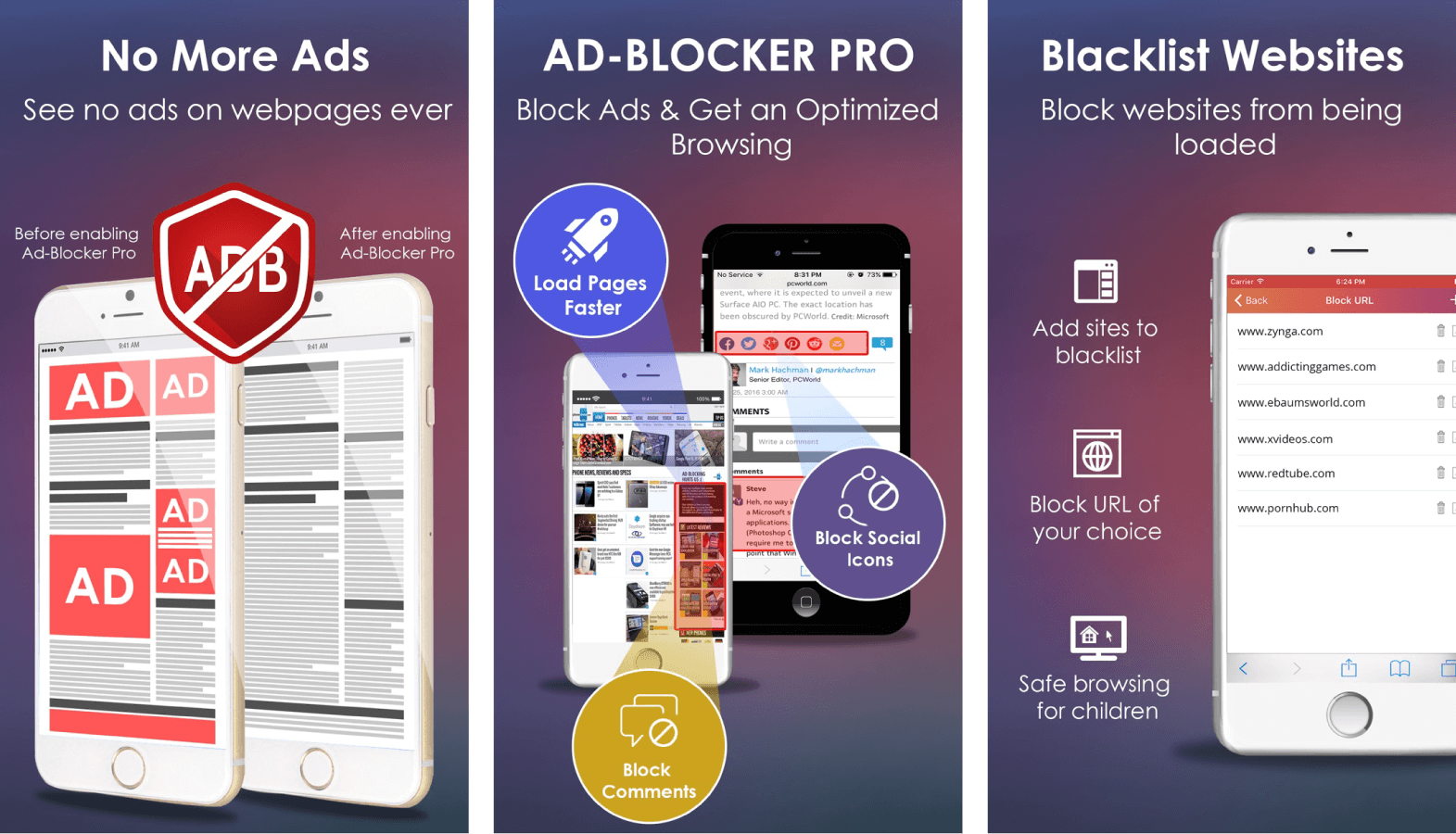 Ad-Blocker Pro goes one step ahead – it doesn't just block ads but also lets you disable comments on social media. Just focus on reading your favorite stuff on the internet without worrying about anything invasive. Plus, this browser kills ads that cause web pages to slow down and gobble up your internet data while draining the battery.
Features
Blocks the entry of such unwanted ads and programs
Safe surfing and enhanced privacy
Save mobile data and improve battery life
Disable comment boxes and even social plugins on a website
Pricing
Ad-Blocker Pro is free to use.
---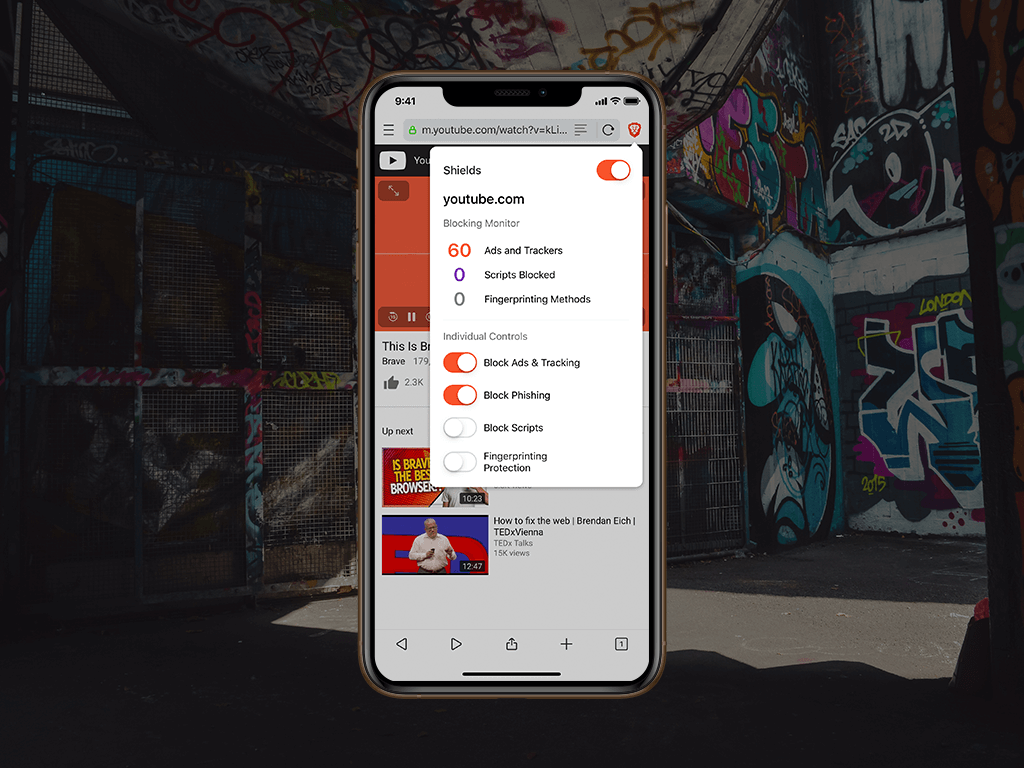 Brave Privacy Browser is one of the best ad blockers for iOS that use an advanced, built-in adblocker. With HTTPS forcing and script blocking features, you can be sure that your data is in safe hands.
Features
Block all kinds of ads including pop-ups, videos, etc.
Forces SSL encryption to protect your browsing activity from a security breach
Browse up to 8x faster
Block battery-consuming software and background apps
---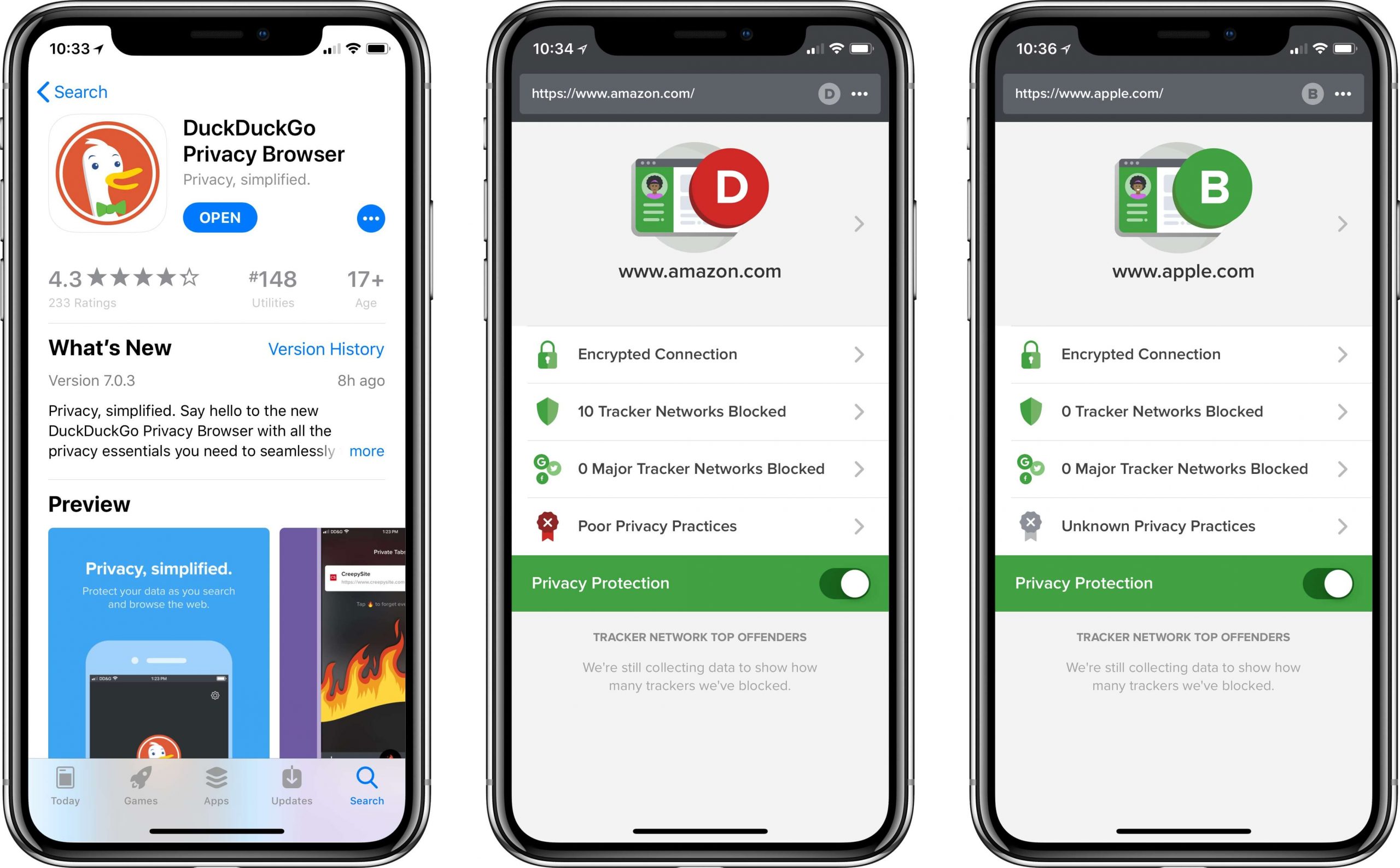 Even though it primarily functions as a web browser, DuckDuckGo is truly among the best ad blockers for Mac that cares a lot about consumer privacy.
A few years ago when Google made headlines for excessively tracking users for advertisement purposes, DuckDuckGo audaciously called them out and created a search engine of their own. Later on, they created a privacy browser too.
DuckDuckGo strongly advocates anti-tracking and consumer privacy. They truly practice what they preach.
Features
An anti-tracking feature that automatically keeps ads at bay
Protect your data as you search and browse the web
Gives you a privacy status of the website – how many trackers it has and how efficiently it handle your privacy
Forces SSL encryption to protect your browsing activity from a security breach
Pricing
DuckDuckGo Privacy Browser is free to use.
---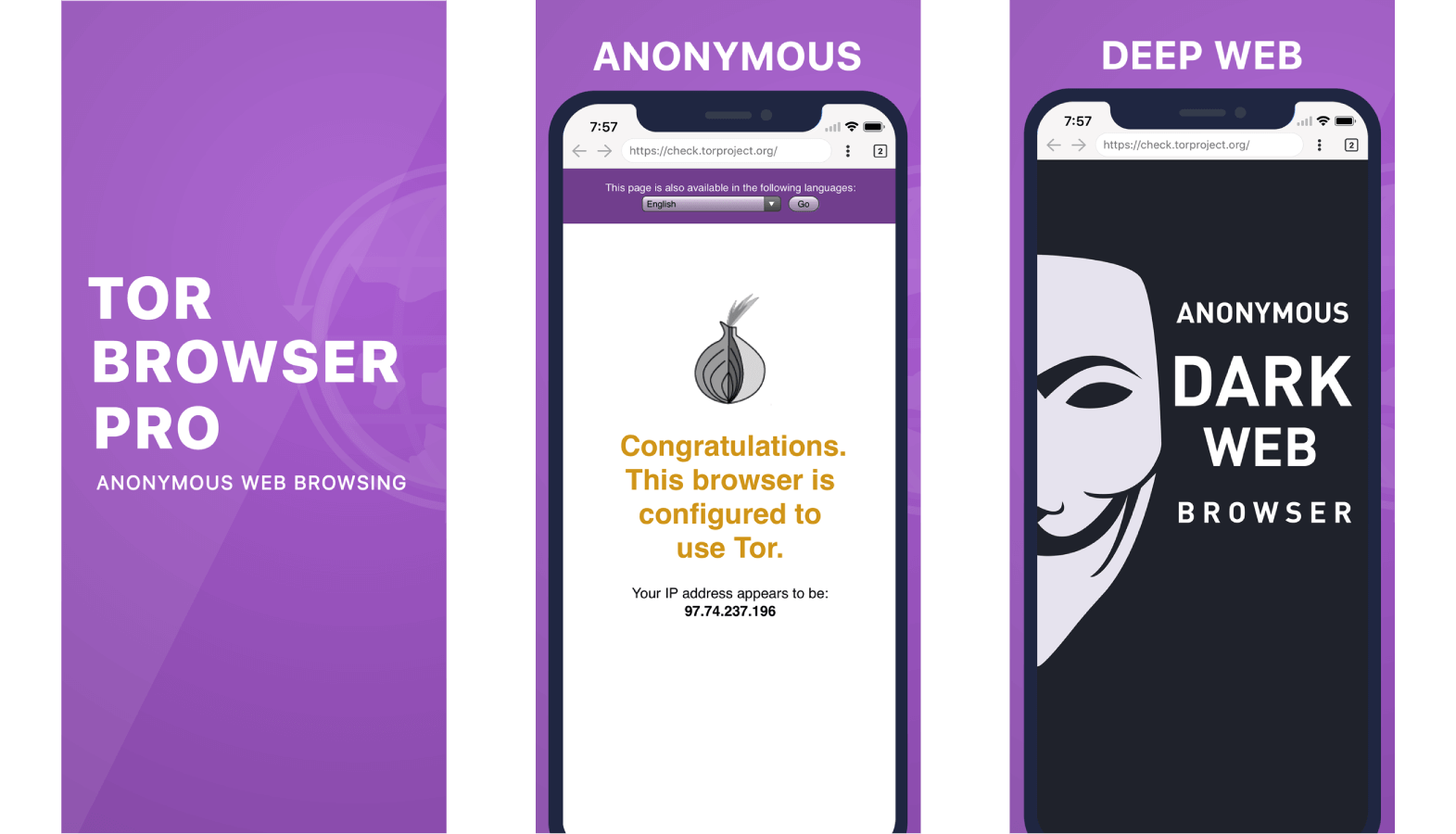 This is one of the best ad-blockers for iPhone that come with "Tor" technology – which simply means that it uses VPN technology to mask your identity and protect your privacy.
OrNET comes with both free and paid versions. Note that the free version does not block ads. With the paid Pro version, you can enjoy an ad-free browsing experience with unlimited session time and high bandwidth tunneling.
Features
Blocks all kinds of ads (pro only)
Complete anonymous web browsing
Improved website loading speed
Protection from tracking
Pricing
Free: Basic Version comes for free, with online ads
Tor Browser Pro: At $0.99
Annual TorVPN: At $39.99, with Free Trial
Monthly TorVPN: At $9.99, with Free Trial
Weekly TorVPN: at $3.99, with Free Trial
---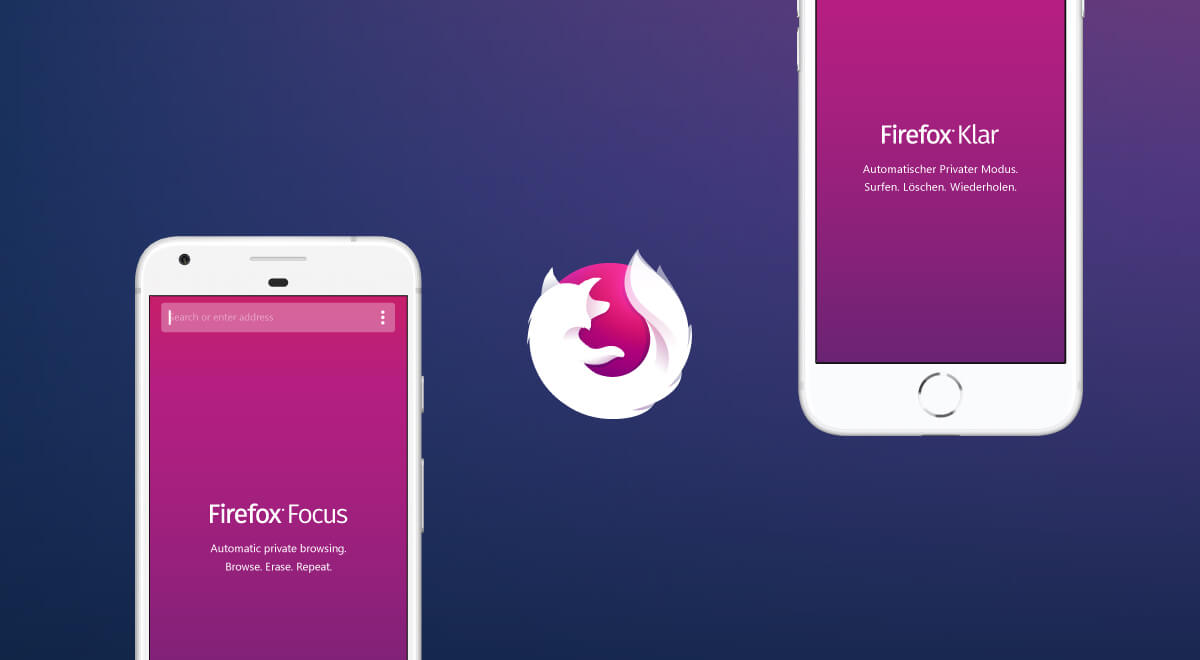 You must have used Firefox, but it's time to Focus on the good stuff. Since this is a Mozilla product, you can be sure about its reliability and stability.
It contains virtually everything that you need in an ad-blocking browser. Its multi-language support makes it an attractive option for those wishing to use a browser in another language. Who knew that the best ad-blockers for Firefox, were made by the owners of Firefox? It's truly a wonderful product, the one you should give a go.
Features
Blocks all kinds of ads and trackers without any settings to set
Available in 70 different languages
Removes trackers and ads
Browse faster with less data consumption
Pricing
Firefox Focus is open-source and free.
---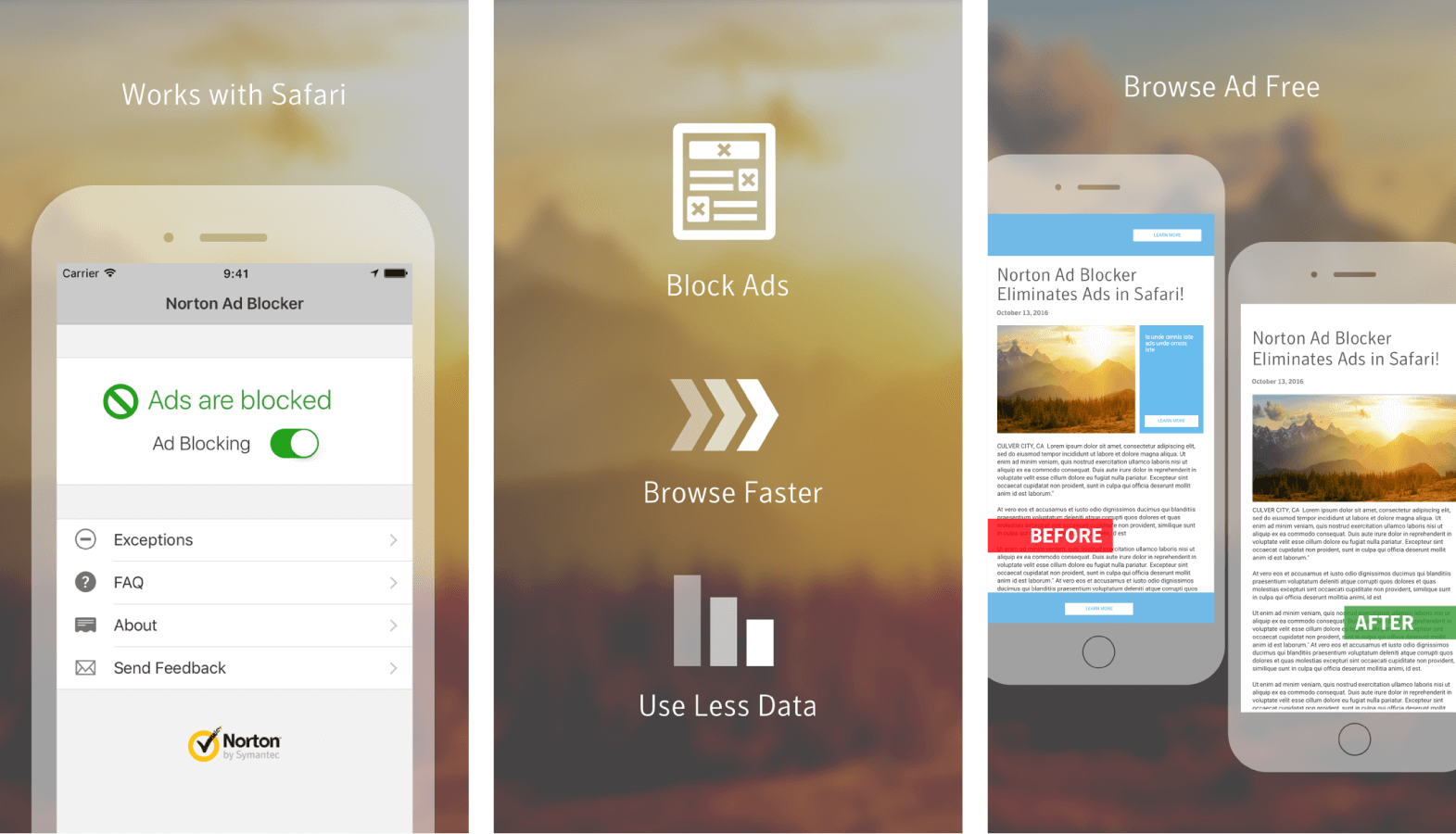 Operated by Symantec, the maker of the famous Norton Anti-Virus. This is one of the best ad-blocker apps for those who seek to get rid of ads with the most basic features. Its interface is so simple, it's really easy to get used to it. Just one tap and all annoying ads fade away.
Features
Block ads and online trackers while browsing
Improves content speed by driving out bandwidth-hogging ads
Increase your mobile's battery life
Browsing history is never shared with Norton
Support your favorite content providers by applying exceptions
Pricing
Firefox Focus is open-source and free.
---
Best Ad Blockers – Frequently Asked Questions (FAQs)
🤔 What are the Worst Ad Blockers in 2023?
While there are so many great options available, there are certain shady ad blockers that you need to steer clear from. Beware of fake ad blockers that will secretly collect data about your browsing habits and trick you by using a name that sounds like a trustworthy ad blocker.
Here's the list of names that fake ad blockers have used in the past:
Adblock Pro
HD for YouTube
uBlock Plus
AdRemover for Google Chrome
Superblock Adblocker
Webutation
HD for YouTube
🤔 What Is Adware and Why Is It Dangerous?
Adware came from the terms of advertising and software (ad+ware). It is essentially considered malware and not completely regarded as dangerous, but can and does trigger inconvenience since the software causes uninvited changes. It also can make internet surfing an unpleasant experience.
Without any authorization, the adware can; can change the browser home page, bring unwanted advertising on the screen, or even install a new toolbar. There is a high chance that you have adware working in the background if new windows start opening sporadically and start displaying questionable content.
What makes adware possibly dangerous is that when windows pop up with browser pages, they have a contaminated code. Therefore, malicious programs or Trojans get installed, and they wait to remotely access or control your computer.
There have been some cases of ransomware, in which the malicious software holds your computer captive and demands a ransom payment to allow you to regain access.
🤔 How Safe Are Ad Blockers?
Ad blockers that are legally genuine are particularly safe. However, you would be surprised how many other fake apps are running scam services with similar names to operate. Scam ad blockers will gather your browser history data, and they can even change your browser settings without your knowledge.
Below are some examples of fake ad blockers, such as:
Adblock Plus
Adblock Pro
HD for YouTube
uBlock Plus
AdRemover for Google Chrome
Superblock Adblocker
Webutation
Stick to the ad blockers that are recommended. Those that are legitimate are 100% safe to use and apply advanced software to protect your devices from being attacked by adware, malware, and malicious content.
🤔 Are Ad Blockers Easy to Use?
Yes, ad blockers are relatively easy to use. All you have to do is turn them on with a single click, and they run silently in the background.  Other than being easy to use, they get rid of unwanted ads, banners, and pop-ups.
There are so many benefits of using ad blockers that their overall function increases the ease of the customer. Once the ads are removed from web pages, the page load times are decreased significantly, which also reduces data usage.
One other reason that benefits the user is that the advertisements have contaminated codes scripted in them, which manipulate and exploit the users' private information. Ad blockers prevent these types of ads from secretly installing malware or adware and stop them from tracking a user's online presence.
🤔 Do Ad Blockers Prevent Viruses?
There are times when you start your computer, the startup process is very slow or pop-ups immediately start appearing. Your machine has likely been infected with vicious malware. When computers are infected with malware they are susceptible to all types of cyber-attacks and identity theft.
Such infections also lead computers to be used to send attacks on other servers or computers, password hacking, stealing social security numbers and personal/credit card information, and sending spam emails.
Therefore, by default, ad-block software protects against some malware. However, it can enhance this protection through configuration that can also block domains that spread the malware. This configuration helps protect your computer from viruses, Trojan horses, worms, adware, and spyware.
🤔 Are Ad Blockers Safe and Legal?
The purpose of the ad blocker is to get rid of unwanted malicious ads or at least reduce the obtrusive operatives, for a better browsing experience. It helps prevent pop-up ads, auto-play videos, and other irritating ads designed to distract us.
However, this question does arise: Are ad blockers safe and legal? The answer is, fortunately: Yes.
If the software is legitimate that automatically means they are safe to use. Nonetheless, you need to be careful, because multiple scam service apps use names similar to legitimate apps when they operate.
The fake apps pose as authentic ad blockers and collect your browsing history as data, and they can even change your browser settings for their benefit.
Conclusion
There are numerous free ad blockers available out there and all it takes is simply to install and download them. But if you want to go for something extra for an extra layer of privacy, you might want to consider ad blockers that come bundled with additional services, such as VPNs.
It's totally up to you whether you go for the best free ad blockers or the premium ones.
Once you get an ad blocker, you can set yourself free from online ads while visiting websites and run your phone's apps with peace of mind!
---
Other SaaSy Goodness on All That SaaS: