This era needs a coalition of modern technology in pretty much every department. The concept of automating core HR activities through HR management software has been around for a few decades, and to be honest, it seems pretty beneficial.
Besides, the HR department can use a hand at better managing the employees through the usage of the software that can cover the entire hiring process, organization, training schedules, salaries, and taxes.
The 23 Best HR Management Software in 2023
HR software and applications can also monitor employee performance and recommend whether particular training is needed. Whether you own a small organization, a SaaS startup, or a big enterprise, HR software has become the need of the hour to deliver an optimal workflow experience for your company.
What is HR Management Software?
Simply put, Human Resource Software is a digital platform that manages key processes and tasks related to employee management. In an organization, supports the team carrying out this task and adds automation to reduce time and human work.
HR processes typically need a lot of paperwork, and with HR software, this manual recording is simply automated to a few online files. Using this software not only increases efficiency, but also operational consistency and accuracy.
Key Features to Look for in HR Management Software
Since HR management software has become an indispensable asset for the corporate environment, it is important to adopt the technology to stay in line with the current industry.
But then, you need to make a beneficial investment and for that purpose, we have shortlisted a few must-have key features to look for when choosing an HR management software for your organization.
User-Friendly Design
An off-the-shelf HR software will never be perfect for your business and so you need to find software that allows HR staff to customize it without actually requiring the IT staff to work with it.
An ideal HR management software will include drag-and-drop tolls with an overall user-friendly design that can allow your HR staff to customize reports, forms. and other data.
Employee Management
As it is the core HR function, your software should be able to help in hiring, analyzing, and managing employees across the span of multiple departments.
This module may seem more like a database management system where documentation of employee data is maintained along with their responsibilities and salary details.
Attendance Tracking
Another important aspect is to track employee schedules. This feature will have a direct impact on the bottom line of the organization so optimizing attendance management will help in effective workforce management.
Ideally, your software should track, monitor, and even manage employee schedules in a single interface for the HR department to view details.
Dynamic Reports
A complete view of the organization's operations and workforce is essential for the HR team to operate efficiently. Your software should include tools that generate data-driven reports which can be utilized to motivate action.
Ideally, HR software retrieves data and filters out extra chunks to create relevant insights and deliver critical value to allow leaders to make a crucial decision with the right level of detail.
The Best HR Management Software in 2023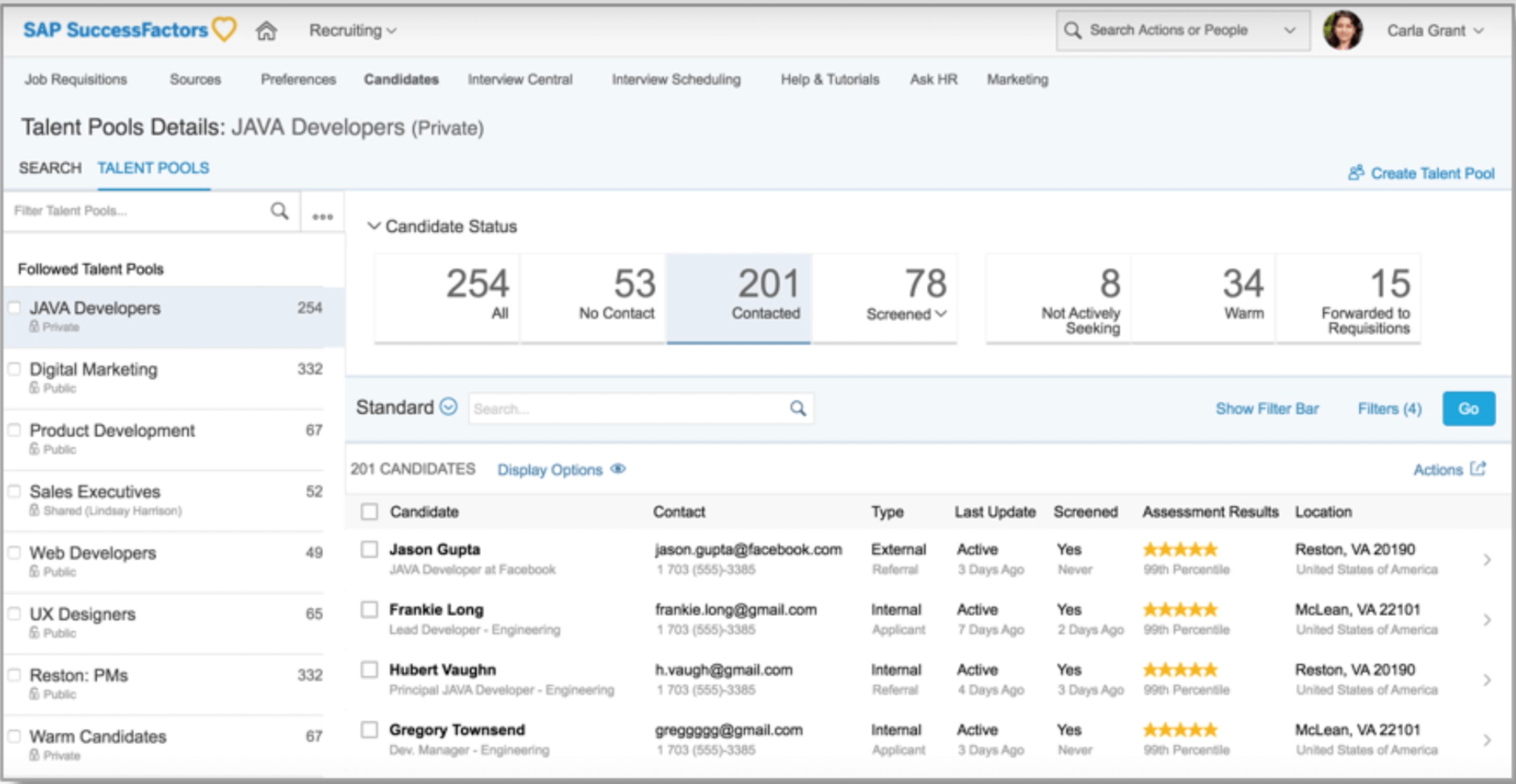 Founded in 2001 in San Francisco, it has become one of the leading cloud HCM (Human Capital Management) providers. Being one of the best human resources software in the market, this system helps the users to connect their human resources to the right purpose.
Not only for large businesses, but it is also the best human resource software for small businesses as well. The factors that make this software the best human resource management software in the market is that it is cloud-based and it seamlessly integrates to create a complete HCM system
Key Features
Seamlessly integrated software with a powerful analytics system
Ability to record your entire workforce
Modules include Recruiting, Talent sourcing, Talent development, Workforce Development, and much more
Ability to handle strategic employee management
Performance management and alignment of objectives (employee vs. organization)
Budget management and automated employee controls
Pricing
Success Factors provides users with the following pricing options:
Quotation: The only option to purchase the software is by contacting the company. The users reach out to the company and the needs and demands are clarified. Once this process is done, the company quotes a price to the user.
---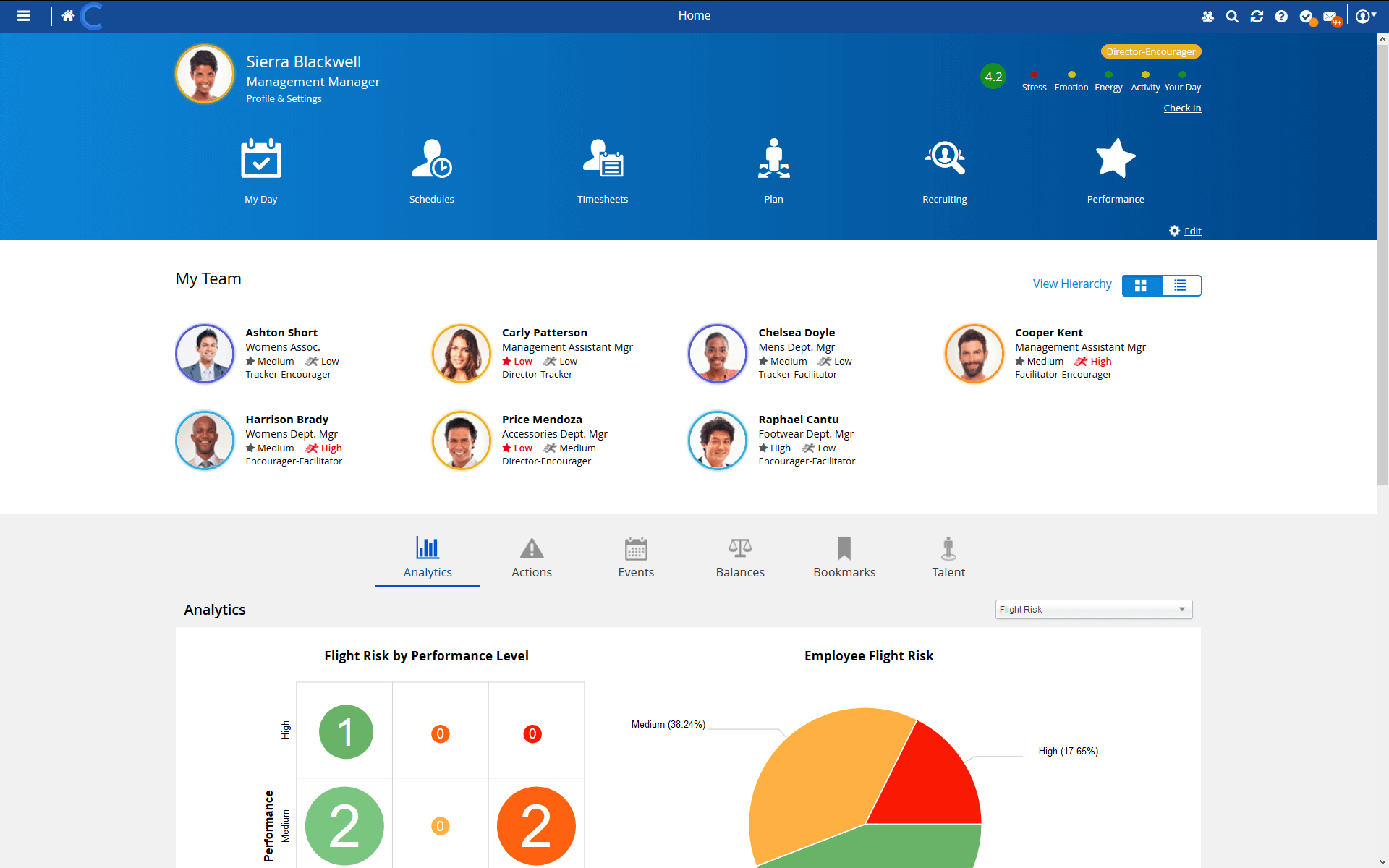 Dayforce HCM is an HR management platform that looks after the requirements of workforce management, payroll and tax, analytics, benefits, document management, and talent management. Using a single app, the users can access all the Human Capital Management (HCM) related features.
One of the best Human resource management software in the market, Dayforce provides businesses with a one-stop solution for managing HR processes on every single employee.
Rated as one of the best human resource management systems, Dayforce is cloud-based, flexible, and compatible with all common browsers. This software could be used on every hierarchical level in any organization.
Key Features
Provides an integrated HR system that manages all HCM fields including Payroll, Time & Attendance, Benefits, Workforce Management, Recruiting, Performance Management, and much more.
Serves as an organization on every hierarchical level.
Available on mobile and tablets
Multi-currency and multi-lingual platform
Touch Time Clock feature integrated with personnel tracking
One record for one employee reduces the chances of error.
Pricing
Dayforce HCM's pricing is only available via quotation. Contact sales for inquiries.
---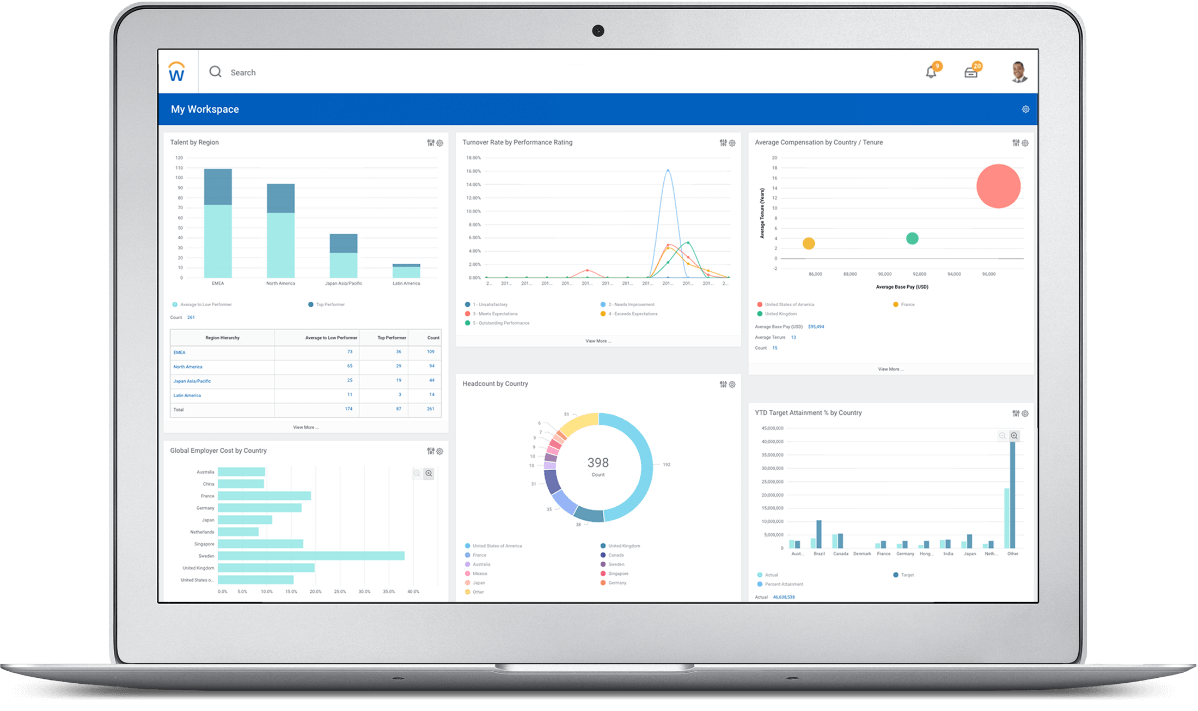 Workday HCM was founded by experienced professionals who worked at PeopleSoft, one of the leading ERP solutions. This application is built for global businesses, synchronizing HR, finance, and payroll management solutions.
Workday HCM provides a Software-as-a-Service (SaaS) enterprise-class solution with clients ranging from medium-sized organizations to some Fortune 500 companies.
Taking advantage of modern technology, Workday is a cloud-based alternative to the classic ERP, in its simplicity and ease of use. Amongst other characteristics, users are also given absence monitoring, benefits management, as well as automatic reconciliation of bank statements.
Key Features
Various HR management systems feature, such as Global payroll tools, Recruiting tools, Grants Management, Absence Management, and much more.
Strategic workforce planning includes tools for Succession planning, Career and Development Planning, and Project management.
Workforce analytics with the help of tools integrating operational headcount planning and real-time cost analytics.
Monitor processes and workflows internally and externally with cloud connect.
Workday Big Data Analytics integration
Revenue management through tools and custom reports that determine business asset roster, Purchase orders. Expenses and Invoicing.
Available on mobile and tablets
Pricing
Likewise, Workday HCM provides users with quotation-based pricing.
---

ADP Vantage HCM solution delivers the combination of employee engagement and enhancements in workflow processes.
This application helps simplify administrative operations, cutting expenses, and minimizing risks, it is one of the rare systems that automate processes for Form I-9/E-verify and Federal and State tax withholding forms.
ADP Vantage HCM is helpful for small businesses as well and integrates well with other HRMS solutions. They provide 24/7 online and call support.
Key Features
Recruiting management and talent management are the core of this software package.
Affordable Care Act (ACA) regulations certify full control over the commitments/obligations and assure benefits for everyone in the organization.
Employee scheduling and employee reports align the objectives of the employee and the organization.
Analytics & Reporting help the executives have a view of the organizations as a whole.
Workforce Index is displayed to ensure the organization's competitiveness.
 Pricing
Just like its counterparts, ADP Vantage HCM provides pricing based on a quotation.
If you are looking for other online collaboration tools for remote teams, check out the hyperlinked blog post.
---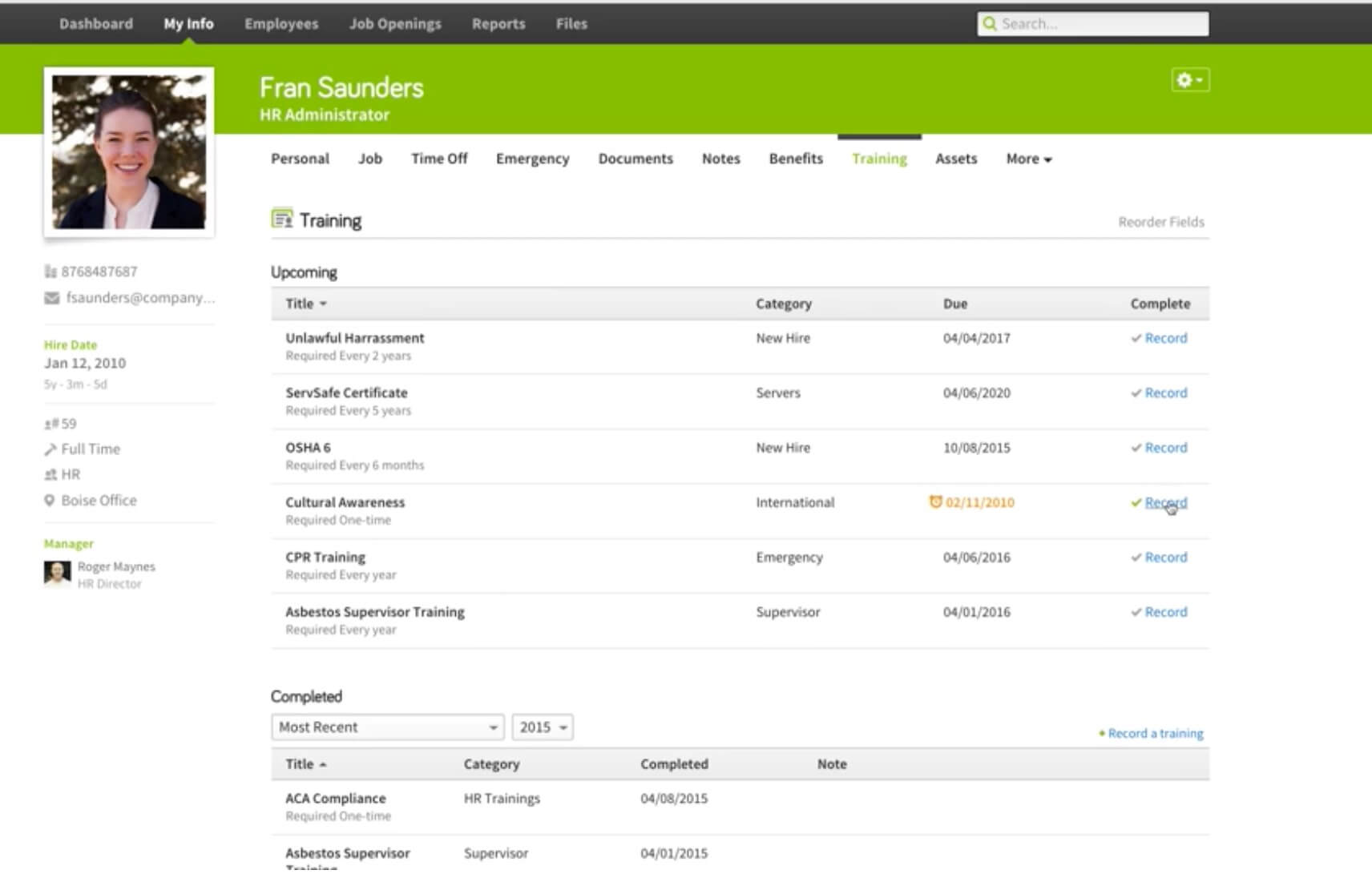 Bamboo HR is one of the best human resource management software in the market that offers an end-to-end solution to workforce management needs.
It caters to the needs and demands of small businesses while shifting complex data to a simpler HR Information System.
The best feature of Bamboo HR management software is the exclusive attractive suite. Bamboo HR is modern in looks and covers all the fields of HR management.
From planning to reporting, Bamboo HR is capable of managing all HR tasks at any hierarchical level of small and medium-sized enterprises.
Key Features
Recruiting management and talent management are the core of this software package.
Affordable Care Act (ACA) regulations certify full control over the commitments/obligations and assure benefits for everyone in the organization.
Employee scheduling and employee reports align the objectives of the employee and the organization.
Analytics & Reporting help the executives have a view of the organizations as a whole.
Pricing
Bamboo HR provides users with the following pricing options:
Essentials at $6.19 per employee/month: It covers basic HR management, employee self-service, and customer support.
Advantage at $8.25 per employee/month: It covers all the essentials plus a hiring and onboarding system, data sharing, employee satisfaction system, and other advanced components.
Furthermore, there are performance management and time tracking add-ons of this software that can be purchased separately.
---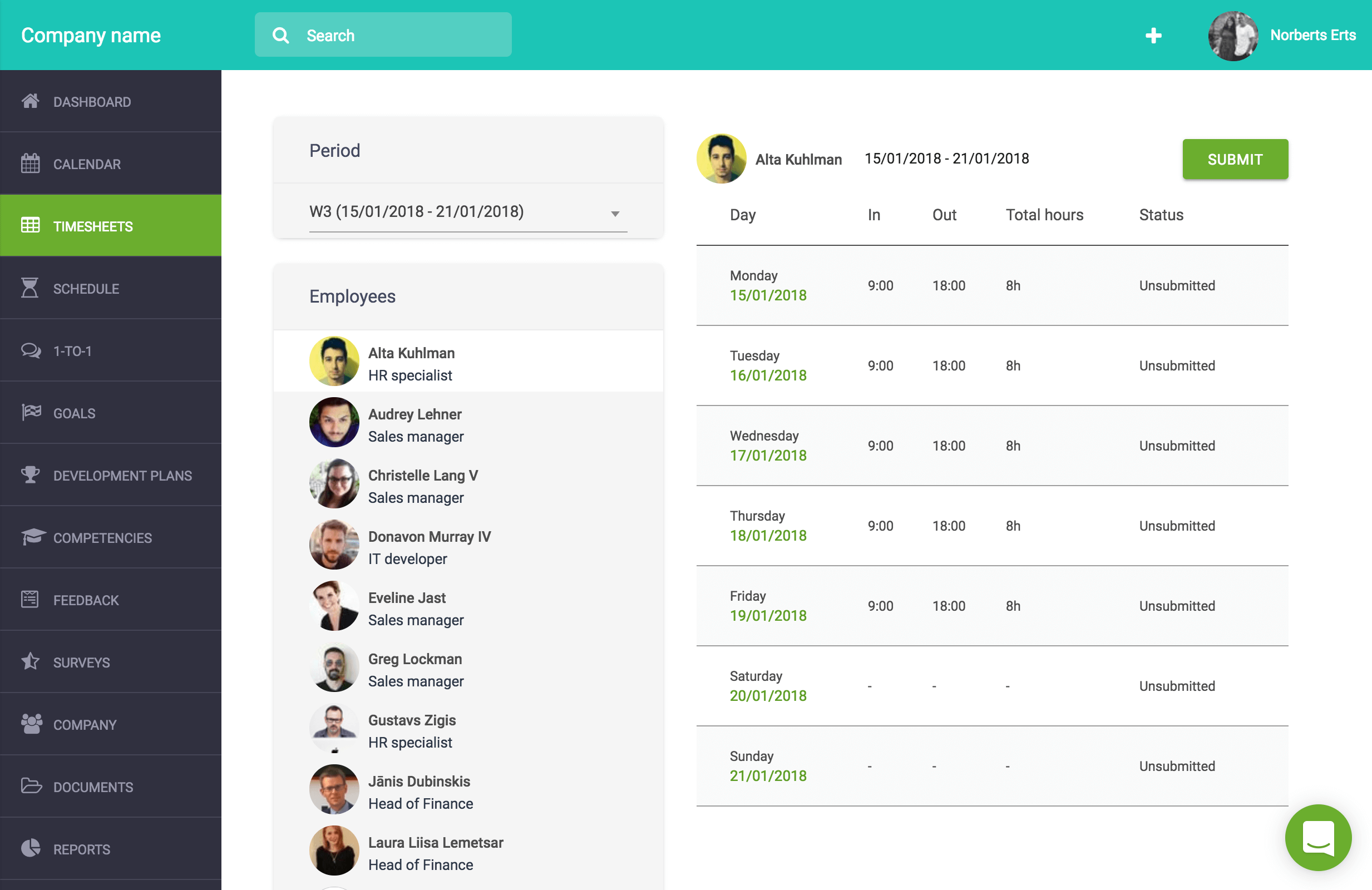 Equipped with years of experience in HR, marketing, sales, and software development, CakeHR has created software that is a piece-of-cake to use. CakeHR software is ideal for small and medium-sized organizations.
This software encompasses many facets of HR management such as core HR practices, managing performance, shift management, etc.
The system is totally Web-based, allowing employees, supervisors, and managers to access it using any device, whether desktop, laptop, smartphone, or tablet from anywhere, anytime.
Key Features
Manage absences and shifts efficiently and notify your employees within just one click.
Set goals, manage 1-to-1's, and handle 360-degree feedback
A centralized system carries all the communication and actions of each employee for audit purposes.
Innovative UI/UX with a drag-and-drop interface is the basis of the platform to make the employees get in touch with the executives and managers.
Easy to use and understand analytics & reporting.
Pricing
Cake HR provides users with the following pricing options:
Free trial: There is a 14-day free trial version that can be canceled at any time.
$4.2/month: If the billing is chosen yearly, then the price of each module per month is $4.2 but if billing is chosen monthly, the price will be $6/month.
Additional modules: There are 6 modules to choose from that are revolving around HR management which will be priced on a quotation basis ranging from $1 to $99/user/month.
---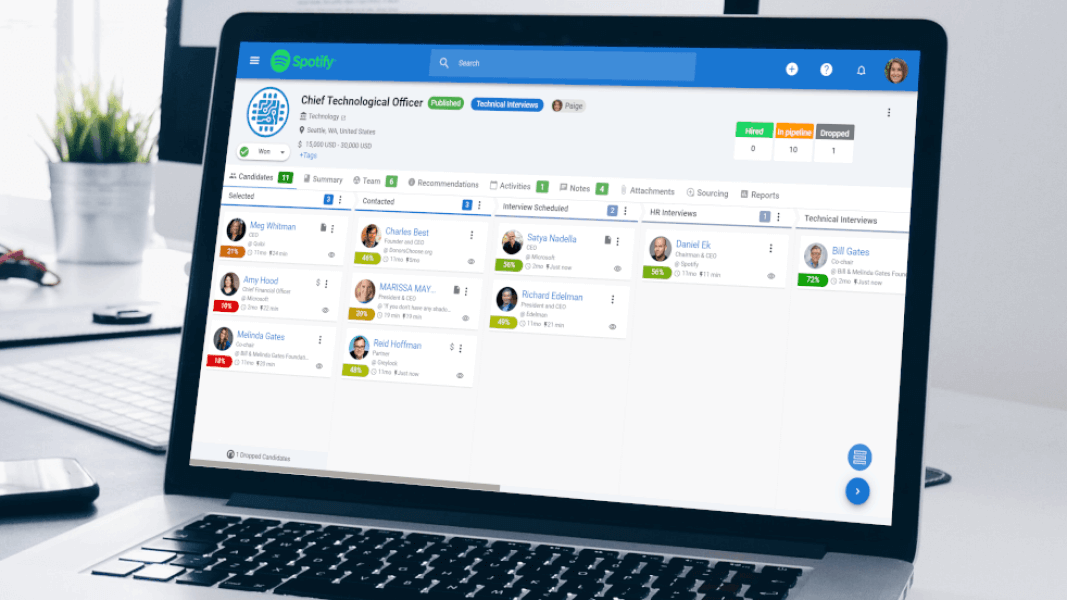 Manatal is the next generation of recruitment software. Easy to implement and built with the latest technologies, the platform was designed to streamline and simplify recruitment processes from sourcing to onboarding and beyond.
Hire better and faster by funneling your recruitment channels into one intuitive platform. Leverage AI tools and social media enrichment features, manage your team remotely and improve collaboration, share your jobs on thousands of free and premium channels, take advantage of a full reporting suite, compliance tools (GDPR, CCPA, PDPA, etc.), a complete API, and much more.
Transform the way you recruit with the ultimate cloud-based hiring tool and drive your recruitment metrics to new highs!
Key Features
Source candidates from multiple channels and streamline incoming applications in a centralized platform
Track and manage candidates through an easy-to-use pipeline
Build candidate profiles using an advanced social media enrichment
Get quality applicants from an existing database via the AI recommendation engine
Build career pages for free and get more applications tailored to each position
Post your jobs on thousands of free and premium channels
Use Manatal's recruitment CRM tools to manage your leads and clients
Manage user roles and invite hiring managers for free to collaborate directly in Manatal
Communicate directly using Manatal with its email integration and chat system
Manage and set all types of settings to ease your workload and keep track of milestones through Manatal
Leverage a complete reporting suite to optimize the hiring process by tracking metrics and KPIs
Round the clock support and assistance from a world-class support team
Pricing
Professional: $15/user/month (billed annually)
Enterprise: $35/user/month (billed annually)
14-day free trial and custom plans are also available.
---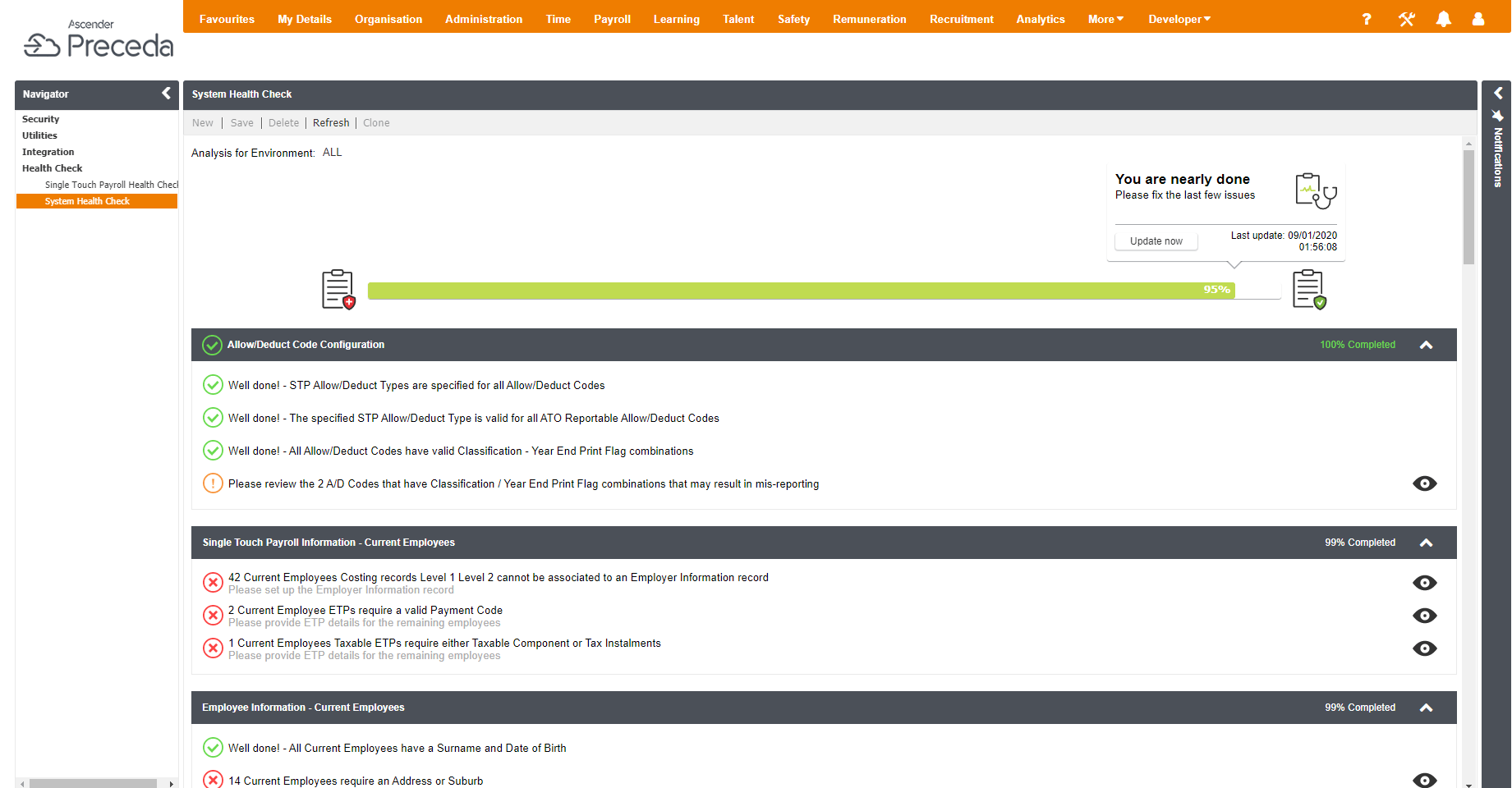 Cloud-based software that manages an organization's HR needs, Ascender Preceda is user-friendly and multi-tasking HR management software. Certified as the best human resources software in Australia and New Zealand, Ascender is known for its payroll and HR Software-as-a-Service (SaaS).
Formerly known as NGA Preceda, the company NGA HR was recently acquired by Ascender in 2017, and now operates as part of the Ascender product family.
Using Ascender Preceda can lead to better, harmonized, and coherent workforce management. The team behind Ascender has implemented cloud, on-premise, and hybrid solutions to help in the managerial decision-making process.
Key Features
HR management is made easy with integrated systems for talent management and performance management.
It provides an integrated ERP-based payroll system that connects with cloud-based HCM systems.
Manage geographically dispersed employees in over 188 countries, using multi-country payroll feature
Conveniently adapt to legal updates and maintain industry-standard compliance
Flexible deployment with global implementation alongside BPO partnership with SAP and Success Factor.
Pricing
Ascender Preceda provides users with quotation-based pricing.
---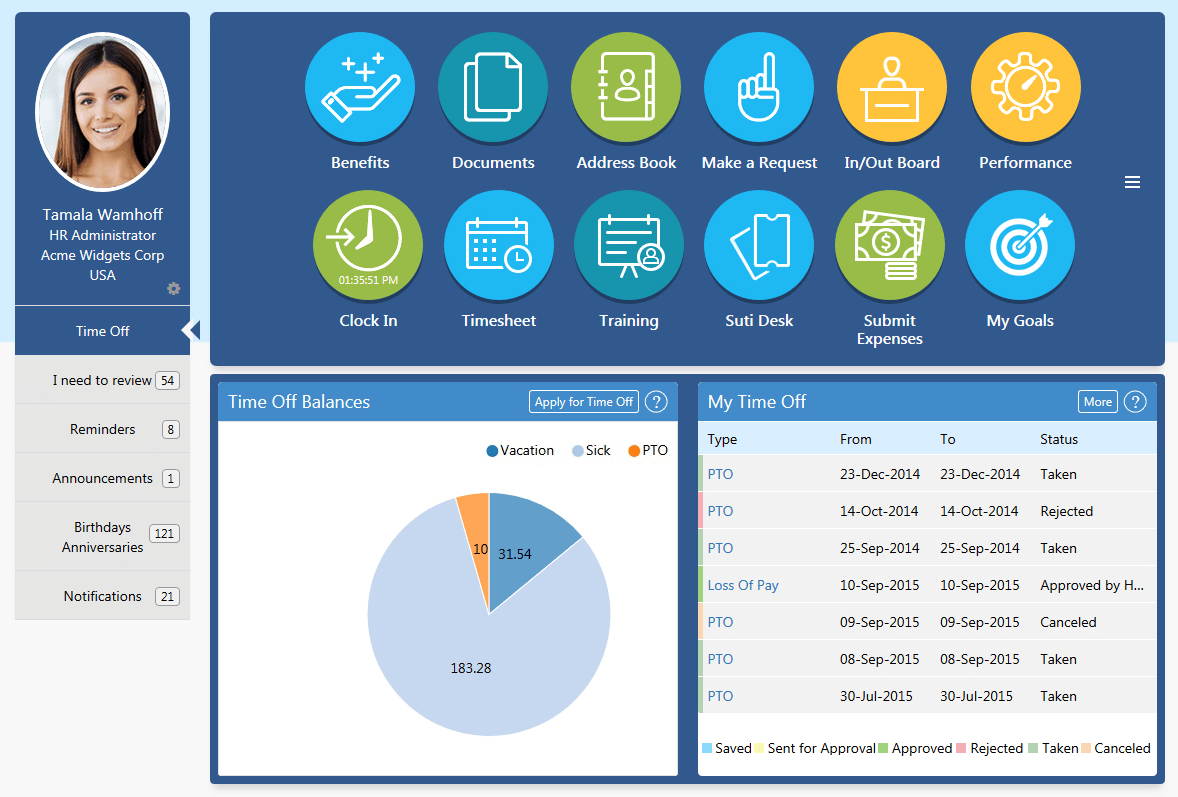 SutiHR is a comprehensive and compact set of HR SaaS tools and applications that any company belonging to any industry can use. A personnel tracking system is the only stand-alone application whereas all other tools are used in an integrated system.
SutiHR provides a complete and comprehensive end-to-end HR management platform that involves performance management, time management, audit reporting, and much more.
Team performances can also be measured and compared with the past results of the teams in the organization.
 Features:
Easily create comprehensive talent pools consisting of external candidates and internal individuals.
Effectively measure individual and combined performance for better decision making
Time management, attendance management, and related decision making made easy.
Tax monitoring and audit reporting with electronic survey reporting.
Pricing
NGA Preceda provides users with the following pricing options:
The base plan includes core features such as Personnel records, Employee self-service, Mobile app, Calendar system, Document management, and Custom reports or library. The price is $4/user/month.
---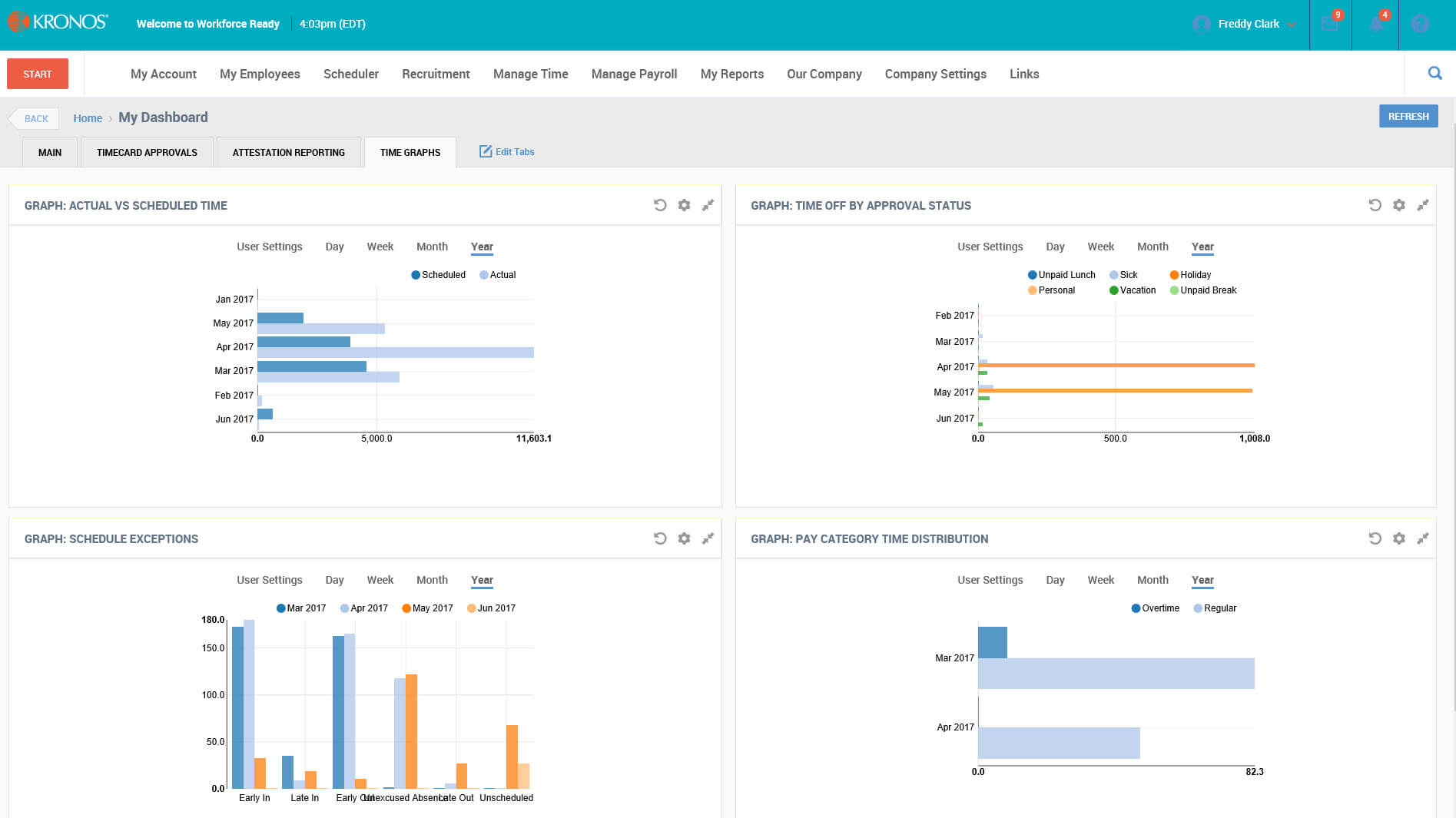 Kronos Workforce Ready is a powerful HR management platform that takes care of the automation of all HR management processes. , Kronos Workforce offers complete HCM (Human Capital Management) functions under the umbrella of a single solution.
Using a single employee record for all the tools, Kronos makes decision-making and implementing those decisions easy.
Workforce Ready is currently used by industries such as health care, education, distribution, retail, business accounting, and financial services, and manufacturing.
The mobile app that is free with the software lets the executives and the managers access the employee data anytime and anywhere.
Key Features
Self-service features let employees and managers have more independence and get rid of supervision.
Cloud-based and web-based applications do not need complex installations and implementation takes just 30 days.
Talent management tool lets managers focus on their workforce.
Reporting by managers and decision making made easy
4 optional modules to enhance the system and customize it according to the situational needs of the organization.
Pricing
Kronos Workforce Ready provides you the pricing based on a quotation.
Ensure transparency and manage your customer relations better with top-of-the-shelf CRM software and applications.
---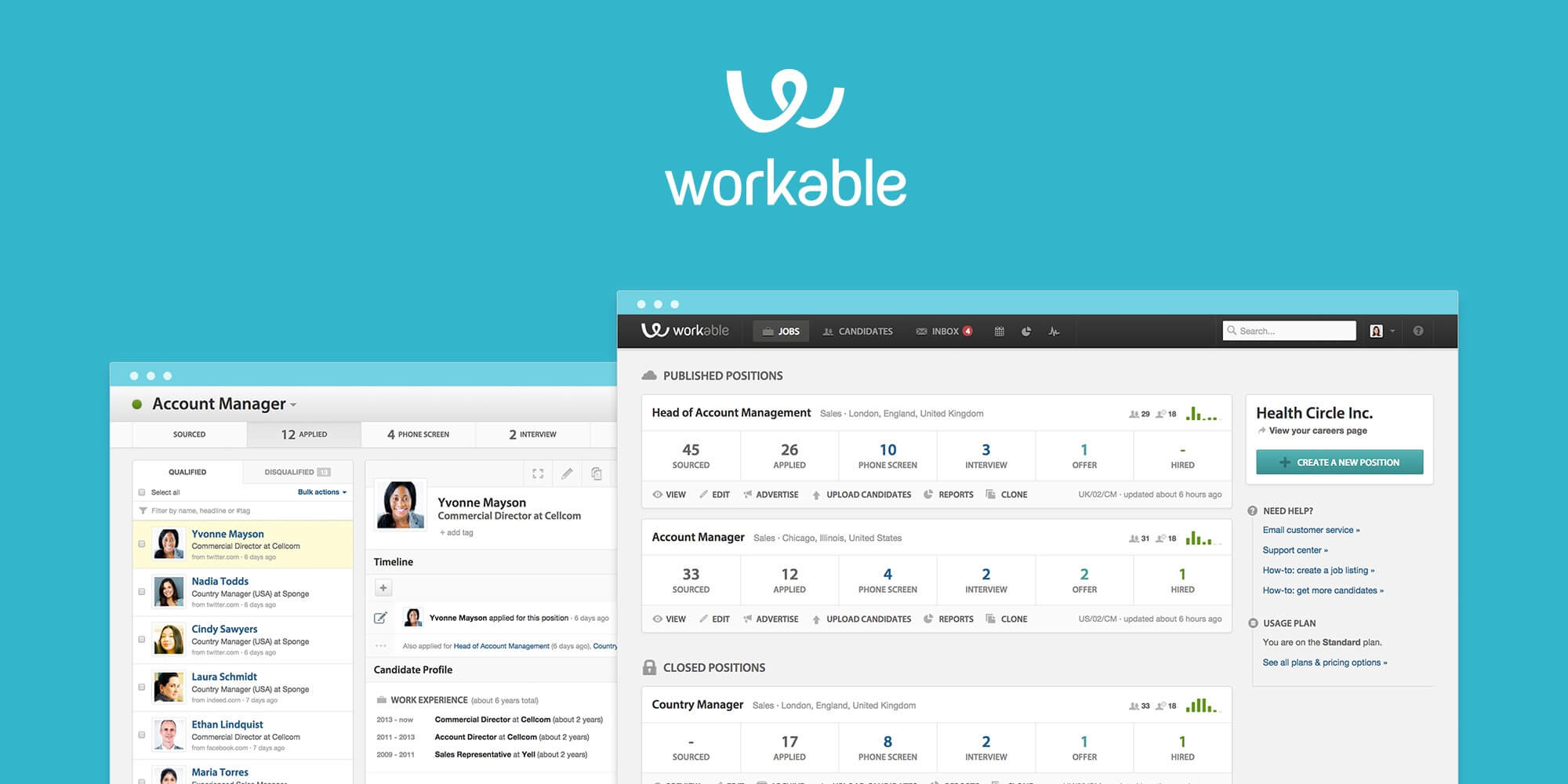 Workable is a cloud-based applicant tracking system. The system an AI-powered search and advertising which provides one-click job posting to 200+ job sites. It has helped over 20,000 companies to hire more than a million perfect candidates for the job.
Workable is the best human resources software to give you more ways to choose the best person for your company. Automated approval processes for job requests and offers reduce the time taken by manual hiring procedures.
This online collaborative hiring platform keeps the team connected anywhere and anytime through its mobile application.
Key Features
Provides an Application Programming Interface (API) with an efficient resume parsing tool.
Provides customizable questions and requirements for applicants.
Interview kits and scorecards are maintained for each candidate.
Hiring is tracked and the procedure is stored as a to-do list.
Provides integration with Google Calendar and Gmail.
Provides the facility of one-on-one and bulk emailing to candidates.
Mobile application (iOS & Android app) available for remote networking.
Pricing
Workable provides its users with the following pricing plans:
Monthly: at $99 per job/month. Designed for companies with short-term or occasional hiring needs. You can access essential recruiting features, only when you need them.
Advanced: available through quotation with the vendor, for growing companies or those who want to hire more often.
---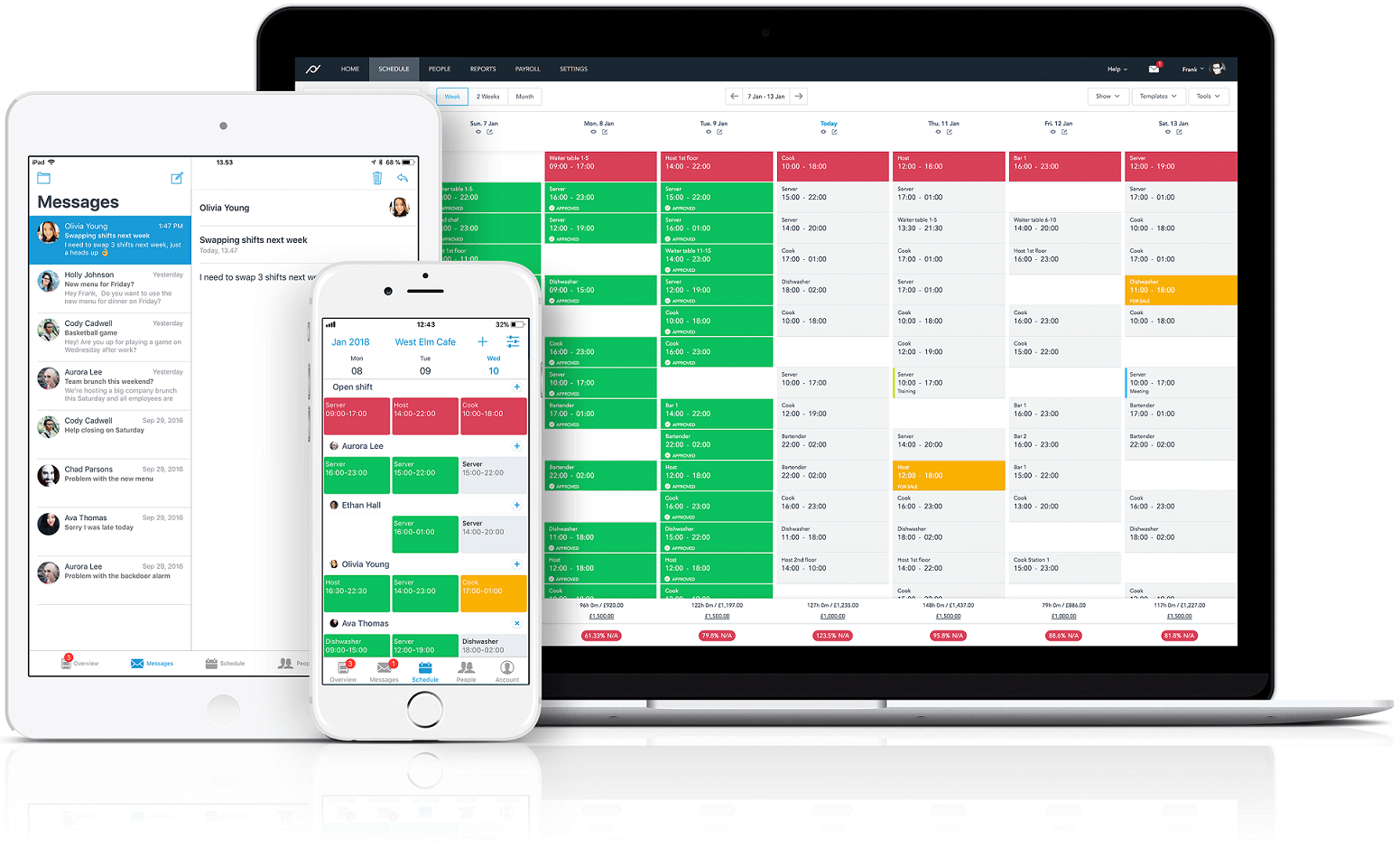 Planday is the best human resource management software that helps to manage employee schedules, working hours, shift swaps, vacation requests, and payroll. It is a web-based platform that helps you manage your workforce through proper communication.
Planday has an integrated communication portal so that the managers and employees can contact through text or email. Since the communication gap is reduced, efficient planning is done and everyone is on schedule.
Planday also comes with powerful monitoring features, such as time-tracking for your team.
Key Features
Payroll visibility makes it easy to track daily, weekly and monthly payroll spend.
Punch Clock App is integrated which allows employees to clock in through the application. This application works on Apple and Android devices.
Attendance and time tracking give employees clear shift times. It also keeps a record of the time overworked by the employee. This timesheet is exported to the payroll processor.
Produces payroll processing reports at month-end which saves the managers time.
Employees can request time off; automatic rescheduling takes place.
A mobile application is available for Android & iOS.
Pricing
Planday provides its users with the following pricing plans:
Starter at $2 per user/month: It is available for Basic scheduling and communication.
Plus at $4 per user/month: It serves as the best human resource management software for expanding businesses.
---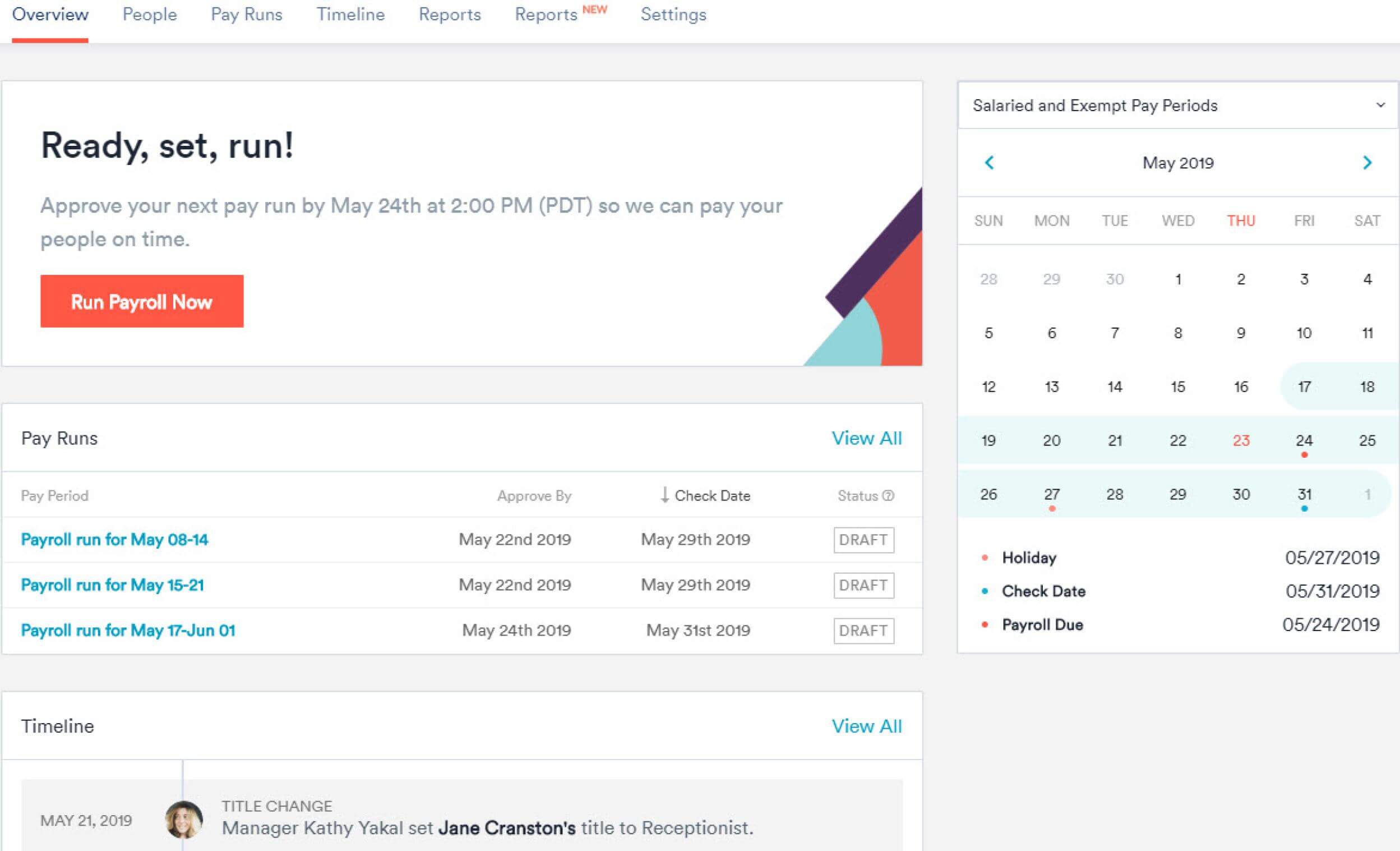 Zenefits reorganizes your company's workflow by integrating HR, Benefits, Payroll, and Scheduling. It is a SaaS cloud-based best human resources software that helps small and mid-sized companies.
This helps them to spend less time on low-priority tasks. Reducing the paperwork improves the company's productivity.
It can digitalize your payrolls and benefits, reduces effort up to 90% (as reviewed by a wide range of users). It helps with compliance tasks, manages change, and empowers the workforce of the company.
Zenefits provides tutorials for the end-users and an extended implementation period. This makes the company employees comfortable with the system.
Key Features
Provides the company with one place to keep all the employee documents.
Self-service portal for Performance Management.
Attendance Management portal for overtime tracking and reporting.
Payroll management and direct deposits
Electronic documents management provides onboarding assistance.
Health, retiree, and life insurance administration.
Compatible with Desktop (Mac & Windows) and Mobile (Android & iOS).
Pricing
Starting from $8/month, Zenefits provides the following pricing plans:
Essentials: at $10 per employee/month: It covers the essentials for onboarding employees & managing HR.
Growth: at $18 per employee/month: It covers the expanded HR for growing companies.
Zen: at $27 per employee/month: It covers some extra tools for a huge number of HR.
You can contact the sales department to request enterprise pricing for larger organizations.
---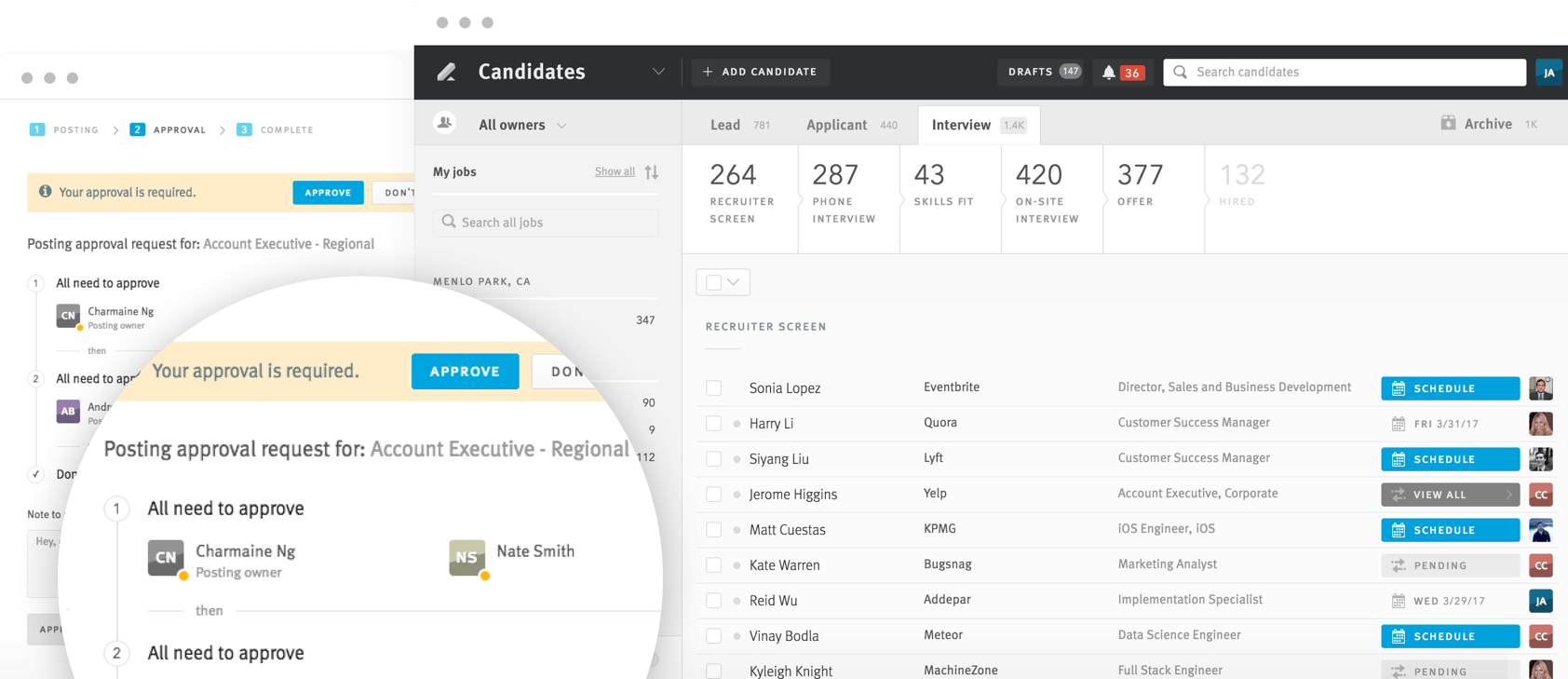 Lever is a cloud-based collaborative recruiting platform. It helps to achieve your company's hiring goals through an efficient streamlined hiring process.
The software has a user-friendly UI design with a built-in ATS (Applicant Tracking System) and CRM (Candidate Relationship Management) functionality.
It allows you to design your own hiring process, reporting, and scheduling workflows according to your company's culture. If you're looking for a customizable best human resources software, Lever is here for the rescue!
Lever takes care of sourcing, managing the schedules, interviewing, and hiring the workforce. It also helps managers with an automated reporting process. These processes can be customized in a streamline as per your company's requirements.
Key Features
Lever's Chrome extension tracks the candidate's profile, which is followed throughout the hiring process.
The resume parsing tool increases efficiency when screening through candidates
Referral source tracking (job-postings on LinkedIn, Facebook, Twitter, etc.) is also available.
Email calendar integration allows selecting interviewers according to their schedules and time zones.
Customizable reporting allows storing candidate's data over spreadsheets, for the managers. This feature enables status tracking and historical analysis.
A to-do list can be maintained by the employees on the self-service portal. Data confidentiality is kept.
The team collaboration feature allows the employees to send notes from Slack to the platform.
Available for Desktop (Windows, Mac OS, Linux) and Mobile (Android & iOS) devices.
Pricing
Lever has a Subscription pricing model. You can contact them for further pricing information.
---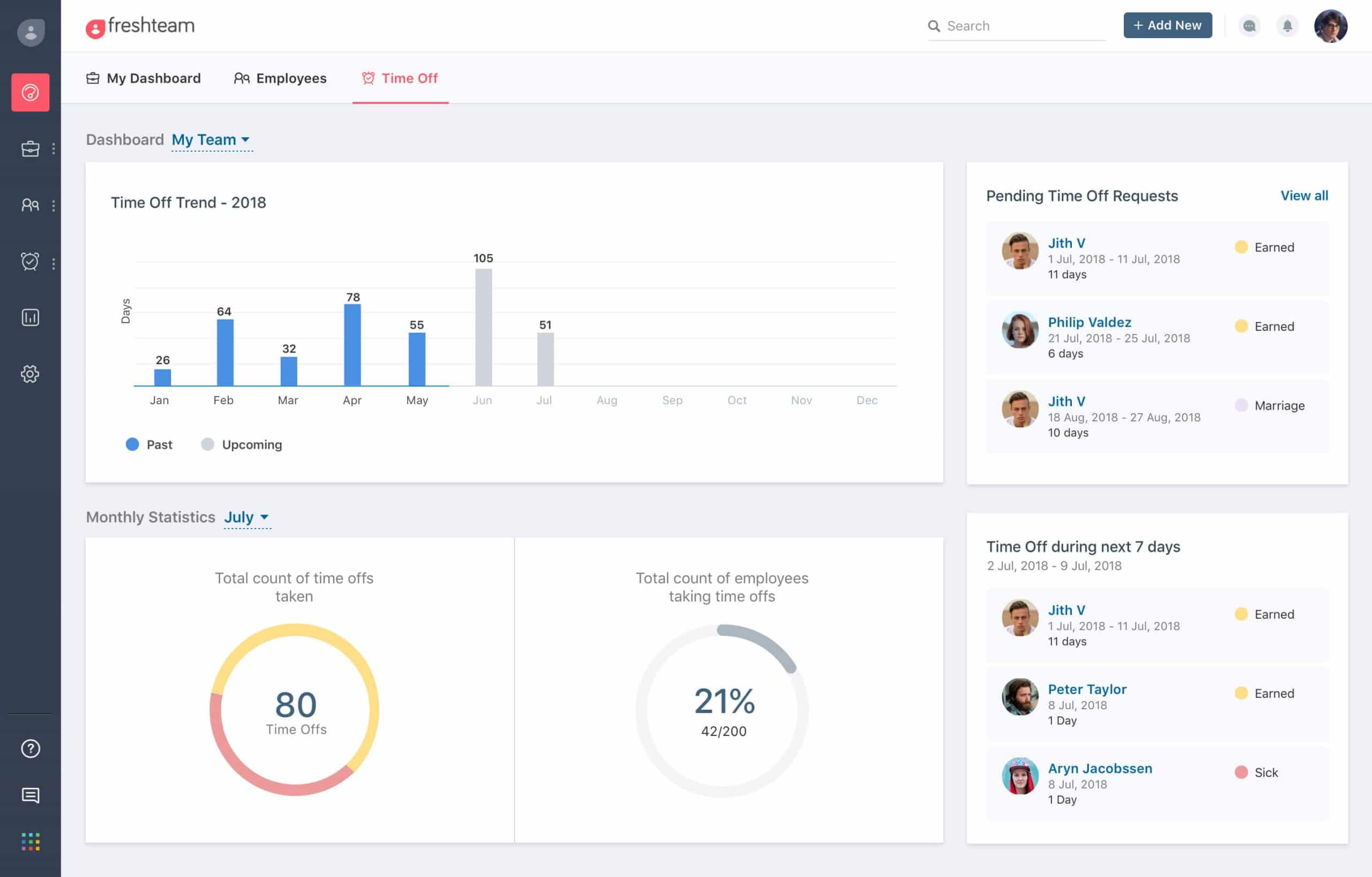 Freshteam is a cloud-hosted software that provides recruitment solutions and applicant tracking systems, all in a single interface. It is a promising resource software for small businesses.
It is trusted by 3,000+ businesses. Freshteam helps you with applicant tracking, getting people on board, maintaining their database, and improving time management.
Freshteam helps you source candidates from different online job portals, hold meetings with them, manage schedules, and move candidates across stages. It helps you make impactful HR decisions to help grow your company.
The mobile application has increased the ease of use for the end-users.
Key Features
Automates Applicant tracking
A dashboard for 360-degree candidate/resource profiles
Unified database to store information about recruitment documents.
Features for collaborative hiring and employment referrals.
A conversation panel provides a user-friendly environment between the hiring manager and the applicant.
Mobile application (Android & iOS) makes it easy to email candidates, submit interview feedback, and observe the complete course of your hiring process.
Pricing
Freshteam provides its users with the following pricing plans:
Sprout: Free of cost, for up to 50 employees.
Blossom: $50 per 50 users/month. Designed for companies ready to ramp up the hiring, billed annually.
Garden: at $100 per 50 users/month. For an end-to-end hiring process, billed annually.
Estate: at $200 per 50 users/month. Designed for large teams, and, billed annually.
---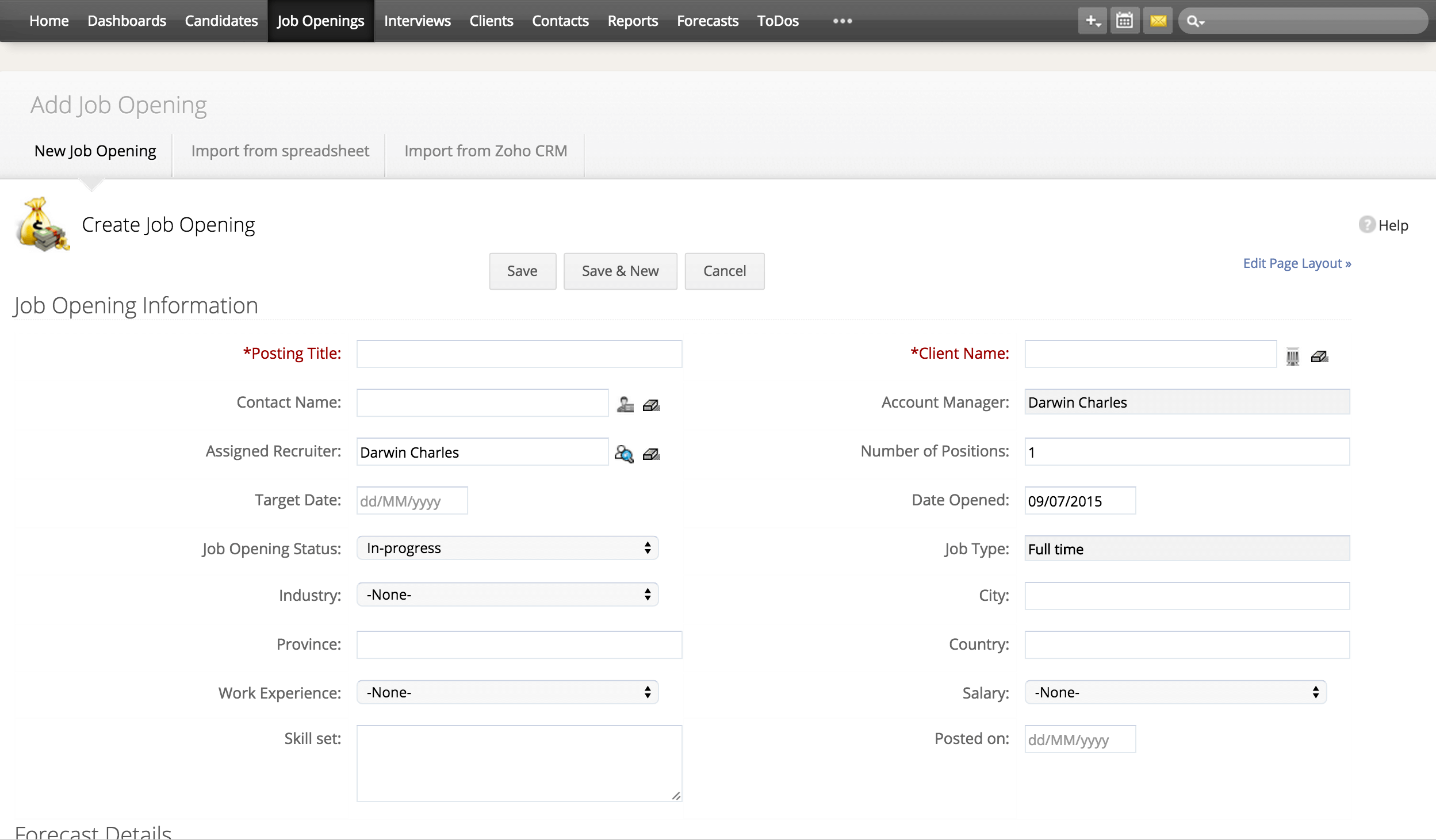 Zoho Recruit is a cloud-based applicant tracking system. It provides end-to-end hiring solutions for Staffing Agencies, Corporate HRs, and Temporary Workforce.
This HR management software allows you to streamline your recruitment process and make sure that you don't miss the perfect candidate for your job offer.
Zoho Recruit facilitates you with a user-friendly and highly configurable interface that is easy to personalize and has robust functionalities.
It shows a transparent visual indication of how well the recruitment process is going, while each step of the recruitment procedure can be tracked and recorded.
Key Features
Customizable tools for users to automate input, instantly update interview schedules and automate repetitive recruitment tasks.
It provides a 360-degree view of applicants' profiles at a glance without having to go through a pile of documents.
Provides a centralized Applicant Database to store all the electronic documents for easier hiring.
Provides the facility to embed resume form and parse resumes.
Web-based application supported by Windows, Mac, Android & iOS.
Pricing
Zoho provides its users with the following pricing plans:
Free: It provides basic functionalities like candidate management and interview scheduling.
Standard: at $25 per user/month. Additional features such as resume parsing are added.
Professional: at $50 per user/month. Additional features such as radius search and multiple currencies are added.
Enterprise: at $75 per user/month. Additional features such as auto-responders and unlimited storage are added.
---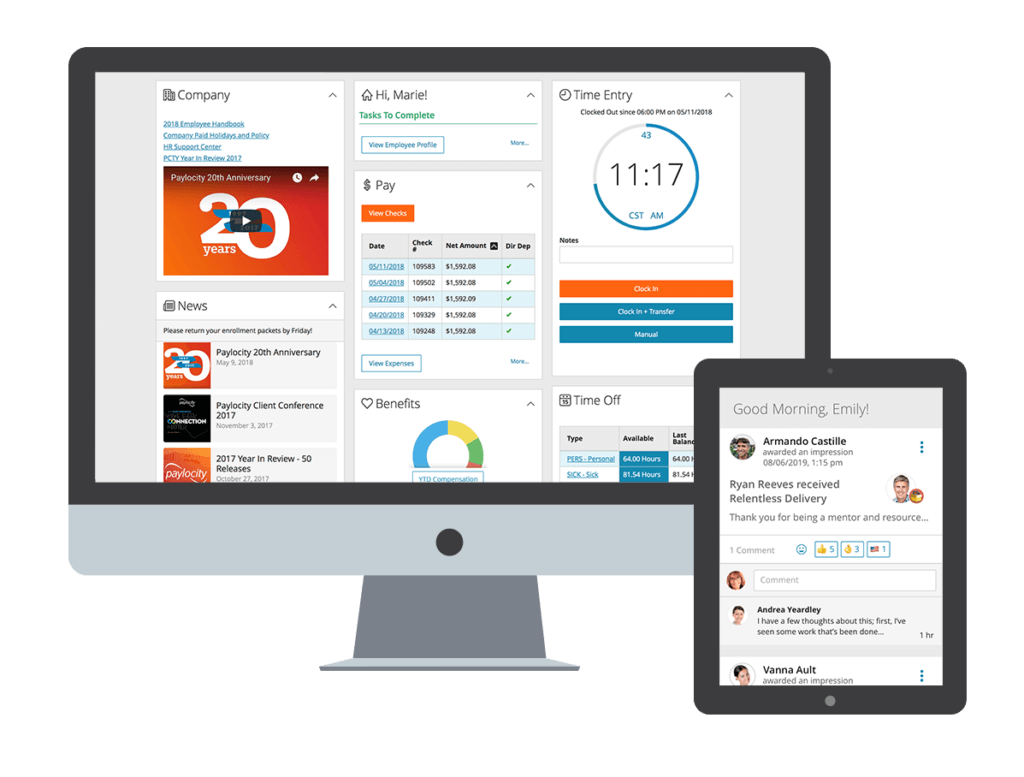 Paylocity is a web-based HR and payroll service provider intended to benefit as a human resource software for small businesses. It has a self-service feature that includes advanced reporting tools and easy incorporation with general ledger, employee's retirement plan, and time-tracking applications.
Its aim is to offers deliver a payroll solution that can be used online and is capable of handling tasks more than just payroll processing. It includes compliance management tools, custom reports, and other active features.
The application is accessible round-the-clock and gives a feature of QuickPay. QuickPay is a built-in application developed to process batches of payrolls so that businesses can finish the payroll task without manual labor.
Moreover, it offers HR apps that include onboarding, managing schedules, learning management, and employee monitoring.
Key Features
Organizes employees in an organization's structure and keeps a record of their pay at the designated role. Tracks time, looks into schedules, and all other work-force-related information.
Creates expense reports of the employees, as automated procedure allows them to pull in all credit card statements.
Employee self-service web portal allows them to access current, past pay stubs, and extra salary information.
Updates about the onboarding process are sent through notifications to the candidate and the manager.
Provides a unified database to store all the employee information and documents. It also tracks and manages employee benefits and eligibility information – all in one centralized place.
Deducts wages for health care, retirement plans, etc. from paychecks of the employees. And automatic tax calculation and payment are also done.
A Calendar system is integrated for you to plan trips. You can book flights, hotels, and cars from the software right away.
Available as a web-based platform for Windows, Mac, Android & iOS.
Pricing
Paylocity provides users with quotation-based pricing. It starts at $2 per employee/month.
---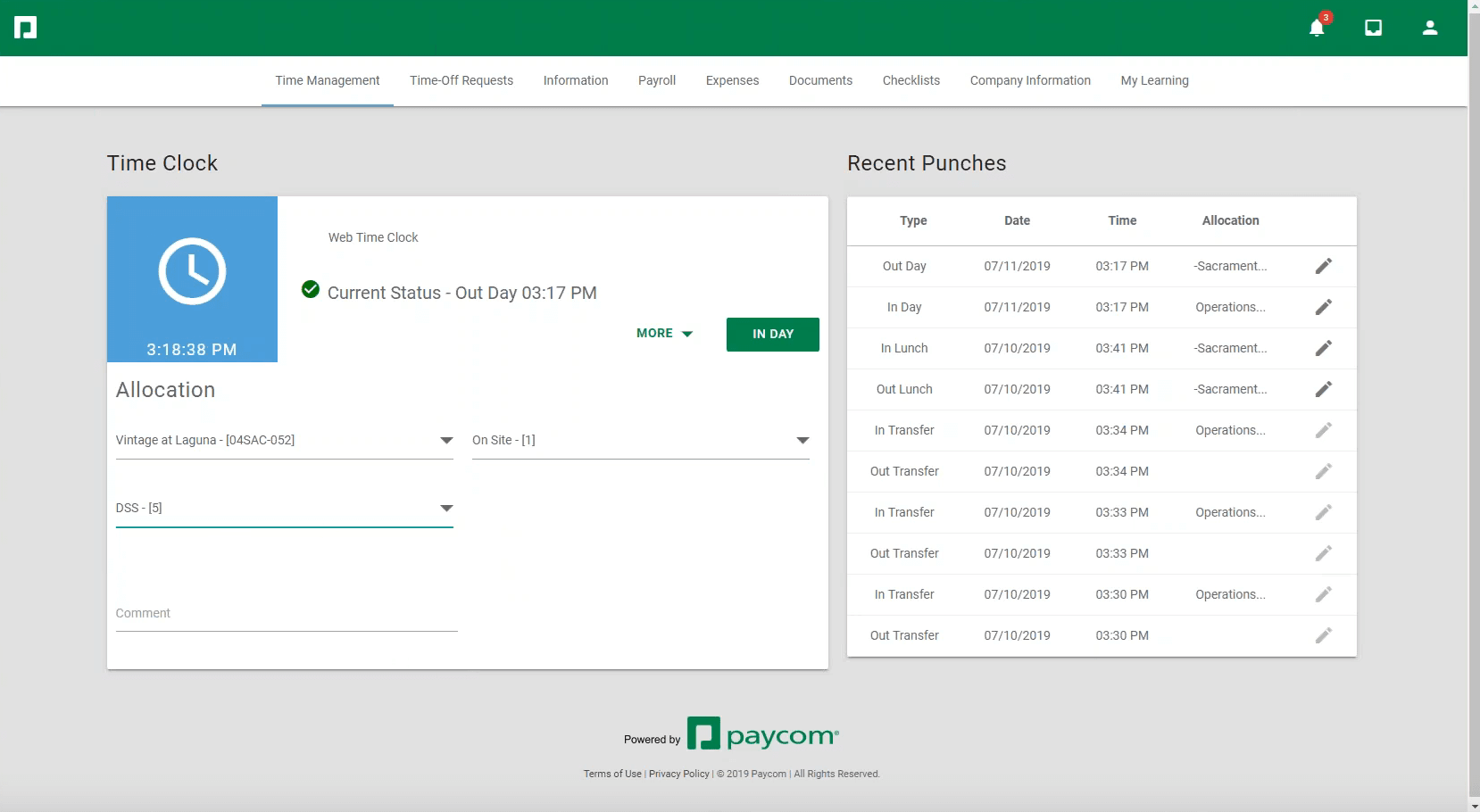 Paycom is a cloud-based payroll management solution that automates your comprehensive HR activities and manages the payroll. It streamlines from recruiting the employees, managing them, and their payrolls.
All employee data is stored in one place and real-time changes are reflected across the system.
Paycom is the best HR management software using SaaS technology which provides the employees' access to their information. It provides customers with one point of contact for all their queries.
In short, it has a single customizable dashboard that displays all the employee benefits. This feature makes it easy to search for the required information.
Key Features
Manages the onboarding process, employee attendance, and time tracking to keep a record of the number of hours worked.
It allows the user to add notes throughout the year. An at the end of the year, performance reviews become are generated at lightning speed.
It creates expense templates for monthly recurring expenses. This saves the extra effort of repetition.
Manages payrolls and allows direct deposit of payments to employee's bank accounts.
Tax compliance is featured, hence tax is calculated and paid.
Vacation and leave tracking facilities are available to manage the rescheduling of employees.
Available as a Cloud, SaaS, We-based platform.
Pricing
Paycom also provides users with quotation-based pricing.
---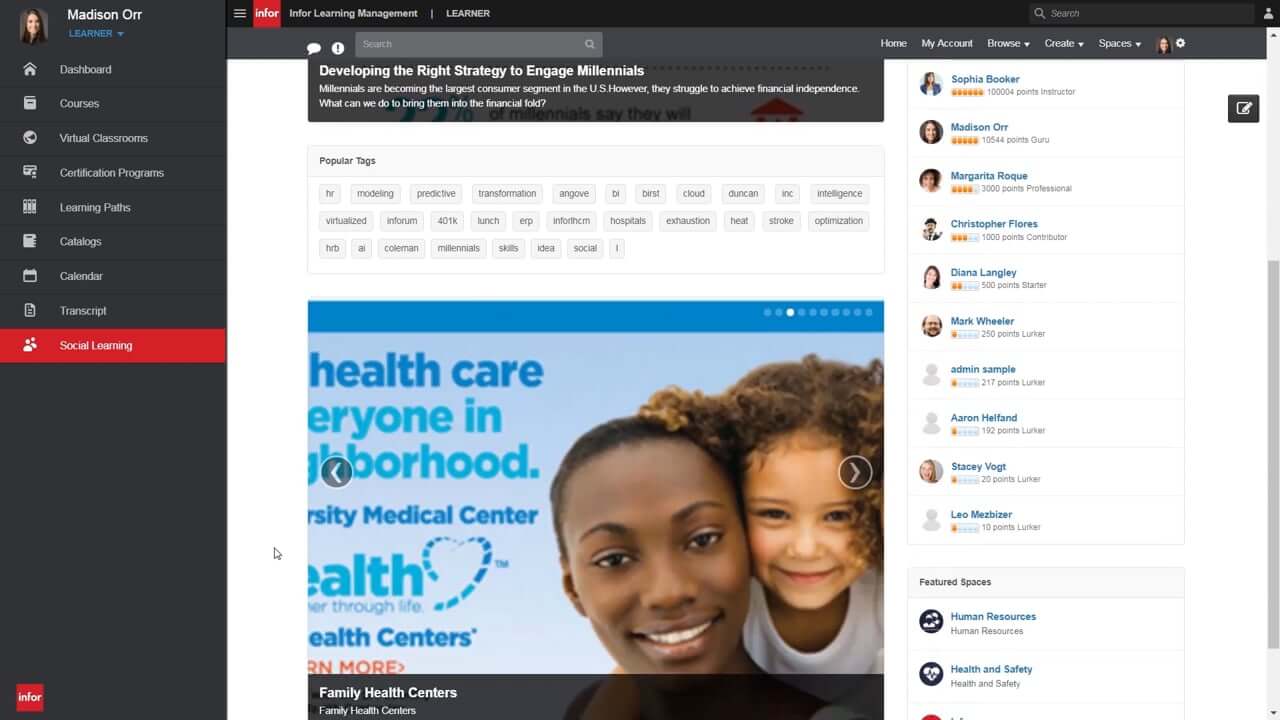 Infor HCM (Human Capital Management) provides a set of cloud-based best HR management software solutions. It replaces complex workflows with innovative technology.
It empowers your HR professionals to experience a streamlined flow of processes and remarkable experiences.
Infor HCM manages global human resourcing, onboarding process, employee management portal, and payroll. Moreover, it provides a case management system and HCM (Human Capital Management) analytics as well.
Infor HCM offers several deployment options. For further support, you can contact them online or over the phone.
Key Features
Provides global talent acquisition features. It uses predictive talent science for the onboarding process.
Applicant and activity tracking facilities allow fine screening of the candidates.
Manages employee benefits, budgeting as well as time entry on a personalized performance management portal.
Ad hoc reporting to the managers for employee progress reporting.
Pay-roll is an add-on bundle that includes deadline reminders, reference charts, and tax calculators.
Designed to work on desktop (Windows, Mac OS, Linux) and mobile (Android & iOS) devices.
Pricing
Likewise, Infor HCM provides users with quotation-based pricing.
---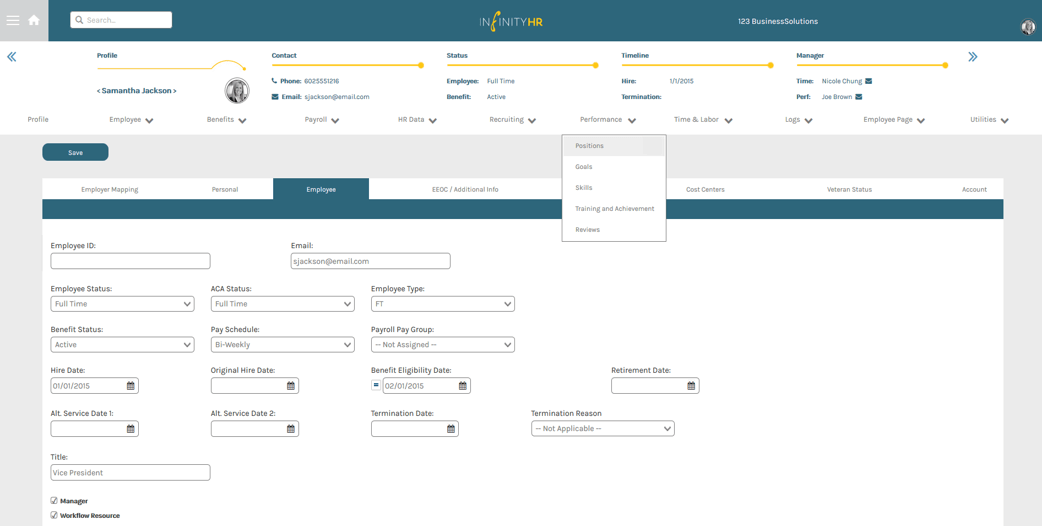 If you are looking for software that is easy to customize, then Infinity HR is the solution. It is an innovative and flexible HR and project management tool that helps the users to organize projects, delegate tasks, manage priorities, and achieve goals.
Multiple systems integrate to use multiple levels of projects and tasks and manage human resources accordingly. Team, on the whole, benefits since the manager and the employees stay on a single page.
Effective communication and collaboration result in a high level of productivity in the organization and this is what Infinity provides.
Key Features
Multiple types of views of the data makes workflow easy and intuitive
In-depth structuring of projects and tasks lets organize the workflow according to the requirement.
Infinity HR lets the users collaborate effectively through the software environment which ensures smooth communication between the team members.
Pricing
Infinity HR provides the users with the following pricing options:
Free trial: There is a free demo for this software.
Standard: The price for the standard pricing option is $9/user/month or $6/user/month on annual billing.
Pro: $18/user/month or $12/user/month on annual billing is the price of the pro package.
Enterprise: All features and attributes are available in this package. Price is available on request.
---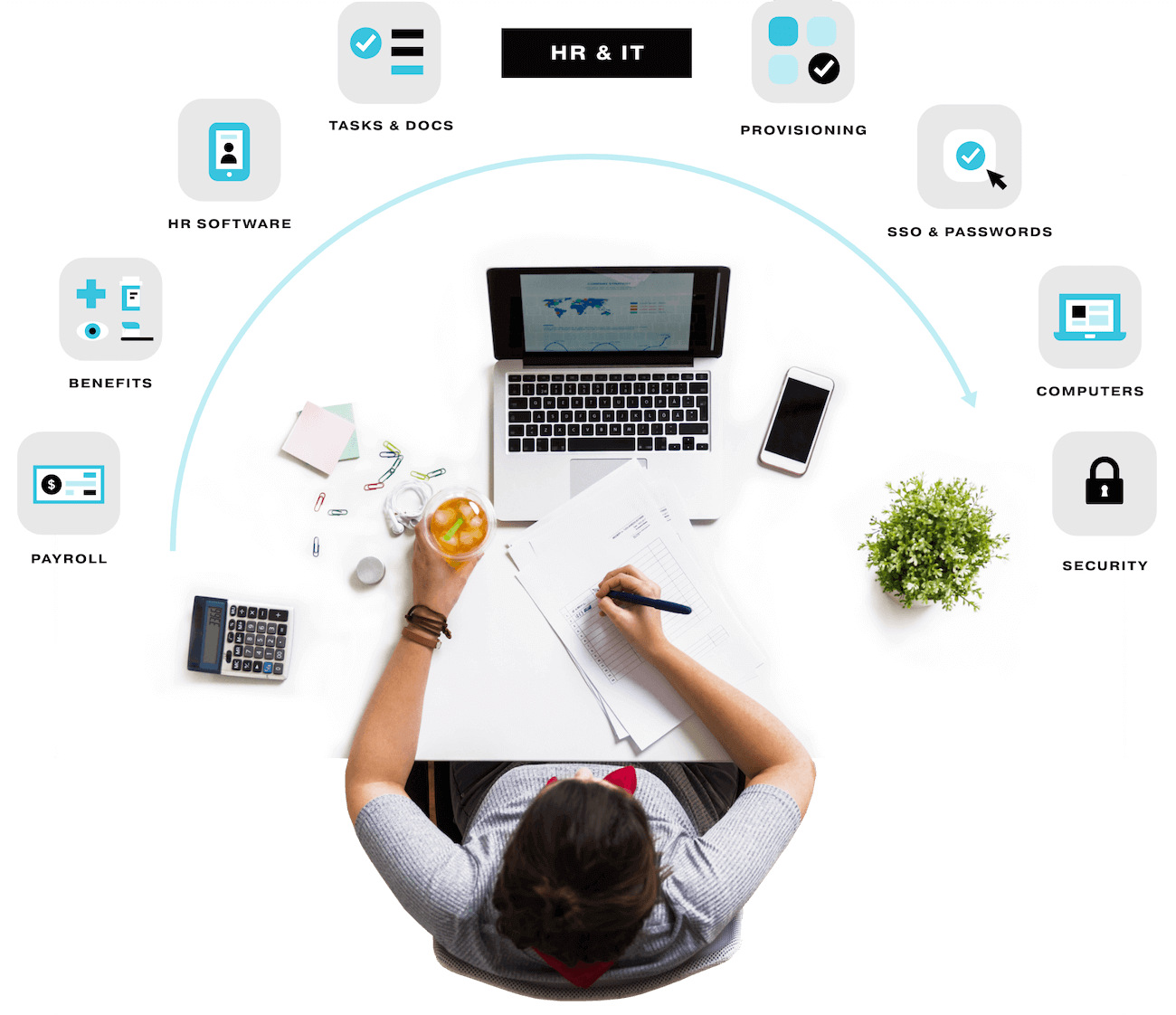 Rippling is one of the best HR management software that incorporates IT management, all at one platform. Since everything is on board, you do not have to update the employee information.
Everything is sorted based on your employee's departments, roles, titles, and locations. It is designed for Accountants and Insurance Brokers. The emulsion of HR and IT services provides a variety of benefits your company can get.
For HR, it offers management services like HR Platform Overview, Payroll, Benefits, HR software, and HR integrations. For IT, it offers management services like IT Platform Overview, Provisioning, Single Sign-on, Password Management, and Device Management.
Key Features
Employee directory with credential management and helps to synchronize schedules.
Recruitment management self-service portal and helps maintain electronic documents.
An enterprise-grade reporting system.
Automatic device recognition and data management.
Team task management tool, with time and attendance management.
Payroll helps in paying employees in seconds, with tax compliance and direct deposit features.
Life insurance administration with an employee self-service portal.
Pricing
Rippling's pricing is only available via quotation, and each service can be added (which then adds up to the small per user/month charge). To get a quote, you can contact sales for inquiries. However, pricing for Rippling's base features starts at $7 per user/month.
---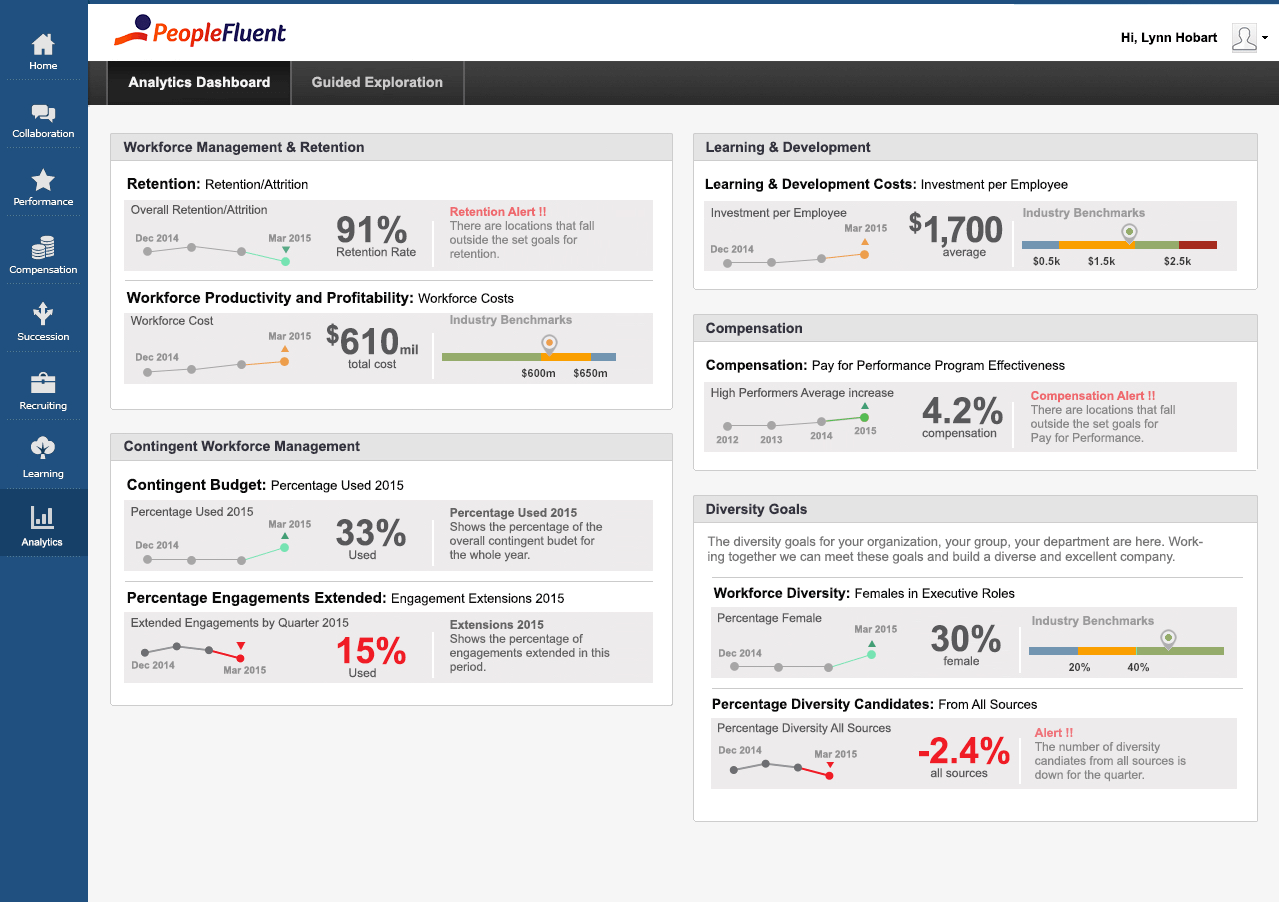 PeopleFluent is also a cloud-based suite that is designed to provide the best human resource management system. It supports the HR teams in recruiting, training, managing employees and planning effectively.
This HR management software has a customizable screen (post-and-fill, multi-seat, etc.) for engaging candidates. It provides video and social collaboration for the candidates, which allows an effective recruitment process.
PeopleFluent lets your employees achieve personal as well as corporate goals. More than 5,000 organizations from all over the world use PeopleFluent to automate their HR management processes.
Key Features
Recruiting management through collaborative means is taken care of.
Workforce communications are made easy through an all-in-one portal.
Real-time analytics is done for performance appraisal and training management.
Planning tools and goal-setting facilities for the employees.
Customizable reporting is available for the managers on request.
Available for desktop and mobile devices. (Windows, Android, iPhone/iPad, Mac, Web-based)
Pricing
PeopleFluent also provides users with quotation-based pricing. You can also request a demo to check if the software suits your company.
---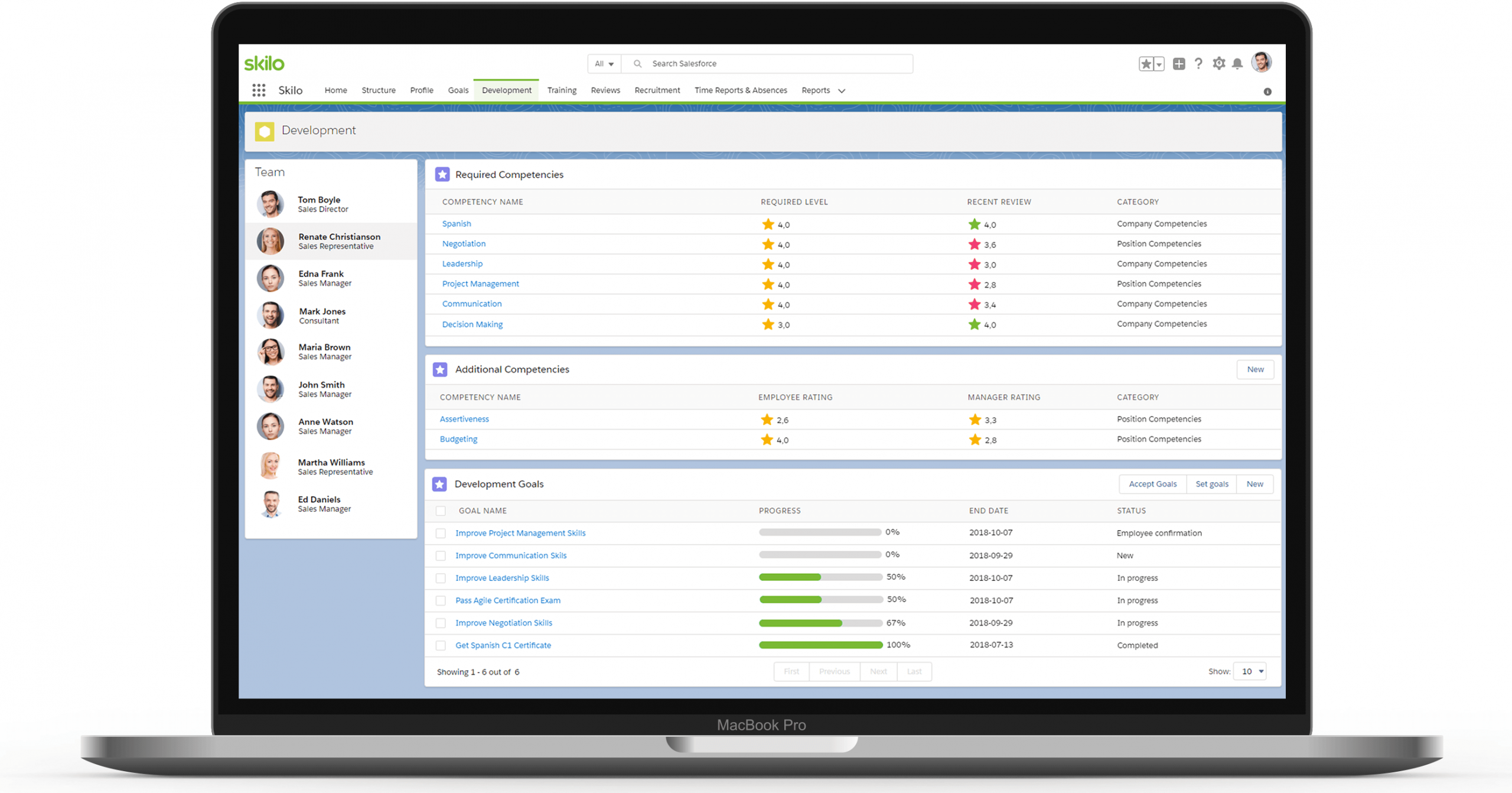 Skilo is a web-based platform that automates the process of recruitment and aims at improving the hiring process. It provides onboarding, training, evaluation, and further improvement of human resource management facilities.
Skilo is an all-inclusive platform with a dashboard facility to analyze, track, and manage employees. It is the best human resource management software to achieve your organization's and employee's success.
All employees are evaluated through a complete appraisal and feedback system.
Key Features
A web-based portal for employee management in medium-sized businesses.
Provides automation for Employee Onboarding Process and Job Description Management.
Job application collection and job offer posting facilities.
Provides Employee Performance Reviews, Training Management, and Career Development Plans.
Customizable branding and reporting for the employees.
Provides 360 Degree Feedback facility for employee satisfaction.
Team calendars to design compatible schedules.
Pricing
Skilo has a subscription-based pricing model. Like its counterparts, Skilo provides pricing based on a quotation. A free trial is also available.
Conclusion
It all boils down to one question – which solution is ideal for your organization?
HR software applications come with various modules and packages, so you can choose the one that suits you the best. It is essential to pay close attention to the available features or how they can be configured to align with your HR processes.
It is also essential to check whether the specific software provides any value-added services or not. Moreover, it's best to thoroughly study the subscription plan and license agreement of your shortlisted software before actually adopting it.
---
Other SaaSy goodness on All That SaaS: