One of the most important and difficult tasks physicians do is to select the right EMR vendor. As there is the fragmentation of EMR/EHR software in the market, we have listed down the best EHR software for you.
Electronic Health Records (EHR) and Electronic Medical Records (EMR) have become a necessity for modern healthcare practices. Health records and management software are developed with high-tech features.
They provide platforms to streamline operational efficiencies, improve patient outcomes, and generate revenues.
So, we are going to look at some of the best EMR software available online, their features, and pricing. But first, let's see what features an EMR/EHR software must have!
Top Features to Look for in an EHR/EMR Software:
1. Electronic Prescriptions
With EMR software, you don't have to deal with handwritten prescriptions anymore. It will let you write and transmit electronic prescriptions.
This software enables patients to get their medications electronically instead of handwritten scripts. Besides, it also provides automatic notifications of potential drug allergies and interactions.
2. Patient Portals
A patient portal is a key feature of any top EMR application. It assists patients in several ways. From providing their basic information electronically to scheduling their appointments, everything can be managed on the application.
Patient portals allow patients to interact electronically with doctors and other staff members, round the clock.
It is a tool to remind patients about upcoming appointments and hence reduces staff burdens and calls. With easy accessibility, patients can monitor their electronic medical records anytime, anywhere.
3. Simple, Intuitive User Interface
The application should have a natural and easy design. Since the application will be used by doctors and patients, it should have drag and drop capabilities & minimal screen openings. The best EHR software documents the entire clinical encounter on a single screen. It saves time and effort by eliminating the need to reload any pages.
4. Meaningful Use Certification
For practices that want to participate in Medicare and Medicaid EHR Incentive Programs, this is a critical aspect. Medicare and Medicaid EHR Incentive Programs offer cash to people who can prove they're doing the "meaningful use" of certified EHR technology.
You need certified EHR software to do prove your skills while dealing with Medicare and Medicaid patients.
5. Document Scanning
Document scanning is an important feature within the best EMR apps. It allows you to create custom workflows befitting your clinic's unique needs. With a document-scanning feature, you can forward supporting documentation to your colleagues. By doing so, there will be no need to copy or fax documents. It will reduce the potential for missing paperwork or billing delays.
The 10 Best EHR & EMR Software in 2023
Rating: 4.7 out of 5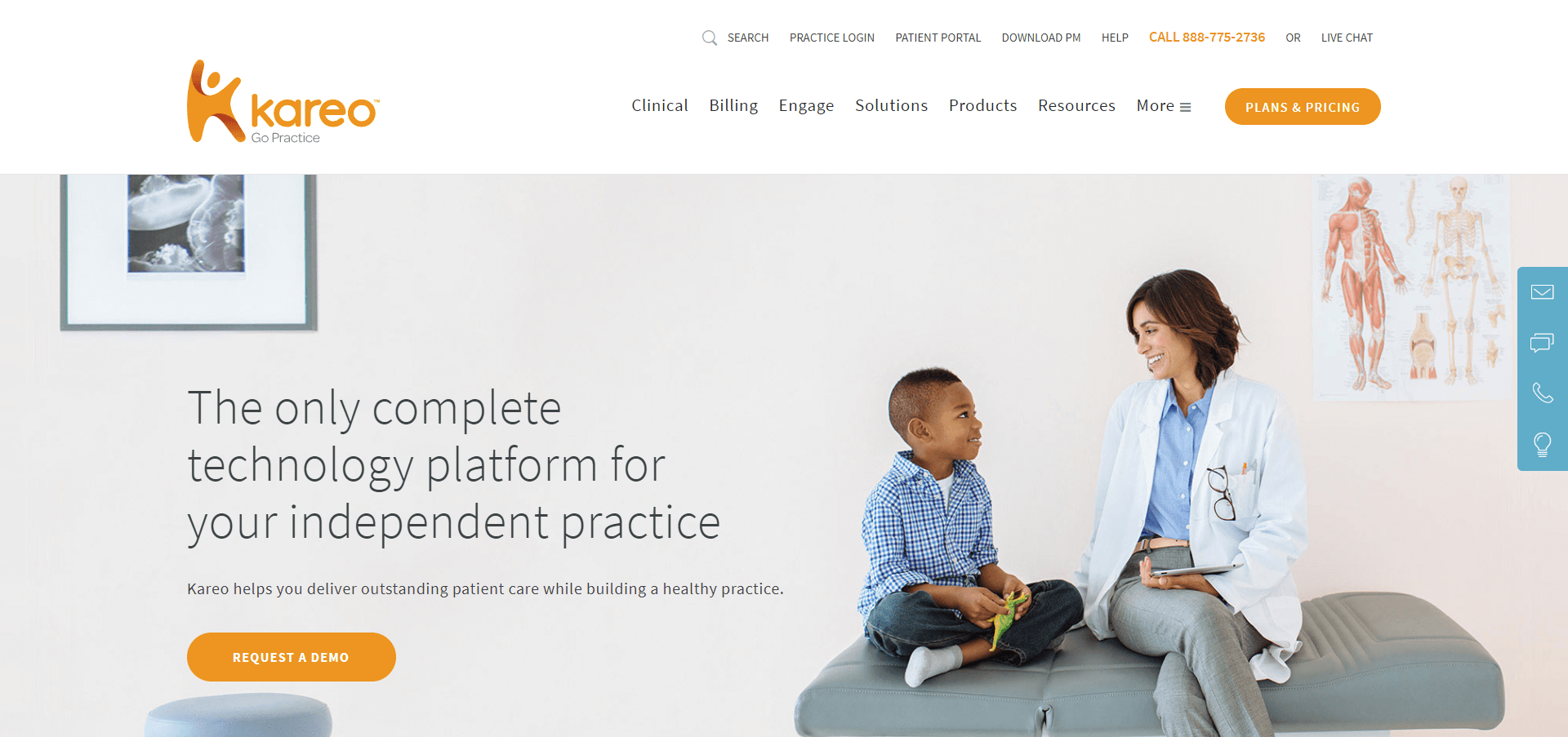 Kareo is a cloud-based EMR software. It is integrated with tools for billing, electronic health records, and patient management. Kareo EHR is a 2015 Edition Certified, with an intuitive interface and HTML5 programming. The software allows a remarkable cross-platform interface and real-time update speed. Since it is web-based, it is accessible from anywhere with an internet connection.
Features like appointment management, data tracking, charting, e-prescribing, reporting, and a patient portal make it everyone's favorite. Apart from these features, Kareo offers outstanding customer support to its clients. Enjoy flexibility and the freedom to stay connected with your patients with Kareo!
Key Features
Keeps a record of all your data. It then completes and submits your superbills electronically, within few clicks.
The 'Patient Portal' feature lets you share the patient's medical record and billing information with them. Also, you can communicate with them securely.
Ease your communication with the help of 'Secure messaging'. It can be anyone, your biller, billing team, helper, or even your patient.
Provides a 'Calendar', in which you can easily schedule and manage your important patient communication.
With Flowsheet's you can get to know about your patient's condition. It gives you the key data of your patient over time.
Gives discount to patients, who get the prescribed medicines from their local pharmacies.
Provides you with a free success coach, that gives you all the personal attention you acquire. Also, you can get support anywhere, anytime via phone, email, or chat.
Pricing
Kareo provides its users with a wide range of pricing plans. Separate software subscriptions are available for physicians, non-physicians, and therapists. Let's have a look:
Clinical: it is a basic pricing plan comprising features like dedicated support, alerts and guidelines, lab results, and electronic prescription.
Physicians – at $300 per month
Non-Physicians – at $150 per month
Therapists – at $100 per month
Engage: this plan provides users with Patient intake, performance dashboard, online scheduling, and appointment reminders.
Physicians – at $300 per month
Non-Physicians – at $150 per month
Therapists – at $100 per month
Billing: starting at $110 monthly this plan offers billing management, credit card processing, Data import/export, analytics, and reports.
Physicians – at $150 – $300 per month
Non-Physicians – at $75 – $150 per month
Therapists – at $100 per month
Managed Billing: contact sales for a quotation
---
Rating: 4.6 out of 5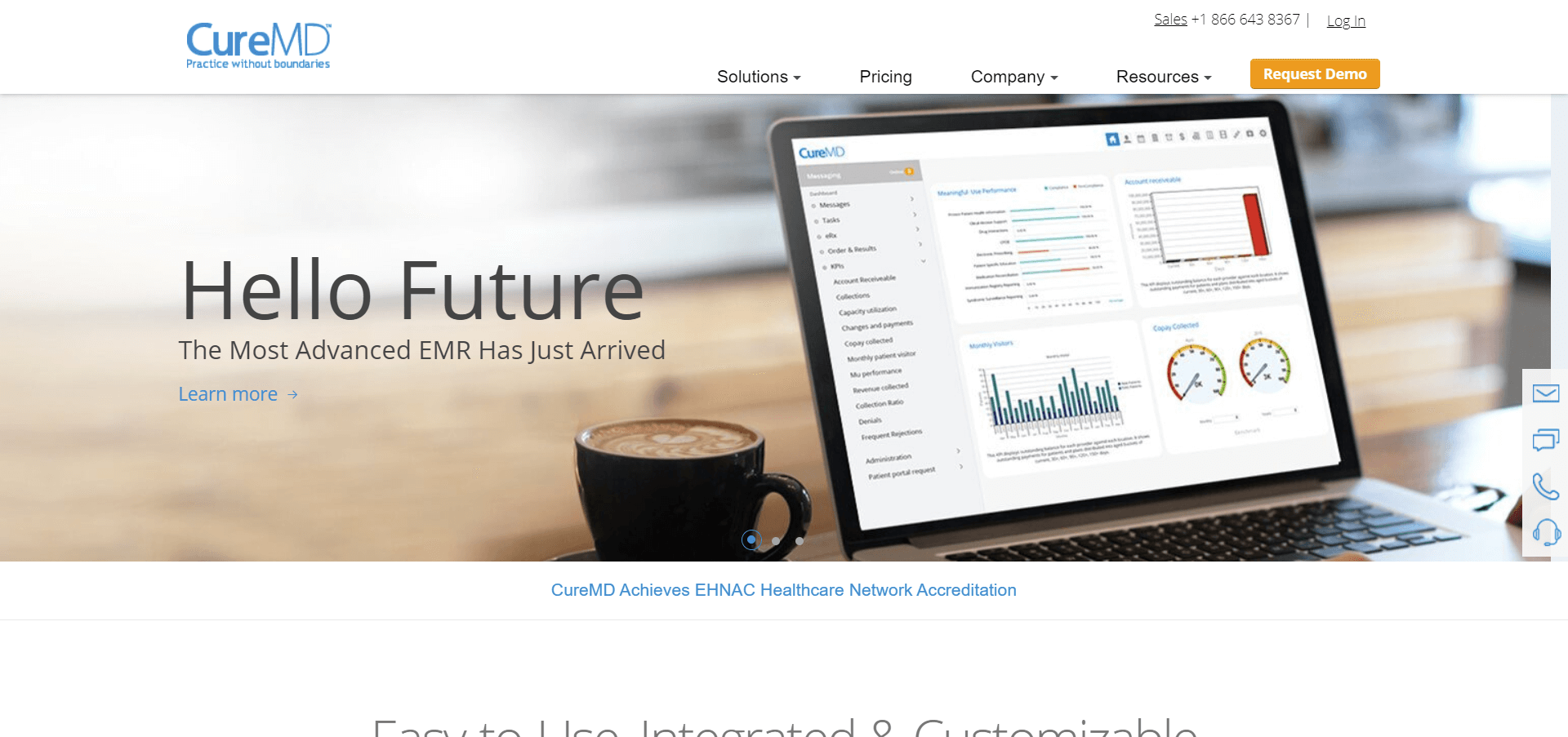 CureMD EMR Software is a market leader providing innovative health information systems. Modern-day health information services transform the administrative and clinical operations of healthcare organizations. This cloud-based solution incorporates powerful services like Electronic Medical Records (EMR), Practice Management (PM), Patient Portal and iPhone/iPad app.
CureMD is an award-winning unified solution. It saves time and effort to maximize value and returns. Its services such as EHR, billing services, and practice management are available on an iPad through its Avalon app. CureMD is MU Stage 2 certified. It automates workflow by understanding and regenerating the processes through quick training.
CureMD solution offers three methods for implementation – On-Demand, client-hosted, and enterprise. It includes specialty-specific content, to enhance clinical workflow and save time. It comes with a powerful feature of point-and-click documentation capability. Loaded with tools like customizable templates, customs forms designs, workflow editor to support a provider's unique style of charting.
Key Features
Helps you to connect with more than 40,000 pharmacies across the country. It also provides prescription history, benefits, eligibility, and recommended dosages.
With Electronic Labs, you can send orders and receive results electronically from labs. Also, it gives alerts for abnormal results, compares current and past reports, and much more.
Allows seamless exchange of information between all stakeholders. It works by connecting you with pharmacies, hospital networks, patients, and more.
Supports Patient portals, that helps patients to register appointments online. It saves all your records including your health status, allergies, history, and more.
Handles all your billing operations. It helps in claim creation, quick submission, payment posting, reporting, and more.
Manages all your documents in one place. It does so by capturing, scanning, and attaching clinical images directly into the electronic chart.
Pricing
CureMD Practice Management has not provided pricing information for this product or service. Contact CureMD Practice Management to obtain current pricing.
Looking to manage your hospital? Check out our roundup of the best hospital management software for 2023.
---
Rating: 4.5 out of 5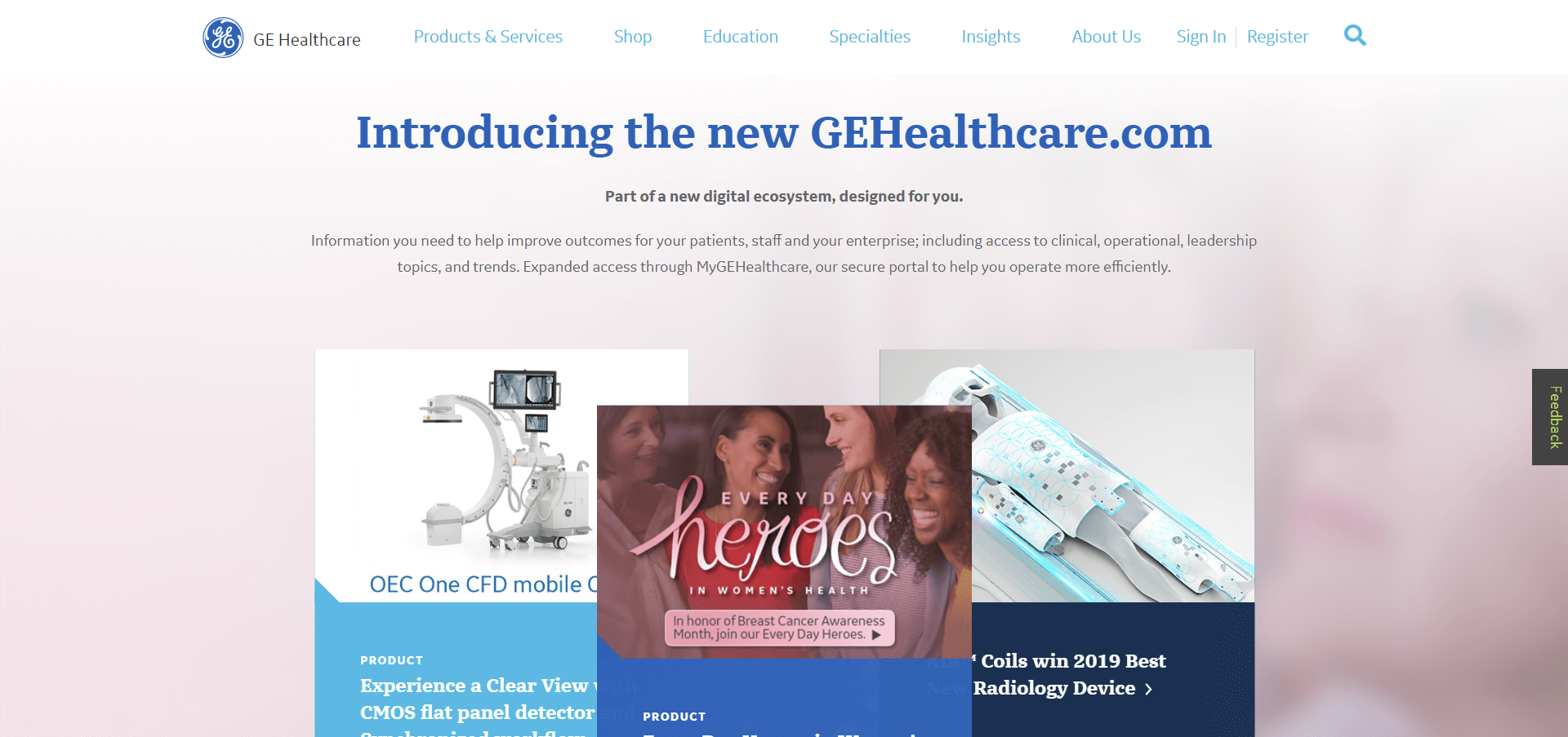 GE Healthcare EMR is an electronic healthcare industry by Stalwart. It supports small and medium-sized medical practices. GE Healthcare offers secure capturing and storing of patient and institute records. Other stakeholders can also view these records through sharing options. This software provides scalability, as it can be integrated with other practice management systems or used on its own.
GE Healthcare offers particularly powerful interoperability. It has Clinical Messenger for communication with patients and other features involved in a patient's care. Moreover, GE Healthcare has features that empower healthcare organizations. These features lower their costs, improve their services and streamline their patient management. It is a secure software that is HIPAA compliant and ensures customer security.
Key Features
Securely captures and then stores patient's and institute's records. Also, it allows other stakeholders to view these records.
Supports 'Clinical Messenger' that helps to ease communication with patients by secure messaging.
Provides an online Patient Portal that helps the patients to view all their medical records. It also let them pay online and schedule appointments.
Optimizes asset utilization that helps to reduce cost and budget variability. Also, it improves access to equipment and enhances the quality of care.
GE Health Care provides Scalability. It easily integrates with other practice management systems or is used on its own.
Pricing
With GE Healthcare, healthcare establishments have an easy and customizable solution. Coming to its pricing, the software has basic and enterprise pricing plans available. Details of these plans are not readily available on the software's website. Customers can get further information about the pricing plans by contacting the vendors.
---
Rating: 4.5 out of 5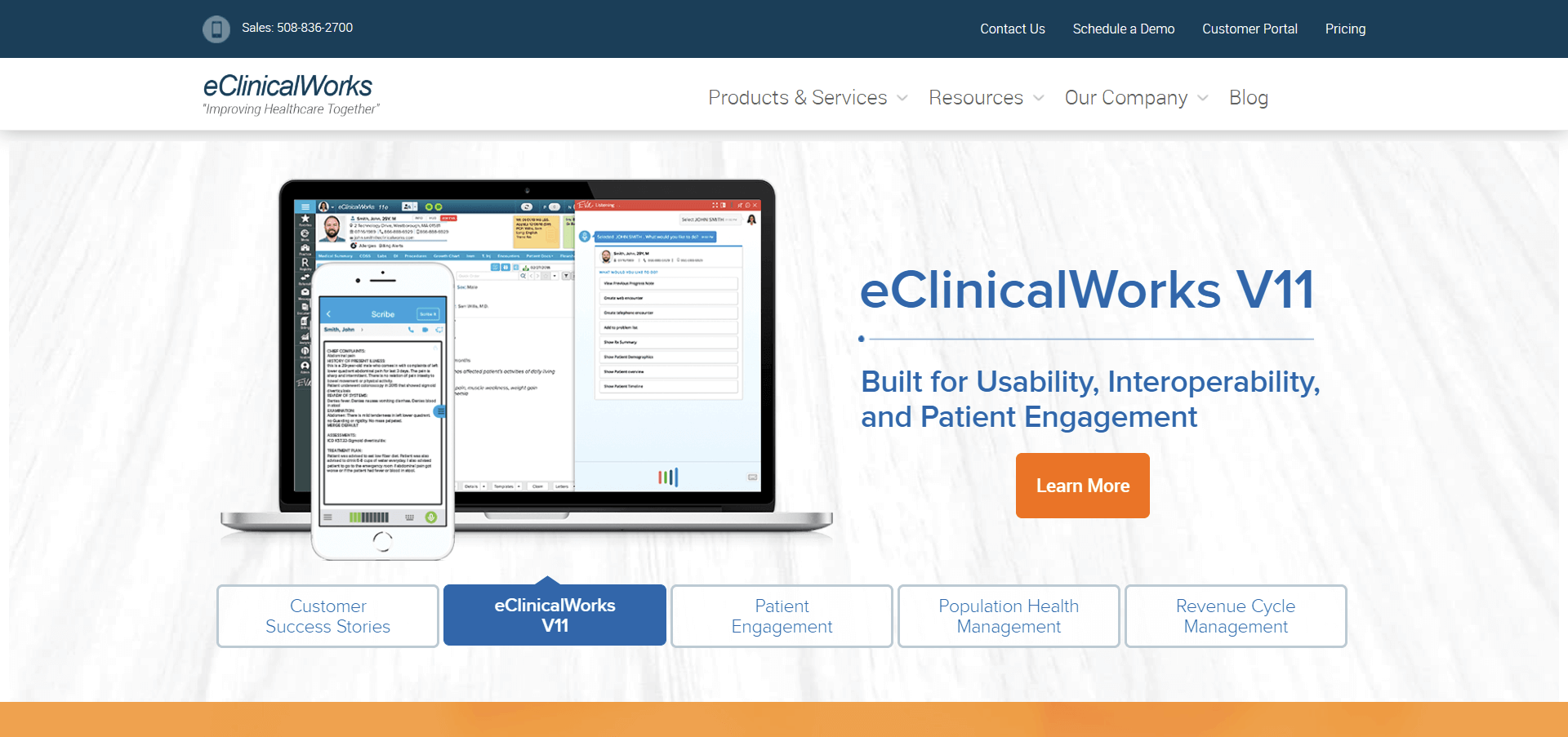 eClinicalWorks is an integrated electronic health record (EHR) and practice management solution. It is used by more than 850,000 providers in more than 20 countries. eClinical includes powerful features like patient engagement, e-visits, care coordination, population health, and financial analytics.
This EHR software also offers a full-featured medical billing service, practice management platform, and electronic health record (EHR) software eCW customizable documentation options assist clinicians across many specialties.
It empowers the patients to access all the components of the patient chart.
eClinical Works is one of the most cost-effective EHR/EMR services in the market. It has a revenue cycle management (RCM) dashboard for the billing team's operations. eClinical Works is the best option for doctors/practitioners looking for low-cost and efficient HER software.
Key Features
Allows easy access through multiple platforms anywhere, anytime. It includes a PC or Mac, a web browser, a smartphone, or an iPad.
Provides you with a Virtual Assistant. It keeps you updated with the patient's progress, history, and more. Also, it can book Appointments, and even let you watch educational videos.
Let's providers exchange data with Epic and Cerner hospitals through the Common Well Health Alliance, through On-Demand Activation.
Deliver in office quality remotely to primary and specialty providers. This improves safety and access to health care for patients who find travel difficult because of distance, age, condition, or more.
With the Revenue Cycle Management feature, the app handles patient insurance eligibility, credentialing, analytics, and more.
Helps providers to understand patient needs, gauge risks, and find new ways of effective treatment.
Pricing
eClinical Works offer the following flexible plans for their users:
EHR Only – at $449/month/provider, with no start-up cost, this plan provides Unlimited free videos/webinars, eclinicalMessager, Eclinicalworks P2P, eBO view, 24/7 support, and much more.
EHR with Practice Management – at $599/month/provider, this pricing plan has features like Electronic Medical Record (EMR), Patient Portal, Billing implementation services, and Practice Management (PM).
Revenue Cycle Management – at 2.9% of practice collections, it offers 24×7 Support, Disaster Recovery/Nimbus, Private Cloud (Hosting), Denial and rejection management, etc
---
Rating: 4.4 out of 5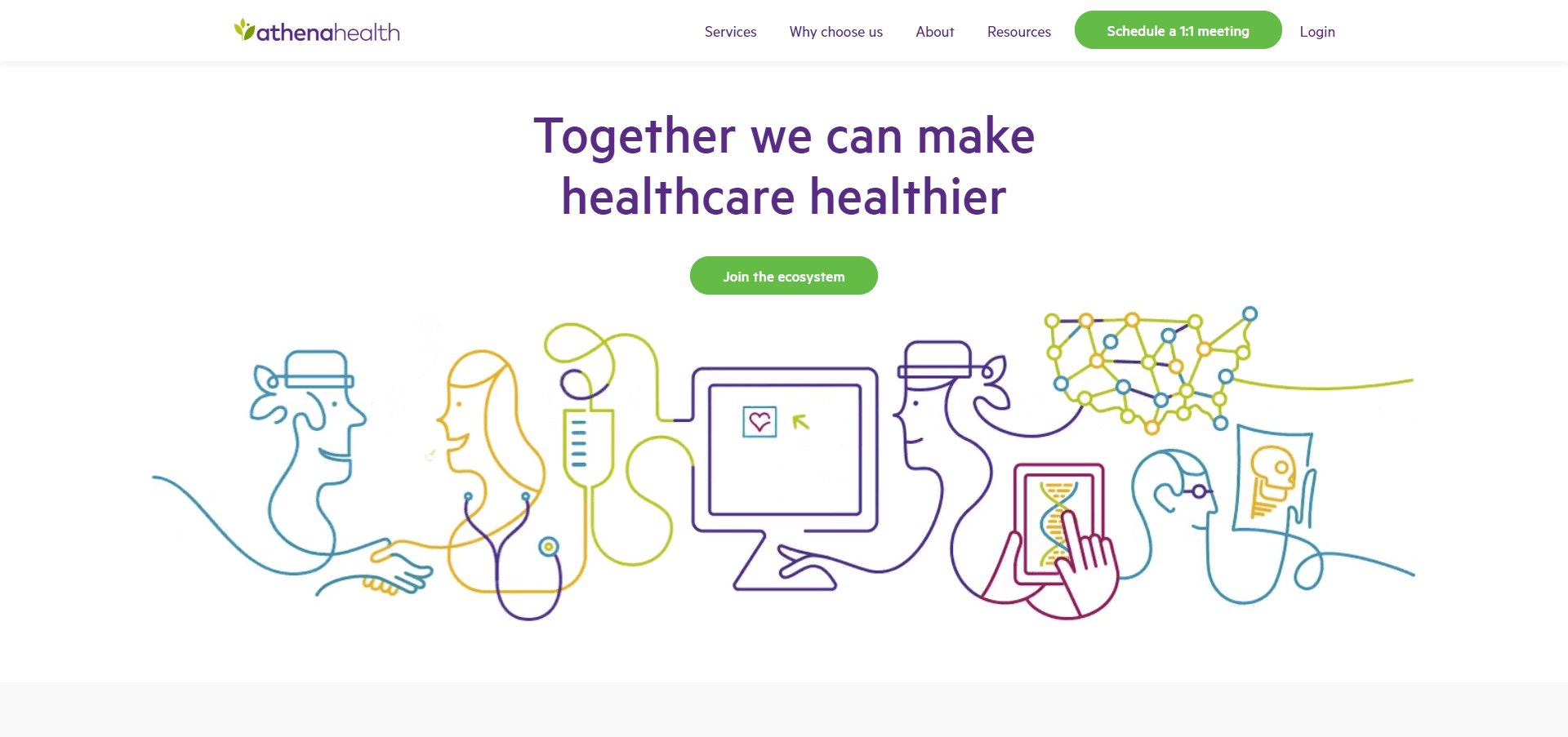 Athenahealth is a cloud-based service for electronic health records (EHR), revenue cycle management & medical billing, as well as Epocrates and other point-of-care mobile apps. It is suitable for small to midsized practices. It offers five solutions– Athenaclinicals, AthenaCollector, AthenaCommunicator, AthenaCoordinator, and AthenaClarity
AthenaClinicals is the electronic medical record and clinical charting platform.
AthenaCollector attends to the practice management requirements of users.
AthenaCommunicator allows doctors to stay connected with their fellow doctors and patients.
AthenaCoordinator assists with order transmission and information sharing.
AthenaClarity helps users with a data analytics module to perform Financial and Operations Management tasks. It can also perform Population Health Management and Care Management functions.
The homepage of Athenahealth EHR allows users to review the daily schedule and patient information, manage orders, and view incoming lab results. The billing module contains a patented and continuously updated rules engine. It can be used in tandem with the EHR or on its own. Additionally, Athenahealth is HIPAA compliant.
Athenahealth offers a web-based electronic medical record (EMR) software application. Its web-based interface can be easily learned without any effort and well organized. Athenahealth is one of the largest clinical networks in the US.
Key Features
Let's exchange your patient's data with other sites. It then adds it directly into the patient's chart.
Processes your paper documents and them to the right electronic patient record. It then allows you to upload photos securely, saving time.
Makes the attestation process easy with its expert teams that monitor changes in federal quality programs for you. It anticipates and responds to industry change, and then picks the best measure for you to attest to.
Supports a mobile app so that you can access all medical information anywhere, anytime right from your mobile phone.
With a cloud-based EHR, the software effectively organizes the patient visit, tracks its history, and more.
With a revenue cycle dashboard, you can access patient information and revenue cycle tasks from a single dashboard.
Collects patient payments at the time of service. It also verifies patient eligibility in the future or in real-time.
Pricing
AthenaHealth has not mentioned rates on its website. Pricing details are available on a quotation basis!
---
Rating: 4.4 out of 5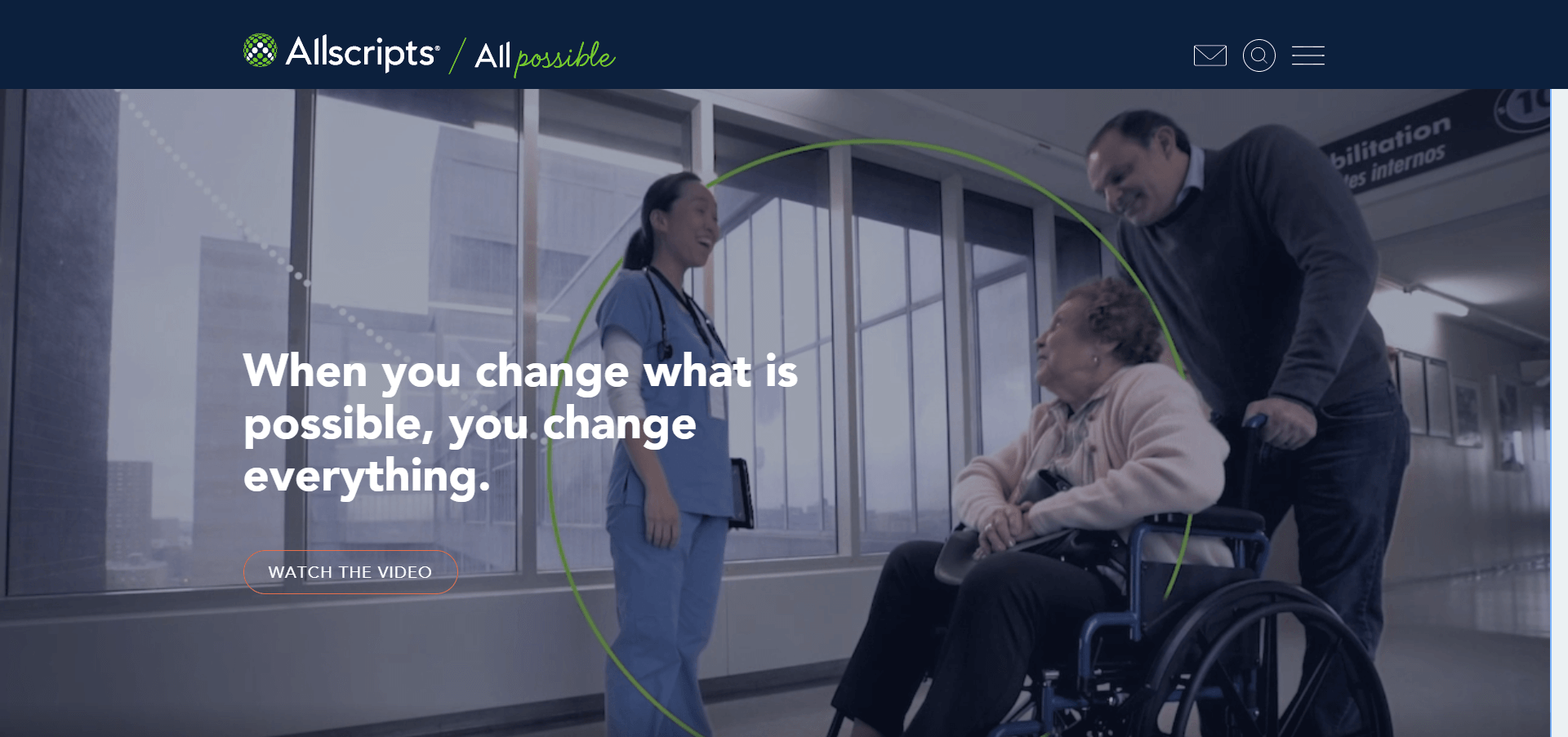 Allscripts Professional EHR is a solution designed for small to mid-size physician practices. AllScripts Practice Management is a comprehensive practice management and revenue cycle management solution. It can help in managing all issues such as the revenue cycle from eligibility verification to collection. The solution monitor, track, and respond to issues that affect the financial and operational performance.
Allscripts optimizes financial outcomes. It is an all-in-one integrated clinical, financial, and operational solution that caters to every single need of the organization. A single database to manage finances, improve revenue, billing, and receivables management! Last but not least, Allscripts Professional EHR is HIPAA compliant and ONC-ATCB certified.
Key Features
Manages patient's health information, by proving a single patient record across all care settings.
Mitigates the risks of patient flow problems before they happen, by managing their operational efficiency.
Provides a complete set of tools to your clinicians for wound assessments, treatment, and care planning documentation.
Provides real-time updates by tracking continuous patient records. It helps your entire clinical and operational team in the loop.
With the Clinical Performance Manager, health care leaders can quickly access performance information. It helps to facilitate quality improvement across the enterprise.
Helps pharmacists to have tighter control over the medication management process. It helps organizations improve quality and safety in the complex management process.
Pricing
Allscripts pricing plans are available on a quotation basis. Contact vendors to get your customized quotation.
---
Rating: 4.4 out of 5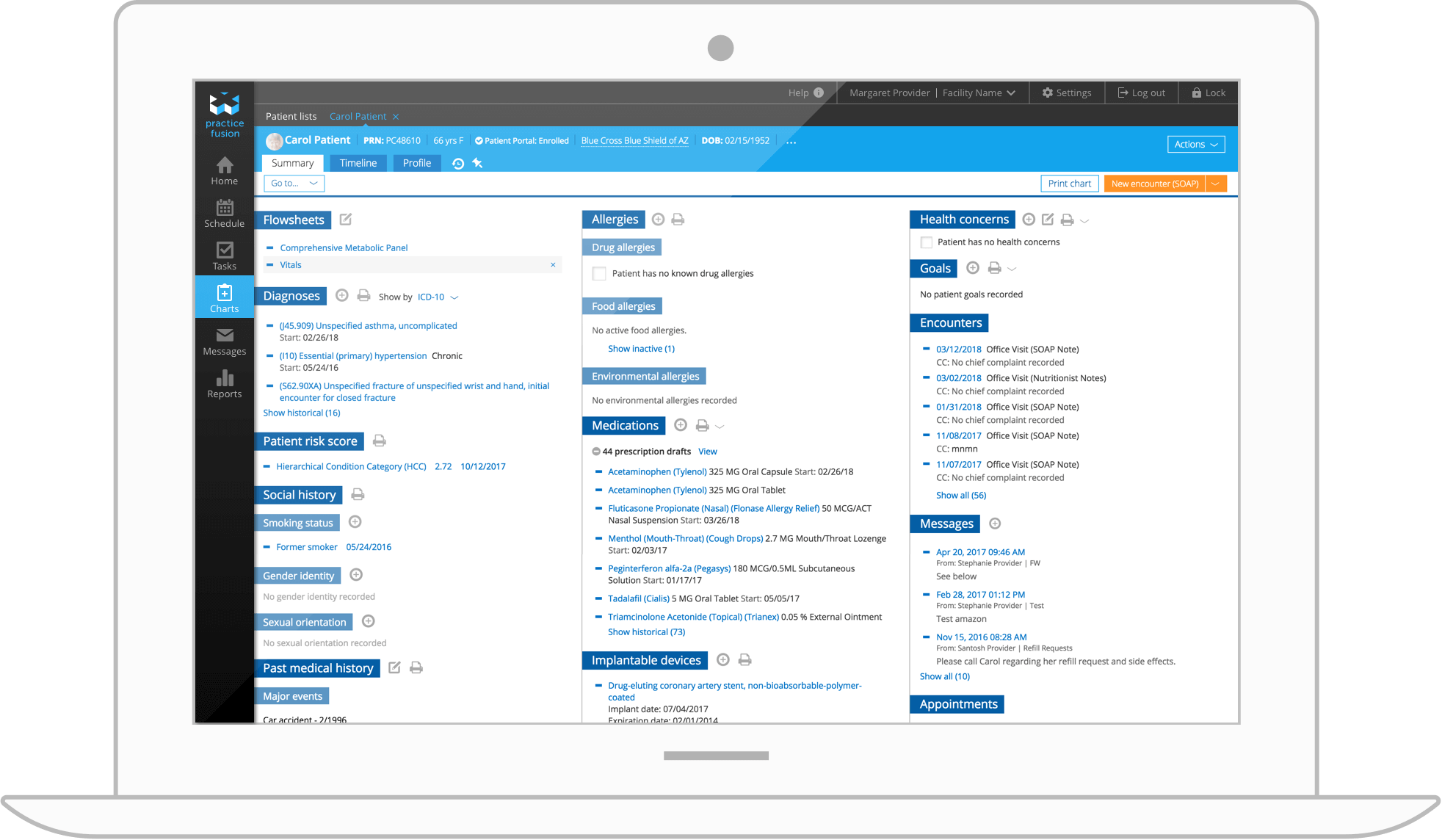 Practice Fusion ranks #7 on our list of the best EHR/EMR software. It comes with a suite of integrated features like charting, e-prescribing, and patient scheduling. Practice Fusion is fully certified. It offers an iPad EMR interface. This empowers users to access appointments, records, and charting while encountering the patient.
The outstanding E prescribing module offered by Practice Fusion made its way to the hearts of many medical professionals. This module enables users to send electronic prescriptions from patient's charts. Apart from this, the module has over 1000 predefined or customizable charting templates. These templates are available in an inbuilt library and are easily accessible.
Practice Fusion is hosted on secure servers and comes with a free trial. It ensures quality healthcare access by centralizing the connection between doctors and patients. Furthermore, the Patient Portal is also available in the application. It helps patients to access their medical history and personal information with ease.
Key Features
Manages prescription seamlessly by sending to any e-prescribing enabled pharmacy in the country. Also, it sends alerts and patient savings opportunities at the point of care.
Connects efficiently with local pharmacies, laboratories, imaging centers, and more. Moreover, it allows you to search over 98,000 pharmacies to electronically prescribe medications.
Helps you to get paid faster, with its efficient billing systems.
With Dashboard, you can view insightful reports and monitor your progress. It then submits reporting data to CMS directly through your EHR.
Provides export support to help your practice throughout the year. Also, to navigate the complexities, it provides you with extensive education and extensive materials.
Supports a user-friendly interface that easy to use understand. Also, with every feature, a detailed explanation is attached, so that you can learn how to use it.
Pricing
Practice Fusion pricing plans are available on a quotation basis. A free trial is also available for customers.
---
Rating: 4.3 out of 5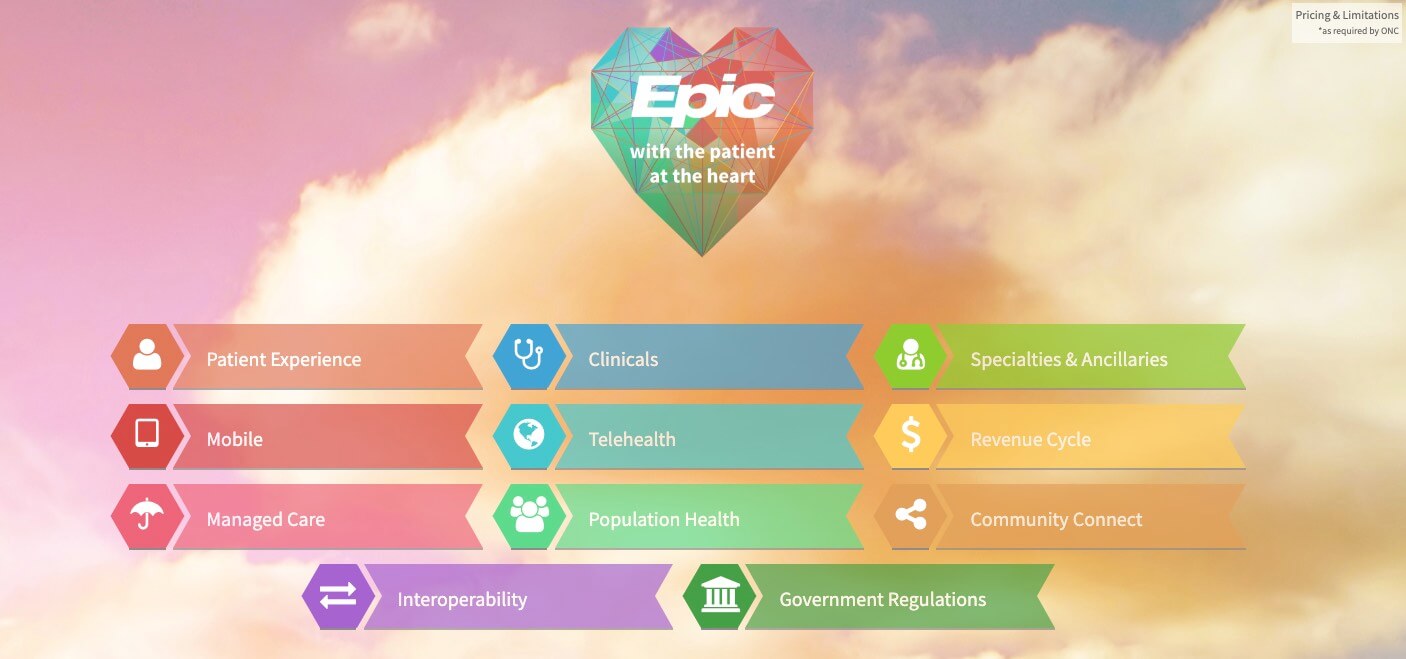 EpicCare is a cloud-based Electronic Health Records software with robust features and functionalities. It offers users a unique workflow design, intuitive interface, documentation, and order management. EpicCare is one of the best EHR software. Though it is best suited for large health systems, it also aims to increase the productivity of physicians
The software allows multiple users to work on the same documents at the same time. As it is available for Apple mobile devices, it enhances interoperability. Regarded as a top mobile EMR solution, it allows users to access important clinical information anywhere.
Epic offers a customizable EHR solution with the main dashboard. The dashboard keeps the physicians updated about their patients. In addition to this, the EHR module offers a NoteWriter. The NoteWriter helps practitioners to jot down important notes while diagnosing. These notes can be linked with the patient's medical records for future use. Another efficient feature of Epic is telemedicine. It provides a video platform for patient and provider communication.
Key Features
With 'MyChart', patients can access personal and family health information with just a single click. Also, they can message their doctors, attends e-visits, and schedule appointments.
EpicCare EMR allows you to share and exchange information with any organization that uses standards, no matter which EHR they use.
Supports an integrated portal, that keeps community providers and caregivers in touch. It also lets them stay up-to-date with their patients, submit referrals, order labs, and more.
Provides content and guide development to let you learn more. Also, flexible, and pre-built content lets you focus on care.
Seamlessly integrates with multiple platforms. It works well with mobile devices, tablets, Desktop, and iOS.
Pricing
EpicCare's SMB and enterprise pricing details are available only upon request. For further information, contact the company.
---
Rating: 4.3 out of 5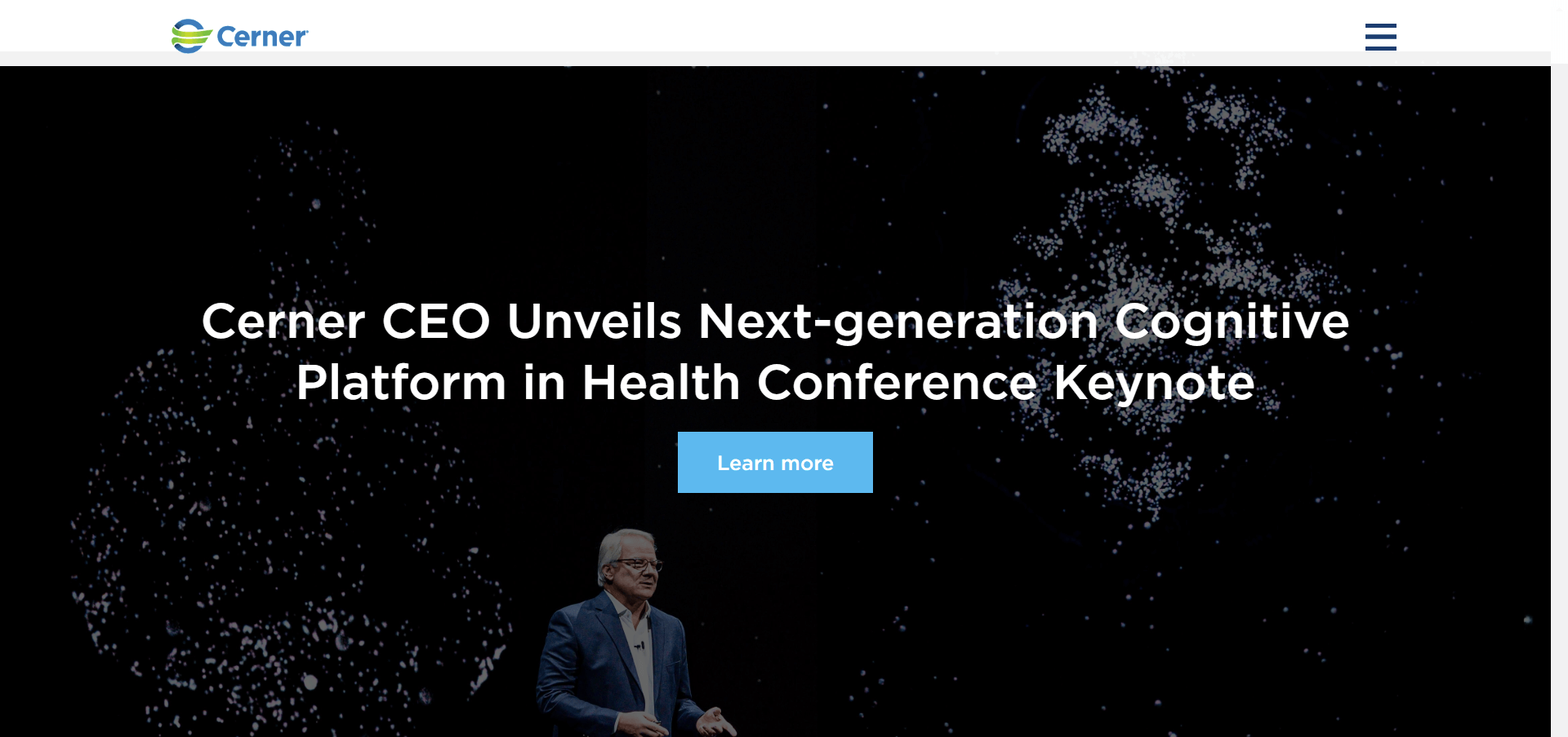 Cerner EMR is a hybrid Electronic Medical Record (EMR) solution. This solution offers both onsite and offsite hosting. Cerner is a customizable EMR software that can be used for small to large practices. Its purpose is to cater to clinicians, ambulatory facilities, and streamline the workflow. Cerner EHR software also reduces costs and ensures state-of-the-art healthcare information protection practices are in place.
Cerner's PowerChart Ambulatory EHR enables patients to communicate with their providers and physicians. PowerChart helps users to manage duplicated records while keeping the documentation organized. With various built-in templates, it serves a wide range of medical providers. Lastly, it is HIPAA compliant.
Key Features
Sent instant notifications for an upcoming event and associated contextual information to care team members.
Provides 'Bridge' feature, that helps right patients to receive the correct blood. It also helps to mitigate the risk of human error.
With 'Power Chart Touch', physicians can quickly access and review their patient's clinical data from any location.
With the Patient Portal, patients can save all their medical and personal records. They can communicate with providers through secure messaging, book appointments, view lab results, and more.
Helps in minimizing your organization's up-front and ongoing hardware costs and hassles. Also, it provides various training approaches designed such as to support your company's unique needs.
Supports applications that collaborate across platforms. It works well on both desktop and mobile.
Pricing
Practice Fusion pricing information is available on a quotation basis.
---
Rating: 4.1 out of 5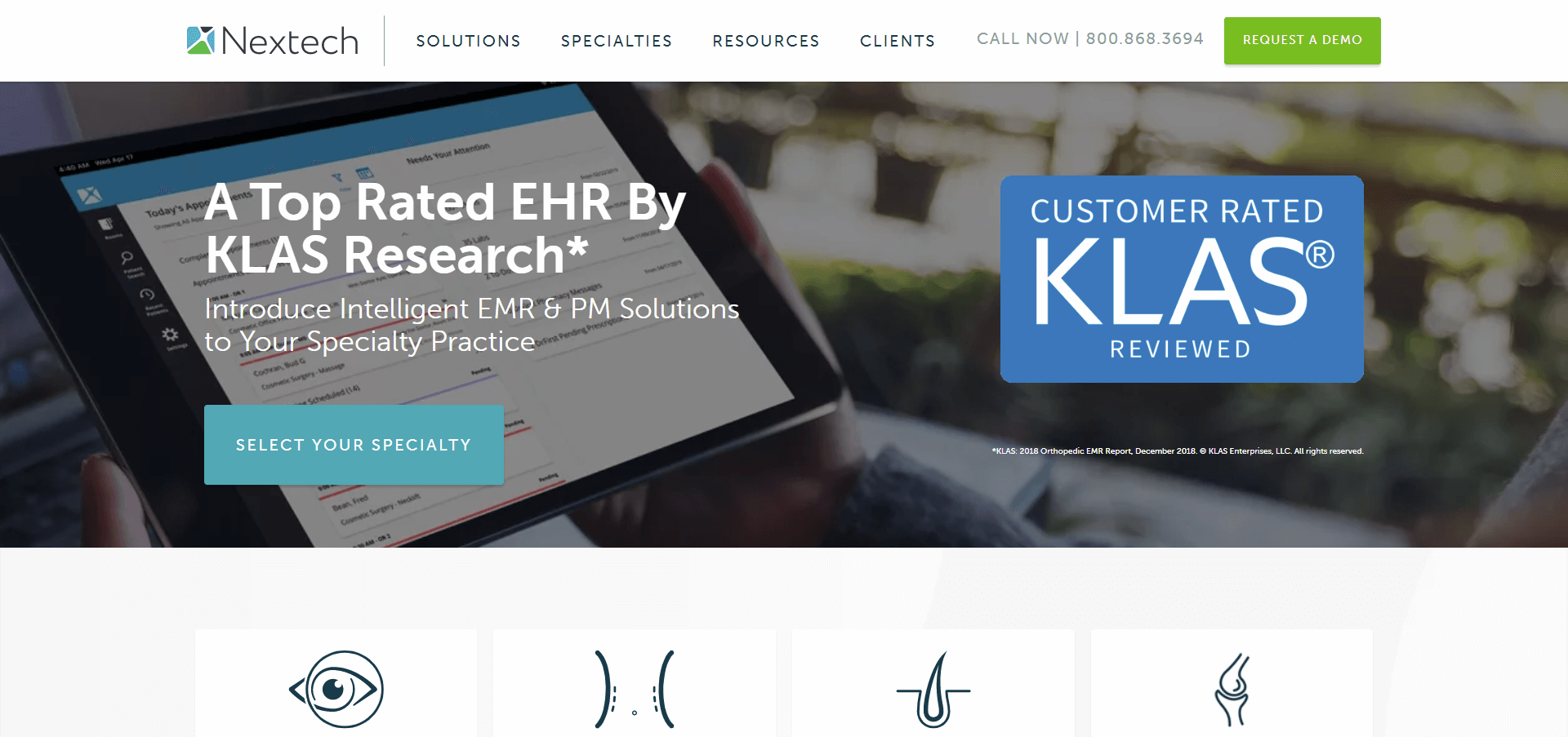 Nextech EMR is a full-featured EMR and Practice Management solution for medical practices. Nextech is in the game for the best Emr application for more than 20 years. As one of the leading EMR software, Nextechs seamlessly integrates and enhances productivity. It is fully integrated with Electronic Medical Record and Practice Management software. Nextech increases efficiency in all functional areas of practice.
It has a flexible design with customizable templates for patient engagement charting. Physicians and users can take notes and maintain control of their workflows. Nextech also has a native mobile app. The app assists physicians to access all EMR information from anywhere.
Key Features
The configurable Charting feature increases your documentation speed with a single-page. It uses your preferred templates personalized according to your unique charting preferences.
Makes your prescribing process easy by sending electronic prescriptions to pharmacies from your EHR. It also helps you to identify medicines to which you may be allergic.
Improves patient care by providing them with a Patient portal. It helps them to schedule appointments, pay bills online, and access their medical information anywhere.
Gives you insight into your business by generating meaningful reports. Also, it generates custom reports and merges your data in a snapshot.
With an intuitive point-of-sale Solution, it helps you to manage orders, inventory, and sales.
Use the patient's record to generate bills. Also, it easily processes payments, manages patient's balances, and a lot more.
Pricing
Nextech EMR pricing information is available on a quotation basis.
Conclusion
There you have it! The top 10 EMR and EHR in 2023. We all know how tricky it is to adopt an EMR software that works for us. Selecting cost-efficient and powerful software will transform your day-to-day activities.
We've listed these top EMR/EHR software to help you out. Have a look and let us know in the comments what you think!
---
Other SaaSy goodness on All That SaaS: