How many of you manage your tasks and time effectively, with or without the use of Pomodoro apps?
Do you manage to get the work done efficiently? Are you focused or does your mind seem to trail off elsewhere? Effective time management seems like a dream, but is it?
What if we told you that, Pomodoro apps or Pomodoro technique apps are a few of the solutions to effective time management? People have been practicing the art of managing time successfully for decades now.
The Pomodoro technique apps help regulate steady rest breaks and sufficient time for a person to complete their work and then some.
Below we will be sharing with you details to all sorts of Pomodoro timer app and the best Pomodoro apps to use in 2023.
What is the Pomodoro Technique?
In the late 1980s, Francesco Cirillo developed a time management method called the Pomodoro Technique.  In this technique, a timer is used to break down work into intervals, which are usually for 25 minutes long and are divided by short breaks.
This technique is made with the base of six steps, which are:
Pick a task that has to be done
Set the Pomodoro timer to the usual 25 minutes
Work on the chore
Stop working once the timer rings and on a piece of paper, place a checkmark
If a person has less than four checkmarks, then they need to shorter breaks (ideally 3-5 minutes). Restart step 2
If there are four Pomodoros completed, a person can take longer breaks (for about 15-30 minutes). Reset the checkmark count to nil and restart step 1
This whole process in which the task-doer has to plan, record, analyze and measure – is a very crucial part of the technique. The Pomodoro method timer allows the user to estimate how long each task will take.
This assessment leads to further planning of prioritizing tasks, checking them off the to-do list and adds to the sense of accomplishment.
Why is the Pomodoro Technique Useful?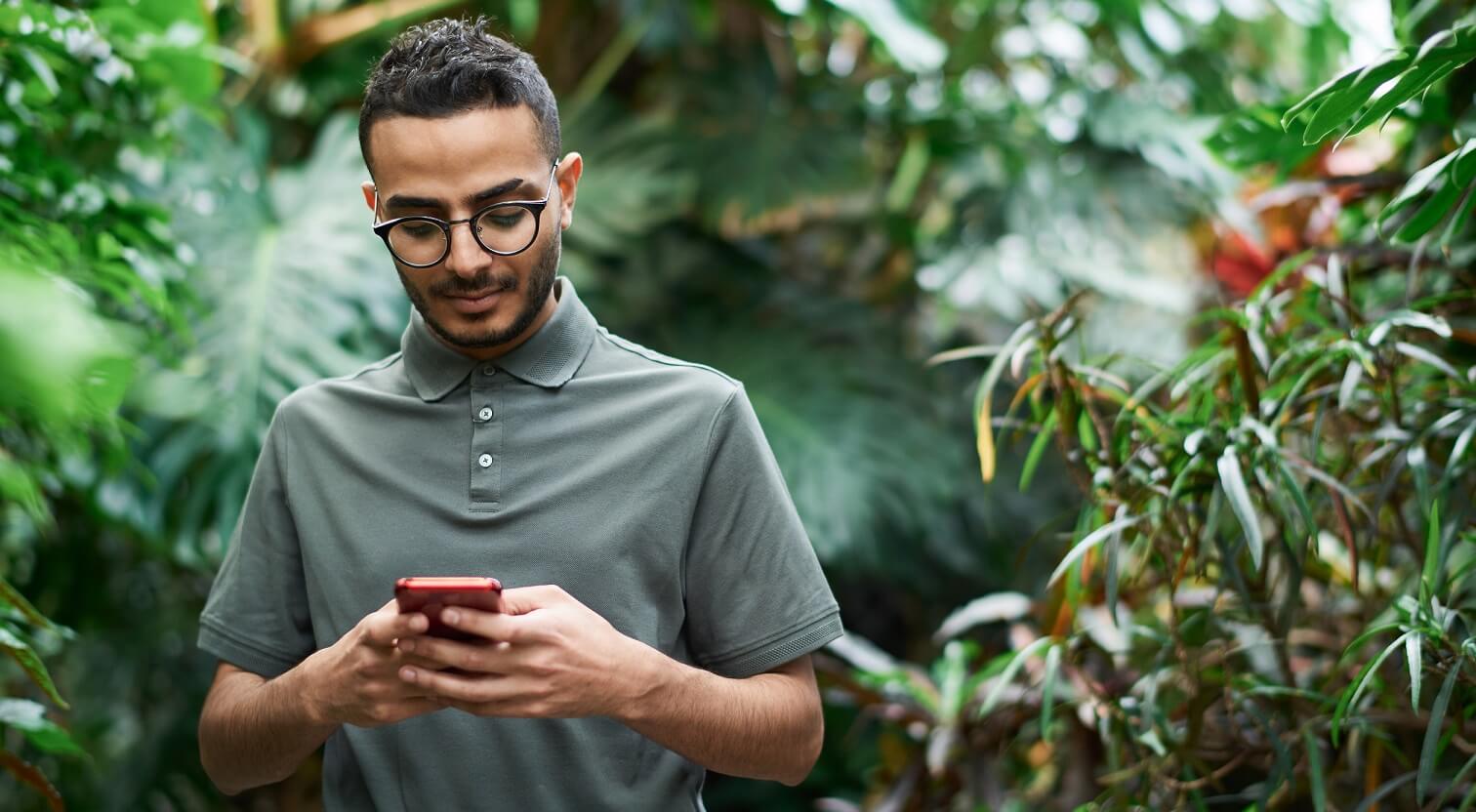 The purpose of the Pomodoro technique timer is to reduce any interruptions that disrupt the focus and flow of work.  However, if a Pomodoro productivity timer is interrupted, then the activity must be abandoned and rescheduled. Once the rescheduling process begins, a new strategy needs to be devised that will allow the Pomodoro to make an impact.
The Pomodoro technique timer purposely encourages a low-tech approach. The mechanical timer helps develop the urge to complete the task and noting it down on paper establishes a sense of accomplishment.
This technique has helped develop many types of Pomodoro apps.
Benefits of Adopting the Pomodoro Technique
The Pomodoro technique has many hidden benefits.  Once a person starts using this technique they start understanding many key components that add value to them personally.
Below are some of the benefits of the Pomodoro technique:
Time Value: A person understand how precious their time is.
The Double Qs: The user starts improving the quality and quantity of their work drastically.
Managing Expectations: There is a tremendous improvement in regulating other people's expectations of work, including a person's very own ones.
Willpower: This technique allows a person to exercise their willpower and strengthen it.
Fight the Clock: A person no longer is rushing time and cutting it close with deadlines.
No Burnouts: This technique eliminates all sorts of stressful burnouts that may affect a person's health.
---
What is a Pomodoro Timer?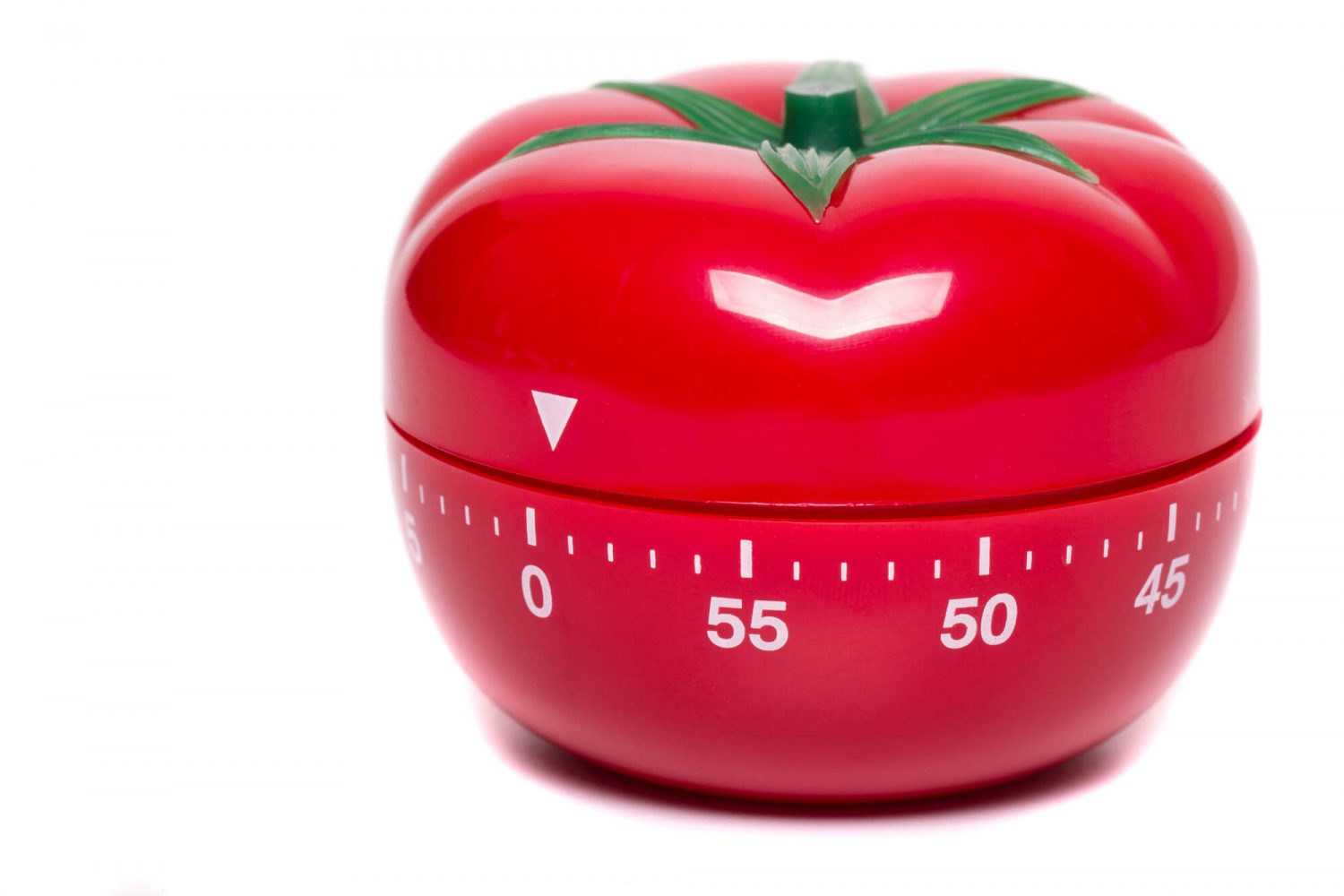 A piece of the work interval is known as the Pomodoro, which is Italian for tomato. When Cirillo was a university student, he used a timer in the shape of a tomato. Hence, the Pomodoro tomato timer or the Pomodoro method timer technique was born.
The reason why the Pomodoro timer requires only 25 minutes of work intervals, is so a person can apply this work strategy without allowing their focus to shit or multitask.
Key Features to Look for in a Pomodoro App
There are quite a few Pomodoro timer apps. Nonetheless, below are a few key features everyone should consider when using Pomodoro time management apps.
1. Pomodoro Timer
Enables to stay focused, which allows a person to get more tasks done
Should pause and resume from where the user has left off
The Pomodoro and its break length settings should be customizable
A notification should send an alert before the Pomodoro ends
The timer should support for short and long length breaks
It should be able to skip a break after the end of a Pomodoro
The time should be able to play a continuous mode
2. Task Management
Task Organizer: Organizes the user's To-Do daily list, which included tasks and projects. For example; Studying, work or housework.
Recurring Tasks: The app should be able to help build lasting habits that leave an impact on the user. For instance, if the user needs to complete a task every Tuesday, such a due date notice should be added automatically and seamlessly.
Sub-tasks: When tasks are broken down to smaller ones they become less overwhelming, quicker to finish and easier to take off the checklist.
Reminders: The app should be able to set a reminder of recurring due dates, that way the user cannot forget the important tasks, projects, and deadlines.
Task Prioritization: Tasks can be prioritized by highlighting them with color-codes.
Time Tracking: Once the workload or goal has been set, an estimated number of Pomodoros can be given by the app. It is wise to note down the details of the task for an accurate estimation.
3. Reporting
The app should have a detailed statistical description of the user's completed tasks and time distribution
There should be calculations supporting the total Focus Time
A Gantt chart for Focus Time should be available
Statistics for the completed To-Do list should be available
Statistics for the time distribution for a completed project should be available
The app should give a trend chart of the completed focus time and To-Do list
4. Cross-Platform Sync
This should allow the user to be able to view and manage their goals on different platforms. It would be wise to use an app that supports unified management on iPhone, Mac, Android, Windows, iPad, Apple Watch.
5. Reminders
There should be a Focus Timer alarm installed in the app and a plus point would be if there was a vibration reminding at the end.
Some apps have different kinds of white noises to help the user focus on their task.
Below we are going to share with you the overall 13 best Pomodoro apps for effective time management.
The Best Pomodoro Apps and Pomodoro Timers in 2023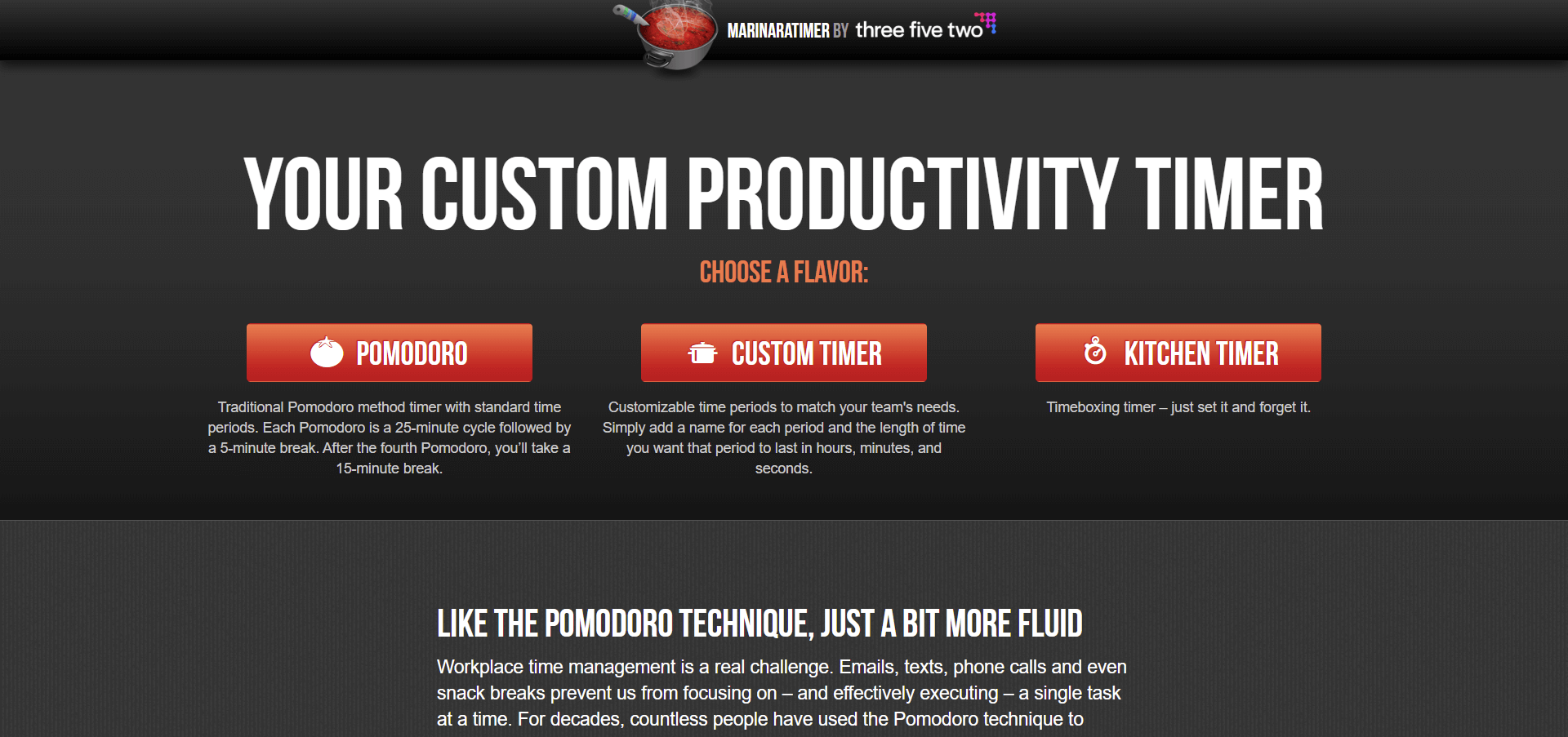 The Marinara Timer is a web-based timer without bounds. This Pomodoro timer requires no signing up. The website gives three timer choices, which are:
Pomodoro: Starts the user off right away and has the default feature of 25/5 – minute timers.
Custom: The user can customize the length of the timers according to their needs.
Kitchen Mode: Serves the purpose of an old-fashioned timer. The user can set the limit and the count-down begins ending at zero.
Pros
It has a recalling memory setting and it remembers all the set time-periods placed by the user, in the Custom Timer.

The user can set it to "repeat the timer sequence", which is helpful especially if the amount of Pomodoros is extensive and the user wants to restart the previous cycles.
Cons
It is not available for Android or iOS

It doesn't have any fancy analytical tools that can be used to assess an individual's performance.
Key Features
Customization: The timers and alarm sounds can be customized according to the users' needs. The alarm mode can be turned off and the user can turn on the "screen notification" setting instead.
URL Sharing: Each timer has its own unique URL for each timer, allowing the user to share it with other people.
Team Building: If a user is working with a team and wants the work and breaks to sync, the marinara timer is effective. The administrator link is for the person who sets the timer and the viewer link is for other people to view on their screens. Only the administrator can stop the timer, hence the risk of interruptions is less.
Free of charge: This web-based app is completely free to use
Signing-ups Hassle-Free: There is no requirement for users to sign-in or sign-up in order for them to use the timers.
Simple to Use: The timer is simple to use, doesn't have any special features such as reports, analytical tools or integration with other tools.
Pricing
The Marinara Timer is completely free to use as a Pomodoro timer for Windows or online.
---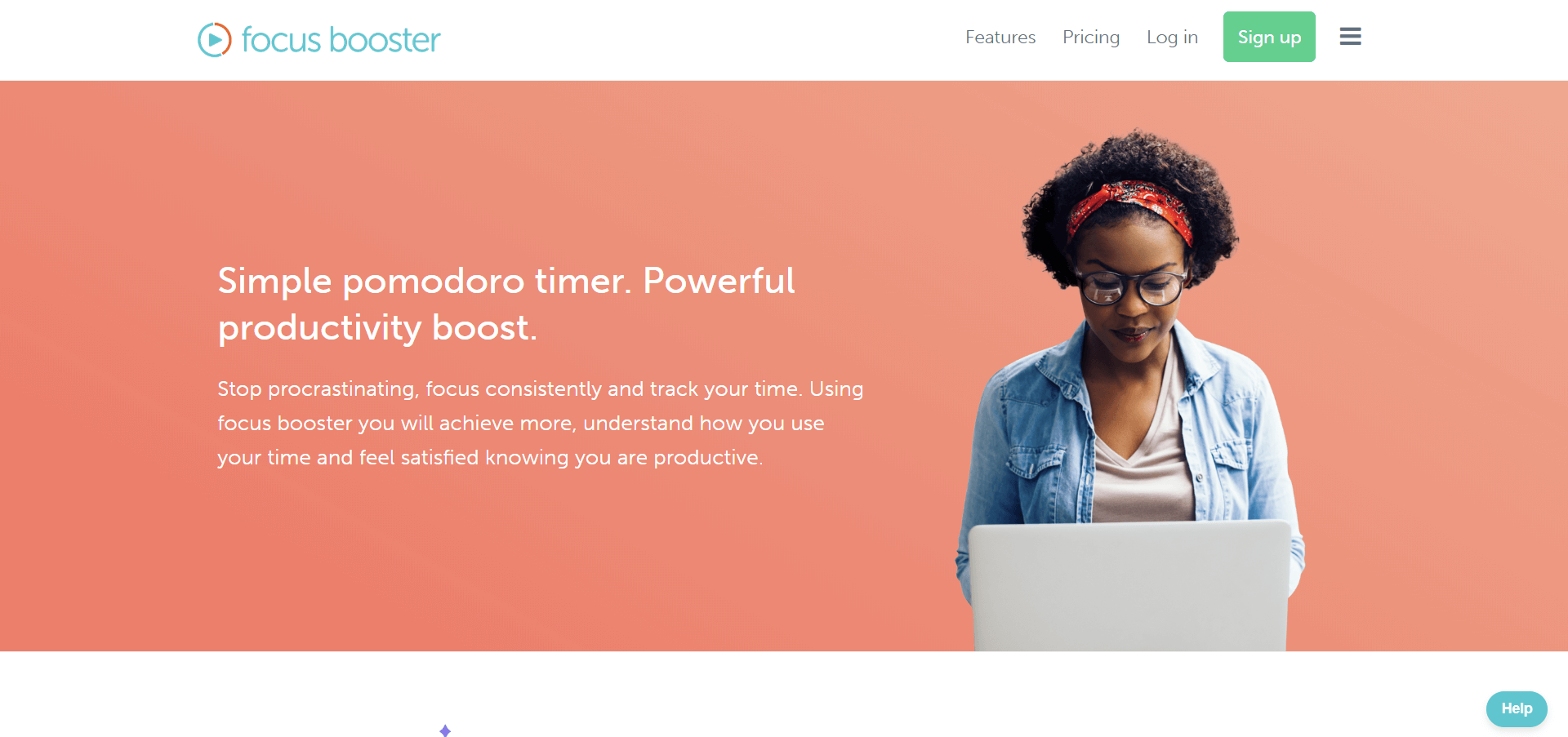 Focus Booster is rated as one of the top Pomodoro apps.  Simple to use and considered a lightweight, this app records each session automatically.   Users are able to track their own work, read in-depth review reports and are able to envision how effectively they are spending their time.
Starting from humble beginnings in 2010, not long after that this app was actually designed to help the employers keep track of their employees' work ethics. However, now it is widely used as a productivity app.
Focus Booster is one of the best Pomodoro apps for iOS and Android that I came across during my research.
Pros
This app is best for freelancers who have to do work for multiple clients.

It has both free and paid premium plans.
Cons
The free plan allows the user to have access only to the Pomodoros.

It is an app that encourages freelancers to strategize their workload and efficiency. Unfortunately, it does not facilitate teamwork.
Key Features
Customization: Allows the user to adjust the lengths of their focus and break time.
Automation: The timer automatically switches from focus work time to break time.
Synchronization: The user's data automatically syncs from across the web, mobile and desktop apps.
Multiple paid tools: This Pomodoro app also has extra paid tool features. One of the extra features is that it also acts as a time tracking app, which helps track the user's productivity.
Tracking & Reporting: The app records the whole process, collects data, analyzes it and then reports it to the user. When working on a client, the app also snaps a shot of the timesheet and revenue for selected dates. The reports of this data can be downloaded to make invoicing simpler.
Simple to use: This app has a simple yet intuitive design interface. It is aesthetically pleasing to the eyes and mind.
Pricing
Focus Booster has a free Starter plan, Individual and Professional paid plans.
The Free Starter Plan allows up to 20 free Pomodoro sessions per month.
The Individual Plan starts at $2.99 per month, which includes up to 200 Pomodoros per month.
The Professional Plan starts at $4.99, which includes unlimited Pomodoros, client tracking, and data export.
Focus Booster is available on Web, Windows, macOS, iOS, and Android.
---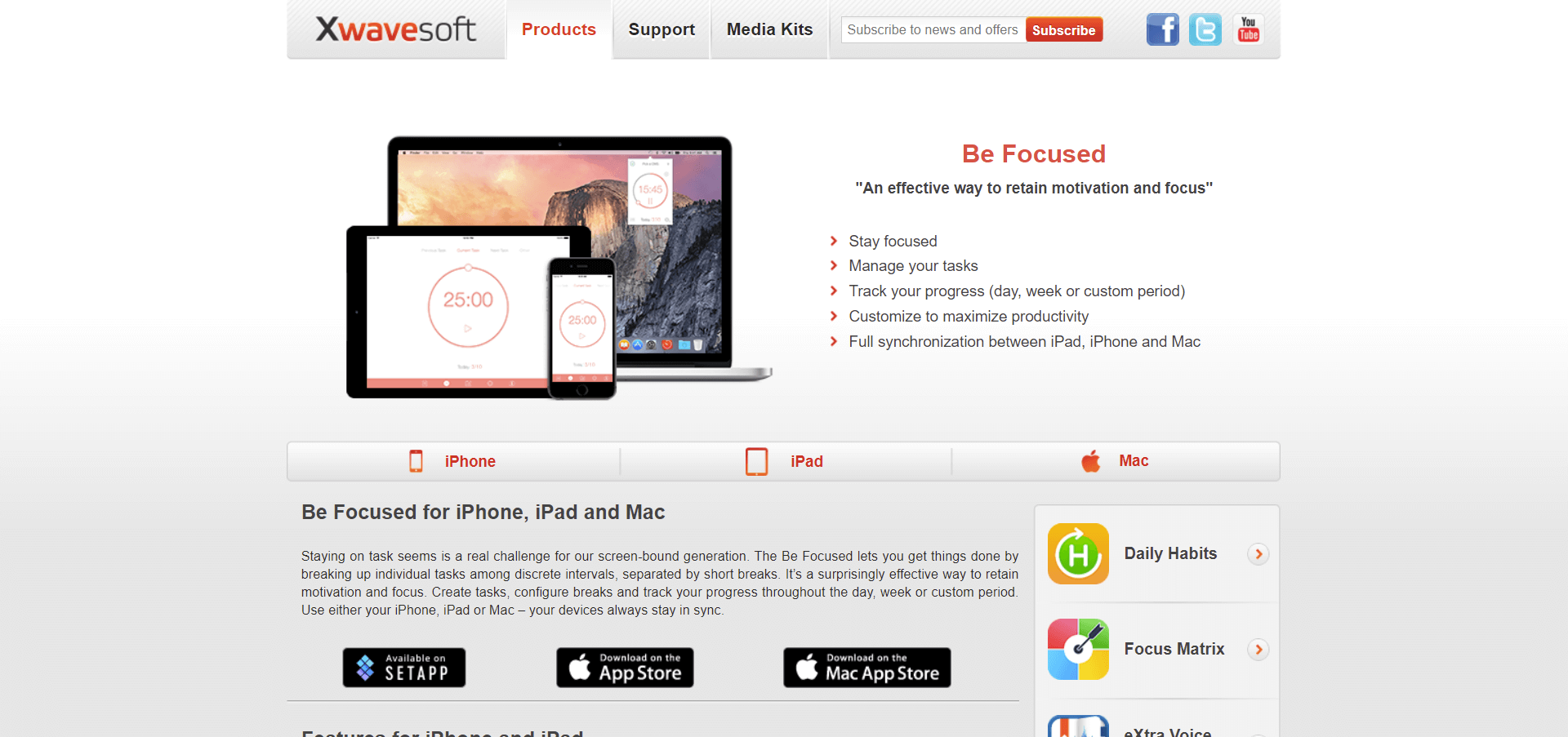 The Be Focused app was mainly developed to discretely break up specific tasks in intervals, followed by short breaks. Surprisingly, this task management process allows a person to effectively remain focused and motivated.
This app also has many customized options for its users, for them to remain productive and in line with the goals, they have set for themselves.
Pros
This app offers impressive task and time management features on Apple devices

Task management reports can be downloaded as CSV files as a form of documentation and invoicing.
Cons
This app is only available for macOS and iOS.

Only paid versions of this app allow all devices to be sync the data together.
Key Features
Task Management: Users can manage their tasks, easily and quickly track their goals.  The users can also track their progress, which can be daily, weekly or even a customized period.
Customization: The app can be customized according to the user's needs to increase their productivity. Below are some of the things the user can customize:

The duration of work intervals
Long or short break duration
The targeted number of work intervals every day
The number of time-gaps between long breaks

App Link Sharing: This app can paste a task link from other apps.
Synchronization: Be Focused has full syncing abilities between the iPad, iPhone, and Mac.
3D Touch: Since this is primarily an iOS app, it allows the 3D Touch activation.
Combining Techniques: Be Focused allows the user to add a "To-Do List" with the Pomodoro Technique. This helps increase the user's productivity.
Pricing
The free version of this app allows the use of all its features except the cross-device syncing.
However, the Be Focused app for Mac does not allow free use. For the iOS app to be synced with the macOS client, the cost is $0.99.
For the cost of $2.99, the Be Focused Pro macOS app can also be synced with the iOS app.
---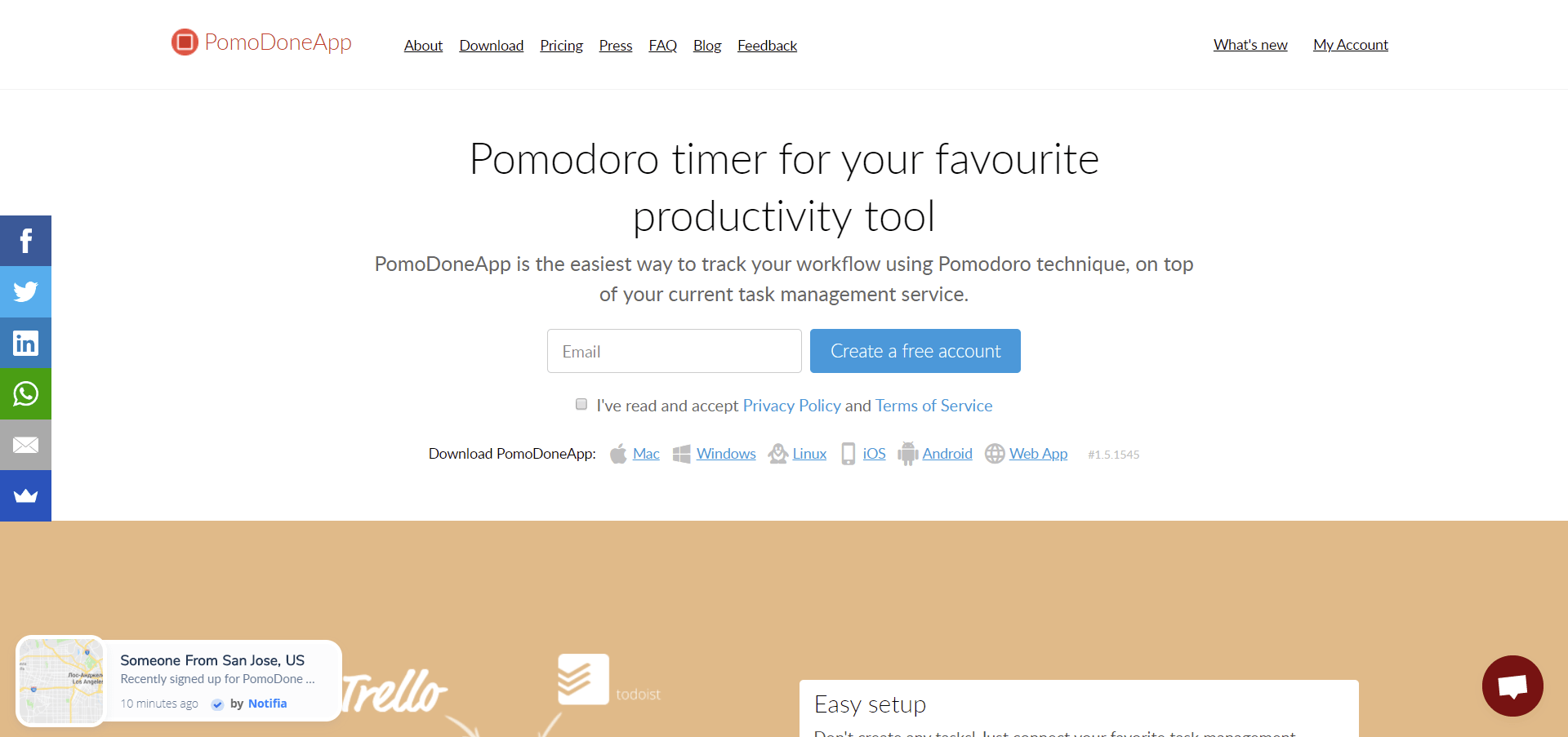 PomoDone is an app that uses the Pomodoro Technique for the user to track their productivity, alongside and a step ahead of their current task management service.  This way the user doesn't require to recreate their task list and start from zero and they can use it for the tasks that they already have.
Since it is known to be a performance-enhancing tool, it works as a time tracker as well. Therefore, the user doesn't need an additional time tracking service that would probably add more chaos to the person using it and their operating system.
Pros
Works great with other task management services.

Technical or app support is efficient and very helpful.

Available on Web, Windows, macOS, Linux, iOS, and Android.
Cons
Some of the reporting fetches might be missing in the current version.

It doesn't allow other apps, such as Slack, to make a status update so other team members do not disturb the user.
Key Features
Easy Set-up: There is no need for users to create a new list of tasks.  All they have to do is connect the task management system that they are currently using and they can start using the app in three seconds.
Third-Party App Integration: Works well with third party task management tool. Tasks can be moved to the user's main task management tool even if they were created on PomoDoneApp. It works great with well-known services such as Trello, Google Calendar, Google Tasks, Microsoft T0-Do, Microsoft Outlook Task, and JIRA to name a few.
Time-Tracking: This app automatically tracks how much time a user has spent on a task. Thusly, allowing the user to check their level of productivity, quality of work and analyze which task requires more focus or otherwise.
Simple & Easy to Use: This app has a simple interface that is easy to operate and systemize. Easy pull-down menus, hotkeys, and shortcuts are encouraged to be used to increase focus and efficiency.
Strong reporting: PomoDoneApp allows users to filter their data and share their logs with others.
Chrome Blacklisting: It has a Chrome extension, which allows the user to blacklist certain websites while they are working to optimize their focus.
Pricing
Even though PomoDoneApp is initially free, below is the price list of the different packages available:
Starter: Free, 2 integrations to choose from a limited list, 5 projects, 1-month log access, default tags only
Lite: $2.29 per month (billed annually), 6 months log access, 3 integrations to choose from the limited list (incl. MS Outlook Tasks, GitHub Issues, Slack Plus, etc.), subtasks, weekly and monthly mailing reports
Ultimate: $4.01 per month (billed annually), unlimited log access, unlimited integrations, subtasks, weekly and monthly mailing reports
There are also discounted packages available for bulk licensing, for teams of 5 and 10.
---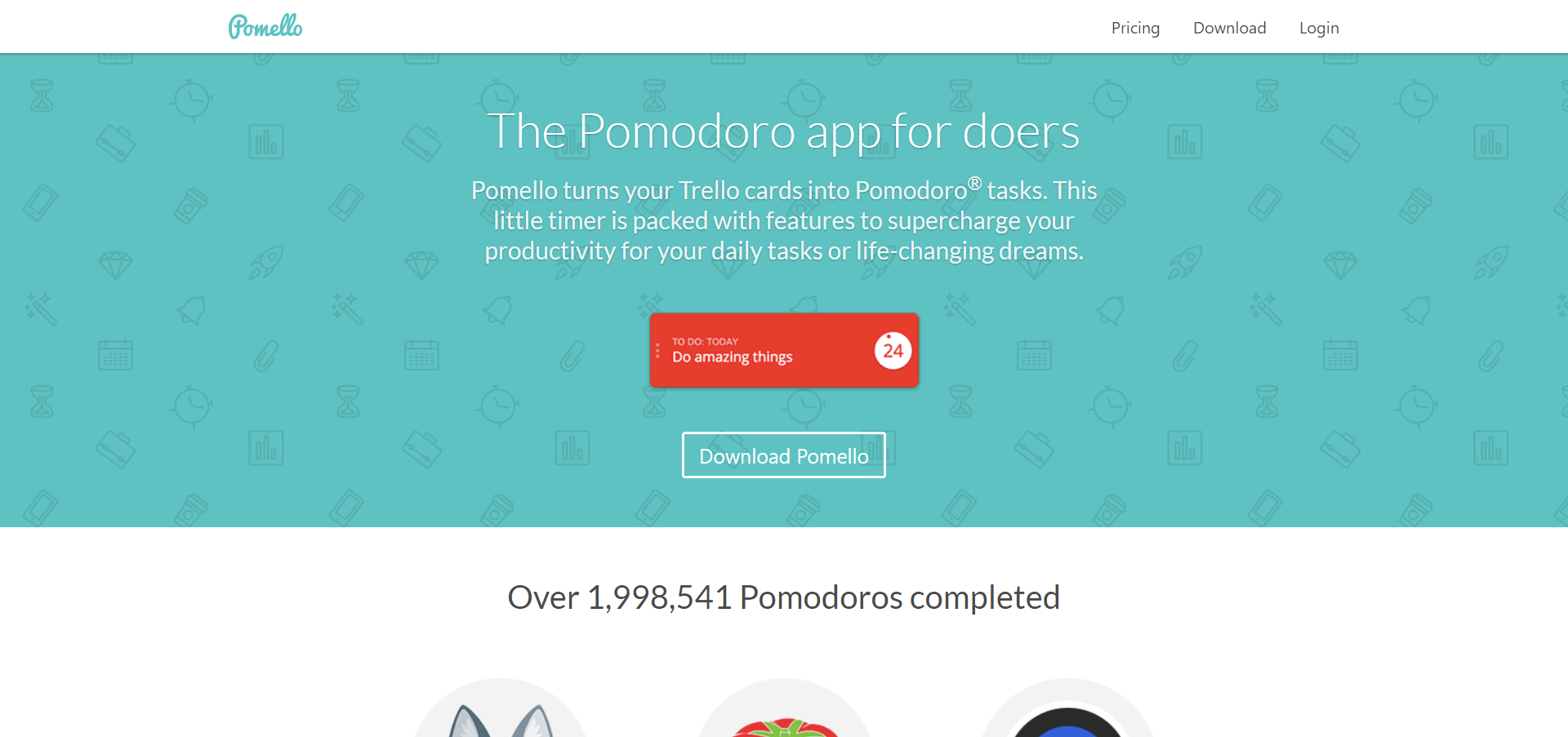 The Pomello app turns a person's Trello Cards into Pomodoro tasks. The purpose of this Pomodoro technique timer is to increase a persons' productivity with quick-paced features.
These features allow the user to stay focused for short or long tasks, so their desired goals can be met. Pomello is one of the Pomodoro time management apps.
Pros
It partners with Trello, which is a visual collaboration platform that opens channels of communication.

It is great for freelancers or even large teams and businesses to operate.
Cons
It is only best suited for Trello users.

Limitation of third-party app integration.
Key Features
Setting Up: After installation, the user has to connect Pomello to their Trello account. This allows Pomello to track the user's productivity statistics.
User Interface: The user interface is simple and easy to use with an aesthetic design appeal. A user can switch easily from Trello to Pomello and manage their tasks smoothly.
Dashboard: Gives the user fast access to Pomello's different types of features, so they can increase their work efficiency. Which includes:

Productivity panel
Boards and Lists option
Filtering lists
Switching Trello accounts
Customized work settings
Keyboard shortcuts
Pomello account settings
Adding Notes: Pomello gives the option for the user to add notes to their tasks. There are general notes, internal distractions (email, social media checking), and external distractions (phone calls, talking to people). The latter two are logged into the productivity statistics.
Creating Tasks: Tasks for Trello can be created through the Pomello account. These tasks can be customized.
Task Mode: This mode activates the Pomodoro timer and all the distractions shut down, timers start running and the same time they can be paused as well.
Break Mode: The app automatically runs into break mode once the Pomodoro has been completed or canceled. The breaks can be customized to short or long breaks.
Pricing
This app is available for free on Mac, Windows, and Linux.
Below are Pomello App's pricing details:
Free: unlimited boards and lists, productivity tracking, time tracking
Premium: $2 per month (or $20 per year), unlimited boards and lists, productivity tracking, time tracking, checklist items as tasks, custom timer sounds, export productivity data
---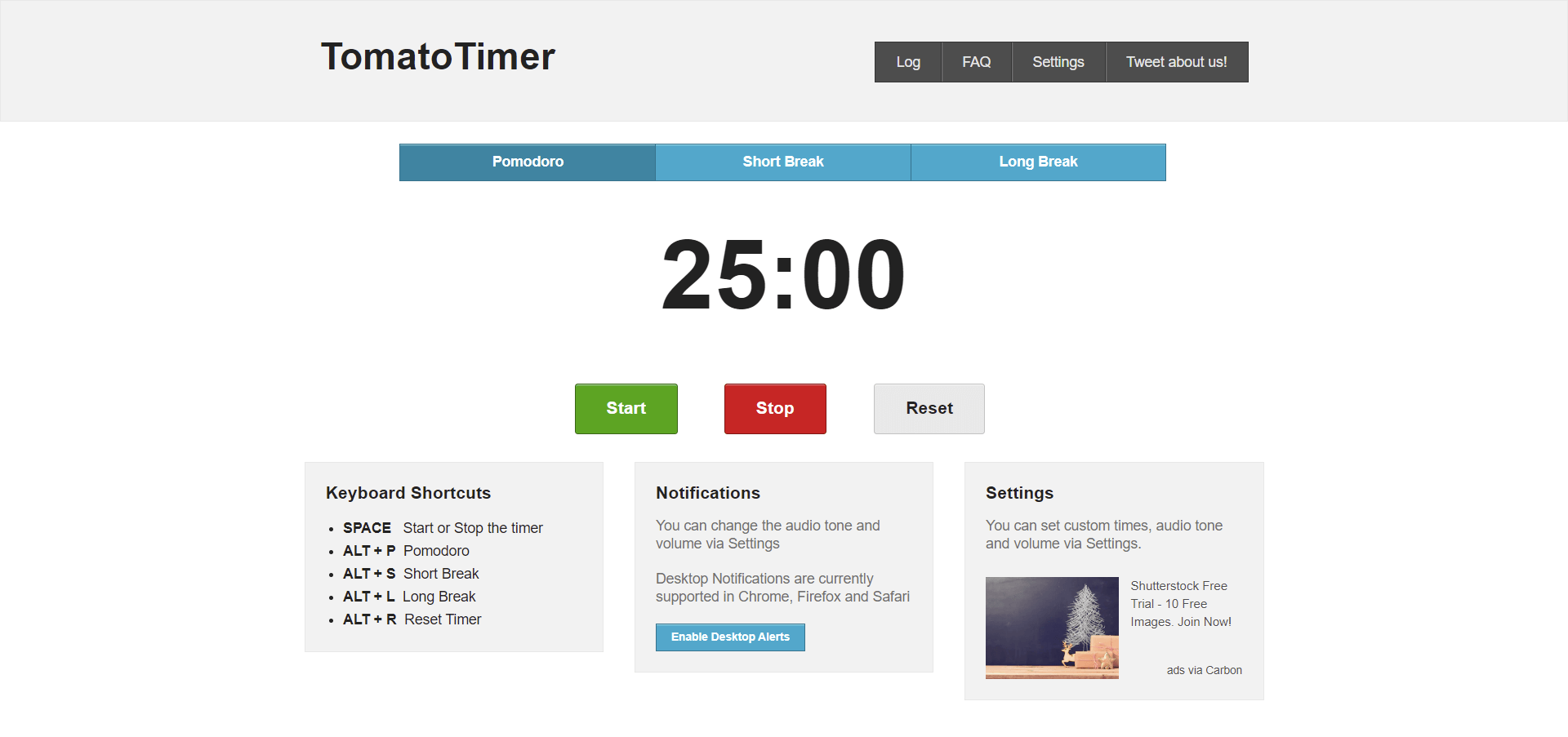 The Tomato Timer is a Pomodoro Technique timer. It is easy to use and adaptable to the users' needs. The inspiration for this app came from another Pomodoro timer called Tomatoist.
It is a web-based Pomodoro app, which comprises of the simple procedures to follow. The task needs to be decided after the Pomodoro is set for 25 minutes.
After the first one is complete, the user takes a short five-minute break. After four Pomodoros have been completed, longer ten-minute breaks can be taken.
Pros
Very basic and simple to use

Even though it is just a web-based app, it is trouble-free to use and customize the settings to a users' needs
Cons
It is a web-based Pomodoro app and it feels very basic.

There is no productivity tracker nor any analytical reporting done when using Tomato Timer.
Key Features
Design Interface: The interface is neat and clean and it has a mobile-friendly layout.
Timer Setting: The time intervals can be paused or reset.
Notifications: There are audio notifications at the end of the Pomodoro or break, along with desktop notifications. However, desktop notifications are only available for Google Chrome.
Keyboard shortcuts: This feature increases productivity and efficiency.
Customization: Timer intervals can be adjusted to the user's needs and the sound alert and volume can be adjusted in the settings.
Activity information: This feature isn't available yet, but it will be soon. It will give the history of the users' activity.
Pricing
Tomato Timer is free to use.
---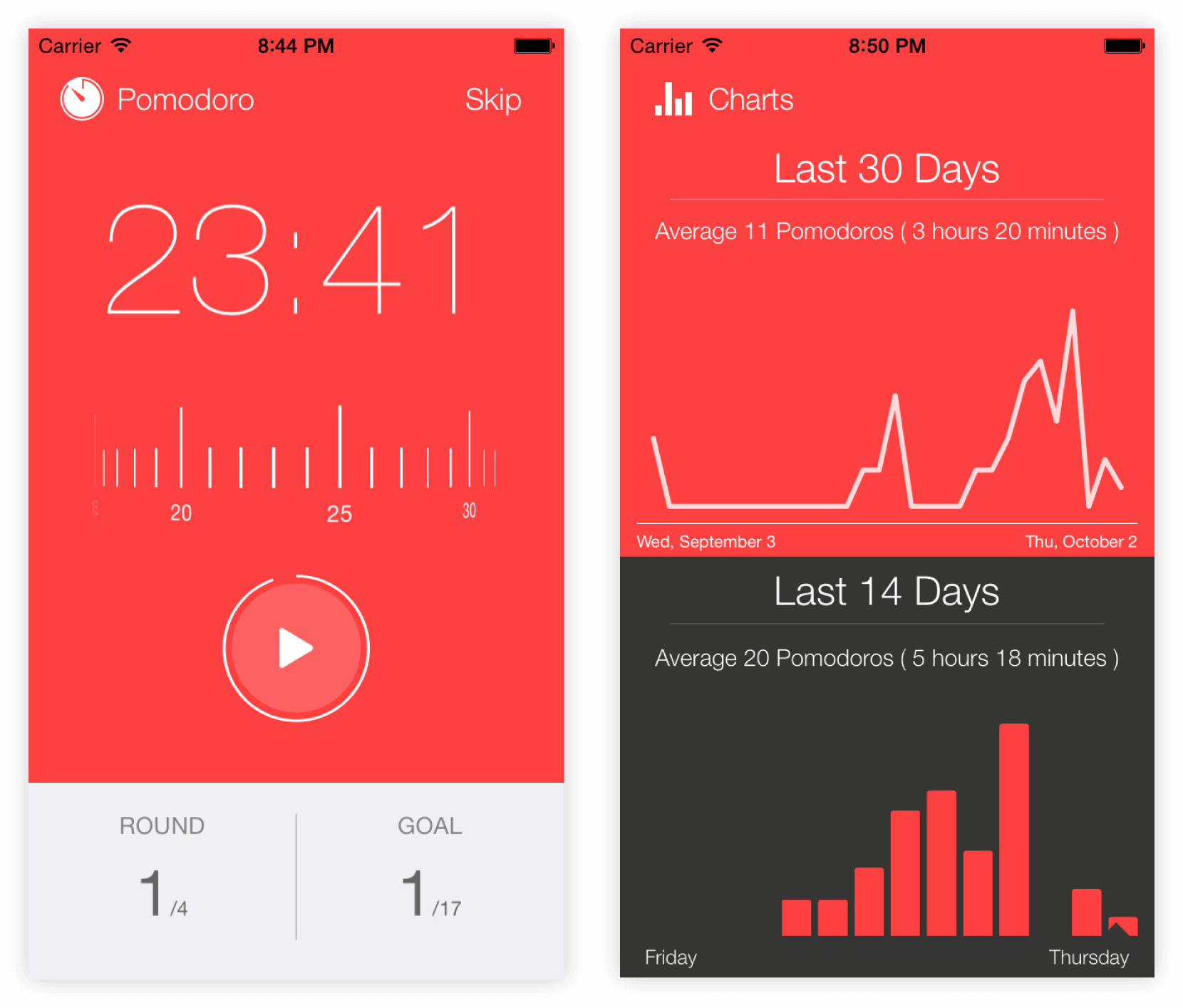 The Focus Keeper is an app that helps a person work with the time and doesn't let them feel the time is against them. It is known as one of the few apps that give genuine Pomorodo experience.
It has a red background that allows the user to change the time interval by simply swiping it. The breaks are represented by the blue color and it has a ticking sound that helps the user focus on time.
Customization is a very prominent feature in this app. Notifications, sounds, themes, short and long breaks all of these features can be customized to how a user wants to operate them.
Analytical charts are provided from the previous month. These charts help users understand how productive they have been.
Pros
There is a notification setting on your phone to remind the person to get back to their task if they start browsing through other apps on the phone.

The ticking sound enables a cautious time focus, whereas the premium version has ticking sounds that are relaxing and productive.
Cons
It is only available on iOS.

Analytical charts are only available for three days in the free app mode.
Key Features
Easy-Swipe: Adjust the timer with your fingers just like you do with real egg-timer.
Customization: The size of the Focus Session, short break, and long break can all be customized according to the users' needs. Time intervals start immediately after the current ends.
Progress Tracker: The user can track their progress with two different charts (14 days and 30 days). However, this is not a free feature.
Setting Goals: The user can set the Focus Session per day, which can be according to how many they need to achieve their goals.
Sound Library: Choose your ticking from 10 different ticking sounds and your own music library.
Icon Badge: This badge shows the user how much time they have left to finish the current session when the timer is active.
Pricing
Focus Keeper has two types of subscriptions:
Free: which has free features for three days.
Pro: $1.99. The special features it adds on; stats view, and information, and advanced customization of settings
---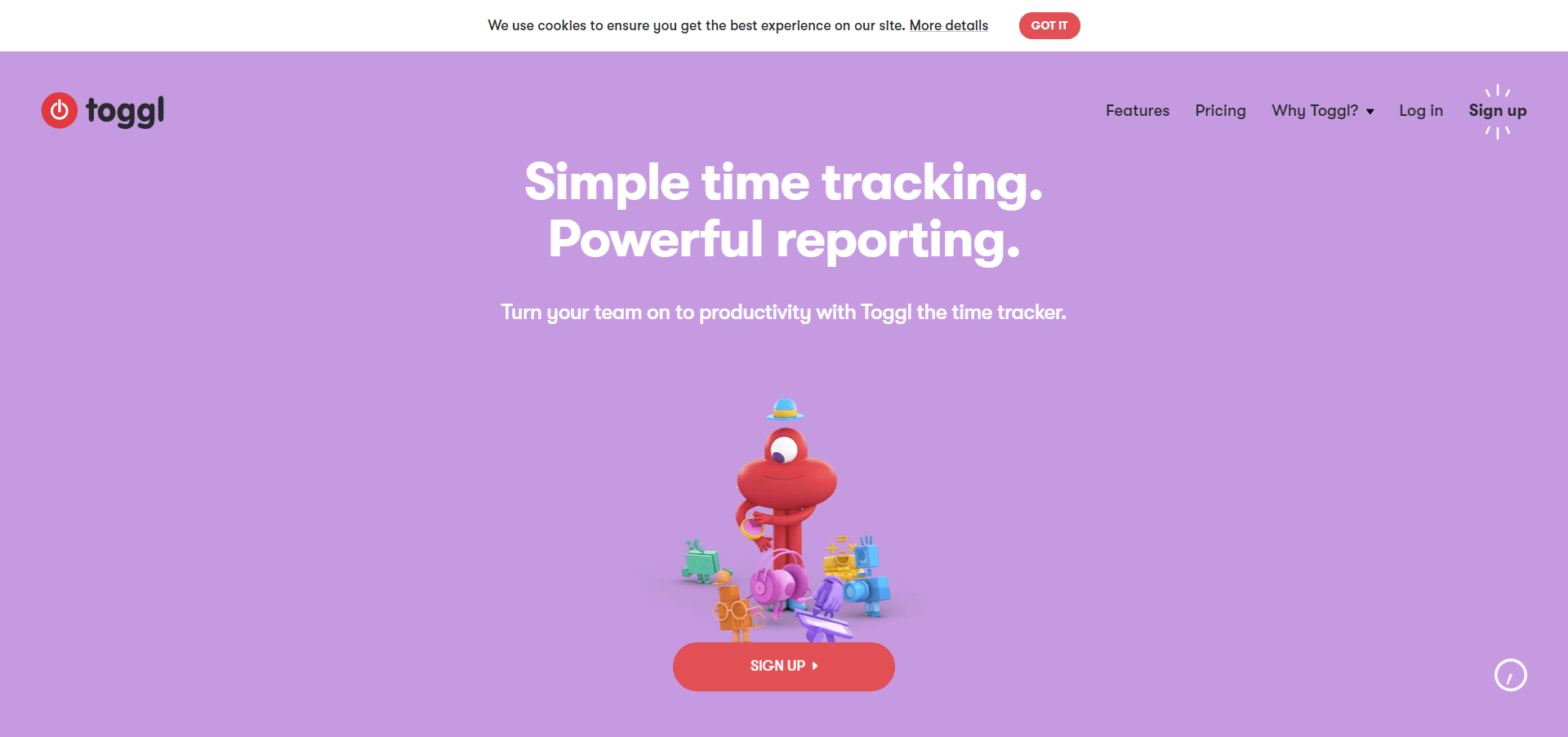 Toggl is a Pomodoro tool that does simple time tracking and effective reporting. With its uncomplicated features, Toggl possesses the hassle-free features that most time management app users look for.
If the user loses their focus on the task and timing, Toggl reminds them alongside their idle detection feature.
There is a special feature in this app that allows the user to break down the hours by the project or task and the client. Therefore, allowing the user to see how much they are making and which project is worth taking up.
Toggl is one of the Pomodoro apps for Mac.
Pros
It calculates the numbers for the user so they can focus on planning.
Reports can be calculated and converted in any format.
It is an optimal app for time tracking.
Cons
It is more of a time management app than a productivity app.

Some users have complained that there are too many additional features that are added which are of no use.
Key Features
Easy Tracking: The Toggl Button and Toggle Desktop apps remind the user when they have forgotten to track their time. If the user is idle, it records the idle time and informs the user of the data later so they can decide what to do with it.
App Integrations: Toggl has over 100 app integrations, which allow the user to work with fewer distractions and tracking starts immediately when activated.
Calendar Integration: This feature is for those who are not a huge fan of the tracking method. Information can be inserted manually with the time and date, then with the help of a Toggl Button, this information gets integrated with the user's calendar. This feature allows the user to receive updates and notifications without being tracked.
Reporting: Toggl allows the user to filter their tracking data with ease, therefore, showing them the information whenever they need it.
Project Dashboard: This feature is great for comparing the progress of a project with the estimated time that is left. This is a great way to fight off any hindrances that may be causing the project to become delayed.
Billable Rates: The user can assign billable rates to their tasks, that way they can be reassured that they will be paid fairly for all their tasks.
Synchronization: No matter where the user is, Toggl works from anywhere at any time. They can start the task from their phone and end it on their desktop browser.
Pricing
Toggl is designed for various operating systems, such as iPhone, Android, Windows, Mac, and Linux
Below is the detailed pricing list for Toggl:
Starter: find time sinks and see your revenue earning, increase client satisfaction with transparent reporting, track project timelines and budgets.
Premium: everything in Starter, project/user profitability charts, schedule reports to email, set tracking reminders, add more time for the team and more, teams can be set up with the help of a Toggl consultant.
Enterprise: everything in Premium, priority support, expert training + assistance, customizable solutions
---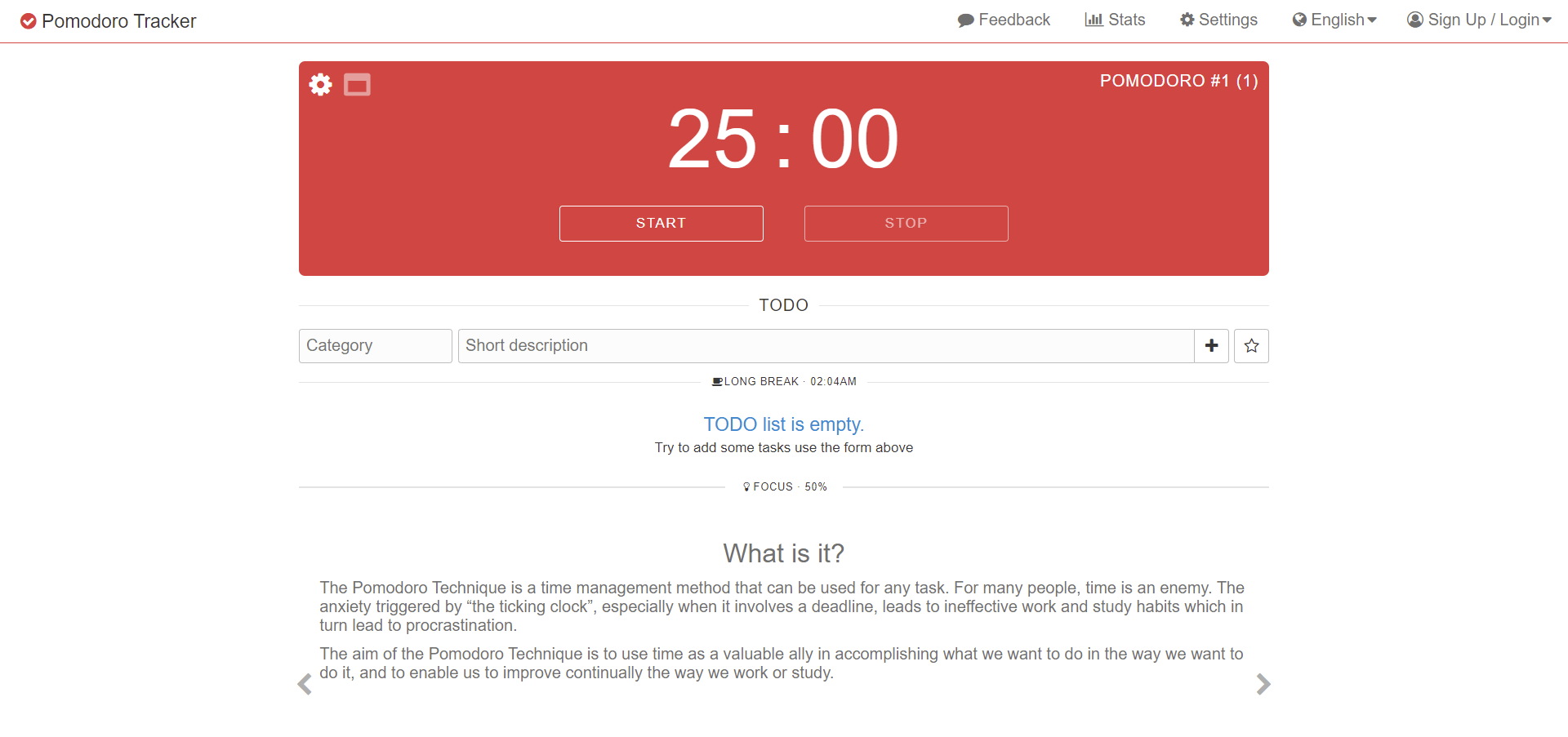 Based on the Pomodoro Technique, the Pomodoro Tracker is a time management tool that can also be used for any type of task. The purpose of applying this technique is so that the user can create a powerful alliance, therefore, improving the quality of their work and amplifying the work process.
This is a great tool to increase individuals' productivity and even the development of a whole team.
Pros
Implements strong work processes, which then immediately increase the level of work efficiency.

This tool helps eliminate stress and increases focus and concentration.
Cons
Some Pomodoro intervals may not have sufficient timing for the task at hand.

It seems to have more web and browser-based operations.
Key Features
Single Click: Time can be managed by just a click.
App Integration: It allows third-party integrations. The integrations are with; Google, Zapier, Telegram, Facebook. Twitter, GitHub to name a few.
Synchronization: Daily tasks are synced with Google Calendar and then added to daily tasks.
Create Tasks: Tasks can be created through an application process that creates a "To-Do" List, which can be checked off as the task is complete.
Categorize: Tasks can be set by category, therefore, prioritizing the completion of the task.
Language Change: This app comes in multiple languages and the user can choose their preference.
Pricing
The Pomodoro Tracker is free to use.
---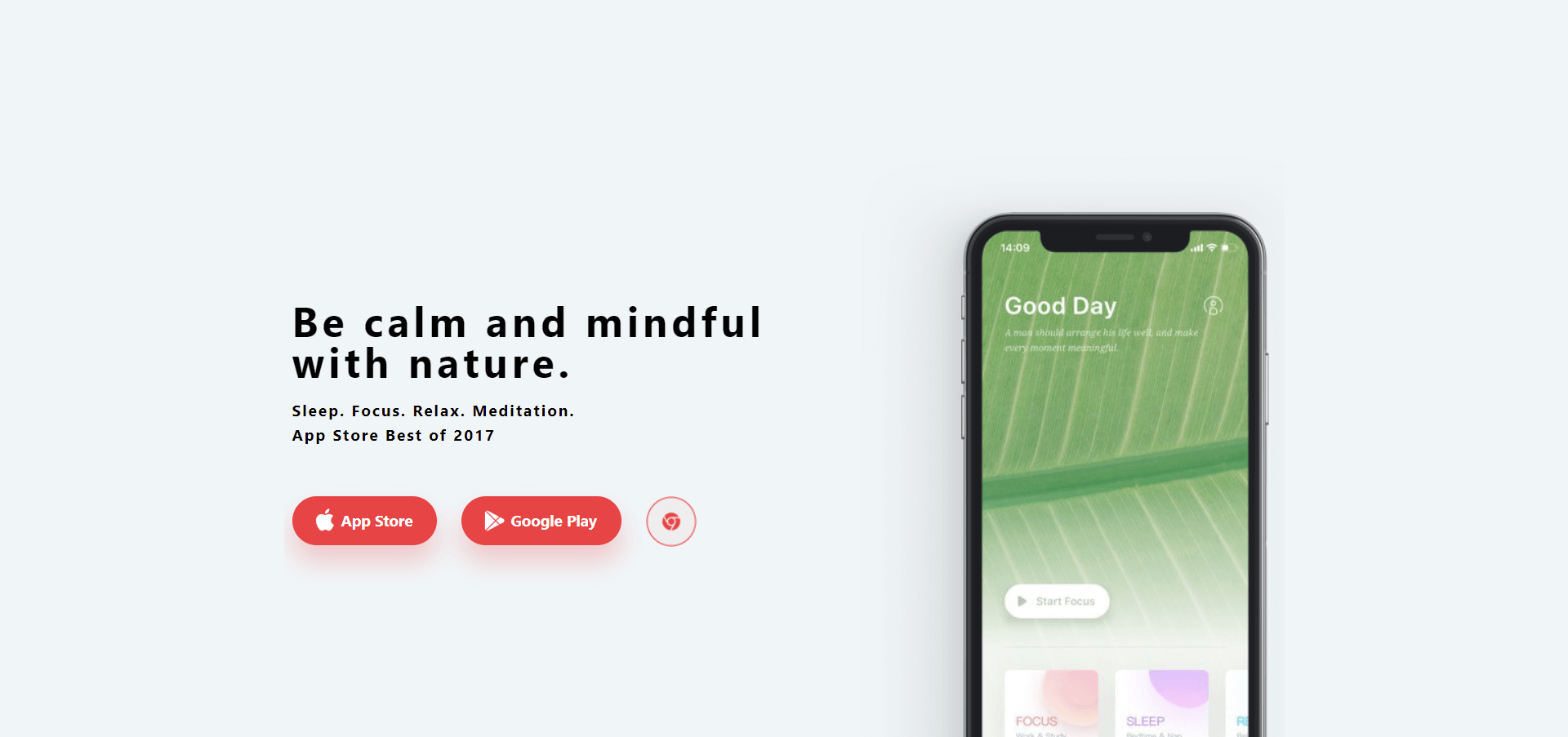 The Tide App was designed with the purpose to increase mindfulness, attentiveness and production output. It was rated as one of the best apps of the App Store in 2017. Inspired by nature and meditation, Tide is a platform where mental and physical wellness is built up.
This app allows the mind to be peaceful, rids it of toxicities that are caused by trifling tasks and routines. The sounds of nature, meditation, sleep & nap, and focus timer features serve the purpose of reducing stress and increase productivity.
Pros
This app helps the user decrease pressure, remain tranquil and focused, practice meditation and sleep better.

Other applications can be managed easily alongside this one and the flip mode is effective.
Cons
Payments are a little on the expensive side, especially for extra sounds that need to be bought.

Sleep sounds have a few glitches. If the user is sleeping, the sounds sometimes start stuttering and the app even crashes.
Key Features
Nature Sounds: Specially selected nature sounds and music, specified for helping a user focus, sleep, relax and meditate. There is a huge selection pack for the user to choose from.
Sleep and Nap: Several sleeping sounds that are designed for this app to help the user sleep blissfully. There are day-time nap and night-time sleep mode settings as well.
Focus Timer: This feature helps set an immersive attentiveness of the user. The Pomodoro Technique is used in this feature to enhance productivity. The user's focus history is recorded so they can review their performance.
Relax Meditation: This is considered a mini pause button and the user can meditate anywhere, anytime.
Daily Inspiring Quotes: Carefully selected quotes are shared daily with the user to inspire, send positivity and peace. Previous quotes and pictures can be seen again in the daily quotes diary.
Tide Daily: More or less like a daily diary or journal, where the user records their daily peaceful moments. This is great for visible data and reporting.
Neat & Clean Design: A minimalistic approach towards design interface is taken in this app. Emotional visualization is used to amplify the purpose of the app.
Pricing
Tide is available on both Android, iOS and Chrome Webstore. Even though it is initially free, there is a premium subscription level where users can purchase selected customized sounds for the features above.
Tide offers two auto-renewing subscription options – $11.99 per month or $59.99 per year.
---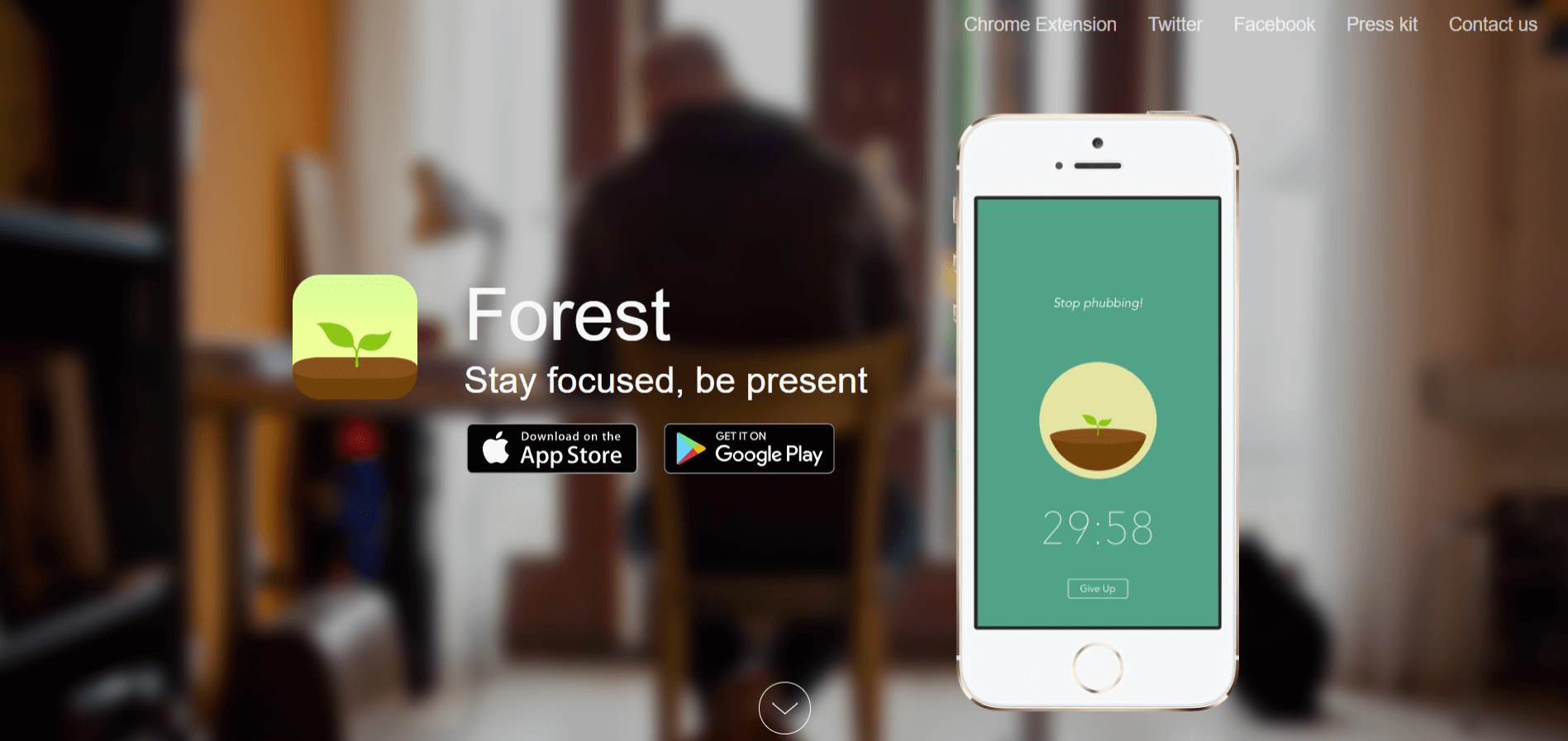 The purpose of the Forest app is to make the user minimize the distractions from the phone away and focus on the important task that they need to focus on.
Its functionality is much like a game on the phone and it is simple to use. After downloading the app, whenever the user wants to focus on an important task, they have to plant a tree.
Once the tree has been planted and the timing of the task is also set, the three will grow as the task is being worked on and finished. If, however, for some reason the task is abandoned then the tree dies.
Pros
It helps users focus consistently on the task and pay no heed to their phones.

It is fun and easy to use and has customized settings.
Cons
The Forest App isn't visible on the phone's lock when it is running. So it may look like to the user it isn't working and cause a distraction.

It has a virtual coin reward system, however, it isn't very big and most of the coins have to be bought from the in-app extras.
Key Features
Plant Together: A person doesn't have to plant or complete a task on their own. There is a sharing option in the app, where the user can share to plant trees with family and friends. And if one person uses their phone, the tree will die.
Track Record: The user can see the virtual trees they have previously planted. This way the historical app data is used to review the user's progress.
Tag Feature: Tags or labels can be placed on the tree to specify the type of task being performed. For example, Work, Study, Exercise, etc.
Performance Awards: When the user achieves their desired performance that they had set, they receive awards. If they complete a four-hour focus session, they receive coins as an award.
Buying Coins: Extra coins can be bought from the in-app purchases.
Planting Reminders: The app sends planting reminders to the user, so they remember to unplug.
Pricing
This Forest App is available on both Android and iOS. To buy more coins, the app's price is $1.99 (in-app purchases available).
---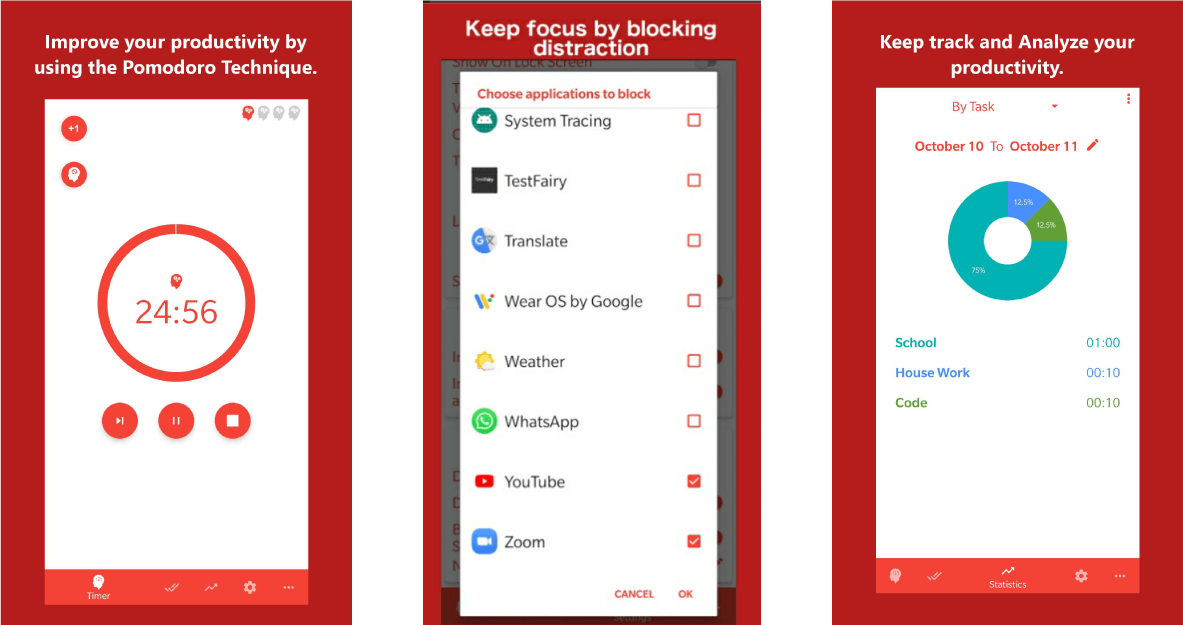 The Brain Focus Pomodoro app has two major functions:
Productivity Timer: Brain Focus is a time management app based on the Pomodoro technique or the 52/17 technique. Tasks can be tracked by time, settings per task can be customized and tasks can be grouped according to their chosen categories.
Time Tracker: This is a time tracking tool where the user can check the record of how they spend their time. However, other than work, users can also check the time record of their personal activities.
Pros
It has all the features that a Pomodoro technique app needs.

It also provides a log for each task as well.
Cons
There are small interface glitches in which the app restarts the timer on its own from zero

The app might have a few glitches and bugs
Key Features
Session Settings: Pause and resume sessions with ease.
Internet Turned Off: Disable Wi-Fi and mute your phone during work sessions
Adjust Time: The time intervals can be extended if needed.
Choose Sessions: The user can choose their sessions. They are allowed to skip the end of the session or skip a break.
Notification Settings: Notification before the end of the work session
Thematics: It has many choices in themes (Red, Green, Blue, Black, Pink, Grey)
Minimum Language Barriers: This app can support more than 30 languages around the globe.
Pricing
The app itself is free and there are no in-app purchases. However, The Brain Focus Pro Version is a contribution to the development of the app, which can be purchased.
---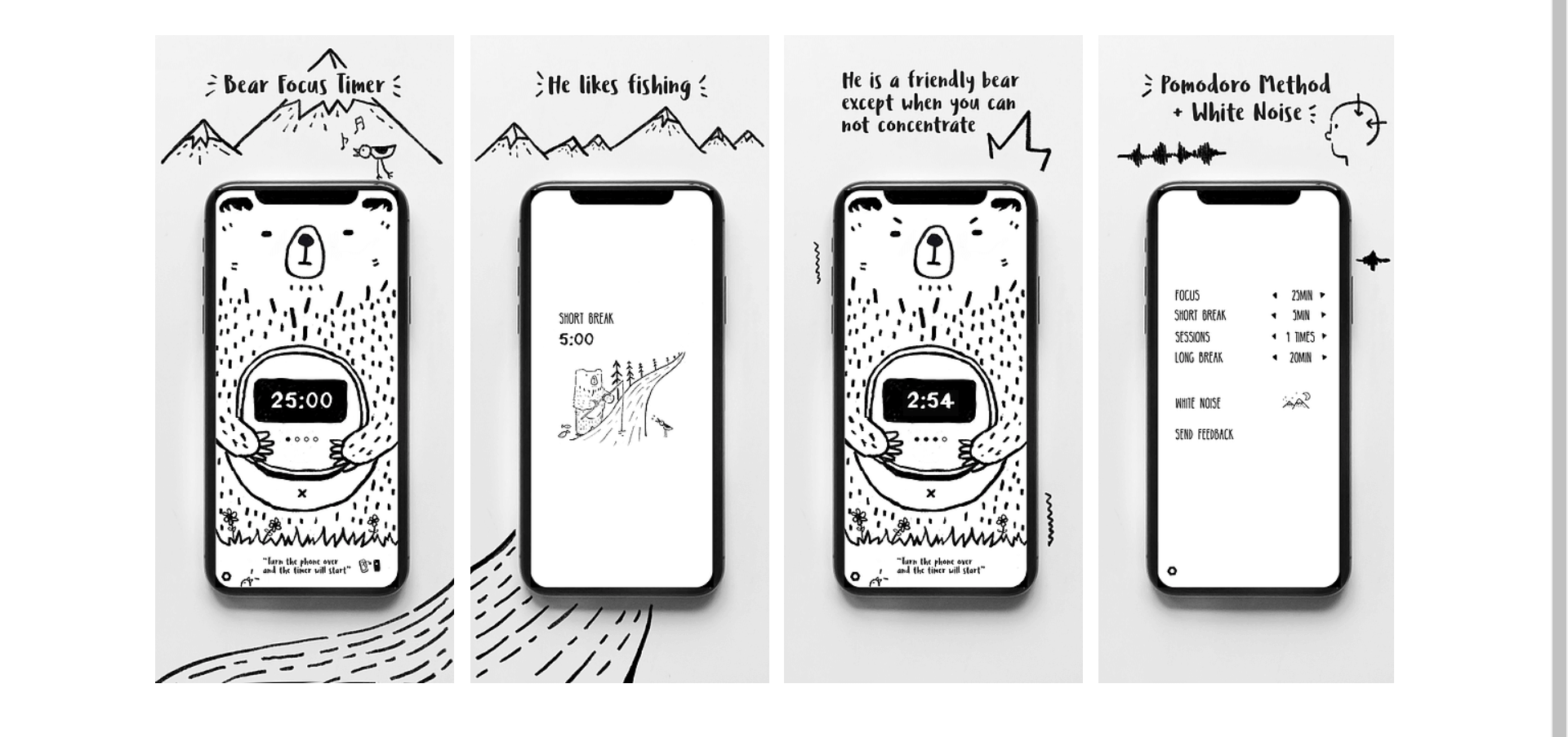 The Bear Focus Timer aka BFB is a story-based, gamification-free timer. It is just a Pomodoro timer with a white noise application and nothing else. This app doesn't do much except the standard Pomodoro Technique and it is great for kids and students to use, especially those who suffer from ADHD.
The screen of the user's phone has to be placed down and they have to focus on what they do. Different kinds of white noises then play and it helps increase the focus of the person working on the task.
Tom the Bear will praise the task-doer if they concentrate well.  This is one of the best Pomodoro timer apps to date.
Pros
Works very efficiently and gets the job done by increasing the users' focus

Neat and clean features that decrease user complications
Cons
Other than the white noise, not many features to use

There is no tracking nor any reporting for the user to check their productivity
Key Features
White Noises: White noises are available to increase concentration
Alerts: Various alert noises that play as notifications. For example, when a session starts or ends
Swipe & Reset: The timer can be reset by rubbing Tom the Bear's belly
Compliment Cards: As a form of encouragement the feature of compliment cards has been added
Psychological Play: Gives the user the implication that their phone is off-limits
OS: Available on both operating systems, Android and iOS
Pricing
The price is $1.99 for the purchase of this app.
---
Clockwork Tomato was created based on the Pomodoro technique. Essentially known as a time management application, it also applies the method of shortening the length of periods to 25 minutes to increase the levels of productivity.
As an application, it has it all, a timer that also works as a Pomodoro technique timer, a clock, and an activity log. It also has an aesthetically pleasing and relaxing design topped off with a beautiful widget.
On the whole, it is one of the few nifty Pomodoro time management apps.
The best part is that all its features are fully configurable. From the timers, behavior, colors, sounds, style and all the 50 plus options, it gives its users.
This has got to be one of the best Pomodoro apps for people who want to increase their efficiency effectively at their own pace.
Pros
It is easy to use and simple to understand through its vastly customizable work and break timers

It allows Tasker app integration and expandable Tasker calls, making it one the best Pomodoro apps for Android
Cons
The logs are not recordable in the free version of Clockwork

The app does not allow any pauses or breaks, the timer has to be restarted
Key Features
All of Clockwork Tomato's timers are very customizable, particularly the durations and sounds
Users can set one-timer to start immediately after another until they choose to stop it manually
Users can change the colors and modify the features of the clock
Creates a user log of all the Pomodoros and displays them in the timeline
If the user is not happy with the widget's look, they can customize that as well
The app does not give the start and stop sounds for its notifications
Pricing
Clockwork Tomato is free software for everyone to use.
---
15. Tomato.es – Free Online Pomodoro Timer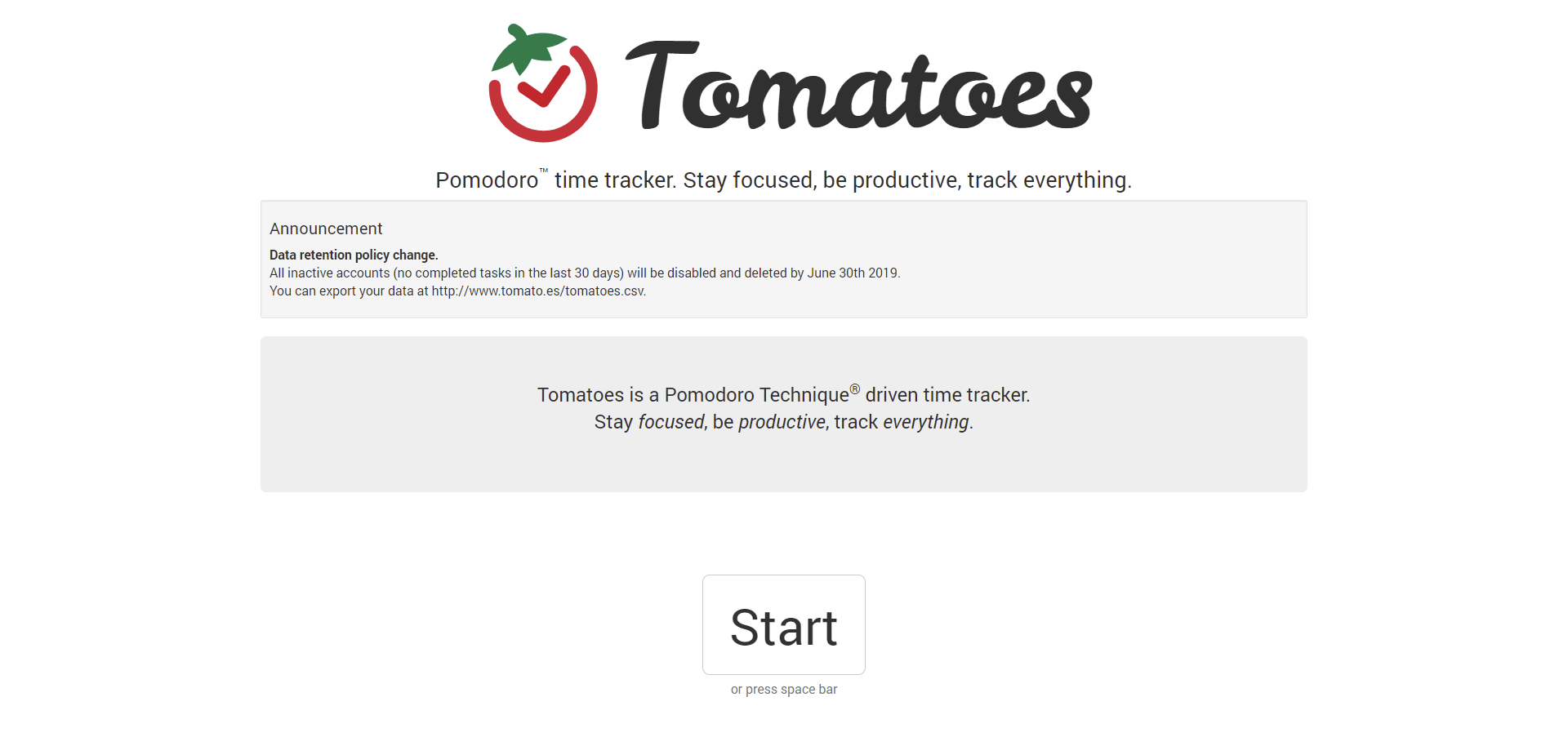 Tomatoes is a truly basic web-based Pomodoro timer that doesn't have a variety of customizable features.  However, what makes this web-based app different is that it works as a Pomodoro productivity timer.
Tomatoes turn productivity into a competition, through a tracking feature that counts the number of Pomodoros that are logged by the user and are posted to the updated leaderboards.
This is a great Pomodoro method timer that fuels people to complete tasks through the motivation of competition.
What Tomatoes does is that it tracks all the Pomodoros completed by the logged-in users.  It then creates a leadership board that is updated daily, weekly and monthly allowing a time correlation.
This time and task link then provide motivational insights as to how a user can improve or help others.
Pros
Has a leaderboard feature where all users are listed based on their performance scores

It provides healthy competition for teams and co-workers
Cons
Doesn't have any premium options for its users

Users need to create an account with either one to appear on the leaderboards
Key Features
Tomatoes have a Chrome extension Add-on.
Very basic to use, which the user only has to click on start to turn the 25-minute Pomodoro timer online.
Creates leadership boards for the day, week or even month. This is where the user's Pomodoro log can be kept for tracking and reporting purposes.
This allows for a competition to be held amongst team members, colleagues or even friends, to see who can get the most Pomodoros done effectively and efficiently.
Data that is provided in these leadership provides gives useful insight as to how effective the work is being done. The main purpose is to incite motivation amongst the teammates or inspire the user to work at a productive pace and way.
A single sign-on feature can only be used, provided the user has a GitHub or Twitter account. If they don't have one they need to create an account to appear on the leadership boards.
Pricing
Tomatoes is free to use.
---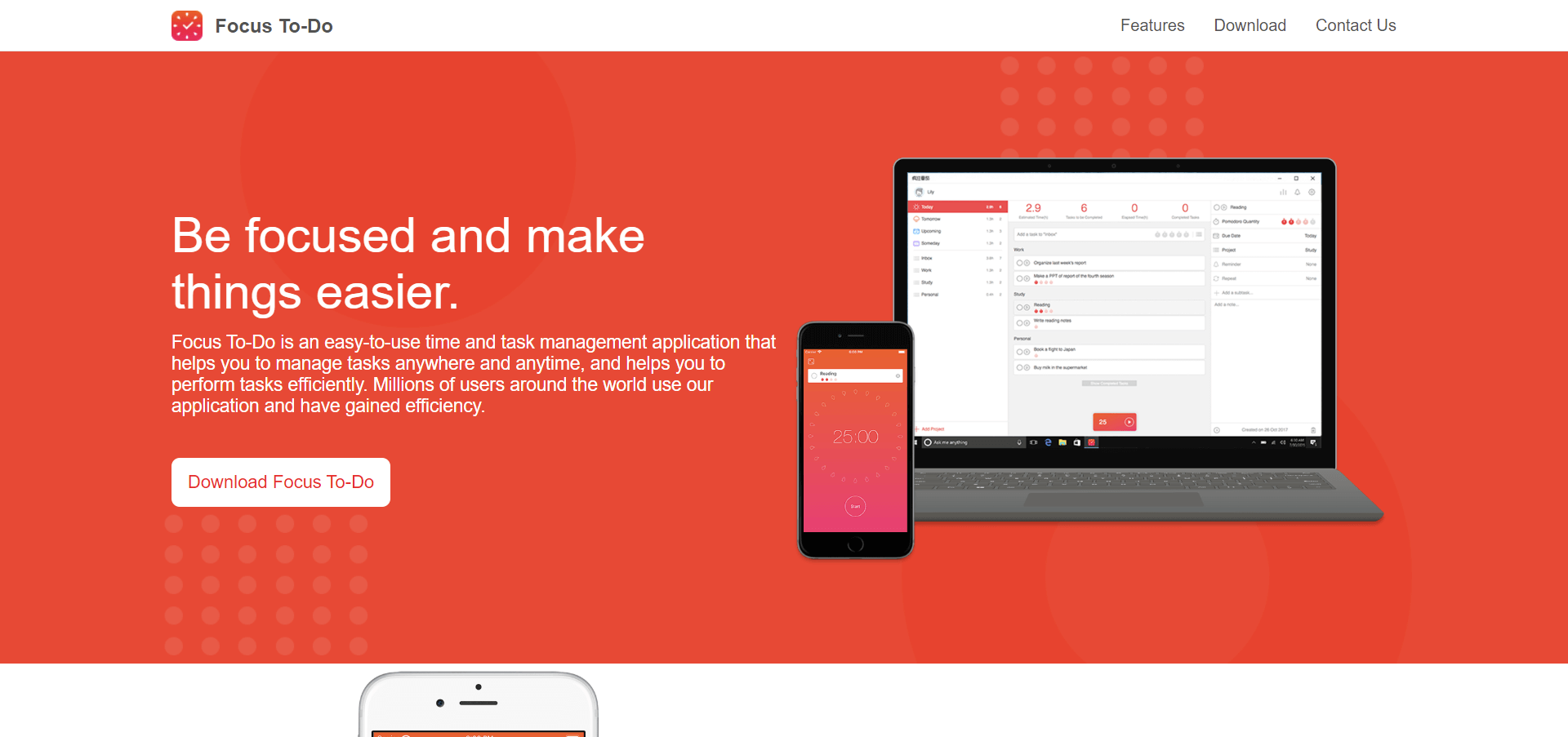 If you are looking for Pomodoro technique apps that are easy to use and manages tasks with ease, then look no further Focus To-Do is the one for you. Their claim to fame is that millions of users worldwide have used their app and gained a great of efficiency.
It is probably one of the best Pomodoro apps that integrates with another app, called Task Management. Task Management is a science-based app that motivates users to maintain a steady focus and gets tasks done consistently.
Focus To-Do is an app that works with both the Pomodoro technique timer and To-Do List from one place.
This way the user can organize their tasks and to-do lists, start focus timer and maintain their concentration for work or study. They can also set reminders for important tasks to check the time spent.
Pros
Works well with all operating systems; iOS, Google, Android, and Windows

It is one of the best Pomodoro apps for settings reminders, managing tasks, reminder lists, calendar events, grocery lists, and checklists and even helps the user track their study hours
Cons
Users can only see their past activity for the first three days of using the app

To access Focus To-Do's core features, the premium version has to be bought
Key Features
The Pomodoro timer allows the user to concentrate on their study plan and work efficiently eliminating delays caused by procrastination.
User progress is recorded and reported daily.
Focus To-Do App synchronizes with all of the user's devices, allowing the data to be accessible at all times.
The user can set a due date that way deadlines will not be missed.
Reminders can also be added, which allows the user to be notified and the task will not be missed.
Tasks can be broken down to smaller tasks, by using the Subtask Split
If there are tasks that have to be done several times, they are set by the Repeat
A note or notes can be added to the task so small but important information will not be missed.
Pricing
Focus To-Do App is free to use
---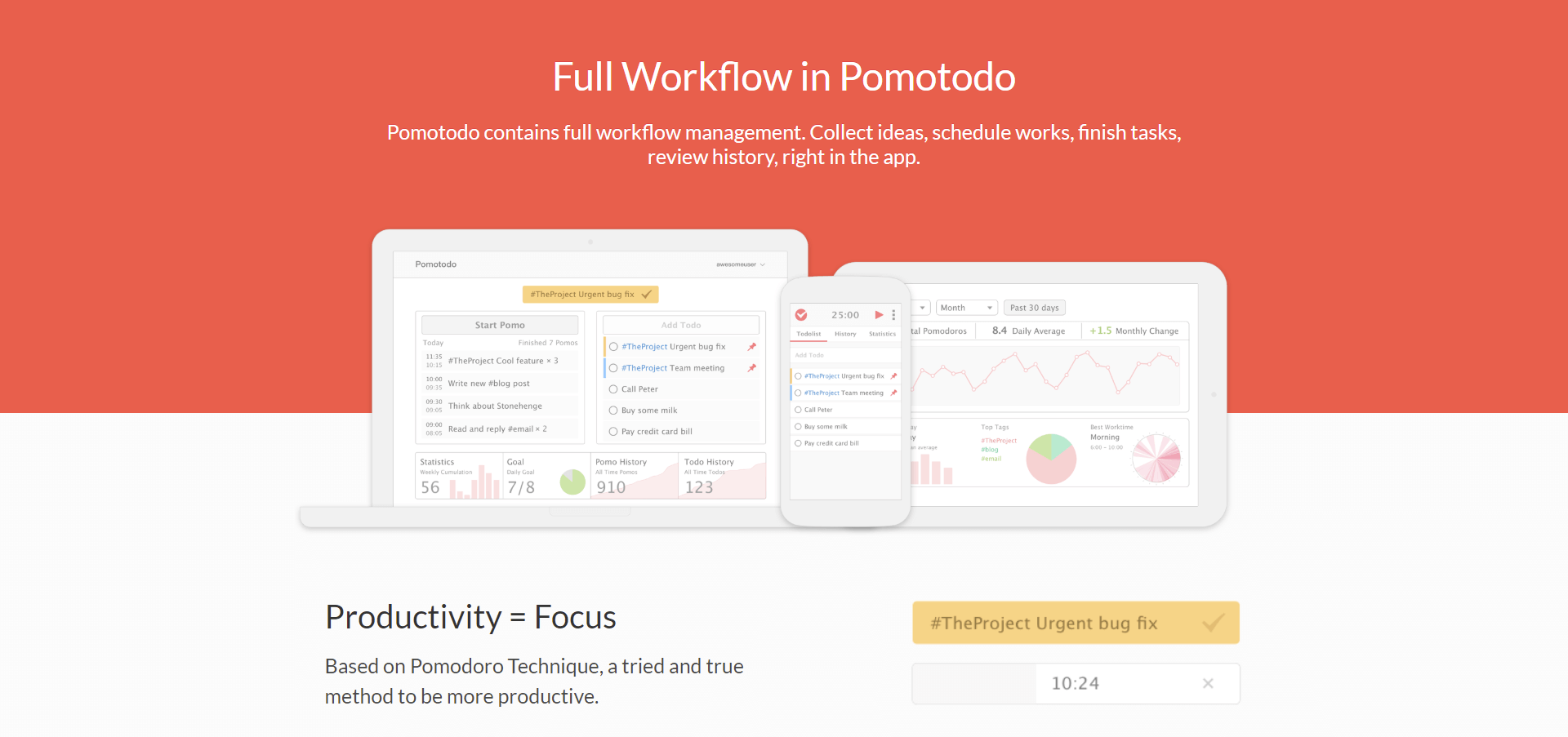 Pomotodo combines Pomodoro technique apps and Getting Things Done (GTD) app. This powerful combination allows the user to take all of the to-dos, prioritize and classify them in groups.
After the tasks have been grouped, the important ones that can be organized using the Pomodoro technique timer.
After a person creates an account, Pomotodo then walks the user through a detailed tutorial of how to use the system and the importance of each step. When the tutorial has been finished, the user can start compiling their to-do list and drag/drop the tasks in a prioritized order.
Once the list has been prioritized, the first Pomodoro can be started by clicking Start Pomo. Pomodoros can be attached to the to-do items so the time spent on them to finished can be tracked.
Goals can be set daily, weekly or monthly to improve on productivity levels using the Pomodoro productivity timer.
Pros
The to-do list and Pomodoro Timer are free to use

It is one of the efficient Pomodoro timer apps for iPhone
Cons
The basic price plan may be free to use, but it doesn't have a lot of features

The ticking sound of the timer can be distracting for users that want to focus on their work
Key Features
It has a simple and powerful to-do list.
After the Pomodoro has been completed, it can be logged and a timesheet can be generated.
Pomotodo Pro premium features give users work insights report delivered every week to their inbox.
Users also receive work statistics, best workday, time and relevant progress data.
Works on iOS, Android, Mac, and Windows and has a Chrome extension.
Customizable timer options to help the user focus on their tasks.
Pricing
Pomotodo basic plan is free that includes the use of the to-do list and Pomodoro timer; $3.90/month for the Pro plan, which allows the use of recurring to-do lists, pre-set goals, and customizable timer durations.
---

Tomato Timers is a Pomodoro timer online, which is known for its minimalistic and beautiful design. The purpose of this app is to enable the user to become more productive and concentrate on their daily work and study session with impeccable focus.
Known as one of the Pomodoro time management apps and Pomodoro productivity timer, Tomato Timer allows the user to customize the time features to their needs. This app boosts a person's productivity and focus, through its minimalistic set-up.
The Tomato Timer works like a regular 25 minute Pomodoro. After the 25 minute work time, a short 5-minute break is given. This process is repeated until the task is complete and removed from the to-do list. After the fourth Pomodoro, a longer break can be taken.
Pros
It is simple to use and all navigation is done on a single screen

The design interface is based on Minimal Design Monochrome Color Design, which makes it aesthetically pleasing for the user and not as overly flashy
Cons
The timer doesn't ring when the phone screen is off and will only track the time when the app is running in the forefront

Even though it is available for the web, Android and iOS – the mobile app has more features
Key Features
The timers can customize short and long breaks.
It has a built-in Task Manager to create a checklist or notes.
The notifications can be adjusted for the control timer and the pause timer.
There is a Loop Mode for an automatic timer that keeps the screen on option active.
There is a counter feature for the user to track their required task target.
They have created a cute Tomato Guy animated to motivate the user.
Pricing
Tomato Timers is free to use, however, it has a premium plan for $1.99. It is known as the Focus Hub-Study Timer on iOS. The premium helps manage workflows and manages tasks productively.
---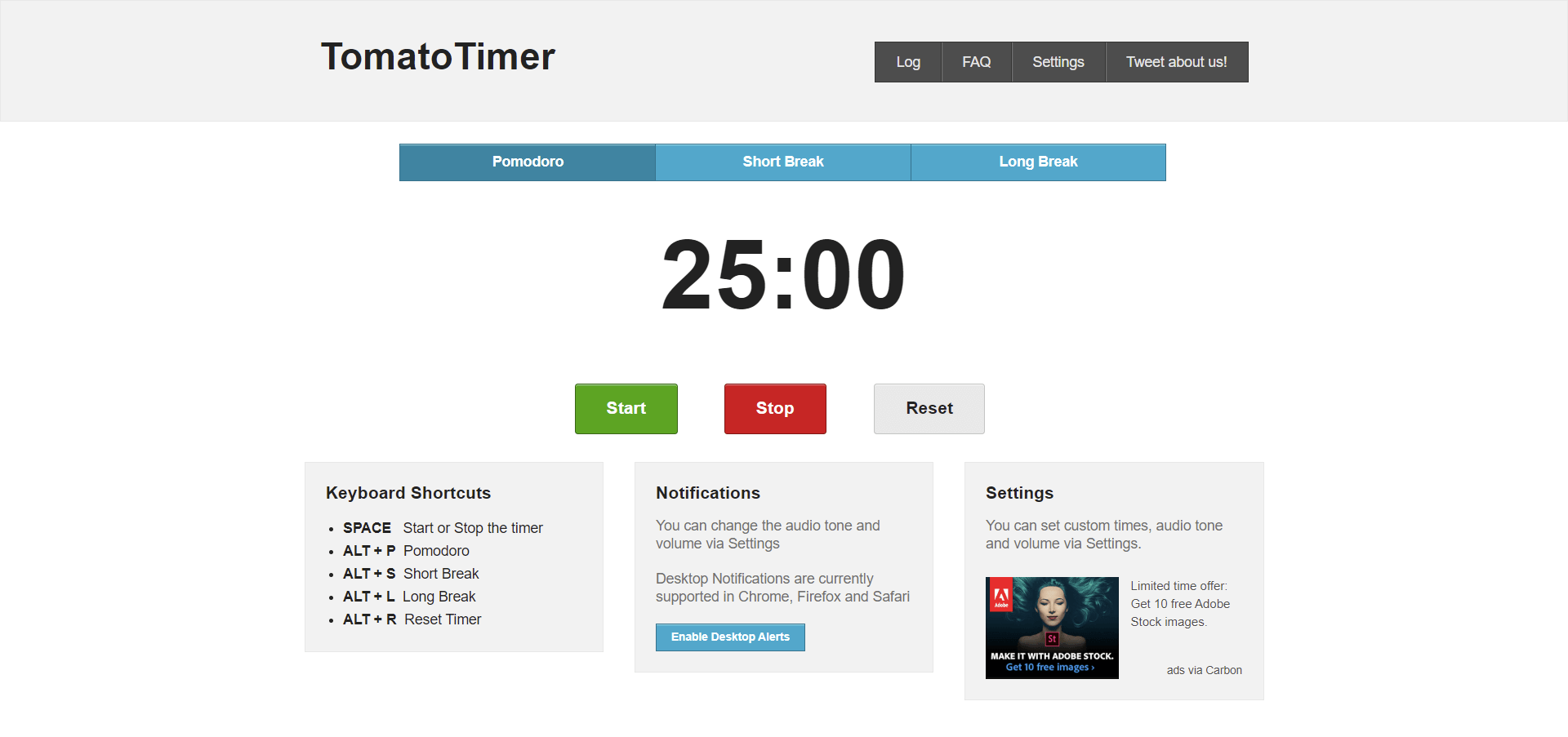 Different from the Pomodoro method timer stated above, Tomato Timer is an only web-based Pomodoro timer. It also uses iQuery to manage its simplistic functions.
It has pretty basic HTML5 features such as; desktop notifications, audio API and it relies on local storage as opposed to Adobe Flash and additional technologies.
TomatoTimer has pretty basic steps to operate. The user has to choose their task, set the Pomodoro timer online for 25 minutes. They need to keep working until the time is up and record with an X, then take a short 5-minute break.
After every four Pomodoros have been completed, the short break time can increase to a slightly longer one – 10 minutes.
Pros
The volume and audio tone can be changed through the Settings

Chrome, Firefox, and Safari support desktop notifications
Cons
It is only available on the web

It is very simple to use but lacks the recording of the user's history to track their progress
Key Features
Tomato Timer has a simple and clean cute design interface, which is also mobile-friendly.
The online timer can be paused or reset.
There are audio notifications when the time has ended.
It has a small description box of all the keyboard shortcuts that can be used to increase the user's speed.
The alert and volume sound can be altered to the user's whim via settings.
Timer intervals can be customized.
Pricing
Tomato Timer is free to use.
---
Flat Tomato is one of the Pomodoro apps for mac and Pomodoro timer apps for iPhone. It is the perfect app for those who want to minimize distraction and keep track of how much time they spend on a particular task or study session.
They claim that they have over a million users and it is rated as one of the Top 10 productivity apps. And that they have Launched App Store featured page as Editors Choice at least a hundred times.
The Mac App Store has the full task management and statistics features available with the Mac OSX version.
Flat Tomato supports connectivity to Todoist and Evernote, along with integration with other apps. There is also a reward system for its users. The plus point is that it syncs all the user's progress to all the other Apple products.
Pros
It integrates all the other apps for statistical and data purposes.

There are tasks and project customization.
Cons
There is no tutorial guide for users

There are a bit too many hidden features that a user comes across when using this app, causing further confusion
Key Features
It syncs and backups across all the user's Apple devices.
Users can pick their favorite themes.
Siri can help the user with planning the workflow.
Timelines are set to increase productivity.
Amazing interactive animations are designed to increase the timer effectiveness.
Beautiful stats and pie-charts are created to help the user assess their efficiency.
Pricing
Flat Tomato is free to use. However, it does have add-on packages, which are:
$5.99 Perpetual Pro Upgrade
$5.99 Perpetual Pro Upgrade
$0.99 One Month Pro Upgrade
$2.99 POMO Tier3
$2.99 One Year Pro Upgrade
$1.99 POMO Tier2
$0.99 POMO Tier1
---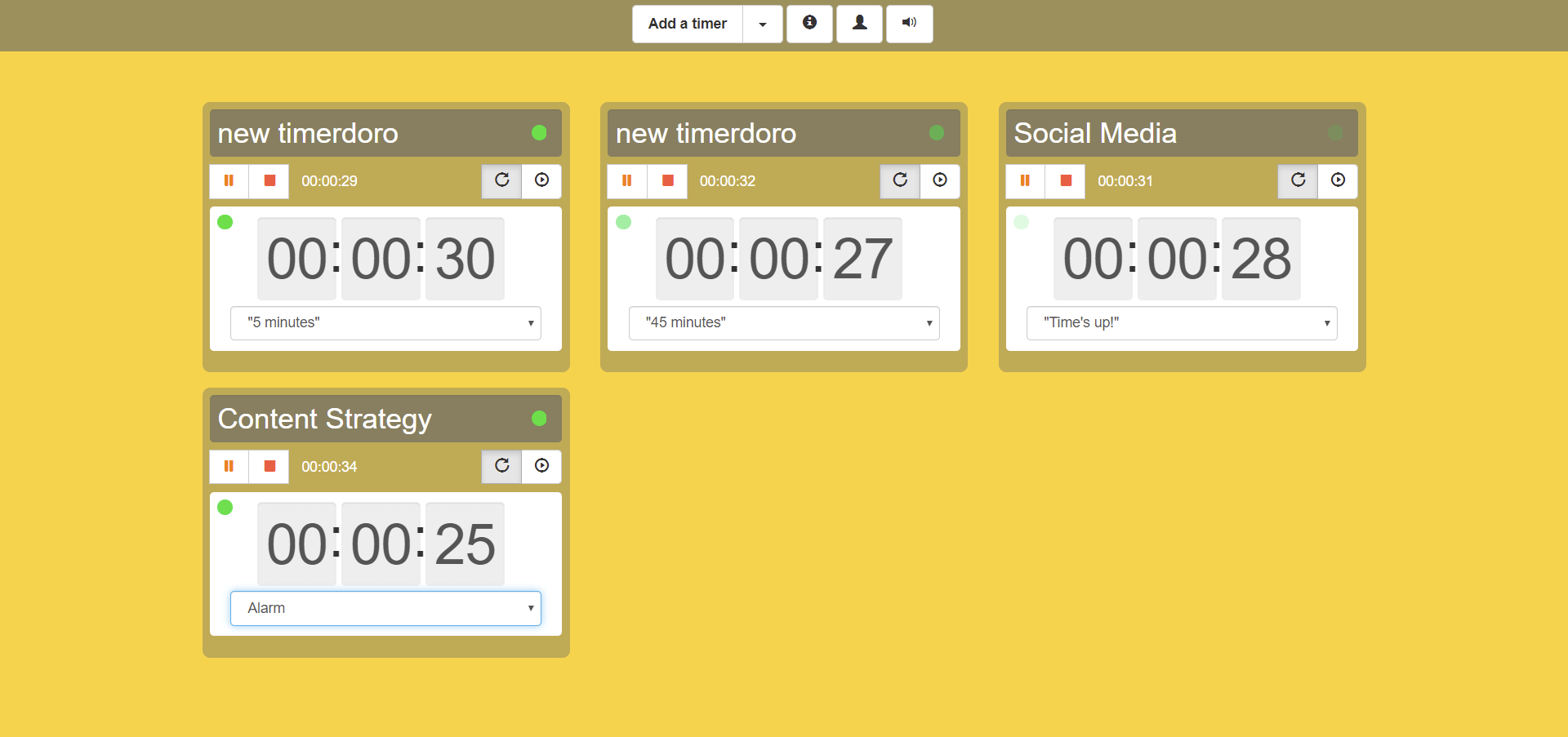 Simple to use, easy to set up and vastly accessible, Timerdoro more or less gives the user what you see is what you get a type of features. It is perfect for those who want to get some hardcore studying or work done and mix it well with leisure.
It aids users to remain focused on their task with timed notifications.
The app tracks time with precision, therefore, all the breaks and activities that happen are recorded and analyzed for productivity purposes. Timerdoro is available on multiple computers.
However, to save the timers used for later, the person must register and sign-in with an account. Sign-ins can also be done with either Google or Facebook accounts.
Timerdoro offers 4 types of timers:
Timerdoro
The classic Pomodoro
Eye Strain, which is primarily designed for people who work a lot behind the computer screen
GTD 2 minute task
The user is allowed to add as many timers as they need and they can customize the timers according to their needs and wants. Timerdoro is by far the best Pomodoro apps for studying.
Pros
The timer is simple and handy to use

The app can be run on multiple computers and has easy access
Cons
The functionality of this app is limited

Even though customization is possible, there are limits to how much customization can be done
Key Features
The purpose of the design is to reduce eye strain.
Forces the user to become punctual.
There is a vast increase in focus.
There are multiple timers.
The timers can be used on any of the computers.
Timers can be organized, instant updates and the overall app can be customized.
Pricing
Timerdoro is free of cost.
---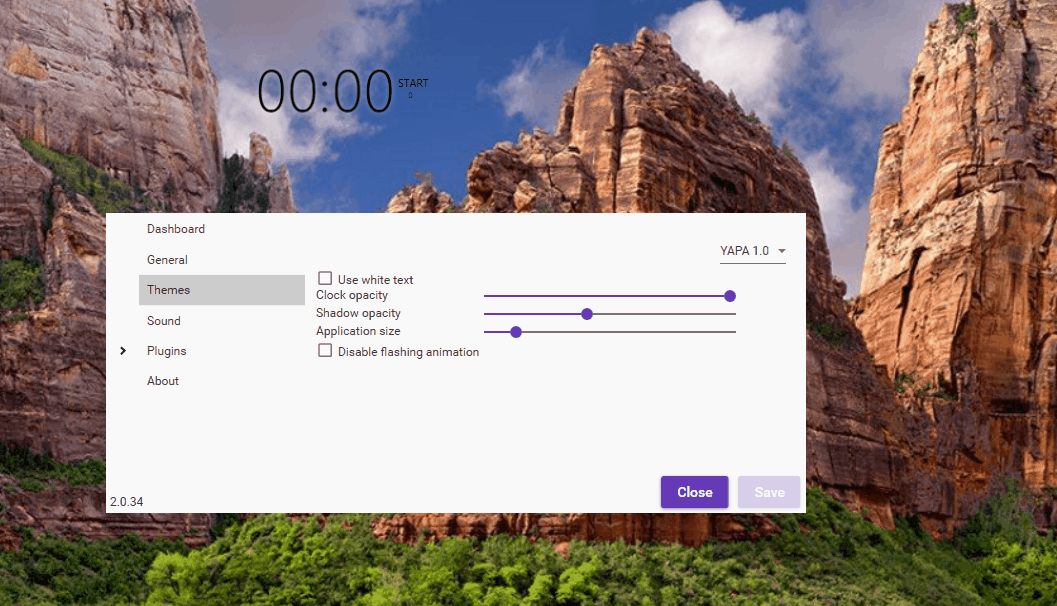 Yet Another Pomodoro App or YAPA-2 is a Pomodoro timer for Windows. It is great for those who want a minimalistic desktop timer. This is especially true for students who have to work extensively on the computer.
It allows the user to take a break after working on a task for a particular period and it also allows the user to customize the configuration setting for the Pomodoro intervals they use.
YAPA-2 is a free and open-source app, which allows it to provide advanced levels of customization.
YAPA-2 also supports work from the command line and this is suitable for those who find using a graphic interface disrupting. The commands are simple to apply and understand and can be configured by anyone.
Pros
A taskbar jump-list that can be used to manage the timer

It is pretty easy to configure, even a novice can use
Cons
It restarts automatically after a break

The installation of the app may be prevented by Windows Defender
Key Features
It has a Pomodoro counter
The app can be controlled using a jump-list
The periods for the Pomodoros can easily be configured
Time can be counted backward
If immediately starts a break after the Pomodoro is complete
It can also be customized to play music during work or break periods
YAPA-2 supports custom themes
Pricing
YAPA-2 is free of cost.
---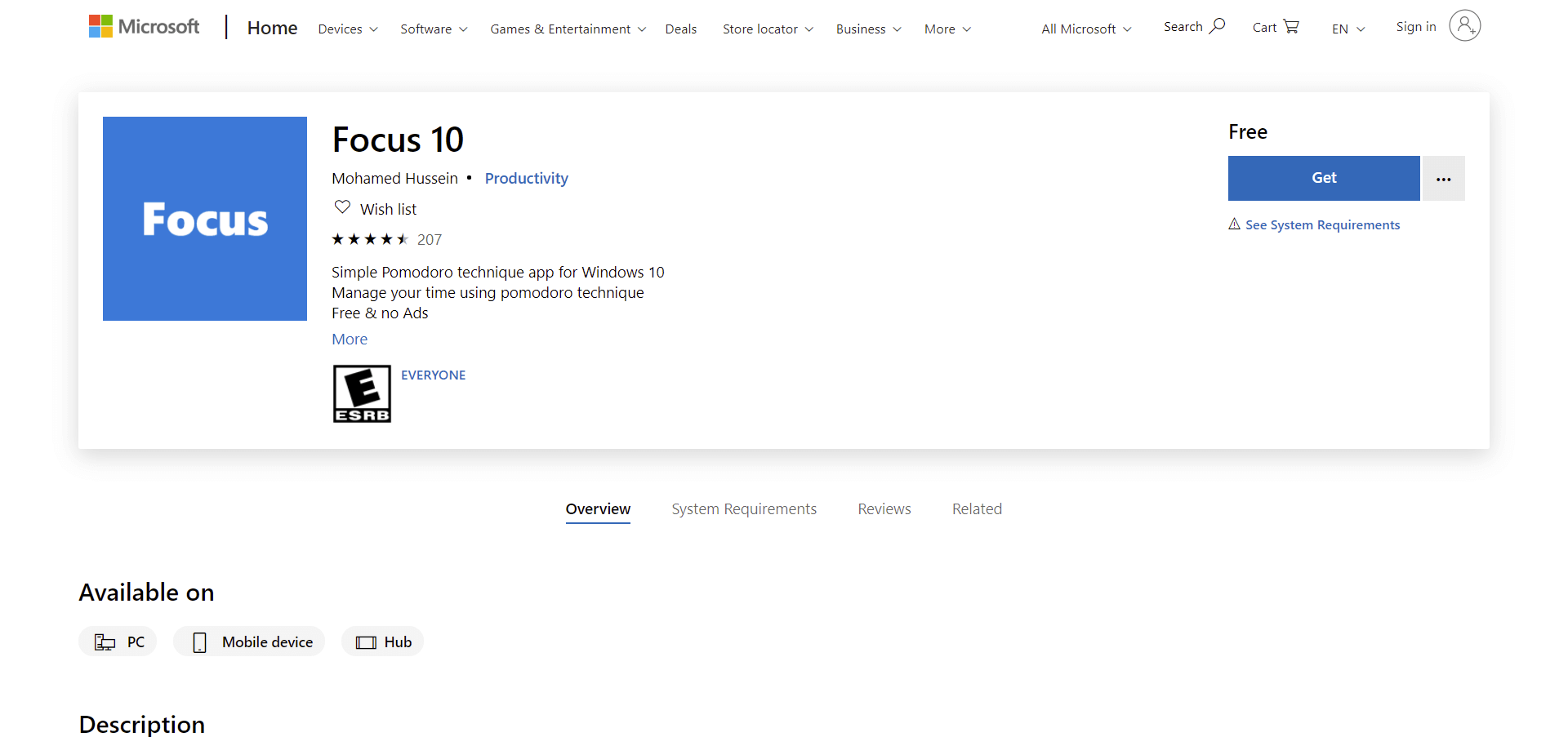 If you are a windows user, Focus 10 is the Pomodoro timer app for you. Made as one of the Pomodoro apps for windows, Focus 10's purpose is to provide optimal productivity and for the user to be able to improve their efficiency levels effectively.
Focus 10 has been localized to several different languages, which makes it easy for those who are not fluent in English. The app has an aesthetically pleasing perceptive interface and allows many personalized options.
It gives the feature of the default Pomodoro setting and allows timer customization. It also gives a data analysis of daily charts that help the user see their progress and perceive insight on how they want to improve.
Pros
Offers localized languages for different users across the globe

Customization can be done for many features
Con
It only works for Windows 10

It has the standard Pomodoro technique timer features, with few add-ons
Key Features
It is a simple Pomodoro technique app for Windows 10.
Helps the user manage their time using the Pomodoro technique.
It is free & has no Ads.
Works with Windows 10 desktop, laptops, and mobile devices.
Pomodoro time and break lengths can be customized on the settings page.
Has daily charts that can show data with the user's work progress.
Pricing
Focus 10 is free to download and use.
---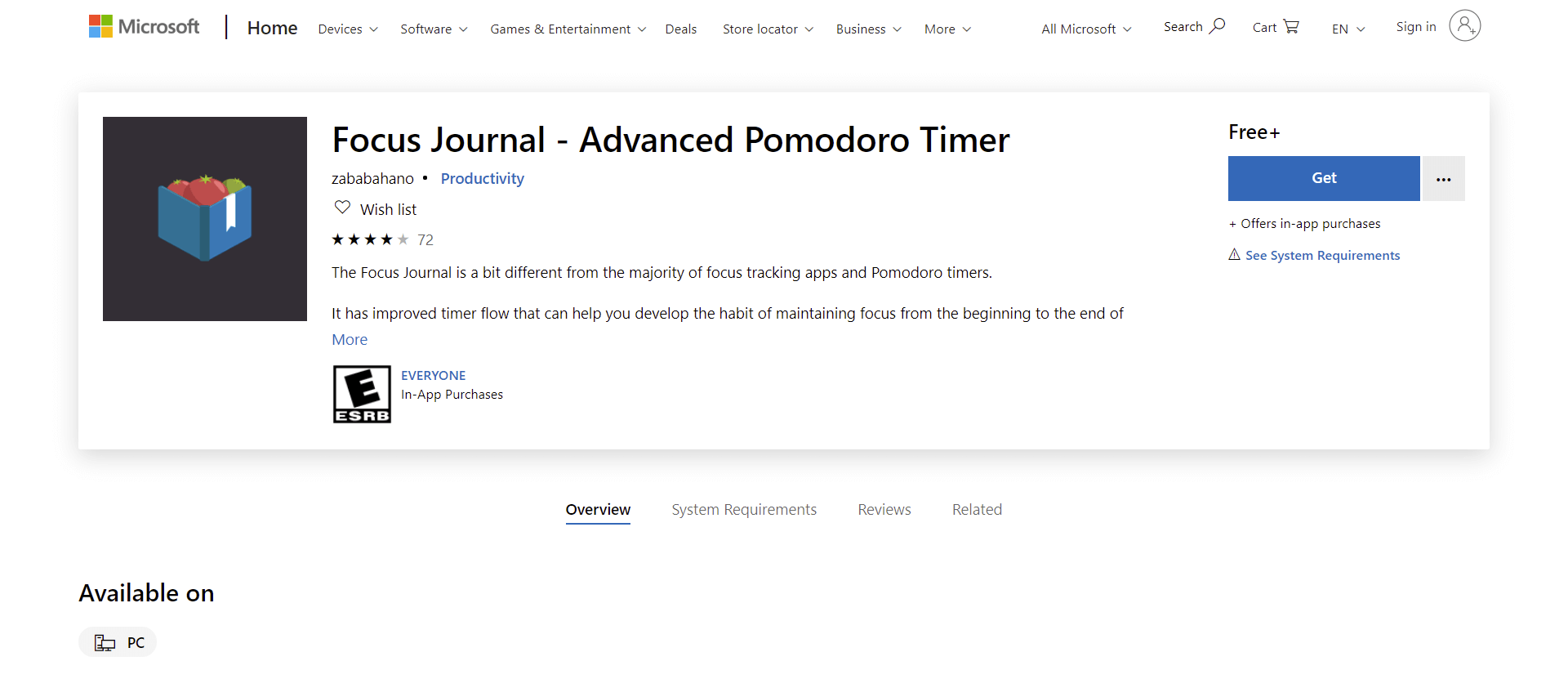 Most students want a simple and easy way to fight their terrible procrastination habits. Focus Journal offers students and working people just that level of focus and concentration. It allows the user to track their time intervals separately and see where they get distracted.
If the user is doing well with their work they receive a reward of red tomato and if they are doing poorly they receive a green tomato. This reward system forces the user to become motivated and work harder with a better sense of focus.
Focus Journal also provides an informative chart of user activity to let them analyze their work ethics and if they have achieved their desired results. The purpose of this app is to help users develop a habitual focused work process.
Pros
Helps the user develop a habit of maintaining focus

Shares weekly and monthly productivity stats with its users
Cons
It does not have the synchronizing feature

There is no tutorial to help the user understand how the new auto-distraction mode works
Key Features
It helps track-focused activity separately.
It tracks individual frameworks that are important to the user.
Weekly and monthly statistics reports for analysis is shared.
It allows the user to develop a sense of focus as to why the Pomodoro is being turned on to increase focus.
It uses the Pomodoro effect of tomatoes to determine the effectiveness of the efficiency of work. For example, red tomatoes are for a job well done and green tomatoes are for incomplete tasks.
It helps users become aware of the actual distribution of time within their tasks.
Pricing
Focus Journal is free to download and use.
---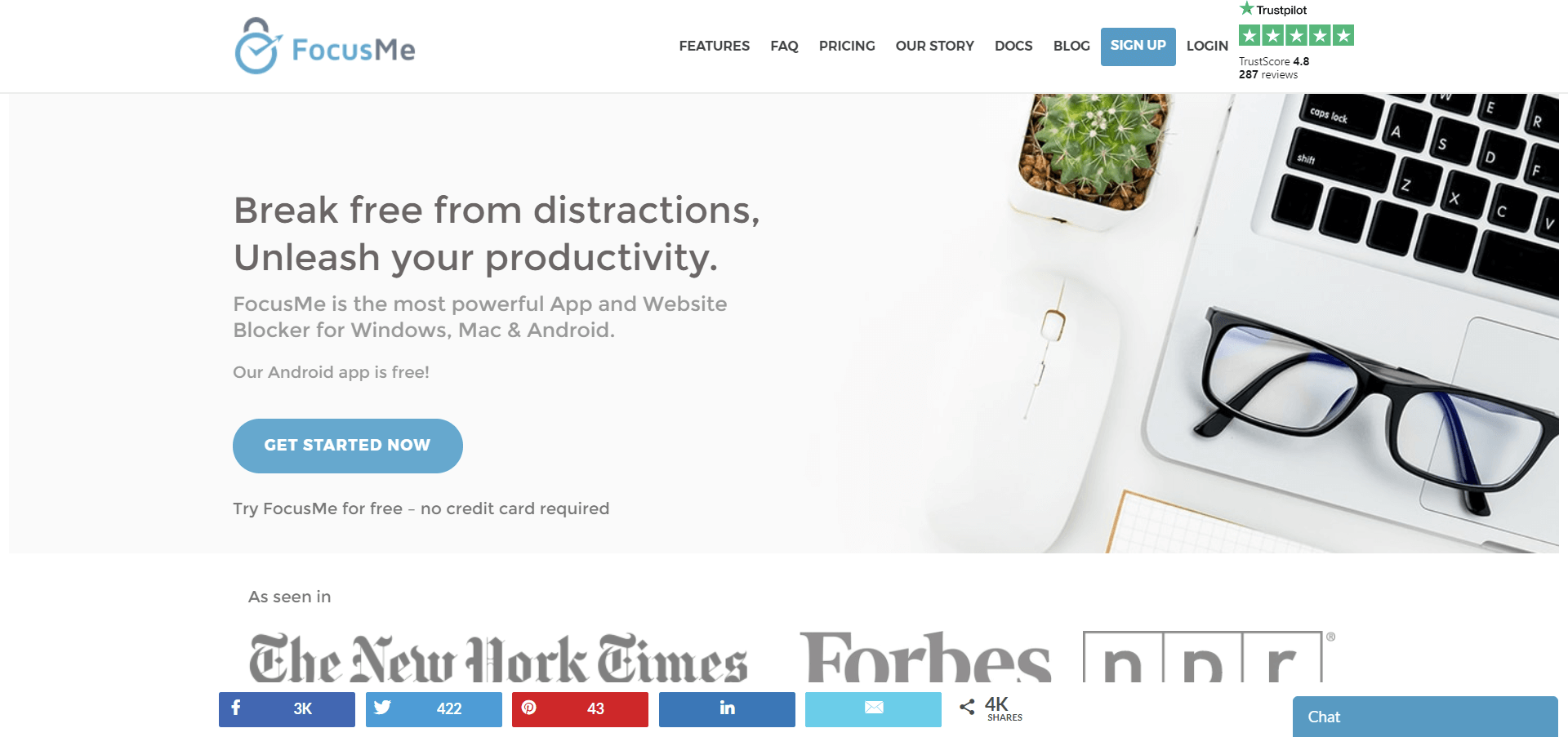 FocusMe is a Pomodoro technique timer tool that was created with the purpose to help people rid of distractions while working throughout the day. It allows the user to schedule and plays their sessions beforehand to increase their focus and stick to the plan.
This app blocks distracting websites and applications while the user is working. All of this can be done by configuring the settings.  Focus Me runs in the background monitoring activities as the user continues their work.
The best part is that, if the information is stored by the user in their PC, it is never uploaded. Hence, the user's privacy rights are not violated.  Also, if the user visits a blocked website, this app will detect it and shut it down.
Pros
It is simple and easy to use

It has a great online tech support team and system
Cons
Focus Me has a very powerful blocking system that can come on as forced mode.

The forced blocking mode will not stop until the timer is up, even restarting the system will not help.
Key Features
The Scheduler allows the user to plan all of their sessions a week before.
It helps boost their productivity by reminding them to take breaks.
It has a built-in Pomodoro timer.
Users can easily block websites that waste time and cause distractions.
It can also whitelist certain websites or cloud-based services so it can help the user work with ease.
The setup of the software is complete in two minutes.
Pricing
FocusMe is free at the moment, but the developers may create a premium version in the future.
---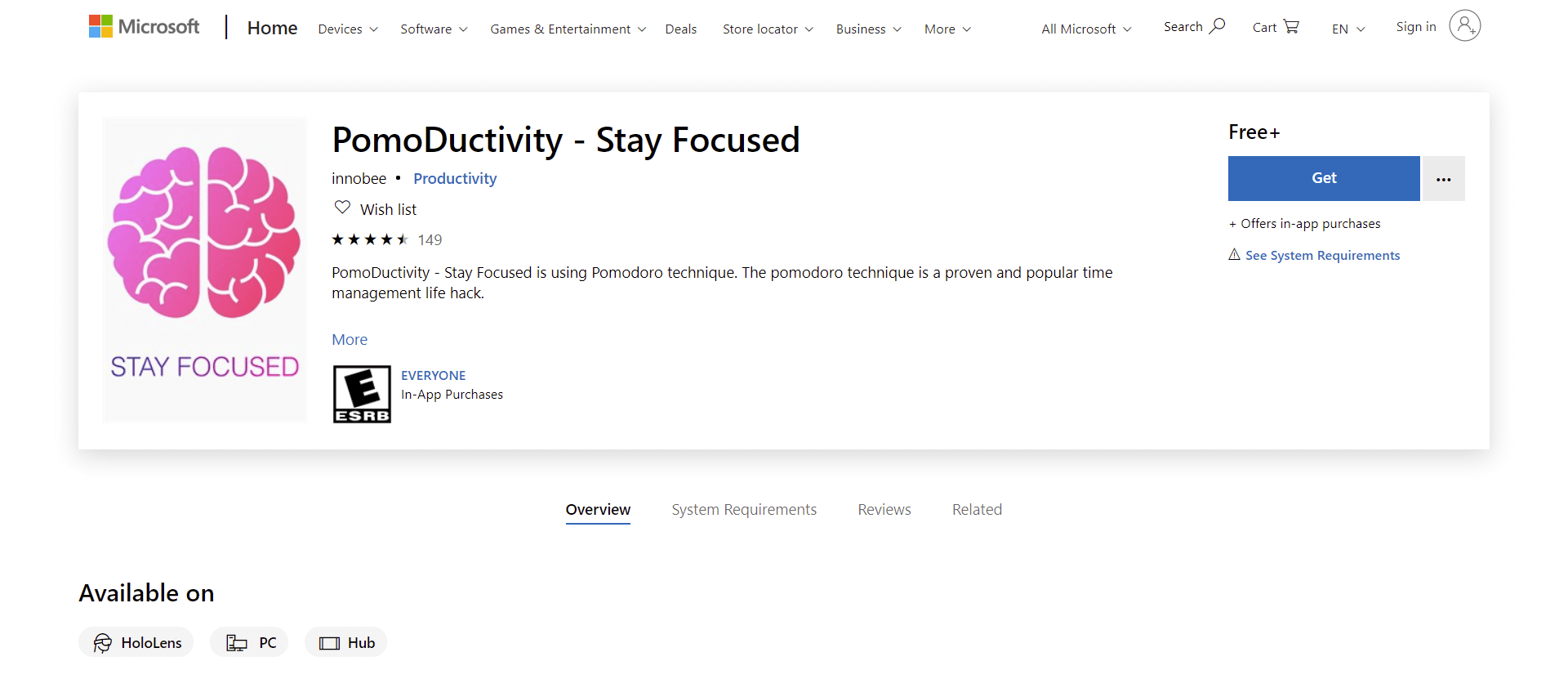 The PomoDuctivity app is a Pomodoro technique app that is known to provide great efficiency-driven results. The purpose of developers creating PomoDuctivity was to enhance the focus retention for the users, all while completing their tasks.
These time intervals can be turned on or off at the user's will, they can do this applying the on-screen playback controls. This, in turn, amplifies that the tasks will not be interrupted.
Also if need be, the task time can be reset or aborted whenever they want by using these controls.
The typical Pomodoro session time and technique is used by this app, including the preset break time as well. Statistics and data are also provided by this app to help the user improve their work or study process.
Pros
Provides daily productivity improvement data and insight features

Shows great results in the improvement of retaining focus and work productivity
Cons
Doesn't allow task management in batches

It has limited structure when it comes to predefined time intervals
Key Features
It has a time tracker, which tracks periods followed by the Pomodoro technique.
The user can customize periods.
Allows a proficient increase in task management.
It also supports Google Tasks, Microsoft To-Do, and Trello (in the future) integration.
It provides a leaderboard to keep track of productivity progress.
PomoDuctivity reports daily and weekly top users.
Statistics on the number of completed tasks, number of intervals and on the number of minutes completed.
Pricing
PomoDuctivity can be downloaded from the Microsoft Store for free.
---
Further Reading
The Pomodoro Study Technique for Students
The best way for students to make their study method effective is to apply the Pomodoro Technique to their process. This technique is great for students who want to minimize distractions and put an end to procrastination and pulling all-nighters to cram the course.
It helps the students manage a whole workday into small sections or portions. Through this process, they learn to grasp the effectiveness of time management and how long it takes them to finish a particular task.
The timer is set for a short period of 25 minutes, which is called a Pomodoro. After the period is over it rings for the person to stop working and take a 5 to 10-minute break. Next, the person repeats the process until the task or course is complete.
The Pomodoro Technique for studying gives the student intense bursts of time separated by breaks.
These time sections allow the student to have better motivation, increased concentration, more determined, elevated levels of energy because of the slight time pressure and refreshed by mini-breaks.
Why is a Pomodoro's Duration 25 Minutes?
As mentioned before, a Pomodoro is normally broken down to a 25-minute work interval period, followed by a short break of 5 to 10 minutes. To this day no one is not quite sure as to why the interval is divided into 25 minutes.
There is no substantiated evidence to make us understand the rationale as to why there is a 25 minute time period. However, most users tweak the length of their Pomodoro sprints and the break intervals according to their needs.
However, it is more or less understood and noticed, that short iterations are completed far more quickly. It is easier for users to stay focused during those small periods because they will have the pressure of finishing the task at hand as soon as possible.
If the selected periods are longer, that means the breaks will be longer as well. It all depends on the rhythm the users develop for their workflow or in this case study flow.
Nonetheless, it is not advised to constantly change the length of the Pomodoros, because that will destroy the flow of the whole process.
So, which are the best Pomodoro apps that best suit your needs? And if you were to pick a Pomodoro timer app to use, which one would it be? Let us know in the comments below.
Staying focused and productive in a fast-paced life where we are all always multiple-tasking, is difficult. Hopefully, the detailed reviews of Pomodoro time management apps will help you not only manage work but also your personal life.
---
Other SaaSy goodness on All That SaaS: