Construction management software is a project management platform. It helps companies in controlling a project's time, cost, and quality. This software is designed to make construction business processes automated.
The features of the best Construction Project Management Software include specifying project objectives, budgeting, scheduling, and maximizing resource efficiency. Developers have developed Construction project management software to streamline day-to-day tasks.
FAQs
The Best Construction Project Management Software in 2023
By doing so, it improves the delivery of projects. This impacts the bottom line of construction companies.
If you are working in the construction business, this list is for you. You ought to consider having one of the best construction management software for better efficiency.
---
What Are the Best Construction Project Management Apps?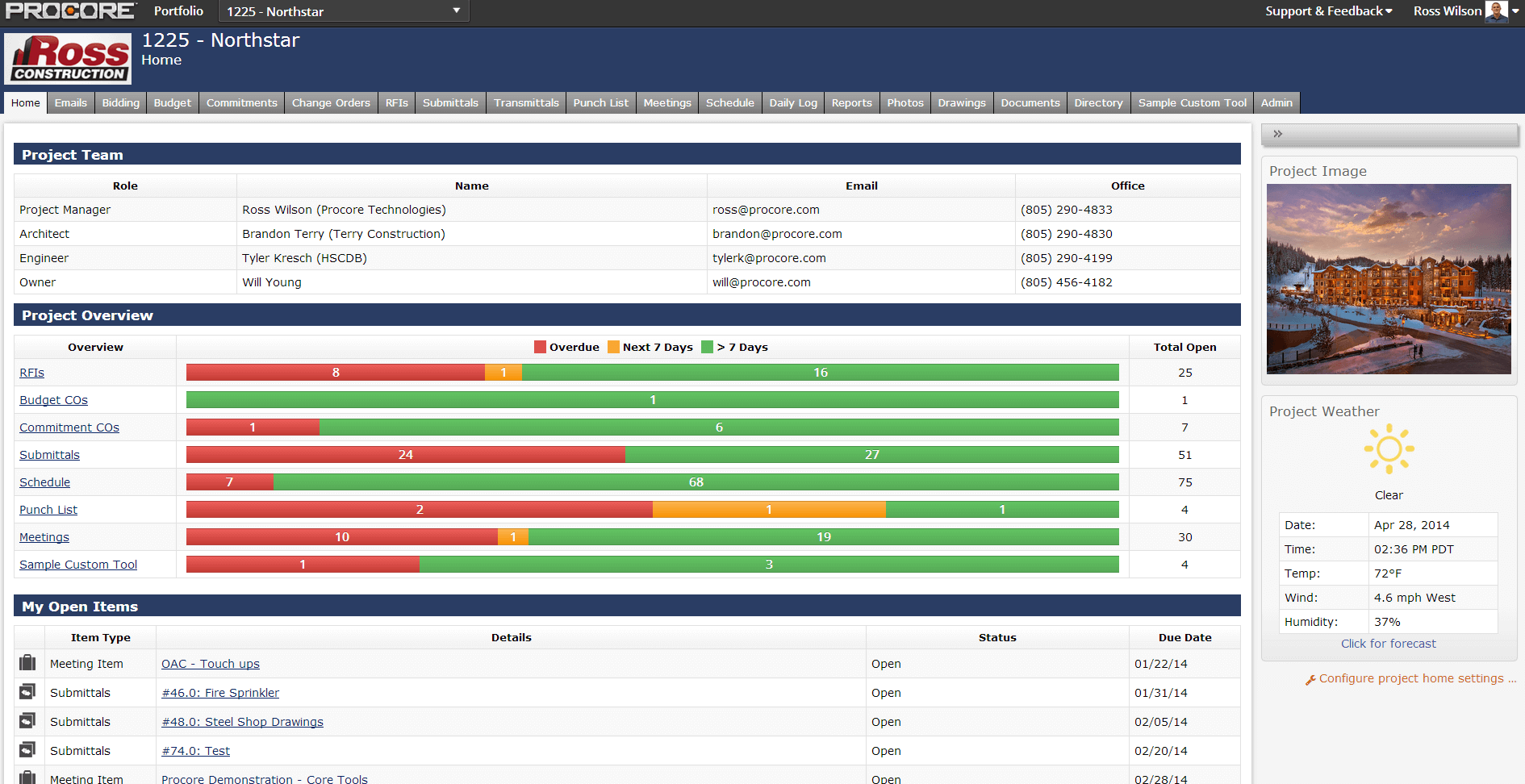 Procore offers one central work hub to connect teams, applications, and devices. It is a leading cloud-based construction management software. Procore manages the project lifecycle from bidding to closeout.
It provides real-time collaboration with the team anytime from anywhere. Moreover, it covers the whole functionality for project management, quality, safety, construction financials.
With the help of ProCore, construction professionals can build quality projects safely, on time, and within budget.
Key Features
It provides its users with unlimited storage, which lets them store everything related to projects.
Since it is a cloud-based program, ProCore is easily accessible everywhere on any device. So users can complete construction management tasks on the go.
ProCore also gives a design coordination feature helps, which acts as a quick problem-solver faster for design teams and field operations.
There is also a daily log feature that captures all day-to-day activities on the job site and helps the construction project management stay on the scheduled timelines.
ProCare also provides organized documentation of projects by keeping everything stored in one place. This is very convenient since all the data is accessible from one place.
The project can be built with extreme efficiency since it allows both field and office teams to collaborate from one place.
It allows the project manager to connect with the job site, enabling them to identify and understand the issues that may cause safety hazards.
Pricing
ProCore offers three different pricing plans for you to choose from:
Project Management – at $375 per month it offers complete management of your projects with accurate information.
Project Management and Financials – at $549 per month this plan provides financial assistance along with project management. You can cut cost exposure and automate the process.
Custom Plan – You can purchase many products together by availing of custom plans.
---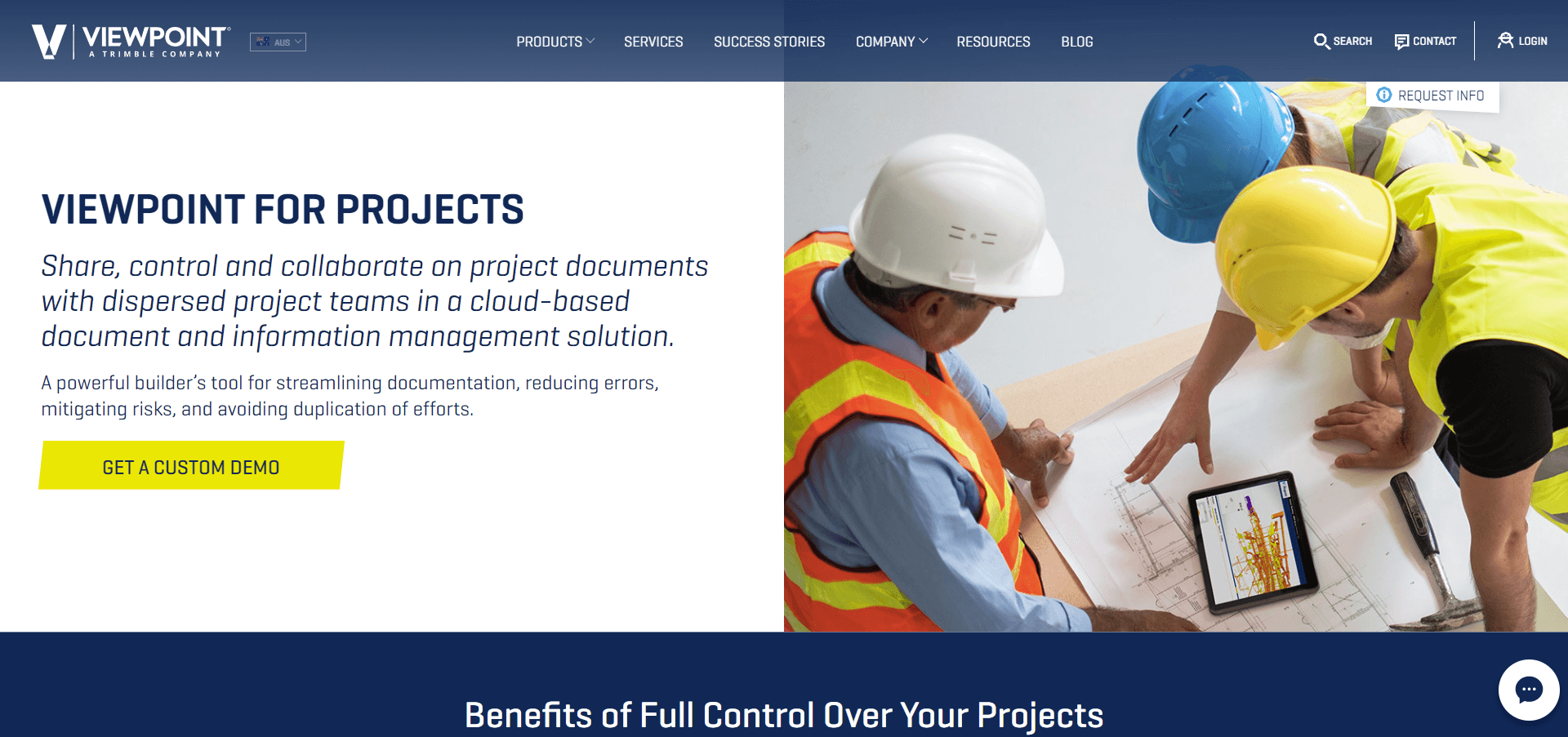 The viewPoint provides the tools required to improve project profitability and visibility. It manages risk and helps in effective collaboration with the project team. Viewpoint offers a well-designed SQL-based Construction Accounting suite of services to manage projects.
This suite offers enterprise resource planning, BIM collaboration, mobile field-to-office, and content management. These services are available in the cloud, as SaaS, and as on-premise solutions.
Key Features
The user interface is user-friendly, and it comes with an integrated system that is great for connecting workflows under one management suite.
ViewPoint provides construction project management, which allows projects to be completed on time and within the given budget.
It has the construction reporting feature that gives business intelligence and real-time reporting, which lets the user remain profitable and enhance decision making.
ViewPoint applies submittal and RFI modules to upload and keep track of information. This allows all the data to be kept up to date.
There is a job costing feature that records payrolls, invoicing, change in order, manages costs, and helps the user stay profitable.
The service management feature helps the non-seasonal part of the business grow. It does so by stabilizing cash flows, enhancing tech & customer service, and enabling mobile service management.
ViewPoint can be used by anyone, at any time, from any device. Users can get accurate data on the go from any device.
Pricing
ViewPoint does not offer a free trial and their pricing plans are only available via contact inquiry.
---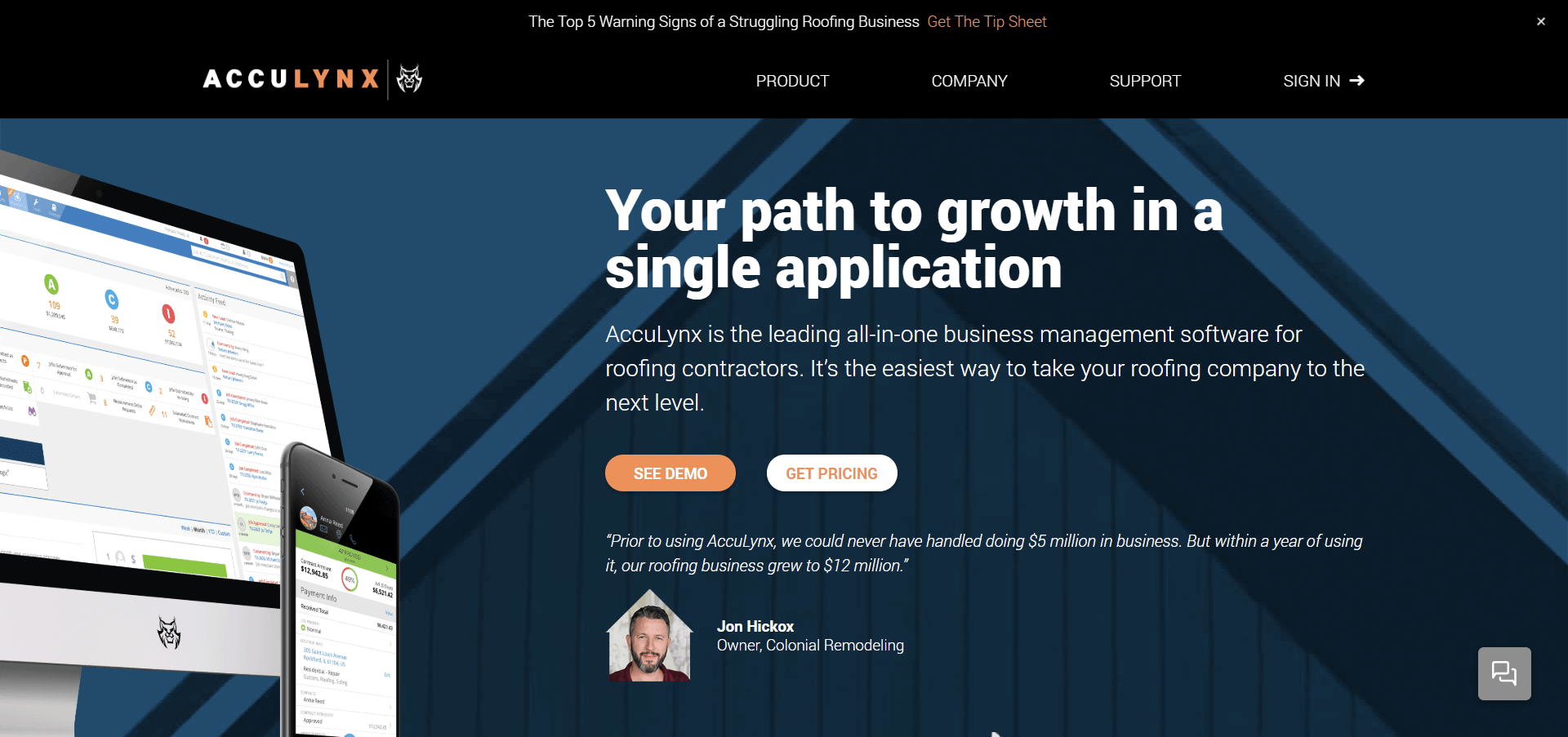 AccuLynx is a combination of project and document management, and a catch-all system for contractors. It is one of the most powerful tools for any construction business. Packed with powerful features, it is the roofing industry's most trusted software application.
AccuLynx offers tools to help users manage jobs from an initial lead to the final invoice. It ensures that everyone has the most updated information about the projects.
Key Features
AccuLynx provides all of its users top-notch 24/7 customer support. The customer is always given preferential treatment.
Since AccuLynx's main purpose is to deliver expected results, it comes with powerful and integrated features, which make workflow processes easy and help grow profits.
As a roofing software, it brings the entire business department together and provides work order management.
AccuLynx also amplifies customer relationship management, allowing the user to track their sales process from the initial time to the receipt process.
Project estimates can be created in seconds from the library of templates, customize and apply the necessary amenities, and click send.
It connects teams and unifies all the projects, allows everyone to make informed decisions, increasing productivity, saves time, all of which lead to increases profits.
There is a lead API that helps remove all duplicate data entries by automatically importing the relevant information from the web, lead forms, external websites, and landing pages.
Pricing
AccuLynx provides a free trial to the users. Their pricing plans are available upon request. They also offer a demo to help you understand the software better.
---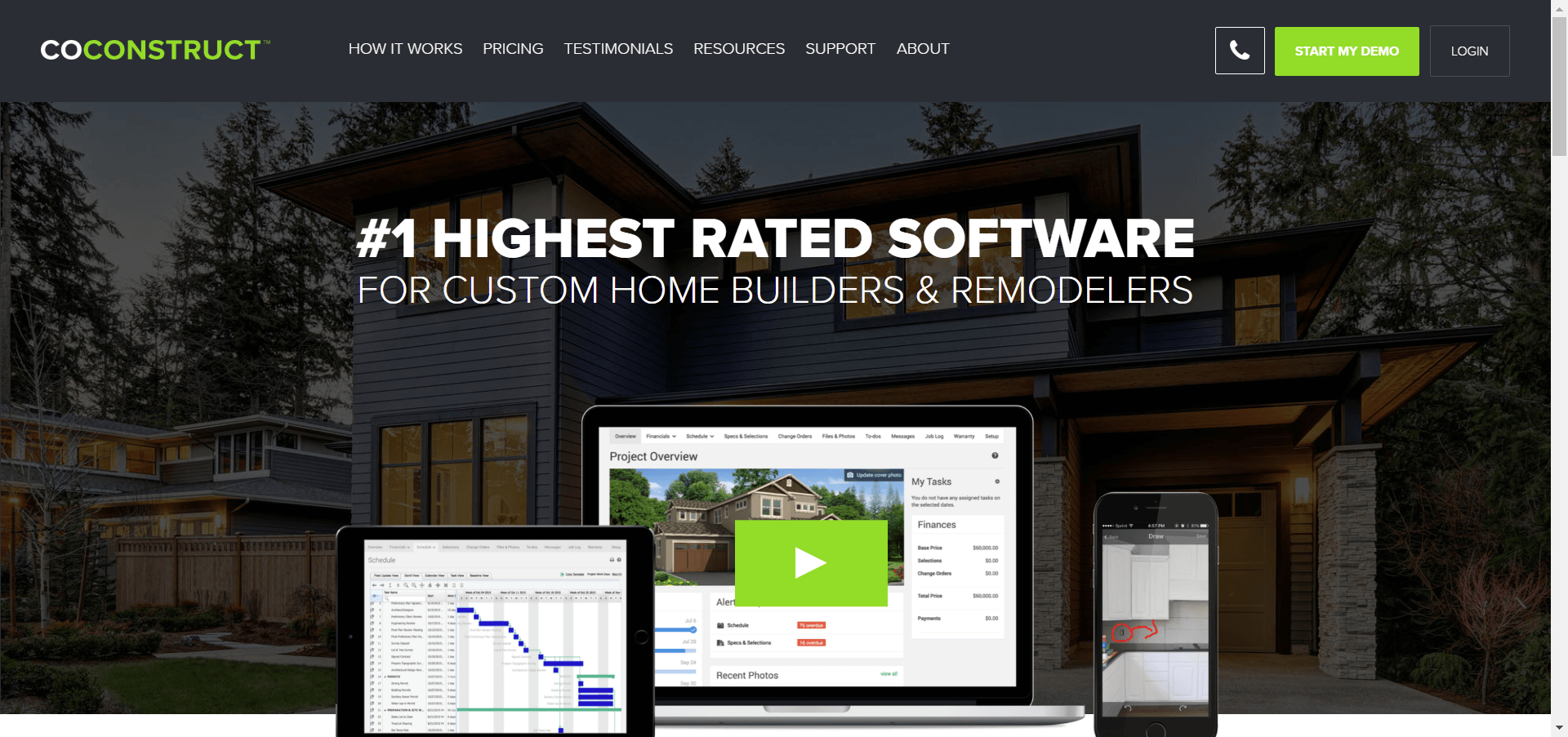 CoConstruct is designed for custom home builders and remodelers to optimize their day-to-day operations. It has three well-designed functionality modules.
These modules help users with projects, budgeting, client communication, and activity planning. It also offers apps for Android and iOS users.
What makes CoConstruct unique compared to similar solutions is its customizable design. This is CoConstruct's key secret for streamlining communication with customers.
It is a web-based platform that assists builders and remodelers to face common challenges related to their projects.
Key Features
Users can coordinate their projects by scheduling field and office tasks together, streamlining bidding, keeping track of the to-do list, and sharing data.
CoConstruct helps users improve communication with clients and the crew, manage and track orders and expenses, and create effortless proposals and much more.
This software can also be used to control financials by streamlining bidding, helping budget and forecast project costs, single-entry estimating, and much more.
CoConstruct has a template creator that decreases the decision-making that lands new projects and increases the accuracy of estimating any specifications.
It allows the user to communicate in more detail with less time, by uploading and viewing 360-degree photos.
CoConstruct has a Warranty Page, which allows the user to track and manage warranty requests, warranty check-ins, and punch-list items.
They also conduct webinars in which let customers interact with CoConstruct teammates and other CoConstruct users all around the world.
Pricing
CoConstruct does not offer a free trial. However, it has three pricing plans to accommodate users according to their needs.
Core – at $199 per month manage your project schedules and finances on the cloud.
STANDARD – at $249 per month increase your efficiency by bringing business management into one place.
PLUS – a $299 per month Increase collaboration for the rewarding building experience
---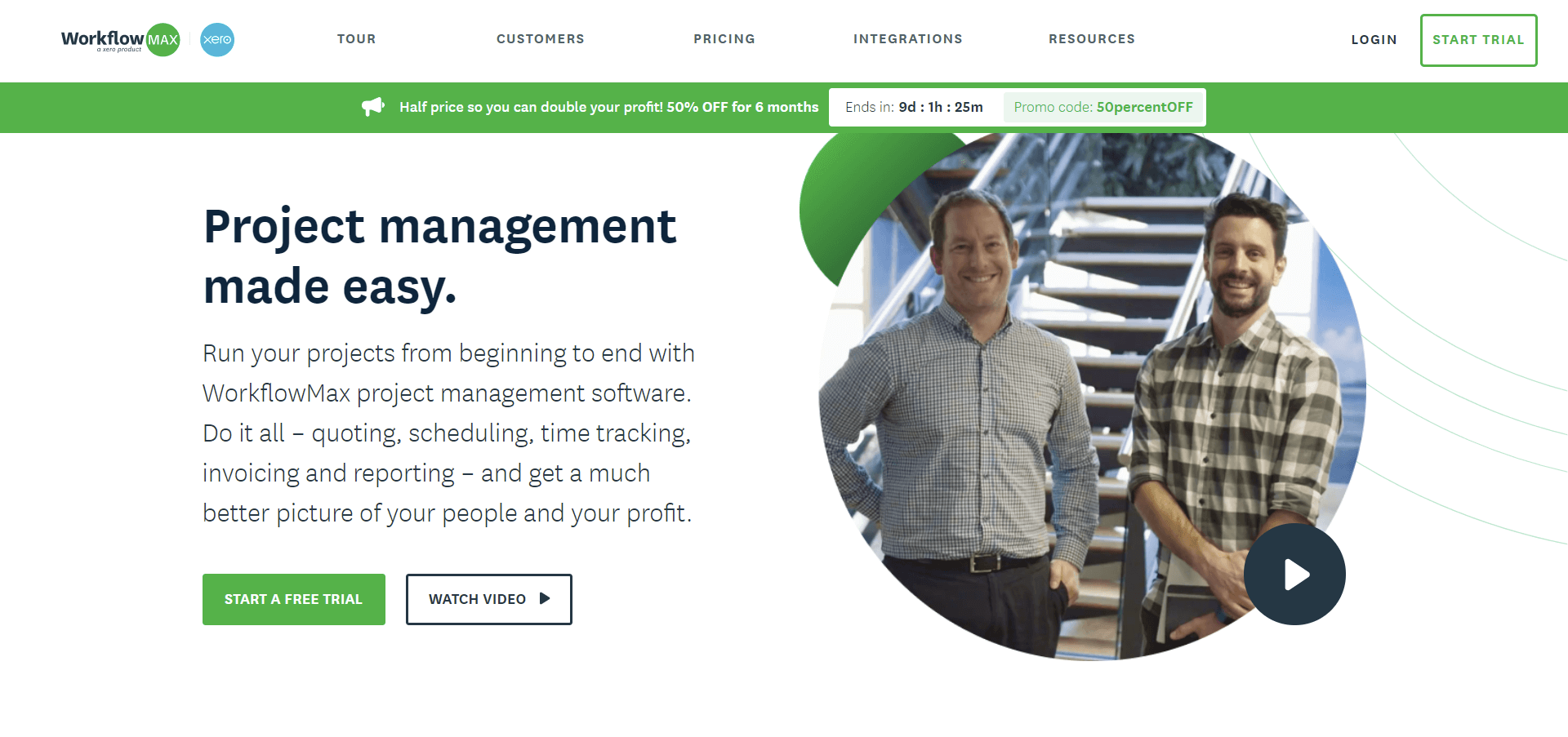 WorkflowMax is a cloud-based project management solution built to take care of all your business management needs. It is loved by 10,000+ businesses. It provides project tracking, timesheets, reporting, job monitoring, and other powerful features.
WorkflowMax is acquired by Xero and offers seamless integration with Xero's business software and systems. This software focuses on maximizing your profitability. It also sorts out all your project needs within one system.
Key Features
WorkflowMax has a job management feature that lets the user manage all tasks, people, and jobs all from one system.
There is a time tracking feature, which tracks and reports every minute and has more than eight ways to enter time.
It also has a budget management feature that helps the user see their profitability, and makes sure that they are not overcharging the client.
WorkflowMax provides around-the-clock email support, which means customer support is available at any time with and with a good response rate.
It integrates well with other software, such as Xero, Zendesk, Freshdesk, Box, Dropbox, etc.
Users can send their clients professionally branded, customized quotes within a few minutes.
WorkflowMax gives lead management, where the user can track their leads, proposals, and sales from one place.
Pricing
WorkflowMax offers simple-tiered pricing plans based on the number of users. A 14-day free trial is available to try out its features without any commitments. After the trial, you may continue using the service by choosing from their pricing plans.
All these plans include features like invoicing, Xero's integration, client management. The only difference is the number of users.
1 user – $15/month
2-5 users – $49/month
6-10 users – $110/month
11-20 users – $170/month
21-50 users – $250/month
50+ users – Custom pricing
There are further upgradations also available according to your business needs:
Lead Manager (CRM) module – $15/month
WorkflowMax premium – $50/month
---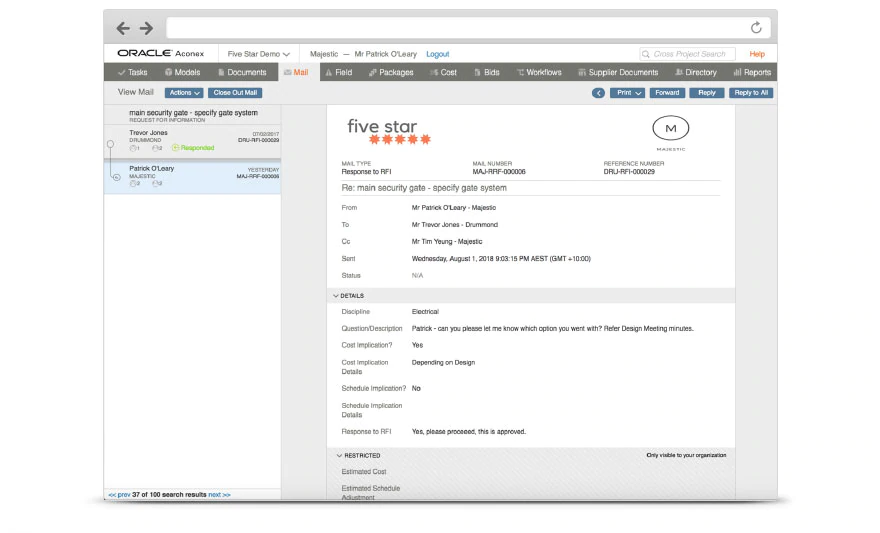 Aconex is a construction management software launched by Oracle's Construction and Engineering Cloud platform. It's centered around connectivity between teams on construction and engineering projects.
The solution aims to become your construction project's single source of truth by managing your information and processes.
It has tools for document management, workflow automation, and project controls to assist you. Along with these features, Aconex also offers BIM file management and process control. With efficient connectivity, Aconex promotes collaboration and data visibility in time-intensive tasks.
Key Features
Unlimited users and data can be managed, which means documents and models of any size, type, and several files.
Communication channels are not limited, there is a standardized digital process that gives complete project access and visibility.
The building information modeling (BIM) mobile app allows access to onsite models and data, which improves communication and decreases errors and rework.
It has one-click integration with Oracle's Primavera P6 Enterprise Project Portfolio Management, which syncs budgets and schedules consistently.
Issue capture can be customized to the users' needs, this lets them capture data that is important to them, including defects, snags, and punch lists.
Data accuracy is improved because project-wide access is given to the users, which allows them to have a birds-eye view of the project giving them one source of reporting.
Users are given top-notch customer support that is available 24/7 via service desk and online help via support central, anywhere at any time.
Pricing
Oracle Aconex offers customizable pricing plans. These plans are devised to accommodate the varying needs of different businesses upon request. For further details about their pricing plans, contact the vendors.
---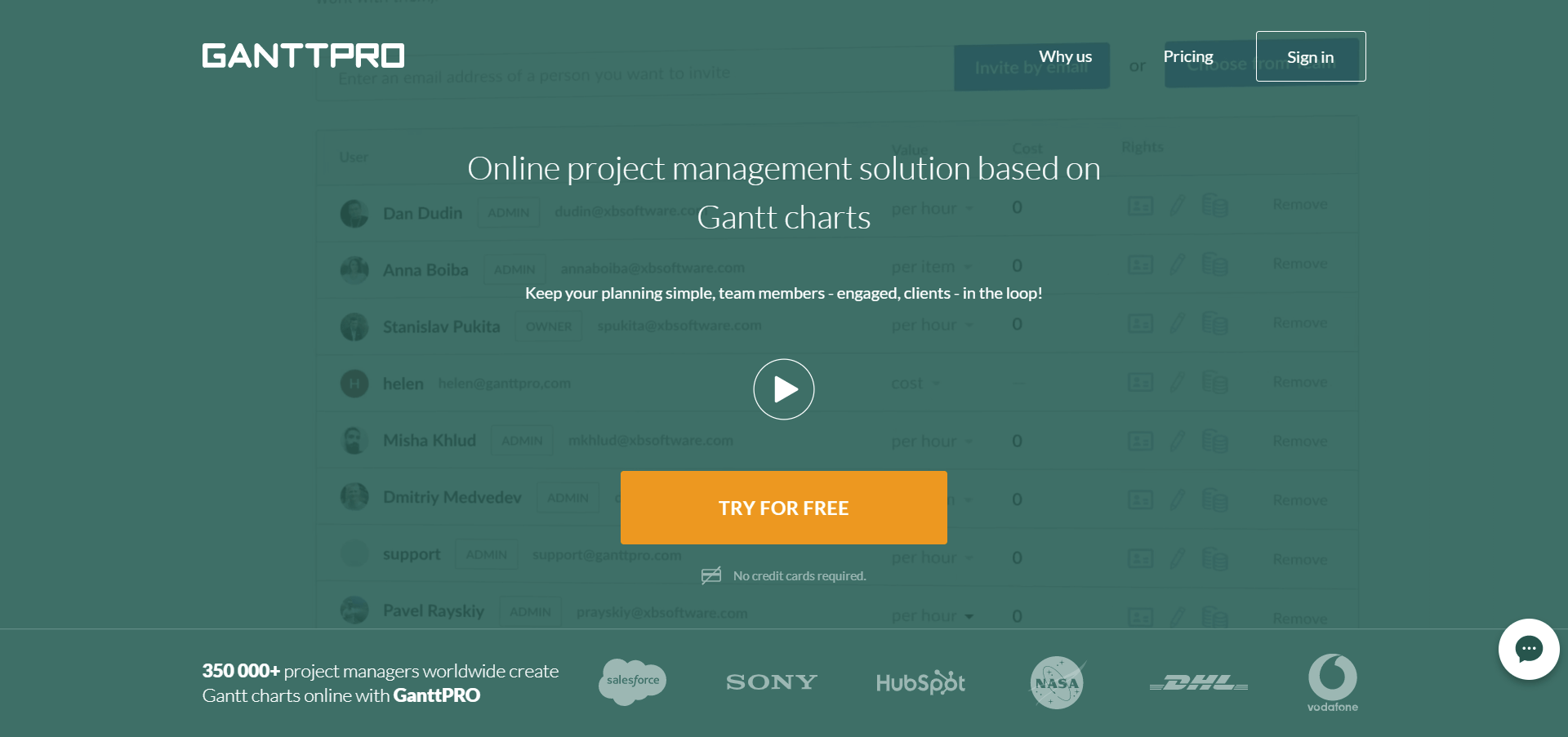 GanttPRO is an online Gantt chart software. It helps project managers to efficiently and effectively plan for their projects. It is used by 350K+ users worldwide. This software provides Gantt charts, scheduling, progress tracking, and much more.
Users all over the world trust it to keep their planning simple, team members – engaged, and partners – in the loop. Users can either build projects from scratch or use the inbuilt project plan templates. The user-friendly UX/UI design enables users to start working right away.
Key Features
Users can plan and control many projects in one go with the help of the interactive online Gantt chart software.
Resources can be added to Gantt charts and connected to particular tasks on the timeline. The cost per hour can be set for a resource and the time spent on managing the task.
Multiple projects can be planned online simultaneously, with the help of automatic online project scheduling and the simple drag and drop feature.
Team progress can be managed and tracked with the team management software, and the online Gantt chart maker.
A Gantt chart timeline can be created to set accurate estimates and manage resources sensibly.
Projects can be split into groups of tasks, subtasks, and milestones. Tasks can be organized and scheduled, due dates along with durations, and dependencies can be set.
Pricing
GanttPRO offers a free 14-day trial version to test the tool or even create and manage a short-term project. Users can upgrade at any time. The pricing plans are divided into two categories. Essential for personal users and Team plans for business use.
Essential Plan:
1 user – at $15 per user/month if billed annually this plan offers project management with customizable export to PDF, PNG, and XLSX.
5 users – at $7.90 per user/month if billed annually, this program provides resource management with team progress tracking.
Teams Plan:
10 users – at $6.90 per user/month if billed annually this plan offers project management, resource management with a history of changes made.
5 users – at $5.90 per user/month if billed annually. This program provides resource management, team progress tracking, history, and working hours, and project costs estimation
---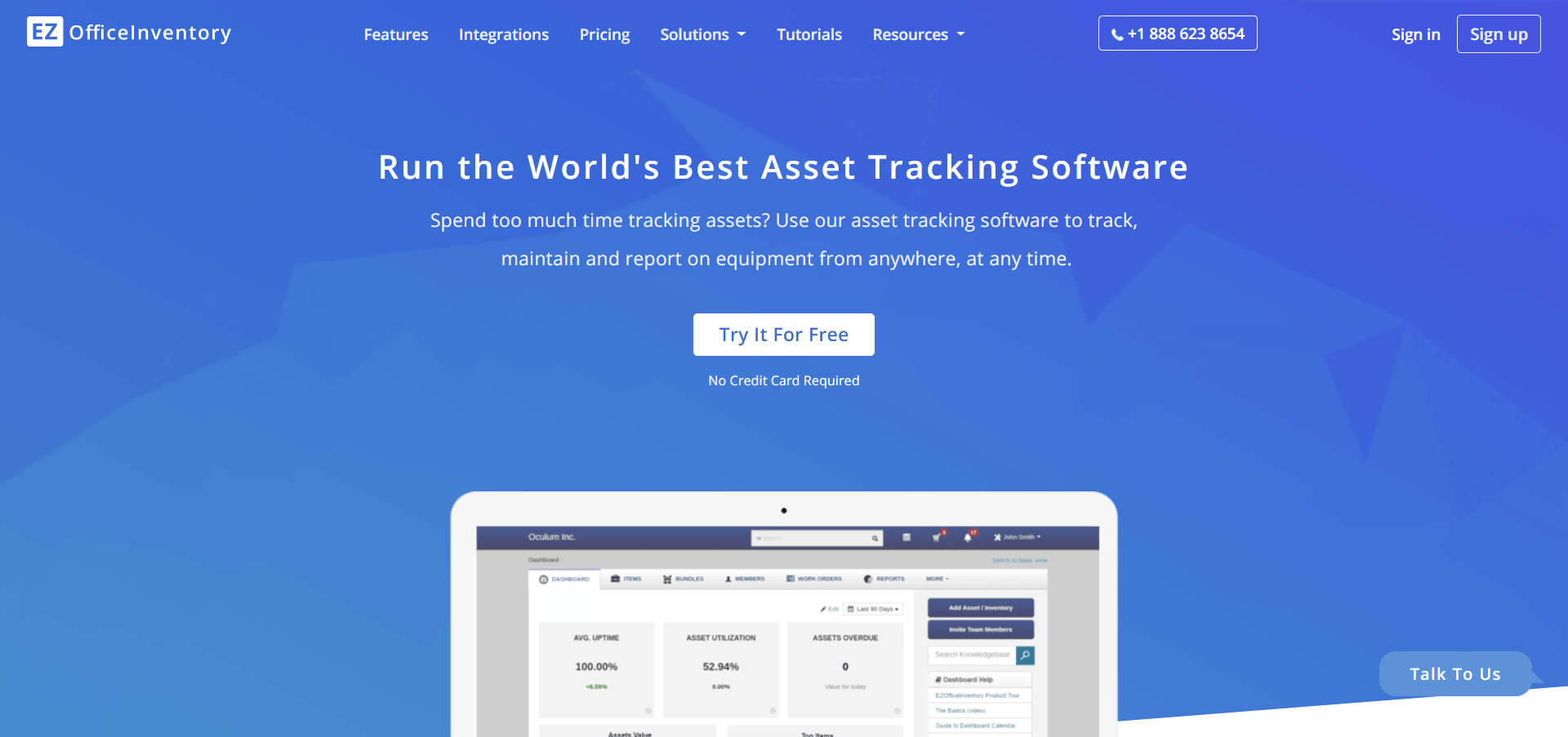 EZOfficeInventory is an asset tracking software. It offers simple depreciation management, scan-based audits, and actionable reports, and is one of the best asset tracking software to help you make well-informed business decisions. It uses location and possession histories to keep track of large amounts of assets.
EZOfficeInventory tracks a complete asset lifecycle and keeps a track of all the tools and equipment. It is integrated with Zendesk and work order management modules. EZOfficeInventory helps centralize all asset-related activities. Customization of fields and notifications is also available to make your experience worthy. It has a mobile app with Barcodes and QR Codes for you to create custom labels.
Key Features
There is asset lifecycle management from procurement to retirement, and asset POs can be tracked along with, vendors, maintenance histories, and lifetime costs.
There is EZOfficeInventory integration with other systems that are done through REST-based APIs, and there is a platinum package for an extended API service.
Visibility can be limited to specified items based on an item group, location, or both. This feature is helpful when different departments or teams are being managed simultaneously.
Google or Outlook.com can be used to sign into EZOfficeInventory, it makes things far simpler.
There is a Zendesk integration, which has an aim to immediately identify maintenance problems.
Detailed productivity-boosting reports are given with the equipment management software, which can be customized for analysis, or load a saved template.
Data can be exported to Dropbox through automation regularly, and documents can be synced to Dropbox with one click.
Pricing
Three pricing plans are offered by EZOffice Inventory. You can also upgrade the number of items and users in unlimited Users and À La Carte pricing plans.
Unlimited Users – at $135/month this plan offers unlimited users and premium features, with a minimum of 1000 items. Perfect for organizations with a large number of users works great with SAML and LDAP integration.
À La Carte – at $30.15/month this plan offers a minimum of 10 users and 250 items. Suited for companies looking to track assets and equipment with varying needs and workflows.
Enterprise – For private cloud needs, with premium features. Pricing is provided on a quote basis.
---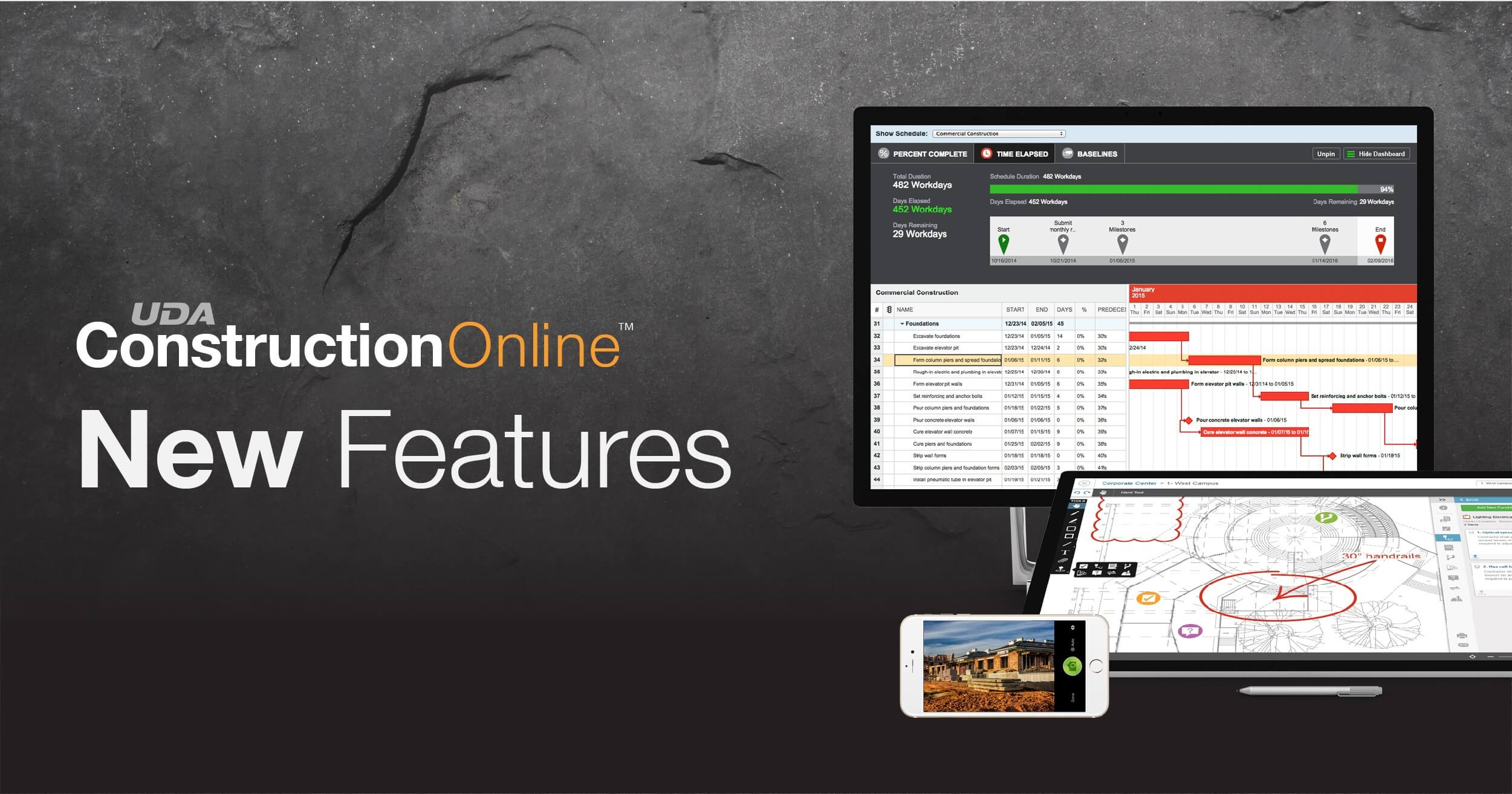 ConstructionOnline is a web-based construction management software. It was launched by UDA technologies. ConstructionOnline provides an integrated approach to project management, project scheduling, and customer management.
It has also been rated as number one by most software review websites. ConstructionOnline is packed with rich features like cloud management system, dynamic estimating, Redline Planroom, Daily project logging, RFI Tracking, and change order management.
The solution further includes Gantt chart-style schedules to convert tasks into groups. Its project management module provides a photo management feature. these modules also include document control and help with budgeting and cost management. These unmatched features make it the world's fastest scheduling software.
Key Features
There is a lead tracking feature that gives important information such as pipeline stages, lead quality, and callback dates.
They have developed the lead dashboard to be fit for construction pros to operate. It has a straightforward lead tracking tool with an intuitive layout, making it easy to use.
The lead calendar is a feature that makes sure the user stays on top of things. They can schedule callbacks, meetings, and keep a record of when quotes are sent, and send automated reminders for important tasks.
There is an innovative logs feature, which is designed to streamline communication to make that the project is run as efficiently.
The lead tracking feature allows customization options that are effective, which means leads can be adjusted how the user wants to see them within ConstructionOnline™.
Since construction projects can change daily, by using ConstructionOnline users can communicate with the clients to keep projects on schedule and budget.
Pricing
UDA ConstructionOnline offers three pricing plans for users to choose from:
UDA ConstructionOnline Personal Plan – free forever. It offers Redline Planroom, file storage and sharing, image galleries, and other basic features.
UDA ConstructionOnline Residential Plan – starting from $99/month packages including in this plan offers Redline Planroom Plus world's fastest scheduling, RFI tracking, submittals, and daily logs.
UDA ConstructionOnline Commercial Plan – starting from $229/month packages included in this plan offer business intelligence, dashboards, GamePlan email agendas, and transmittals.
---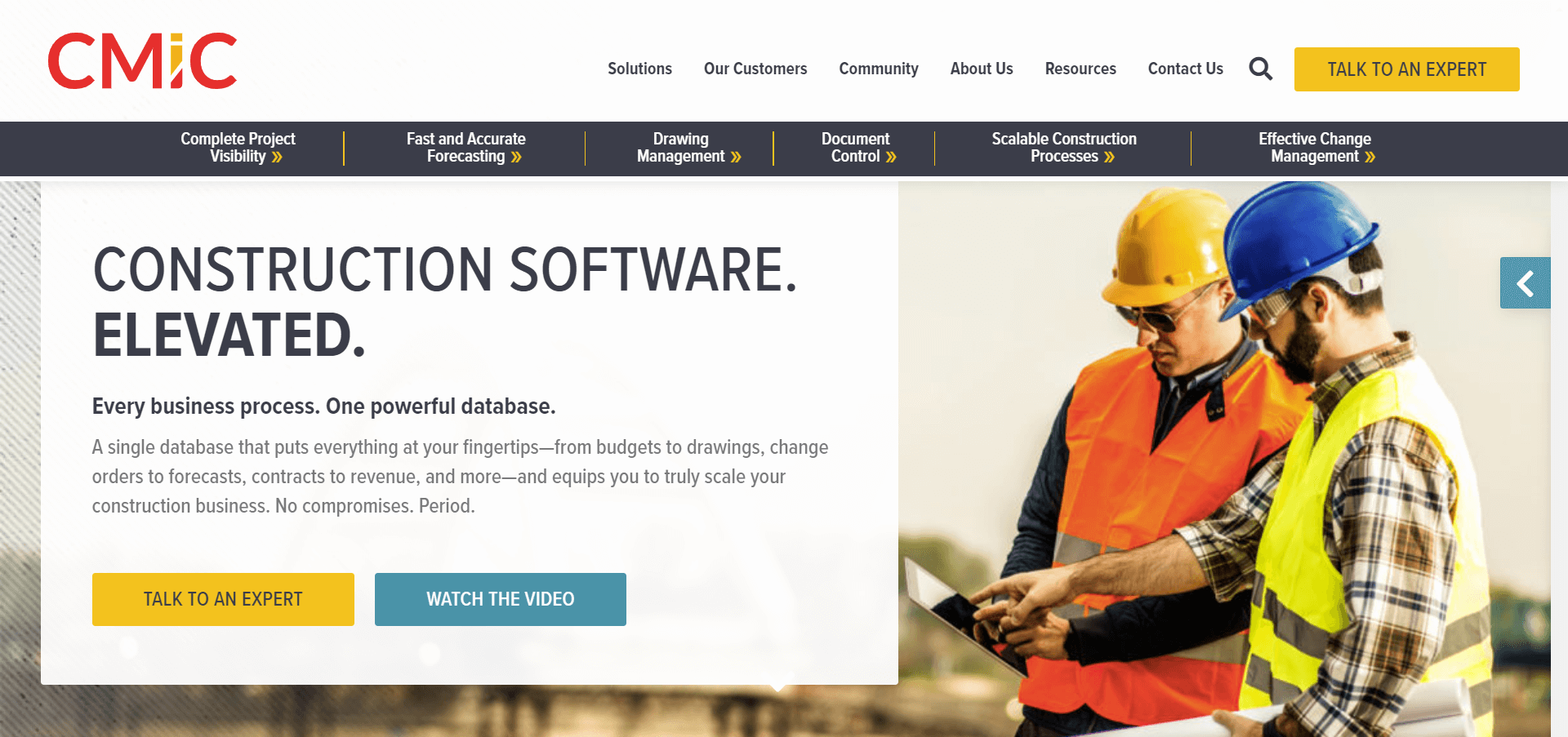 CMiC is integrated construction software that combines Project Management and Project Controls. It enables users for seamless collaboration and project delivery. CMiC processes the database at your fingertips. this software automates processes and integrates platforms for effective management.
It is one of the best construction management software out there. The CMiC platform can be used as a multi-tenant SaaS solution or as a private Cloud (PaaS). CMiC efficiently connects with your team and helps you supervise their work formats. It is currently supporting PC Construction, Layton, GH Phipps, and Beck among its clients.
Key Features
Data has higher centralized visibility through automated financial controls and corporate risk management, this feature provides a purpose-built financial solution.
Lets teams manage subcontractors from the beginning to the end through integrating subcontractor activity into the user's workflows.
CMiC Asset Management allows the user to control material costs, speed up the procurement process, boost inventory management, create accurate job costing & client billing, and optimize operational performance.
Enterprise planning is essential for forecasting. CMiC has a graphical interface for effective enterprise planning because it is necessary for all types of allocation planning.
Know where all of your resources are placed, and which projects they are working on. Also lets you know what certified skills and training programs they have completed that are necessary for operating a profitable construction project.
It integrates seamlessly with other types of software, such as Kofax, DocuSign, Plan Grid, BlueBeam, AutoDesk, Oracle/Textura, and other third-party applications.
CMiC works great for those who need a strong enterprise-wide platform, or a solution that is So whether you need a robust enterprise-wide platform or a solution that is closely focused to run financials or strengthen the field staff.
Pricing
CMiC's pricing information is available only upon request. For Further details contact the company and ask for your quote.
---
When it comes to top construction management software, how can we forget FINALCAD?
FINALCAD is a highly functional commercial construction project management software. The software is a global leader in the field of mobile apps and predictive analytics for construction, since its launch in 2011.
Until now, FINALCAD has assisted in over 8,000 projects taking place in 30 countries around the world. The software is trusted by contractors, developers, architects, and field operators in construction projects created according to industry standards.
FINALCAD is an unmatched software with powerful features that ensures premium quality and reduced cost of projects. To name a few, the software deals with:
Quality control,
Incident reporting,
Drawings integration,
Collaboration and task administration,
Progress monitoring, and
Facilities management
The outstanding feature of FINALCAD is its AI-based solution which extracts relevant data on 2D blueprints form for easy sharing across the team.
Aside from these excellent features, the software accelerates the digital transformation of construction by providing mobility. The software is available as an application for all mobile platforms and supports 30 languages.
We highly recommend FINALCAD for the effortless completion of construction projects.
Key Features
Users can get automatically generated progress reports after every site visit.
Ensures every team member gets up-to-date metrics and statistics of projects and locations to make informed decisions.
Easy sharing of information regarding the project with team members and stakeholders.
FINALCAD is a global software and it is available in almost 30 languages.
FINALCAD has an AI-powered predictive capability to predict any possible delays, wastage, and other issues in the projects.
Projects can be managed autonomously from a KPI analysis through to their design.
This is highly adaptable to all different areas during the design, performance, reception, delivery, operation, and maintenance phases.
Pricing
Four budget-friendly plans are offered by FINALCAD to help all kinds of users. Let's take a look!
Essential – at 29€ (~USD 31.33) per month if billed annually. This plan includes unlimited projects, an activity diary, and email support for teams to coordinate easily with autonomy.
Evolution – at 49€ (~USD 52.94) per month if billed annually. This plan includes all features of the Essential and renovation module, BIM-ready, multi-phase project, and email, chat, and phone support.
Expert – at 89€ (~USD 96.16) per month if billed annually. This plan includes features to give you full control to manage your projects on the go. The features include progress monitoring, multi-layer drawings, and project configuration & training services on a quote.
Enterprise – available on a quotation basis. This plan includes all features of the Expert and multi-projects dashboard, RAW data extract, training services, and customer success premium services.
---
Buildertrend is every contractor's dream construction project management tool. It is a top-notch cloud-based management system mainly used by contractors to manage the tasks related to the construction project.
Buildertrend has been playing its part in revolutionizing the construction world since the time of its launch. The robust and unique features of the software empower the construction industry to stay connected and build projects efficiently.
With over 1 million users across the globe, Buildertrend provides its users with the best modern tools for their construction business.
The main features of this amazing software include estimating, scheduling, change order, client communication, and document management tools.
The most unique feature of Buildertrend is its client portal, which enables the client to monitor the progress, respond, and communicate with the team.
Buildertrend also integrates well with third-party applications for a swift experience. Considering all these features, along with reasonable prices, we suggest you try Buildertrend.
Key Features
The software offers powerful third-party integrations such as Google, Dropbox, Xero, PlanSwift, and many more.
The Project Management feature keeps track of your installs and provides an easy transition from sales to installation.
Client portal for clients to actively engage and keep track of the progress.
Get timely updates about the project with the real-time notification system.
The software is available as a mobile app on Android and iOS for on-the-fly project management.
There is a pre-sales feature, which helps place create, compare, send and store bids in one place.
Buildertrend also gives its users financial tools to help track cash flows and manage budgets.
Pricing
Buildertrend offers a free trial along with month-to-month pricing plans suitable for businesses of all kinds. The company also provides a 30-day money-back guarantee.
Core – at $299 per month. This plan includes a client portal, scheduling, daily logs, messaging, checklists, and storage for photos, videos & documents.
Pro – at $499 per month. This plan includes time tracking with Clock, owner invoices, proposals, designing, cost estimation, and lead management.
Premium – pricing available on a quotation basis. This plan includes all features of Core and Pro. The features can also be customized by contacting the vendor.
---
Next in line, we have e-Builder which is an owner-centric, cloud-based construction project management platform. It was developed to specifically target the needs of construction professionals.
e-Builder is in the game of being the best construction management software solution since 1995. Over time, the software has evolved into a robust and advanced solution with powerful features like process automation, cost controls and management, scheduling, dashboards and reports, bid management, and capital planning.
e-Builder aims to improve construction in terms of quality, reliability, safety assurance, and quick deployment. It offers various modules and supports multiple formats for seamless deployment.
Furthermore, the software provides the owner with full accessibility to control every step of the project development. Being a cloud-hosted service, e-Builder is the best option on the market for the lowest risk and fastest deployment of the system.
Key Features
Centralized comprehensive database to provide easy access to all the information on a single platform.
Business Intelligent tools help users to keep track of data and avoid problems in the future.
Milestone tracking system employed using Critical Path Methodology for efficient tracking of progress.
e-Builder offers a complete audit trail of the project and financial oversight to manage the project budget.
Fast submission of invoices for processing that ensures payment promptness
Flexible Dashboards that can be customized according to users' requirements for informed decision-making.
Pricing
Pricing for e-Builder is not publicly available. Contact the vendor to get the latest & detailed pricing information.
---
Jonas Premier is a remarkably simple yet powerful software with over 20 years of industry experience. The software helps with the key processes of construction management by streamlining communication, centralizing data, and automating the tasks.
It is a complete and ideal solution for those of you who are looking for integration at a wide range and seashell job costing. Jonas Premier is a highly scalable solution deployed on the cloud for easy access and large storage.
The software comprises 10 powerful modules developed to target the business fields like accounting, project management, purchase orders, and inventory management, and others.
It is well equipped to handle multi-company, multi-division, and intercompany financial transactions. Even more so, the software can be accessed anywhere as it is supported on all platforms (web & mobile).
Key Features
Gain granular control over your project with over 40 modules offered by Jonas Premier
Various report generators for users to develop fully configurable reports.
The software provides detailed audit trails and empowers users to follow up on any financial irregularities.
Control access to project details by setting restrictions for an individual user, or a group of users.
Go paperless and streamline the workflow with eMobile and Field Time applications
It gives your business the essential tools to manage complex payroll, such as employees, whether certified, unionized or non-unionized, and makes sure that everyone is paid on time.
Each project's details can be tracked, which lets the manager know what is going on at the job site.
Pricing
Jonas premier offers two pricing plans based on a monthly and annual subscription. The main features Jonas Premier offer in both these plans are project management, accounting, true cloud, reporting, and integrated job cost.
Monthly Plan – at $199 per user per month, does not require any annual commitment.
Annual Plan – at $189 per user per month with the requirement of annual commitment.
Moreover, the Jonas Premier app can be availed by users for $25 per user/month.
---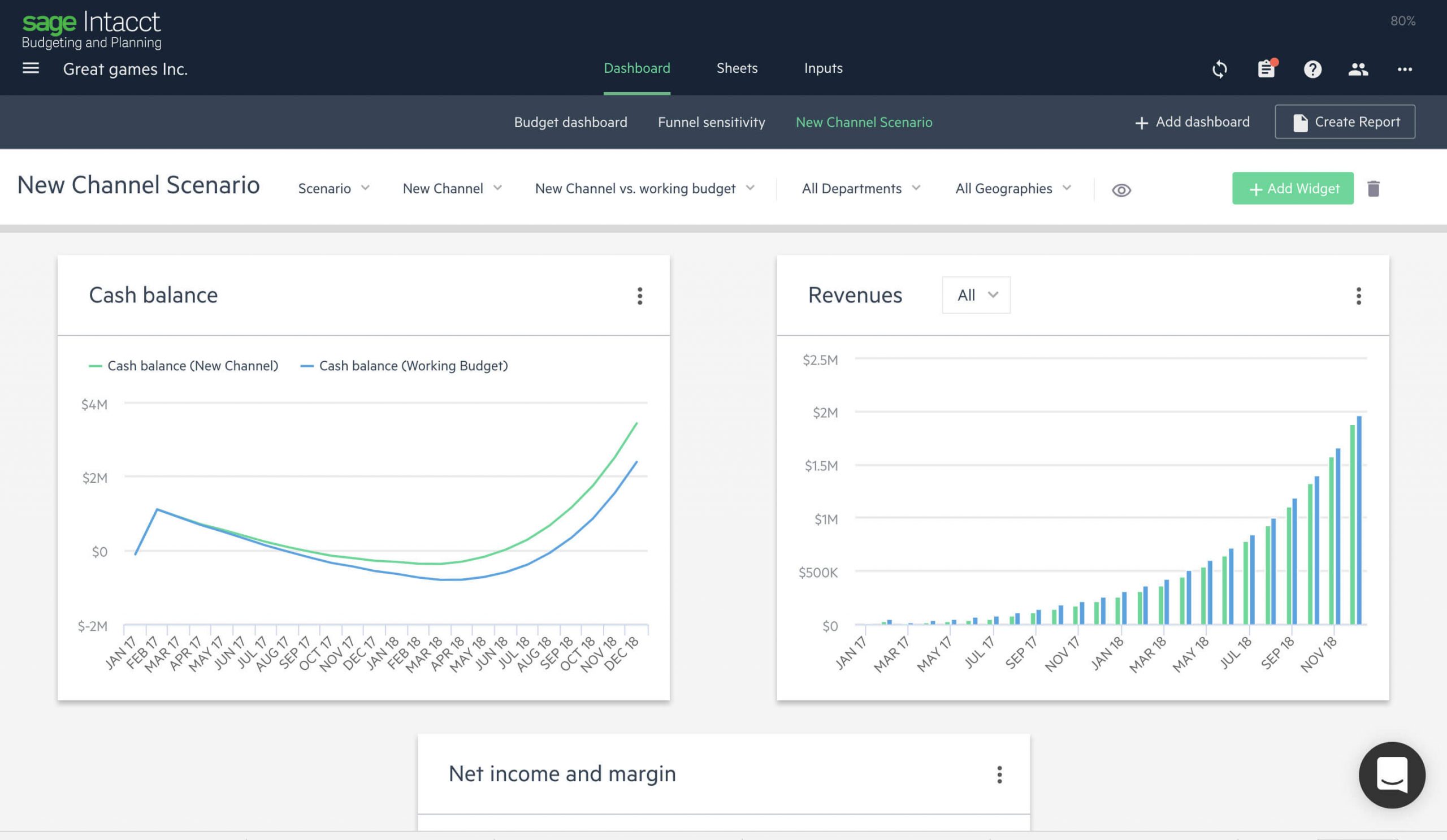 Sage Intacct Construction is a cloud-based construction software, equipped with robust modules to increase efficiency, reduce time & cost, and streamline the workflow of the construction business.
It is best suited for small and midsize construction companies to get real-time financial and operational insights. The main features of the software are built-in reporting, time and expense management, project accounting, revenue management, and multi-entity consolidations.
Sage Intacct is an award-winning software, preferred for AICPA business solutions due to its outstanding financial features. The software comes with an open API and integrates with powerful applications like CRM, payroll, or POS systems to automate critical processes.
It enables users to grow their business by providing them with integrated management and financial reports. Sage Intacct is a must-have tool for greater visibility, reduced reliance on spreadsheets, and overwhelming business performance.
Key Features
Intacct is easy to set up and implement to make your team's progress speed up.
The software integrates with multiple third-party software to customize the financial ERP ecosystem.
Automated alerts and notifications for payment and buyout approvals.
Visualization features, such as charts, graphs, and performance cards for a better understanding of project metrics.
It is user-friendly and easy to use with its innovative user interface.
It has an open API that allows seamless integration with the field, payroll, and budgeting solutions. This increases efficiency, saves time and cost of audits, and a better cash flow.
Pricing
There is a free trial available for the software. For pricing, contact vendors directly for a quote.
---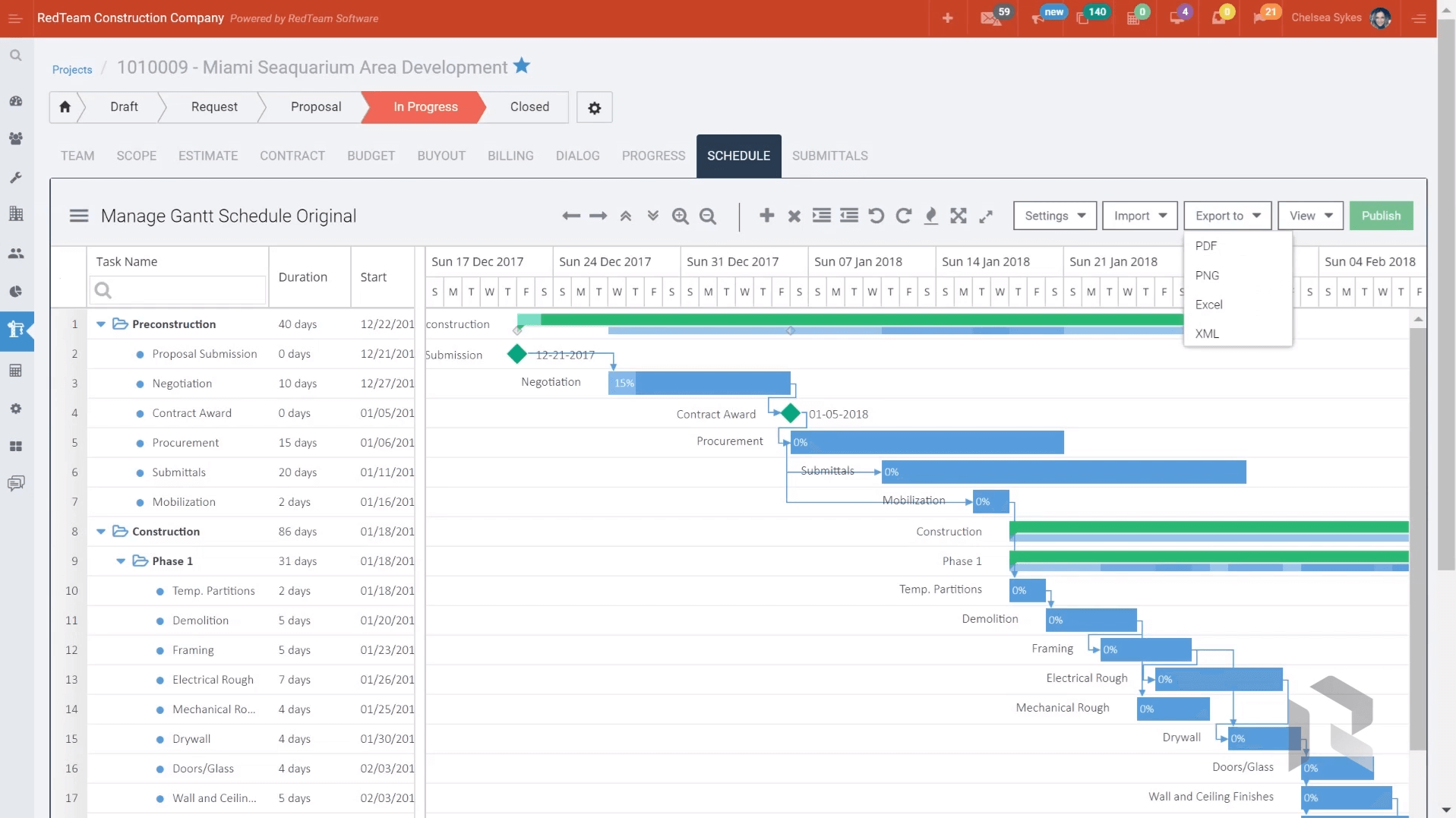 Categorized as one of the best software used in the construction industry, RedTeam is a cloud-based application. It is developed to effectively manage everything from preconstruction to project closeout.
RedTeam streamlines the project by automating processes and boosting productivity. The solution is best suited for midsize commercial general contractors; however, it can also be used for large construction projects.
RedTeam boasts an intuitive software design that enables users to view all the essential project information on one platform. The core functionalities of the software include:
Performance management,
Business development,
Customer Relationship Management (CRM),
Estimations,
Bid management,
Job cost tracking and control,
Time capture, and
Expense management
Furthermore, the software also comes with native mobile apps for the connectivity of team members.
Key Features
The software keeps all of the pertinent documents and information related to the project in one place
With the RedTeam solicitation analytics tool, get a higher level of responses from vendors
Get building estimates and create bid request invitations to the vendors stored in the company's database.
Control the project cost with the project budget tool by monitoring the complete cycle of payment and buyouts.
Create and manage contract documents right from RedTeam to keep your teams aligned and your projects on track.
Real-time collaboration accelerates progress from contracting to closeout and captures essential metadata along the way.
Arm your teams with the right information at the right time, so they can stay ahead of anything that might slow them down.
Pricing
RedTeam pricing starts at $4,200 per year. For more details on pricing contact the vendor. A free trial of the software is available.
---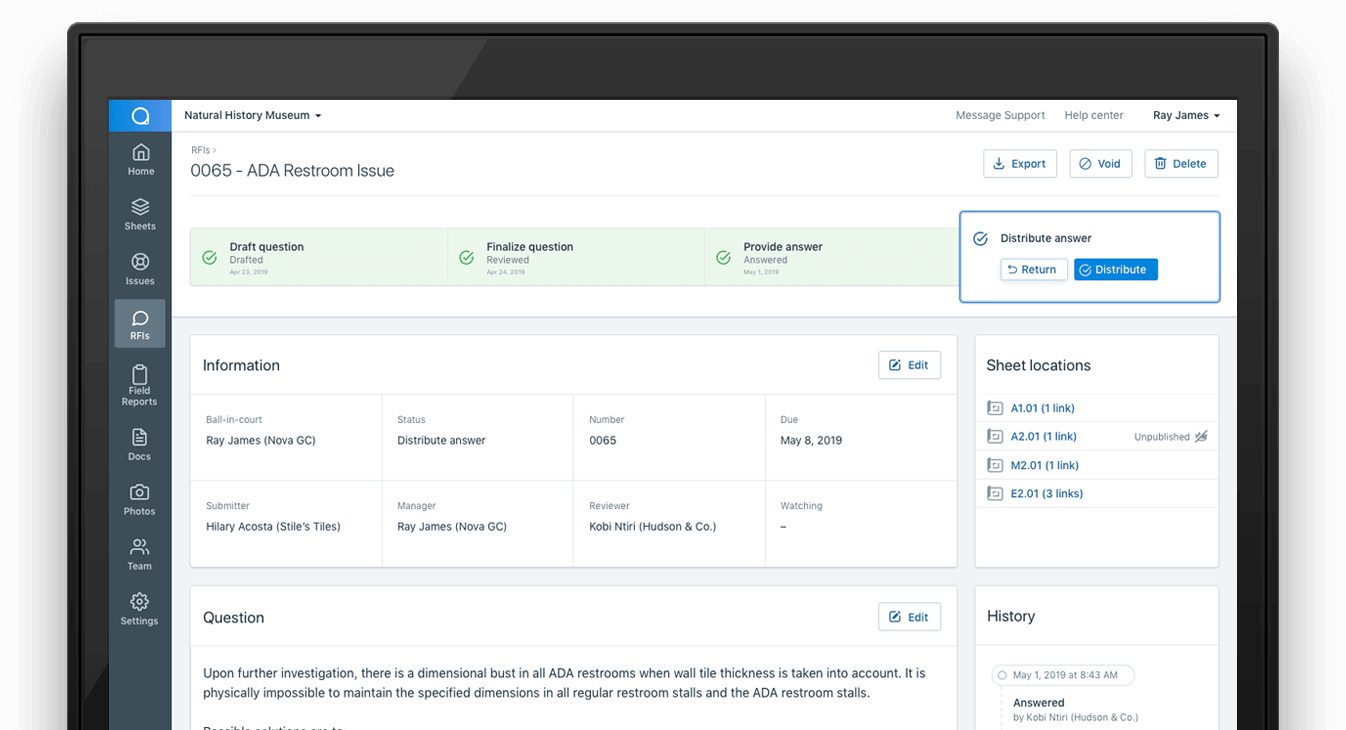 Coming to another top of its game construction project management platform, we have PlanGrid. It is a progressive software designed to get information in real-time, enable great collaboration, and provide actionable insights.
PlanGrid is loved by general contractors, subs, owners, and architects across the world and has successfully conducted over 400,000 projects.
PlanGrid is one of the world's leading software that provides users the opportunity to collaborate on project plans and controls the problems of overruns in cost and schedule.
It is a simple yet powerful app with robust features to manage and update blueprints, specs, photos, RFIs, field reports and punch lists. Even more so, the software offers mobility with its application available for mobile platforms.
Key Features
The software provides punch lists to capture photos, locations, and notes from the field to save time and effort from manual data entry.
PlanGrid comes with a responsive technical support team that prioritizes finding solutions for its customers.
Keep your team updated with the automatic version control of the master set.
Supports importing of 3D models and maintains accompanying metadata.
The software can be used on every platform from Windows/iOS/Andriod as well as the web.
Collecting data with accuracy during construction is a wonderful PlanGrid feature since it makes sure the turnover of digital is the same as built for facilities management and operations.
Pricing
Nailgun – at $39 per month if billed annually. This plan includes 550 sheets and unlimited projects and photos.
Dozer– at $59 per month if billed annually. This plan includes 5,000 sheets and unlimited projects and documents.
Crane – at $119 per month if billed annually. This plan includes unlimited sheets, projects, documents, and photos.
Team – this plan is available on a quotation basis and includes features such as s unlimited projects and sheets, admin console, and workspace.
---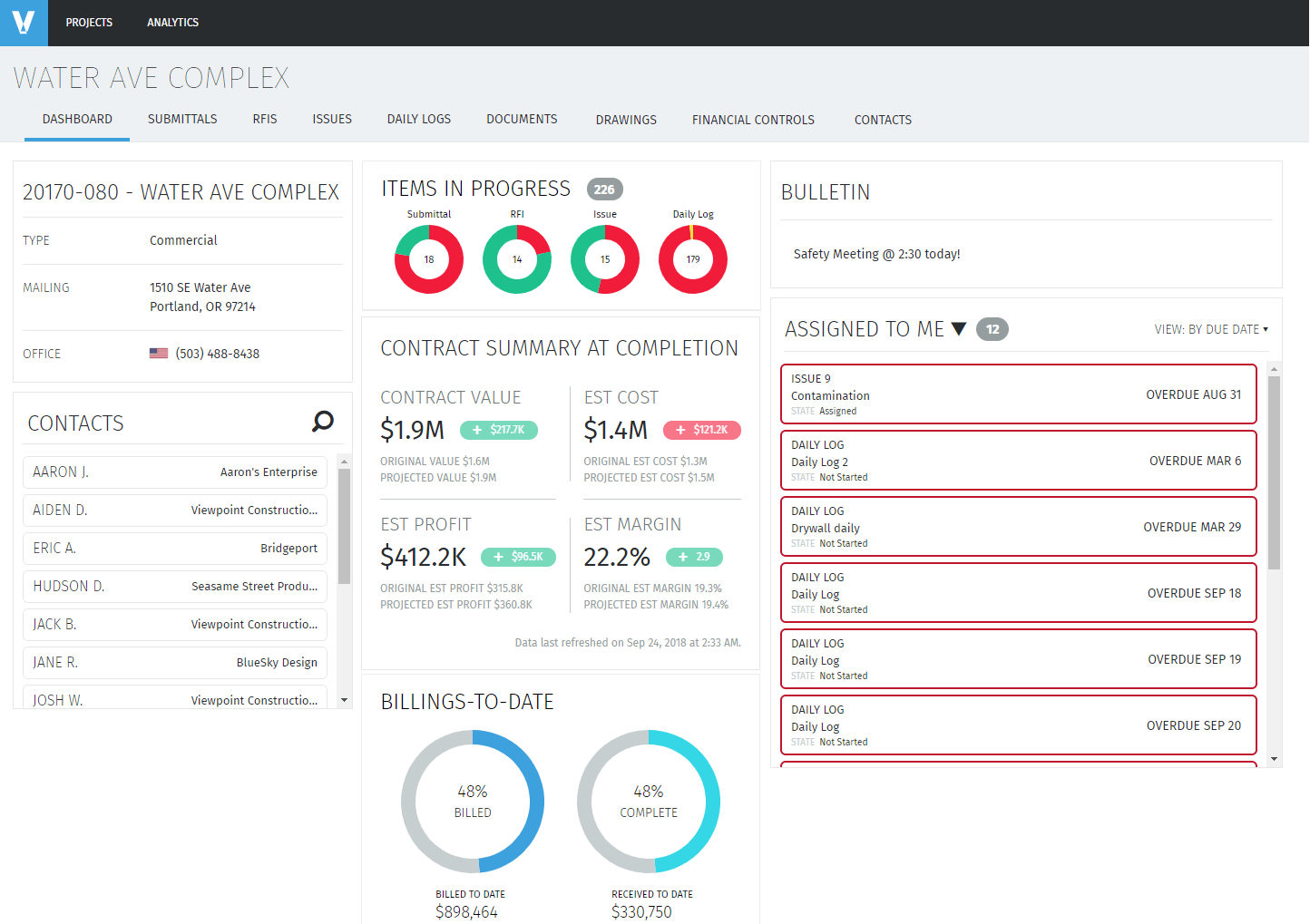 ViewPoint Team is a cloud-based project management platform well known for its out-of-the-box integration with Vista. The software aims to help the users in facing problems in the construction industry and making their projects a significant success.
ViewPoint connects the team members both on-site and off-site and synchronizes data and workflows.
It is a comprehensive solution that integrates well with ViewPoint's ERP solutions making the whole combination unmatched for its performance.
Users can easily evaluate project risks, log all their activities, get timely reports and insights, and manage content from a single platform. We recommend you use ViewPoint to gain complete visibility over your construction teams and for effective project management.
Key Features
Upload and track the information with ease by using submittal and RFI modules.
The software offers a flexible User Defined fields and tables system to allow customization according to the user's needs.
Define resource requirements at the project level with Resource Management feature.
With the in-built accounting software, it delivers real-time and captures all operations data in a single database.
By using top-of-the-line project management software, projects can now be completed on time and within budget.
The workflow is improved by better team collaboration. The operations and accounting team members, external collaborators, can view and utilize the same information.
It integrates well with Vista and Spectrum, and Viewpoint's ERPs. It syncs all the data for the office, team, and field.
Pricing
Viewpoint's pricing information is available only on a quote basis.
---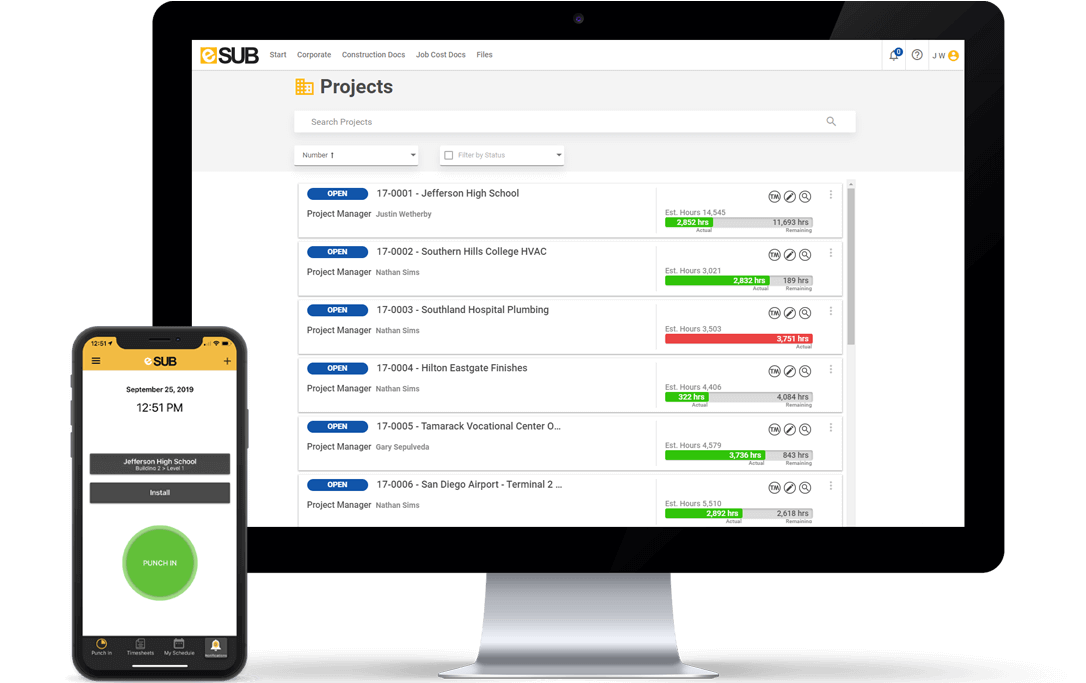 eSUB is of its kind a field-first project management platform built specifically for subcontractors in the construction industry. The solution provides a unified platform for paperless documentation, automated labor tracking, and communication features.
With eSUB, users can simplify even the most complicated tasks and increase their efficiency manifold.
It is a cloud-based solution so that the project's information can be accessed at any time from anywhere. eSUB updates its database in real-time for all the data to be in sync on all devices.
The solution has over thirty-plus years of expertise and covers all aspects of resource management. Thousands of users across the world put their trust in eSUB for increased standardization, accountability, and productivity in their projects.
Key Features
Available as a mobile app, for users to manage projects on the go.
It is easy to change and reallocate orders anytime with minutes and a few clicks.
eSub gives its users a Virtual Filing Cabinet to store documents online, so the data can be kept safe and is accessible wherever and whenever.
There is a customized feature where the user can allow automatic uploads and log stored documents in eSUB.
The project Summary feature provides an overview of the project for a glance.
The mobile project management solution has been built especially for Subcontractors to increase overall standardization, accountability, and productivity.
Pricing
There is no free trial available for eSUB and the pricing details are available on inquiry.
---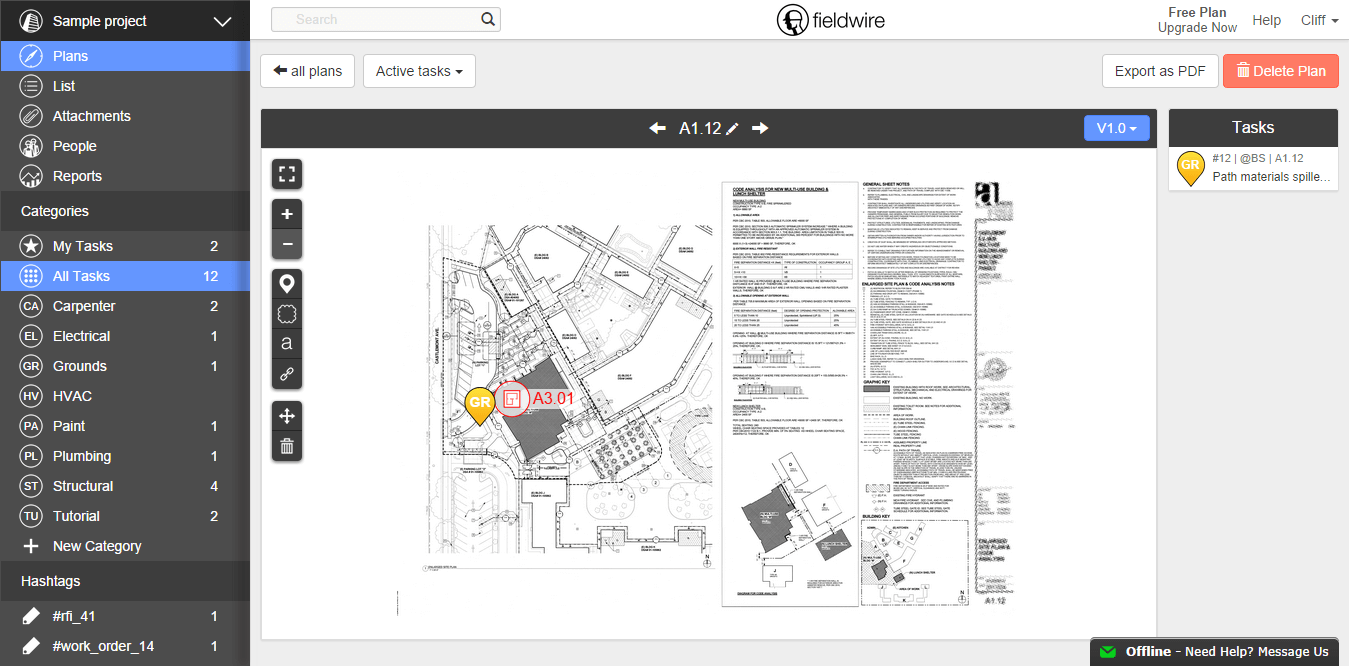 Fieldwire is a cloud-based construction management solution that assists in the precise tracking of construction projects and helps in resolving the issues swiftly. This platform works as a single stop to connect all the contractors to their entire field team.
Users can share their data and project progress, drawings, schedule work, and punch list from on-site or off-site. Fieldwire enables its users to work both offline and online as it does not require network connectivity.
Fieldwire has successfully assisted in over 500,000 projects worldwide. All the project data is stored on the cloud and synced across all your devices for easy access to all team members.
The real-time updating system of the software instantly notifies the team members of any changes being made and ensures smooth collaboration.
Fieldwire is without a doubt the best project management software for the construction industry, for effective and efficient collaboration.
Key Features
It is available on the cloud, which means plans and documents can be accessed anywhere.
With the blueprint management feature efficiently manage your construction drawings and plans.
Create punch lists of tasks to speed up the construction closeout process by using a task management feature.
Users can access their data online and offline, at any time and place, completely hassle-free.
Stay updated with the project progress anywhere with Fieldwire mobile app for both iOS and Android.
Users can use any device to assign tasks, work from up-to-date drawings, and synchronize the field and office data.
Tracking teammates and tasks can be done to allow accountability for everything, and schedules can be created for upcoming work.
Pricing
Fieldwire offers pocket-friendly pricing plans for users, based on a monthly and annual subscription:
Basic – free for a lifetime with a limit of 5 users. This plan offers features such as plan viewing, task management, instant messaging, file sharing, and checklists.
Pro – at $29 per user/month. The plan includes sheet compare, reports, sheet exports, email support, and unlimited sheets and projects.
Business – at $49 per user/month. The plan includes custom forms, phone support, 360 photos, Dropbox 2-way sync, and Box 2-way sync.
Premier – at $89 per user/month. The plan includes API access, Single sign-on. Training programs and a dedicated account manager.
---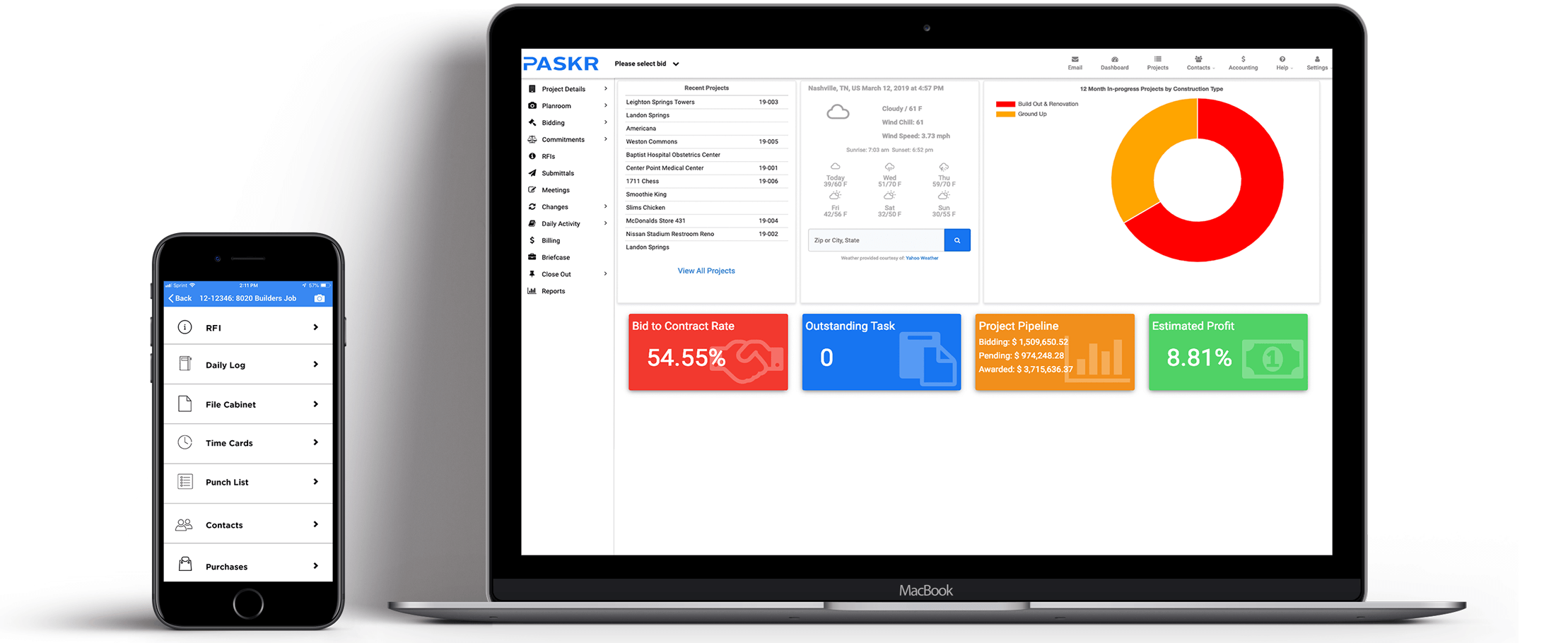 PASKR is another advance cloud-based contractor project management software developed to help with bidding, tracking projects, and managing construction-related tasks.
It is an intuitive solution with powerful features such as customer relationship management module, estimating, contract management, change orders, billing, and reporting.
It integrates with other powerful third-party software for enhanced efficiency like Quickbooks, Sage 100, Sage 300, and Foundation. PASKR makes even the most difficult tasks a breeze for project managers, contractors, and subcontractors by automating the workflow.
The software is available on mobile platforms for users to manage their projects on the fly.
Key Features
The software generates multiple reports to track a project and watch the changes in profitability.
Manage bills and instantly approve subcontractor billing or request with the Billing approval feature.
PASKR makes it easier to view critical tasks instantly that require immediate attention.
Reduces time and expenses through the digital delivery of documents and files
The Purchase Orders features allow all PO's to be tracked easily, they are submitted directly to the vendor, and they include digital signatures.
The Punch Lists features let the user track open and closed punch out closed items, attach photos to the list, and assign subcontractors.
Daily Logs features allow the user to keep with day-to-day activity, which also includes photos from a mobile app or the cloud, and they can keep text and full voice notes.
Pricing
PASKR's pricing starts from $404 per month with an annual contract. The features included in this plan are unlimited users and projects, contact management, plan room with version control, bid invitations, estimating, owner contracts, and many more.
---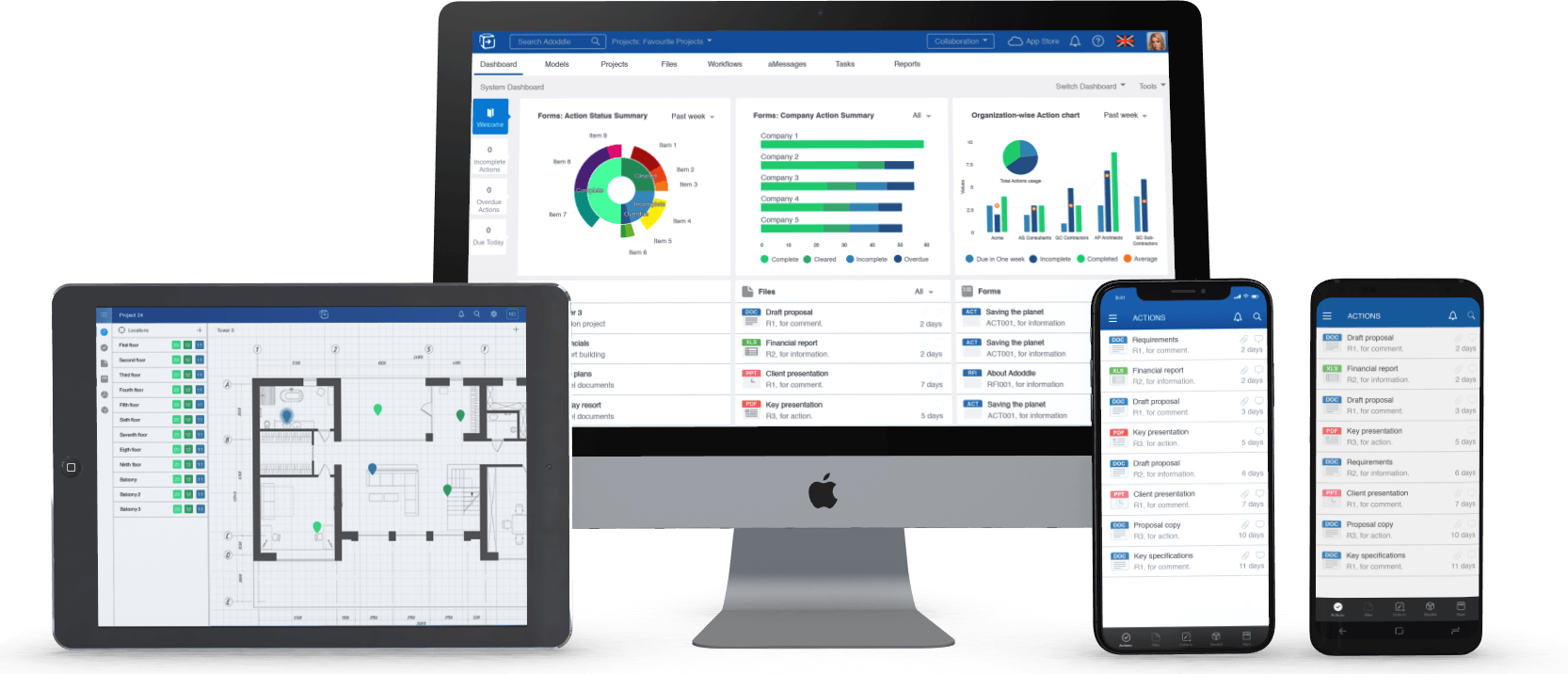 Adoddle is a comprehensive construction management tool that simplifies the entire process from submittals to reporting, launched by Asite. The software aims to streamline workflow and collaboration of construction projects.
Adoddle is a cloud-based solution which means all the data of the project is stored on the cloud to ensure smooth collaboration. In its entirety, Addodle is pretty advanced and is capable of saving you from a lot of hustle by automating your tasks.
The software is a single platform capable of performing all the construction management tasks efficiently. Adoddle offers extensibility, by offering a wide variety of third-party integrations and supports over 300 file formats.
It is quite easy to set up and can be used by anyone with even the basic knowledge of computers. Powerful features of Addodle include contact management, group calendars, project management, synchronous editing, version control, calendar management, and video conferencing.
Considering the ease of access, excellent performance, and responsive support, it is one of the best construction management tools.
Key Features
The software saves your time and cost by supporting over 300 file types for easy accessibility.
It is easy for the user to handle and control X-Refs as they please, which means customization is possible.
The software uses Visual workflows for better results and interaction.
Adoddle is available as a plugin and API, and hence, integrates seamlessly across devices.
Budgeting and forecasting are done with ease since accurate and definite forecasts are developed and are integrated with estimating and budgeting.
Budgets can also be tracked in real-time, commitment to them can be shown, profit-making can be seen, and as well as cash position in real-time.
Contacts can be managed with Asite, and it is easy to keep track of purchase orders and invoices.
Pricing
Free – at $0 per month, this plan offers basic features like unlimited task assignment, sharing across all devices, messages, and shared groups.
Lite – at $25 per month. This plan includes robust features like unlimited audit trail, government security compliance, team &project workspaces, and MS office Plugin.
Pro – at $41 per month. This plan includes all features of Lite and visual workflows, project management, RFIs, meeting minutes, and project controls.
Enterprise – at $99 per month. This plan includes all features of Pro and AppBuilder certification, information delivery plans(IDP), model federation, clash detection, e-procurements, and project cost dashboard.
---
iSqFt is another fully-featured construction business management software developed to assist contractors of all sizes with their unique problems. It is a web-based solution that hosts robust features for an effective and quick bidding process.
iSqFt connects more than half a million people, providing them with the best opportunities to help their businesses grow.
Moreover, iSqFt never ceases to serve the commercial construction industry with the most relevant information and its powerful online tools. Track all your projects, bid more effectively, and make use of the information and analytics provided by the software.
You should get your hands on iSqFt if you want to benefit from its bidder management, subcontractor management, takeoff, estimating, contractors, all in one place.
Key Features
Find more projects with iSqFt wide network of commercial leads comprising of different sources in the construction industry.
Streamline the bidding process from bid selection to document distribution with an efficient Bidding Feature.
iSqFt provides powerful reports and insights by performing an in-depth analysis of historical data, projections, and five-year forecasts.
Saves your time by making tracking of projects effortless with a quick search through project names or product-specific keywords.
Stay ahead of your game by analyzing market trends with the analytical tools of iSqFt.
Jobs can be compiled and prioritized jobs specifically to the area and trade on a platform and new projects can be bid since they drive accurate estimates and profits.
Updates can be received regarding new projects, they can be ranked based on preference, and delivered in real-time.
Pricing
iSqFt does offer a free trial however, pricing details are only available on a quotation basis.
---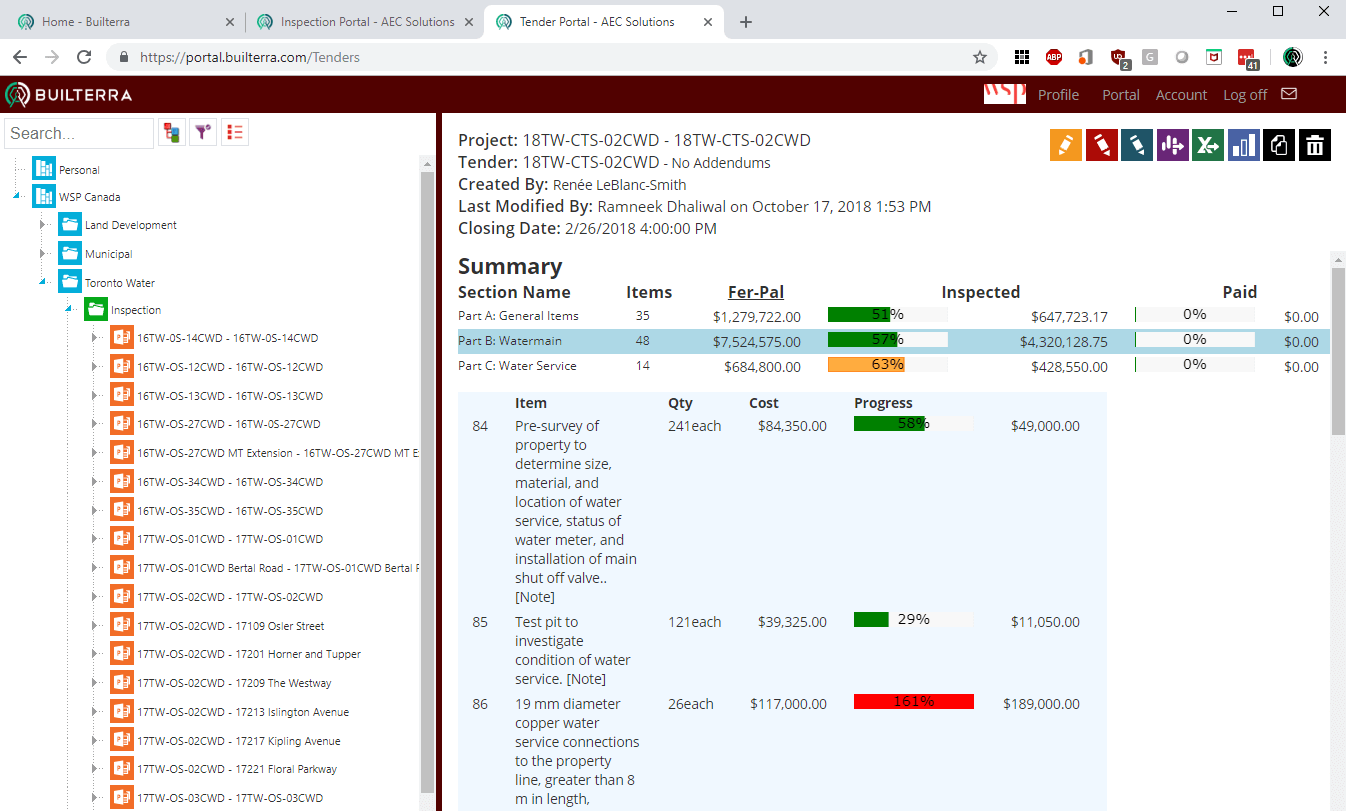 Builterra is an online Construction Management Software launched in 2016. The software is developed to provide a digital pathway for developers, civil engineers, and contractors with its comprehensive features.
Builterra aims to connect the contract administration and streamline the workflow by providing a one-stop shop for all construction-related issues.
The main features of the software include contract lifecycle management, change orders, completion tracking, cost estimating, bid preparation, bid analysis, and field inspection.
Once deployed, Builterra handles everything from conceptual design to as-constructed data for a streamlined workflow. The software boosts the project progress by providing instant insight and allows users to easily drill into inspections for timely risk evaluation.
Since its launch, Builterra has processed over $1B in progress payment certificates and continues to excel in the field.
Key Features
Builterra provides useful insights and reports about the project to help users get a clear picture of the project's progress and issues.
Manage your projects on the go with a native mobile app available on both Android and iOS.
Get real-time cost estimates from within CAD or the Bid Preparation portal based on historic pricing.
Mitigate loss of data by storing it in a cloud-based central location.
Exceptional Customer service to help users with all kinds of problems while setting up the software.
Builterra has a digital pathway that streamlines and connects the entire contract administration workflow. This includes cost estimates, bid preps, field inspection, and progress payment reporting.
Inspired by BIM, Builterra bridges the gap in the data flow from conceptual design to as-constructed data, which makes it ready for GIS via an integrated Web portal and mobile app.
Pricing
Builterra has not provided pricing information for this service. More information regarding the prices can be obtained by contacting the vendor.
---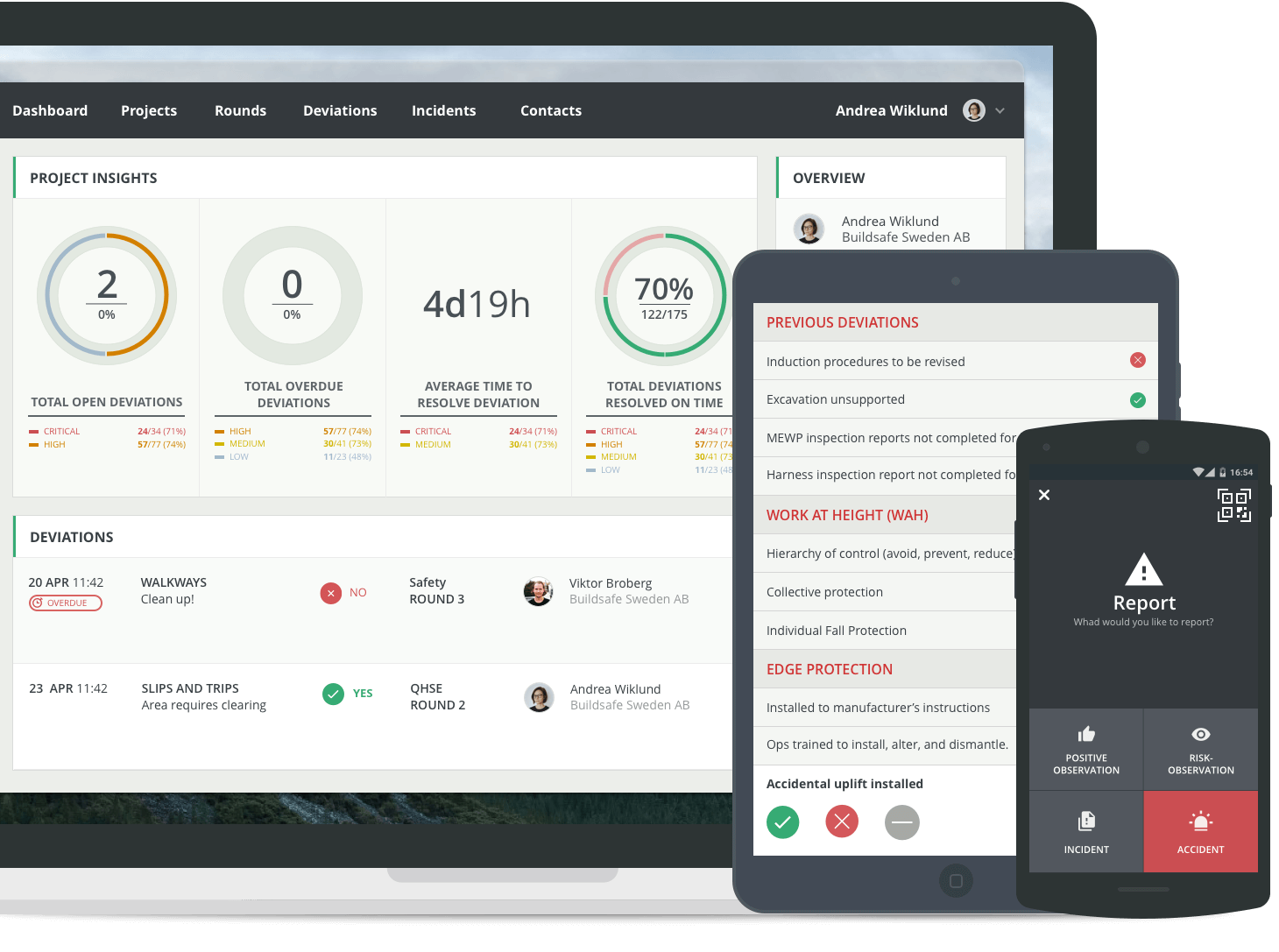 Next up – we have BuildSafe, which is a SaaS software launched in 2015. It is an excellent tool to undertake construction projects of any scope.
The software is designed to help developers, contractors, and sub-contractors to manage and analyze construction projects with ease. BuildSafe is proven to help with risk reduction up to 75% and save over 1000 hours annually for large projects. Awesome, right?
BuildSafe works exceptionally well to help organizations with streamlining their workflows. The robust features of BuildSafe ensure proper implementation and compliance of the project with the plan.
Users can track their project's progress and evaluate the risks for better decisions. It serves as a single platform to keep all the information securely stored.
BuildSafe empowers its users to work proactively by analyzing projects and mitigating the risks. Users can get an instant overview of the project at hand with intuitive dashboards and metrics to identify trends.
The noteworthy features of BuildSafe include equipment tracking, incident reporting, offline access, residential, and subcontractor management. To top it all, the software also offers a free trial and is available as an application for Android and iOS.
Key Features
BuildSafe creates detailed reports with statistics for users to decide the project strategy accordingly.
Smooth setup and implementation for users along with the facility to educate both on-site and office users.
Ensures a secure and efficient flow of information by enabling the user to restrict the information access for different team members.
Instantly overview the required information of all your projects with organized Dashboards and metrics
Streamline workflows with timely inspections, reporting, follow-up, and evaluation of projects.
Data is generated on-site, and it is automatically compiled and visualized to real-time graphs and KPI's. It can also be exported via CSV or API.
The user has complete control over all current activities with bespoke task lists updated in real-time.
Pricing
BuildSafe pricing information is available on a quotation basis. Contact the vendors for pricing details.
---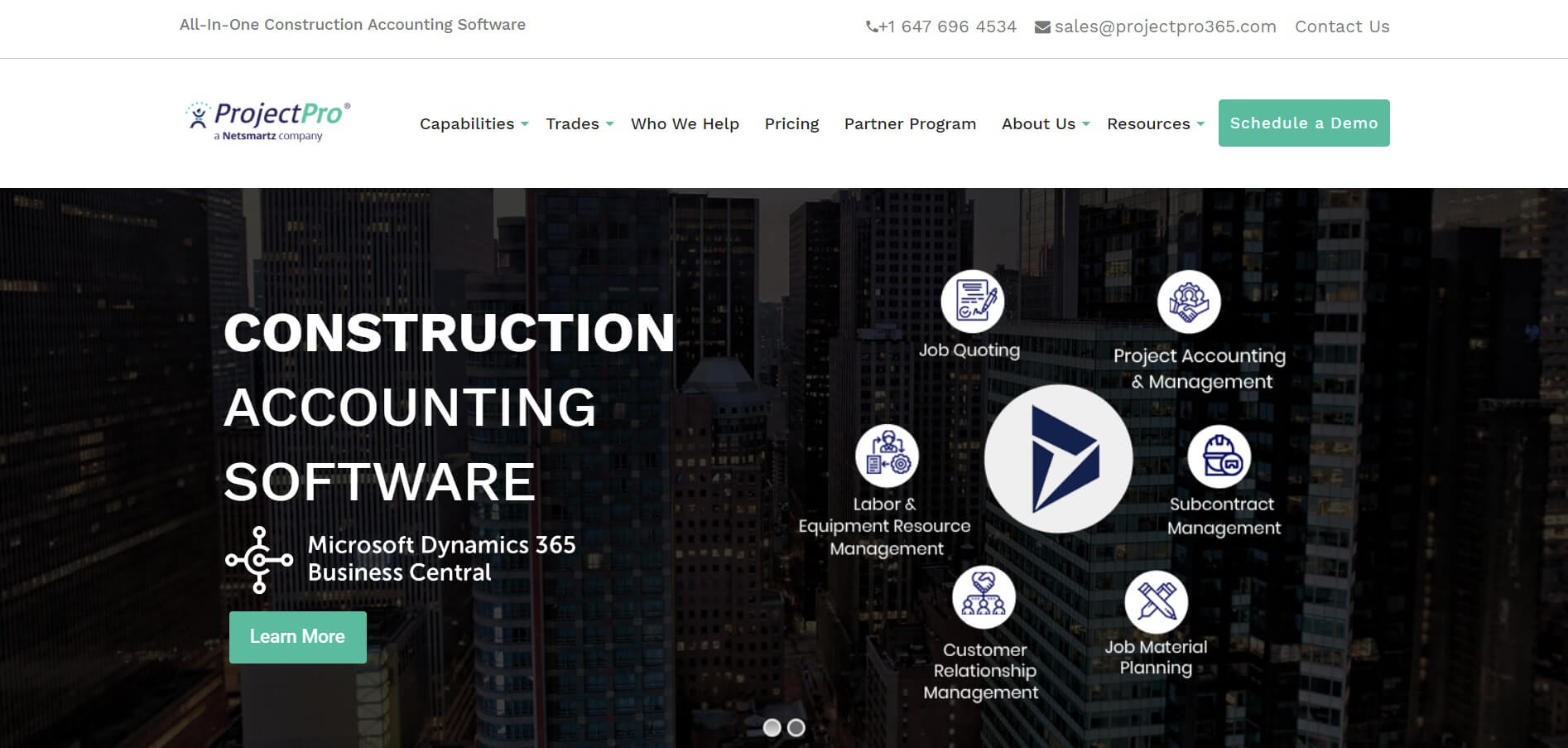 ProjectPro is a Microsoft Dynamics Business Central-based construction accounting software with integrated Project Management, ERP, and CRM capabilities.
Designed for the professionals, it allows contractors and project managers to have the ease of managing project data and work schedules quite efficiently using the software dashboard.
The software has all the advanced features which can be accessed with an easy-to-understand interface that it inherits from Microsoft's DNA.
Besides this, ProjectPro brings you all the essential features that you need for keeping up with project schedules, estimates, payroll, bills, timesheets, and all other activities at the field and the office.
ProjectPro gives you the best of Microsoft Office 365 and Power BI tools that give enable you to have intelligent business decisions.
Overall, it is a complete package and an all-in-one construction accounting software with highly refined and integrated construction project management capabilities that come as cloud-hosted, SaaS, or an on-prem solution.
Key Features
Experience the most simplified way to job quoting, proposals, job purchasing, procurement, and job material planning.
From Change orders to Vendor data and job reports, ProjectPro gives you the best subcontract management features.
ProjectPro allows you to meet your productivity goals with Timesheets as it allows you to record resource hours, create timesheet batches, and process timesheets for quicker payroll management.
ProjectPro allows you to manage your activities and keep your project on schedule with the best of Project Management features.
AIA billings or Certified payroll reports, ProjectPro is designed to give all the ease to its users when it comes to rapid billing or working on public projects.
Payroll Integration, Contract Management, Change Order Processing, ProjectPro gives you complete cover on everything and anything that you encounter at the construction site.
Pricing
ProjectPro offers the most affordable and valuable pricing packages to its users. ProjectPro also offers you a free demo and free consultation option to help you understand all the basics and advanced features of the construction software.
---
Construction Management Software – FAQs
What is Construction Project Management?
The purpose of construction management software is to manage and execute the activities of a construction-based project seamlessly. There is a requirement of having knowledge of the updated processes of management and an understanding of construction processes and design.
A construction project has fixed objectives and limitations, which are specified and have to be completed within a particular time frame. This requires vigilant project management, which requires interpersonal skills coordinated with material resources throughout the construction workflow.
With the help of the relevant tech, construction project management has been enabled by software. This software has developed techniques to achieve predetermined objectives of scope, cost, time, and quality and participation satisfaction – thusly calling it construction management software.
What are the Features of Construction Management Software?
Change Order: Change of plans, material, design happens in a construction project. This feature tracks the order changes that are reassigned and inputted across the project, allowing the customer to see the recent cost with the updated budget.
Document Control: All the project documents are archived to allow seamless collaboration and keep everyone updated on the plans and designs.
Project Scheduling: This feature assists in scheduling and planning the timelines of the task.
Equipment and Resources: This feature keeps a check whether all of the equipment, laborers, and machines are effectively used, along with proper job allocation.
Bid Proposals: This feature aids in tracking bids from subcontracts to develop the perfect project team.
Transmittals: Keeps the CEO, managers, clients, laborers, and subcontracts up to date about the project developments. All the communication that is received or sent is saved in this app.
Purchase Orders: All the materials of items purchased are tracked and expenses are managed.
RFI's and Submittals: The time and date are tracked, along with the RFIs and response.
Job costing and Budgeting: Monitors and manages costs against the budget until the project is complete.
Construction is a task-driven business and construction project management apps plans it accordingly. Below is the list of top-rated construction management software to help you to decide for yourself.
Why Do You Need Construction Management Software?
With the expansion of real estate, it is almost impossible to liaise with contractors. Keeping track of progress without using this software is difficult. Here are some other reasons as to why you need construction management software in your arsenal!
1. Management Made Easier
Adopting a systematic approach to management is every construction management software's primary goal. Being so, this solution allows staff to ensure that projects go easily as per plans.
Besides, it enables users to come up with professional requests for information. It allows key staff to share crucial data and project budgets, which can be observed at the same time.
2. Easy Accessibility
This software can be accessed virtually anytime from anywhere since most of them are cloud-based. This effectively eliminates the struggle of hustling to go to the office to complete a task. Easy accessibility enables the user to complete the task on time from anywhere in the world.
3. Real-Time Collaboration
The majority of this software is cloud-based. It is easier for project managers to connect with teams, subordinates, and suppliers, among other key groups. This results in smooth workflows and accurate job estimates. It will enable much-needed collaboration among those associated with a common project.
4. Accurate Monitoring
To improve service quality you need to boost team workmanship. For this purpose, you need to track everything about a construction business. These best construction management software makes sure that everyone finishes the assigned job on time.
5. Opportunity for Business Expansion
Using construction management software can help speed up project completion. It promotes efficient business processes. This can result in getting more contracts and business expansion.
More jobs will lead to increased market share. As we know, more business in itself is equal to a productive marketing campaign.
6. Quality Improvement
Construction software can improve the general quality of your work. Construction management software enhances construction security, which upgrades project planning and control.
Likely, it limits project delays and promotes communication. This maintains a strategic distance from costly mistakes.
7. Cost Control
By utilizing its construction accounting capabilities, this software reduces your expenses. Construction management software assists employees to find important documents like contract budget status.
This results in the minimization of project costs and errors that may lead to high costs. Similarly, It reduces operational costs. It also allows access to real-time financial data, which can make the organization profitable.
Conclusion
By taking these thoughts into account, there's a better chance that you end up with the right construction project management software. This software can end up saving you a lot of time, effort, and money.
The best thing about most of these software solutions is that they offer you a demo so you can get a free trial period. You can test out and find the one that assists you best with your needs.
With digital tools as construction software programs, you can ensure that everything goes according to plan. Manage your finances and schedule before laying down the foundation of the structure.
We have provided you with the list of the best construction management software so that you can be less stressed and more satisfied with your work.
---
Other SaaSy Goodness on All That SaaS: