Is scheduling and resource planning getting on your nerves? Let us show you how easy it is to schedule, allocate, and manage your business with resource management software.
According to research carried out by Capterra, 65% of companies stated that using project management software has boosted their businesses.
What is Resource Management & Resource Planning?
Before getting to the list, let's have a better understanding of resource management and planning, shall we?
Resource planning is a crucial step in project management that deals with the proper utilization of available resources to deliver a project. These resources can be people, materials, facilities, or finances.
Management of talent and skill matching is also included in resource management. It keeps the team motivated and maximize the outcome. Resource management focuses on getting more done with fewer resources. It is centered around optimization and efficiency.
For a business to run and grow properly, resource planning should have to be on point. So, that it doesn't affect project delivery under any circumstances.
Why is Resource Management Important?
Talking about business growth, what do you think is the most crucial step that can boost your progress? Surely, it's Resource Management and Planning.
You can have a wide range of resources at your disposal, but if you are not managing them properly, you are bound to fail.
To keep you at the best of your game, we have taken it upon ourselves to provide adaptive enterprises that can help your business grow.
There is plenty of resource management software available in the market. But the real question here is, how would you choose the one that fits your needs best? Don't worry, we have you covered.
We tried and tested the best resource planning tools from the pool and have listed our version of the best resource planning software for 2023.
To save yourselves from the daunting task of resource management, take a look at our list and get your team on track and in line with your project goals.
Features to Look for in Resource Management Software
User Interface (UI): Simple yet powerful interface helps the users in understanding the software and consequently getting the most out of it.
Scheduling and Allocation: Auto- scheduling features are a great plus as they help in assigning the tasks to adequately skilled people, manage resources, and to set deadlines and dependencies.
Forecasting: The software collects data regarding budget, progress, capacity, and resources to provide insights for further planning
Cost and Time Resource: The software should be able to manage your time and its pricing should be flexible and clear.
Integrations: Powerful integrations within software proves to be a cherry on top and increase the efficiency of software manifolds.
Benefits of Using Resource Management Software
Putting resource management software can provide you with many benefits. Here are some of them:
Cost Efficiency: Save at large by maximizing the outcome from rightly utilized resources.
Improved Productivity: Seamless communication with robust features of resource management software guarantees to improve work quality and enhance the productivity of teams.
Simplified Workflows: With easy management and scheduling of tasks, workflows will be streamlined.
Real-time Analytics: These analysis reports provide invaluable insights for you to make informed decisions.
Easy Accessibility: Access data anytime from any location on your mobile or tablet.
---
The Best Resource Management Software and Tools in 2023
1. Hub Planner – Best Resource Planning Software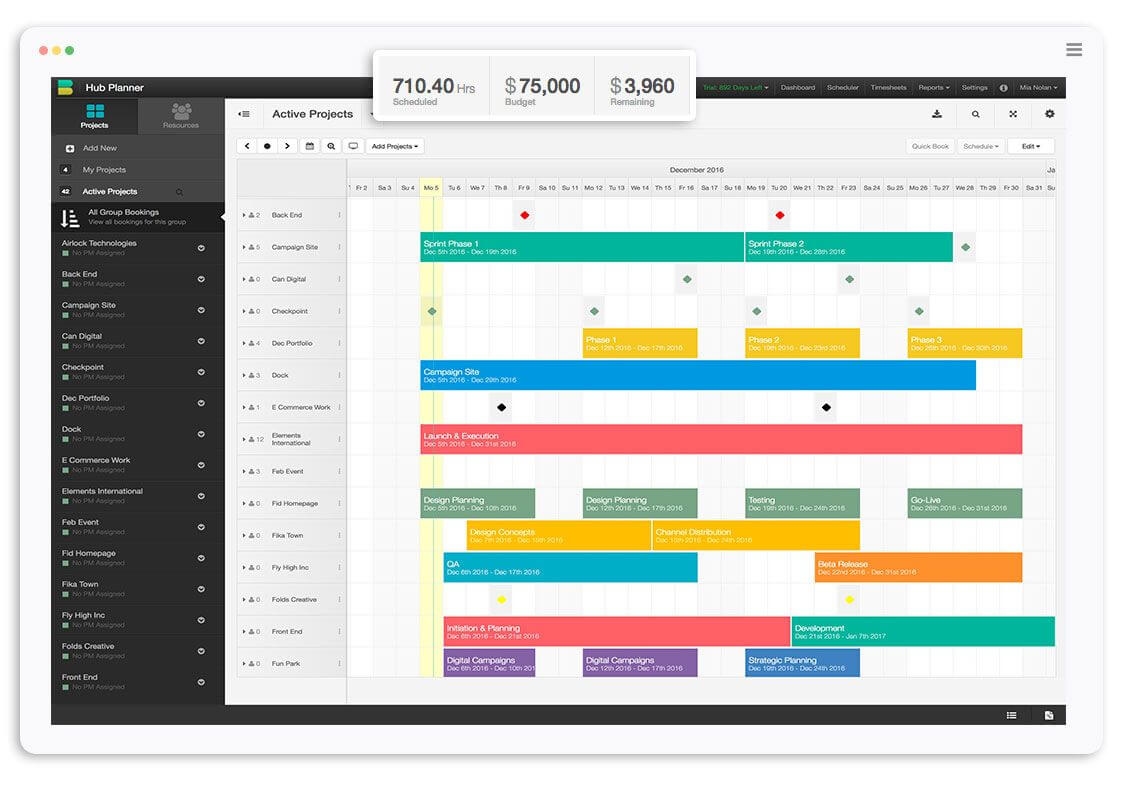 Hub Planner is designed to accommodate the project management needs of businesses of all sizes; small, medium, and large enterprises. It is a powerful and intuitive resource management tool.
A few of the robust features of this tool include resource scheduling, timesheets, vacation management, resource requesting, project management, and Analysis reports.
With Hub Planner, you can manage project spend, change resource rates, log internal costs, calculate profitability, and manage budgets.
This resource management tool has a simple, intuitive user interface, with useful, productive features such as drag-and-drop functionality that save time.
Overall, I found Hub Planner's interface to be very fluid, and everything seemed just in place. You can get used to the neat, simple UI pretty easily.
Smart availability indicators highlight where a resource may be overbooked or is already working at capacity allowing you to make quick and informed decisions.
With timesheets in Hub Planner, you can evaluate the initial reported time versus the total time spent on the project to get a better understanding of your team's work.
To help the users in managing teams and maximizing capacity, the solution has Heat Maps to show the availability and congestion of members on a project.
Furthermore, Hub Planner offers overbooking, members' availability, sick & vacation day's information.
As having clear analytics is an invaluable help, this innovative tool relieves you from the hustle by providing the ultimate bird's eye view of your resources and team in one place.
Why We Picked Hub Planner
There were several reasons why Hub Planner ranks #1 on our list of the best resource management software. Here are a few:
1. New Reporting: Hub Planner has recently released a whole new reporting platform. I haven't seen the intuitiveness of their new reporting dashboard in any other tool so far – I am impressed with what they've built.
Also, this is a free feature with Hub Planner available to all users. Here's what it looks like: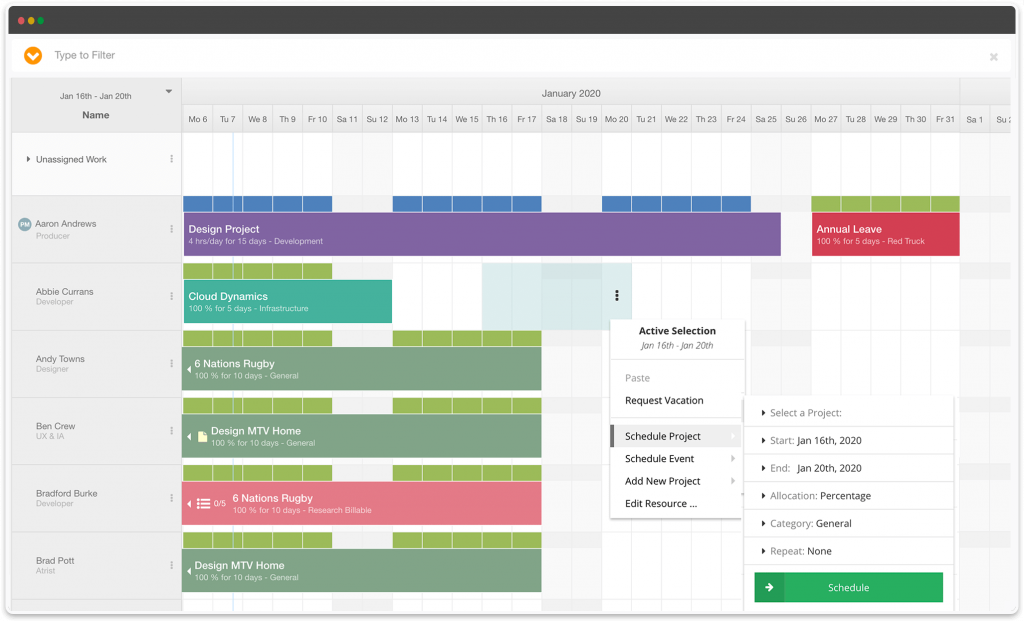 2. Global Public Holidays: Have teams that work from multiple time zones? With Hub Planner, you can easily keep track of upcoming public holidays.
This feature is perfect for teams in multiple timezones. Assign multiple calendars to resources. The public holiday calendar has an import option of 4 levels.
This can be useful for various purposes, such as scheduling sales kick-off meetings, maintaining management meeting calendars, etc.
Features
Heat maps to visualize the team's capacity and optimize resources accordingly.
Integrated time-tracking module in Timesheets for proper Time Tracking of projects.
Vacation feature to track leaves and visualize and manage the vacation of team members.
Filtered Search to find the exact resource you are looking for
Integrations with third-party apps such as Zapier and Basecamp.
Pricing
Hub Planner offers the following flexible pricing plans along with a free 60-days trial for each of them.
Plug & Play – at $7 per resource per month. It features unlimited projects, pay per extension, free extension updates, priority feature requests, and access to premium extensions.
Premium – It costs $18 per resource per month and includes all features of Plug & Play along with Personal Hub Planner contact, pay by invoice, personalized 1-hour training sessions, and priority support.
Enterprise – It is offered upon request and includes everything in Premium, dedicated point of contact, custom branding option, and service level agreement.
---
2. Runn – Resource and Capacity Planning Software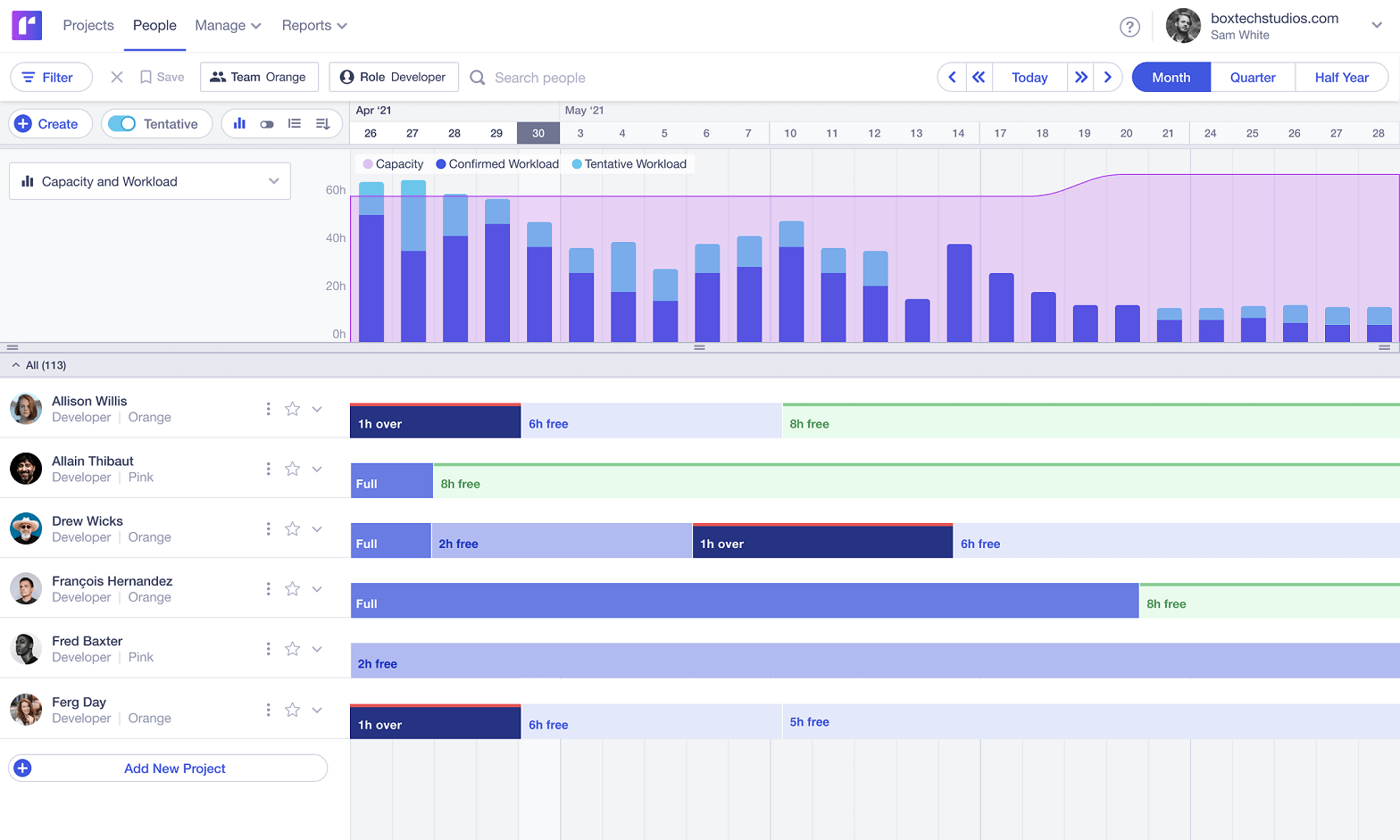 Next on our list is a relatively new entrant in the resource management and capacity planning space – Runn. It is a beautifully designed resource planning tool built for growing and remote teams in professional services businesses.
Runn allows you to manage your projects and resources through two planner interfaces – the project planner and the people planner. View available resources, demand, workload, and  capacity to allow teams to be in sync.
Everyone can easily understand who is working, who is available, and what projects are being worked on.
Simply drag-and-drop project assignments and allocate hours from the project budget based on your team's availability and utilization. If everyone is utilized, Runn's placeholders let you continue planning till you find someone available on the team or have hired a contractor.
Unlike other resource management tools on the market, Runn provides real-time visualization of how your resourcing plans impact the overall business through its charts. Runn's dynamic set of graphs let you assess the health of your business at a glance.
For example, see whether you have the capacity to bring on new work, view the project pipeline, and see when to hire more people – just to name a few.
There is also a suite of management reports that display metrics for your projects, people, clients, teams and groups.
Features
Project planner for creating project assignments, phases and milestones
People planner for a bird's-eye view of people's utilization and availability
Real-time charts to see how resourcing plans impact your business
Tentative projects to help you stay on top of your pipeline and capacity
Placeholder workflow to easily allocate and transfer project assignments when you find the right person
Track billable and non-billable hours to understand the work done with Runn's timesheets and Chrome time tracker extension
Reporting suite for your projects, people, clients, groups, and the business as a whole
Permission management capabilities to manage access and rights for each user
Pricing
Try Runn with a two-week free trial. Beyond that, Runn offers three plans:
Startup – completely free. Have access to all features, create unlimited projects, up to 5 people managed in Runn. No credit card required.
Pro – $10 per person managed/month. All features, unlimited projects, and unlimited people.
Enterprise – custom pricing based on individual requirements. Concierge onboarding, dedicated account management, and support for custom integrations with internal systems.
---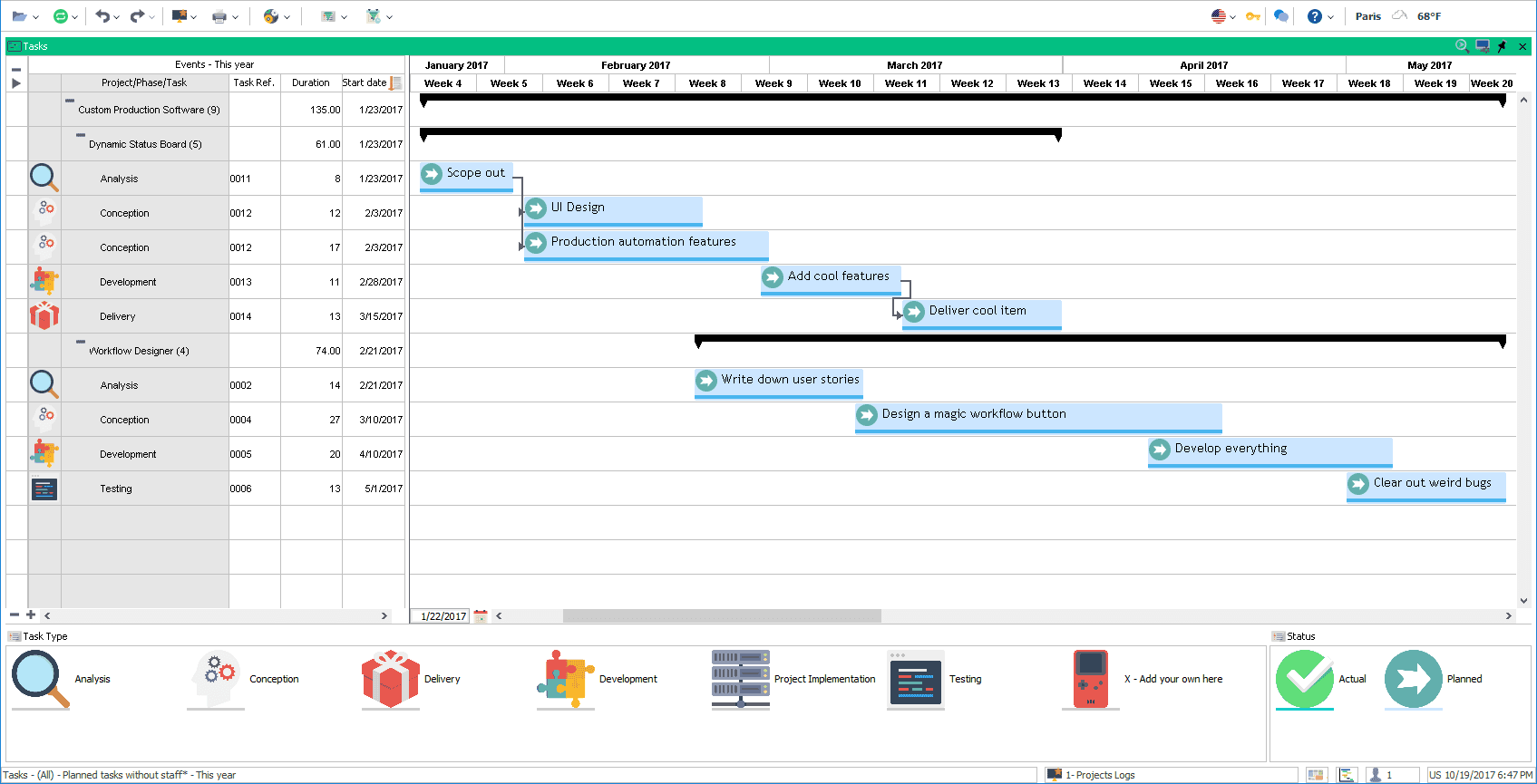 Visual Planning is a popular resource management software used by over 5000 businesses online. It is a comprehensive and hybrid software. By using Visual Planning you can manage resources efficiently, make informed decisions with calculated metrics.
The timely analysis allows executives to predict the bottleneck and overheads and schedule actions accordingly.
The capability of Visual Planning to update the production plan in real-time and assess delay impact provides enormous benefit to businesses. It can be accessed on mobiles to facilitate resource planning on the go. Users can keep track of their projects and work remotely from anywhere.
The software can be deployed on-premises or as cloud-based software. It is highly flexible and empowers the users to customize it according to their numerous requirements.
Even more so, Visual Planning supports various databases such as MySQL, Oracle, SQL Server, etc along with various data formats like CSV.
Visual planning also provides users with the power of information sharing capabilities, security, reliability, and mobility.
Features
Easy configuration with other software for Data Imports and Exports.
Interactive Timeline that displays all past and upcoming work, tasks, projects, or events.
Track employee's availability and progress with Workload and Indicators.
Real-time Scheduling and Updates of data across all devices.
REST and SOAP API for extensive integration across the organization.
Pricing
The vendors have not disclosed the pricing details of the software. The pricing details are available only upon request. Also, there is no free trial available for Visual Planning
---
4. TeamGantt – Simple Resource Planning Tool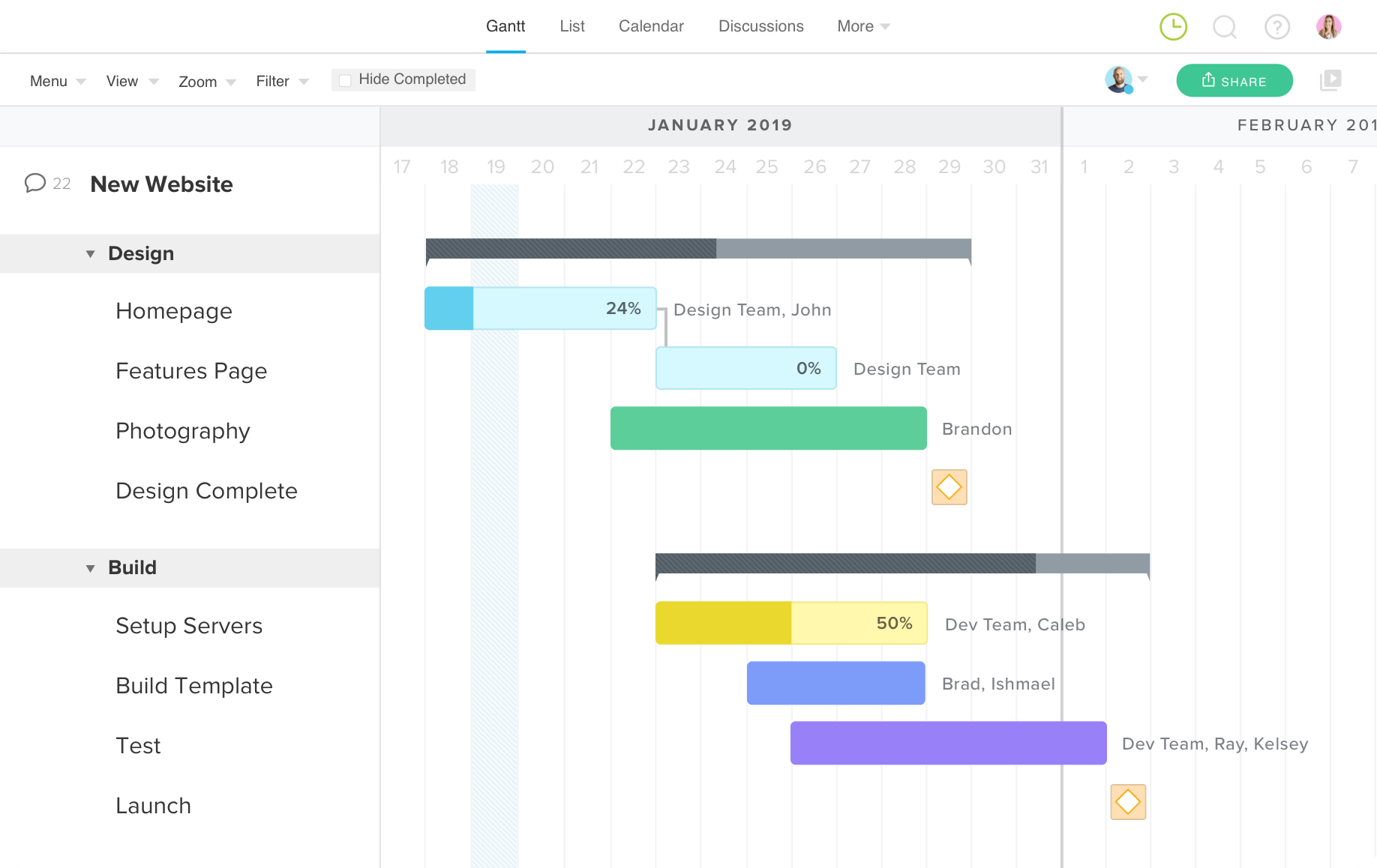 TeamGantt is creating a buzz in the resource planning software industry and for good reasons. It is one of the best project management software especially when it comes to deploying Gantt Charts.
The solution does not only support Gantt charts but also provides collaborative tools, time tracking, file sharing, and task-level communication features. TeamGantt is well designed according to the needs of users and uses the drag and drop approach.
You can create tasks, assign them to members, and collaborate seamlessly by using the platform provided by the software.
It helps in tracking strategy progress in an organized and illustrative way all the while saving your time and effort.
TeamGantt is the best free resource planning tools suited for small to medium businesses. Members of the team can comment on any task and collaborate freely.
The software also allows users to attach various documents to any task. Moreover, the conversion of these tasks to Gantt charts into PDFs is also supported by TeamGantt.
Features
Exceptional tutorial content.
Shake feature that fixes violations independent tasks
Projects can be mapped out with milestones, due dates, deliverables, and interdependencies.
Tracks the amount of time spent on a task.
Offers a mobile app or mobile-optimized website to manage projects and tasks on-the-go.
Pricing
The solution comes with a free trial and offers two flexible pricing plans:
Free – free forever. Comes with 1 project,3 users, and core planning features for one project
Standard – at $7.90/user per month if billed annually. It features unlimited projects, basic planning, management of projects, and a minimum of 5 users.
Advanced – at $12.45/user per month if billed annually. This plan includes unlimited projects all Standard features, time tracking, and hourly resourcing
---
5. Float – Resource Management Software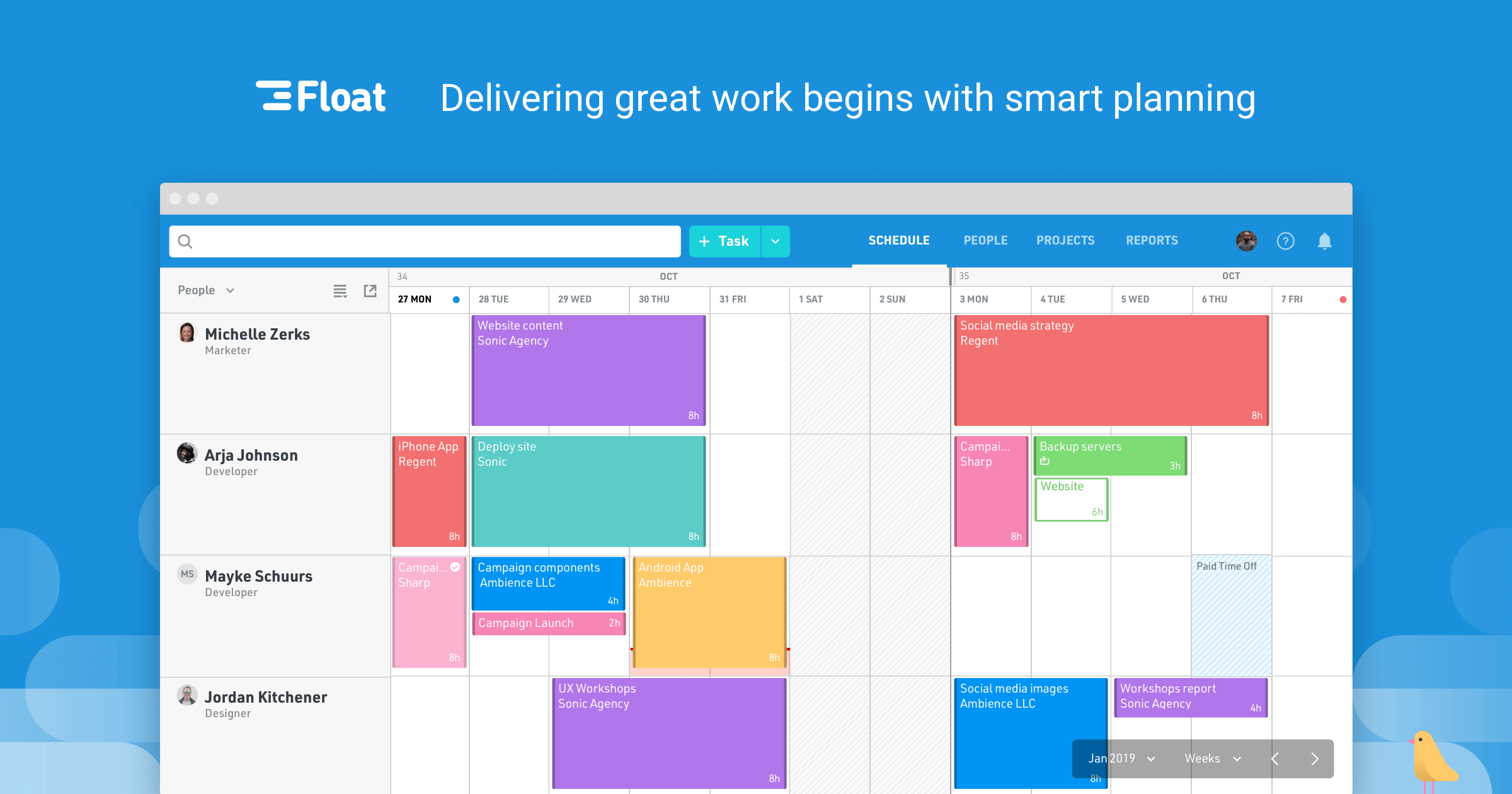 Float is one of the best resource management software since 2012 and has managed to make its mark in the industry with its powerful features. It aims to provide a secure and reliable environment along with cash flow forecasting, cash budgeting, and cash management tools.
This resource management app aims to provide a visually stunning, easier to use alternative to spreadsheets, and stresses how entering data into spreadsheets can be counter-productive.
It continuously works on improving its features and capabilities over time. With continuous updates, the software is one of the best resource management software available online.
Float offers a multi-view to manage your resources – by projects or by people. You can easily schedule tasks, and set the number of hours and the duration each task will take, which then automatically updates the resource utilization chart.
There are handy shortcuts for you to save time when managing team members and projects. The float also comes with powerful search functionality, and other nifty features so you can make the most out of your resource planning and management practices.
Features
Beautifully visualize team workload, engagements, and progress made through Float
Schedule tasks with ease, and seamlessly update the team workload chart
Powerful search functionality to help you find what you need in just a couple of clicks
Notifications to help you stay updated on what's happening and what is done
People tab to let you get a bird's-eye view of who is available, and who could use some help
Set work hours for your entire team or certain individuals who are working freelance/part-time
Status updates so everyone can stay informed who is working remotely, from home, and who is in the office
Add unassigned roles for vacant positions and easily schedule tasks for these vacant roles
Pricing
Float's resource management tool comes with two paid plans:
Resource Planning – $5 per user/month, unlimited projects, capacity reporting, all resource planning features
Resource Planning + Time Tracking – $10 per user/month, all of Resource Planning plus easy time tracking and time logging via Float's mobile app, estimates vs. actuals, and more
---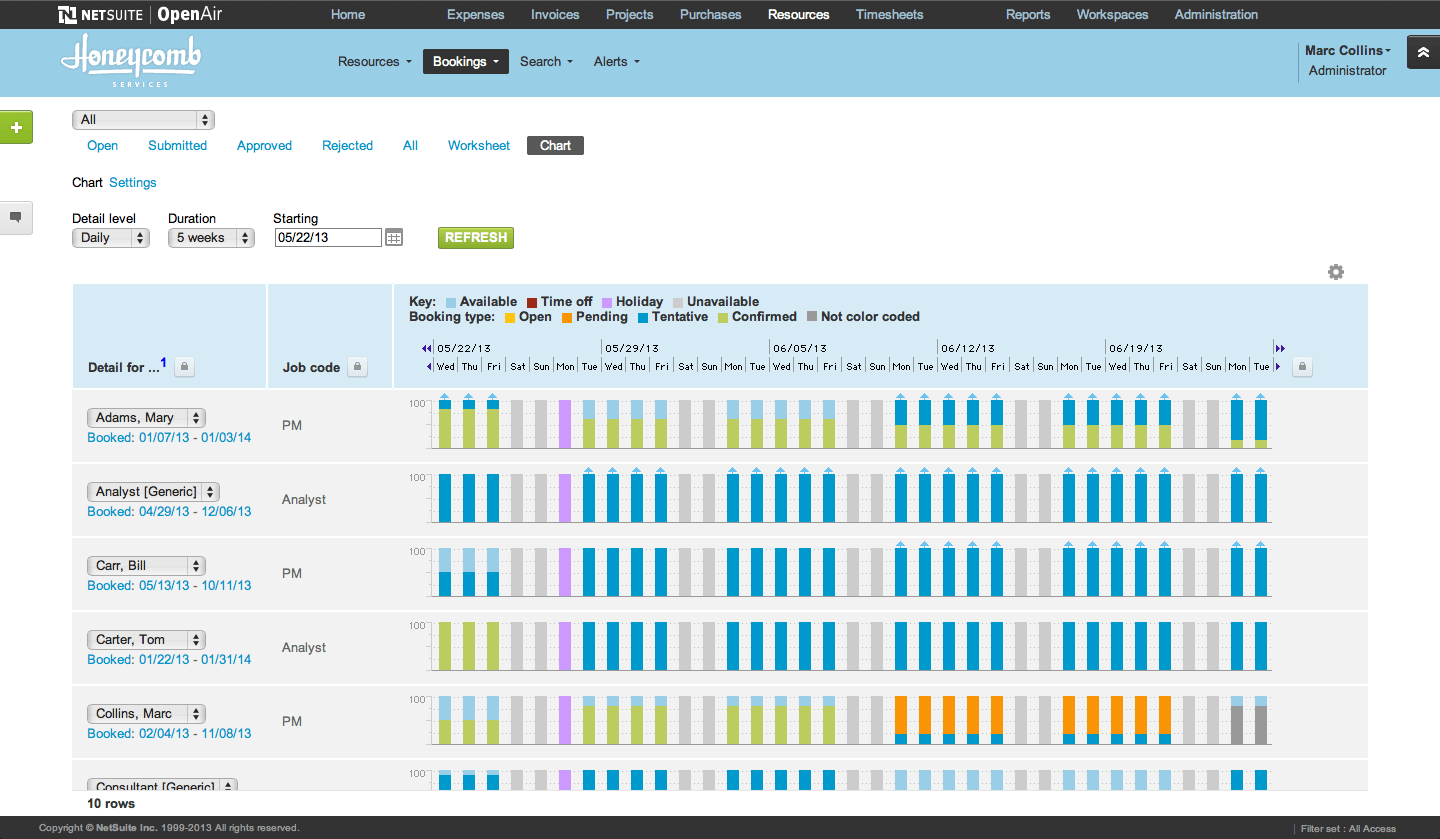 NetSuite OpenAir by Oracle is acknowledged worldwide as the best resource management software. There is a probability that you might have heard about OpenAir before. If not, let us tell you about this top-notch software.
Used by over 1,500 high-growth services customers, It precedes its reputation. With a flexible yet powerful interface, NetSuite OpenAir is easy to implement and can be configured according to business needs to get the most out of it.
OpenAir is a suite of excellent technology services such as Resource and Project Management, Reporting, Dashboards, Time & Expense Tracking, and Invoicing.
The software empowers users to manage people and skills resources, gain real-time insights, and increase project profitability from a single, cloud-based platform.
You can create timesheets on the go with OpenAir accessibility on mobile devices. NetSuite OpenAir ensures improved on-time project delivery and project profitability along with timely reports and analytics to help users in making informed decisions.
An amazing feature of the solution is advanced resource optimization that ensures the proper use of resources across the projects. OpenAir is a complete package to deal with all your resource management issues and to help your business grow in the future.
Features
Skills matrix and comparison tool, allowing leaders to compare resources to help with resource selection
Reporting – many built-in reports and the ability to create custom reports
Ability to access remotely via the web & mobile app
Support collaboration among teams
Robust expense management capabilities that boost employee efficiency
Options to integrate with front-office and back-end solutions.
Pricing
No free trial available. Contact the vendors to get your quotation of pricing.
---
7. Ganttic – Resource Management Software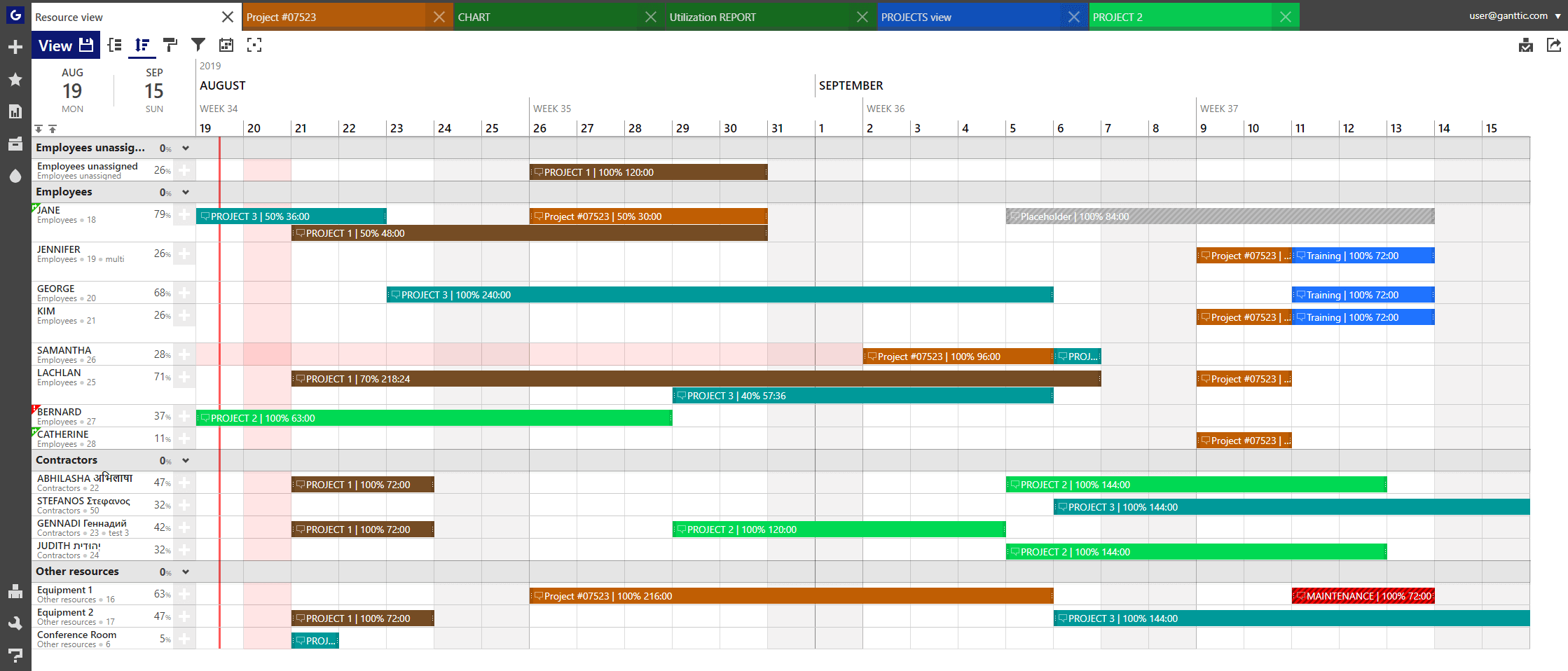 Ganttic is an online user-friendly platform for resource planning scheduling and management. The tool enables users to have a firm grasp over resource allocation and use.
As the name of the software indicates, it features interactive Gantt charts along with a graphical interface, and a customizable timeline to boost business productivity & efficiency.
Ganttic supports real-time collaboration among an unlimited number of team members. Ganttic also integrates with Google Calendar to keep you updated and on track.
As business planning and scheduling keep on updating with time, businesses need to have resource management software like Ganttic. The solution works best at scheduling projects, task management, and assigning tasks to team members.
Users can set their time zones and manages capacity based on the availability of resources. That too without having to go through the fuzzy spreadsheets. From importing data to generating analysis reports, Ganttic does it all with just a few clicks.
You can set task dependencies, control team members' access, and fend off the risk of overbooking or overlooking previous allocations with this robust software. With Ganttic, you'll have all the tools needed to manage numerous resources right on the tips of your fingers.
Features
Resources can be synced with your Google Calendar for timely reminders and scheduling.
Save time through effortless and instant filtering of projects, tasks, resources by any data.
Collaborate easily with your colleagues through the multi-user environment.
Dynamic and customizable resource grouping and filtering according to resources and skills.
Pricing
Ganttic offers a free trial as well as the following pricing plans based on several resources:
Free – free for lifetime, up-to 10 resources
| | | |
| --- | --- | --- |
| Plan | Resources | Price (per annum) |
| Pro 20 | 20 | $25 |
| Pro 50 | 50 | $59 |
| Pro 150 | 150 | $149 |
| Pro 250 | 250 | $229 |
| Pro 500 | 500 | $379 |
---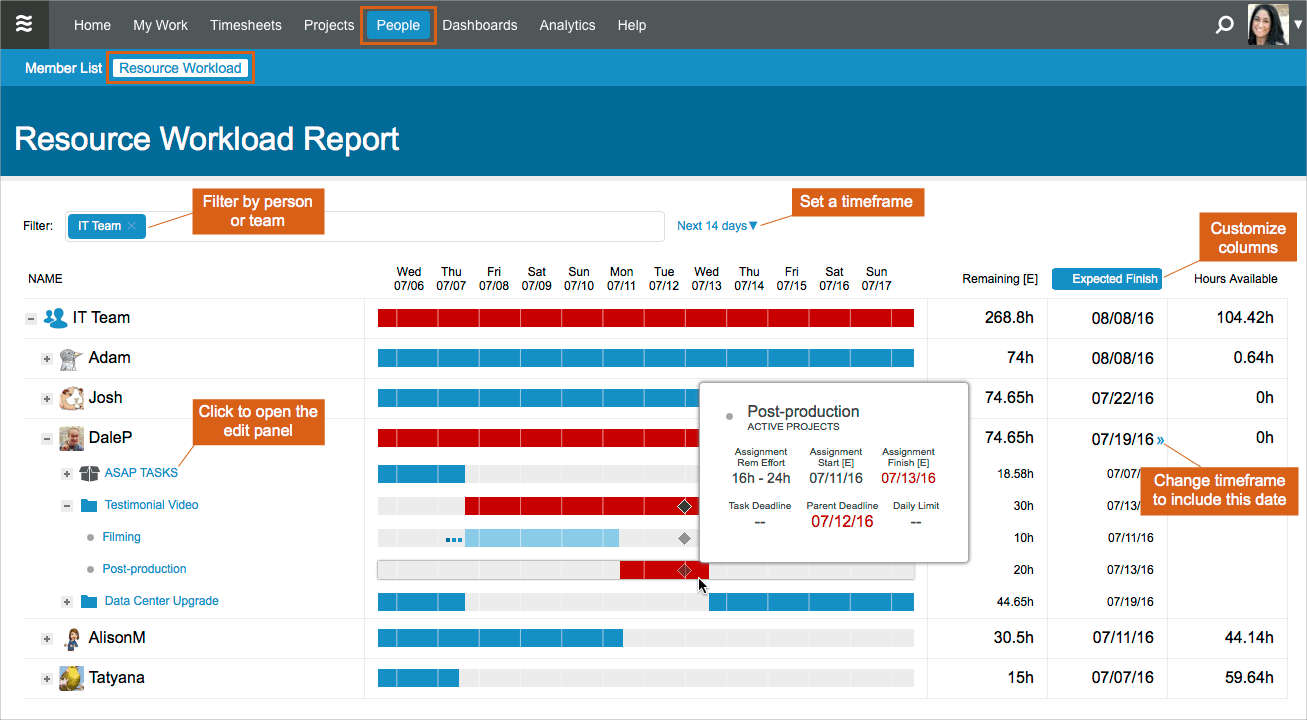 LiquidPlanner is one of the most structured and one of the best work-management systems available in the market. Though a little expensive, LiquidPlanner is the most effective project management software.
This application can do much more than only managing work. It can help you make the best use of your resources, including staff availability.
It can also dynamically schedule your inter-related projects depending on the change of your priorities. LiquidPlanner has the default look of a Gantt chart, however, they offer a Kanban board view and a baseline view as well.
With a customizable dashboard, you have everything in one global place. The viewer is facilitated with relevant information to track the progress, risks, and budget of related projects. Team members have a platform side by side to share the progress of their work.
Moreover, the application has the feature of generating Project performance, Cost and Profit, Client Portfolios, Resource Utilization, and Baseline Trend reports of your completed project.
Features
Supports various formats for Intake forms of all standard types
Huge library of videos by the vendor to help users in understanding the software
Calculate resource's expenses with LiquidPlanner Rate sheets.
Resource Workload Report provides helps you keep track of your employee's progress.
Pricing
Along with a 14-day free trial, LiquidPlanner comes with three flexible pricing plans mentioned below:
Small Team – at $9.99 per user per month billed annually. It includes 5 virtual members, 5 GB document storage, 250 active tasks, iOS, and Android apps, and time tracking
Professional – at $45.00 per user per month billed annually. It includes a minimum of 10 users, 25 virtual members, 100 GB document storage, 2000 active tasks, all features of Small Team, and unlimited internal dashboards.
Enterprise – at $69 per user per month billed annually. It includes all features of Professional, resource workload report, single sign-on, 50 virtual members, 500 GB document storage, and unlimited clients.
---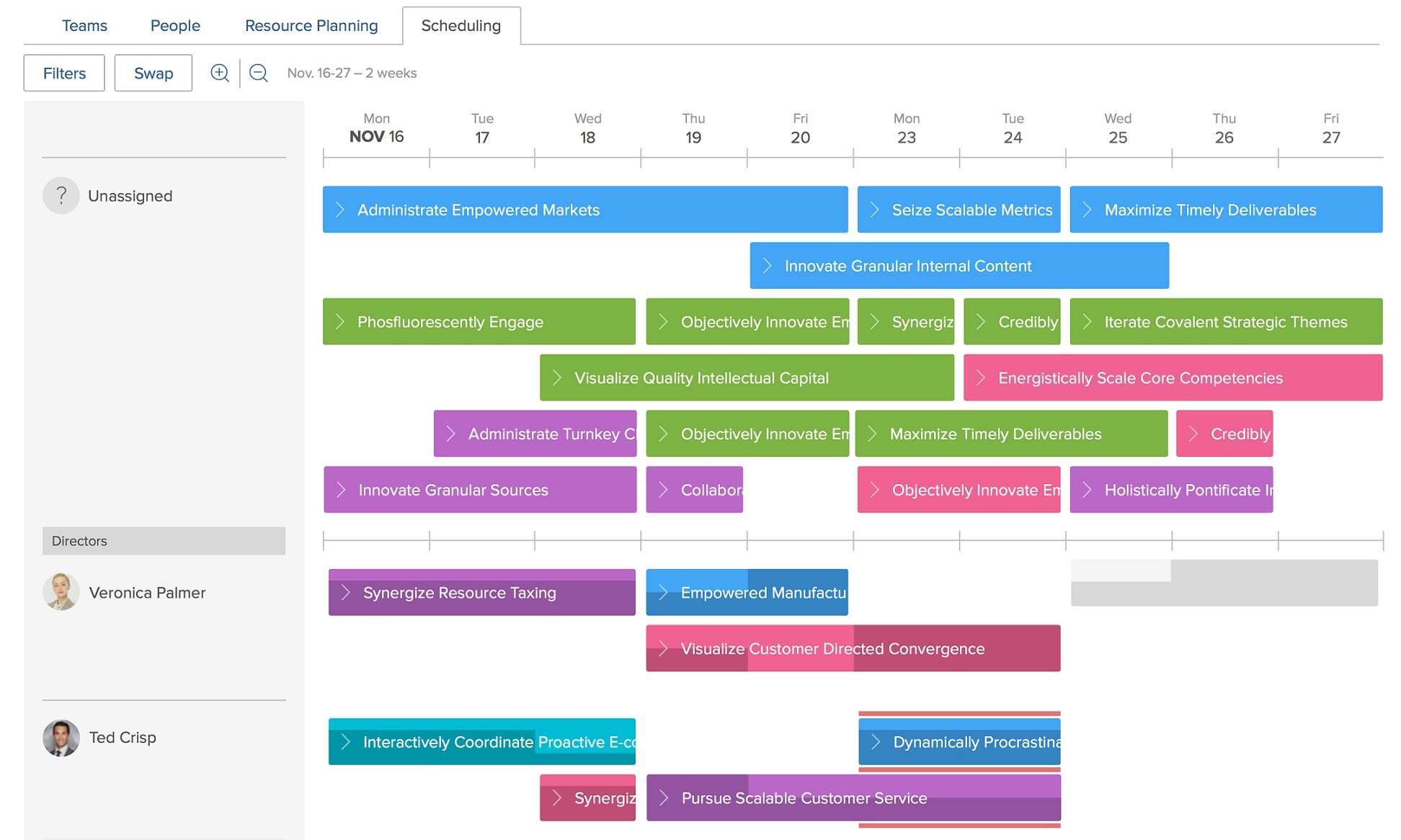 With a work management platform like workflow, an organization can manage its workflows through online collaboration. With Workfront, team collaborations are made easy.
You can create a schedule of requests, plan and prioritize projects, manage processes, and report on work – all at one platform.
All projects are centralized as a holistic view. In this way, IT personnel, as well as business stakeholders, can look into the progress and status of the project.
Workfront provides solutions to the Marketing, IT, Agencies, Professional Services, and Product Development teams. It has packages available for intra-team, as well as inter-team collaboration.
Managing work in a single location can help you get a detailed insight into project status, giving your team more time to stand out and shine. All of these approaches help a business work in a streamline of processes, hitting each benchmark one by one.
Features
Request management on a dashboard.
Customize notifications for when special events are triggered.
Send out scheduled reports through a dashboard.
Resource management by an automated allocation of tasks.
Customized graphical representation of data to provide stats.
A comprehensive view of streamlined processes and projects for all the stakeholders.
Pricing
Work front offers 4 pricing plans for businesses; however, their details are provided only upon request.
Team – For a single team with basic management features.
Pro – For one department with complete work management, includes premium digital content review and approval.
Business – For up to 10 departments with all features of Pro.
Enterprise – For an entire enterprise, all features of Business with advanced security.
---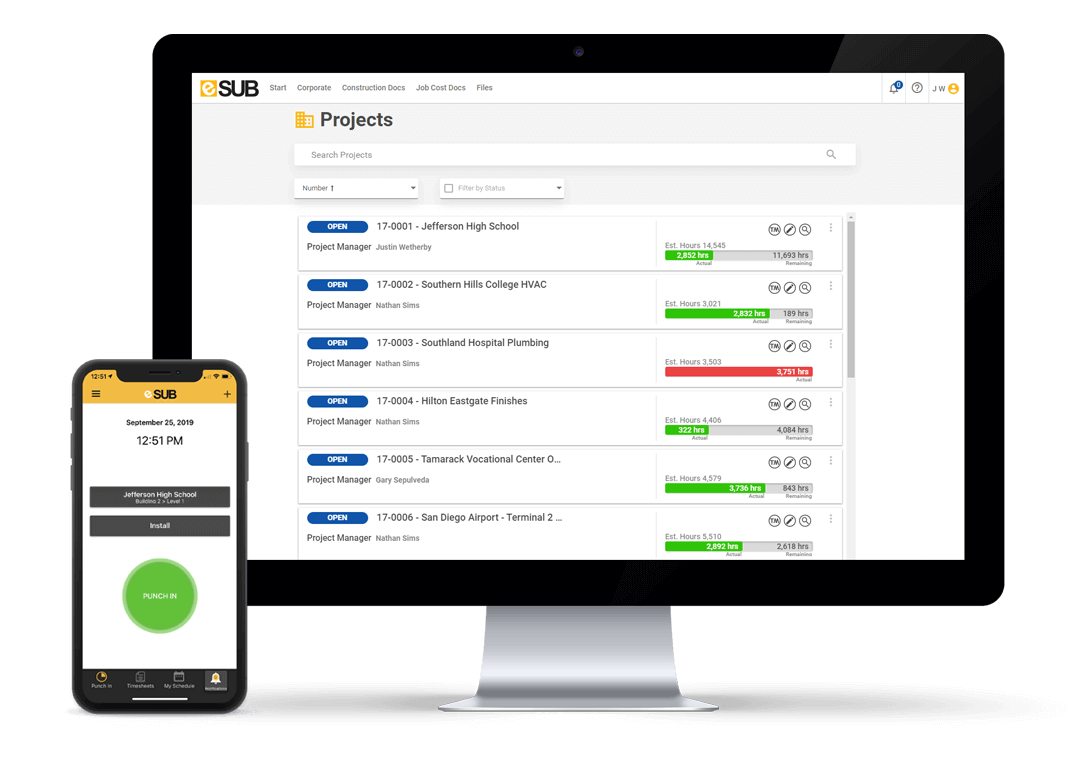 eSUB is one of its kind field-first project management platform built for commercial subcontractors. It is a cloud-based solution that helps its users with procedures such as entering data, site events, labor activities, material costs, time, and workforce information.
All of this information can be accessed at any time from any location as it is stored online in a searchable database for user's access. This database is updated in real-time so that all the data remains in sync on all devices. eSUB takes complicated tasks and simplifies them, increasing work efficiency.
The solution covers all aspects of resource management and provides a unified platform for users to increase operational efficiency, improve communications and back-office efficiency and field labor productivity.
Users can eliminate manual procedures by using eSUB paperless documentation, automated labor tracking, and communication features.
You can access all the project's data with secure login, change orders, track documents and work progress, RFIs, field notes, all from a single source. For increased accountability and productivity, we suggest you opt for eSUB like thousands of other users across the globe.
Features
With the mobile application, stay connected with your team and work from anywhere
Change and reallocate orders anytime with a snap
Virtual Filing Cabinet to store documents online
Ability to customize and send CORs and EWOs
Get all the necessary information regarding the project with Project Summary
Pricing
There is no free trial available for the software and the pricing details are available on inquiry.
---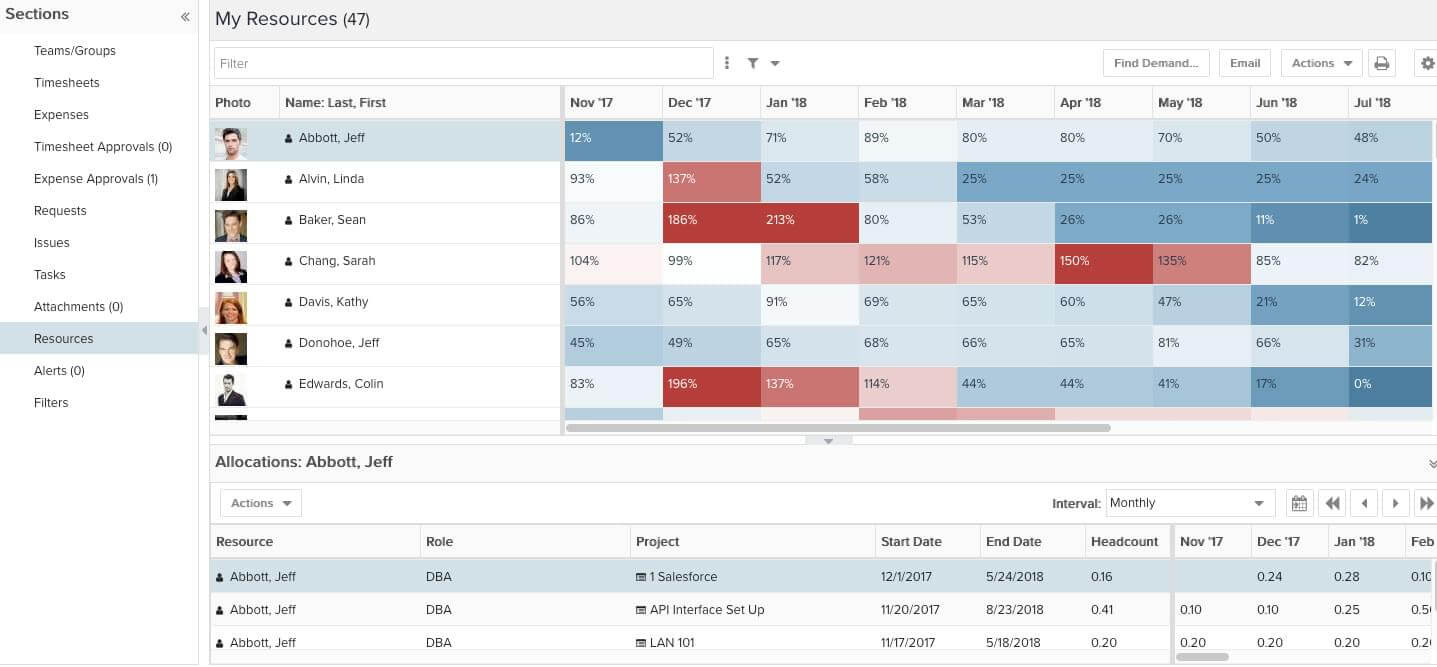 Another amazing software on our list is Planview. It is a resource and project and portfolio management software that offers a vast range of powerful features with adaptive best practices.
To name a few of its key features, we have task management, resource management, learning and support, collaboration, budgeting, and agile project management. It is practically an all-rounder in the field of resource and project management.
Used across the world by various organizations, Planview is designed to help businesses of all sizes. The solution with its high-end capabilities enables the businesses to identify opportunities and then helps in putting the resources and manpower to use efficiently accordingly.
The rich analytics and reporting feature of Planview assists users in assessing the advantages and disadvantages with the help of visual metrics. This information is crucial for deploying limited resources at hand to get maximum outcome.
The software comprises a road-mapping feature as well to help organizations build roadmaps, derive strategy, optimize funding and resource allocation using strategic scenario planning.
With robust features like automatic reconciliation of budget, financial and capital planning, analytics, and dashboards, Planview empowers users to gain control over money, resources, and business capacity.
Features
Reports and Analysis of portfolio and project performance for informed decision making
Cost Management against budget and across the portfolio to understand how costs break down
Optimized resource capacity and improve utilization
Road-mapping to define top-down timeframes and financials
A flexible configuration enables resource management at a macro or micro level.
Pricing
Planview offers a 14-day free trial. The pricing plans for the software are available on a quotation basis as Planview's products are custom configured for a company's needs.
---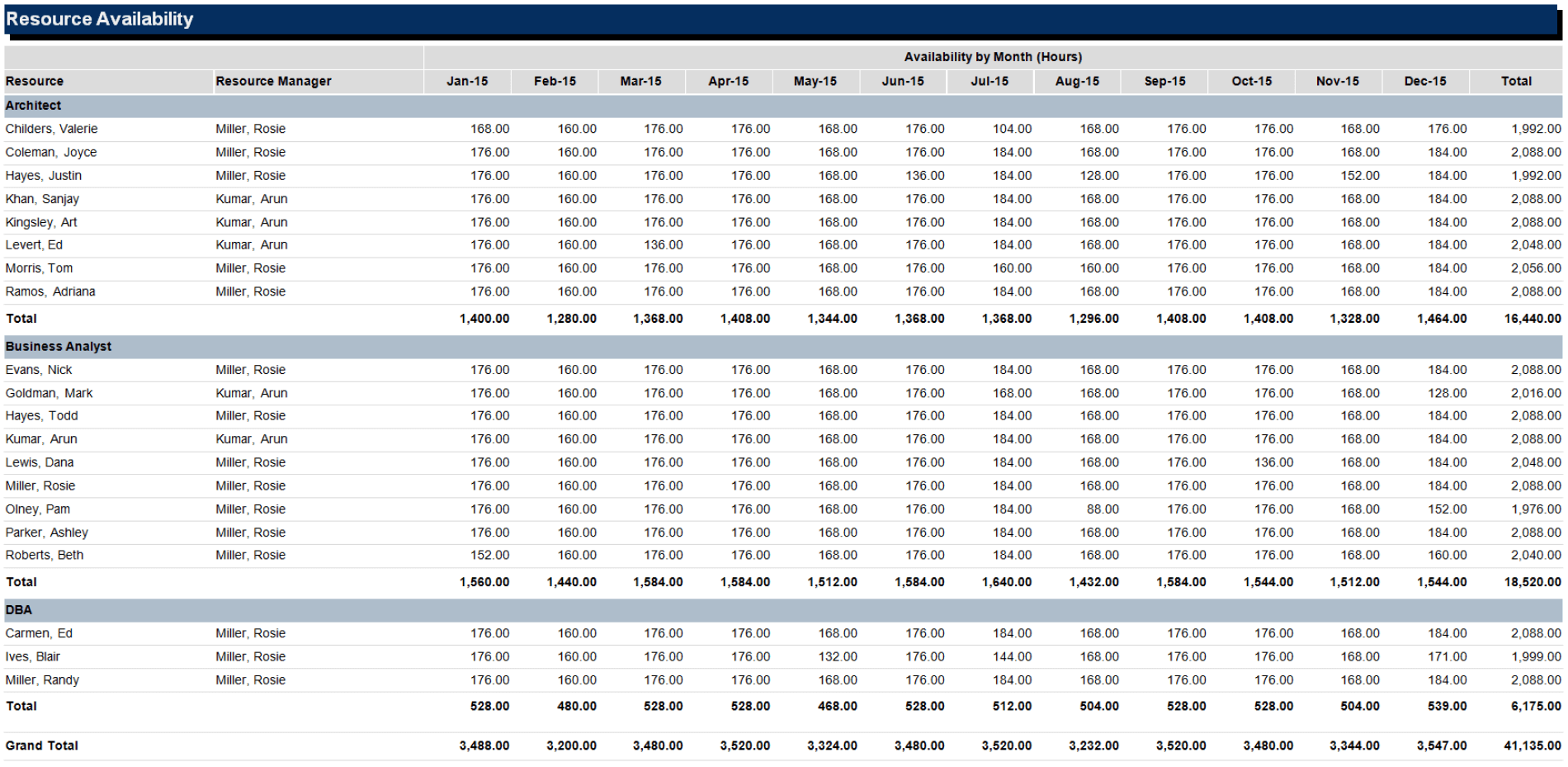 Broadcom resource management software is an extremely robust product that is designed to facilitate and improve the delivery of projects and programs. It links everything from mobile to mainframe and to deliver business agility with quality, security, and compliance.
The tool provides seamless support and upgrades for a streamlined workflow of organizations. Broadcom ensures that users get a consolidated view of how people are being allocated across the enterprise at their fingertips for a centralized staffing system. It consists of the following key components:
Project Portfolio Management
Agile Planning
Requirement Management
Automation
With software like Broadcom that drives agility for workers and adaptability across the enterprise, users can gain financial transparency, analyze their project portfolios, and save largely on costs.
Task Boards on the software enables users to create a visual task list on boards. PPM software keeps all the members in sync with each other.
Now you can map risks and dependencies beforehand and track progress in Broadcom down to execution with ease.
Features
Centralized database and timeline that ensures visibility across the staff.
Financial Forecasting to perform Financial modeling scenarios from an allocation's perspective
Resource telescoping – to help narrow your focus on a specific problem.
Reminders and Scheduling to keep the projects on pace.
Pricing
Users can purchase products through Broadcom Authorized Distributors in their region or country or contact the company for quote-based pricing.
---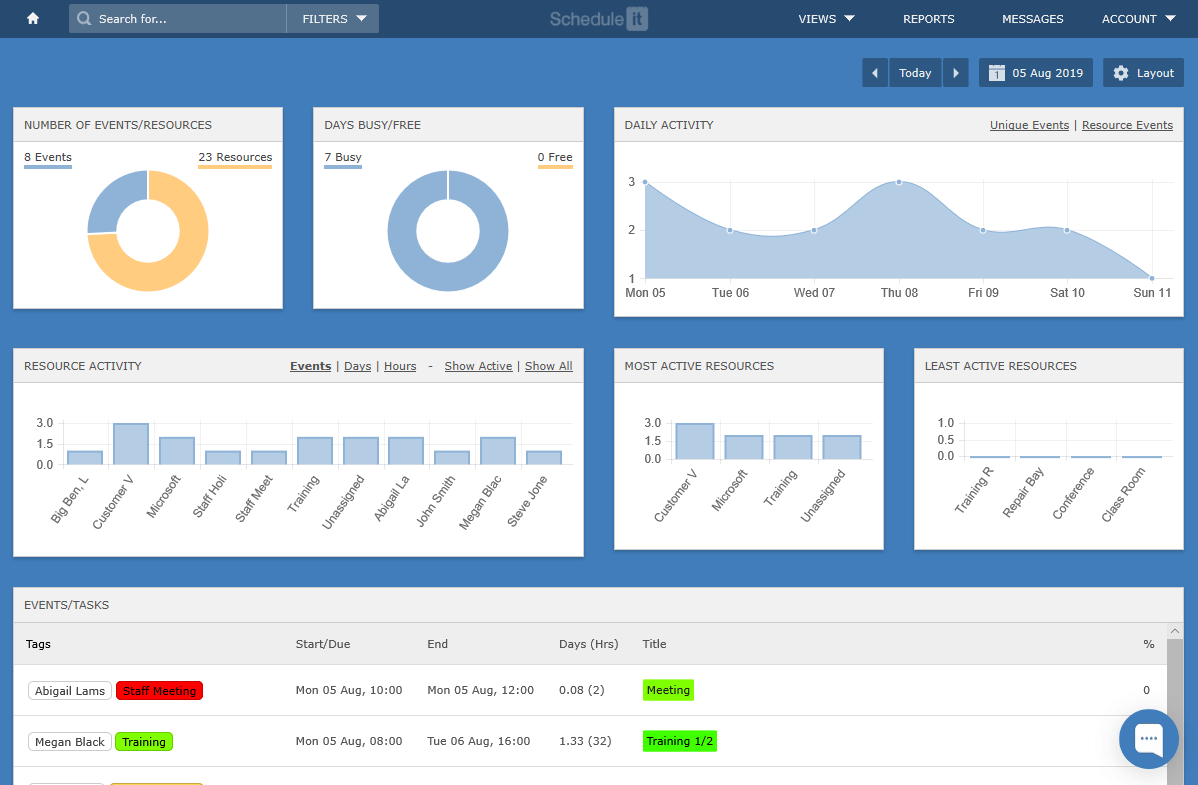 Schedule It is a unified platform that facilitates users in scheduling employees, staff, clients, and contractors, delegates, and patients, with great visibility.
It is designed to cater to the needs of small and medium businesses. Schedule It enables users to quickly update work schedules with its drag and drop interface. Maximize your work capacity and enhance operational efficiency by managing your schedules with just a few clicks.
Schedule It helps users to save costs and time by scheduling all their important resources in one place, on any device from anywhere.
Secondly, powerful integrations with third-party apps such as MailChimp, Slack, Apple iCal, etc. add further to the platform's efficiency.
Another amazing feature of Schedule It is Custom Reports on resource utilization using timesheets, order forms, job cards for invaluable insights.
Moreover, other key features include appointment tracking, resource management, multiple views, reporting, event categorization, tagging, and more.
The solution is available as a Cloud service as well as an on-premise installation with budget-friendly pricing plans.
Features
Quick resource allocation and the ease of updating your schedules
Unlimited type and the number of resources for you to plan.
Tag people, clients, the work type, needed equipment and order status, etc
Statistical Analysis for your planned resources to optimize capacity
Full event history and audit trail to keep track of progress made.
Pricing
Schedule It pricing plans are divided into two categories i.e. online and on-premises pricing plans. A free trial of the software is also available. Let's have a look at pricing:
Online/Cloud:
Startup – at £10 per month (~USD 13.06 per month) with limited users and basic resources.
Business – at £15 per month (~USD 19.59 per month) it includes unlimited users and event storage, multi-level permission settings, accessibility to temporary cloud storage, and much more.
Enterprise – at £25 per month (~USD 32.64 per month) withal features of the Business plan along with custom rules and automation, white-label, concierge onboarding, and setup assistance.
On-Premises:
Startup – at £89 per year (~USD 116.2 per year) with 1 user, support target response, unlimited resources, and access to a shared database file.
Business – at £119 per year (~USD 155.4 per year) with 1 user, all features of Start-up, online synchronization, live support, and access to SQL database.
Enterprise – at £4,997 per year (~USD 6,525 per year) with 50 users, all features of Business, live one on one remote support, and permission to use your own Cloud, MySQL, or MSSQL database.
---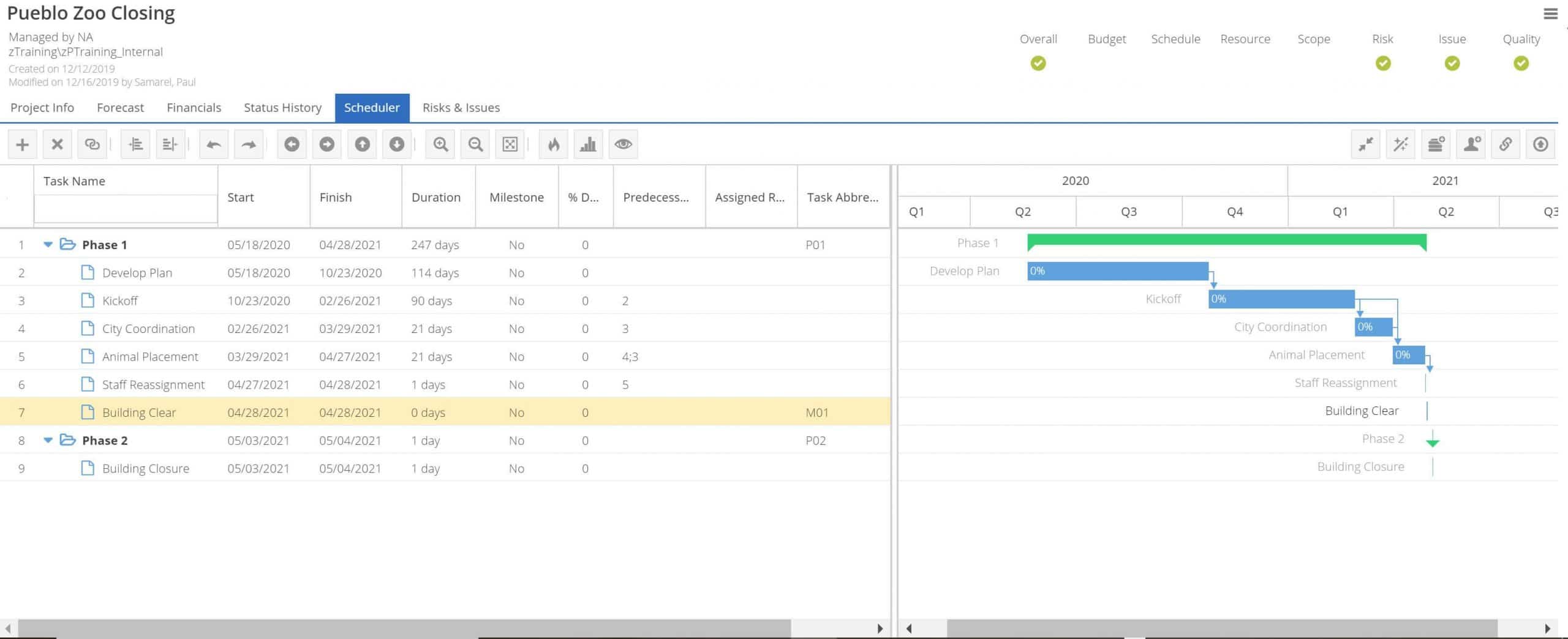 While managing a project, it is difficult to keep track of your team members, their skills, and the projects they work on. Hence, we have PDWare which is a pioneer in resource planning and portfolio management.
It was introduced in 2001 to provide robust and efficient resource planning, support operational decisions, and improve resource and portfolio productivity.
PDWare is all one solution for executives to cope up with the resource and capacity challenges, project portfolio management, budget management, task management, and status tracking. The software is fully equipped with powerful features and serves all kinds of companies regardless of their sizes.
PDWare emphasizes prioritization, feasibility, and execution to ensure the project's success. It is dynamic yet easy to use features that provide essential business insights by analyzing the given data.
The reporting capability provides some excellent dashboard features to enable improved visibility across the organization.
PDWare software is available for cloud and on-premise installations and is truly a one-stop-shop for good strategy execution, portfolio management, and effective project delivery.
Features
PDWare Portfolio Desktop as a replacement of Excel for resource planning and finance analysis
Strategy and prioritization of tasks for seamless and organized workflow.
Make stronger and better strategies by getting a better understanding of your resources with What-If-Scenarios
Time & Expense Tracking for project and resource management
Pricing
The pricing information is available on request.
---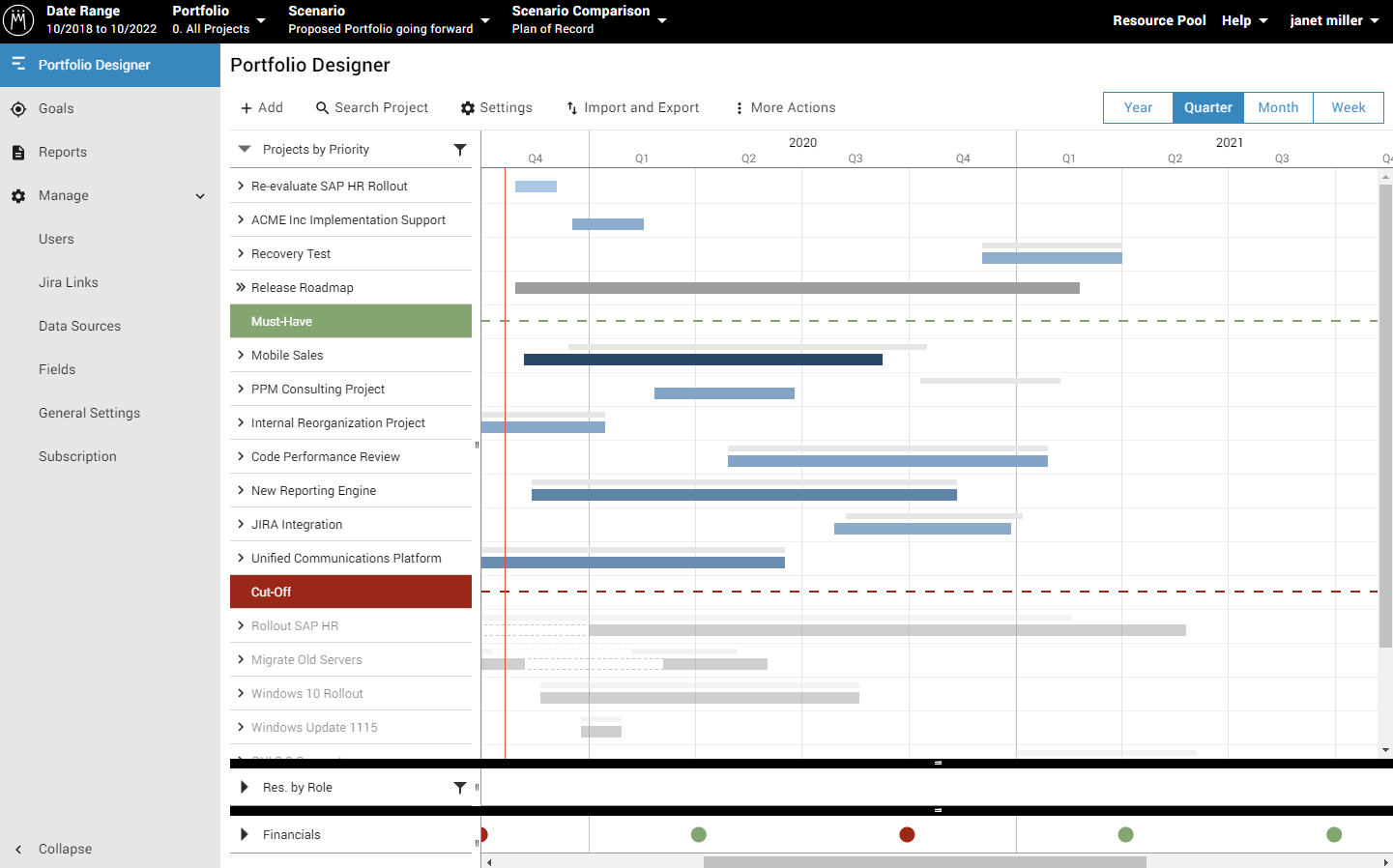 Last but not the least, we have MeisterPlan in our list of best resource management software. MeisterPlan is an effective portfolio-level ppm and resource management software that works on a top-down approach of "Lean PPM".
This tool provides easy-to-use resource allocation and project aligning features for project portfolios that tends to work like a charm. MeisterPlan is quite easy to set up as it is available as a cloud-based service and on-premise.
Its simplicity ensures its excellent usability to holistically optimize and help you make strategic decisions regarding projects.
Multi-project resource management is not a piece of cake, hence companies of almost every size incorporates MeisterPlan to streamline their workflow.
MeisterPlan boosts the decision-making processes by keeping track of budgets, aligning project portfolio to strategy, and resolving conflicts by understanding dependencies. The most amazing feature of MeisterPlan that makes it stand out in the crowd is Scenario Simulation.
This feature allows you to foresee the impact of changing circumstances by creating and comparing multiple scenarios
The intuitive nature of the software helps you in the proper management of the project from the initial stage to the completion. It is fully customizable and can be rightsized according to your needs.
With MeisterPlan you can see just the right information, identify constraints in resources, and fully maximize capacity utilization.
Features
Project Portfolio Planning and Analysis
Allocate resources to various projects, phases, and tasks.
Mapping of projects with milestones, due dates, deliverables, and interdependencies
Reporting and Visual Data Analysis for better insights regarding the business
Easy alignment of business goals and strategy with projects
Real-time scenario planning to determine the possible outcomes
Pricing
MeisterPlan offers flexible pricing plans based on many resources. All prices are based on annual payments. For more than 500 resources Enterprise packages are available on request.
Furthermore, a free trial of the software is also available. Resource-based pricing is as follows (with unlimited projects and scenarios):
0-20 Resources – €199/month (~USD 220.54 per month)
21-30 Resources – €299/month (~USD 331.36 per month)
31-40 Resources – €399/month (~USD 442.18 per month)
41-50 Resources – €499/month (~USD 553 per month)
51-75 Resources – €699/month (~USD 774.64 per month)
76-100 Resources – €899/month (~USD 996.29 per month)
---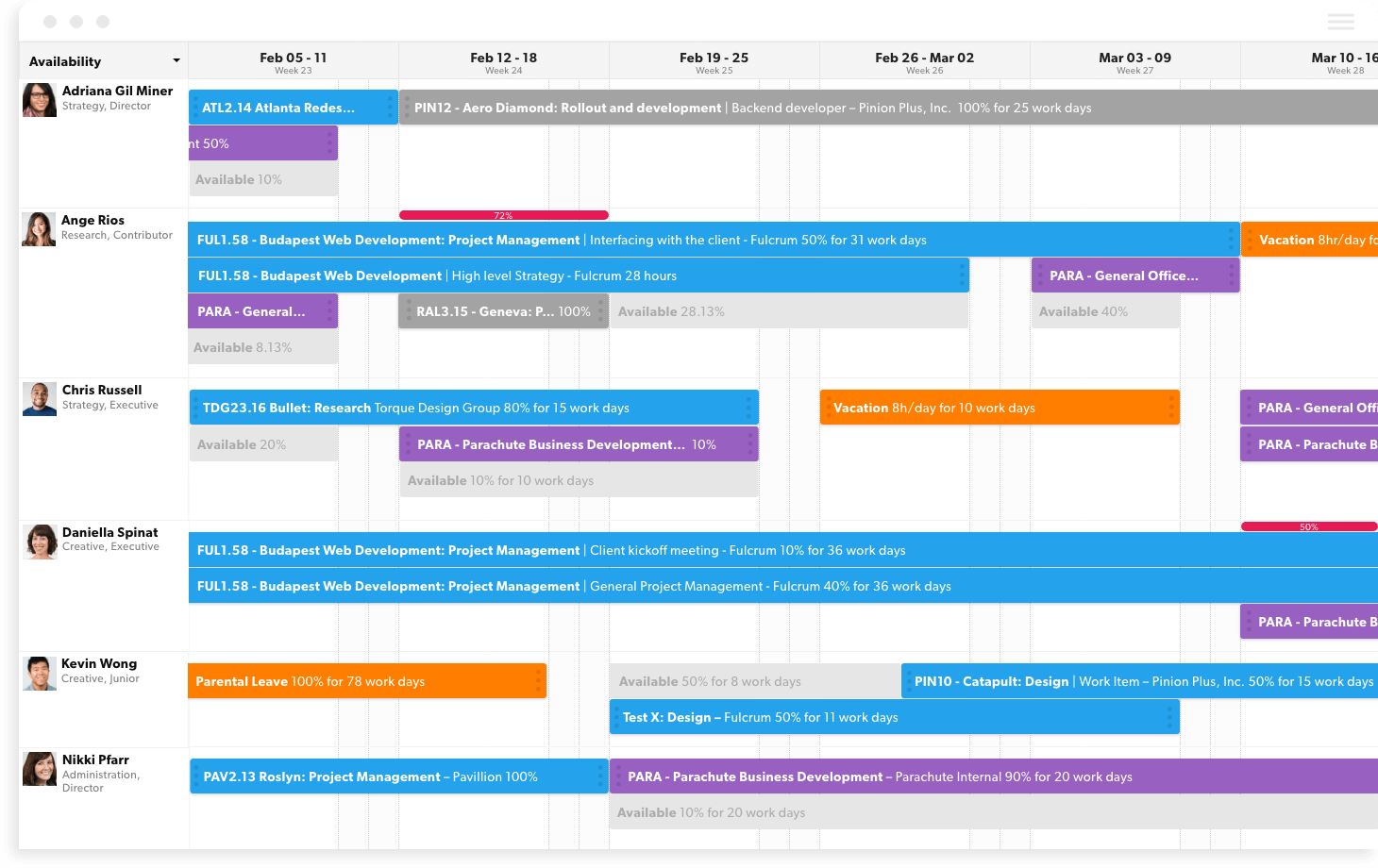 10,000 Ft.'s high-end award-winning project and resource management software is recognized by the business of all sizes for its outstanding project planning, team capacity, budget forecasting, and team utilization.
From local shops to global brands, a vast majority of companies trust 10,000 Ft. when it comes to resource management. The solution assigns a separate dashboard to every project that displays the status and deadline of the project at hand.
The status on these dashboards is updated regularly in sync with the progress to help users track time, fees, and expenses for every project on time.
10,000 Ft. features an intuitive interface so that users can find the required information with ease. The simplicity of the software enables users to address the problems on time. Users can access the information on a single neatly laid out page with just a few clicks.
Analyzing the information timely and accurately is key to adequate resource management. For this purpose, 10,000 Ft. provides visual analytics of project profits and helping users in foreseeing the future of the project.
Other features of the software include a digital board that provides a complete view of the status of your projects, resources, and available personnel. With 10,000 Ft. at hand, resource management will be like a walk in the park for you.
Features
Integration support with Intuit Quickbooks along with API
Available as mobile to manage tasks on the go.
Dedicated Project Dashboards for every project to give users a brief idea of project status and progress.
Predictive Timesheets for effortless tracking of time and expenses.
Evaluate profit and future finances of projects with Business Intelligent Project Analytics
Pricing
Pricing plans of 10,000 ft. varies based on members including in a plan. All the features are available in each of the plans mentioned below along with a 30-day free trial.
| | | |
| --- | --- | --- |
| Plan | Members | Price (per month) |
| Up to 5 members | 5 | $49 |
| Up to 10 members | 10 | $99 |
| Up to 20 members | 20 | $199 |
| Up to 30 members | 30 | $299 |
| Up to 40 members | 40 | $399 |
| Up to 60 members | 60 | $599 |
| Up to 100 members | 100 | $899 |
| For 100+ members | More than 100 | Contact vendor |
---
17. Forecast – Intelligent Resource Management Software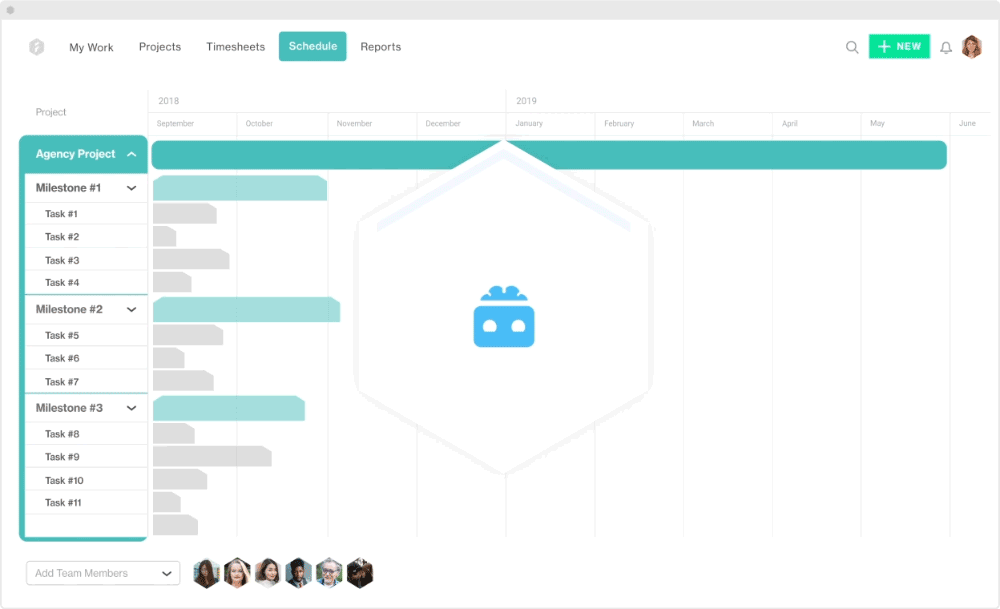 Forecast is an intelligent project automation platform that eliminates administrative workloads and allows management and teams to cut time spent on unbillable work.
In addition to automating project planning, workflow management, and financial reporting, the platform provides actionable real-time insights into productivity you won't find elsewhere.
While teams benefit from working in Sprints or Kanban boards and see the effect of filling in their Timesheets, management has unique planning, monitoring, and reporting opportunities. Everything is set up to incentivize productive work in Forecast.
All Forecast plans include features within resource management, project management, team collaboration, time tracking, business intelligence automation, and financials.
What differs the platform from ordinary project management tools is the automation and connectivity across all parts of Forecast, turnkey integrations, and a complete overview of project finances.
Key Features
Scoping to map out a project plan

AI-powered Auto-Schedule to instantly turn a task list into a solid project plan by assigning resources, making estimates, and suggesting the deadline for the project

Schedule for tracking the project progress and who's overbooked and underbooked

Timeline for a helicopter Gantt chart view 

Workflow for superior collaboration

Sprints to support an agile scrum-based model of work

Timesheets to register time in the most convenient way possible

Periods to manage retainers and recurring services

Budget for high-fidelity financial forecasting of a project's cost, revenue, and profit

Financial Portfolio Report to consolidate financial data across all projects
Pricing
Forecast comes with a free 14-day evaluation trial. Depending on the team size and feature requests Forecast has three plans: Standard, Premium, and Enterprise. No matter what plan you choose, the trial offers full-feature access.
Standard

– from $24 per seat per month. Recommended for companies that manage multiple projects, but do not need premium integrations. 

Premium

– from $39 per seat per month. This plan is for organizations where advanced integrations are needed and compliance is highly important. Integrations with Jira, Salesforce, and AzureDevOps are only available in this plan and above. Retainers and Financial Portfolio reports are part of the premium plan. 

Enterprise

– the plan is available on a quotation basis. It comes with a custom SLA agreement and a dedicated customer success manager.
---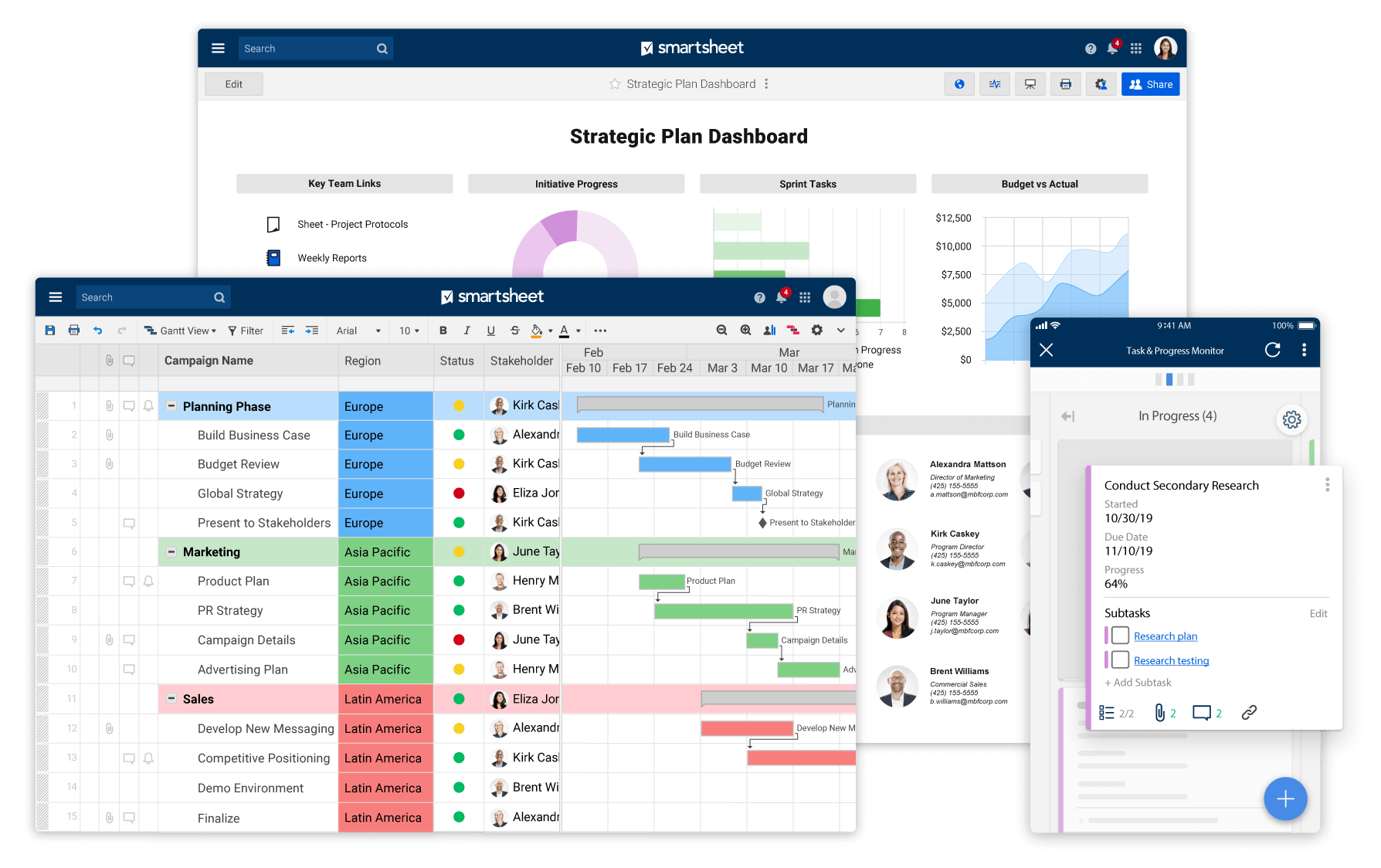 Smartsheet is a SaaS application that uses spreadsheets to help streamline project management tasks and has many collaboration options incorporated. It is a leading work management platform, helping people move quickly from ideas to action.
Smartsheet is online project management, work execution, and team collaboration software. It is a flexible tool with features for planning projects, capturing information, managing work, automating processes, and reporting.
With a familiar, Excel-like interface, it's easy-to-use for businesses to organize projects.
Teams can look at work from different views. Teams can collaborate easily with both internal and external partners, and use connectors and integration too securely and swiftly scale work across the organization.
It is a work execution platform that can be used by all types of users through its intuitive interface, but also robust enough to meet modern business challenges.
Features
All information that is shared with others is accessible across all browsers, devices, and operating systems, making collaboration easy and efficient
Sharing important documents is made simple by saving files within a project for quick access
Teams can attach documents, PDFs, presentations, and image files to any row in any project sheet
Automating alerts for upcoming tasks and approaching deadlines makes it easy for team members to keep track of all due dates
Get notifications of upcoming deadlines, completed work by other team members, and changes to sheets so there are no surprises
Increase productivity by creating projects, editing tasks, and collaborating with team members on any device with an internet signal
Users can instantly add files, view attachments, and take action on notifications, anytime, anywhere, which makes it easy for everyone to stay informed about project statuses
Smartsheet's reporting feature gives quick access to helpful information across any project sheets
Smartsheet's reporting feature can also save time and energy preparing for meetings by automatically creating and sending reports regularly
Pricing
Smartsheet has the following four pricing plans:
Individual – The Individual package is $14/month and is good for people who want to be more efficient and collaborate with anyone involved in a project. The features of the Individual package include e-mail support, attachments, 10 sheets, reminders and notifications, comments, card view, Gantt Charts/Critical Paths, forms, Integrations with various apps, and more
Business – The Business plan costs $25/month/user when billed annually. It has a minimum purchase of 3 users and is made for business teams that want to drive execution with automated actions and Sights. This package includes dashboards and charts, activity logs, live data connections, custom branding, groups & user management, and more
Enterprise – The Enterprise plan offers industry-specific solutions and companywide plans. It's available for businesses that want to execute at scale production while keeping security, visibility, and control intact. Teams interested in the Enterprise package will have to get a price quote from Smartsheet. This plan comes with advanced access control and SSO features.
Premier – Similar to the Enterprise plan, interested companies should contact Smartsheet for a quote. The Premier plan includes premium features, such as dedicated support, access to apps (e.g., Data Mesh, Dynamic View), and advanced integrations (Jira, Salesforce, Microsoft Dynamics)
---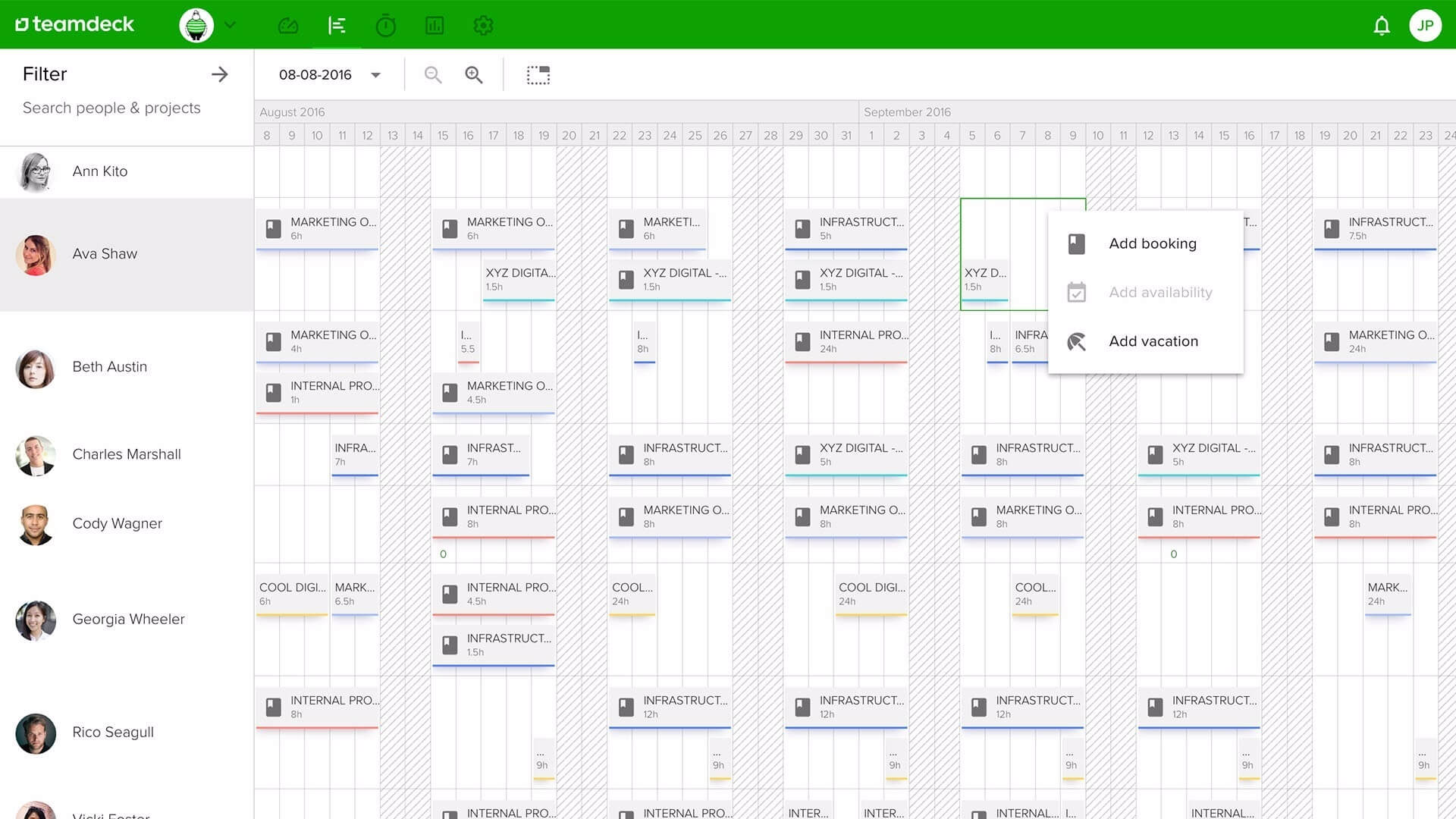 Teamdeck is a web-based, integrated resource scheduling and time tracking tool. It is an essential tool for managing resources and monitoring the time spent on tasks and projects.
Teamdeck is a complete and best resource management software that covers resource scheduling, time tracking and leave management.
The tool is built on years of resource management experience, leading teams spread across the world. Teamdeck is an employee-focused complete free resource management tool for agencies and software houses.
Its mission is to improve companies' HR processes such as planning resource allocation. It's a free resource management software for the employees to manage their availability, request vacation days, and track their time.
Teamdeck goal is to give you a better understanding of who is working on what at a specific moment, what their availability is, and what their capacity for other assignments and projects is.
Features
Teamdeck has a calendar grid that allows users to see who among the team members are busy working on projects and who has time to take on new tasks
The dashboard provides real-time information about people working on projects
The resource scheduling and time tracking tool enables users to assign bookings without any worries. Indeed, it automatically lets users know of any project overlaps, employee vacations, or those exceeding availability
The user interface allows users to edit bookings right in the calendar view
Companies can manage resources even with multiple projects at the same time
Teamdeck gives everyone in the company access to the time tracking app
It automatically translates time entries into timesheets. This makes it possible to correctly bill clients, compensate contractors, and measure work performance
The application has custom fields that admins can add to personalize resource categories.
Upcoming features include reports and integrations to popular PM and communication tools
Pricing
Free – Team deck offers a free 14-day trial. After that, the Startup plan is free but limited to 6 members without basic resources (which are people who don't need software access but you do want to be able to allocate them on resource calendars).
Paid Plans – The paid plans start at a very reasonable price at $3.00/user/month. Add those basic resources for another $1/month. The paid plan also includes extra integrations and more support.
---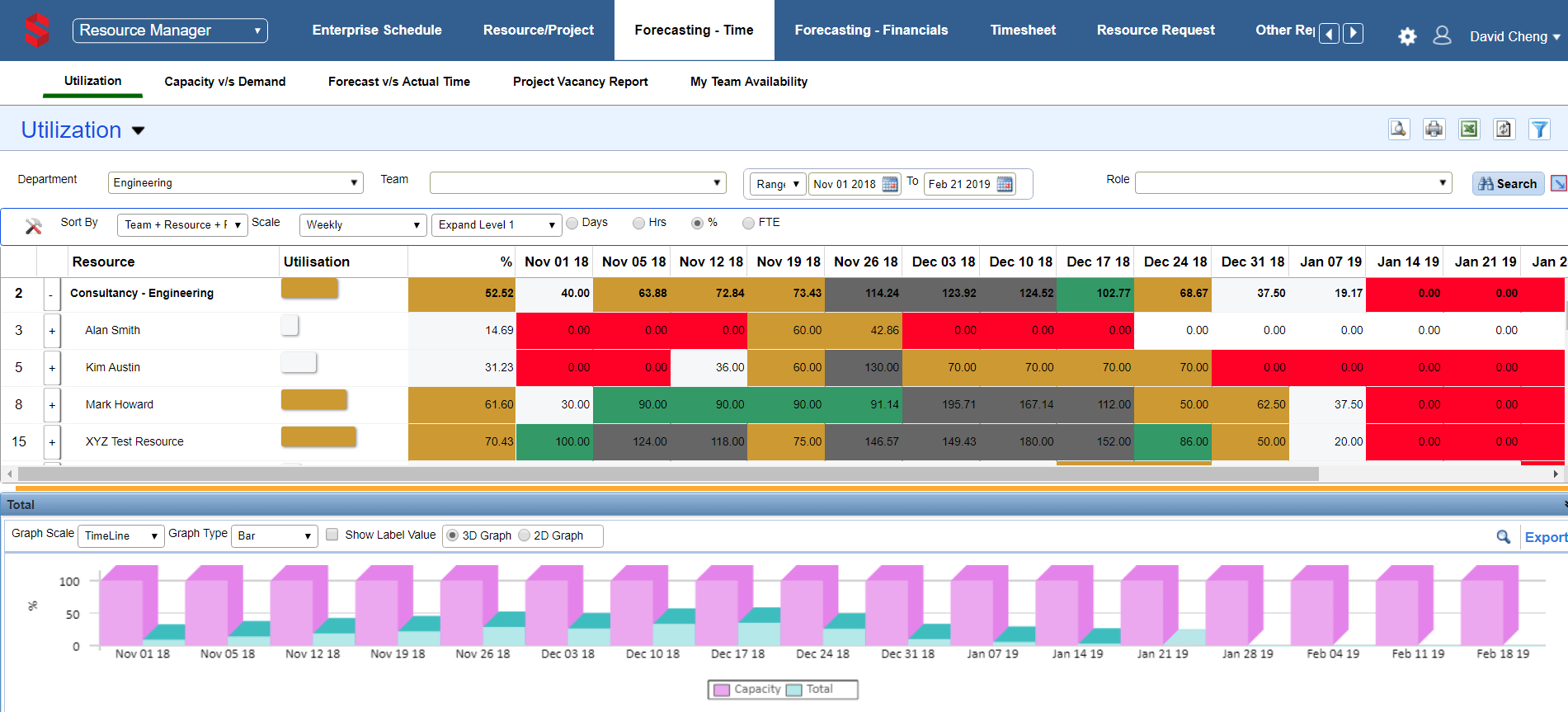 Saviom is a powerful, easy-to-use, and the best resource management tool for medium-sized to large firms. It's a customizable, end-to-end software that helps businesses manage and improve human resource allocation to save time, increase efficiency, and boost productivity.
This enterprise-level solution is suitable for engineering firms, Auditing & consulting firms, construction firms, government agencies, and IT firms. Saviom ropes in a wide range of functionality that help organizations solve resource-centric problems.
It enables firms of all sizes to utilize global resources, track talent in real-time, and forecast future resources accurately. The platform capabilities allow users around the world to allocate staff to projects more efficiently in a bid to form a smart workforce and maximize resource distribution.
It provides multiple features that allow the tracking of human resources in real-time and their relationship with the project status.
Features
Managers can easily track the status, performance, schedule, and deliverables of their entire project portfolio in one location
Saviom's analytical tools are for measuring the portfolio's financial performance, as well as share data on the project's scope with executives for approval
Saviom provides Gantt charts with drag-and-drop functionality for tracking tasks, milestones, and other project activities
Risk and issue management feature helps managers record any issues with the project, so they can build a contingency plan
Managers can define their project's resource requirements in advance by building a project pipeline, they can also analyze capacity versus demand metrics as well as forecast billable and profitable utilization
With Saviom's early warning system, managers can proactively spot issues within a project that could affect completion or cost
The business intelligence functionality helps project managers make better decisions
Saviom includes a drag-and-drop visual scheduler with the ability to create and edit schedules by project, staff member, or team
The capacity planning feature offers multidimensional perspectives, so managers, Finance, HR, or other executives can view the data
Pricing
Saviom pricing structure is extremely flexible. The solution is highly customizable, and so the pricing is also customized. Based on your needs, the cost of Saviom can be tailored so that it fits all your needs.
You can get in touch with the company for a personalized Saviom price quote.
---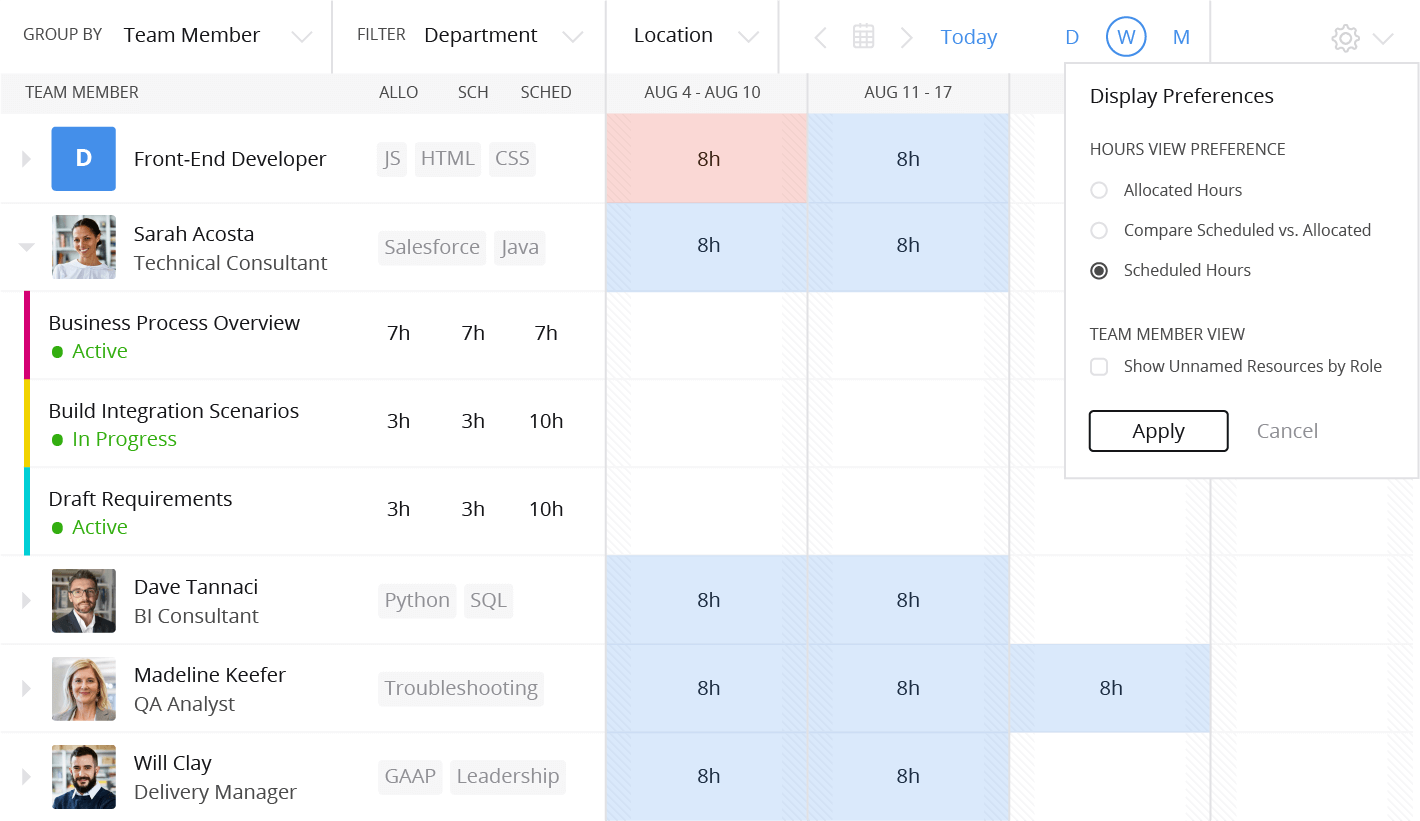 Mavenlink is a modern collaborative software as a service platform designed to support services businesses through resource management, project management, collaboration, project accounting, and Business Intelligence solutions.
Together, these capabilities are designed to elevate team performance, project success, and resource utilization.
Mavenlink was founded in 2008 to serve the entire lifecycle of project-based businesses, from proposal to revenue collection, by bridging the traditional project management, resource planning, and professional service automation (PSA) software categories.
Mavenlink is designed to support a wide variety of services businesses throughout the industry, including marketing agencies, consulting firms, and IT organizations, including both internal departments and external firms.
Features
Mavenlink's online project management software enables you to manage multiple projects simultaneously and provides a complete view of the project portfolio
You can quickly assess the health and status of a project or portfolio of projects, down to the task level
It also provides real-time visibility of every task and deliverable through a detailed Gantt chart, task lists, and threaded communications
Other features include reusable project templates, Project Pulse, task tracker, Insight reports, and others
It has integrated time and expense tracking so you can link your team's time, expenses, and invoices to their tasks and projects
Project accounting features are integrated into every project, so you can view budgets, burn rates, and forecasted costs and margins immediately.
Some other features include estimates and invoicing
This project management solution has Master Planning features that enable you to staff, plan and allocate resources efficiently while understanding your team's utilization rates
It has insightful dashboards, reports, and profiles that help you deploy your workforce successfully
Other features include capacity planning, resource-centric forecasting, resource management process streamlining, easy adjustments, and more
The software also has integrated communication and collaboration tools that bring together all team members, including distributed teams and subcontractors
Pricing
Mavenlink offers four SMB and an Enterprise plan to meet the needs of different users. Give the details a look, and select your plan below:
Teams – it is priced at $19/month paid annually for up to 5 users. Additional users will cost $4/user/month. It includes almost all team collaboration features and many project management tools.
Professional – it is priced at $39/user/month on an annual contract. It includes most of the team collaboration and project management features, and many project accounting tools. This plan is for teams that need to create project plans and track time with confidence.
Premier – by quote. It includes everything in the professional plan added to resource planning. This plan is designed for teams that need to track billable hours, projects, and clients while managing resources across projects.
Enterprise – by quote. It includes all the features of the premier plan added with business administration. This plan is for organizations that need additional, enterprise-specific tools for business intelligence, integrations, and security.
All premium plans can be trialed for free for 10 days.
---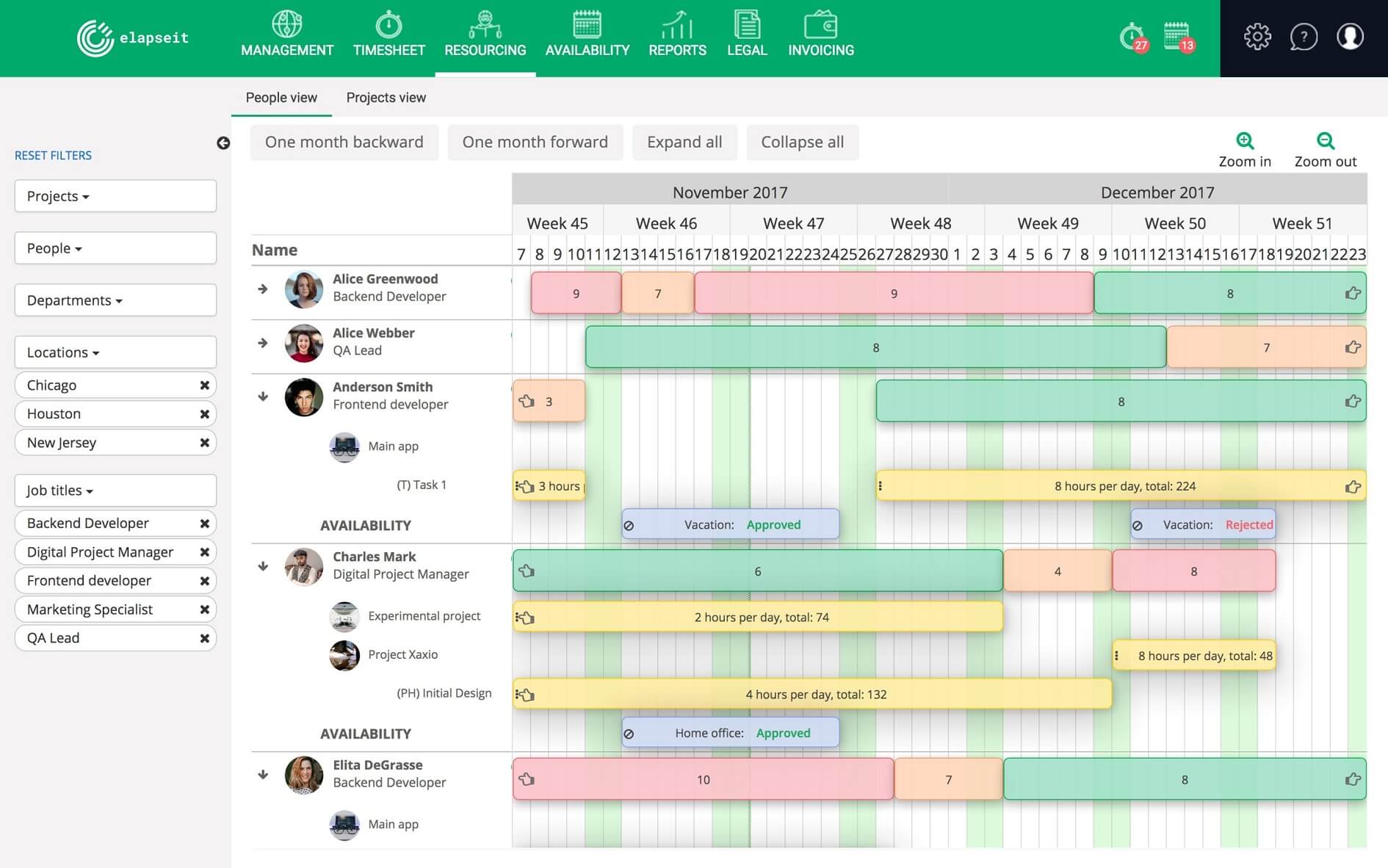 Elapseit is the choice for companies that are looking to improve their resource planning and time tracking, while they have an eye on the budgets and customer satisfaction.  It's one of the best resource planning software.
The software makes it easy for you and your team to monitor all your assets and resources, down to a granular level. And since you are monitoring and managing everything using a single software, there is no need to deploy multiple apps to keep everything under one roof.
Elapseit's features make it a perfect choice not only for companies that want to switch from old time-tracking software but also for startups, agencies, or enterprises that look for a complete, integrated, and affordable project management solution that fits right into their workflow.
Features
Correlation between resourcing planner, time-off, timesheet, and invoicing.
Be notified before you run out of the budget
Keep your data secure& confidential, based on the different access level
See in seconds who's over/under (allocated) and if you have resources available for a potential project
Timesheet approval workflow to make sure your invoice contains all the worked hours
Dashboard and customized reports
Ticketing platform support with a guaranteed answer within 24 hours
Pricing
Here are the plans that Elapseit's resource management tool comes with:
Startup – free of cost. It allows up to 10 users and up to two projects. It also includes features like access levels, collaboration, and custom settings. Moreover, dashboard, data export, filters, and sorting.
Basic – it is priced at $7 per user, billed monthly. It offers unlimited users and projects. It includes everything in the startup plan added with time tracking, resource management, and forecast.
Premium – it is priced at $9 per user, billed monthly. It offers a complete project management solution, including task tracking. This plan includes everything in the basic plan added with multi-language invoicing and task management. Moreover, document management and premium included features.
Enterprise – all premium features and advanced customization. Price available only via quote.
---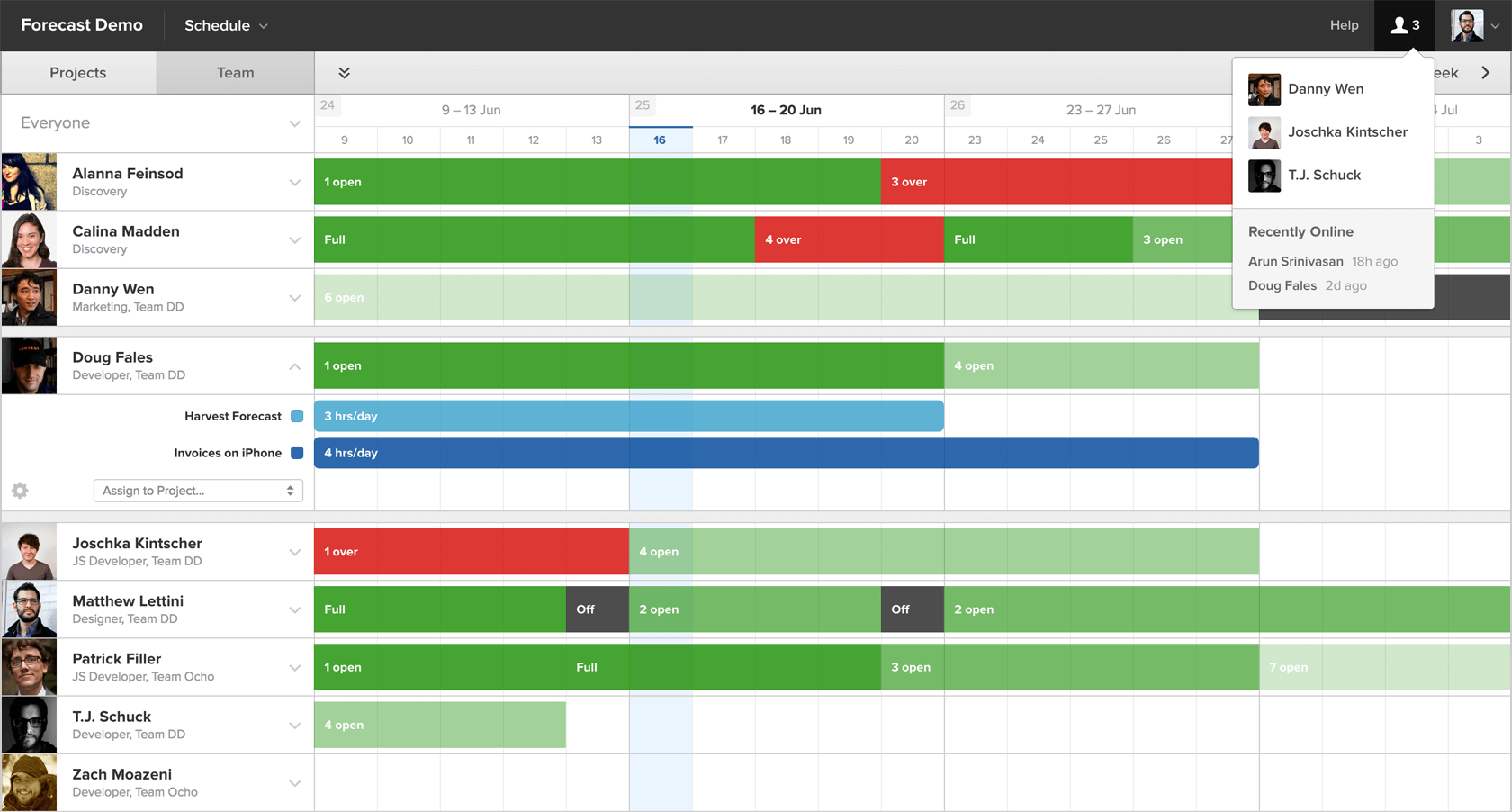 Forecast organizes your team's schedule into visual plans that let you map out your upcoming projects and make smarter resourcing decisions.
Forecast's color-coded visual plans make it easy to see how long a project is scheduled to take, who's working on what, and who's overbooked.
Forecast makes it easy to assign people to projects and then view your plans either by project or by people. Red bars indicate when an employee is overbooked, so you can move projects and deadlines around before they become burnt out.
Integrate Forecast with its sister app Harvest to gain insight into project progress and improve your estimating and scheduling. The integration brings the hours you've scheduled in Forecast into Harvest, so you can see exactly when a project will go over budget.
Plus, you can compare the time you scheduled for someone in Forecast with the time they actually tracked in Harvest, letting you pinpoint potential problem areas.
Features
Resource 'sketching' without the painfully slow attachment to details
Editing of all elements in almost any view; something painfully lacking in other approaches
Integration with Harvest—pulls clients, projects, and teams into resourcing.
It's high level, not down to the minute. One hour is the minimum time
It's filterable by the team and by person vs. project view
Adding time to people on projects is fast, easy, and Ajax
Week-by-week analysis- to check if things go as planned. Visually compare your tracked time to forecasted hours.
High-level vacation planning view. Though, we would like to see that support half-day in the future
It's not just a list of faceless 'resources'. People's faces are next to their name, through Gravatar integration
High-level milestones on projects are nice and provide a good core 'schedule' for a project without having to maintain a complex Gantt that is outdated the minute you hit save.
Pricing
Harvest offers 2 plans. Annual payment results in 10 percent savings.
Free – free forever. A 30-day fully functional free trial is offered.
Premium – this plan is priced at $5/user/month. The plan includes unlimited people and unlimited projects under one simple price. The plan comes with visual time planning for teams, resource utilization, integration with Harvest, flexible team permission management, data export, phone & email support, and more
For teams with more than 50 people, a 15% discount is offered when paying per annum. For non-profits and educational institutions, a 25% discount is applicable when paying a year in advance.
---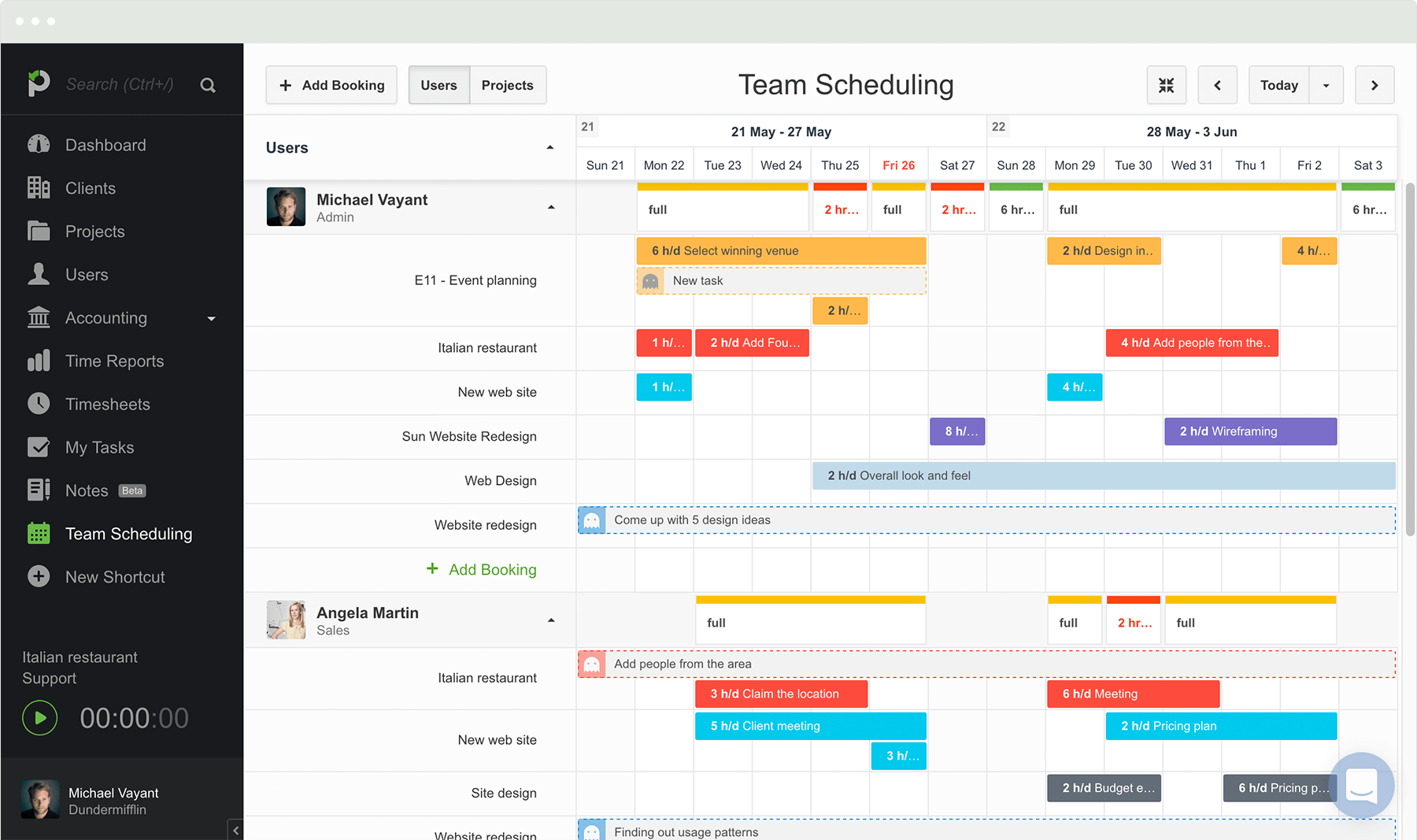 Paymo is a project management tool that aims to help small business owners and freelancers manage everything related to their projects — from onboarding a new client to planning and scheduling tasks and resources, and of course, getting paid.
It has the standard project management features (projects and task lists, team collaboration, time tracking), with a few additional ones too. There is also built-in time tracking tools.
Paymo is a modern project management app that allows small and medium project-based businesses to manage their projects from start to finish. This means that you can keep track of the entire lifetime of a project – from creation until getting paid – without having to use and pay for several apps.
Having the essential functionality in just one app eliminates the need and struggle to work with and learn to use several apps, ensuring a seamless workflow throughout the entire life cycle of a project.
Features
The tool's time-saving templates, milestone alerts, task lists, and much more can help businesses achieve their goals through measured steps
Get everyone in your team or company on the same page wherever you are and stay organized with this tool
You can share everything with your team, keep track of the progress of your projects and tasks, as well as ideas and budget costs to keep you on top
Break your complex projects down into manageable task lists, delegate tasks in just a few clicks, and set milestones
The Resource Scheduling module and Gantt chart are ideal tools for scheduling and planning in detail every aspect of a project
Tracking time and billing clients have never been easier with Paymo. It makes time tracking easy and efficient by recording the time spent on tasks and projects
You can set yourself milestones so that you won't miss key events. With milestones, everyone involved in the project or tasks knows when major project stages are due to be completed
With its capacity to speak 18 languages, Paymo allows you to join a community of over 100,000 users in 50 countries around the world
Paymo offers automatic time tracking. A desktop app that monitors everything you're doing on your computer, effortlessly. At the end of the day, just allocate the time to your projects
Pricing
Try before you buy, no card needed. Pay annually and get three months free
Small Office – it is priced at $8.95/user/month. This plan is for growing teams and departments. This plan includes Task Views (List, Table & Board ), Meta Task Board, Recurring Tasks, Unlimited Project Templates, Time Tracking, Timesheet Reporting, Unlimited Invoices, Estimates & Expenses, In-App Tech Support, 50GB Storage, Integrations, and more
Business – it is priced at $14.25/user/month. It is designed for medium and large teams. This plan includes Free Onboarding & Training, Employee Scheduling & Workload, Gantt Charts, Portfolio Gantt Chart, Employee Leave Management, Priority Support, 100GB Storage, and more
---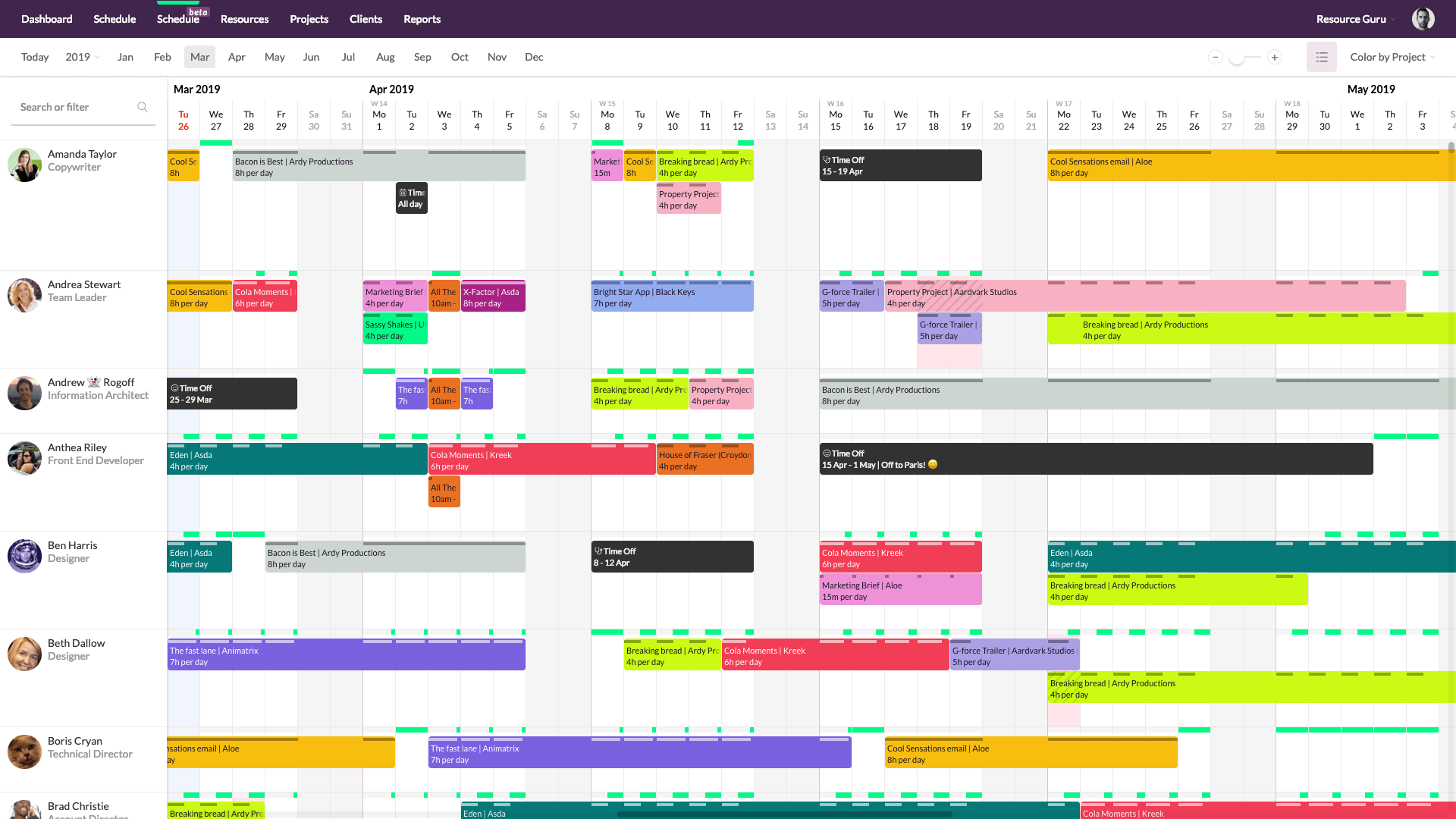 Resource Guru is a cloud-based resource scheduling application that is suitable for organizations of all sizes. This app manages to pack in a powerful set of features into a simple, intuitive design.
Resource Guru is a tool for project managers who need to get detailed looks at their team's schedule and productivity, with a bird's-eye view of the tasks ahead.
Secondly, if you manage a team, no matter the size, you know planning out projects and adjusting your available resources to match their workload is extremely difficult and time-consuming. That's where Resource Guru comes in.
It helps you see who on your team has time for a project—and if your resources (things like your conference room or projector) are available when they're needed, too.
Features
A colorful resource calendar displaying project and client bookings, meetings, time off, and availability
Bookings can be moved using drag and drop, which greatly reduces the inconvenience of ever-changing projects
Resource Guru has a leave management system for time off such as vacations, public holidays, or sick days. With most standalone systems it's very difficult for managers to approve time-off requests as they don't have visibility of future workloads
Resource Guru Managers can add time off with confidence as they can see them in the context of existing bookings
One of Resource Guru's most powerful features is the custom fields, which allow you to group resources using any criteria you define
You can use the filters on the schedule and reports sections to focus on the resources you want to see, allowing you to find fast answers to questions
Each resource type has a "Default Availability" which is defined in settings. You can also set 'Normal Availability' for individual resources
Resource Guru's reports section helps you to track your team's utilization and see what percentage of work is billable
You can also plan capacity, report on time off, and see which projects or clients are consuming the most time
Pricing
By paying annually you can get 2 months free. Resource guru offers the following plan;
Grasshopper – this plan is priced at $2.50/user/month. You can get non-human resources at $0.83 each. This plan offers unlimited projects and clients, personalized dashboards, advanced clash management, custom fields & filters, time zone support, flexible user permissions, API with webhooks, automatic updates, vacation tracking, absence management, calendar sync, and more
Blackbelt – this plan is priced at $4.16/user/month. You can get non-human resources at $1.25 each. This plan offers powerful reports, reports export, and downloads along with all the features in the Grasshopper plan.
Master – this plan is priced at $6.65/user/month. You can get non-human resources at $2.08 each. It includes data import capabilities, phone support, and SSO (Single Sign-on) along with all the features in the Grasshopper plan.
---
26. Productive – Resource Planning Software


Productive is the all-in-one resource management tool you need to run a profitable business.
If you are a marketing agency or a design studio looking for a fully-loaded time tracking, project management, sales, and resource management software suite, you will find the most value with Productive.
Moreover, Productive includes sales pipeline management, resource planning/scheduling, time tracking, project management, budgeting, invoicing, and profitability reporting.
It also comes with a free client portal. If you're using a non-integrated tool stack or too many spreadsheets to get business performance insights, Productive is a better way to manage your agency.
Productive integrates with your Xero or QuickBooks Online account, with many more applications being supported with its integration via Zapier.
It is a fast and user-friendly, cloud-based tool with a very active development roadmap that is constantly improved and upgraded with new features.
Features
Productive allows users to assign work and collaborate on tasks with a built-in communication system. They can post comments, attach files, use @mentions, or have a private conversation.
Depending on the project, they can choose a board view or list view, and save their preference. It also has a calendar view for planning work across time
Other features include notifications on any update, and email integration, so users can reply from their inbox
With its scheduling and resource planning features, users can plan work. They can view who is overbooked, who can take on additional work, or who is not available
With simple drag and drop, an assignment or booking is created
Events feature allows them to anticipate off times and have more accurate information on availability
Other features include timesheets, prompting system, time approval, time reports, client access to time logs, rolled over company time, and a desktop timer
A To-dos feature helps users remember to follow up on any business opportunity. It is also a contact management center, where they can attach emails directly to the contact, deal, or budget
It also has sales reports, lost deals audit trail, and easy conversion of a deal to a project.
Mobile apps for iOS and Android devices are available
Pricing
By paying annually you can get a 17% discount. You can try all the plans for free before subscribing. All the plans come with the following essential features: 100% GDPR compliant, 95% uptime guarantee, Chat & Email support, iOS + Android mobile apps, Open API, Desktop app
Standard – priced at $12.5/user/month. This plan offers all the features for managing and organizing your agency. Includes sales pipeline management, resource planning, budgeting, time tracking, project management, invoicing integrations (QuickBooks, Xero, Exam), basic reporting, basic client access, and more
Premium-priced at $20/user/month. Better insights for an in-depth understanding of your agency metrics, and more flexibility for easier scaling. The plan offers forecasting, advanced client access, advanced insights (Multi-level groping, Report pivoting), automatic time tracking, webhooks, multiple subsidiaries management, time approvals, and more
Enterprise – for pricing details contact sales. This plan is for agencies above 100 people in need of more customization. The features include priority phone support, a dedicated account manager, on-premise onboarding, and more
---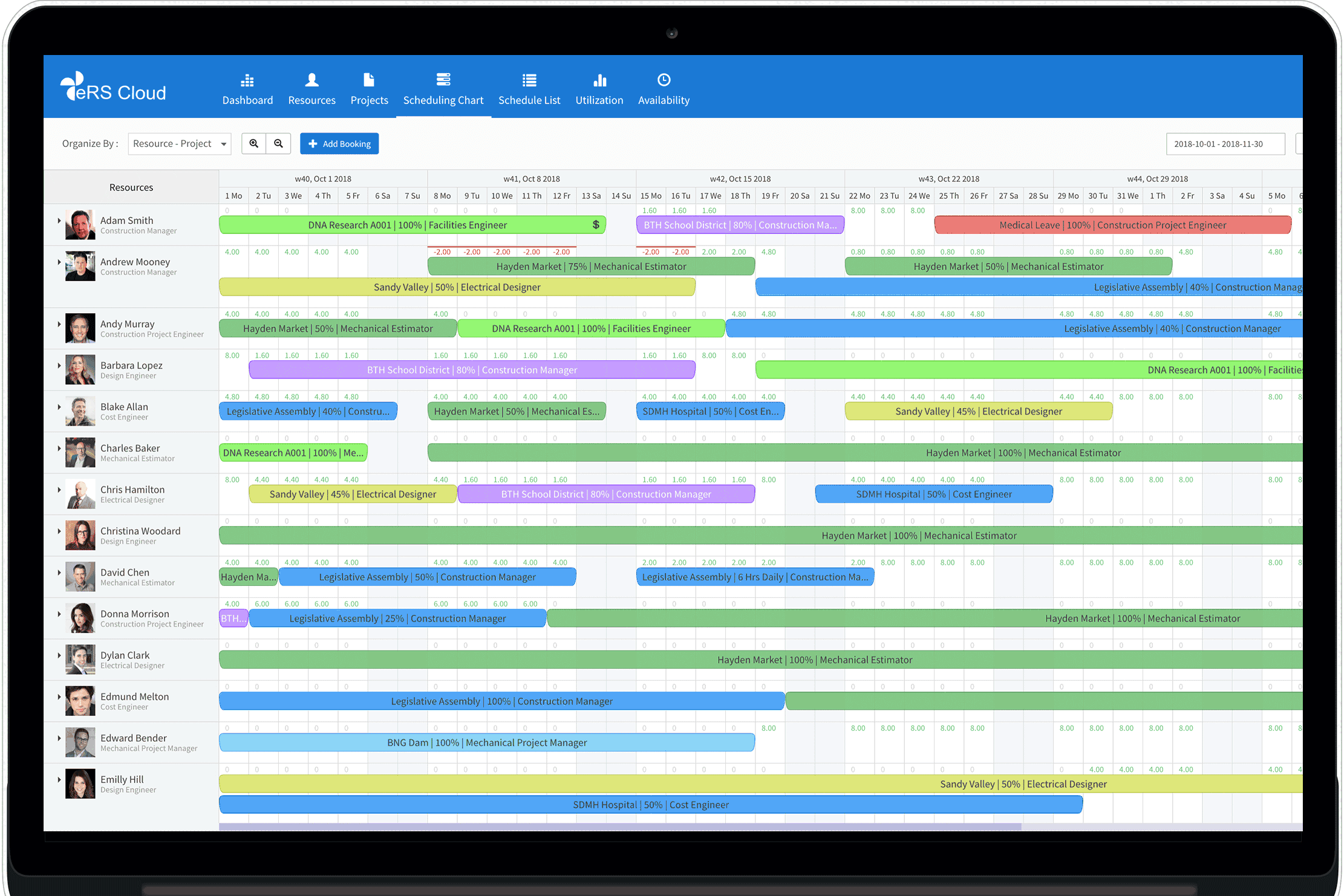 eResource Scheduler has been designed for organizations that schedule humans (employees, contractors, etc.) and non-human (equipment, meeting rooms, etc.) resources on projects.
It is flexible enough to be used by organizations irrespective of their types and sizes. It allows resource coordinators, project managers, and other users to share resources in real-time and keeps everyone on the same page.
eResource Scheduler aims to facilitate maximizing resource utilization at every level. It is purpose-built to boost resource coordination across the organization and hence facilitates real-time visibility. Its design allows it to be configured as per the organization's unique needs.
Finally, with eResource Scheduler, you have a platform that helps you assign the most qualified and competent staff to a project and delegate the resources they need to deliver the project on time and in compliance with your client's specifications and industry's standards and practices.
Features
eResource Scheduler makes resource allocation very easy. Entering time, viewing bookings, generating hours worked are all simple steps
Its built-in feature will automatically inform if a resource has been overbooked. Full time, part-time and overtime, etc.
hours of booking time can easily be adjusted as for resources working on different calendars
Working timings and breaks can be defined simply by using the 'Select and Drag' feature
Holidays and working day exceptions can be set individually for different calendars
It facilitates modifying working timings of a particular day or defining a non-working day as working
Users can define a separate project's working calendar along with holidays and exceptions
Multiple resource requirements can be defined at a task or project level
Detailed and exportable reports on real-time data provide an instant overview of the company's resources, utilization, availability, project cost, actual cost, actual revenue, etc.
It provides color-coded functionality for easy identification of under and over-utilized resources.
Data can be interpreted using graphs
The application's built-in feature will pop up automatic alerts
Tooltips have been provided to understand the application at every level
Consolidated emails can be sent to resource/project emails
Pricing
eResource Scheduler pricing rates offer flexible licensing options based on the number of resources you plan to schedule for your company. They have four SMB and enterprise pricing plans for you to choose from, based on the number of resources.
25 Resources – at $75/month (billed annually). It offers unlimited users, bookings & projects, user access rights management, timesheet module, project cost and revenue module, resource request and gap reporting, utilization and availability reporting, financial reporting, account manager support, up to 25 concurrent logins, and more
50 Resources – at $135/month (billed annually). Up to 50 concurrent logins
75 Resources – at $185/month (billed annually). Up to 75 concurrent logins
100 Resources – at $225/month (billed annually). Up to 100 concurrent logins
100+ Resources – at $2/added resource. Concurrent logins the same as the number of resources.
If you want custom pricing options or if you're interested to know more about the pricing plans, you may contact the vendor directly or email them. eResource scheduler also offers a free trial for the software solution.
---


Zoho Projects aims to give you "the ultimate project management experience." For project leaders, this means achieving their goals within the set deadline and budget.
This resource planning software streamlines the process of project management from the initial phase to closing, using its powerful, customizable features.
Furthermore, with Zoho Projects, you can make project planning and collaboration with your team members less complicated with the milestone mapping tool.
Real-time tracking of your team's productivity is also easy, thus, giving you reliable information on how much time is being spent on a specific task.
With the same monitoring capabilities, you will know how much paid hours your team has rendered and whether you are operating within your timeline. Information sharing and issue-monitoring are also part of the process and Zoho Projects covers these areas as well.
Features
Break your projects down into easily manageable units such as milestones, task lists, and tasks.
Add new tasks automatically to your Outlook Calendar without switching tabs
Quickly know the most important updates and comment on them using Feeds
Log time for your work items and keep track of those using inbuilt timesheets
Generate and send invoices to your clients for your team's billable time
You can also export timesheets and use them in your mails or presentations
Visualize your team's progress with a range of charts and reports
Revise your plans right from within your Gantt charts by a simple drag and drop
Other significant features include document management and bug tracking
Pricing
As far as project management tools go, Zoho Projects is a good bet. They offer a wide set of features that will help you and your team members stay organized. However, using the software does come at a cost. The pricing is as follows:
Standard – priced at $18/month/6 users. It is for small teams and allows up to 10 users. The plan offers 10 projects, 10 client users, 5 Project templates, 5GB file size limit, time tracking, subtasks, task reminders, task dependency (Finish-to-Start), and more
Express – priced at $50/month. It allows 15 users. Includes unlimited Projects, 15 Client Users, 10 Project templates, 20GB file size limit, custom views, recurring tasks, editable Gantt charts, Zoho Invoice & Zoho Books integration, timesheet approvals, and more
Premium-priced at $100/month. 20 users, unlimited projects, 20 client users, 20 project templates, 100GB file size limit, a blueprint for tasks, resource utilization charts, budgeting, and more
Enterprise – priced at $150/month/25 users, unlimited projects, 25 client users, 30 project templates, 120GB file size limit, custom fields, custom profiles and roles, custom domains, global Gantt charts, global Resource Utilization charts, task dependencies across projects, critical paths, SLA, baselines, and more
---
29. Timewax – Time and Resource Management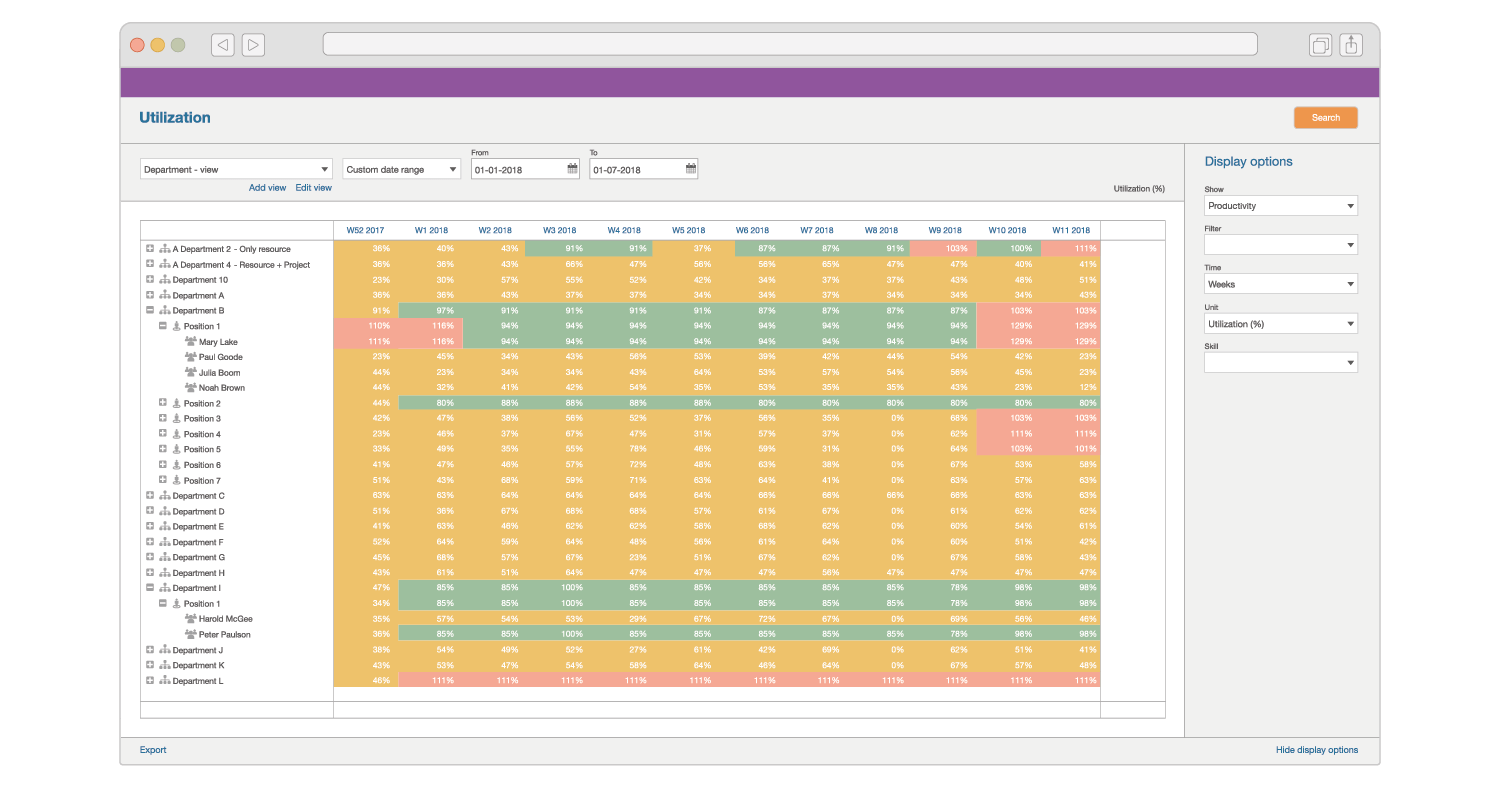 Timewax is another powerful project & resource planning software. Teams use this app for efficient project scheduling and keeping everyone in sync with real-time productivity analysis and comprehensive reporting features.
This resource management tool gives project-based service providers something they all need: a handle on time. It's available as an app for iOS and Android devices, offers multiple powerful integrations, has an API to connect custom services, and lots more.
Features
Gantt charts so you can visualize projects, teams, resources, and all progress which can then be presented to stakeholders and third parties for reporting
Planning Board, which provides an overview of all projects and resources
Submit resource requests and schedule resources using a simple drag-and-drop feature
Customizable display options so you can visualize and extract the data suited to meet your needs for resource planning and management
Useful integrations with G-Suite, Jira, OneDrive, Outlook, Salesforce, SharePoint, Slack, and more
Timewax Analytics ensure updated, real-time information is provided across the team so everyone can stay in sync
The Utilization feature lets you analyze resource productivity and also provides a comprehensive forecast of future work. You can break data down by department, position, and individual resource to spot staffing issues
Pricing
All the following plans allow a minimum of 5 users.
Lite – it is priced at $7.06/user/month. It is designed for companies that have outgrown their spreadsheets for basic resource planning. The features offered include Planning Board, basic support, and self-service
Kickstarter – it is priced at $10.58/user/month. The features offered include Leave applications, 3 integrations, support, basic reporting, and more
Professional – it is priced at $16.44/user/month. The features offered include real-time analytics, leave applications, project planning, time tracking, 5 integrations, support, and more
Enterprise – it is priced at $21.15/user/month. The features offered include a client portal, custom dashboards, Single Sign-On, unlimited integrations, dedicated CSM, and more
---
30. InLoox – Resource Management Tool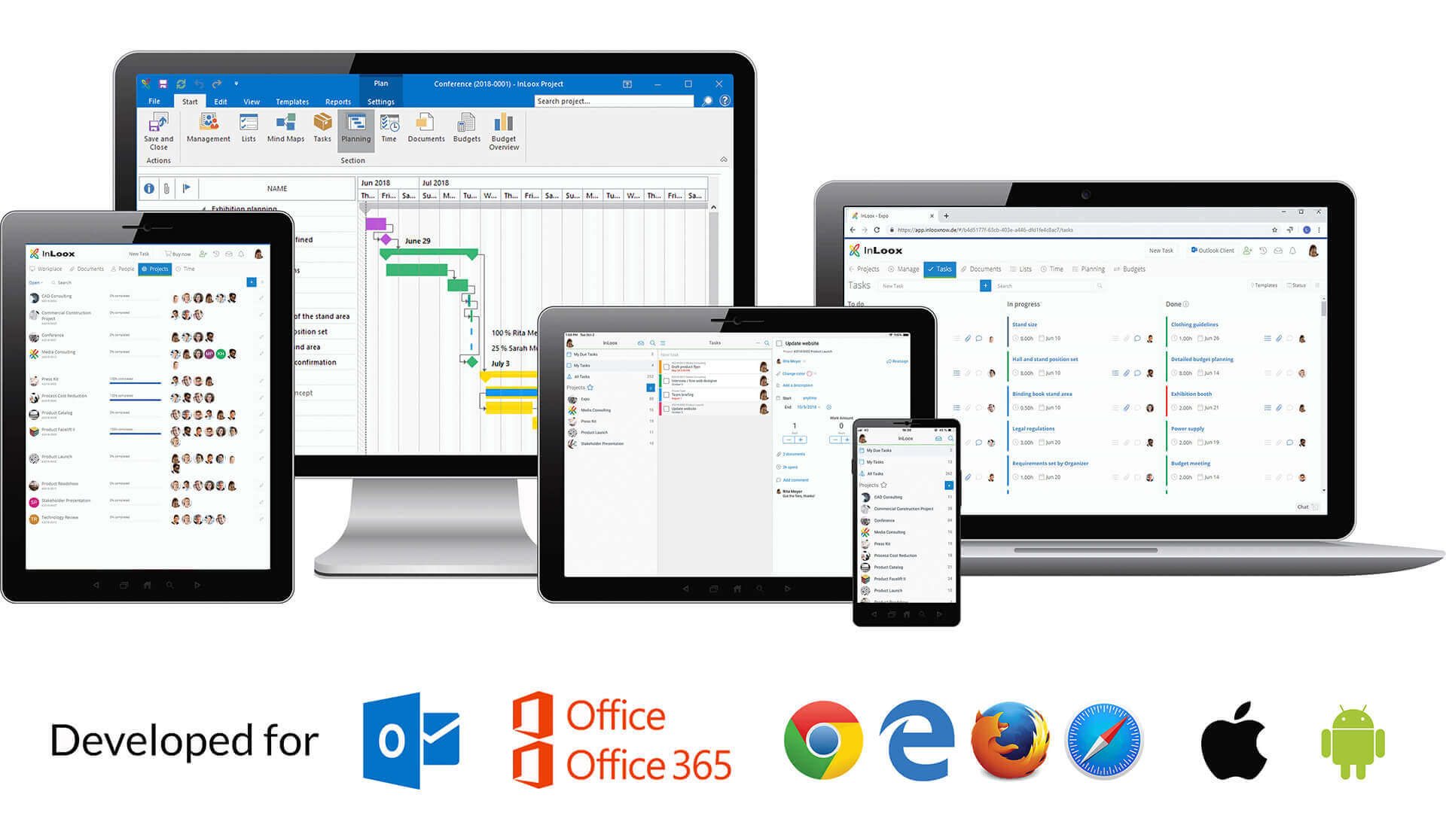 InLoox is an on-premise and cloud-based agile project management and collaboration tool used by small and midsize businesses and global enterprises.
Moreover, there is also InLoox Now!, which facilitates a problem-solving project management environment, enabling users to communicate and collaborate on projects and manage personal task management on a single platform.
The solution can offer value across verticals, such as Manufacturing, Public Sector, and Education. Integrations include Microsoft Outlook. Support is offered via video tutorials, phone, and an online ticket.
InLoox is the full-featured yet easy-to-use and flexible software solution. With InLoox, you manage and realize projects faster, easier, and more efficiently. The intuitive user-interface makes InLoox an extremely user-friendly project solution.
Features
InLoox enables users to allocate resources across multiple projects and closely monitor their availability easily
Improved task management. Parading a set of excellent task management tools and functionalities like setting task priorities and delegating tasks by groups, not only does task management becomes easy, it also becomes productive
You can cycle time analytics for better insights. It's possible to analyze data and improve your sprints with InLoox's built-in analytics feature
You can minimize project costs effectively
As the system allows you to track burn rates effectively, you can stay within your budget plan and avoid costly surprises
A new global calendar now displays project tasks, milestones, activities, and personal tasks, but also automatically syncs any changes with the Web App
The workplace is a new feature in Web App that provides project managers a central page for managing project and personal tasks, organizing time and priorities, and staying updated with messages and alerts
Internal chat for faster and easier communication with team members
Kanban board for agile task management and a Gantt chart for overall project progress tracking
Collaborator role that is ideal with temporary engagement and a Publications feature for easier work item management across projects
Pricing
InLoox PM is available as an on-premise desktop software with a one-time payment license or as InLoox now! SaaS solution. Many options are depending on a user's or company's needs.
Single Users – The Personal for a single user is a single workspace license without network or server support that starts at $390.
Teams – Teams can choose a user license for the Outlook integrated client that starts also at $390, or the Web App with a user license for the online client that starts at $290.
Enterprise – Most of these implementations need a Workgroup Server license at $890 or an Enterprise Server license at $1390. Then there is also a cloud-based Web User license that starts at $24.95/user/month on a 12-month advance payment option.
A 30-day free trial period is available.
Conclusion
With this, our roundup of best resource management software has come to an end. We scoured the internet to provide you with the ultimate simple yet best resource planning software solution that fits your needs.
Once you incorporate any of the software in your business, there is no going back to the old and hectic routine. Most of the software comes with a free trial, you can try and test them for yourselves.
We would love to hear about your experience with the software in the comments below.
---
Other SaaSy goodness on All That SaaS: