Managing WordPress without plugins is impossible. Selecting a good plugin can sky-rocket your success rate. It will prove to be a crucial step in your business growth.
With over 55,000 available WordPress Plugins, It's risky to choose the right plugin, for it takes one faulty line of code to mess up your whole website.
But what are the best plugins for WordPress? Which review should you believe? Is this plugin right for your website?
Don't worry. We have handpicked the best free WordPress plugins for SEO, social media, backups, speed to take your business to the next level. So, without any further delay, let's dive right in to get you started!
What are the Best Plugins for WordPress? 🧐
There is a vast majority of plugins available in the market, for every field. From content management to security, you will find plugins for everything.
Based on these categories we have curated a list for you as follows:
The Best WordPress Plugins to Use in 2023
---
Essential WordPress Plugins 📝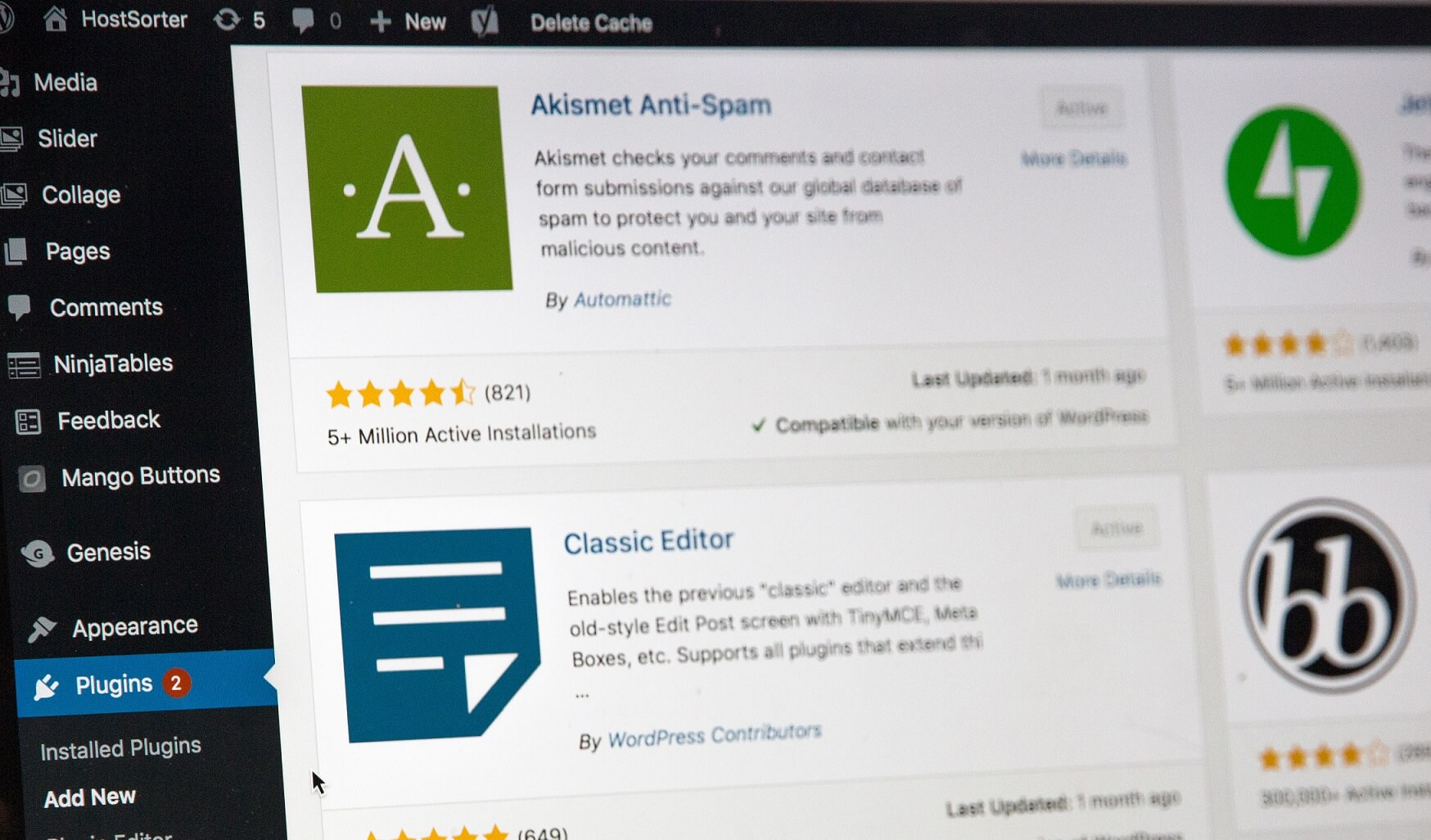 If you are a beginner at WordPress, you might be overwhelmed with the vast library of plugins available. It's confusing to choose the right plugin that can help you achieve your goal without much hassle.
The selection of the best plugins for the WordPress business depends on the functionality of your website. WordPress has a lot of features to offer, but it can always transform into so much more.
That is why you should definitely check out these super simple but useful WordPress plugins.


Spammers can ruin your Google ranking as well as the traffic on your site. Hence, it is essential to keep spammers at bay. This is where Akismet comes into play. Akismet is a top-notch spam blocker for WordPress launched in 2005.
It is a powerful, time-saving solution that filters spam from a website based on the data accumulated from all websites on which the plugin is activated.
Akismet offers a freemium pricing model, with an option to upgrade to a premium plan for extra features. The plugin monitors your website, looks for malicious attacks, and prevents spam in comments as well as in contacts.
After a quick installation, Akismet will automatically start filtering out NSFW comments. It will provide spam stats by which you can identify problem IPs and later block them for good.
It uses powerful algorithms to identify the problem causing IPs and spam comments. The plugin filters out millions of spam comments daily.
Akismet's intelligent algorithm learns over time and takes action against similar spamming content being reported by various sites. It is a must-have plugin if you need to take complete control of your website!
Key Features
Automatic filtering of all comments to identify the spam.
Comment status history to single out caught or cleared spam comments by Akismet
URLs view in the comment body to reveal hidden or misleading links.
Discard feature to outright blocks the worst spam that saves disk space
---
2. Contact Form 7 – Contact Inquiries from WordPress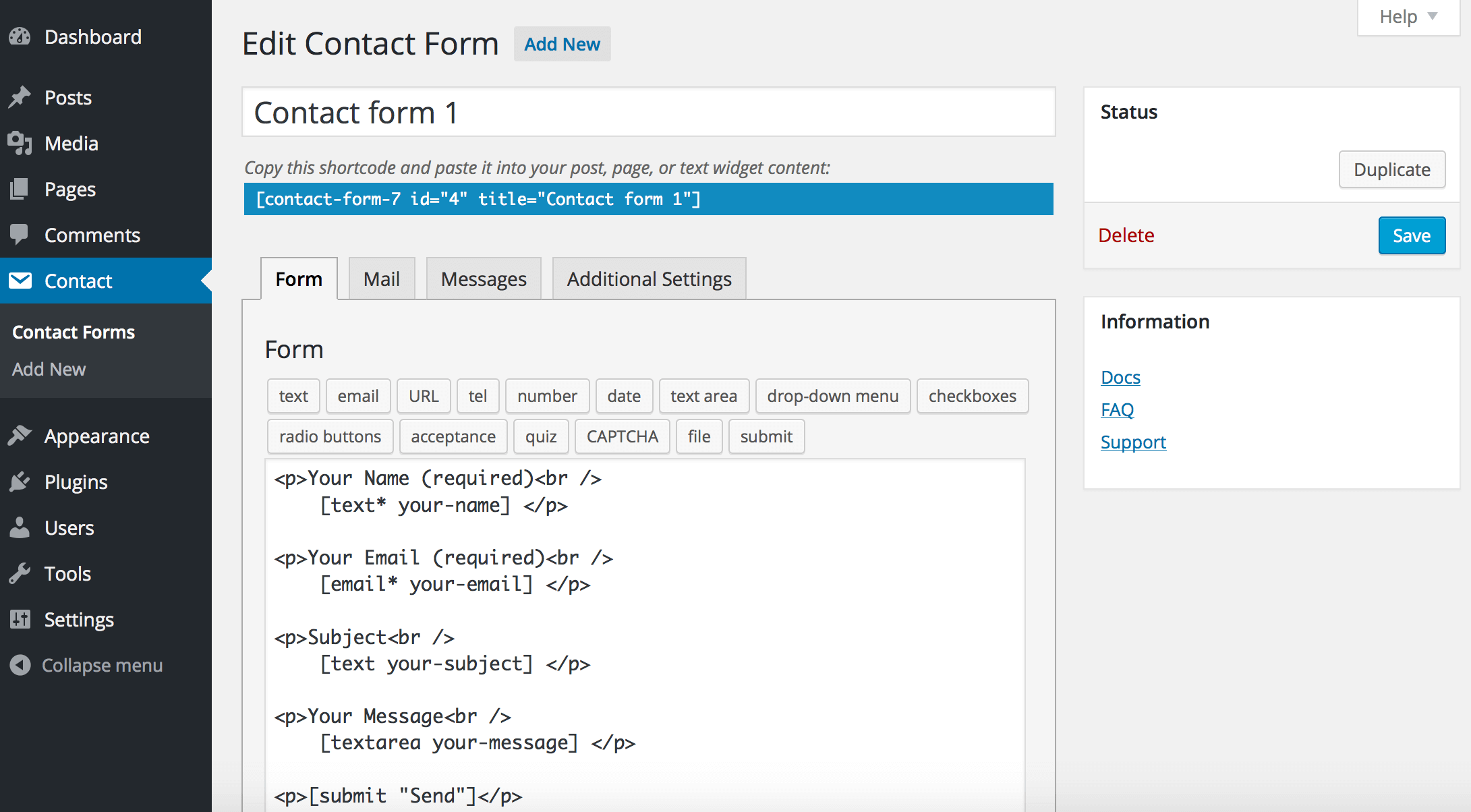 Contact Form 7 is another popular WordPress plugin installed on more than a million websites. It is developed to help you create and manage multiple Contact Forms with ease.
Contact Form 7 is backed by the WordPress community and comes with extensive documentation
The plugin is open source and offers powerful features to manage multiple forms in WordPress without any hassle. Contact Form 7 is a strong alternative for paid plugins and gives you full access to the Contact section in WordPress.
Contact Form 7 resilient features prove to be its selling point and keep the plugin in the race of best plugins for business. Take a look at the features below and opt for this plugin if you are looking to manage your forms in a breeze!
Key Features
It comes with a ready-made contact section form for you to add to your posts and pages.
Integrates seamlessly with any latest WordPress theme.
Completely free to use with no paid upgrades Plugin supports Akismet spam filtering, Ajax-powered submitting, and CAPTCHA
A lot of third-party extensions to add additional functionality
---
3. Classic Editor – Disable Gutenberg in WordPress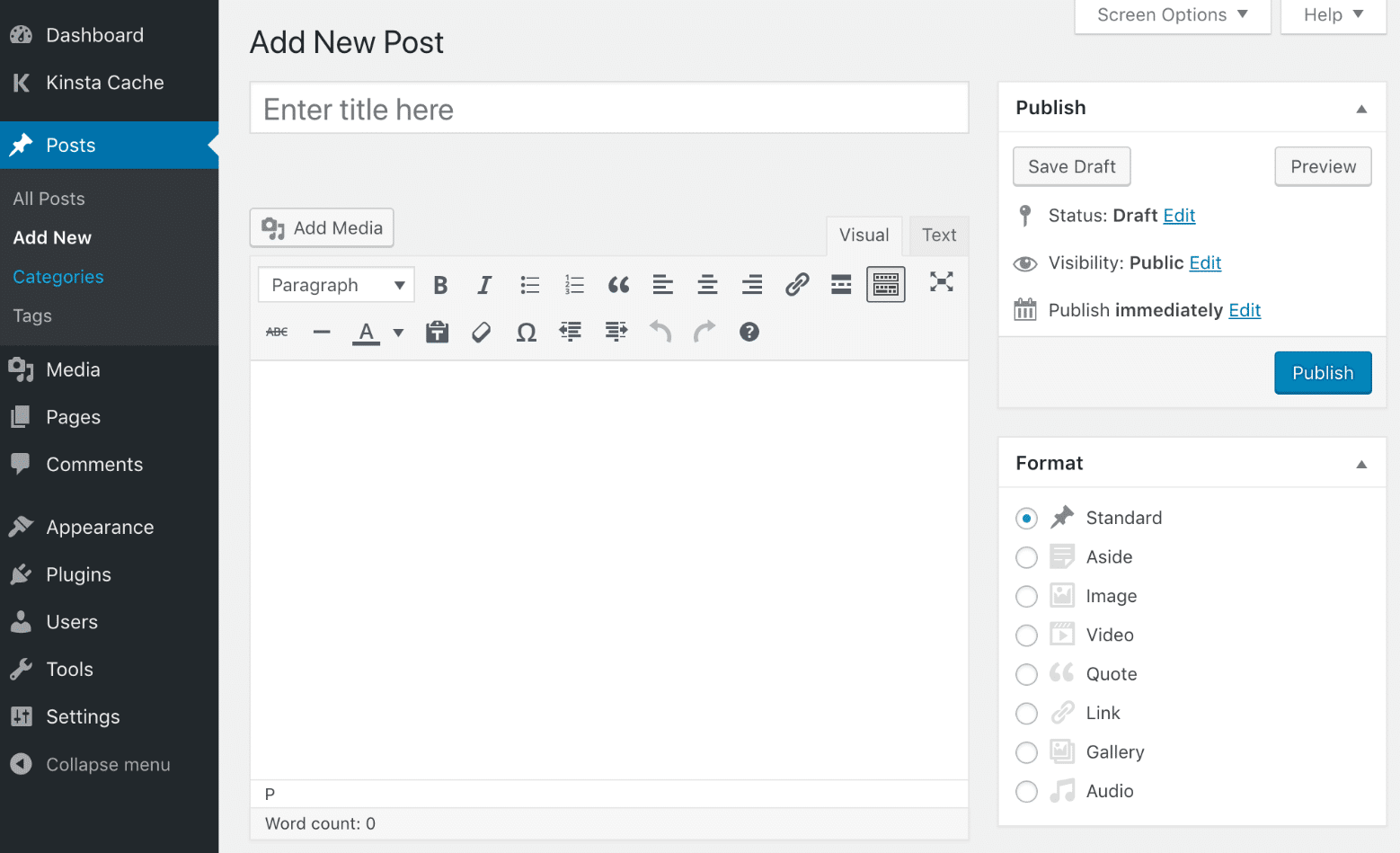 Before the update of WordPress 5.0, the classic editor was the default WordPress editor. Now, Gutenberg is installed by default. If you are someone who wants to stick with the simple old editor, the Classic Editor WordPress plugin can help.
Classic Editor is designed to disable Gutenberg and revert the changes to the classic editor of WordPress. It is a simple, straightforward, and lightweight textual content editor with a clean layout and quick formatting option.
The plugin enables you to format original text and various HTML tags, which are necessary for search engine optimization purposes.
Moreover, Classic Editor enables users to use plugins that extend that screen, add old-style meta boxes, or otherwise depend on the previous editor. Let's take a look at some key features of the plugin:
Key Features
It provides users with a choice to select the default editor for all users.
Simple and easy formatting of content.
Supports various plugins to customize the editor according to your needs.
---
WordPress Plugins for Caching ⚡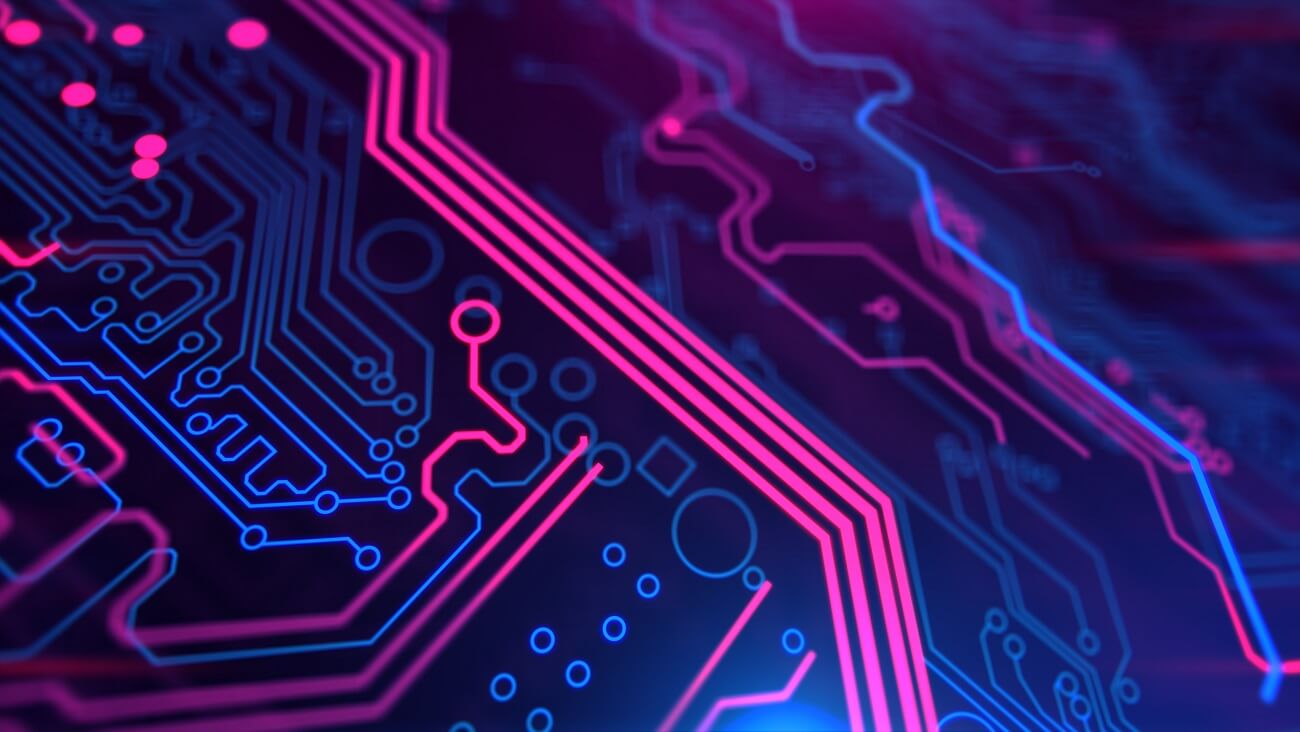 The importance of speed can't be denied, for the Internet has become all about speed today. If your website fails to load in no time, your visitors will most likely switch to another one. Not to mention the effect it will have on your site's Google Ranking.
For this purpose, we have various caching plugins available. The caching plugins are developed to store a version of your site pages in the cache. Upon visiting from the same visitor, these pages are then loaded from the stored cache, making the website faster.
Here are some of our favorite cache plugins for you to try:
4. W3 Total Cache – Best WordPress Caching Plugin


W3 Total Cache is one of the best free caching plugins you can have for WordPress. An efficient caching system, easy to set up, and free for basic use, W3 total Cache satisfies its customers in all domains.
The plugin has over 1 million active installs. W3 Total Cache is trusted by millions of publishers, web developers, and web hosts worldwide for its ability to optimize WordPress sites with just a few clicks.
The plugin effectively provides users with caching abilities like Page Cache, Database Cache, Browser Cache, Object Cache, CDN integration, and much more.
The most noteworthy feature of W3 Total Cache is its ability to use Redis and Memcached. By utilizing these, the plugin creates multiple re-useable instances to access the same cache instead of replicating it across multiple instances.
Hence, reducing the load on the site's server and increasing the site's speed.
Even more so, W3 Total Cache free to use and also improve the SEO of your site. Give this plugin a try to make your site faster, use fewer server resources, and make for a smoother user experience.
Key Features
Provides granular control by enabling you to minify CSS, JavaScript, and HTML
Integrated Transparent content delivery network (CDN) management for Media Library, theme files, and WordPress
Get performance insights and caching statistics for any enabled feature
Compatible with all kinds of hosting options for example dedicated servers shared hosting, and clusters.
---


If you are looking for a plugin to accelerate your WordPress site without costing you a single penny, look no further! LiteSpeed Cache is your answer.
LiteSpeed Cache is an all-in-one site acceleration plugin with server-level cache storage along with some powerful optimization features.
Used by a vast majority of developers and web hosts across the globe, the plugin boasts 300K active installs and over 2 million downloads.
LiteSpeed Cache for WordPress is an easy-going plugin and does a magical job of optimizing your site and increasing its speed. Install the plugin and sit back as the plugin pushes the performance of your site to new heights, delivering content up to 20 times faster, without any hassle.
The plugin supports WordPress Multisite and integrates seamlessly with the most popular plugins like WooCommerce, bbPress, and Yoast SEO.
A customizable API of the plugin is also available for smart purging, customize cache rules, and creating cache varies along with vari0us other things.
LiteSpeed Cache provides basic features with easy installation, however, for LiteSpeed Exclusive Features, the LiteSpeed server is required. Moreover, the plugin being open source serves as a cherry on top.
Stick with LightSpeed Cache for enormous scalability, and an accelerated hosting platform for WordPress.
Key Features
Automatic page caching and purge of related pages based on events to greatly improve site performance
The plugin supports WooCommerce, bbPress, and Yoast SEO.
Seamlessly integrate cache system with other plugins with API system
Supported SEO-friendly sitemap along with a smart preload crawler
---
6. Autoptimize – WordPress Caching & Minification


Another powerful and catchy plugin for WordPress caching is Autoptimize. It's a simple yet effective plugin that optimizes your website making the website's files smaller.
By shrinking the files into smaller sizes, the plugin makes it easier for visitors to download them, resulting in a faster-loading website.
Autoptimize works great by transforming your website into a stable and faster version, even when there is a burst of traffic. Using Autoptimize can also help you with SEO by dramatically increasing your site's speed and boosting the traffic flow of your site.
Autoptimize includes features to minify assets of your website such as CSS and JS files.
The main features of Autoptimize work to aggregate, cache scripts, and styles, inject CSS in the page head, defer the aggregated full CSS, move and defers scripts to the footer, and minifies HTML.
It also includes CDN integration and an extensive API that enables users to mold Autoptimize according to the site's requirement. With Autoptimize, you get a single platform for all your needs. It can truly do wonders for your website with its robust features.
Key Features
Aggregates files by combining CSS and Javascript files into a single easily downloadable file.
Capable to minify HTML, CSS, and JS files to remove unnecessary characters or spaces from your site's code, and concatenation.
Optimizes your site's HTML, CSS, and JavaScript code for a faster loading website.
Integrated with CDN along with an extensive API to store and share content across various plugins
---
WordPress Plugins for Security 🔒
With the record of hosting about 25% of all websites on the internet, WordPress is undoubtedly the most popular CMS. The popularity of this platform also makes it a popular target for malicious attacks, hacking, etc.
Not all of the website owners are tech experts to efficiently protect their data from being hacked. This is why we have security plugins!
According to stats, an average website gets attacked 44 times per day. To keep your website protected from these attacks a wide variety of security plugins are available.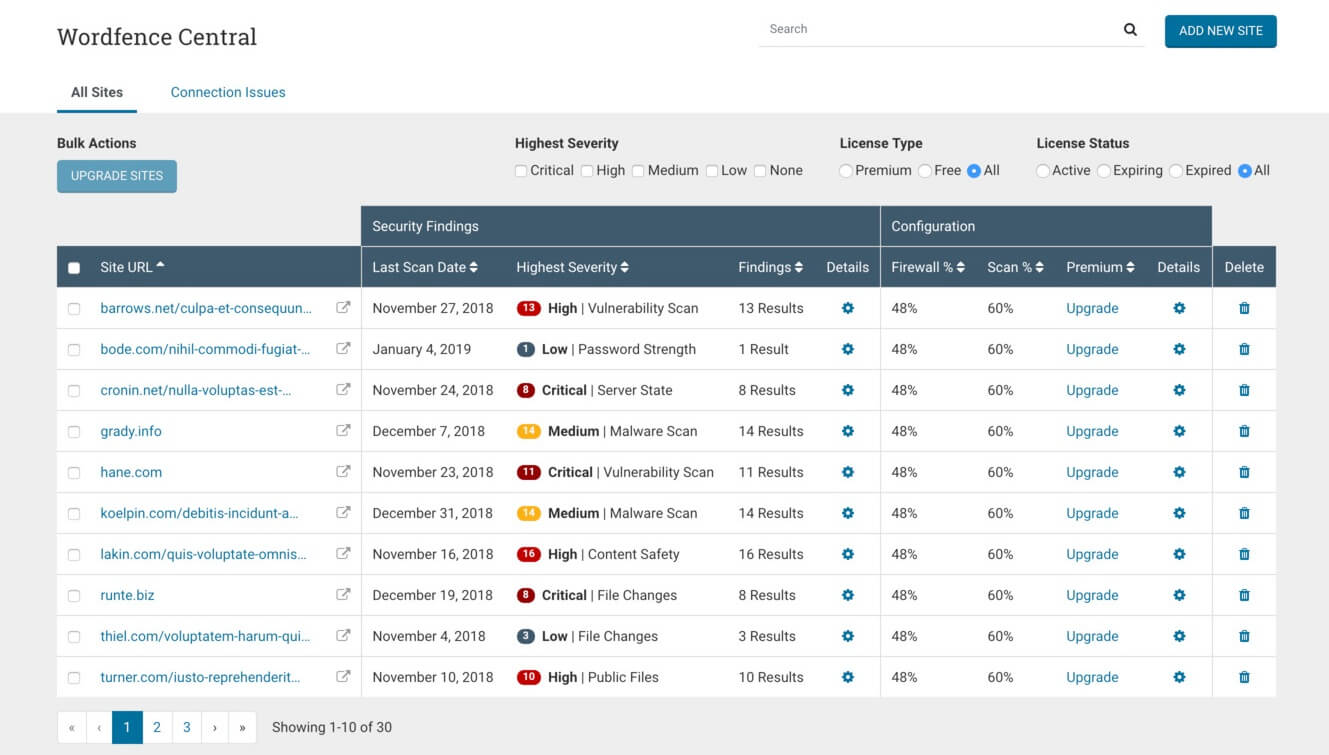 When it comes to security, Wordfence is by far the best security plugin to speed up WordPress. Used by millions of websites across the globe, Wordfence offers comprehensive protection against:
brute force attacks,
malware infection,
malicious login attempts, and
data theft
The plugin collect data from WordPress sites all over the world and act effectively by preparing in advance for potential threats. Wordfence also comes with a website application firewall with multiple modes for you to choose from.
We highly recommended this incredible plugin to beginners for keeping their WordPress site secure.
Another amazing feature of this plugin is the country blocking option which enables you to block attacks from specific regions with high rates of cybercrime.
Monitor your site's traffic appropriately with traffic trends and reports. Keep hackers at bay with these robust features and keep your site secured from cyberattacks.
Key Features
Scan all existing files for any malicious code with Virus Scanner.
Customizable Firewall to accommodate you according to your needs.
You can set your desired security level with one-click security.
WordPress Dashboard to show you an overview of the active functions and notifications.
Protection against any kind of nasty attack such as DDOS, Brute Force, XMLPRC.
---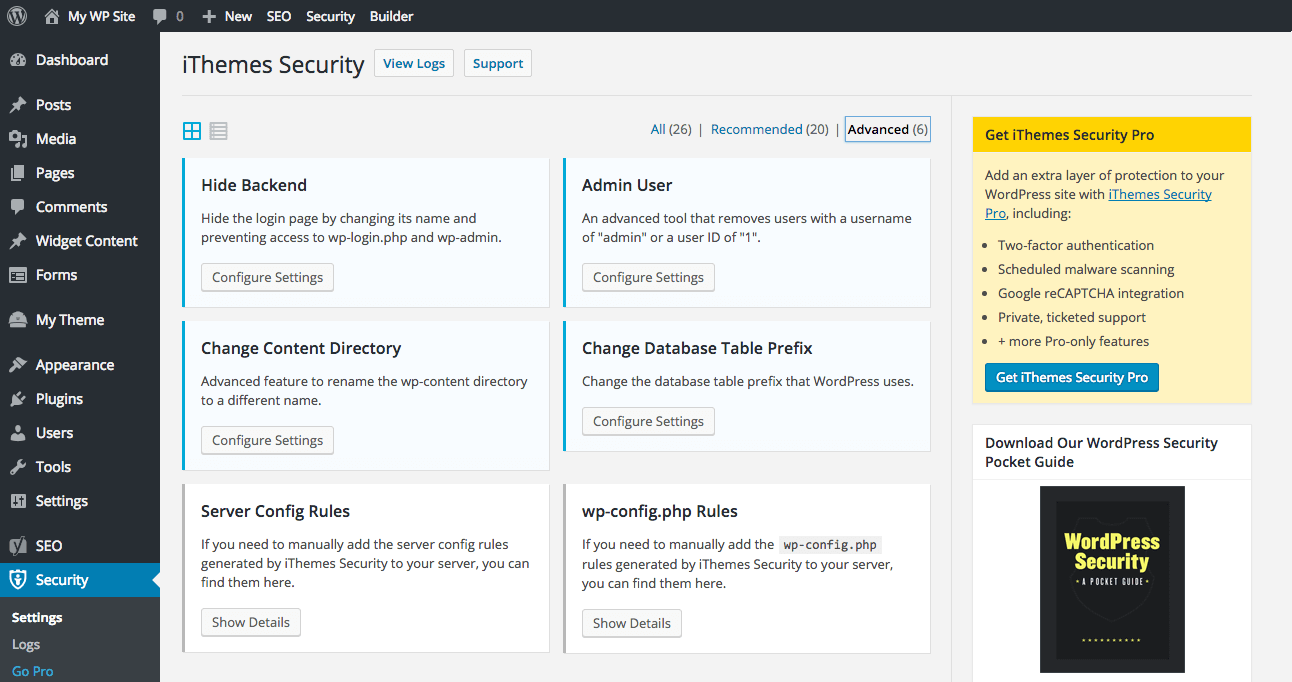 iThemes Security plugin (formerly known as Better WP Security) was developed by Cory Miller in 2008. Since its launch, the plugin has only gained popularity among the masses due to its powerful and comprehensive features.
iThemes Security offers a credible range of features and effectively deals with vulnerabilities, obsolete software, and weak passwords.
Users of any skill level can secure their WordPress website by quickly setting up iThemes Security. The plugin enables users to customize security by taking granular control of their website by offering individual settings.
In addition to this, the plugin offers blacklisting of banned users and File change detection to identify if any file has been messed with by hackers or bots.
We find iThemes Security to be a great plugin in terms of both features and performance. It manages to protect sites from within as well as from without adding extra layers of protection. It's a good choice if you are looking for a free plugin that comes with all the essential features.
Key Features
Blacklisting of banned users and IP addresses to prevent hacking bots.
Backups and database syncing tools for file restoration in case of any data loss.
404 and exploit detection to stop hackers from scanning your site for vulnerable pages.
Password configuration and salting to make secured passwords.
---
9. Cerber Security – Login Security for WordPress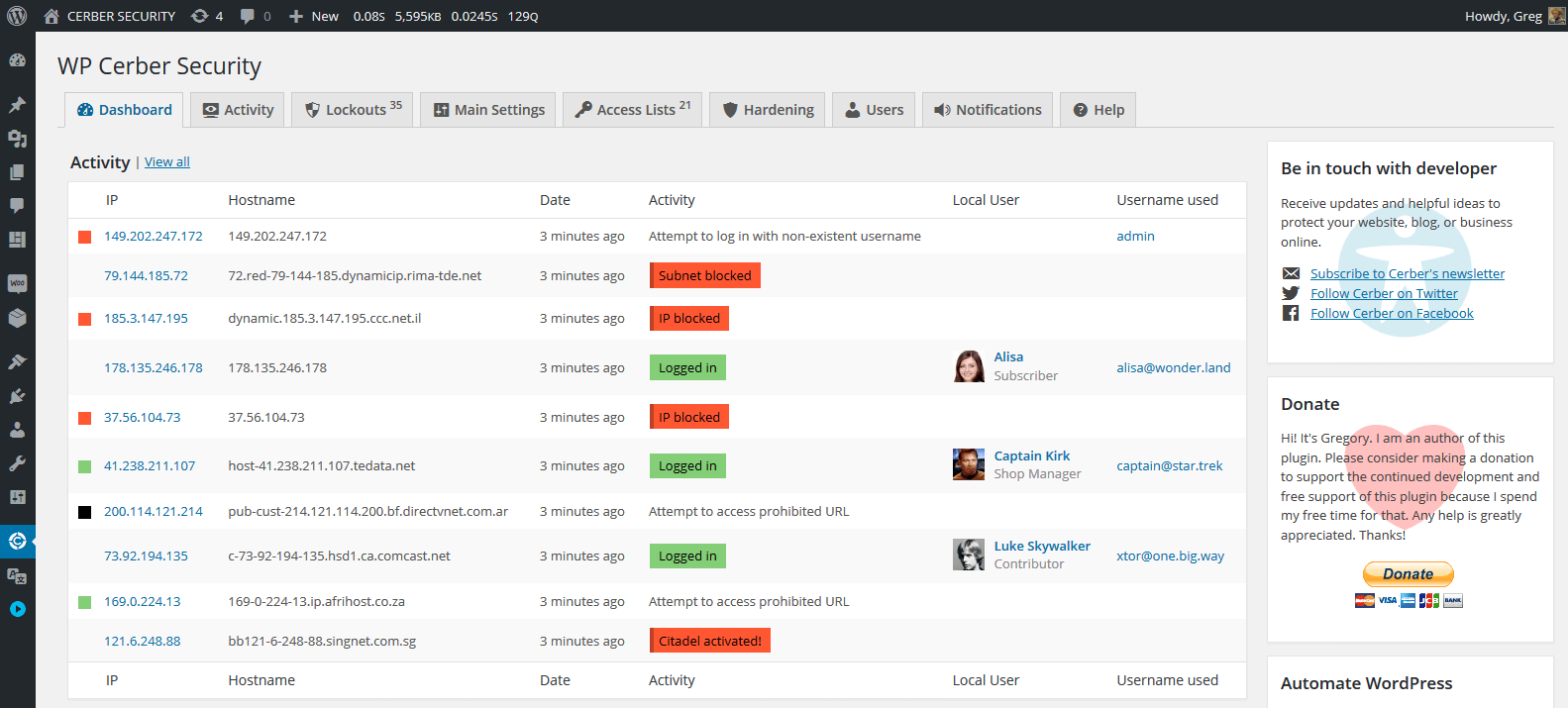 Last but not least on our list of security plugins, we have Cerber Security. It is an exceptionally proactive and advanced plugin that helps users to mitigate millions of attacks around the world per day.
WordPress platform allows unlimited login attempts which makes it easier for hackers to crack the passwords via brute force attack. To protect your site from such attacks, Cerber Security limits the number of login attempts.
With two-Factor Authentication (2FA), an additional layer of security is added to WordPress that ensures identification beyond just username and password.
Along with providing hardening features to ensure security, Cerber Security also eliminates spam comments. Its robust artificial intelligence system keeps a close watch on any malicious activity and analyzes the level of threat by detecting suspicious behavior.
It is truly an invaluable tool that secures your site with a set of flexible security rules and sophisticated security algorithms. We suggest you opt for Cerber Security for ground-breaking protection and leave no room for hackers for intrusion.
Key Features
The Citadel model in the plugin protects from brute force attacks by limiting logins.
Detection of spam comments to move them to trash or deny completely.
Traffic activity tracker with IP WHOIS checks to monitor visitors on your site.
Find vulnerabilities in your site with Site Diagnostic Scanner for comprehensive check of WordPress Files
---
WordPress Plugins for Memberships 👨‍👩‍👦
Looking to transform your website into a revenue stream? Membership sites are a smart choice for you!
Setting up a membership site might be a difficult task, but not if you use the right tools. WordPress provides users with tons of membership plugins to take full control of your site. Keep reading this article to find the best of the best WordPress membership plugins for your website!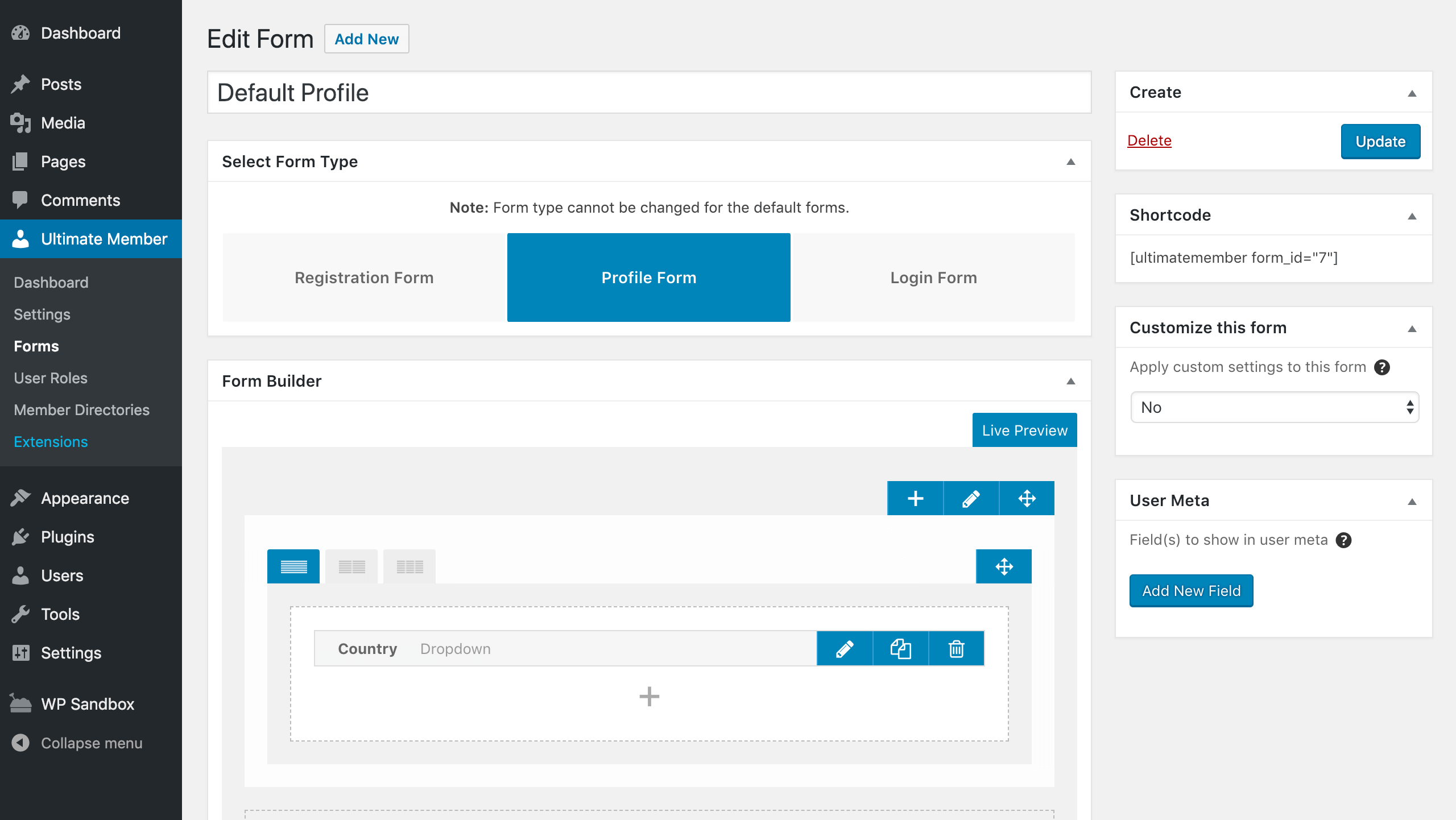 For a membership plugin, Ultimate Member is hands down the best free membership plugin you can have. It's one of the most flexible community building WordPress plugins and a strong competitor of vastly popular social network plugin BuddyPress.
Soon after its release, Ultimate Member gained popularity with over 20,000+ downloads and a rating of 4.8 out of 5.0. It was also ranked in the top 10 community building plugins for WordPress, thanks to its powerful features and user-friendly design.
Ultimate Member enables users to gain granular control with its customizable features i.e custom form fields, custom user roles, custom email templates, and many more.
It includes a lot of filters, conditional menus, and content restrictions giving full control of content to the user. Ultimate Member never fails to provide a seamless experience as it offers both multi-site and Mandrill compatibility.
The plugin is highly extendible, lightweight, and also works on SEO optimization of your site. Ultimate Member is a quality plugin that looks promising with exclusive features and powerful integrations such as MailChimp, myCRED, and WooCommerce.
Moreover, an extensive range of extensions is also offered which includes verified users, real-time notifications, private messages, social logins, and user reviews for a stronger online community.
Key Features
Customizable login and registration pages to design the desired front end of your site
Triple anti-spam protection with honeypot field, time delay, and WordPress nonces.
Create custom roles and apply unique permissions to each role for a restricted view of content.
The plugin creates member directories for seamless search, restricted user roles, and much more.
---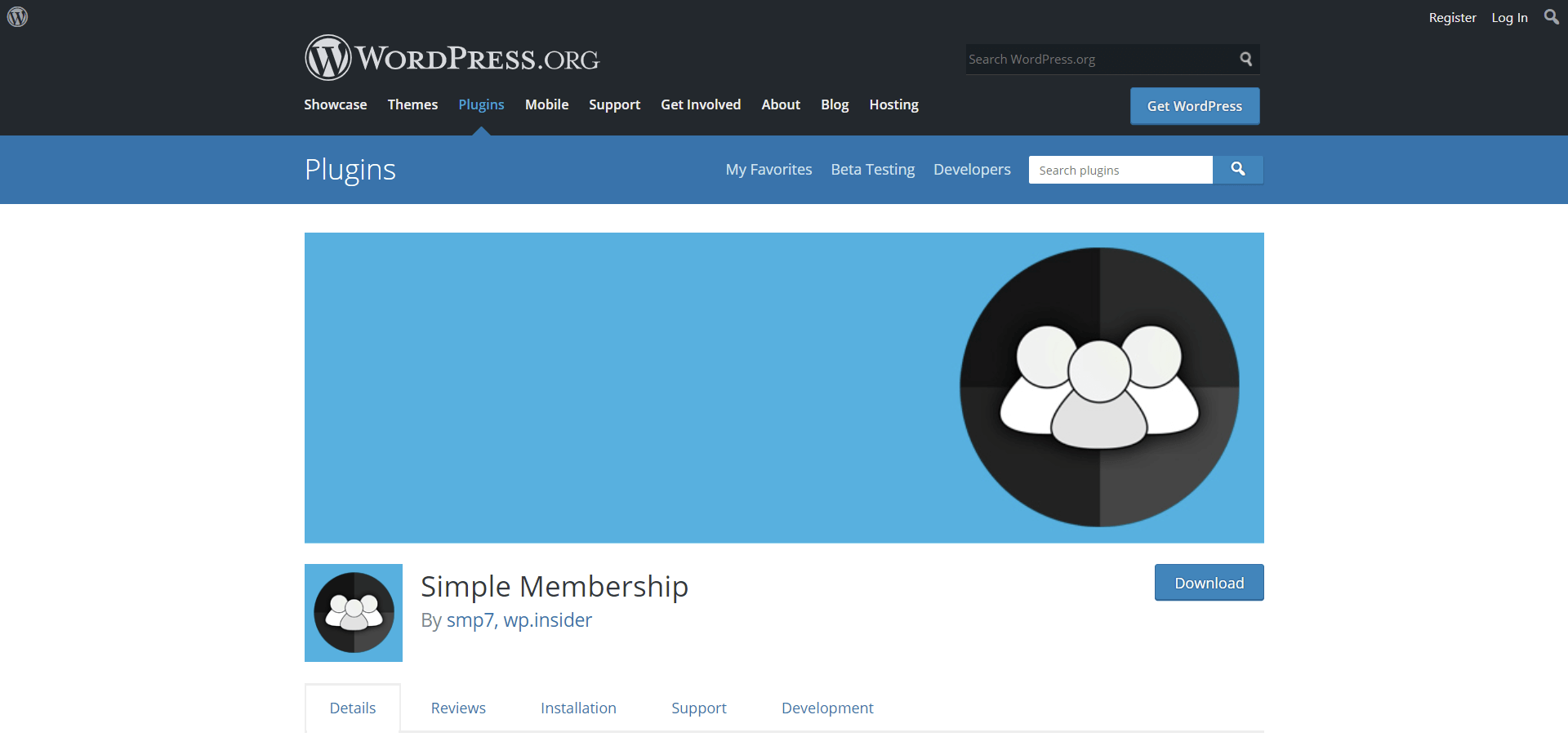 On the second spot of our list of best Membership plugin for WordPress, we have Simple Membership. As the name suggests, Simple Membership is a simple and intuitive plugin, designed to help users with their membership site.
There are plenty of useful and flexible features included in this plugin that makes it possible for users to have a fully customizable membership site.
Users can easily create free and paid memberships and introduce different levels of restriction on content for each member. Simple Membership is super flexible and everything from login to registration pages can be fully customizable according to the user's needs.
Simple Membership also offers integration with MailChimp for email marketing and PayPal as a payment gateway.
Furthermore, paid membership payment can also be handled securely via Stripe or Braintree payment gateways. Simple Membership lives up to its name and does an excellent job at what it's designed to perform.
Key Features
Option to create different access levels to protect the posts and restrict pages view.
Comes with Shortcodes for member login, registration, edit profile, etc.
Translation-ready framework with multiple language support.
Integrated with PayPal for easy payment acceptance from members directly into your PayPal account.
---
WordPress Plugins for SEO 📈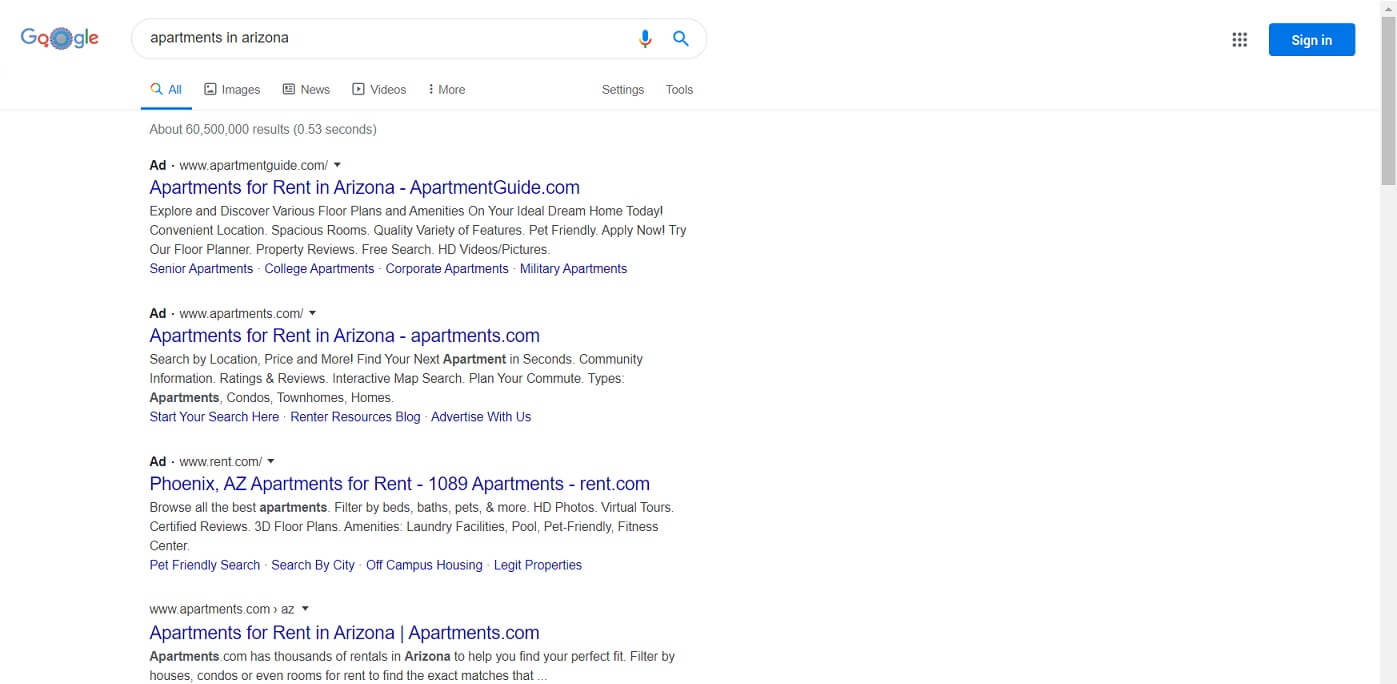 For your website to appear on the first Google results page, it has to be search engine friendly. Now ask yourself, have you done anything to optimize your website for search engines?
Thousands of websites are competing to gain top positions in search results for a single query submitted on a search engine. To make your website rank among the top ones you need SEO plugins.
These plugins optimize your website to perform better in search results. You can manage keywords, organize content, submit sitemaps, and much more with SEO plugins.
Here are some of the best free SEO plugins for WordPress to get you started on the right foot!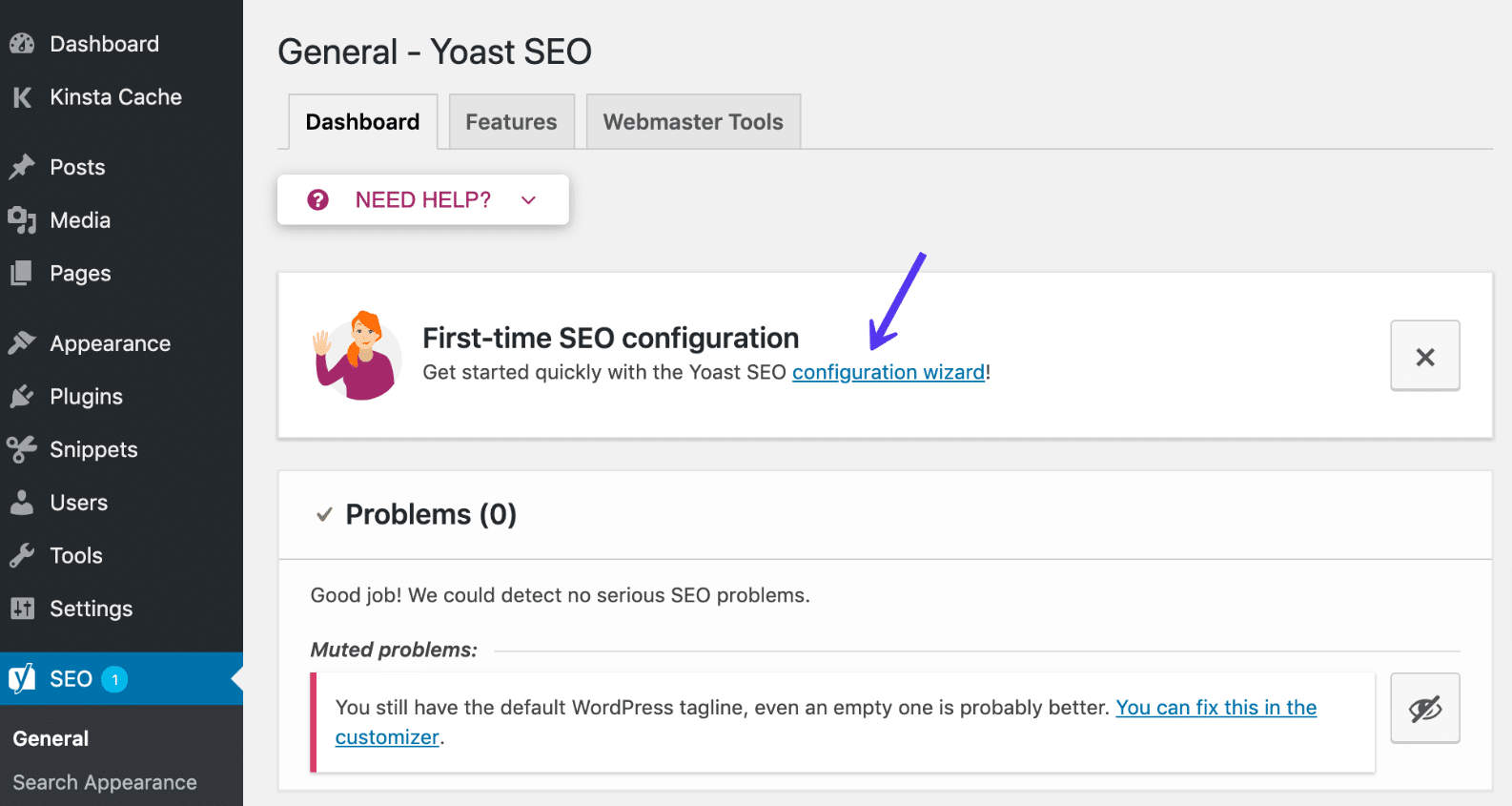 It's impossible to talk about SEO and not mention this powerful plugin. Yoast is one of the best SEO tools for developers. This plugin is easy to set up and works like a charm for both technical and non-technical users.
Yoast is developed to help users with white-hat SEO such as enriched content analysis, keyword optimizations, on-page optimizations, sitemaps, redirects, and more.
The plugin analyzes your content and assigns an SEO score which shows the readability score of your content.
Since its launch, Yoast SEO has only moved upward the ladder of fame. It works to optimize sites for both Google and Bing search engines at once, all the while saving your time for individual optimization of posts.
With powerful features like built-in content analysis, meta keywords and description management, managing duplicate content, XML sitemaps, social features, and much more, It's hard to live without Yoast.
Yoast is also available in a premium plan. Users can upgrade their plans as per their requirements. We strongly believe that Yoast will impress you, so why not give it a try and see for yourself?!
Key Features
Edit multiple posts and pages at the same time with Bulk Editor.
Yoast provides you with a Redirect Manager to fix broken URLs.
Page analysis tool for a comprehensive analysis of your content.
SEO tips with the traffic light system( red, green, and orange) to provide tips on what aspects need improving to be SEO-focused.
---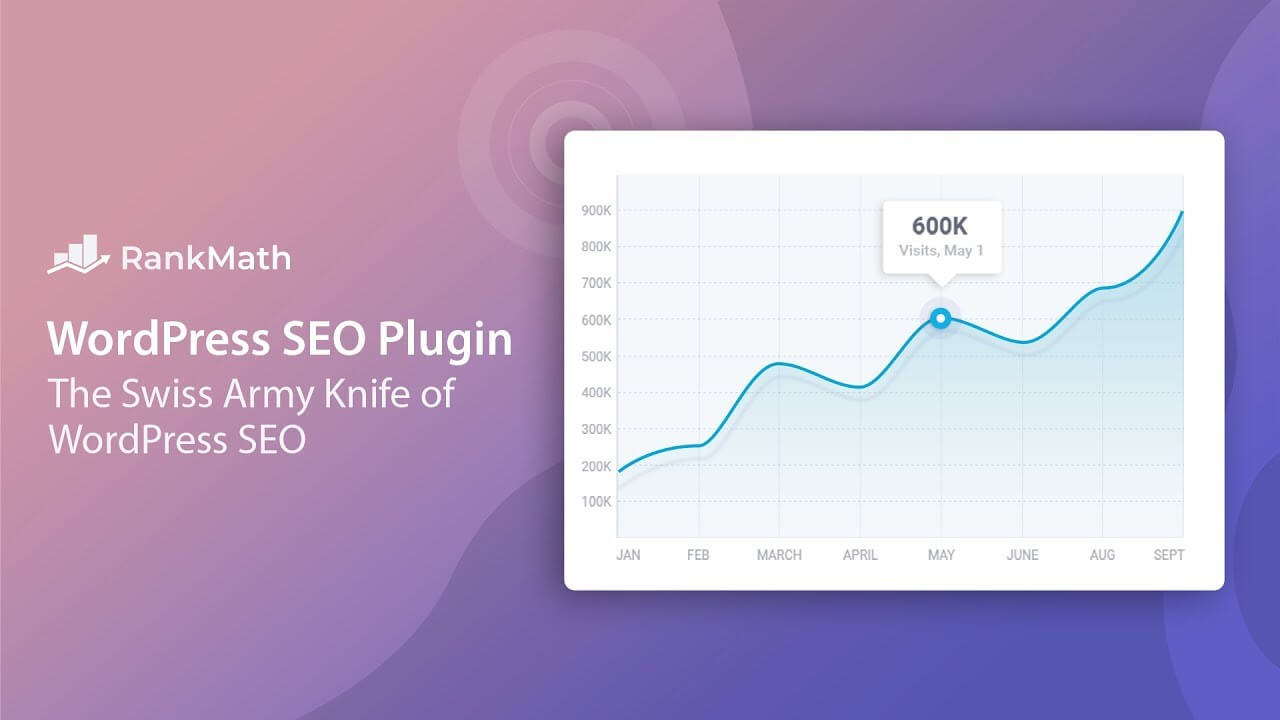 Rank Math is an SEO plugin for WordPress designed to fully optimize your search engine. The plugin works as a suite of SEO tools right at your dashboard. Rank Math features multiple modules to enhance your site's speed and control which can be turned on or off at any time.
Rank Math's intelligent features give you the freedom to sit back and relax as the plugin single-handedly performs the work equivalent to an SEO team.
The notable features of Rank Math include a filter for unlimited keywords, email notification, and a warning when using the review Schema type.
The developers of Rank Math claim it to be the swiss army knife of SEO tools for WordPress. And with all these powerful features, we say they are pretty much right about it.
Rank Math has dedicated modules for redirections, 404 Monitor, SEO Analysis, Sitemaps, and others. Moreover, the outstanding feature of the plugin is its support for Schema-based themes and also AMP pages.
Key Features
Visually attractive and intuitive interface to enhance the user experience.
Easy Setup – The plugin features a configuration wizard with a step-by-step installation that sets up SEO for WordPress perfectly.
Supports the WordPress Multiuser project (WPMU). Multiple WordPress sites can be used with Rank Math.
Built-in 404 error monitor to find and resolve 404 errors for a better user experience.
---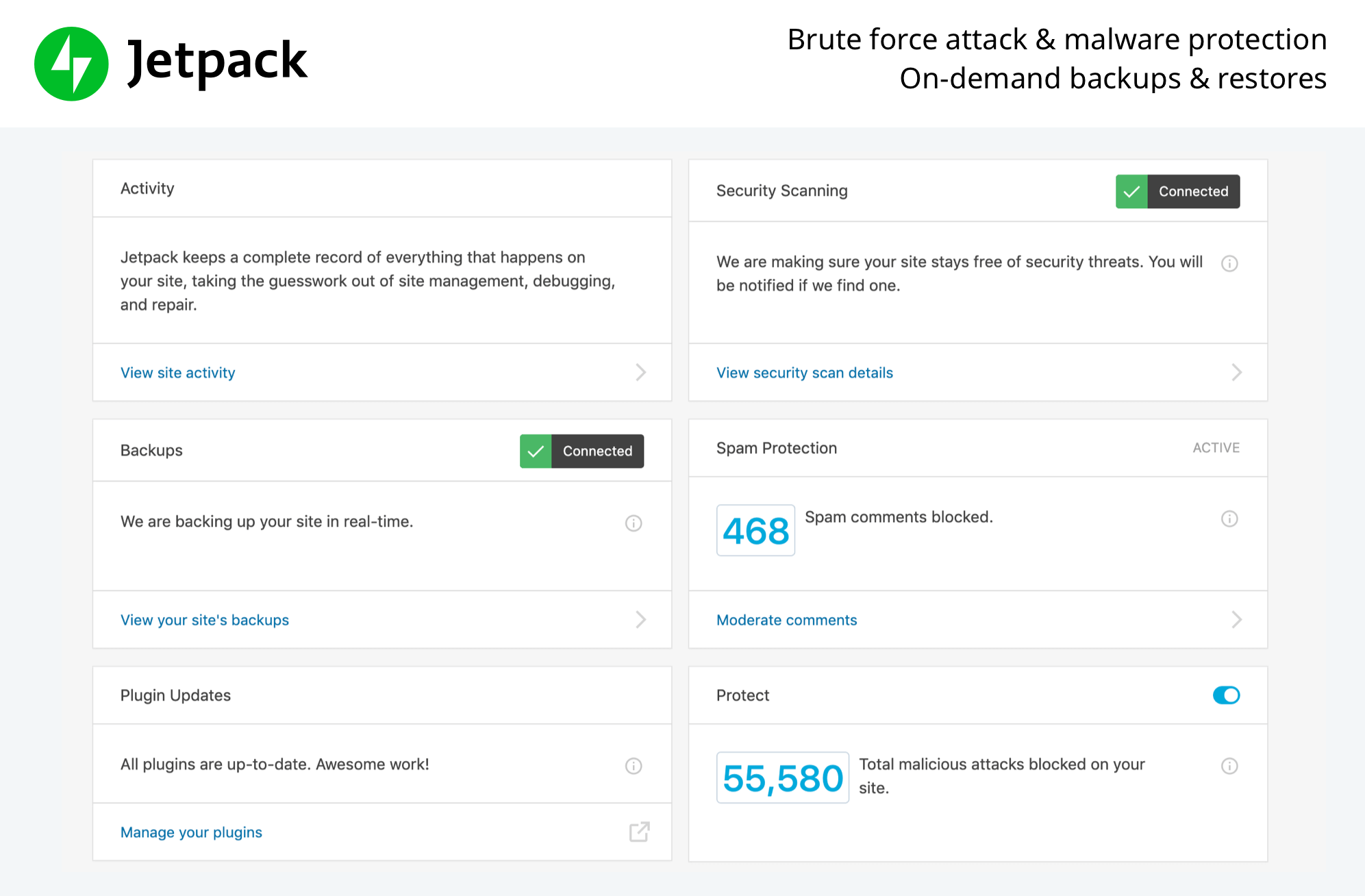 You might have heard about the ever-so-famous Jetpack. It is without a doubt, the most popular WordPress plugin with over 5 million active installations. Jetpack is a product designed to help users to enhance, monitor, and manage their self-hosted WordPress site.
The plugin consists of about 43 modules that act as a toolbox, packed with advanced features to enhance your website in a variety of ways.
All these modules deal with various functionalities such as security, backups, CDNs and performance, list building, marketing, and many other essentials.
Jetpack has a straightforward setup and installation procedure with an intuitive interface. The plugin offers a single dashboard and also protects your website from malicious attacks and also updates the rest of the plugins automatically.
Furthermore, Jetpack comes with a premium plan with features like video hosting. Users can always upgrade from the free version by subscribing to the paid version.
Key Features
VaultPress for automated backups, security scanning, and more.
Let users post comments to your site using their social media accounts with Comment enhancements
Receive timely notifications for new comments and Likes in your Admin bar and on your mobile device.
Protection from Brute force attacks spam, suspicious sign-in attempts, etc.
---
WordPress Plugins for Social Media 📢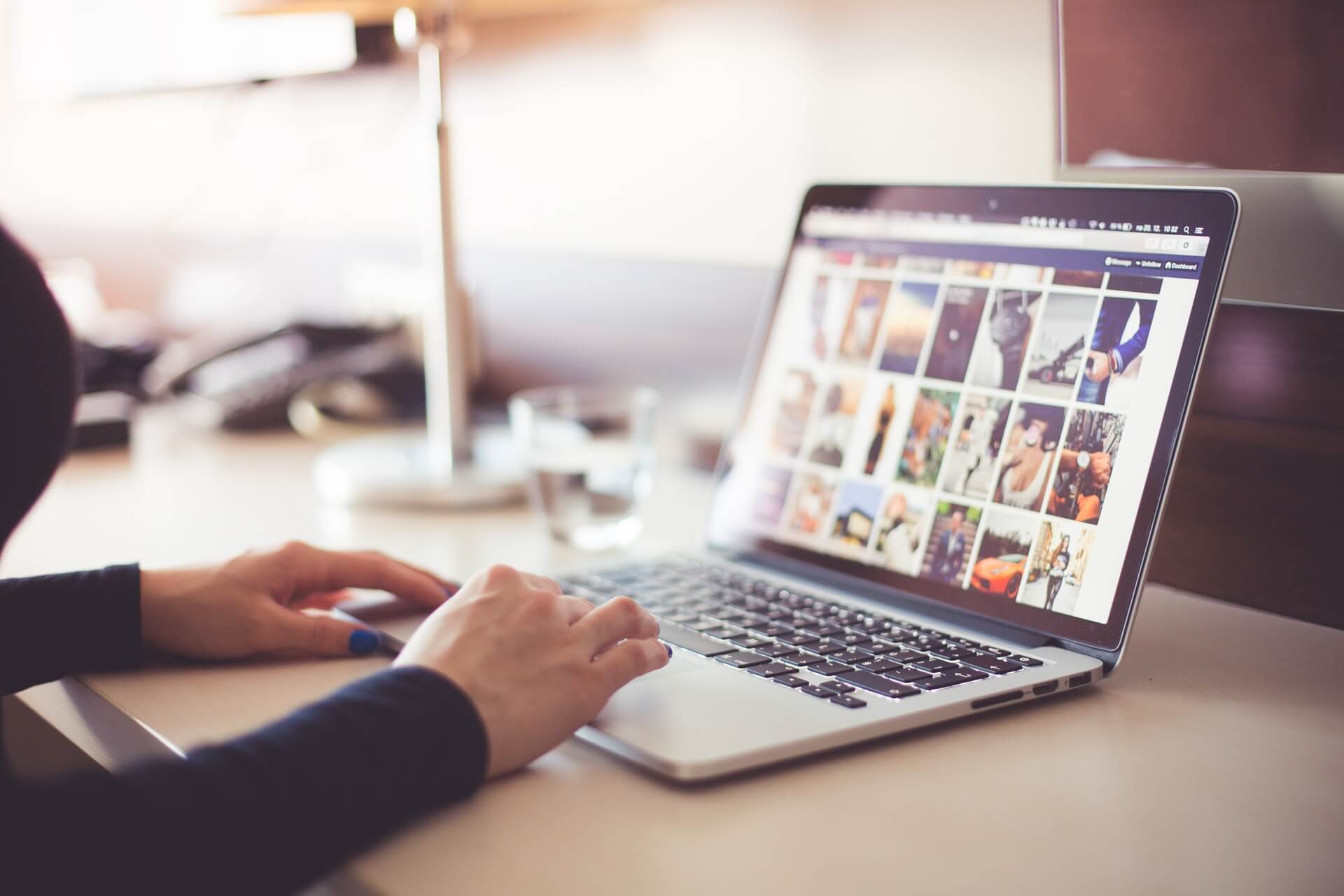 Promoting your website or blog on social media plays an important role in increasing the traffic of your site. The power of social media to bring about significant changes can't be underestimated.
Sharing your work across multiple platforms will help grow your audience and increase traffic to your site.
More than 87% of companies promote their businesses on social media. Social media promotion can boost your business without a doubt, but it can be a daunting task to manage the task.
To automate your social media activities, make use of the social media plugins on WordPress.
Here's the million-dollar question; what's the best WordPress plugin to install for social media management? For this, here's the rundown on all the best free WordPress social media plugins for developers on the market today.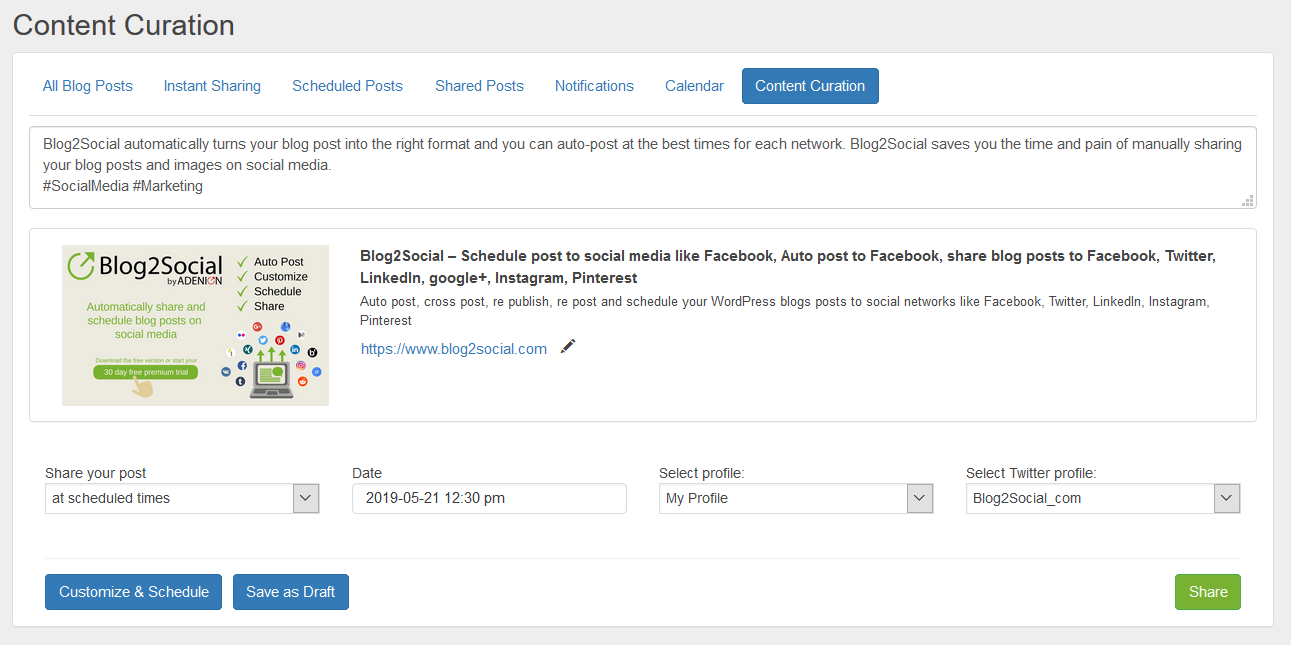 Blog2social is a freemium WordPress plugin that ensures your content promotion on the internet and saves your time efficiently. The plugin automates the basic tasks such as auto-posting, scheduling, cross-promotion, and many more, for the user's convenience.
Blog2Social supports 15 social networks like Facebook, Twitter, Instagram, and others for the global reach of your content.
With Blog2Social you can create unique social media posts, share instantly, or schedule them in advance with ease. The auto-posting features save your time by automatically sharing new or updated content at an optimal time based on your selected template and format.
Finally, what makes Blog2Social stand out from others is its editorial calendar which helps you manage upcoming posts flawlessly. Blog2Social enables users to proactively prepare and schedule Promotional Campaigns for WordPress.
In addition to this, the plugin lets users incorporate content from other social media sites for indexing and backlinking.
Key Features
Automated Posting of blog posts on your selected social networks
Predefined Best Time Scheduler or individually customized time settings
Supports up to 15 social media networks such as Twitter, Facebook, LinkedIn, Instagram, and many more
Content Curation feature to provide third-party content to your community.
---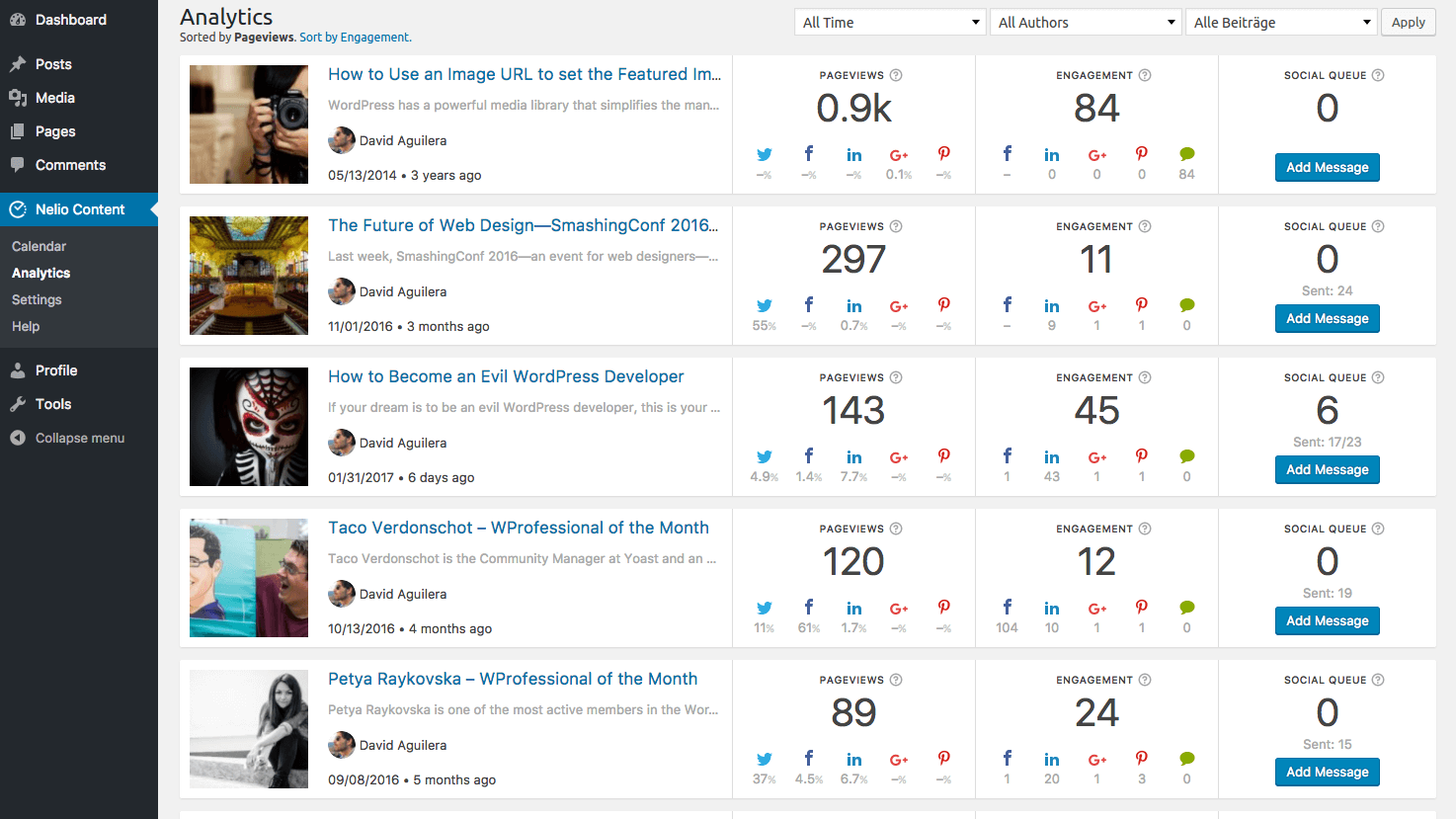 Didn't like the Blog2Social? No, worries. We have another amazing plugin to help you with your social media promotion. Nelio Content is a native editorial calendar plugin for WordPress.
The plugin aims to help you efficiently schedule, create, and promote the content of your blog.
Nelio Content tweaks tons of features in your WordPress blog or site for powerful content creation, marketing, and scheduling. The plugin automatically creates social publications and provides invaluable insights for the smooth and successful running of your blog or site.
Users can also feature external images on their blog with Nelio. Moreover, the plugin is available in multiple languages for example in English, Spanish, Italian, Romanian, and more.
Nelio Content is a suite of tools serving you to promote your posts on social networks effortlessly and without leaving WordPress. Apart from the nifty calendar tool, Nelio Content offers a feature to share your old content as well.
There's more: Nelio's integration with Google Analytics that gives you an overview of top-performing content, right at your WordPress dashboard.
Key Features
Nelio Content's post analyzer analyzes your post content and provides guidance
Available in multiple languages
Keeps your blog content well-organized and managed.
---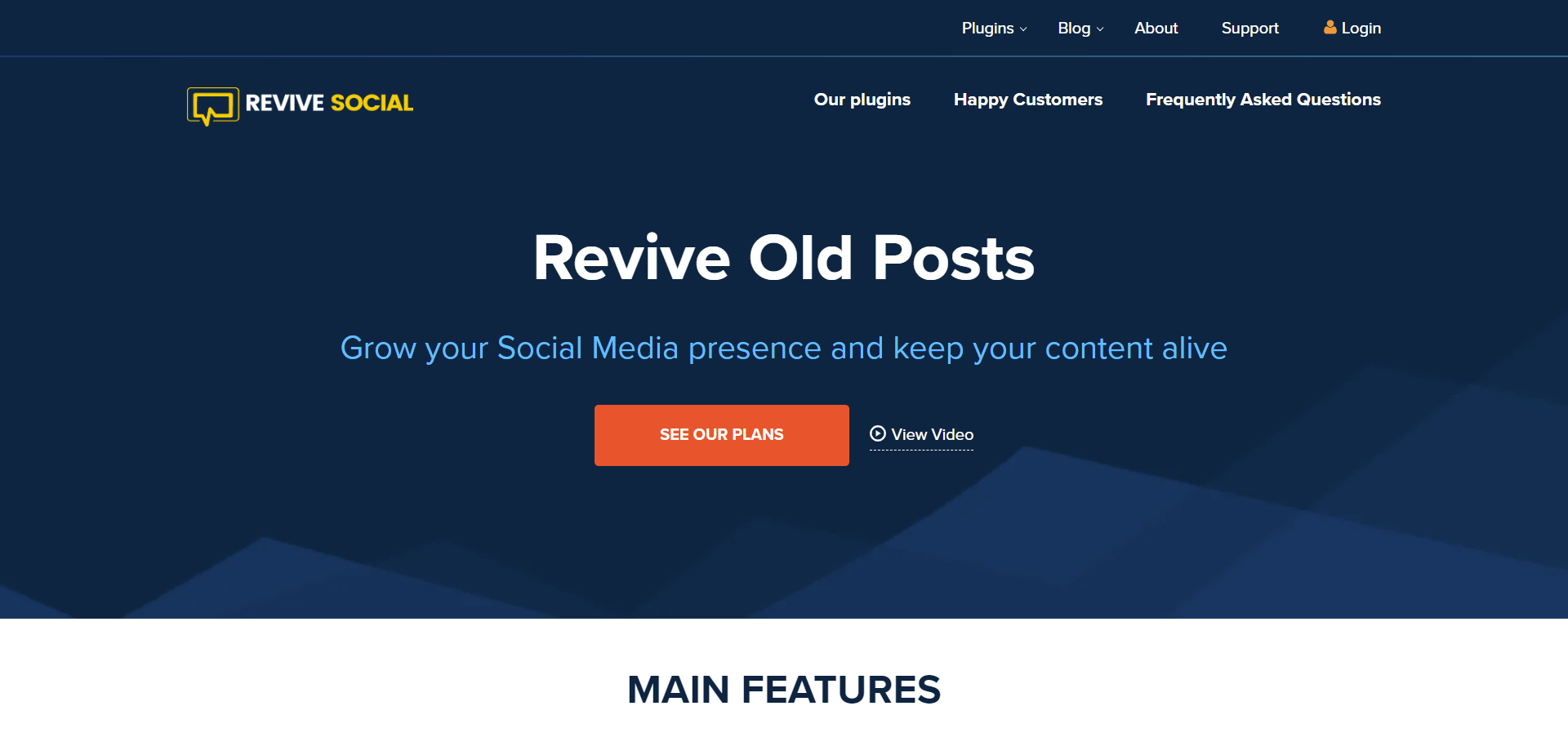 Editing and optimizing posts along with writing them from scratch is a time-consuming task. When it comes to managing the old posts, there is not just enough time to do so. Hence, we have Revive Old Posts.
This plugin is suitable for all kinds of websites and site owners including E-commerce stores hobby bloggers, professional bloggers, and business websites.
Revive Old Posts is truly an all-in-one solution for bringing your old posts back to life. The plugin automatically shares your old and new content effectively on social networks, to engage the visitors in relevant content.
It is easy to set up and significantly transforms engagement on your blog or site.
Revive Old Posts supports the most popular URL shortening services and integrates with Google Analytics. You can easily view the number of clicks your post has received when it was shared on the social media site.
The plugin is a must-have for social media promotion as it includes robust features to always keep your site/blog in the spotlight.
Key Features
Automated posting to share old and new posts on social media.
Freely choose the time and number of posts to share on social media.
Compatible with popular URL Shorteners.
Exclude categories and selected posts to be shared on social media.
Integrated with Google Analytics to track the exact social media traffic.
---
WordPress Plugins for eCommerce 🛍️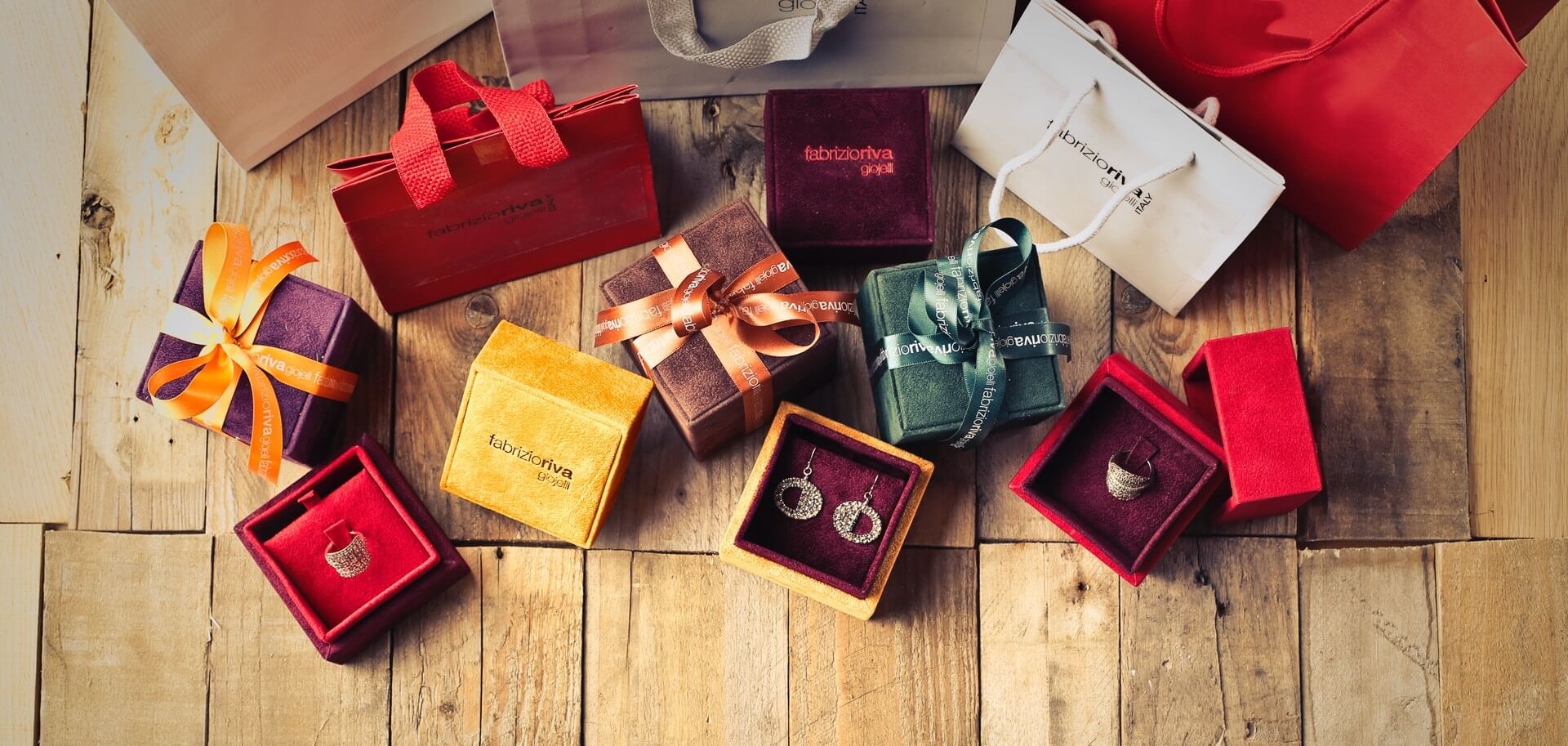 Interested in selling your products online? Are you interested in expanding your business online? If yes, then you are in luck! Setting up an e-commerce website on WordPress can do just that for you.
WordPress is not just a platform to write blogs, It's much more than that. You can use WordPress to expand your business via an e-commerce website as well.
As a matter of fact, dedicated plugins are available for users to help them establish a fully functional website for e-commerce. Let's have a look at some of the best free WordPress plugins for e-commerce.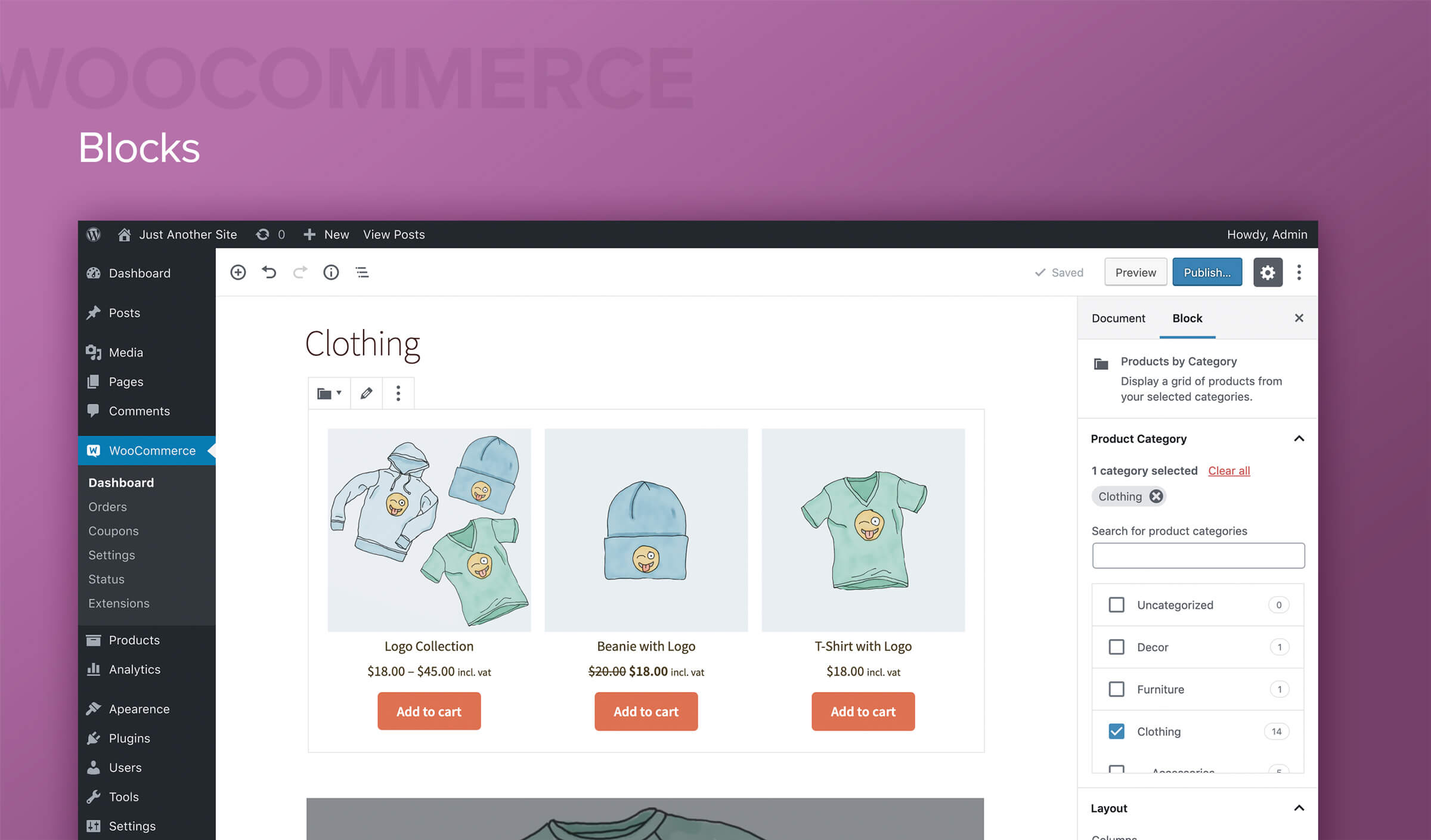 Looking to set up your online store? Confused about monetizing your E-Commerce site? Don't worry, WooCommerce has got your back!
WooCommerce is the most popular plugin and practically the default choice when it comes to e-commerce sites. Since its launch in 2001, the plugin has gained quite a lot of fame due to its efficient working and advance features.
Despite being the most comprehensive and powerful e-commerce solution, WooCommerce offers its basic features free of cost.
Loaded with almost all the robust features needed to set up an e-commerce site, WooCommerce is the crown jewel of the e-commerce world.
The solution's interface might seem intimidating to you at the start as WooCommerce boast a large collection of features available in one platform. However, it is relatively easy to use the solution overall.
An outstanding feature of WooCommerce is its over 100 payment gateways support including Stripe and PayPal. This feature enables you to choose any payment option from the list, based on your requirements and region.
Furthermore, you can manage your store online, keep track of your inventory, get effective insights, and secure your website with WooCommerce.
Key Features
Get in-depth analysis by integrating with Google Analytics.
Built-in inventory management to keep track of your stock level.
Streamlined shipping and tax with Geo-location detection of customers' addresses.
Over 400 available add-ons and extensions to facilitate you with your tasks.
With access to the REST API, integrate everything from products to orders seamlessly.
---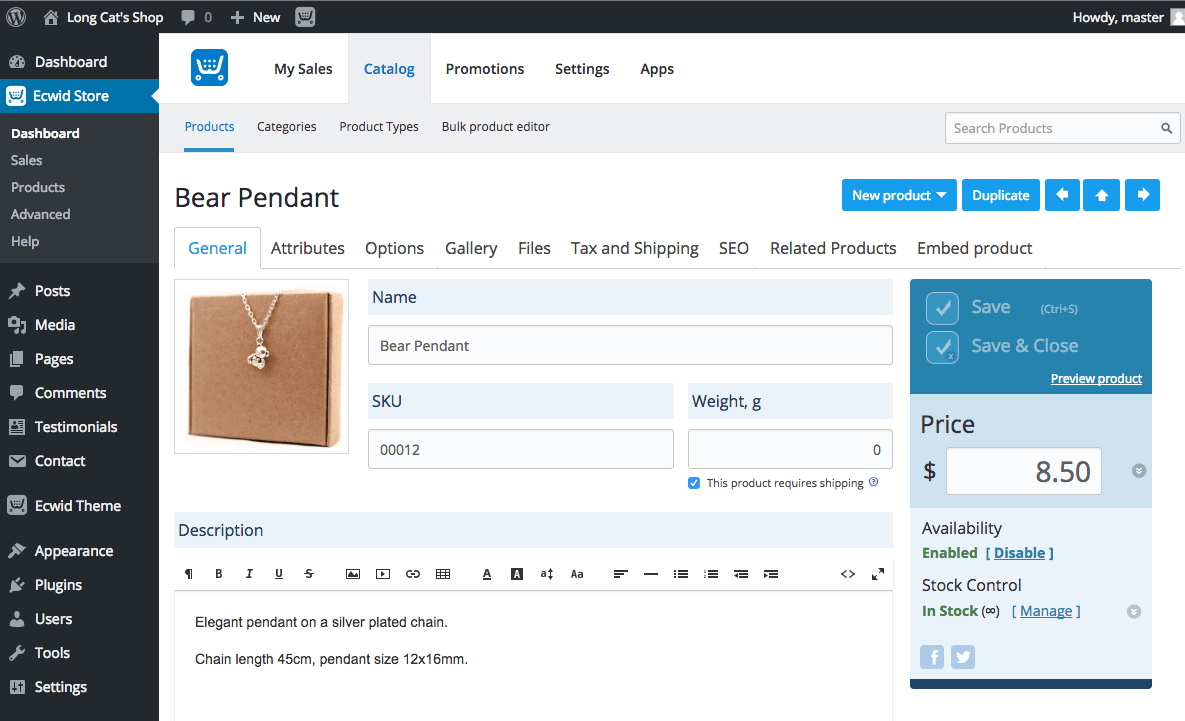 Ecwid is a powerful, flexible, and user-friendly product that works well for both physical and digital products. It is used by over 1.6 million sellers across the globe for tracking inventory and product management, as well as payment processing.
From keeping a log of purchases to providing helpful customer support, Ecwid does it all flawlessly.
Even though Ecwid is not as popular as WooCommerce, it still manages to be an interesting competitor in the WordPress market. Ecwid is not only a WordPress plugin but also a leading SaaS product used by some very successful eCommerce stores.
Ecwid does not impose any restriction on integrating with a single content management system which gives the solution an edge over WooCommerce.
One of the strongest selling-point of Ecwid is that it is cloud-based and does not require any software installation on your system. Ecwid provides easy accessibility to manage your website from multiple devices.
Moreover, the solution provides you with the opportunity of global reach with over 40 international payment methods and up-to 50 unique language support.
Key Features
With Ecwid upgrade plugins automatically and save time and effort.
Provides multiple points of sales across social media for global selling.
It can be integrated with most website builders and content management systems, for example, Wix, Squarespace, Adobe Muse, and many more.
It comes with translated versions of your e-commerce site in up to 50 languages.
The solution provides useful SEO insights along with support for CSV format.
---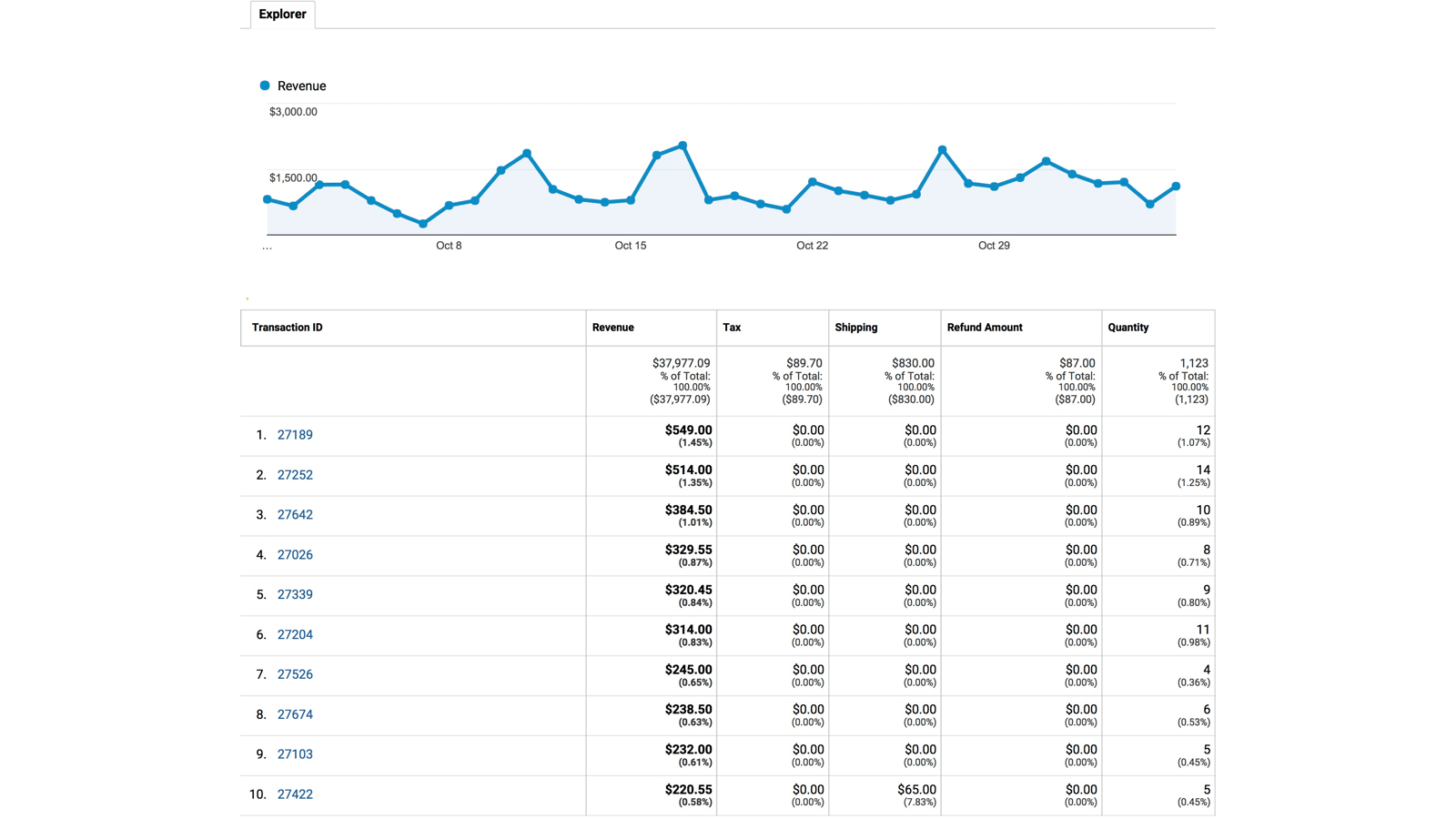 Google Analytics is one of the most common and well-known analytics platform used by marketers. To make your life easier, GA recently introduced an official WordPress Plugin by the name of Enhanced Analytics for WooCommerce.
The plugin is comprehensive, powerful, and enables users to integrate Google Analytics with their site.
Enhanced Analytics for WooCommerce tracks product impresses, clicks, and add-to-cart rates on every page and helps you track even the minor interactions on your page.
The users can view all of the useful insights in one place, without having to leave their WordPress dashboard. The plugin further utilizes the data from WooCommerce to identify the types of customers on your website.
The most powerful feature of Enhanced Analytics for WooCommerce is Shopping Behavior Analysis. This feature enables you to track how your customers respond as they move through your site by creating multiple funnels.
Adapt to Enhanced Analytics for WooCommerce and get useful insights about customer's behaviors, transactions, and events and focus on the areas that you weren't able to see before.
Key Features
Shopping Behaviour Reports that give insights on how visitors respond to every event throughout your entire website.
Quick & Easy 2 minutes installation from the WordPress interface
Exclude visits from administrators to get a more accurate picture of customer data.
Tracks the flow of users from product page to cart to checkout to pinpoint money leakage from the site.
Compare traffic, transactions, and revenue across products to identify the products appreciated by customers.
---
Other SaaSy goodness on All That SaaS: