To organize ideas, there are mind mapping software and online mind map tools. This software helps users to organize, collaborate, and visualize ideas seamlessly.
Dedicating time to write down ideas is a good way to plan but sometimes just remembering them is not enough. Sometimes, for the proper implementation of our ideas, we need to share and visualize ideas.
Digitalizing the process gives you convenience and flexibility. As it will be easier for you to move ideas around with little effort.
Mind Mapping vs. Brainstorming: what's the difference?
There's a fine line between mind mapping and brainstorming. The two might have been confusing for you but both serve different purposes
Mind mapping is a creative exercise to organize ideas. It essentially involves the hierarchal structuring of ideas, concepts, and words. The process starts with writing down a central idea and then branching it out.
This technique visualizes concepts as diagrams. These diagrams have multiple branches and sub-branches representing their relationship with the central idea.
Brainstorming, on the other hand, is a less structured way of generating ideas. It focuses on expanding the thinking process and producing new ideas. Brainstorming gives you an arbitrary production of ideas without any filters.
Using the proper technique to manage and implement ideas is essential. As it can be an overwhelming task, we have digital mind-mapping apps. These apps offer flexibility that a piece of paper cannot.
Let's take a look at some of the best mind-mapping software and apps you can use to organize ideas, thoughts, and processes.
The Best Mind Mapping Software in 2023
1. Miro – Best Free Mind Mapping Software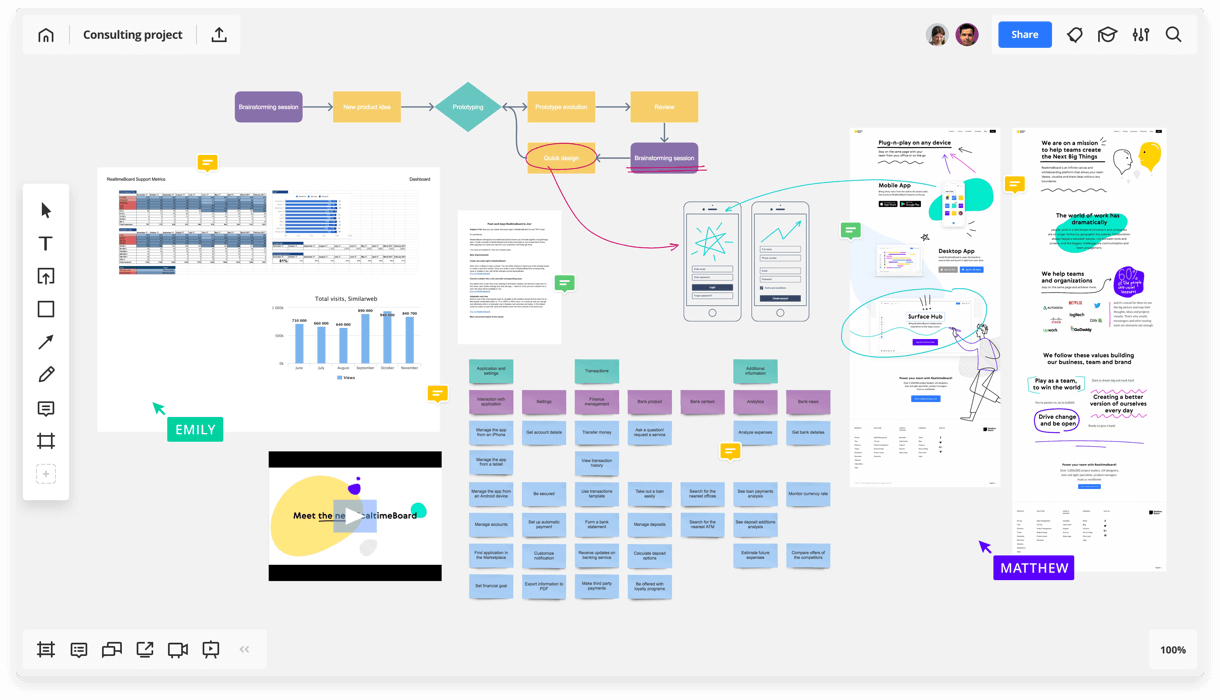 With Miro, you can unleash your creativity, strategize your projects from all viewpoints, and create integrated hubs of data to keep everyone in the network.
Miro enables you to engage your time and team, and work more efficiently. An online whiteboard gives you an opportunity and multiple options for real-time teamwork.
It has a whiteboard to provide the user with the option of creating mockups and strategies, all while other members give their feedback. It has a variety of features including a range of icons, wireframes, and so much more.
Since Miro is known as a collaborative whiteboard, which lets its users brainstorm using digital sticky notes to plan and manage agile workflows.
Key Features
Customized Templates provides hundreds of pre-built templates. You can also create your templates and smart frameworks as you like.
Mouseover Collaboration: keep track of your team member's engagement with your boards, by watching their cursors.
Screen Sharing: this allows you to share your work easily while doing presentations.
Communication tools: get feedback, reviews, and approvals from your team members. Also, it allows you to video chat, and comment on other users' work.
Easily integrates with more than 20 platforms which include Google Drive, Sketch, Slack, and more.
Provides sticky notes, freeform pens, shapes, arrows, and smart drawings for organizing your data seamlessly.
Infinite Canvas: helps you to add any content or mind maps to the same board.
Unlimited boards, projects, custom templates, Kanban framework, high-resolution exports, integrations with Jira, Confluence, and Asana, and more
Unlimited external board viewers and commenters, and private board sharing
Single Sign-On (SSO), for occasional collaborators, gives day passes and provides external editors for your content.
Multi-team setups for the management of integrated companies along with Azure DevOps and CA Rally integrations
MSA support, developer platform, API access, premium support, and data governance.
Pricing
Free: This free mind map software includes unlimited team members, 3 editable boards, board viewers can be anonymous, readymade templates, and core integrations for single users.
Starter: $10/user/month billed monthly or $8/user/month billed annually. It has all the free features including an unlimited number of boards, private board sharing, high resolution, customized templates, and remote meeting toolkits.
Business: costs $20/user/month billed monthly or $16/user/month billed annually. It has all starter features, plus, SSO, external editors, and day passes for collaborating sometimes.
Enterprise: Please contact the sales team for pricing. Includes all business features with advanced security, personalized onboard program, premium support, data governance, and much more.
---
2. MindMeister – Best Mind Mapping Software for Mac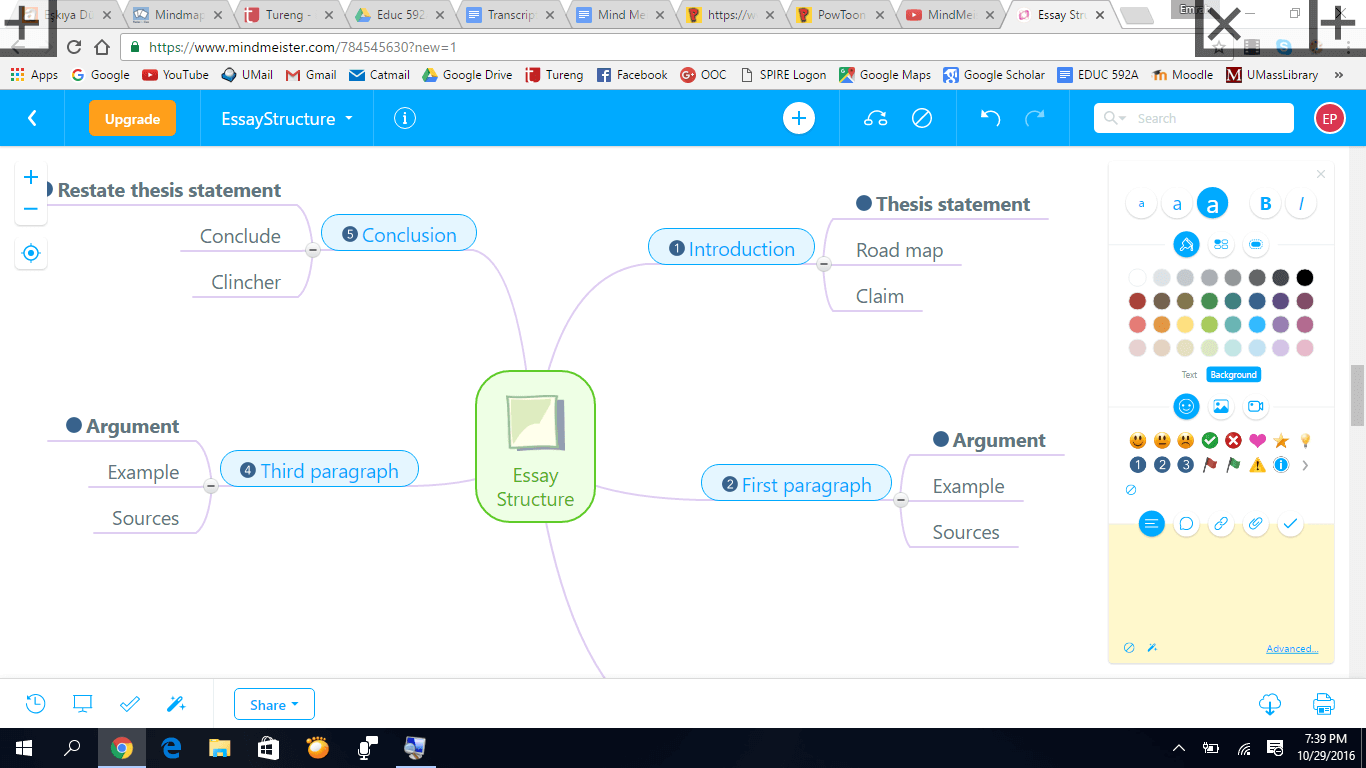 MindMeister is a powerful cloud-based mind-mapping tool. It helps to visually capture, nurture, and share ideas. The software is a reliable collaborative tool used by over 9 million people.
It offers impressive graphical techniques to help users brainstorm, create project plans, take notes, and perform other creative tasks online.
MindMeister is OS-agnostic which means it allows users to access mind maps inside the web browser using any operating system. It is a visualization tool that provides a shared environment for users.
Using MindMeister, users in different places can collaborate and solve problems in real time. Mind map editor, history mode, import & exports, and project management are some of its notable features.
Key Features
Collaborative Brainstorming: allows you to share mind maps with an unlimited number of users. Also, you can collaborate with them in real time, ensuring that all members are always on the same page.
History: lets you review the entire change history of your mind map. Also, you can track every collaborator's contribution, with its time-stamped, and color-coded function.
Task Management: manages your task by assigning tasks to a collaborator. You can also set start and due dates, set priorities, create email reminders, and much more.
Presentations: collects all your data and turn it into a slideshow within seconds.
Customizable Designs: this allows you to create your templates and designs according to your work. You can also choose from the in-built given designs.
Multimedia attachments allow you to attach URLs, documents, visuals, and more.
Pricing
Basic: free forever. This plan offers up to three mind maps, community support, and real-time collaboration.
Personal: at $4.99 per user per month. This plan includes unlimited mind maps, files, image attachments, image, and PDF export, and priority support.
Pro: at $8.25 per user billed monthly. This plan offers everything in the Personal plan as well as multiple team members. Furthermore, team statistics and reports, G-suite for domain sign-on, and customization are also included.
Business: at $12.49/user/month. This plan offers everything in Pro, team groups, custom team domains, and 24/7 priority support.
---
 3. XMind – Free Mind Map Software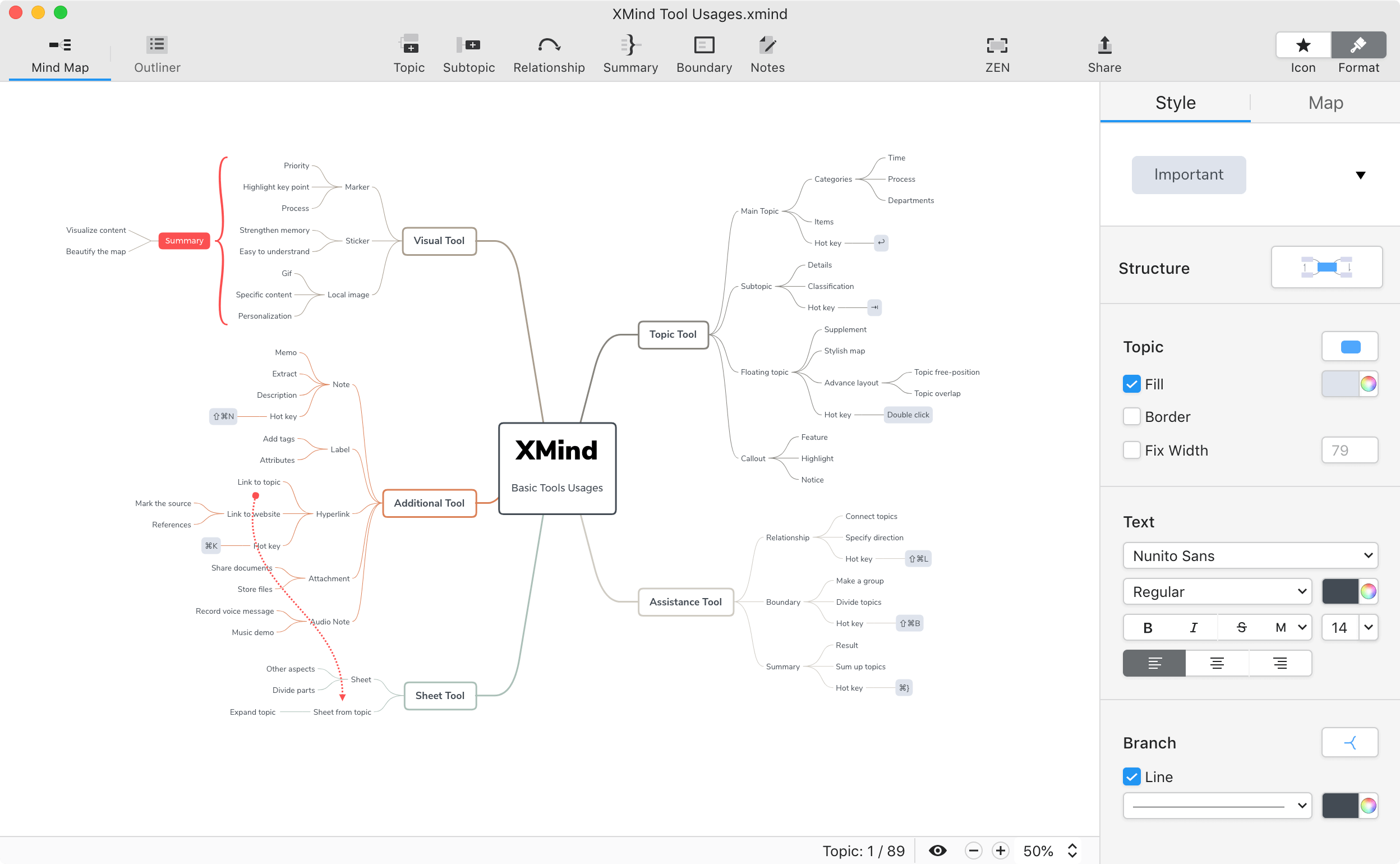 XMind is a professional and one of the best mind mapping software, widely used for idea management. It offers sustainable productivity and creativity.
XMind is the top choice of more than 1,000,000 people worldwide. It is open-source mind mapping software with a free basic version.
The software is compatible with various operating systems – Microsoft Windows, Apple OS X, and Linux.XMind is an award-winning idea management software solution.
Its simple interface and a set of excellent functionalities make it stand out. XMind helps developers by providing effective communication and collaboration. The solution maximizes the potential for creating productivity software and services.
Key Features
Outliner: manages your tasks/goals, and organizes facts, and ideas.
Theme Editor: this allows you to tailor the style of themes. You can also customize shapes, lines, and colors, and you can use it directly every time instead of doing the editing again.
Export/Import: this allows you to export PNG, SVG, PDF, and other useful formats. It also allows you to import all the mind map formats like MindManager, Mind Node, Lighten, and more.
Multiple charts offer fishbone chart, matrix, timeline, and brace map, to enrich your mind maps.
Security: this allows you to set a password for your files. It allows access to authorized users only.
Library: allows you to save your favorite mind maps in Library. So, you can choose from it and reuse it by opening it directly as a template.
Pricing
These subscription plans need users to pay either every six months or annually. The pricing plans are as follows:
 XMind 8: Free with all kinds of diagrams
 XMind 8 Pro: $129/year includes all kinds of diagrams, audio notes, customizable themes, and password encryption. This plan is desktop compatible.
  Academia Discount: $59/year for all XMind 8 Pro features.
---
 4. Mindomo Mind Map Software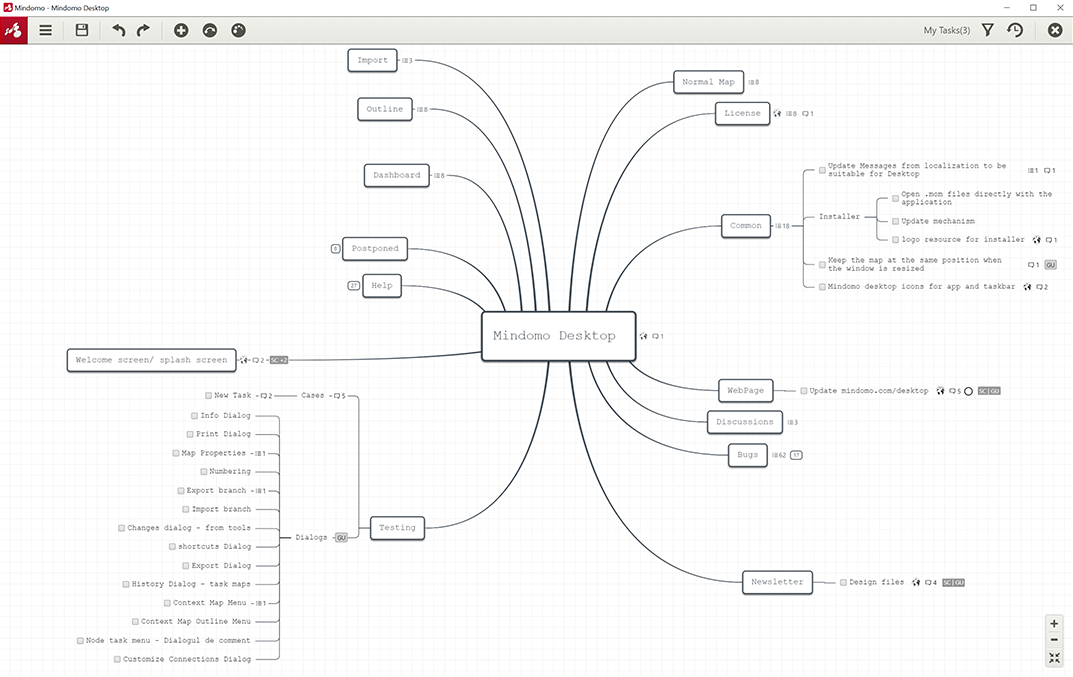 Mindomo is an online collaborative mind-mapping software for concept mapping, outlining, visualizing, and organizing information. It is a SaaS product that offers basic services for free. Mindomo assists you in your critical thinking and helps you to collaborate and connect with data.
Different pricing plans are available to avail of its premium features. Mindomo is accessible from any web browser, or by installing the free desktop, iPad, and Android applications.
Mindomo connects with various productivity suite applications. The solution has integrated third-party solutions to help users draw diagrams on different platforms.
Office 365, Canvas, Moodle, and Desire2Learn are integrated with Mindomo. This way, students and teachers can access the diagramming tool seamlessly from different platforms.
Key Features
Audio Recording: this allows you to record your speech directly from the mind map.
Presenter Mode: turns any mind map into a slide-by-slide presentation.
Event Planning: manages event by inviting co-organizers to collaborate. Also, it collects all your information in a centralized place.
Notes: This allows you to create notes in your maps. This helps in adding larger bodies of texts to the topics.
Email Notifications: this works to send notifications to the users whenever tasks are assigned, due, or updated.
Put all your maps in a folder, where they are instantly accessible and editable for all your team members.
Pricing
Mindomo has divided its pricing plans into two categories – Education and Work & Personal. The software also offers a 30-day money-back guarantee and a Free trial.
Education
Mindomo Free – forever free with 3 mind maps, sharing, publishing, and collaboration.
Basic (Single user) – at €3 per month. This plan includes unlimited mind maps, templates, PDF export, and Desktop premium.
Teacher (1 teacher + students) – at €5/monthly it offers all basic plan features, 15 Mind map assignments, 75 students/assignment, and 12 export formats.
Classroom & School (starting from 2 teachers + 80 students) – at €9/month. This plan offers all BASIC plan features, 2 teacher accounts, 80 student accounts, school management, and other integrations
Work & Personal
Free: forever free with 3 mind maps, sharing, publishing, and collaboration.
Single User: at €6 per month. This plan includes unlimited mind maps, Business templates, and Desktop premium.
Professional: at €15/monthly it offers all Premium plan features, 5 guest users, guest-editing, and backup to Dropbox, OneDrive, and Google Drive.
Team: at €5 per user/month. This plan offers all Premium plan features, 5 team users, a shared team folder, and backup to Dropbox, OneDrive, and Google Drive.
---
5. Lucidchart – Best Mind Map Tool for Mac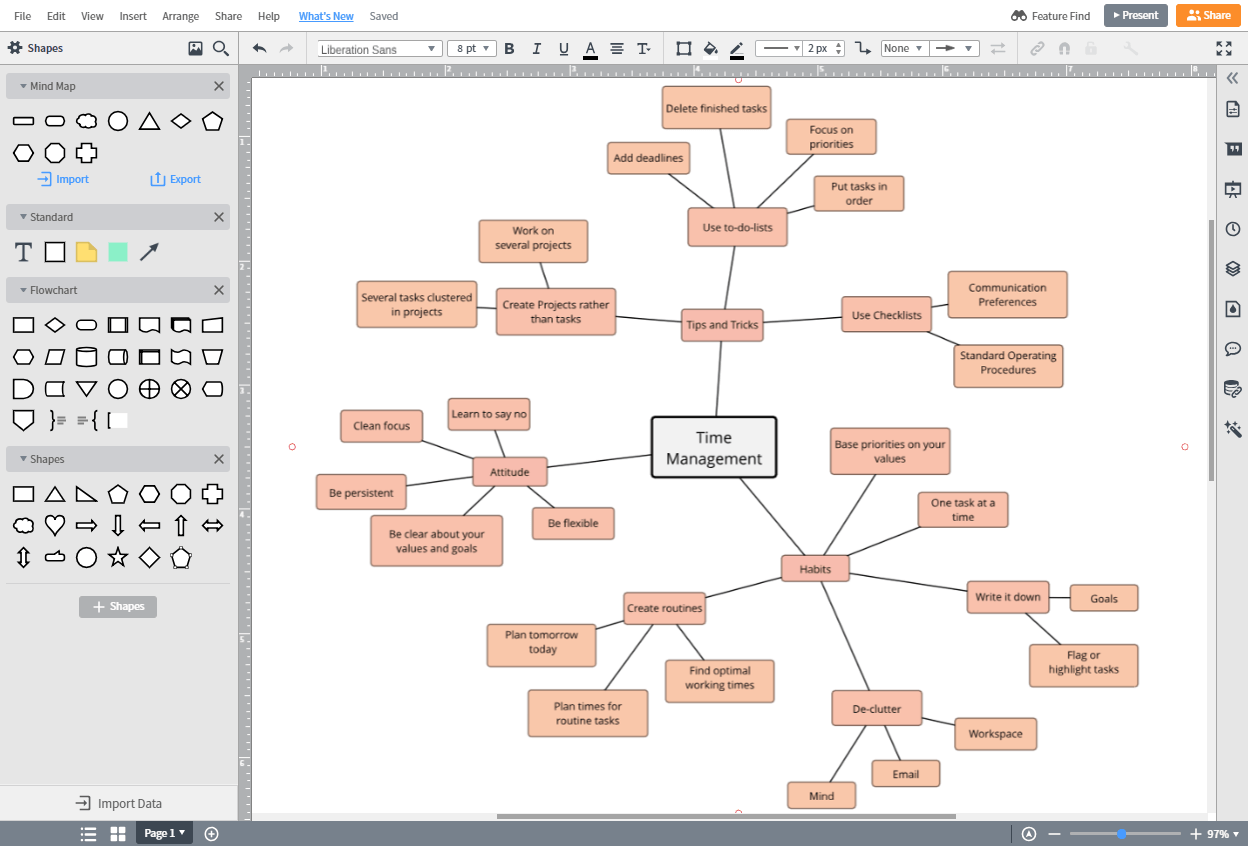 Next on our list of the best mind map apps for 2023, we have Lucidchart.
Lucidchart is a web-based diagramming with more than 9 million users worldwide. It allows users to quickly draw flowcharts, org charts, wireframes, UML, mind maps, and more.
Lucidchart makes it easy to collaborate online, create, and share professional diagrams. It supports all communication and collaboration needs.
Lucidchart is essential for sharing ideas, information, and processes with clarity. Lucidchart is utilized in over 175 countries. Some famous clients of Lucidchart include Comcast, NASA, Netflix, Target, and Xerox. Lucidchart releases updates to user accounts every month to keep improving the software's performance.
It supports Visio import and export and can export the diagram as a PDF or image. Besides using inbuilt libraries, users can also create their own by importing .svg files into a new custom library.
Key Features
Multiple-Platform access: integrates easily with PC, Mac, and Linux.
Real-time collaboration: allows you to work together with your teammates. It also allows you to receive continuous feedback, from which you can access every team member who has the most up-to-date version.
Data and Automation: automatically create diagrams from your data. You can also manually add data to a diagram to create an actionable view.
Security: ensures complete protection of your data by the highest standards of enterprise security. It includes SOC 2(Type I, Type II), PCI, Privacy Shield, CPA, and GDPR compliance.
Admin Controls: allows you to control access of the users and choose which features they can use.
Creates different views from your cloud diagrams, like high-level overviews for leadership. It also creates tailored versions that help engineers resolve incidents faster.
Pricing
Lucidchart offers four pricing plans. It also has a quote-based enterprise pricing package for large companies:
Basic: at $4.95/month if billed annually or $5.95/month for a single user with Unlimited shapes and documents and 100 MB of storage.
Pro: at $8.95/month for annual billing or $9.95/month (monthly billing). Use professional shapes and features, access all shape libraries, and leverage Visio import and export functionalities.
Team: starts from $20/month (annual billing) or $24/month (monthly billing). It includes a minimum of 3 users, all Pro Features, and third-party integrations.
Enterprise: contact sales for a quote, including all features, enhanced authentication, and enterprise-wide control.
---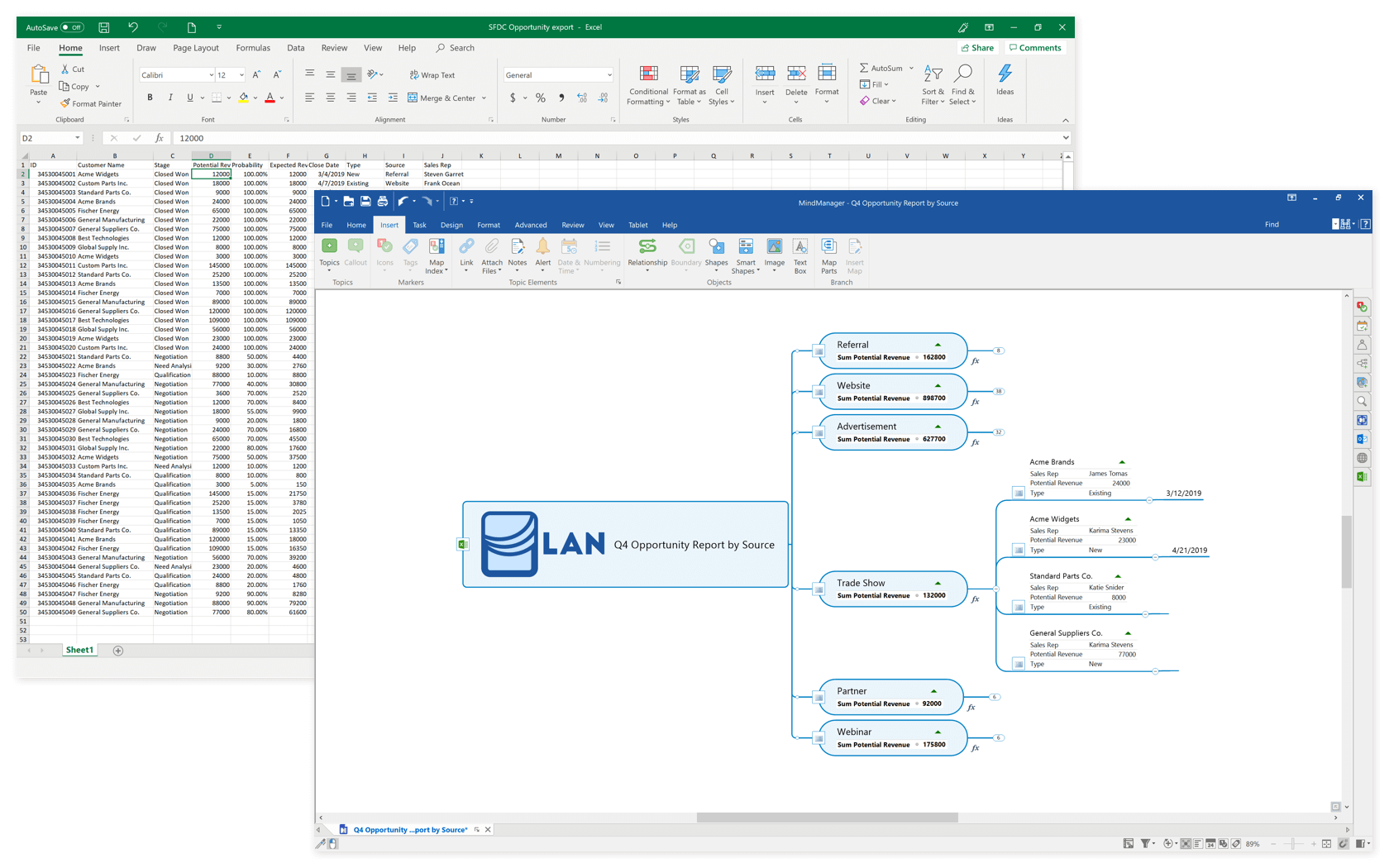 The 5th spot on our list of the best mind-mapping software goes to MindManager.
Known as visualization software, MindManager focuses on the business productivity points that are vital yet painful. MindManager connects ideas and information visually to help users save time, evolve business processes, and push innovation.
This level of advancement allows it to be one of the stellar online collaboration tools. MindManager's information mapping software is heavily focused on mapping knowledge and methodologies through visual interpretation.
This allows for closing any gaps that can happen between brainstorming and action planning. Therefore, allowing to create a better understanding, make a path for better decisions, and increase the productivity levels for users and their teams.
MindManager allows a person to layout and organizes their work in synergy with philosophies and statistics, leading them to fashion a collaborative visual format.
These formats normally consist of information maps, outlines, Gantt charts, organization charts, and tree diagrams. The one feature that makes this software different is the special brainstorming mode.
This software also helps the user improve performance levels by advancing project planning. With features such as brainstorming, tracking task specifics, mechanically computing the summaries of the tasks, and boosting resource utilization.
These features make this app the best collaboration software.
Key Features
MindManager for Windows supports English, Chinese, Dutch, French, German, Japanese, Russian, and Spanish.
MindManager for Mac 13 supports English, French, and German.
It has a tool that allows project managers to switch between projects quickly and use this team collaboration software.
The Gantt chart view is significantly important and useful for collaborating with a high-level timeline.
An entire team can be engaged, and collect ideas that allow them to be organized efficiently.
It has a dynamic quality that aids in increasing engagement, by collapsing and expanding nodes.
This software has strategic and organized features that help enhance and define the requirements for new and old projects.
Pricing
Windows – cost is $349.00 (SRP) for a one-time buy with a 30-Day free functional trial period; co-editing, capture tools, mobile viewers, excel integrations, and project management enhancements and collaboration software.
Mac 13 – cost is $349.00 (SRP) for a one-time buy with a 30-Day free functional trial period, ability to organize plans from floating ideas, new touch bar support, dark mode, SmartRulesTM, smart shapes.
Enterprise – for teams of 5+, allows teams to connect with tools to work efficiently and effectively, streamlines the IT strength, and enables the growth of the business.
---
7. MindMup – Online Mind Mapping Software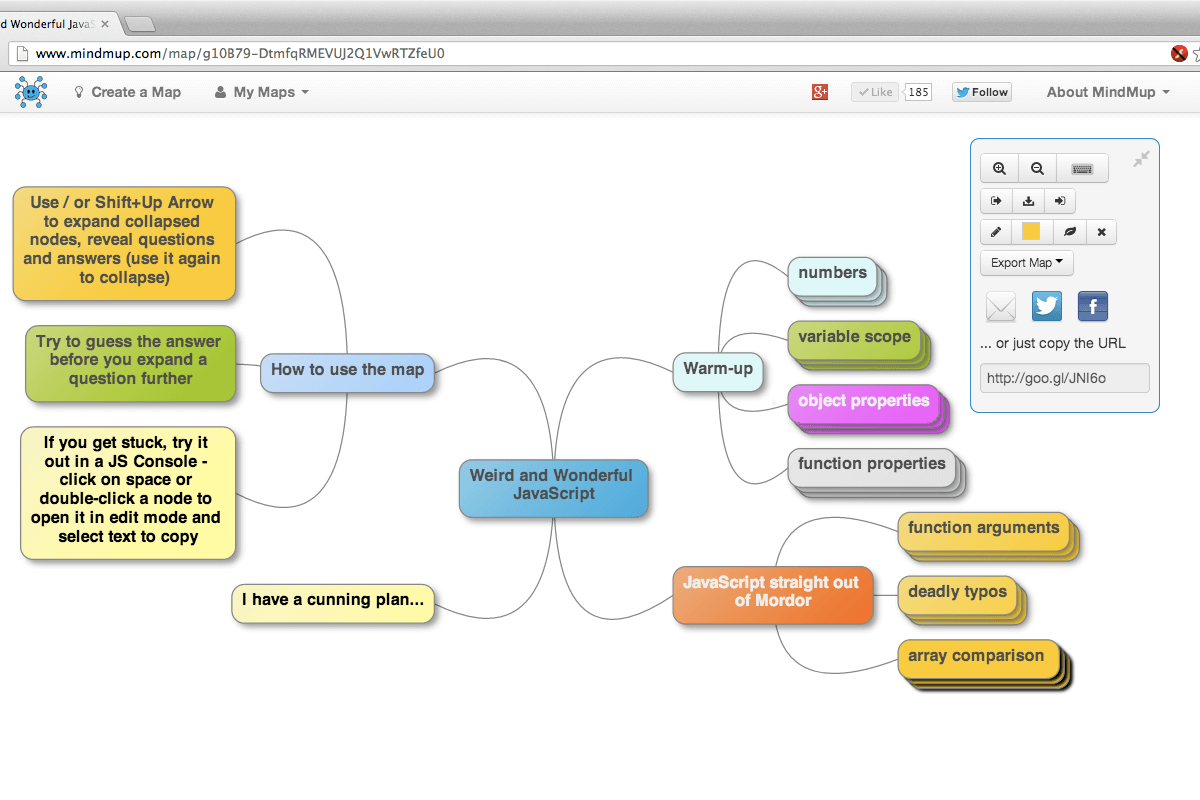 MindMup is one of the best mind-mapping apps in 2023. The application is designed to capture the user's ideas instantly and creatively. The application allows users to focus on thought development by eliminating distractions for them.
The users can store the ideas in the cloud for a limited time. Ideas can also be saved to the Google Drive cloud storage account and can be retrieved later.
Features like notes and attachments allow users to store contextual information alongside their mind maps. Comments on the topics can easily be converted into Markdown or Microsoft Word documents.
Through concurrent editing, users can collaborate on mind maps stored in MindMup. The changes made to maps by contributors are instantly updated to the maps.
Moreover, MindMup enables users to publish ideas on social networks directly from its interface. Hence, making it easier for them to reach the audience.
It is a cross-platform software and can be accessed on Windows, Mac OS X, and Linux through Google Chrome or any other browser.
Key Features
Story Boards: provides a planning canvas to capture and organize your thoughts. It then put them into a storyboard, to turn all your ideas into a sequence of slides.
Manage Projects: Add measurement nodes that calculate the cost, completion, and other factors. You can also view project progress easily with icons and priorities.
Collaborate: supports concurrent editing for teams and classrooms. You can also see instant updates made to your map by other users.
Allows the Administer to control features and settings for the entire organization. Moreover, for easy account management, it integrates with Office365 and Google authentication.
MindMup allows its users to quickly add images and icons to their maps to provide illustrations.
You can add texts, videos, and spreadsheets to your maps. You can also link with other documents on Google Drive within seconds.
Quickly creates a structure for an article or a writing assignment with your notes and attachments.
Pricing
MindMup has two subcategories for pricing – Free and Paid. Enterprise pricing plans have three different options to choose from according to your needs.
Free: Free forever. It offers public maps, saves and edits maps to Google Drive, up to 100 KB maps publication and export, and up to 6 months of publication on MindMup Atlas.
Personal: costs $2.99/month or $25.00 per year. This plan includes all free features, private maps, cloud collaboration, subscription-based Storage Length and publication, Google analytics, and much more.
Small Team: at $50.00 if billed annually, all Personal Gold features, 10 accounts, MindMup Cloud Sharing, and Atlas Public Controls.
Organizational Gold: costs $100.00 billed yearly that offers all Small Team Gold features an entire Google Apps or Office365 domain.
---
8. Coggle – Mind Mapping Software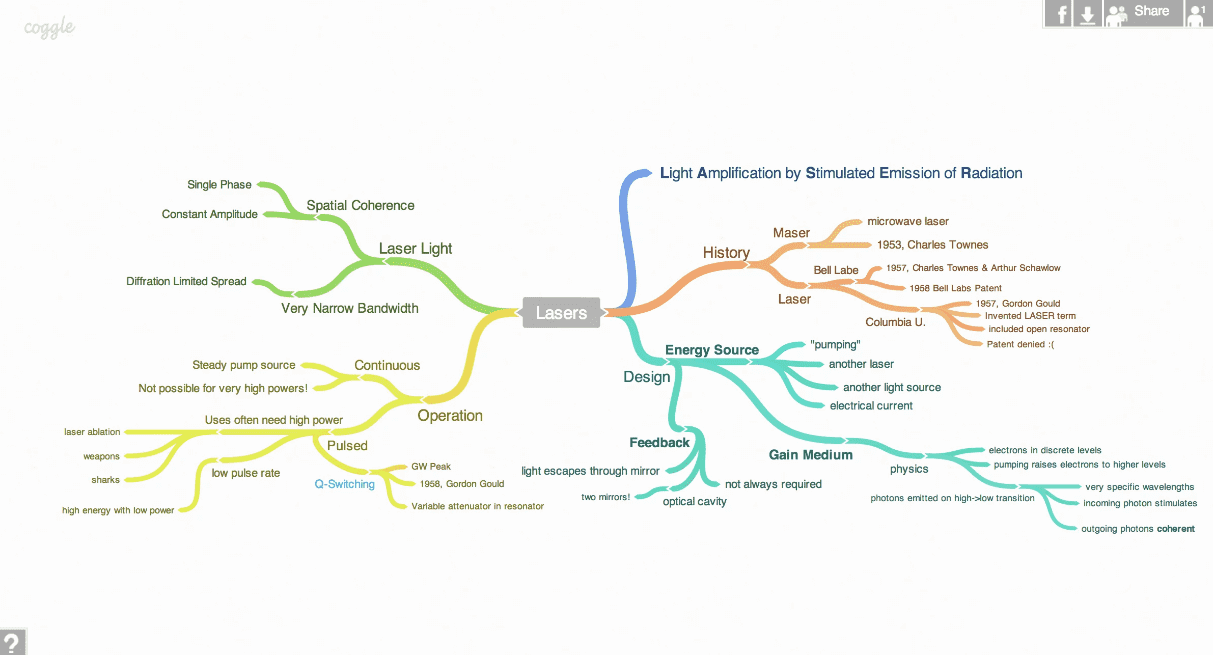 On #7 of our list of the best mind mapping software, we have Coggle.
Coggle is an online software launched in 2013, for creating and sharing mind maps. It is a free, browser-based application. Coggle is a freemium service with collaboration features for teams, medium organizations, and large enterprises.
It enables users to develop and visualize ideas and present them or any other creative undertaking.
Coggle supports the sharing of mind maps by the link to make collaborations seamless. The solution lets you export your mind maps into PDF and image files, a .mm extension, and in text-based form.
Collaborators can help each other develop ideas instantaneously with Coggle's real-time collaboration.
The solution allows sharing with multiple individuals by inviting them and allowing them to make changes. With real-time updates, every change is saved.
It is a collaborative document and a shared workspace to help teams to understand complex information. Coggle is one of the best free online mind-mapping software.
Key Features
Real-time collaboration: allows you to invite your friends and colleagues to work with you at the same time.
Coggle allows its users to add unlimited images. You can drag and drop images from your desktop to your diagrams.
You can add multiple central items to your diagrams to map related topics in a single workspace.
Allows you to create unlimited private diagrams that can be accessed only by you.
Creates a copy of every diagram you make, so you can have it saved in case of accidental deletion or file loss.
Secret Diagram Link: this allows you to invite people to edit a diagram just by sharing the link. Moreover, it doesn't require any login.
Pricing
Coggle offers three enterprise pricing plans. The application has a free version as well with limited functionalities and capabilities.
Free: Free forever. It includes unlimited Public Diagrams, branch Auto-arrange, full change history, export as .mm & text, and embeddable diagrams.
Awesome: at $5.00/month with all Free features, unlimited Private Diagrams, join branches, multiple Start Points, and Collaborate by Link.
Organization: at $8.00/user/month this plan offers all Awesome features, SAML Single Sign-On, and a separate Personal Workspace. Furthermore, it has consolidated Billing, bulk Export, and branded Diagrams.
Enterprise: available on a quotation basis. It includes on-premises Instances, Active Directory Authentication, site licenses, and enterprise-level support.
---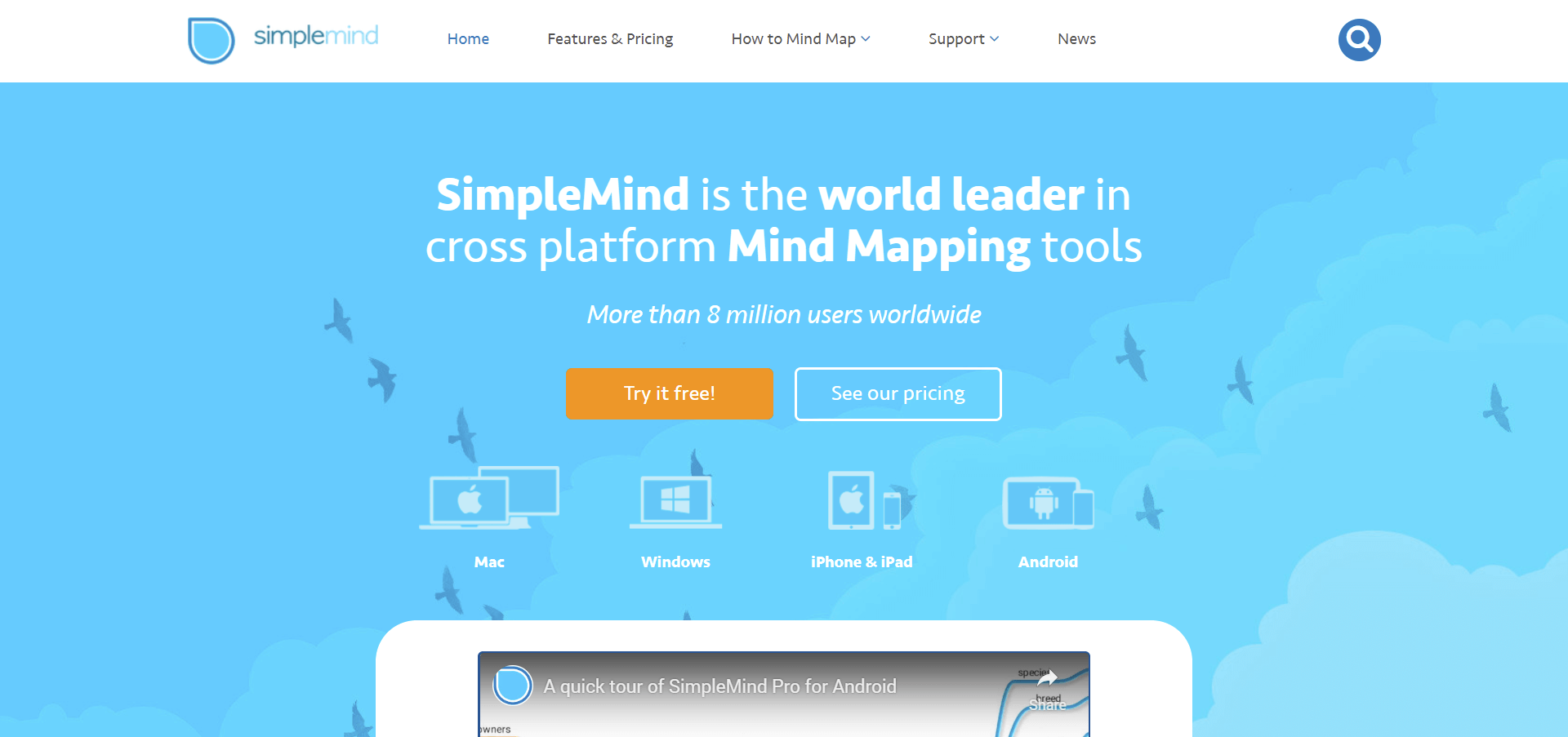 SimpleMind is an outclass mapping solution, It simplifies the process of structuring, analyzing, and presenting thoughts. The solution empowers users to perform visual thinking on multiple devices.
It is a cross-platform mind-map editor and is accessible on Windows PC, Mac computer, iPhone, iPad, or Android device.
SimpleMind is easy to use and learn with its user-friendly interface. It has a free-form layout feature for users to organize their thoughts and arrange topics. SimpleMind lets you set up your mind maps within minutes.
SimpleMind can automatically arrange topics within a mind map.
To enhance the document's organization and presentation, SimpleMind offers various types of media files in mind maps. Moreover, video recordings can also be embedded inside the topics.
Notes, labels, and callouts can also be added to mind maps. The software helps you to your maps organized without making them look cluttered and messy.
Key Features
Allows you to share your mind maps with your friends, and colleagues in the form of PDF.
Seamlessly syncs with platforms such as DropBox, iCloud Drive, Google Drive, etc.
Provides up to more than 15 style sheets. You can also customize your style sheet according to your work.
Provides its users to create mind maps on unlimited page sizes and a number of elements.
Allows you to access multiple minds maps on one page.
SimpleMind allows you to add images or photos to your mind map. You can also add video recordings, or add voice memos to your mind maps.
Pricing
SimpleMind offers several SMB and enterprise pricing plans as well as a free trial for all users. It offers a one-time license purchase. The pricing varies depending on the number of users. Moreover, there is separate pricing for Android and iOS device users.
Free: Free forever. It offers a lifetime license, unlimited functionality, no Ads, intuitive Mind Mapping, and multiple Mind Map Styles.
Paid: The only variation in these plans is based on the number of users. The following plans include the same features.
Single User
Mac – at €24.99 and requires OS X Yosemite (version 10.10) or higher.
Windows – at €24.99 and requires Microsoft Windows 7 or higher.
Mac and Windows –at €39.99 for both platforms
Family/Team Pack
Mac – at €39.99 for 4 Users
Windows – at €39.99 for 4 Users
Mac and Windows – at €62.50 for 8 users. Limited time offer.
Site License (Unlimited Users)
Mac – at €449.00
Windows –at €449.00
Mac and Windows – at €898.00
Full Edition for Android and iOS
Android – From $6.99. It requires Android Ice Cream Sandwich 4.0 or higher. SimpleMind is available on Google Play.
iOS – From $6.99. It is available on the App Store and requires iOS 8 or higher.
---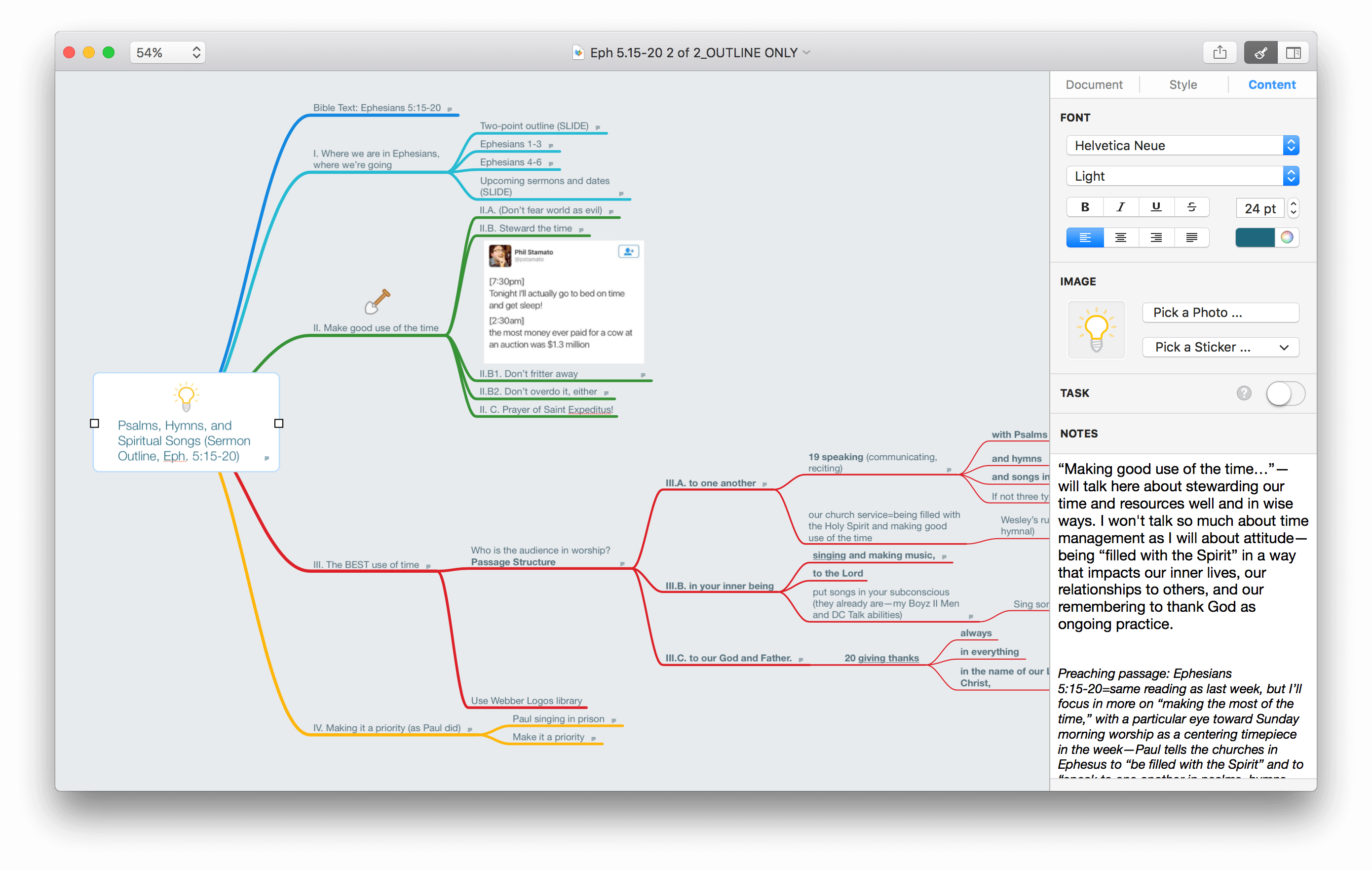 MindNode is a web-based mind-mapping application for the visualization of ideas, developed by IdeasOnCanvas. It is an intuitive and consumer-friendly software for the Mac and iOS platforms.
MindNode provides powerful and innovative features for users to capture, organize, and share ideas.
The software stores all documents in the cloud using MindNode's servers. Documents are automatically synchronized and updated across Mac and iOS devices with the auto-sync feature.
The mind-mapping solution can organize ideas in one document. The layout of the document is customizable. It empowers users to capture and express their ideas with texts, images, tasks, and links.
MindNode helps to establish connections and relationships between different ideas through the aid of its clean user-interface. Users can discover, link, and unlink ideas and connections.
Key Features
Syncs seamlessly with your iCloud. It helps you to easily catch an idea on your iPhone and edit/finish it later on your Mac.
Allows you to place, display, and customize your action panels right where you want. So that you can have their access easily.
Keeps track of your progress by quickly syncing your shopping list, research deadlines, or weekend plans with the Apple Reminders app. This makes it easy to tick off what's done.
With Visual Tags, you can categorize and add more text to your thoughts. You can also prioritize ideas and bring focus to a related group of ideas.
Provides an Outline to brainstorm in an organized, and more structured method.
Provides Focus Mode that puts a spotlight on one branch at a time, helping you finish your thought. It helps you to keep track of your main task when the project grows.
Pricing
MindNode pricing plan is available through a one-time license purchase. The app is available on the Mac & iOS App Store. You can upgrade to the latest version of MindNote with pricing based on device type.
Free: free 2-week trial for getting to know the app.
All features can be unlocked for $39.99 on the Mac and $14.99 for iOS devices.
---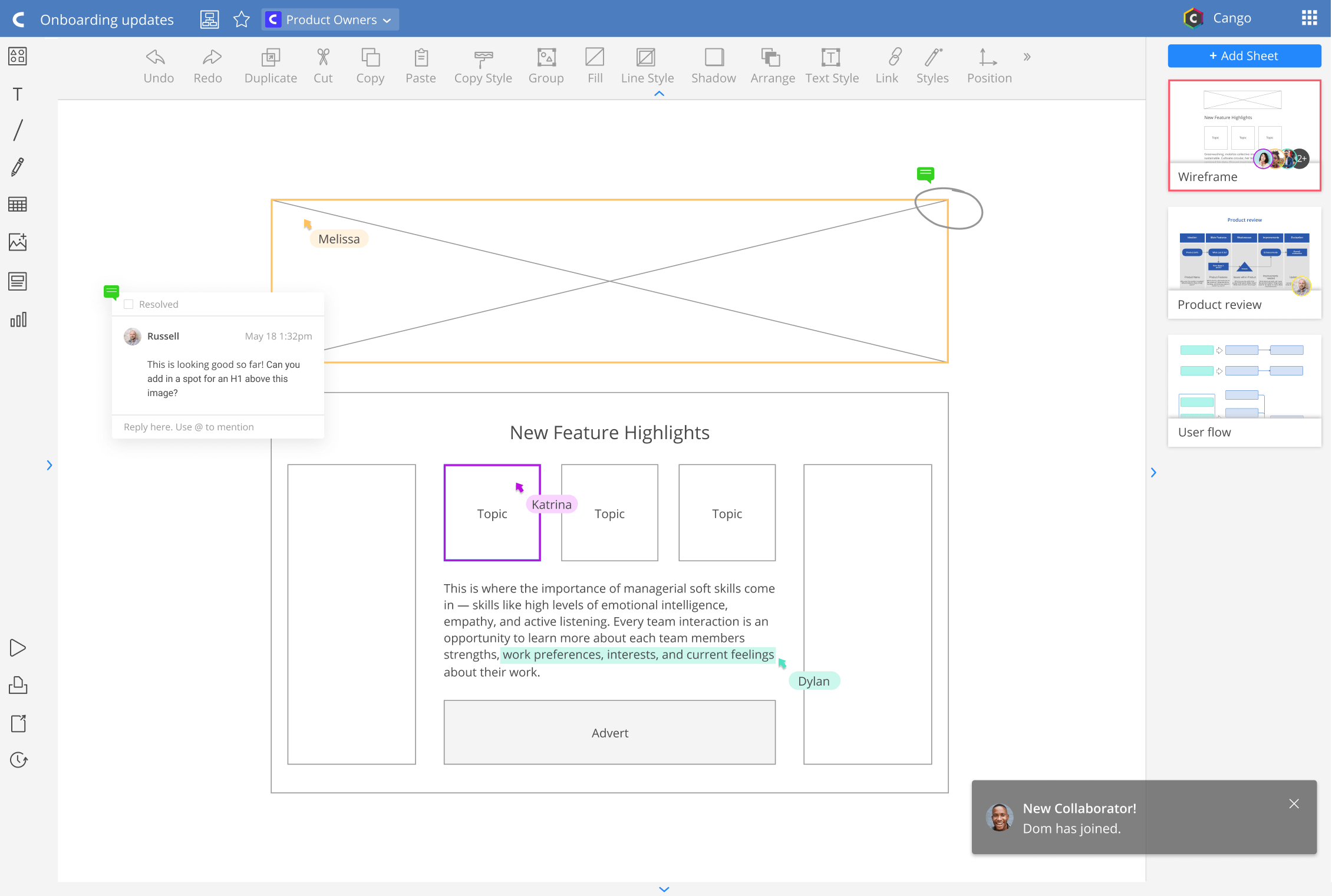 Cacoo is a cloud-based flowchart drawing tool. The software supports real-time collaboration with UML (Uniform Modelling Language), wireframes, site maps, and network charts. It's user-friendly software and offers templates to make your work easier.
Cacoo provides close monitoring and is hence a great choice for administrators. It allows multiple contributors to access and edit diagrams at the same time. All the changes are shown as soon as they are made.
A reliable chat feature is also included in Cacoo. This feature allows users to collaborate and discuss ideas while making changes to the diagram.
Besides, the software gives you the freedom to manage all the collaborators for a diagram. Cacoo has several features like predesigned shape libraries and templates.
Symbols and shapes are also available through the drag-and-drop feature. Cacoo provides you with a collaborative environment as if you are working with a team in one room.
Key Features
Collaboration: allows you to create, edit, comment, and chat about the mind map in real time.
Templates: consists of various templates and shapes, to help you create flowcharts. It also allows you to import images and screenshots so that you can design them according to your needs.
Live feedback: this allows you to showcase your diagrams in presentation mode to your team. They can then give instant reviews either as a comment or by live feedback option.
Export: supports sharing diagrams as SVG, PDF, PowerPoint, and more.
History: keep track of when a diagram was last edited, and save diagram versions. This helps you to compare the changes you have made over time.
Allows you to import your AWS architecture directly into Cacoo. It automatically generates network diagrams to edit and share.
Pricing
The Cacoo freemium pricing scheme is divided into three categories based on the number of users.
Plus (single-user plan) – at $4.95/month this plan offers unlimited diagram sharing, SVG import and export, and Visio file import.
Team (multi-user plan) – at $15/month. It offers everything in PLUS, access to all integrations, team management, and priority email support.
Enterprise – provided on a quotation basis. This plan offers everything in the team, ultimate security, enterprise-wide visibility, and customer success associate.
---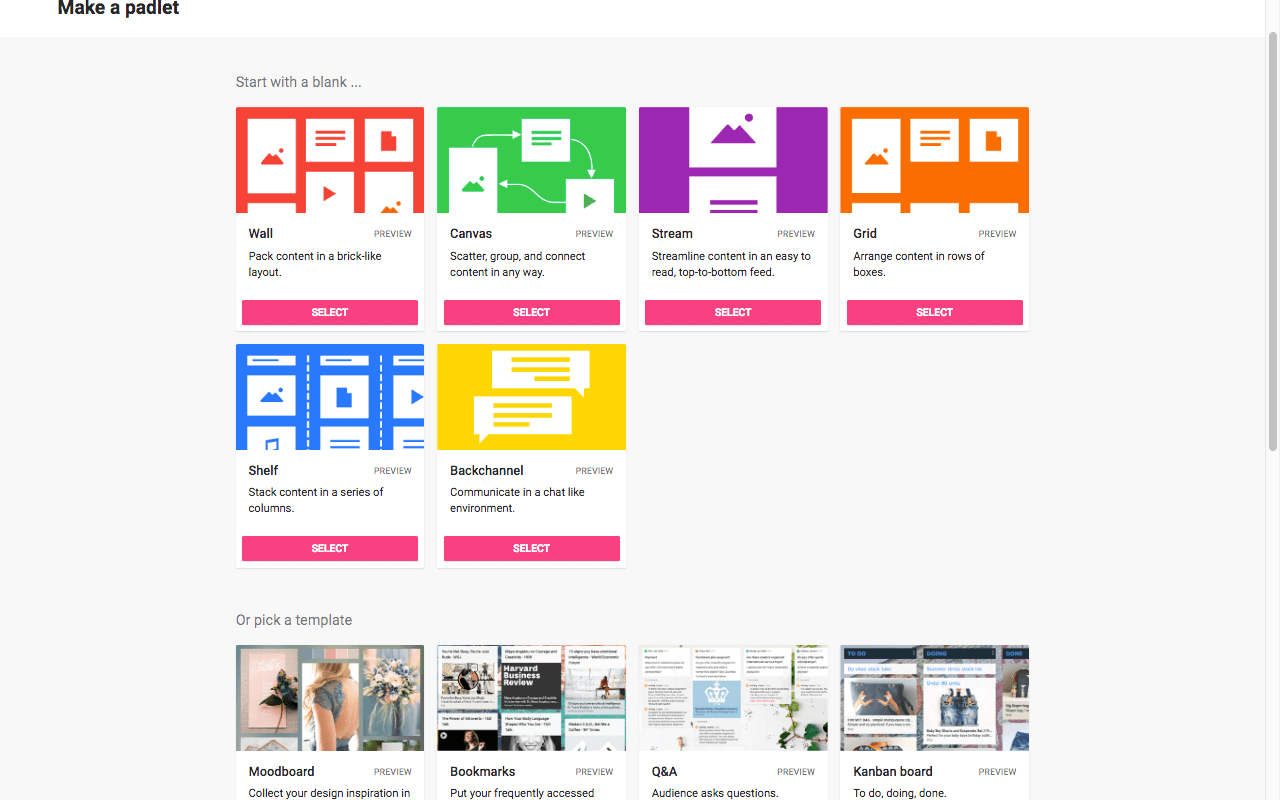 Padlet is one of the best mind mapping software, which is easy and intuitive to use. It understands the needs of its users and works how their mind works.
This software is not exclusive, as it is available in 29 languages and is used around the globe. With this software, collaboration becomes easy where you can take along your best friends as well as colleagues, and no one is left behind.
This software is suitable for all file types of files, from spreadsheets to Spotify, from Photoshop files to Illustrator, YouTube, Instagram, Twitter, Vimeo, and, 400 other apps.
You would not miss any action, even if you are away. Padlet is available on iOS (iPhone, iPad, iPod Touch), Android, and Kindle devices and it enables you to take photos and scan QR codes much more easily.
Key Features
You can post easily with one click and the changes you make are auto-saved.
Available in 29 languages, which makes it universal and globally acknowledged.
You can invite others to collaborate and no sign-ups are required.
Secure, user management, and controlled access.
Bigger file uploads up to 250MB in size.
Instant support via call, email, Skype, or letter.
Automatic content filtering.
Pricing
Padlet pricing is different according to the plans it offers for its customers. There are 2 types of plans:
Education
School: costs $1,499 per year. It gives you features such as user management and access control, privacy, security, branding, school-wide activity monitoring, and, bigger file uploads.
Teacher: costs $99 per teacher per year. For teachers, Padlet offers a monthly plan as well which is $12 per month. Both yearly and monthly teacher plans include unlimited student accounts.
Corporate
Padlet Briefcase has monthly and annual plans which are $12 per month and $99 per year respectively. The Corporate plans have the same features as Padlet for Education and a few additions, such as organization-wide activity monitoring, reports and portfolios, Google Apps Integration, and guest accounts.
---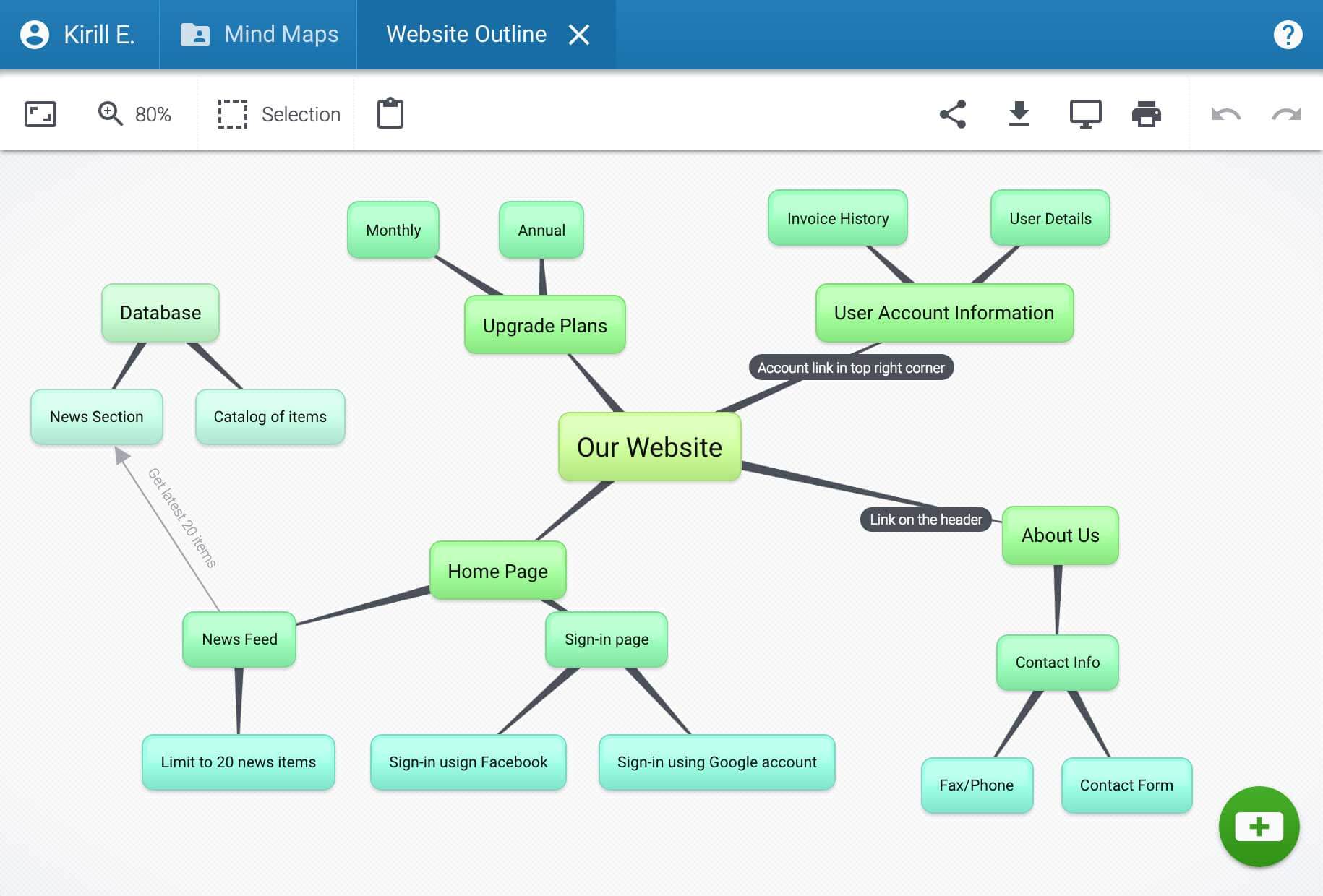 The next online mind-mapping software for 2023 is Bubbl.us. A mind map is the representation of ideas, thoughts, and, concepts graphically.
This graphical illustration of the mind helps you to better comprehend, recall, and produce new concepts and ideas. Bubble.us has millions of customers all over the globe.
It is not limited to one field of life rather writers, musicians, teachers, professionals, and entrepreneurs have tested this software for the development of their institute, organization, and, workflow.
Key Features
There is nothing to download since everything is web-based.
30-day free trial with all the features and benefits and for students there is a discount.
Sharing and cooperating with others become more convenient with Bubble.us.
Allows you to export your work in the form of JPG, PNG, text, and print in one or more pages.
The software lets you share your work easily with people on social media. You can also collaborate with friends or colleagues in real-time, in a business meeting, or in a classroom, and see the changes on the mind map instantly.
With just a single click, you can enter full-screen presentation mode.
Pricing
Bubble.us provides two plans, monthly and annual. The monthly plan is $6 per month and the yearly plan is $59 per year. Premium features provide multiple licenses, user accounts management, custom team domain, and document retention.
---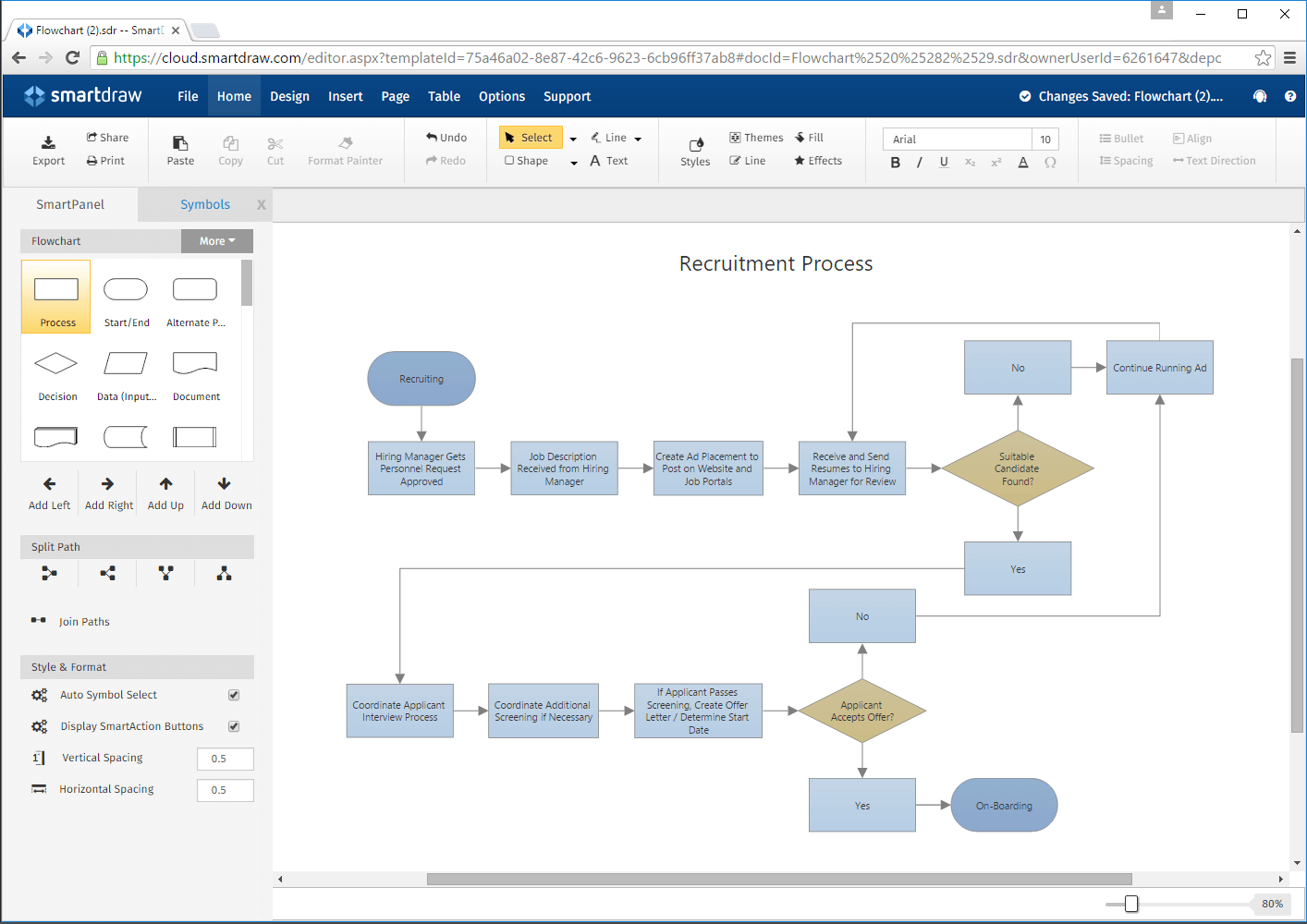 SmartDraw is another mind map tool that is ranked among the best mind mapping software. It is a more affordable, convenient, and powerful alternative to Visio.
This mind map tool is even more influential and relatively easier to use than Microsoft Office and Google's G-Suite. It runs on any computer or tablet. Automatic formatting makes the layout perfect within minutes.
Graphs and diagrams are very useful for the visual representation of thoughts and they are very catchy.
SmartDraw is mind-mapping software that provides different types of diagrams which will suit your need. Three choices of diagram types are present in this software, these are:
Chart-based diagram: This diagram shows the relationship between entities, for example, the Venn diagram.
Graph-based diagram: This diagram represents statistical data graphically.
Schematic diagram: This type of diagram show the elements in a system and it must convey precise measurements and placement of components.
Key Features
Makes your work easier with an intelligent formatting engine, and professional results, and integrates with tools such as MS Office, Google apps, and many more.
It is a powerful software with 34,000 symbols and 4,500 templates, export and import, and standard engineering scales.
Collaboration with your team and other organizations becomes easy and quick.
VisualScript SDK enables you to create diagrams from the data instantly and make custom extensions for your data organization.
It is the sole diagramming app with an intelligent formatting engine.
It is the most affordable software for mind maps.
Pricing
SmartDraw is giving an offer where you can save $200 or more before 5th February. For Single Users, the price of this mind map tool is $297 one time purchase, and no monthly or yearly fees are needed.
The features of this plan contain maintenance, upgrades, and access to the SmartDraw online edition for one year without any charges.
For 5+ users, the cost of SmartDraw is $595 and for 10 users it is $995. The features of this plan include controlled user access, document preservation, and account partnership.
---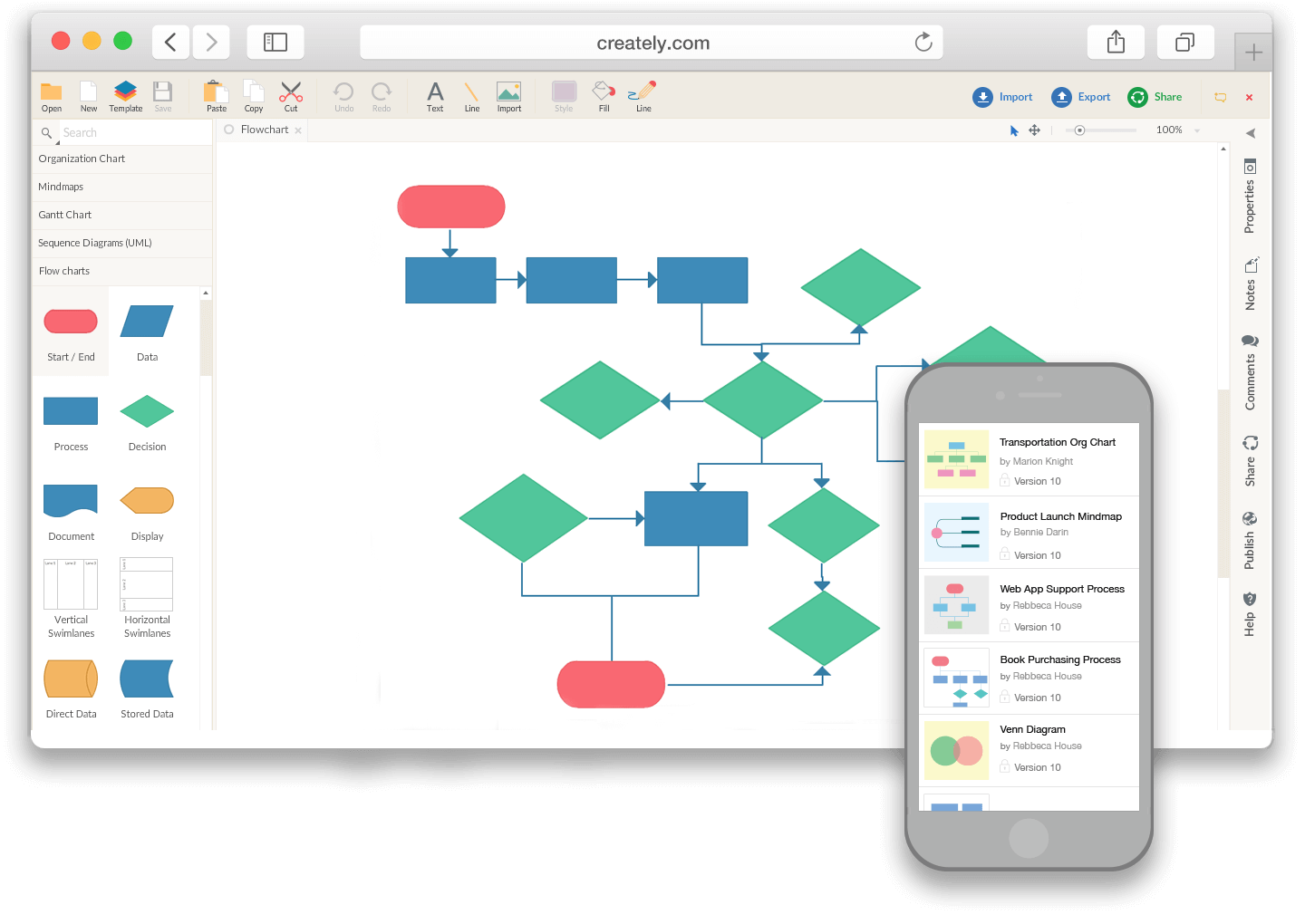 Creately is a mind-mapping tool rich in professional templates and shapes. It provides thousands of templates with instinctive and precise drawing tools and smooth online collaboration among teams and clients.
Shapes and designs are professional and smart and the themes make your content bright. You can collaborate with anyone at any time and you can use identified comments for discussions.
Key Features
There are 70 shapes and diagram types for your mind mapping in this best mind mapping software.
Real-time collaboration through which you can work on the same document at the same time and also from anywhere around the globe. Sharing and transfer of files and documents are easy in multiple formats.
Flow charts, org charts, AWS, IT networks, wireframes, UI, UML, ER, DB diagrams, UI flows and Sitemaps are all the diagram types that make this software versatile and decorative through which customers are attracted.
Allows you to create shapes and connectors in a single interaction. Also, with an easy-to-access toolbar, you can do formatting and changes to your work quickly.
To make your mind map look more presentable, Creately provides numerous predefined styles and formatting options.
You can easily add comments to precise locations on visuals.
Pricing
Cloud
Personal: pricing or Creately is $5 per month. In this plan, the customers get unlimited folders and private documents along with 5 collaborators and 4 types of imports and exports.
Teams: pricing for 3 members is $15, for 5 members it is $25, for 10 members it is $45, and so on.
Public (Cloud): For 5 public documents, Creately is free. This plan includes 5 public documents, 1 folder, and 3 collaborators.
Desktop
Personal: The price for this plan is paid once which is $75. The benefits of this plan include 1 year of free upgrades, 1 online premium user for 1 year, automatic online sync, and unlimited private documents.
Some other features are, collaboration and sharing, integrated Online Templars and it runs on Windows, Mac, and Linux.
Teams: This plan is also paid once and the price is $225. This plan has multiple benefits which include a premium team plan for 1 year, automatic online sync, limitless private documents with its sharing and export and it runs on Windows, Mac, and Linux.
---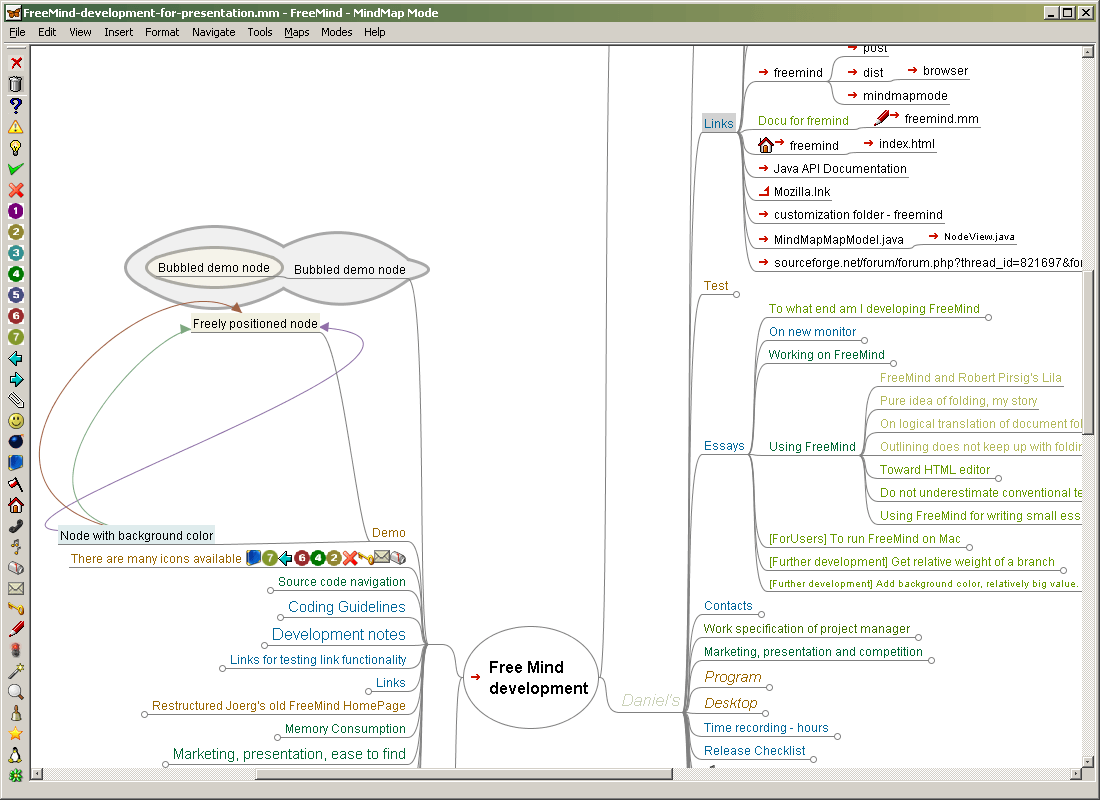 FreeMind is one of the best free mind mapping software that grabs the 16th position on our roundup for the best mind map software in 2023.
This software is suitable for any task whether it is to write an entirely new metaphysics or it is keeping your documents completely knowledge-based and private.
FreeMind is also best for you and your work if you want to prioritize the direction of your work or company. You can keep track of your files, documents, and tasks, and collect small, medium, or large-sized notes along with links.
With this free mind map tool, you can write essays with easy brainstorming, and with the use of different colors and templates.
Key Features
One-click navigation includes folding and unfolding of links with one click.
A smart and innovative way to drag and drop nodes from any text or document.
FreeMind can store your mind maps instantly in XML format, so there is a reduced risk of losing your data.
File mode enables you to browse the files on your computer, seeing the folder structure as a mind map.
Free of cost with multiple features and benefits which make your work efficient and professional.
The software lets you find items with the "Find facility", and they are displayed in the list one by one. Upon clicking "Find next", the map is unfolded for only one item.
Allows smart copying and pasting, which includes pasting of links from HTML, Also, it includes structuring the pasting content based on the number of leading spaces in a line.
---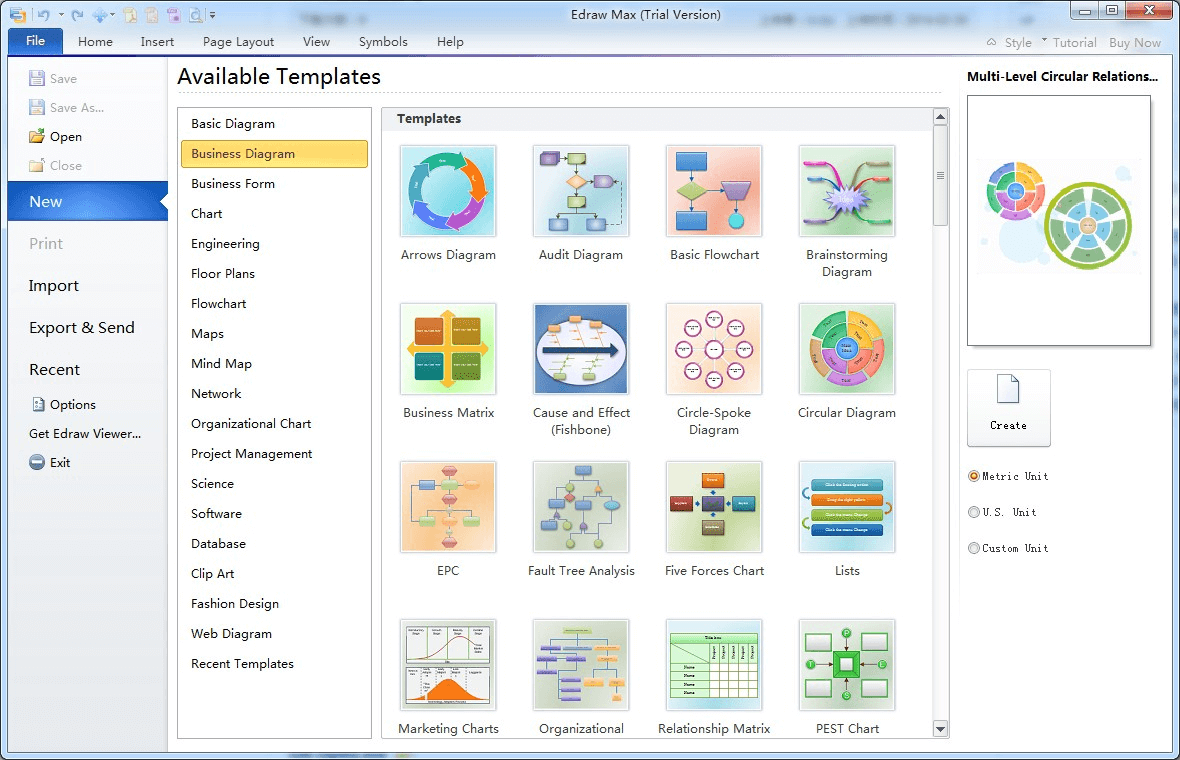 Next up is Edraw, one of the best mind mapping software which is available with 4 different variants. Let's take a brief look at each of them:
1. Edraw Max
The first kind of Edraw software is Edraw Max. With Edraw Max, you can create flow charts, mind maps, org charts, and diagrams of networks with a versatile gallery of models.
It is an all-in-one tool for diagraming which is affordable as well. The templates available are professionally designed in Edraw Max. The file compatibility is excellent and this software is more powerful than Visio.
2. MindMaster
This second kind of Edraw is a user-friendly, versatile, and specialized mind map tool. It is available on all gadgets and access to all of them is very convenient.
With this tool, association with your team members and with other companies becomes stress-free and easy.
You can let your mind speak through images and diagrams by using MindMaster. With its unique brainstorming modes, group sessions can be conducted efficiently.
It also makes project management and task organization much more manageable.
3. Edraw Project
It is an easy, hassle-free, and powerful tool for mind mapping through which you can effectively manage your data and documents in no time. With this tool, adding new tasks, dragging, and dropping are simple.
Forecasting, tracing, report generating, adding milestones, linking tasks, resource management, and cost tracking are some of the handy and most important benefits of using this third kind of Edraw software.
This tool can help you maximize team productivity through resource allocation, tracking of the resource status, and a suitable estimate of the cost.
4. OrgCharting
The fourth kind of Edraw is OrgCharting which enables you to make a professional, data interactive, organized, and planned management of data and your work.
It is trusted by 500 companies and some of the most famous brands around the world.
The designs of templates inspire you to start designing your mind maps with this software. There is an option to automatically create an organizational chart where no drawing is needed.
OrgCharting is best suited for workforce planning and management activities.
Key Features
Edraw consists of a user-friendly interface and speeds up your work with its easy-to-use features.
Provides efficient tools for Project Management, brainstorming, note-taking, and knowledge management.
Integrates quickly with Microsoft programs. It also supports hyperlinks, attachments, and notes.
Supports a wide range of mind map examples, that have different themes. You can easily customize them and make them according to your work need.
Makes your drawing process quick, by providing ready-made symbols. You can also watch the video provided, to learn how it works.
Allows quick and easy export options and sharing of mind maps.
Pricing
Edraw Max – Starts from $199
MindMaster – Starts from $29
Edraw Project – Starts from $ 99
OrgCharting – Starts from $ 145
---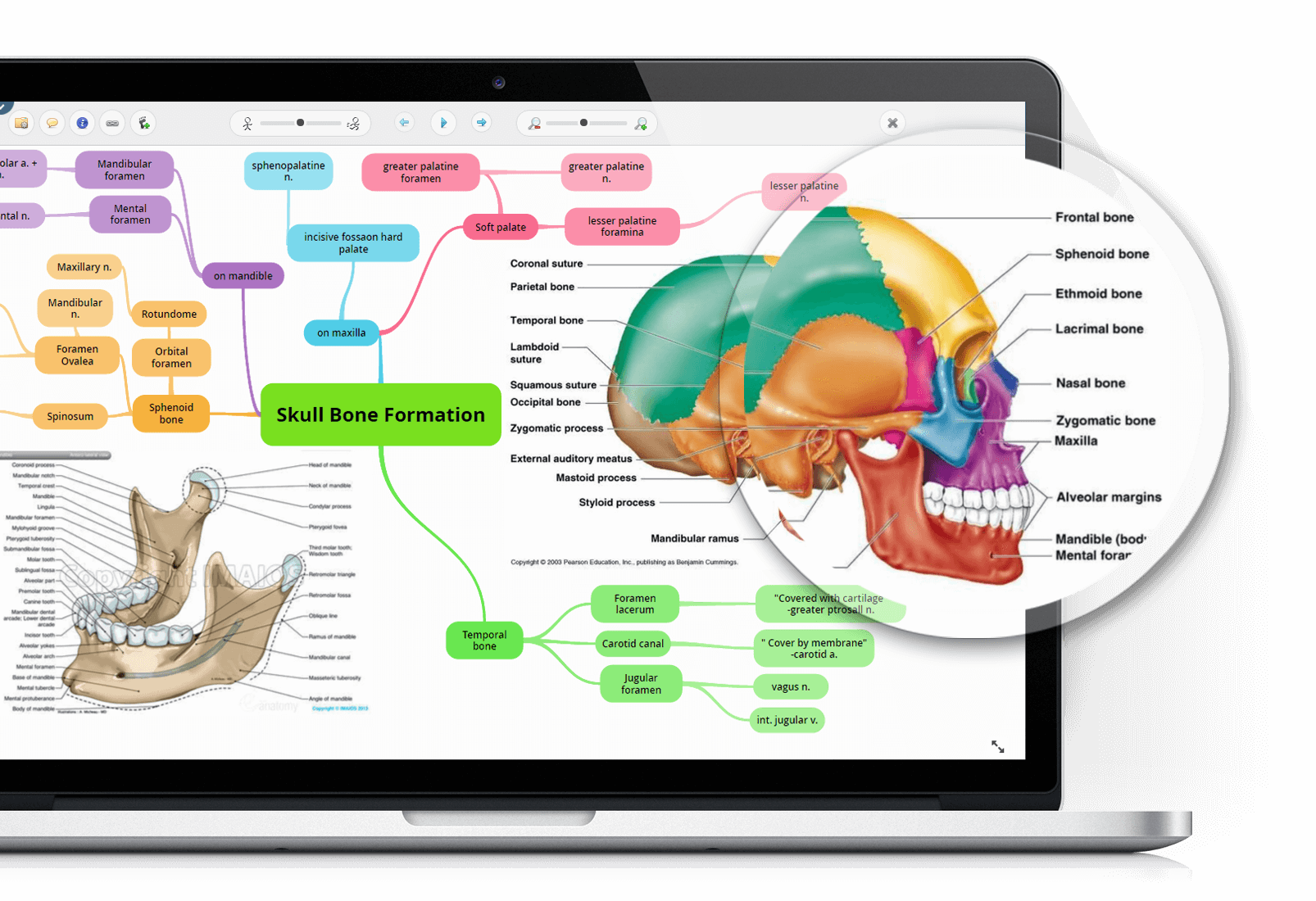 On #18 we have GoConqr. This software works differently for learners, teachers, institutions, and companies.
It provides unique and innovative digital learning experiences to learners through generating, discovering, and sharing appropriate learning content.
For teachers, it provides a designed platform that involves the students in digital learning. The content of GoConqr is creative and it can increase teachers' collaboration with their students.
Teachers can have an account of the measure of their student's progress easily. Similarly, for institutions, this online mind map tool provides several benefits.
Institutions can build a complete digital learning school. Through GoConqr, institutions can empower their teachers as well as teachers in a virtual learning and teaching environment.
For companies, this tool can alter their business and them an opportunity to grow their company by executing learning and knowledge-sharing solutions.
Through this software, you can train your employees and staff.
Key Features
It is a complete learning tool kit providing a range of learning domains.
It streamlines complex concepts into simple mind maps and flashcards of facts and information that can be easily remembered.
Provides Notes, that record all your main points in a flexible template that's easy to use anywhere. To add more depth, you can add videos, images, links, and more.
Offers Study Planner, which keeps you focused and motivated, and on track to achieve all your goals.
Allows you to connect with more than 3 million users, exchange content, and engage in a discussion.
Learning can be maximized by customizing your content and with quizzes so that you can test what you know and what you don't.
Finding resources is easy and flowchart tools make clear visibility of content with over 7 million user-created resources and courses.
Pricing
Basic: this free mind map tool gives you access to all tools where you can produce unlimited public resources along with 50 MB of media upload storage.
Premium: provides all the features with unlimited public and private resources and 1 GB of media upload storage. It also blocks resources from copying, gives full access to tools, and is ad-free. The cost of a Premium plan is $2.75 per month, billed annually.
---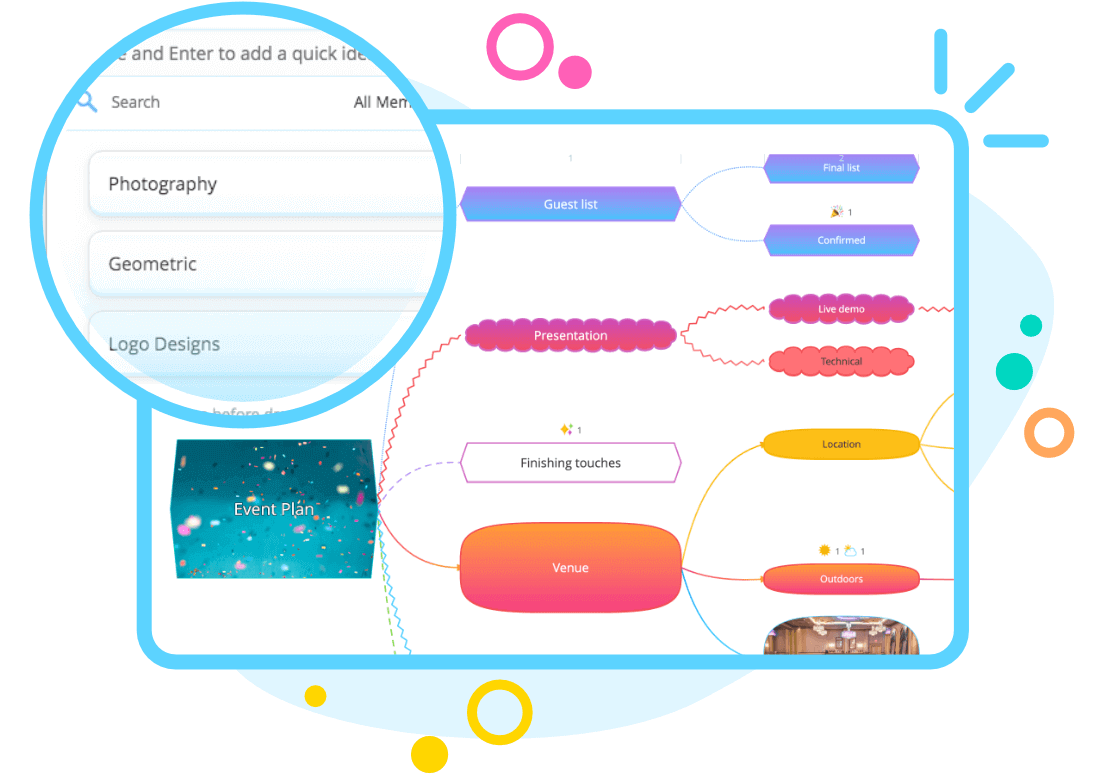 Ayoa does not only boost the effectiveness of your work designs but also provides a sufficient amount of mind-mapping techniques and tools.
These mind maps allow you to brainstorm and document new ideas, thought processes, workflows, project plans, visual representation of information, note-taking, solution-finding techniques, and learning and remembering facts and figures.
Key Features
Ayoa gives you Gantt-style charts which are very useful for time management.
Task management is visual through spreadsheets and visual boards.
Inviting friends and colleagues makes teamwork efficient and collaboration comes with collective brainpower.
Instant messaging makes communication with colleagues easy and stress-free.
Progress focus is handy with one click.
A friendly and professional team will support its customers whenever needed.
Ayoa uses TLS Encryption which protects your data and tasks.
Cost-efficient and Ideal for groups with many members.
Pricing
Basic: for free, gives several features like 5 task boards and mind maps, canvas and workflow view, unlimited sharing and collaboration, Ayoa chats, filters, comments, checklists, and many more.
Advanced: costs $10 per month which is billed annually. This is for a single user. For 5 users it is $45, for 10 users it is $87.50, for 20 users it is $170, and so on.
---
20. GitMind – Best Free Mind Mapping Software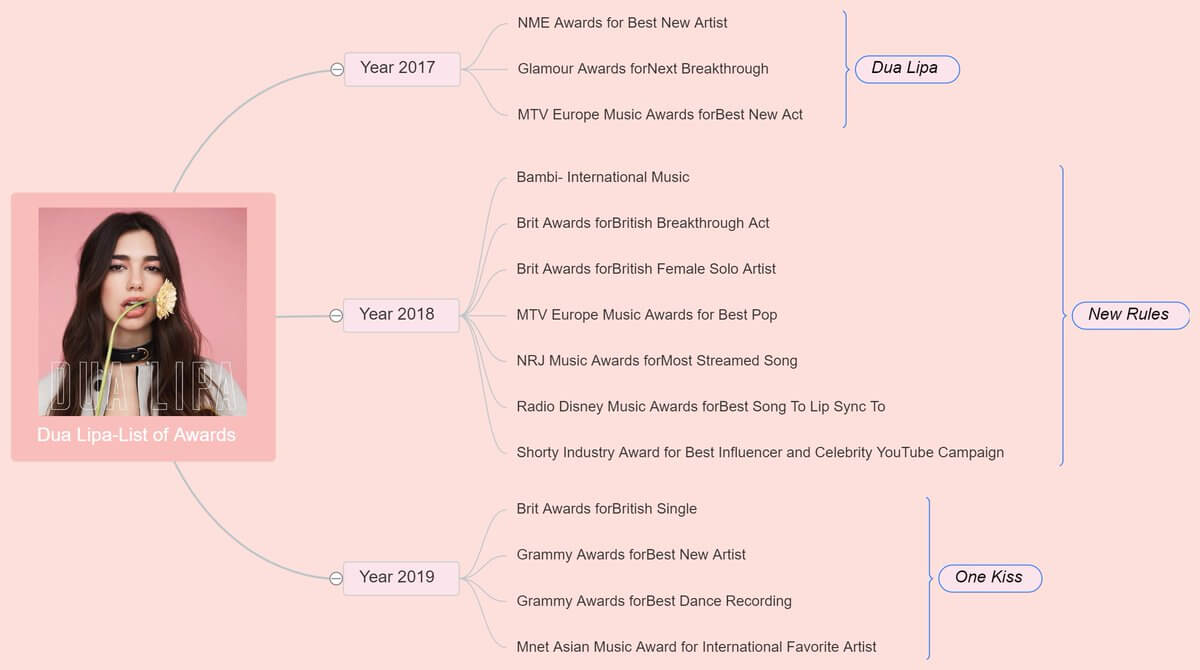 GitMind is another great free mind map software available online. It makes education and learning a fun process.
Desire, creativeness, passion, and action are valued by GitMind. This is why you get diverse templates, multiple designs, styles, and practical tools, making it one of the best free mind map tools for 2023.
Generating mind maps in a team is never an easy job and GitMind makes it quick for collaborators to access your mind map and add their viewpoints.
Tools are practical with useful icons, images, hyperlinks, comments, and context to your different points or nodes.
Key Features
Brainstorming ideas, creating an infinite number of thoughts, solving problems, and imagining goals.
Agreements, planning, and meetings become manageable and controllable.
Marketing is enhanced with creative campaigns. Others can also be involved to create ideas.
Mind maps can be utilized by teachers and students as well in GitMind.
Secures cloud storage that automatically saves and protects all your files. Every time you do a change, it is saved and synchronized across all your devices.
Provides free editable templates and themes with which you can create mind maps, logic charts, org charts, fishbone charts, flowcharts, UML diagrams, and more.
Allows easy sharing of mind maps to PDF, TXT, SVG, and other useful formats. You can also collaborate online, to make mind map-making easier.
---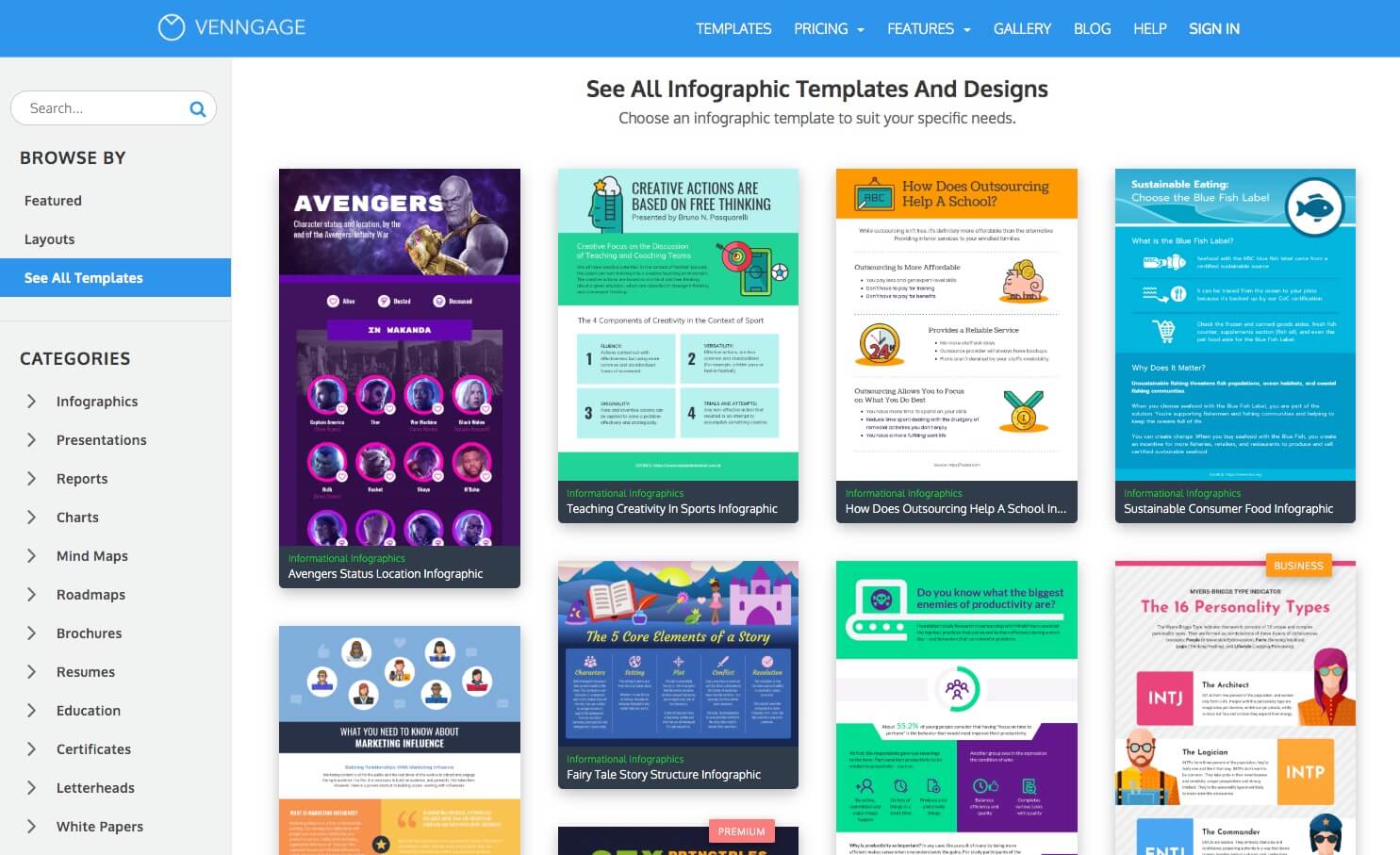 Through Venngage you can create a mind map that visualizes ideas and simplify procedures. The most common problem during communication is the explanation of complex concepts.
Venngage makes it easier through visual representation. The organization and categorization of points with different colors make the appearance beautiful.
There are aesthetic font types and icons which illustrate your ideas in a better way. You can brand your company so that your readers know who created the mind map.
Key Features
Professionally and graphically designed mind map templates can create what you want.
Adding ideas to templates is done with one click which makes your work easier and better.
You can add as many points as you want.
Team collaboration is easy with Venngage where you can share designs, features, and ideas.
Free software provides the best features with excellent outcomes.
Allows you to create infographics with an easy drag-and-drop feature. You can pull widgets directly onto your canvas. Also, you can adjust widget size, color, and orientation.
Venngage allows its users to customize templates, by moving objects around without any area restriction.
Pricing
For students, Venngage is free with many features such as 5 infographics, branding, privacy, and sharing. For businesses, the cost is $49 per month.
The Premium plan is for individuals that cost $19 per month. These costs are paid monthly.
Features of the Business plan are, a variety of templates and unlimited infographics, branding, charts and icons, export, privacy, sharing, and support.
For the Premium plan, the features are diverse such as premium templates, premium icons, and charts, exports to PNG and PDF, privacy controls, sharing, and standard email/chat support.
---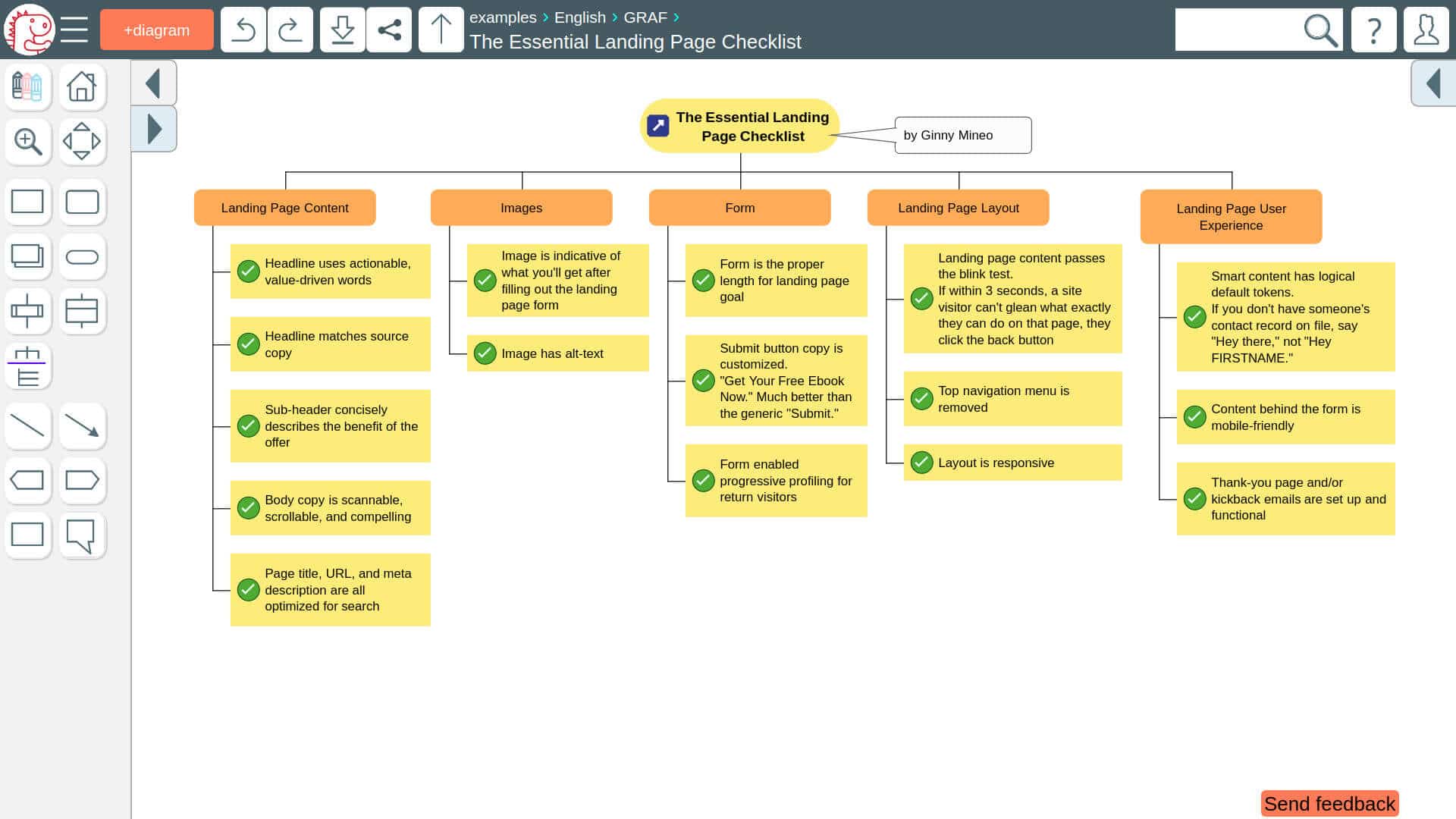 Last but not the least, we have DrakonHub, one of the best mind mapping software suitable for all kinds of people from all professions.
Businessmen, software developers, development managers, and many others can take advantage of this software with multiple features.
It provides lean and well-distributed flowcharts and diagrams that are divided into parts so that you can easily understand the idea in each part of the chart. This software makes well-organized and well-structured mind maps that are visible at first glance.
Key Features
The sketch of your thoughts and ideas gets clear with DrakonHub.
Draw visual summaries more efficiently and insert elements correctly with one click.
With DrakonHub, mind maps are more than just drawings.
Any diagram can be turned out to be a checklist so that you keep a record of everything on your mind.
Collaboration is guaranteed.
Support phones and tablets. There is no need to download the app, it easily runs on the browser.
Pricing
DrakonHub pricing starts from $6.00 per month and the cost is for a single user. It also offers a free trial which lasts for 30 days.
Conclusion
With mind mapping software at your disposal, your business transformation will come to reality with ease. It is up to you whether you opt for fully integrated or just basic charting software. These software solutions will surely help you create actionable plans to drive the success of your company.
Mind mapping depends on how your brain works. It is a personal experience. Use free trials of the mentioned apps and evaluate them on your own. This list should give you a better idea of what is the best mind-mapping software you need in your business' arsenal.
---
Other SaaSy goodness on All That SaaS: