Time tracking software is very useful if you are a freelancer, project-based employee, or even a small business owner. Such software is great for some who want to increase their work productivity and ensure effective time management.
It also helps boost your bottom line and reduce operational costs.
The Best Time Tracking Software in 2023
In any case, effective time management is exceptionally useful for businesses. Surveys have been conducted in which it was concluded that people who tracked their time used manually, had a higher chance of recording it incorrectly.
The answer to this problem is simple: using time tracking software for seamless, automated time tracking whenever you begin and end working on a task.
Key Features to Look for in Time Tracking Software
There are various distinguishing features within each time tracking solution that appeal to different types and sizes of businesses. Here are 5 features that I find are a must-have when investing in a time tracking app:
Online Timesheets – Surprisingly, not all time-tracking products feature a timesheet, which centralizes all recorded billable hours.
Billing/Invoicing – Invoicing automation saves time consumed otherwise by manual bill generation.
Reporting & Analytics – Enable you to create reports and summaries with a few clicks to analyze a wide range of employee data.
App Integration – Time tracking apps that are integrated with other software tools, allow employment management and the project to be supervised smoothly.
Monitoring – This feature helps teammates keep track of their tasks, and helps them make sure deadlines are met.
Benefits of Using Time Tracking Software ⏲️
As indicated by a recent investigation; 75% of representatives who use time tracking software discover it extremely supportive to deal with their time and remain sorted out all through. 18% of the workers detailed that their administrators track their time for them.
According to another report, daily time tracking can diminish efficiency spills by 80%.
According to TSheets, tracking time can decrease time lost and cut costs by an average of $11 billion a year. Not just that, buddy punching can likewise cost employers roughly $373 million every year.
A time tracking app helps you develop clarity on how wisely you are spending your time on things that need your attention.  Here's a rundown of the 18 best time tracking software to use this year:
The Best Time Tracking Software in 2023
Supported Platforms: Linux, macOS, iOS, Windows, and Android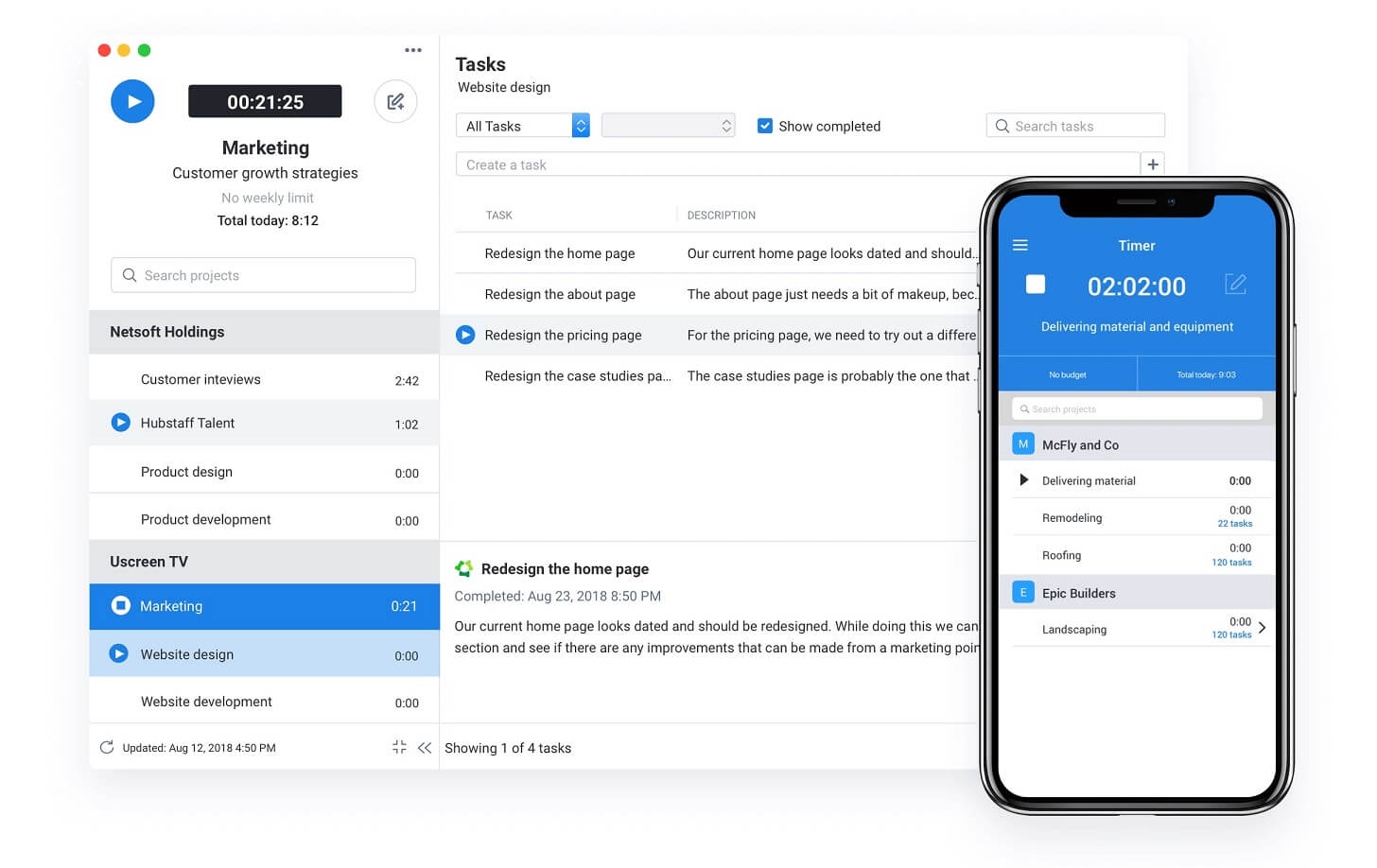 Hubstaff is a well-known time tracking app, which is used by many companies worldwide. A person's activity is monitored by taking random screenshots of their desktop.
Hubstaff began its journey in 2012 to help manage small remote teams. Little did they know that today they would be chosen by over 8,000 agencies, freelancers, and virtual teams.
This software is great to receive help to get daily tasks finished, and the reason behind this is that Hubstaff strongly believes in customer satisfaction.
Hubstaff is ideal if you're after on-the-go time tracking. It offers desktop- and web-accessible options. The mobile version of the app has the GPS tracking feature, allowing the management to track where their employees are working.
Timesheets are received online, as well as reporting and analytics, team scheduling, and monitoring.
Key Features
After every ten minutes, three random screenshots can be taken to get a better idea of how your employees work.
You get an overall view of all your team members, when, and what they have worked on. Including their average activity levels and the total weekly hours. You can automatically see who is working and who isn't.
An employee attendance tracker notifies you through email alerts of any late, missed, or abandoned shifts. This is especially useful when scheduling teams for tasks and projects.
The team can use the mobile time tracking app for logging attendance and it helps you track their location through GPS. This app also helps you track the time worked at the specific job site. And find out which locations need more attention.
The software also measures app usage, such as activities on URLs, and gives teams and managers activity percentage data. This helps justify the professional's activity levels and productivity.
Hubstaff has top-notch payroll management and it is well-known for it. It tracks employee time and automates payroll management. This is very helpful during payroll processing time since you know accurate time cards will be generated.
It integrates with more than 30 project management tools, including PayPal, Payoneer, and QuickBooks.
Pricing
Hubstaff has four subscription plans, each with extended features:
Free: The cost is free for a single user. It tracks work time, has limited screenshot storage and payments, and activity level progress is shown in a restricted manner.
Basic: The cost is $5/user/month. Features include Time tracking, screenshots, keyboard and mouse activity monitoring, employee payments, 1 app integration, and 24/7 Helpline Support.
Premium: The cost is $10/user/month. Has the Basic plan's features, including app and URL tracking, automatic payroll and invoicing project budgeting, and multiple integrations. This plan offers attendance scheduling and employee location tracking.
Enterprise: The cost is $20/user/month. The Premium plan features, including VIP helpline support, unlimited job sites, concierge account setup, and the public API has higher limits.
---
Supported Platforms: macOS, Linux, Windows, Android, iOS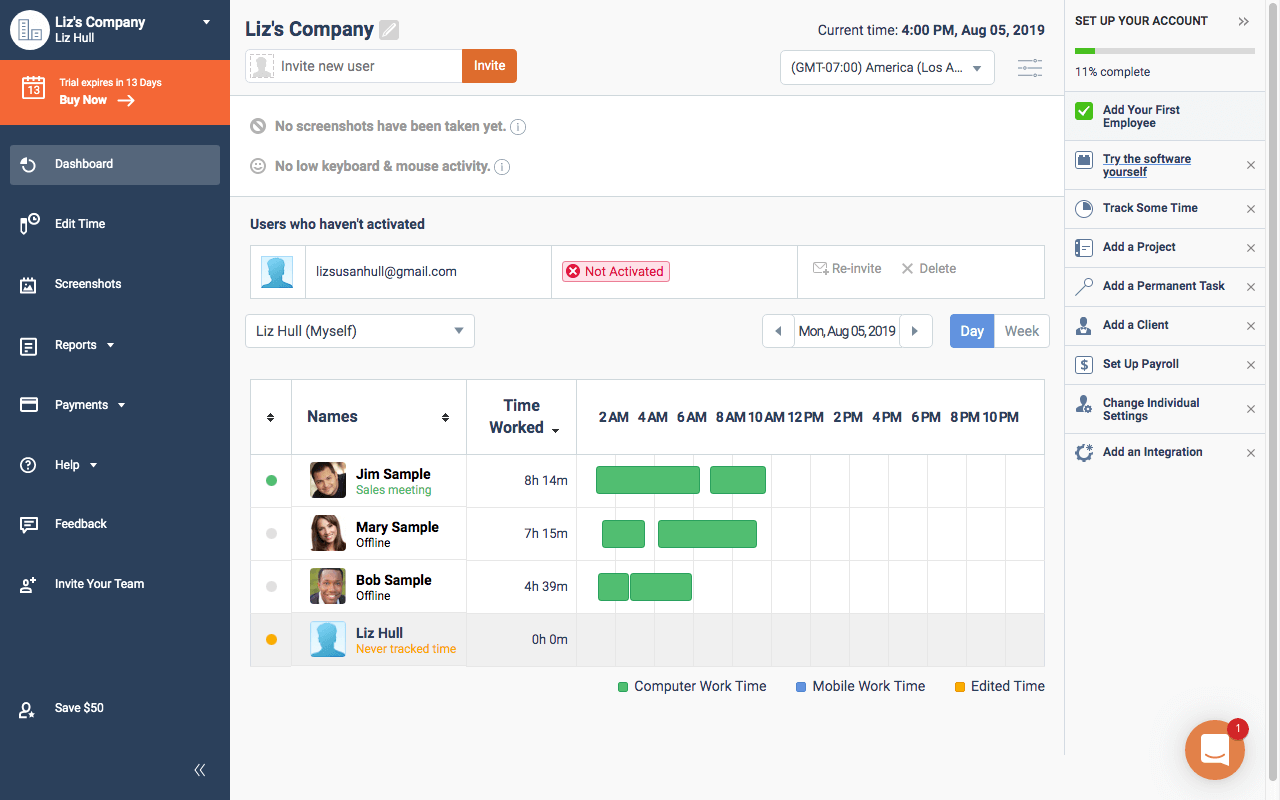 Time Doctor is an employee time tracking software that helps you and your team get a lot more done each day. It provides detailed analytics of where time is spent in the workday.
You can view applications and websites visited when working and screenshots of the computer screen every few minutes while your employees work.
Tistraightforwardward and easy to use – create a project, add a task, then just start doing it. It records time on each task, takes occasional screenshots, and records applications/websites accessed.
This time tracking software also provides a client interface that can be used when billing client projects. It can also be integrated with over 32 apps.
Time Doctor is a SaaS multi-functional time tracking app created by the owners of Staff.com. Since 2012, it lets you choose from their desktop software, mobile app, or web platform.
The focus of the app is to allow customers to build distributed teams so they can now work out of an office, wherever, and whenever they want to.
Key Features
In case you want to monitor your employees. Screenshots can be used to review work processes, improve productivity, and develop strategies. They will only be taken when team members start work on a task and not during breaks
The payroll setup is customizable to match your currency, financial regulations, company requirements, and more. You can connect the tool to PayPal, Payoneer, TransferWise, or any other method of your choice for more freedom
Receive notifications when you are not working. These help you avoid procrastination
Track time spent on each website, app, or task. The tool records overall Internet usage during work time to ensure that your employees are not slacking off. It creates weekly reports that show the exact websites and applications that were used
To precisely track hours, Time Doctor even stops tracking your time when there's no keyboard or mouse activity for a while
Time Doctor is very easy to set up and user-friendly. One can start using it in literally no time. The time to tasks created under projects is recorded once the user starts the timer
The reports are available in the chart as well as in tabular format. The reports can be filtered daily, weekly, monthly, or custom date ranges. There's a client report view available that can be shared with the clients for transparent invoicing
Pricing
Time Doctor is available with a single paid plan: at $9.99/user/month.
This plan comes with features like tracking time, tasks, projects, screenshots, mouse/keyboard activity, website, and application tracking.
With payroll and payment integrations, schedules, and attendance reports. Also, the GPS tracking option on mobile apps, integrations with 20+ partners, and support from live agents. Managers can approve manofferme and offers a white-labeled loin interface, and multiple users.
---
Supported Platforms: Android, iOS, macOS, Windows, Web, Browser Extensions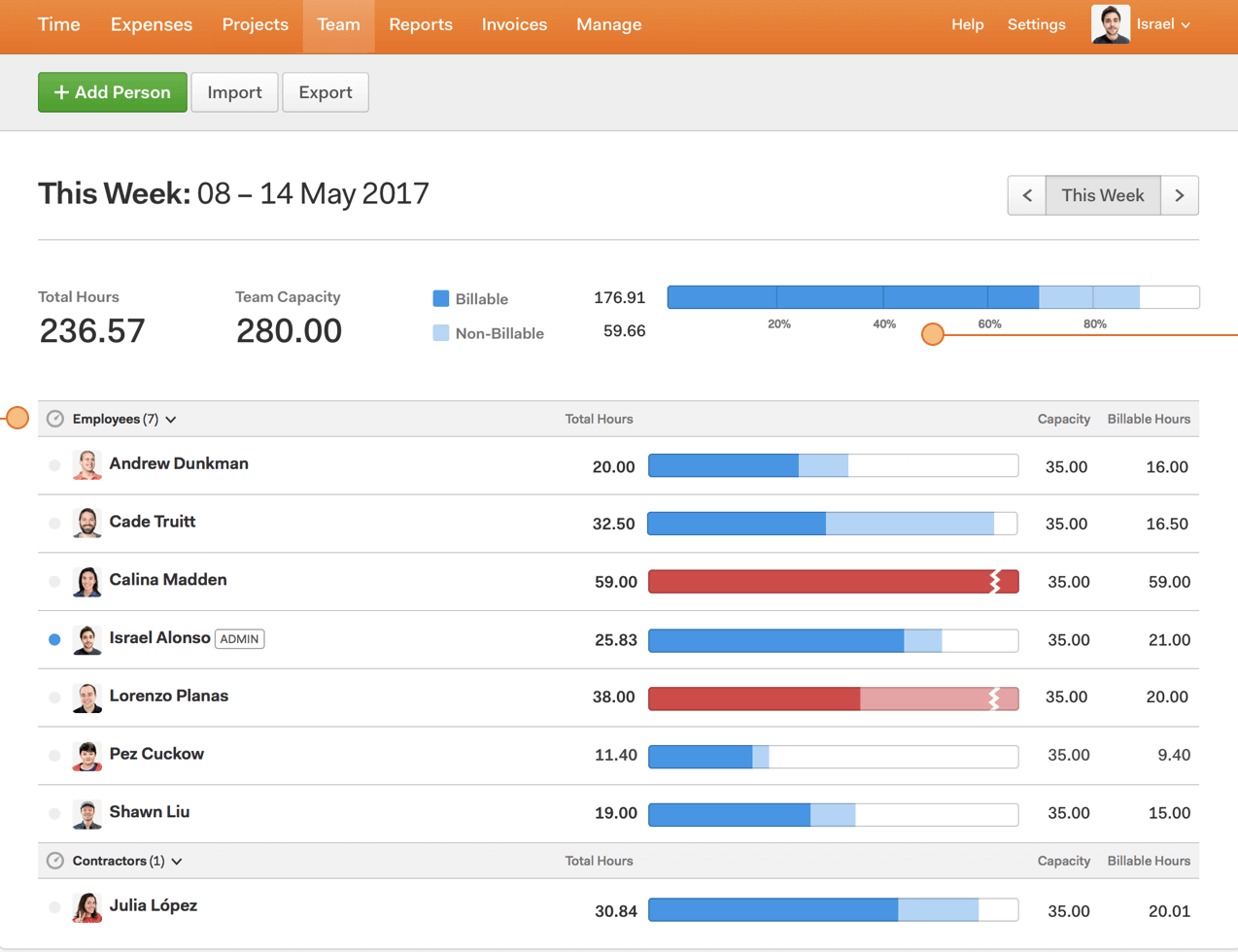 One of the best time tracking software for teams and even freelancers is Harvest. There is a built-in support feature, which: tracks expenses, billable hours and invoicing, and other needed accounting features.
This software was launched in 2006, and its purpose is simple: listening to the customers' needs, providing innovation, and completing work with integrity.
Harvest connects the time tracking and invoicing features, which allow payments to be made with ease. Data does not have to be exported from another system, since it is based on tracked time entries, and it works offline as well.
Key Features
Integration with other tools, such as CRM, invoicing, and project management to name a few.
Time can be tracked via browser extensions, web and desktop, and mobile apps.
There is an integrated expense tracking system, which includes scanning receipts as well.
There is a feature to check who keeps track of their time and project deliverables. This helps assess who might have a heavy workload or not. The timesheet approval system can be used to check any team oversight.
Time entries can be checked and cross-referenced for comparison to see if the project budget set earlier is being tracked. This allows the reports to show you the numbers you need to be profitable when invoiced.
Clients are billed on a tracked time and are emailed invoices. Online payments can be done via PayPal or Stripe. Xero and Quickbooks are integrated, which is practical especially if you were using either one before.
However, their sister app called Forecast can help you book projects beforehand. This way time can be tracked (Harvest) can be compared with the time scheduled (Forecast).
Pricing
After the free trial expires, two price plans can be chosen from:
Free: 1 user, 2 projects, and receive unlimited invoices & clients. A 30-day free trial is given up on signing up, with full features. Once the trial expires, the free plan can be used unless upgraded to Pro.
Pro: $12/person/month or $10.8/person/month annually (with a 10% discount): more than 2 users, unlimited projects, invoicing & clients. There is also a timesheet approval system to give a summary of the team's overall activity.
The Harvest Forecast feature has to be paid for separately, which costs $5/month.
The features both these pours include are time & expense tracking, powerful reporting, unlimited invoices with estimates, project budget alerts, timesheet approval, and integrations with more than 100 apps.
---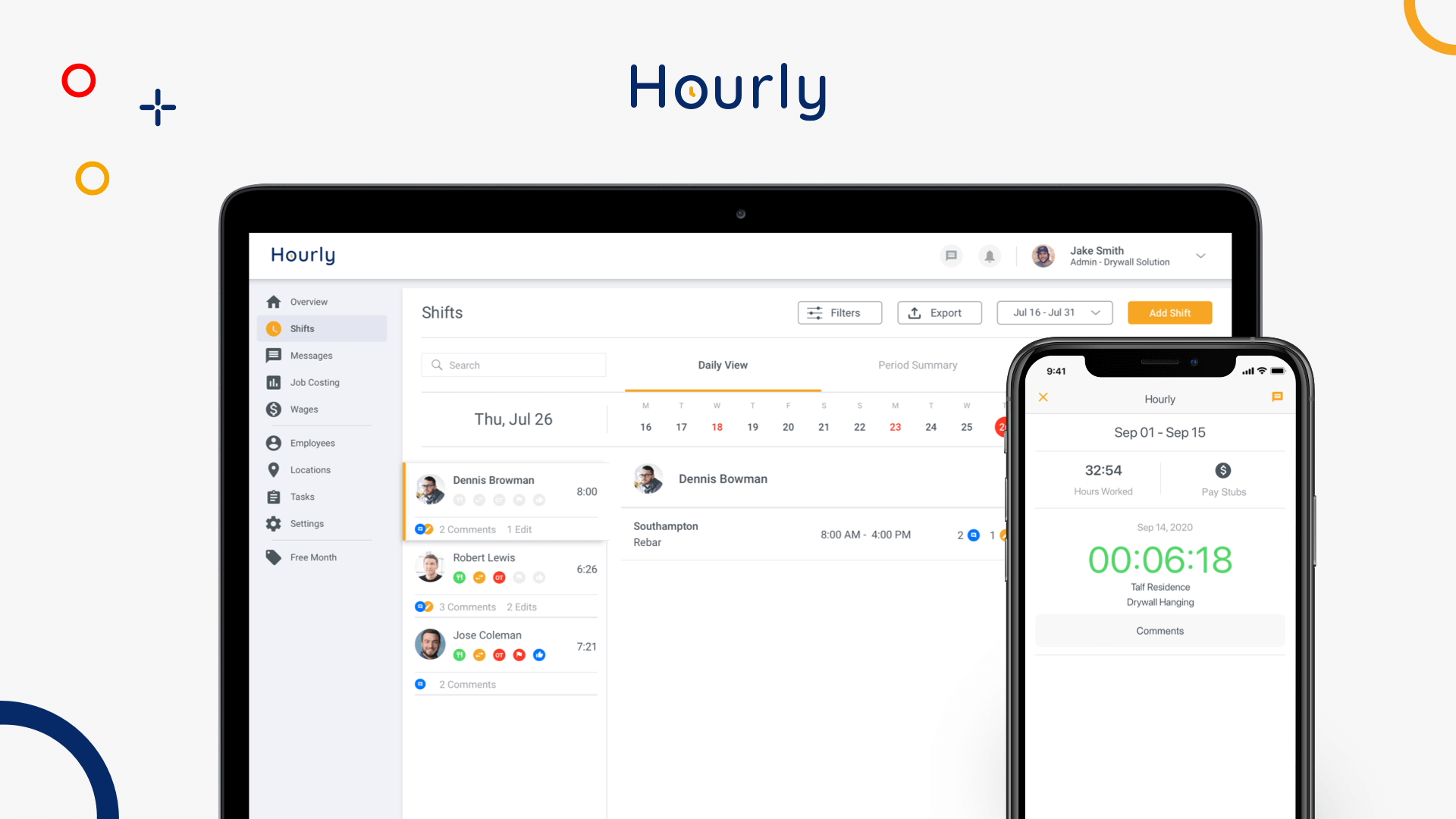 #3 on our list of the best time tracking apps, we have a new entry. Meet Hourly, is a beautifully designed time tracking app with lots of powerful features to help you and your team make the most of their productive hours.
From automatic time tracking using an auto-logging tracker to payroll processing, time cards, and more – Hourly has just about everything you need. There are apps available for both Android and iOS devices, so you can work on the go and still keep track of time.
The story behind Hourly is quite interesting – the co-founder, Tom Sagi, couldn't find a time-tracking solution that would meet the needs of his construction team. Disappointed, Tom then partnered with Shay Litvak, a seasoned technologist to develop Hourly.
Key Features
Location and employee hour tracking powered by automated time tracker – no more manual entries needed
Delivers real-time progress updates so you can keep track of hourly employee expenses and performance, and take timely actions as needed
 Helps comply with labor laws – delivers timely alerts for breaks, provides audit logs, and detailed time reports
Built-in GPS tracking to help you only log hours from employees that are required to be at a certain location when needed
Geo-fencing features to stay alert when employees are not working from where they are supposed to be
Easy access for employees – access paystubs and W-2, and can sign their W-4 using Hourly's mobile apps
Seamless payroll processing using direct deposits, paychecks, or credit card
Strong reporting features to generate reports for job costing, taxes, bank reconciliation, time off, and more
 Expert advisors to help you get the best deal on your workers' compensation insurance so you aare your team is always protected
Pricing
Hourly comes with the following pricing plans:
Time Tracking: $40/month base fee + $8 per user/month, includes time tracking, automated signed timesheets, GPS clock-ins, and tracking, overtime and break monitoring, detailed reports, audit logs, unlimited phone support
Payroll: $60/month base fee + $10 per user/month, includes unlimited payroll runs, direct deposit + paychecks, automatic tax filing, 1099s and W-2s, garnishments and benefits, unlimited phone support
Time Tracking + Payroll: $80/month base fee + $14 per user/month, includes time tracking and payroll features plus workers' compensation insurance, priority phone support, and HR support
---
Supported Platforms: Android, iOS, Linux, macOS, Windows, Web, and Browser Extensions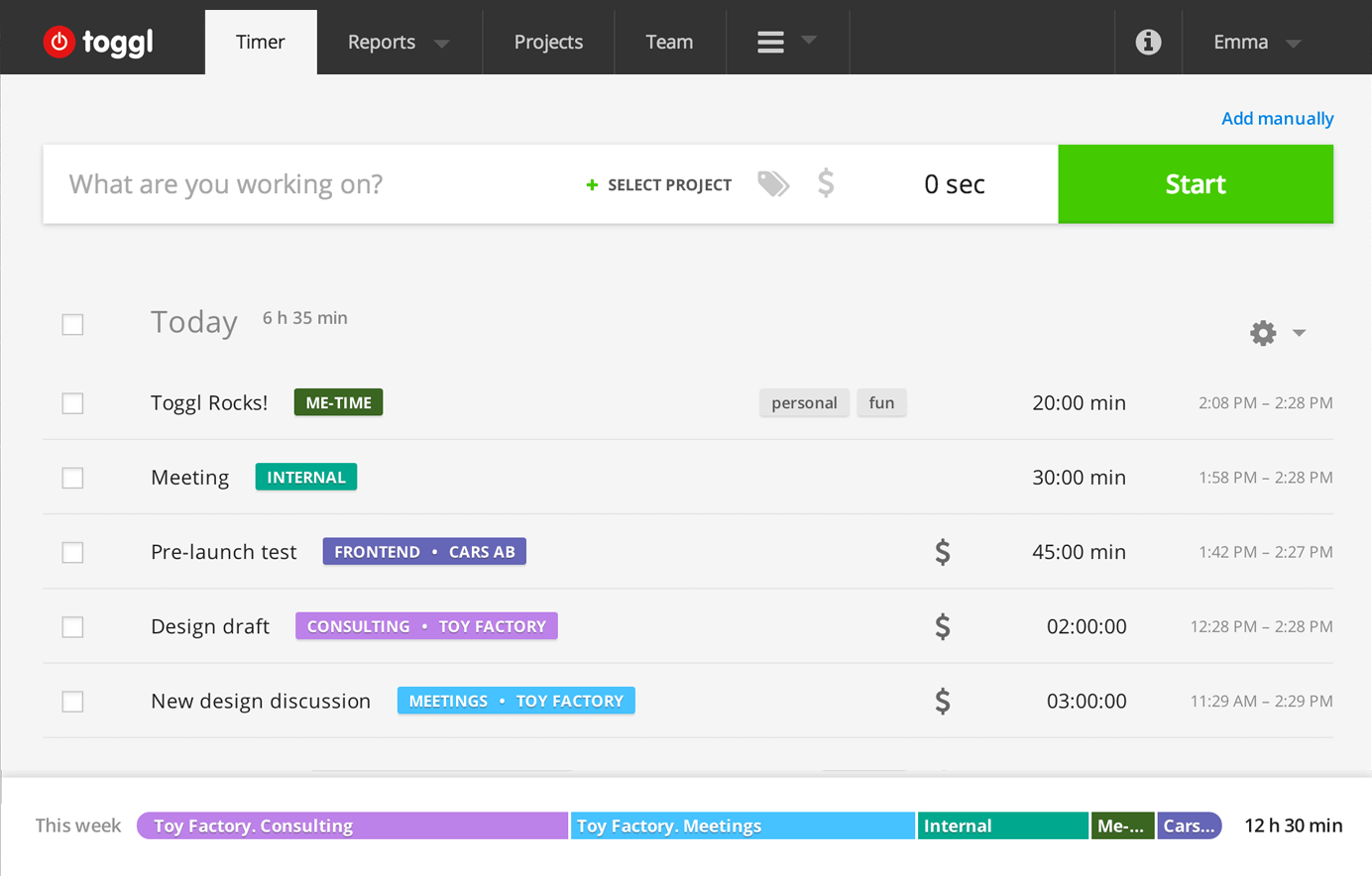 As a free time tracking software, Toggl works great with freelancers and individual users. It also works well as a time tracking software for employees and offers an enterprise price plan for teams.
This software is great for remote work experiences and encourages it as well. Toggl can be used by any size team since as a project time tracking software it is pretty powerful.
Toggl has an interface that is easy to use and very smoothly allows you to assign tasks. New projects and clients can be created without having to leave the dashboard, therefore, saving precious time ad speeding up productivity.
Unlike other apps where the timers need to be operated manually, the desktop app immediately lets you set reminders and track specific tasks.
Toggl has over 100 integrations with tools such as Trello, Asana, etc. The plus point is that it reports invoices as well.
Key Features
It has a button that connects more than 100 apps, and it can be operated through a browser extension or a web timer. Time can be tracked from different places in the app, as well as the dashboard. The most active teammate will receive the "first place spot", to motivate everyone to do better.
Time usage and progress on assigned tasks can be monitored simultaneously. This lets you see the summary/detailed/weekly reports of projects and clients the team is spending on.
It allows you to keep a check whether the team has been able to keep up with the project timelines, overdue tasks, and budget exceeded projects.
Great way to see which projects and employees rake in the most profits. This feature helps calculate and decide better future estimates, and which team members should be assigned particular tasks.
To help the user with the implementation process of the tool, a certified Toggl consultant can be hired through the Toggl Master program. After paying a certain cost, the tool can be set up and it can be used: for different platforms, team management, and importing data to name a few things.
Tagging can be categorically done by the project or the client. It only takes a few seconds to create new tags for projects.
There is detailed reporting, in which reports for time tracking can be generated or reports for clients. It also has nice filters for the report.
It has more than 100 app integrations, allowing other apps and tools to function simultaneously together.
Pricing
Toggl has four price plans to choose from:
Basic: It is free of cost and is great for teams, allows up to 5 users. It has features such as time-tracking, deleting incorrect time entries, editing in bulk, and time can be added manually. There are also keyboard shortcuts to speed up the time-tracking process and tags.
Starter: The cost is $10/user/month or $9/user/month for annual payments. Other than the basic plan features, it also includes many more, such as billable rates, exporting data, and bookmarked reports. Along with the company logo, project time estimate and dashboard, tasks, and unlimited team size.
Premium: The cost is $20/user/month or $18/user/month for annual payments. It has all the Starter plan features, including tracking reminders, locking time entries, time audits, and scheduled reports to email. There is also a feature for important tasks, in which time entries are required, assigning timelines to team members, and more.
Enterprise: The cost is customized, and it provides the Premium plan features. It also gives priority support with a more personalized level of service if the user needs technical help.
---
Supported Platforms: Web, iOS (Beta), Browser Extensions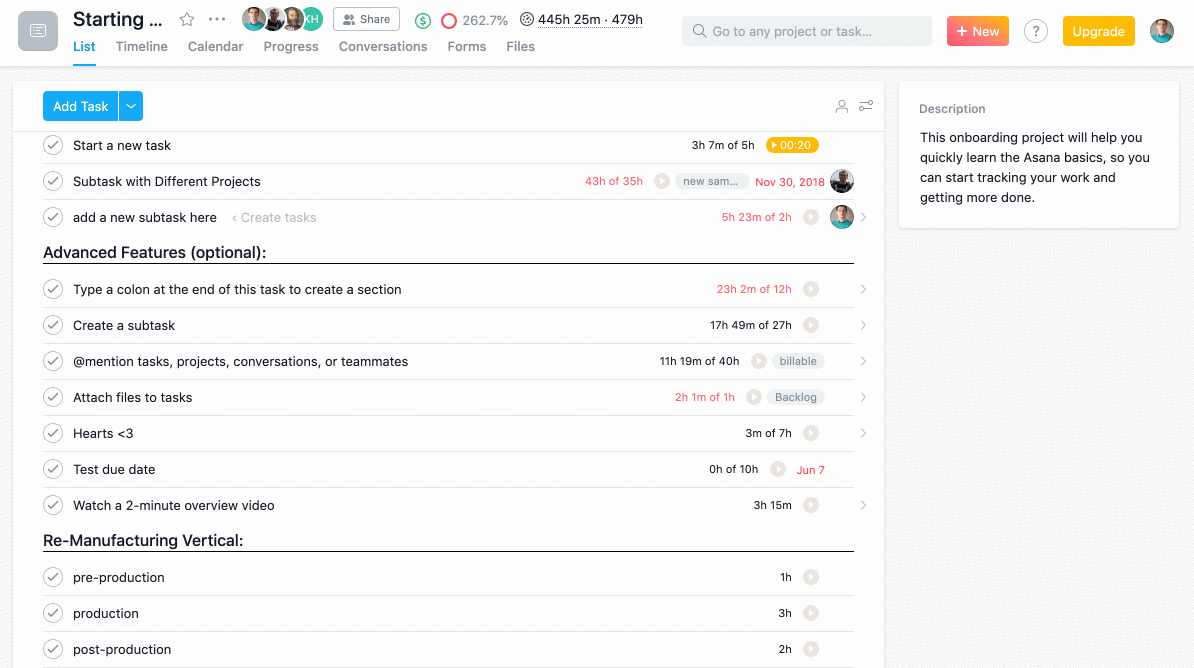 Everhour is lightweight regarding scheduling apps since it only functions as an online time tracker. However, it does sync with productivity apps that you are already using.
It works well for team collaboration since it can track the availability of every team member. Every teammate can enter the number of hours worked per day or week.
Everhour is great for streamlining the time tracking for all the tasks if you need to work on a time-sensitive project. It is a pretty straightforward and easy-to-use app.
What makes Everhour an instant winner for Agile teams is its ability to embed into a variety of used project management tools. Namely, Asana, Trello, and Basecamp.
Agile team users find Everhour to be a top-of-the-line app since it can be inserted into different project management tools. It can be embedded into Asana, Trello, and Basecamp to name a few.
Everhour also gives its users basic task and project management features that they may need as well.
Key Features
Has a built-in digital timer, which can be used to log in and record the total hours used on a task or project. It also allows teammates to track their hours manually as well.
It is also easy for a team to lead or project manager to keep tabs on teammates who haven't met their deadlines. The live dashboard gives the manager a centralized view of all the timelines, which include specified labels of the total time spent right next to each task.
Everhour reporting is extremely flexible and easy to use since it is much like tracking.  There are many filters to choose from, which help users sort the reports into a time range and importance. These reports can be customized into a variety of 30 combinations.
Tasks can be analyzed according to their timelines. This can be done by letting users can assign deadline dates, milestones, and tags per task.
Since it is a web-based tool it can operate on browsers, such as Mozilla, Chrome, and Safari. This tool is great for travel consultants owho r executives can manage project timelines and even timesheets wherever they are. They can even access Everhour through the browsers on their mobile phones.
There is also a special feature in Everhour, in which there is an option to log scheduled time off. If you take a peek at the team's schedule, the available hours will seem green, time off will appear gray, and overtime will appear red.
Everhour also has a lightweight invoicing system, which works "just enf you really need to use one.
Pricing
Everhour offers the following plans:
Free: This is the basic time tracking for small teams offered for free. Allows up to 5 users. With all features, and second-priority support. Integrations are not included.
Solo: This plan offers time tracking with popular apps for individuals at $8/month paying a year upfront. Allows 1 user with all features. Along with email/chat support and comes with a 14-day free trial.
Team: This plan offers time tracking with popular apps for teams, big and small at $7/user /month. It starts from 5 users to an infinite number of users. Provided with all features. Save 30% by paying monthly or annually.
---
Supported Platforms: Android, iOS, Web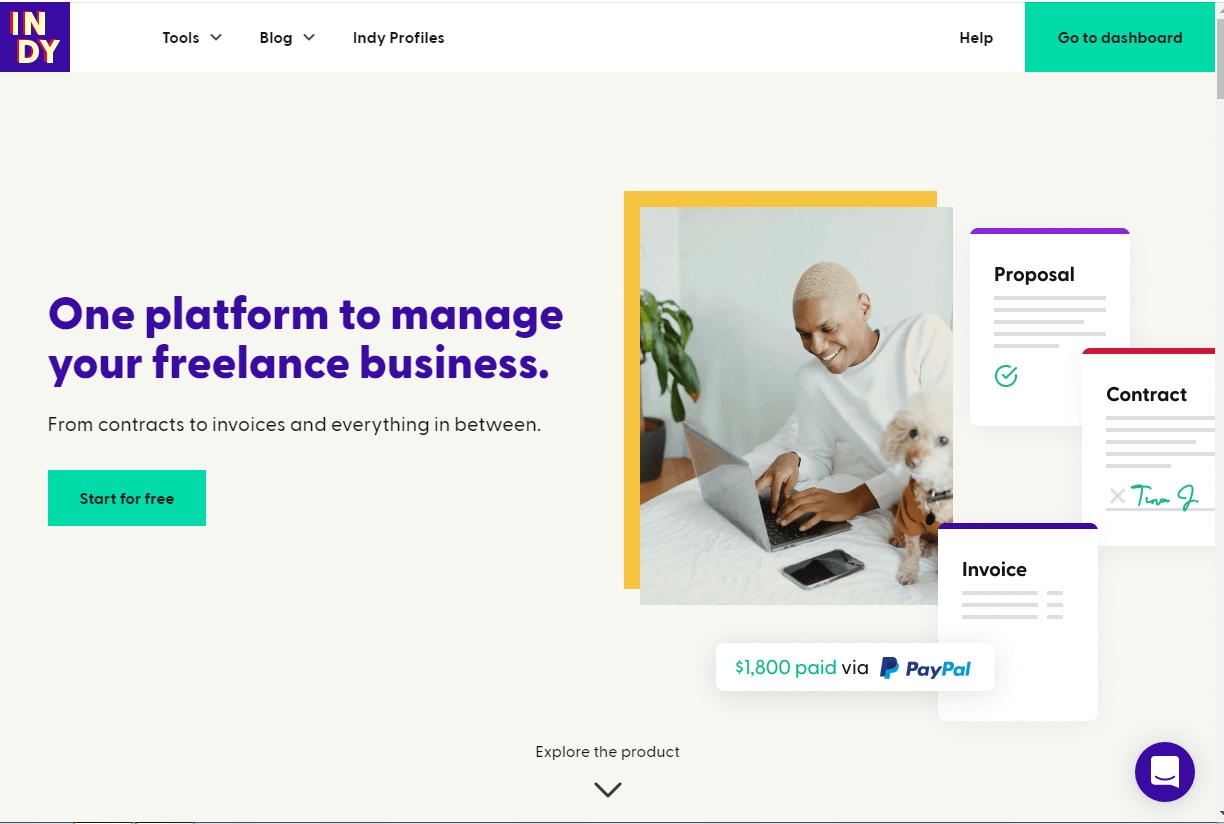 is an adaptive, all-in-one management software that helps freelancers and small businesses track everything from proposals to payments. Indy makes organization and time management easy, letting its users focus on their work.
This platform features a library of proposals, contracts, and form templates to make getting clients easier. The task tracking system allows users to assign individual tasks to larger projects or categories.
As users work on tasks, the time tracker tool logs and categorize time spent on each task, making it easy to balance multiple projects and create invoices.
When it's time to get paid, use Indy to generate a detailed invoice to send right to clients: in return, they get peace of mind knowing that Indy uses the web's top payment methods, like PayPal and Zelle.
With other tools like Profiles, Drive, and Client Contacts, Indy's features make it a versatile and reliable addition to any creative team. Indy's mobile app can be downloaded by both Android and iOS users.
Key Features
Proposal and contract templates to quickly build documentation
Easily manage projects on a large or small scale
Time tracking capabilities for complete visibility
Custom branding for a customized user experience
Chat directly with clients and other freelancers
Simple and intuitive invoice creation and management capabilities
Integrated online payments with PayPal, Stripe, and Zelle
Pricing
Free: Try out Indy for free and see if it's right for you: track 12 tasks, send two invoices, create two contracts, and more.
Pro: Get full access to Indy and all its features with the Pro Bundle for only $9 per month on the annual plan (or $12 per month on the monthly plan).
---
Supported Platforms: Android, iOS, macOS, Web, Windows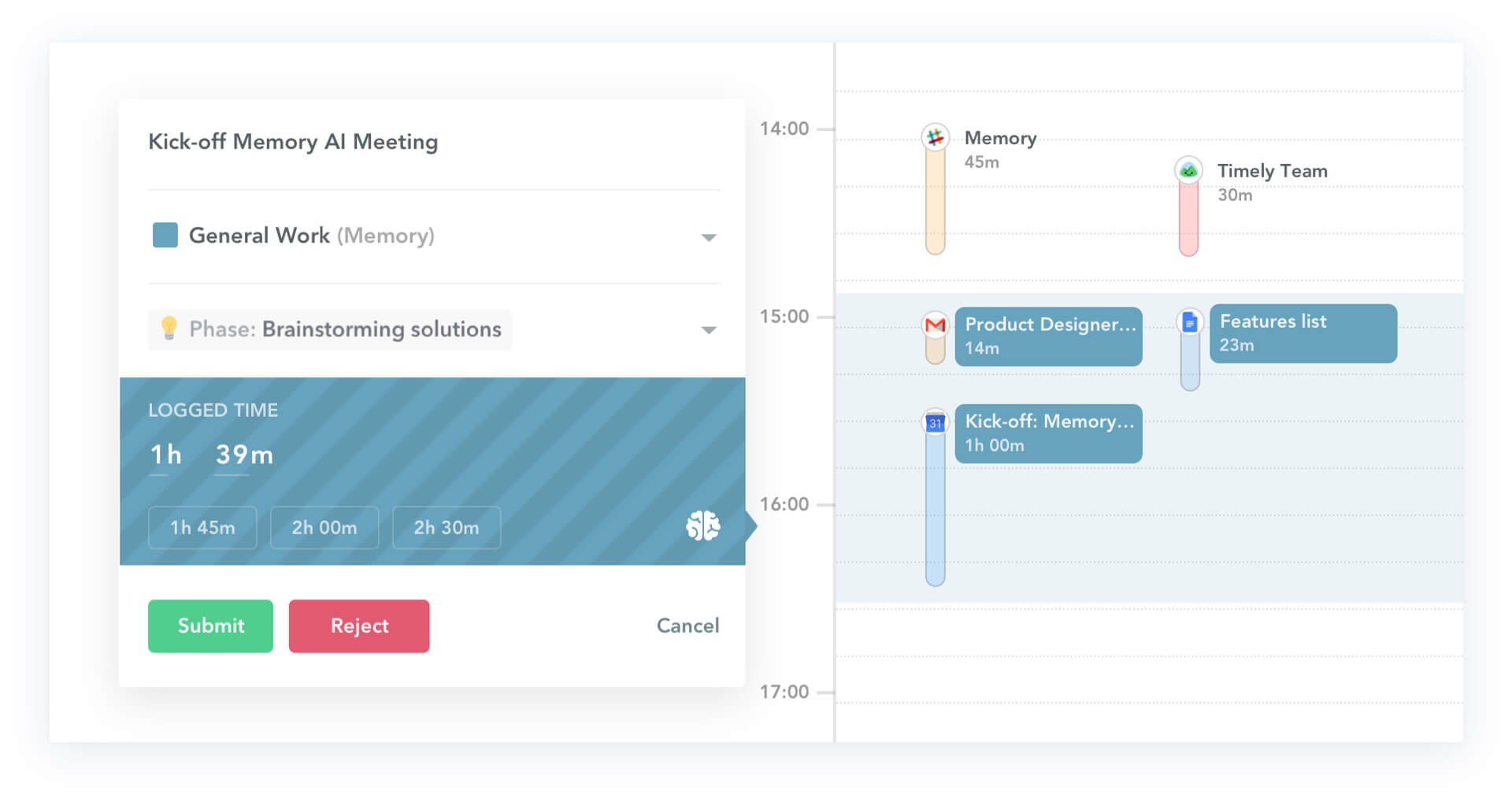 Timely is a great time tracking app for business owners who like to organize, categorize, and box the many projects they may be working on. It allows them to use a calendar and mark blocks of time dedicated to the particular project(s) they may be working on.
Timely has a combination of both scheduling tasks and time tracking in one app, and it lets you see the time spent on the tasks as a calendar view.
It lets you manually log an entry, run a timer, and allows you to plan how much you think you might need on various projects. Timely also lets you see how what your earnings are on an hourly bprovidesimely provide plugins for different tasks, and also projects your earnings according to the weekly plans you created.
Key Features
It lets you do bulk editing for tasks. For example: mark several entries as "billed", manage tags, and even delete entries at once.
Customized reports can be created, and shared externally through given links.
Billable percentage and team performance can be tracked as key metrics.
You can manage and track your teams by creating them based a different metrics. They can be departmental-based, city or country-based, etc.
The feature called the 'Memory Tracker', lets you have the option of saving the tracked data privately in a timeline, which is only for your eyes.
Tags can be re-assigned, suggested entry titles can be renamed, and the groupings of activities can be adjusted.
The automatic SMS and email reminders have reduced no-shows by an average of 44%, which helps users save money and time.
Pricing
Timely has 5 different price plans, made for different types of businesses and individuals:
Moonlight: The cost is $7/month or $6/month for annual payments, fo,r only 1 user and allows 5 active projects. Your computer activity and time can be tracked that is spent on meetings or your favorite apps.
Freelancer: The cost is $14/month or $13/month for annual payments, and allows 25 active projects. Gives the Moonlight features, along with computer activity tracking every day, an AI categorizing the work, and to prevent changes in the entries the timesheet is locked.
Professional: The cost is $23/month or $20/month for annual payments, and unlimited active projects are given. It has the Freelancer plan features, including in-app support, notifications given for likely logging mistakes, project and team planning, and timesheet entry tagging.
Growth: The cost is $99/month or $89/month for annual payments, there are 5 seats included and 50 active projects. It has Freelancer plan features along with tracking location activities.
Business: The cost is $299/month or $269/month for annual payments, with 15 seats included, and unlimited active projects. It has Growth features, including the same features as the Professional plan.
---
Supported Platforms: Web, Android, iOS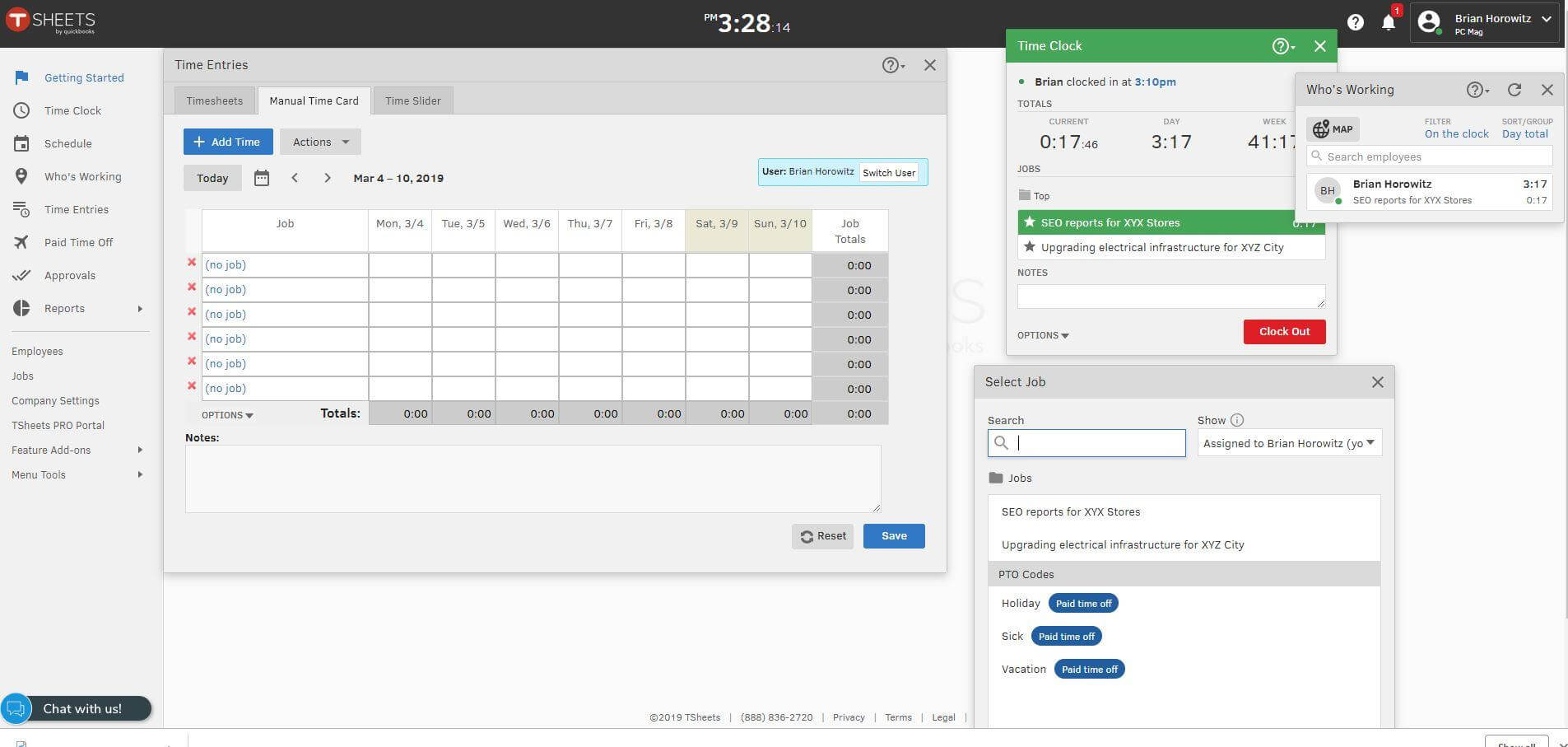 TSheets started its operations in 2006, and the purpose of TSheets was to attain the need of the founder's previous business. It features tracking timesheets for employees who are always on the move.
It grew to a team of 100 from only two members, with goals of better productivity and reporting issues. In 2017 Intuit bought the tool.
It is celebrated as one of the most technically different time tracking software. We highly recommend TSheets as a cloud-based management system, which provides a large set of enhanced time tracking features.
Since it has an open API, QuickBooks integrations are possible with TSheets, as well as user preferences regarding management software.
This software is great for freelancers, small, medium, and large teams, and anyone that needs a team scheduling tool and a time tracking app. It is easy to track time using a gadget, which helps streamline the payroll, and send accurate invoices. It helps save businesses thousands of dollars each year.
Key Features
Predicts the time needed for job costs, payroll plan, and to increase profits. Helps ensure correct timings, and anyone that has been given access can approve or reject timesheets.
The Star feature is that TSheets users can use regular phones to sign in and out or their mobile phones to call into the app.
Has a stellar location or GPS tracking feature, which allows project managers to locate their teammates.
It also has reports that are simple to understand and visually appealing to the eye.
Employee time management is done with ease since it gives overtime alerts, working features, and paid time off.
Notification settings can be chosen, especially if they want the manager, admin, team lead or member to be notified. These alerts can be sent through SMS, Twitter, or email.
A bird's-eye view can be kept on the team by using the "who's working feature", which can be used by team leads or project managers. It allows real-time tracking of which employee is working on what and from where
Pricing
TSheets offers just one paid plan, the details of which are:
Monthly: $8/user/month plus $20 base fee/month
Annually: $6.40/user/month plus $16 base fee/month
The features include mobile apps for employees who work remotely, GPS timestamps, flexible time entry, payroll and projreports, and job costing, and much more.
The user also has access to Audit Trail, 99.99% Server Uptime for questions to be answered at any time.
---
Supported Platforms: Android, macOS, iOS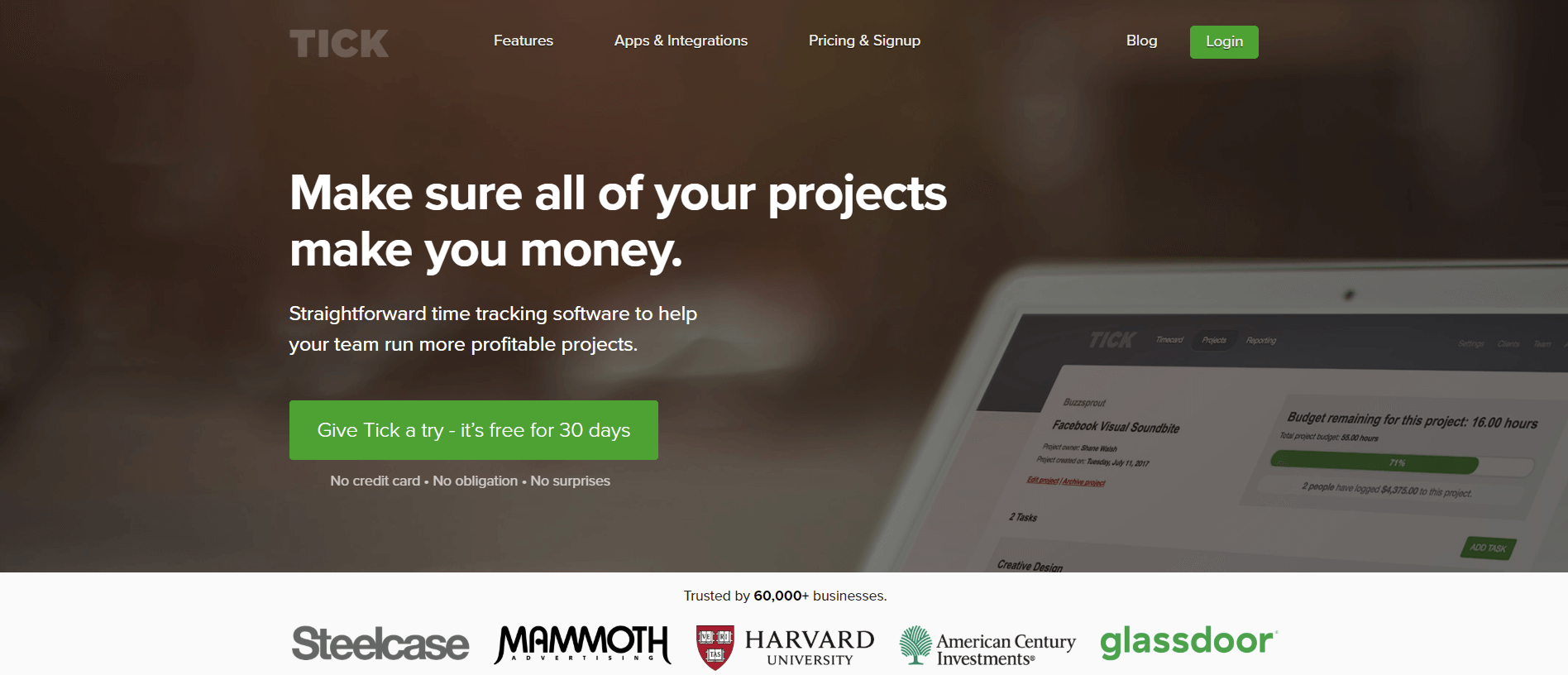 Tick tool is designed for larger teams, which find the "per user" pricing expensive from other tools. This is also for those who would rather that their work time tracking software be less restrictive, especially with the users that are on board.
Tick has a very different structure when it comes to billings. Instead of charging teams "per user" it charges them "per project", and this plan supports unlimited users.
This app is extremely cost beneficial especially for large teams since they only get charged per project. The interface is simple to use and it sets up the projects and tasks, which can be tracked manually by entering data or in real-time.
Key Features
There is a 3-step process, which is: project selection, task selection, and time entry. Time can be tracked and the timesheet reporting can be used to receive feedback for a budget.  Notes to the card can also be added.
There is a choice between single and multiple timers, which is useful when working on various tasks.  Time entries can be used to create new timers to use the next time.
Time can be tracked by members to see how much more is needed for task completion, or how much time is left. This helps the team stay on top of their budget with every task completed
The pricing strategy is attractive for large teams that don't work on a ton of projects
Depending on the tasks, single or multiple timers can be used to evaluate how much time the whole project would require.
After each task is completed, you receive budget feedback that you stay on track.
The timers can have new time intervals that can be added by teammates depending on how long the task took to be completed. These time entries can be set as a standard for similar tasks in the future
Pricing
The following plans are offered by the Tick time tracking app:
| | |
| --- | --- |
| Number of Projects | Cost |
| 1 | Free with unlimited users and Basecamp integration |
| 10 | $19/month offers unlimited users and Basecamp integration. Provided with recurring projects. |
| 30 | $49/month offers unlimited users and Basecamp integration. Provided with recurring projects. |
| 60 | $79/month offers unlimited users and Basecamp integration. Provided with recurring projects. |
| Unlimited | $149/month offers unlimited users and Basecamp integration. Provided with recurring projects. |
---
Supported Platforms: Android, iOS, Web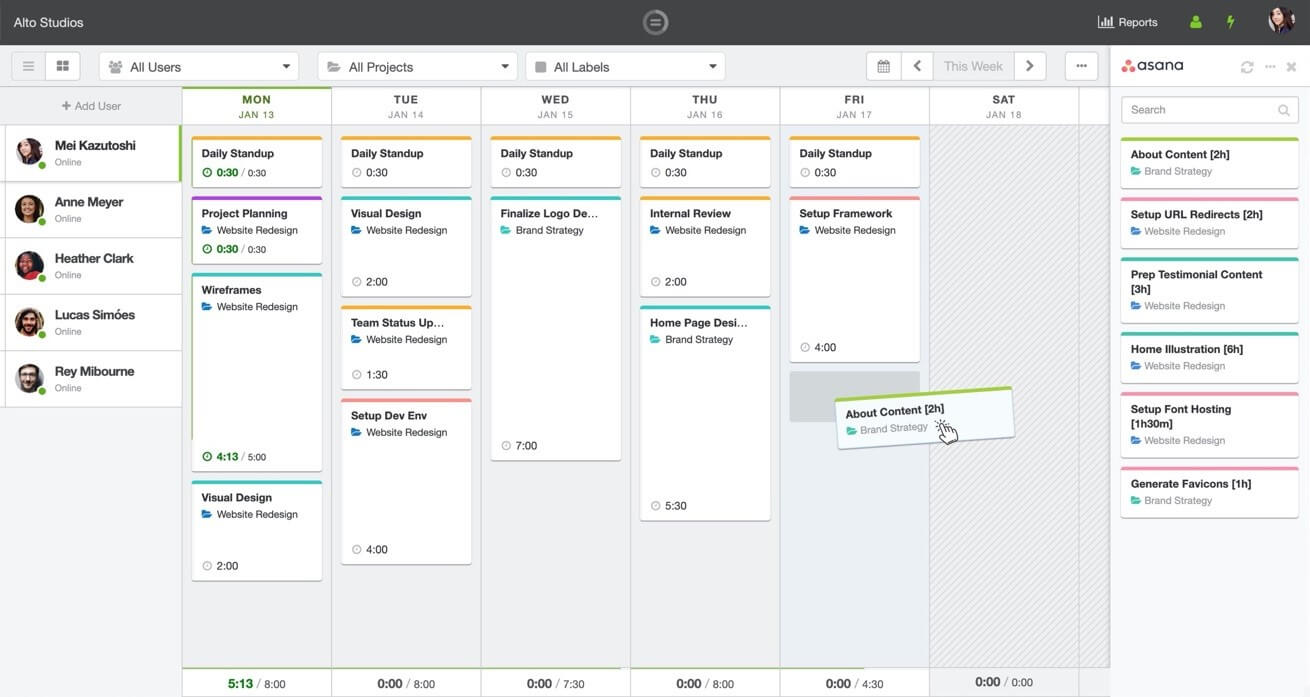 As a collaborative time tracking software, HourStack gives a very different look and feel as opposed to the stand tool. Time is shown in blocks as in the time it would take the user to work on a task, and mark it as even on a calendar.
The purpose of this app is to help the user look at time differently. Like other popular time tracking tools, it lets you create tasks and projects, and the user can color-code to their preference.
Labels can also be added to tasks to tell them apart from the intention they are being used. For example, they can be used for communication or business development. These labels can also be color-coded as well.
As far as reporting goes, HourStack gives pretty good reports that can be exported to Excel, formatsnd PDF format. The pricing is similar to what other tracking apps charge.
Overall, HourStack is a good value for money.
Key Features
Free of cost, subscribing is not a requirement, and it is cloud-based. Provides users with unlimited entries, projects, and labels.
The interface is simple, easy to use, and visually pleasing. Therefore, it makes time tracking and managing time entries a breeze. Labels can be used to organize and filter the type of projects when classifying them.
To plan entries with ease and quickly, the drag-and-drop feature can be used.
Notification settings for time allocation can be made for the user's requirement.
There are customized week settings, which tell you when and how many hours to work. There is also a daily utilization and over-allocation of hours worked indicators.
Users can use the browser-based web version, to work in real-time.
There is also a paid subscription to use the web version which allows multi-user access and reporting.
Pricing
You can try HourStack free for 14 days with no credit card required. Other than this you can choose from the following plans:
Personal: Single user only, specifically for individuals ready for a breakthrough in productivity. Costs $5.60/month when paid annually. Offers features like time tracking with unlimited entries, projects, and labels. Along with personal integrations, mobile app, and email support.
Professional: This plan is for individuals and teams that need advanced features. Available at $12 per user per month when paying annually. This plan offers all the features in the personal plan along with all integrations, multiple users, and live chat support. It also offers a team view, reporting, and XLS/CSV export. It comes with project budgets, week templates, unlimited guests, and a user permission matrix.
Enterprise: This is for teams of 200+ that need more security, support, and guaranteed uptime. This plan has customized pricing. You can save 20% by paying annually.
---
Supported Platforms: Android, iOS, Web, and Browser Extensions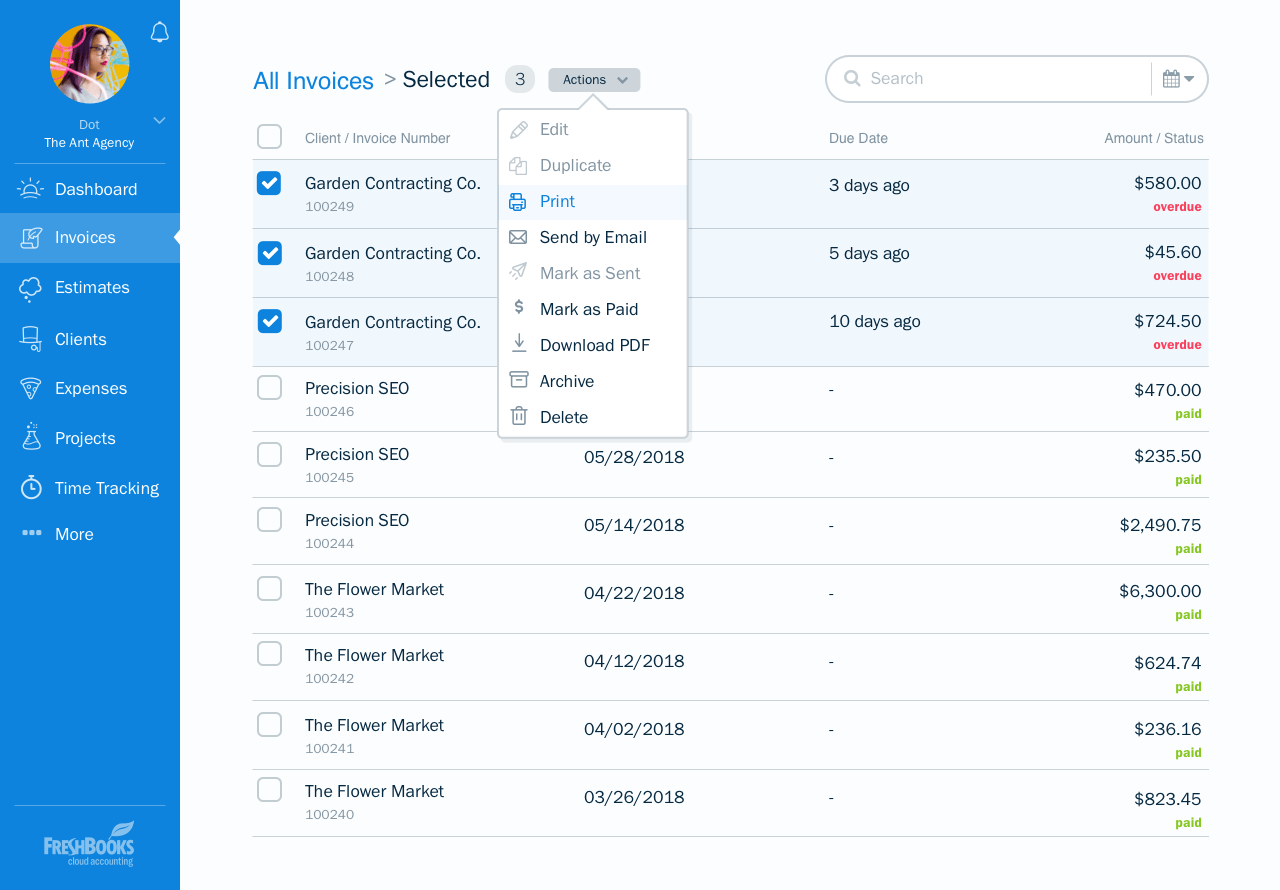 FreshBooks is an all-in-one invoicing and accounting solution that also includes time-tracking functionality. You can use this cloud-based app via a computer or mobile device. The business software industry considers this as one of the best time tracking apps.
This is a full-featured time-tracking app. Reports can be generated to show the user how work hours are being spent through tracked sessions. Freshbooks also has a detailed collaborative team use.
Clients can pay the bills they receive through FreshBooks, and this feature is simple and easy to use. If clients do choose to use this option, the income will also be tracked by FreshBooks as well. This gives a lot more insight into the financial health of the business.
Key Features
Invoices can be paid as soon as possible, once they have been created.
Credit cards can be accepted online via your invoice, and get paid quickly, securely, and hassle-free.
After tracking your time, you will be at ease that you are reporting the right billable hours, and will receive the correct amount.
There is no worry about accounting processes since the payments are recorded automatically.
Photos of receipts can be snapped using your mobile phone, that way expenses on the go can be saved.
This app has made it easy to save all of the business communication from one place.
All your devices can be synchronized seamlessly and safely. You can track your business and make tax management, time tracking, and business accounting easy
Pricing
Lite: at $15/month along with 5 billable clients
Plus: at $25/month along with 50 billable clients
Premium: at $50/month along with 500 billable clients
Select Custom pricing, and contact sales for inquiries, for 500+ billable clients.
---
Supported Platforms: Windows, macOS X, Linux, Android, iOS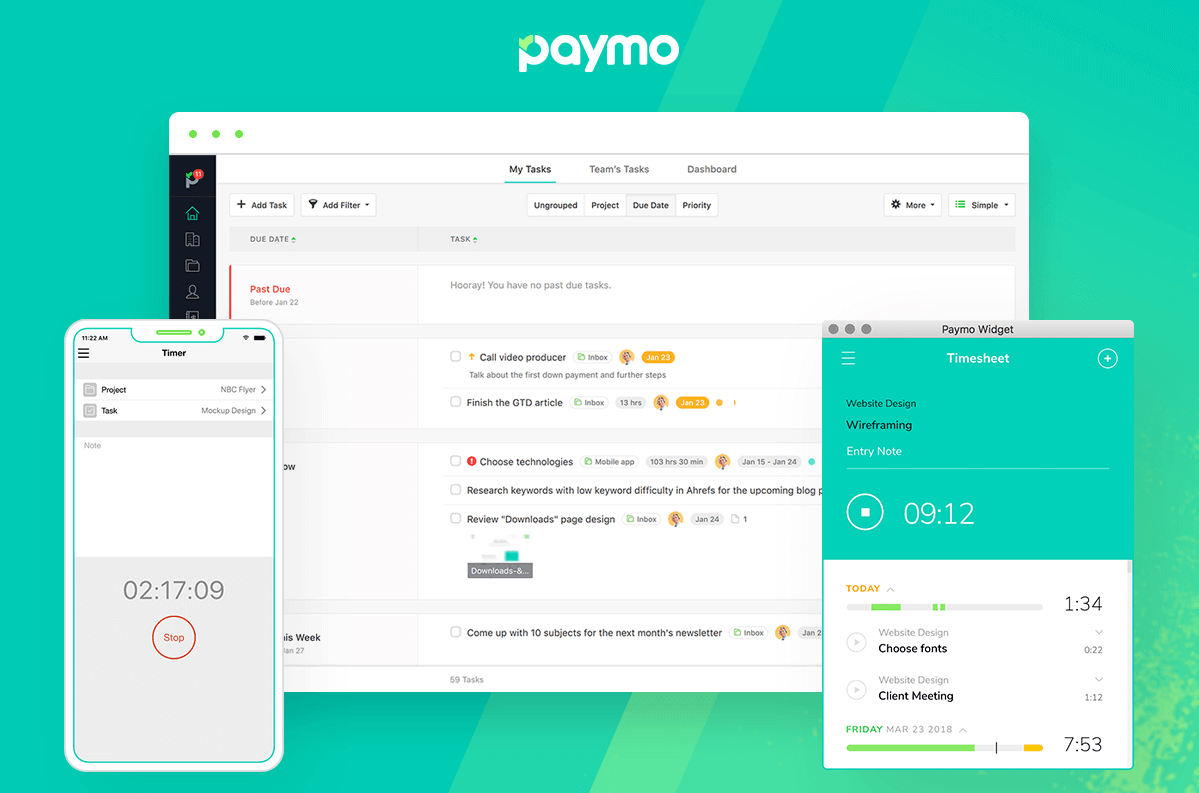 Even though it is a strong project management software, Paymo has some reasonably good time tracking features letting it make it to the online time tracking software list.
Paymo has necessary features that help track the time that is needed for various projects. This is done through automatic web timers, calendar-style timesheets, and much more.
This software is great for project-based businesses that need to manage teams throughout the project cycle since it is intuitive and up-to-date with work trends. Projects can be planned and scheduled ahead of time, team collaborations and file sharing are easy, seamless time tracking, and helps the team stick to the budget.
It is a simple yet smart solution for time tracking. Just in case you forget to start the timer, Paymo lets you keep track and put in time entries manually.
Paymo happens to be a work management app, which has time tracking, accounting features, and other fully functional features that help you manage projects from start to end.
Key Features
Time entries can be managed by adding bulk time or importing them straight from the bookings. You can view and manage the time entries based on daily, weekly, monthly, or the set agenda.
Reports can be made based on the time tracked, this allows for you to get a more thorough view of how your team spends their time. The reporting hierarchy can be devised from flexible grouping and subgrouping. And for more personalization, the project status supt can add in task and project IDs.
Invoices can be generated about the total time spent on expenses tracked, projects or tasks, and even the estimates created for clients.  Invoices can be made from scratch, and payment gateways can also be integrated.
The web timer can be used to record the amount of time used on tasks and projects. All of the time entries shall be saved by date from start to finish to help supervise the overall performance.
Has a user-friendly interface and is intuitive, allowing users to operate the app with ease.
Timesheets generated can be converted into invoices and help in the easy billing of clients. These invoices can also be cloned to avoid the hassle ogenerationsal generation again and again
The tool also facilitates expense tracking. You can easily add and track expenses associated with individual projects and tasks and add them to invoices
Pricing
There are 3 pricing plans you can choose from according to the size of your business and the features you might need:
Free: The cost is free to use, however, only for a single user. Includes simple to-do lists, Kanban boards, meta Kanban and time tracking. Added features are offline time tracking through desktop & mobile apps, Adobe CC Extension, reporting features, file sharing, 1GB storage, community support, and more.
Small Office:  The cost is $11.95/user/month. Features include: invoicing, estimates & expenses, advanced task management, a dashboard, project templates, and 50GB of storage space.
Business: The cost is $18.95/user/month. Features include resource scheduling, Gantt charts, Portfolio Gantt charts, online remote assistance for queries, and unlimited data storage.
---
Supported Platforms: macOS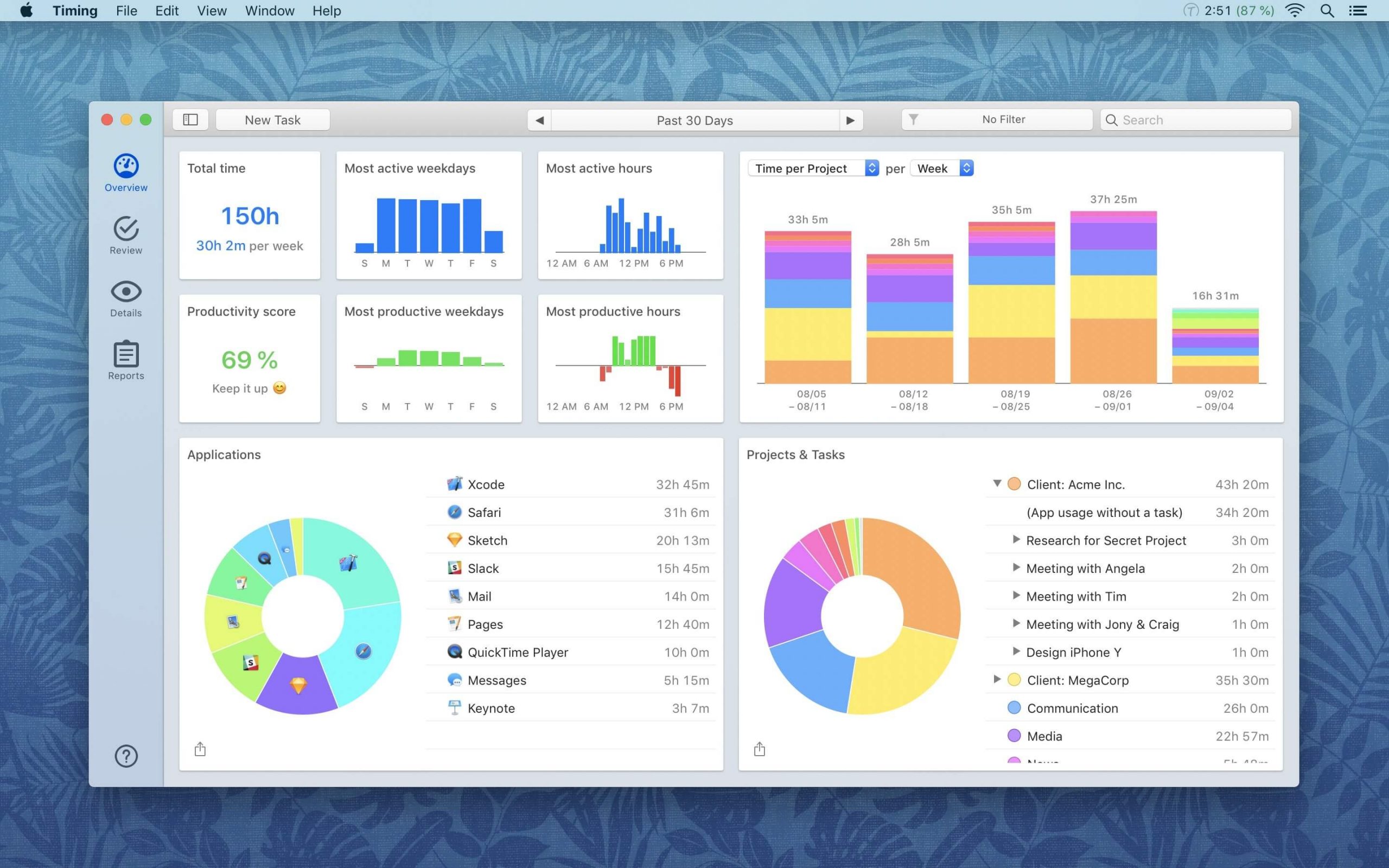 If you're a Mac user looking for a standalone time tracking app that works offline, then Timing might be just what you're looking for. Best automatic time tracking app for Mac users.
The app tracks your software and website usage on a timeline, which can then be automatically grouped and logged as part of an ongoing project.
This makes it easy to discover how long you've spent working on various projects. Even when those projects include using multiple websites and apps.
You can create child projects within larger projects. And even can create rules for identifying app and website usage as they pertain to your workday.
Everything abousimpleraightforward. There are an optional web app and online sync, but Timing can be a wholly offline experience if you want it to be.
Having a responsive, modern, and clean app that runs natively on macOS is appreciated when so many time-tracking apps rely on a one-size-fits-all web app.
Key Features
View calendar events and other meetings directly on the timeline, which lets you assign the projects and also bill them with a couple of clicks.
Timing's dashboard lets you see the overall view of how your time is spent and spread out throughout the projects and apps.
There is a time tracking widget on the menu bar, which shows you how productive you are being in your Mac's status bar.
There is a calendar integration feature, which lets you assign events immediately. This is great for meetings and bill payments.
You can also sync tracking data throughout all the Macs used, this way you will never forget to log the hours used while on the go. The data is also safely stored in the cloud, so you never lose it.
Timing has a web API that connects you to the project management systems and existing billing.
Pricing
Timing does give three price plan choices for different types of users.
Productivity:  The cost is $3.5/user/month billed annually. This is plan is useful to those who would like to know how they utilize their time while working on the computer. The sync runs every ten minutes.
Professional: The cost is $5.5/user/month billed annually. The features it has are: tracking offline tasks manually, timers, reporting templates, and strong data export options. The sync runs every five minutes.
Expert: The cost is $8/user/month billed annually. The features it includes are API and Zapier integration, automatic invoicing plugin, calendar integration, customizable reports, and given priority support. The sync runs every three minutes.
---
Supported Platforms: macOS, Windows, Linux, iOS, Android, Chrome, Firefox, Brave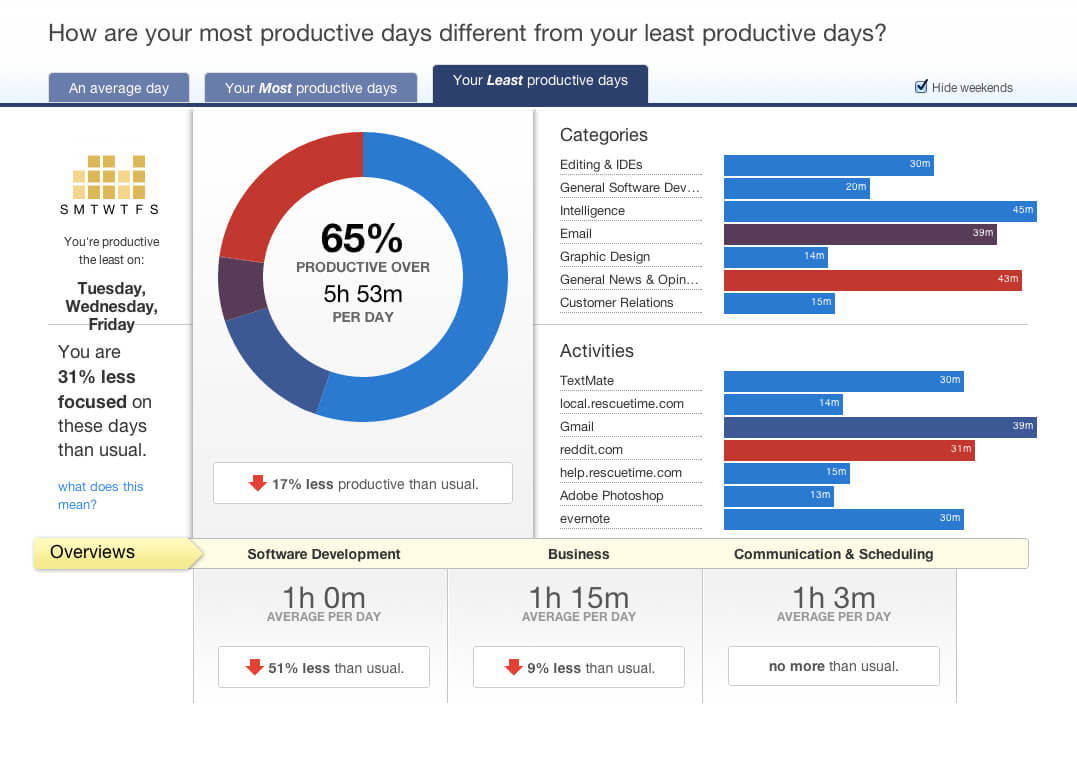 If you want software that is the best set-and-forget time tracking app, then RescueTime is the one for you. To improve your productivity, it blocks distracting websites and helps you set your goals while tracking your time.
It is an automatic time-tracking app with a version available on practically every platform. Before you start using RescueTime, you have to first install a small monitoring app on your computer.
As you work, RescueTime runs in the background to note your computer usage. That data is then sent to the RescueTime servers and you can view it on the web-based dashboard.
Key Features
The progress of your productivity appears on a dashboard, sent in a weekly email report, and goals report. This helps you track and tweak productivity goals.
It also shows which applications and websites your team or you spend the most time on. There are additional reports that show the time based on various categories, for example, your productivity, and if the set goals were met.
The activities are classified into current categories, which focus on the productivity scores for many websites and apps. A weekly email is sent that sums up your productivity levels to help you increase efficiency.
Add perspective to the number of finished activities achieved every day. Not only will this motivate you for tasks in future tasks, but you will also have data regarding your work trends.
You can set goals for yourself allowing you to view your progress within the time-bound.
RescumeTime has a distraction blocker, which sends you alerts if you accidentally lose focus from work. For example, non-work-related websites can be blocked to increase productivity.
It helps track your time and helps you adjust your life and working hours so you don't work overtime.
Pricing
RescueTime offers three pricing plans:
Lite: The cost is completely free. Has features such as time tracking that can be done on websites, apps, desktops, and mobile devices. Users can set goals, and receive weekly email reports, and 3-month data history for a more detailed view of how time is spent.
Premium: The cost is $6/month. It has Lite features, including more advanced features such as: customizing work hours, setting goal alerts, and blocking distracting websites. A log of your daily accomplishments can be kept, receive detailed reports, and unlimited report history.
Organizations: The cost is $6/user/month. It has Premium features, including team-level productivity trends, key tools, reports, detection of inefficient procedures, and total employee privacy.
---
Supported Platforms: Android, iOS, Linux, macOS, Windows, and Web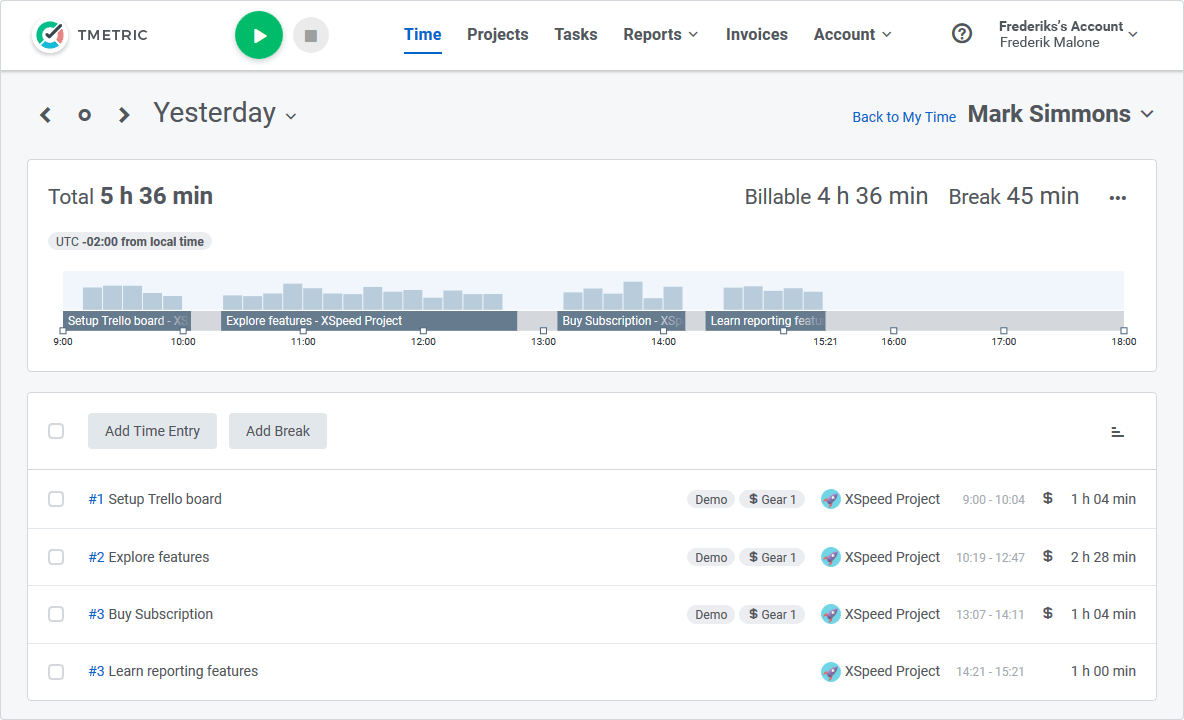 TMetric is a time tracking app that is best for freelancers and small teams. It is a bit of an industry lightweight but still provides good features. You can track time, set budgets for projects, make invoices, and even forecast profits all through this app.
It lets you keep track of your time utilized throughout the day. It logs in the work hours, break minutes, attendance, and days off to increase the employee's productivity.
After a budget has been made for a project, you can track the project development costs to make sure your expenses don't exceed the set budget.
TMetric is an affordable software that allows the user to track time via all the apps on the web, desktop, and mobile.
The reason we believe it is great for freelancers and small businesses is that they don't have heavy invoicing requirements and they can just focus on tracking time for tasks.
Key Features
Time tracking starts with just a click. Activate the timer when you start working, and then the timer will track every minute that is spent on the tasks and projects
TMetric doesn't just track your work hours but also takes account of how much time you spend on breaks. This is great for productivity assessment.
An engaging and motivational work feature is that the linear timeline for the day is filled with color as you continue. When breaks are taken, those periods appear in white.
Your workspaces are kept in check, by integrating your favorite project management apps with ease.
TMetric tracks employee productivity accurately by breaking down the time they have spent using apps and run a thorough analysis by tracking their working habits.
The pricing plans can be adjusted according to the team size and needs.
Paying members to have access to lightweight invoicing tools. Invoices can be generated for the client through the time logs, and they can customize what appears as line items.
Pricing
TMetric offers a 30-day free trial, and a credit card is not needed. The plans are below:
Free: This is free of cost. The features are time tracking, web app integrations, unlimited projects and clients, and reporting.
Professional: The cost is $5month. It has all the Free plan features, including money tracking and billable rates, project budgeting, invoicing, and task management. Employees are also given activity levels.
Business: The cost is $7/month. The features it has are website usage reports, screenshot captures, client logins for report access, tracking for paid leaves, employee payrolls, and permissions for time tracking. It also allows time-sync apps such as QuickBooks, Jira, and Redmine.
---
Supported Platforms: Android, iOS, Web, Windows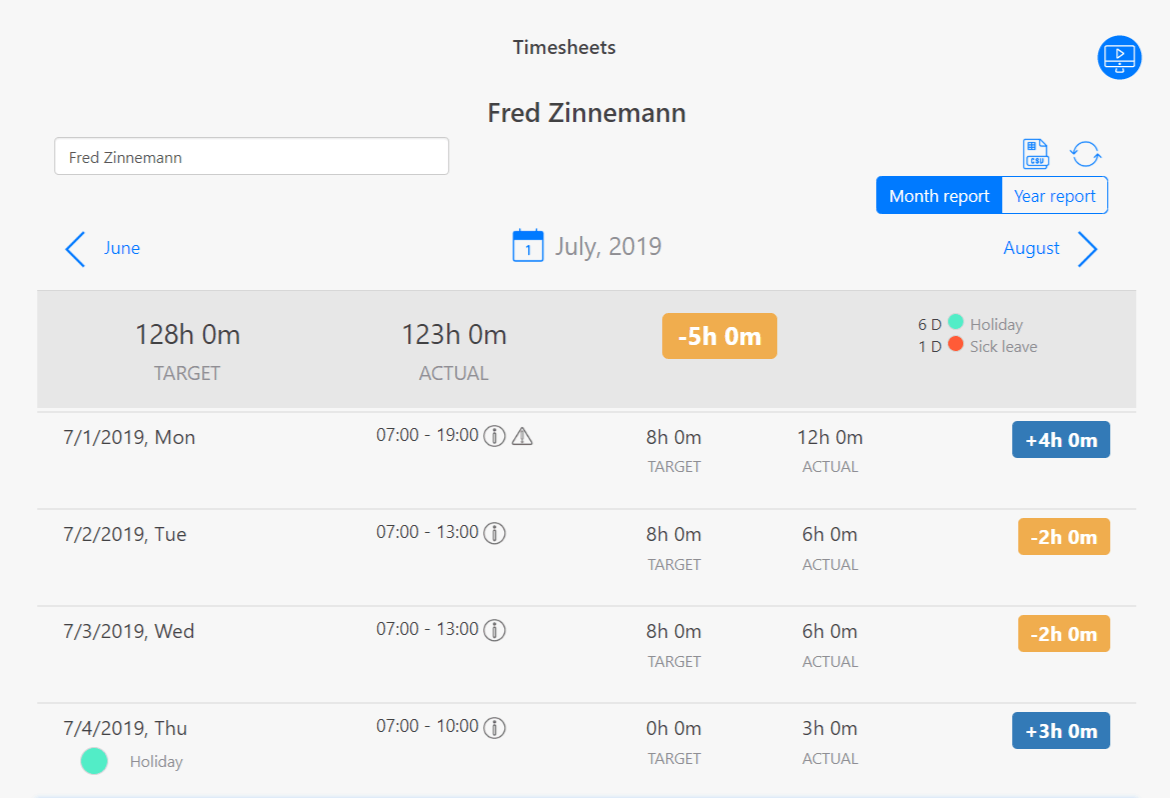 TimeTrack is a powerful contender as a time tracking software but not a very well-known one. Apple recognizes it and has more than 100,000 users around the world.
It is an efficient time tracker and invoice generator, which improves your time management and helps you save time! TimeTrack makes professional time tracking and invoicing extremely easy to use that even a novice can use it. Its user interface is intuitive which makes tracking work hours simple.
A tool with great flexibility and a time tracker that adapts to your way of working.
Key Features
TimeTrack has been consistently developing its software for more than 6 years now, which makes frequent and timely bug fixes and updates regularly done.
You can start your timer on one device and if you start working on the next one, TimeTrack continues work hours tracking. For example, you can start the timer on your Apple watch and switch to continue working on your Mac.
The user doesn't have to worry about manually synchronizing all the data since TimeTrack does it automatically in the background.
One of the best features that Timetrack has is that it monitors project costs.
TimeTrack generates invoices quickly and sends them to the clients, which keeps track of the costs and the payments released. It's a great way to keep everyone on track.
Pricing
TimeTrack offers plans for personal use, individual contractors, self-employed people, and entrepreneurs:
Premium Packages
Free: Logs 30 entries and has basic time tracking features, and customer support. It comes with advertisements and popups.
Pro: costs $2.99 (one-time fee). This version comes with no limitations, no ads, and no popups. Along with all features and priority support.
Cloud: costs $34.99/year or $4.99/month. It comes with a 14-day free trial. It offers real-time synchronization and max. Security with 256bit encryption. Also, synchronize an unlimited no. of devices and access to the fast web app. Along with Prio 1 Support.
Enterprise Packages
Standard: $4 per user/month, paid annually. This package offers attendance tracking, project time tracking, and expense tracking. Comes with user rights, mobile apps, and web apps.
Premium: $8 per user/month, paid annually. This plan offers everything from standard package and project analysis, to planning, and performance. Also, management reports this all comes with 14-days of a free trial.
Gold: $10 per user/month, paid annually. This plan offers everything from a premium package and invoicing. Along with invoice templates, and integration with other systems. All future features with a 14-day free trial.
On-premise: $4 per user/month or $300/user for a lifetime license. TimeTrack on your server or a private server, reserved only for your company and custom development to fit 100% of your requirements. It also offers integration with in-house systems, individual SLAs, and Support.
---
Supported Platforms: Web, Mac, Linux, Android, iOS, Windows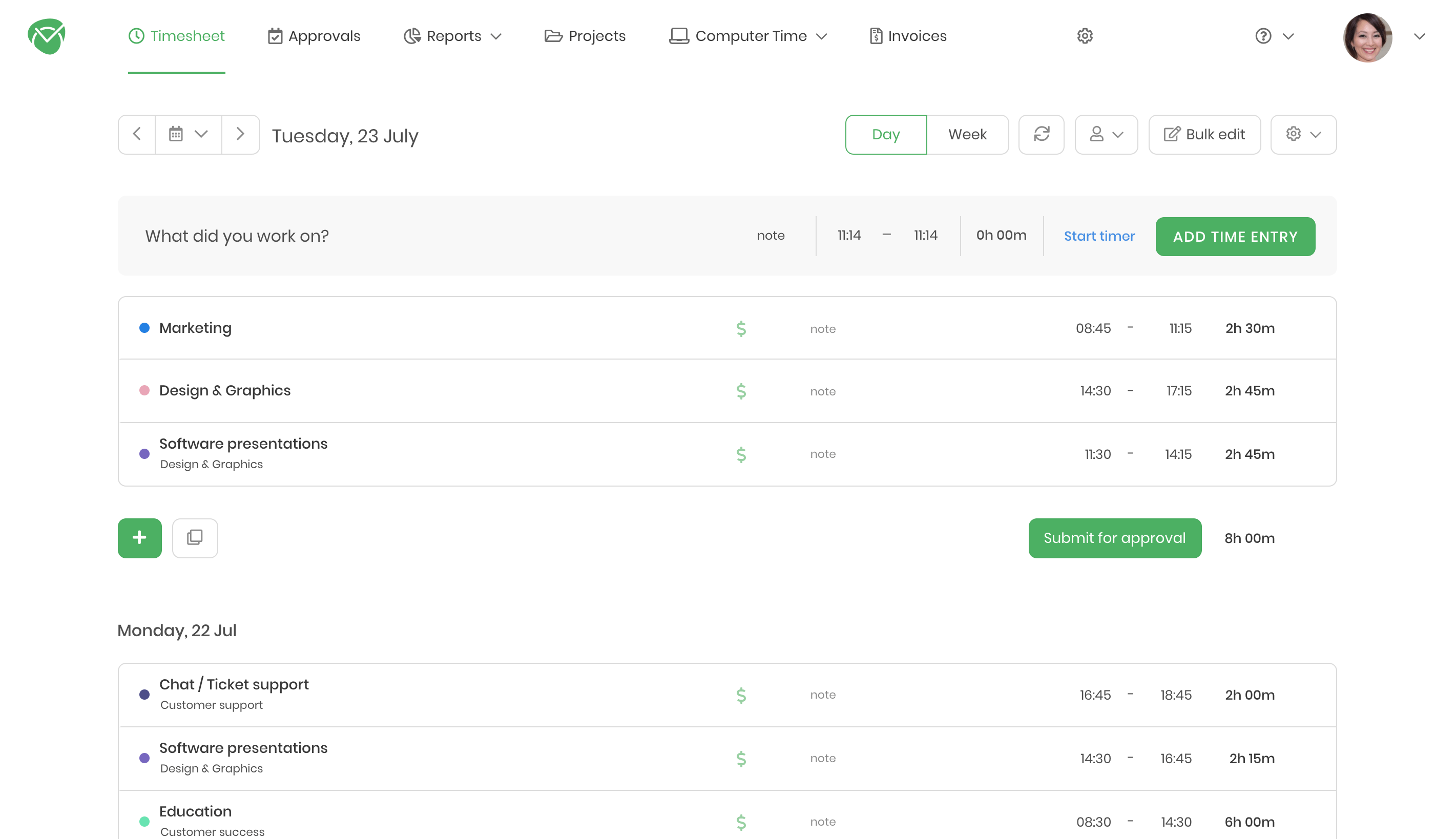 As a time tracker app, TimeCamp's purpose is to make sure the user improves their productivity by tracking their billable work hours. Not only is it a time tracking app, but also an invoicing app with strong app integrations.
TimeCamp is known to be a manager's dream come true and sometimes an employee's worst nightmare.
We genuinely think that this is one of the top time tracking tools. Especially if your organization is a stickler for attendance, time spent on projects, and other activities that occur during the day.
TimeCamp lets employers track the hours an employee puts in, manages the billings, and does customer invoice generation. Notifications are also received on different updates including when the client has viewed the sent invoice.
The project management cycle is more efficient, and productivity reports increase motivation by showing the time spent on projects and tasks.
Key Features
Has an automatic billing option for users with one click. The billing feature has a graphical timesheet, subtasks, notes, budgeting, income calculation, and much more.
There is flexible reporting for the projects that shows project profitability and history.
Apart from attendance and time off can also be tracked, which lets you analyze attendance and leave periods. This also includes days off and holidays.
Income can be calculated by assigning billing rates to various projects or people.
There are a variety of templates to choose from, which can be done by tasks, users, attendance, date, billing options, etc, and much more.
There is a feature that lets the manager approve timesheets, set goals per team or teammate, and receive emails with weekly summaries.
Receive a complete analysis of when the team began and completed the task/project. This helps keep checks and balances with every team member's responsibilities, allowing compliance with the company's rules and increasing accountability.
Pricing
TimeCamp has 4 pricing plans to choose from:
Solo: The cost is for only one user only, and has the standard time tracking features.
Basic: The cost is $7/user/month or $5.25/user/month for annual payments. Has no user limit, time tracking, integrates your favorite apps, billable time, and budgeting.
Pro: The cost is $10/user/month or $7.50/user/month for annual payments. Has all the Basic plan features including invoicing, timesheet approvals, scheduled reports, and much more.
Enterprise: The cost is customized. It has all the Pro plan features and dedicated guidance and infrastructure, and much more.
---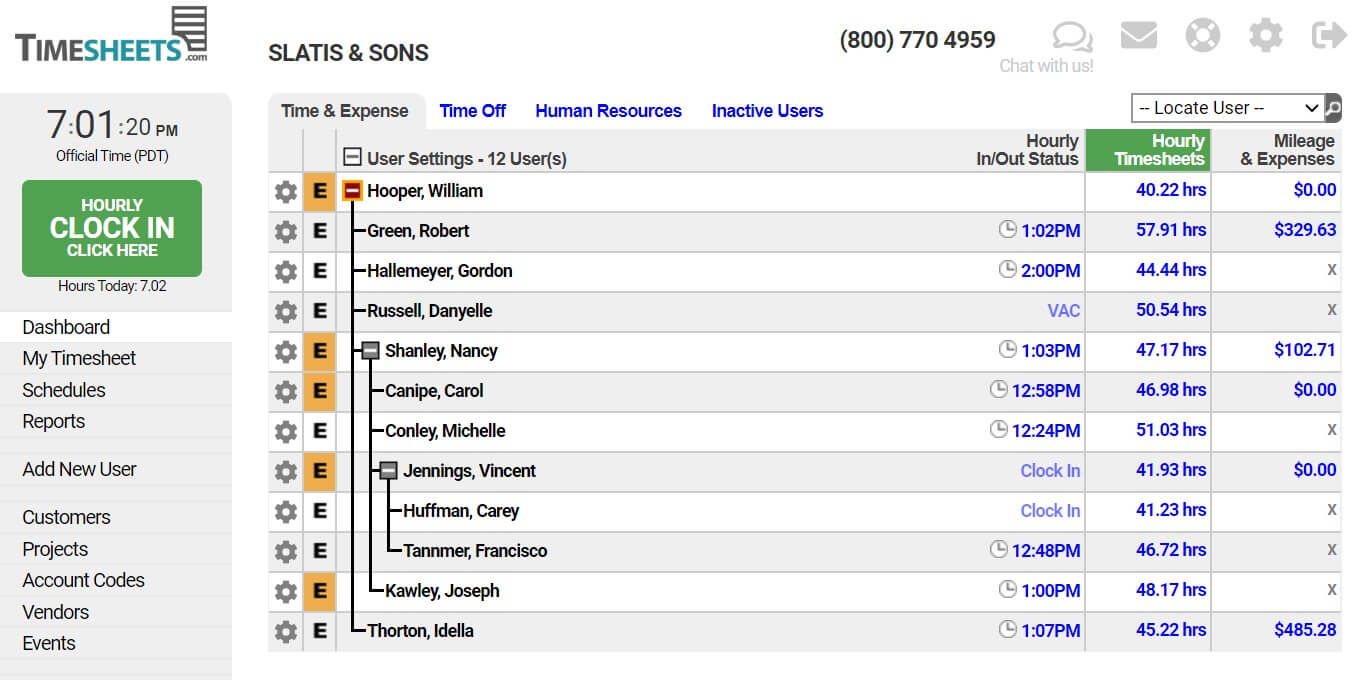 Ideal time tracking for employees and contractors alike, Timesheets.com is our top pick for the best time tracking software this year.
Timesheets.com effortlessly records and tracks time that can then be used for payroll processing, billing, or job costing. There are also other powerful features included inside the Timesheets.com platform such as e-signatures, approvals, overtime/time-off tracking, and more.
This online time tracking tool creates an online timesheet for each employee, giving managers clear visibility regarding their attendance, time spent on tasks, workdays taken off, and more.
There is also GPS tracking that you can use to keep track of your remote employees. Whenever they reach a particular location and clock in or out, Timesheets.com uses Google Maps to present location data along with clock-in and clock-out details.
Timesheets.com provides multiple time logging/entry options, allowing workers to enter time any way they want. Your team can punch the clock, make manual time entries, or use timers to track jobs in real time.
For time tracking software, we found Timesheets.com to top the list with a comprehensive feature set, providing solutions for time tracking, reporting, and billing.
Features
A fully functional time tracking software that can track the time spent on tasks by each team member.
Auto-generated reports can be shared for invoice payments, payrolls, project costing, etc.
User permission settings are customizable so your team only has access to what is needed without compromising security
Flexible time entry options – use manual time entries inside timesheets or use the timer to track progress in real-time
GPS tracking capabilities to monitor your staff's clock in and clock out locations
Approvals from supervisory staff before timesheets are forwarded for billing/payroll
Time off requests, approvals & tracking, overtime tracking, and accrual management features ensure all hours are accounted for
Highly customizable according to customer's needs – track all hours worked or follow work hours schedule
Easily set rollover values or implement use-it-or-lose-it rules for employees' time off balances
Track all sorts of employee-related expenses – mileage, mobile expenses, bonuses, commissions, per diems, and more
The built-in HR management module helps keep all key employee information as well as timesheets and billing details in one place
Pricing
Freelancer: Free of cost. Track your own time spent on tasks and expenses. Only for personal use.
Standard: At $4.5 per user/month, for both small and large teams, includes the complete feature set for Timesheets.com
Nonprofits: At $3.6 per user/month – a special discount opportunity for NFPs, includes the complete feature set for Timesheets.com
---
Supported Platforms: Android, iOS, Mac, Windows, Linux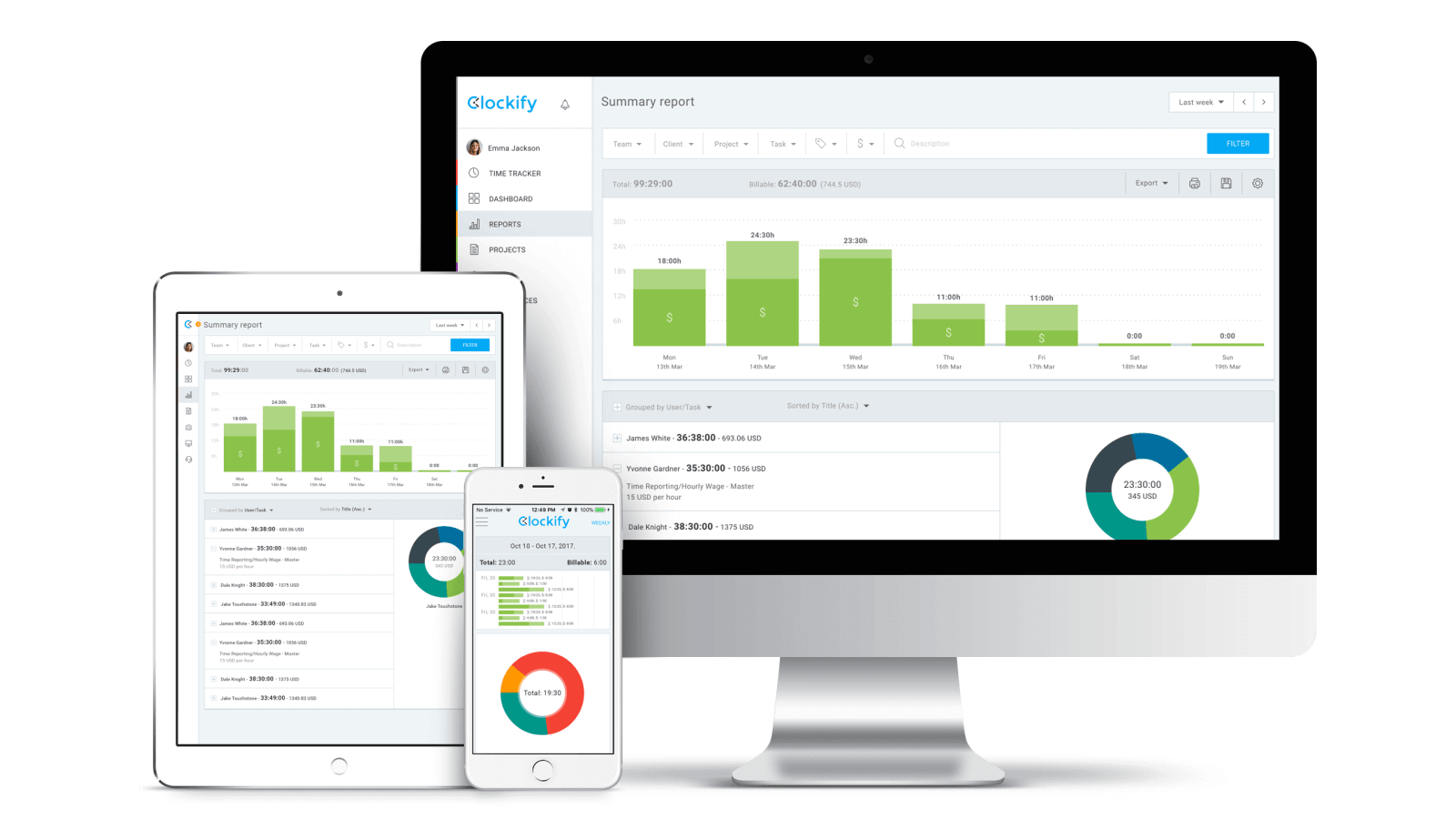 Clockify is a free time tracking option for teams. Its timekeeping features include a timer, timesheet logging, and the ability to mark billable hours vs. those that are not.
When it's time to generate reports, you will get visual breakdowns, sharing features, and the ability to export to PDF, CSV, and XLS (Excel).
Clockify offers a time tracking app that makes time tracking a breeze. You do not need to use different tools for tracking projects and timesheets. With an online timer, you can assess the time taken by activities whereas you also get to enter time manually for tasks.
Plus, you get to categorize how to track time for projects, through projects, tasks, clients, or billable hours. All of these reports can be shared externally through exporting or printing.
The interface is clean with easily readable colored graphs based on the tasks. It is a complete-time tracking software and the best part is it is 100% free.
Key Features
Clockify shows all data insights obtained from your time logs in easy-to-read visual reports
The billable hours are broken down and the reports can be customized according to your individual preferences
If you have been managing a large team, Clockify helps you specify the individual hourly rates for each team member and see their time usage
You can set up an online timer to track work hours, log the time, and edit time entries in a timesheet. You can also track projects by categorizing time by client, task, project, and billability
Set hourly rates for hours and payroll calculation, group, and filter out time logged. You can also save these reports to share them with clients either through printing or exporting them as timesheet data
This tool can be used as a mobile app both on iOS and Android and as a desktop app for Mac, Windows, and Linux
Pricing
Clockify is free to use and the software supports an unlimited number of projects and users.
---
Price: from $2-$4 per employee/month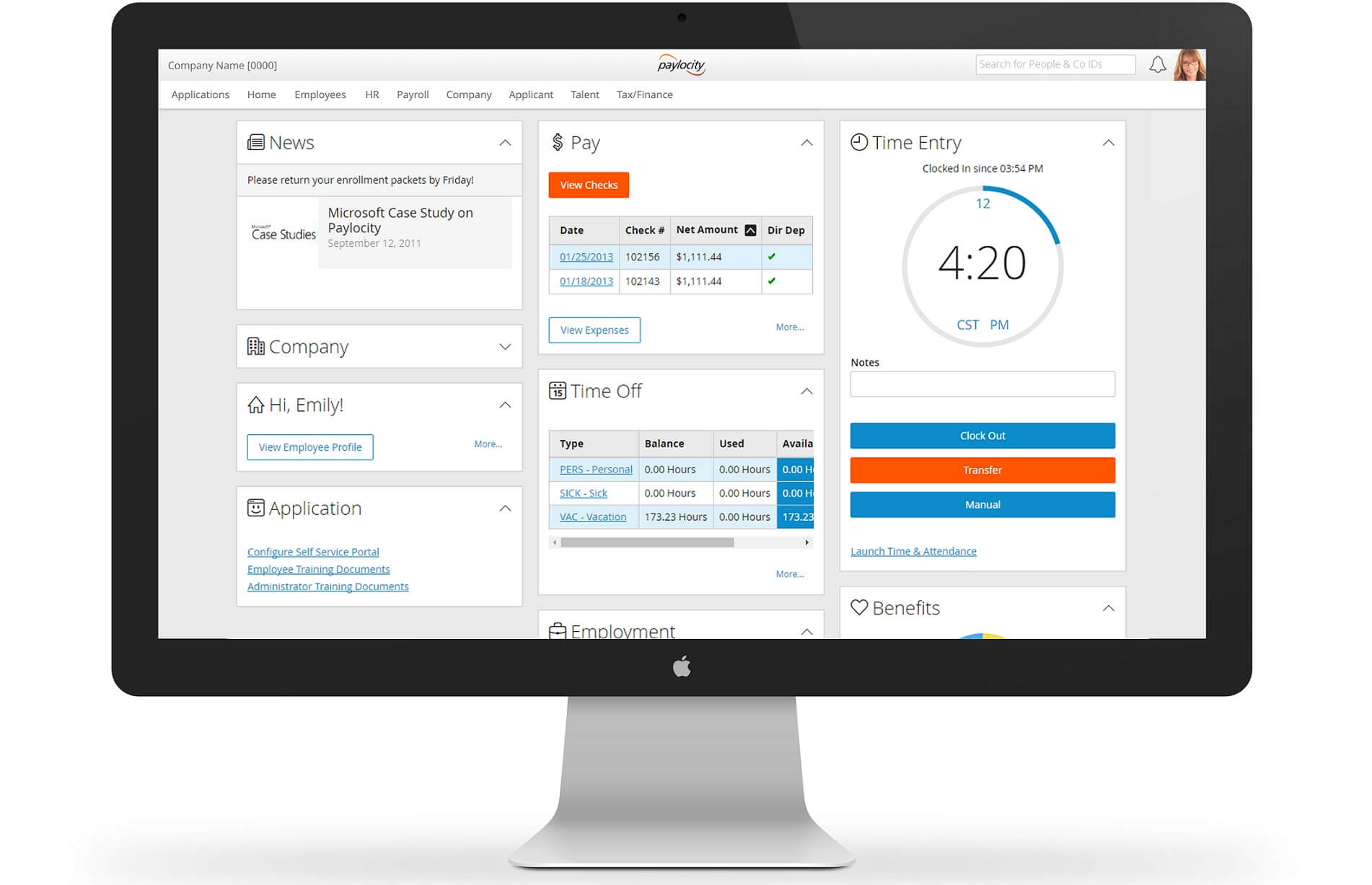 Paylocity focuses on providing comprehensive time tracking tools that deliver useful data and information to managers and their staff. This app helps you keep track of when you will get paid, enroll in benefits, pay stubs, and request time off.
But that's not all – its user interface provides simple navigation, making the app super easy to get used to and perform all key processes in a matter of minutes.
Time tracking apps often contain data that is often subject to confidentiality. Because of this, Paylocity shields its users with top-notch security features, such as Biometric functions and SSL encryption.
Moreover, it contains a unique feature that flows first-time users right to the onboarding screen and reduces the amount of work required for HR by allowing the candidate to input all relevant information.
To use the Paylocity app, you need to be a prior registered customer with authorized user credentials, so make sure to sign up for Paylocity before downloading the app.
Key Features
Clock in and out from anywhere in the field or from designated areas with geo-fencing support and historical map views
Conveniently stay current on company news and announcements and access company links and acknowledge documents
Receive push notifications when Time Off requests have been approved or checks are available to view
Create Journal entries and submit expense reports
First-time users access the onboarding screen initially
Submit, view, and approve Time Off requests with real-time push notifications
View and approve Impressions badges for direct reports, along with time cards
Biometric functions (Touch ID and Face ID) are available for secure quick logins
All activities performed will be encrypted and routed safely to secure Paylocity servers
Pricing
Both iOS and Android apps are free to install, however, in-app purchases start at $2 per employee. If you're going to use the Web Pay tool, it will cost $2 to $4 per employee per month.
To learn about the pricing applicable to your company, contact the Paylocity support team to request a quote.
---
Price: from $7.99 per month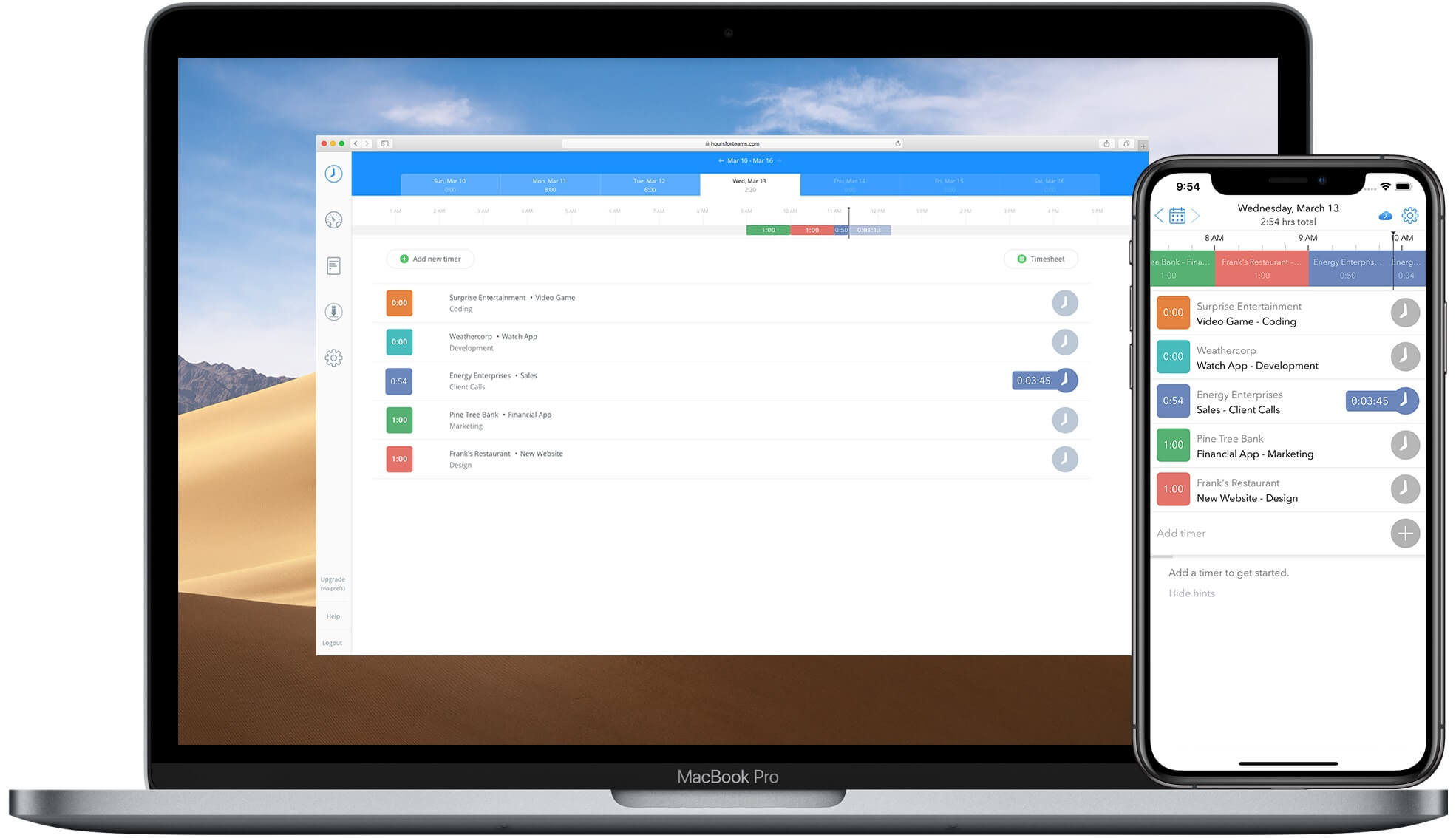 Sometimes all you need in an app is the essential feature that does the job for you, without having to go through any intricacies. If you're a freelancer or a small team with less than six people and do not need any advanced features or integration with other apps, then Hours might be the app for you.
It cuts all the clutter that lets you manage your time better without hassle. Hours has a timer page, that at the very top shows a timeline view of your day, with spanner bars for different tasks that are color-coded to their project.
If you want to adjust the time tracked for a task, simply pull or push the ends of the spanners. You can also manually edit the time on the list. This intuitive graphical representation makes it very easy to consume and interpret the data.
Hours works perfectly on iPhone and Apple Watch alike. Its interface is crafted by an Apple Design Award-winning design team called Tapity.
The Mac web app seamlessly synchronizes data across web app, iOS and Apple watches so that you can freely switch between devices and timers.
Hence why Forbes has dubbed it "the Perfect iPhone Time Tracking App."
Key Features
Effortlessly create simple timers that track tasks in real-time or use our timesheet option for after-the-fact time entry
Conveniently edit the visual timeline to quickly identify and correct mistakes
Sync your time across multiple devices including Apple Watch and Hours Web
Use Siri to start and stop time tracking
Quickly customize your invoice, add your hours, and even include timer notes
Create Excel export, data backups, and restoration, and choose your company color
Use the visual timeline to swiftly correct entry mistakes
Ability to add bulk timesheets and time-rounding rules
Pricing
Free – New members get a one-month free trial. If at the end of the trial, you choose not to pay for Hours, you can continue using the iPhone app only, without losing any past data, though you lose web access. However, the free version is way too limited.
Monthly – at $8/month, unlimited timers, sync, automatic backup, and simplified timer creation. Additionally, Hours Pro subscribers also get Hours web access.
Yearly – at $8/month, if you choose annual billing, you will be charged this discounted price each year, on the month and day of your billing cycle.
---
Price: $1.99 on iOS; in-app purchases start from $0.99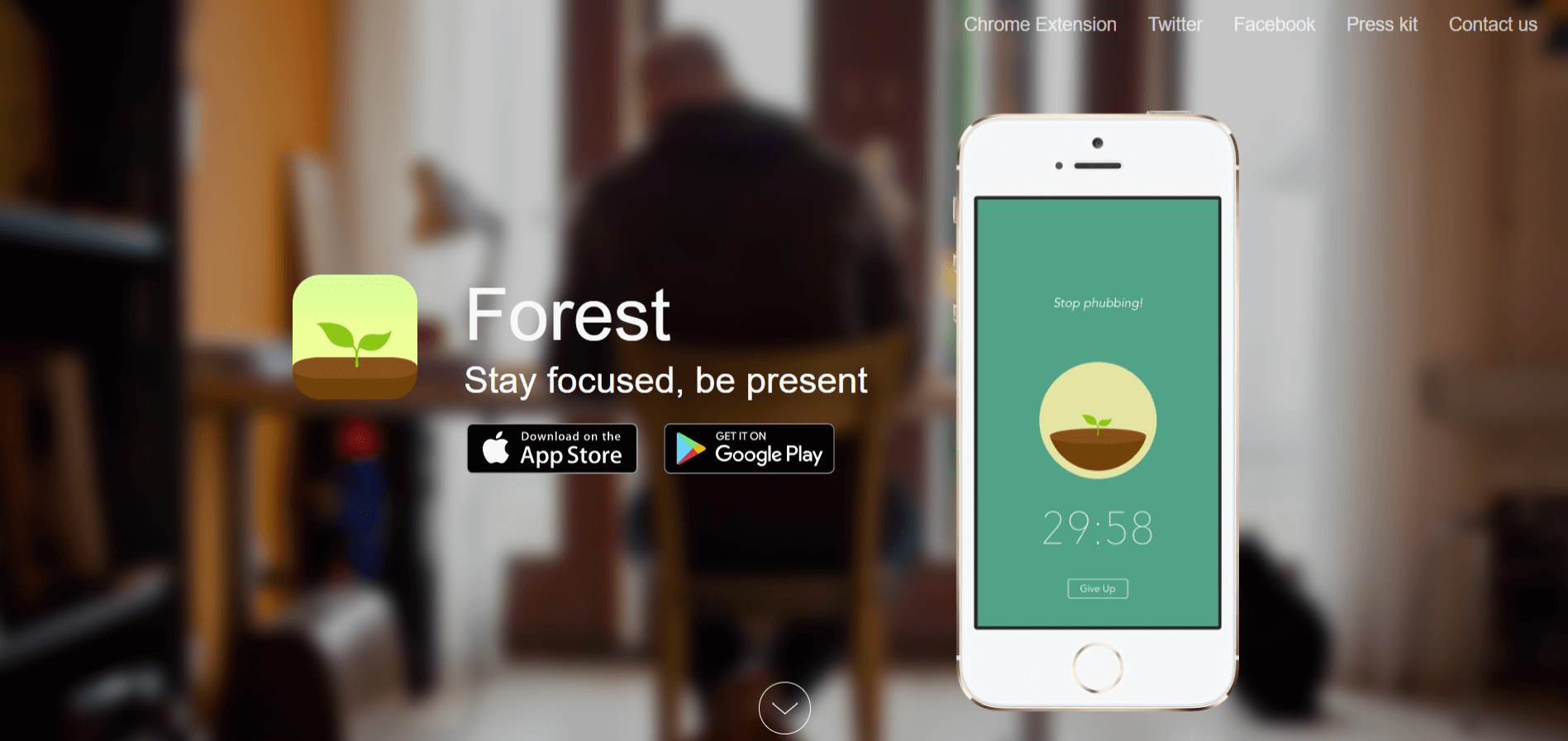 There's more to time tracking apps than just managing payrolls and work hours. In our daily lives, we spend lots of time using our smartphones.
This habit of constantly checking your phone can become an obsession – and even an addiction. So, to give your phone a rather fair share of daily time and focus on nature and productive stuff, take a deep breath and try visiting Forest (excuse the pun).
The app works when you touch the "plant" button, and you'll see a countdown timer starts ticking, beneath a cartoon picture of a small seedling.
Then you have to simply ignore your phone to allow the seedling to nurture into a tree. Each completed session will add another plant to create your own virtual "forest."
Besides tracking your forest's progress, you can also check the statistics to see if your self-discipline is improving.
By using Forest not only that you do yourself a favor, but also help save the environment. Forest plants real trees across the world. So far, Forest users have contributed to planting more than 700,000 real trees worldwide.
Key Features
The Plant Together feature syncs several Forest accounts and challenges everyone to go phone-free at the same time. Even if one person uses their phone, the challenge fails.
The Tags feature allows you to categorize and search your plants by a label, such as Work, Study, Social, Rest, Entertainment, and more.
Keep track of all your performance awards, such as when you reach four hours of focus time.
View detailed statistics of your time distribution based on your tags and activities.
Browse your weekly, monthly, and even your yearly big forest.
Track your focused time in the Apple HealthKit.
Whitelist certain apps and schedule and take short breaks within your allotted growing time.
Pricing
Forest is a free time tracking software for Android users. iOS need to purchase it for $1.99. Also, several in-app purchases help you receive in-game coins per virtual tree planted, ranging from $0.99 to $19.99.
---
Price: free of cost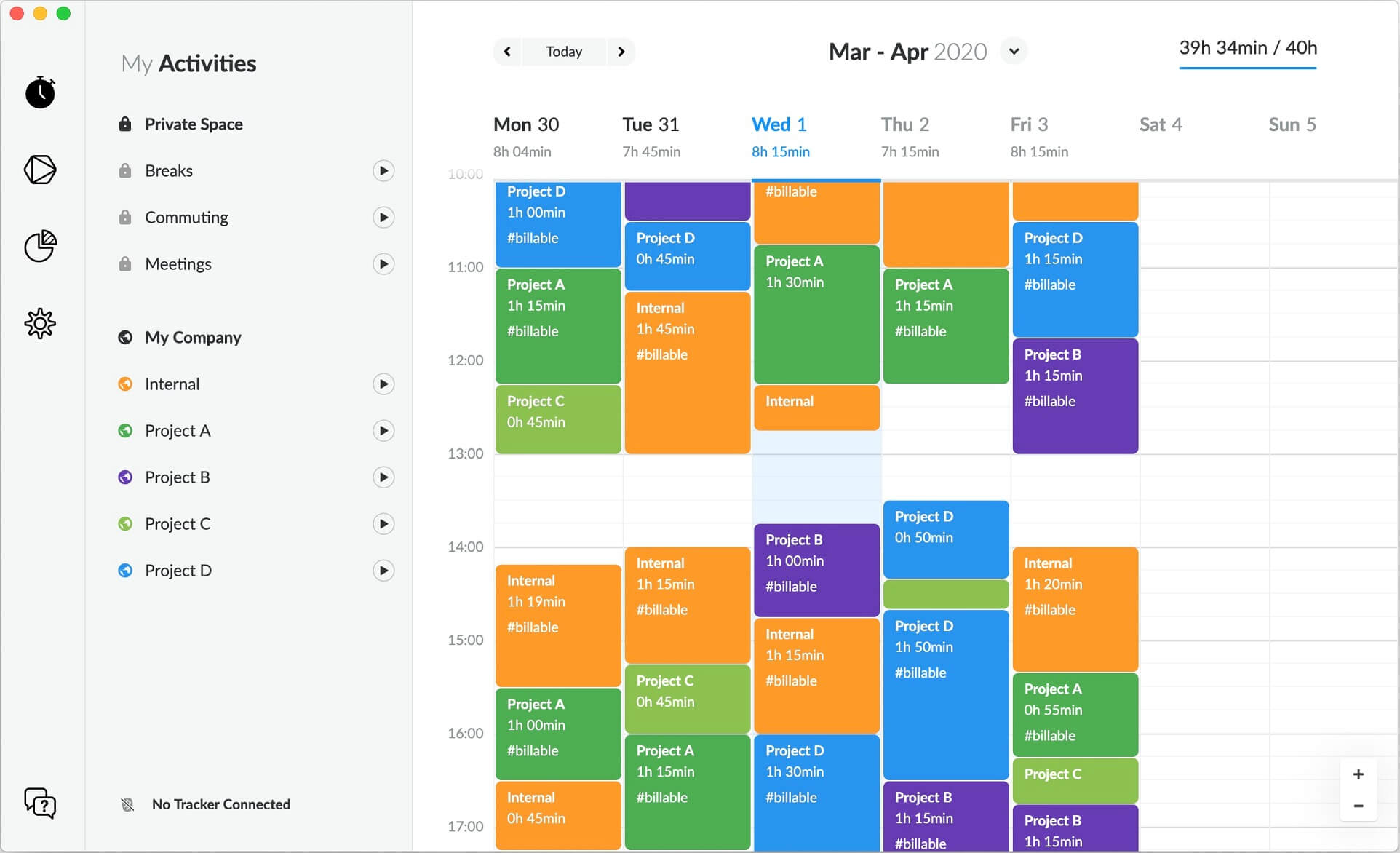 Timeular is the software that runs the Timeular Tracker – a unique octagonal hardware device used for tracking time. This device connects via Bluetooth to your PC or phone.
You can assign tasks or projects to the different sides of the device. Simply place the tracker in a position, such that your current activity's side facing up and the software will automatically start tracking the time. Once you change tasks, simply flip the device to a different side.
Certain time tracker applications require too much attention to keep in mind that you have a tracker running. You may be required to switch to the application, or open your phone and change it.
With a device placed on your desk, you just have to pick it up and change the faces. This way you don't forget to log changing an activity.
This software-hardware combo is a perfect choice for multi-taskers who wish to track up to 8 activities accurately. Moreover, the software application can also be used as a stand-alone solution with the hardware device.
Key Features
Bring activities and time entries to life by adding notes. For those of us that struggle to remember exactly what that meeting was about.
Integrates with other software, such as JIRA, Outlook, Google Calendar, or Toggl.
Real-time two-way synchronization across platforms to boost your workflow.
Manually edit time entries, add new ones, or delete them.
Intuitive graphs to visualize and analyze time allocation.
Detailed and customizable reports on how you spend your time.
Offline tracking to let you continue time tracking if your internet drops. Sync when back online and resolve entry conflicts.
Through API access, write scripts to connect your time entries with any third-party application
Pricing
Timeular App is free to use on both Android and iOS.
---
Price: from $26/user per month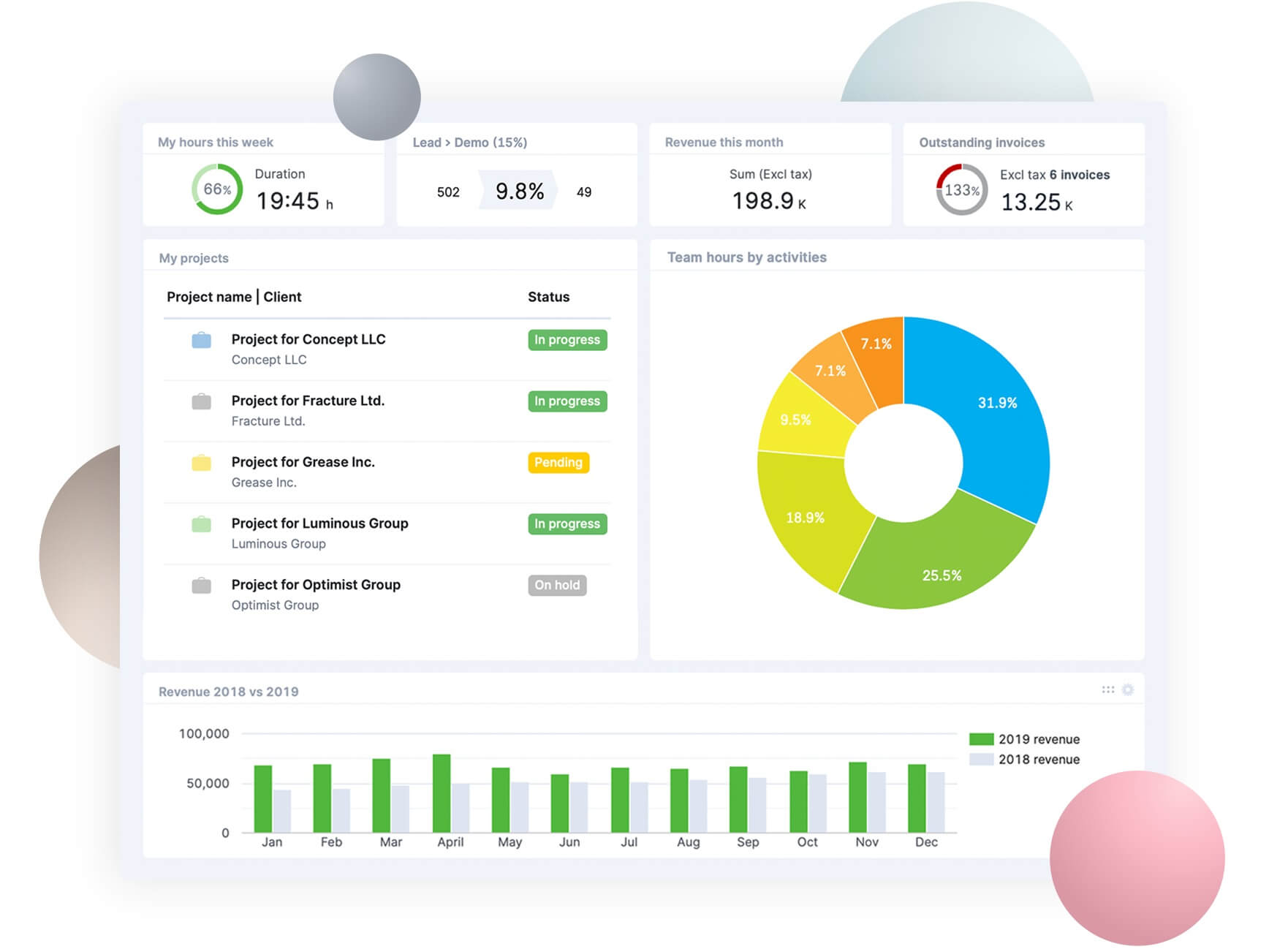 Scoro is primarily a project management time tracking software, but its time tracking capability, as well as, budget and payroll features, make it one of the best time tracking software out there.
Scoro is highly recommended for use in large and corporate organizations that require powerful, comprehensive solutions. Big companies cannot simply rely on only a handful of features, no matter how intuitive or efficient they may be.
A "do-it-all" solution like Scoro can help companies get the best out of various advanced, complex features.
Scoro has various inter-connected modules that provide solutions, including tracking, labor-cost tracking, calendar oversight vs resource, document management, collaboration, projects, tasks, contact management – just name it and most likely they will have it!
And this is a key reason why Scoro is among the top-rated apps in almost every review you would find on the internet.
With Scoro's mobile apps, you can manage your time, track your projects, and see your business prosper. To use these apps, you'd need to be a prior Scoro customer.
Key Features
Scoro's team/project calendar has daily, weekly, and monthly settings that will break down all tasks by an hour and priority
Every Scoro task includes fields that track time spent vs. the proposed time to complete, making the billing process much easier
Create custom fields to manage and track all project resources
Includes a commenting section in each task so team members and project managers can communicate progress throughout the execution
Create and send detailed invoices to your clients based on times tracked in Scoro
Set up and render detailed financial reports in Scoro at any point in the project
The main dashboard includes an entire header of financial widgets that track budgets, expenses, revenue, and individual project incomes
Tasks appear in a simple list view that will help you get things done faster. Completed tasks are compiled into work reports, so you can get a full overview.
Pricing
Essential – at $26/user per month. Task management, time tracking, phases, milestones, billing, invoicing, customizable dashboards, Google Drive integration, Zapier integration.
Work Hub:
Premium – at $37/per user per month. All previous features, billable time, and detailed work reports.
Ultimate – $49/per user per month. All previous features plus client profiles.
Sales Hub:
Premium – at $37/per user per month. All features of Work Hub Premium plus more sales-oriented goals, dashboards, and performance metrics.
Ultimate – at $49/user per month. All features of Work Hub Ultimate plus more sales-oriented goals, dashboards, reporting, and performance metrics.
Business Hub:
Premium – at $61/user per month. All features of Work Hub Premium plus additional insights and reporting on team time, work, sales, and finances.
Ultimate – at $73/user per month. The top-of-the-line package from Scoro offers all previous functionality, limitless customization, work automation, and additional integrations.
---
Price: from $18 per month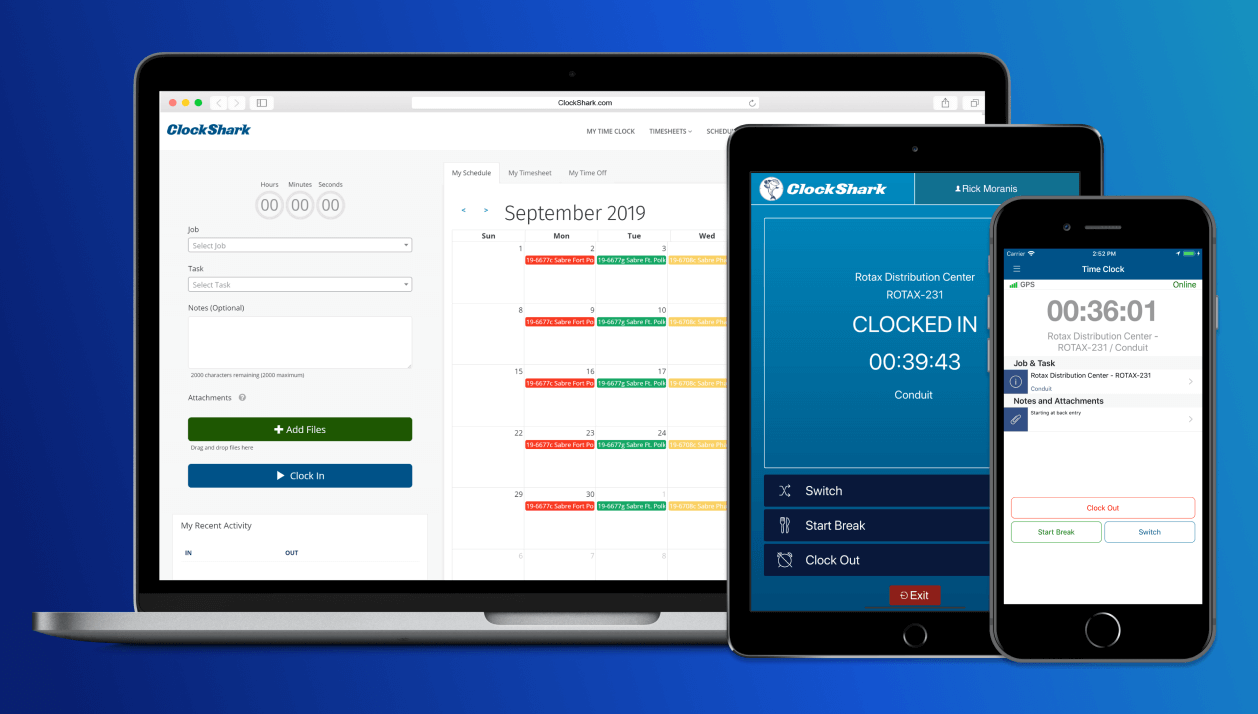 ClockShark is a cloud-based employee time tracking system. This application helps businesses from various industries, particularly the construction and field service to manage their traveling and field workforces.
CloudShark offers time and attendance tracking, employee scheduling, emailed alerts, kiosk time clocks, and more. Their mobile apps work to keep track of their schedules, clock in and out, and attach photos and files for specific jobs directly to timesheets.
Managers can also monitor their employees' locations and get real-time status updates on a particular job. Furthermore, ClockShark features job costing functionalities and also helps users to maintain and manage audit logs and timesheet edits.
Their most unique feature is GPS time tracking with custom geofencing, which gives workers an easier and more accurate way to clock their time.
Key Features
Create PTO plans in less than 90 seconds.
Request time off from your phone and automatically accrue earned hours.
The app integrates well with QuickBooks and other popular payroll and accounting software, including Quick Books, ADP, Zapier, Xero, and Sage.
Get a summary and detailed reporting within a click. Export files and connect to your payroll and accounting systems.
Customize geofence to a job site, see who's working now & replay routes. Best suited for dispatch.
Drag and drop by job or employee directly into the calendar.
Data is always in sync so you can clock in and out from a desktop, mobile phone, or kiosk, and pick jobs and tasks on the go.
Pricing
Free Trial: ClickTime offers a free trial for up to 14 days
Basic – at $3/month per user + $15/month base fee. Time and attendance tracking, basic GPS tracking, job, and task tracking
Standard – at $6/month per user + $25/month base fee. All features of Basic, plus drag and drop scheduling, advanced GPS tracking, integrations, and more.
Pro – at $8/month per user + $45/month base fee. All features of Standard, plus PTO policies and requests, multi-department/office controls
---
Price: from $9/user per month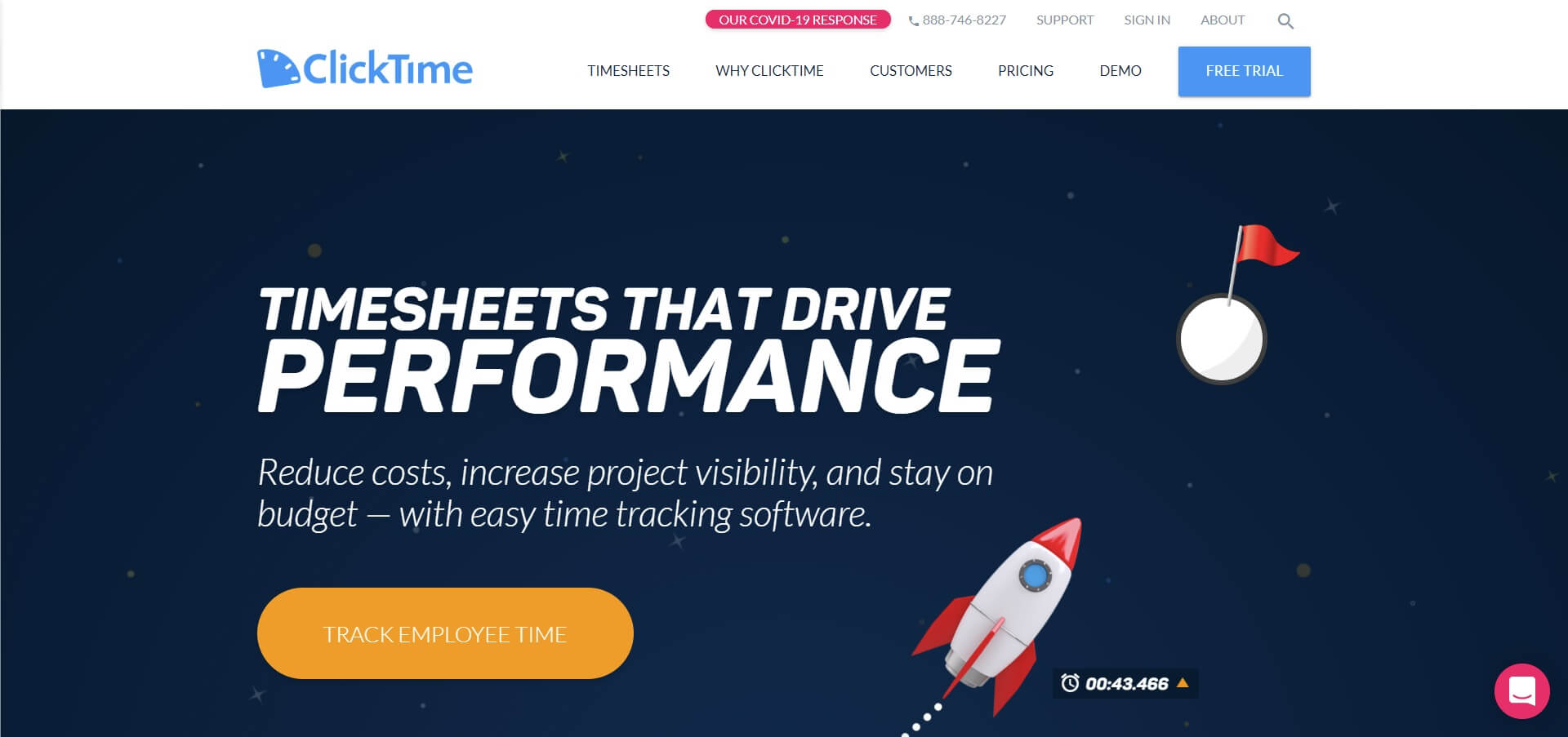 Clicktime is another time tracking software in our list that increases resource and project visibility and helps you stay on budget. This application helps businesses track both billable time alongside employee time usage. You get complete control over your project budgets and receive accurate timesheets.
Moreover, the application helps you to track various statistics in its timesheets module, such as employee time, administration expenses, overtime per employee/project, and time-offs of your employees.
It also allows you to manage project budgets, employee hours, and employee performance. You can also check your progress against your goals for each project and manage your project cost.
Besides native apps for Android and iOS, ClickTime has a web app and a Chrome extension that help you start/stop tracking your time directly from the browser without getting distracted.
Key Features
Provides enterprise-grade time tracking along with expense reporting
Create 80+ different types of visual reports (as graphs and charts) depending on your requirements, such as project budgeting and expense reports, employee timesheets, resources management, billable hours, and several other custom reports.
Daily email notification of work summary and notifications if an employee hasn't completed a workday.
Integrates with various tools such as accounting, payroll management, CRM, project management, cloud storage, Google apps, and several others.
Project Insights feature lets you forecast the time needed for tasks
Integrates with the accounting, CRM, and payroll software you already use
The quick week feature saves you from having to manually copy entries from the previous week
Pricing
⁠Starter – at $9/user per month, the plan includes easy time tracking, 70+ reports, and email reminders.
Team – at $12/user per month, the plan includes approval workflows, advanced billing rates, and time-off
Premier – at $24/user per month, the plan includes project budgeting, resource planning, and utilization goals.
Enterprise – available on a quote, the plan includes single sign-on, named account manager, and custom integrations.
---
Download: iOS | Android app not available
Price: from $19 per month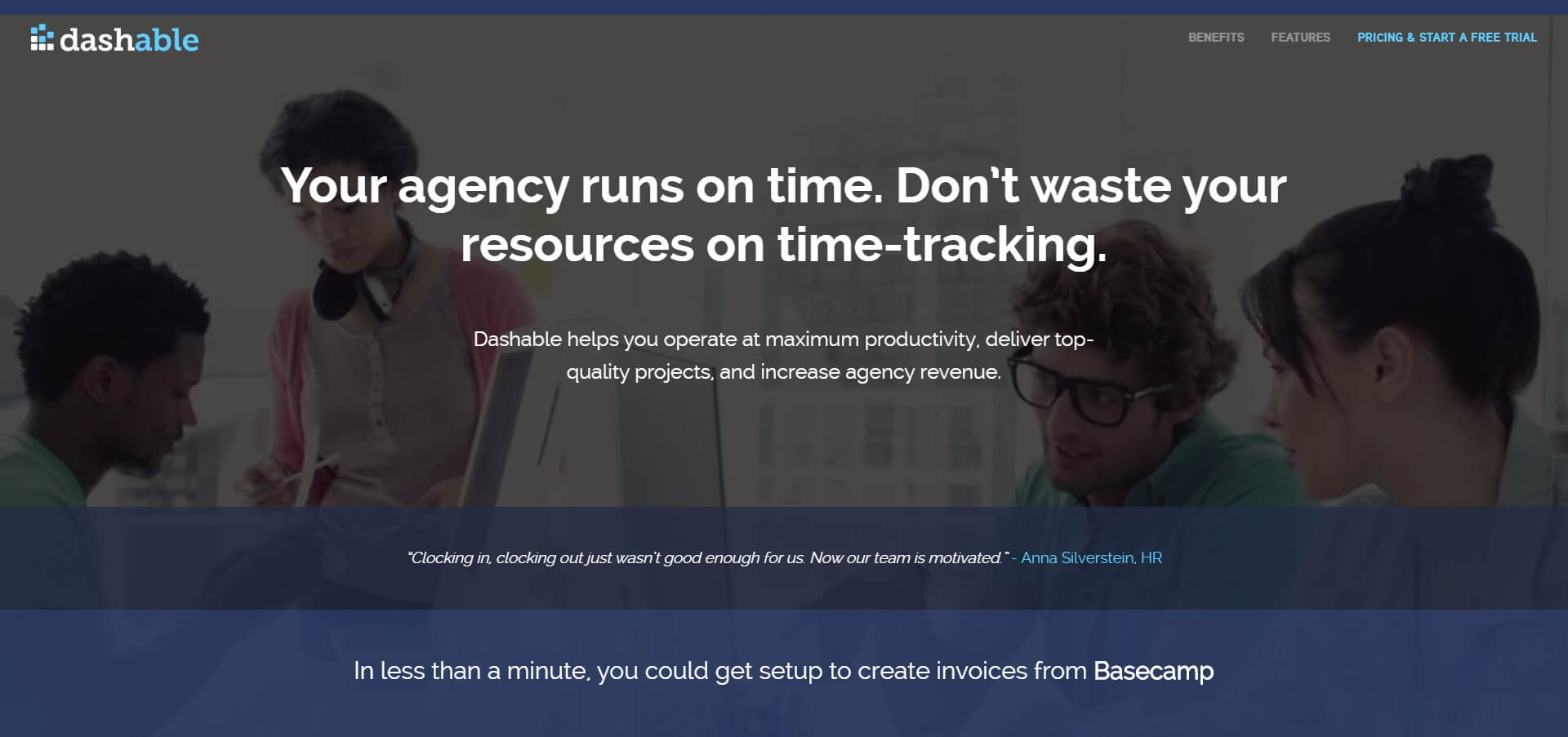 Dashable is self-described as the best time tracking software for digital agencies that are in the creative industry. Freelancers, writers, artists, and designers also find it beneficial for managing and billing clients and tracking their productivity.
This online time tracking tool was created in 2012 by the software development agency, Koombea.com. Because Koombea itself is an agency, they saw the need for agency-driven software.
Dashable provides all the necessary tools to give your clients a full portal with complete invoices, billable hours, check-in reporting capabilities, fast, online payments, etc.
It is designed to be conversation-friendly like Twitter. You can mention and "@" link specific projects in a status update. These updates appear on your client's and employees' newsfeeds making time tracking and project tracking transparent and easy to invoice.
This conversational feature makes Dashable one of the best time tracking software for consultants, as they have to spend a lot of time communicating as well.
Key Features
Convert your team's work from inside your project management tools into billable hours, and generate instant invoices for your clients
Option to bill on a per-project, rather than a per-client basis
Track your team's workload right in your dashboard.
Scope billable vs non-billable hours per project and understand who your most profitable clients are and where you need to improve
Integrates with several popular apps such as GitHub, Trello, and Basecamp. For billing, you can attach a PayPal or your bank account directly
You can also mark hours and check-ins as billable or non-billable so they can be quickly added to an invoice later
Create sales reports on a month-to-month basis, or, against the same period last year
Pricing
Freelancer – at $19/month, 1 integration, email support
Studio – at $79/month (up to 6 users), unlimited integrations, check-in approvals, daily recap
Agency – at $199/month (up to 15 users), unlimited integrations, check-in approvals, daily recap
Enterprise – at $499/month (up to 100 users), custom integrations, data migration, concierge setup
---
Price: from $4.99/user per month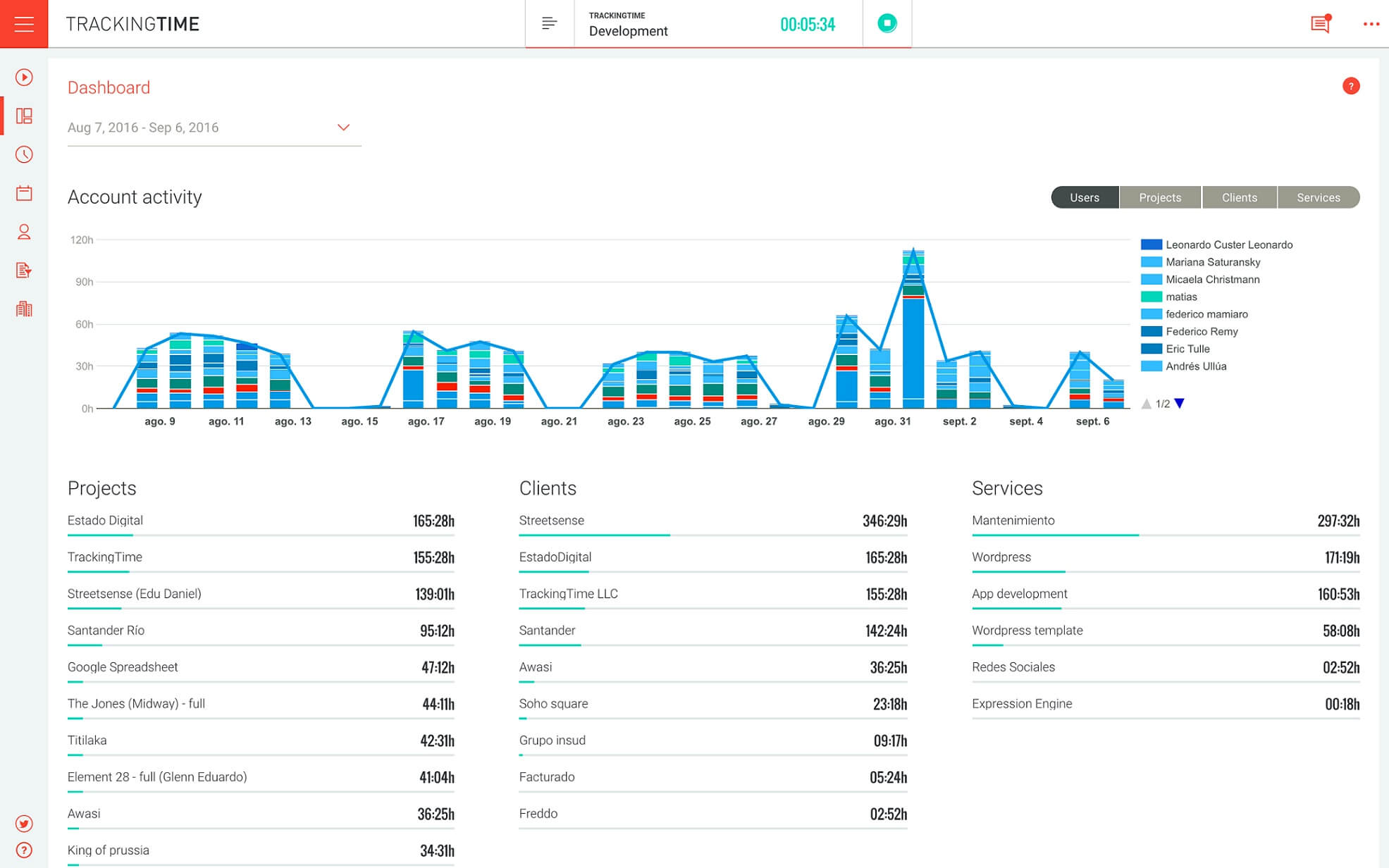 This entry in our list is known to have a lightweight, intuitive interface, yet possesses all the good things you need in your time tracker app.
This makes TrackingTime a great option for very small teams that only need essential time-tracking capabilities at a low-price range. Having said that, TimeTracking is useful for slightly larger teams as well as owing to its Business package.
You can view multiple reports on the dashboard to get a good sense of your current state of operations. Also, you can see the hours worked in total, broken down by employee, on each active project and task. That makes it easy to reallocate resources to meet your deadlines on time.
The data gets synced across desktop and phone apps to match on iOS and Android, enabling employees to easily clock in and out from any platform of their choice. Managers can stay updated on goings-on even if they're out of the office.
Not only TrackingTime is cheaper than its competitor, but it also serves as a free time tracking software for freelancers, since the first 3 users are free.
Key Features
Set due dates to organize and prioritize your projects and tasks and automatically sync them with your employees' calendars.
With the Chrome Button, you can even track your tasks directly in Asana, Trello, Jira, and more than 30 other online services.
Combine filters to categorize your time data and create reports tailored to your needs.
Visualize your time data in intuitive graphic charts
Your team will receive your email invitation to start using TrackingTime for every work process you request.
Save all your settings into report templates for future reference.
The Pace Board feature gives you a daily overview of both scheduled and tracked hours by every team member at a glance.
Pricing
Basic – at $0/month up to 3 users, time tracker, access to desktop and mobile apps, integrations, 3 active projects, and 100 tasks
Pro – at $4.99/month per user, pacing, time audits, custom reports, timesheets exported to PDF, unlimited projects and tasks
Business – at $9.99/month per user, access control, team management, and additional security and support
---
Price: from $4 per member/month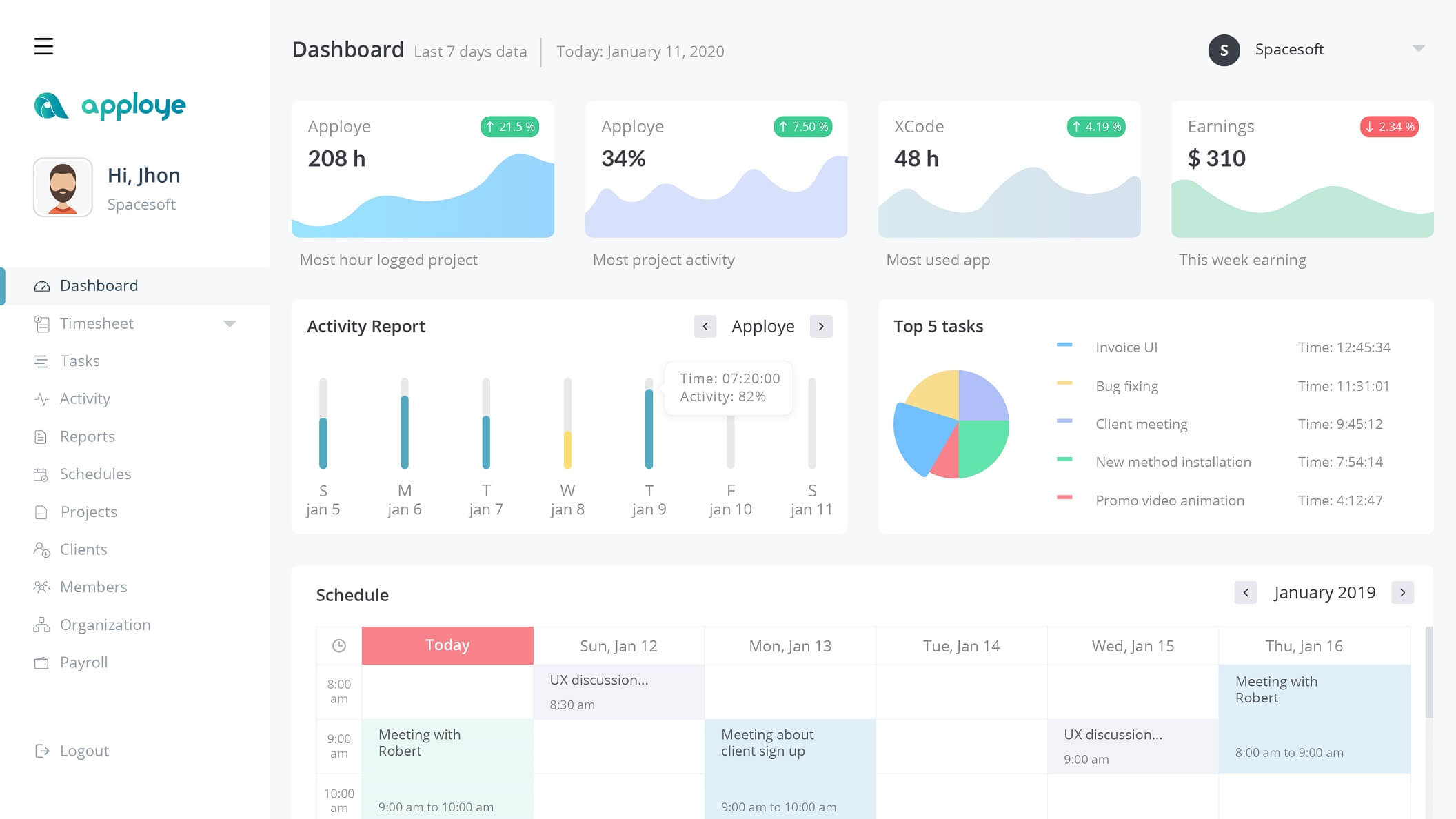 Apploye is a new entrant in the time tracker market. They announced their arrival in 2018 since then they have become one of the best time tracking software available.
It helps you monitor your employees so you can measure their level of productivity daily and weekly timesheets, reports, and random auto-screenshots. However, one cool thing about the screenshots is that employees are notified about screenshot when it is taken.
Plus, you can calculate billable and non-billable hours via an online timesheet. You can also track your remote employees through GPS location tracking. This is why Apploye is often recommended as the best employee time tracking software for companies hiring remote staff.
Key Features
Calculate your taxes using the in-app tax calculator
Use PayPal, TransferWise, Payoneer, or Bitwage, or a manual payroll system to pay your employees.
One of its unique features is that it notifies the user when the automatic screenshot is taken.
Set daily, weekly, or monthly budget limits to avoid surpassing a fixed budget.
Keeps track of remote employees via Field Service GPS location tracker
Learn when and where your employees hopping around. Record their attendance, route, and position history.
More than a hundred integrations. You can start tracking in the Trello card and switch to some other tools.
Pricing
TimeTrack – at $4.00/user per month, best for in-house teams
FieldTrack – at $5.00/user per month, best for mobile teams
RemoteTrack – at $6.00/user per month, best for remote teams
Enterprise – Available on a quote. All features, implementation, custom pricing, and priority support. Ideal for large businesses.
---
Frequently Asked Questions (FAQs)
🌟 How Can I Track My Billable Hours?
Billable hours are the amount of time spent working on business projects that can be charged to a client according to an agreed-upon hourly rate. To charge by the billable hours, workers need to track the amount of time they spend on each client's projects every day.
Set your hourly rate – To determine this, simply divide your annual earnings by the number of working hours in a year, which is typically 2,080 hours for a full-time job.
Determine an invoicing schedule – Schedule your invoices based on your employer's billing cycle – most businesses have a monthly billing cycle.
Create a time log – You can use an excel sheet to log hours manually or use your time tracker solution to log hours automatically.
Track your hours by project – This way you'll know what client you'll invoice for the work you're completing.
Calculate your total hours – It's time to review your time log and calculate your total billable hours for the project
Create a detailed invoice – Based on your total hours for the billing cycle, create an invoice to send to your client
🌟 How Do You Keep Track of Time Worked?
Generally speaking, the most common way you keep track of your work hours is when your employees clock in and out. Old-school time trackers would report everything in between.
But most advanced time tracking tools monitor employee performance and can tell if your hours were spent in productivity or not. Ultimately, you get an accurate report of hours worked.
While calculating logged hours, make sure all numbers add up and your data is accurate. Otherwise, you will get lost in a myriad of figures, tasks, and undocumented connections between your tasks and projects.
🌟 How Does Time Tracking Software Work?
A time tracker application is similar to an attendance monitoring system that records your time (clock-in and clock-out), break time, overtime, early leaves, time off, etc. that your payroll requires.
Mostly, time tracking software has a desktop app, mobile, and/or web-based version. Your work time is then uploaded automatically to the server.
Time tracking software is mostly used in a remote work setup where your teams are geographically dispersed. But this can also be used in a typical type of business where you need to work on a computer.
An automatic time tracker can do everything for your effective time management needs. Time trackers can be used for both personal and professional uses. They are also used in project management, where users can add projects and tasks in the app and then switch between them.
Time tracking software can help identify how much time each project/task took, and then create advanced reports providing insights that help improve productivity.
Conclusion
By now, you've probably chosen 2 or 3 apps to look at. The right tool meets your business requirements, delivers what you need to get work done, and is easy to use for your entire team.
But your personal experience with the app might be the decisive factor when choosing the right time tracking software. Thus, with all this information at hand, you just need to start a free trial and "play" with the apps. Test them thoroughly and invite your team to do the same.
---
Other SaaSy goodness on All That SaaS: