In this roundup, we are going to take a look at Basecamp, the famous productivity and project management platform for remote teams. We will also talk about what features are missing in this platform, and how some Basecamp alternatives can offer the missing functionality.
Founded in 2004, Basecamp has over 3.3 million users from all around the world. Being one of the oldest collaboration platforms in the industry – founded the same year in which giants like Google and Salesforce were founded – Basecamp has come a long way since its inception.
Since needs vary from one project team to another, some features are not present in Basecamp and might make you wonder if it is the best collaboration tool for you.
🙅🏻 Features Missing in Basecamp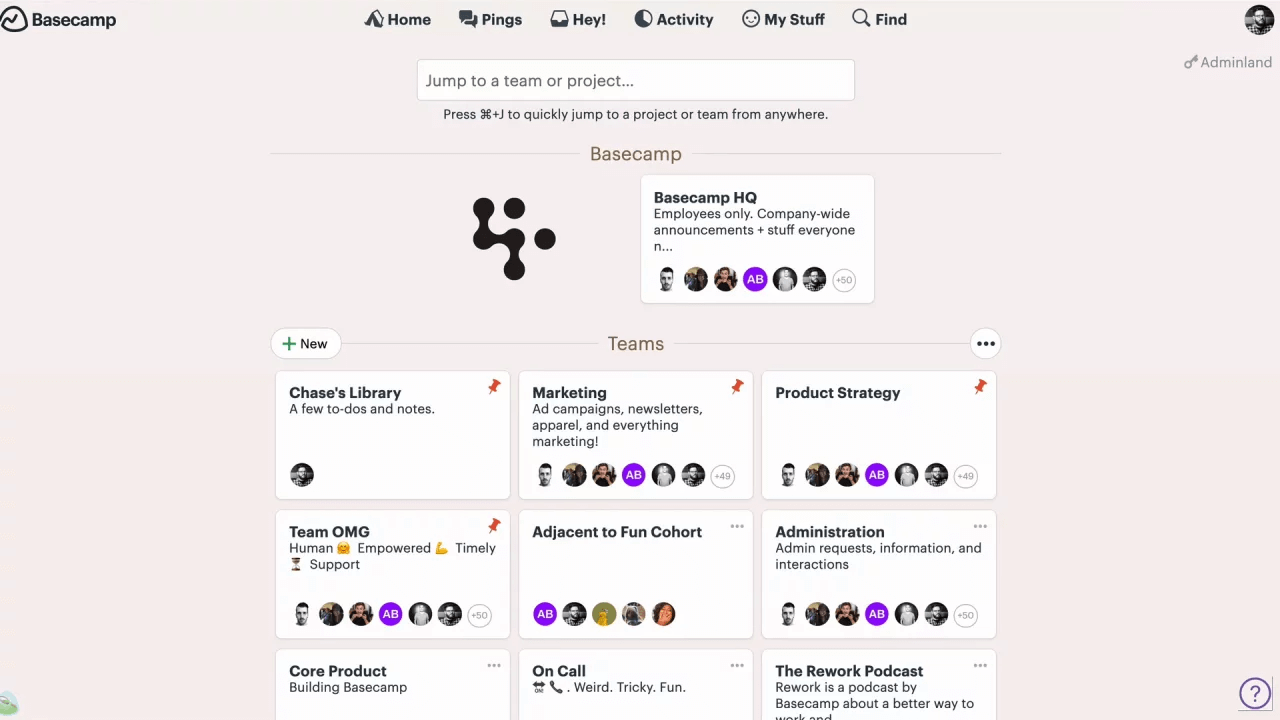 There is a wide variety of tasks that comes under project management. It is a challenging endeavor, requiring endless requirements spread across marketing, design, legal, HR, and more.
As requirements differ from one team to another, some teams have used Basecamp in the past but haven't found it to be the best productivity platform for them.
Let's take a look at some features Basecamp doesn't offer.
😞 No Recurring Tasks
Most projects require repeatable tasks and deliverables on a daily, weekly, and monthly basis. These repeated tasks are very important to save your time and energy. But unfortunately, the feature to set recurring tasks is not available in Basecamp.
😞 Limited Project Insights
Projects have several things associated with them and due to this reason, smart project management is of utmost importance. All the minor and major details such as start date, budget distribution, task dependencies, etc. are scattered and you won't be able to find them in Basecamp.
😞 No Time Tracking
Time tracking is one of the most significant features of project management tools but Basecamp does not implement this feature. It can cost huge damage to the companies if their time is not managed. It has options for adding a time tracker but third-party integration is to be used.
😞 No Budgeting and Analytics
Before starting any project its budgeting is of crucial significance to companies. Similarly, analyzing project results and prospects is also a substantial part of a company's success. Basecamp does not possess budgeting and analytics for project management.
😞 Limited Customization
Beautiful backgrounds, fonts, templates, color schemes, and personal interface, all these customizations create a 'make it or break it' kind of situation for project management tools. Basecamp lacks customization features that are of immense importance in project management.
😞 No Instant Messaging
Team collaboration is an irreplaceable need for any project. Instant messaging and chats are very helpful in allowing team members to communicate and cooperate effectively. Basecamp does not offer an in-built messaging channel, rather it requires you to sign-up for Campfire to avail of chat facilities.
---
The Best Basecamp Alternatives for Team Management in 2023
Find out our top picks for the best Monday.com alternatives.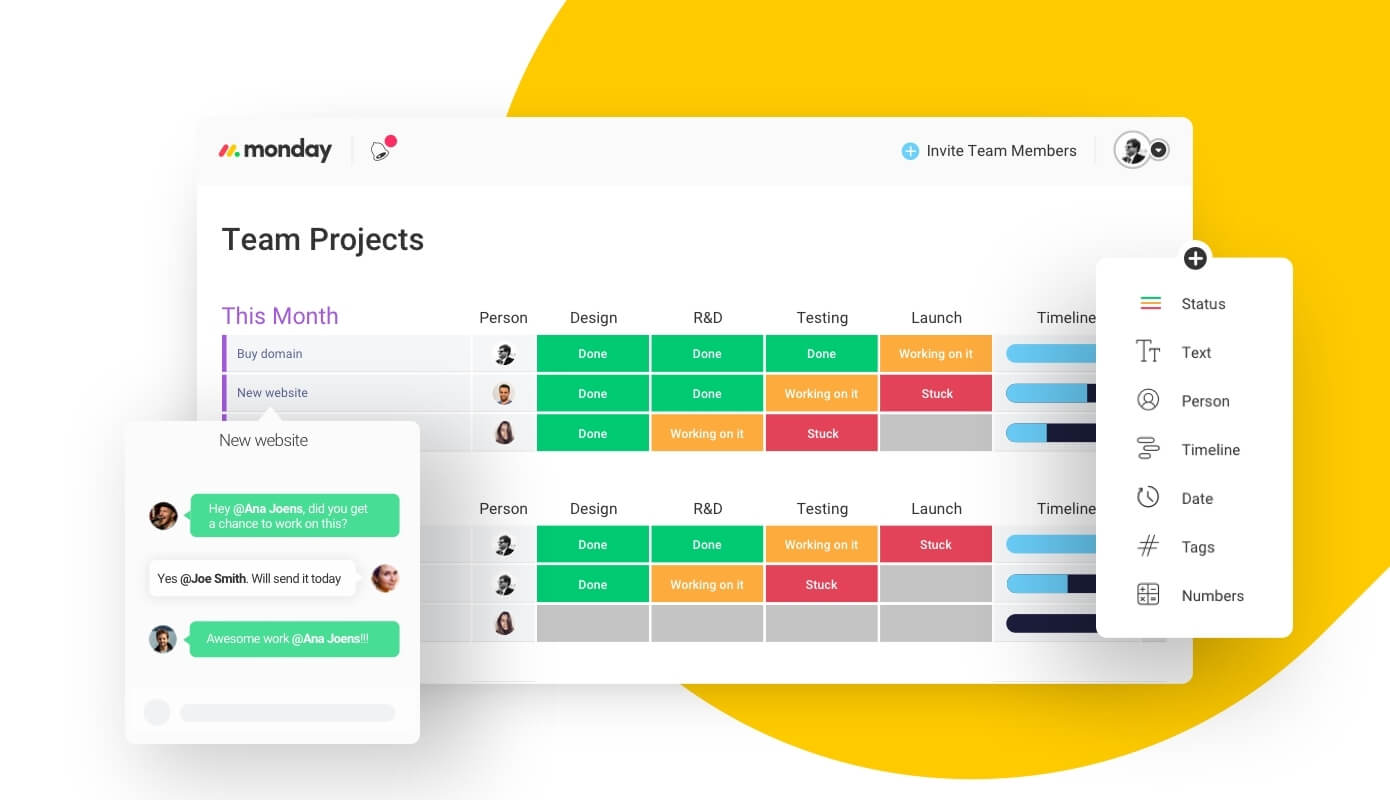 Monday.com is one of the best Basecamp alternatives because it manages your work from anywhere successfully. Being trusted by over 100,000 organizations like Hulu, Uber, and others, it is the winner of various prestigious awards.
It keeps remote teams aligned and providing with a platform that deals with the team's needs and makes them highly empowered project planners, and integrates with other apps, and syncs your data to any device you want.
Monday.com keeps all the data on a single page and platform so you don't have to look around for anything. It highlights areas that need attention through specifying your tasks that are the priority and need more attention.
Key Features
With automated tasks get rid of assigning routine tasks and save time.
It allows you to integrate with other apps and integrations such as Google Dropbox, Slack, etc.
Get the complete overview for all important tasks, processes, due-dates, and much more on a single board.
Advanced customization options so you can tailor your Board according to your project's needs and demands.
Being a communication hub, it aligns teams quickly to collaborate from anywhere, and with video chats, remote teams can work better.
It provides in-depth reports and beautifully visualized analytics of your projects.
Useful remote work templates for teams that they can choose from or make their unique template to manage workload.
Pricing
Basic: Costs $39 per month, giving unlimited boards, 5GB file-storage, embedded documents and forms, and many more.
Standard: It has all the features of basic with an unlimited activity log, advanced search, and many more. It costs $49/month.
Pro: With a price of $79, you get all the features of the Standard plan including, 10 boards per dashboard, Private boards, and many others.
Enterprise: Contact the team for pricing. It has all the features of other plans with more advanced features like 25 boards per dashboard, HIPAA Compliance, and more.
---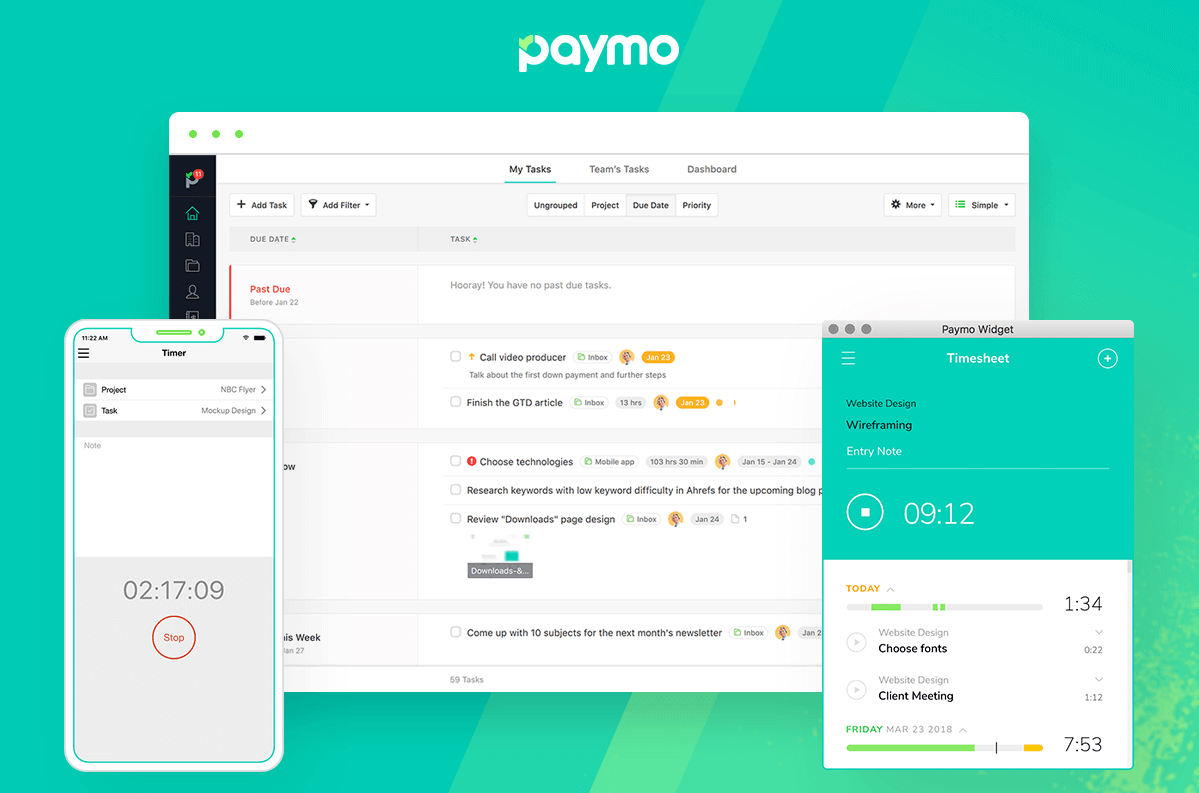 By keeping your team aligned and connected, Paymo is an amazing project management software similar to Basecamp. It manages your teamwork, schedules, tasks, and whatnot. There are many small, medium, and large businesses that rely on Paymo.
Being one of the best Basecamp alternatives, Paymo offers an abundance of features and significant insights for your small or large business. From big marketing agencies to individual freelancers, it helps every business.
In total, Paymo was able to manage 2.12M projects and the number is increasing. Other than that, 110.35 hours are tracked and 2.08B dollars are billed using this platform. It sets milestones for your projects so that your time is saved.
Key Features
It plans and schedules your projects, illustrates the whole project with Gantt Charts, techniques, and other features.
Manages your tasks efficiently by setting task duration and templates and enabling each team member to comment on tasks.
It sets task dependencies, priorities, alerts, Kanban Boards, estimates, recurring tasks, and many other task management tools.
You can have a resource calendar view, exceptions for a team member's time off, resource load chart, user permissions, and other effective resource management techniques.
Finance is also managed with Paymo. It tracks project expenses, smart financial indication, time-based rates, and other features to save money.
It shows a stream of recent project activities along with real-time discussions and enables notifications so that you don't miss out on important stuff.
You can also attach files, organize them, and unlimited storage space. It manages your time, creates invoices, available for iOS and Android, displays reports, and much more.
Pricing
Small Office: It costs $8.95 per month and gives task views, recurring tasks, time tracking, timesheet reporting, and much more.
Business: Includes everything that is in the Small Business plan with other features like Gantt Charts, free onboarding and training, priority support, and more. The cost is $14.25 per month.
---
Find out our top picks for the best Asana alternatives.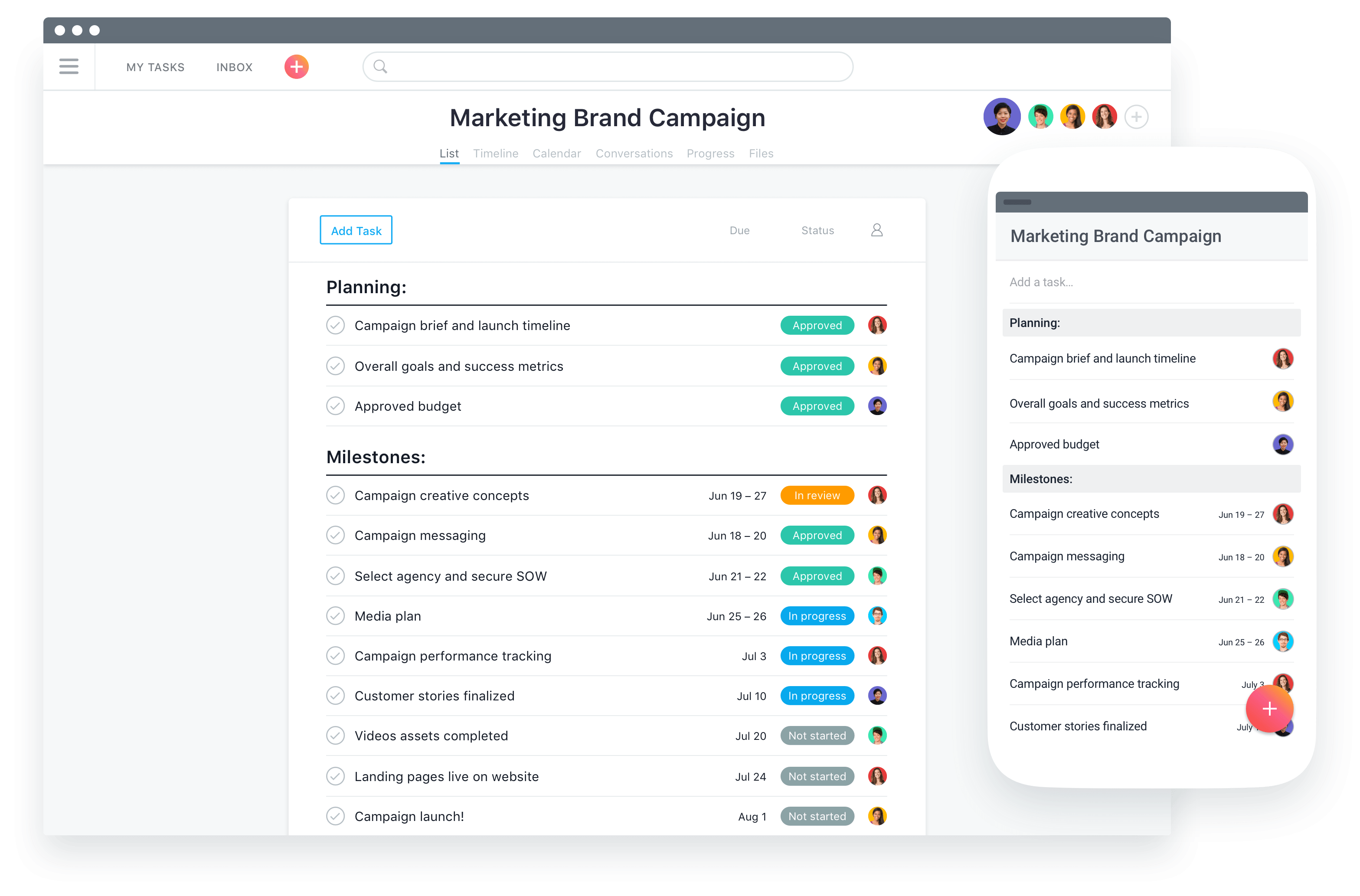 Asana is one of the best Basecamp alternatives and platform that manages your work so that your team members stay focused and consistent. It keeps your work structured no matter wherever your team members are.
For keeping team members connected, Asana is trusted by the world's best teams such as Vox Media, Salesforce, and many more. Companies can easily track their projects, keeping everything aligned in one place.
With the automated task feature, you don't have to waste your time on creating manual tasks. It gives you access to all your team-members through chat inbox and you can sync your tasks to similar multiple projects to see work in different contexts.
Key Features
Keep track of your time, expenses, and workload of any project.
Highlight important tasks split tasks into smaller parts, add files and attachments.
Allowing access to the right person about concerned information is in your control.
Add comments to your tasks in Asana and share feedback with your team.
Specify the reports that are most important to your teams and easy for them to search.
Save time by connecting your Asana to other tools like Robust rest API, Dropbox, Google Drive, Slack, and many more.
Get additional customer support services with Premium and Enterprise plans.
Pricing
Basic: Free plan comes with list and board view projects with the assignee and due dates. It also gives calendar view, status updates, and SOC-2 Type 2 support.
Premium: Costs $10.99 per month, billed annually. It gives a timeline, custom fields, milestones, admin console, etc. It also has features of Basic with many more.
Business: With all the features of Premium, Business has portfolios, approvals, advanced integrations with proofing, and Tableau & Power BI Integrations. Its cost is $24.99/month.
Enterprise: Includes everything that is in the Business plan with features like SAML, user provisioning and de-provisioning, and much more. Contact them for pricing.
---
Find out our top picks for the best Trello alternatives.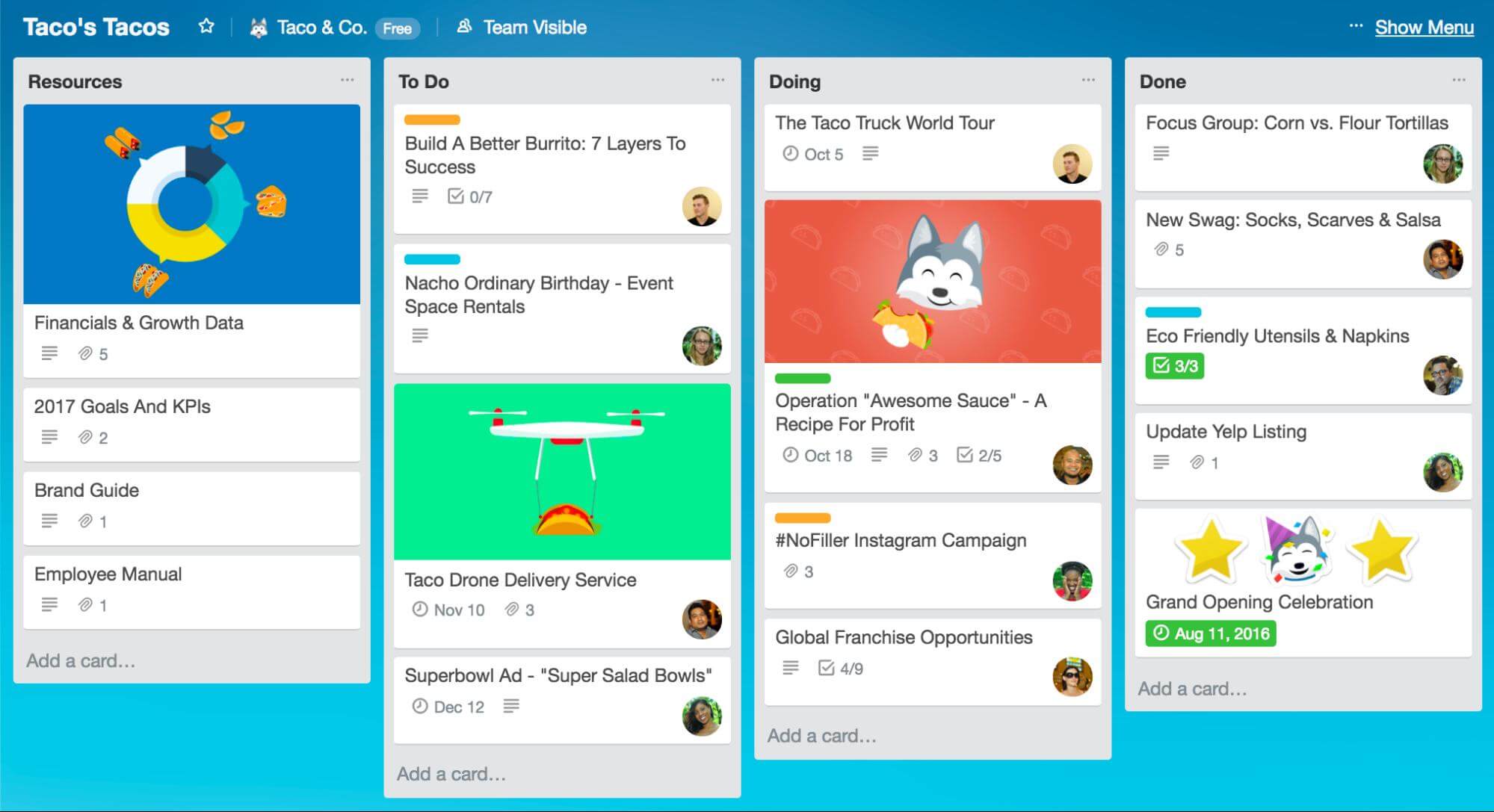 Having an interesting template, Trello is among the free Basecamp alternatives that we have in 2023. It is a software similar to Basecamp but with more effective features. Trello is fun to use with its unique way of project management with its boards, lists, and cards.
You can prioritize your tasks and projects whether it's work, side projects, family vacations, or anything. It assembles everything for you so that you can organize your stuff easily. Millions of companies such as the British Red Cross, Kickstarter, National Geographic, etc. trust Trello for its user-friendliness.
This is one of the free alternatives to Basecamp that allows you to enhance your productivity with Butler and eliminate monotonous tasks from your everyday to-do lists. You have the command to create your Trello according to your way.
Key Features
You can add any information such as project details, comments, attachments, or anything directly to Trello cards.
Built-in automated workflows to minimize manual work and maximize work efficiency for you.
It works on following certain rules so that nothing goes wrong, has custom cards and board buttons, calendar, and due date commands.
You have got the flexibility to design cards and boards for any team you want with any feature.
It Offers several playbooks for any team such as engineering, sales, marketing, and more.
Trello permits you to integrate any app such as Jira, Slack, InVision, etc. that your team uses for projects.
Pricing
Free: It gives unlimited personal boards, cards, lists, 100 MB per attachment, 50 command runs per month, and many more.
Business: This plan costs $9.99/month. It gives all features of the Free plan with priority support, HTTP requests, and more.
Enterprise: It costs $20.83 per month for 100 users. It has all the features of the Business plan with unlimited command runs, attachment restrictions, public-board management, and much more.
---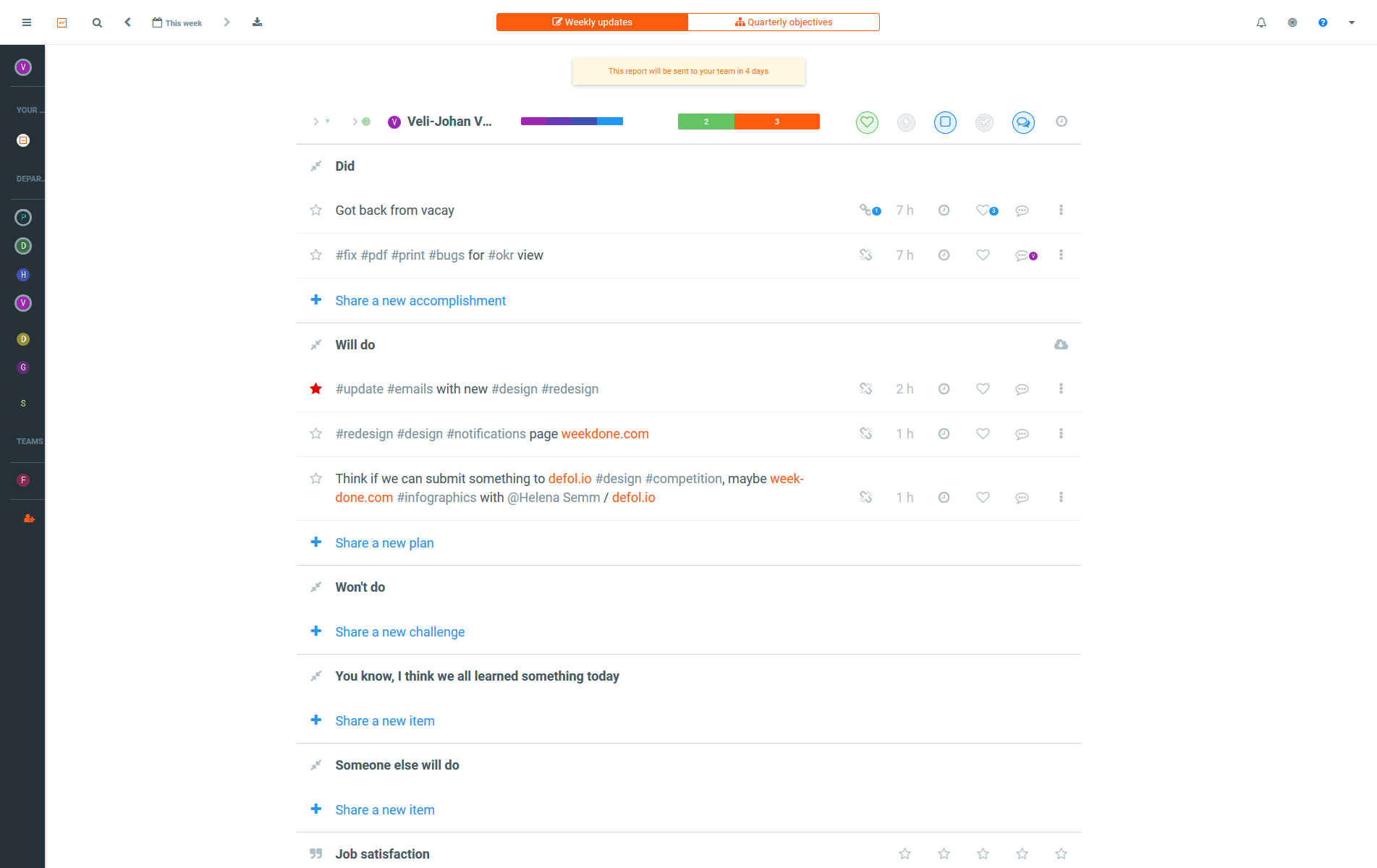 This smart project management platform with OKR software tracks your goals and does status reporting. It tracks weekly tasks to increase interconnectivity between members. It guides your team and reports progress so that you focus on your goals.
This is another one of the best Basecamp alternatives. You are allowed to set quarterly goals, plan your week, share progress, and provide feedback with regular reports. It works on PPP reporting software that refers to Plans, Progress, and Problems.
Weekdone allows you to work with leaders from SME's to Fortune 500 and improves your team's goal-setting, internal communications, and team management. It helps you to clear your objectives and goals so that your team is not distracted.
Key Features
Team leaders and managers get to know everything about the project, emphasize important things, and communicate better with Weekdone.
It allows you to measure project satisfaction so that you know your strong and weak areas for improvement and better work.
As a leader, you can take initiatives in the projects, stay informed, and make fact-based decisions to outcast any risks in your team and project.
You get to organize your short-term and long-term goals and plan weekly or monthly activities on the go. Planning will help you to stay in a clear direction.
Real-time dashboards enable you to have a look at everyone's progress and track record.
You can analyze your team's progress through feedbacks, issues, and completion of tasks. Detailed reports will help you to stay up-to-date.
You get offline one-on-one meetings with your team members and employees with all the documentation and support materials.
Pricing
Pro: costs $9 per user/month and is billed annually. Bulk discounts available. It Includes OKRs and weekly planning, conversations, feedbacks, company TV dashboards, custom reports, live-chat support, webinars, and much more.
---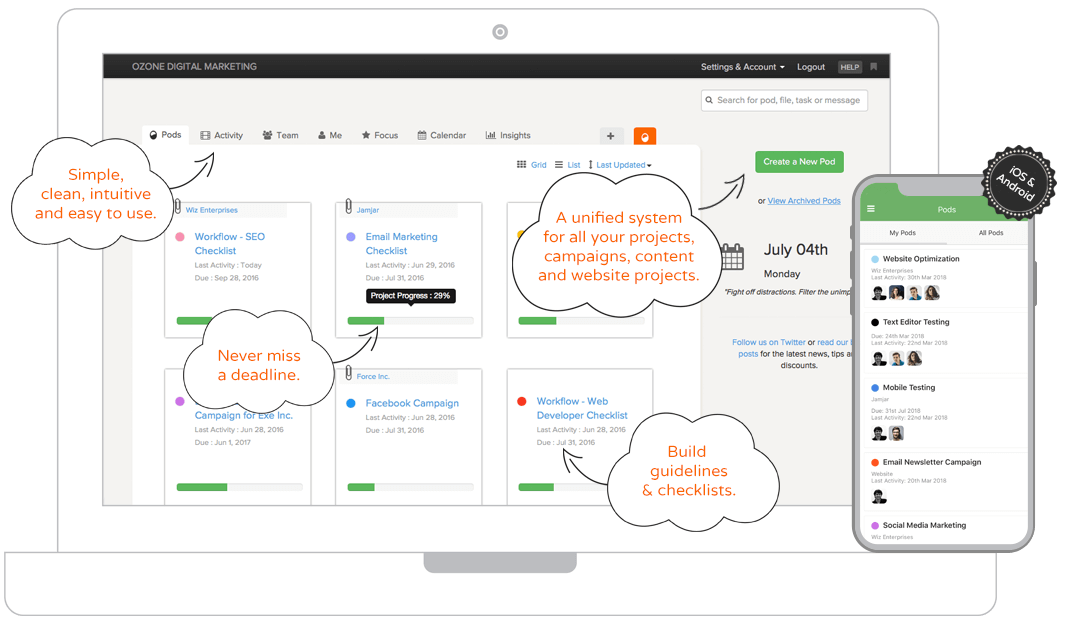 This is one of the programs like Basecamp that takes your project management burden off your shoulders hence giving you the best management of your tasks and time. The organization is the most essential part of projects and Brightpod makes it happen.
It makes sure you get everything aligned and stable to maximize your productivity. Also, it manages and tracks your social media, SEO, blog posts, content marketing, and keeps you updated with your project insights with security, personalized support, and many other features.
It allows a smooth marketing workflow through an SEO checklist, Twitter routine, email marketing template, and many other features. It permits you to set an order of tasks according to their significance so that you do not miss out on anything important.
Key Features
This is a tool with which you stay in touch with members and stay updated regarding the project progression.
Having Kanban Boards makes it easier to display tasks and task lists so that you don't miss anything out.
Create a simple workflow so that similar projects get going smoothly.
You can make a simple calendar of important events related to a project, just drag and drop dates.
It allows you to highlight important tasks that need focus and there is a separate section called Focus. Tasks under this category are marked with a star.
Prioritize your projects and tasks with cross-project prioritization.
It distributes your time, show insights, saves your files through Google Drive, Dropbox, and Box, and enjoy many more features.
Pricing
Professional: Costs $29 per month with 15 projects, 5 users, and 10GB storage.
Studio: It gives 50 projects, 100GB storage, with insights and reporting. It costs $59/month.
Agency: Its cost is $99 per month and gives unlimited projects, 25 users, and 250GB storage, time-tracking along with insights and reporting.
Agency Plus: It includes unlimited projects and users with 500GB storage, time-tracking, insights/reporting with 3 team-training sessions, and dedicated onboarding specialists.
---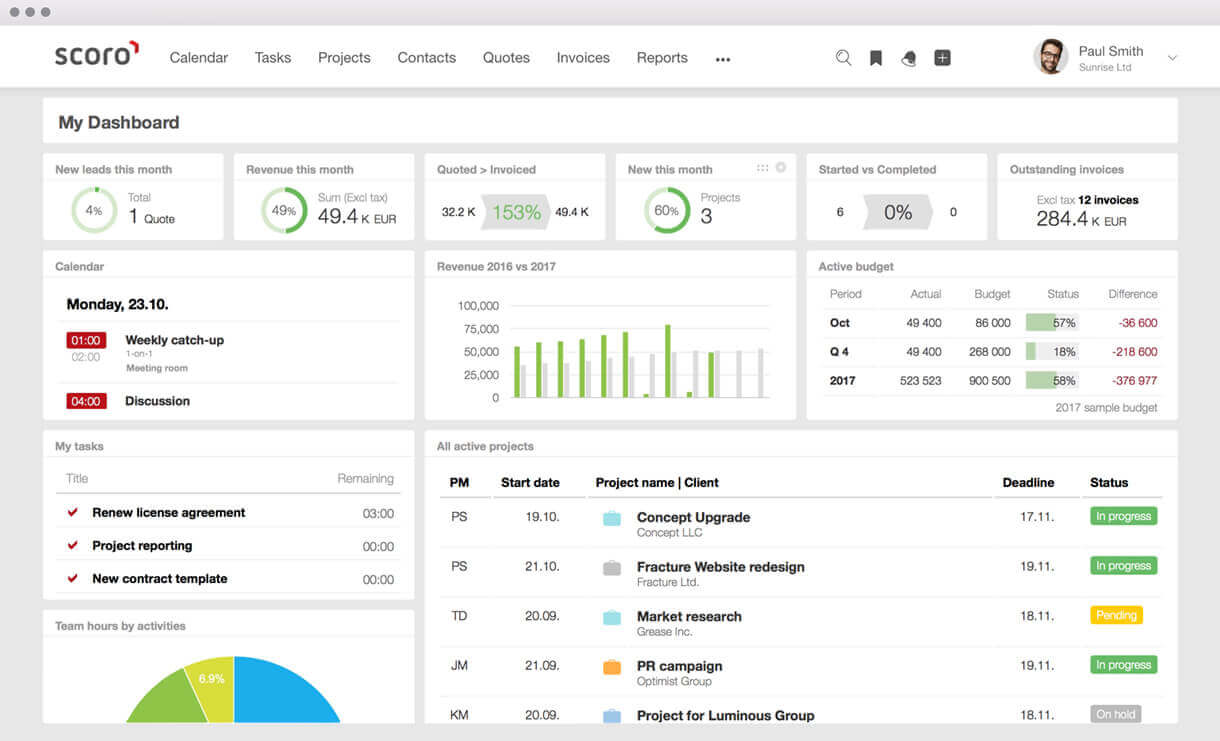 Gone are the days when you had to use different apps for managing your projects, marketing, and whatnot. One of the best Basecamp alternatives in 2023 is Scoro. It aligns all your projects and project-related tasks in one place.
It is loved by businesses like Newton, MediaCom, WSI, and more. Focus on high-impact tasks to gain profitable results and you can utilize your time into crucial project management processes with one click. Schedule your teamwork for better prospects.
It contains the amount of time, finances, and other matters that are being utilized in a project, making your projects well-organized. You can compare the budgets of different projects and can customize price lists, etc.
Key Features
From start to end, manage your projects on one page.
You can view deadlines, workflow, and everything regarding the work schedule.
It also takes care of your finances and budgeting through having issues with sales, payment, and credit invoices.
Keep everything assembled whether it is your contacts, invoices, etc. and compile quotes and send them in PDF format.
Keep track of your KPIs and reports on attractive dashboards.
Choose your templates for invoices, quotes, orders, etc., and more customization options.
Integrate Scoro with your favorite tools such as synchronize your calendar with the current calendar application, and so on.
Pricing
Essential: Costs $26/month. It offers personal and shared calendars and much more.
Work Hub: It has Standard and Pro plans which have all the features of Essential and other features. These are creating tasks and quotes, watchdogs, and more. The cost of Standard and Pro plans cost $37 and 49 respectively.
Sales Hub: It also has a Standard plan whose price is $27 and the Pro plan that costs $49. It gives recurring tasks, sales margins, and many others.
Ultimate: It includes everything that is in the other 3 plans including activity conformation, multi-account reporting, and so on.
---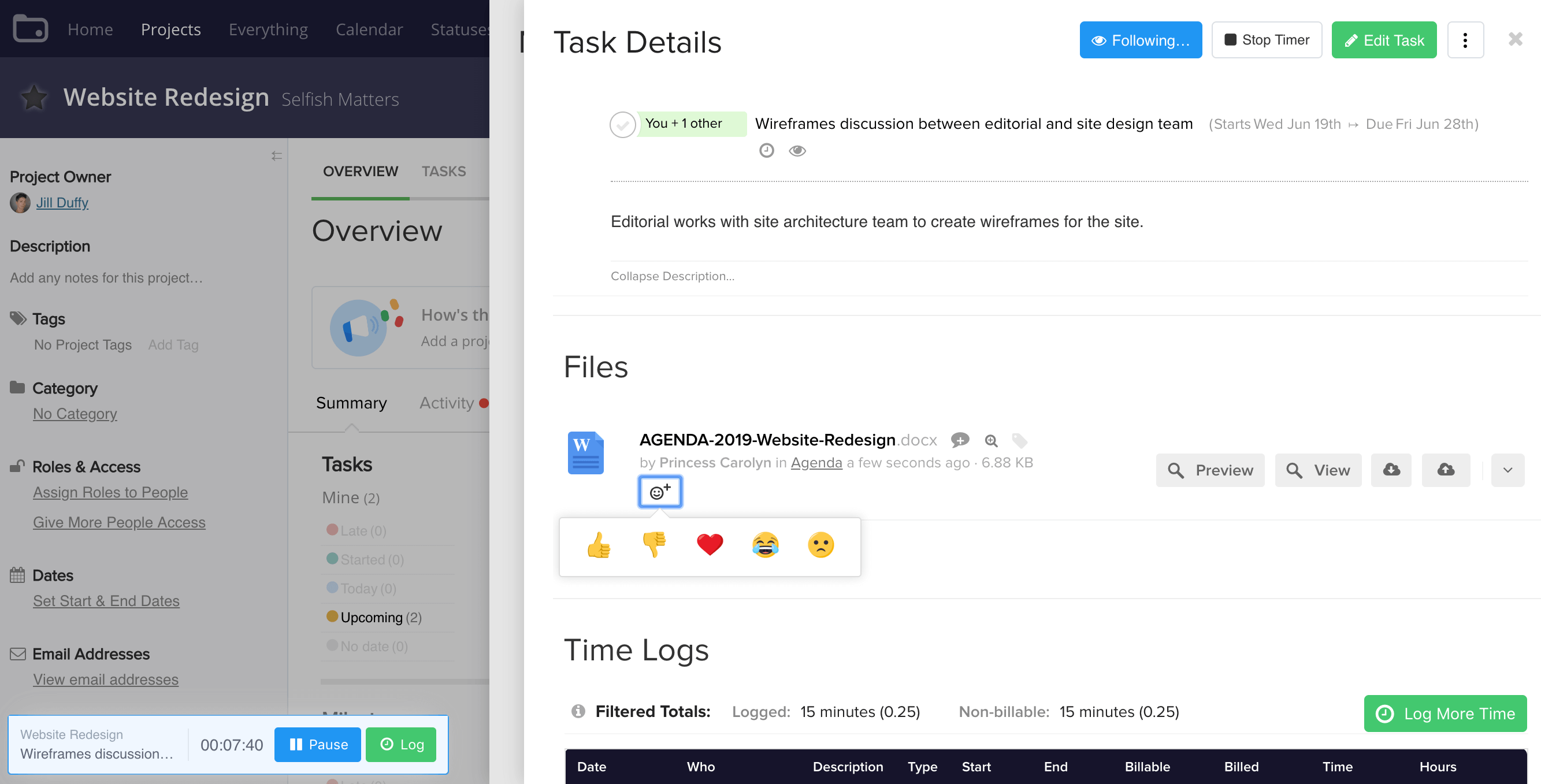 Teamwork is one of the most efficient free alternatives to Basecamp that make sure that you get your projects and tasks affiliated and organized. It helps in-house as well as remote team collaboration. Project management is fruitful when it delivers effective results for businesses.
It enables you to customize your workflow and with multiple templates, Teamwork does the job for you. It makes communication and coordination between team members easier so that nobody skips anything important.
Also, even if you are working from home, this is the ideal project management software. With a wider view of workflow, and a Timer App to plan your project perfectly, this software is among the most amazing free Basecamp alternatives.
Key Features
Optimize team resources, gives insightful project templates, portfolios, and much more.
Increase the visibility and accountability of your project through Gantt Charts and other insights.
Set permissions for team members and all other people related to the project.
Create tags so that every category contains the exact information regarding projects.
Create proficient reports through portfolios, task history, project updates, etc. to showcase key project metrics and maintain visibility.
Various integrations available with other collaboration tools, such as Teamwork Desk to keep processes intermitted.
Through risk registration, it makes sure to minimalize any hazard or threat to the project.
Pricing
Free: It has many features such as 5 users, 2 projects, a limited workload, and many others.
Pro: It costs $9/month, this plan gives everything included in the Free Forever plan along with 300 projects, Dropbox-integration, and much more.
Premium: Costs are $15/month and it includes all features of the Pro plan. Also, it gives sub-teams and more.
Enterprise: Contact for pricing. It offers features like bulk management, 2FA, many more, and all features of Premium.
---
Check out our top picks for the best Smartsheet alternatives.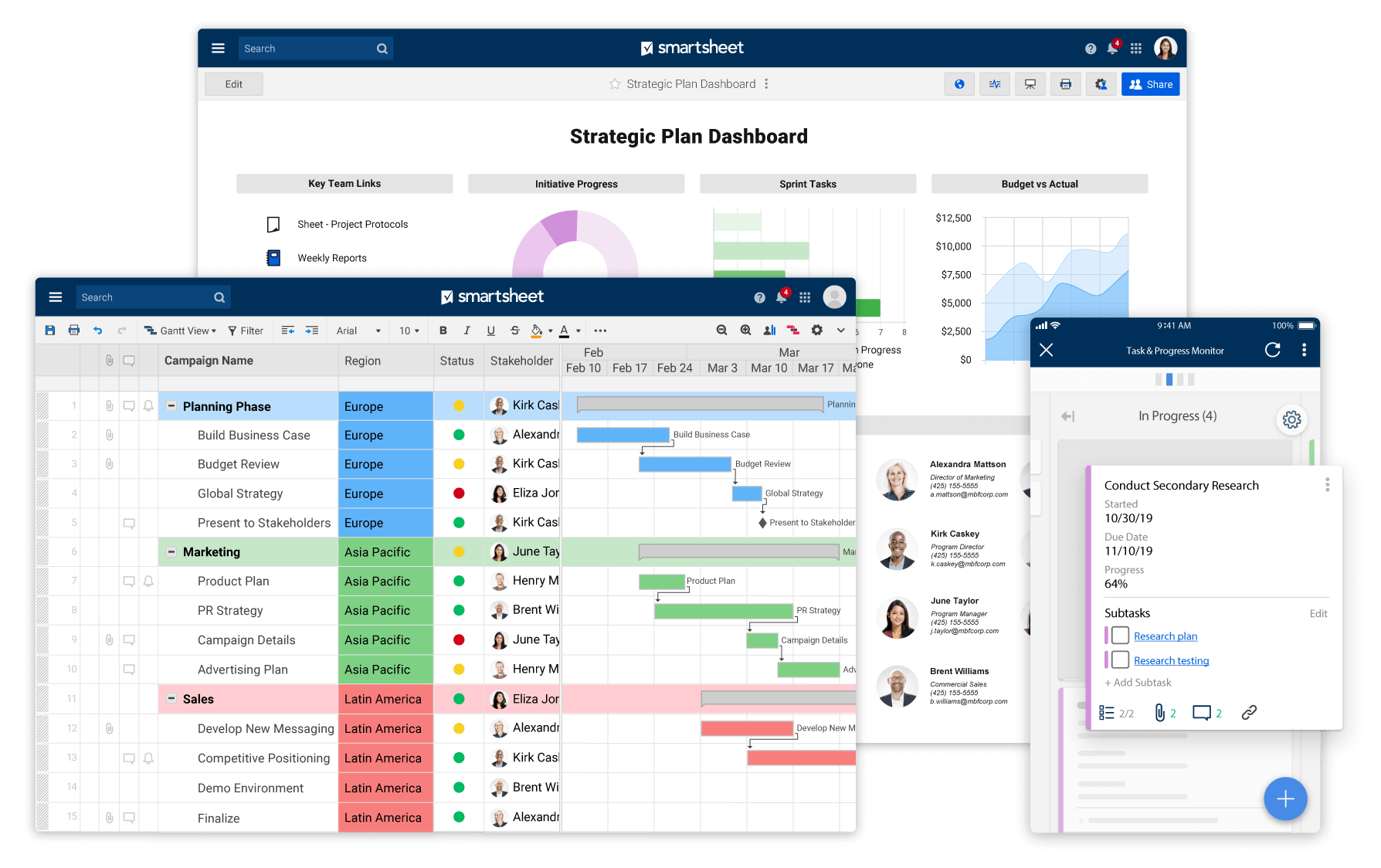 Smartsheet is one of the best Basecamp alternatives that leave no stone unturned to provide satisfactory project management for your business. It is fast, focused, dynamic, and competent.  They have a set of unique template solutions for your project tasks.
This is one of the best Basecamp alternatives that keep everyone assembled and on the same page and also provide free COVID-19 resources, templates, webinars, and community. Smartsheet solves all your problems regarding projects and is suitable for teams of any size.
It enables teams to adapt to the changes that might occur. It is a dynamic software similar to Basecamp but more professional. This project management tool makes sure the transparency and accountability of your team are maximized.
Key Features
Works like spreadsheets a lot and is highly regarded for its advanced features of project management.
Shared activity logs, detailed project history, and an intuitive interface.
Automate related business processes so that your time is saved.
With this software, you can implement a strong analysis of portfolios by connecting Smartsheet Control Center's datamart with third-party BI tools.
Smartsheet Sights and live reports enhance the visibility of your team's performance and workflow.
It offers built-in integration options so that you can seamlessly connect with other apps and tools.
Pricing
Standard: It has Individual and Business plans that cost $14 and $25 per month. It gives free collaborators, attachments, Gantt, cards, templates, Slack integrations, and many more features. Te Business contains all the features of Individual and much more.
Enterprise: There are 2 plans i.e., Enterprise and Premier. It possesses all features of Standard along with dashboards/portals, notifications, custom colors/logos, SSO, chargeback report, and several other features. Some features in Enterprise need additional payment.
---
Mobile apps not available
Check out our top picks for the best Microsoft Project alternatives.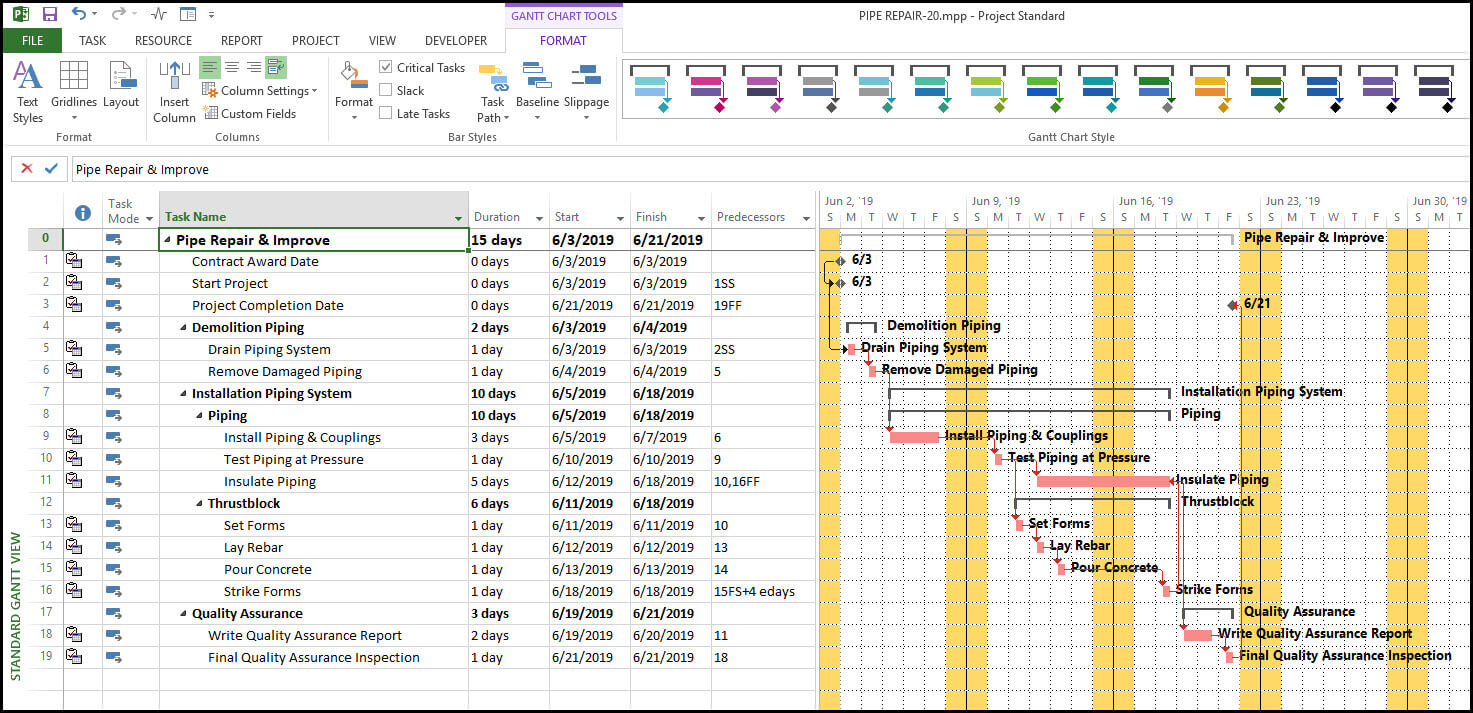 Microsoft Project is an easy to use app that manages your projects cleverly, irrespective of your team length. It makes project management easy from the very start. It makes collaboration between teams and team members quick and accessible.
Microsoft Project is one of the best alternatives to Basecamp that easily adds new tasks. It also helps you to prioritize tasks, do an in-depth analysis, and enhance visibility. It gives insights with a central source of information.
Even if the team members are working remotely, this project management tool will get it all done for you by allowing teams to collaborating and simultaneously updating tasks. Let's have a look at some other features.
Key Features
Three main modules: project management, portfolio management, and resource management to cater to various project planning and management needs of your team.
Gantt charts simplify the project planning and multiple timelines display bigger pictures of projects.
Integrates with many Microsoft software products such as Office.com, Office 365, Word, etc.
Built-in templates and detailed reports make the work easier and prospects elucidated.
An experience-based-UI and feature set that overcomes all the loopholes in your project management.
It manages your time by scheduling the project due dates and timelines.
With waterfall management, monitor your project's critical path with intuitive burndown charts and increase tracking.
Pricing
Cloud: It has 3 plans i.e., Project Plan 1, 3, and 5. The costs are $10, $30, and $55 respectively. It gives project home, demand management, and many more features.
On-Premise: It also has three plans such as Project Standard 2019, Project Professional 2019, and Project Server. Project Standard 2019 costs $620 and offers fully installed up-to-date Project desktop application, and more. Project Professional 2019 costs $1030 and offers features of project Standard 2019 with manage resources and many more. For Project Server cost the team is to be contacted.
---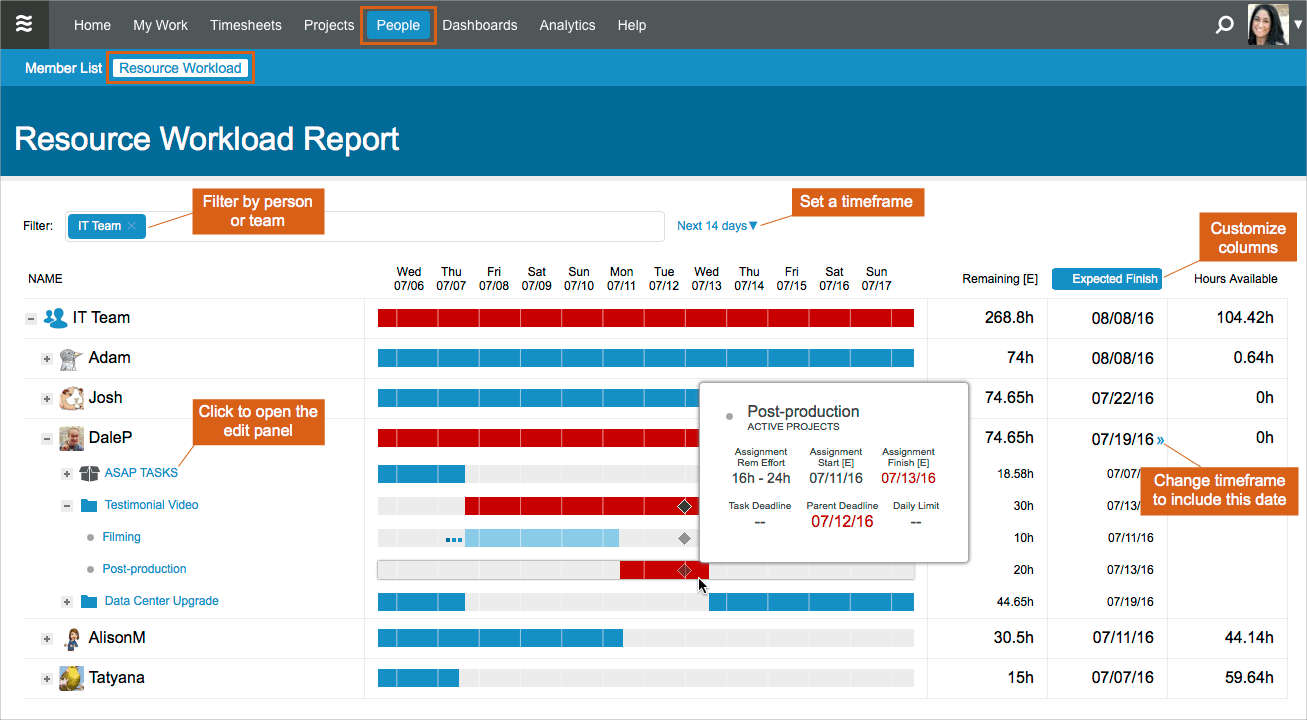 LiquidPlanner approaches the project management differently for you and knows at this time of pandemic outbreak how businesses are looking for a way forward. It is unlike other traditional project planners. It estimates the time in which you are more likely to finish the task.
Other software for project management expects one person to generate the plan and alter it as the needs change. But LiquidPlanner is like other best Basecamp alternatives that instantly update tasks when priorities shift.
It is one of the free apps like Basecamp that uses three simple inputs: priority ranged estimates and availability. Through these inputs, it schedules your project that focuses on prospects instead of reacting robustly. It also generates detailed reports.
Key Features
Prioritize your tasks by analyzing project portfolios and insights so that you do not panic before the due dates and finish in time.
There is always a risk and uncertainty involved in the projects. Its Resource Workload Report distributes and shows how much work each member has to do.
It's smarter time checking plans your timesheets that automatically notifies you if your task is being changed or revised.
The Kanban-style flow enables you to view your cards swiftly, making your workflows defined and seamless.
You can create comprehensive and customizable dashboards that show related project material, data, external collaborators, everything.
A critical analysis is needed to outcast any threat that your project might face and make decisions that are important for your business.
Pricing
Trial: This plan is free and is for 14-days. It offers time-tracking, API access, analytics, 100 clients, 20 custom fields, and many more.
Professional: It costs $45 per month having all the features of the free plan.
Enterprise: It offers all the features of the free plan and Professional plan. It also offers expenses, single sign-on, resource workload report unlimited clients, and more. Contact for pricing.
---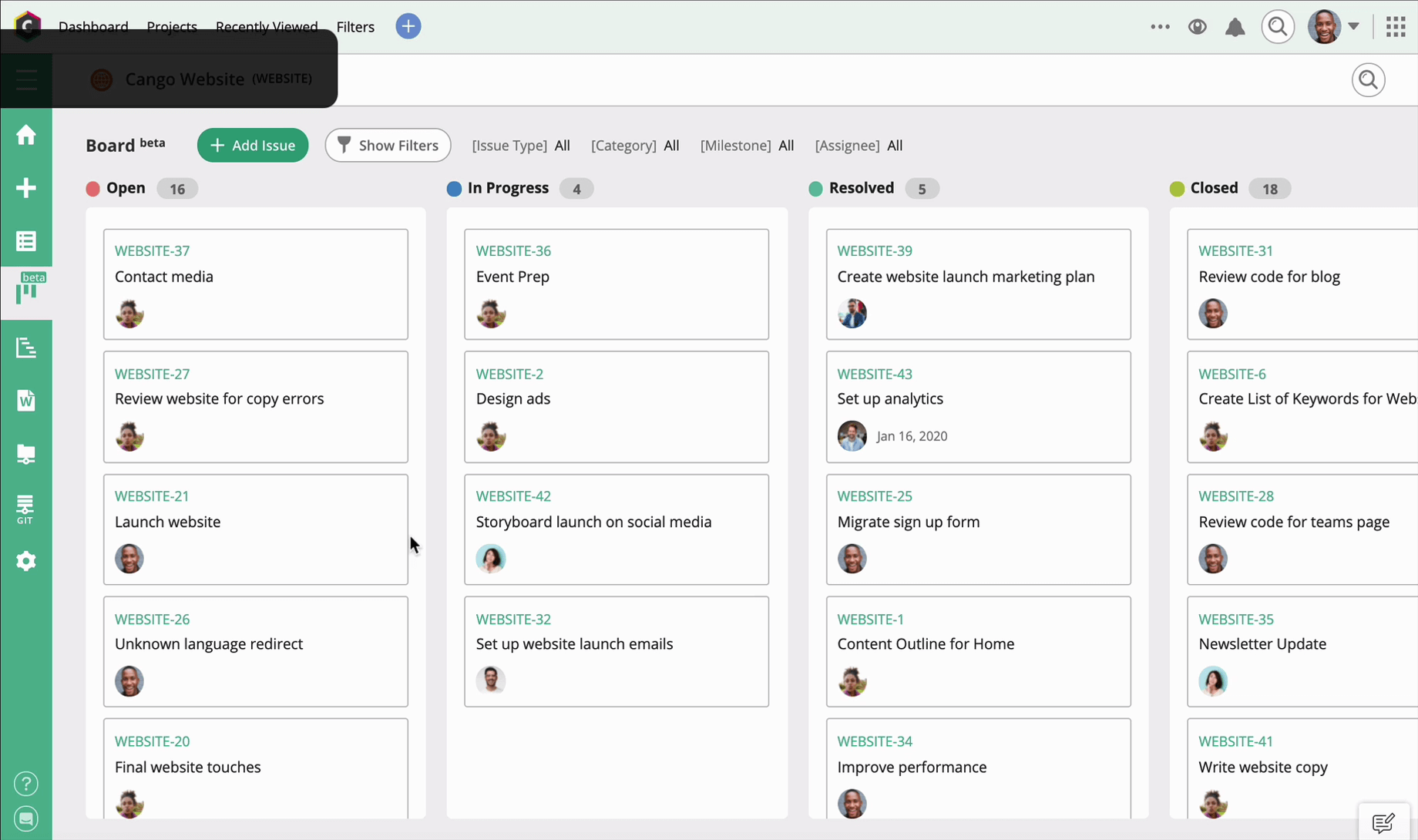 Trusted by over 10,000 companies, Backlog is among free Basecamp alternatives that provide great project management in a single platform. It is trusted by Adobe, Amazon, and many others. Like other best Basecamp alternatives, Backlog always has your back.
Keep track of issues and risks at your hand. Developers cooperate on release code, track each process through pull-requests right in concerns. Access the important visuals through visual boards, burndown charts, etc.
It helps you to track the progress of your project and you get checklists, set due dates, and update tasks regularly. Also, get to know who is working on what branch, review other's tasks, and also track the changes.
Key Features
It allows you to track your project progress and foresee your work taking place.
It also tracks bugs and fixes them faster by getting push notifications for new issues, and important stuff.
To make your work more manageable and more organized, Backlog splits your tasks into subtasks easily.
Collaborate on code and host it securely in the cloud with private sources.
You can add comments and files directly to tasks and invite clients, vendors, etc. to tasks.
Create Wikis to allow your team members to easily access, edit, and download project details.
It makes your projects and tasks secure with IP restrictions.
Pricing
Free: This free plan offers team management, 2FA, 100 MB storage, and many more.
Starter: It costs $35/month and includes everything in the free plan. It also includes 5 projects, custom status, and many others.
Standard: It has everything included in the free and Starter plan and the cost is $100/month. Other features include 1:1 online training sessions and more.
Premium: Everything in other 3 plans and also custom fields, force two-factor authentication, and much more with a cost of $175/month.
Enterprise: For price contact their team. It has some features included in other plans with an active directory, unlimited access control, and more.
---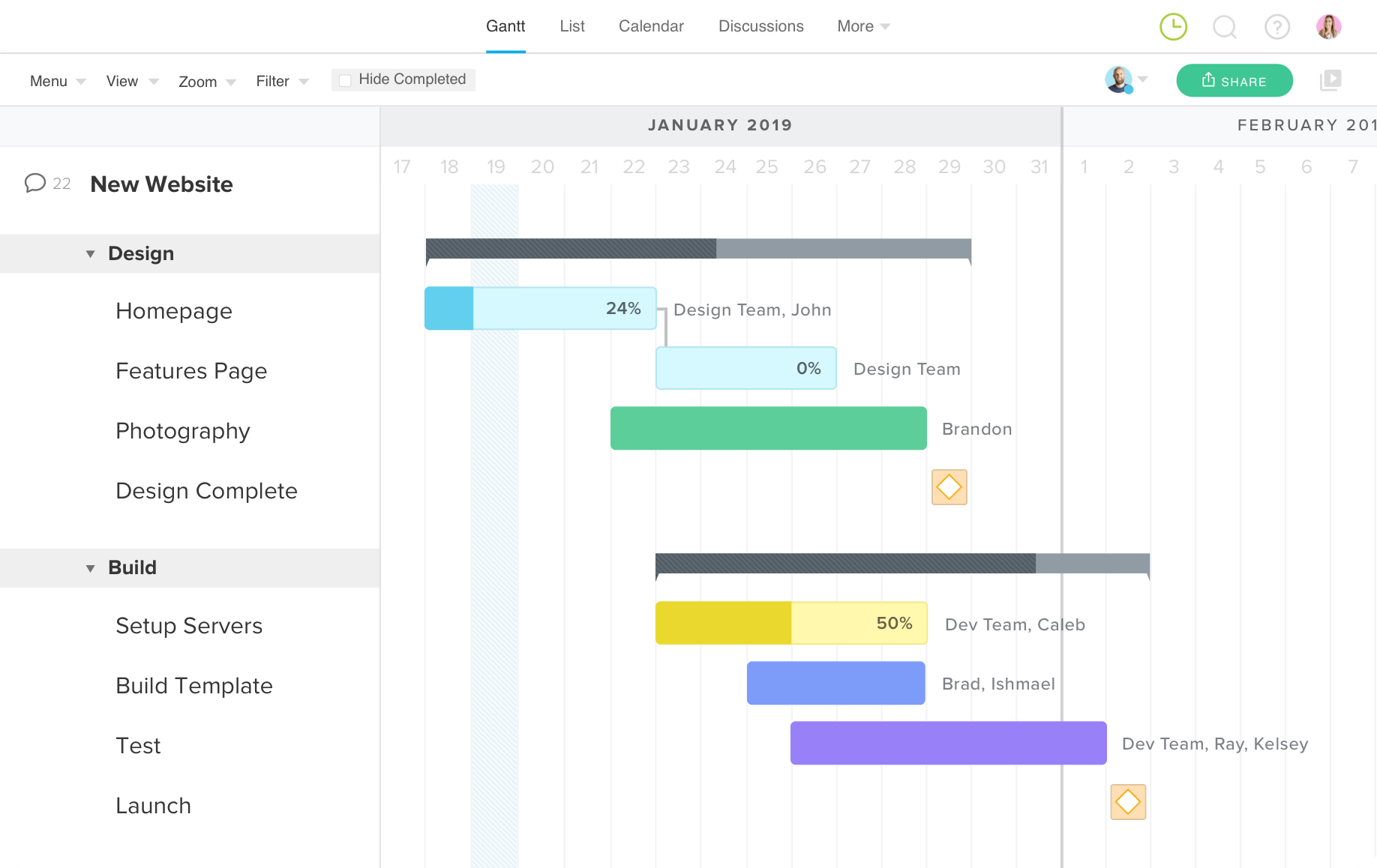 Basecamp software competitors are a great choice and TeamGantt is one of them. It is a smart software for your project scheduling, planning, and managing. You can invite your friends, co-workers, teammates, and stakeholders to view and edit your Gantt chart easily.
It keeps all your conversations, tasks, documents in one place so that it is simple for you to view every bit of information. Everything is aligned and associated so you know where to go if you need anything. It is a simple software with amazing features.
TeamGantt has a built-in resource management software that allows you to see what each person is working on. A member of the team can log in to Gantt charts with a single click and access the info. You can edit start and end dates, reorder tasks, and modify your timeline as you wish.
Key Features
You can easily drag and drop files and attachments to the boards for everyone to see.
Pinpoint clashes between projects and plans more conveniently.
Collaboration is easy with this software so that your team members and stakeholders can stay in touch.
Portfolios and in-depth reports regarding the progress of your work enable you to see prospects in detail.
Have calendar and list views, project plan templates, and project history to save time.
Print your timelines, track your time, create subgroups and tasks, and have embedded timelines.
You can also import existing project timelines as a CSV and enjoy many more features.
Pricing
Free: This plan is free and offers 3 users, have 1 beautiful Gantt chart, in-app messaging, and many more.
Standard: Costs $24.95/month and offers a 14- day free trial. It also offers custom project templates, unlimited guest users, export to PDF, and much more.
Advanced: It costs $29.95 with a 14-day free trial. It gives hourly estimating and resourcing manual time entry, and many more features.
---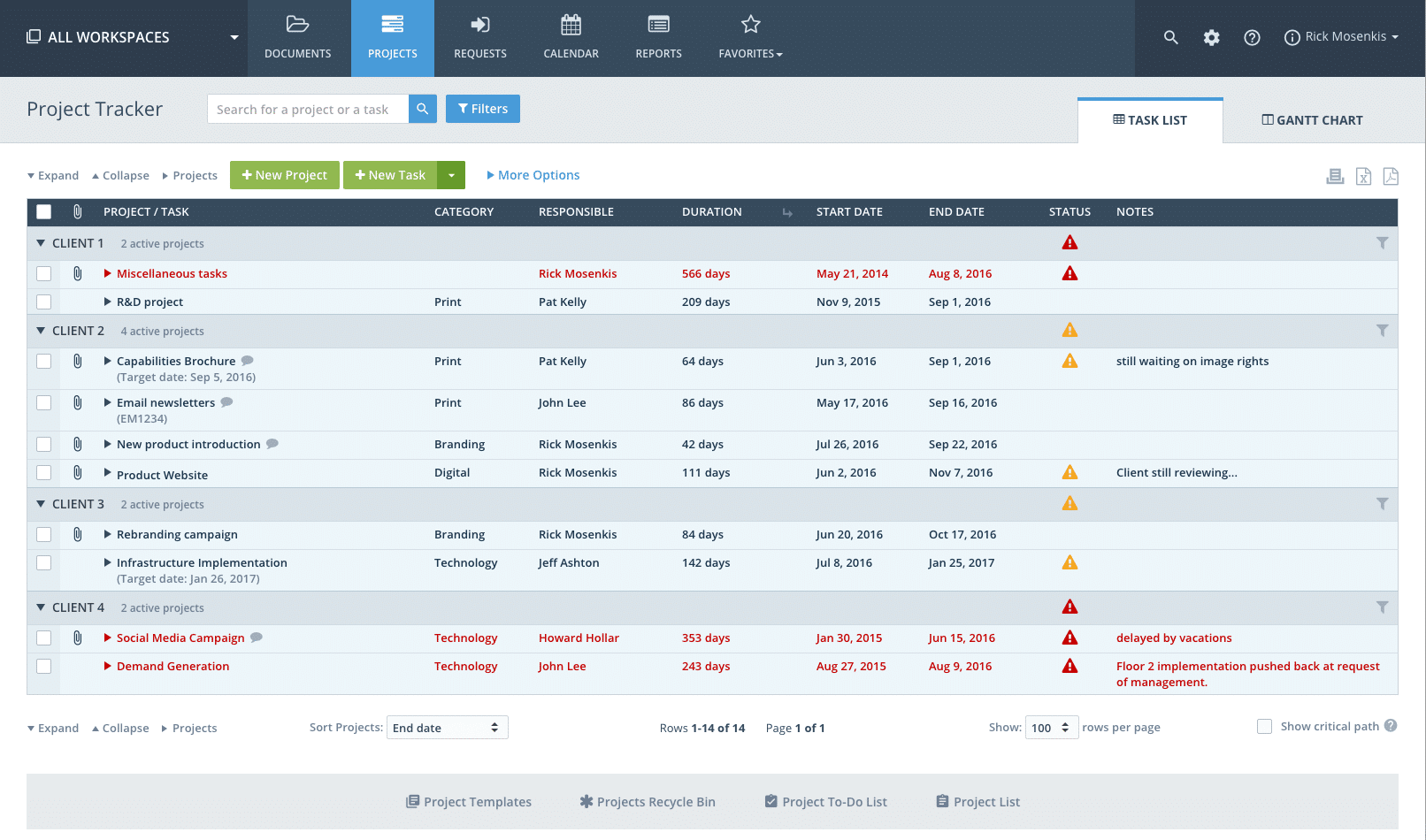 A source suggests that 70% of all organizational change initiatives are unsuccessful. Workzone takes the responsibility to initiate sustainable processes that expand productivity. An ideal project management tool has to be smart, fast, easy-to-use, and powerful.
Workzone is an all in one software programs like Basecamp that is comparatively less complex and has more in-built features. It renders all the hindrances your project might go through. It saves your time and energy and you focus on other important stuff.
Also, have a bigger picture to measure and improve work results and viewing other team's work and progress across departments. This is a software similar to Basecamp that enhances the success of your project planning.
Key Features
Proven to be 2.7% more effective in project management through the tested adoption process, unlimited training, and ongoing quarterly support calls.
Projects having similar processes can create templates for consistent projects.
It allows you to have cross-project views and automatic alerts so that you can manage multiple projects at the same time.
Create task dependencies to calculate the start date of one task depending on the previous one.
Plan hours of your team so that everyone gets to have a well-balanced workload.
Increases collaboration by adding markup comments directly to PDF or image within Workzone.
Offers custom branding features for your project management, team collaboration, visualization, and reporting needs.
Pricing
Team: This plan offers Gantt charts, unlimited project and task management, 100GB storage, and much more. It costs $24 per month.
Professional: It costs $34/month. It includes all features of the Team plan with 150GB storage, custom project intake forms, and API access.
Enterprise: Enterprise costs $44/month and includes everything that Team and Professional plans have. It also offers custom fields, critical paths, and much more.
Conclusion
Although an effective project management tool, Basecamp's competitors should not be overlooked. Saying that free alternatives to Basecamp are good would be an understatement. They are highly effective and successful for ideal project management in 2023.
Not only they are easy-to-use but they are also reliable with several diverse and intuitive features that make apps similar to Basecamp more trustworthy. They manage your tasks, workers, clients, and anything related to your project. They represent a bigger picture of your project.
Other SaaSy goodness on All That SaaS: