In this roundup, we are going to take a look at Asana, the world's leading task management, and productivity platform. We are also going to talk about some of the features that are missing in Asana. Lastly, we will take a look at some of the best Asana alternatives available today.
About Asana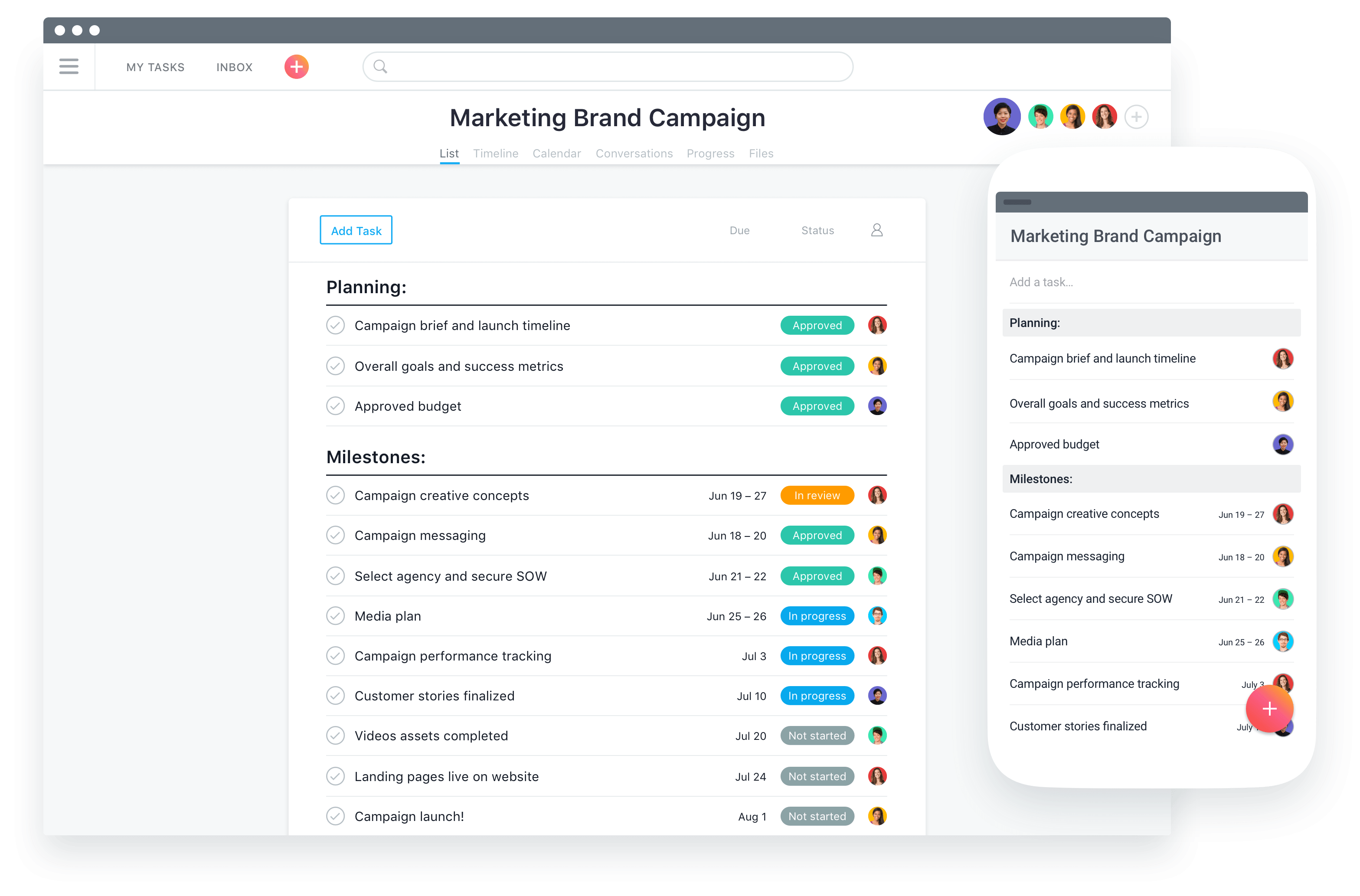 Asana is a work collaboration and task management software designed for project managers and remote teams to organize work. It enables convenient task management and communication.
Since its launch in 2008, Asana has grown exponentially. By 2018, it was valued at $1.5B despite the availability of various free alternatives to Asana. Today, some of the leading teams trust and use Asana to collaborate and redefine global working patterns.
Despite claims by many Asana competitors, the platform continues to grow. It is now used by over 30,000 paid teams that continue to prefer Asana over other work collaboration platforms.
However, while growth for Asana is a great indicator of its success, is it the only best collaboration tool available? No. There are several others. Some are more powerful than Asana in terms of features and functionality.
P.S. Click on this link if you'd like to read more interesting Asana statistics.
Key Features Missing in Asana
The ability to assign a task to more than one person and to share it between two teams. As Asana only enables a single assignee per task to avoid confusion, it can become problematic in case the assignee is absent or on leave.
You cannot mark a project as 'Complete' in Asana. If your project's completed, and you want it off the board, you have to archive your project.
Users cannot assign start dates to tasks making long-term projects and resource planning easier. Asana only allows its users to set a due date.
Native time tracking is missing. Using Asana, you cannot track how much time was spent by a team member on a task. Hence, teams that want clear visibility on billable and non-billable work have to use third-party integrations and other time tracking apps to be able to bill clients appropriately.
Added security measures such as 2-factor authentication are missing. While free alternatives to Asana are offering essential security features such as 2FA to deal with increased cybersecurity issues, Asana is still struggling to introduce this despite several customers waiting for 2FA.
Let's take a look at some of the best Asana alternatives you can get your hands on in 2023.
---
What Are the Best Asana Alternatives in 2023?
1. Trello – Best Alternative to Asana
Find out our top picks for the best Trello alternatives.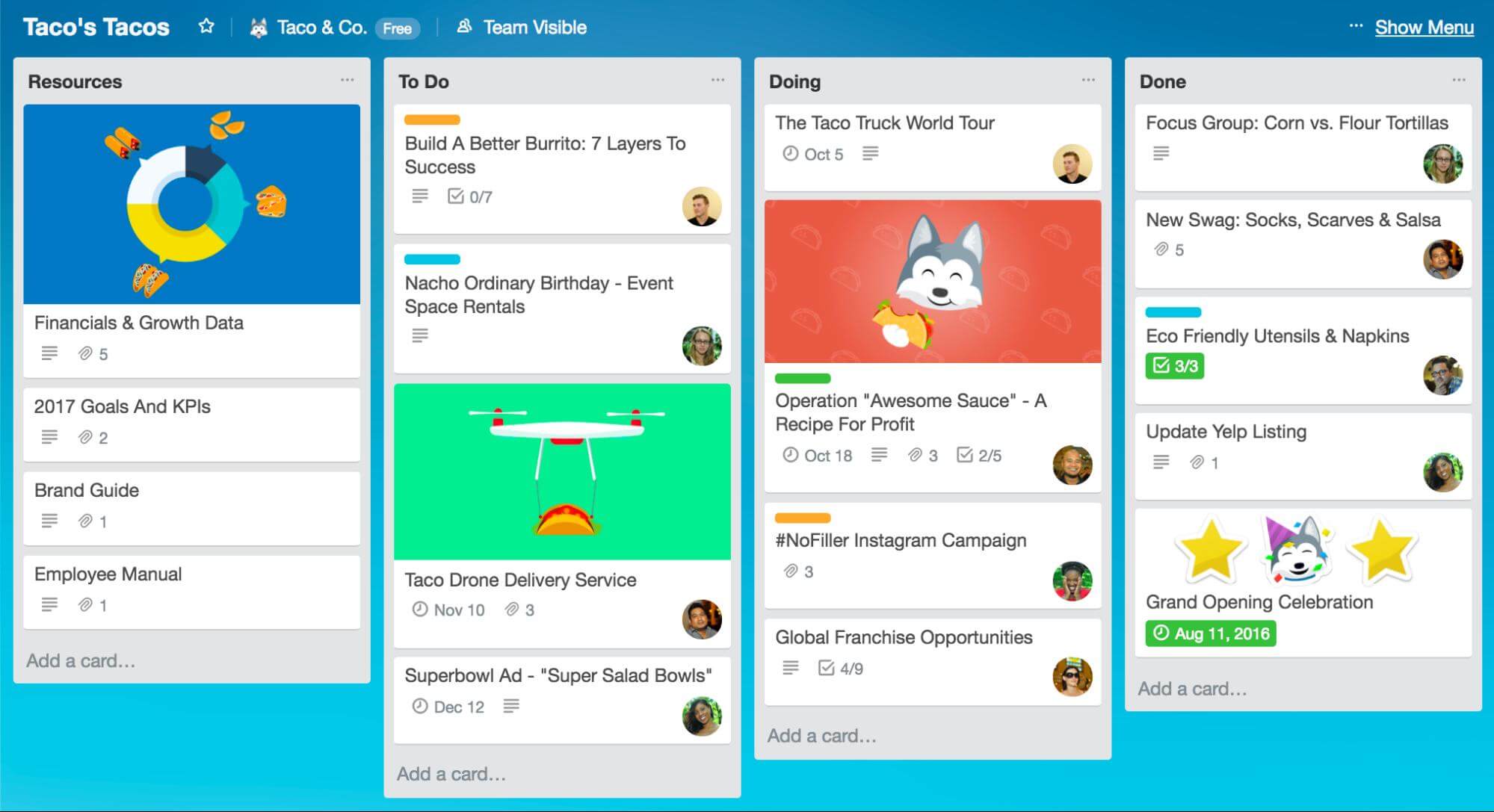 Trello is a Kanban-style application created in 2011 by Fog Creek Software. In 2017, it was sold to Atlassian and it is now a huge family of 35 million registered users. It is a software similar to Asana, flexibly enabling users to organize work from anywhere.
Trello helps you track your team's tasks, files, the status of tasks, and overall work progress all in one app. With its convenient pricing plans, it aims to be an appealing choice for small businesses, freelancers, and large companies alike.
With the help of this real-time team collaboration and cloud facility, you can pinpoint overburdened team members and swap work with another colleague.
This prevents bottlenecks ahead of time, making Trello one of the best Asana alternatives.
Key Features
The flexible and open-ended nature of this software enables the organizing of any type of work and keeping track of work status along with your personal life.
Owing to the safe back up via cloud storage, you can access and manage your tasks on-field and off-field.
Option for adding attachments, due dates, and to-do lists enable a team to collaborate and complete each project even with multiple ongoing projects.
Prevention of potential bottlenecks by rerouting tasks not only permits timely task completion but also ensures an appropriate amount of work assigned per team member.
User-friendly techniques of adding tasks and updating work status labels make it a convenient choice.
An assistant robot named Butler to assist in assigning cards, scheduling of tasks, and addition and removal of labels without requiring the user to learn code language.
A Calendar view of due dates or locations to make your project visually appealing.
Pricing
Free: The free version allows unlimited cards, personal boards and lists, and an attachment size of 10MB.
Business Class: This version comes at the rate of $9.99 per user/month (to be paid annually) but also has a 14-day free trial. In addition to the features of the free version, it allows advanced checklists, unlimited team boards, and power-ups, and the ability to attach unlimited files with a size of 250 MB each.
Enterprise: This version is available at a rate of $20.83 per user/month. Apart from all the business-class features, it allows file encryption, contract review in legal terms, advanced security, and on-board assistance.
---
2. Jira – Asana Alternative for Software Teams
Find out our top picks for the best Jira alternatives.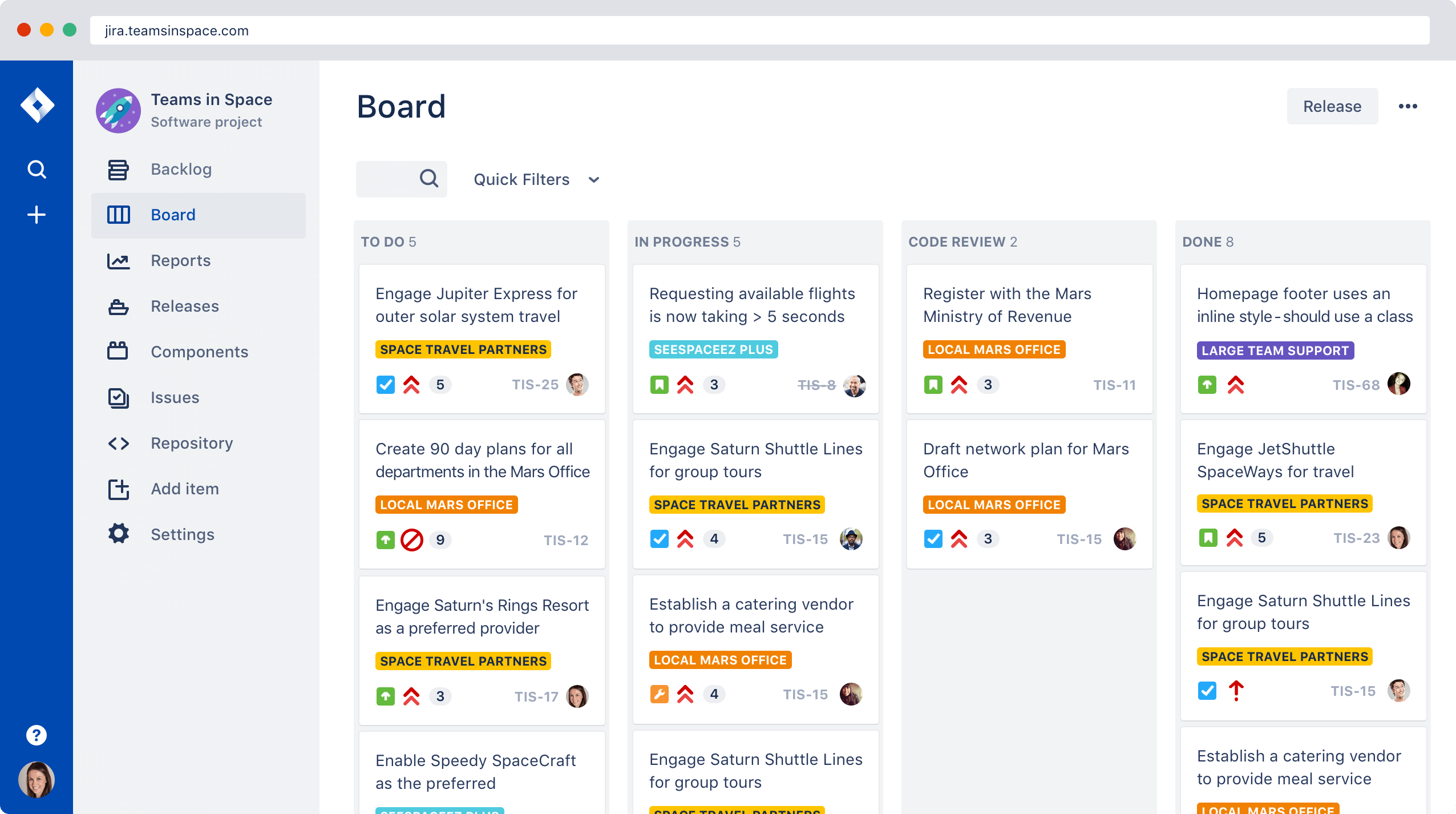 Jira works to create an efficient and agile collaborative process for work teams by employing Kanban and 'Scrumban' methodologies. Moreover, the system's visual data-driven reporting provides a deep insight into work progress
Jira enables users to centralize and organize all their tasks. It aids with app testing and even debugging consoles. Jira is a versatile planner and one of the best Asana alternatives that are available.
With an online software tool such as this, there is no requirement for old-school spreadsheets to track work details and progress reports.
Since Jira is widely adopted by software and dev teams across the world for collaboration, issue tracking, and project management, it is one of the best Asana alternatives for software/product teams.
Key Features
Scrum and Kanban approach allows efficient project management by improving workflow.
Modification of columns and configurable settings makes the work environment more customizable and easy to use.
A 360-degree view of workflows keeps you well informed, preventing tasks from being overlooked.
Issue fixing and bug tracking help you to concentrate on what's important by taking care of repetitive problems.
Jira Query Language (JQL) is used to create and manipulate filters, thus eliminating the need for technical background.
Real-time notifications allow you to get notifications across various time zones.
The ability to give quick responses to customer issues is likely to result in increased customer satisfaction.
Pricing
Free: This version allows you to use a variety of features like creating and capturing tasks, updating work items, and getting real-time notifications.
Standard: This version allows up to 5000 users at $7 per user/month. Moreover, it allows you to benefit from Scrum and Kanban boards and gives you the ability to audit logs and get agile reports.
Premium: Allowing up to 5000 users this version is available at $14 per user/month. Along with standard features, it allows unlimited storage and premium support.
---
Mobile apps not available
Check out our top picks for the best Microsoft Project alternatives.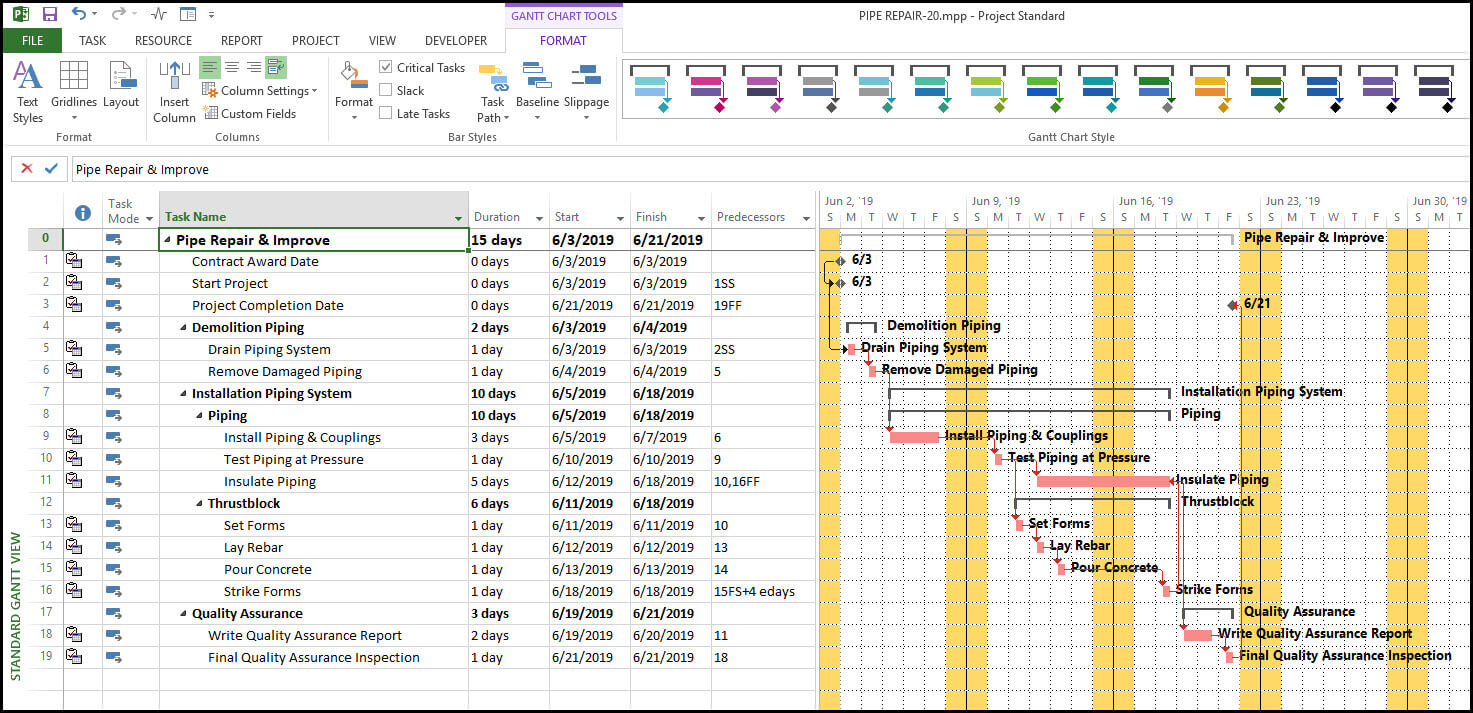 On #3 on this list of the best Asana alternatives, we have one of the most feature-driven project management tools.
Meet Microsoft Project – a powerful, visual tool for organizing teamwork, making and organizing new plans, sharing files, and catching up on required details. It enables businesses to get started and deliver successfully.
Microsoft Project aids users in rightly choosing & allocating resources and empowering their teams by effectively collaborating. MS Project has built-in templates and three main modules dealing with projects, portfolios, and resources respectively.
MS Project's portfolio module incorporates the use of MS business intelligence tools to provide greater, in-depth analysis.
Key Features
Full visibility using Gantt Charts and pull-down menus.
Integration with other Microsoft apps like Microsoft Planner allows you to connect tasks to a plan and track your work in Planner.
Collaboration with Power BI pro to get an insight into business intelligence analytics
Real-time communication enabling teams to stay in the loop.
Built-in templates, based on industry best practices, make working in Microsoft Project very convenient.
Intuitive and predictive nature especially helpful in the construction, finance, and trade industry.
Experience-based UI allowing review and modification of projects midway through.
Pricing
Cloud
 Essentials: Available at $7 per user/month, this version offers project communication, file sharing, and updates across devices.
Professional: At $30 per user/month, you get all online essential features in addition to the desktop application. Features like Gantt charts and customizable templates are also available.
Premium: At $55 per user/month, you will get all features of the professional version in addition to features like optimal allocation of resources and portfolio reports.
On-Premise
Standard: At $589.99, you can get on-premise project management with 1 license per PC per user.
Professional: At $1159.99, you will get all project standard features in addition to collaboration with Skype and sync with the project server.
---
4. Basecamp – Simple Asana Alternative
Find out our top picks for the best Basecamp alternatives.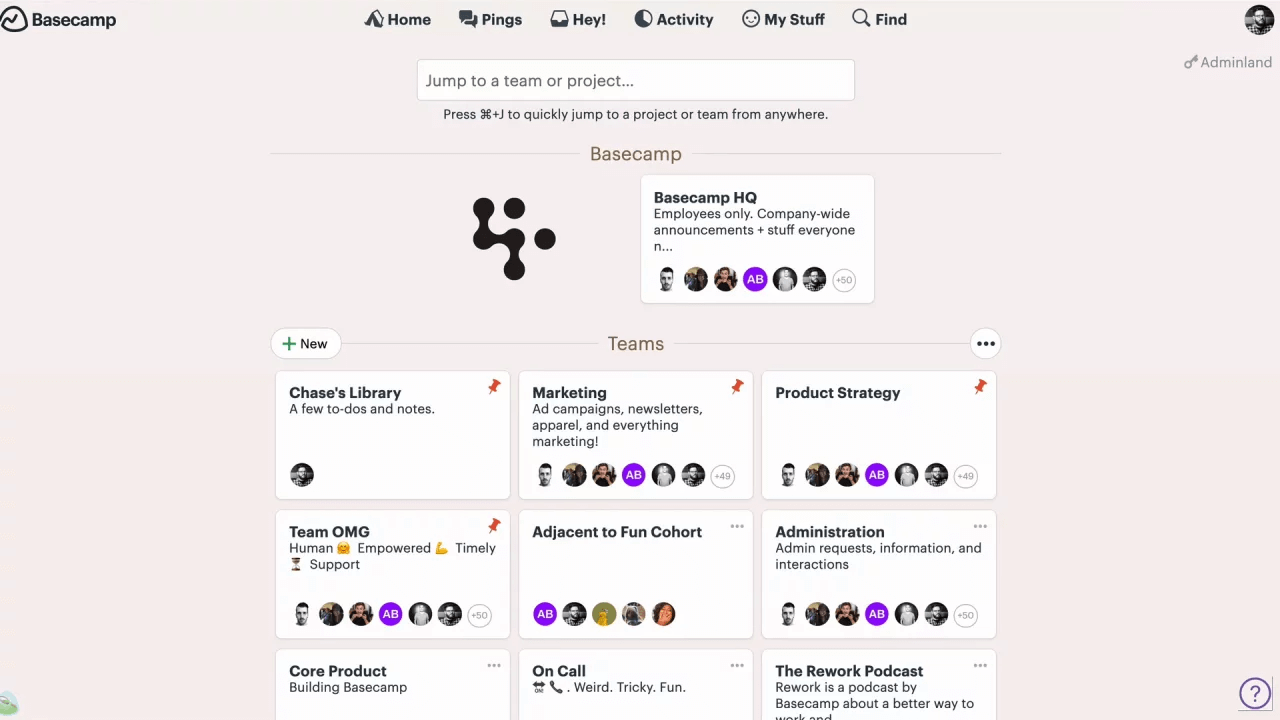 Another software similar to Asana is Basecamp. It offers collaboration for meeting common work goals by using message boards and a campfire chat room. Users can utilize schedules for setting up plans regarding project milestones and deadlines.
Basecamp lets the users know if they are lagging and constantly reminds you of the time track. It also informs you of what your colleagues are working on, who has completed his task, and the ones that are lagging and causing pending work.
Making an account on Basecamp and diving right into work is not too ambitious with this software.
Key Features
Instant messaging and RSS feed is a great way to collaborate with your team instantly and to keep them updated.
Interactive Gantt Charts to make the workflows visually understandable.
IT support responds within a few hours and you can also file a ticket to get a personal response from the support team about any issue that you are having.
24/7 technical assistance to guide users and walk them through any glitches.
Generation of automated reports saves a lot of time and keeps you updated about who is working on what task, what's the upcoming task, and what's late.
Campfire chatroom to discuss and reach consensus before important decision making.
Searching filters to find required information with just a few clicks.
Pricing
At a flat fee of $99/month, Basecamp allows you to make task lists and agendas, has real-time chat with other users, and other features like storage and check-ins. You can have a free trial before making the purchase.
---
5. Monday.com – Asana Timeline Alternative
Find out our top picks for the best Monday alternatives.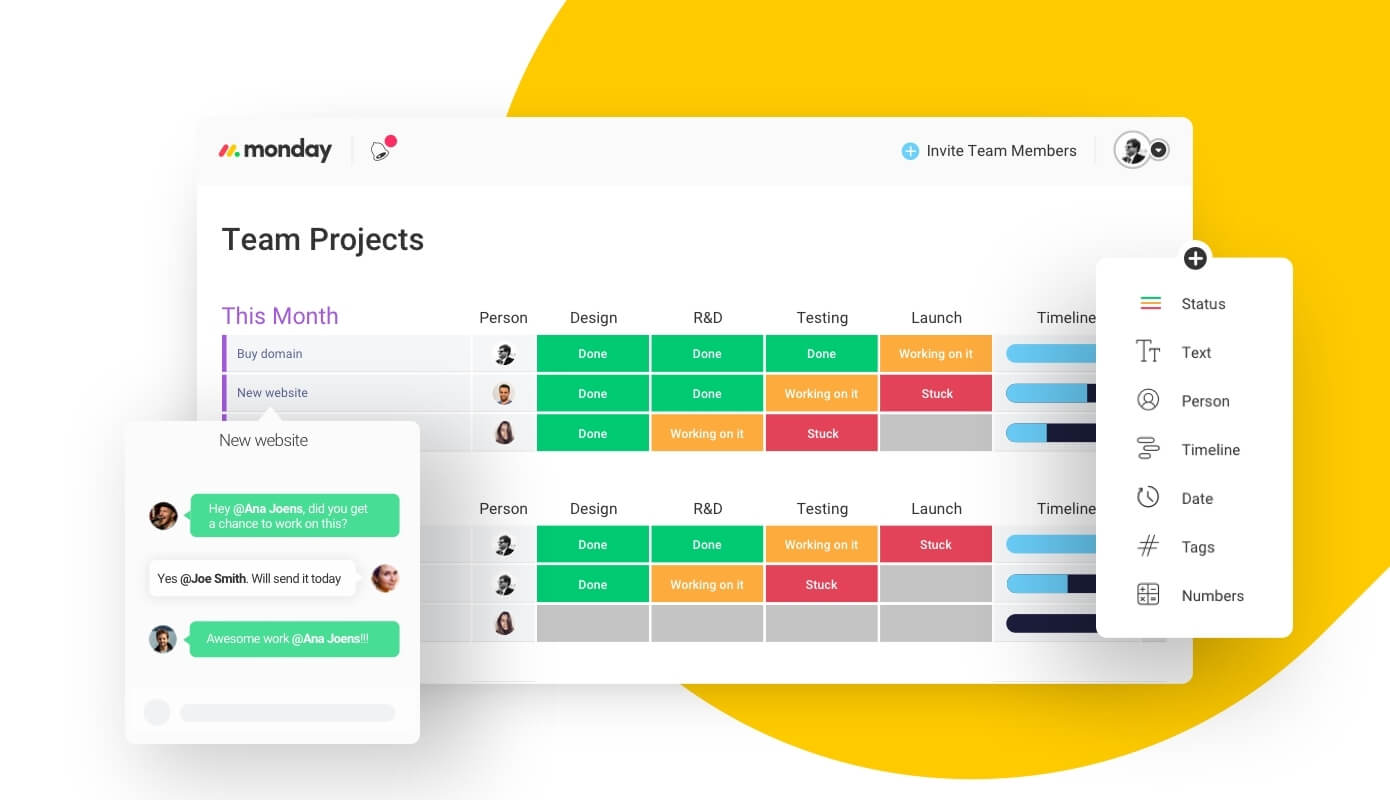 Monday.com is one of the leading collaboration apps for remote teams. Its mode of action is to streamline contribution and make it possible for all team members to keep a track of the project operations.
Monday.com is an award-winning project management solution that syncs information into an accessible zone and helps colleagues make workable decisions together.
This online productivity suite is well-integrated with other leading apps and has successfully become the platform of choice for many working teams around the globe allowing members to catch-up with work updates in just a glance.
Due to several powerful features, Monday also earns its spot in our list of the best Asana alternatives for the year.
Key Features
Option to see the latest viewers of your board.
Ready-made templates allowing you to have a head start.
Automation of repetitive work.
Custom sections and groups to tailor the software to your needs.
A live Facebook and Twitter activity to enable collaboration further.
Integration with Zapier, Google Drive, and Dropbox.
Copy-paste option with Adobe.
Pricing
Free trial: It allows you to have a free trial with unlimited users and boards.
Basic: At $39 per month billed annually, you get 5GB storage capacity, unlimited boards, and 24/7 support.
Standard: At $49 per month, you get external integrations, Full API, a powerful search engine, and board sharing options in addition to the basic features.
Pro: At $79 per month, you get Google authentication, unlimited storage and guests, and private boards in addition to standard features.
Enterprise: You can request a quote to get a higher API rate, VIP support, and one on one training in addition to the pro plan features.
---
6. Smartsheet – Asana Project Management Alternative
Check out our top picks for the best Smartsheet alternatives.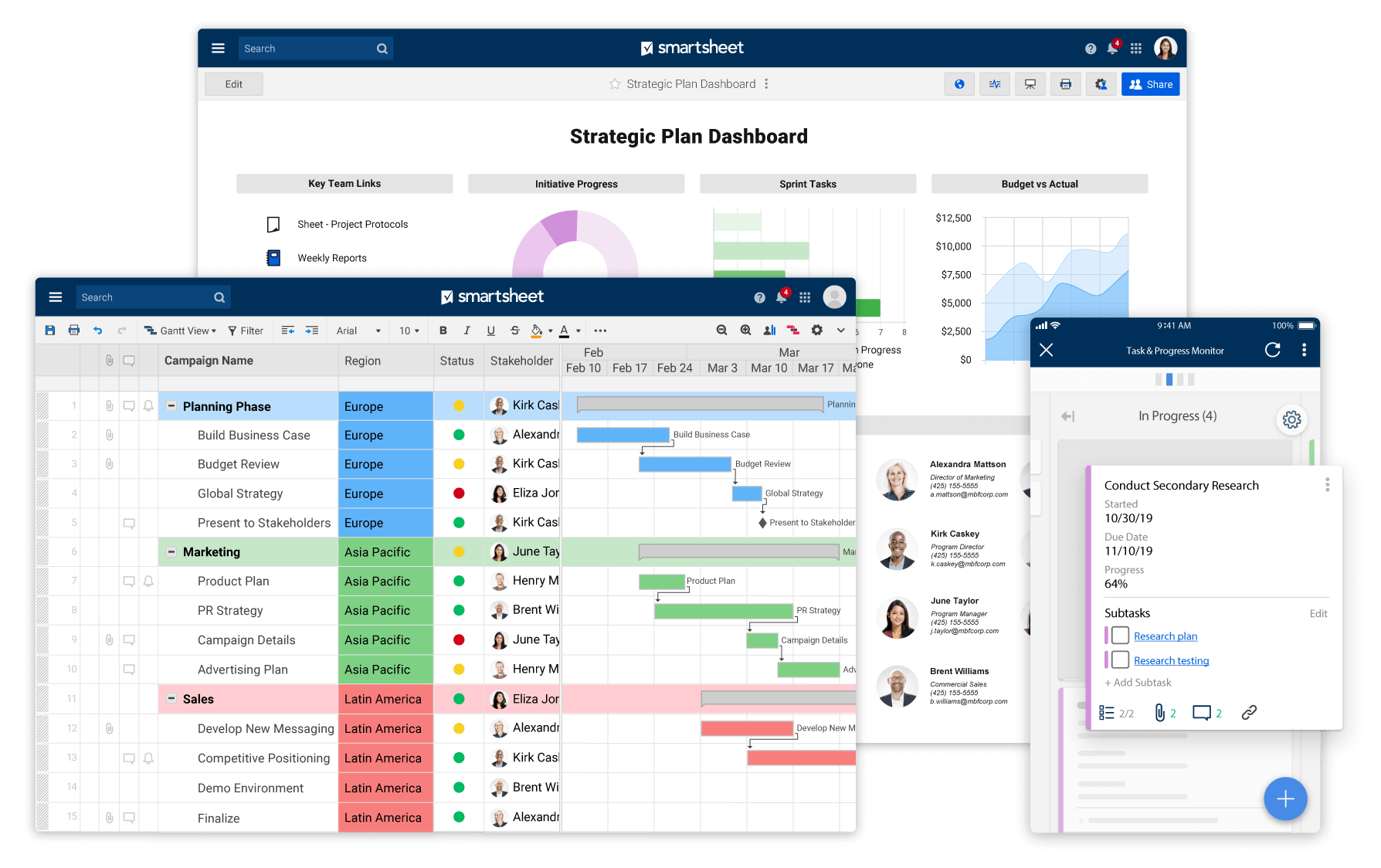 Smartsheet is business management software that maximizes work productivity. It operates as a platform for work execution enabling improved decision making and collaboration amongst team members.
Smartsheet is being used globally, and by the biggest of businesses – 75% of the companies that make it into the list of Fortune 500 are employing Smartsheet for collaboration and work execution.
It is being used in 190 countries and by 80,000 renowned companies. Smartsheet offers a 30-day trial version to help you figure it out before choosing a paid plan.
Key Features
Smartsheet allows easy file sharing by saving files within a project for quick access. All team members can attach different types of files to any project sheet.
The reports feature allows you to keep track of work progress, by showing you which work has already been done and which one is due soon
Mobility between devices increases productivity and makes it easy for you to work wherever you are.
A well-developed support system ensures a good user experience. There are pop up messages every time you click on something new in the app. Email and phone support are also available to answer any queries that you may have.
Alerts and reminders about things like task due dates help to ensure that all work is done on time and nobody misses a deadline.
Perform portfolio analysis by connecting with 3rd party business intelligence tools.
Increased efficiency and productivity owing to the integration with other apps.
Pricing
Trial: Smartsheet allows you to have a free trial version of its software.
Individual: At $14 per user/month, you can get email support, 10 sheets, 5 reports, and a dashboard
Business: At $25 per user/month, you can get 100 sheets per user, and unlimited reports and dashboards.
Enterprise: You can request a quote to get the available features customized to your needs.
---
7. Wrike – Asana Alternative for Remote Teams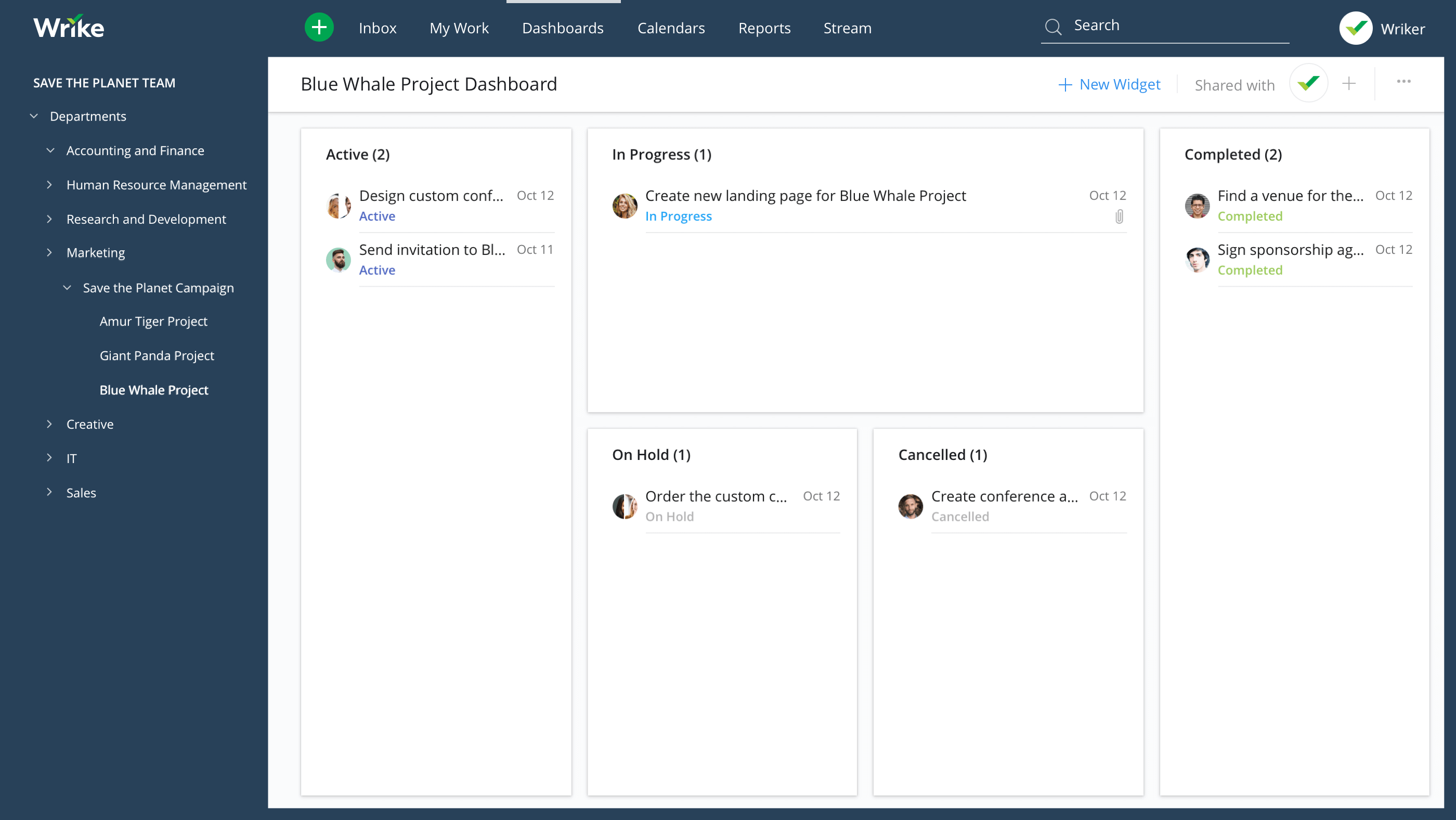 Wrike is a project management tool for online collaboration between workgroups irrespective of the geographical distance between the locations they occupy. In 2018, it won the award for Best Project Management Software for its success.
With its successful ability to enable discussion, scheduling, and keep track of work progress, Wrike caught the attention of many Fortune 500 companies like Adobe, HTC, Google, etc, and continues to be chosen and used by many more.
According to Deloitte's Technology Fast 500 List, Wrike is among North America's fastest-growing companies. Its well-designed user interface is its key attractive element.
Wrike is amongst those Asana competitors that provide just the kind of flexibility and management solutions that are required by today's project teams.
Key Features
Ability to create a new Wrike account and access it on your phone, on the go.
The Dashboards in Wrike allow you to have a bird's eye view of the task management and also gives you the ability to check the details of each task to analyze work quality and progress.
Easy access to personal and shared dashboards. Up to 10 useable shared dashboards.
Wrike allows you to create workflow statuses to automatically assign a task to the right team member at the right time.
Convenient and user-friendly navigation panel with fixed issues regarding navigating.
Strict security measures allowing data access to only authorized users.
Well-designed user interface and custom widgets.
Pricing
Free: This allows you to use all the basic features, like creating and sharing dashboards and viewing and responding to messages, for free.
Professional: Available at $9.80 per user/month with packages of 5 – 15 users, this comes with all features of the free plan along with 5GB storage, Gantt charts, and many more benefits.
Business: At $24.80 per user/month, you can get all features from the professional plan along with features like user groups, graphical analytics, and custom fields.
Wrike for Marketers: At $34.60 per user/month, you can get all the business plan features along with Adobe Creative Cloud Extension and specially tailored workspaces to meet your specific needs.
Enterprise: You can get a quote at an average rate of $35 per user/month to get 20 shareable dashboards, custom workflows, increased storage, and added security along with all professional plan features.
---
8. Redbooth – Best Free Asana Alternative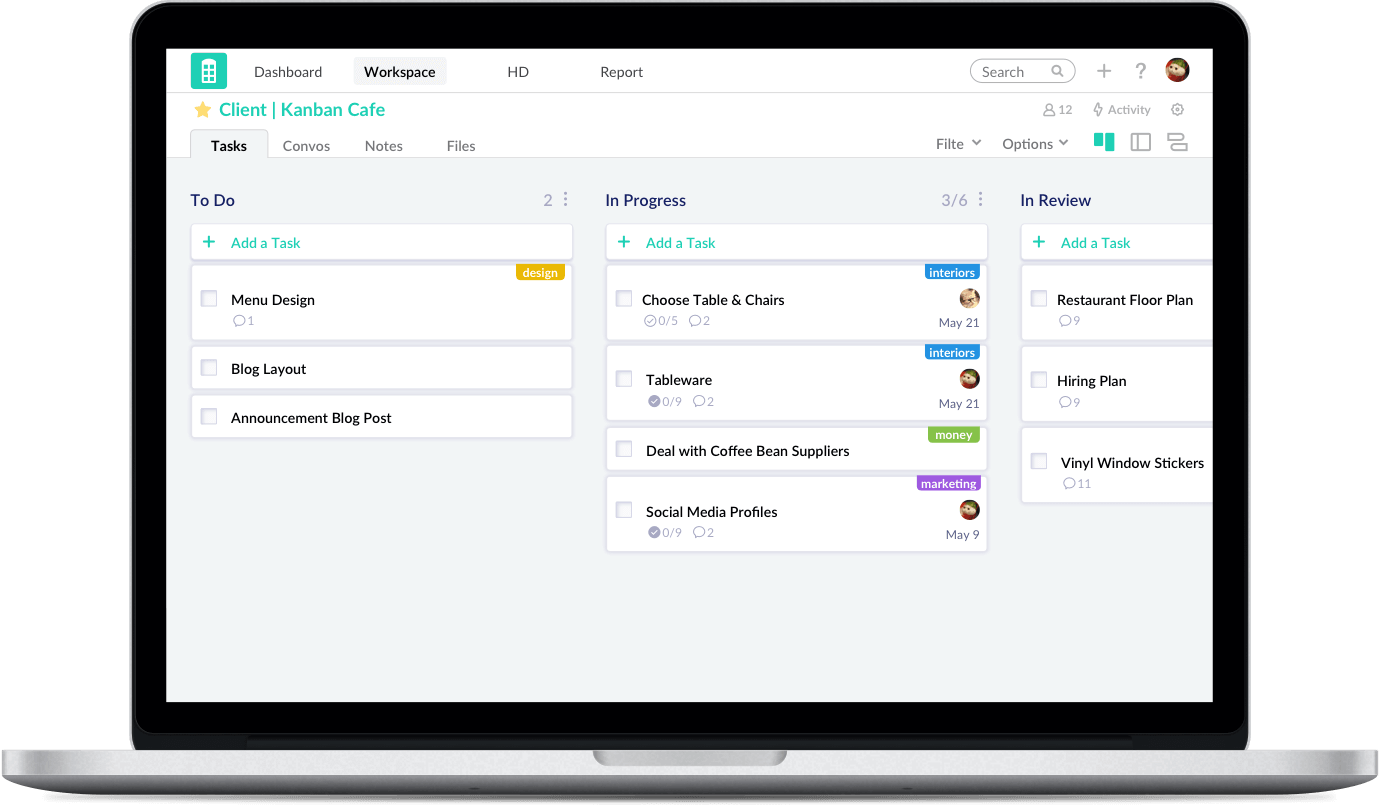 Being a user-friendly project management software for organizing work and ensuring timely completion, Redbooth is yet another alternative to Asana.
Redbooth makes use of an artificial intelligence run tool called the Redbooth predict that helps organizations assign and allocate work and resources in a better way. It cancels out the need of looking for the perfect working candidate and setting up due dates.
Redbooth allows both clients and partners on board, in addition to team members. This makes it a well collaborated work platform. To aid in further cooperation and enhancing collaboration, Redbooth offers HD video calls natively as part of its productivity platform.
Key Features
Redbooth Predict, an AI tool, to provide recommendations to users.
Redbooth provides task transparency by allowing you to see who is working on what task and when is it due.
HD video calls powered by Zoom allow you to conduct team meetings and conference calls to collaborate with everyone in a better way.
The timeline view allows you to see progress in the form of Gantt charts and allows you to easily add tasks and create task dependencies.
Customized Kanban boards make it easy to sort, tag, and organize your tasks thus allowing better task management.
Redbooth Conversation chatroom to ease communication among team members.
Integrated messaging tools for speedy feedback.
Pricing
Free Plan: This plan allows two workspaces, two users, and the ability to assign users and due dates.
Pro plan: At $12 per user/month (monthly subscription) or $9 per user/month (annual subscription you can get unlimited workspaces along with time tracking and video calls.
Business plan: At $18.75 per user/month (monthly subscription) or $15 per user/month on an annual subscription, you will get all pro plan features along with features like resource management.
Enterprise plan: You can get a quote to get multi-organization support and discounts along with all business plan features.
---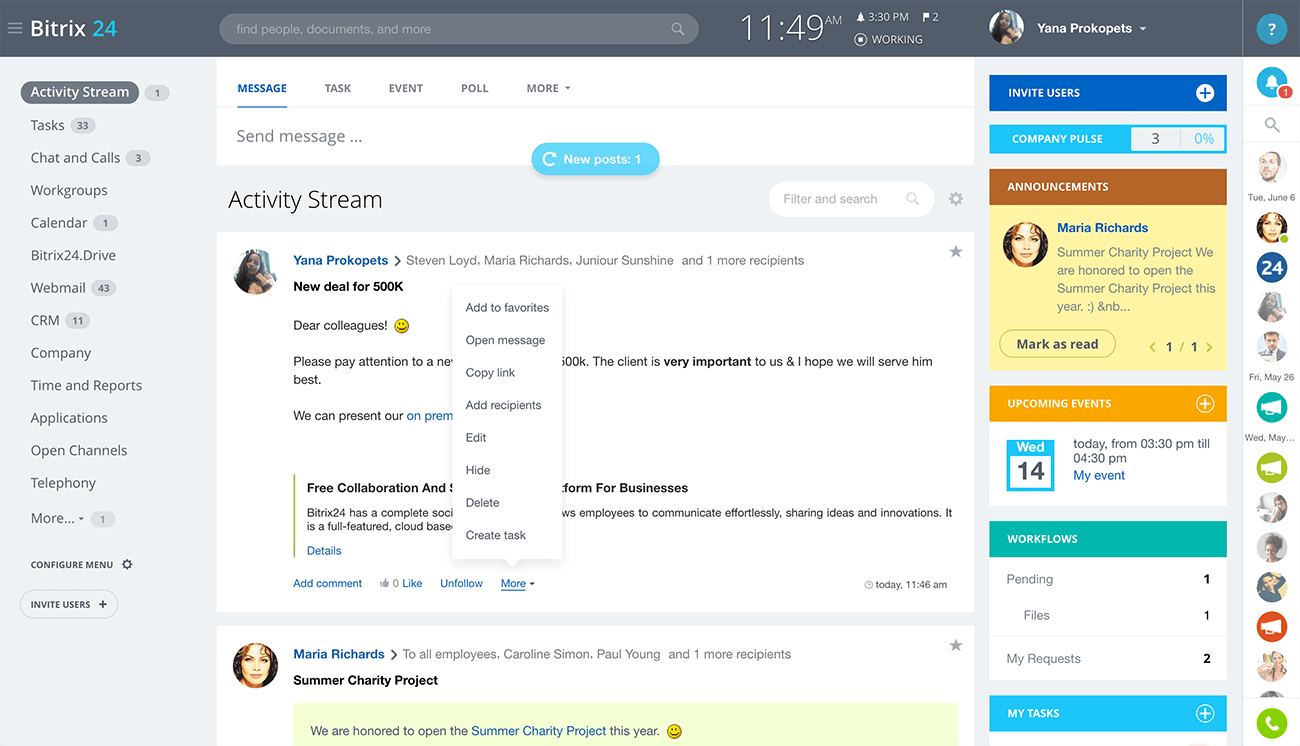 Bitrix24 is an integrated work platform that offers an intuitive interface with a complete set of business tools for managing your contacts, files, tasks, and projects. In simpler terms, it comprises five blocks namely communications, website builder, tasks and projects, contact center, and CRM.
With the facility of the Activity Stream, everyone in your team stays in the loop. Bitrix offers its smartphone and tablet versions as well, along with sales team management and HRM.
Other than its free and standard plans, there is also an on-premise solution made purely for access to source code and complete control over data. Moreover, the Bitrix app marketplaces enable you to design and add your apps.
Key Features
It has an activity stream with options for "likes, dislikes, and emoji emotions" to make the digital collaboration a familiar work zone.
Option for private and group chats along with calls allow you to collaborate with your team more efficiently.
Task statuses as well as the priority rank for statuses to help in picking the right task at the right time.
Social Intranet allows ease of communication with your team members by integrating popular social channels into your company's daily operations.
The Like button allows you to like content thus enabling you to easily share your opinion with team members. Liked content is also shown with priority in search results thus making it easy to find.
Conversations provide an easy way to collaborate with your team on different tasks. You can also attach documents and images to your conversations.
Badges act as a great motivational tool that you can use to show your appreciation of your team members.
Pricing
Free: This version allows unlimited users and basic features like tasks, projects, and CRM.
Plus: At $39 per month, this version allows 2 admin members and 24 users. It also gives online storage of 24 GB
Standard: At $99 per month, this version allows 5 admin members, 50 users, and a storage of 100 GB.
Professional: At $199 per month, this version allows unlimited admin members, users, and online storage capacity.
---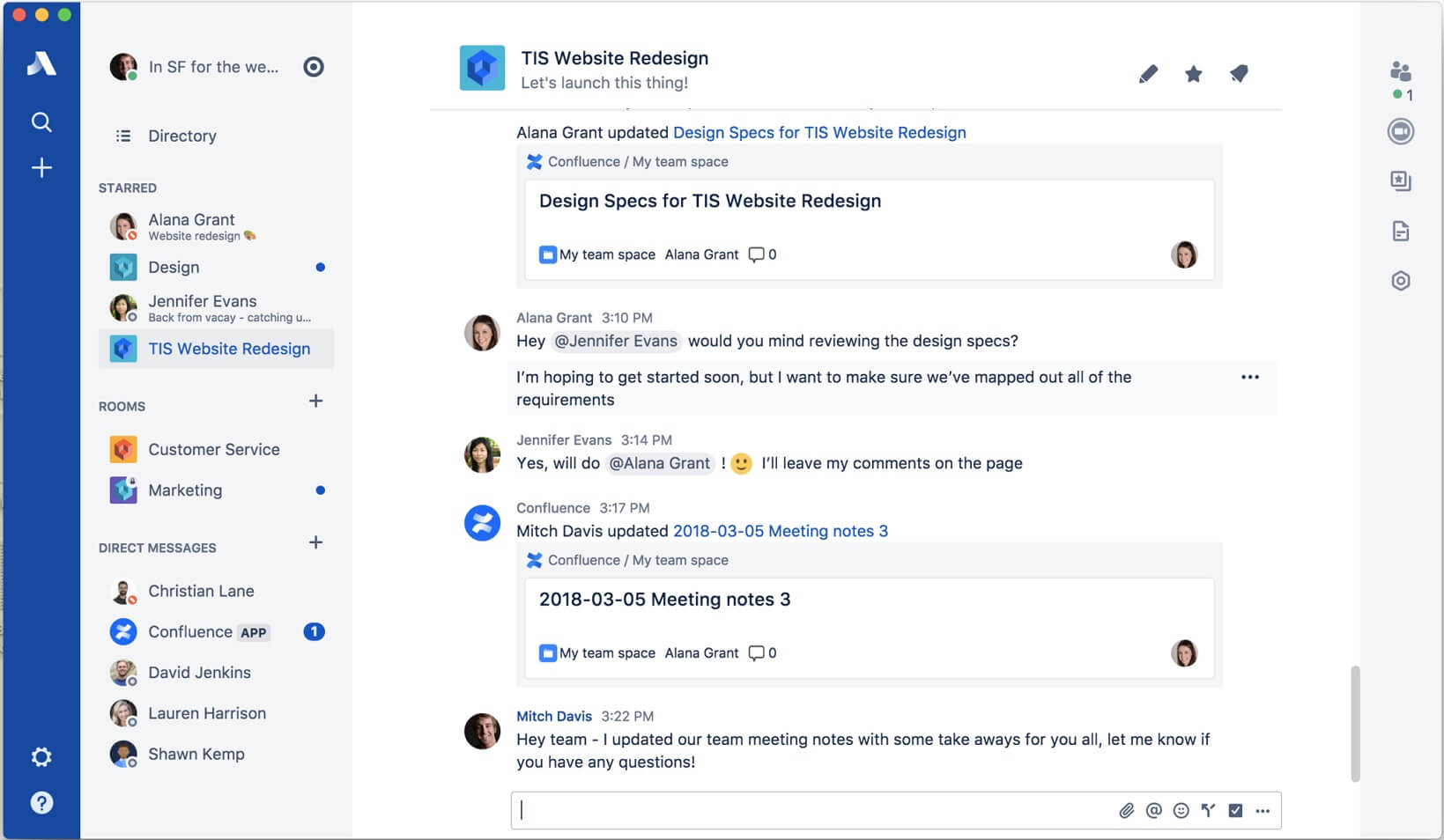 Confluence is a collaboration app enabling users to Jot down ideas and stay informed about their teams' work status. It improves user engagement and works performance by enabling them to create their customized workspace.
Confluence allows users to add multimedia such as pictures, video clips, and GIFs to make the workspace more engaging. Work productivity gets boosted by engagements and comments in real-time.
Key Features
The mention features allow you to give feedback specifically, thus making the feedback process more efficient.
Effortless integration and collaboration with other apps and products offered by Atlassian.
Pre-made templates for rapid creation of various plans.
Search feature to avoid having to go through lengthy email threads to find the required information.
Integrations with apps like Jira, Trello, Team Calendars, etc. allow additional features like organizing your vision into small tasks and effective planning.
Strict security measures backed with SAML SSO and 2 step verification limit data access rights and make your system very secure.
Features like structured page trees and page archives allow easy navigation of the content, thus making it easier to work.
Pricing
Cloud
Standard: At $5 per user/month, it allows up to 5,000 users, unlimited space and space permissions, anonymous access, and more.
Premium: At $10 per user/month, this version allows unlimited storage, premium support, and admin key along with all standard plan features.
Self-Managed
Server: This version is available at $10 for 10 users, with one year of free maintenance and control over the work environment.
Datacenter: At $15,000 for 500 users, this version also allows annual maintenance and disaster recovery support.
---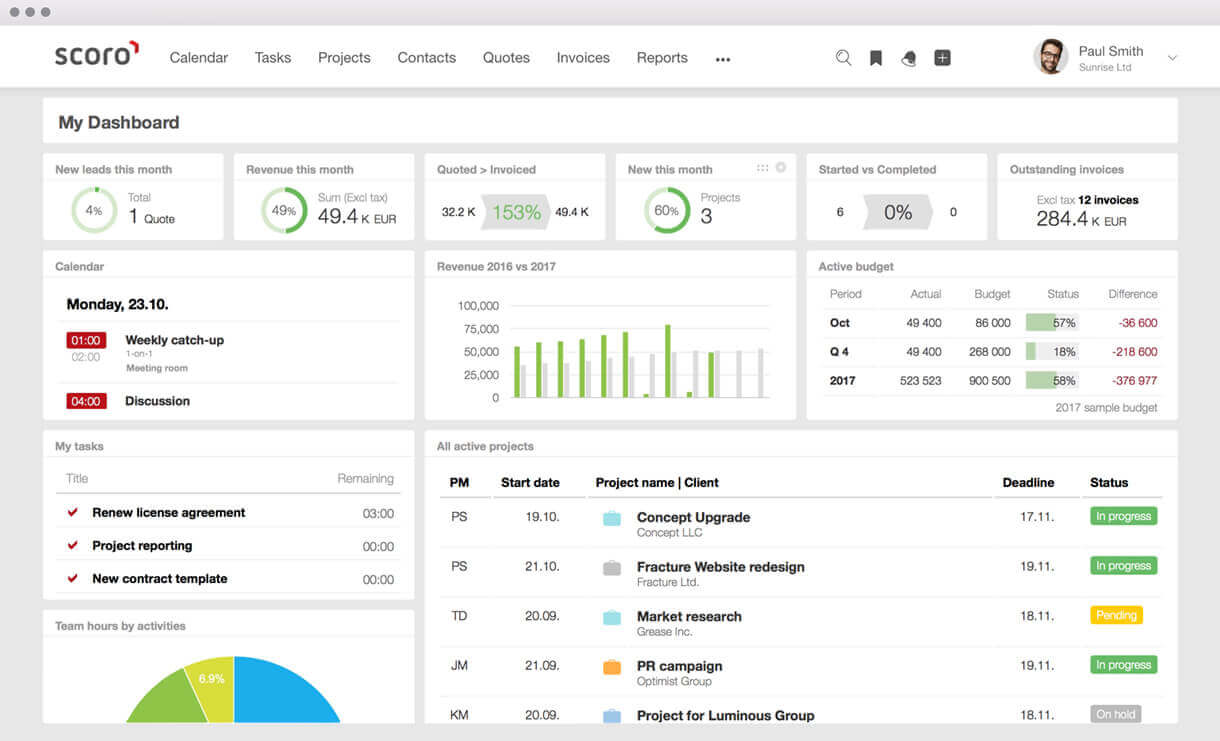 Scoro is yet another Asana software competitor that works as a cloud-based business management tool. It is targeted at medium or smaller businesses, particularly consulting and advertising agencies. Scoro's business solution comprises tracking and scheduling work, building customer relations, quotes, and bills, etc.
Scoro is a very comprehensive software yet it has a user-friendly interface. It offers a fast way to track work progress and billable hours.
Scoro is a multi-lingual and multi-currency employing software, that saves the users from the need to switch between multiple solutions and hence save precious time. It provides localized, country-specific solutions.
Key Features
Useful in preventing problems linked with using multiple software, which generally leads to complications.
Gives a precise picture of available and allocated resources and time, thus giving businesses absolute control over their processes.
Enterprise-level reports are generated automatically which covers every aspect of your business thus allowing a detailed analysis of the workflow and sales.
Multi-currency and multi-lingual thus offering a more understandable platform to a bigger market.
Country-specific solutions are provided to deal with targeted markets.
Informative calendar events to link projects, plans, and contacts.
Access to desktop version even on a mobile phone.
Pricing
Free Trial: This will allow you to use Scoro for 14 days without any cost.
Essential: At $26 per user/month, and with at least 5 users you can use features like CRM, quote management, work reports, and more.
Work Hub: At $37 per user/month, you can have access to customizable dashboards, work-time billing, advanced project management, and more.
Sales Hub: At $37 per user/month, you can get access to features like commission calculator, sales pipeline, forecasts, and more.
Ultimate: You can request a quote to get all work hub and sales hub features along with detailed insights into your work and team performance.
---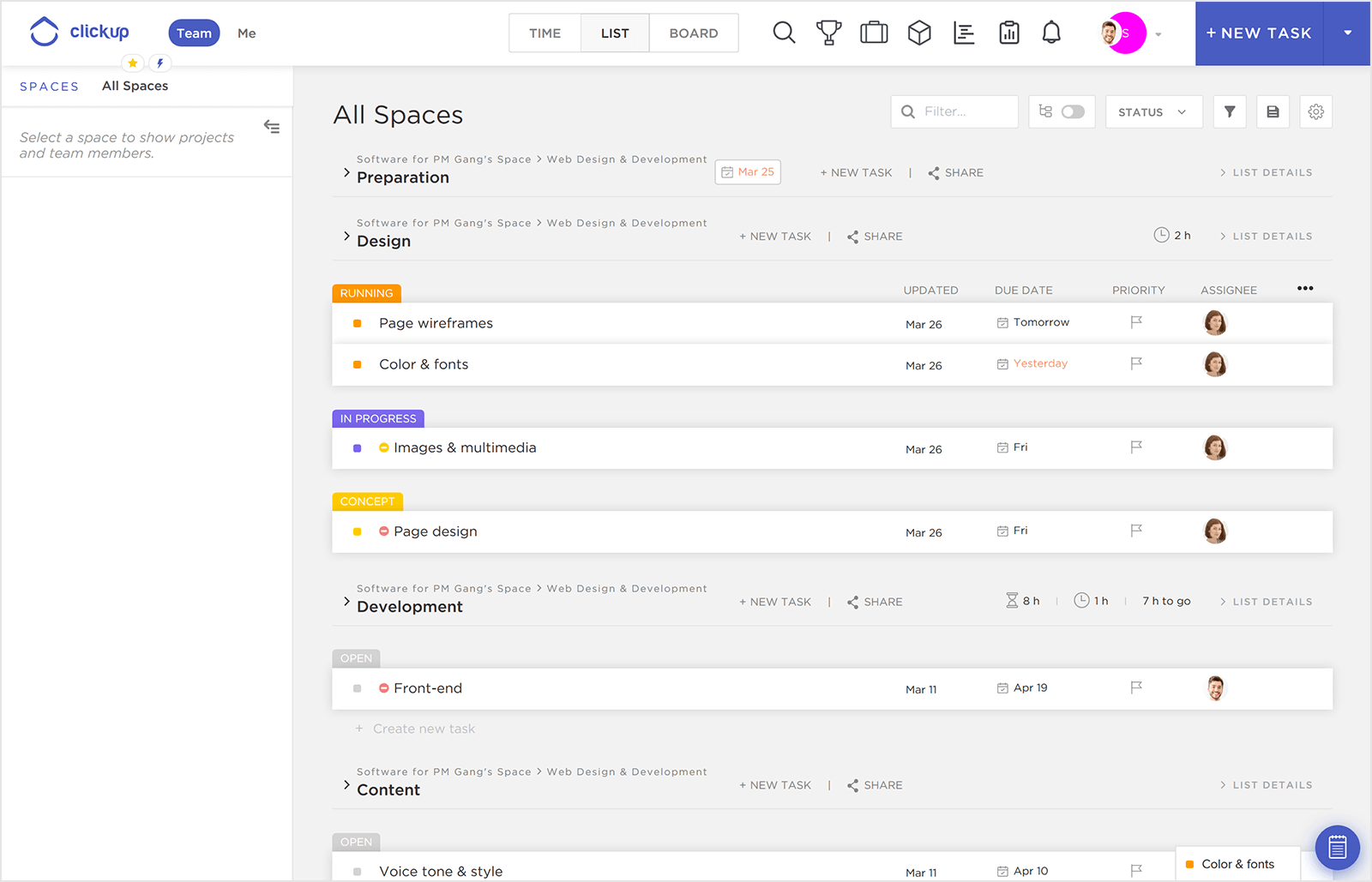 Clickup is an amalgamated business management tool offering one-stop to find your business calendar, meeting schedules, timesheets, and time tracking, workplace documents, and also get reminders for upcoming projects and commitments.
This powerful project management software claims to be the replacement for all of its software alternatives available in the market. In trusted reviews, Clickup claims to be the aid in improving the work completion rate by 62%.
ClickUp is a hybrid solution consisting of a variety of customizable features. Its customizable features enable you to tailor the software according to your unique requirements.
Key Features
Three Different Views such as the Agile Board View and the Box View so that not everyone needs to stick to the same view.
Activity stream to keep the human factor and business presence in the virtual collaboration world.
Centralized and streamlined processes enabling users to work from a single dashboard.
Comments can be turned into tasks and assigned with greater convenience and speed.
The hierarchical approach of organizing work and assigning tasks within groups, subgroups, and categories.
Machine learning capability to give more realistic forecasts.
Smart search and Gantt Charts allow easier planning
Pricing
Free: This version allows unlimited tasks and users but limited storage and lacks advanced features.
Business: At $9 per user/month (monthly subscription) or $5 per user/month (annual subscription), you can get unlimited storage, custom fields, and workflows.
---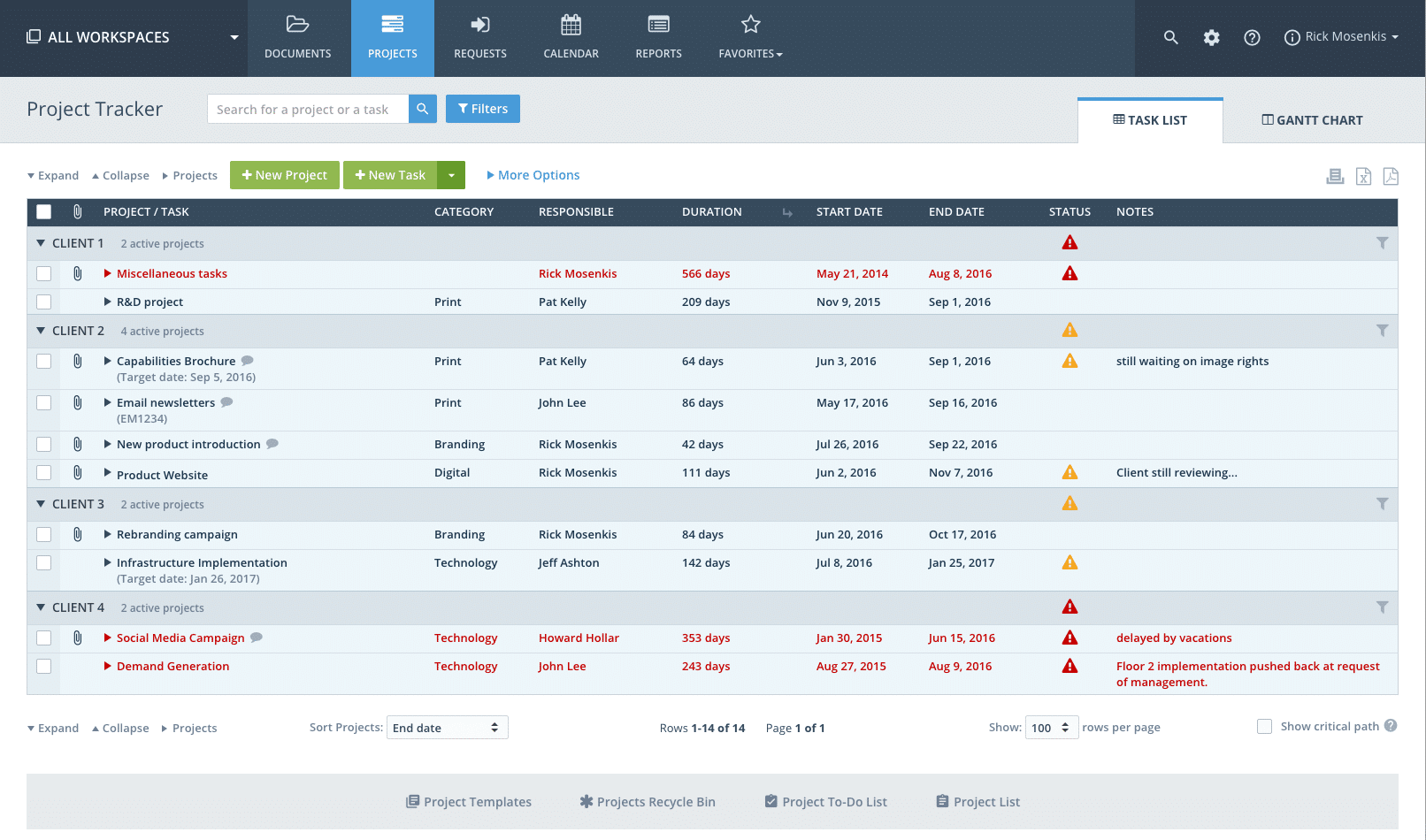 Workzone is yet another software program like Asana that enables users to view their work documents irrespective of their geographical location.
Not only that, but employees can perform basic routine tasks such as submitting leave requests and notices, etc. straight from their phones.
Workzone also can create, update, and maintain workplace rosters making an understanding of colleagues' duties and swapping responsibilities – whenever required – a lot easier.
Key Features
Feature to download, view, and share workplace documents such as payslips.
Employees may submit leave requests for manager approval, and keep tabs on their leaves' status and balance.
Ability to clock in and out via location tracking.
Ability to view roster, swap duties, and bid on open work slots.
Submission of expense details along with photo receipts for ease in audit times.
Confidential satisfaction survey form to tell your employer of any workplace issues while maintaining your privacy.
Notifications to inform you once each of the above tasks has been performed, approved, or turned down.
Pricing
Team: costs $24 per user/month. Provides 100 GB storage, unlimited workspaces, and project management.
Professional: at $34 per user/month. Includes 150 GB storage and all features of the Team plan.
Enterprise: costs $44 per user/month, you can get API access, custom fields, 200 GB storage, and all professional plan features.
---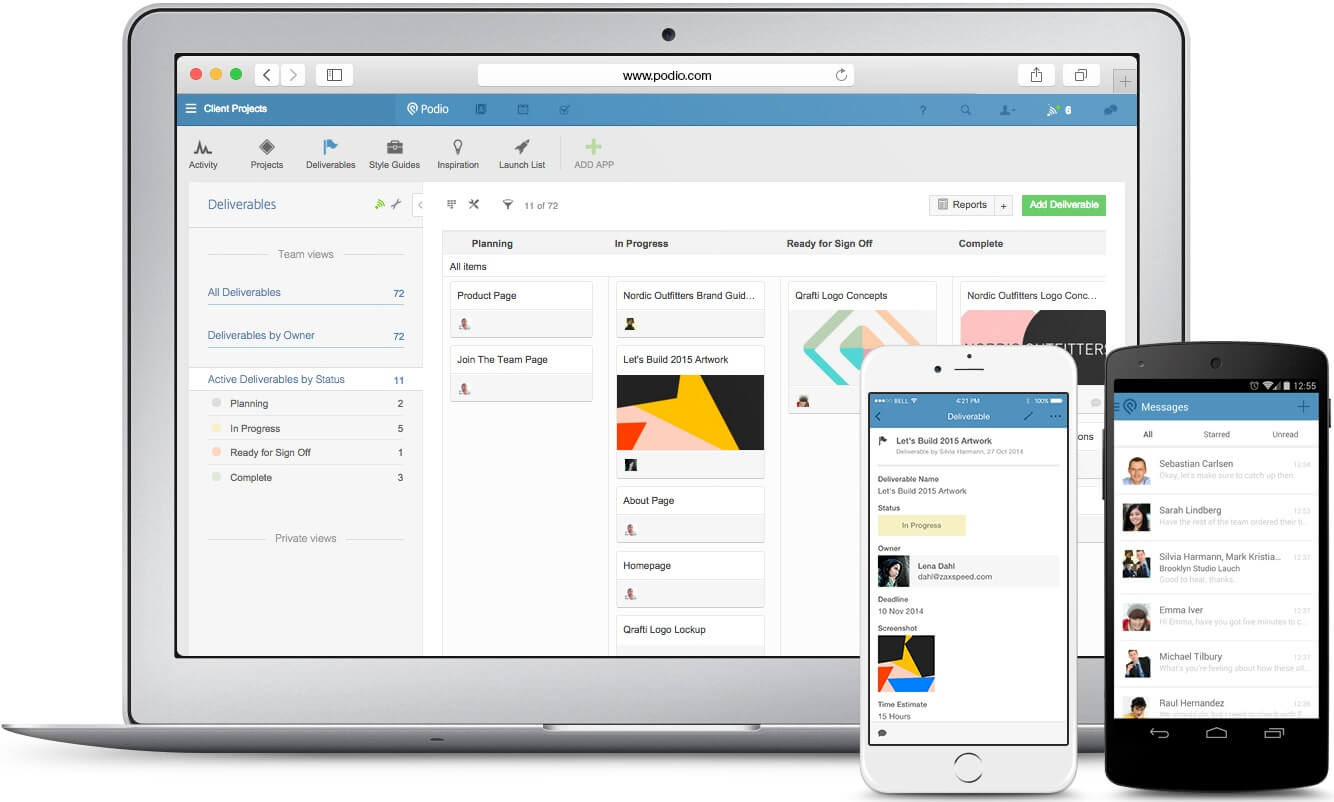 Podio is a project management software that focuses on team collaboration to avoid confusion and create sharp clarity regarding mutual goals and deadlines. It works by bringing work content and related conversations to one platform.
With all the context and related conversations in one place, there is far less room for any ambiguity thus resulting in closely monitored communication and work progress. All comments and changes are made in real-time.
Furthermore, Podio offers additional tools to enhance team members' connections and synced approaches. File sharing, schedules, and management of tasks are easier than ever before.
Key Features
Consolidated content and communications resulting in well-structured projects.
Full control over managing, assigning and automating workflows leading to improved deliverables and effectiveness.
The built-in integrated chat feature in place of time-consuming file sharing and email threads.
Utterly customizable to create tailored processes to accommodate the unique needs of your team.
Visualized reports to better explain project budget, due dates, sales pipelines, potential bottlenecks, and more.
Progressive workflow orchestration using Globiflow.
Large storage capacity makes work documentation easier.
Pricing
Basic: At $9 per employee per month you can get unlimited external users and user management.
Plus: At $14 per employee per month you can get automated workflows, light user roles, and all features of the basic plan.
Premium: At $24 per employee per month you can get all plus plan features along with interactive dashboards, visual reports, and GlobiFlow to allow advanced workflow orchestration.
Enterprise: Larger teams get custom plans that are either charged monthly or via an annual subscription at lower per month charges. This version allows unlimited e-signatures and encrypted file sharing along with all premium features.
---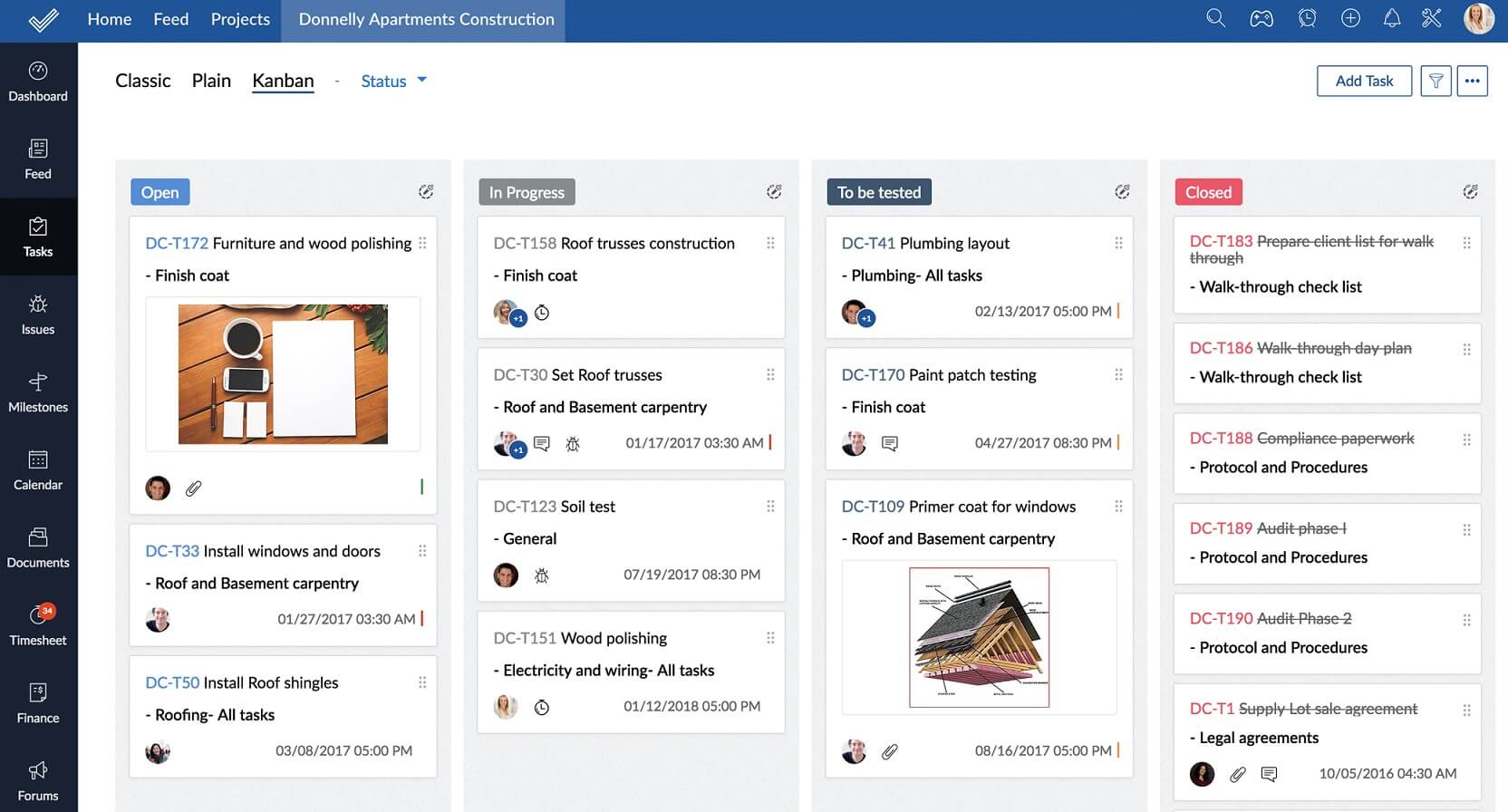 If you are looking for cost-effective alternatives to Asana that do not let you compromise on value, Zoho Projects might be the right choice for you.
Zoho Projects is a flexible project management software with versions available for both iOS and Android, and its mobile app supports the web version. It enables project planning on the go, allowing members to manage resources and collaborate to make decisions.
Keeping updated with team members' discussions in the comment threads is possible with quick feed skimming while you're away from your physical work location. At the same time, the work hours spent offsite can be easily recorded in a timesheet module.
Zoho Projects is a cloud-based tool. It is simple but also powerful, so, the simplicity doesn't take away any of the features that are offered.
It does not just keep you updated with work progress, but also informs you of any deviations from the original work plan.
Key Features
A drag-and-drop interface to make automation of tasks easier to carry out and visualize, thus saving your time on carrying out routine tasks.
Timesheet module to make every minute of work recordable, making it easy to log billable and non-billable hours.
Option to create fully customized projects employing tailored layouts and workflows.
Flawless integral project planning enables collaborated use with 3rd party apps.
Designation of milestones with tasks and subtasks to plan your project to the minutest detail.
Tools such as Global Timers and resource utilization chart to keep tabs on your colleagues' productive hours.
Customizable processes to meet the unique needs of your project according to your preferred style.
Pricing
Free: The free plan allows 3 users, 2 projects, and a Gantt chart viewer.
Standard: $24.99 per month you can have 10 users and 10 projects. It also allows you to sync to Google, has a CRM integration, and 5GB attachment file capacity.
Express: $49.99 per month you get to have 15 users and unlimited projects. Other features include timesheet approval, editable Gantt chart, and more. More users can be added at an additional $2 per user.
Premium: $99.99 per month, this version allows unlimited projects and 20 users. Also, to express features you get features like resource utilization charts, automation for users, and much more.
Enterprise: $149.99 per month, this version allows you unlimited projects and 25 users along with all premium features. You also get additional features like a global Gantt chart and an increased attachment size limit. More users can be added at an additional $4 per user.
The above were some of the best Asana alternatives available in the market. The additional features present in them, on top of the basic work management features, give each of these apps its unique value.
You can go through the list of these alternatives to Asana with your work needs in mind and make an informed decision about which Asana alternative will suit your needs the best.
---
Other SaaSy goodness on All That SaaS: