Are you a gym owner who is tired of keeping track of activities by themselves? You can make the whole process much more seamless using gym management software.
A study by economists at UC Berkeley found that members anticipate going to the gym 9.5 times/month. However, they only end up going 4.17 times/month on average.
Another study shows that 44% of users of a smartphone are likely to make an online purchase such as a monthly subscription. Modern-day users are keener on finding gym memberships online and are expected to join it quicker.
With growing digitization, gym owners need to use gym management software.
The Best Fitness Club & Gym Management Software in 2023
Features to Look for in Fitness Club/Gym Management Software
Online Membership Engagement: Your gym management software should have the ability to seamlessly link with your website, making it easier for you to offer discounted classes to spark interest among potential customers.
Real-Time Reporting: It should provide daily reports and metrics that help you keep track of your business's financial position, statistics, and aids in taking proper financial measures.
Attendance Tracking: To ensure athlete engagement and retention of customers, businesses need to track which classes get popularity and which don't; this can help them make better decisions in the future.
Automatic Scheduling: The gym management software should offer auto-scheduling capabilities and effortless online signing up for classes. It should also provide easy accessibility to gym members to view future schedules and access personal training programs, etc.
Performance Tracking: Providing your customers visualized reports and progress charts is a good customer retention strategy. Therefore, your gym management software should enable users to visualize and keep track of their goals.
---
1. Vagaro – Online Gym Management Software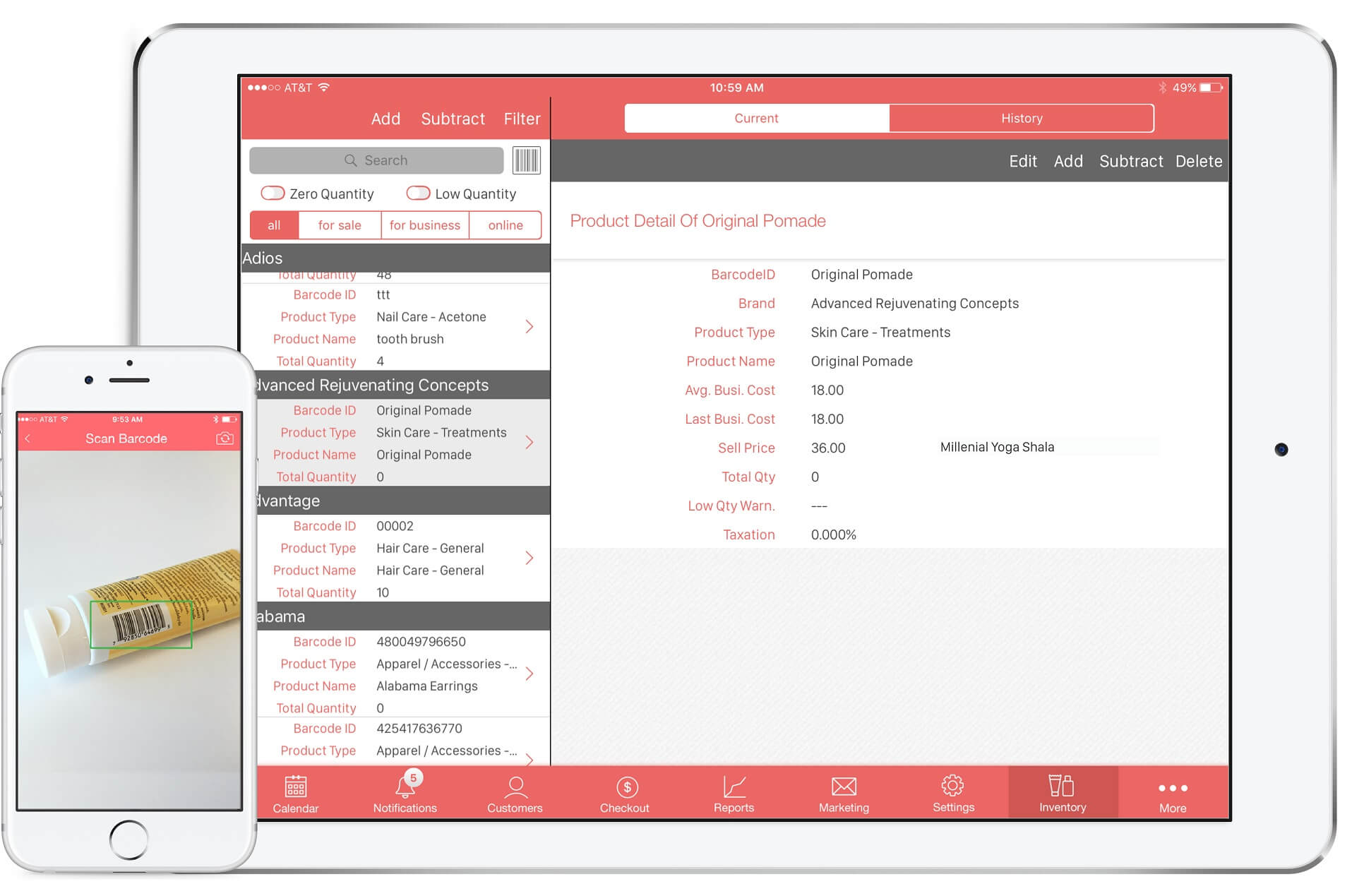 Vagaro Pro is an online spa, salon, and gym management software that specializes in offering services as a search engine for spas and salons situated in different localities.
Its main purpose is to be used as a tool in building liaison between customers and business owners for a seamless experience.
The best thing about Vagaro Pro is that it is super easy to use. It offers clients for PC, smartphones, and tablets, so users can keep control over their gym throughout the day.
It includes everything from exhibiting tasks to automating bookings among others.
Key Features
Features Calendar from which you can set up appointments and through simple drag and drop, you can even reschedule them. It also sends a notification to your clients regarding the rescheduling.
Vagaro gives the client access to making online bookings. It is integrated with Instagram, Facebook, and yelp to provide clients the necessary information for appointments.
It also features a SOAP note which includes information like formulas, allergies, preferences, and details like their kid's name.
Vagaro Pro is seamlessly integrated with its booking app to provide a transparent of paying online through their mobile app.
To reach potential customers, Vagaro uses automated email and text marketing with the help of Facebook, Instagram, and Yelp.
Pricing
The pricing of Vagaro's gym management software is based on the number of users you bring on board. Prices start at $25/month for a single user and go up to $75/month for a team of 07 or more.
Vagaro Pro offers features such as online calendars, online booking, notifications, customer tracking, marketing, reports and payroll, POS, and credit card processing.
---
2. Wodify – Online Fitness Management Software 💪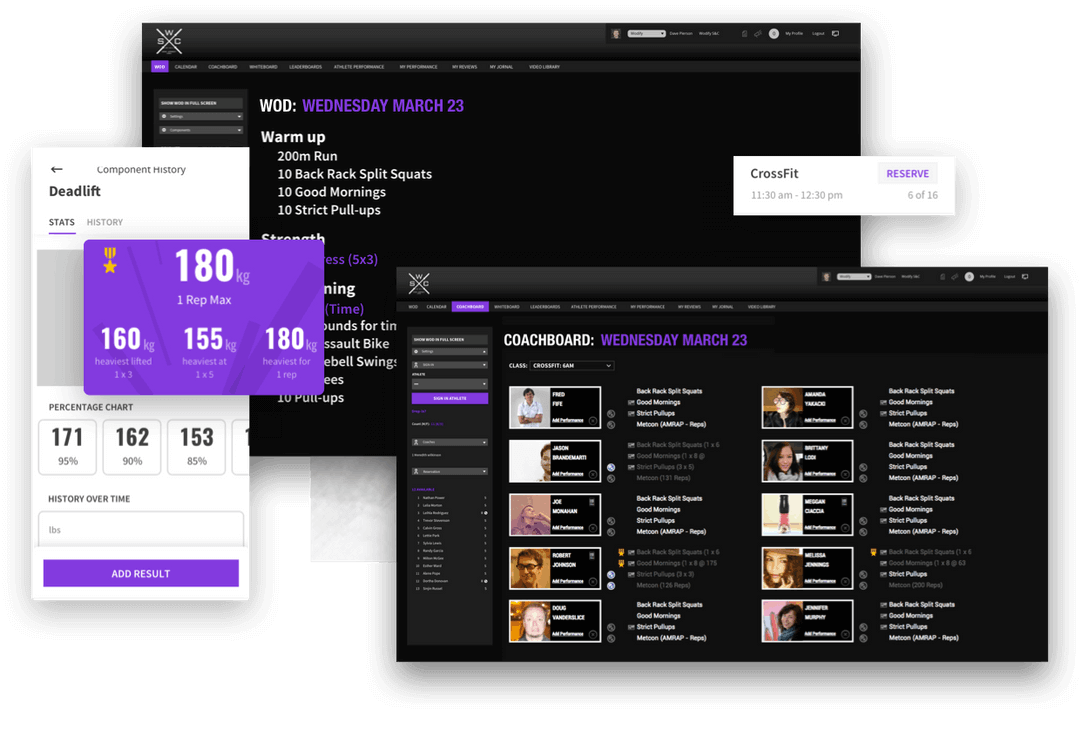 Wodify was founded by CrossFit devotee and also endorsed by one of its athletes named Rich Froning. After its release, Wodify quickly gained popularity for box owners who wanted to help their members and coaches track progress digitally.
Wodify is one of the best gym management software as it provides a complete solution that includes membership management, performance tracking, communication tools, and heart-rate training among others.
Key Features
Offers segment customization that helps you create your segments specifically for your athletes/members. Wodify Conversations then lets you schedule emails to go out to certain segments.
Wodify tracks attendance for each class and makes sure clients attend the classes they are only supposed to; it can also be used to generate email invoices to members.
Bulk-edit multiple classes at once with the help of an online calendar, reducing the administrative load on your team.
Wodify can also integrate with Twitter and Facebook, helping you advertise your programs and engage with members through social media.
Features "Wodify Core Kiosk", from which members can either check-in at the kiosk or via the mobile app.
Pricing
Engage ($79/Month): It includes Billing, Class Scheduling, Member & Admin Mobile Apps, Appointments, Membership Management, Retail Point of Sale, and Wodify Blueprint Access.
Grow ($149/Month): It includes Billing, Class Scheduling, Member & Admin Mobile Apps, Appointments, Membership Management, Retail Point of Sale, Wodify Blueprint Access, Digital Contracts & Waivers, and Online Sales among others.
Promote ($299/Month): Payroll Tracking, Shopify Integration, Custom Segments, Self Service Point of Sale, QuickBooks Integration, Zapier Integration for lead management.
---
3. Mindbody – Best Gym Management Software 🏋️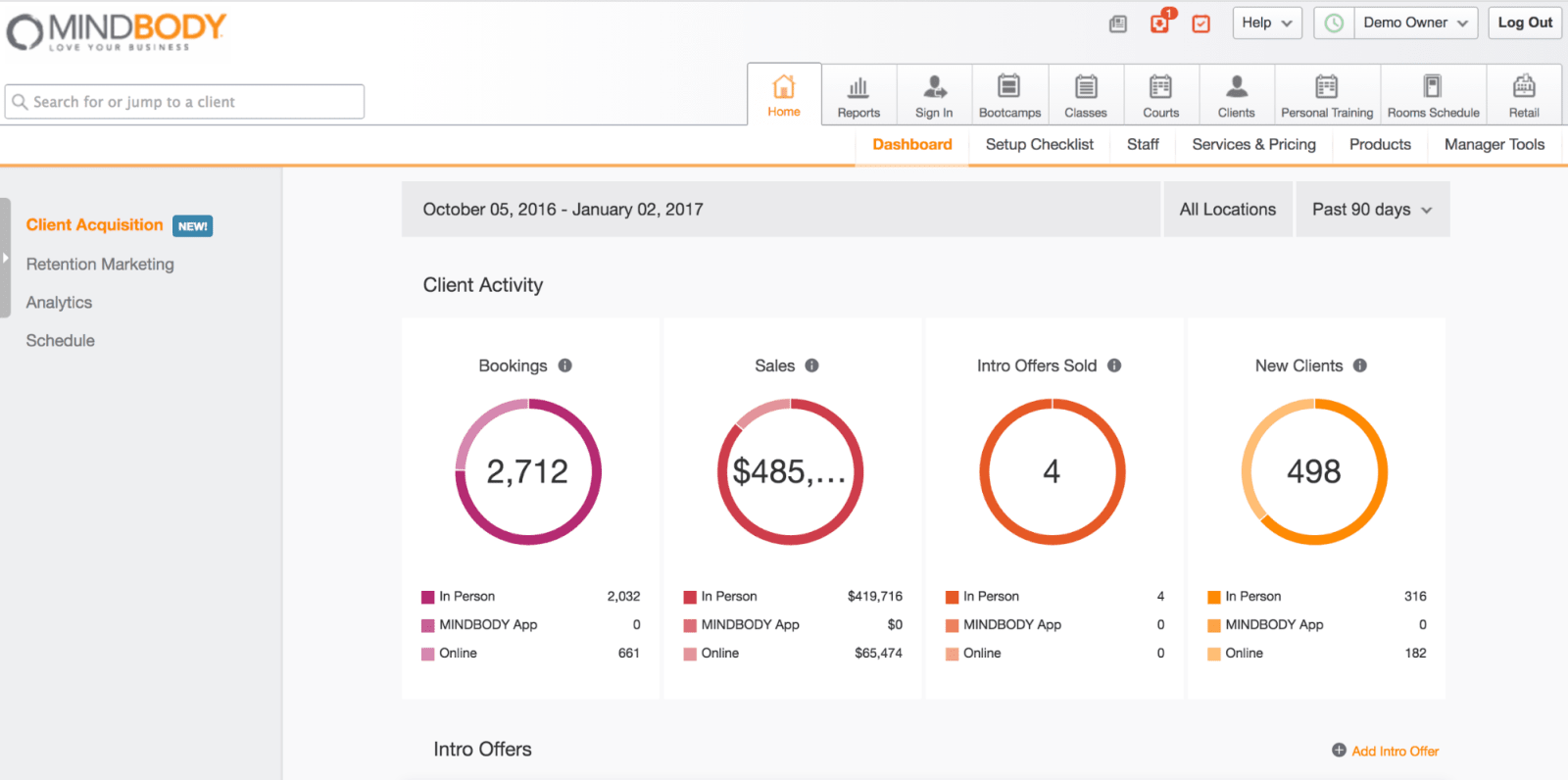 Mindbody founded in 2000 is specifically built for gyms, fitness clubs, personal training centers, and yoga studios among others. It is one of the best gym management software because it provides effortless scheduling and powerful gym management features side by side.
The software's effective marketing tools will help your gym/fitness club/business stay in contact with customers and share promotions at the point of sale. Clients can easily book their next appointment through the website or the Mindbody mobile apps.
Key Features
It allows customers to directly link the schedule through the website or the Facebook page, which is also updated in real-time.
Customers are sent automated reminders, updates, and notifications via emails and text messages to decrease no-shows.
Provides organizational features that help in organizing team and makes it easier for employees to coordinate among different departments.
Gift cards can be directly applied to client members and family members, it can be put together when two clients schedule together.
Clients are also given the leverage of adding billing addresses, view past visits, and redeem gift cards among more.
Pricing
Essential ($129/Month): Mindbody app listing, Retail POS, Class, appointment, workshop and event scheduling, automated email and texts, 35+ Reporting tools, web tools, advanced scheduling options for events and workshops, and 1:1 onboard training among others.
Accelerate ($239/Month): Schedule classes, appointments, events, and workshops, Sell your services in person, Manage clients and staff, Email campaign builder, smart lists, and customizable templates
Ultimate ($349/Month): Automate your email marketing, Prompt customers to post reviews, and incentivize referrals
---
4. ZenPlanner – Gym Member Management Software 🏃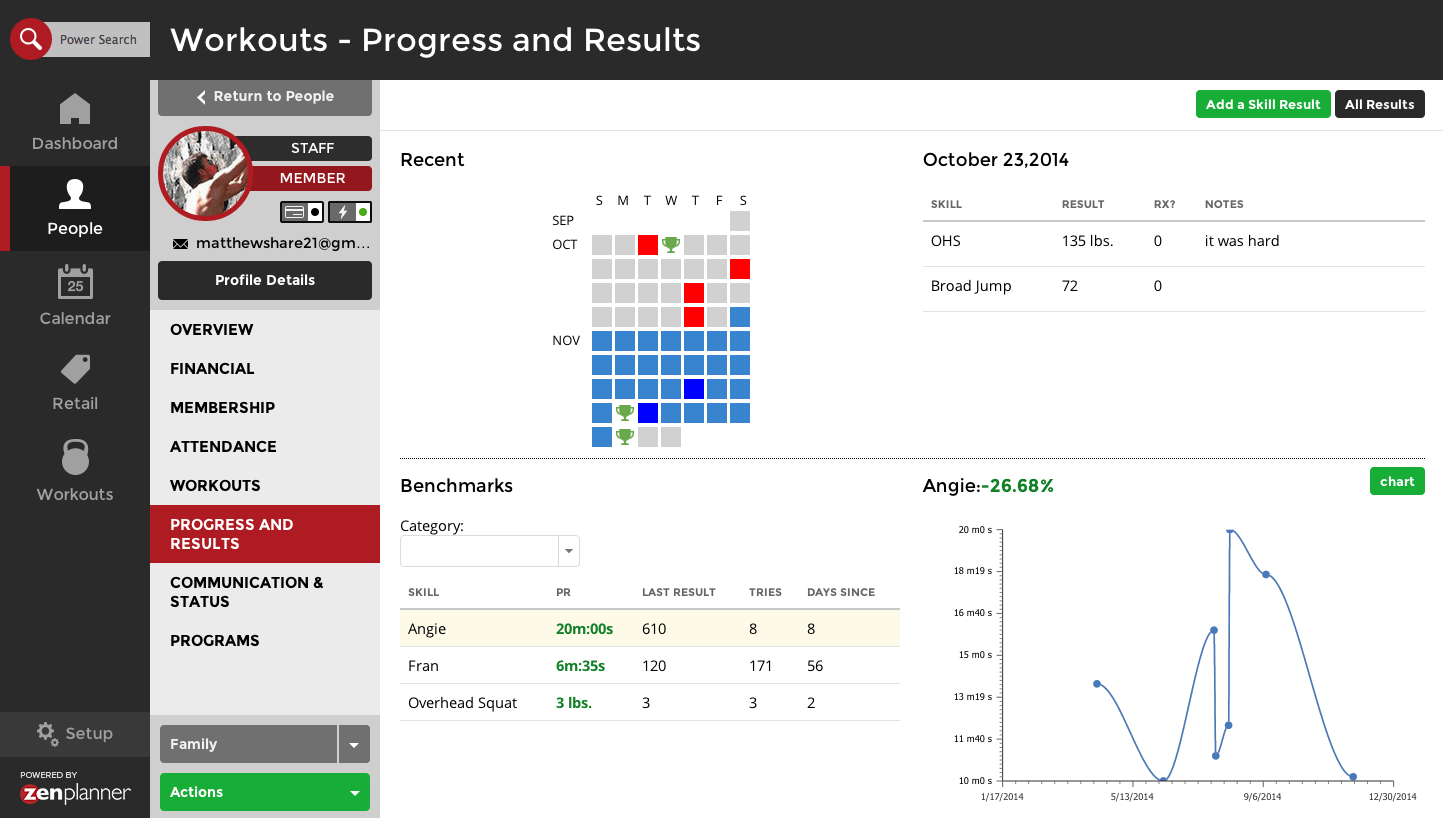 ZenPlanner is a mid-tier online gym and fitness management software with a very clean interface. It is a customizable app focused on solving day-to-day problems of fitness clubs, exercise studios, and gyms among others.
The reason why it's the most liked gym management software is that it has the most impressive email marketing and flexible payment processing with no extra charges for additional features making it an editor's choice.
Key Features
It offers an in-house support team focused on handling issues of customers via chat, email, or phone.
It offers reporting features that customize important data informing you about the health of your business.
ZenPlanner assists in keeping track of the progress of your customers and also helps in planning specialized workout routines.
Offers retail features making it easier for your customers to make purchases and enable you as the employee to track payment transactions.
It provides robust automation that makes it easier for employees to send emails, track attendance, bill customers, and alert you with essential statistical data among others.
Pricing
Like Vagaro's gym management software, ZenPlanner also offers a user-based pricing plan. Pricing starts at $117/month for up to 50 users and goes up to $227/month for 250 users. It offers premium features, such as:
Simplified billing,
Marketing automation tools,
Skills & belt tracking,
Advanced workout-tracking,
Gym members app,
Staff members app,
Member self-service,
Attendance tracking,
Online scheduling,
Visualization and reporting, and more
---
5. Fitli – Online Gym Management Software
Download Fitli for Mobile: iOS, Android (not available)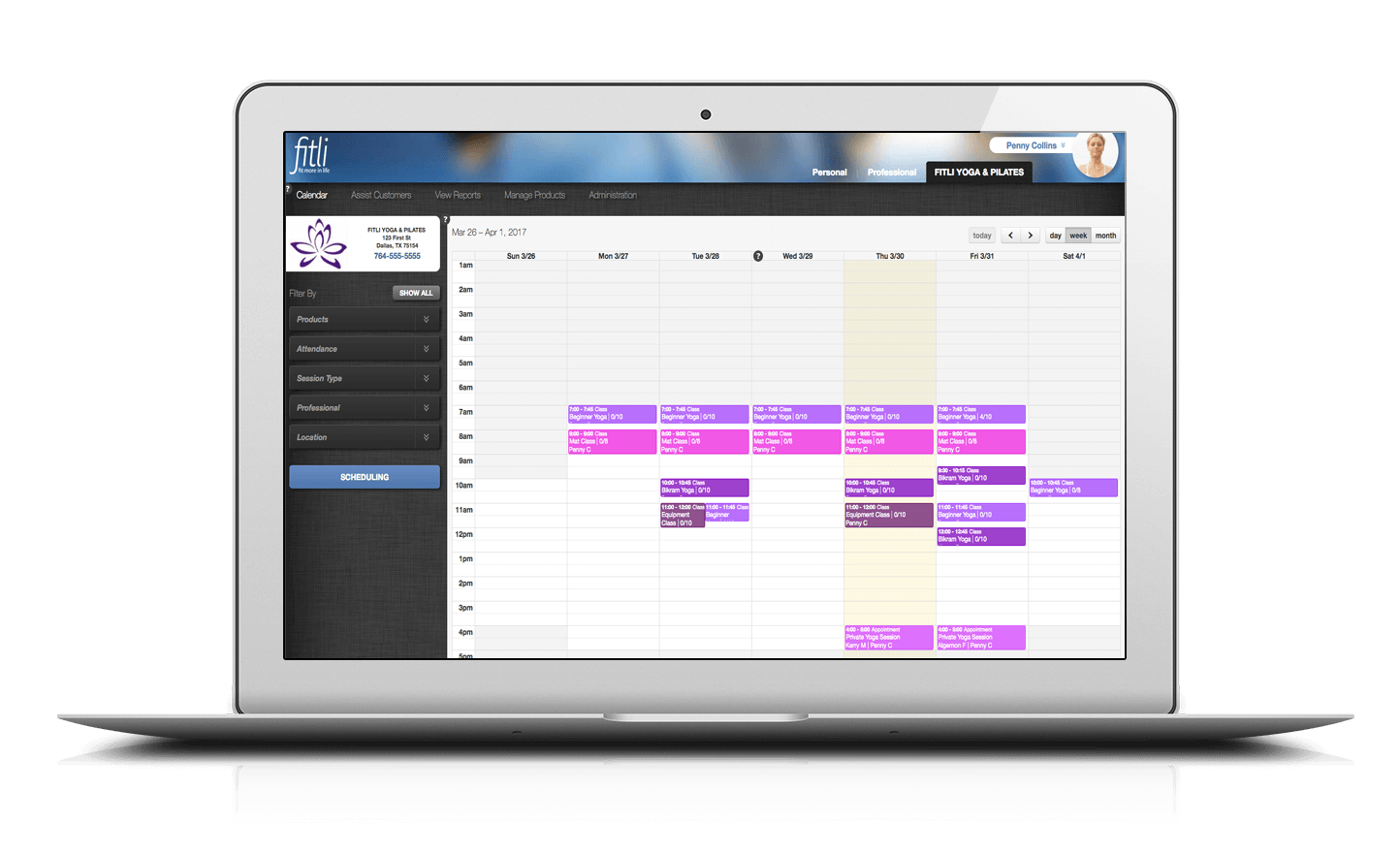 Fitli is one of the best online gym management software for small and mid-sized companies. It provides simple services like booking appointments, advertising their clubs, and more importantly managing classes.
It offers a seamless mobile app that helps users connect with their clients remotely. The vision of Fitli has always been to make it easier for people to get and stay fit, which is why they have exempted the complications and brought a hassle-free solution, particularly for small businesses.
Key Features
Book unlimited classes, appointments, and workshops by facilities like online, mobile, and quick booking for clients
Allows users to rate your service. High rating = higher listing
Provides payment methods that are east with no hardware or merchant account required. It offers a direct deposit or deep links for purchase flow
Allows users to share percentage discounts via email, the Fitli app, and the social media
Check-ins, waitlist, view balance, history, upcoming sessions, Session notes, customers' notes, and birthday reminders
Pricing
The following paid plans are available with Fitli's gym management software:
Solo – at $32/month, single user
Grow – at $57/month, 2-5 users
Expand – at $74/month, 6-10 Users
Enterprise – at $90/month, 11+ Users
Features Offered: Appointment booking and management, one-time and recurring classes, quick booking, digital waivers, punch cards, payroll, attendance, differentiated access & roles, individualized scheduling availability, and more.
---
6. GloFox – Club Management Software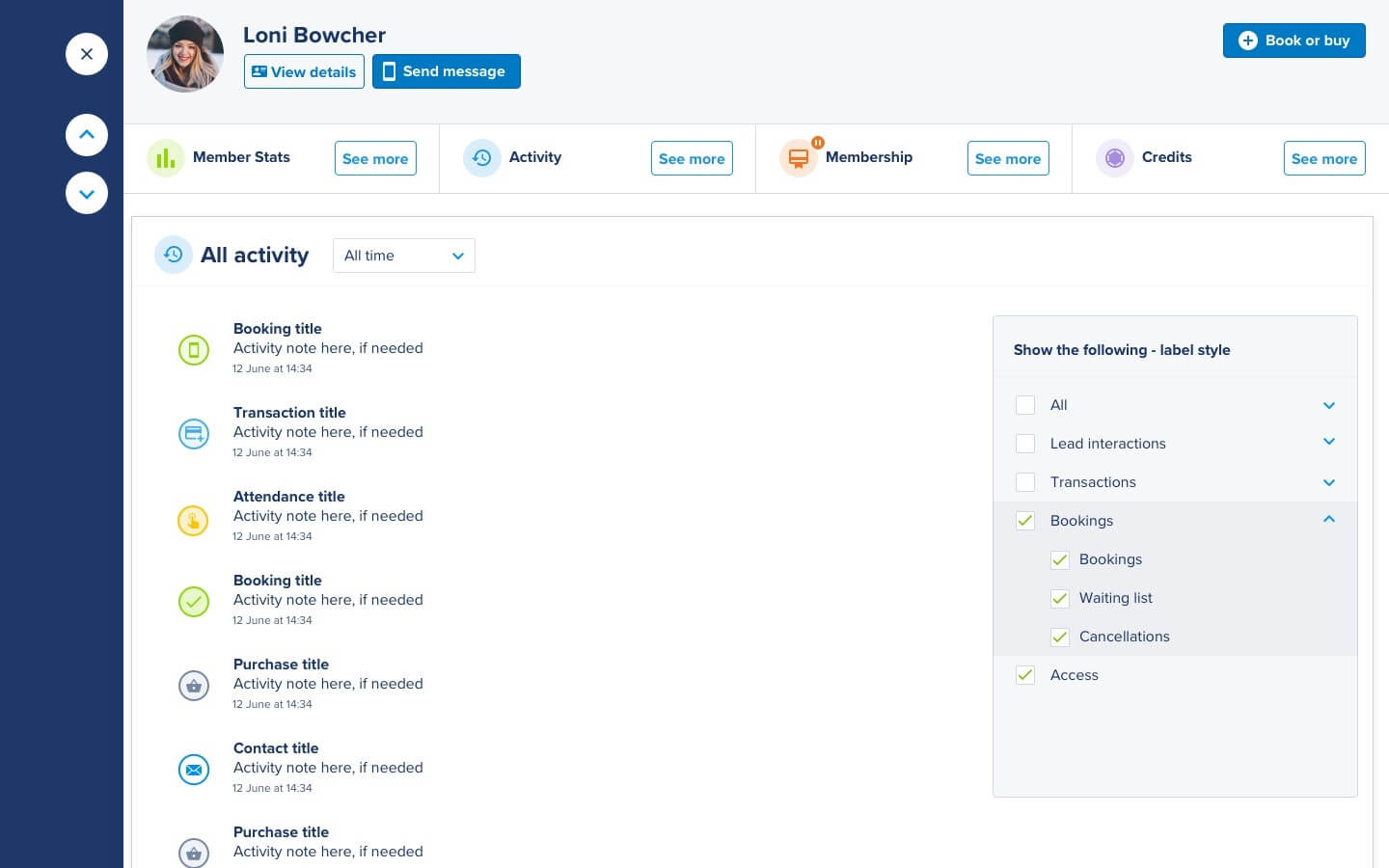 GloFox is gym management software that is designed to help gym owners productively run their business. It's relatively small and light-weighted compared to other software in the market.
The reason why it stands out is that it offers a much stronger customer compared to other businesses in the market. According to a case study, customers using Glofox are typically able to get their software functioning within 48 hours of purchasing.
Key Features
Provides a custom branded app, Member can access your app through the GloFox app, which fosters a sense of community among the member.
Each member has a profile that keeps track of important information like the type of membership they are availing, payment history, and the previous classes they've attended.
Members can easily schedule their class and when they do, the fee is automatically deducted from their balance which ensures timely payment.
Admin dashboard that keeps track of every transaction and provides reports to know the health of the business through revenues and attendance rates.
Allows users to send "Push notification", which is a great tool to remind clients about their upcoming classes and other promotional packages they might be interested in.
Pricing
The prices for GloFox's gym management software start at $100/month, however, the final price is only available via request. To get a custom package for your business, visit GloFox's website, and leave an inquiry.
---
7. Pike13 – Fitness Club Management Software
Download Pike13 for Mobile: iOS, Android (not available)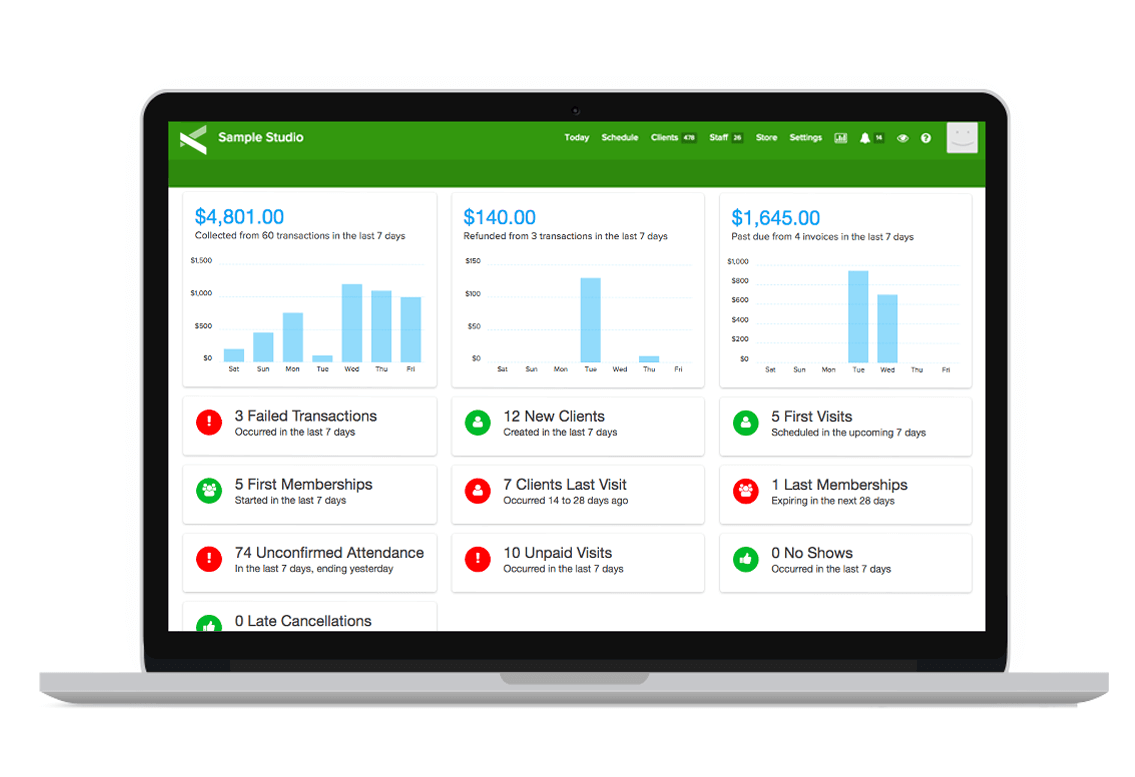 Pike13 is a powerful front-desk solution for gyms and fitness clubs that offers seamless scheduling, client management, payment processing, and more.
It is an all-in-one client management software that focuses on solving all administrative problems of your business so that you can focus on growing your business.
Pike13 developers believe that business owners should solely focus on fulfilling the needs of their clients rather than wasting their time on administrative tasks that's why they developed Pike13 for that purpose.
Key Features
Easily schedule classes using customized filters they can book an appointment, edit their profile, sign any waivers, as well as set payment methods among others.
Built-in modules for automated SMS and email marketing integrations for BrandBot, MyEmma, etc.
Reporting and insights feature act as a performance indicator that helps the business in making decisions through accurate data.
Pike13 makes it easier for you to accurately calculate payroll, post notes to clients, and customize profiles to protect the privacy of customers among others.
Pricing
Pike13 is available with the following subscription plans:
Business – at $129/month, staff/client schedule management, attendance tracking, automated billing and payments, integrated merchant processing, email reminders & notifications, custom branding, reporting
Pro – at $179/month, Zapier integration, Emma integration, dedicated account manager, waiver e-signature collection, staff payroll, dashboard, in-store retail
---
8. EZFacility – Online Gym Management Software
Mobile apps not available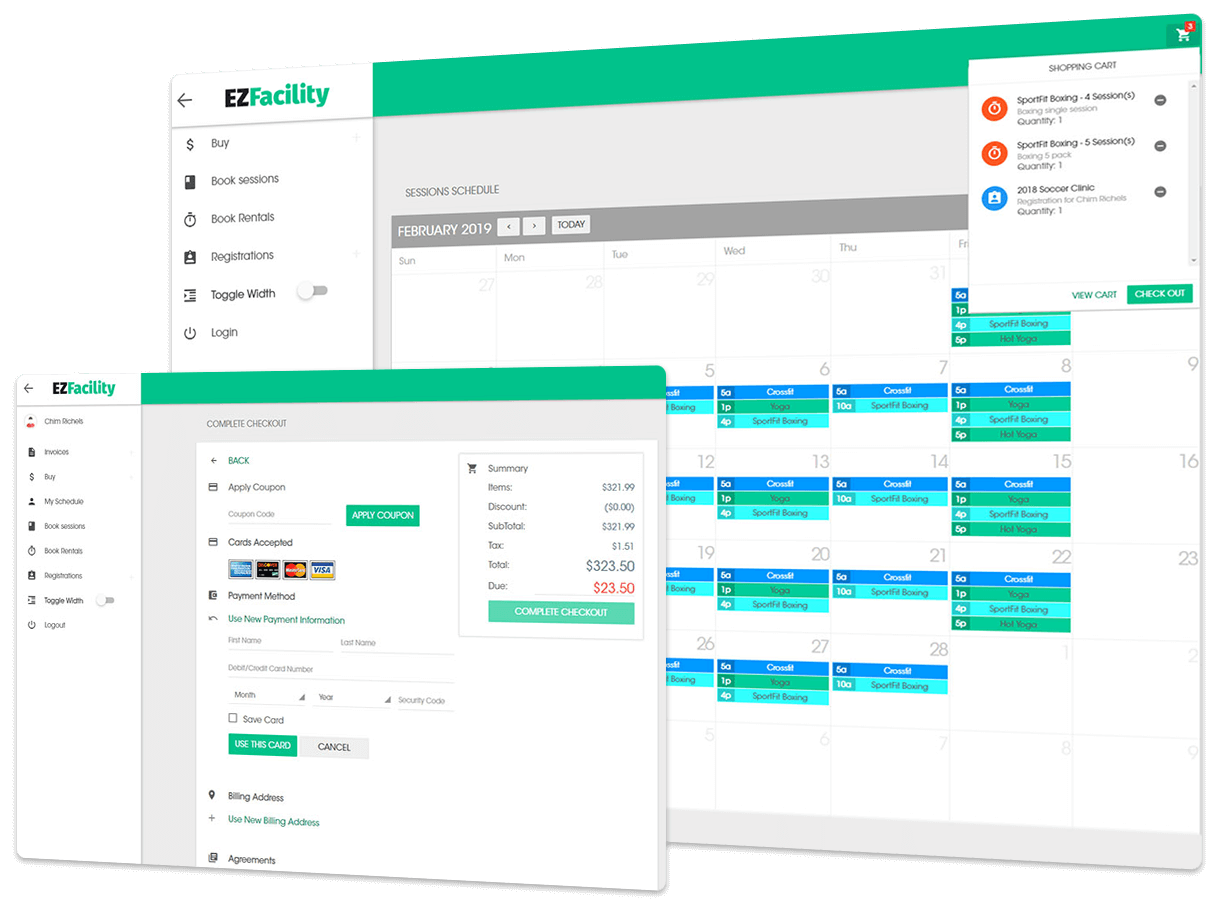 EZFacility is an all-in-one platform specifically built to fulfill the day-to-day needs of fitness clubs by providing flexible features, that can be availed by small as well as large enterprises.
Whether it is class management or class schedule, EZFacility will deal with everything.
What makes EZFacility the best Gym and fitness management software is that it is highly reasonably priced considering the quality features it offers, which is why is ranked above most of its competitors in the market.
Key Features
League management allows you to schedule classes, create complex leagues and tournament schedules among others.
Self-service Portal makes it easier for clients to update personal information, pay their outstanding balance, schedule classes, purchase packages among others.
Robust marketing tools (automated emails/SMS) to ensure that your client s receive the right information at the right time.
A branded app that is for clients to view their class timings, trainer profile, and promotions among others. It is available for IOS as well as android
Exclusive report suite that allows you to get real data in the form of financial, point-of-sale, marketing, payroll, membership, and training reports among others.
Pricing
To access the pricing of EZFacility, you need to contact the company and share the needs of your club. As a startup or a small team, you may even be permitted a freemium package or another offer.
---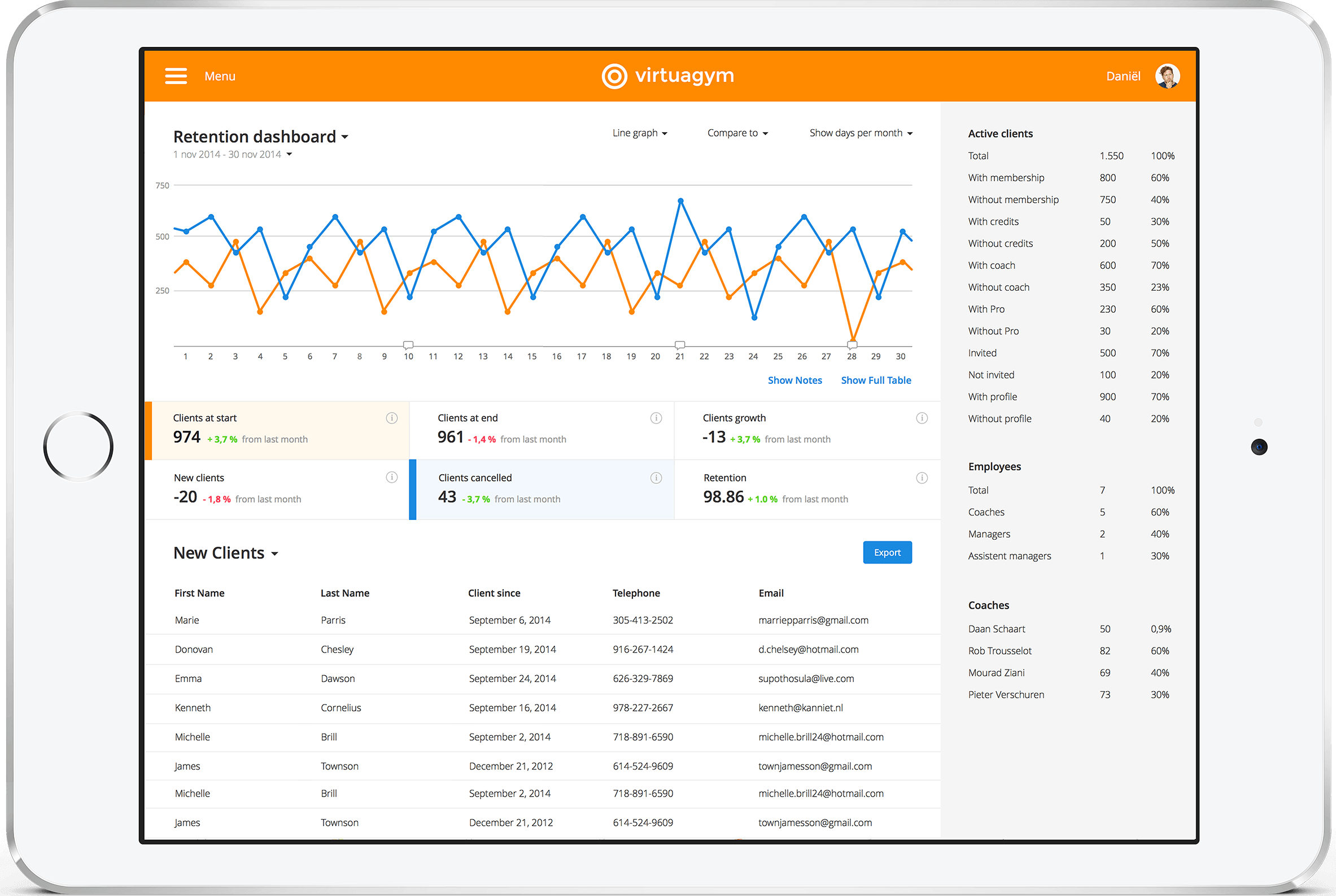 Vituagym is cloud-based gym member management software that is aimed to assist personal trainers, health clubs, and other fitness professionals.
Since its launch in 2008, Virtuagym has provided thousands of businesses globally with powerful features aimed at solving problems of businesses.
Along with all the robust features it offers, Virtuagym also offers proactive customer support, which is why it is trusted by over 6,000+ gyms, clubs, and other fitness businesses around the world.
Key Features
Lead management tools that make it easier for you to keep track of future members by keeping contact information, lead source, and notes all in one place.
Easily track the attendance of members per class by linking your RFID and barcode cards to Virtuagym.
Custom-built app from which your clients can check schedules, training plans, receive marketing messages and access your club community.
Digital training plans and nutrition coaching are sent automatically to the client's cellphone.
Virtuagym Touch offers circuit training and other dynamic training features that let you have access to a media database of thousands of hi-res animated exercises and workouts.
Pricing
To experience Virtuagym firsthand, you can request a demo and pricing details via their website. Pricing is not shared publicly.
---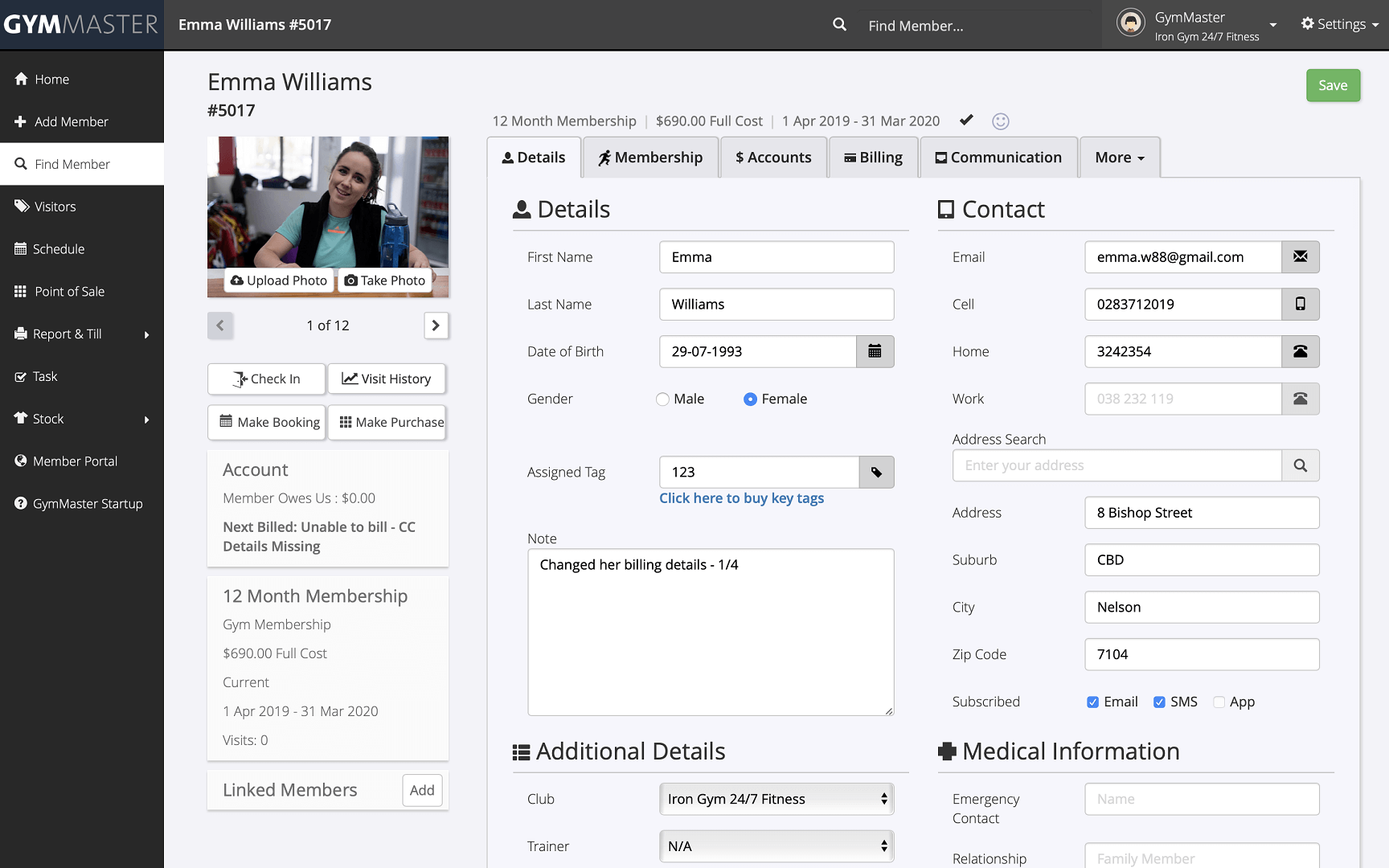 GymMaster is another famous gym management software, suitable for gyms and health clubs of any size. It is built with an intuitive dashboard, giving users access to critical gym management capabilities that reduce administrative burden.
The GymMaster app automates engagement with prospects by making the billing, selling, and processing procedure easier. It also:
Allows club members to conveniently register themselves for classes
Lets members track progress as they go along, and
Allows gym members to renew memberships online, from anywhere in the world
Key Features
24/7 access control that updates databases regularly, integrates it with your membership system to boost efficiency and allows members to have access to the gym without any adversity.
Automated payment processing allowing customers to sign up, make payments, register for renewals online. It also sends automated billing reminders directly to customers.
Features "Membership app", which makes it easier for you to plan your fitness goals. It gives members real-time access to the class's timetable.
GymMaster's point of sale will help your business gain profitability by helping you with hiring gear, selling merchandise, and keeping track of inventory among others.
It offers a basic dashboard, providing a quick overview of the main KPIs and activity to show a basic evaluation of the club according to member levels.
Pricing
Studio ($85/month): Unlimited casual members, class management, bookings & resource scheduling, automated billing & integrated payment processing, online signups + member portal, comprehensive and flexible reporting, and more
Standard ($99/month): Single door access (24/7), push notifications to clients, automated SMS/Emails, embeddable timetables, paperless signups, and more
Professional ($189/month): Direct bank batch processing, Xero integration, API access, Dual billing providers, franchise reporting, and more
Enterprise: Contact sales for inquiry, dedicated hosting, custom development, and SLA agreement
---
Mobile apps not available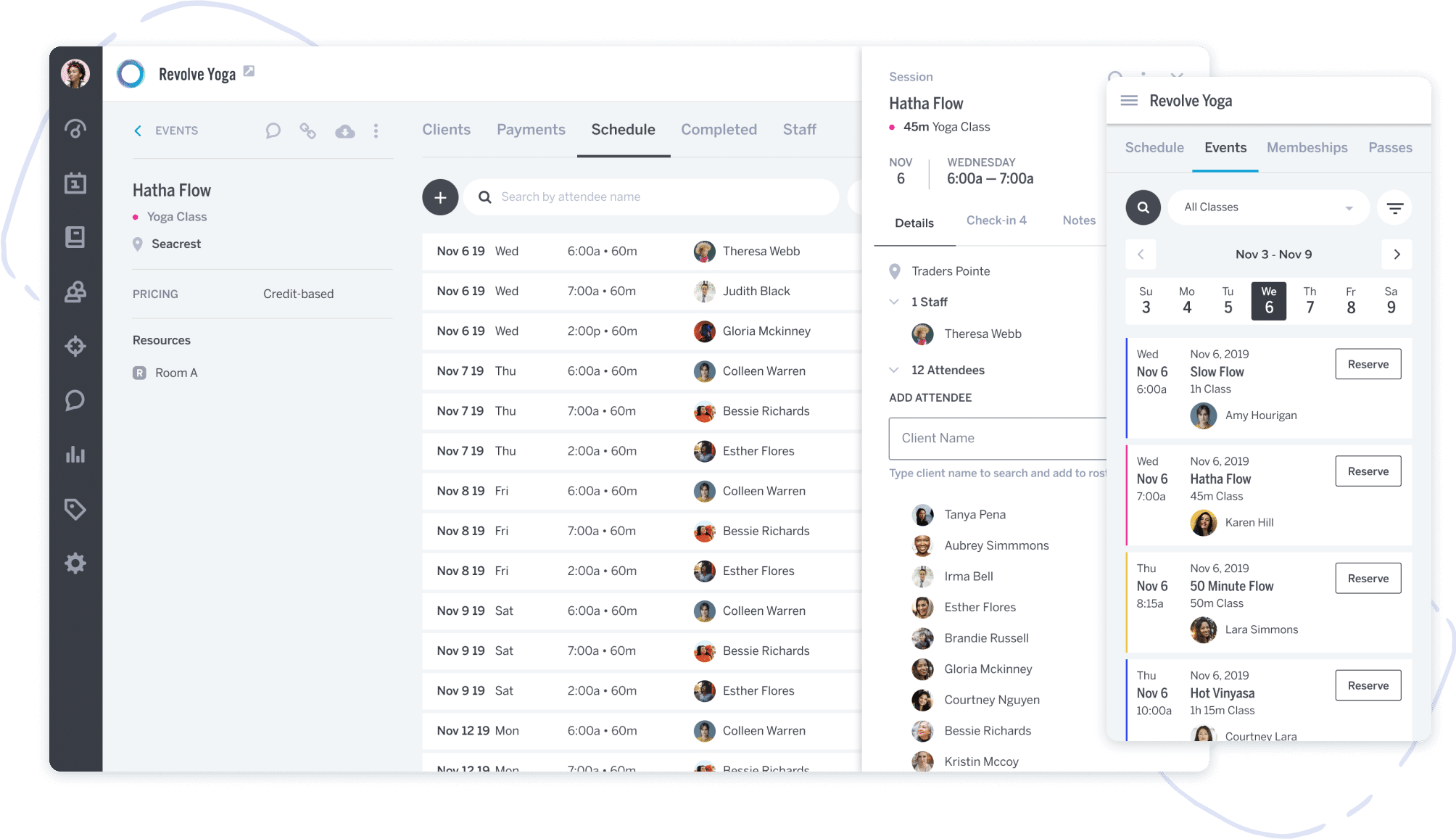 Upper Hand is an online platform for sports and fitness studios to streamline front/back-office operations by creating training programs, lessons, teams, and memberships.
It also assists in automating marketing, gain valued understandings from reports, and manages staff and coaches with comfort.
What makes Upper Hand the best gym member management software is that it comes with united payment and POS solutions, which let users track, refund, and report on online transactions and prevent failed payments by updating expired cards on the system.
Key Features
With the features of event management in Upper Hand, you can seamlessly organize your events and customize your sign up pages with intuitive design and a rich text editor.
You can easily arrange training programs, classes, camps, and clinics with the help of calendar widgets, trigger emails, task allocation
Flexible scheduling to customize the availability of sessions, setting deadlines, and creating credit passes for customers
A customizable calendar that provides an overlay of the combination of staff and availability of the resource and selects the desired time for a training session
Track your inventory in real-time and sets up alerts whenever inventory is low; on the other hand, it also provides insights by analyzing profit margins over some time
Pricing
Program/Event Management ($75/Month): Includes advanced registration & scheduling, POS, contact management, messaging tools, customizable calendar, credit passes, online waivers, staff schedules, etc.
Membership/Staff Management ($125/Month): Includes email & text reminders, exclusive event-type memberships, membership discounts, session-based memberships, payroll automation, reporting, etc.
Facility/Resource Management ($250/Month): Includes retail & inventory management, inventory reporting, staff resource preferences, true availability, etc.
Custom Branding: Price available on request, white-labeled environment, dedicated project manager, custom integrations, royalty & revenue management, and corporate reporting
---
12. TeamUp – Powerful Gym Management Software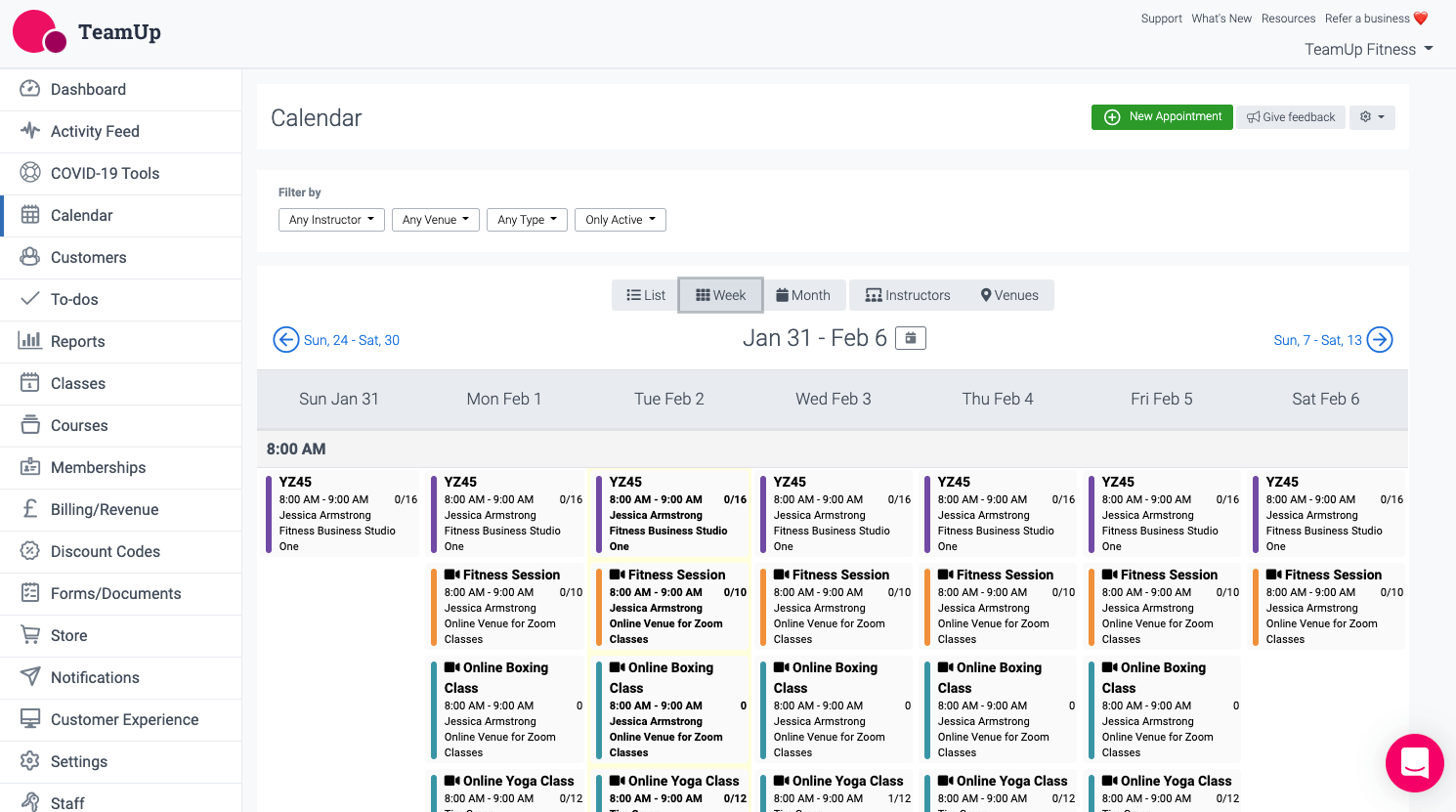 TeamUp is consistently rated the best gym management software for small and medium studio owners. It's most popular for being a balanced and powerful experience that members love and is easy for the gym owner to successfully manage their business.
The reason that it is getting a lot of attention is the reliability and excellent customer support. It doesn't have some of the bells and whistles of some systems (like nutrition tracking) but what it does do it does really well, and customers agree.
The customer experience is consistently rated with top scores and according to multiple case studies it has delivered for its customers over a long time. That's probably the best review you can get.
Key Features
Member tracking with all the important details you need. See the whole life of a member in one snapshot and use the intelligent reports to understand their relationship with your business.
The most flexible payments system out of any of the reviewed options. Re-arrange any payment date, amount, or schedule with ease.
Payment integrations with leading providers. The number one integration with GoCardless and Stripe.
Offers online and in-person classes. Need to switch to online for a few weeks at the last minute? TeamUp has it all and keeps your revenue flowing.
The brand-able app is provided for free for all members. Quick and easy bookings and even access online classes.
Manage all your bookings in one place. Easy bookings for your customers and smart features like recurring reservations for their favorite classes. All controlled by the rules you set.
Detailed and user-friendly reporting system. Measure everything using the new reporting system that TeamUp recently launched that is built around the needs of thousands of business owners they work with.
Client communications and intelligent automation. Keep your client relationship growing on autopilot and build the community you always dreamed of.

On-demand library to host on-demand video content

Appointment scheduling for one-to-one sessions with clients

Instructor availability management with customizable schedules

An integration with Kisi to enable access control at fitness facilities
Pricing
TeamUp works quite differently from most other software systems. Everything they do is transparent. The pricing starts from $35 a month for up to 50 customers and includes all features for every tier.
They don't charge any extras for anything. You also benefit from a very generous trial – unlimited time to set up and then 30 days free.
---
Mobile apps not available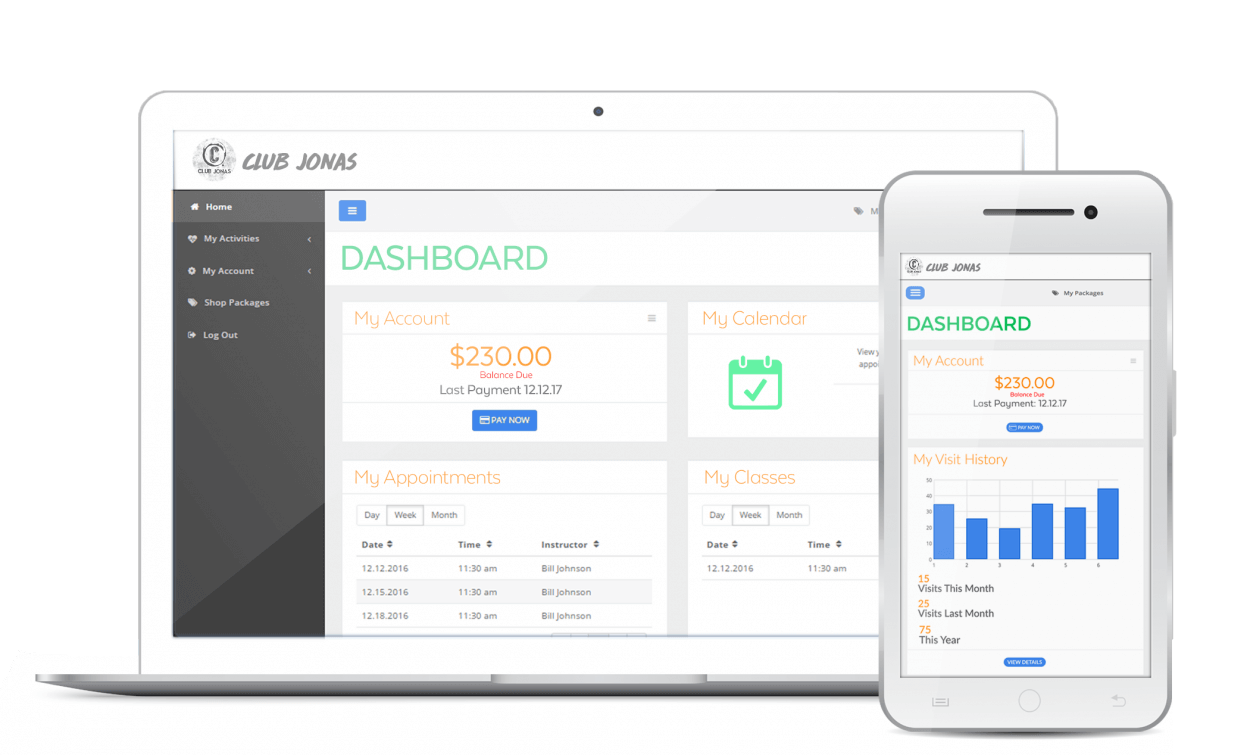 Compete is a product of Jonas fitness; a software company that provides leading enterprise fitness software solutions. It eliminates the need for expensive software configurations and maximizes ROI for your gym management solution.
It is a powerful gym management software that users can reap the benefit from without any kind of prior hands-on training, thanks to its intuitive front-desk system.
On the other hand, supporting a full touchscreen capability, it can also work with barcode readers, cash registers, fingerprint scanners, and POS poles.
Key Features
Configure employee security, build agreements, edit member profiles and run your billing among others
An intuitive web-based front desk that makes it easier for users to book appointments, sell memberships, point-of-sale (POS) transactions, and much more
The front desk features a touch-optimized interface that makes navigation easier. It gives the leverage of viewing member alerts and profiles
"Compete on the go" acts as mobile and helps in signing in new members even if you are not conspicuous to your computer
"Empower M.E. solutions", in which your members will be able to manage their membership, sign up for classes, submit payments and manage their schedules
Pricing
The pricing is not provided by the vendor, you can request for demo and pricing on their website.
---
Download Clubworx for Mobile: iOS (not available), Android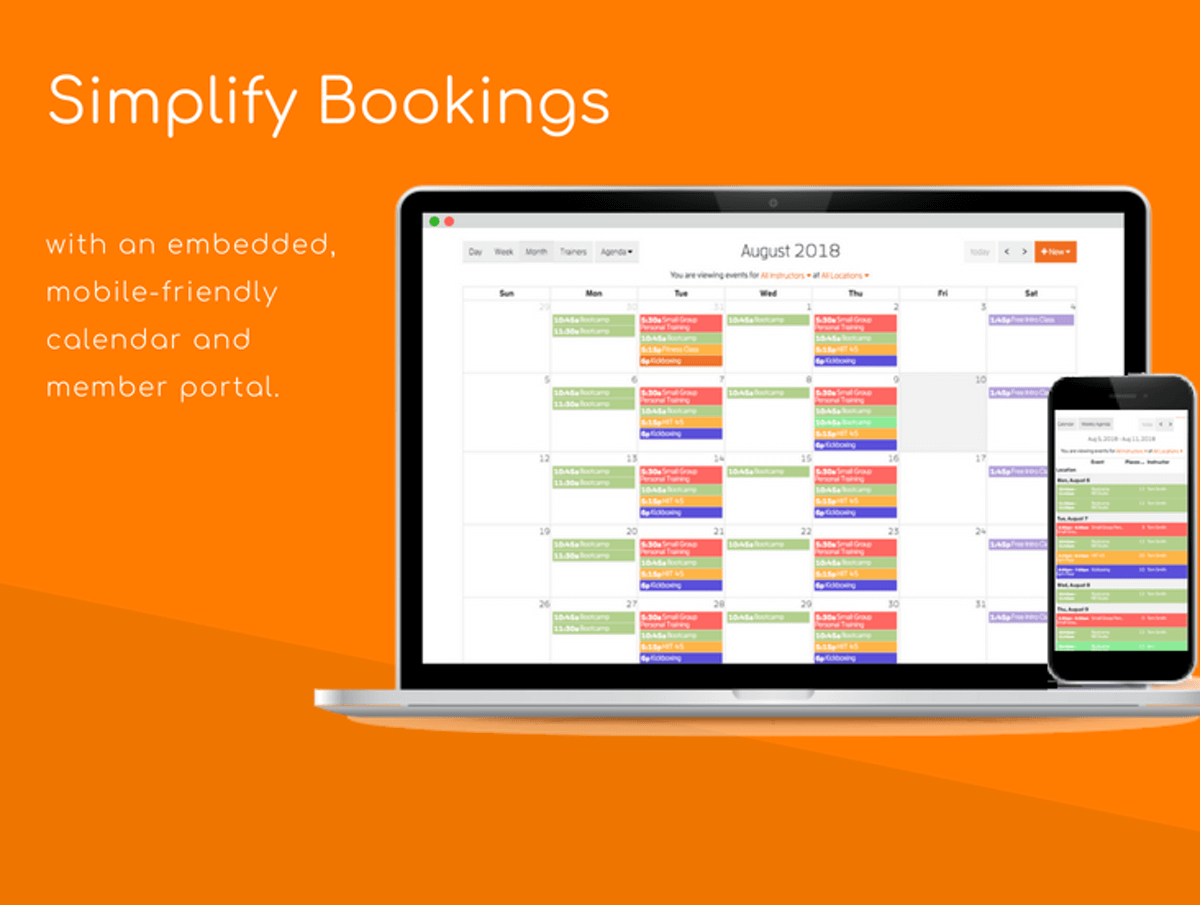 Clubworx is gym member management software that lets you start simple and becomes more intuitive with time; it provides diverse solutions for martial arts professionals, personal trainers, and gym and studio owners.
Clubworx offers a customizable website that you can use for marketing purposes, an attractive embeddable online calendar, and a contact form, which you can embed on your website.
It also aids in intelligent client analysis and makes it easier for users to make beneficial decisions to gain revenue.
Key Features
Whether you are starting from scratch or are migrating from another platform, Clubwarx provides hassle-free onboarding and free data migration as well.
It offers a full POS module and allows you to retail effortlessly, which can be done by integrating any kind of barcode with the Clubworx.
With Clubworx, you can automatically assign tasks members, set due dates, automate reminders and link them directly to contacts
It provides an in-app email and SMS platform that sends bulk SMS using smart lists for targeted messaging.
It offers flexible ways of designing membership plans where you can sell your service automatically through marketing campaigns.
Pricing
Startup ($59/Month): Free hosted website, timetable, free trial buttons, contact forms, allows you to keep track of all types of payments, email, and SMS campaign Sender, up to 20 active members can use it.
Growing ($89/Month): Branded member app, retail point of sale, 1:1 onboarding with customers, up to 100 members can use it.
Accelerating ($129/Month): Multisites, custom online forms, waivers for online sign-ups, up to 250 members can use it.
Established ($149/Month): Member assessment, workout training, advanced email & SMS sequence, auto late payment notifications, unlimited members.
---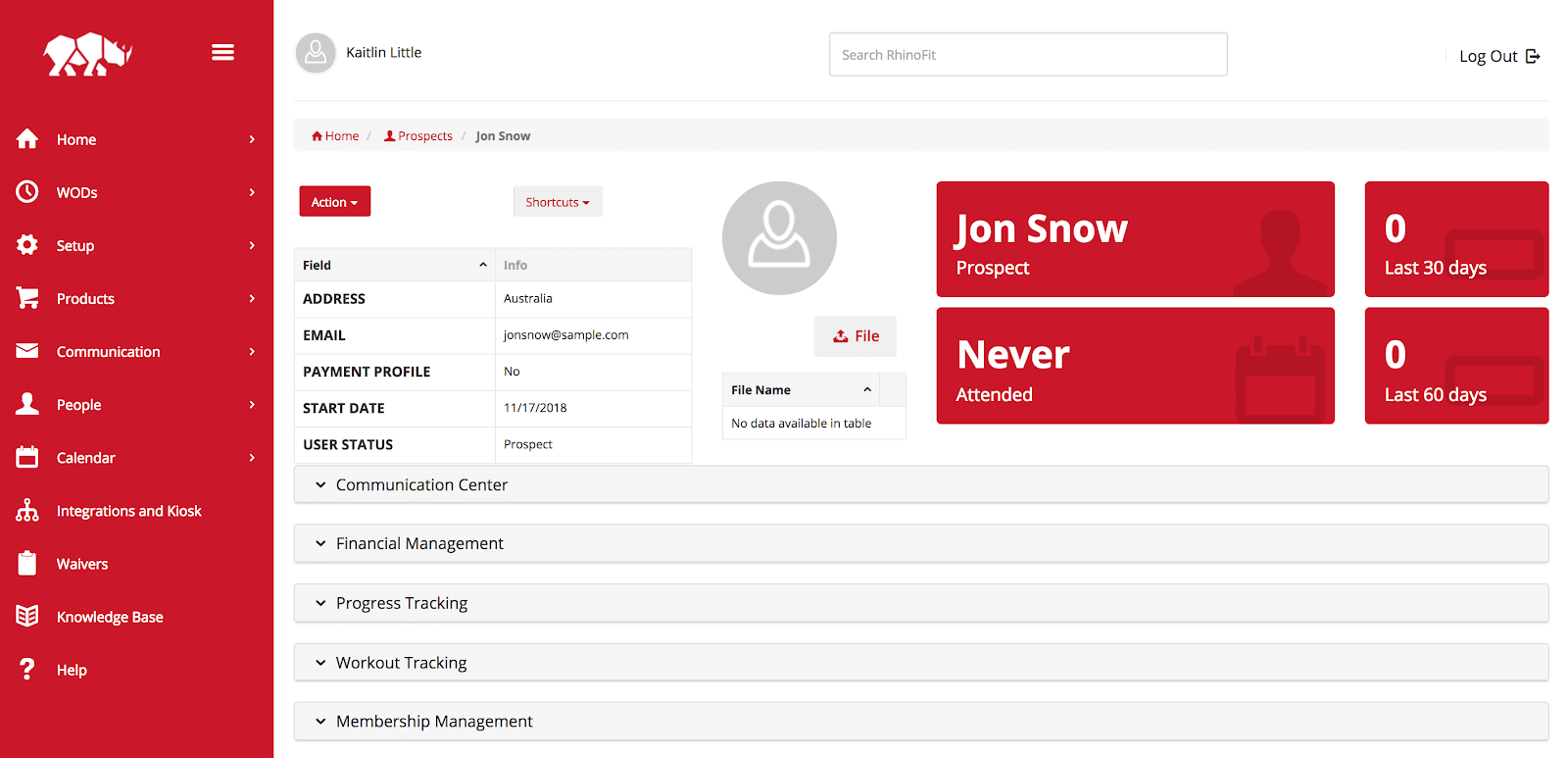 RhinoFit is a simple yet powerful gym management software that offers versatile features to manage your gym setup. The software provides scheduling, 24-hour gym access, member check-ins, workout benchmarks, and reporting for all types of gyms.
The operations that RhinoFit performs are super smooth and efficient that saves a lot of time allows users to perform diligently. Even though it does not offer custom branded capabilities but it does contain all the basic functionalities required to run your business.
Key Features
With RhinoFit you can schedule classes and track the attendance of your clients respectively
Most fitness studios require recurring billing options, but RhinoFit gives clients the leverage of paying one time as well which is perfect for individual classes
It provides a custom-made app from which your customers can make reservations and track their progress; On the other hand, you can send class reminders by email.
RhinoFit requires a 3 level PCI complaint and also utilizes a third party for verification to ensure maximum security and authorization.
It provides 24/7 door access, this means your clients can access your gym any time they want by scanning the barcode provided to them by your company.
Pricing
Startup ($0/Month): 20 active members, processes over $2500 in payments.
Standard ($57/Month): Unlimited Members, Unlimited Admin/Staff Accounts, Unlimited SMS and Email Messages, Mobile App for Members and Staff, Interactive Dashboard, Comprehensive Reports.
---
Mobile apps not available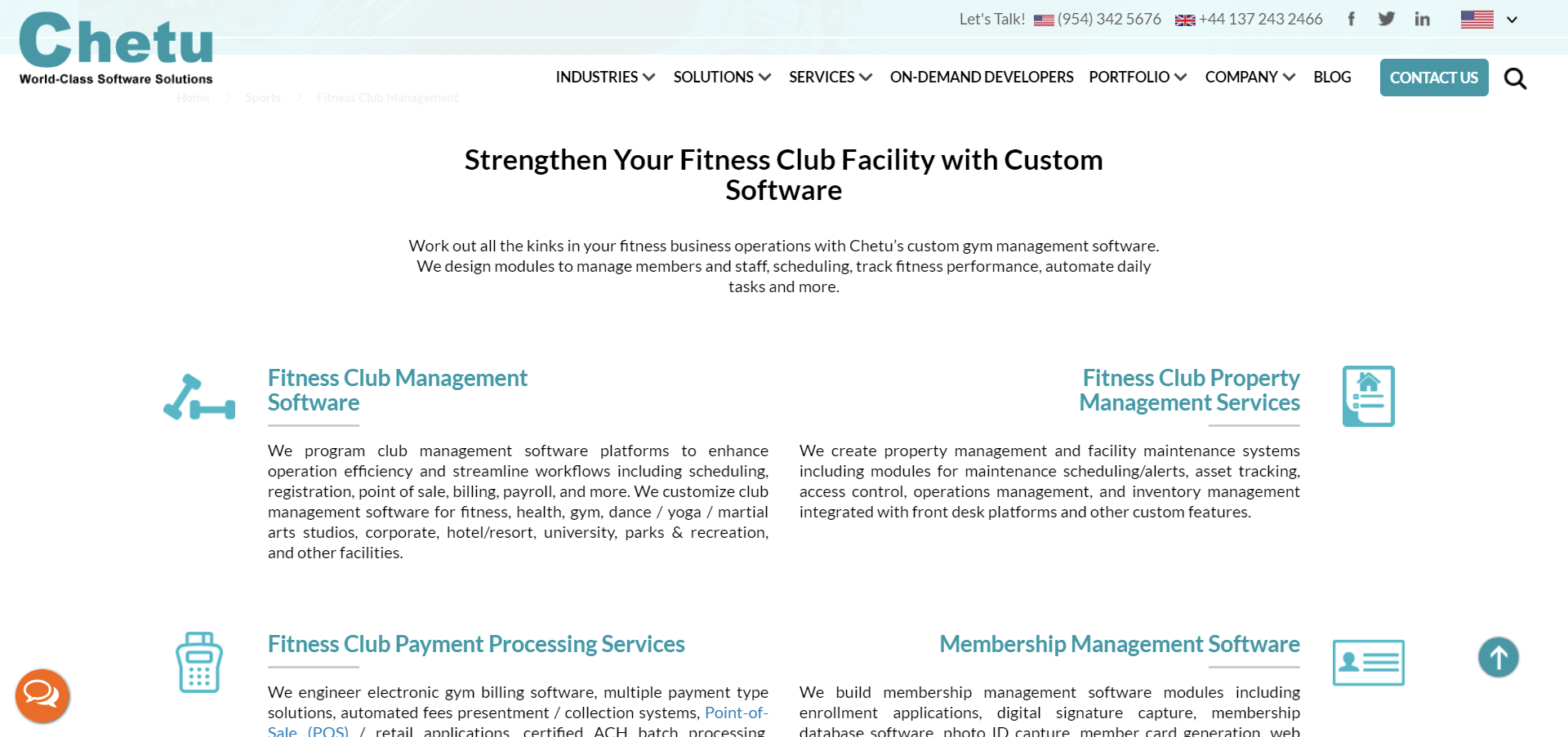 Chetu is a software solutions provider offering a complete gym management software solution. This gym member management tool has maintained its status throughout its journey and is also an official member of the Forbes Technology Council.
It is a technology partner, helping businesses accelerate growth by customizing apps specifically for your business.
Key Features
When transferring to another software, Chetu makes it easier for you by providing cloud-based migrations, ensuring data integrity, and other necessary system upgrades.
Chetu implements robust data recovery strategies cloud-based, on-premises, and hybrid servers, designed to safeguard data crucial to businesses.
They provide custom API development solutions, in which they configure databases, search engines, and intranet systems.
Chetu develops robust API architectures and security protocols, like custom key encryptions, access control dashboards, and scalable caching proxies.
Pricing
Pricing is not provided by the vendor, you can request for demo and pricing on their website.
---
Conclusion
A business is only as good as the system it sets up. Therefore, the secret to running a successful gym business is having technology that minimizes the day-to-day operational burden.
Running a fitness club or a gym involves time-consuming activities, that is why investing in an all-in-one gym management software is a smart decision.
It will speed up administration, bring down staff overheads, and allow you to focus on more important tasks to advance your fitness club.
A powerful gym management software also saves time by providing growth services, such as lead management, automated door access control, and one-touch payroll processing.
What gym management tool did you like the most from our roundup? Let us know in the comments below.
---
Other SaaSy goodness on All That SaaS: