Research has shown that jotting down thoughts, events, and routine using the best journal apps helps you organize daily plans in a much better way.
Not only that, but the research also revealed that writing down your stress and anxieties can help you feel a little bit lighter and relaxed.
You can feel a difference in your mental and physical health by writing about your stressful happenings which have been discovered in research published in the Journal of Experimental Psychology.
This research indicates that writing about your expressions minimalizes negative thoughts and working memory is enhanced.
The Best Journal Apps in 2023 for Android and iOS
North Carolina State University psychologist Kitty Klien is the lead author of research on expressive writing. She says that if you are experiencing a traumatic incident, that affects your ability to concentrate on any other thing in your life which results in poor mental health.
The co-author of the research Adriel Boals says there is a simple solution to it. The solution is to write about your problem for 20 minutes. That not only improves your mental and physical health but can also improve your cognitive abilities.
What is the Journal?
A journal is a record that can be used to store or keep any notes, logs, or entries that you want to keep.
Journals can be used to enter notes about how you are feeling, your emotions, routine events, ideas, and memories in the form of writing.
Journals help you remember your thoughts, feelings, and life events in a better way so you can recollect your past events, present happenings, and your emotions.
You can keep track of anything you want, whether it's everyday life chores, what you eat, feel plan, or pretty much anything else that you find worth mentioning in your journal.
There are many reasons to use a journal and the most important one is that a journal is a private space of yours where you can write whatever you want to. You can get rid of your frustration and anxiety by writing about your stress or tension which has been proved through research.
There are different types of journals such as daily journals, expressive journals, dreams, travel, bible, hobby journal, and many more which satisfy all your requirements.
Different apps can help you keep a journal and organize it in this advanced era of globalization and a technologically evolved world.
The Best Journal Apps for Android in 2023
1. Journey – Best Travel Journal App for Android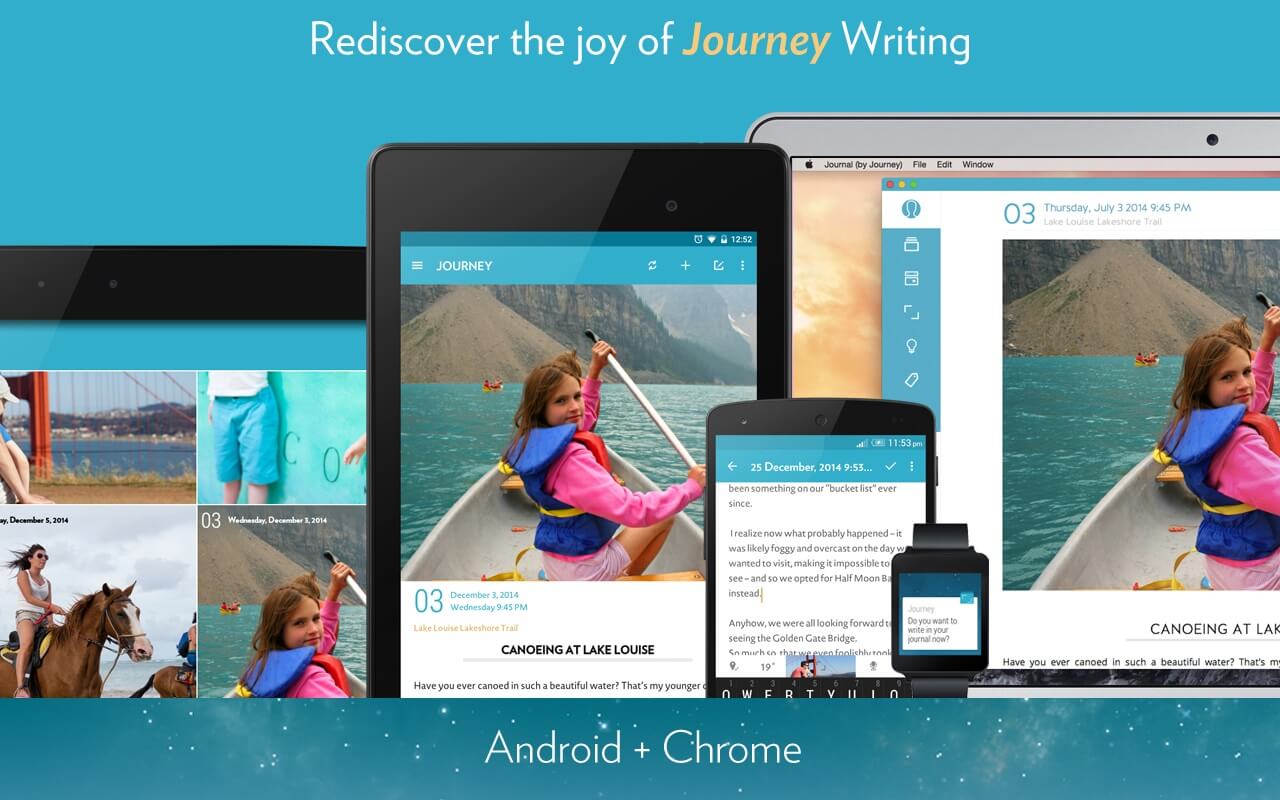 The journey is our top pick for the best journal apps this year. It helps you to think positively and have a healthier and happier mind.
Through positive journaling, Journey makes your personality calmer and more peaceful because it gives you your own, personal space to write about your blessings and problems at any time, anywhere.
With Journey, you have access to all apps and the web with the flexibility to record as many moments and memories as you want. It allows you to sync across devices without any cost. This journal app syncs photos, videos, and audio notes with text formatting geotag entries and many more.
Journey gives free-of-charge web support with throwback entries, reminders, fingerprint locks, and PDF exports. It also provides document exportation, zip backup, social media publishing, and many other fantastic features.
It is available for both Android and iOS devices. This app is paid and it unlocks all features with a single subscription. It requires a membership that is billed yearly and is for $2.49 per month and you can enjoy adding unlimited journeys to your online journal.
Journey is the journal app that you need in your life that has amazing features and is available on Android and iOS.
---
2. Daybook – Best Free Journal App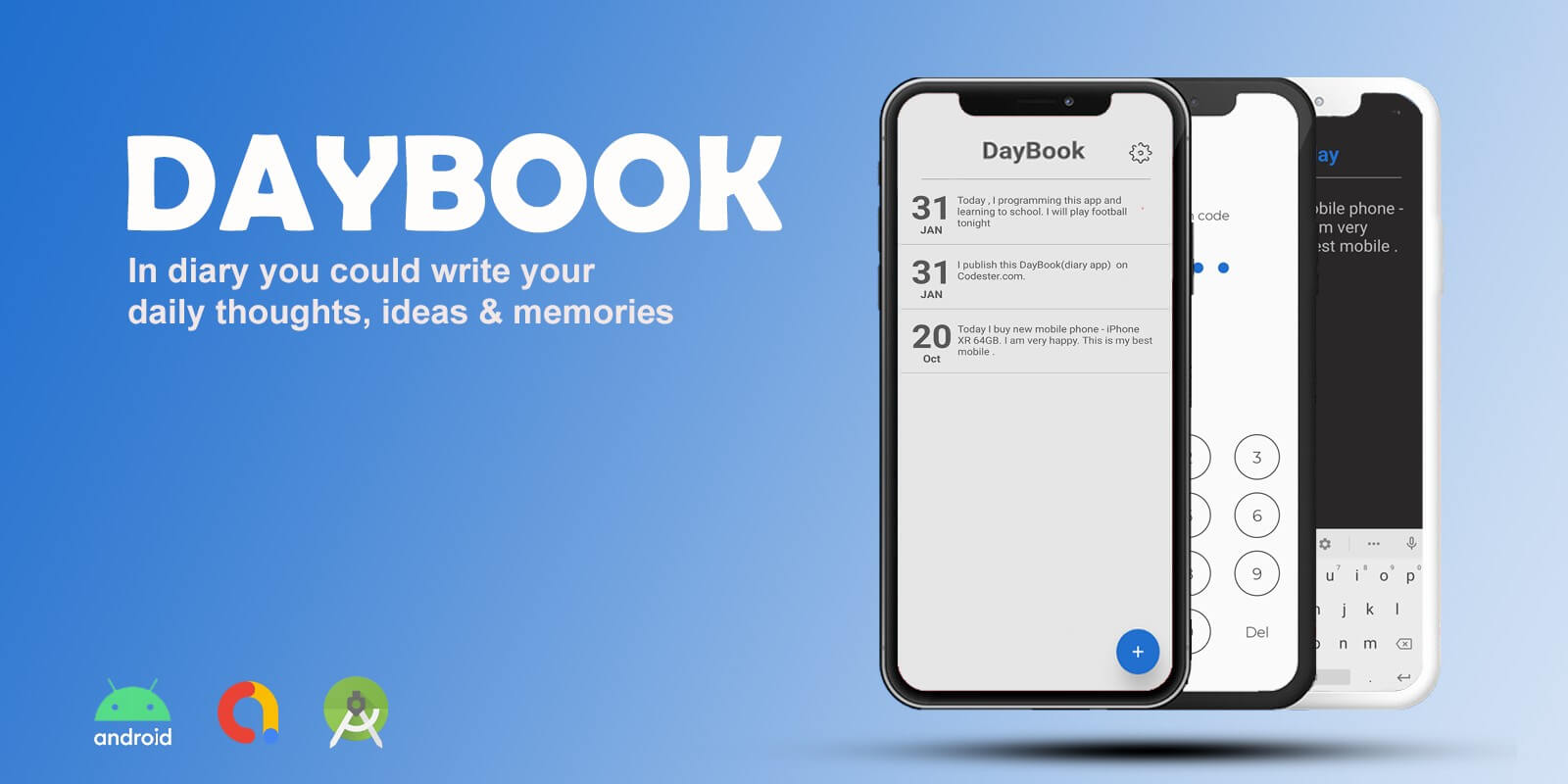 Daybook is the best free journal app that enables you to protect your moments when they become memories. You can secure your thoughts, emotions, and events with this 3-in-1 app which is a journal, a diary, and a note-taking tool. Daybook gives you a password-protected account.
Don't worry if you are too lazy to write, Daybook got your back with its easy audio recording feature where you can create speech-to-text entries. Other than that it can be used as a business journal app where you can create memos, craft presentations, and agendas.
You can use your Daybook journal as an instant task manager. You can also use it as a trip journal app, class notebook, wish list app, and many more. Daybook is available on iOS, Android, Alexa, Google Assistant, and Bixby.
There are some upcoming integrations and features which Daybook is launching for its users based on their feedback.
These features include voice-activated actions, a daily mood tracker, location and tag-based search, a UI with a fresh interface, a theme setting, and a new group of entries based on dates.
This note-taking bullet journal app is free with unlimited content storage and comes with automatic data backup feature.
---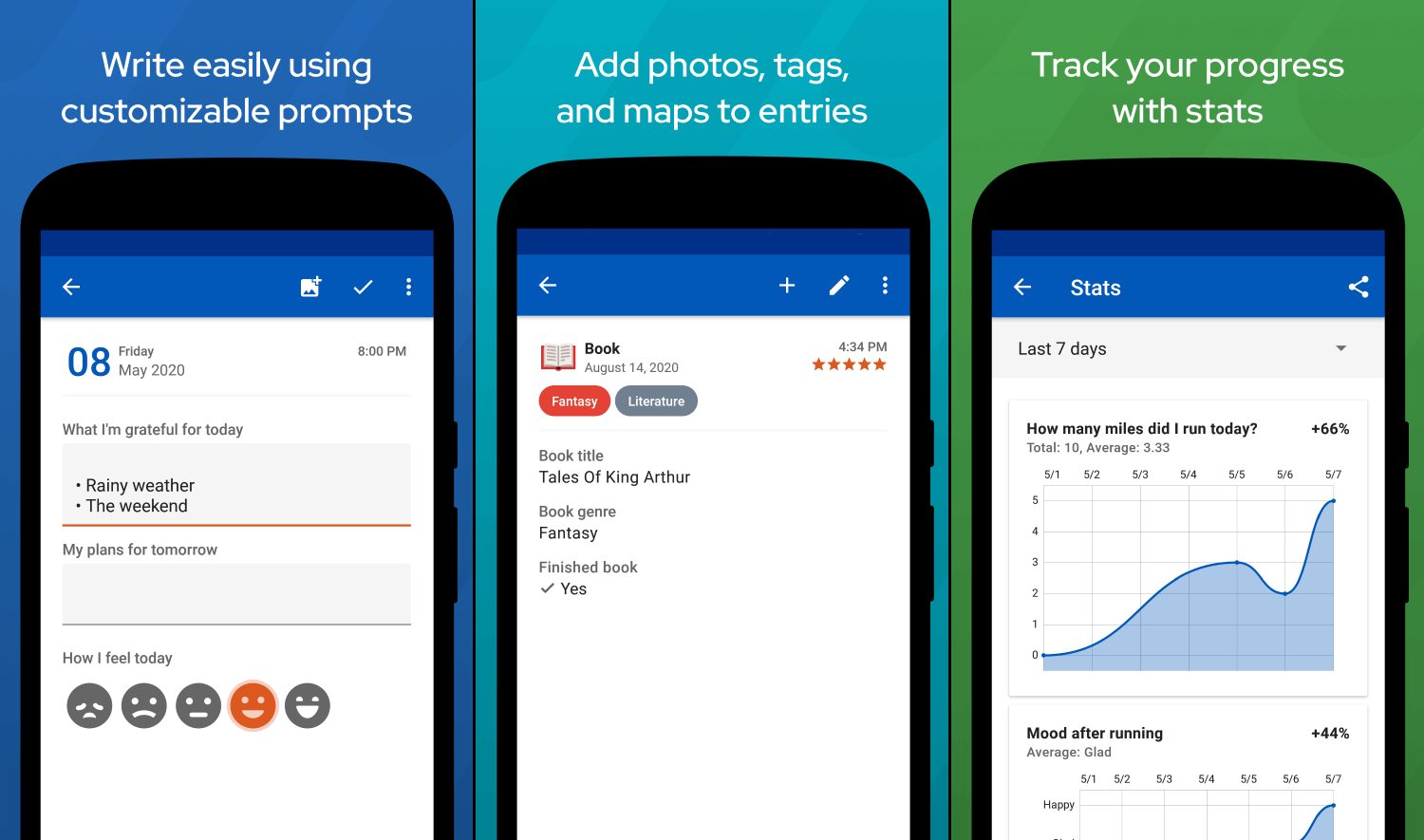 Flexible Journal, available on Google Play, is a unique personal journal application that lets users capture day-to-day activities and hobbies.
The foundation of this journaling app is the ability to create custom journal forms using an easy-to-use form builder. These forms allow users to customize their journaling experience however they want.
This journal app ships with a library of out-of-the-box journal form template to meet a wide range of journaling needs. These form templates can also be easily customized using the form builder.
Flexible Journal allows users to replace multiple journal and tracking apps with a single, simple app on their Android devices.
It includes many user-driven features that set it apart from competitors, including:
Calendar view of journal entries to view the journal as a daily diary
Powerful search capabilities to quickly find specific journal entries
Optional location and map view – attach maps to your journal entries
Attach images to journal entries and enhance the visual journal experience
Journal backup and restore capabilities to protect information stored
Simple journal export and social media integrations to share entries online
---
4. Luci – Journal App for Dreams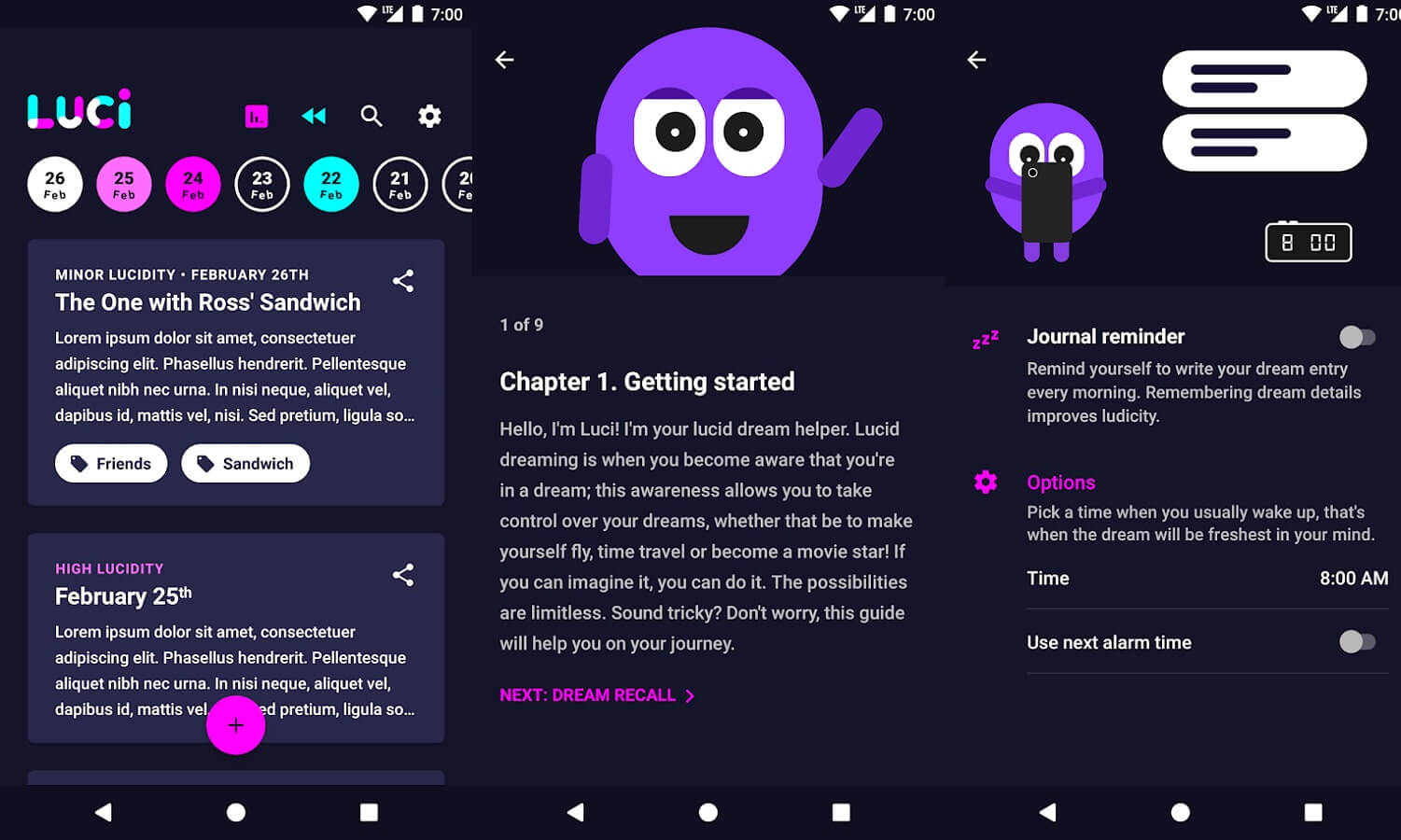 Luci is one of the best journal apps for Android which helps dreamers to keep a record of their dreams and their progress, specifically lucid dreams.
A lucid dream is when you are aware that you are dreaming and you can take control over your dream where you can be anything, doing everything you want.
Luci is a lucid dream helper app, which allows you to keep imagining the things you want to do because it works on the idea that if you can imagine it, you can do it. Luci requires a one-time payment of $0.99 which gets you your dream journal for a lifetime and makes it highly affordable.
It automatically records your lucid dreams and their progress with an advanced feature of noise-activated recording that intelligently only records snoring or talking.
Not only does Luci lets you pick your dream design, sketch your dreams, or add photos, but it is also an ad-free app with easy synchronization and backup options.
It has a built-in lucid dreaming guide with lucidity tools and updated translations so you know what you said while you were asleep. It has a Google Play license check that allows the app to get your phone's network access, find accounts on the device, read the contents of your SD card, and many more.
---
5. Universum – Best Daily Journal App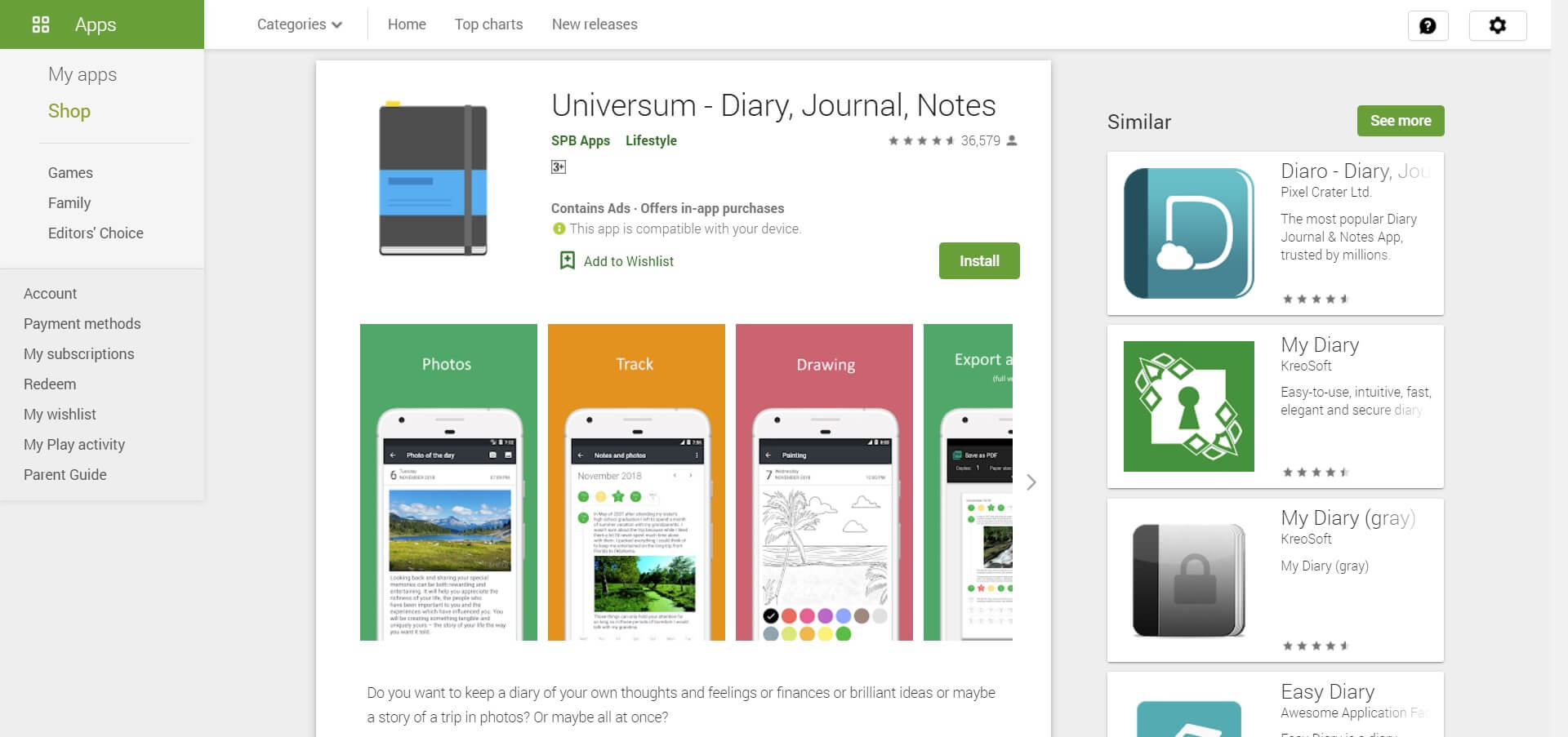 Universum is another one of the best daily journal apps available for Android users. It keeps your everyday thoughts and ideas organized and stored.
This is your diary in which you can have a secure record of what you do daily, what you think, what problems you incur, and what sweet memories you have in your past.
Use it as your classic private diary which you can keep with you all the time. Use it either as one of the best travel journal apps where you can keep your journey documents, memories, and photos or as a diet journal so that you can keep a check on how many calories you consumed over the day.
Universum app can also be used as a dream journal to record your dream experiences and also as a mood tracker so that you can discover the causes behind your low and high moods. This app is available on Android devices and it offers in-app purchases ranging from $0.99 to $3.49 per item.
These new features include automatic backup of your data to any device, export to CSV, translation into Portuguese and Italian languages and a list of ideas. It also has more secure authentication through your fingerprints, and export to PDF on the search screen.
---
6. Daylio – Journal App for Android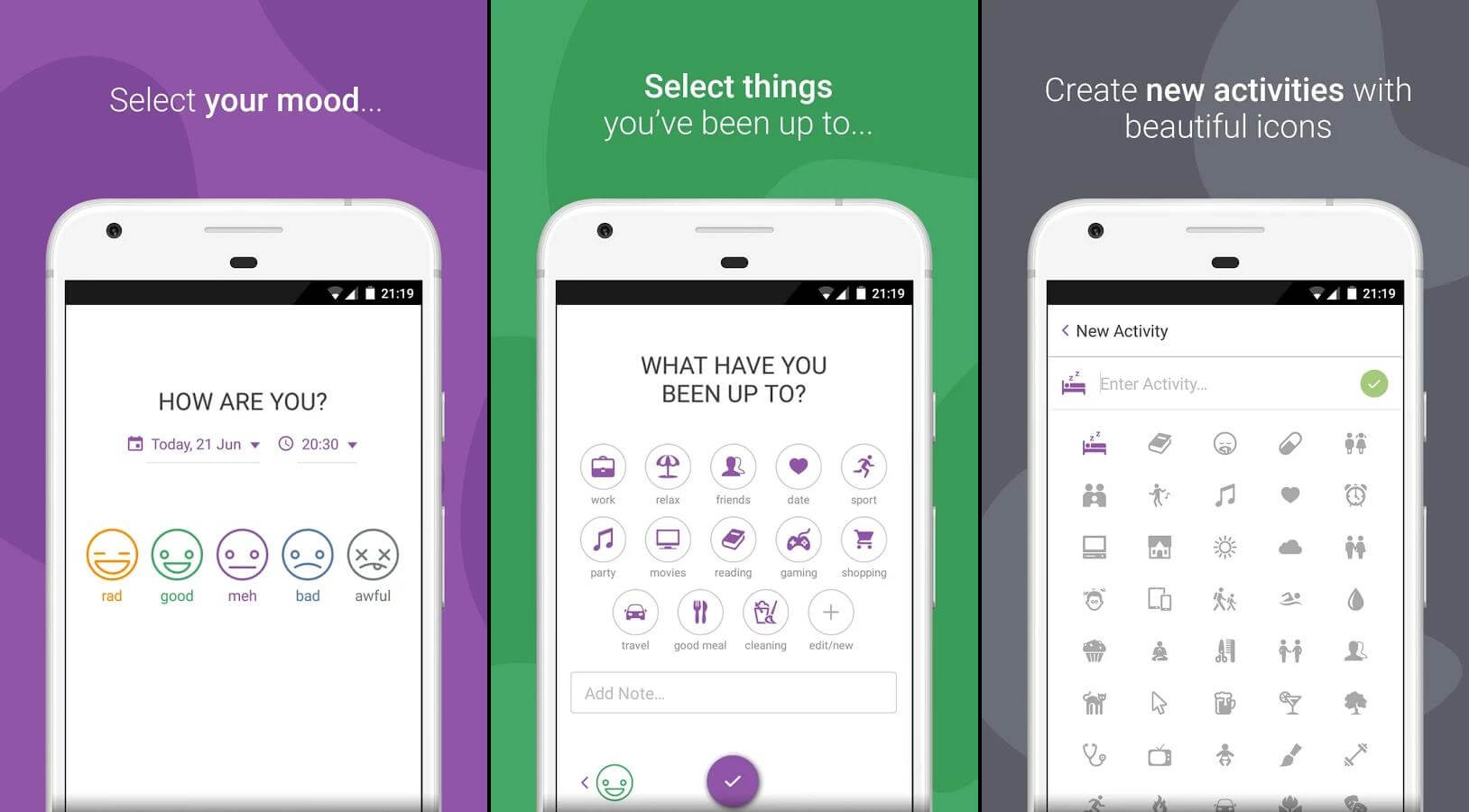 Daylio is an amazing diary/journal app that is the best journal app for iPhone as well as Android devices. You can keep your daily diary without even writing a word with its two-step simple entry creation. You can keep up with your daily chores without any hassle.
By two-step simple entry they mean you just have to pick your mood and add activities that you are up to throughout the day. If you are an old-school person, you can add notes to it just to have that vibe.
You can also adopt some healthy habits like running, healthy eating, waking up early, and many more.
Daylio is the best free journal app that is available on iOS and Android devices but it also offers in-app purchases if you want to get Daylio Premium. The pricing for Premium ranges from $2.99 to $23.99 per item. It is available in 29 languages and has some amazing features.
You can customize the names of your moods, backup, and restore your entries safely with Google Drive, any time anywhere. You can also set reminders so that you do not forget to create a memory and you can print your entries by exporting them to a CVS document for Excel.
---
7. Diary Book – Travel Journal App for Android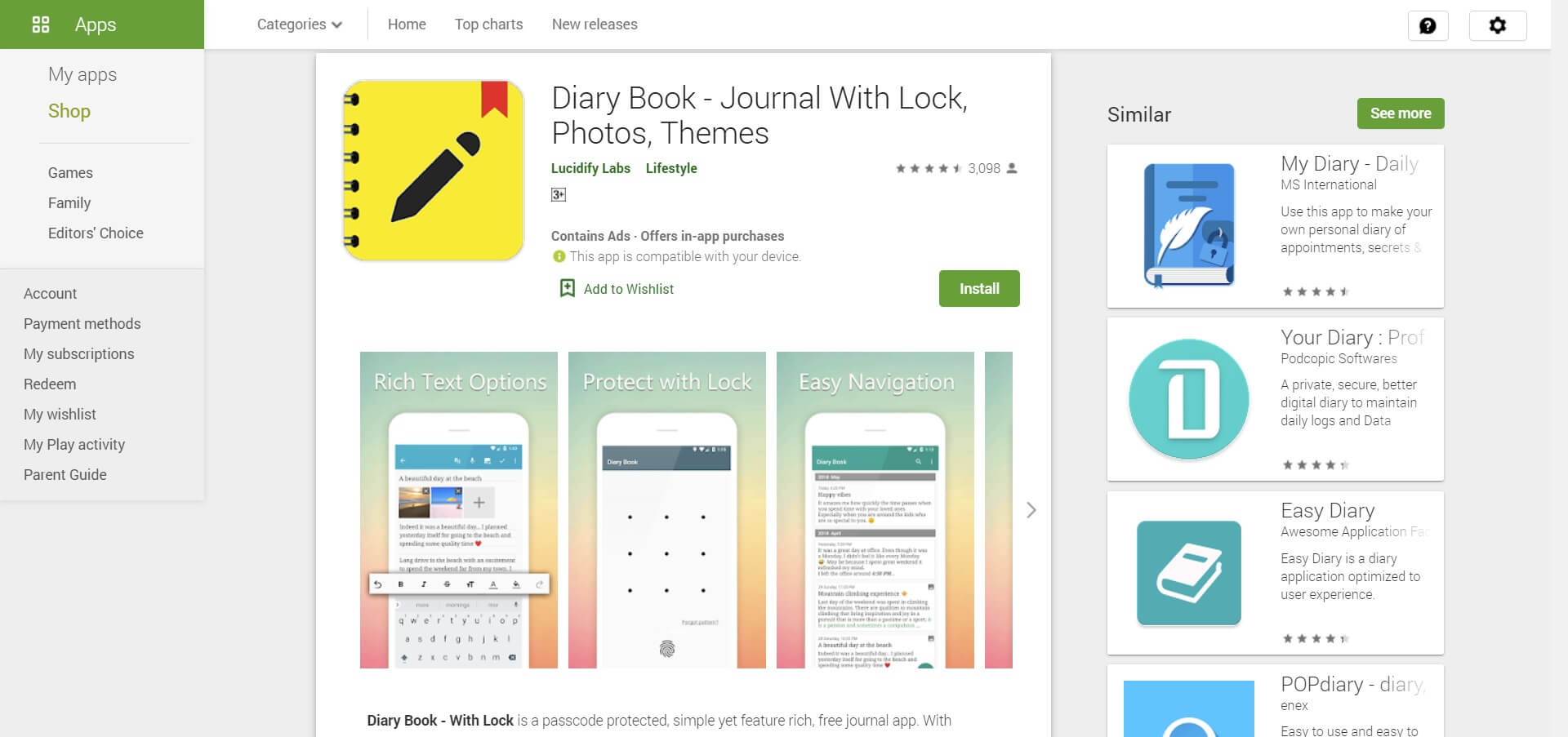 With over 100,000 downloads, Diary Book is one of the most reviewed journal apps on the Play Store. This is a password-protected journaling app that has some irresistible features such as rich text options, photo and video attachments, colorful themes, night mode, and many more.
You can export your journal contents to PDF and text with the feature of adding your actions and choosing from over 25 moods. Not only you can store your data with local storage of your device but also with the Google Drive backup option which makes this app super protected and secure.
Some other useful features of this app include speaking to write a diary so that you don't have to always write down what is on your mind, searching is easy with the help of highlighting, and many more. Diary Book is only for Android gadgets and it offers in-app purchases that cost $0.89 per item.
This inexpensive journal app is going to offer some new features which make it an ideal app to store and organize your stuff. Some features include a swipe option to go to the next or previous entries, landscape mode, adding a tag to your entries, calendar view, and a few more.
---
8. Penzu – Bullet Journal App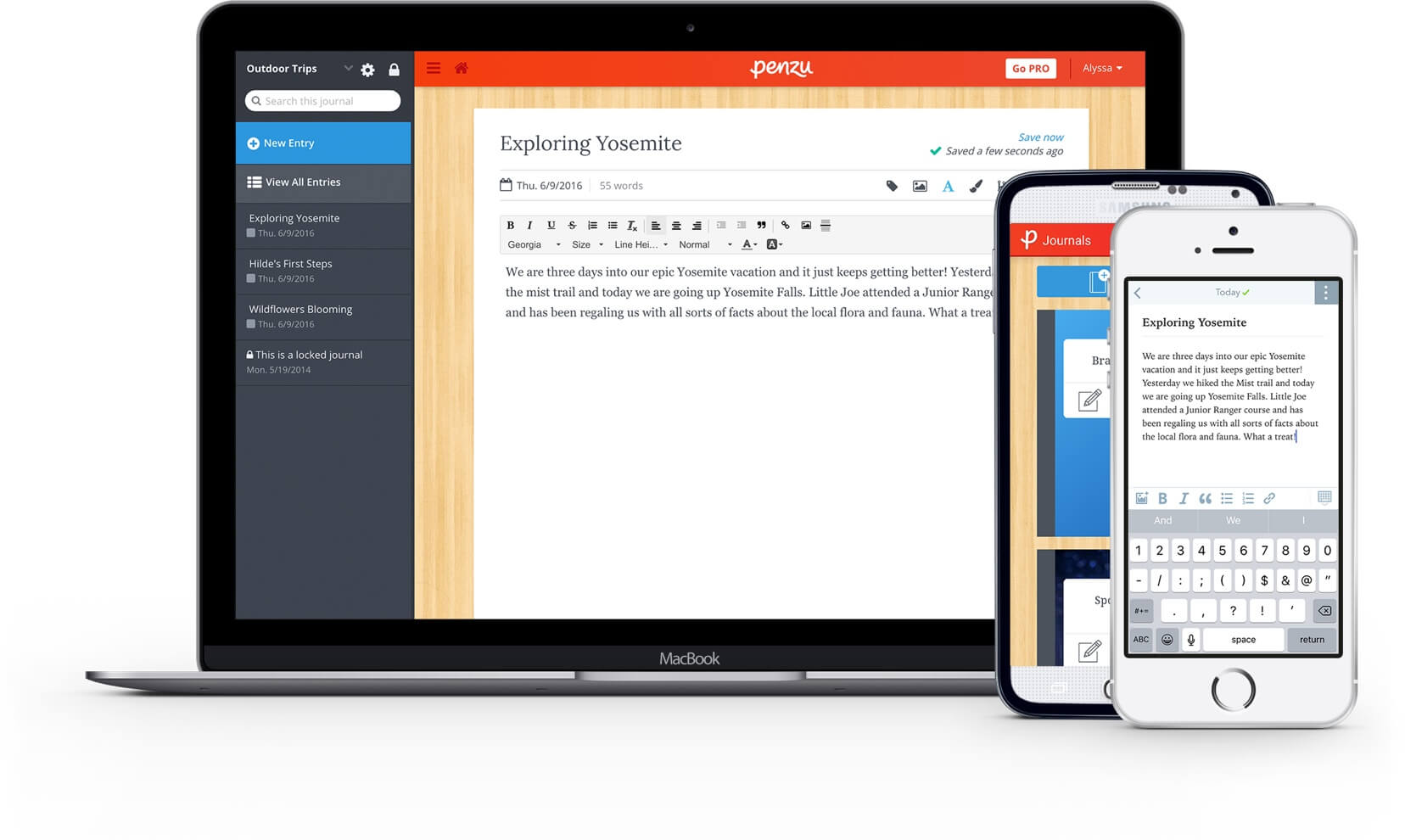 Penzu is a renowned journal app available on the Google Play Store. This is a 100% customizable and private online diary that can be used for expressive writing where you can reflect on your daily thoughts, emotions, sensations, and anything else.
Other than that, it can also be used as the best food journal app, as a travel journal, pregnancy journal, dream journal, or any other journal. You can add everything to these journals from food intakes to travel memories and documents, from your pregnancy journey to your dreams, literally everything.
Penzu is best for those who want to keep things to themselves as paper journals can be very hard to protect and anybody can get their hands on them. It is safe with double password protection and military-strength encryption.
Privacy, availability on Android and iOS, and custom email reminders are all the features that come with Penzu Basic, making it one of the best journal apps this year. The Basic plan is free but Penzu PRO and PRO+ are paid.
Penzu PRO is for $19.99 per year through which you can customize your diary, search your journals quickly and easily and secure your diary with military-grade 256-bit AES encryption. Penzu PRO+ costs $49.99 per year.
---
9. Diarly – Digital Diary App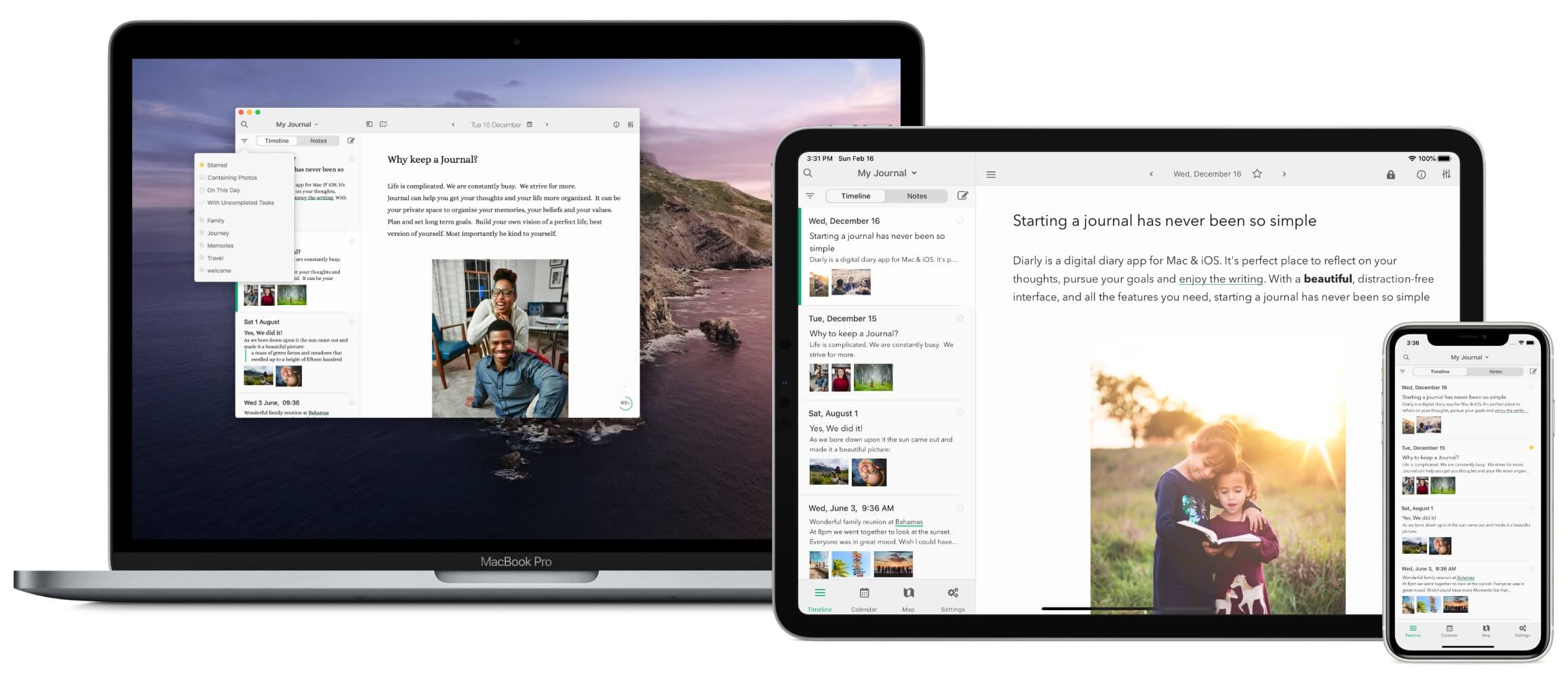 Diarly is a modern digital diary. It's available for Mac, iPhone, and iPad. It is one of the most secure journal apps we have featured on this roundup since data is synced via iCloud. If encryption (password protection, with biometrics) is enabled, all notes are encrypted on devices.
It has a minimal interface, and automatic prompts so that the app is ready to write in after just starting. The app puts focus on the writing part; Diarly is a writing app mostly – with a markdown editor, focus mode, writing count targets, and more.
A recent addition to the Diarly journal app is the challenges section – where they have created custom templates for each day, one of which is the 30-day writing challenge.
---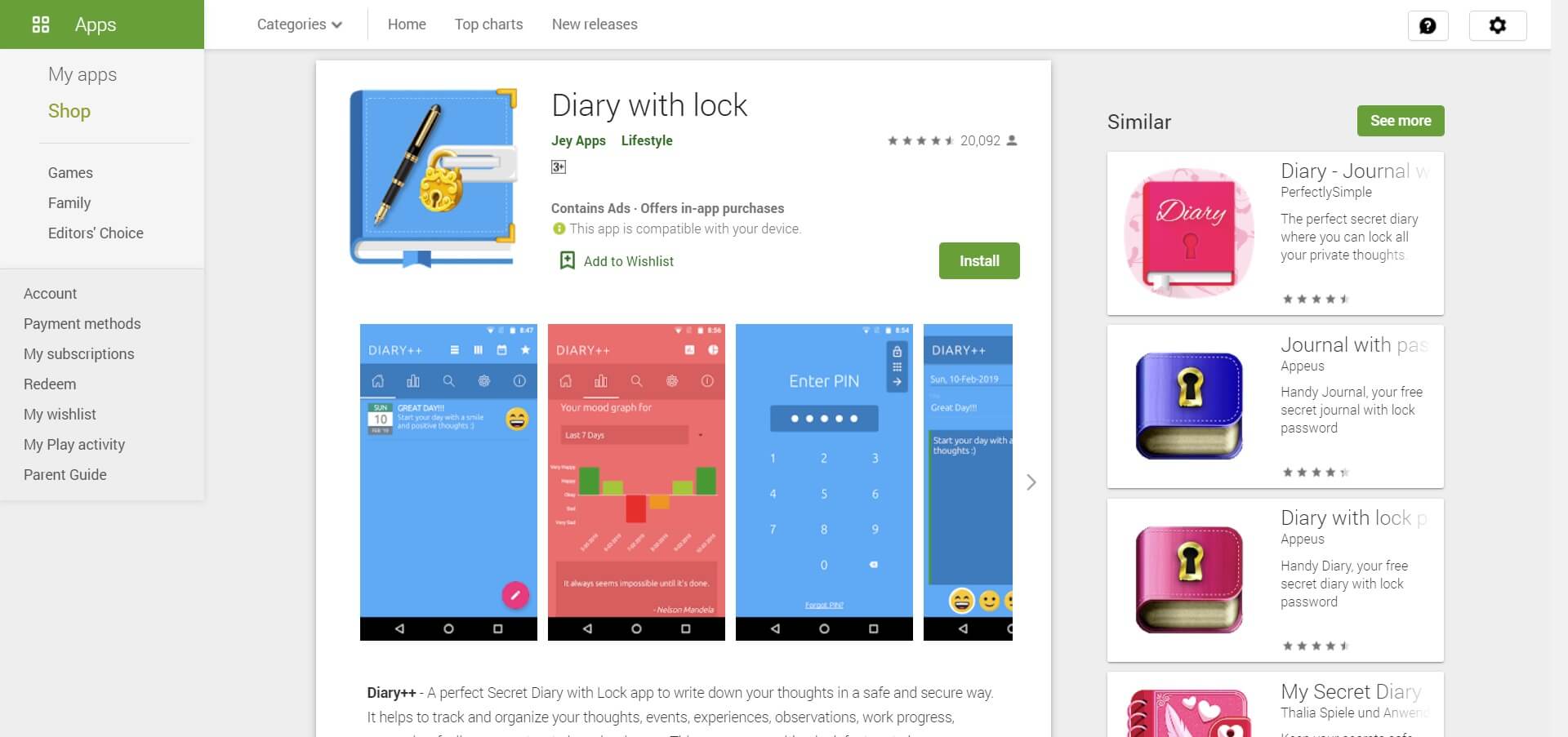 As research has revealed, writing about stuff frees your mental space so that you can focus on other important things that need attention. Using a journal can be very helpful in getting away with the negative thoughts that you have had throughout the day.
According to Brett Steenbarger, journal writing not only enhance your learning capability but is also one of the effective ways to what we do in our routine and why we do it. He also noticed that journal writing can prove to have a healing effect on your mental health.
Diary++ is an Android app with numerous incredible features that allow you to have your private journal/diary to sit down and write about all your experiences. Write about a tough day you had, an emotional moment you want to save, or an idea that instantly comes to your mind.
Some prominent features of this app are the backup and restore option with Google Drive, PDF format downloading, emoticons that can be used to create and edit diary entries, moods that can be tracked with graphical representation, a striking user interface, and many more.
With a rating of 4.5 out of 5, Diary++ is affordable as well. It offers in-app purchases for each item which costs $1.20/item.
---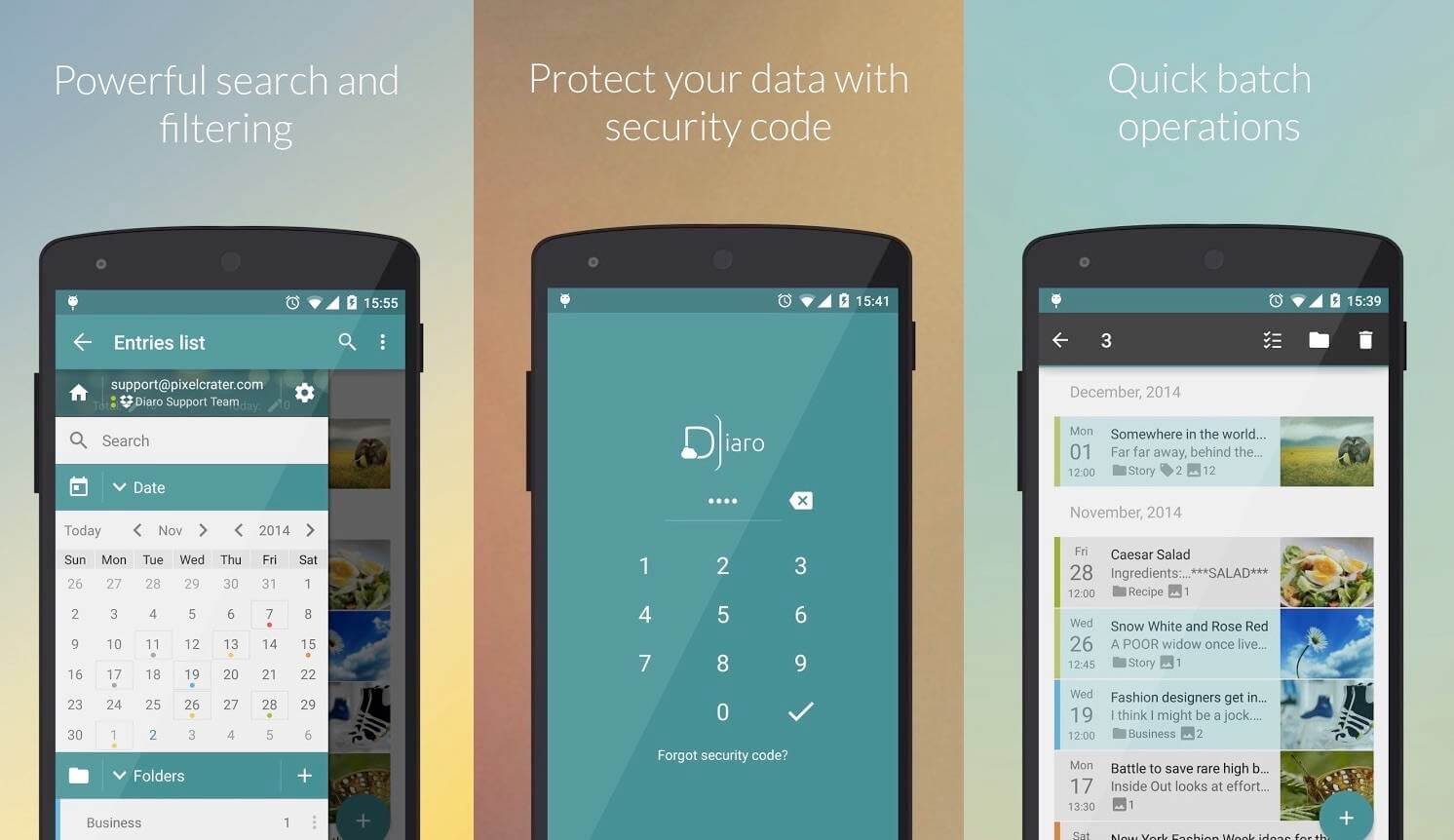 It is a diary, note-taking, and multi-platform journal app that can record anything from your daily events, problems, secrets, appointments, to-dos, and much more. With Diaro, you can sync all your data to all your devices and PC. It can also be used as the best food journal app.
Your online diary is private through fingerprints, security codes, and data encrypted passcodes. You can personalize your account and entries with different UI themes and colors. A multilingual UI feature allows you to use the Diaro app in 30 different languages.
Searching and organizing your data is simpler and easier. It has a daily mood tracker throwback feature and weather info along with a beautiful Atlas view. Diaro has easy access to export your data into PDF, Docx, text, print or shares it through Diaro Android or Diaro Online.
Not only export but you can import data or entries from other journal/diary apps, for example, Evernote, Flava, Catch Notes, Journey, and other famous apps. Diaro, like many other apps, offers in-app purchases that vary from item to item.
The cost of items in the Diaro app ranges from $0.64 – $10.49 per item. Diaro PRO features differ from the Basic one. These features include an ad-free premium experience, priority customer support, and many more.
---
This best bullet journal app emphasizes your happiness and good mood that's also in 5 minutes. It works based on psychological research that has been carried out by different researchers to show that writing journals can befit your mental health.
Through provoking positive thoughts that tend to keep you optimistic, this app drives your attention towards good things in your life. This positive feeling will drag you to do productive activities throughout the day.
According to Lifehacker, writing a journal can be very beneficial and the Five Minute Journal is very helpful.    The activity of noting down the things for which you are thankful will leave you happy. This app is specifically available on Android devices.
It gives a beautiful and intuitive journaling experience, views short daily excerpts, quick taping access, and a photographic timeline view of your daily photos. Furthermore, get inspirational quotes, daily and weekly challenges, reminders, passcodes, and many other attractive features.
A new feature of general bug fixture and maintenance will be launched by the app developers. It has a rating of 4.8 on the Google Play Store and it requires a payment of $3.30 for a subscription. This is a one-time payment for a lifetime which is quite affordable.
---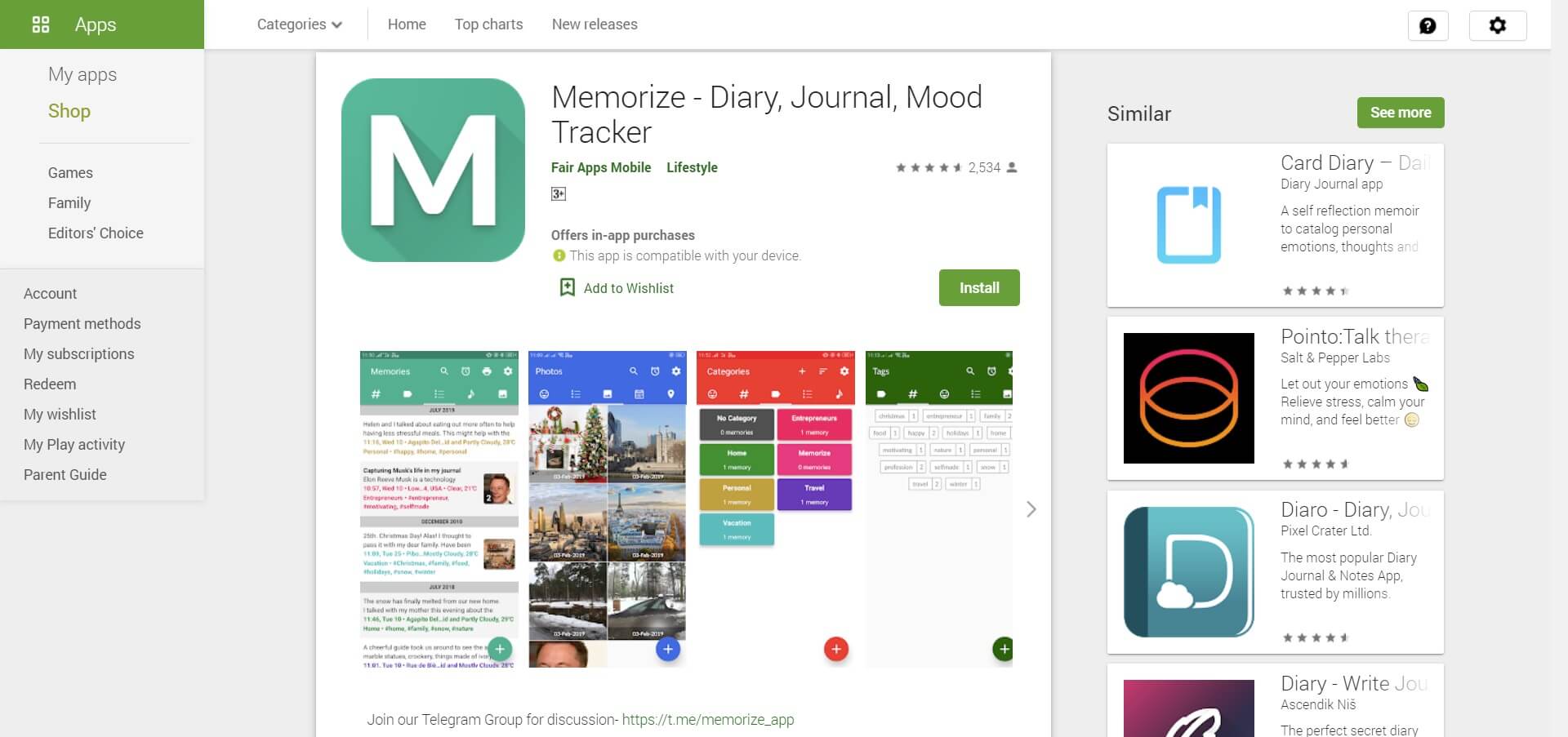 Memorize is an all-in-one app that is used as an online journal, a diary, and a note-taking app. It is an Android app that saves your memories, thoughts, emotions, ideas daily routine events problems, frustrations, secrets, or anything you want to keep safe.
This best bullet journal app is an event designer, note editor, budget tracker, travel journal, and much more. It offers effective and free markdown support to set up your memories with photos, text formatting, quotes, headers, lists, tables, links, and many other tools to make your entries attractive.
You can merge numerous journals, and categories and you can print them. With Memorize, never miss to add your memories with daily reminders and it is also secure with PIN and fingerprint.
You can regain your data with Google Drive and Memorize allows you to import files and entries from Day One and Journey with an export option as a ZIP file in JSON format. Memorize is launching two new features of miscellaneous bug fixes and the option to upload any font to apply in the application.
Just like many other Android apps, Memorize also provides in-app purchases for customers. The pricing ranges from $2.69 to $12.91 per item in the app.
---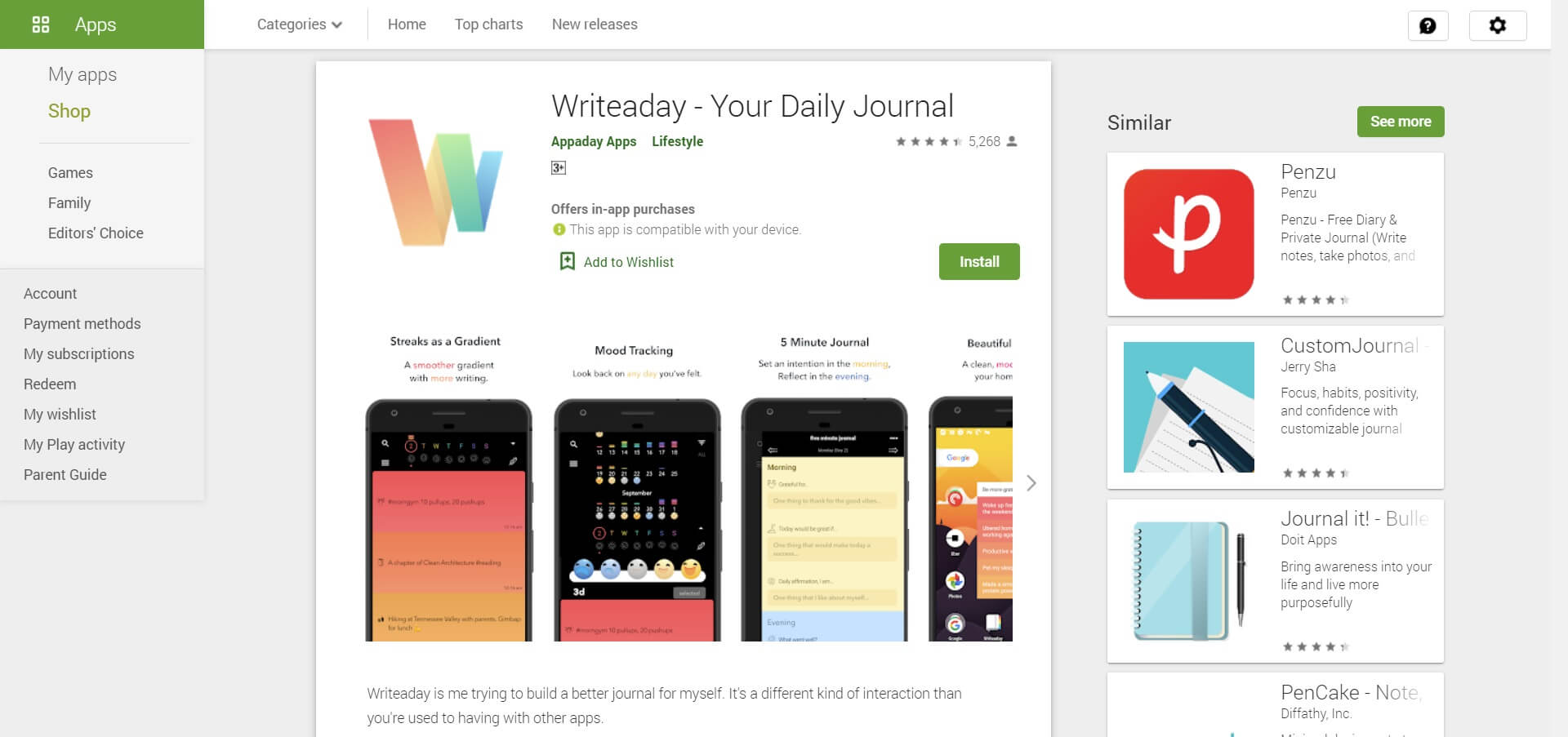 Writeaday is another journaling app that can transform your way of getting along with the day with more positive energy and vigor. You can use it as the best gratitude journal app throughout the day specified in the beginning and at the end of your day giving 5 minutes each.
You can add the thing which you expect to go well later in your day and in the evening, you can add the thing which went well. By doing this you would feel a sense of gratitude and appreciation for the things you have in your life.
This best free food journal app has in-app products and the cost of which varies from $0.66 to $26.73 per item. With beautiful templates and colors, this app motivates you to write journals which is a good habit for your peace of mind. Other than that, you can use #hashtags in your notes as well which is fun!
Writeaday also sends you daily quotes precisely at the beginning of your day so that you start your day with positivity and optimism. Some new features are coming soon on Writeaday which contain new serif font, reduced app download size, and a few more.
---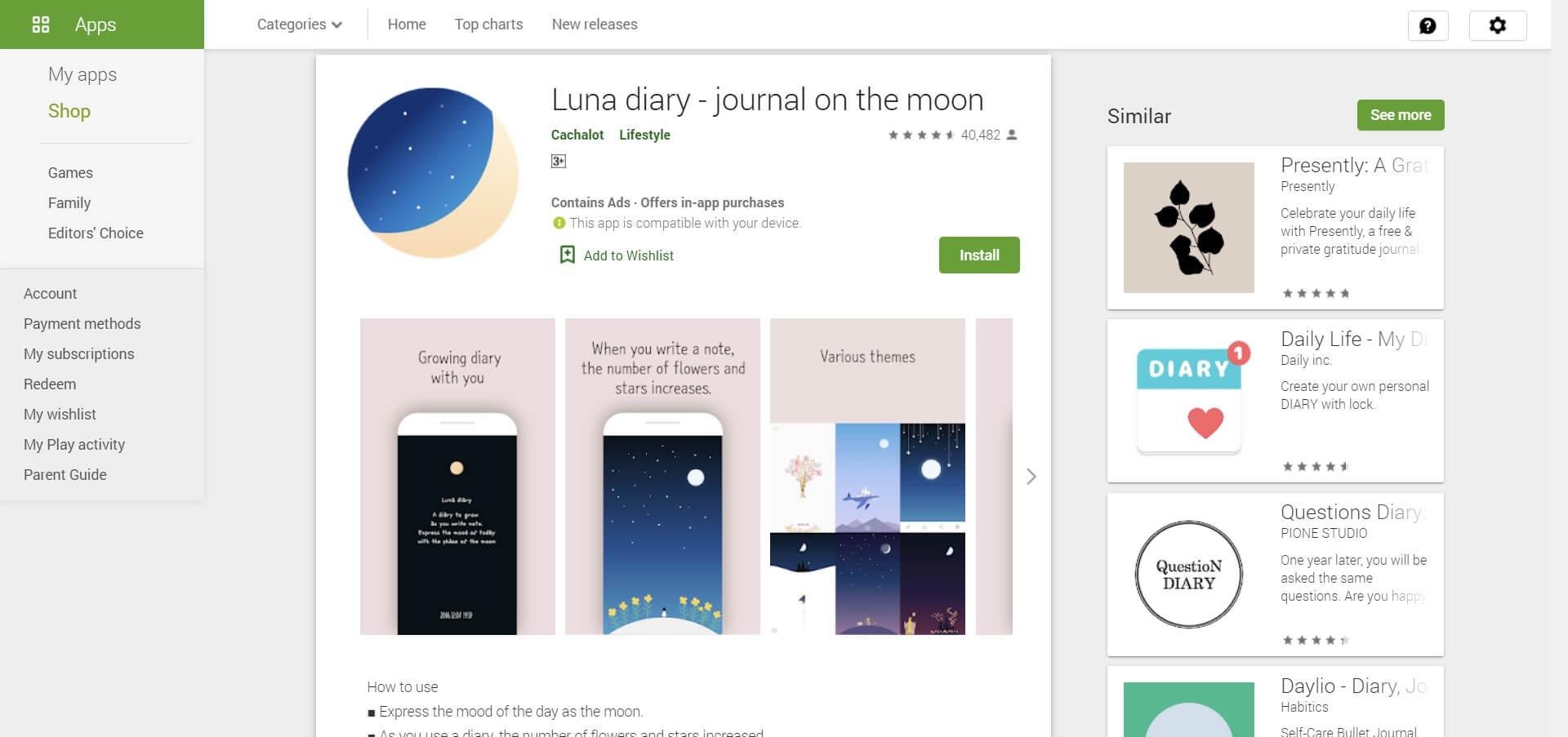 Luna Diary is a unique journal app that is effective yet interesting. As its name suggests, as you use the diary, each entry fills the moon, thus showing you your full moon at the end of the month. You enter the mood and the number of stars or flowers increases in the sky which is your template.
This online diary grows every time you make a note, or add a thought, memory, idea, or emotion. Your mood is determined by the phase of the moon and the state of the moon changes according to the number of diaries written in the last 30 days.
You can keep your photos, videos, or music within your diary to add more versatility to your online journal. Luna Diary is secure with passwords and fingerprints and to enhance your urge to write a diary, it has various beautiful themes.
It also allows its users to save backup files, folders, and shared images so that they are never worried to lose their data and belongings. This best free journal app is available only for Android devices with an option of in-app purchases.
The cost of an item differs within the app. The starting cost is $1.62 which goes up to $3.90 depending upon the item.
---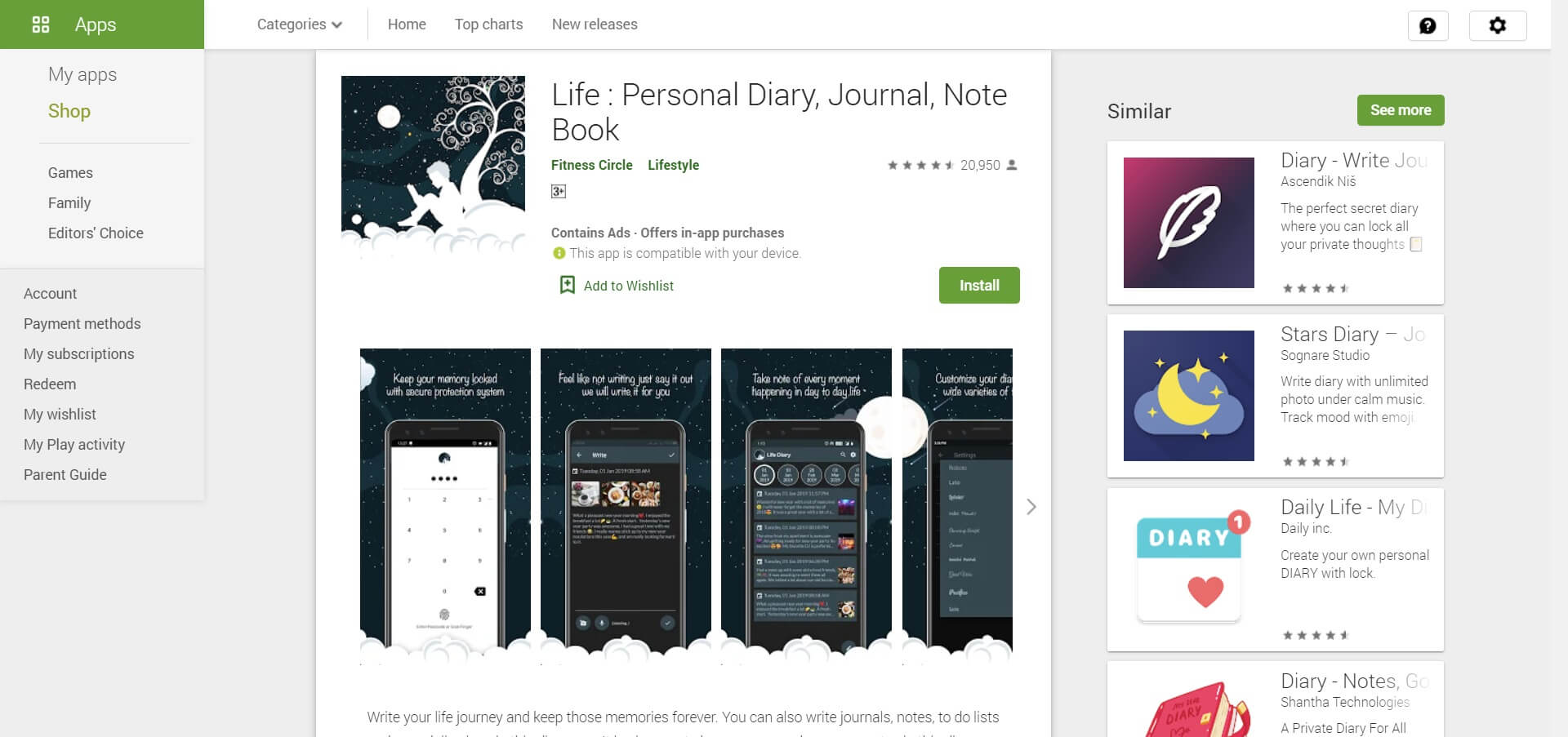 Life is the best journal app for android which is your journal for life where you can keep your memories stored forever. You can use it the way you want, either as a note-taking diary, as a journal, like a to-do list organizer, as a pocket diary, or anything else.
You can add your daily events, plans, fatigues, worries, positive and negative thoughts, fears, happy moments, feelings, or anything that you want to keep safe and secure. It can keep a record of everything that gives you happiness whether it is a memory or a present moment.
The life journal app offers some remarkable features which will make your journaling experience positively effective and incredible.
Some of the basic features are, password security, reminders, a free night theme, voice-to-text entries, font customization, picture recollections, landscape support, and it is easy to use. Along with these apps, Life is also working on some new features which will be launched very soon.
The new features include support for new android 10 devices and performance improvement, a photo memories section, print and PDF options, and many more. It is also highly affordable to use offering in-app products whose price ranges from $0.66 to $1.20 per item.
---
Gratitude is the best gratitude journal app that fortifies your ability to think about all the blessings you have around you. It frees up your mind to procrastinate the negative feelings you have in your heart or mind and only focus on the good things.
It works on the philosophy of good mental health and well-being by inclining your mind to be grateful for what you have rather than feeling thankless and remorseful for what you do not. That negativity in your life will result in your bad mental health and anxiety.
Along with numerous features of privacy, colorful themes, backup and restore option calendar view and many more, this app makes you recollect all those things which had a positive and happy impact on your mood and thinking.
You can express gratitude for every little thing that happens to you daily even if that's eating something that you love. Express gratitude to people around you whom you love and who has a positive impact on your overall personality.
And above all, express gratitude to yourself, self-love, and self-care which is all very easy with the Gratitude journal app. It offers in-app products and purchases. The cost of these products ranges from $3.90-$27.59.
---
The Best Journal Apps for iOS (iPhone/iPad) in 2023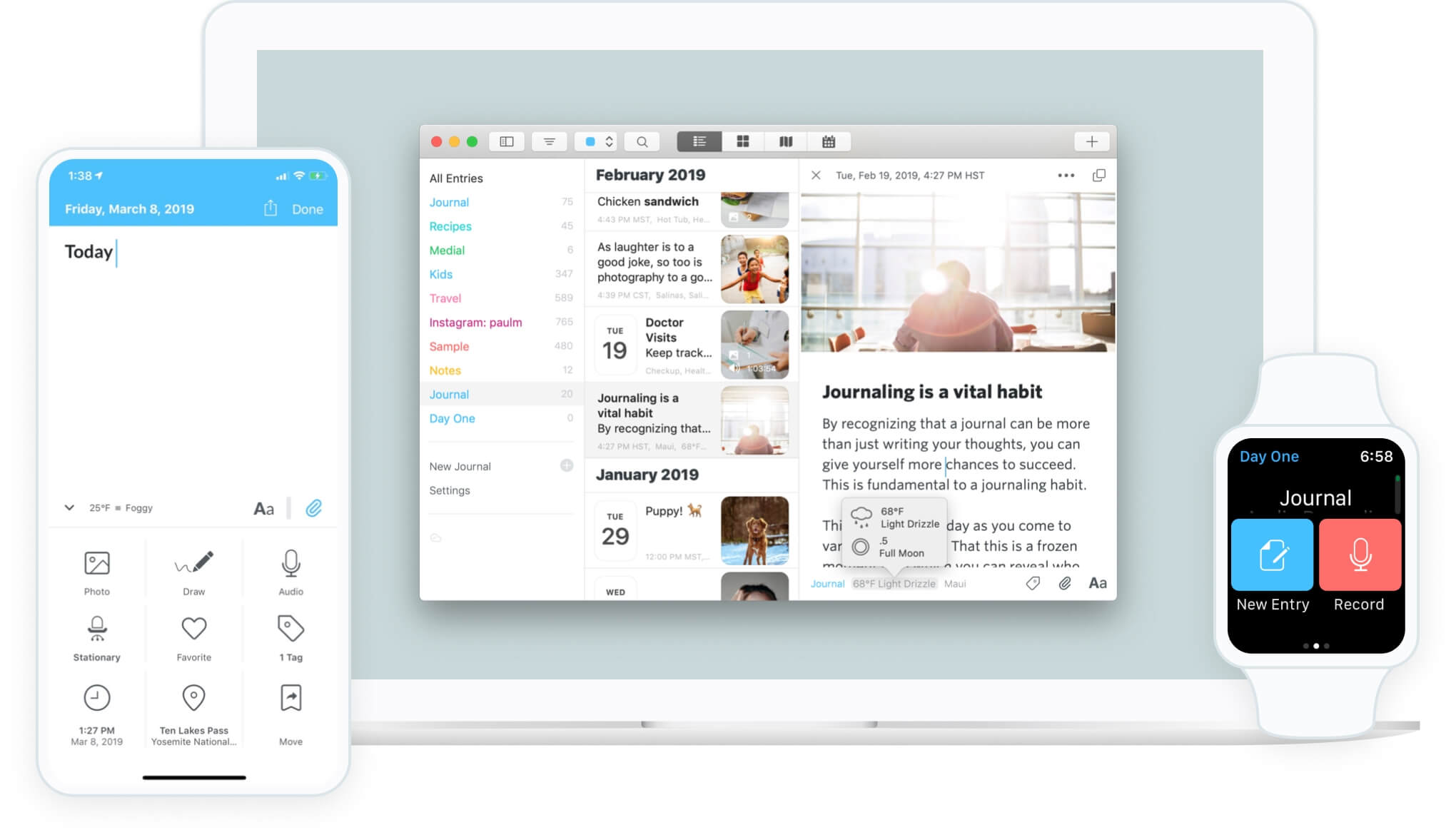 Day One Journal is one of the best iOS journal apps through which your experience of using a journal daily becomes a simple pleasure. It has a beautiful (and award-winning) interface design that will grab your attention towards writing your diary with fun.
You can swiftly return to your memories and it doesn't necessarily require words to tell your story, add photos, videos, voice notes, whatever you feel like. It has upgraded safety and privacy through its biometric security, end-to-end encryption, and automatic backups.
You can also export your data anytime anywhere. This app has an amazing feature through which you can connect to HealthKit. This app is free on iPhone, iPad, Mac, and Apple Watch and also offers in-app purchases whose cost varies from plan to plan.
There are different purchases for different plans such as Premium Yearly costs $34.99, and Premium Monthly pricing is $3.99. Similarly, Premium Yearly for Plus Users costs $34.99, Premium Monthly for Plus Users costs $3.99 and Day One Premium costs $34.99.
Day One journal app is available on Instagram as well so that you can get tips, prompts, and beautiful photography to maximize your experience. You can get daily insights with this journal app.
---
19. Momento – Travel Journal App for iOS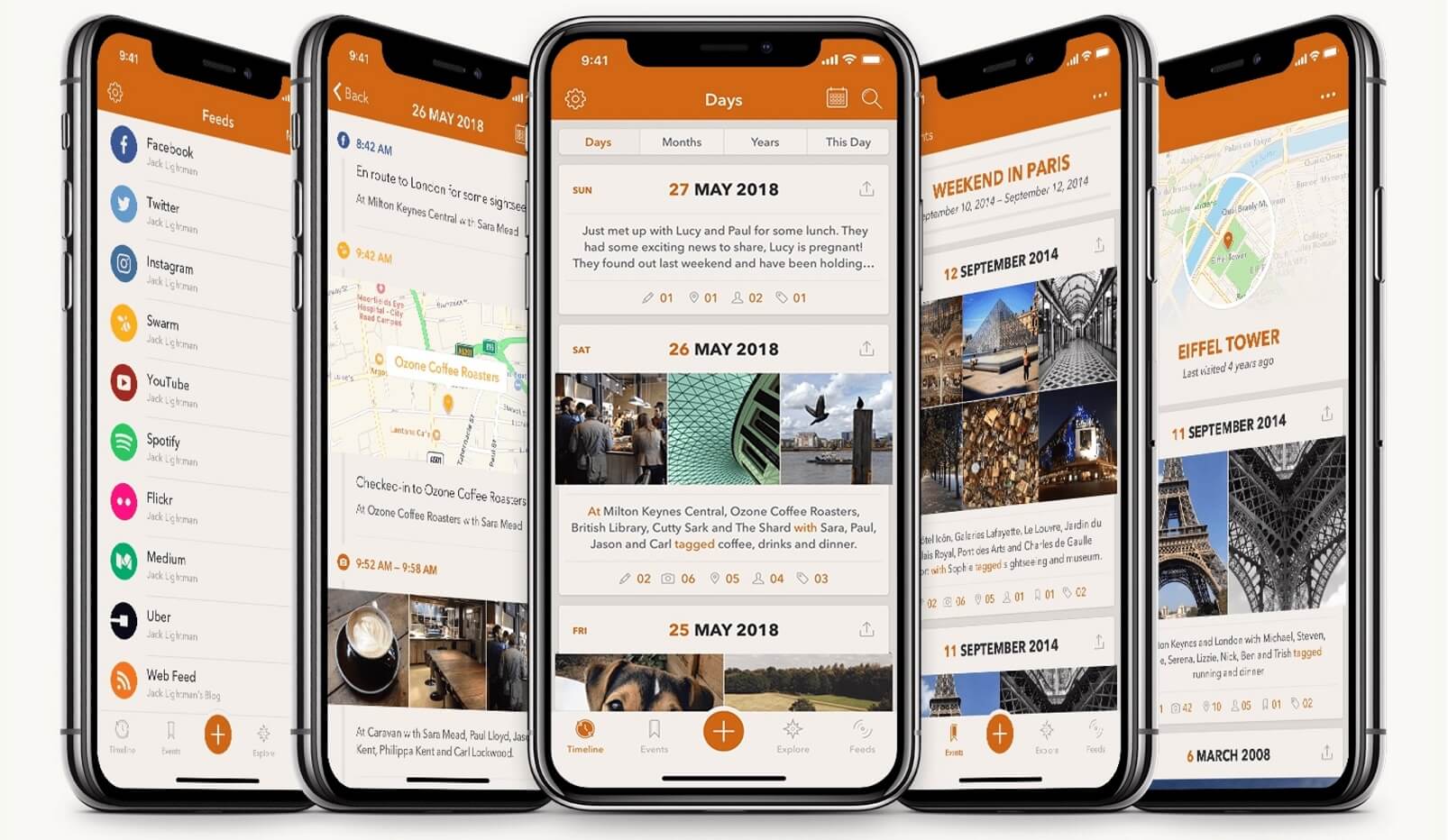 Momento is a smart diary and journal app that helps you to record and revive your memories, moments, and life story so that you can easily revisit the moments you want to cherish again and again.
It also automatically gathers your posts and memories from your social media accounts.
It can be used as the best food journal app if you are concerned about the calories you consume each day. Other than that, it can be used as a travel journal, a reflection journal, a secret journal, and any other kind of journal that you want to have in your life.
There are some essential features of this best journal app for iPhone such as adding photos, videos, people, tags, and custom reminders to capture your moments easily. It also permits you to import your data from social media posts, tweets, check-in photos, and events so that your journal is up-to-date.
You can also search your memories by adding tags, keywords, places, etc., group and bookmark moments, and navigate by a calendar, day, month, or year, and many other amazing features. The Basic plan is free but there are in-app purchases.
The cost of these purchases ranges from $0.99-$37.99 per item.
---
20. Moodnotes – Mood Tracking Journal App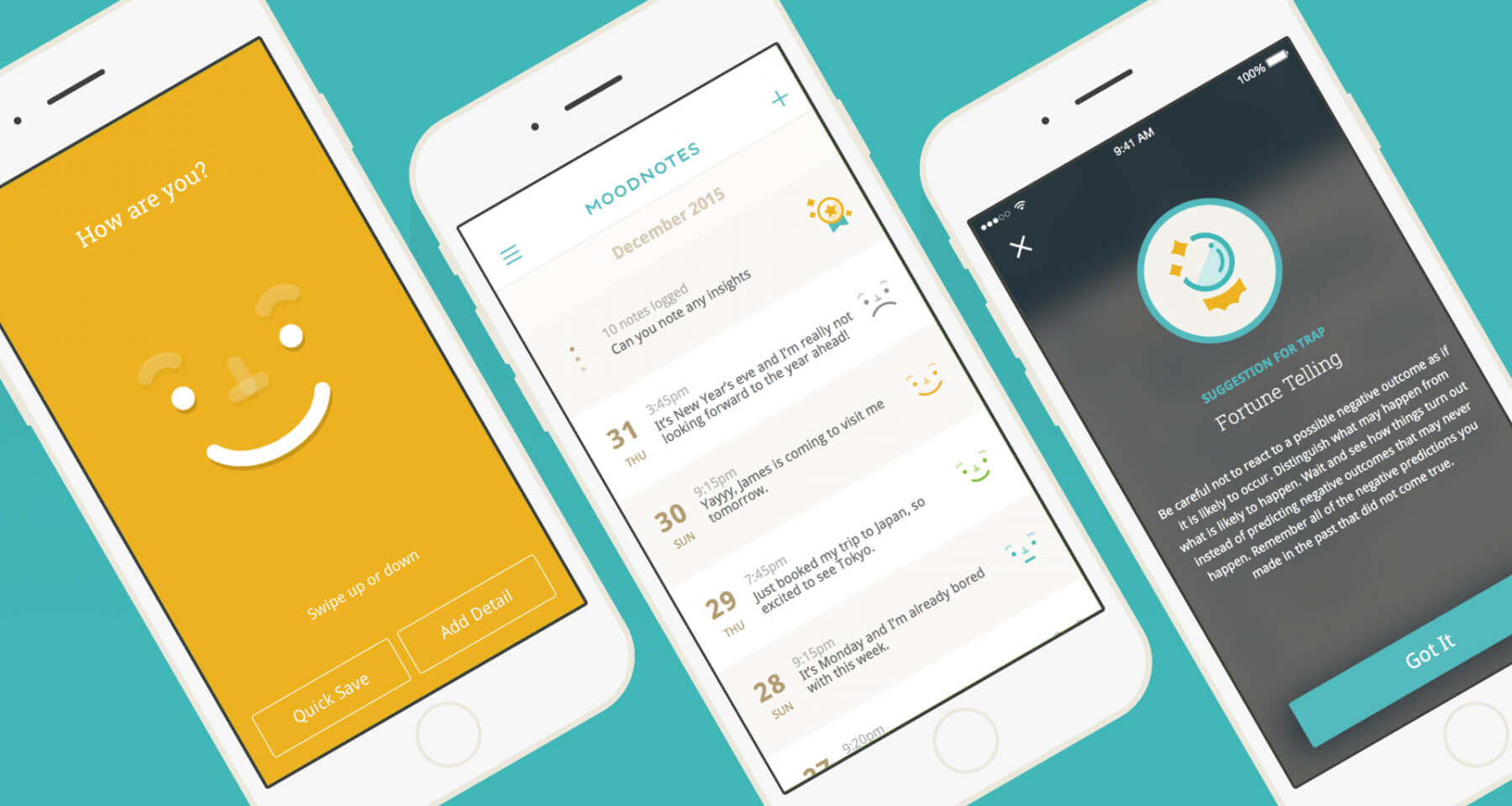 Moodnotes is a mood tracker app that allows you to control your mood and not your mood overpower you. It improves your thinking habit by persuading you to think positively and circumvent common thinking traps to improve happy thinking and mental well-being.
This best journal app for iPhone is designed by clinical psychologists and specialists and is stranded in the technically supported content of Cognitive Behavior Therapy (CBT) and positive psychology. It is available for iPhone, and Apple Watch.
Some key features of Moodnotes are that it tracks your mood and prevents negative, toxic thoughts study the reasons behind 'traps' in thinking, and ways to avoid them.
Moreover, it minimizes anxiety, uplifts your self-awareness, and brings positive perceptions to circumstances and many other features.
Moodnotes is free with in-app purchases of different Premium plans whose cost varies accordingly. Premium features are different from the Basic ones. These include unlimited entries each day, adding notes, and observe your mood statistics, and more.
Moodnotes Premium Yearly packages cost ranges from $24.99 to $39.99 and Premium Monthly costs $9.99.
It was listed as one of the World's 100 Greatest Apps in 2015 by Tech Insider. Moodnotes have also been mentioned in other leading publications, such as Fast Company, Mashable, The Guardian, Business Insider, Vogue, and Wired among many others.
---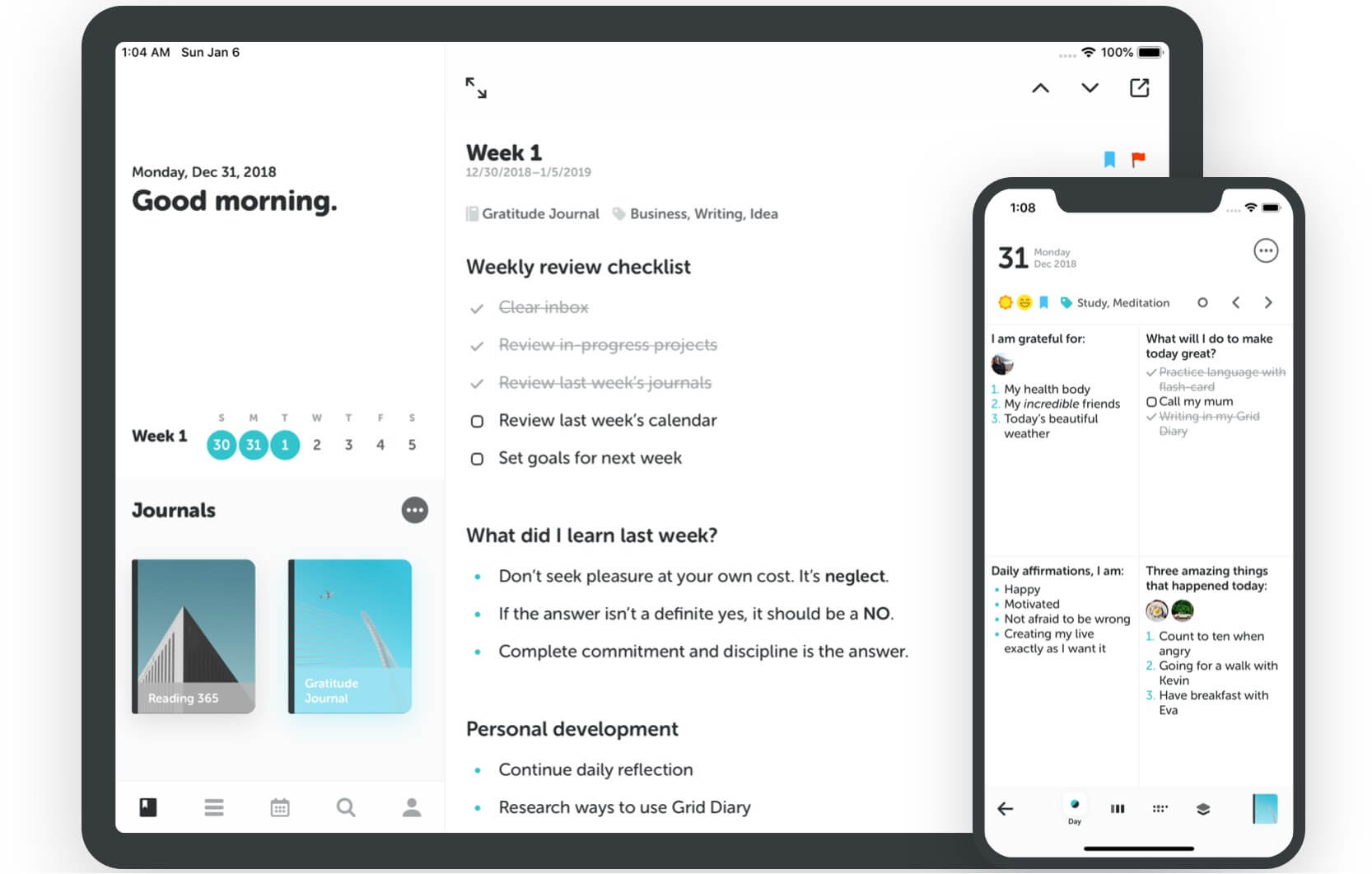 Grid Diary is one of the best journal apps for iPad and iPhone, which presents a new way of writing a journal. Each entry in the Grid Diary is composed of several 'grids' which are simple such as questions, prompts, etc. and it is like a pre-written or built-in template in the diary.
And more importantly, having a pre-defined template or grid does not mean that you are limited in terms of writing your diary. It just makes it more versatile. Grid Diary has some ideal features that we all look for in a journal app.
These features include a distinctive grid design, a quick library for writing motivations, photo attachment, keep a track of steps and calories taken, backup and restoring cloud input, and many more. These were the features of the Basic plan which is always free.
Along with a Basic plan, it offers in-app purchases for a PRO plan. This plan is available in 2 pricing ranges, $9.99, and $2.49. It is available specifically for iPad and iPhones.
The features of the PRO plan are passcode lock, iCloud Drive sync, Dropbox sync and WebDAV, and many more. It also provides a night mode, export to Evernote and Dropbox, and text structuring tools.
---
22. Reflectly – Gratitude Journal App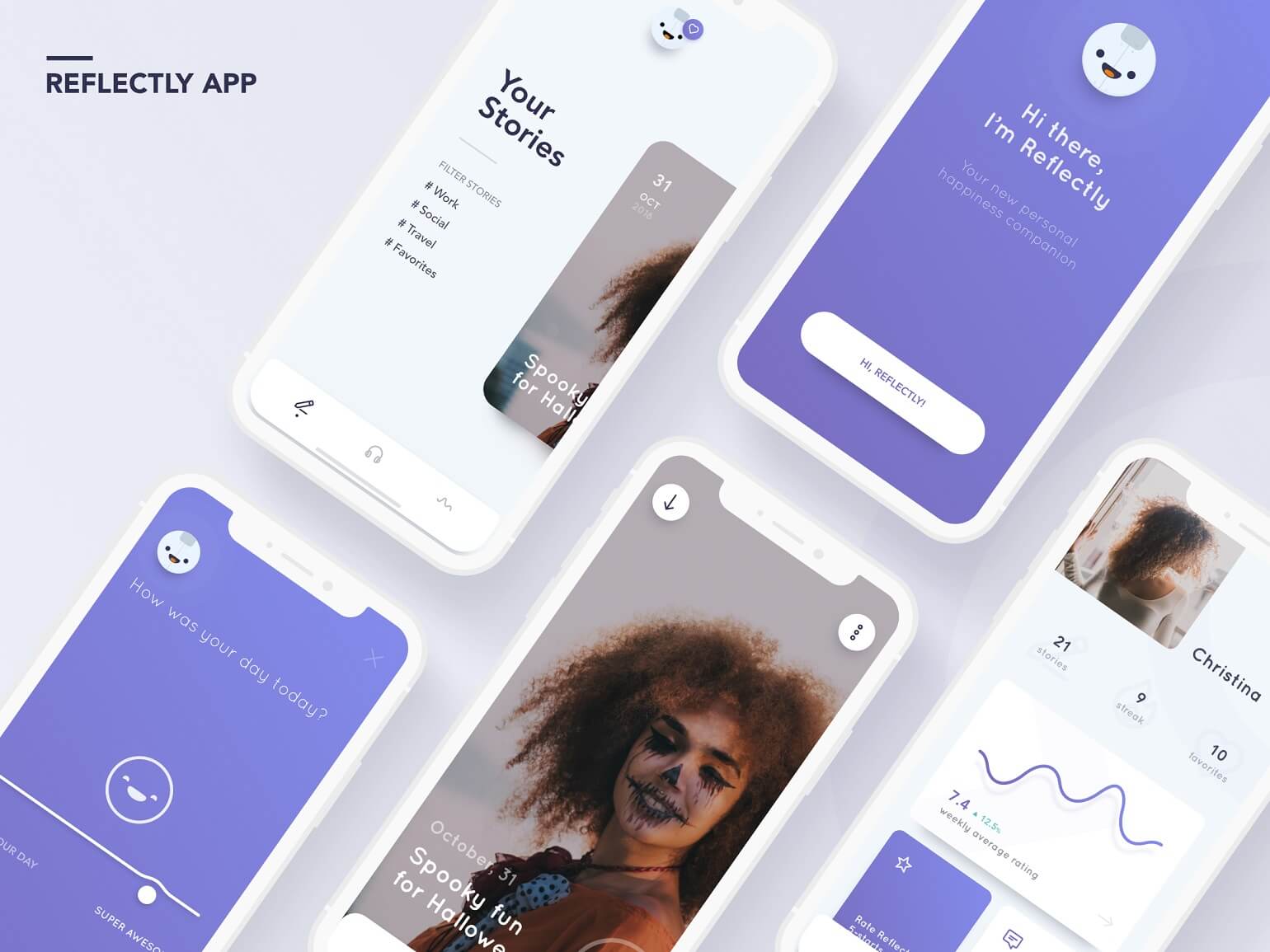 Reflectly is the best gratitude journal app that elevates your good mood and self-care. It is designed with artificial intelligence to empower your ability to overcome repetitive negative thoughts. It also accelerates positive thinking and teaches you to learn the secrets of well-being.
This journal app lessens anxiety, gets positive insights, develops thankfulness and gratitude, and encourages you to be empathetic and kind in each phase of your life.
Reflectly uses CBT (Cognitive Behavioral Therapy) and positive psychology to boost your positive energy and thinking habits.
It is the world's first intelligent journal with questions driven by AI, you can track your progress and gain insights and you get motivational quotes every morning. Reflectly is free with in-app purchases for Reflectly Premium.
Auto-renewal subscription and a free 7-day trial are offered by this journal app. There are two types of subscription plans. The first one is $3.99 per month and is billed annually as one payment of $47.99. The second plan is for $7.99 per month and this plan is billed every 3 months as one payment of $23.99.
Subscribe to the Premium plan and unlock features such as recording unlimited stories, biometric passcode lock, advanced statistics, and personal insights with a new question every day.
---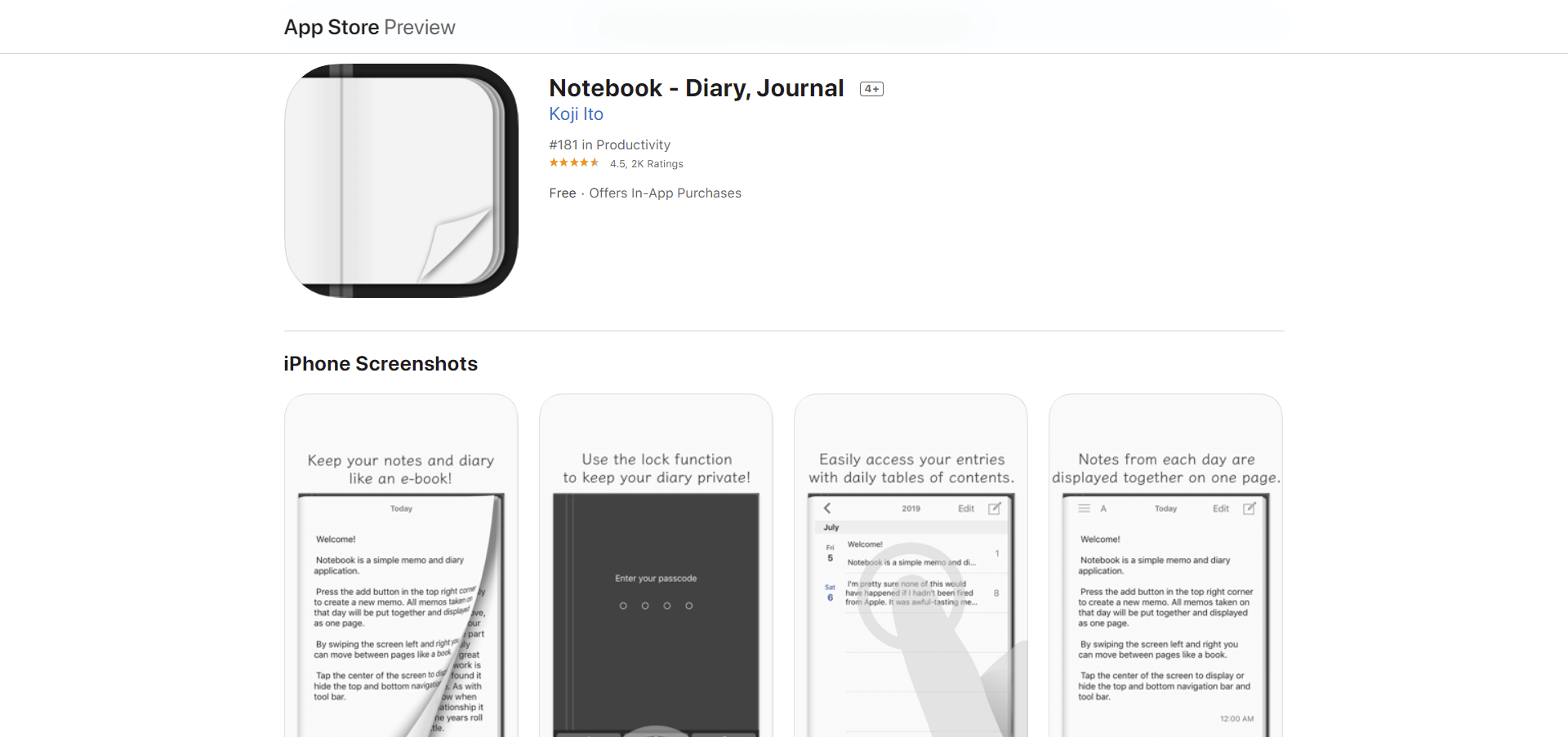 Many researchers and their experimental studies have revealed that expressive writing improves working memory, reduces stressful thinking, and minimalizes disturbing and troubling thoughts, hence leaving your mind relaxed and stress-free.
Notebook is the best daily journal app that has a book-like interface. When you open your app, your entries look like book pages, and you can turn them left or right, just like book leaflets. This appearance makes your diary more interesting and fun to use.
Notebook is available for iPhones and iPad. You can easily open your memos and add the slightest bit of information that is going on around you that you want to add to your diary. It displays all your happenings on a single page.
In addition to these, this app has more features like font-size specification, annual table of contents, specification of dates, and a passcode-protected diary with a lock. Data of your app will be backed up automatically if you back up your iPhone or iPad.
Like many other iOS journal apps, Notebook is also free with in-app products that require payment for a subscription. It offers only one kind of in-app purchase which is for $1.99 and the additional feature it has is that it gives you ad-free journals to use.
---
24. Jour – Best Journal App for iPhone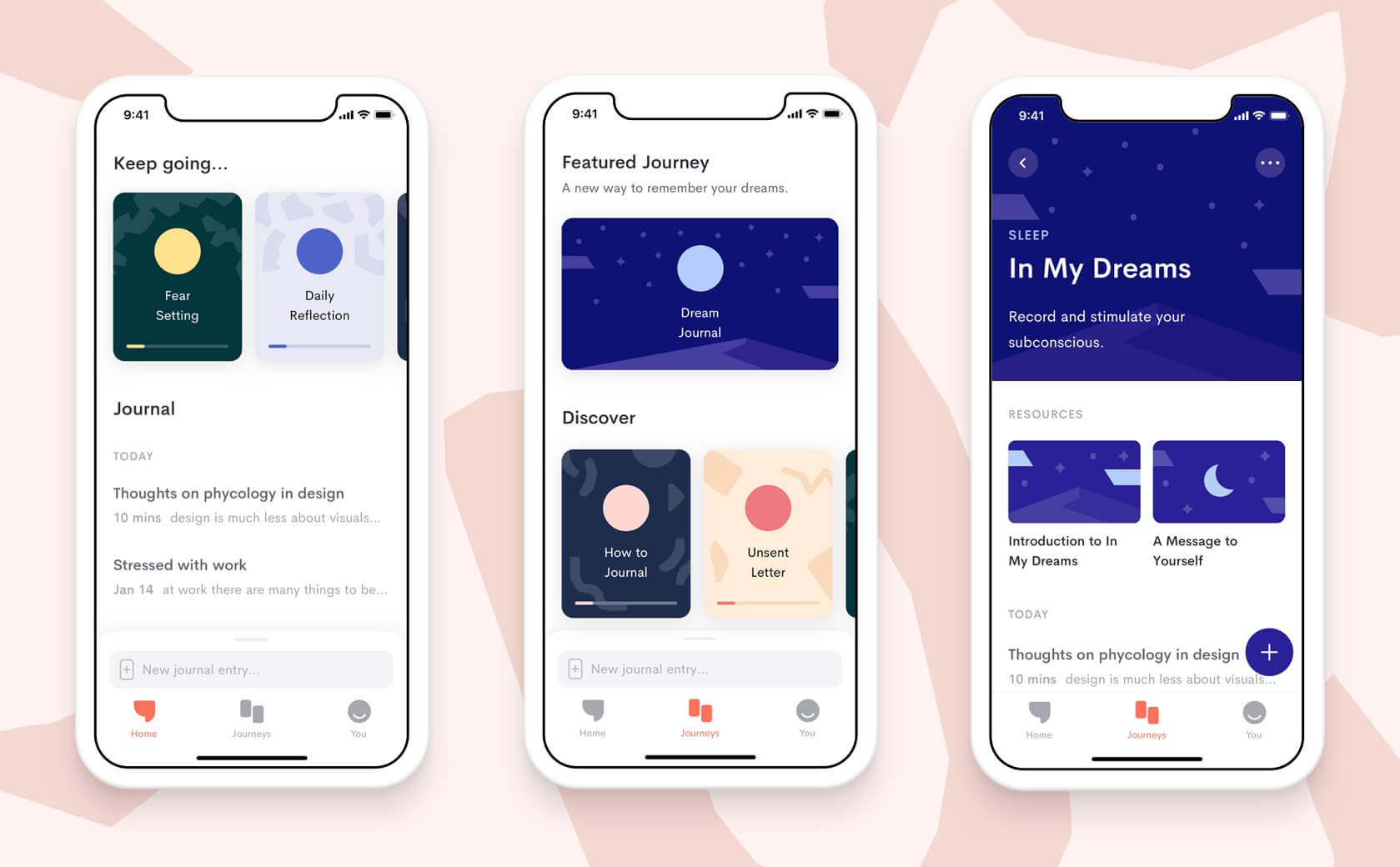 Keeping a journal or diary is very important if you want to have a stress-free, relaxed, and happy life.
Since it upsurges positive thinking and gratitude, diaries are proven to make a visible difference if you are having intrusive thoughts and difficulty getting away with negativity.
Recommended by experts, therapists, psychologists, and professionals who themselves suffered from anxiety and stress, Jour is the best journal app that helps you to have a constructive life.
Oprah Winfrey and Tim Ferriss have recommended this app for mindfulness and improved productivity.
Get tailored questions about you, your day, and your mood every day. Also, get guidelines about your sleep and your day ahead, or emphasize a particular area of your mental growth, this app has access to everything.
Use it as you want, either a food journal, a travel journal, or anything.
Jour is free which also comes with in-app products and their price range is different. There are two types of Premium plans, one is monthly and the other is yearly.
Users can subscribe monthly plan by paying either $7.99, $9.99, or $11.99 or they can choose the yearly plan which costs $59.99 per year.
It has practices to relax your mind with CBT technology with which there are 42% chances that you will achieve your goals.
---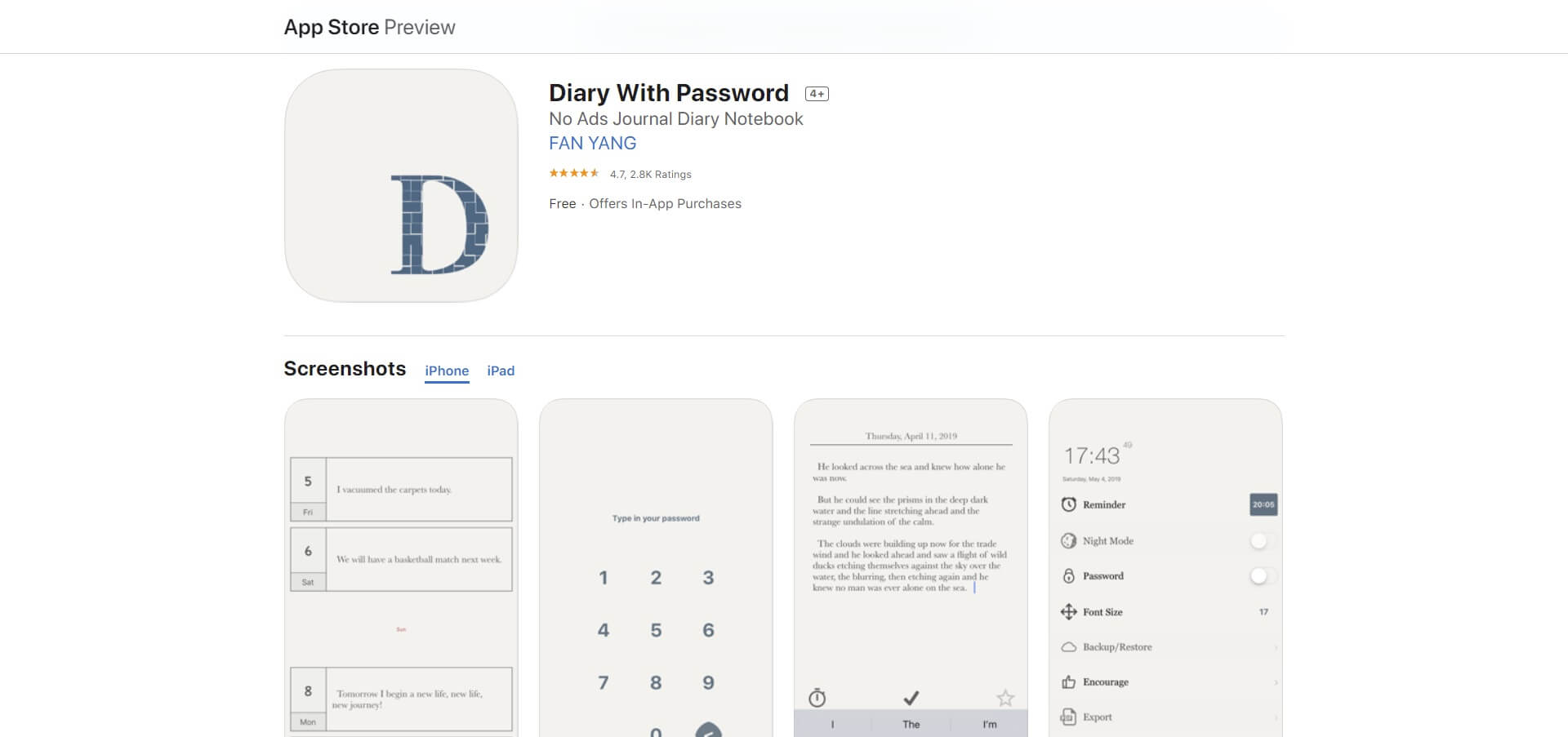 Diary with Password is the best journal app that keeps a track of your daily life routine, your thoughts, your emotions, your memories, and every bit of your personality within your own space. This online diary is suitable for all your secrets and happy moments.
It gives only you access to your journal with a password, as its name suggests. You can also create a timestamp by noting the time by clicking the ordinary clock button and you also get daily reminders to write about your day.
There are some more easy-to-use features in this app that makes it convenient for users who want to start writing a journal but do not have an idea where to start with. An easy swipe delete option is there so that if you are uncertain about an entry you can delete it with a swipe.
Backup and restore option, export to PDF, night mode, font sizes, easy search, touch and face ID, and pattern lock are all the features of the Diary with Password app. This journal app is available on iPhones and iPad and it is free but also offers in-app purchases.
There is only one kind of in-app product available in Diary with Password which is the Pro version which requires a one-time payment. The cost of the Pro version is $2.99.
---
26. Breeze – Best Journal App for iPad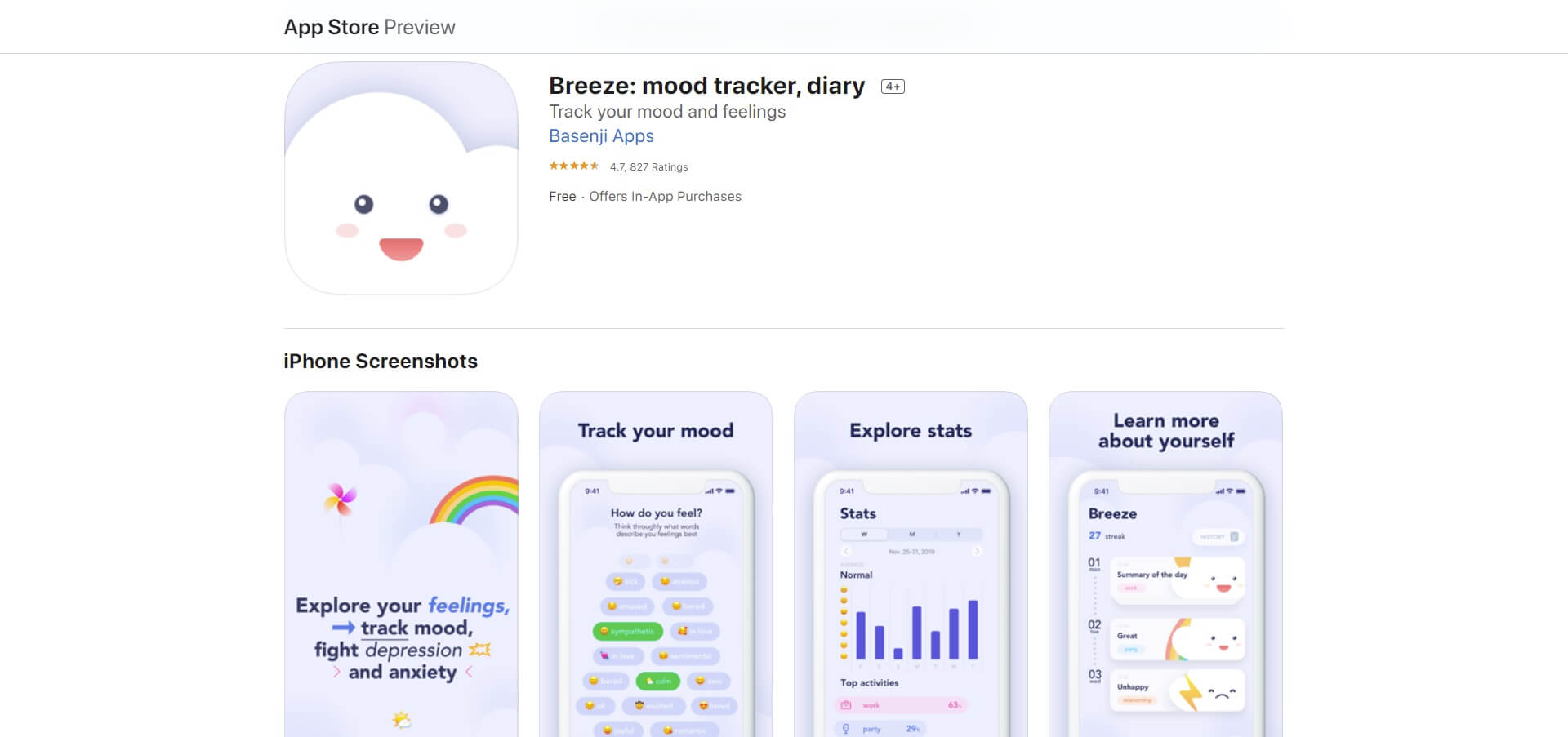 Based on certain notions from cognitive-behavioral psychotherapy, Breeze is one of the best journal apps for iPad. It enhances your awareness regarding good mental health.
It works with an ideology that tracking negative thoughts helps you to criticize them hence abandoning them completely.
Breeze has the 4 most important features which include mood tracking, negative thought tracking, negative distortion tracker, and psychotherapist advice.
It triggers your mood and your emotional reaction towards a particular incident and gives you a map to see your insights daily.
This journal app also catches negative thoughts automatically through Cognitive Behavioral Therapy (CBT). To counteract these negative thoughts, it provides interactive techniques that help you to disapprove and condemn those negative thoughts.
It also provides insights through which the users can sideline their behavioral and cognitive thinking problems along with practical advice from psychotherapists who will help them to feel free and relaxed. Breeze is one of the best journal apps for the iPad and comes with some in-app products and purchases.
It has weekly, monthly, and yearly subscription plans whose costs vary from product to product. The weekly plan is for $7.99, the monthly subscription is for $14.99 and the yearly subscription with a 7-day free trial is for $99.99.
There are other subscription plans as well according to the user's needs.
Conclusion
All the best bullet journal apps discussed in the article above help you to create your world with just an app. Journal apps for travel, food, events, ideas, experiences, and all other kinds of journal apps are important to keep your mind healthy and tension-free.
Research and studies have shown that writing a journal improves your cognitive thinking, positive lifestyle, and working memory, and cuts down disturbing thoughts. All journal apps are a must-have in your daily routine so that you stay away from negativity and pessimism.
Other SaaSy goodness on All That SaaS: