In this roundup, we are going to discuss some of the best Smartsheet alternatives. They are surely going to help you with your office workloads.
Project and task management can be very daunting without an effective tool. Stats show that 77% of high-performing projects use project management software.
Smartsheet is a great tool for the smooth execution of your daily work management. It not only provides collaboration capabilities but also helps to store and manage data effectively.
However, people and organizations are always looking for other alternatives that are suitable for them in their way. Smartsheet lacks certain features that call the need for other free Smartsheet alternatives.
Therefore, our blog is discussing software similar to Smartsheet. After reading this, you will be able to get an idea of which one is the best suitable. But first, let's see what features are missing in Smartsheet.
😔 Features Missing in Smartsheet
Smartsheet is an important software when it comes to having a great tool for data management. There are, however, few things that might be missing or Smartsheet might fall short on delivering the right kind of experience.
Since these missing features might be a more important requirement for some project teams, they might want to invest in other Smartsheet alternatives.
😥 Deep Learning Curve
Smartsheet is one of the more complex project management solutions available online. Since it is difficult to use, it has a deep learning curve, and getting around things can take lots of time. Most of your work takes place in a complicated spreadsheet view.
😥 No Real-time Collaboration
Smartsheet isn't built for real-time collaboration. When more than one person from your team is making changes to a document – Smartsheet will keep putting up notifications asking users to hit Refresh to see the changes the other team member(s) made.
Organizations need smart collaborating tools and this missing real-time collaboration feature can make them look for other apps similar to Smartsheet.
😥 No Time Tracking
Another important feature that Smartsheet overlooked is time tracking. There is no option for tracking the time of tasks and data.
This makes it quite difficult for the users to keep a track of time taken on tasks, or automatic screen captures with log submission for teams that rely on such a feature to reimburse their team members.
You can use third-party integrations with Smartsheet to achieve this, but there is no built-in functionality and the integration might cost you extra for the time tracking app you will use.
😥 Can Be Expensive
Another drawback that users have reported about Smartsheet is that it is expensive. It is expensive for what it gives to its users and only a few users can have view/edit rights.
It is even more expensive for business plans which makes organizations have a second thought while purchasing it.
😥 No Activity Stream
Another one of the most common complaints received is that it lacks a practical activity stream. Users have a hard time reporting, commenting, editing, and adding because of the lack of collaboration and no activity stream viewing.
That is why we have a blog dedicated to show what some of the best Smartsheet alternatives are which can make help you in your data management.
---
The Best Smartsheet Alternatives to Use in 2023
Check out our top picks for the best Monday alternatives.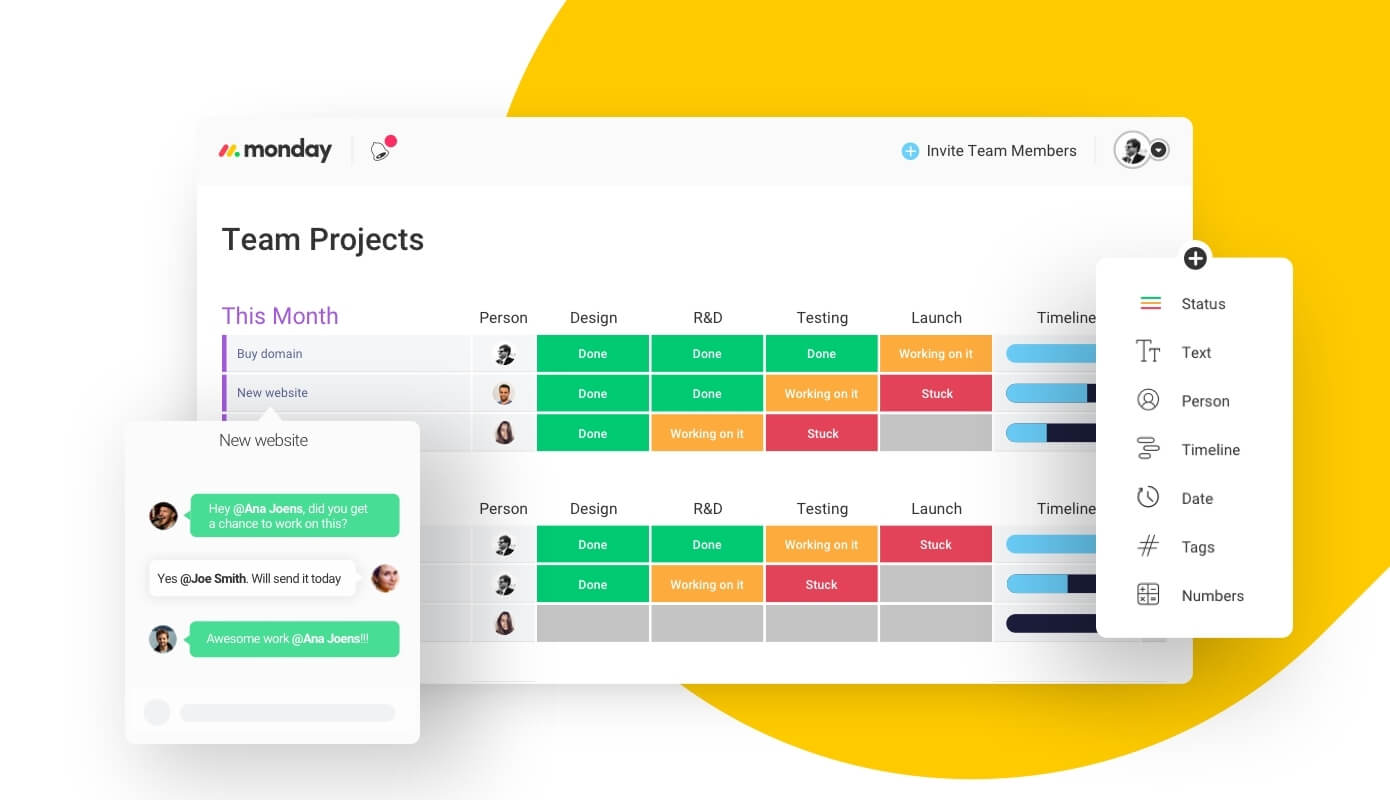 Monday.com is a great app to easily manage your team and projects. You can customize your workflows and add tools according to your needs. It keeps remote teams closely aligned with its real-time collaboration features.
With Monday.com, you can automate your routine tasks so much of your time is saved. Monday.com is a great app for getting a 360-degree view of where things stand and it keeps everyone on the same page.
To save time, Monday offers several templates that you can use to get started.
Key Features
Monday.com has a strong integration feature. You can integrate other software such as Dropbox, Google Drive, or Zapier.
It is a great tool for the collaboration of multiple employees. There is a main board that lists all tasks and projects together.
There are personal and public boards that allow access to data to only relevant people. This makes it easier for managers to assign accordingly.
Timeline with more improvements. It has now colors and you can sync your timeline with the calendar to make it easier.
A whole list of templates for a variety of uses. Teams can use them and address different workflows.
Monday.com offers packages according to the number of users. The plans can include several features suitable according to the needs of the buyers.
There are Kanban boards that give complete visible planning and progress tracking.
Pricing
Monday.com offers several pricing plans from 5 users for up to 200+ users.
Basic: $39/month, billed annually with unlimited boards and viewers, over 20 column types, and 5 GB storage
Standard: $49/month, billed annually with 6 months activity log, 20 GB storage, and basic functions
Pro: $79/month, billed annually with 100 GB storage, advanced search, and customization
Enterprise: price upon request with 1000 GB storage and many more advanced features
---
Check out our top picks for the best Jira alternatives.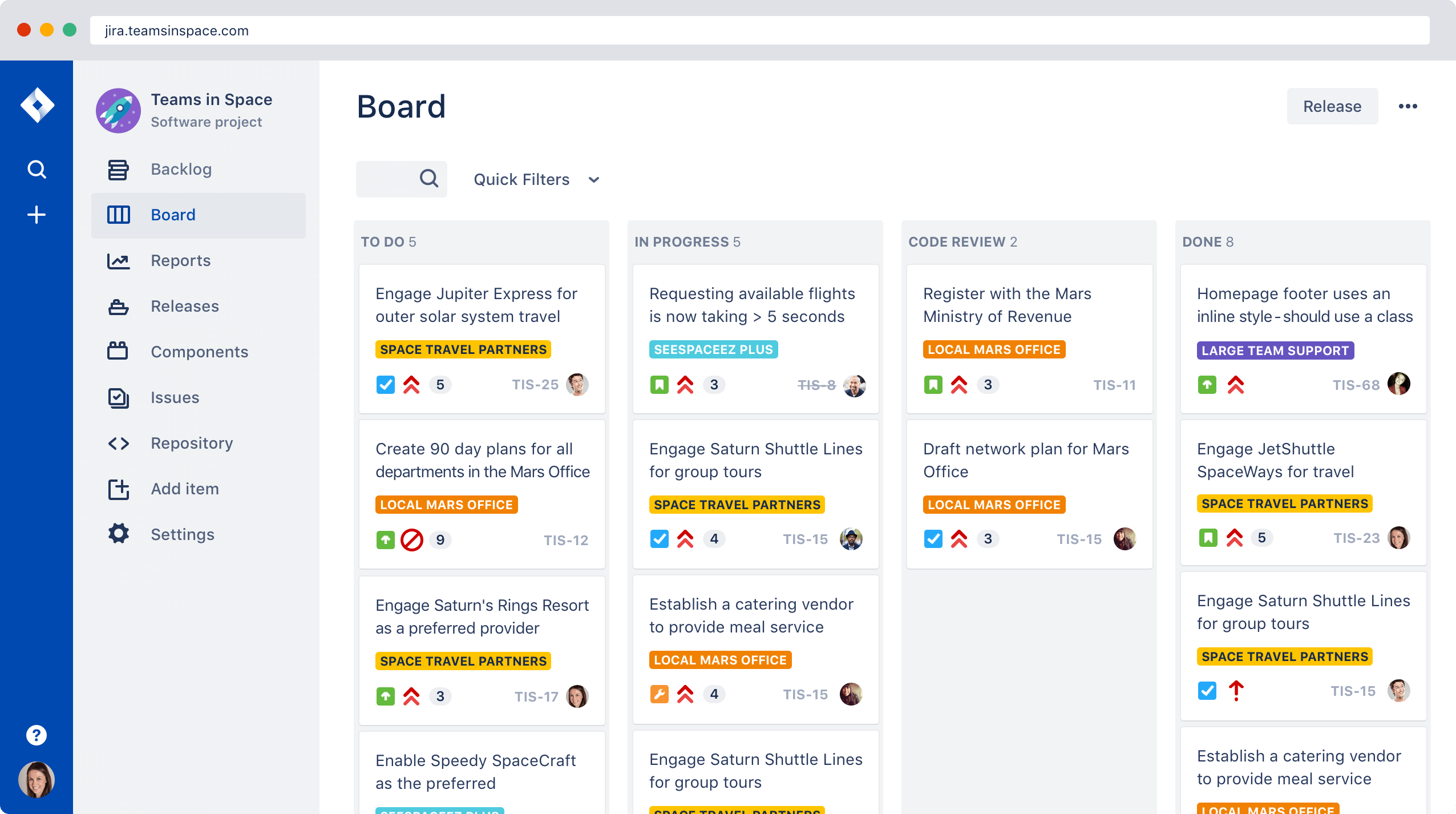 Jira is another one of the best Smartsheet alternatives. It is used by agile teams and is developed by Atlassian. Scrum and Kanban boards with the usage of colors make this software easy to use.
Jira integrates well with other platforms that can make you talk with colleagues and custom accordingly. It offers pricing plans suitable according to the users/organizations.
It also gives robust integration solutions. Jira lacks few features but overall it gives a good 360⁰ view of your work.
Key Features
There is a Kanban board style that tells you how much work is done and what is left. You can have maximum delivery in the minimum amount of time.
With easy adding and editing comments, you can do faster mentions and smoother arrow-key navigations.
Jira can be connected to Github and BitBucket. That gives backlog-to-deployment traceability.
Jira is free of any bugs and it has a strong bug tracking feature. This makes sure that your data is free of any errors.
Jira Software is scalable. You can scale it with your business and there is no limit to files and attachments.
What's more, is you can import your data from other systems too.
Jira offers configurable email alerts when there are any issues updated. It also sends a reminder of the due tasks.
Pricing
Jira comes in three pricing plans
Free: for up to 10 users and 100 executions per month
Standard: costs $7/user/month for up to 5,000 users with advanced permissions and 500 executions per month
Premium: costs $14/user/month for up to 5,000 users with advanced features and more support.
---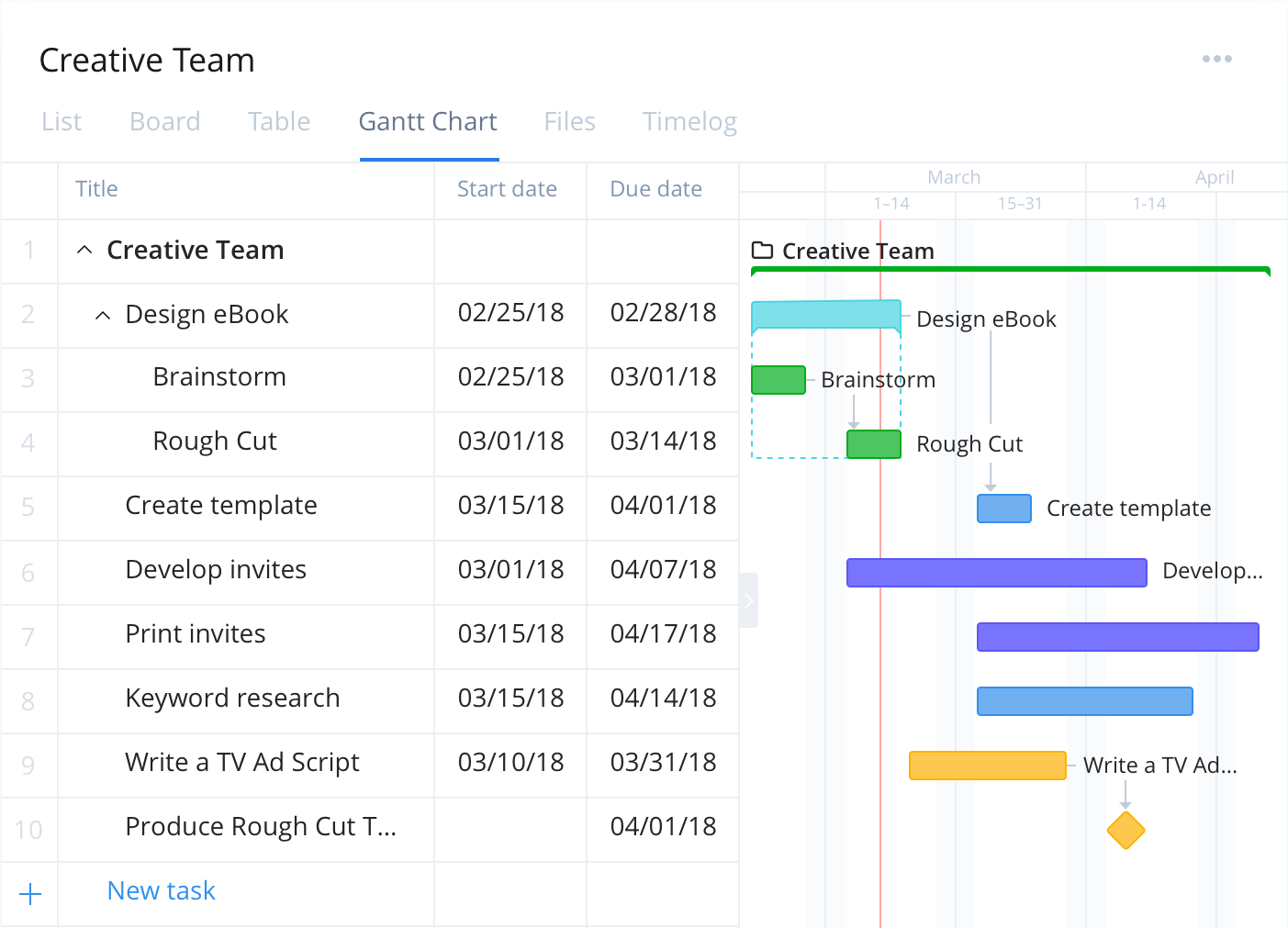 Wrike is another free Smartsheet alternative that gives good visibility of your workflow and enables workflow collaboration. It offers real-time support and project management.
With the COVID-19 pandemic, it has introduced its COVID-19 Business Continuity template for maintaining operations even in difficult times. Wrike is one of the best alternatives to Smartsheet as you can customize dashboards which makes it more organized.
Easy time tracking, visual timelines, resource, and task management are a few highlights of its features.
Key Features
There are dynamic request forms that help project teams to have all the information before they start.
There are interactive Gantt charts that show dependencies and conflicts so they can be catered to immediately.
Teams can communicate on the board and share reports or schedule notifications.
There are custom workflows that give a good picture of the current work situations and does not need any update of meetings or emails.
Teams can instantly provide their feedback on anything and also mention @mention to anyone.
They have introduced the COVID template which is suitable for working remotely. This is ideal for such difficult situations.
Wrike phone apps are great to use on the go. This liberated style of functioning makes them work from anywhere when needed.
Pricing
Free: suitable for small teams and up to 5 users, 2 GB storage, file sharing, and real-time news feed
Professional: costs $9/80/user/month for full project planning and collaboration, for 10—15 users, 5 GB storage, interactive dashboards, Gantt charts, and more
Business: costs 24.80/user/month for more robust work management of 200 users, custom fields, time tracking, report templates, and more
Enterprise: call for availing more comprehensive capabilities with more security (password policies, 2FA, and SAML 2.0/SSO), 100 GB storage space, user audit reports, and more
---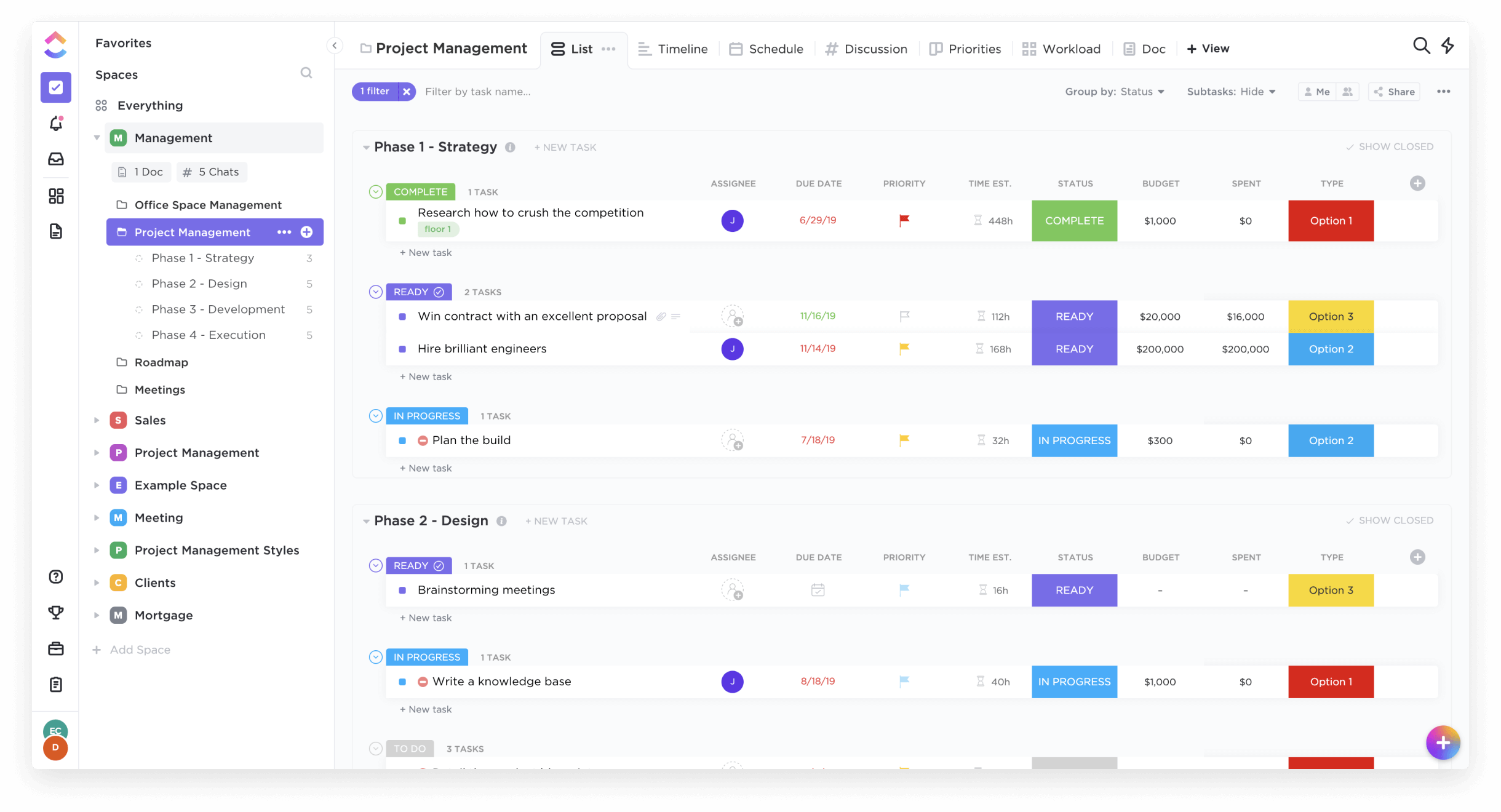 ClickUp is another productivity platform for your project tasks and assignments. ClickUp is offering its users docs, calendars, reminders, charts, and more for working with every type of team.
Developed in 2006, ClickUp has a long list of features for project planning and team management. You can further customize your workflow according to your team's needs by using the custom fields functionality that it provides.
ClickUp
Key Features
ClickUp gives integration features. So, you can import data from other apps that you use.
It is easy to share lists with clients and comment on progress. There are dates on tasks which can help to see to-dos.
There are different views available from which you can choose such as list view, board view, box view, Gantt view, calendar view, embed view, form view, an activity view.
Keep all your work in one place and add Kanban boards, Gantt charts, and calendars.
There are many templates which you can use to create your workspace.
The time tracking option keeps you on the right track and gives you a full report on the progress of any project.
Native clients for Windows, Mac, and Linux as well as mobile apps for both Android and iOS.
Pricing
ClickUp is offering two price plans:
Free: with 100 MB storage for unlimited tasks and unlimited users
Unlimited: costs $5/user/month, includes unlimited storage, integrations, dashboards, custom fields, guests, permission management, and more.
Business: costs $9/user/month, provides more guest access seats, permission management, branding capabilities, 10,000 automation rules per month, unlimited activity history, and more
Enterprise: Contact sales for inquiry, provides enhanced limits for all of ClickUp's features, and additional features for security such as more SSO options (Microsoft, Custom, and Okta), HIPAA compliance, custom permissions, and more
---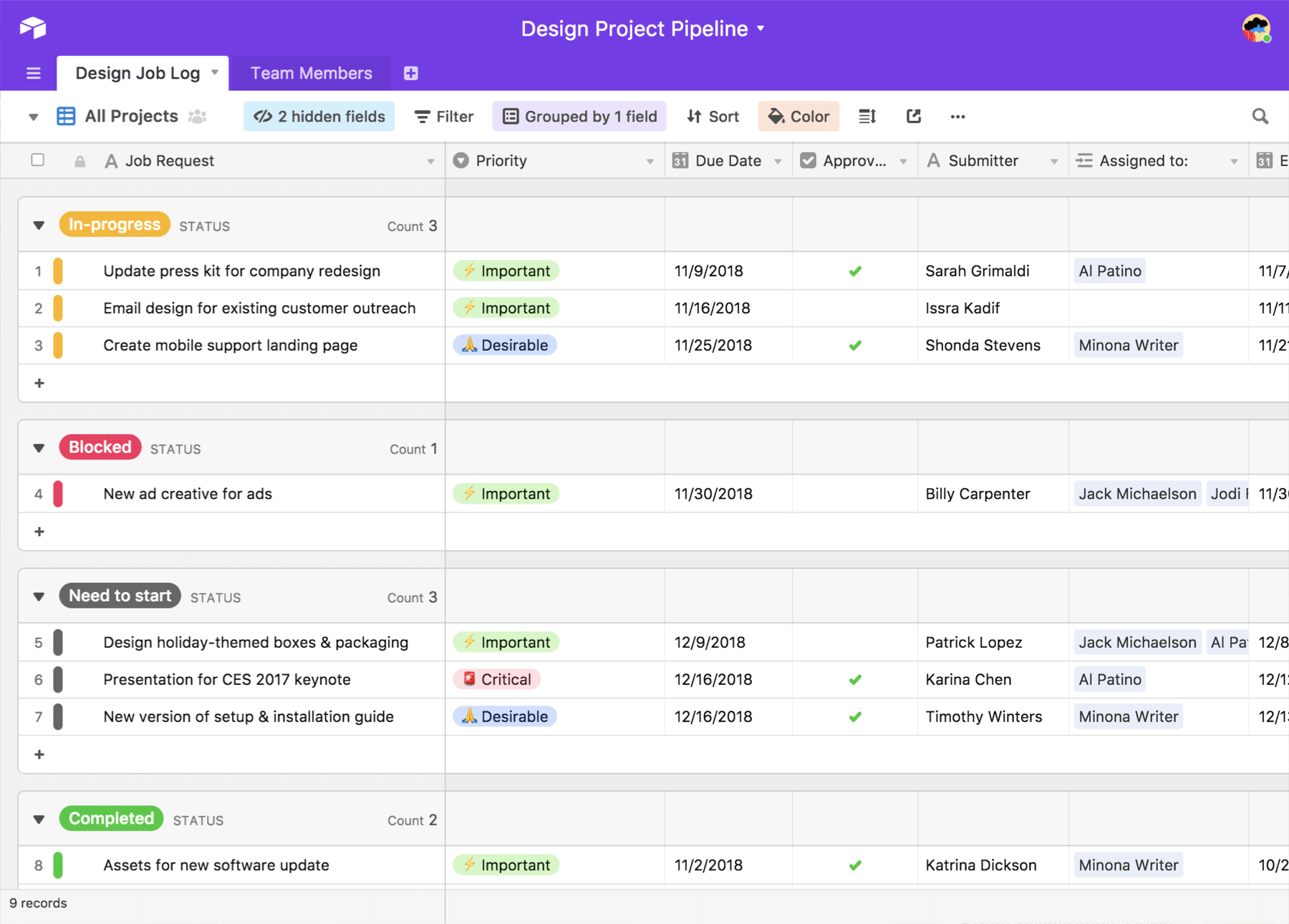 Airtable is available for your PCs, laptops, Windows, Mac, and Android phones. This is one of the free alternatives to Smartsheet that brings amazing data management features. It goes beyond text and enables you to add files of all types.
Not only this, but it also gives you access to the database with more simplicity. It comes with customized templates and a lot of other features for saving your workflow nicely.
Airtable is a good project management tool that offers a flexible way of keeping a track of everything.
Key Features
Airtable has relational database capability. This means it can link related records and data which enables users to directly access the information.
It gives a centralized system of organizing all the content, projects, ideas, and records in one place.
You can set permission levels while sharing your databases with other users. This will define how other users can access the database.
It has a very mobile-friendly functionality which makes it easier to use even on phones.
Airtable has a creative side of the palette that you can use to customize your workflow.
There are grids, calendars, Kanban, gallery, and forms view which give a perfect view of the task at hand.
You can use and edit your records using a simple spreadsheet interface.
Pricing
Airtable comes in 4 pricing plans
Free: with essential features such as unlimited bases, rich field types, different views, and 2 GB storage
Plus: costs $10/user, billed annually with 5 GB storage, 5000 records per base, unlimited base, and real-time collaboration
Pro: costs $20/user, billed annually with 20 GB storage space, 50,000 records per base, 1 year of snapshot history, and few advanced features such as blocks, customization, and permission management
Enterprise: price upon request with ~1TB storage space, premium support, and advanced team administration capabilities – SAML/SSO, unlimited workspaces, enterprise-wide admin panel, and advanced deletion recovery
---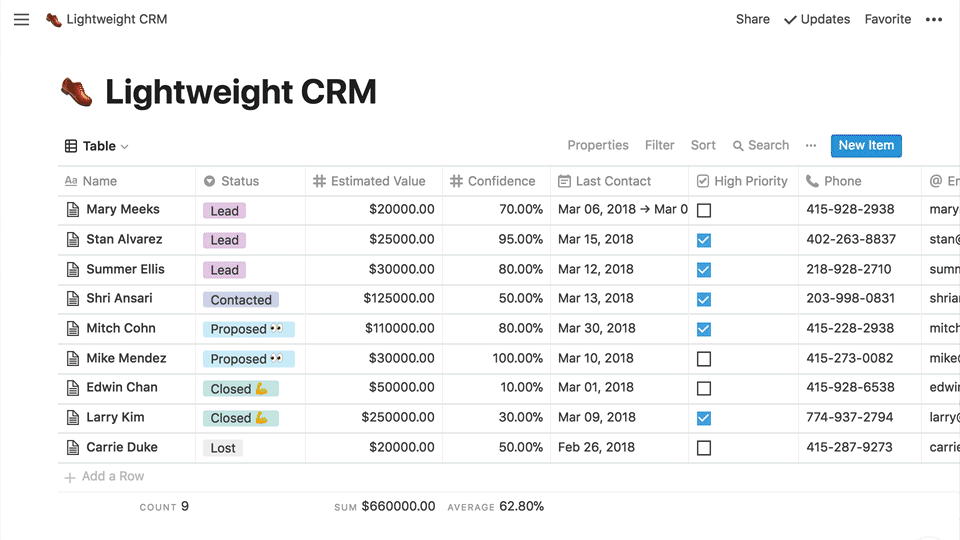 Notion is another strong contender when we talk about Smartsheet alternatives. It has simplified the process of creating, sorting, assigning tasks, and collaborating among teams.
It offers several templates which you can use to customize and create your workflow. For adding files, it offers rich media support such as images, to-dos, bookmarks, and 20+ block types.
Notion gives real-time collaboration so you can stay in close contact with your co-workers. It has a great distraction-free interface. Let's see more of its features.
Key Features
Notion can be integrated with various other software to ease the workflow streamline. It can also import the data from the other software.
You can also add a filter to see your tasks only. You won't have to go through the tedious task of searching for everything for task-relevant to you.
Note-taking is one of the most powerful features of Notion. With this, you can add a list, text, sounds, videos, and code snippets.
You can customize and define your tags. You can organize your work better.
Notion gives the ability to undo actions. It allows users to see previous versions and return to previous versions.
Kanban-style board to visualize your tasks and prioritize work that needs the most attention. This offers a more systematic view of the workflow.
It gives a complete roadmap of the work. There are ready-made templates that you can share as well.
Pricing
Free: costs $0 with basic features such as an invitation to members, exportation, and uploading of max 5 MB file
Personal: costs $5 per member/month and $4 per member/month for a whole year with unlimited invitations, no upload limit, permissions control, access version history, and exportation
Team: costs $10/month and $8/month for a whole year with unlimited invitations, no upload limit, access to admin settings, access version history, and permission controls.
Enterprise: costs $25 per member/month and $20 per member/month for a whole year with all features of Team plan plus managing of employee access, customer success manager, exportation.
---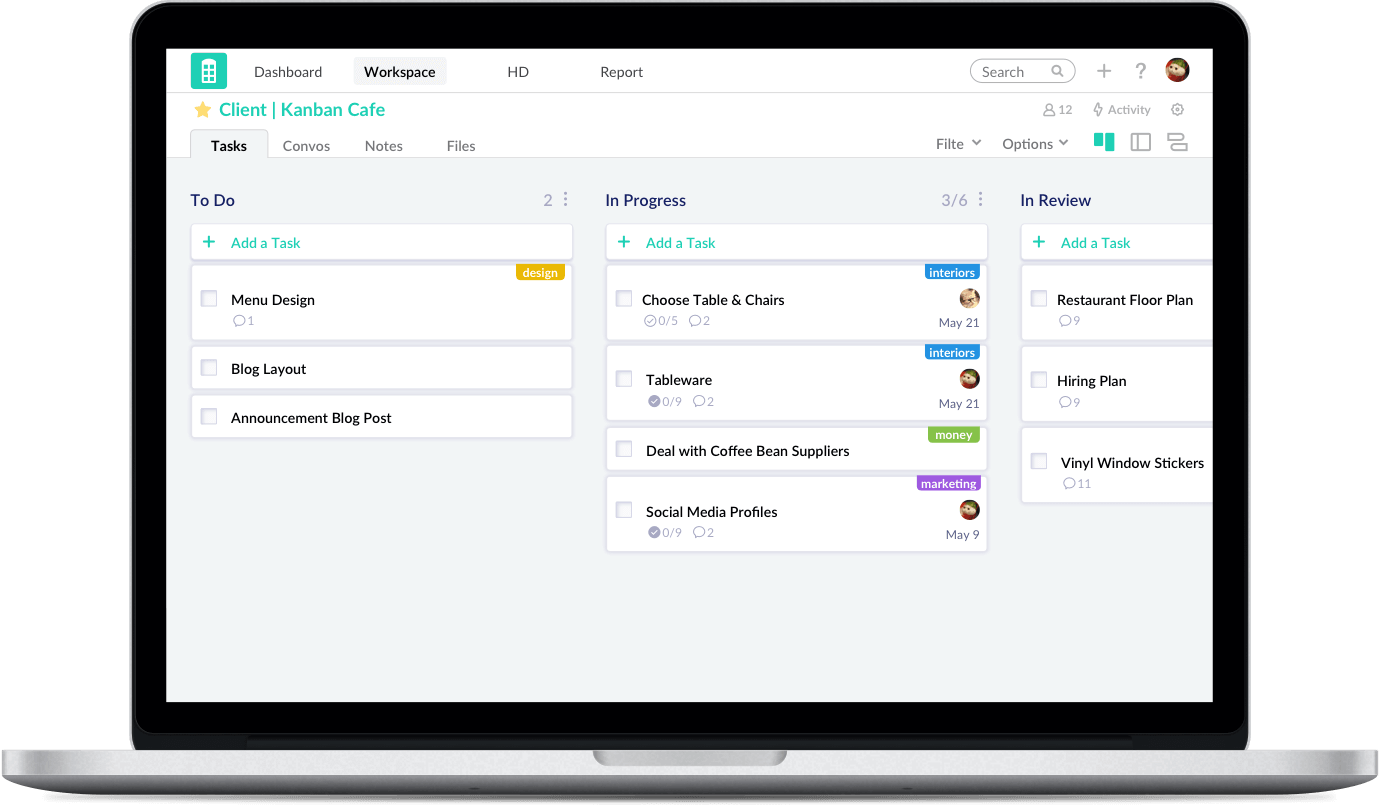 Having a simple and flexible structure Redbooth is another one of the free programs like a smart sheet. It is easy to use for effective project management. There are wonderful templates to choose from for enhancing the outlook and operation of your work.
There are Kanban boards with intuitive designs to keep your tasks organized. Redbooth is great software for those wanting transparency and security. You know exactly what is happening in your project.
Not only this, but Redbooth also has a visual project timeline feature that keeps a good track of your tasks and all progress made.
Key Features
With the Gantt charts using Redbooth's timeline view, you can track your projects easily.
There are also drag and drop features, changing dates, and task dependencies.
You can push notifications to your email account. So, you never have to miss any update or important alert.
There are HD video meetings support powered by Zoom so you can instantly conduct important meetings.
Dive deep into the details of your project by having task status, time spent, progress, and planning for each task.
Redbooth is one of the best alternatives to Smartsheet as it offers reports, overviews, and calendars. So, you can truly know your task status.
Task management board where team members can see their daily and weekly priorities.
Pricing
Redbooth comes in 4 pricing plans
Free: $0/user/month with up to two workspaces, 2 GB file storage, Gantt charts, and reporting.
Pro: costs $9/user/month with all features of free plus 5 GB storage, HD meeting with zoom, and free external users.
Business: costs $15/user/month with all pro features and unlimited workspace, 50 GB storage, business reporting, assignable subtasks, and more
---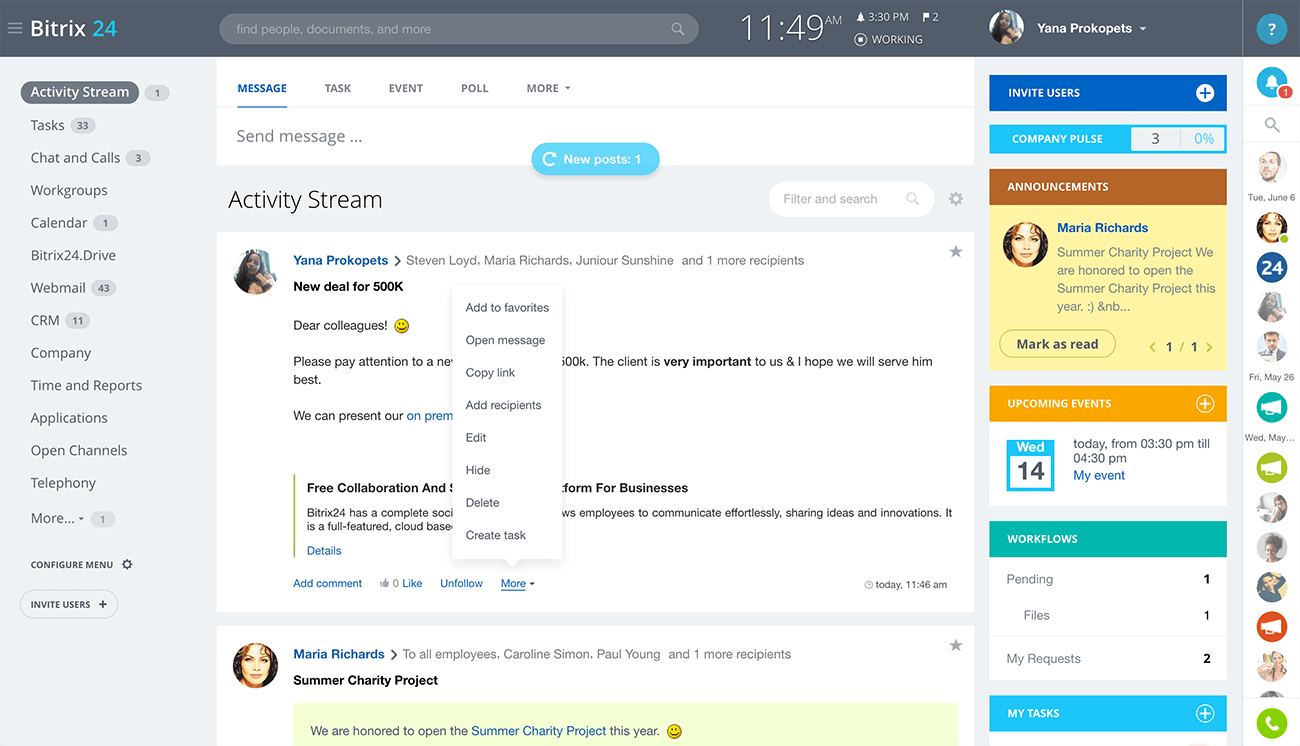 From communications to tasks and project management, Bitrix24 is one of the best Smartsheet alternatives. Bitrix24 is giving a good solution for handling tasks, file sharing, HR management, document management, calendar, planning, and more.
With its availability for Android and Mac, you can access it anywhere anytime through your phone, iPad, or PCs. There is also a social media account integration feature that can help you manage them within.
Key Features
Bitrix24 also features a form function which you can edit according to your own choice to better manage your workflow.
There are time management tools which include check-in/out feature, work reports, daily planners, and meeting manager.
Bitrix24 provides an array of functions for centralizing all communications and collaboration. This inclusion of features can be overwhelming sometimes.
For large projects, you can manage through the task automation feature. This is suitable for those having repetitive tasks at hand.
New features include several addresses to your Bitrix24 account. This means that shared email inboxes can be accessed by several users.
The expense tracking tool will keep a good track of costs made by your employees.
Mind mapping planner helps you put your ideas there and defines your goals clearly.
Pricing
Free: free of cost, includes unlimited tasks and projects, task planner, subtasks, Kanban boards, Gantt charts, time tracking, and other essential features for project planning/management.
Project+: costs $55/month for 24 users and 50 GB online storage space, includes observers/participants, task delegating, task rating, dependencies (all 4), templates, recurring tasks, and more.
Standard: costs $79/month for 50 users and 100 GB online storage space, includes advanced admin capabilities – 2FA, IP blocking, backup restore, and more
Professional: costs $159/month for unlimited users, unlimited storage space, includes project templates, custom fields, and full access to the CRM, HRMS, Communication, and Admin modules.
---
Mobile apps not available
Check out our top picks for the best Microsoft Project alternatives.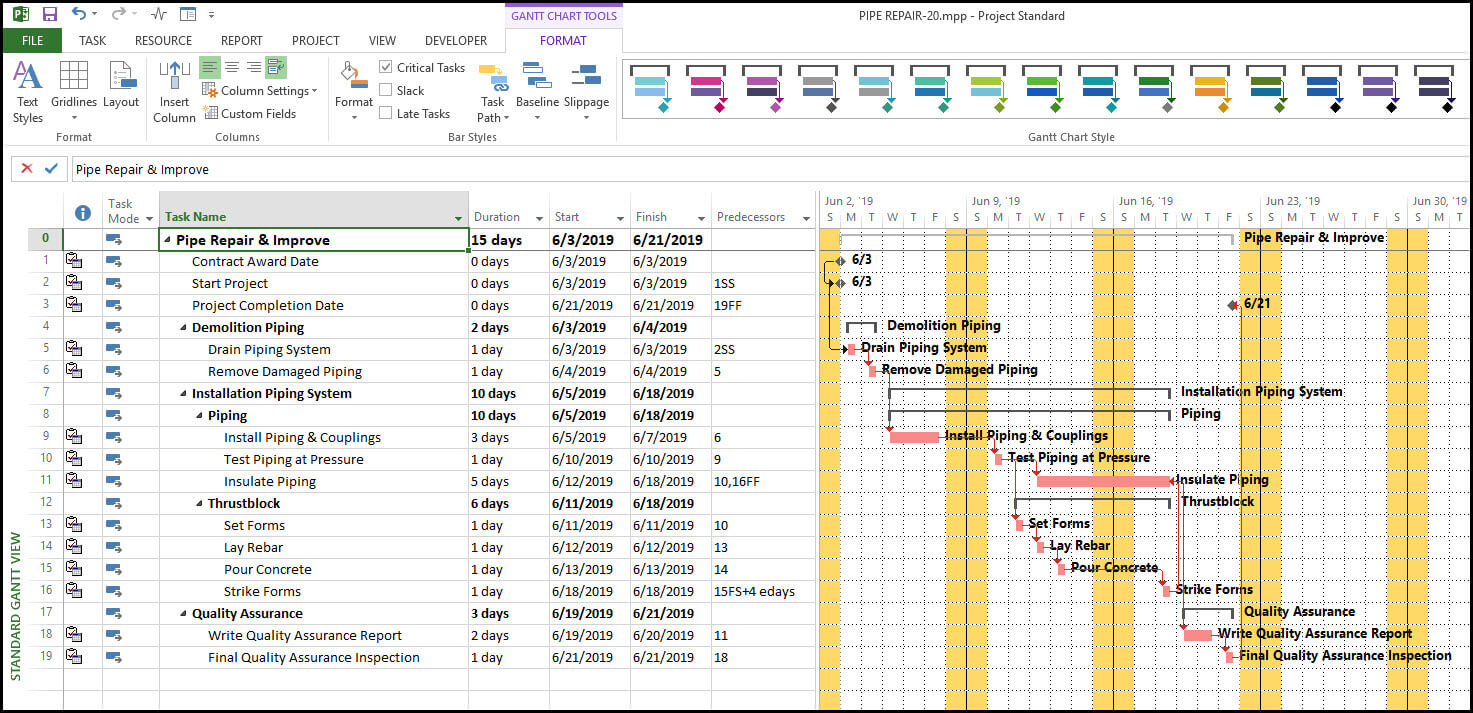 Suitable for medium and large-sized companies, Microsoft Project is one of the best alternatives to Smartsheet. There come different pricing plans with it each suitable according to the needs of the buyers. Microsoft Project has customizable charts to better visualize your workflow.
It is a simple to use management tool with file sharing, chats, and meeting options to help you grow as a team. You can set calendars, durations for the tasks, and deadlines to allotted team members.
Key Features
Interactive dashboards that can communicate with the current status of your projects using Power BI visualizations.
High-level project budgeting toolkit which can do "Earned Value" calculations.
It gives excellent integration with the rest of the MS software for project optimization.
There are shortcuts for the tools and functions for finding something quickly.
You can enable all team members to update tasks simultaneously to get more done.
Pricing
Cloud
$10/user/month for a quick start
$30/user/month for management with scheduling tools through a web browser or desktop client
$55/user/month for more advanced project portfolio management capabilities
On-Premise
Standard: costs $620 for managing tasks, 1PC per person, and full application
Professional: costs $1030 for additional features such as syncing with Project Online and Project Server, timesheets, advanced analytics
Server: price not given publicly but a flexible and scalable on-premise solution
---
Check out our top picks for the best Asana alternatives.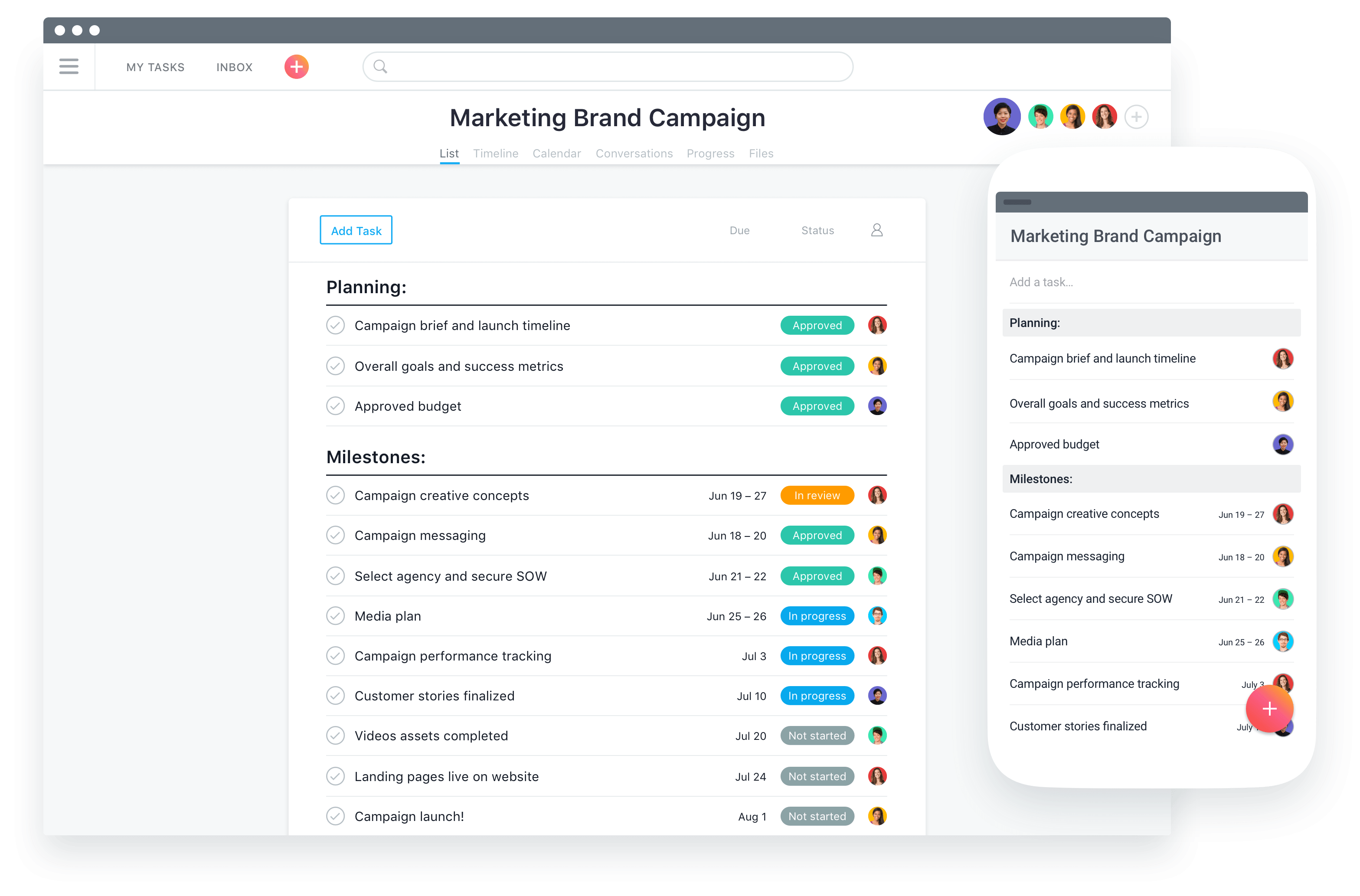 Our next pick for the best Smartsheet alternatives is Asana. It is a cloud-based and easy project management solution that has been helping teams to manage multiple projects at the same time.
Asana is an elegant tool that can flexible and fast enough to manage your team projects. It is a feature-rich software with modern timeline views.
There are templates, Gantt charts, and workload tools for effective handling of the tasks at hand.
Key Features
Asana can be integrated with applications such as DropBox, Sunrise, HipChat, Google Drive, and more.
It is flexible in a way that you can handle both ongoing work and long-term projects with it.
Assigning tasks is very easy and managers can keep a good track of their employee's work by having a timeline view.
You can choose the list view or Kanban boards for showing tasks. Also, each task can have attachments, subtasks, due dates, team members, and other custom fields.
Add comments and feedback while the project is underway and everything is archived once it is finished.
It uses an easy strategy for moving items around, setting due dates, and viewing sub-tasks.
The portfolio view lets managers see what they are responsible for and should be monitoring.
Pricing
There are 4 pricing plans that Asana offers:
Basic: $0 for the basic team management, 15 users, and unlimited projects and tracking
Premium: costs $10.99 per user/month for creating project plans with unlimited projects, time tracking, custom fields, and dependencies
Business: costs $24.99 per user/month for teams for work across initiatives with dashboards, portfolios, cloud integration, and assistance.
Enterprise: Contact sales for pricing details. The Enterprise plan is for additional security, control, and support. Provides capabilities such as SAML, User provisioning/de-provisioning, custom branding, priority support, and more
---
Check out our top picks for the best Basecamp alternatives.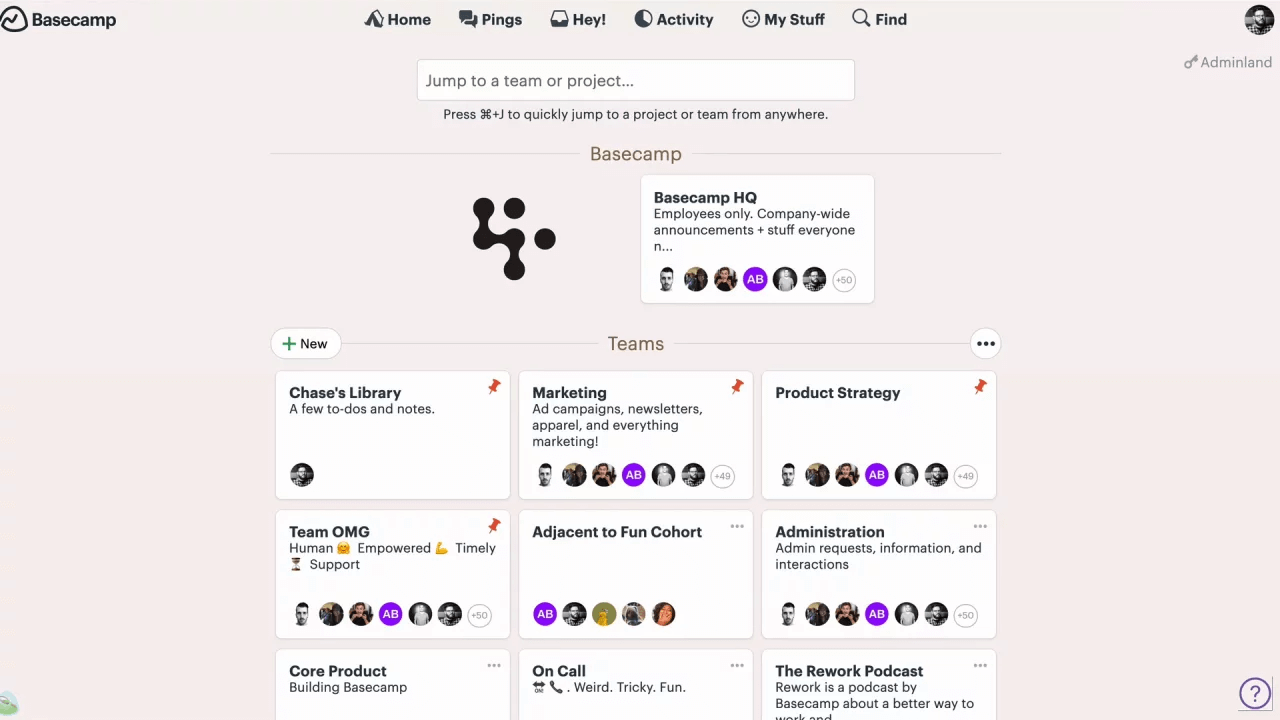 Another alternative to Smartsheet is Basecamp. With Basecamp, everything is organized in one place and teams work together. But, some people have reported having a little complex interface.
There are tools and boards which give a complete overview of the project going on. You can share files, updates, and messages with your team members easily. It also offers the automatic check-ins option.
With its user-friendly mobile apps, you can access your data from anywhere at any time.
Key Features
Basecamp has a reminder feature that keeps everyone on track. There are automatic check-ins to get insights from the teams instead of wasting time at the meeting.
The option for "My Stuff" lets you see what is on your plate and what you are responsible for.
Basecamp allows easy sharing of files. You can easily upload and download them using just one click.
There are hill charts that show where the projects exactly stand. They let you spot your problems and solve them before deadlines.
There are message boards, to-dos, schedule boards, uploading docs and files, group chats, and more which keeps everything organized.
Basecamp has a very different interface in a way that everything is in front of you. This keeps everyone on the same page.
You can add comments on the tasks and sub-tasks so the right people will get to know them.
Pricing
Free: trial of 30 days which can be extended upon request
Basecamp Business: costs $99/month flat for unlimited users, unlimited projects, all features, and 500 GB of file storage.
---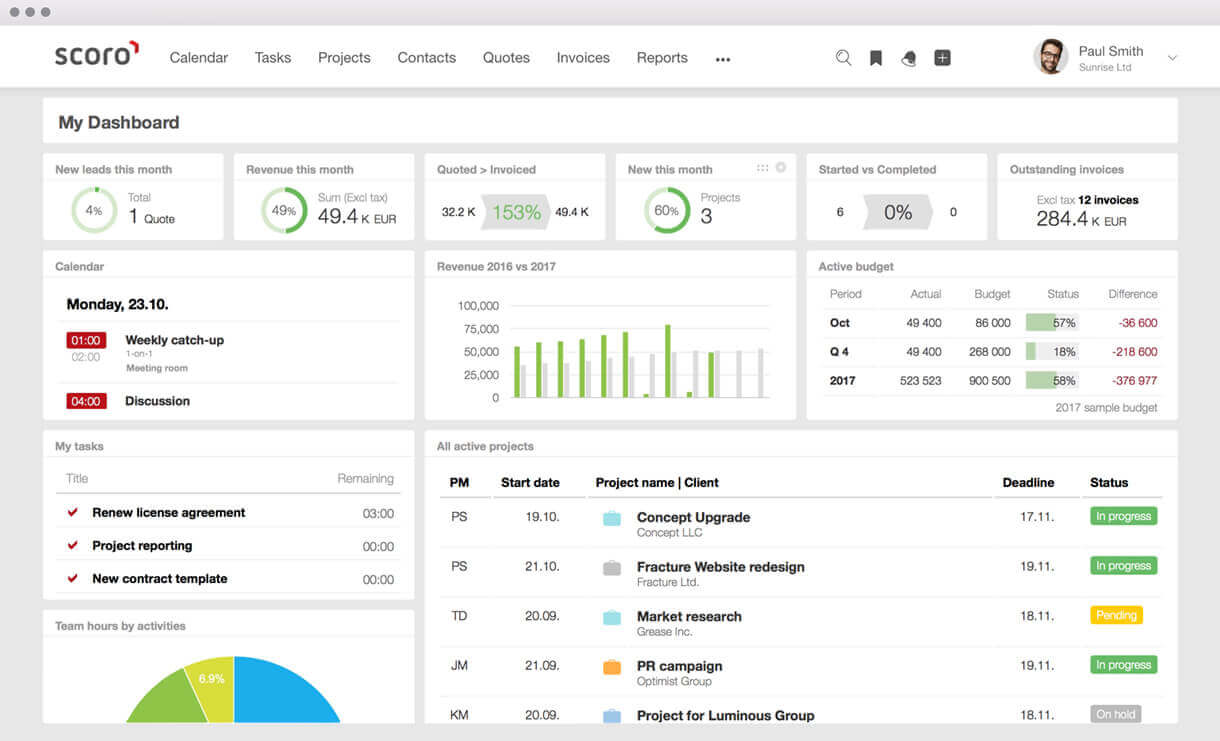 Scoro helps your team to manage tasks through its dashboards to keep your team on the same page. It is one of the Smartsheet competitors with the features of work scheduling, tracking, database, and CRM, which smoothens the flow of the business.
Scoro helps you to have better business management software while providing dashboards, templates, and a secured business management environment.
Scoro helps you in maintaining your business finances effectively. It gives automated billing with recurring invoices which saves you from spending too much time on that. Let's read more about its features.
Key Features
Scoro gives the ability to reallocate tasks to a different team so that management becomes more dynamic and quick.
You can compile you're your quotes and invoices and save them as PDF for future reference.
There are fully customizable real-time dashboards. With them, you can track metrics, conversions, and charts.
The simple feature of drag and drop allows easy use of the software.
Scoro gives an entire overview of the project such as project timeline, present, past, and future activities.
There are some recurring processes. You can set those on automatic mode and Scoro will perform them thus saving time and effort
There are no boring meeting status updates. This can save much of your time.
Pricing
Essential: costs $26/user/month for smaller teams
Work Hub: from $37/user/month for better time management and collaboration tools
Sales Hub: from $37/user/month for more forecasts and reports
Ultimate: price not given publicly but comes with top advanced automation and reporting capabilities.
---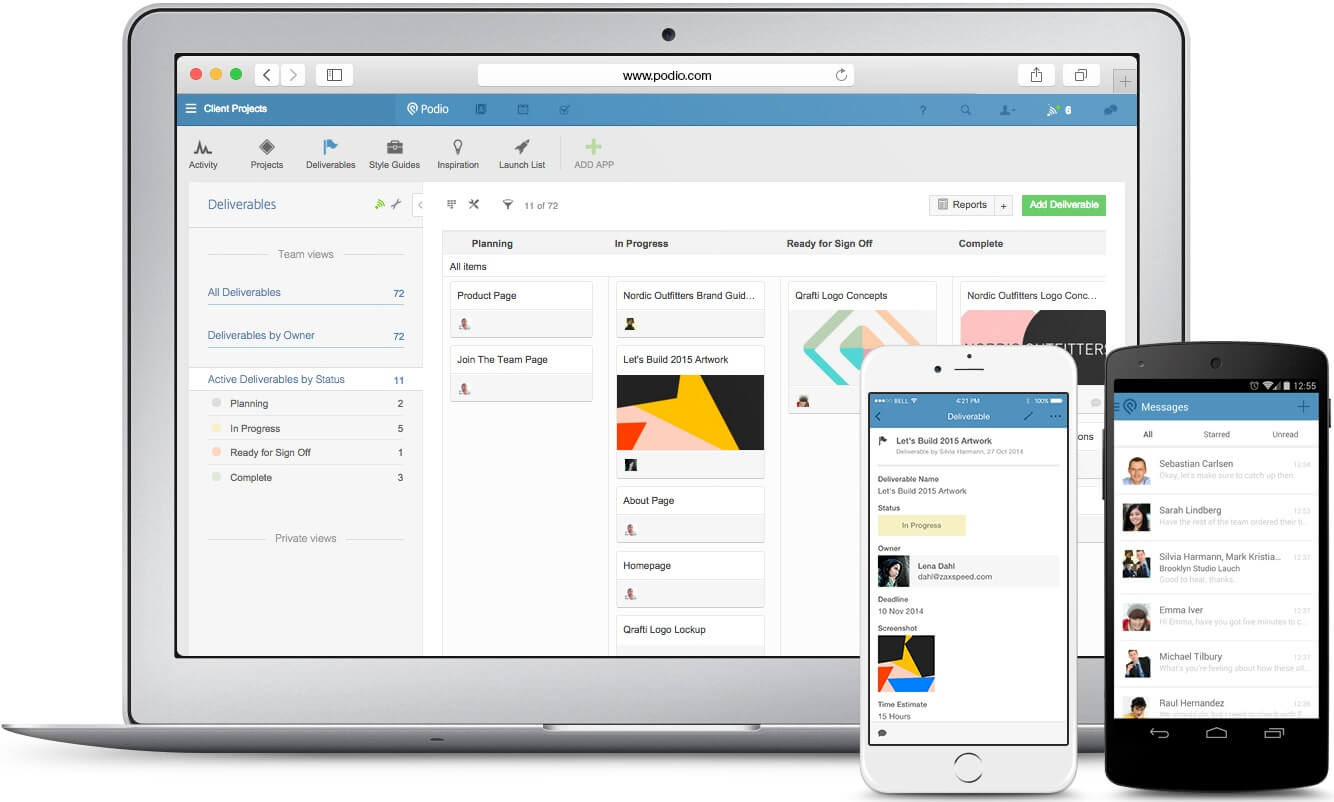 Our next pick for the free alternatives to Smartsheet is Podio. Podio is developed to run your projects in the office and on the go. You can better manage and organize your tasks by keeping a track of every activity being done.
Podio is also great software to manage your accounts and invoices. It also helps in delivering instant feedbacks and posting questions over any issue.
Without any CC emails, Podio maintains close working relationships with all team members. Let's read more about its features.
Key Features
Podio has a free version that works well. You can even design your project templates in it.
Workspaces are customizable and you can add text descriptions, stats, files, and more as you want.
Podio workspaces support formula calculations. So, you can use them to generate stats and metrics.
It has an integrated chat system. You can send messages directly to whomever you want or create group chats.
Podio has an "app" that contains templates for different types of projects.
Podio offers a selection of plug-ins and extensions which help integrate third-party software.
There are shortcuts for notifications, connections, and chats for a quick check.
Pricing
Free: for 5 employees with basic task management, app integrations, and workspace management features
Basic: costs $9 per user/month, includes features such as automated workflows, read-only access, and user role management
Plus: costs $14 per user/month with automated workflows, unlimited external user support, "light" user role, and more
Premium: costs $24 per user/month, includes visual reports, contact syncing, interactive sales dashboard, and GlobiFlow integration for workflow automation
---
Mobile apps not available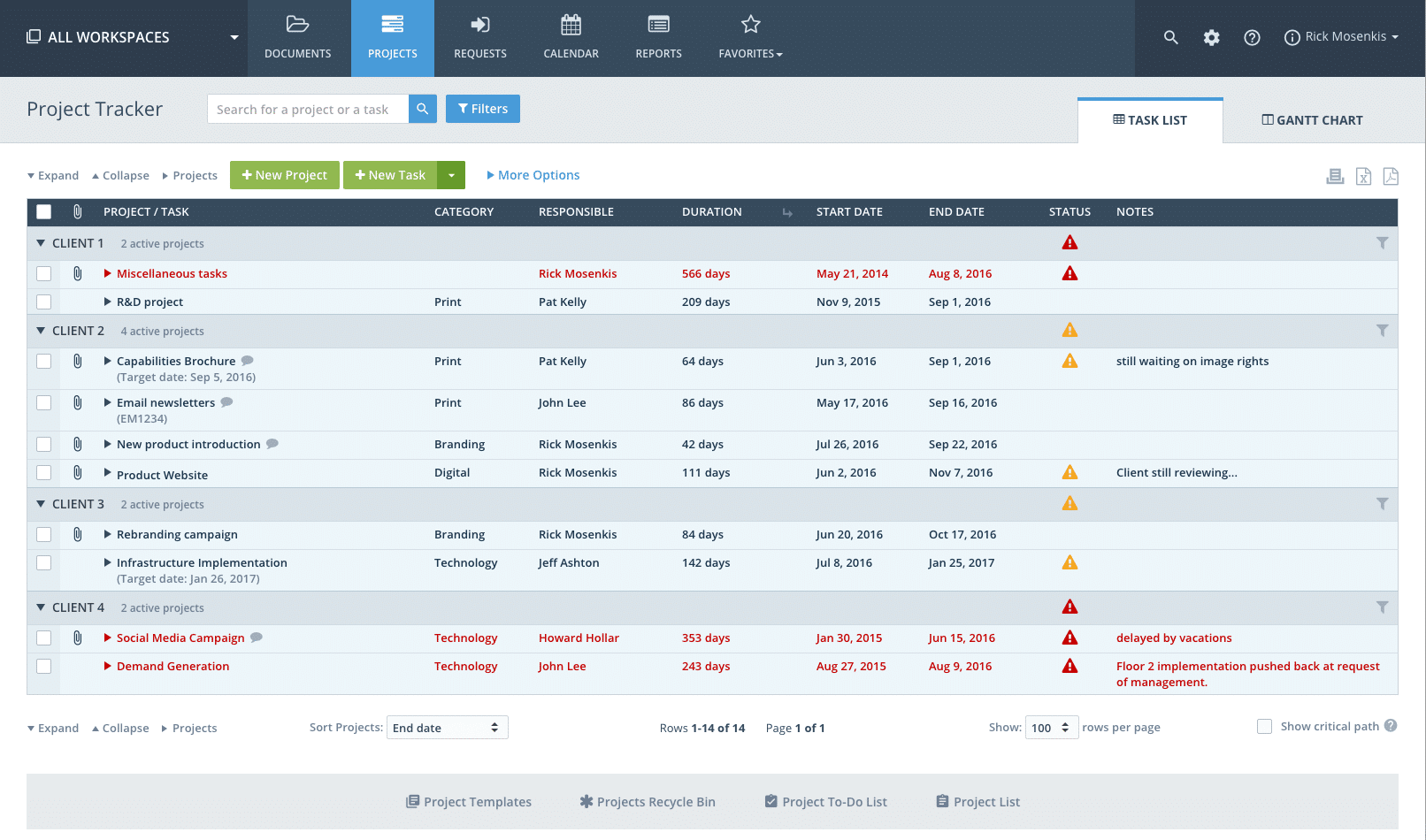 Workzone is our last pick for the best alternatives to Smartsheet. This one is also a great management platform for different organizations such as marketing, ad agencies, colleges, and more.
Workzone is powerful and easy to use software to manage busy workloads. It offers a free trial so the users can get to know the software. You can collaborate securely in its cloud. Also, the sharing of files is quite easy. It is great for personal use as well to keep reminders and to-dos.
Key Features
There are dashboards where you can see the projects listed. This gives complete detail of the deadline, percentage, and status of the project.
There are templates and you can create them too for use in the future. It will save time.
Other features include a to-do list working on a task and a calendar for tracking deadlines.
Workzone also offers project management solutions such as the sharing of files with specified permissions.
You can also add comments to PDFs or images.
Workzone also allows automation of certain processes that can save both time and effort.
There is a file versioning feature that racks multiple versions of the same file.
Pricing
Team: costs $24/user/month for five users and 100 GB storage space, unlimited task management, file sharing, Gantt charts, and more
Professional: costs $34/user/month for teams, 150 GB storage space, features of team plan as well as custom project intake forms, and API access
Enterprise: costs $44/user /month for endless customization, 200+ GB storage space, and more advanced features such as SSO, critical paths, and workspace groups
Conclusion
According to a survey, less than 25% of organizations are using some form of project management software is one of them. As a result, over 55% of the organizations said they do not have access to real-time KPIs.
Though Smartsheet is one of the most widely used software, there are other Smartsheet alternatives that you can opt for.
As we are entering into a competitive market, project managers need to know new techniques for better management. Let us know which project management software you use and why.
Other SaaSy goodness on All That SaaS: