In this roundup, we are going to deep-dive into the GTD productivity technique by David Allen. We are also going to list out some of our top picks for the best GTD apps this year and how they help you practice the GTD method.
Who doesn't want to meet deadlines, wrap up projects, and just get things done?
The Getting Things Done method, commonly known as David Allen's GTD technique, is one of the best ways to help you with your projects by making you more productive and helping you do more in life.
As you have probably figured out by now, GTD means Getting Things Done. This method lets you plan your to-do tasks and act on them step by step, which helps you to take your tasks out of your mind, plan for them, and act on them by dividing them into productive executions.
Most office workers spend 28% of their day on unnecessary distractions, which takes up more than a quarter of the day. The average employee is likely to get distracted almost 56 times a day through excessive emails, pointless meetings, and interruptions thus resulting in poor productivity.
Let's dig a little deeper into what GTD is, and how the Getting Things Done method can help you strike a better work-life balance.
We thought we would share with you some Frequently Asked Questions (FAQs) to give you a better understanding of the GTD method or clarify any misconceptions.
What Does GTD Mean?
As mentioned before, GTD means Getting Things Done. Almost 6 out of 10 Americans struggle to keep up with daily activities. And because of this struggle, they often look for new ways that can make them more focused to boost their productivity.
These scenarios led David Allen to become the brainchild behind the GTD productivity technique. David Allen is an American author and productivity consultant who has written the international best-seller titled Getting Things Done in 2001.
"Your mind is for having ideas, not holding them"-David Allen
With the GTD technique, David proposes important structural changes that can be implemented to overcome work-life management challenges. When used properly, GTD is a great method to jot down your vague ideas, polish them, and plan on them to give a final result.
What is the GTD Technique?
Getting Things Done is not a rigid concept, it is a flexible structure that allows increased productivity and work. Down below we have explained The Five Essential Pillars of GTD.
The Five Essential Pillars of GTD
GTD has five basic steps that can help you build the structure of your work and execution process.
Capturing: Take a snapshot of your ideas/thoughts/tasks by jotting them down so you don't forget them later on.
Clarifying: You craft a clear understanding of your thoughts turning them into logically executed ideas.
Organizing: You structure the ideas according to the priority they need to be executed.
Reflecting: Take time to stop and think if there is a better way to complete your task.
Engaging: The final step, entails you putting all the other steps into action and completing the task productively.
The purpose of the GTD productivity technique is to provide you with a sense of direction when your work process seems to be chaotic. GTD paves you a path, which enhances the ability for you to create an understanding of how you would like to implement and complete your goals.
These five pillars of the GTD method help you achieve your goals by helping you identify what you:
Need to do,
Should do, and
Consider doing
This system also keeps track of all the tasks you have to complete, whether immediately or later on.
To help you maintain this productive momentum, there are several Getting Things Done (GTD) apps available for both Android and iOS.
---
The Best Getting Things Done (GTD) Apps in 2023
To make it a little easier for you, we decided to give you a summary of the best GTD apps so you can get a head start and meet those chaotic deadlines. Let's take a look at some of our favorite apps from this year:
Download: Mobile apps not available
Pricing: Starts from $9.99 per month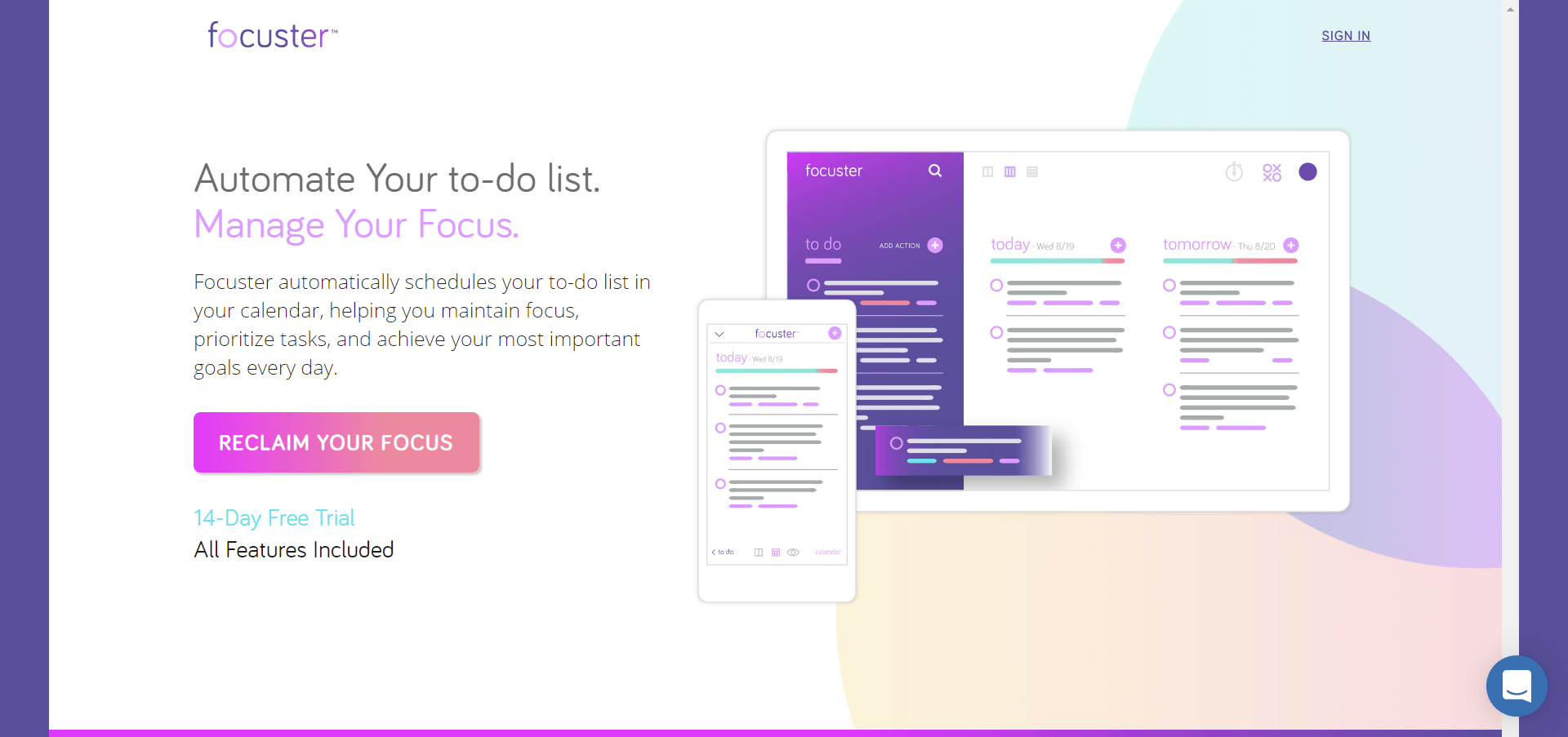 Focuster is another one of the best GTD apps that helps you maintain your daily goals and accomplish them on time. The good thing about Focuster is that it gives you suggestions. For example; it lets you know if you can get free time by checking your Google Calendar
There is a time blocking and task splitting feature which helps in dividing your tasks into sub-tasks. This helps in the organization's level of GTD. It is a web-based tool that has a great user interface. Focuster is a GTD app in which you can enter due dates and how long they a task would take.
Focuster also helps in auto-scheduling and integrates with other apps such as Zapier. You can write down your goals in the inbox, and prioritize and organize them with its ''Next Action'' and ''Waiting For'' lists feature. It schedules tasks according to your calendar.
Key Features
Focuster helps in incomplete rescheduling tasks. You can set it for a later time or date by checking your calendar schedules.
There is an "Activity Bar" that will track your daily progress and will also notify you if you have too many tasks scheduled on the same day.
It has an easy task drag and drops feature. You can click-grab your task and drop it in the inbox or anywhere you want.
Focuster helps in splitting larger tasks into smaller ones.
Focuster has integration capability with 500+ apps via Zapier, and it integrates directly with Google Calendar.
It groups up similar tasks and sets them up accordingly to the themed time blocks in your schedule.
Pricing
Basic: The cost is $9.99/month with all features, such as; tasks splitting, lists, inbox, and calendar.
Pro: The cost is $19.99/month, and gives scheduling up to two weeks in advance with all features such as; tasks splitting, lists, inbox, and calendar.
Executive: It has a one-to-one coaching session to set up with a customized cost. With all features such as; tasks splitting, lists, inbox, integration with apps, and calendar.
---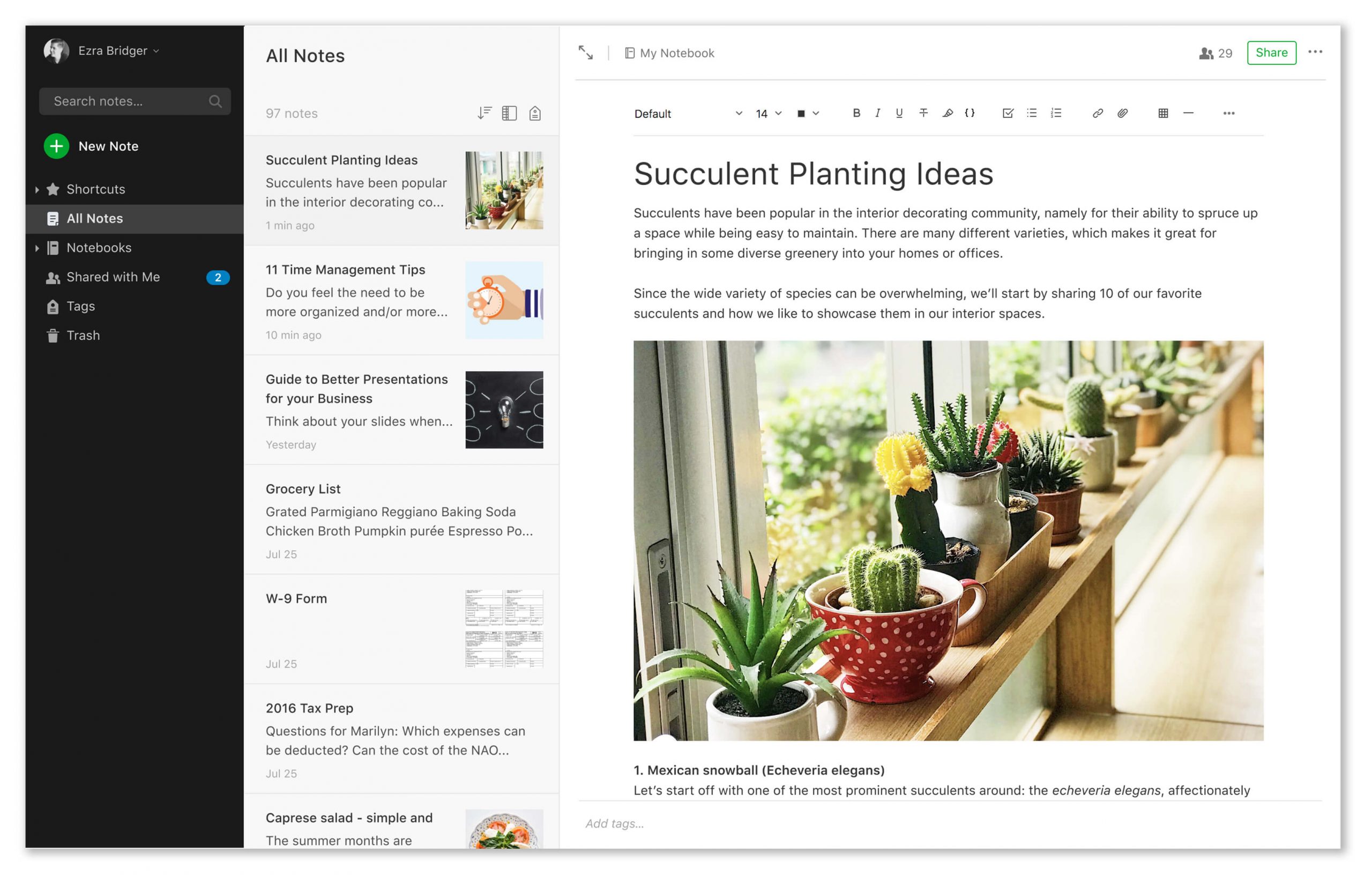 Evernote is a great to-do list app featuring GTD steps that lets you store and access information whenever you need it. There are input type-notes and handwritten notes where you can create customizable; notes, reminders, to-dos, task creation, and more.
It also works with Siri and Google so you can take your notes using voice commands rather than typing. There is also an option for safely syncing all your data to another device, allowing your notes and tasks to be always with you.
It offers rich media, which you can share with anyone anytime. If you are looking for an app to capture your ideas and organize them with a bigger amount of storage capacity, Evernote may be one of the best GTD apps for you. You can always access your Evernote via a browser.
Key Features
With Evernote Premium and Business, you can scan any document or scan business cards with your phone.
The web clipping feature allows you to bookmark any link and access that later.
The plus account offers syncing across as many devices as you want.
When you search for something, it not only searches in your notes and images but also PDFs and Office files.
There is a presentation mode that lets you turn your notes into slideshows with no additional effort.
You can also access your downloaded notes offline and on the go.
You can scan and digitize business cards, allowing you to get important information by mere scanning.
Pricing
Basic: is free and offers note-taking
Premium: Has the cost of $7.99/month. The features are the same as Basic, including; attaching PDFs, clipping, forwarding emails, scanning, and digitizing business cards.
Business: Has the cost of 14.99/user/month. The features are the same as Premium, including; everything from organizing to integration, collaboration, scanning, and administration.
---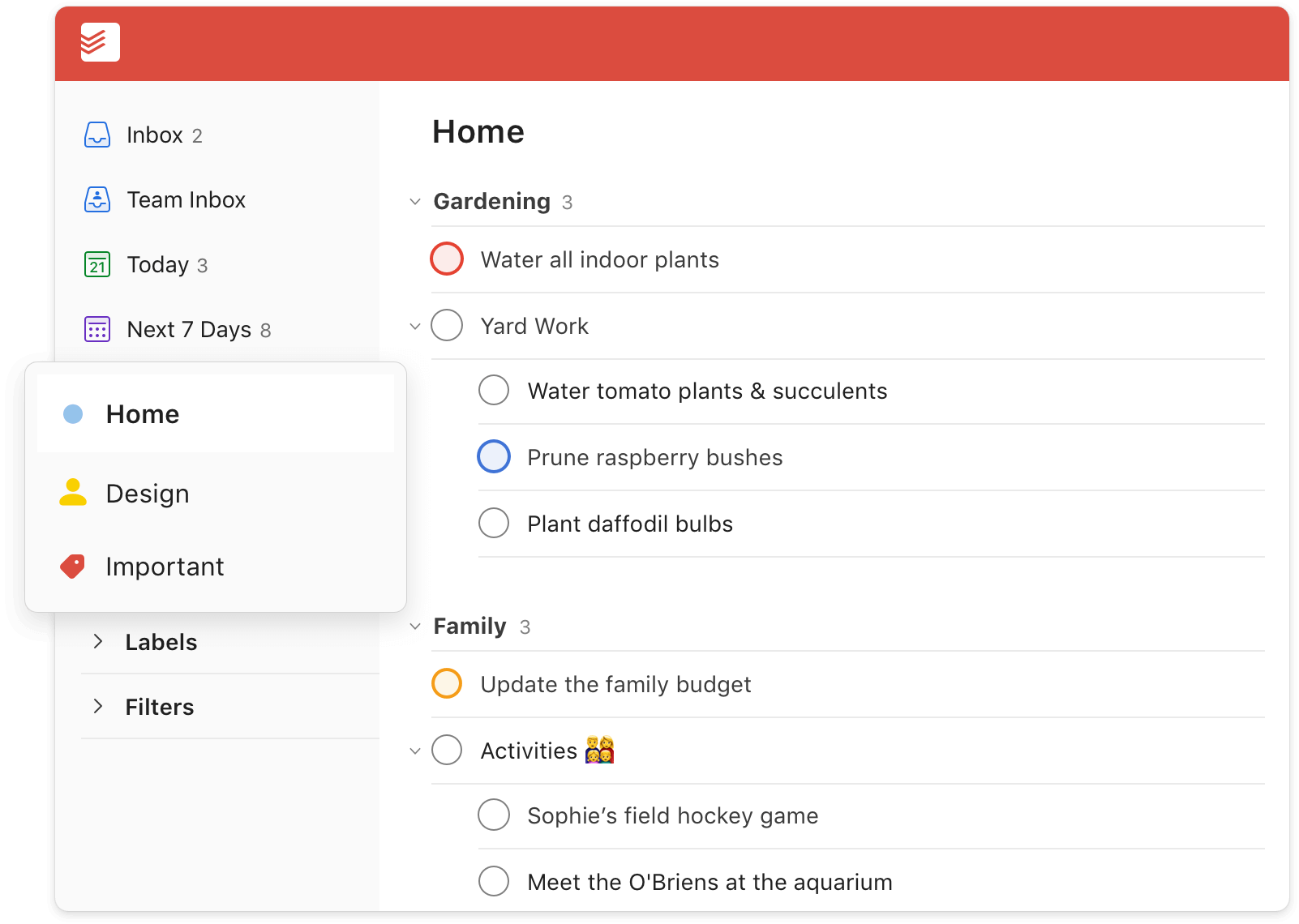 Todoist is without a doubt one of the best GTD apps for managing and organizing tasks. It is used by more than 25 million people for organizing things and managing projects, either big or small.
This app covers all of the GTD productivity technique steps, making it easy and quick for the user.
Todoist also offers great collaboration features, which is a great choice if you are building up a team and looking for a productive workspace. There is a quick add feature that lets you organize tasks in seconds.
Todoist lets you set reminders, and priority levels, and track progress so you are on the right point every time. There are apps for iOS and Android users that people love to use because of their nice interface and are great to keep handy on your phone especially if you are on the go.
Key Features
There is a task view that displays everything about your task, which includes; dates, subtasks, comments, activities, and reminders.
You can mark your projects as favorites, allowing you to instantly access them for reference or otherwise.
Notifications pop up on your screen when anything happens, such as; comments, completing tasks, and more.
Make your essential information accessible to everyone and comment so that everyone can see and remain in the loop.
There is a productivity visualization that displays your daily and monthly progress by color-coded graphs.
You can integrate Todoist with apps that you already use such as Dropbox, Zapier, or more.
Pricing
Free: The cost is free. It is for starters and offers up to 80 projects and max 5 people per project.
Premium: The cost is $3/month, billed annually. It is for pros. It supports up to 300 projects, max 25 people per project, comments, reminders, labels, and productivity trends.
Business: The cost is $5/user/month, billed annually. It is for teams. It features 500 projects, a max of 50 people per project, team inbox, admin and member roles, team billing, and priority support.
---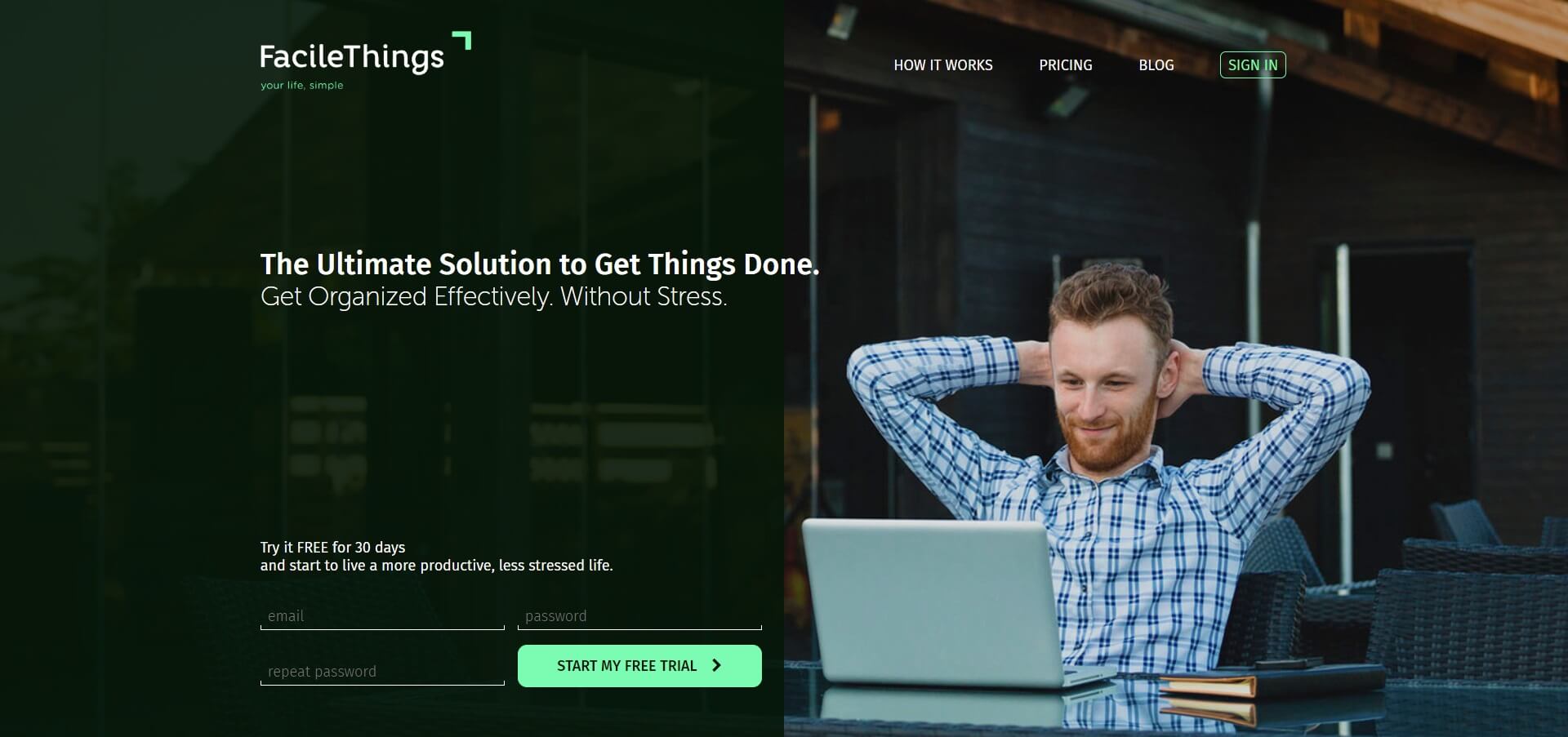 FacileThings is one of the best GTD apps to manage your tasks and operations. It applies the GTD concept to collect, process, and edit documents seamlessly. It utilizes all five steps of the GTD method by giving you an interface to capture things and put them in the lists for better organization.
FacileThings helps you organize your tasks in different lists according to your priority. It helps you divide the tasks and categorize them into three primary lists, such as:
Next,
Waiting For,
May Be
This type of organization helps you to reflect on your weekly tasks. This allows you to engage in any activity that you want according to your time and priority.
Key Features
FacileThings lets you synchronize your Google Calendar events with FacileThings Calendar, by connecting both apps for integration.
There is a feature that shows the starting date of the task along with what you think the expected date is going to be. The time along with the date can be adjusted to your needs.
There is a tab named perspective where you can view and edit a project. The developer has added the subproject section which moves up to the next project once the previous one is complete.
FacileThings is connected to everything and integrates well with other useful applications such as Evernote, Google Calendar, and more.
To further improve the quality of work, it applies the "Reflect" and "Engage" methodology, which helps choose the right direction. ''Reflect'' helps in reviewing your tasks and their priority, while ''Engage'' helps you organize and direct the execution of important tasks.
Activity tracking is also easy and notifies you of your current progress and you can also conduct a weekly review of your work.
You can create unlimited project sections and further subtasks that may be required for the project.
Pricing
1 month: at $12/month
3 months: at $9/month
6 months: at $8/month
1 year: at $7/month
Note: All of the plans have these features; synchronization, integration, lists, Calendar, weekly progress, and unlimited tasks
---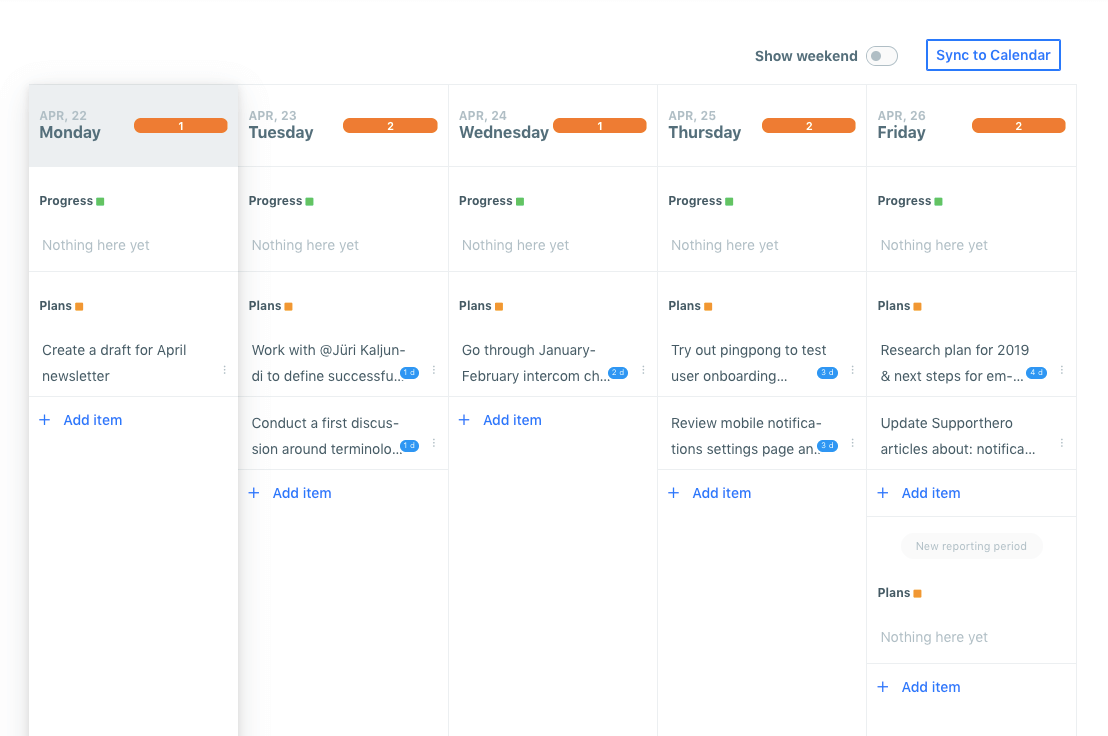 Weekdone is what we consider to be one of the best GTD apps. It uses the Getting Things Done methodology for effective organization, planning, and finishing your projects.
You can provide feedback on the completed tasks, and you can keep the team updated so they are in the same direction as you.
It offers a good management structure by having a tree-like hierarchy. The weekly progress tracking keeps everyone on the same path and tracks your progress smartly. Therefore, allowing us to play an interactive part in reflecting the stage of the GTD method.
Weekdone has features that include; weekly planning, conversations, comments, and feedback that keeps you on the right track. It displays your progress report and task priority to see what needs to be done on an urgent basis.
Key Features
There is an informative dashboard that gives you each team member's work progress.
Weekdone offers several readymade templates, which you can start working on instantly.
You can use Weekdone to give feedback and comments on the tasks done by your employees.
You can import items and generate reports from other software such as Jira or Asana
Weekdone has Android and iOS apps, which allow you to manage your projects on the go.
There are email reminders to remind you of the tasks for that day. For example; once a week, everyone gets an email to submit their report.
Pricing
Free: for 1-3 users and no credit card is required for the free trial.
Premium: starts at $10.80/user/month billed monthly. It is available for up to 500 users with volume discounts available accordingly. The features it offers are full support, OKR coaching, a dashboard, templates, email reminders, comments, and more.
---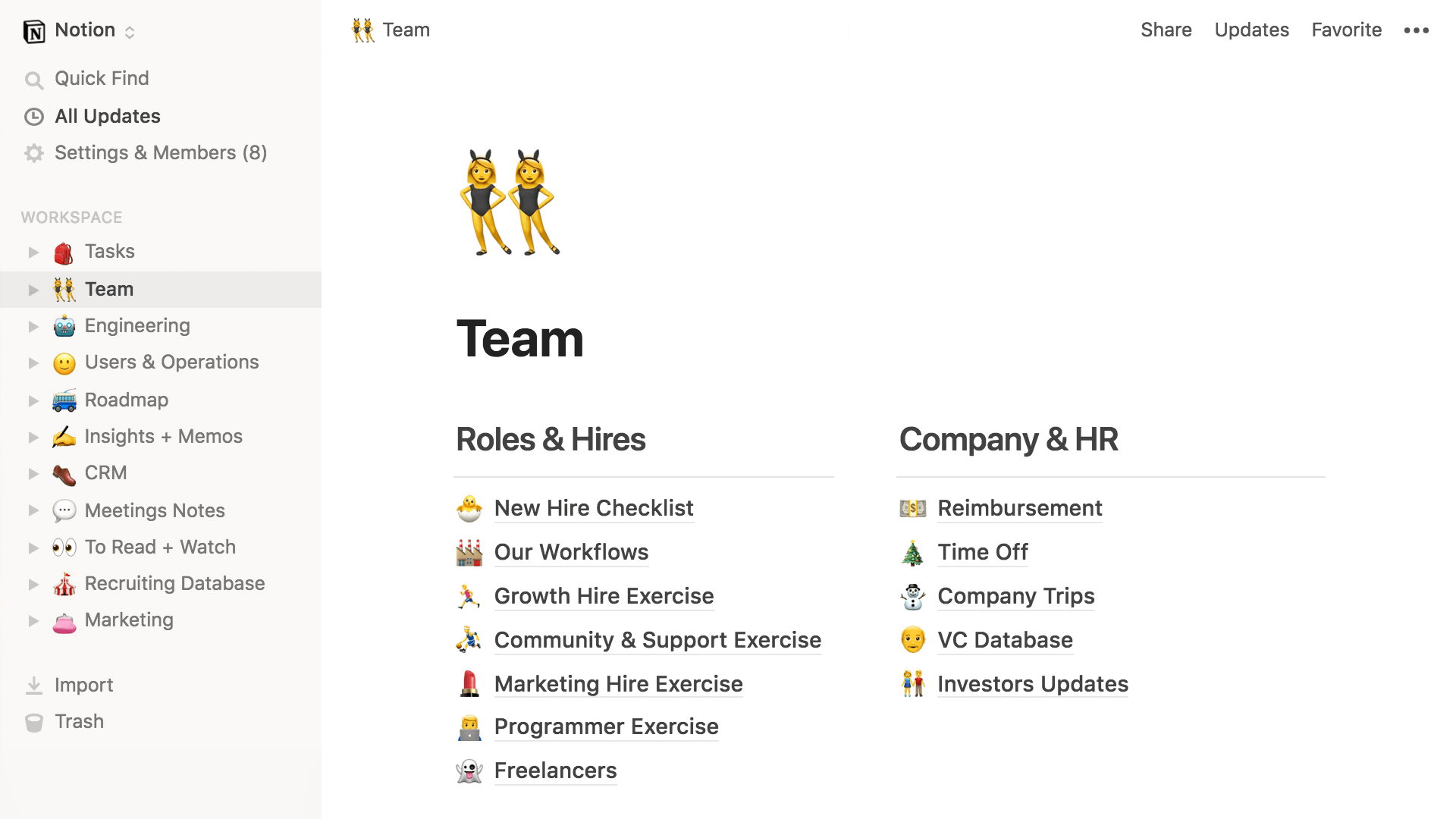 Notion is another one of the best apps for GTD lovers. It is an all-in-one workplace where you can upload, post, and share your work. Notion also helps create a good working environment but also helps you immediately gather your thoughts for the instant workflow process.
Notion has advanced Kanban boards, which makes it possible to implement the GTD method. It allows you to assign tasks, set deadlines, and track the progress of each task.
You use the web clippers to copy or clip content from the web. The ''Next Actions'' and weekly reviews help you in managing the "Reflecting" part of the GTD method.
Notion offers a good cross-functional collaboration to connect your whole company, making it one of the best GTD apps. You can make projects, engage, and reflect as much as you want. It has applications for its Android and Mac users. You can download it for personal use or buy it according to your plan.
Key Features
Notion offers a great feature of downloading the pages when you visit online, allowing you to access it on the go.
It supports images, bookmarks, to-dos, videos, code snippets, 20+ block types, and more.
Using drag and drop and force touch, you can arrange anything easily.
Notion keeps everything synced, and you can also download companion browser or desktop apps.
It is a collaborative workspace that allows comments with mentions to be made in the shared workspaces.
The notion has multiple views for the database. It may be as a table, calendar, board, or more.
Pricing
Free: The cost is free of charge. It has features, such as; unlimited pages and blocks, an invitation to members, exportation, sharing with 5 guests, and uploading of a max 5 MB file.
Personal Pro: The cost is $4/ month. The features are the same as Free, including; unlimited invitations, unlimited file uploads, no upload limit, permissions control, and access version history.
Team: The cost is $8/member/month, billed annually. The features are the same as Personal Pro, including; access to admin settings, collaborative workspace, and admin tools.
Enterprise: Contact the sales team for a price. It includes features of a Team plan, plus; managing employee access, customer success manager, advanced security, and custom contract.
---
Download: iOS | Android app not available
Pricing: Starts from $39.99 (one-time)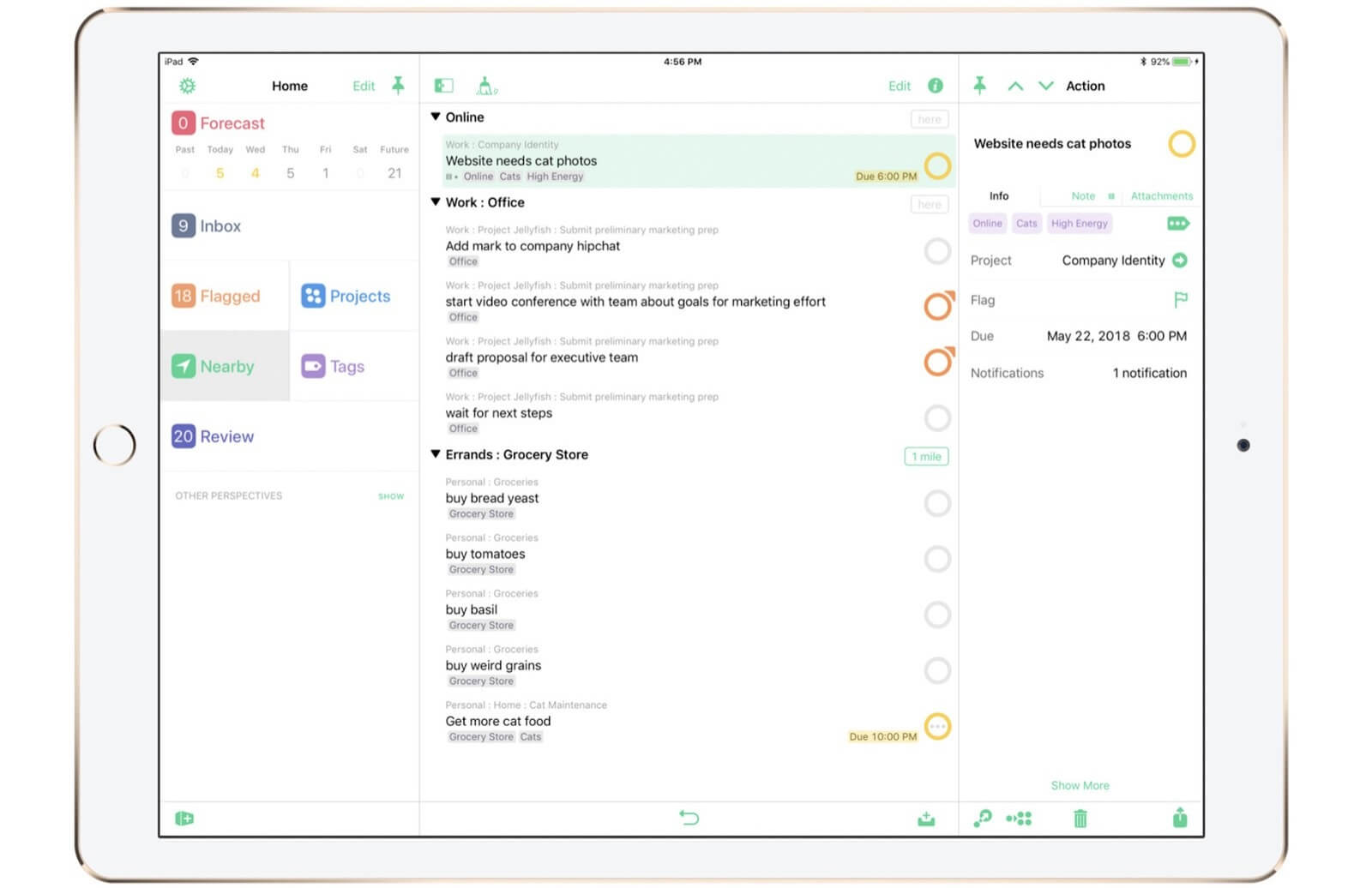 OmniFocus is another great app if you want to apply the GTD method in your workspace. This is great for professionals and students who are looking for organized and task-tracking software. OmniFocus offers a two-week free trial for you to check whether you want to subscribe to it.
OmniFocus has an inbox where you can; capture, forecast, receive custom perspectives for specified data viewing, review projects, and work on projects to get engaged. It helps apply your tasks according to the GTD method.
It has great in-app features that include powerful organizing tools, tags, comments, attachments, and Siri support. OmniFocus is a great solution to GTD that helps in adding tasks and categorizing them according to your requirements.
This also includes customizations, template views, and more.
Key Features
OmniFocus comes with a powerful feature of forecasting, projects, and tagging. You can plan for your whole week's tasks.
There are custom perspectives, allowing you to create new ways to see your data by grouping and filtering projects.
There are customizable sidebars and home screens. It lets you organize your perspectives and tools.
Your notes can be attached to your tasks for giving the info you need as you work.
There is a forecast view that shows your upcoming projects and tasks in order.
OmniFocus allows the syncing of your data across devices, which helps in better accessibility but also end-to-end encryption for secure data.
Pricing
OmniFocus costs $39.99/one-time/user for Mac and $79.99 for Mac Pro with features such as inbox, forecast view, syncing, template views, and more.
---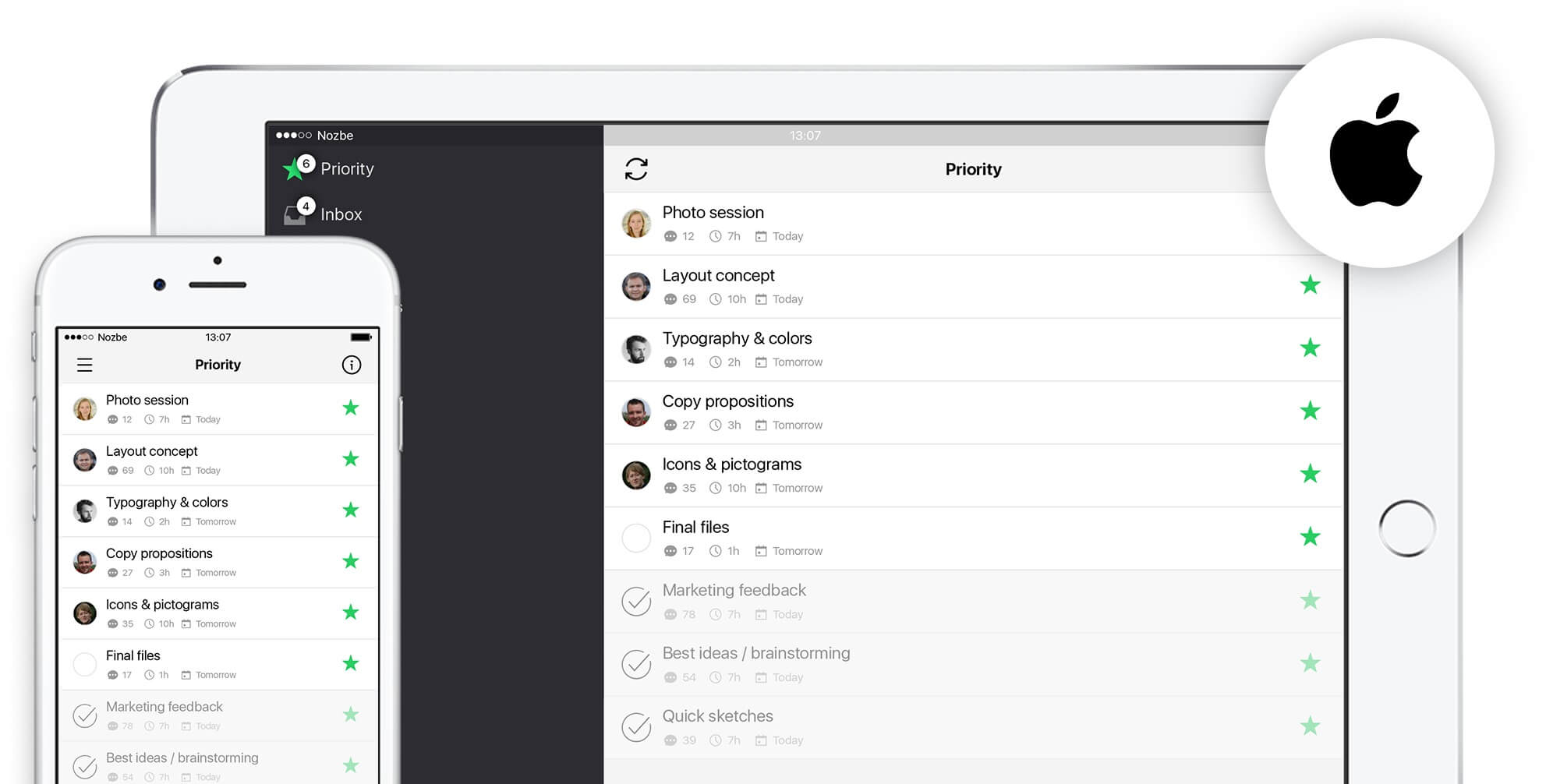 Nozbe is one of the best GTD apps for managing your team and personal task managing issues. Each task for its project can hold additional detail such as due date, time, comments, categories, and more. Nozbe is available on Windows, Linux, and smartphones.
Nozbe lets you manage your tasks on the go with its Android and iOS apps.  Siri is a great help with her voice commands when you don't want to type.
It is a good productivity tool that offers different task panes. When you have a task in progress, you can drag and drop different sub-tasks in the task pane.
Nozbe uses inbox, priority lists, and the ability to sort the project by category, which saves you time. It integrates Google Calendar and allows task delegation. It also provides templates on which you can capture your ideas and work on them for productive growth.
There is a commenting and adding attachments option to keep everyone on the same page. This keeps your team updated about any new changes.
Key Features
You can use templates and automate repetitive tasks, this saves time in case of frequent and recurring tasks.
You can work offline and get your data synchronized once you are back online.
Nozbe has an inbox which is a default place to collect tasks, and you can store what comes to your mind and add detail to it later on.
Nozbe also offers basic integration with some of the most common apps such as Evernote, Dropbox, Box, Google Drive, and similar ones.
In mobile apps, you can customize swipe gestures, giving you more control over the app.
You can forward the e-mail to a special address or have your message appear as a task.
Templates are independent, and you can choose the icon and color according to your choice.
Pricing
Solo/Duo: The cost is $10-$14 per month and is great for one or two people. It has unlimited projects, productivity reports, and customer support via e-mail.
Small Business: The cost is $23-$49 per month and is meant for 4-8 people. It offers solo/duo features plus priority support.
Business: The cost is $99-$999 per month. It is costly but is great for the team and a minimum of 10 people and no maximum. It gets all the above features plus advanced project sharing, online training, and VIP support via a dedicated account manager.
---
Download: iOS | Android app not available
Pricing: Starts from $17.99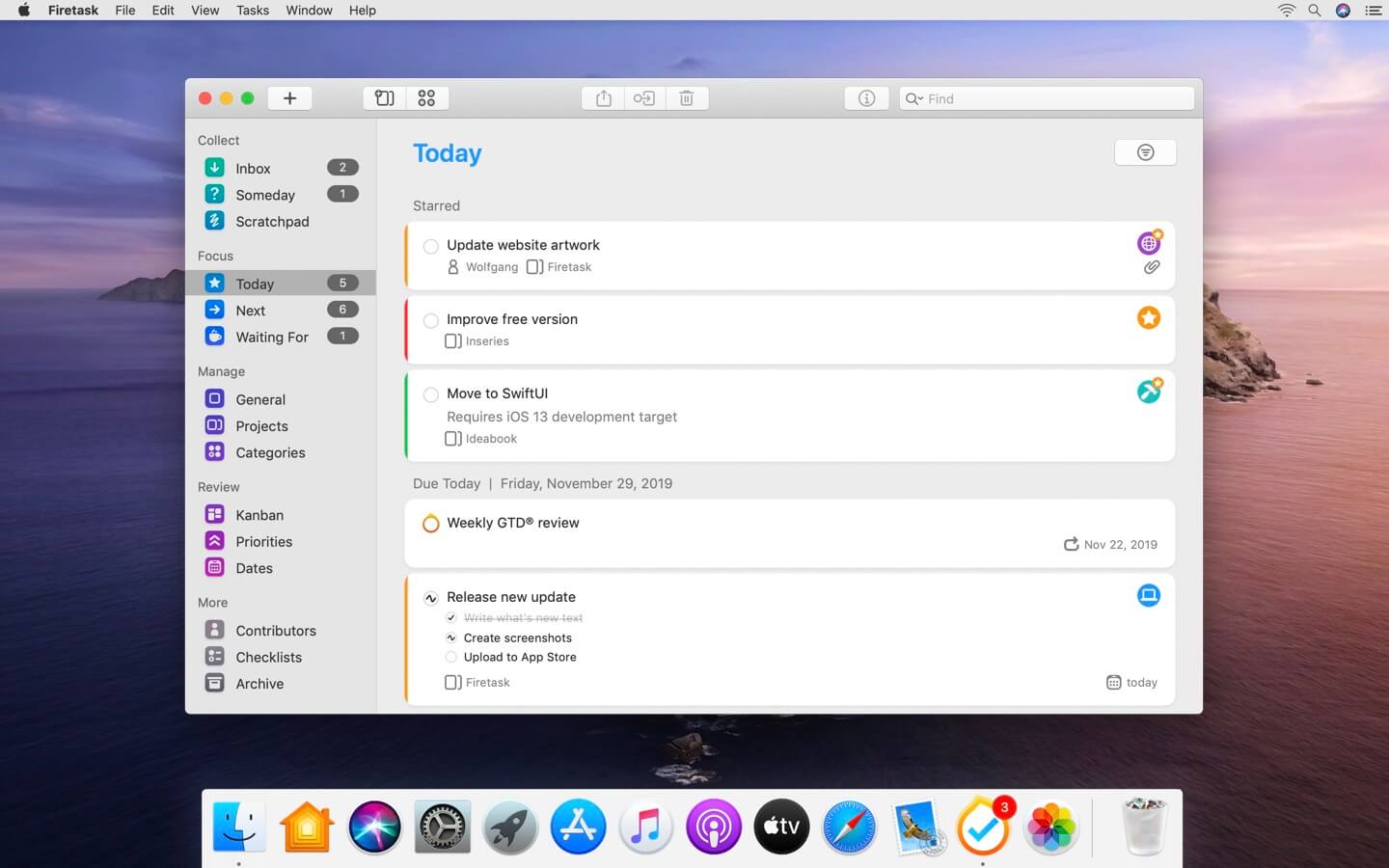 Firetask is a productivity app that has the methodology of GTD. It is an essential task-keeping app that combines David Allen's GTD productivity technique with other classical management features.
This GTD app provides a waiting list for those tasks that have a Maybe or Someday status. You can also perform a weekly GTD review to keep your tasks up-to-date.
It has features of task priorities, due dates, and comments that give a good task management experience.
Firetask lessens the mental load by giving you an inbox. It does the ''Capture'' part of GTD, and you can organize your ideas in the "Next Action" list.
Firetask is also coming with its pro version which has certain upgrades. It may include portfolios, enhanced workflow, more attachments, reminders, and calendars. As you can see it helps you by providing the optimized level of the GTD productivity technique.
Key Features
Firetask has a solid implementation of the GTD method. It includes lists such as "Inbox", "Someday", "Next" and "Waiting For" lists.
There are portfolios for organizing projects and actions for complex tasks so you can break them down into individual steps.
You can assign a unique color and icon for each project to distinguish them.
There is also a seamless integration feature with iCloud, allowing your data to be synced and completely safe.
You can use Kanban's view to have an overall view of your current projects and commitments.
Manage your tasks and deliver them before deadlines with its calendar-like view, which helps you to manage your deadlines and dates.
Pricing
It costs $39.99 for Mac and $17.99 for iOS. It has a whole set of features, such as; a calendar, lists, integration, Kanban view, and more.
---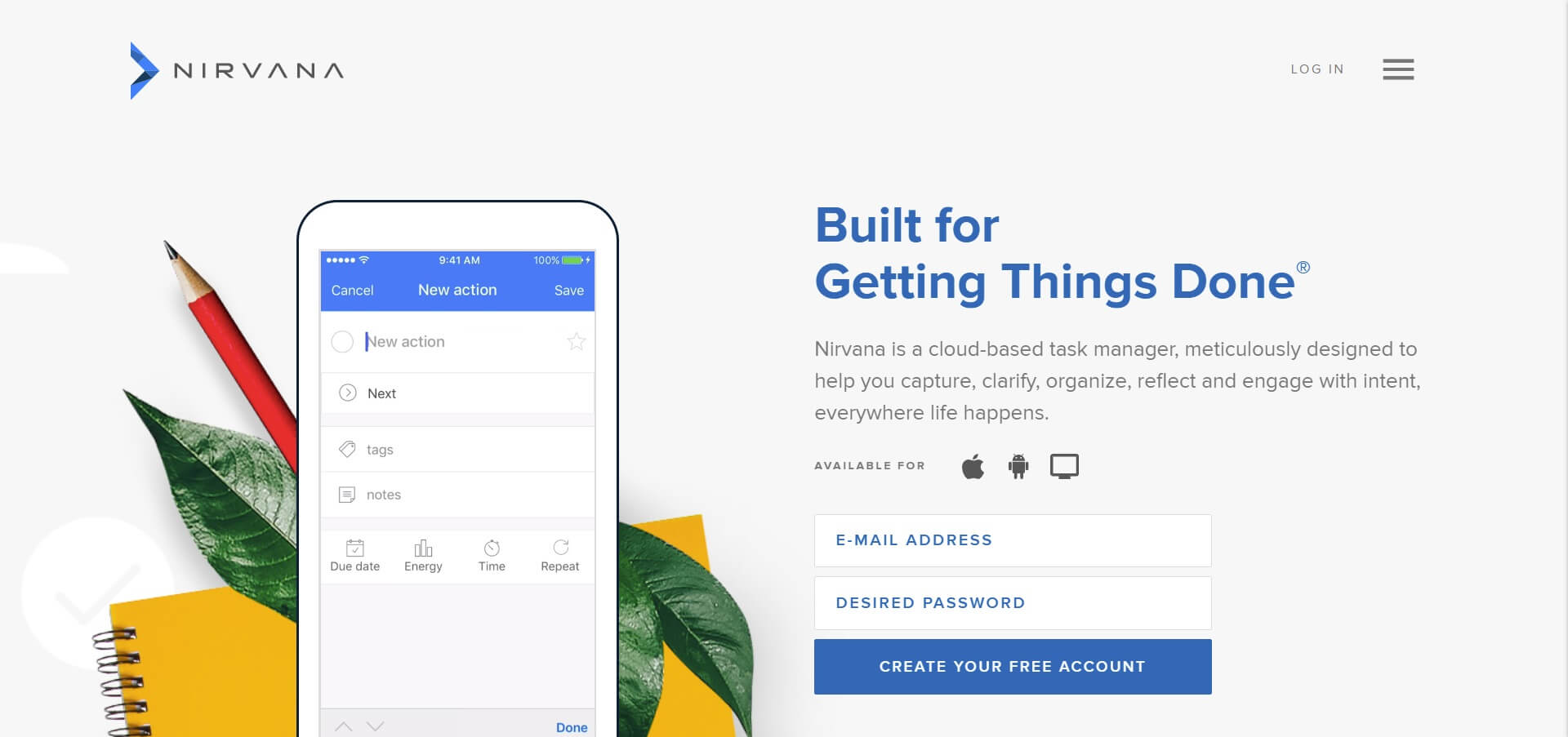 Nirvana is based on the GTD method. It does a stellar job of keeping you right on track when you perform tasks, set deadlines, share projects, or schedule them. Nirvana applies all the GTD steps and has an inbox where you can add items and lists to complete your tasks.
You can assign tags, the energy needed, due dates, notes, and more. For organizing things, you can place them under the tabs; "Next", "Waiting", "Scheduled", "Projects", "Reference" and ''Trash''.
You can enjoy unlimited projects, reference lists, and recurring tasks with it.
It is a cloud-based tasks manager app, which gives you access to your data on the go. It has a seamless organization design interface, allowing you to have things easily accessible.
Each task can contain time estimates for you to decide accordingly. Nirvana is available for both Android and Apple users.
Key Features
Nirvana organizes tasks according to energy levels, which means can find tasks requiring low energy when you don't feel like doing something.
It offers real-time viewing of portfolios, order, projects, and more. This helps in prioritizing tasks with ease.
You can utilize the pure GTD method by having "Inbox", "Next" and "Waiting For" lists.
With its applications, you can have access to your tasks on the go.
You can filter your projects by time, context, and more, which is a great time-saver.
There are an unlimited number of tasks, email task capture, rapid entry, a focus list, and easy data export.
Pricing
Free: It is free for up to 30 days with all features, such as; portfolios, comments, and GTD inbox.
Subscription: The cost starts at $5/month with all features, such as; portfolios, comments, data export, and GTD inbox.
---
Download: iOS | Android app not available
Pricing: Starts from $9.99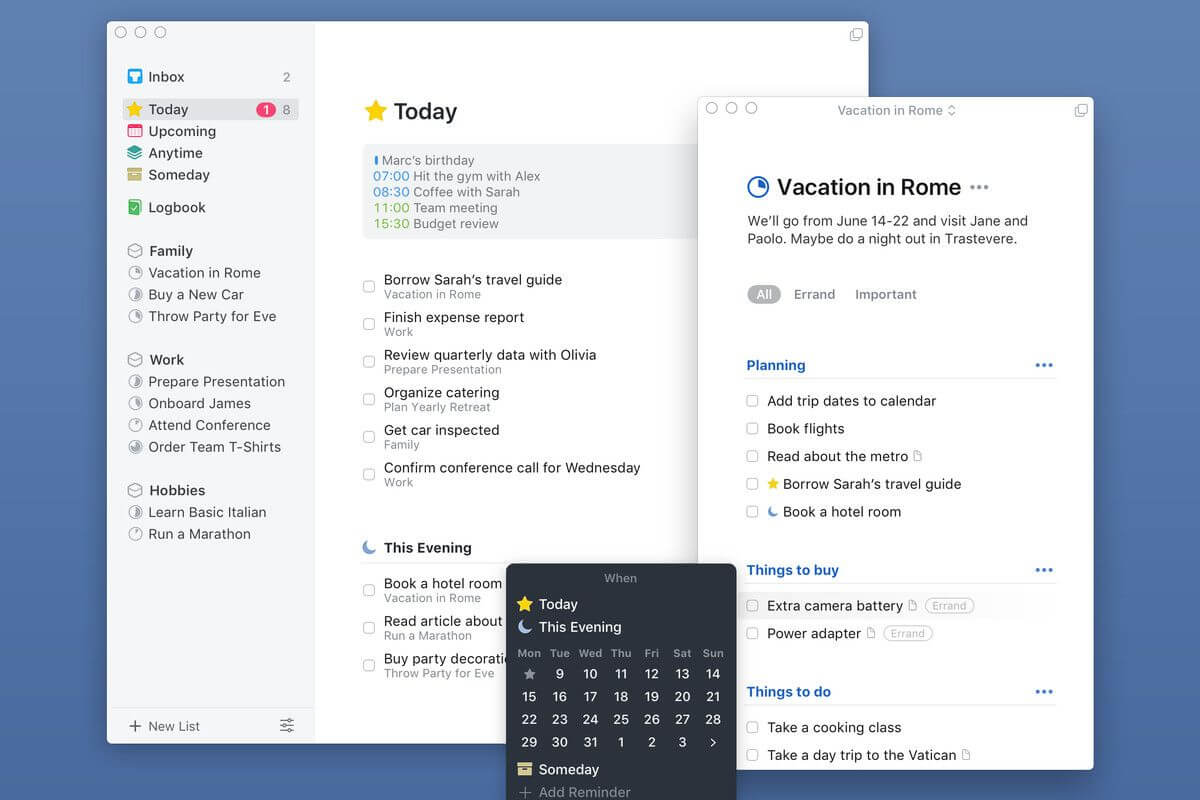 Things3 is one of the best GTD apps that help you organize your projects and push them towards completion. It not only saves your projects but also helps you track them and meet the due dates. Unfortunately, it is not available for Android.
Things3 offers a wide range of features, especially for Apple product holders. It gives you a focused experience by having a non-cluttered interface and a seamless features interface.
You start by adding your tasks to the "Inbox".  If you are a GTD fan, you will like the Inbox feature.
This app provides everything a person would need for a professional GTD process, such as; start and due dates, projects, and actions, and has a hierarchical way of sorting projects.
There is also an upcoming status feature, which means the project has an estimated future start date and completion date.
Key Features
Things3's inbox lets you store any idea or thought that is on your mind, you open a piece of paper in the app and add in all the details.
In the notes features, you can add additional details such as; checklists, tags, and reminders.
Things3 is fully integrated with the latest iOS technologies, such as; calendars, Siri, Reminders, and Apple Watch.
You can add structure with headings for better clarity. This means each project can have steps to accomplish it.
Things3 provides a good way to keep track of your tasks. It has "Upcoming", "Anytime" and "Someday" views to show the priority of tasks.
With the drag and drop feature, you can move and arrange things in whatever manner you may like.
Pricing
Mac: The cost is $49.99.
iPhone & Apple Watch: The cost is $9.99.
iPad: The cost is $19.99.
Note: All of them have full features such as; list reminders, calendars, Siri support, drag and drop, and list views.
---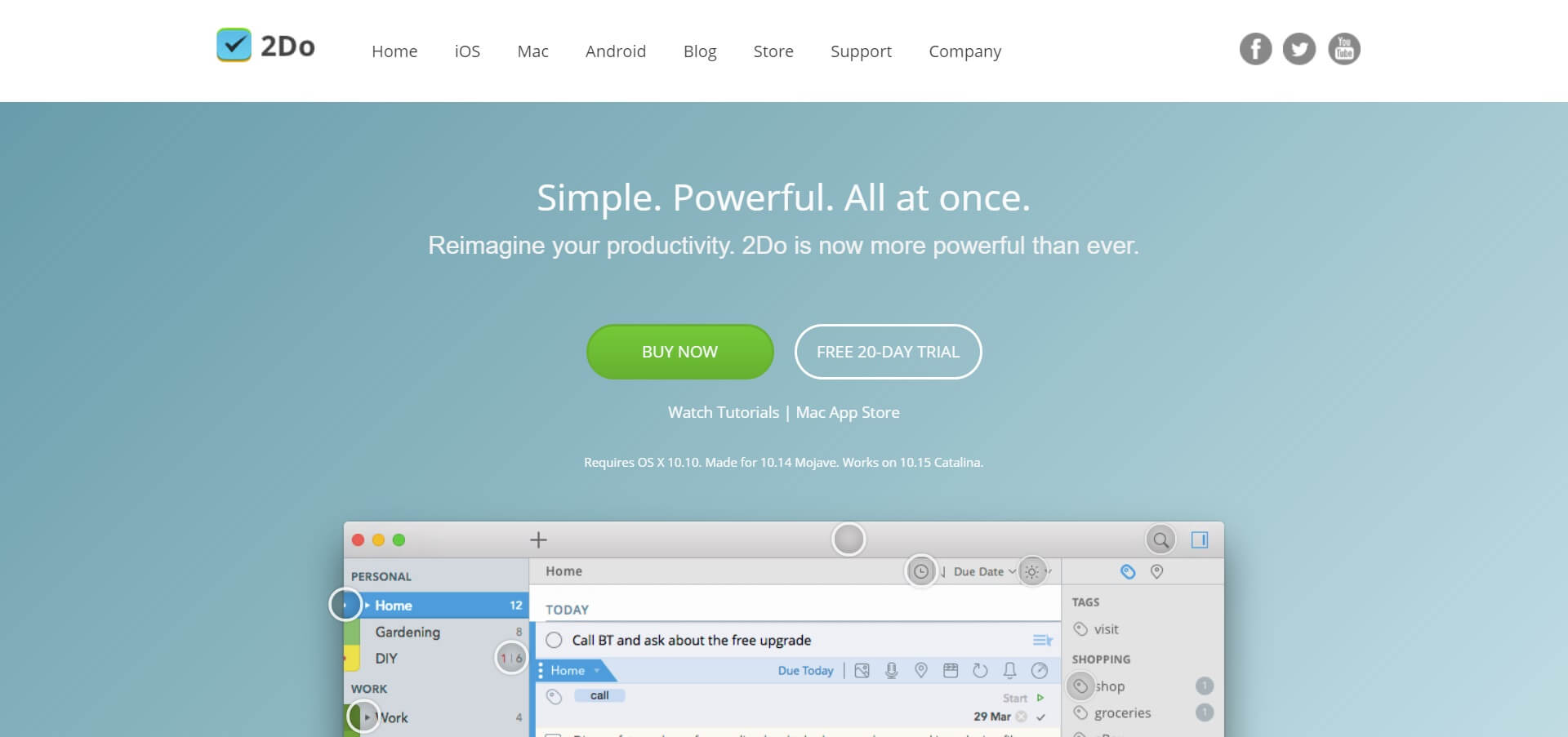 2Do is the GTD method app that lets you manage your tasks effectively. It has an easy to use interface with a set of powerful features. It helps you focus on what matters the most and manage your workspace tasks more effectively.
2Do app consists of simple tasks, checklists, and projects, and you can set them using several options. There is smart lists option that allows you to view upcoming, starred, or scheduled tasks. You can also have custom views of your tasks. This gives a complete overview of your tasks so they can be finished on time.
The application comes with the feature of adding detail to your tasks. 2Do app is great for small and large businesses. It makes you and your team more productive by accomplishing the most important tasks first. All of its features amplify the GTD productivity technique.
Key Features
There are automatic periodic backups that can also be transferred from one machine to another.
To protect your data and life, there are password security options and also locks out with a single click.
The notifications and alarms keep you on top of your tasks. You can also set up automatic alarms for your tasks.
Sync your data and keep them on multiple devices. Devices can be added or removed anytime you want.
You can easily assign tags to tasks and find them with a single click. You can select multiple tasks and add them to the calendar to create a quick schedule for all.
The filter and sort options can be used to sort out what you want.
The quick add feature enables you to quickly add whatever you want.
Pricing
2Do costs $14.99 for iOS (iPhone and iPad). The Mac version costs $49.99 and is directly available on the App Store with all features, such as quick inbox, notifications, alarms, syncing, and more.
---
Download: Mobile apps not available
Pricing: Starts from $9 per month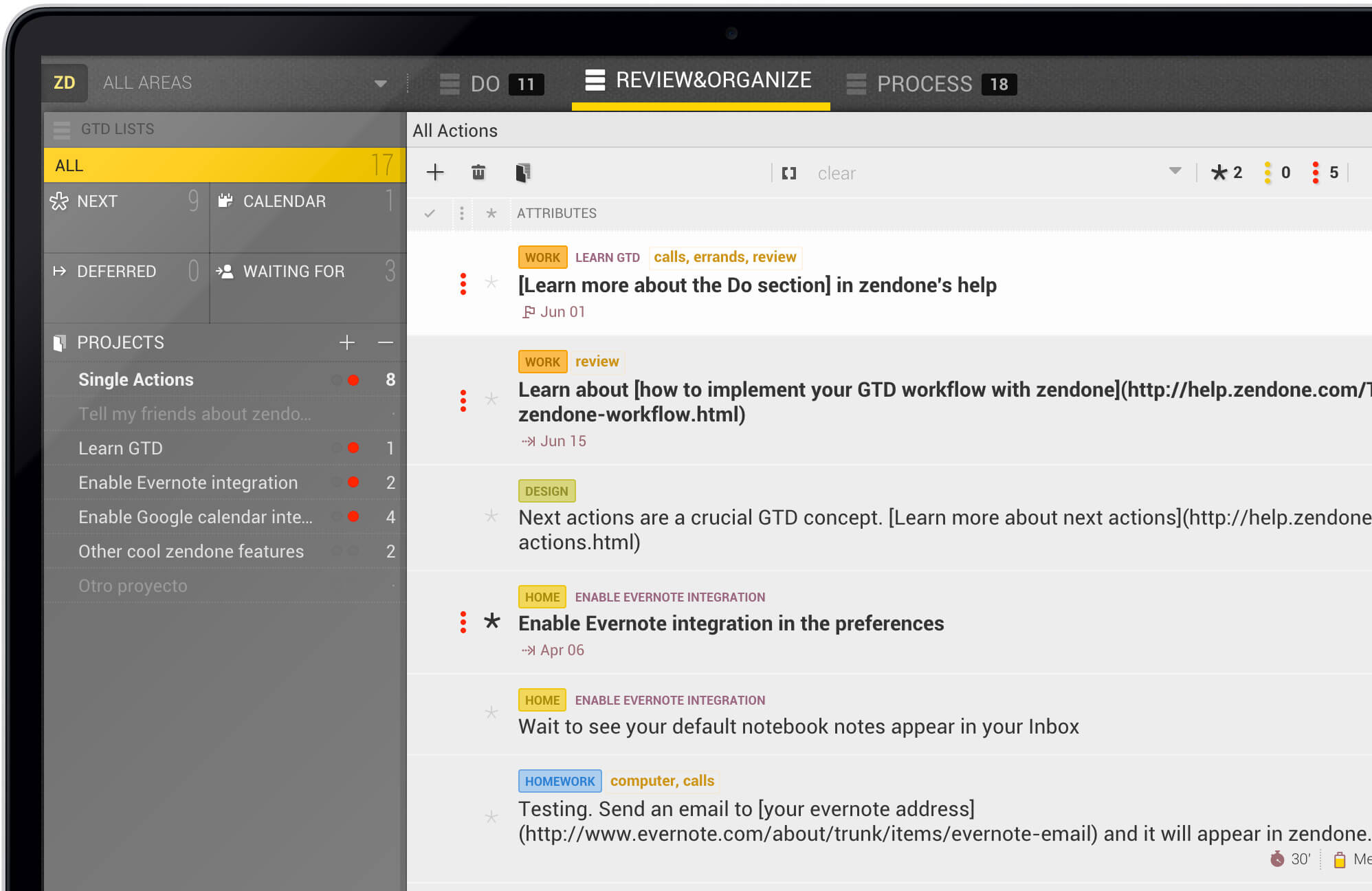 Zendone is a good app for GTD users. It has a beautiful yet simple design with GTD language and vocabulary. It can be integrated with other note-taking apps and that makes it one of the best Getting Things Done apps.
This GTD app comes with time tracking and sub-tasks management, to better manage your projects. It is a web-based implementation of GTD, which also gives seamless task synchronization.
There is inbox processing, list, reviewing, and do tasks list which set priorities for the workflow of the project.
Zendone is currently a web-based tool and can be integrated into Google Calendar directly. Unlimited actions, such as the tickler folder, can be added in which you can add tasks for the day. It follows David Allen's GTD technique a little more intricately than most apps.
Key Features
Zendone can group tasks in the latest version, and you can set certain criteria to group certain tasks together.
Zendone makes lists/sections readily available for selection, which enables faster processing.
It also offers offline support in case you need help organizing your workflow.
Zendone 1.0 and 2.0 both have a cleaner and nicer interface, in which everything is easy to manage.
The Evernote and Google Calendar integration is amazing and you can edit Notes from Evernote within tasks of Zendone.
Zendone tends to follow the GTD method more closely than others by giving you the feature of time estimates and tags.
Pricing
1 month: The cost is $9/month
3 months: The cost is $8/month
6 months: The cost is $7/month
1 year: The cost is $5/month
Note: They all have features such as calendar, integration, tickler folder, time estimates, and tags.
---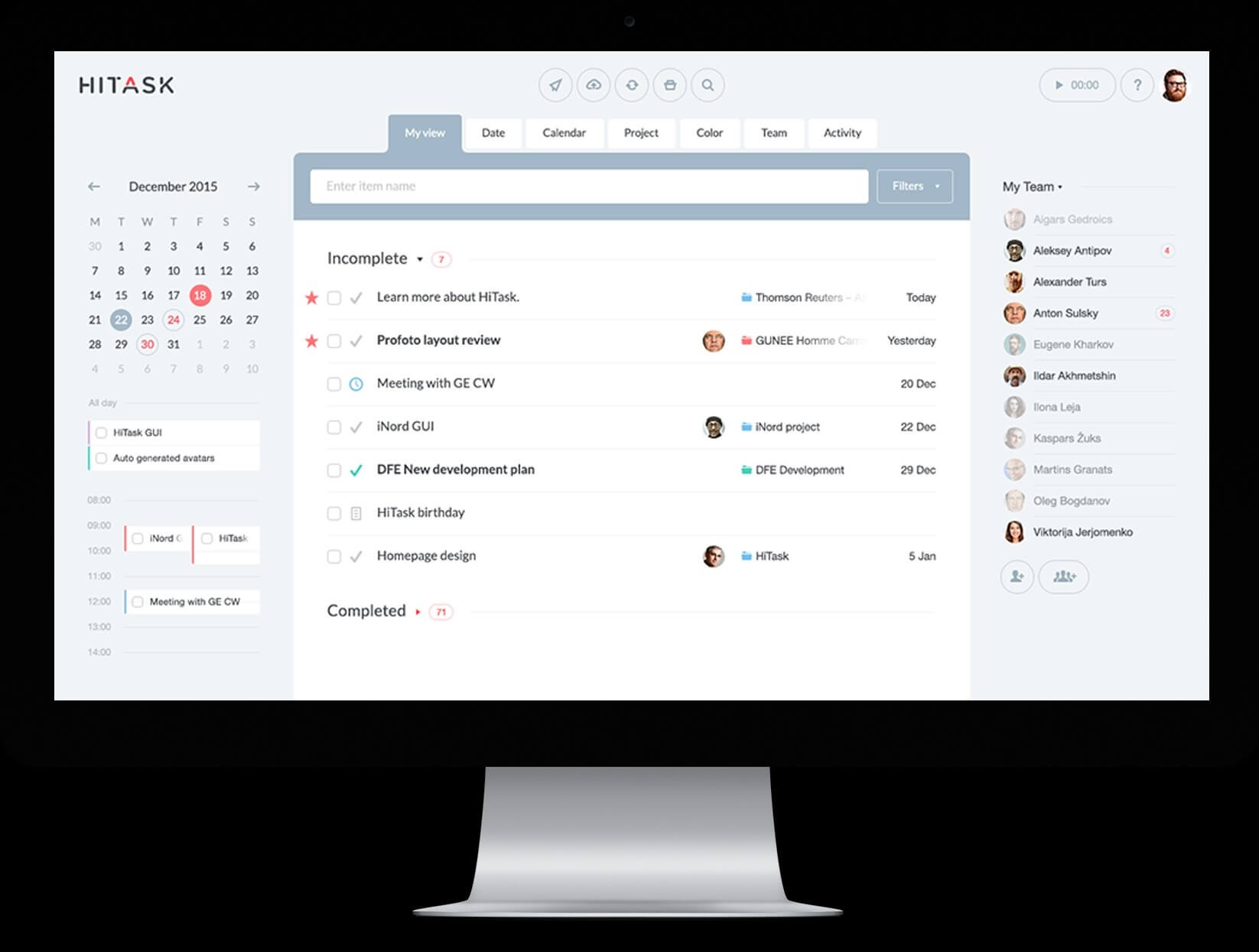 Hitask is another free task management and productivity tool for those wanting the GTD method. This one assigns, prioritizes, and reminds you of upcoming tasks. It can also sync with any device. This software has great features that give good project progress reports, along with powerful team collaboration.
It has a clear design with tabs on the front to help you manage smartly. Use Hitask to organize, share, comment, and do projects with the use of tags and colors. Hitask offers creating calendars, tasks, subtasks, document storage, and sharing as important features of GTD.
These help in capturing, clarifying, and organizing parts of GTD. While its sharing and time tracking option can help in reflecting and engaging part. Hitask takes the GTD productivity technique very seriously and makes sure it is applied in all of the project workflow processes.
Key Features
With Hitask, you can receive email and push notifications when a task is assigned, changed or any comment is added.
The hierarchical task organization and sub-tasks feature allow easy mind mapping of the project at hand.
You can use Hitask anywhere on any device because of its web-based software.
You can use tags, colors, and themes to organize tasks as you want.
What is more, is that you can easily create tasks by sending emails to your Hitask account address.
You can include shared and private tasks on the same schedule.
Pricing
Free:  It is free for up to 5 users, with unlimited tasks, shared task lists, projects, and calendars.
Business: The cost is $5/user/month with the same features as Team Free, including; real-time calendar sync, unlimited storage, selective sharing permissions, and priority online support.
Enterprise: costs $20/user/month with the same features as Team Business, including; 24/7 online support, personalized assistance, and single sign-on integration.
Conclusion
David Allen's GTD technique is a productivity methodology, which saves your day from unnecessary work. It helps in managing your tasks in a better way but also lets you decide the right time to do the right kind of task.
This helps in improving productivity and you are sure your energy is not wrongly misplaced.
We mentioned some of the best GTD apps to accompany you in your projects, tasks, and more. You can always use them to save your ideas, process them, or work on them to achieve your goal.
Please let us know in the comments below, how you apply GTD in your life and which app is your favorite one.
---
Getting Things Done – Frequently Asked Questions
🌟 How to Use the GTD Method?
There is a whole methodology to use and apply the GTD productivity technique, don't worry as mentioned before the GTD method is fairly simple to use.
Once you start the first step of capturing thoughts with GTD, your mind starts opening up and runs on a path created by a visual mind map.
Once the visual mind map has been created, the core tenet of the GTD method starts generating into an external system allowing you to see the mind map go live. After step 1 has been completed, steps 2 through 5 of the GTD method are completed with ease and help you achieve your goal.
There are many Getting Things Done apps, which sync your data across various platforms for easy access.
🌟 Why Should You Use the GTD Method?
You have a hard time remembering important information and tasks.
You anxiously worry and stress about forgetting vital details.
There are numerous tasks and intimate details that need to be kept track of simultaneously.
Productivity is your goal and you need to get more done efficiently and effectively.
You are managing several projects with close crossing deadlines, and you are having trouble completing them.
You are having difficulty creating and managing a work-life balance, which is very important in the long run.
🌟 What are the Benefits of the GTD Technique?
We believe many benefits come with the use of GTD, such as;
GTD allows you to become stress-free since it gives you a planned and organized method of management. This level of organization and planning gives you clarity on how to perform and review your steps.
Time management is another one of the biggest benefits of the GTD method, and you can finish your tasks without haste.
GTD makes you question every step of the process, to give it a sense of meaning as to why you want to accomplish that particular goal.
David Allen's GTD technique is ideal for those who have trouble staying focused. Since it is designed to help you to concentrate, it helps you stay on top of things by becoming organized.
Your creativity levels increase since it helps rid your mind of overly anxious thoughts.
GTD method is flexible and gives you the freedom to choose from a set of tasks to complete if for some reason you are not able to carry on with a particular task.
The GTD method increases productivity, and it does so by giving you dashboards where all your tasks are structured and you can decide to do them accordingly.
All the material is referenced, classified, and organized according to the detailed knowledge you may need.
---
Other SaaSy goodness on All That SaaS: