In this roundup, we will take a look at some security concerns and other issues that Zoom's users have been complaining about, and then take a look at other powerful video conferencing software that can become the best Zoom alternatives for you.
Want to read more about Zoom's capabilities and features for video conferencing, webinars, screen-sharing, and more? Check out our Zoom review.
The Coronavirus pandemic has changed the way we work, forcing many workers to adapt to working remotely. Since then, most experts depend on video conferencing instruments to perform everyday gatherings or undertakings than at any time in recent memory.
Zoom is one of the applications that gained the most traction halfway through COVID-19. In April 2020, Zoom saw a 225% increase in connections, and data usage increased by an astounding 877% on the network, research says.
All things considered, an ongoing convergence of security issues into Zoom has caused some variance in the utilization of Zoom. Leading teams at Google, SpaceX, and NASA have restricted the use of Zoom for their staff.
Moreover, more than one-third of Zoom users said that they now fear that Zoom might have security flaws that might cause important data to be leaked.
🤕 Features Missing in Zoom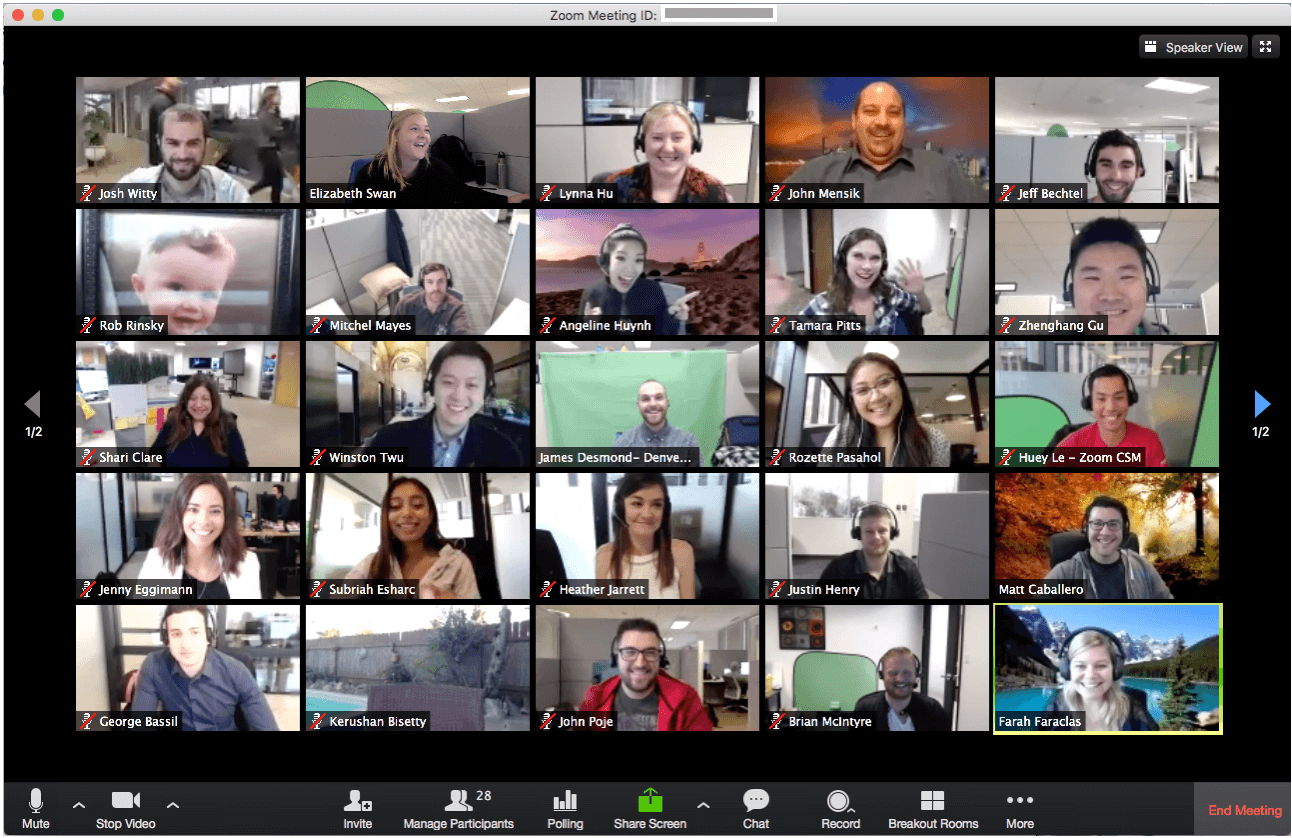 😞 No End-to-End Encryption
Let's begin with security – Zoom lacks an important feature: end-to-end encryption. Any Zoom meeting you are attending is not end-to-end encrypted which can be a concern for many teams.
Facing various privacy concerns previously, Zoom announced that it will introduce E2EE, but only for its paid customers. Free Zoom users will continue to video conference unencrypted, and there is a reason why.
Lastly, has an unexpected guest joined your Zoom meetings and shared grimy media in the past? If that has happened in the past, you are not alone. It got so common after the pandemic, it even has a name now; Zoombombing.
😞 Free Plan Limits
The free plan for Zoom is great, but it has some drawbacks that you must bear in mind to avoid running into problems.
Firstly, Zoom's basic version can only accommodate up to 100 attendees, which can be a downside if you don't want to pay for a service and might exceed the limit.
Secondly, meetings can only last up to 40 minutes on the Free plan. After the first 40 minutes, the meeting will end automatically, and all participants will be disconnected from the meeting.
A lot of Zoom free users don't know about this limit and get confounded after their meeting closes unexpectedly after 40 minutes.
😞 Other Issues
Just signed up for Zoom? If you haven't got an activation email for your new Zoom account, don't worry. It will arrive but may require some time.
While most activation messages will be sent right away, some may take as long as 30 minutes to reach your inbox. There is nothing that you can do, except hold on.
Moreover, If you have private meetings enabled inside Zoom to prevent Zoombombing, sometimes, adding attendees to your meetings can be rather tedious, especially if you have to include a long list of attendees.
---
What Are the Best Alternatives to Zoom in 2020?
1. Slack – Best Zoom Alternative for PC
Check out our top picks for the best Slack alternatives.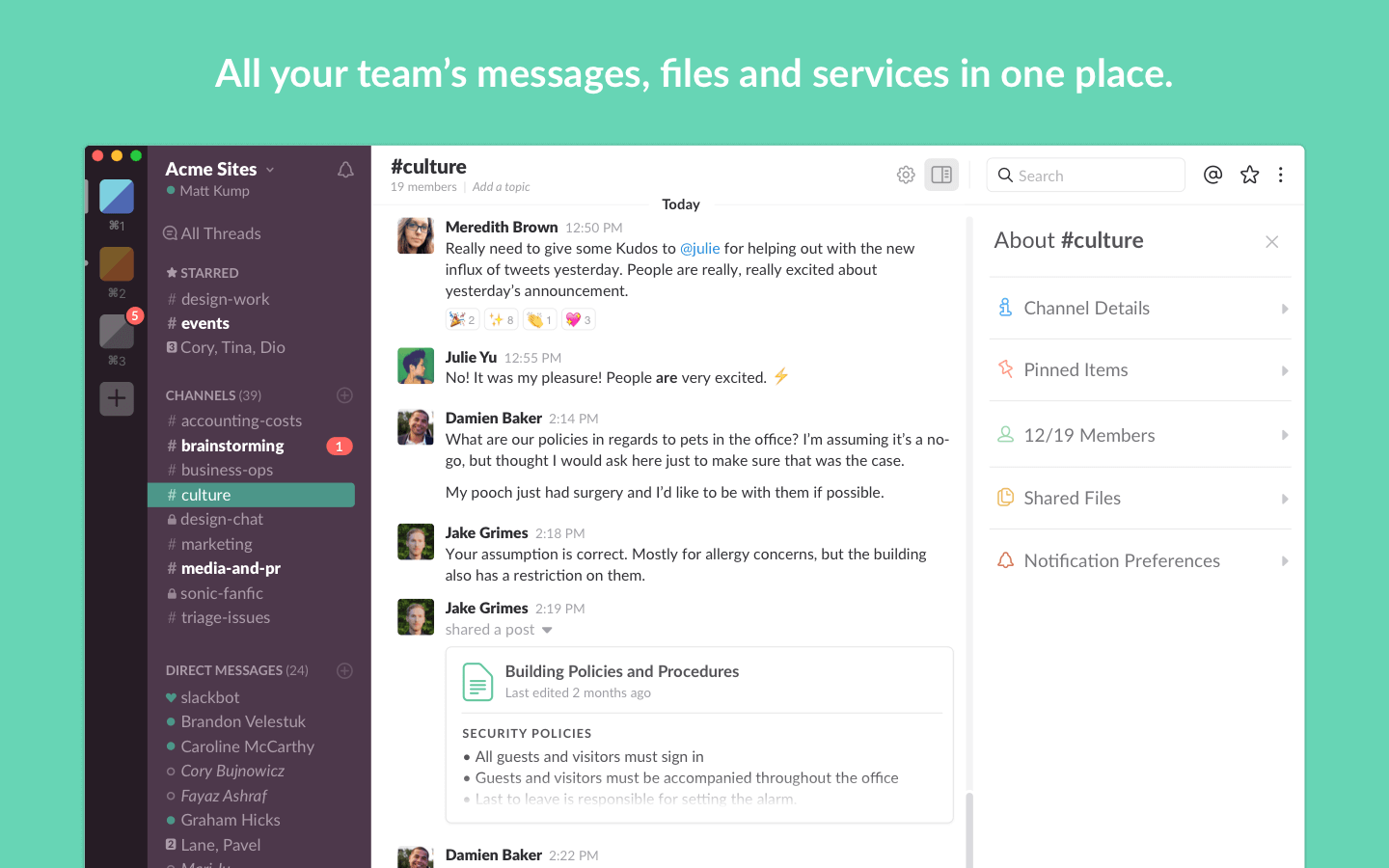 Slack ranks 1st in our best Zoom alternatives list. It is a cloud-based team communication platform that supports real-time communication, archiving, and search.
Organizations can use the app as an alternative to email. Slack can be considered as one of the best Zoom alternatives for teams to e-meet and collaborate.
Slack connects to the tools and services that businesses already use and centralizes notifications, files, and data from hundreds of different applications.
This means no longer searching for that one follow-up through emails, constantly switching between different tabs and dashboards, or juggling dozens of tools-each with its login.
Slack's teams work together in networks that can be grouped by project, department, office location, or whatever. This makes it easy for users to follow the topics that they find relevant.
Everything shared in Slack is automatically indexed and archived so that, simply by working in Slack, companies can create a comprehensive knowledge base with zero effort. And, Slack's search makes finding the information users need easy, whenever they need it.
Key Features
Every message, file, and notification, as well as content within PDFs, Word, and Google Docs, are indexed and archived for easy searching
users can use powerful search operators for fine-tuned searches
Versions for Linux and Windows Phone are in beta
Users can arrange open channel conversations by the team. Participants can make a forum to work on a project, a subject, or a particular group, in which anyone can see the conversation transparently
Meeting participants can generate private groups and add selected team members
Simply send a direct, secure, and private message to any other colleague in your meetings
With slack users can not only communicate, but also they can upload files, photos, spreadsheets, and PDFs to the platform to share files more easily.
Pricing
Free: perfect for small meetings that don't want excessive message history.
Standard: costs $8/user/month, or $6.67 per year. The plan offers search history for an unlimited number of messages, unlimited integrations, etc.
Plus: at $12.50/user/month, or $15 per year. It offers all the features in the Standard plan along with higher security, support, sync, etc.
Enterprise: for extra-large businesses or those in regulated industries. Contact sales for price.
---
2. Join.Me – Web-Based Zoom Alternative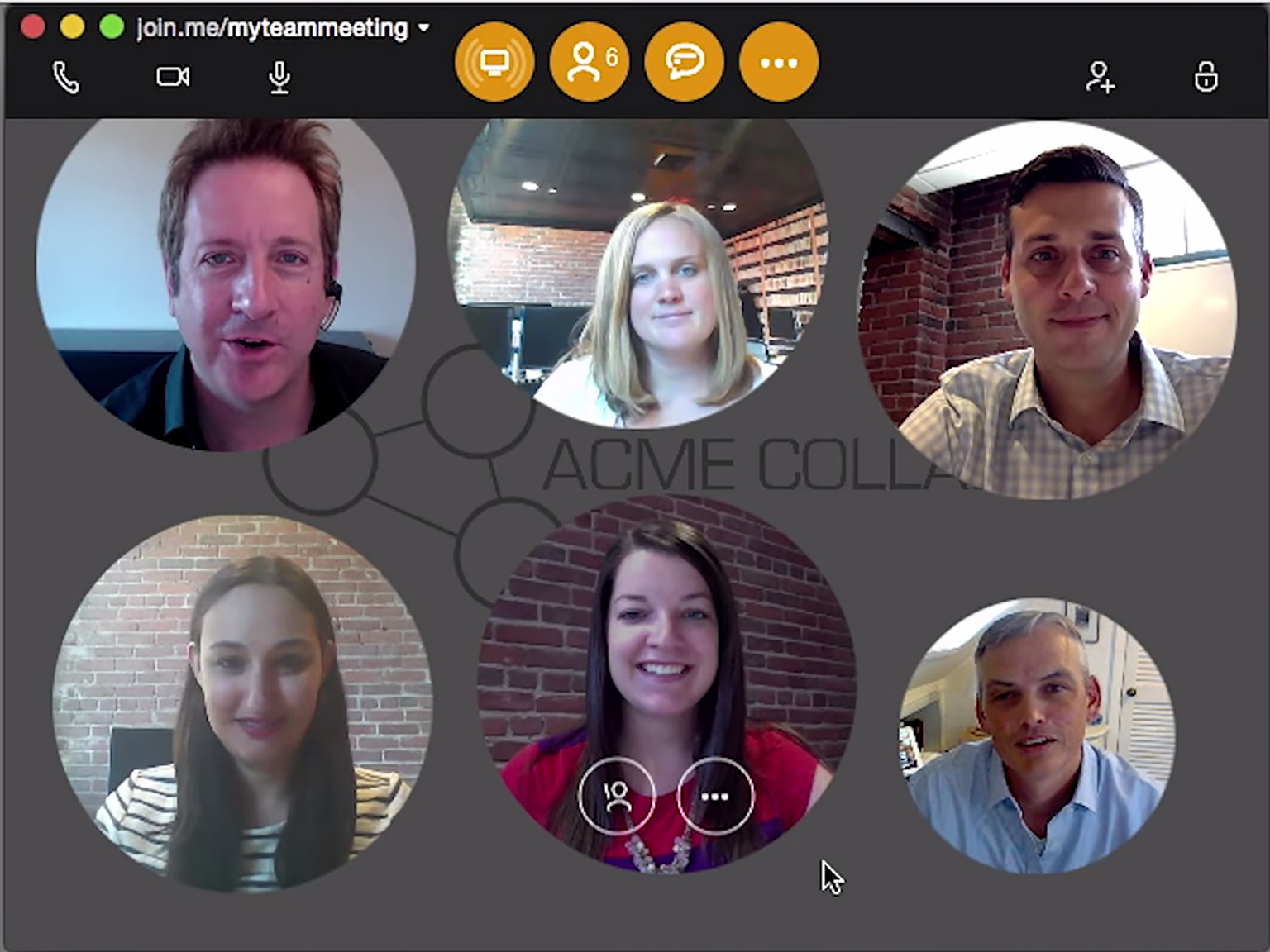 Join.Me is a cloud-based application that enables people, businesses, and organizations to meet online in a moment for different purposes. Developed by LogMeIn, Join.me is created and maintained by top developers and runs on a secure platform.
The friendly design and flexible pricing structure make Join.me a top pick for our roundup of the best Zoom alternatives in 2020. We can set up a single code for customized URL meetings, and invite users with quick, automatic email notifications.
Another distinctive advantage of this system is that it requires no complex installations or expensive training, as it is hosted in the cloud and ready to run upon implementation.
It interacts with all leading contact management and email systems to promote the import of contacts and easily fits in any corporate ecosystem.
Key Features
me platform's screen sharing module enables users to distribute and annotate content on windows
Its conferencing tool allows enterprises to host meetings using video bubbles, personal links, and an audio-only option
The software comes with webinar solutions that help users create custom registration forms, e-mail invitations, and reminders
an intuitive interface allows everyone to communicate and work together on the same page despite the distance
There is no need to download software or sign up for an account. Users simply have to click the "start" button to initiate a meeting or click the "join" button to enter one
Its simplicity and ease of use and the fact that users don't have to download or sign up for anything makes Join.me a very appealing and popular platform even among giant corporations and big organizations
Record meetings feature that allows audio, video, and screen recording and keeps them in the database
Pricing
Join. I offer flexible pricing plans to access its features. Although it does not give a free plan anymore, Join.me plans are extremely affordable. Plans are priced monthly and are billed per user annually:
Lite: costs $10/month. The plan enables up to 5 participants/meeting, no webcam steams, no time limits, etc.
Pro: costs $20/month or $13/month (for non-profits). The plan enables users to access all lite features along with 250 participants/meetings, 10 webcam streams, recoding, etc.
Business: costs $30/month or $20/month (for non-profits). The plan enables users to access all pro features along with 1TB cloud storage, bulk user import, etc.
---
3. Cisco WebEx – Secure Alternative to Zoom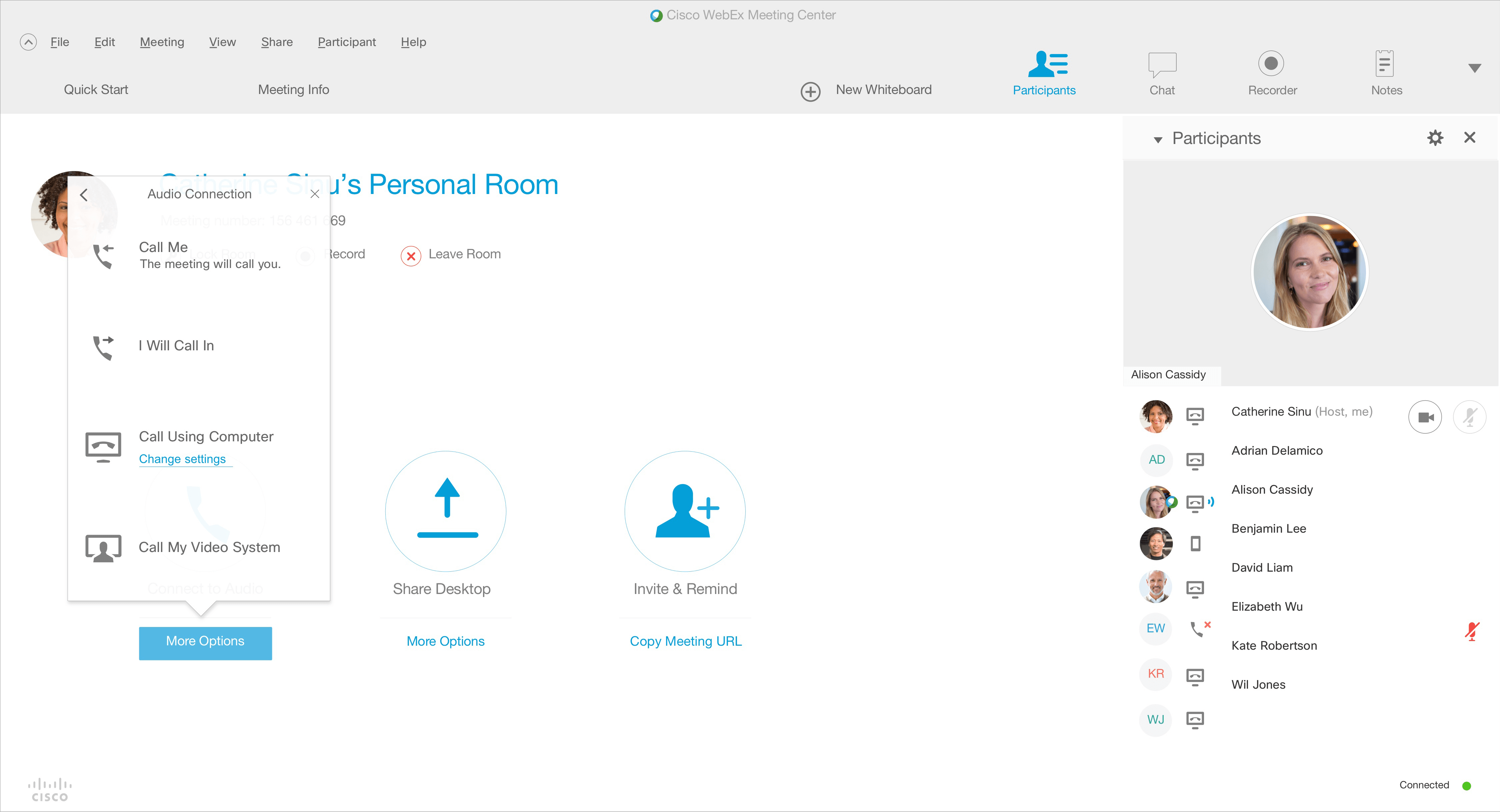 Cisco WebEx is often described as Zoom alternatives for team communication. It has powerful audio and video conferencing capabilities designed for businesses of all sizes.
WebEx is a popular web conferencing platform that incorporates the primary resources that allow users to conduct online meetings that are data, speech, and video instantly.
Even highly recommended for large scale product releases and educational sessions are this video conferencing program. Its broadcast-quality audio, conference calls, and teleconferencing system help users in building an efficient team communication network.
Cisco WebEx is also defined as a secure platform with multiple collaboration tools to hold meetings and work with.
Included in different plans where each plan provides a particular workspace capacity and meeting room, Cisco WebEx will accommodate several meetings that provide users with experience in real-time.
Key Features
Cisco WebEx has a feature called WebEx Meeting Center that makes it easy for users to schedule, start, and conduct online meetings
In scheduling a meeting, a user can prepare an invitation using Microsoft Outlook, and then the schedule will be loaded into the Cisco WebEx system by clicking the "Add WebEx Meeting" tab that appears in Outlook
To invite attendees for a meeting, the only information needed by the host or presenter is their email addresses and attendees can join through their phone, computer, or video system
The software is also enabling users to switch instantly from one device to another while an online meeting is on the fly
WebEx Meeting Center facilitates easy access to meetings making attendees active participants
Cisco WebEx also has its Training Center where maximum collaboration is enhanced
In the training center feature, the software automatically sets up the screen view depending on the type of file that is being used. For example, whether it's a PowerPoint Presentation, a slide presentation with all the required controls will automatically appear in the screen view.
Pricing
Cisco WebEx offers 3 pricing packages offering unlimited meetings:
Premium 8: costs $24/user/month or $19/user/month (yearly subscription). Up to 8 people/meeting.
WebEx Premium 25: costs $39/user/month or $29/user/month (yearly subscription). Up to 25 people/meeting.
Premium 100: costs $69/user/month or $49/user/month (yearly subscription).Up to 100 people/meeting.
All plans provide simple features such as full-screen video conferencing (up to 7 video streams or split-screen), sharing apps or the entire computer, VoIP or phone call-in, and more.
---
4. Hangouts – Free Replacement to Zoom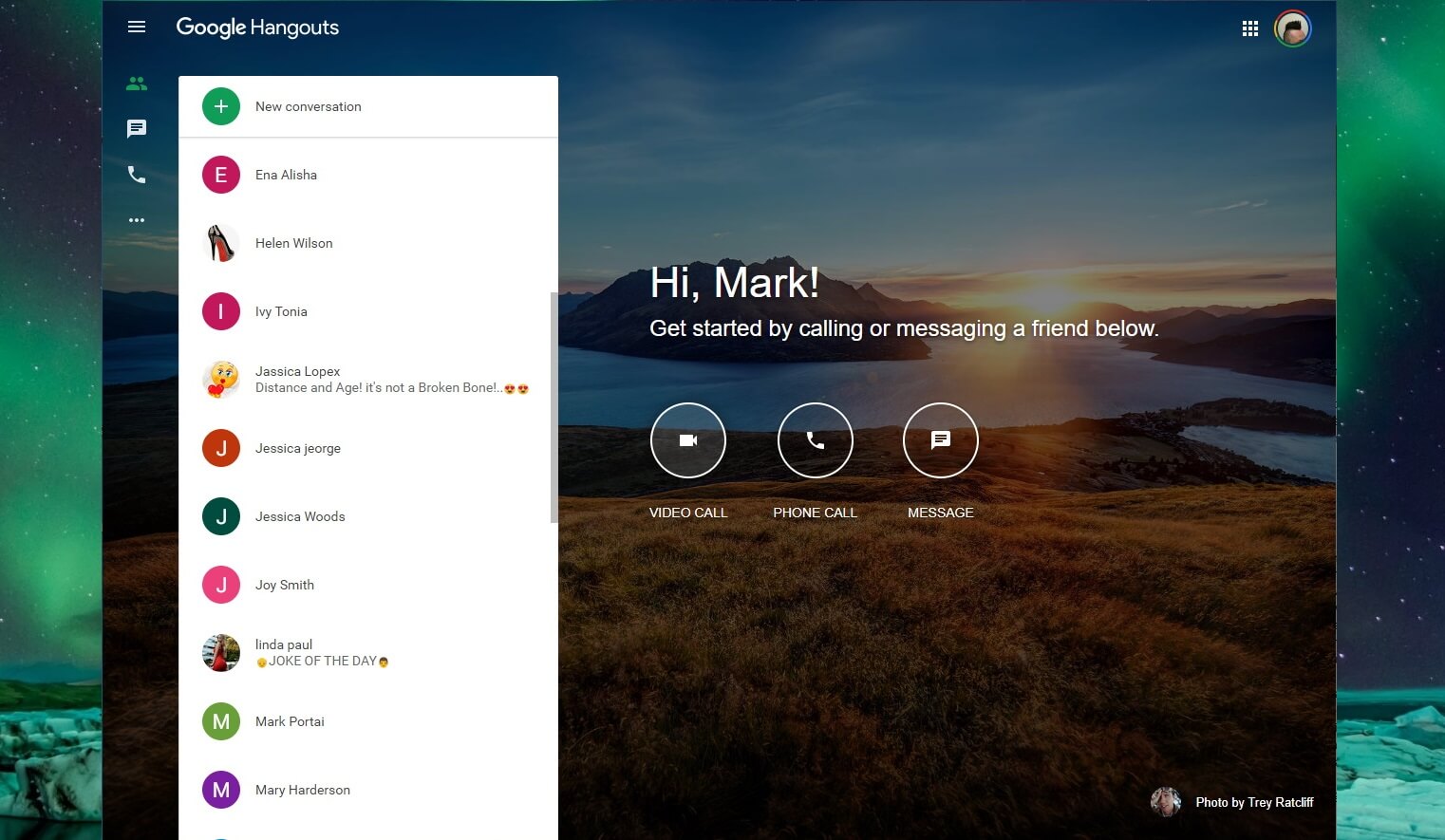 Google Hangouts is one of those video conferencing apps that are fast gaining traction. It is Google's oldest audio and video chat service, launched in 2013.
The platform is a Google-developed communications platform that can enable users to generate or participate in various communication channels, like audio, video calls, and direct messaging.
This framework has proven to be useful for either single-on-one implementation or implementation by the group. As a result, Hangouts is our top pick for the best free Zoom alternatives available in the market.
Key Features
In a corporate setting, Google Hangouts can be implemented as a collaboration platform for meetings and interaction between business owners and their customers via HD video
Google Hangouts has a feature for companies requiring live video broadcasting that enabled Google+ users to stream video calls through YouTube
Connect your Google Voice account for a phone number, SMS, and voicemail integration
Users also have access to common business systems and service providers, including Zendesk, Slack, Fresh Service, and many others
Google Hangouts nicely blends the features and functionality of Google's previous business apps, particularly the Google Talk app
A user's avatar 'watermark' is used as a marker to indicate how far they have read the conversation
Images can be exchanged during conversations, which are uploaded to a private Google+ archive automatically
Pricing
Google Hangouts is available for free for receiving and making calls and video conferencing. Pricing for Google Hangouts starts at $5 for 30 GB of storage and only doubles for unlimited storage.
---
5. TeamViewer – Powerful Zoom Alternative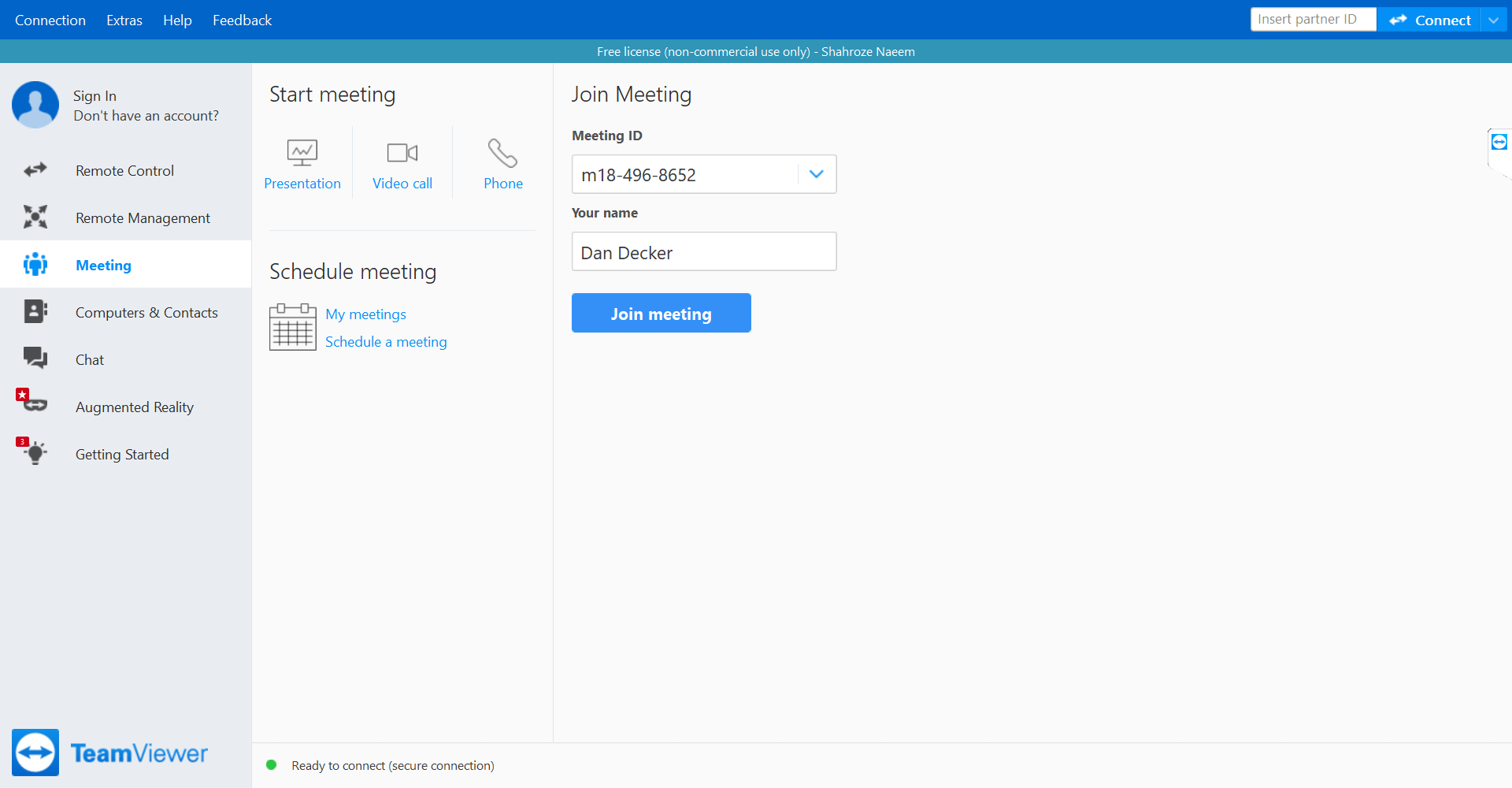 TeamViewer is a leading global provider of remote access solutions enabling users to connect anything, anywhere, anytime. It is ideal for desktop sharing, remote control, and file transfer, TeamViewer can easily work behind any firewall or NAT service.
This video conferencing software offers secure remote access, assistance, control, and collaboration capabilities for all forms of online endpoints.
TeamViewer provides an extremely powerful and highly accessible system, making it one of the most powerful Zoom alternatives.
It is installed on more than 2 billion devices and hosts up to 45 million online devices at any given time. Founded in 2005 in Goppingen, Germany, the company employs more than 800 people today in offices across Europe, the United States, and the Asia Pacific.
Key Features
Easy transfer or the passing of control from one party to another. This speeds up the workflow and improves productivity as well
Team sessions make it easy for administrators to manage multiple parties at any given time
Quick and easy file sharing using a drag and drop interface allows users to collaborate and work together in fixing issues
Teamviewer allows you to log on to your colleague's computers to have a look at projects together or it can help you manage your customer support in a more efficient way
You can also share contact lists with co-workers and create specific groups for document sharing. Even if you've rushed out of the office and forgot that important document, this won't be a nightmare because with Teamviewer you can print out documents from remote computers
You can also record your training sessions including sound, VoIP, and videos for further use
Teamviewer has also finally released a version for Windows Phone 8, which means you can not only access another machine from your computer but also from your mobile phone which is very handy for meetings
Pricing
Teamviewer is available as a downloadable software with varying one-time license fees:
Free: for personal, non-commercial use, or as a trial version for business users.
Business: costs $749. Offers unlimited endpoints, single-user license, device management, etc.
Premium: costs $1,499. Includes all features of the Business plan along with business features, multi-user (floating) license, and more.
Corporate: costs $2,839. Offers all features of the Premium plan along with customizable customer modules, mass development, and more.
---
6. GoToMeeting – Best Zoom Alternative for iOS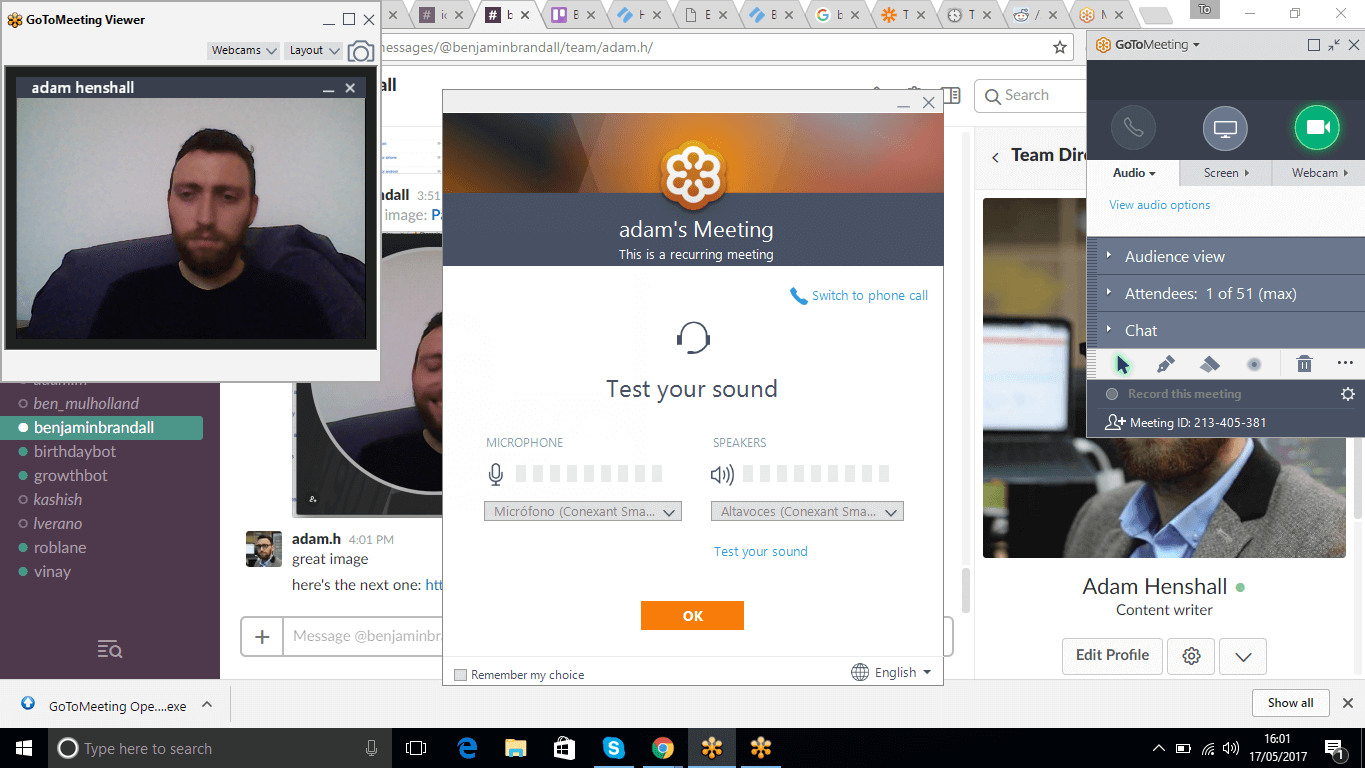 GoToMeeting is an online conference system that is simple yet powerful. It comes with HD international video conferencing capabilities, making it our top pick among the best Zoom alternatives.
The app shows a user-friendly interface and you can launch a meeting in mere moments. For its pricing structure, the same flexibility and simplicity apply, and the various integrations it can provide, such as Podio, Slack, Accord LMS, Zapier, Microsoft Office 365, and many more.
GoToMeeting is an excellent choice for businesses whose needs have outgrown entry-level tools for video conferencing and are looking for powerful Zoom alternatives.
Features
GoToMeeting guarantees record uptime and reliable customer support at any moment
From the user-friendly interface, one can easily create a meeting and then provide participants with a custom URL for them to enter the online conference room
GoToMeeting works seamlessly with PC and Mac, as well as Android and iOS devices, which means users don't have to scramble for compatible devices so they can join the conference
With features such as multi-national toll-free numbers, GoToMeeting is a great framework for international gathering and conferencing
The PIN-based entry adds to application protection
Participants need to enter a PIN or a code before they can join the conversation, something not offered by many similar platforms. Although many users see this feature as cumbersome, the majority prefer this feature to offer a sense of security
Support is top-notch as well. Users will enjoy GoToMeeting's resources and support platforms, including instructional videos, online chats, online instructional, and PDF outline.
Pricing
Starter: costs $19/month. It contains all the free apps that are complemented by 10 members, conference line dial, and HD video call.
Pro: costs $29/month. It provides all start features that are augmented by 50 members, drawing software, recording, etc.
Plus: costs $49/month. It offers all pro features topped up with 100 participants, an active directory, and a sight board.
---
7. AnyMeeting – Best Zoom Alternative for Android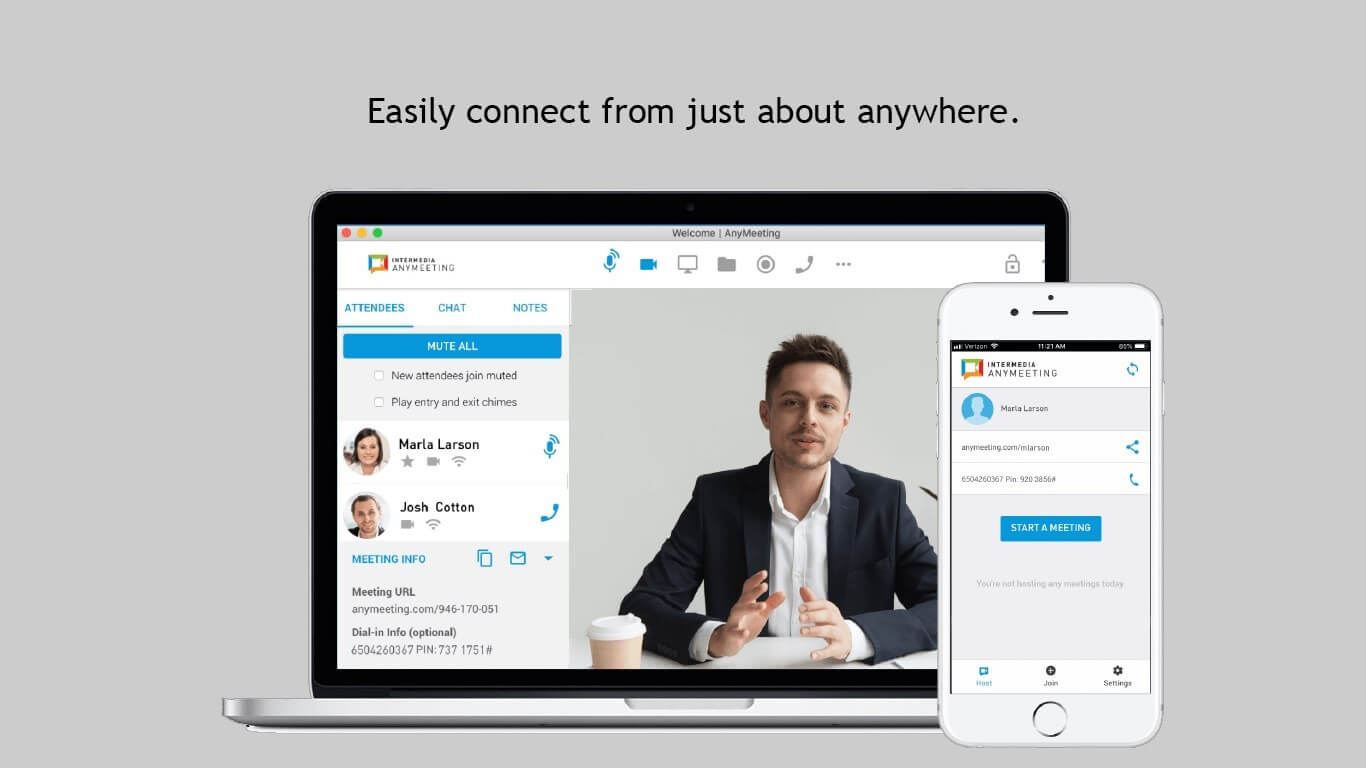 AnyMeeting serves SMEs in all areas including human services, educational administrations, financial administrations, real estate, and some more.
It's anything but hard to use, and expertise is anything but hard to bring into the work area and mobile phones so you can hold comfortable, trouble-free meetings anywhere, whenever you want.
AnyMeeting is one of the best Zoom alternatives because it combines remote communication with HD audio and video quality, interactive collaboration tools, and other powerful capabilities for smarter, engaging, and actionable meetings.
Features
Full HD multimedia: 720p High definition video communications that allow up to 12 webcams (Pro only)
The software offers unlimited online meetings
Audio: call numbers and PINs are given to allow participants to participate by telephone or device
Screen annotation: During a conference, participants will call up important points on a shared screen in real-time
Meeting transcripts and insights: Meeting hosts can automatically transcribe documented meetings and recognize actionable things
Notes: Real-time catch-meeting notes are immediately sent to all participants in the meeting
Remote control: give direct control of your keyboard and mouse to the participants so that you can work together better
Pricing
AnyMeeting has a Free plan, but till 2023, you can use all its paid features for absolutely free.
Starter: Free of cost, 4 participants, unlimited meetings, custom meeting URLs, recurring meetings, instant and scheduled calls, VoIP/PTSN audio, and more.
Lite: starts at $9.99/user/month, 10 participants, 200 web & phone participants, 10 HD video participants, attendance reports, chat reports, 99.99% SLA,
Pro: starts at $12.99/user/month, offers business quality tools for teams of all sizes. Custom credits / consumer / month (up to 100,000 points). Features include unlimited insights into the technology, unlimited company insights, Leads unlimited insights, etc.
---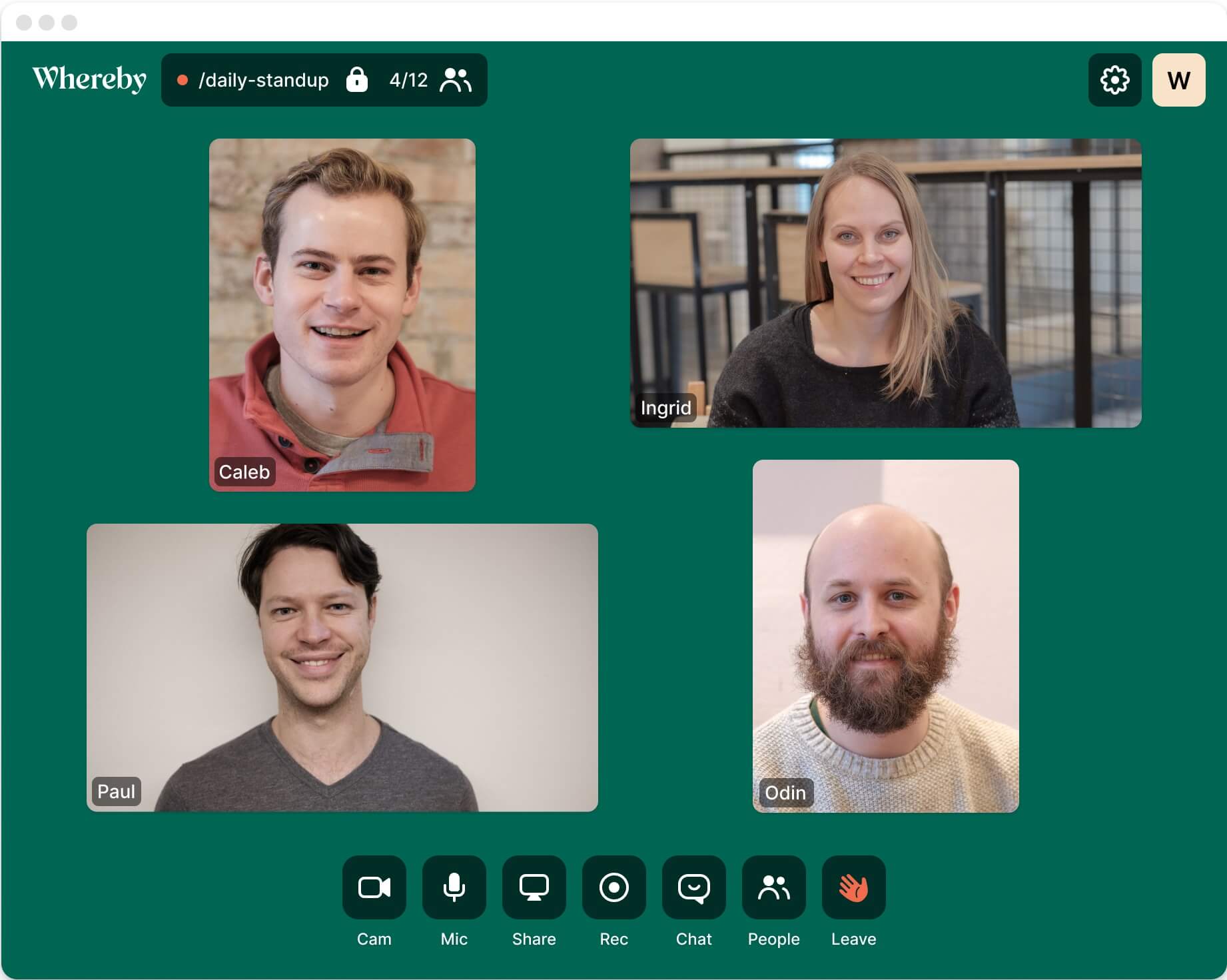 Whereby the video meeting organizer, screen sharing, and video conferencing platform is user-friendly. This platform helps users to enjoy the privilege of providing simple video conferencing from anywhere to live and work.
It allows the user to easily hold team meetings, exchange ideas, share information, and take updates about each other. Whereby is a lightweight online tool that doesn't need updates, facilitates guest attendees, and runs smoothly in the web browser.
Users can also add meeting capabilities to their websites or apps with Whereby's Meetings API. I found Whereby one of the most user-friendly Zoom alternatives for video conferencing, providing excellent value to small and medium-sized businesses.
Features
Sharing the screen, customizable privacy settings (lock/unlock rooms), custom branding, and third-party app integration such as Slack, Trello, and YouTube
Visitors can access video conversations using a custom connection that can be exchanged via email, chat, or any other channel, and no individual logins or passwords are needed when accessing a chat.
Participants may set up locked rooms with adjustable privacy settings including authentication and guest screening.
Custom branding: Add custom backgrounds and logos to showcase your brand
Up to 50 in one call: Any room in a team account can be made XL to hold up to 50 people per call
Easy screen sharing allows teams to quickly resolve questions, workshop ideas, and pitch to clients
The versatility of browser-based chat and stored chat rooms allows scheduling meetings a breeze on various channels through a dispersed team
Pricing
Free: for personal use. It offers 1 user, 1 meeting room, up to 4 meeting participants, etc.
Pro: for individual use for professionals at $9.99/month Inc. applicable taxes. It offers 1 user, 3 meeting rooms, up to 12 meeting participants, etc.
Business: for small and medium teams. The plan starts with 10 meeting rooms and costs $59.99/month. It offers up to 50 meeting participants, 12 participants can be on stage with video at the same time, the rest will be audio-only, etc.
---
9. Microsoft Teams – Best Free Zoom Alternative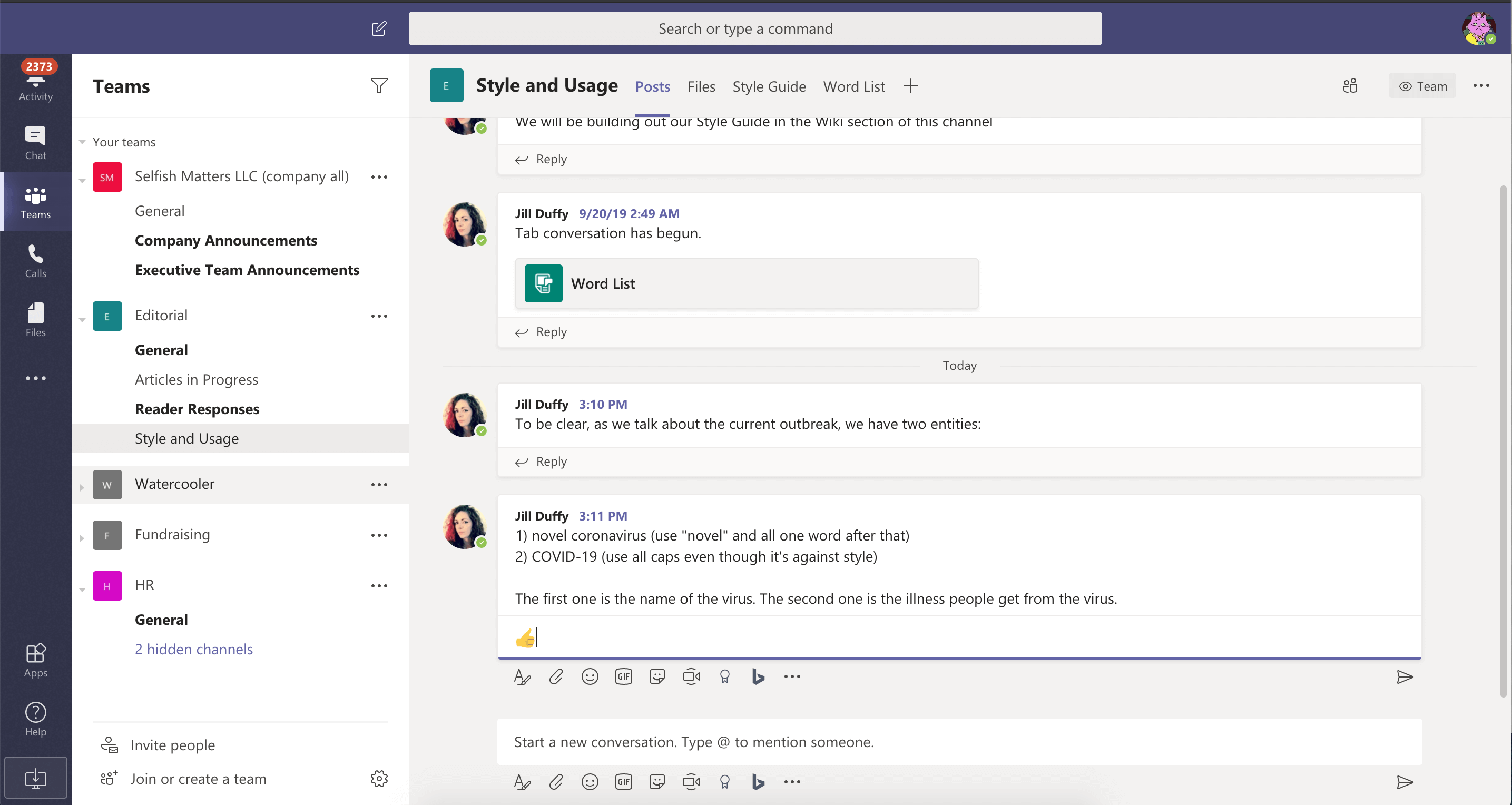 Microsoft Teams is Microsoft's all-encompassing working stream collaboration plus a shared communications framework – combining meetings, notifications, calls, and file sharing with the Office 365 technology stack to bring us together in a collaborative workspace.
Microsoft Teams and Zoom both overlap and compete at a very high level in the way they provide a range of video conferencing services (including room systems) and UC telephony services.
Drilling deeper into the more complex functionality, Design, pricing, and alignment is how companies can determine trade-offs, and make the right choices on which product suits.
The Zoom-like app — you can speak to participants in private or on different networks, and you may call attention to the whole group, or only to a person with a role to list.
Microsoft Teams is one of the best free alternatives to Zoom, and provides the same functionality, including instant messaging and chats, along with many new tools and functions.
Features
One of Microsoft Teams' most important features is its ability to integrate with other Microsoft products such as Outlook, SharePoint, OneDrive, and OneNote
You can speak with up to 250 people or live with up to 10,000 people at once
Discuss agenda meetings before a session, invite external guests to enter a group, and access documents and notes from past meetings
Sessions can be arranged via the Teams app or through Outlook
Share, edit and find content across SharePoint, OneDrive & OneNote through your organization and cloud-based storage services
If your workplace uses Office 365, you already have access to Microsoft Teams – a platform for chat, video conferencing, and audio calls
The workplace collaboration platform combines Microsoft Word, Excel, PowerPoint, and other Office software for smooth presentation and sharing of files
Pricing
Microsoft Teams is designed for all kinds of groups. You can use Microsoft Teams for free forever with unlimited audio and video conferencing or get it as part of Microsoft Office 365.
---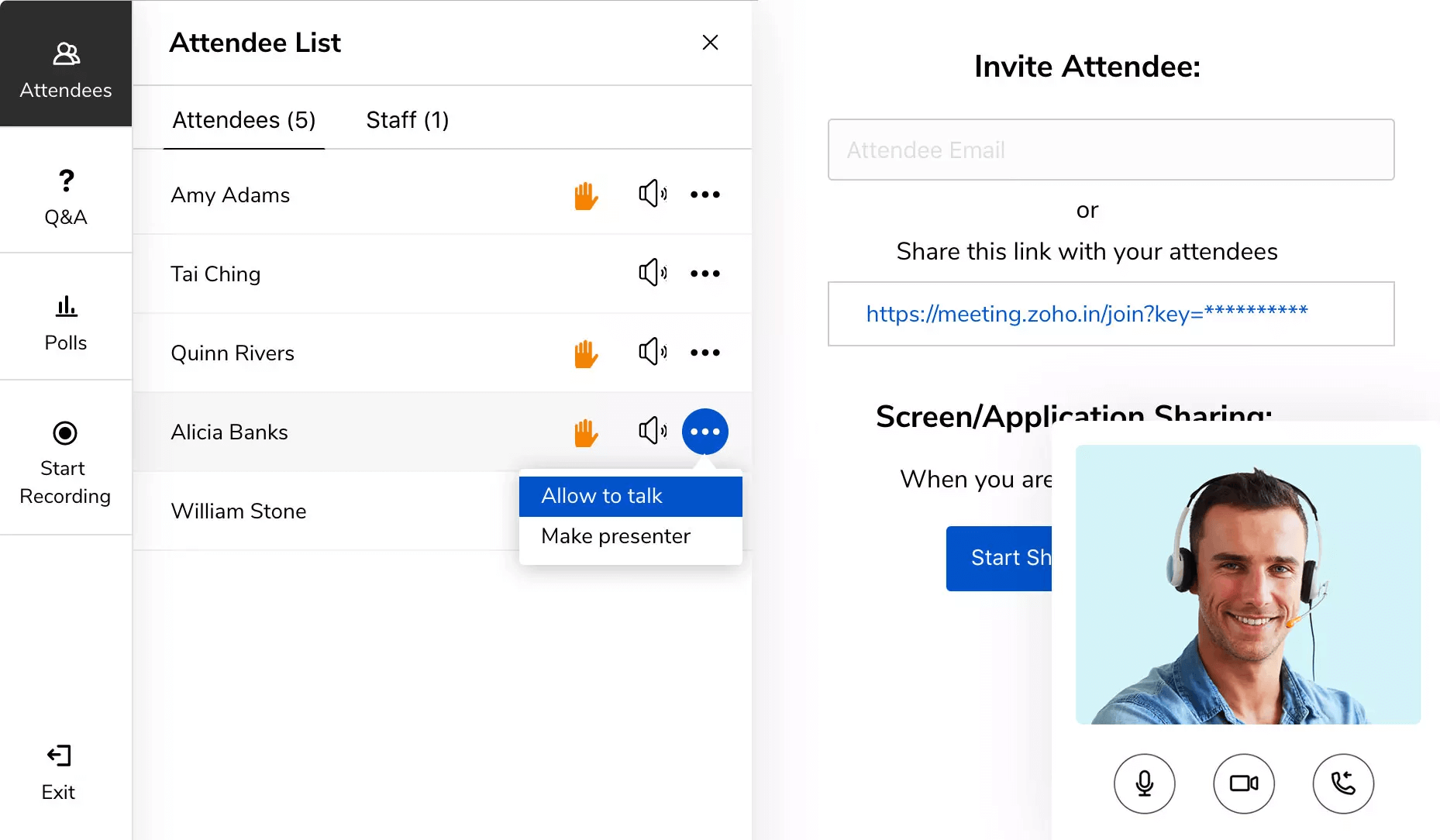 Zoho Meeting is an innovative and versatile video conferencing option, with service plans designed for meetings and webinars alike.
The system is entirely hosted on a web browser which distinguishes it from other video conference platforms because hosts and participants do not have to download and install any software.
Zoho Meeting is one of the simplest and most accessible Zoom alternatives for online web conferencing. It greatly enhances business communication with screen/app sharing, audio, and HD video conferencing capabilities.
It provides both single users and small and large organizations with a quick and easy way to host and hold secure and cost-effective online meetings.
Right from your phone, host product releases, feature demos, promotional presentations, lead-nurturing webinars, webinars on user education, and online meetings.
Key Features
Some of the most valuable Zoho Meeting features include the integrated calendar application and RSVP scheduling as well as screen sharing, and the ability to record and store webinars and conferences for later viewing
Zoho Meeting also offers audience polling, question-and-answer sessions, analytics and reporting, international dial-in numbers, and email reminders to make sure audiences don't miss meetings
Use the Zoho Meeting to reach potential markets or to announce new product releases to the current customer base. Effectively, webinars and media releases will save you a lot of time and money
You can organize cost-effective sales and marketing meetings with a few simple clicks
Demonstrate your products and services to potential clients and even perform after-sales support
Simplify your sales process with online presentations, conduct web meetings for business strategy and marketing; communicate efficiently and quickly with your customers anywhere, anytime
You can host secure, robust web meetings and share your screen online with your remote audience using any browser or computer operating system
Pricing
Zoho Meeting offers several different plans based on whether you want to host video conferences or live webinars. Zoho is also known to be among the best free Zoom alternatives, there is a free offering in addition to the paid plans.
Free: offers up to 3 meeting attendees and 10 webinar participants, VoIP/ webcam sharing, screen sharing, and other basic features.
Meetings: costs $8/host/month when paid annually; $10/host/month when paid monthly. It allows 100 participants, RSVP scheduling, embed meeting widget, etc.
25 Attendees: when charged quarterly, costs $15/host/month; $19/host/month when paying monthly; it allows for 25 participants.
50 Attendees: when charged quarterly, costs $23/host/month; $29/host/month when paying monthly; it provides for 50 attendees.
100 Participants: when charged quarterly, costs $31/host/month; $39/host/month when paying weekly. It makes for 100 participants.
When charged quarterly, Webinar 250 costs $63/host/month; when paid weekly, $79/host/month; it provides for 250 attendees. All webinar plans have the same features. These include registrations, customizable login forms, widgets for login, email alert, VoIP, etc.
Zoho offers a free 14-day trial.
---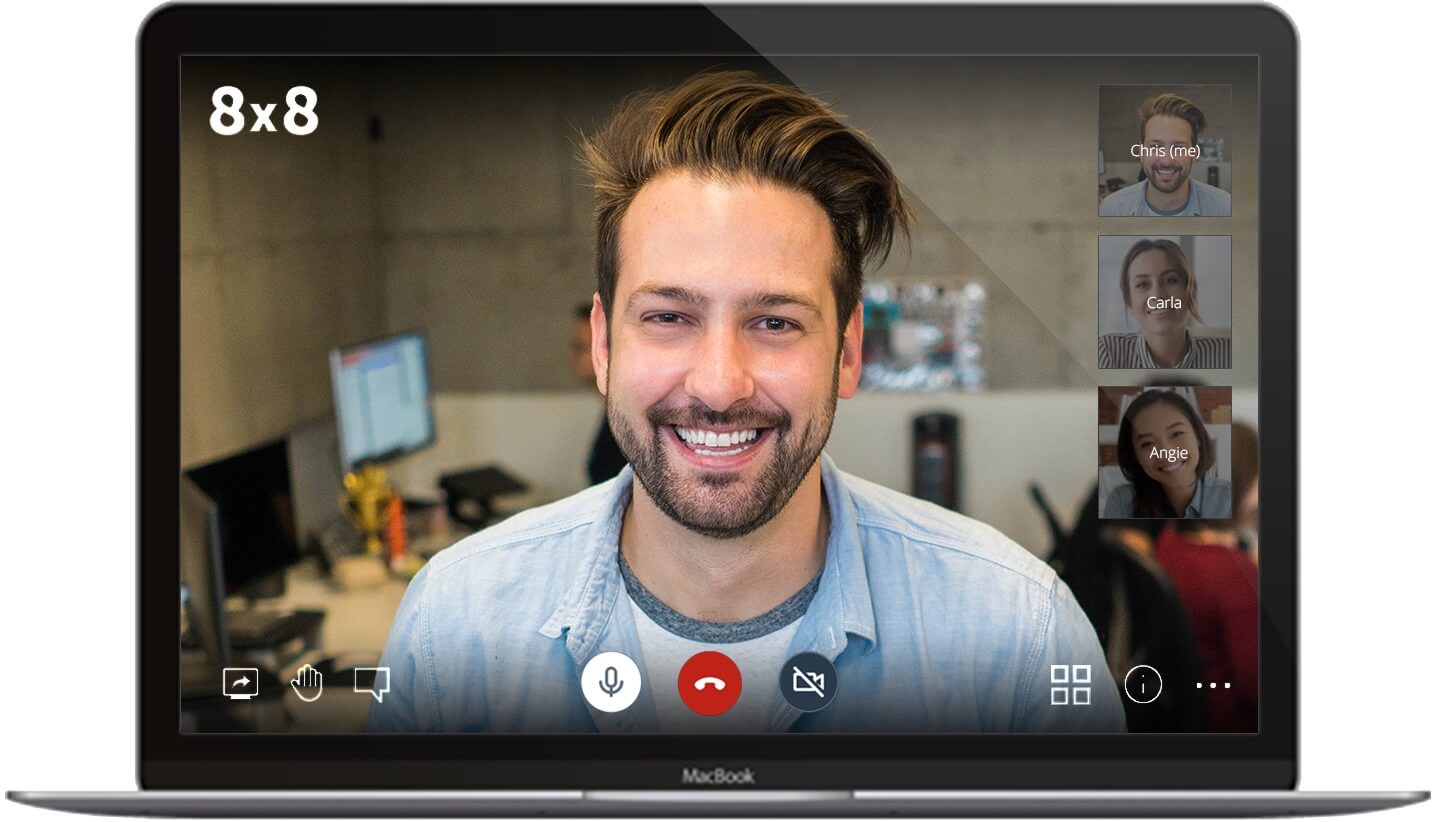 Since we are talking about free Zoom alternatives, let's include 8×8 Video Meetings on the list. The app does not set time limits for your free meetings and provides helpful plugins to the calendar. A paid plan is impressively inexpensive when you need closed captioning or transcription.
8×8 Video Meetings is easy to use and offers unlimited flexibility on how you work with colleagues, vendors, and clients. It is reliable, fast, and secure, and provides a comprehensive suite of features for video collaboration between users and administrators.
For improved shared communications capabilities it operates as a standalone service or combined with 8×8 Virtual Office.
Key Features
Make it virtually unlimited: limitless meetings, free toll-free dial-in features, limitless minutes
Patented HD Video+ 8×8 quality audio, easy screen sharing, remote desktop access, cloud-based recording
Integrate natively with your preferred business tools, such as calendars, single sign-on, and registry
Share your conferences with an infinite number of members and upload live to YouTube
Full-functional 8×8 Video Meetings integrated with Virtual Office brings video conferencing to the next level by incorporating voice and chat features to one unified Cloud platform
Using Android or iOS apps, you can host a meeting from a field site, broadcast from a trade show, or conduct video interviews
8×8 has custom Chrome and Firefox browser extensions and Google Calendar and Office 365 plugins, any of which you can use to schedule meetings quickly and invite participants
Pricing
8×8 Video Meetings for the vast majority of people are free to use. There are no limits on how many meetings you can host or join for free, and no time limits on your meetings.
The paid plan costs $9.99/user/month. It offers Speech-to-text technology, which enables real-time closed captioning and produces transcripts for your meetings. It comes with 60 days of cloud storage for meeting recordings.
---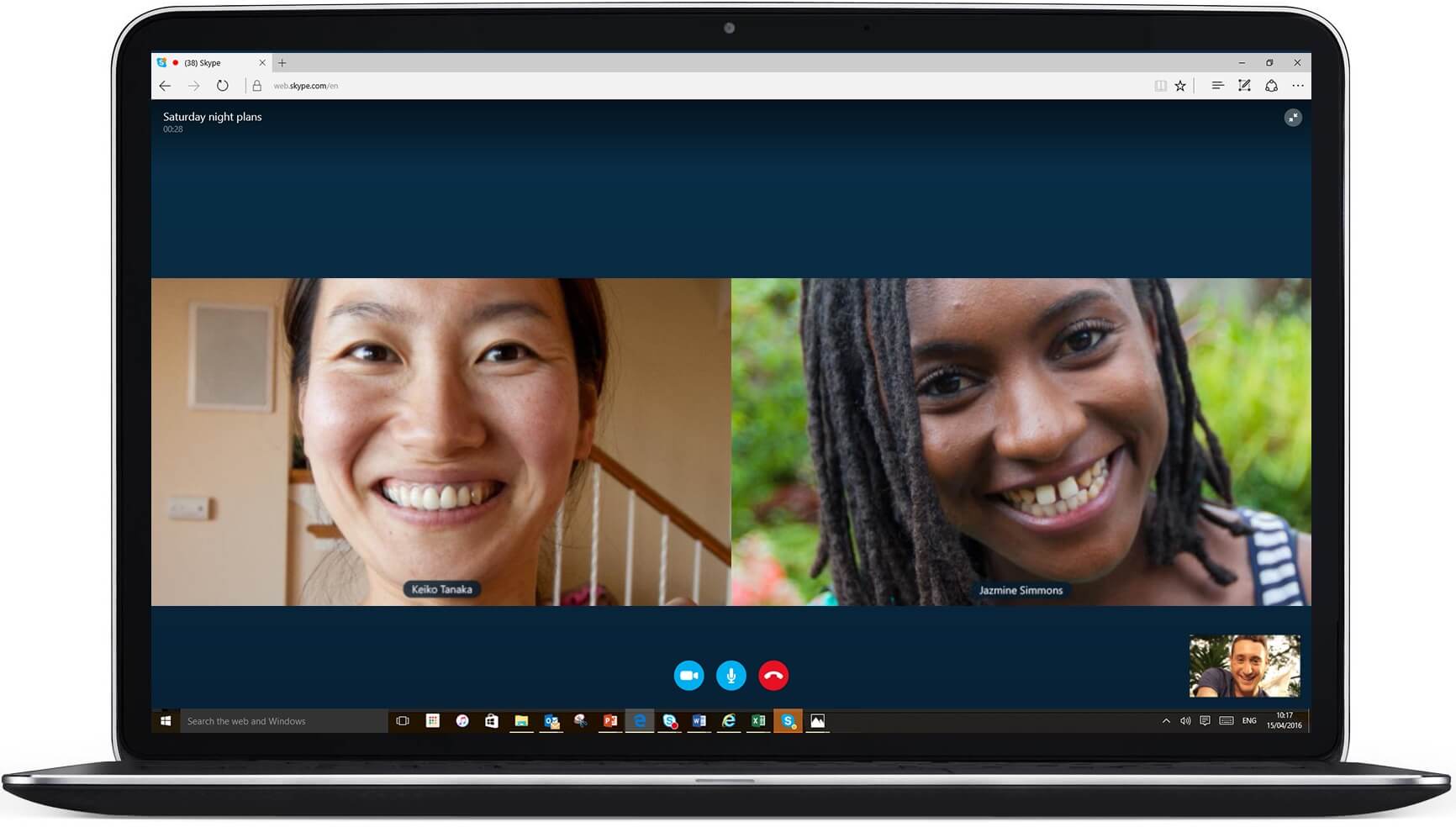 Skype is a web-based messaging network that provides video chat, foreign calls, and Web-based text.
Dubbed by consumers and experts as one of the best VoIP software providers in the world, Skype provides instant messaging, group video conferencing, video chat, group chat, collaboration apps such as the exchange of documents, and the exchange of photos.
Contacting actual landlines and cell phones with no peak hours is also provided for super low rates.
Skype is currently owned by Microsoft and supports all the features and responsiveness required by this trustworthy provider. Skype is one of the best (and end-to-end encrypted) Zoom alternatives you will get on the market.
The main reason Skype is the most popular online communication service provider in the world is because of its extremely flexible pricing. Skype is very popular due to its free video chat and communication capabilities that are very simple at best.
As a tool for business communications, Skype is branded as the best and cheapest provider of VoIP services solutions.
Key Features
Record Skype calls to catch special moments, take note of important decisions and use live subtitles to read the spoken words
Make international phone calls, enable call recording, live subtitles, and screen sharing
Skypes provide affordable landline calling and international mobile rates, so you can connect with family and friends who are not online.
With skype you get to experience clear HD video/audio whether in one or conference calls. This comes with call reactions too.
Use fun reactions available on the list instantly to any message. You can also use @mentions to call attention.
Keep the industry-standard, confidential communications secret to end encryption
You can ace your interview from anywhere and anywhere using the Skype apps. Find the right features for you, and rock your Skype interview
Pricing
Skype is a free messaging software especially for those who want to optimize their ability to the maximum and use it to increase efficiency and boost income.
Enterprise: for business communication that costs $2/user/month. It offers online meetings for up to 250 people, secure communication lines via strong authentication and encryption along with powerful productivity with Office.
Premium: comes with more advanced features:
Online Plan 2: $5.50 user/month. It provides joining on every device – PC/Mac, laptop, or phone, community HD video, and audio calling for up to 250 members, presence and IM inside and outside meetings, and professional telephone support at the enterprise level.
Essentials: $5.00 user/month. It offers online Plan 2 features, online versions of Office, an email with 50 GB mailbox per user, and 1 TB file storage and sharing per user.
Premium: $12.50 user/month. It offers Office 365 Business Essential features, fully installed Office applications on PC/Mac, and Office apps on tablets and phones.
---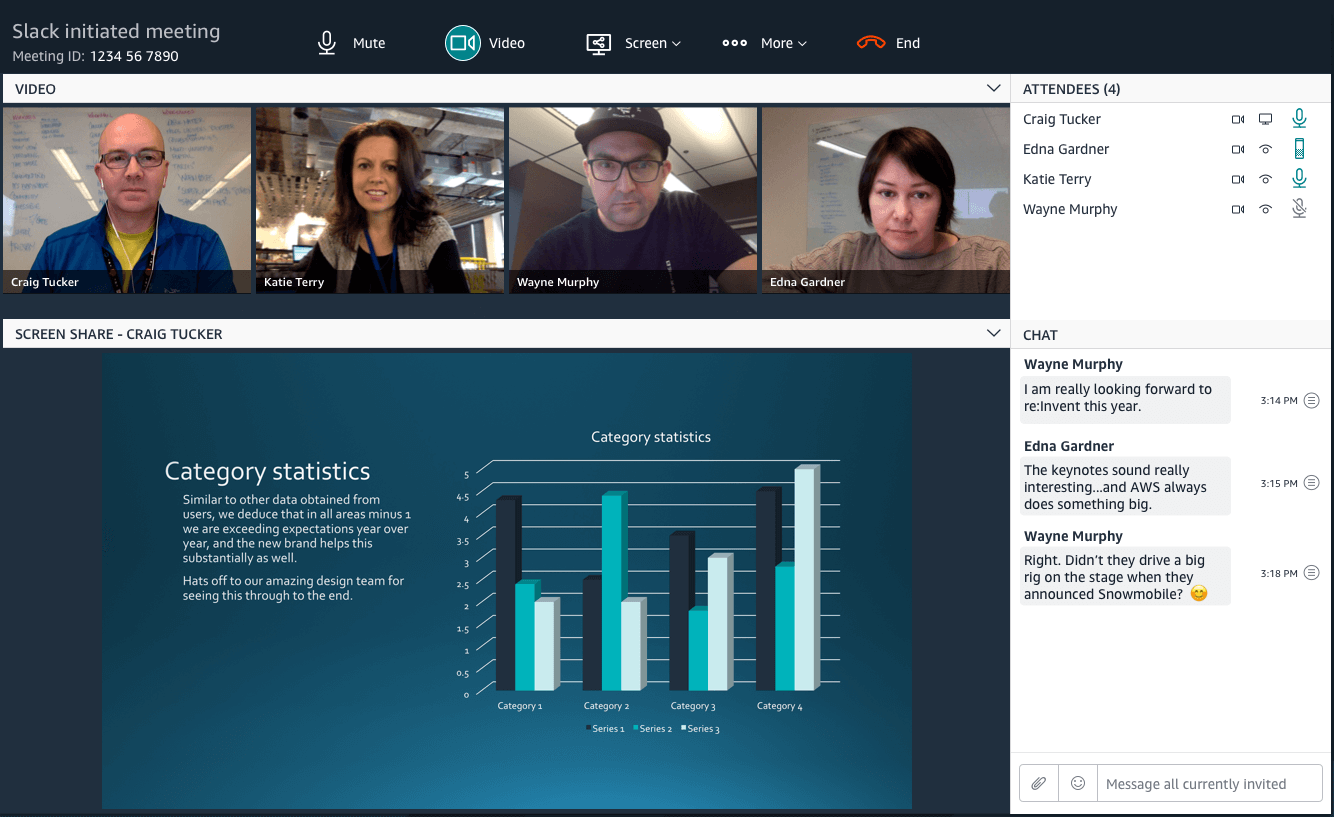 Amazon's Chime is a web conferencing software with scheduling capabilities, custom meeting links, screen sharing, visual roster, recording, online chat, text messaging, and more.
It is one of the more enterprise-level Zoom alternatives since it can be a little expensive if you have a larger team.
You have the versatility with Amazon Chime to select the apps you need for online meetings, video conferencing, and business calls, and pay only when you use them.
Amazon Chime Voice Connector is a service that delivers voice traffic over the internet and scales elastically to meet your power needs.
This allows you to save money by eliminating fixed telephone network costs and by transferring it to the AWS Cloud, you simplify your voice network administration.
Key Features
Amazon Chime can integrate such a Slack with different software, making it easy to stay in one tool while I'm working
You can choose between meetings, chatting, and business calls or use Voice Connector to manage your voice traffic over the Internet
Simply say " Alexa, start my meeting, "and Alexa begins his meeting. Write more on Alexa for Enterprise
Amazon Chime offers dial-in numbers in more than 70 countries and low rates per minute.
You can share the information on your screen or present it without requesting permission. You can also allow remote control of a shared screen for enhanced collaboration
Use high-quality wideband audio and high-definition video conferencing on your desktop for up to 16 people or 8 people on mobile devices
Amazon Chime uses wideband and high definition video noise-canceling technology
Pricing
Amazon Chime is a pay-as-you-go chat program with no upfront costs, commitments, or long-term contracts.
Basic features can be used for free, and include one-to-one calls and group messaging.
Premium: costs $3/day/user or $15/user/month. It enables users to schedule, host, and record calls of up to 250 people.
Business: if businesses want to use Chime's dial-in or call-me services, extra charges apply. In most countries, these range from about $0.002/user/minute to $0.05 in Spain or even $0.25 in China.
---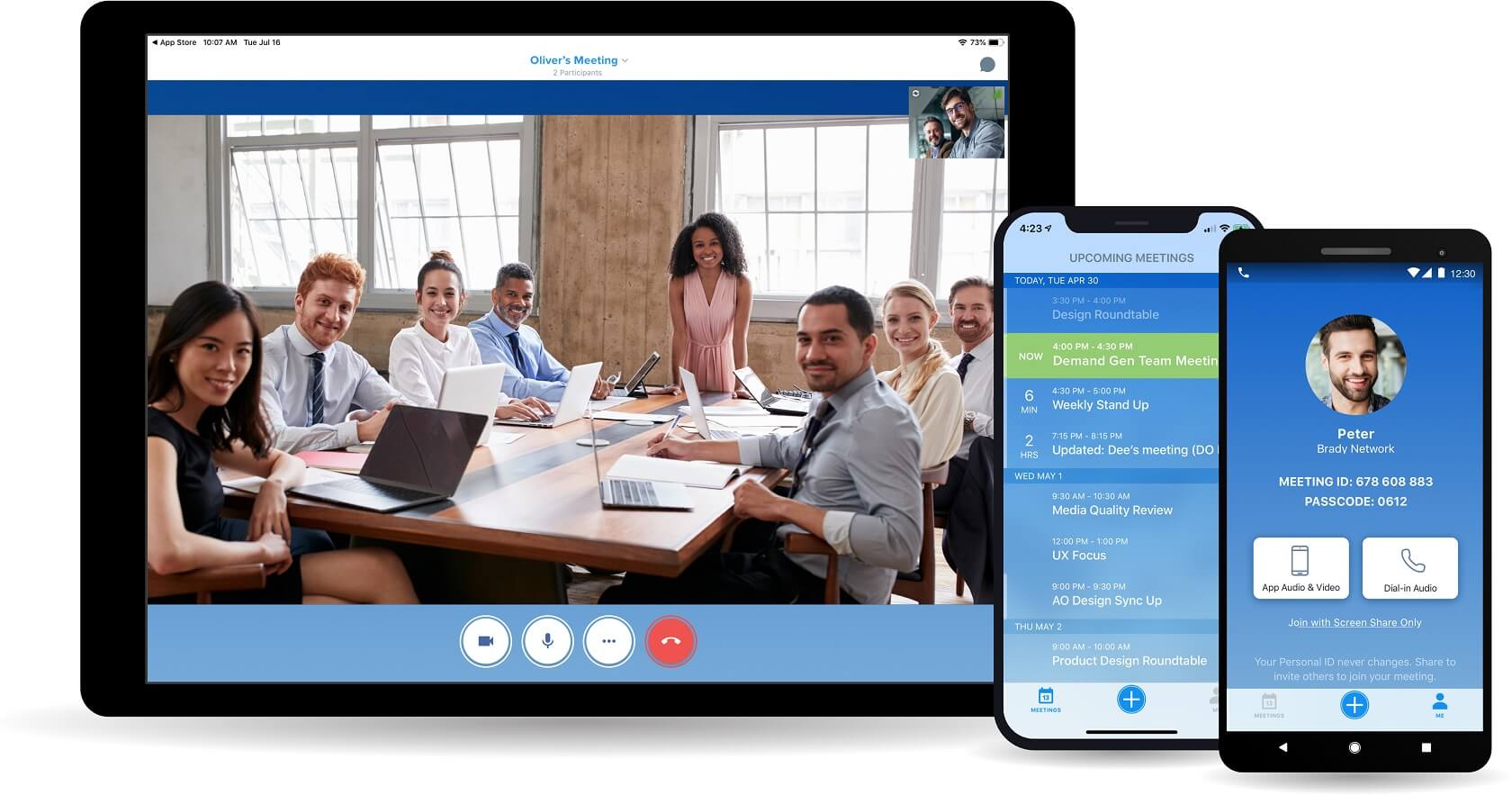 BlueJeans is next up on our list of the best Zoom alternatives. It is an online video conferencing solution that helps service providers host successful online sessions.
The software supports conference recording, text chatting, sharing of content, and multiple participants. It connects to a variety of networks including; Avaya Scopia, Cisco Jabber, Microsft Lync, and Google Hangouts.
BlueJeans gives your employees the ability to collaborate effectively and connect through live video sessions. It delivers interactive, ready-to-scale, and secure communication channels seamlessly via the BlueJeans meetings, events, and features of the room.
This well-designed platform removes the technical barrier between computers, conference room systems, and apps. Also, its Enterprise video cloud provides anywhere, anytime, scalable architecture, and a secure global platform for online conferences.
Features
BlueJeans support meetings for up to 25 video or audio participants in a standard meeting mode, and up to 100 with the Large Meetings add-on
Participants can share content in high definition and share videos with all participants simultaneously
You can record, store, share, and watch meetings back. You can also send links, questions, and other text communications through the group text chat feature
The command center gives access to real-time meeting metrics also to historical trend analysis reports. You can also use this feature to define access permissions and add or remove users
The BlueJeans "Meeting" feature lets you feel close and linked to your colleague even though you're miles away, with crystal-clear audio
It provides advanced document management applications and remarkably efficient collaborative tools for enhanced performance throughout the workplace
The BlueJeans Event feature allows you to hold engaging sessions, such as webinars, all-hand activities, and conferences at the town hall. It gives event organizers and attendees a reliably efficient and relatively collaborative experience
Pricing
Me: costs $12.49/month. It offers up to 50 participants, dial-in numbers, AES encryption, etc.
Team: costs $16.66/host/month. It offers everything in Me plan, up to 75 participants, cloud meeting recording, etc.
Company: by quote; Contact the vendor for more information. It offers everything in My team, up to 100 participants, connect H.323/SIP room systems, etc.
---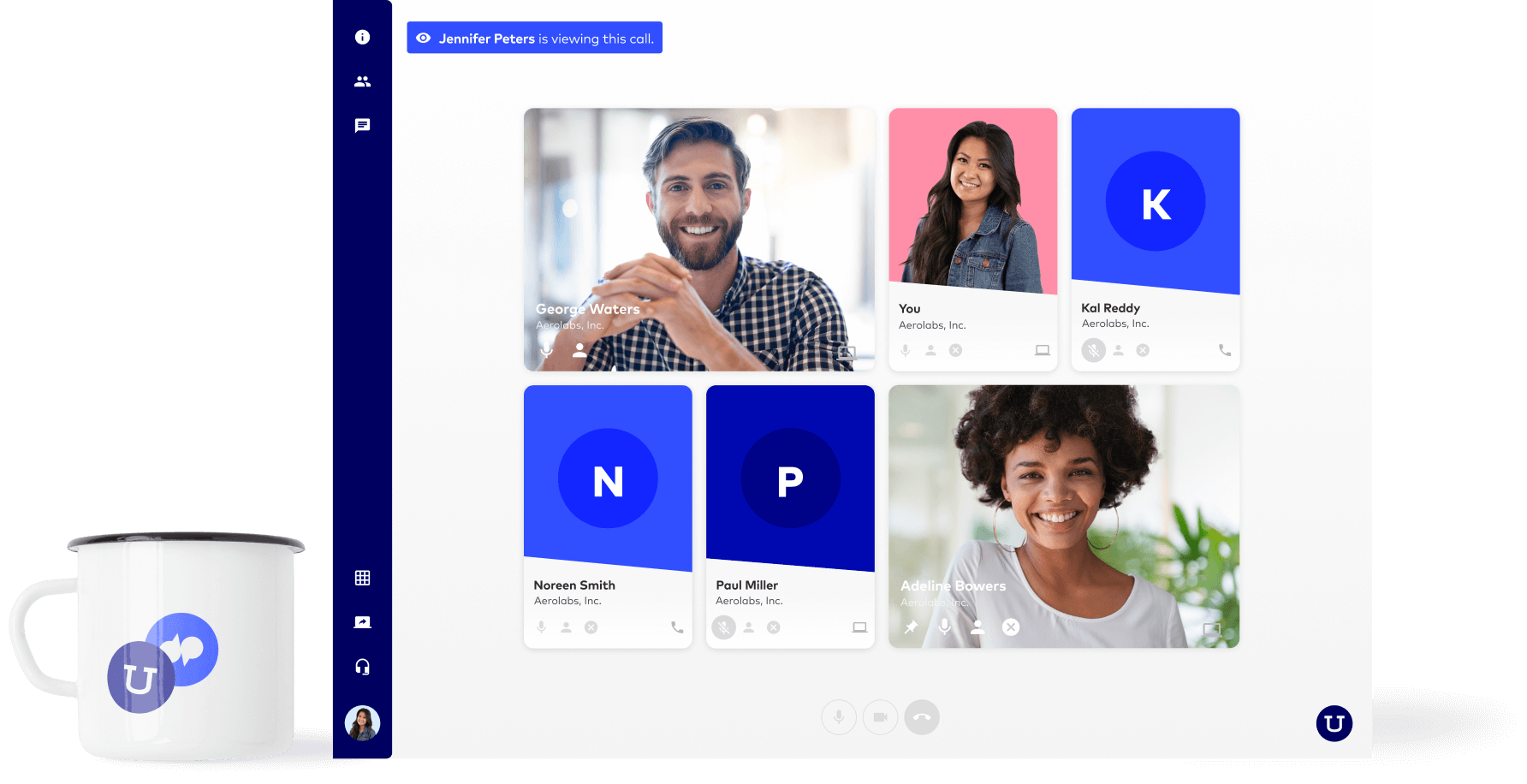 At the annual TechCrunch Disrupt conference in 2012, UberConference was announced and was selected as the best new company.
It is a virtual audio conferencing option that provides audience members to display certain members' avatars on portable apps or desktops. Businesses needing effective board meeting calling can make massive use of UberConference and benefit from it.
The UberConference framework reduces overhead costs for companies using costly conference calling equipment and also helps replace VoIP solutions. Its beautiful, simple interface makes it one of the best Zoom alternatives that you can use.
The smartest thing about UberConference is high-quality audio, the number of people that can participate in the meeting, and the social media software solutions, Google Drive, and several other apps.
One thing to note about UberConference is that it is a conference calling tool and not a video conference tool.
Features
Share the weekly sales slides. Collect feedback on the latest design renderings. Edit the final copy before releasing your deck. Sharing a screen is as easy as clicking the "Share" button on the UberConference dashboard
Custom Hold Music: Choose whatever music you like for when people are waiting for your conference to begin
UberConference lets you exchange and annotates PDF files with Google Drive, DropBox, Box, and Evernote
Integrating social media with UberConference helps you look at the accounts of people you may want to appoint and take a look at their certification
UberConference 's prominent management feature allows you to mute the speaker and remove them from the meeting
The most popular and powerful software you have is the potential to lock a meeting which restricts others from joining
UberConference is fully configurable for small and large companies and its integration with Google's call conference helps enormously when it comes to portable social interaction
Pricing
UberConference provides a free program for start-ups and small corporations and even some customized product pricing plans for companies.
Free: covers up to 10 attendees, recording calls, and certain other core features.
Business: costs $10/line/month (billed annually). It offers all free plan features topped up with analytics, up to 100 participants, upload custom hold music, etc.
There you have it — these are the best Zoom app alternatives on our list, although there are many other options out there as well. We'll be sure to update this list with new options once they launch.
---
Other SaaSy goodness on All That SaaS: