In this roundup, we are going to take a look at some of the best video conferencing software and apps available online.
With almost 3 billion people under lockdown, 70% of the workforce is continuing their jobs by working from home. Under these circumstances, teleconference meeting software has become a business's go-to way of communicating with its employees.
Recent data has shown that Zoom's daily meeting participants have grown from 10 million to over 300 million in just 3 months. Moreover, Microsoft Teams has added 12 million new users in just one week whereas Google Meets is adding 2 million new users per day.
What's even more interesting is that in places where the restrictions have ended, people are continuing to work from home. One such example is China, where Microsoft continues to see twice the growth for its Teams app.
---
Benefits of Video Conferencing Software for Businesses


✔️ Maximized Attendance
One of the greatest benefits of using video communication platforms is that it allows organizations to maximize attendance for each team meeting. As almost every employee has access to a computer or a smartphone, all team members can attend the meeting.
Moreover, video conferencing software offers the option of recording online meetings. This frees organizations from having to delay meetings and enables them to conduct the meeting even if some of the team members can't make it.
✔️ Minimized Costs
Once a company starts relying on video conferencing software to conduct its day-to-day activities, it'll notice a huge decrease in costs. Firstly, with company meetings being conducted via the app, there would be a need for the employees to meet up at the office.
Secondly, if teleconference meeting software is implemented to provide customer care services, the client would be saved from having to travel to the franchise.
Moreover, it'd also improve the efficiency of the company's customer support. The app could also be used to conduct business with any business partners, interview people for a position, and even for getting in touch with vendors.
✔️ Enhanced Productivity
Another great advantage of using free video-conferencing software is that it can improve an organization's productivity. You see, video conferencing apps greatly improve communication by replacing slow and confusing emails with quick video chats.
This way, more problems get solved in less time, and hence, more projects can be completed in a given time.
✔️ Improved Communication
Firstly, when an entire company is relying on video conference meeting software for communication, the need for long and confusing emails goes away.
There is no need for any chit-chat or long stories anymore. Whenever there's a problem, the concerned employees can get on a video call and sort out the issue immediately.
✔️ Schedule Meetings
As almost all the best video conferencing apps allow users to schedule meetings, the entire team will be aware of any upcoming events.
This way, when the meeting starts, everyone will come prepared and all the discussions and planning can be carried out in a more effective and less time-consuming manner.
✔️ Increased Job Satisfaction
The best video conferencing tools make it possible for employees to work from the comforts of their homes. Moreover, they also make it possible for them to attend any important meetings or discussions without having to physically be in the meeting room.
These little factors help contribute towards a better work-life balance which often results in improved job satisfaction and hence, higher employee retention.
---
Key Features to Look for in Video Conferencing Software


💻 Screen Sharing
With the screen sharing feature, one of the participants can share their screen with the rest of the members. This way, sharing new ideas, and explaining some concepts of relaying the latest data becomes a lot easier because instead of describing the thing, the user can show it to all the participants.
This is a feature that has been around for quite some time now and today, almost all the best video conferencing apps come equipped with it. In this era, screen sharing has become so important that without this feature, we would consider a video conferencing app to be incomplete.
🎙️ Call & Screen Recording
What's the point in moving your meetings online if you can't record and store them? Call and screen recording is the feature where all the best free video conferencing apps take full advantage of being cloud-based.
Unlike face-to-face meetings for which most organizations would have to install special equipment to record and store, online meetings require no extra resources.
Being able to record calls allows companies the advantage of reviewing everything and keeping track of all the plans and discussions. Such an important feature deserves to be on everyone's checklist when looking for a video conferencing app.
👨‍🏫 Whiteboarding
Another great feature found in all the best video conferencing software is whiteboarding. Just like a teacher uses a whiteboard to explain different ideas to students, the whiteboard tool allows participants to share their ideas with their colleagues in an effective manner.
Moreover, a lot of video conferencing software also records the whiteboard when the call is being recorded. This enables team members to view the recording whenever they have any confusion or need an answer to some questions.
💬 Participant Chat
For humans, after speaking, writing remains the best form of communication. And this is exactly why most teleconferencing apps also offer the option of chatting with other meeting participants.
This feature proves to be useful in a lot of situations; whenever you want to share some text, share your opinion about something, or tell a participant something without disturbing the silence.
What makes it even better though is that most apps allow users to attach photos, videos, and documents to the messages as well. So, not only does team chat provide another effective way of communicating but it also provides the facility of file sharing.
Now, after sharing some fundamental information about video conferencing apps with you, it's time for us to talk about the apps that have shown the best performance in 2023.
What is the Best Video Conferencing Software in 2023?
1. LiveWebinar – Best Webinar Software for Small Businesses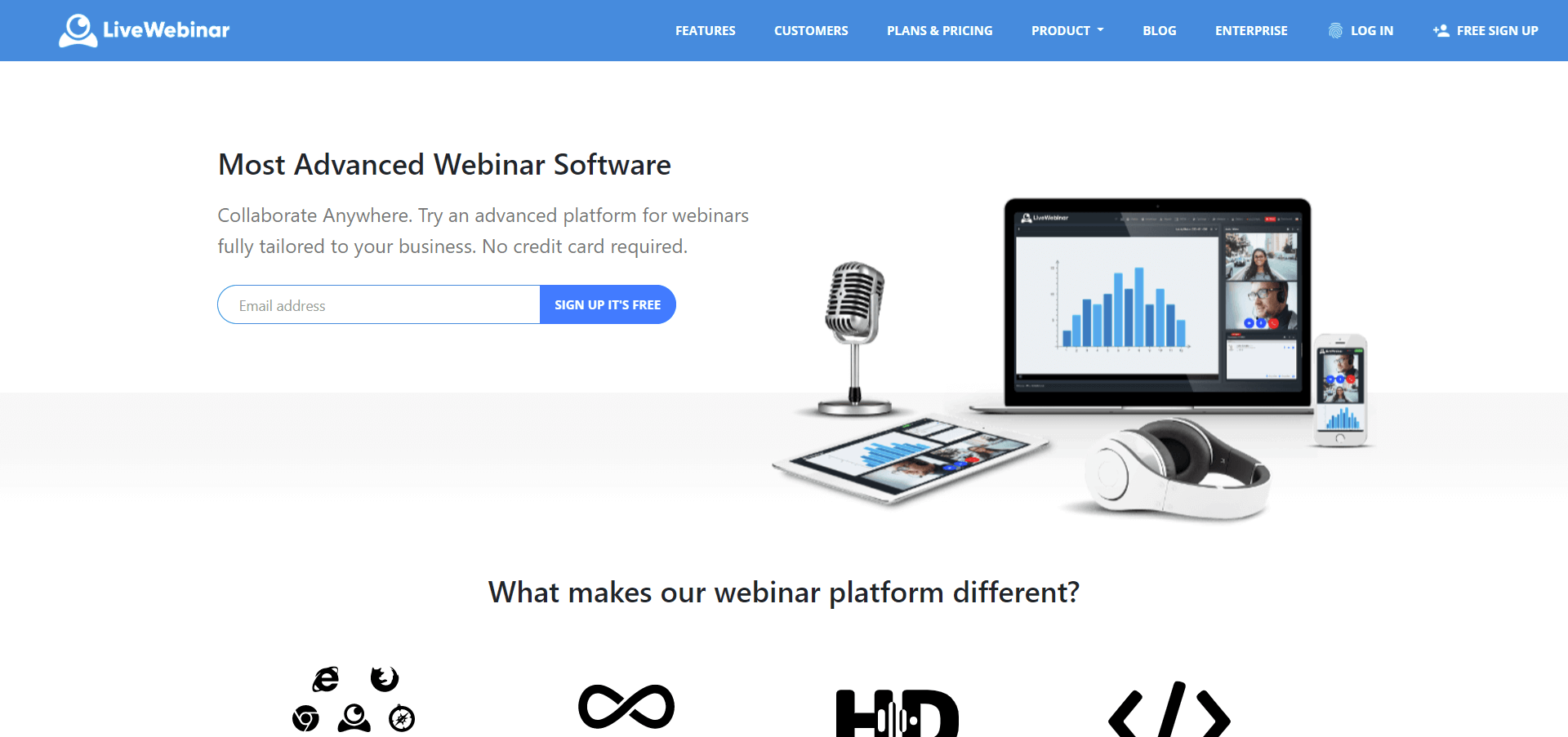 When looking for video conferencing software, we wanted to find the right balance between conferencing and webinar capabilities at a price point that is suitable for both small and large businesses.
LiveWebinar is a popular, cloud-based video conferencing and webinar software that is used around the world to conduct online conferences, meetings, and webinars.
Key Features
LiveWebinar's video conferencing solution offers advanced interactive features and tools, including:
Livestreams for meetings, gaming, and other professional use
HD video recording and screen sharing capabilities,
Online in-app whiteboard for meeting hosts,
Dedicated meeting chat rooms to keep track of conversations,
Comprehensive integration possibilities with a range of professional audio-visual tools, and
Integrated social media sharing capabilities for Marketing teams.
Another important reason why LiveWebinar made it to our list of the best video conferencing software is its ease of use and access. To invite participants to an online meeting hosted by LiveWebinar, simply share the meeting link available once you enter a meeting room.
Pricing
Free: 5 attendees, 2-hour recording limit, screen sharing, polls, surveys, tests included. Also offers limited marketing automation features.
Pro: costs $14.99 per month ($11.99 per month paid annually), 100 attendees, 6-hour recording limit, sub-accounts, chat translations, YouTube and Vimeo player integration, and more.
Business: costs $119 per month ($95.20 per month paid annually), 500 attendees, 8-hour recording limit, participant monitoring, and tracking, Full HD recording, ad banner for placements, and more.
Custom: price available on inquiry, 1,000+ attendees, 8-hour recording limit, custom features, live streaming, and more.
---
2. Zoom – HIPAA Compliant Video Conferencing Software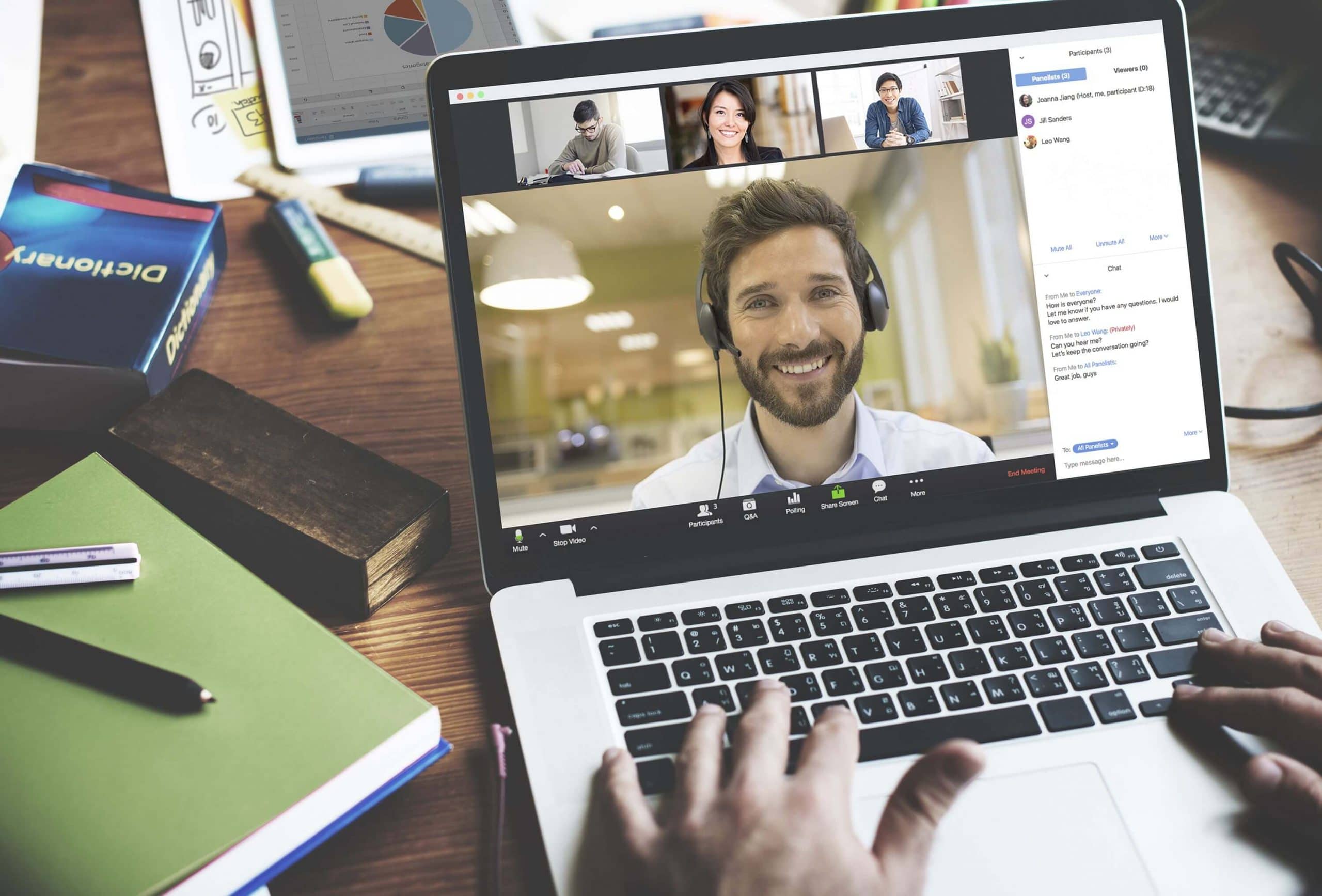 Although every top free video conferencing software has seen a massive increase in its number of active users, no app has seen a bigger increase than Zoom. As we mentioned before, Zoom has seen an increase of 190 million users in just 3 months.
And of course, this huge explosion in the app's popularity has also brought it under much greater scrutiny. It wasn't long ago when researchers revealed that Zoom had some worrying security and privacy issues.
But, the company acted quickly and fixed most of the issues almost immediately.
Our favorite thing about Zoom is its Basic plan which it offers for free. What surprised us about this plan is that it's pretty feature-filled for a plan that's being offered for free. From unlimited one-on-one meetings to HD video call support; there are some nice features here.
All things considered, Zoom is easily one of the best video conferencing apps out there and the fact that the app is rapidly adding more improvements makes it a must-have.
Key Features
Supports up to 1000 call participants on its most expensive price plan. Especially useful for companies with thousands of employees
Offers unlimited cloud storage which enables teams to share as many files and record as many meetings as they want to
Business and Enterprise plans also offer the option of automatically generating cloud recording transcripts
Enables meeting organizers to send a custom email to all team members to invite them to a group meeting
Using the Zoom Dashboard, admins can see a wide range of data related to the app's overall usage and live in-meeting statistics as well
Use the virtual background feature to hide any clutter or distractions in the background by setting a new, virtual background
 With Zoom Scheduler Extension, add meetings as usual in your calendar and then click on "Make it a Zoom meeting" to schedule the meeting on the app as well.
Pricing
Currently, Zoom is being offered in the following 4 price plans:
Basic: Available for free. Includes features like; hosting up to 100 participants, which allows participants to attend meetings without registering, limitless one-on-one meetings, up to 40 minutes long group meetings, ticket support, HD video and voice calling, virtual backgrounds, simultaneous screen sharing, and more.
Pro: For $14.99 per host/month you can get all Basic plan features as well as support for up to 9 hosts, 1GB cloud storage for recordings, Skype for Business interoperability, eligibility for other add-ons like Large Meeting, Extra Cloud Storage, H.323 Room Connector, and more.
Business: For just $19.99 per host/month, you can get all Pro plan features as well as dedicated phone support, custom URLs, on-premise deployment for storing data in your private cloud, LTI integration for easy scheduling of classes and inviting students, and more.
Enterprise: For $19.99 per host/month, you can get all Business plan features as well as unlimited cloud storage, executive business reviews (detailed return on investment tracking, trending adoption analysis, etc.), bundle discounts on Webinars, and a dedicated customer success manager.
---
3. Whereby – Online Video Conferencing Tool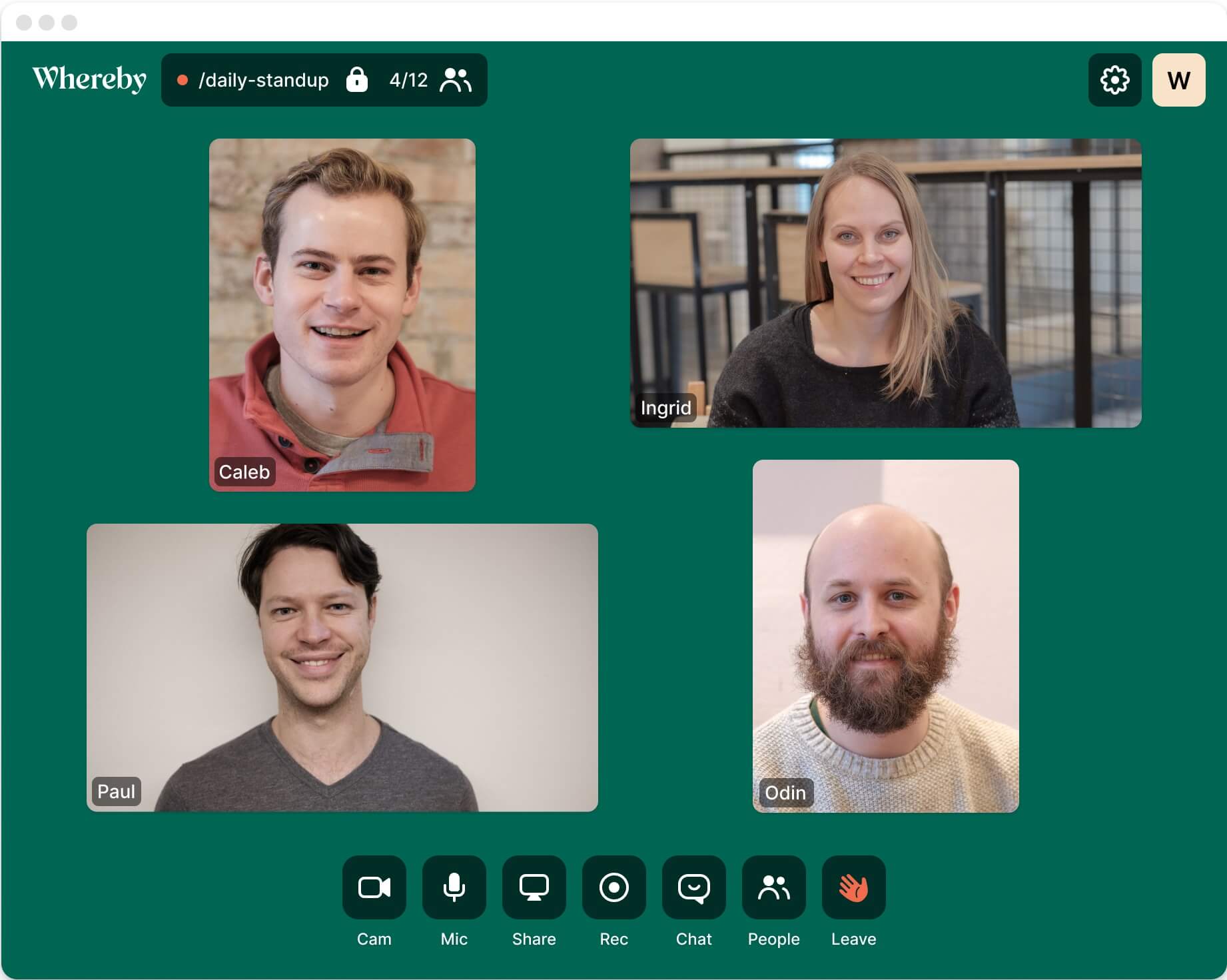 Today, a lot of video conferencing software companies focus on building an app that works for all kinds of consumers. Unfortunately, focusing on such a wide target audience often ends up having a diminishing effect on the app's quality.
Whereby is one of the few apps that do not make this mistake?
Being one of the top free video conferencing software, Whereby has been focused on small and medium-sized businesses from the get-go. One of the first things that users notice about this app is that it requires no downloads of any sort.
Everything is done through the user's web browser. Whereby's web-based version is the only version offered to Mac and Windows users.
Whereby does offer native mobile apps for iOS and Android users? As soon as you start using this app, one of the first things that grab your attention is the app's simplistic and extremely user-friendly UI.
Being web-based, Whereby has always focused its energies on making an app that offers a clean and smooth performance.
Key Features
The app is entirely web-based. Mac and Windows users can access the app through their web browsers
The app offers a free version of the app which is one of the most-feature filled free versions around
Offers mobile access through its native mobile apps for both Android and iOS platforms
Ability to record and playback video recordings of meeting to allow users to review discussions
Offers screen sharing features to allow users to easily exchange ideas during meetings
The real-time chat option during meetings enables users to share ideas and texts easily
Pricing
Free: With the free plan, you can utilize this app for personal use with 1 user and 1 meeting room.
Pro: For $9.99 per month, one user can work in 3 meeting rooms. This package is ideal for the individual use of professionals.
Business: At $59.99 per month, you can utilize Whereby for small and medium teams. This package allows multiple users and admins for 10 meeting rooms and more.
---
4. Cisco Webex – HD Video Conferencing Software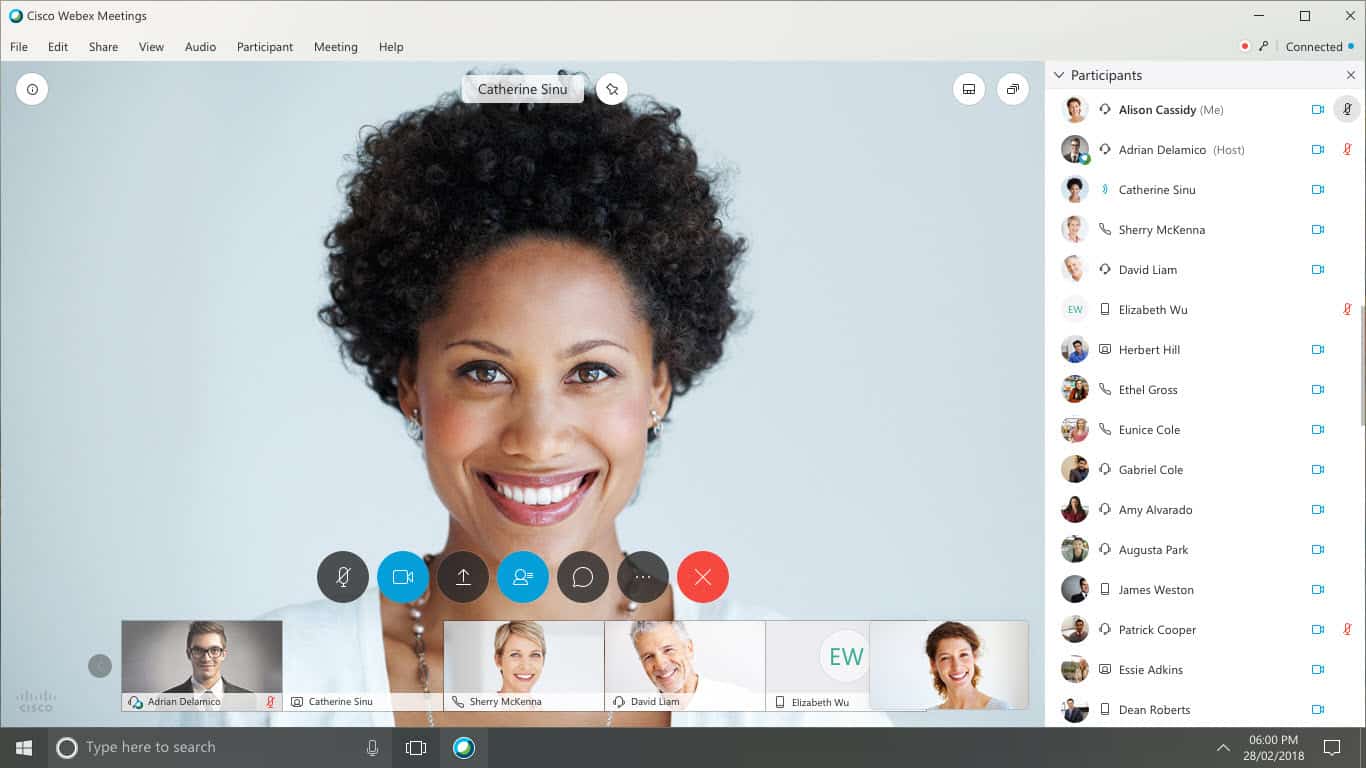 As a very flexible conferencing solution, Cisco Webex is designed for organizations of all sizes. Whether you are a small or medium enterprise, this application enables you to not only conduct meetings via the web using video and voice but also offers related integrations and data.
With Cisco Webex, you can hold multiple meetings simultaneously in real time. It is excellent for product launches and educational sessions since it allows you to promote effective brainstorming due to the excellent broadcast quality sound.
This software is a very stable meeting platform with various productivity tools which makes it excellent for small medium and large organizations
Key Features
Offers HD video conferencing for up to 06 participants simultaneously. In this app, each participant can have their video feed which is easily navigable in personal meetings as well.
Brings cross-platform compatibility so teams using any universal device can connect with conference password protection and secure data encryption.
It is convenient for remote teams as Cisco Webex enables teams to share presentations, budgets, and schedule tracking online.
Enables teleconferencing features that allow participants to request callbacks and conveniently join the video conference sessions.
Document sharing becomes simpler as this application allows users to share documents or desktops in real time with various sharing permissions.
Pricing
Free: With the free plan, you can get WebEx meetings with up to 200 participants and unlimited HD video meetings. You can also get screen sharing and personal meeting room features. All this is offered for a 30-day free trial period.
Starter: With only $13.50 per host per month, you can get baseline clans for small teams of up to 50 participants. You will also be given 5GB of cloud storage, customer phone support, and 1 to 9 host licenses.
Plus: At $17.95 per host per month, you can get the best value for the middle-sized teams of UP to 200 participants, 5GB cloud storage 24/7 customer support, and up to 50 host licenses.
Business: With this plan, you can carry out bigger meetings and get premium support for large teams of up to 200 participants. This plan includes 10 GB of cloud storage with 24/7 customer support and up to 200 host licenses – all for only $26.95 per host per month.
Enterprise: You can also contact Cisco WebEx for creating a flexible subscription plan for large events training meetings and support of up to 1000 participants, with unlimited cloud storage and 24 7 customer support.
---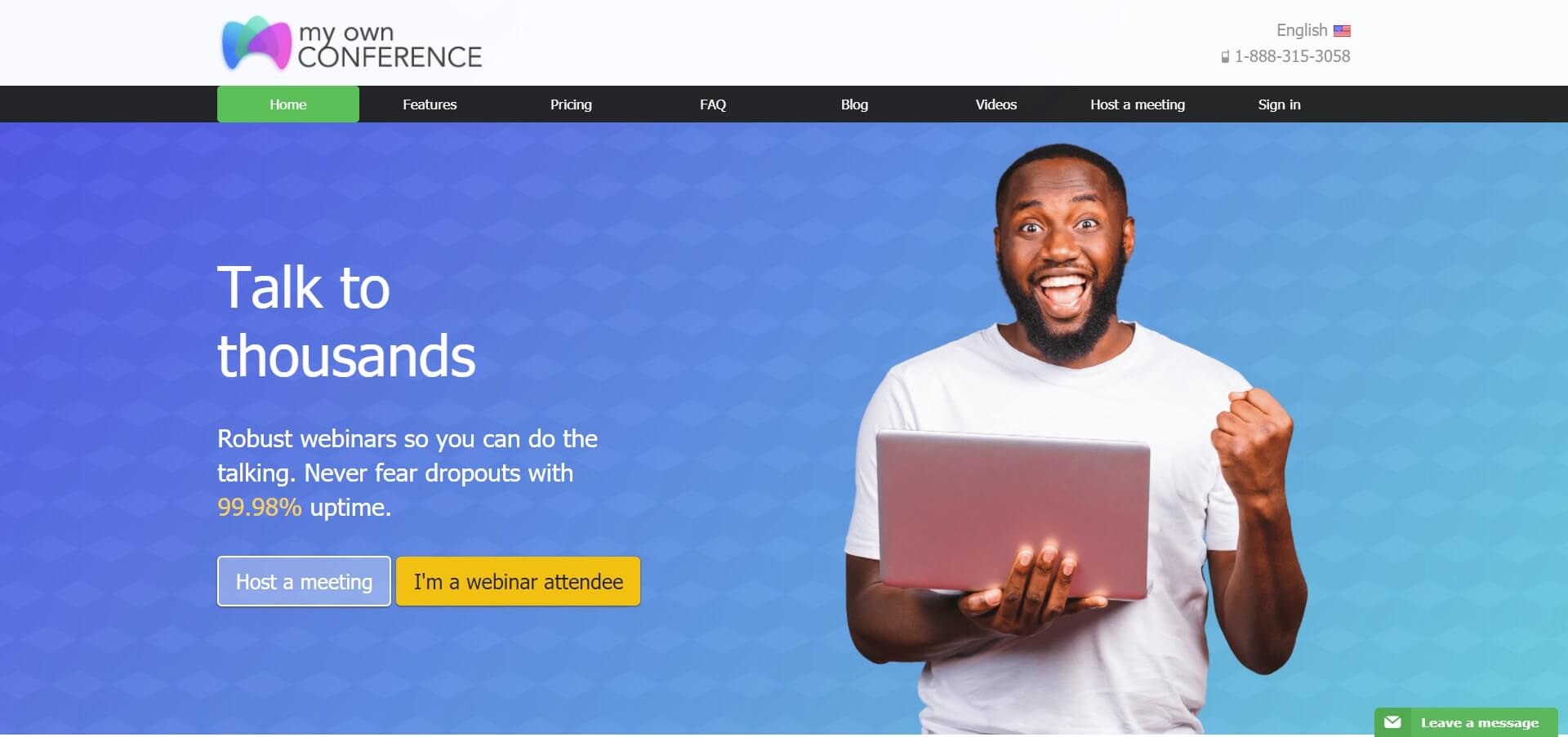 MyOwnConference is a robust webinar software for any size of business. With this tool, you can:
Host small team video conferencing for 5-10 attendees
Organize large events for up to 10,000 attendees,
Send the invitation and reminder emails,
Share your screen or present to a live audience,
Record the meeting sessions,
Engage the attendees via Q&A, live chat, quizzes, polls, and surveys
It provides a comprehensive and useful webinar toolkit that can help you engage your audience, educate attendees and build your brand. It allows you to customize the webinar room, and add your logo, banners, and CTA.
Key Features
With the screen sharing feature, you can share your screen with video and audio, live to other users in real time.
You can access it from anywhere, anytime. No installation is required. Join in just one click from any device. Just the way it should be.
Automatically sends an invitation, reminders, and follow-up emails to attendees.
Share different content types with your attendees – video, audio, spreadsheet, slides, images, infographics, etc.
You have a wide range of webinar toolkits to engage the audience: whiteboard, chat, polls, surveys, quizzes, etc.
Analyze build-in statistics and report and integrate your webinar with Google Analytics for in-depth insights.
Pricing
Flexible pricing options are available.
Free: MyOwnConference offers a free plan for 20 attendees for lifelong use with up to 500 MB of storage.
Pro: At $36 per month, you can get all Pro plan features for 60 attendees
Standard: At $60 per month, you can get all Standard plan features for 150 attendees
Enterprise: At $120 per month, you can get all Standard plan features for 500 attendees
---
6. Hangouts – Free Video Conferencing Software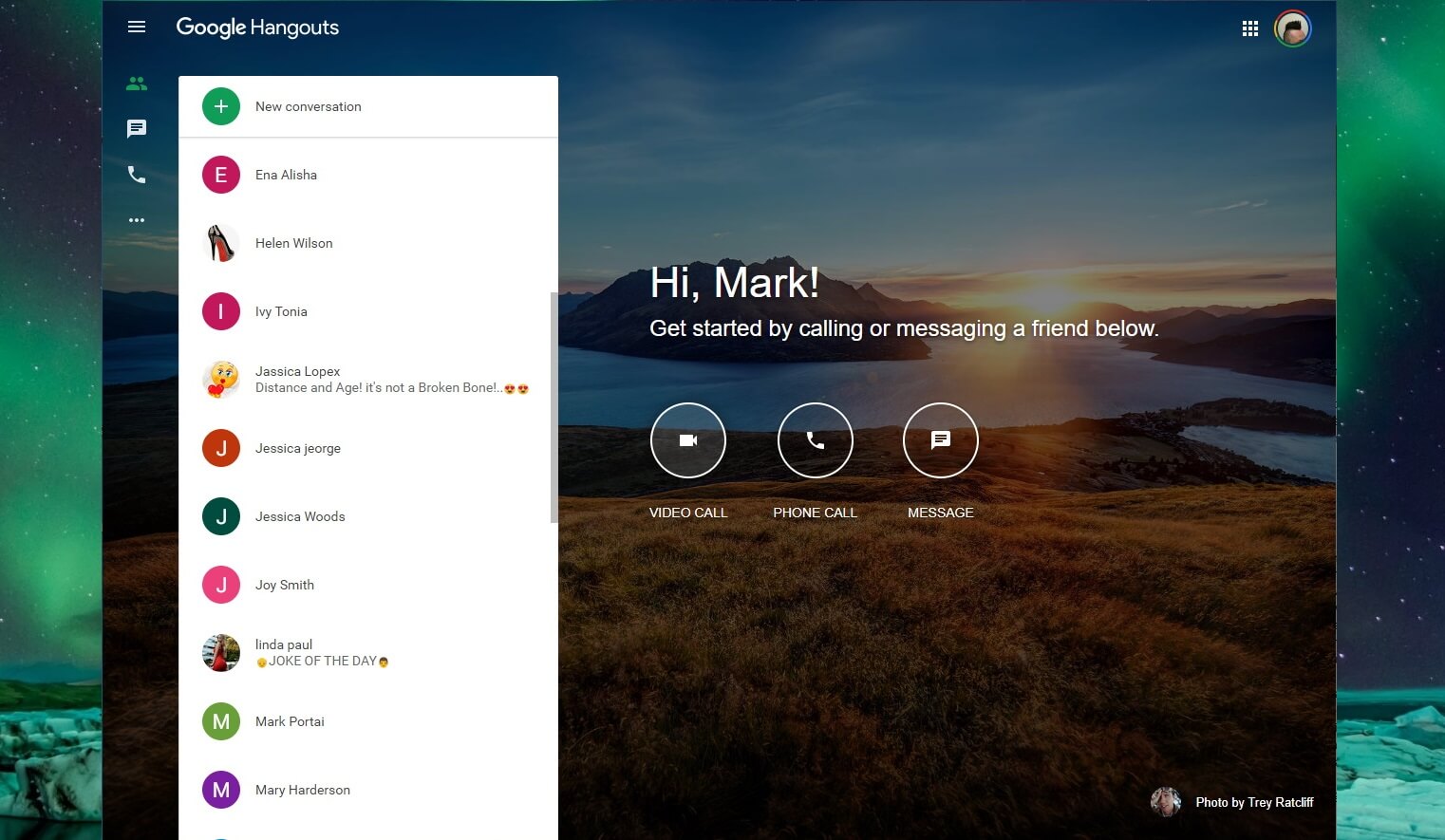 Google Hangouts is a comprehensive communication platform created by Google to help users in using voice calls video calls and instant messaging for work. the software is very useful for one-to-one implementations as well as a group.
This cloud-based collaboration and communication tool is excellent for corporate firms looking for communication tools to handle their remote teams. it includes various additional features such as cloud storage, text documents, presentation slides, and spreadsheets.
It is integrated with various Google applications to allow conversations conveniently.
An interesting feature of this software is that chat histories are saved online as well which allows them to be synchronized between devices. Furthermore, it is designed very similarly to social network sites which makes it very easy to handle communication between employees.
Key Features
It follows the newest protection standards which offer security to communications.
This software includes live broadcasting features enabled with Google Plus which can also be used to stream video calls through YouTube.
Google Hangouts also includes face-to-face functionality for online conferences and meetings.
It can accommodate multiple users in video calling simultaneously because of the Hangouts meet feature.
This software also allows you to carry out instant meetings with external participants at any time by sharing a single link.
With the screen sharing feature, you can also broadcast presentations online with other users.
It also allows you to record and save meetings on Google drive with a minimum storage of 30GB.
Pricing
Google Hangouts is a part of the G-suite edition of Google products. It offers the following three plans:
Basic: At just $6 per user per month, you can enjoy video conferencing, chat messenger, 30 GB of cloud storage, and team messaging.
Business: With $12 per user per month, you can use all basic plan features along with unlimited drive storage, app script, and cloud search.
Enterprise: At just $25 per user per month, you can get all business plan features as well as 24/7 priority customer support, designated Google advisor, endpoint management, and context awareness access.
---
7. TeamViewer – Best Teleconference Meeting Software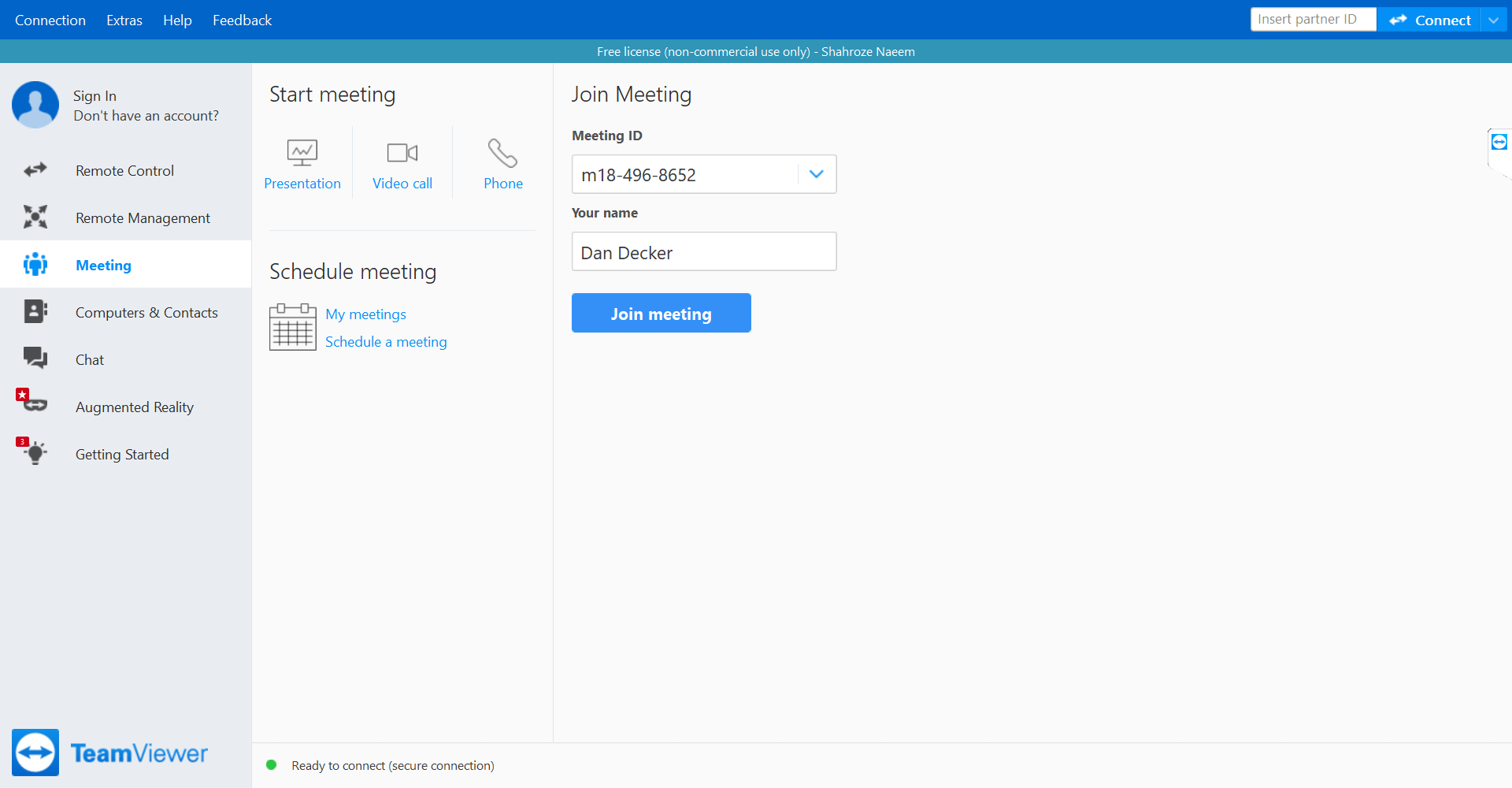 This communication tool allows remote teams to connect to multiple workstations. With a wide array of features ranging from collaboration to desktop access and support, TeamViewer brings in incredible features to catapult your productivity and increase customer satisfaction alongside.
As one of the top apps in the list of apps used for video conferencing, it is not only the best communication platform with enterprise-class security but also a solution that saves you from VPN complexity as well as expense.
With TeamViewer, you can enjoy cross-platform access and connect across multiple platforms personal computers, or mobiles. It provides a highly accessible and powerful system for individual users and large corporations.
The best feature of TeamViewer is that you can easily share desktops, transfer files, and work behind any firewall proxy.
Key Features
TeamViewer offers easy and quick file sharing a wire dragon drop interface that allows users to collaborate conveniently.
The team sessions feature makes managing multiple parties simpler.
It offers remote support, remote administration, and remote access to online meetings.
With the custom module, you can add your customized corporate design to TeamViewer.
it allows you to push and pull Wi-Fi settings to maintain a secure connection while sharing screens and real-time.
Pricing
Business: For only $22.90 per month, you can get one business license with exercise and control computer features, secure unattended access, file sharing, up to 200 managed devices, and meeting for about 5 participants.
Premium: For $45.90 per month, you can get all business plan features as well as up to 300 managed devices, 50 licensed users, up to 15 participants, 3rd party integrations, customized device integration, and tech support over the phone.
Corporate: Designed for teams, this plan allows 3 users to open 1 remote session at the same time. Not only this, for just $89.90 per month, but you can also get all premium license plan features as well as up to 500 managed devices, 200 licensed users, 25 meeting participants, mass deployment, and device access reporting.
---
8. Teams – Best Video Conferencing Service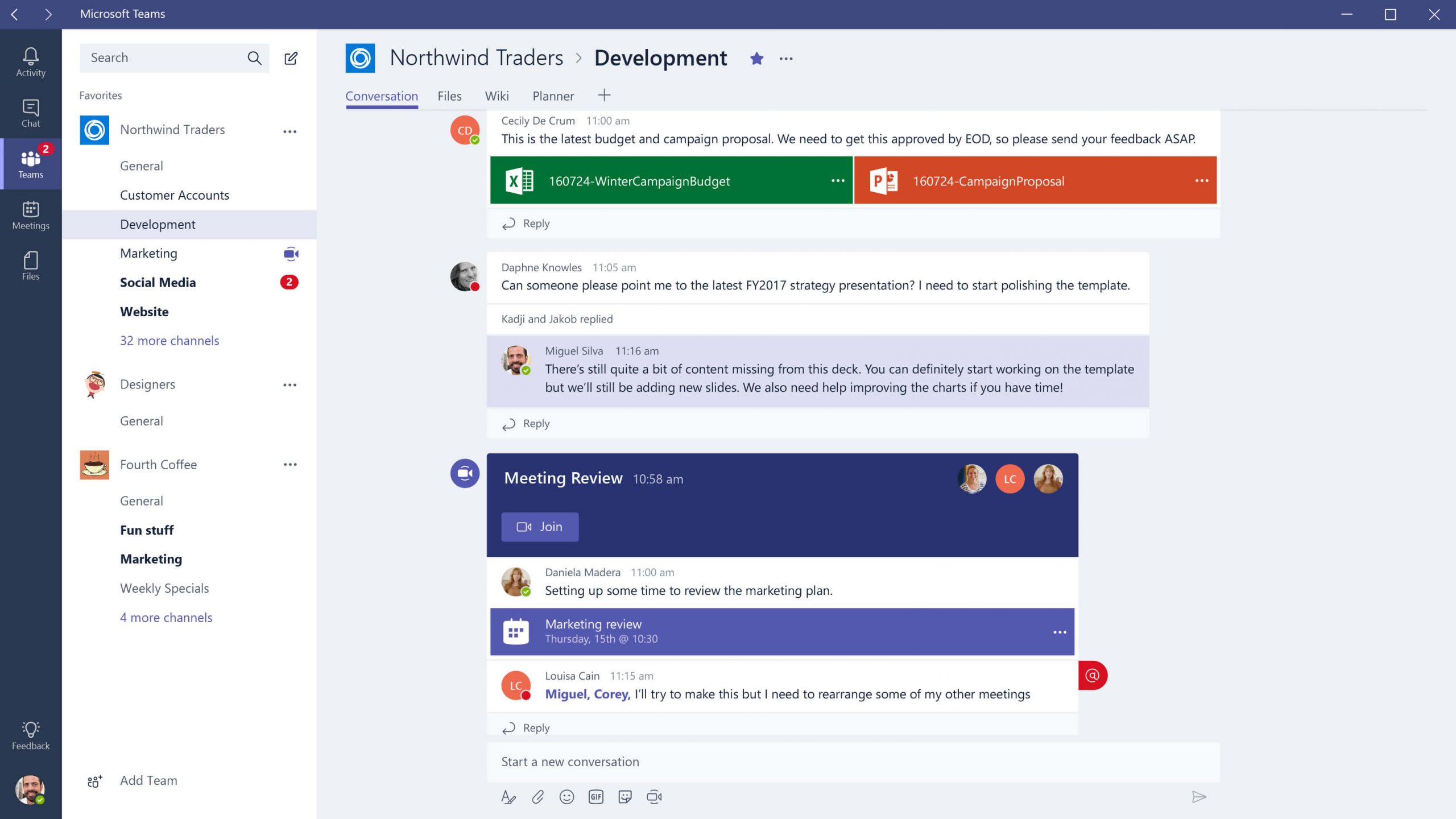 Integrated fully with office 365, this software is the ultimate tool for collaborating with remote teams at work. With Microsoft Teams, you can chat, store data, and work in an online meeting environment.
The best feature is that you can dedicate chat channels to certain topics and therefore avoid clutter. Furthermore, Microsoft Teams allows you to collaborate and share data in real time.
With non-forkable conversations and searchable chats, you can easily keep track of all data. Another interesting feature is that Microsoft Team leverages identities that are stored in Azure Active Directory. So you can enjoy security, compliance, management, and extendibility – all at once.
Key Features
Microsoft Teams offers direct access to Skype, SharePoint, OneDrive, and email.
It allows you to keep threaded conversations and reduce email.
You can easily access Teams across all your devices.
This software follows all meeting compliance standards including ISO 27001 and SOC 2.
It also allows you to integrate with third-party applications such as Zendesk quickly.
Pricing
Microsoft Teams is part of the Microsoft 365 suite which is available with four different plans:
Free: with no charges, you can use Microsoft teams for free to chat and collaborate.
Basic: At just $5 per user per month, you can get all the free plan features as well as business essentials.
Standard: For $12.5 per user per month, you can get all basic plan features as well as productivity apps and services.
Office 365 E3: At $20 per user per month, you can get all standard plan features along with 24/7 customer support, security compliance, administration assistance, meetings, and calls.
---
9. Skype – Best Free Video Conferencing Tool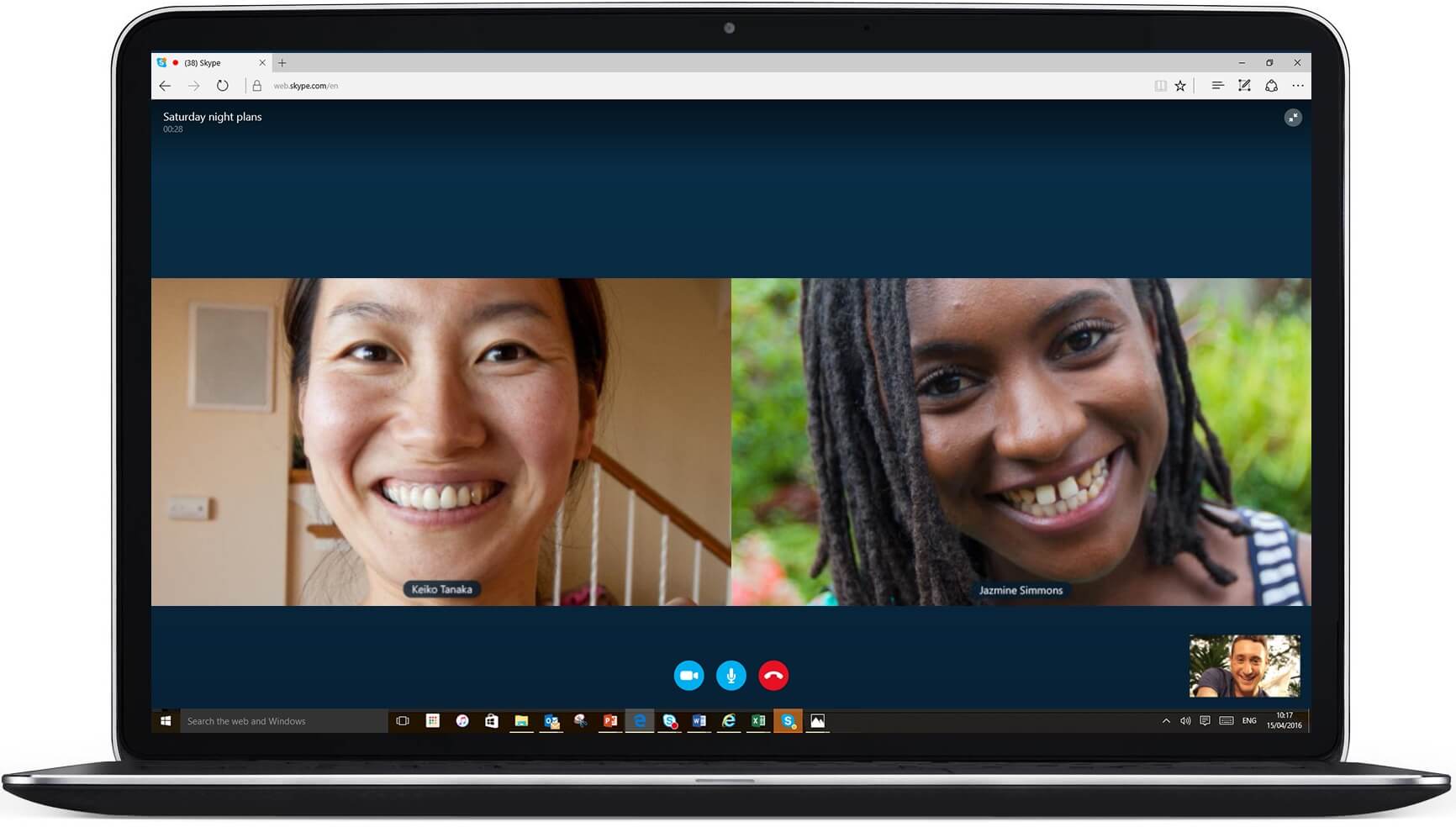 One of the oldest and most useful communication tools by Microsoft is Skype. This software was well-known way before the pandemic times not only because of its smart messaging but also because of call recording, screen sharing, HD video calling, and private conversation features.
Skype is an excellent software that offers not only cross-browser compatibility but is also available for Xbox and Alexa. With Skype, you can host a video and audio conference of up to 50 people for free.
It is an excellent application for holding online interviews and connecting with friends anywhere around the globe.
Key Features
Skype allows you to call landlines and mobiles at low rates using Skype credit.
The software also allows you to send text messages directly from Skype.
It allows you to record calls and capture images within the calls.
This software also allows you to share screens with an integrated screen-sharing feature.
You can also enjoy instant messaging in real time.
It can be connected with Paypal or a debit card to carry out computer-to-phone calls.
Pricing
Skype is a free software however it costs on a subscription basis for making local calls. The three plans are available according to the location of the user.
United States: For $3.01 per month, you can call unlimited minutes in three different destinations – including the United States – at $0.12 per minute if you use 2,000 minutes per month.
India: For $8.28 per month, you can enjoy 800 minutes for any mobile or landline at $0.83 per minute
North America: For $7.53 per month, you can enjoy unlimited minutes for 8 different destinations at $0.30 per minute if you use 2000 minutes per month.
---
10. Cisco Jabber – Video Chat Software
Cisco Jabber is an excellent communication and collaboration tool which offers voice/ video calls, voice messaging, desktop sharing and instant messaging. With its version 12.5, Cisco Jabber now allows you to improve productivity by sharing data in real time.
With Cisco Jabber, you can get reliable and secure communication with phone features including HD video. Since this software offers cross-browser compatibility, you can collaborate anywhere at any time.
Moreover, this teleconference meeting software is integrated directly with Microsoft office applications which allows you to start a chat or multiple conferences quite conveniently.
Key Features
It includes a team messaging mode which includes a central set of WebEx teams with all the messaging features of the cloud.
With the Active Control feature, you can not only customize designs but also control participants in a meeting.
This software offers a simplified configuration process so all settings can be updated via Unified Communications Manager.
As one of the best free video conferencing apps, it offers media routing optimization supported with SIP ICE.
This software automatically incorporates the updated firmware into your Cisco headset.
Pricing
To use Cisco Jabber, you need a Cisco Unified Communications License. Pricing for a CUC license starts at $175 per user/month.
---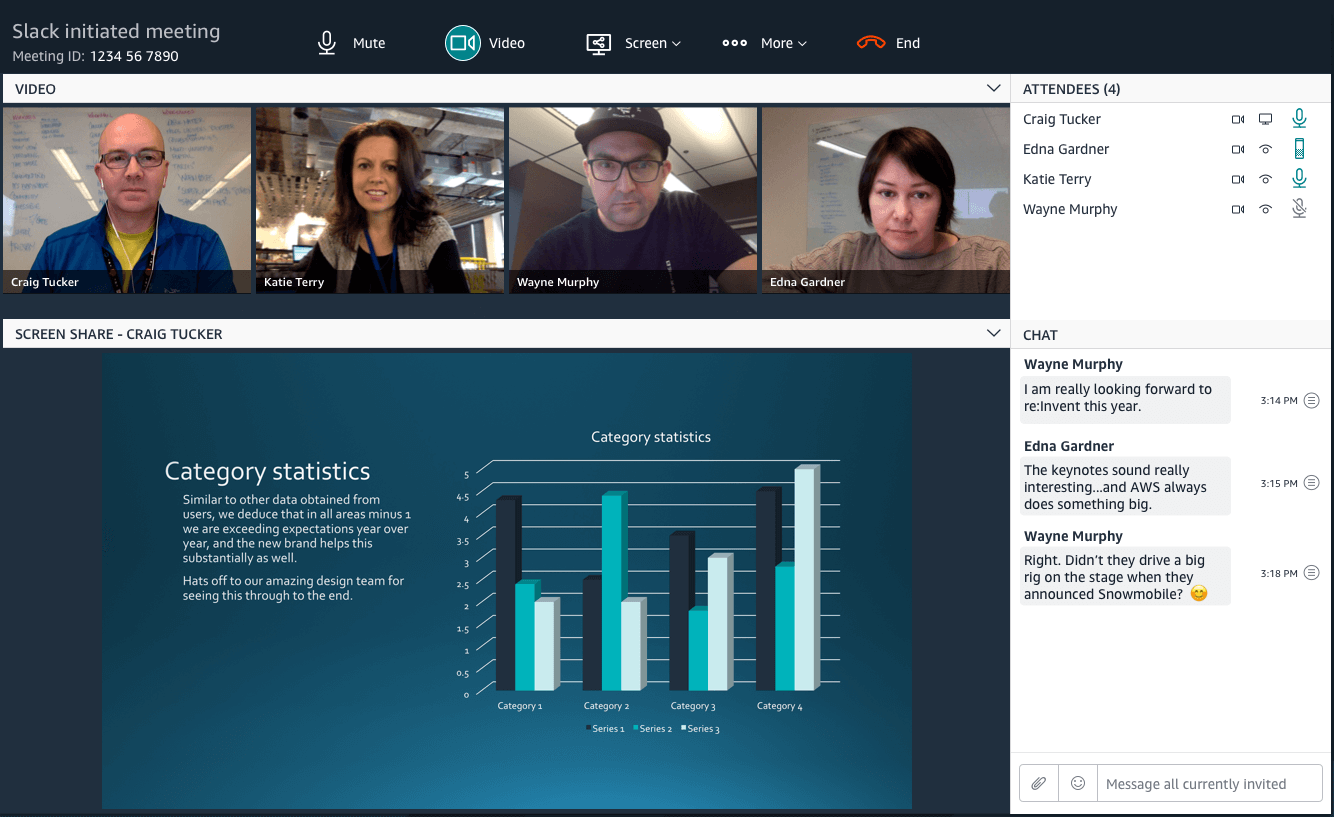 Amazon Chime is an online video conferencing and meeting solution. With the pay-as-you-go option, this software lets you work with no upfront payments or commitments.
It is a cloud-based application that is designed to simplify the processes of conducting and organizing online meetings, conferences, video calls, and voice calls.
With Amazon Chime, users can also record their calls, chat in real time, and share files. Owing to its cross-browser compatibility, it is very convenient for users to join from anywhere at any time using any device.
Key Features
Owing to its personalized meeting URLs, users can join meetings and start instant messaging conveniently.
It allows users to view their audio feed and remove background noise.
Participants can also share their screens without permission and can enable remote control of screens for collaboration.
Amazon Chime also includes chat rooms to enable multiple users to collaborate in projects where direct messages can also be sent to specified participants.
This software is available in 14 markets around the globe, including Australia, Brazil, Asia, Canada, and China.
The smart presence feature indicates a user's current status to showcase whether an employee is available or not.
It is also integrated directly with Slack so users can also join meetings via Slack workspace.
Pricing
Free: The basic features of Amazon Chime are free to use. You can enjoy voice calls, attending meetings, VoIP, screen sharing, group chats, incoming webhooks, and integration with AWS CloudTrail.
Pro: This plan works on a pay-as-you-go basis so you pay only for the services that you use. Amazon offers a pricing calculator on their website so you can choose your desired features and get a costing for them.
---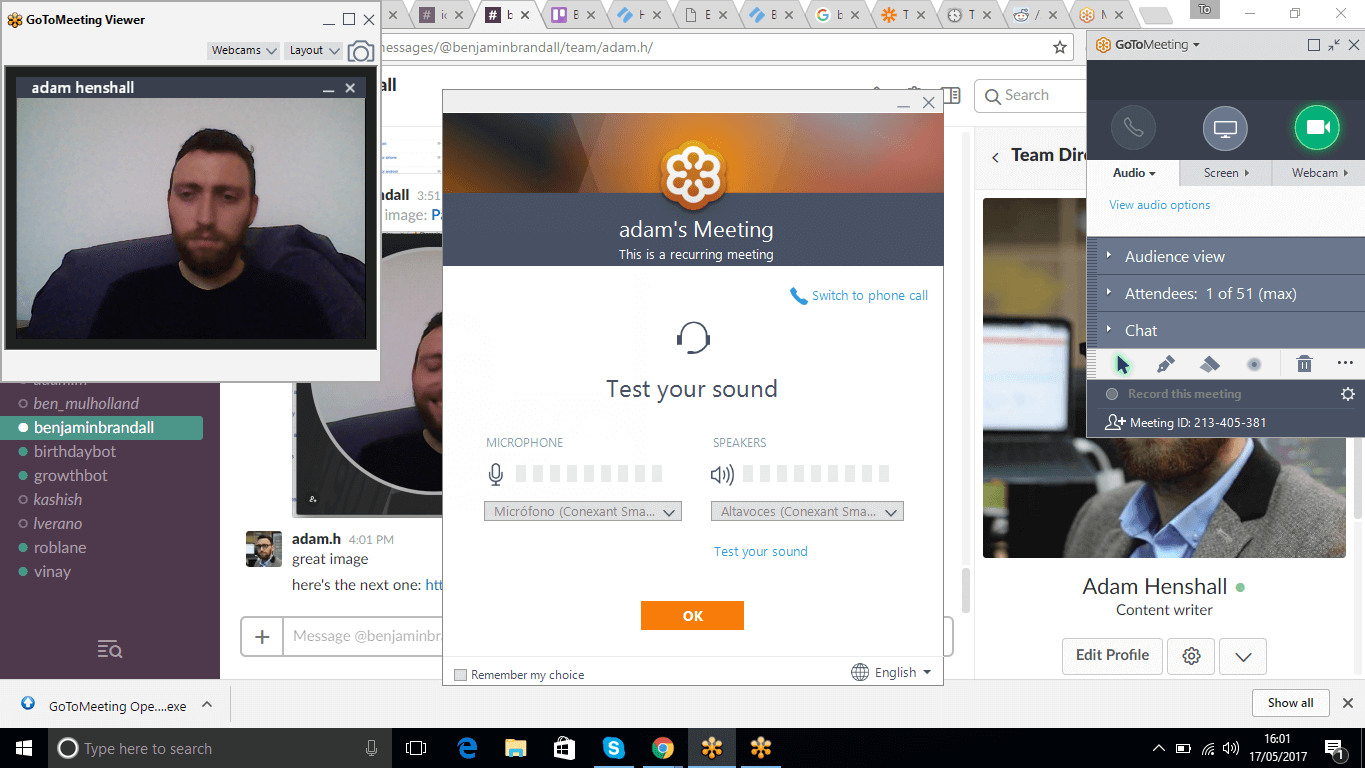 GoToMeeting is the best HIPAA-compliant video conferencing software for remote teams of up to 250 participants. With this application, users can host online meetings and share any application from their computers in real time. it allows you to attend video conferencing with high definition and unlimited meetings.
This software offers cross-browser compatibility so attendees can connect to meetings via any device anywhere. GoToMeeting is made for businesses of every size so whether you have a small enterprise, a medium-sized company, or a large organization, this application will work fine for you.
The 'Meet Now' feature allows you to start a meeting instantly. You can also schedule a meeting in advance or create a recurring meeting schedule.
Key Features
With the 'Smart Meeting Assistant' feature, users can easily search and share automatic transcripts of recorded meetings.
'Business Messaging' allows users to chat with people both inside and outside of the company.
GoToMeeting is not only available for Mac and PC but also for Linux and Chromebook.
This application also includes a 'Toll-free Option' which helps you join meetings through OpenVoice.
This free video conferencing software is available in 12 different markets around the globe including Australia, Canada, Europe, and China.
It works in 9 different languages including German, French, Dutch, and English.
Pricing
Professional: At $12 per organization per month, you can get HD Video, web audio, unlimited meetings, screen sharing, dial-in conference line, business messaging, and personal meeting rooms – all for up to 150 participants.
Business: For $16 per organization per month, you can get all enterprise plan features as well as co-organizers, unlimited cloud recording, transcription, smart assistant, drawing tools, keyboard and mouse sharing, and note-taking – all for up to 200 participants.
Enterprise: Large organizations can get custom plans for 1000 participants and choose from the list of features to get their tailored plan.
---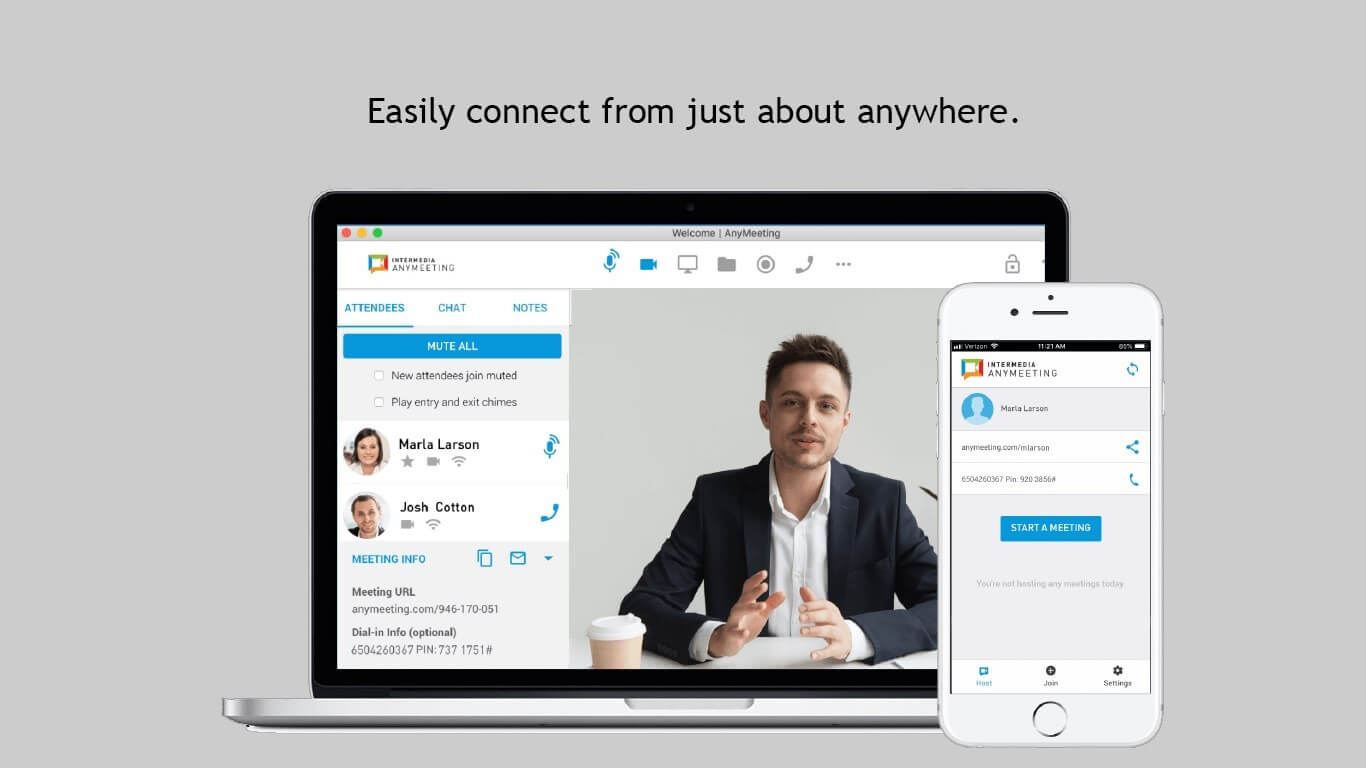 This web conferencing tool is excellent for managing remote teams. AnyMeeting is a fully-featured online meeting and webinar software that allows you to connect via any device at any time.
With the highest video quality and HD audio along with artificial intelligence capabilities, this tool offers you a faster, smarter, and more engaging meeting experience.
AnyMeeting is a great video conferencing software that allows a low level of complexity. With the screen annotation feature, meeting participants can also call out important points and mark them in real time during the meeting while sharing the screen.
It offers HD video at 720p for conferencing with up to 12 webcams.
Key Features
It is available in 11 different markets including Australia, Brazil, Asia, China, and Canada.
With this software, you can carry out presentation sharing, recording, and meeting rooms.
AnyMeeting includes an easy-to-use and free conference call line option for individuals calling from multiple different locations.
This software's user interface is clean and intuitive.
You can also customize the software according to your company's requirements.
Participants can also join audio calls via PINs.
AnyMeeting is integrated with many third-party applications such as MS team, G-Suite, Slack, and Outlook.
Pricing
Starter: Free of cost. You can get a meeting lock, unlimited meetings, custom URLs, instant calls, VoIP, and HD video for up to 4 web participants and 200 phone + web participants.
Lite: At $9.99 per user per month, you can get all Starter plan features as well as 3rd party integrations, 24/7 customer support, and SLA for up to 10 web participants and 200 web + phone participants.
Pro: For $12.99 per user per month, you can get all Lite plan features as well as meeting transcripts, insights, notes, custom branding, international dial-in numbers, meeting records, unlimited cloud storage, and remote control – all for up to 30 web participants and 200 phone + web participants.
---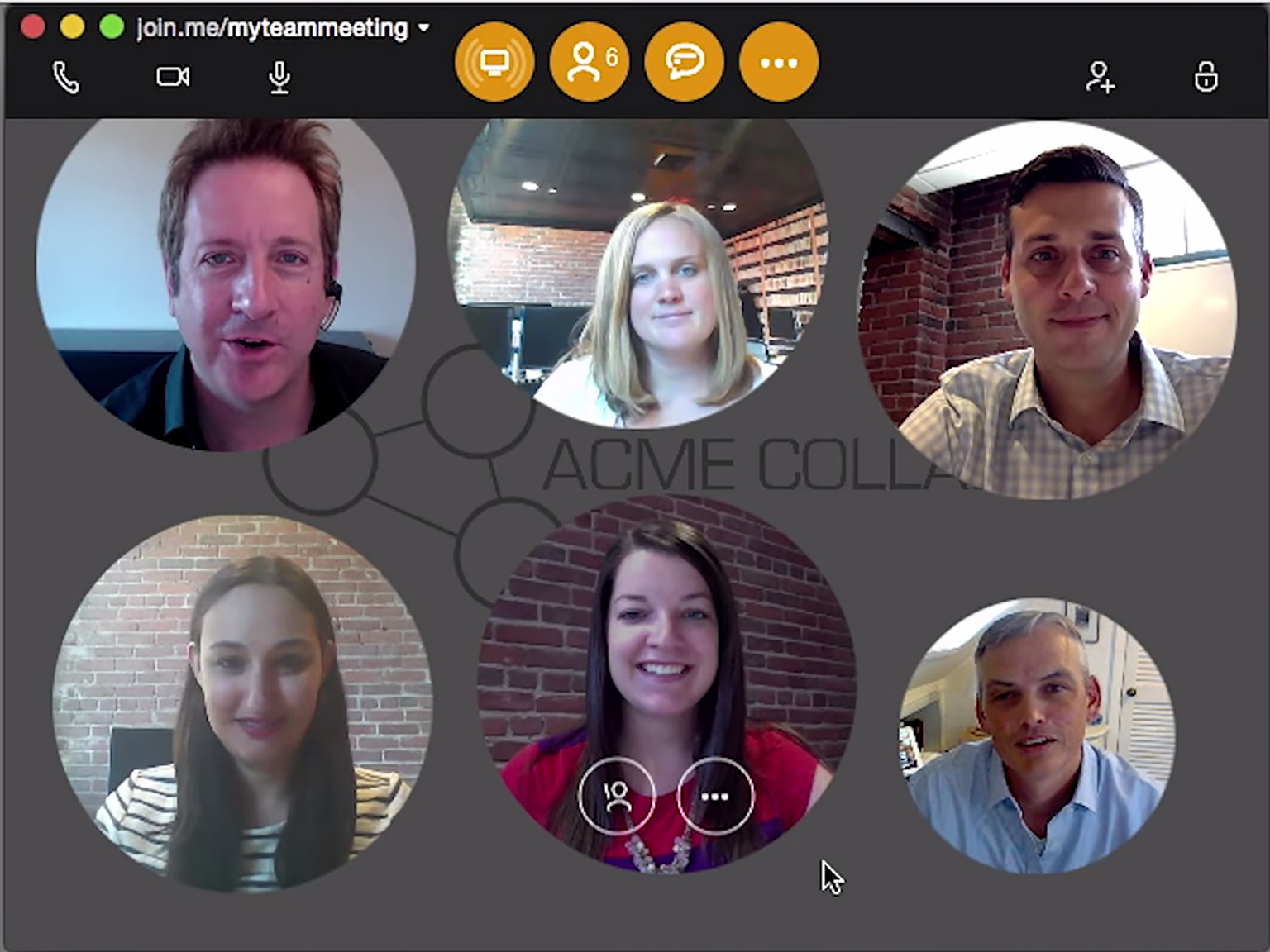 Join.Me is another useful meeting online conferencing tool that allows multiple employees to connect simultaneously. This software was initially designed for the users of Singapore and London who could connect both via the Internet or phone line to join the meeting online.
Along with the standard features such as call recording, meeting, screen sharing, and text chat, this free video conferencing software also allows you to customize the features.
It offers unlimited audio calls from any device whether it is internet calling or phone lines. Join.Me is now available for worldwide conferencing with phone numbers for 40+ countries.
Key Features
Users can create a flexible and personalized conferencing experience with recordings and screen sharing.
With this software, you can add up to 250 participants who can join from anywhere at any time using any device.
This tool allows you to carry out a simple installation with a consistent screen share URL and bookmarking option.
Join.Me is integrated with many important third-party applications such as Google Calendar and Outlook.
This software is available in eight different global markets including China, Canada, Australia, and Asia.
It supports 7 different languages including Italian, German, French, Dutch, and English.
Pricing
Lite: For just $10, you can get unlimited Internet calls, a personal URL, personalized background, unlimited meetings, no time limit, and a meeting of up to five participants.
Pro: For $20, you can get all Lite plan features as well as 10 webcam streams, 50 GB cloud storage, toll-free numbers, scheduling, recording, and meeting of up to 250 participants.
Business: For $30, you can get all Pro plan features as well as 1TB cloud storage, bulk user import, enterprise authentication, Salesforce integration, feature permissions, and SSO for a meeting of up to 250 participants.
---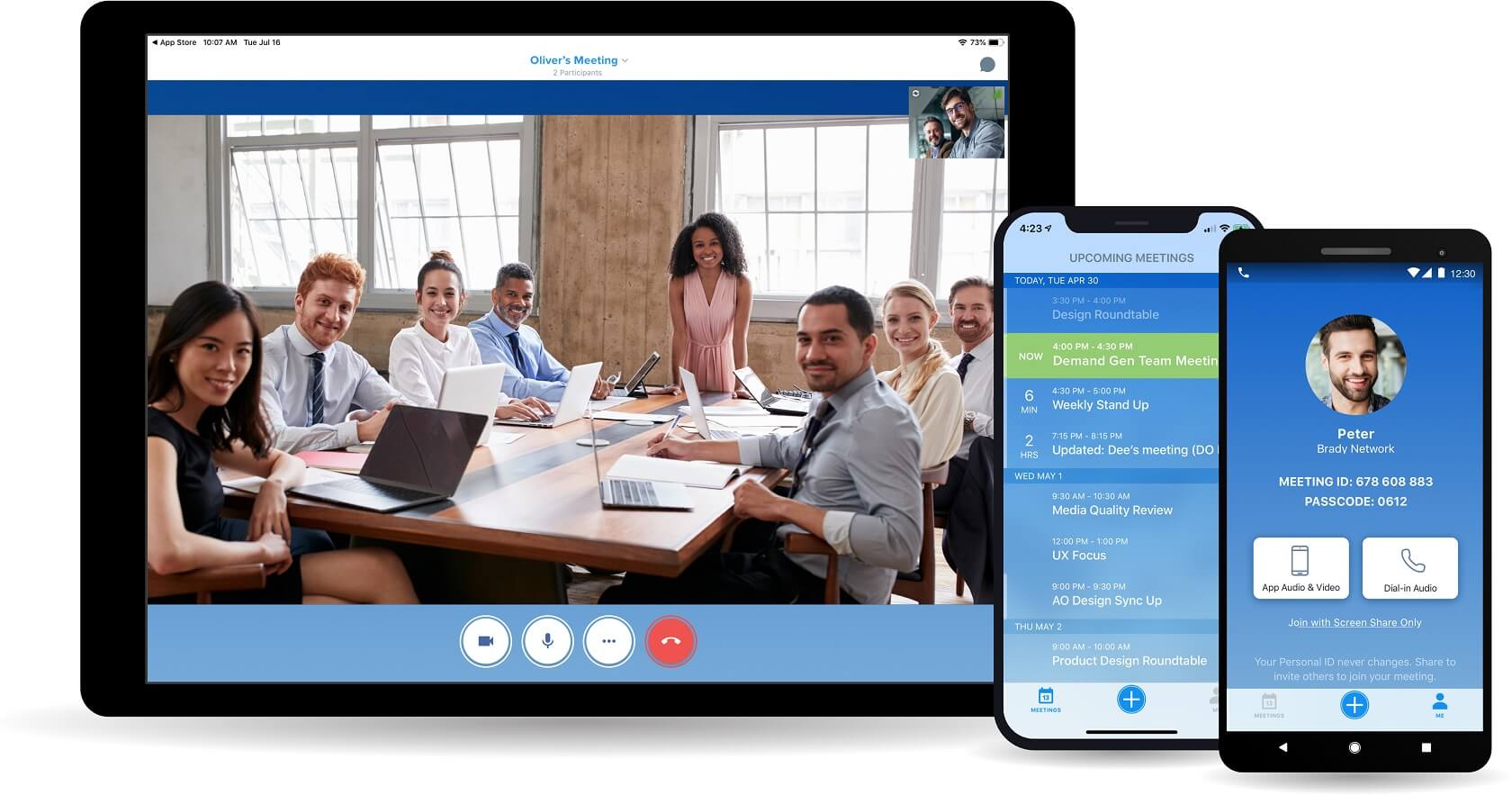 This video conferencing solution offers support for meeting recordings, content sharing, and text chat, for business meetings. BlueJeans supports meeting sessions of up to 25 video or audio participants in the standard mode and up to 100 participants in the add-on version.
You cannot only record and store the meeting sessions but also watch and share them later.
BlueJeans is integrated with multiple platforms such as Cisco Jabber, Microsoft Lync, Avaya Scopia, and Google Hangouts. The best part about BlueJeans is its command center which allows you to track and manage all the videoconferencing activity.
This software includes an interactive dashboard that allows you to keep a check of all meeting data metrics, charts, and graphs.
You can also access real-time metrics as well as historical trend analysis reports via the dashboard. With this software, you can also define access permissions and remove or add users.
Key Features
It is a security easy-to-use and universal software available on the cloud which makes online enterprise meetings more manageable and productive.
The universal interoperability feature removes technical barriers between computers and conference rooms so with the software you can connect from anywhere at any time.
With the multi-party video meetings feature, around 5,000 participants can interact in events and webinars.
This tool is great for sharing HD content and videos with all the participants of the meeting simultaneously.
This global cloud service offers scale and flexibility for teleconferencing.
This software allows you to view videos at a high definition of 1080p.
The software also supports single sign-on integration along with Google calendar and Outlook for easy scheduling
Pricing
Standard: At $9.99 per host per month, you can get unlimited 1:1 meetings, unlimited group meetings, 5-hour recordings, no time limit, and a capacity of up to 50 participants.
Pro: For $13.99 per month, you can get all standard plan features as well as security and incident management, workstream collaboration integration, command center analysis, Canvas Integration, CirQLive sessions, 25-hour meeting recording, and hosting for up to 75 participants.
Enterprise: You can get a quote from BlueJeans according to your organization's requirements by choosing features from the list offered by the company. These features include brand customization, unlimited recording, H.323/SIP, onboarding manager, customer success manager, and technical account manager.
---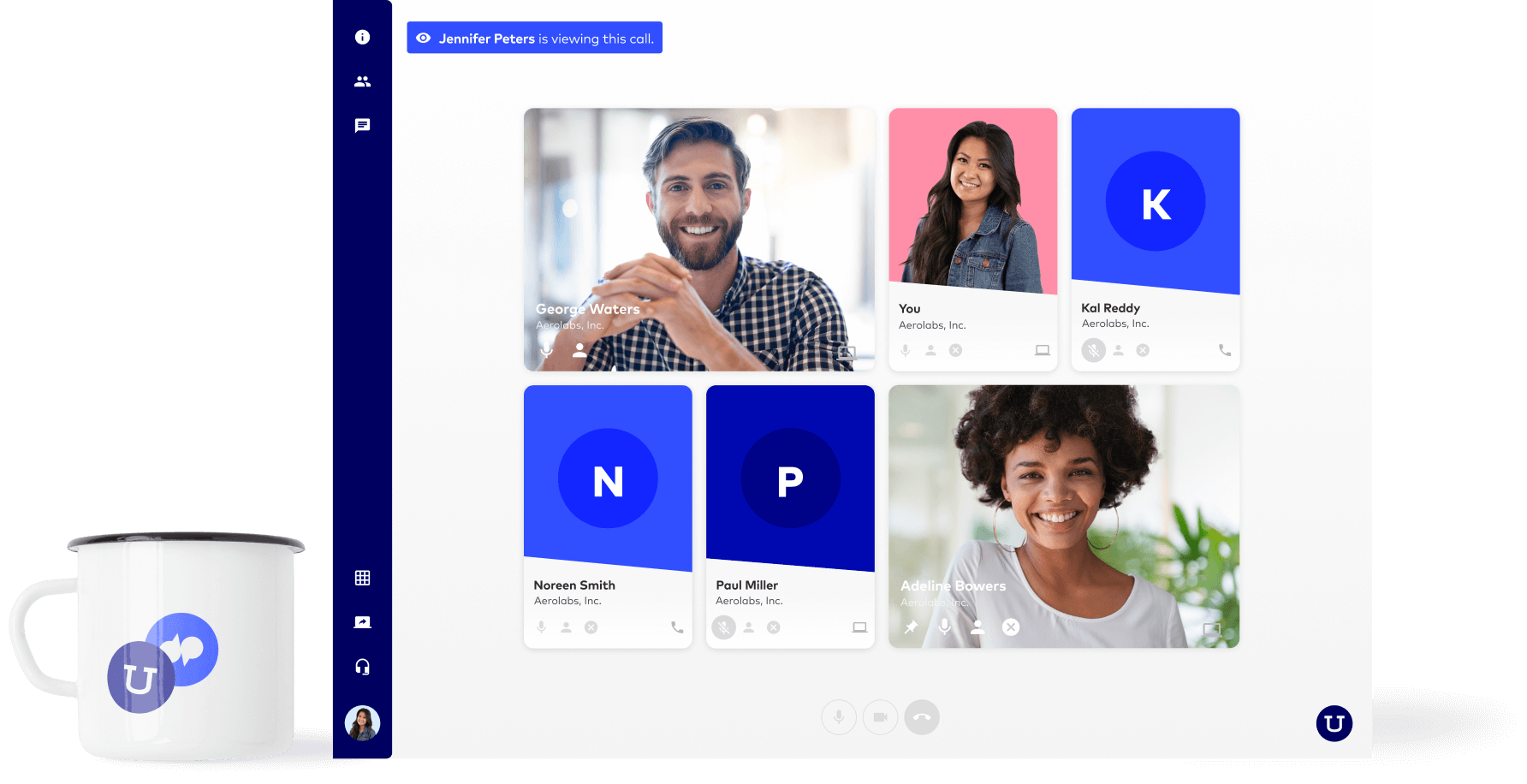 Uberconference is a cloud-based conferencing system launched in May 2012 by San Francisco-based company Switch Communications. It is great for businesses that require efficient conference calling to manage their remote teams.
The software offers VoIP solutions along with high-quality audio and integration with important third media applications.
Uberconference is highly customizable for businesses of all sizes. Owing to its integration with Google, Uberconference offers easy portable communication.
With this software, you can access screen-sharing HD audio unlimited calling international calling, and other powerful conferencing tools.
Key Features
It is integrated with Google Drive, Google Hangouts, Evernote, and Dropbox.
This free video conferencing software also allows you to mute or reject a person from a conference to enable powerful leadership.
With Uberconference, you can also record the meetings and archive them later.
With the unlimited call recording feature, both the business and free plan users can get unlimited call recording.
There is no storage or time limit for this cloud-based software's users.
Pricing
Free: You can work with 10 participants with phone and VoIP audio, screen sharing, call recording, mobile apps, HD video, and HD audio for a conference of 45 minutes. This plan is available for free.
Business: For $15 per organizer per month, you can enjoy all free plan features as well as analytics, international access, custom hold music, toll-free numbers, voice intelligence, and a team management portal, all with a conference duration of 5 hours with up to 100 participants.
---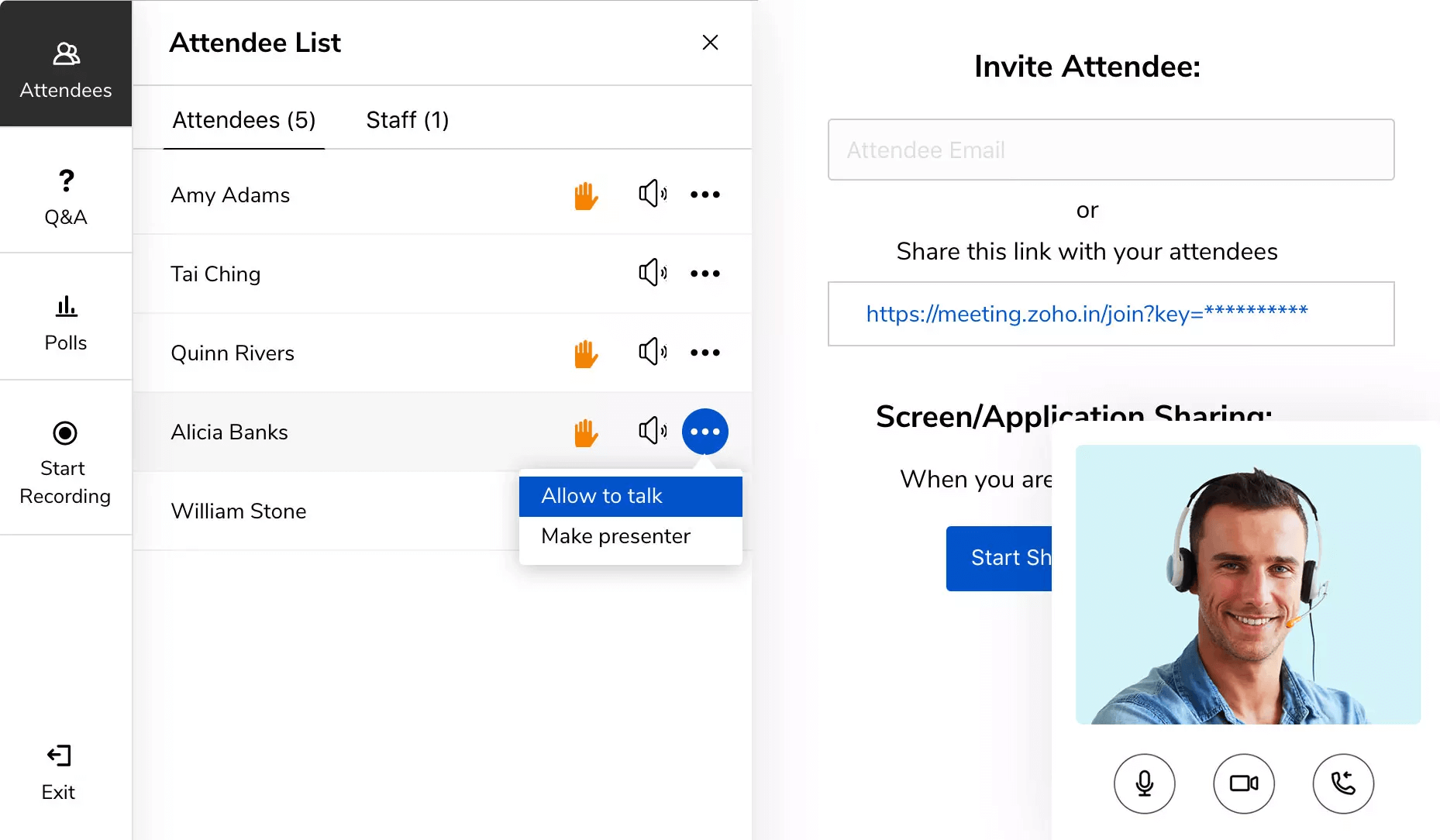 Zoho Meeting is an efficient communication software application that allows you to work with remote teams. It is designed for companies with multiple teams across different locations so they can collaborate in real time.
This software is integrated with audio conferencing which allows you to not only share your desktop but also conduct an impression meeting with the customer so that you can demonstrate the product across the world without having to leave your office.
With the Zoho meeting, you can also experience webinar solutions for hosting with bananas and engaging as well as educating the leads. Since the software is web-based, so you do not need to download it you can simply join it with a single click.
Key Features
Zoho Meeting also allows you to rebrand the application according to your company's design.
You can use this software to produce demonstrations or sales pictures anywhere at any time via the easy online meetings feature.
This application can be embedded with your website to reach a wider audience as it is an online meeting portal.
It offers cross-platform support so you can join the meetings via any device.
Zoho Meeting tops the list of apps used for video conferencing because it includes firewall support and security to encrypt and secure your meetings.
Along with other best video conferencing tools, this one also offers detailed reporting for producing actionable insights.
Pricing
Meeting: For $8 per host per month, you can enjoy RSVP scheduling, screen sharing, VoIP, meeting widget, international dial-in numbers, toll-free add-ons, meeting recording, email reminders, calendar integration, and much more – for up to 100 participants, with storage for 10 recordings.
Webinar: This plan includes features such as registration moderations, form customization, screen sharing, polling, in-depth analytics, Google Chrome extension, and more – for the following prices:

25 participants: $15 per month
50 participants: $23 per month
100 participants: $31 per month
250 participants: $63 per month
---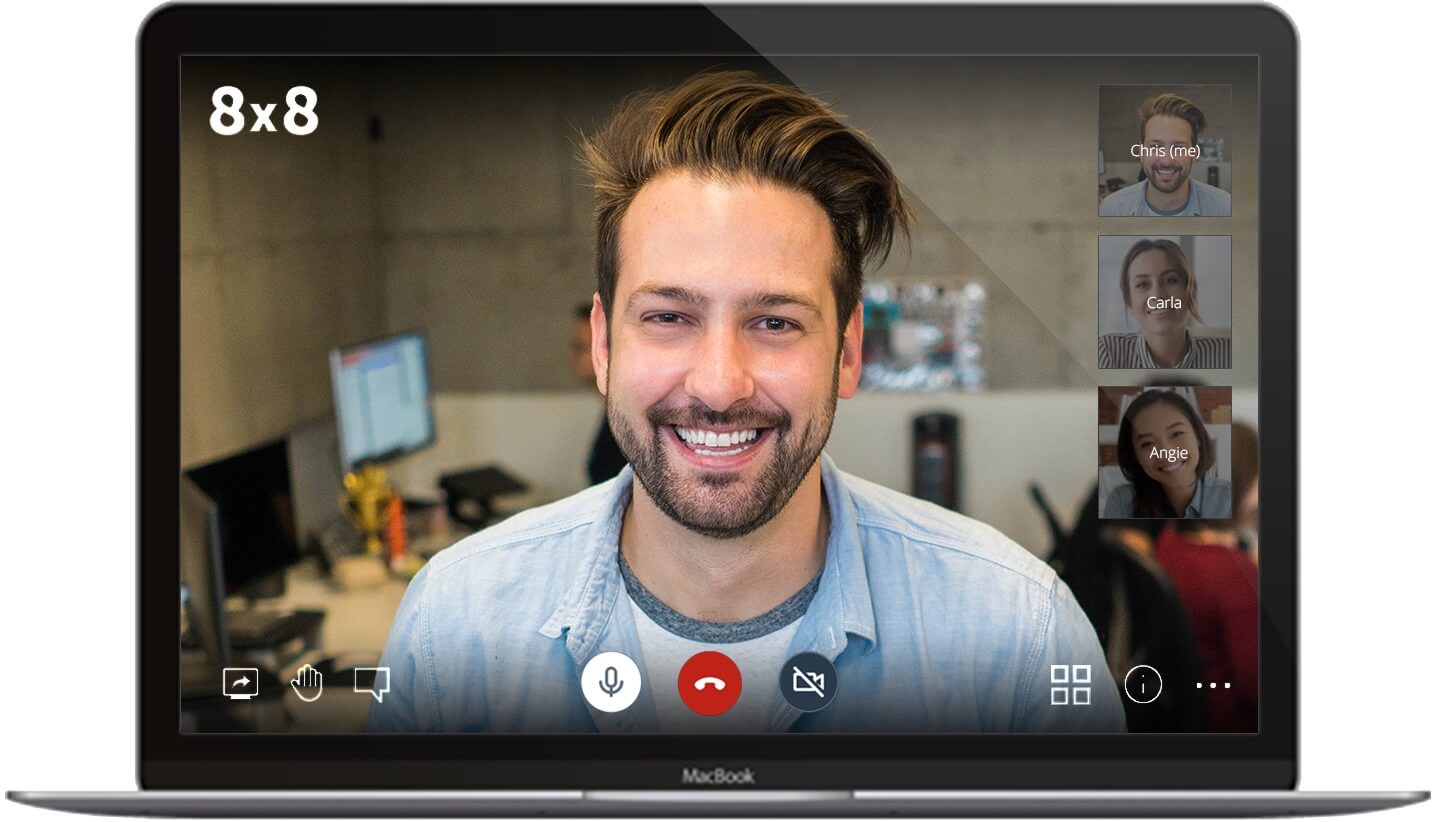 This video conferencing software offers free unlimited video meetings along with simple browser extensions as well as calendar plugins.  With its paid plan, 8×8 allows you to enjoy meeting transcriptions as well as closed captions.
Apart from the meeting recording feature, you can also create a live stream and even go with an in-meeting server function. 8×8 is powered by Jitsi, an open-source video conferencing software. The interface of 8×8 is entirely browser-based.
Key Features
It offers custom browser extensions for both Chrome and Firefox.
You can also share your screen or chat with other participants during the meeting.
It complies with the verified security standards for third parties along with a closely scrutinized developer community.
8×8 offers end-to-end encryption along with randomized meeting names to preserve the privacy of team employees.
This software claims to offer 24/7 customer support via live chat email and phone.
Pricing
Free: You can enjoy unlimited meetings, no time limits, Outlook and Google Integration, central administration control, personal meeting link, and meeting history – all for free.
Pro: For just $9.99 per user per month, you can enjoy all free plan features as well as real-time closed captions, meeting transcription, live in-meeting dial-out, and extended cloud storage.
---
Video Conferencing Software – FAQs
🧐 What is the Easiest Video Conferencing Software to Use?
After you have found a list of packages that meet your budget, it is equally important for you to question the ease of use of the business video conferencing software. For example the ease of signing up, creating a meeting, inviting participants, and setting up audio and video controls.
The user experience (UX) from the meeting invitees' point of view is just as important because it can make or break a meeting. It is up to the user to decide whether they prefer or need dial-in numbers, VoIP support, or both options for your audio, and video calls in addition to screen sharing.
There are also many other services, such as; teleconferencing with dial-in numbers (local or toll-free) and VoIP calling, while some offer both or just one or the other. There are some international dial-in numbers offered as well. Most of the products allow video calls via webcam.
Our top five easiest video conferencing apps to use are:
Google Hangouts
Zoom Meetings
Cisco WebEx
Zoho Meetings
GoToMeeting
🧐 What Is the Best Free App for Video Conferencing?
There are many popular and best free apps for video conferencing, however, we are sharing with you our favorite top five apps.
Intermedia AnyMeeting has all the features a small business is looking for in a video conferencing solution. It has well-integrated collaboration and file-sharing tools as well.
Zoho Meeting is a video conferencing tool that is great for screen sharing and web presentations.
Zoom Meetings' is known for its top-notch performance, affordability, and free plans.
Cisco Webex Meetings is a video conferencing service that offers a generous free plan and its cost has dropped considerably over the past couple of years.
Join.Me is an easy-to-use video conferencing software solution with a modern user interface and a variety of features, which improve your online meeting experience.
🧐 Why Is Zoom so Popular?
Zoom has gained immense popularity due to the COVID-19 crisis. Unlike most messengers, it is easier to use since it doesn't require a login and can run in a browser.
As opposed to other vastly used conferencing software, Zoom has; better call quality, the ability to record meetings, and being ability to share high-quality video over that call. And its free version can also host up to 100 participants for a video chat in one go.
It also features personalized tools, including the ability to pick from different backgrounds, change the camera angles, hold encrypted private calls, and send direct messages and record sessions.
The cost for unlimited features and minutes is $14.99 and enterprise users are charged a cost of $19.99.
If people can have access to free business conferencing software, which provides them with all the perks and much more – Zoom is the way to go.
🧐 Webinar Vs. Video Conferencing Software: What Is the Difference?
A webinar is a real-time live event, which users can access online. These normally consist of informative presentations, such as; seminars, lectures, workshops, or product, and service demonstrations. For interactive sessions, features such as; shared screens, Q &A sessions, and topic discussions are allowed.
Video conferencing software permits online communication for audio meetings, video meetings, and seminars, with built-in features such as chat, screen sharing, and recording.
This type of software is used to allow long-distance communication and collaboration, and decrease travel costs.
Webinars as considered video streaming tools and fall under the vast concept of web conferencing. Webinars are useful for a more refined focus on the topic being discussed.
Whereas, conferencing software is effective in conducting online meetings, training, private video chats, and content sharing.
That being said, webinars are great for large collaborative meetings and video conferencing is better for smaller intimate, sophisticated presentations.
🧐 How Much Do Web and Video Conferencing Software Cost?
It doesn't matter what type of software a person is willing to acquire, the cost will be calculated according to the package that fulfills the users' needs.
Web and video conferencing solutions are great platforms, which make work efficient especially when logistical issues come to working with clients.
In 2021, the overall cost of web conferencing software ranges from $0.15 to $0.67 per user, and a package with more features costs $49-$225 per month. However, this all depends on the company's or individual's needs.
The overall cost range for a video conferencing service will also depend on your needs. Nonetheless, the prices range from around $27 – $55 a month/user, and there are instances where a user will pay $0.25 per minute.
---
Other SaaSy Goodness on All That SaaS: