Today, entrepreneurs and business owners are turning toward technology to improve their accounting processes, by using the best small business accounting software available that meets their needs.
With more efficiency and less paperwork, the applications enable you to stay real-time updated with all the key financial indicators and metrics.
No wonder why small business accounting software is highly sought after. The available software applications these days are highly adaptive, scalable, and empowered with automation options that can meet the needs of any individual to a corporation.
You may find plenty of accounting software solutions available, but with the right accounting software in place, you'll be focusing less on number-crunching, and more on expanding your business.
6 Key Features of Small Business Accounting Software
On the surface, accounting software will do what accounting is generally about:
Bookkeeping,
Generating reports,
Complying with legal and statutory requirements, and
Handling bank reconciliations
However, as you get better features, it will bring every aspect of your accounting workflow to the top level. A powerful business accounting software can also help eliminate inaccuracies, organize data, and speed up approval processes.
Here are some of the key features that you should be looking for:
Cloud Services: Access your data from anywhere, any device, using a fast Internet connection. Also, you wouldn't have to additionally purchase software licenses or servers.
Ease of Use: Whether you are bookkeeping, sending bulk estimates, or creating reports, the easy interface will only save you valuable time. Also, it will improve your efficiency in functions otherwise not feasible in a complex interface.
Automation: Processes such as receipt scanning and bank reconciliation can become highly mundane and time-consuming if done manually. Automation will save your time, energy, labor, and cost.
Integration: Applications that offer integration with third-party software are a gem. Whether you use PayPal, SalesForce, Amazon, Oracle, or different accounting software, third-party integration options available will boost your accounting process.
Pricing and Budget: The software's pricing and your budget should go hand-in-hand for long term sustainability and avoid getting ripped off by getting features that you do not need.
Reminders: Setting due date reminders will help you avoid late payments to vendors, and also update your clients to make payments to you on time.
Regardless, if you're an entrepreneur, freelancer, consultant, small-business owner, or CEO, you can find a variety of home business software options for your daily business needs.
The Best Accounting Software for Small Businesses (2023)
1. QuickBooks – Business Accounting Software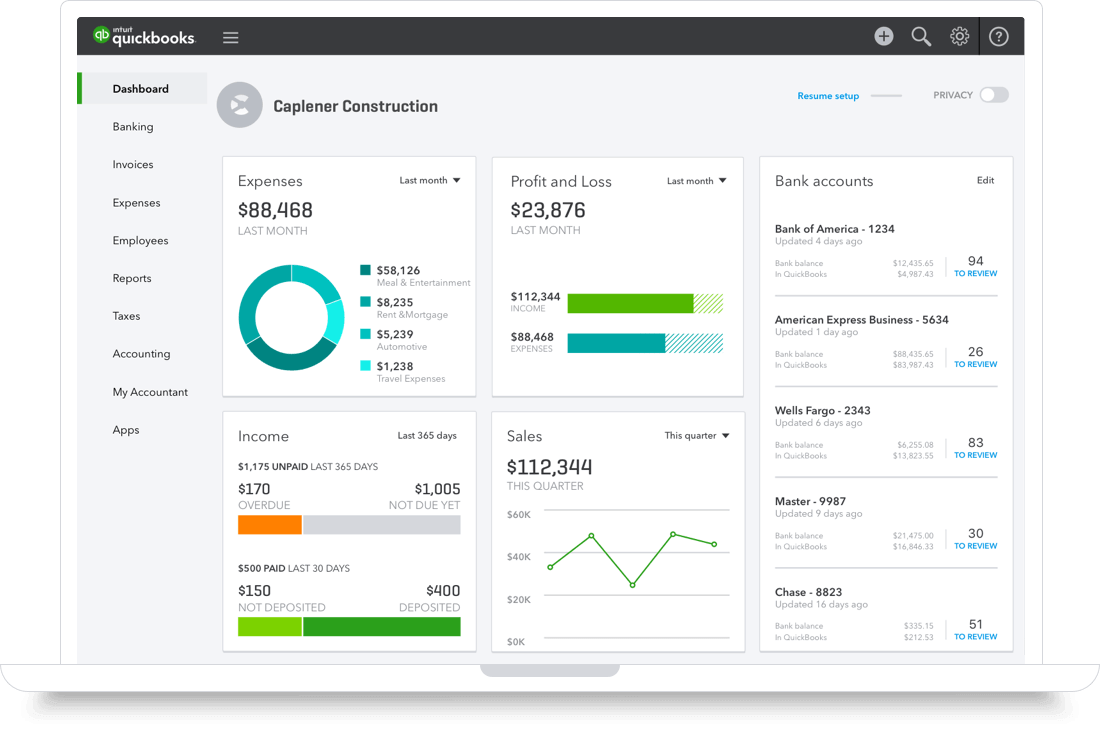 This entry is perhaps the least surprising of all. If you ask any accounting professional to name one SaaS company, their most likely response will be QuickBooks.
This is how popular QuickBooks is. However, it is not just the popularity of the name, but also the top-notch features, quality user-interface, and outstanding customer support that makes QuickBooks a complete package.
As you would have thought, QuickBooks has made our list of the best small business accounting software to use. This product has been designed in such a way that it suits every type of business – be it a large enterprise, or freelancer working from home. And the best thing of all is that you only have to pay for what you need.
It is safe to say that QuickBooks has dominated the industry for years. Having said that, you can find even more business accounting software and features in this list that can precisely meet your needs.
Features
Manage and organize your business accounting on the cloud through your PC, mobile, or tablet
Track record of your tax times and save receipts through your phone's camera.
Record vendor invoices and sends them over within minutes
Make smart business decisions through in-depth data reporting
Schedule recurring payments and pre-recorded vendor bills to save precious time.
Pay employees, automate payroll tax calculation, and auto-fill payroll tax forms
Automatically back up your data to ensure the safety of your accounting reports
Pricing
QuickBooks offers the following price packages:
Free Trial – give QuickBooks a free trial for 30 days; this excludes any discount offers
Simple Start – at $15/month (50% discount for first six months), track sales, expenses, and profits offers unlimited invoices, manage your sales tax, cross-platform support, all for one user.
Essentials – at $23/month (50% discount for first six months), everything included Simple Start, also you can manage bills, sales quotes, and use more currencies, all this for 3 users and 1 accountant.
Pro – at $31/month (50% discount for the first six months), everything included Essentials, manage inventory, purchase orders, and much more for up to 5 users and 1 accountant
---
2. FreshBooks – Online Business Accounting Software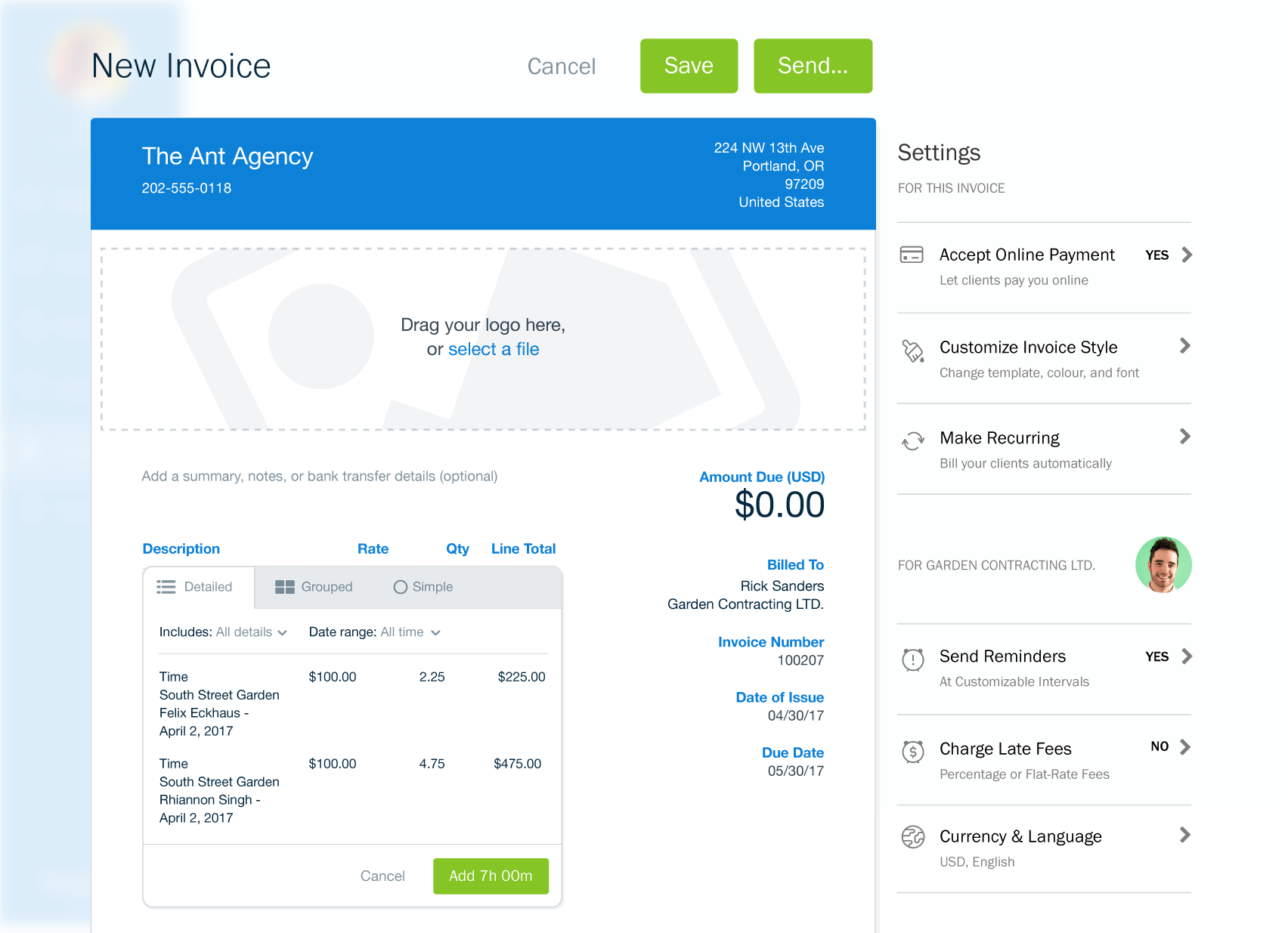 Best suited for small business, growing startups, entrepreneurs, and freelancers, FreshBooks is one of the leading small business accounting software, it's the reason behind this is clear.
FreshBooks has a dynamic and powerful user-interface that makes the accounting and billing cycle easy to manage. Because of that, FreshBooks becomes a prominent choice for business owners with limited knowledge of accounting.
Even more so, FreshBooks offers automates and speeds up labor-intensive tasks, such as creating invoices, sending client reminders, or managing inventory. You can safely and securely back-up your data on its cloud storage and access it from any device that you may be using.
Features
Among the flurry of beneficial features, these are the most notable ones that FreshBooks provides:
Auto-send custom payment reminders, optionally apply automatic late fees, recur similar invoices, and request deposits on your invoice upfront.
Send invoices to clients in their preferred language through Freshbook's multi-language feature
Save keystrokes by creating duplicate invoices and making adjustments as you wish
Organize receipts, keep track of your spending through an easy-to-read summary, and get your expenses ready for tax time
Manage estimates and swiftly convert approved estimates to invoices
Track and bill employee work hours, and collaborate with your entire team through the Team Time Tracking feature
Available as a Chrome extension, access FreshBooks from your web browser within one click.
Pricing
The following are the annually-billed price packages offered by FreshBooks:
Free Trial – give FreshBooks a free trial for 30 days
Lite – $15 /month, bill up to 5 clients, contains all basic features, unlimited invoices, expense entries, time tracking, and estimates. Add team members for $10 per user.
Plus – $25/month, bill up to 50 clients, contains everything Lite has to offer with more advanced features. Buy advanced payments feature for $20/month.
Premium – $50/month, bill up to 500 clients, other features are the same as Plus.
Select – custom pricing, bill more than 500 clients, personal account manager, low credit card rates, and much more.
---
3. Xero – Powerful Accounting Software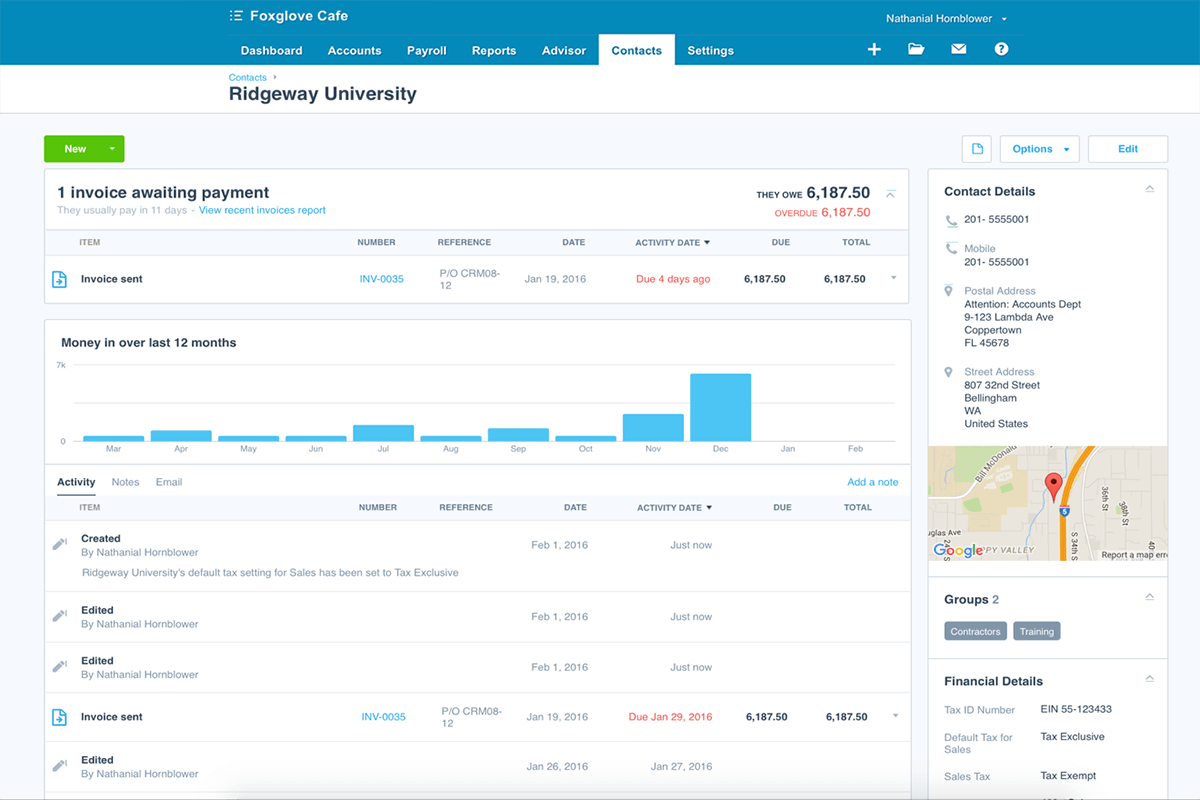 Based in New Zealand, Xero provides all the promising benefits that will fast-track your accounting process. This app is a remarkable choice for small and medium-sized businesses. The company that runs Xero offers products that are used in more than 180 countries.
So if you are looking for one of the best small business accounting software with payroll, Xero is worth your consideration. Powered with cloud-technology, it delivers all the right tools that save your time and help grow your business.
Features
Integrate your inventory, invoices, expenses, and other data with 800+ third-party apps
Take a real-time view of your cash flow and financials by accessing your data from Mac, PC, or smartphone
Get notified automatically when your customers open invoices
Support for multiple tax rates and currencies
Instant bank reconciliation within just one click
Provide access to unlimited users, and make the best use of unlimited transaction features
Handle inventory speedily through a fast-track sale and purchase system
Pricing
Xero comes with the following price packages:
Free Trial – experience the best of free small business accounting software for 30 days
Early – at $6.75/month, manage up to 5 invoices, 5 quotes, and 5 bills, reconcile up to 20 bank records
Growing – at $22.50/month, manage unlimited invoices, quotes, bills, and bank reconciliations
Established – at $45/month, same as Growing, with multi-currency, expenses, and project management
Add-on: Third-party payroll integration is offered by Gusto at a $39/month base + $6/month per person
Looking for some SaaSy inspiration? Check out these top SaaS lessons that Dropbox teaches you.
---
4. Wave – Free Business Accounting Software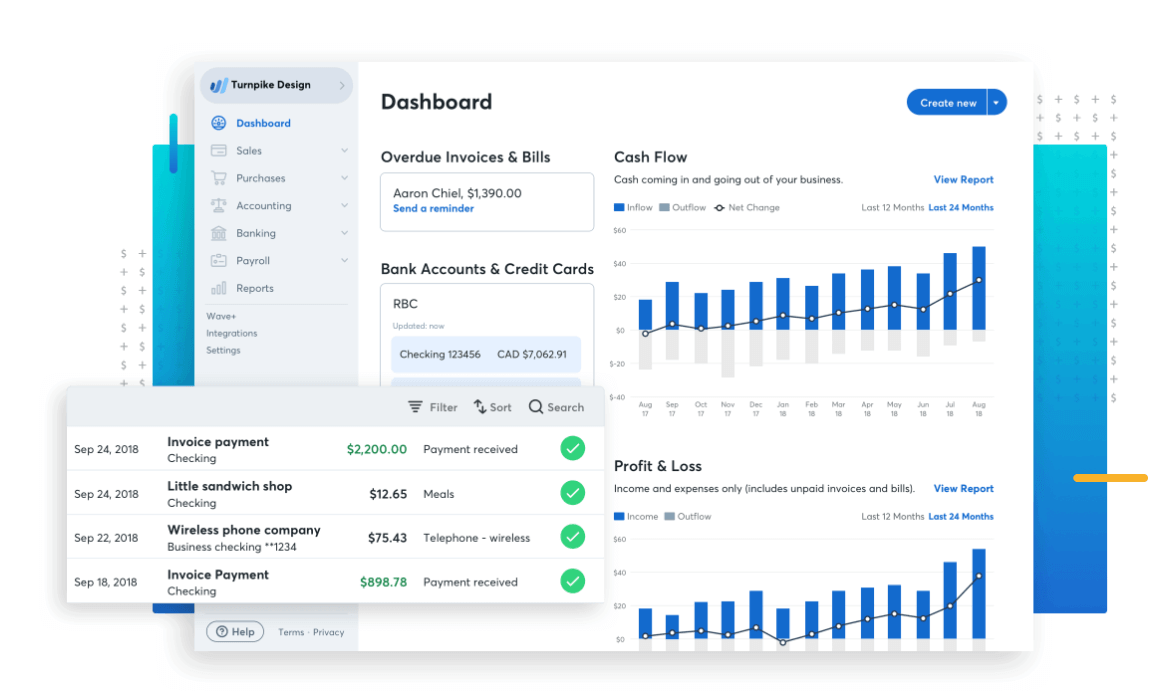 So far we have discussed cloud-based apps, this entry makes way for web-based small business software. Best suited for entrepreneurs, self-employed, consultants, and of course, small/medium-sized businesses, Wave saves everyone who's on a tight budget.
If your business is just taking baby-steps, then Wave can help you figure out what suits you best and what doesn't without breaking your bank. As many accounting software services offer a free trial, Wave remains free.
With powerful reporting features, integrations, and round-the-clock accessibility, Wave proves itself as the viable option for anyone looking for free small business accounting software.
Features
Unlimited credit card connections, income/expense tracking, and guest collaborators
Unlimited receipt scanning with the offline receipt capture feature
Automatically record receipts as accounting transactions
Process multiple business profiles with just one account
Perform business reporting, use multiple currencies, and integrate the payroll system
Access accounting data from anywhere using free iOS and Android apps
Integrate with PayPal, Shoeboxed, and Etsy
Pricing
None – free accounting software for small businesses with complete features. The only time Wave will charge you is when they impose a dispute fee ($15), or a return of item fee ($5).
---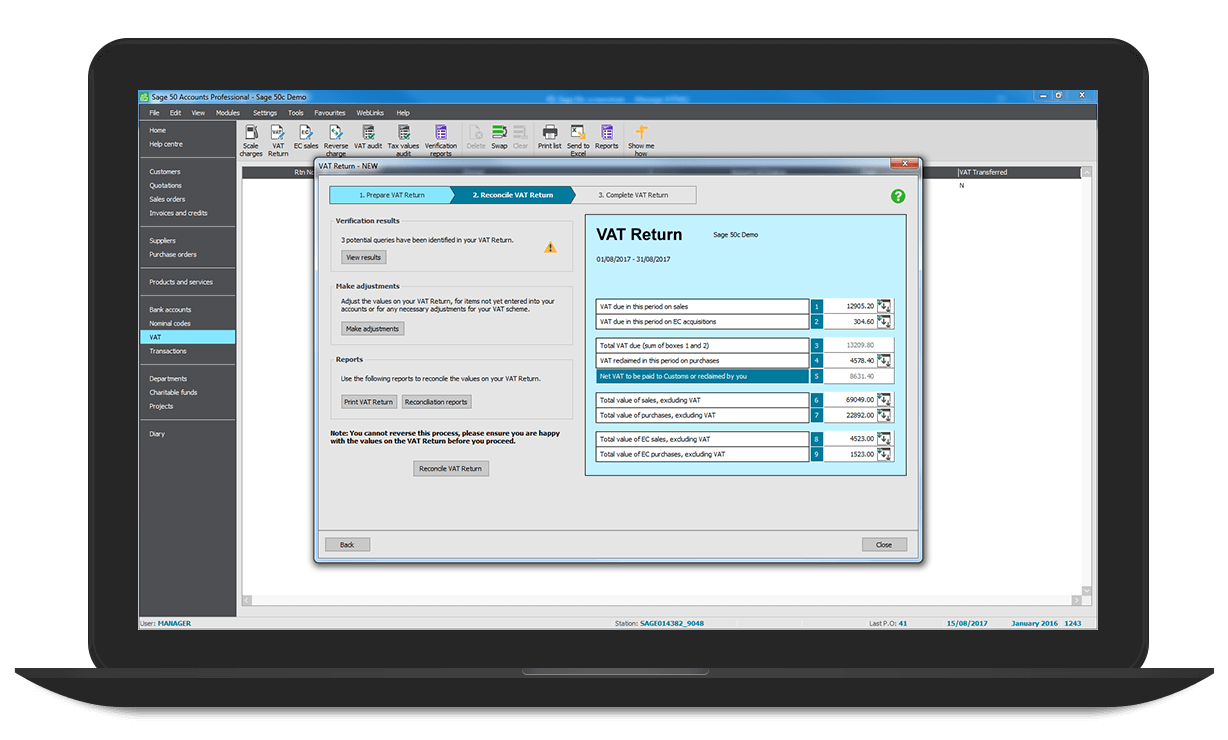 Sage 50cloud is designed for small and medium enterprises that come with powerful compliance and tracking features. It provides a variety of functions, such as taxing, inventory, budgeting, and more.
You can also use add-ons for credit card processing, payroll, etc. This application is best suited if you or your business are Microsoft users, as it allows integration, as well as data sync in Outlook, and access to mobile devices.
The original version of this product was branded as "Peachtree Accounting". It might sound like nostalgia if you are a veteran accounting software user, as Peachtree was a big name back in the old days.
Furthermore, Peachtree was among the first software ever introduced for a computer. With years and years of development, you can be sure that Sage 50cloud is a highly mature and stable product.
Features
Ensure compliance with GAAC, CCPA, small business tax, and more.
Create automated bank feeds and efficiently track income and expenses
One-click reports to visualize your business' standing instantly
Allow multiple users to collaborate as a team
Convert estimates and proposals into invoices and sales orders
Get detailed tracking updates on inventory information
Control and improve cash flow through specially designed cash flow management feature
Pricing
Sage offers the following monthly-billed price packages, with up to 50% off on annual billings:
Free Trial – get a 30-day free business accounting software and later upgrade to your desired package
Pro Accounting – at $50.58 per user/month, available for 1 user, hence best suited for entrepreneurs
Premium Accounting – at $78.21 per user/month, supports up to 5 users
Quantum Accounting – at $197.55 per 3 users/month, supports up to 40 users
---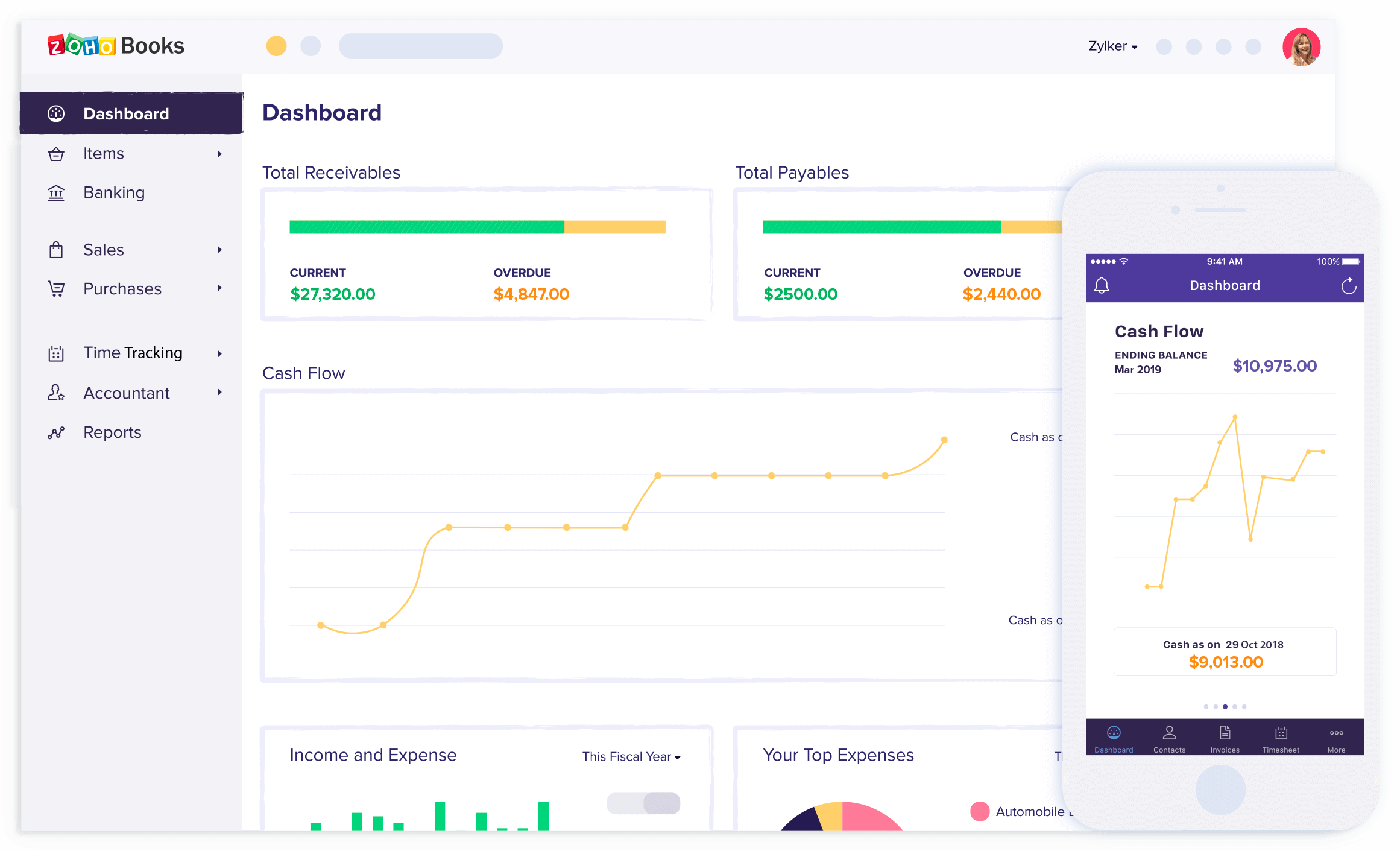 Zoho offers a massive product-line of SaaS applications. It is widely known for its Zoho CRM software. One of Zoho's popular products is Zoho Books. So if you're already using a Zoho product in your team, Zoho Books should be a go-to choice for your back-office accounting as it will offer seamless integration possibilities with other apps in the Zoho cloud suite.
Having already made its mark in the software industry, the Zoho group paved way for Zoho Books to join the league of the best small business accounting software. This application helps grow your business by providing a comprehensive range of solutions from general accounting to payroll maintenance, from tracking expenses, to sending invoices, with super-rich feature sets at attractive prices.
Features
Integrate Zoho Books with famous apps, like PayPal, Square, Dropbox, etc.
Receive updates when a client responds to any requests or makes payments.
Provide access to your clients by sending copies of invoices, estimates, and project details via the portal.
Bulk payments are just one-click away.
Quote clients through automated processes to amplify estimate approvals.
Share any positive client feedback about your business on social media.
Enable clients to print and download past transactions
Pricing
Zoho Books offers the following pricing plan billed monthly:
Basic – at $9/month, allows for up to 50 client connections, 2 users, and 5 automated workflows
Standard – at $19/month, allows for up to 500 client connections, 3 users, and 10 automated workflows
Professional – at $29/month, allows for more than 500 client connections, 10 users, and 10 automated workflows
Note that if you bill annually, you get 2 months off!
Add-ons: Include $2/month for an additional user, and $5/month for 50 auto-scans in a month.
---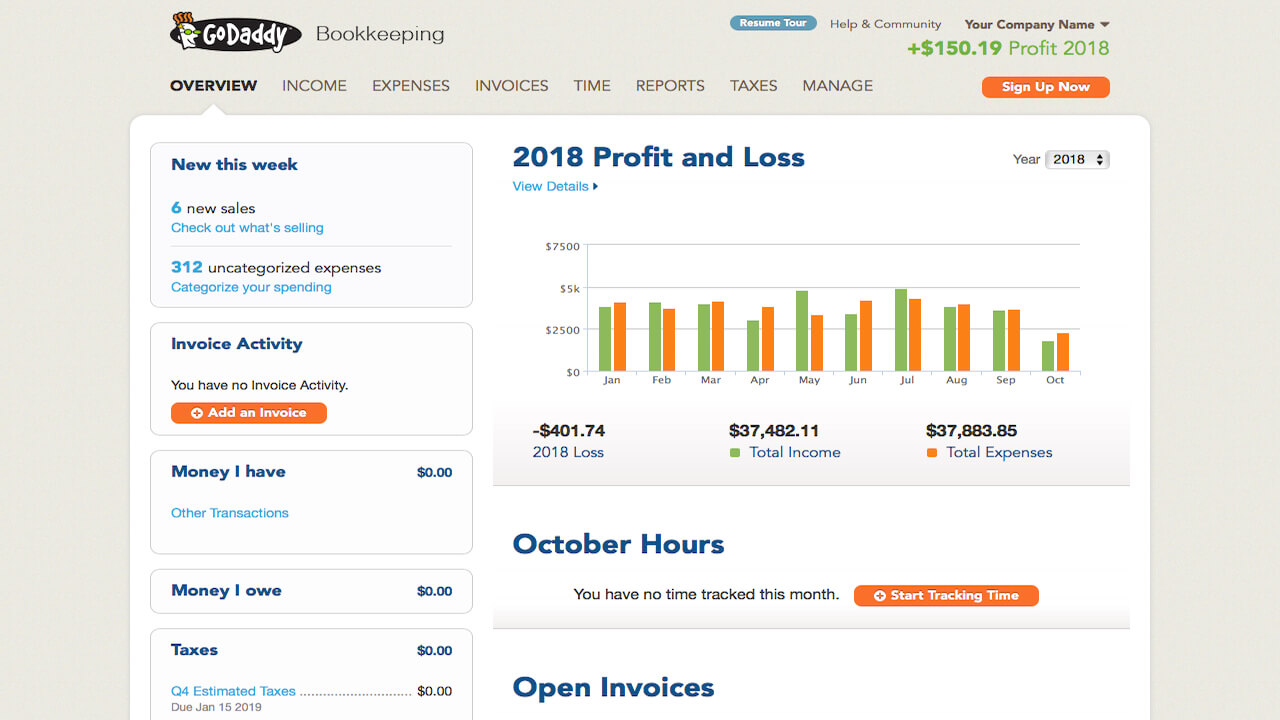 You must have heard of Go Daddy if you have ever purchased website hosting. But did you know they also offer one of the best small business accounting software for entrepreneurs who sell on Amazon, Etsy, eBay, and Paypal?
GoDaddy Bookkeeping is web-based accounting software that can also be accessed anytime, from anywhere using your iOS or Android device. It quickly gained popularity thanks to its all-inclusive bookkeeping depth and intuitive features that allow you to manage and track your online sales and other financials.
GoDaddy Bookkeeping is specially-built for entrepreneurs, self-employed individuals, and freelancers to help them provide an estimate of their tax payables.
Features
Manage bookkeeping with no prior accounting knowledge
Extensive freelance tax support
In-depth financial reporting features tools to calculate your revenue or create tax reports
Automatically process invoices, and send reminders when they are due
Accept payments via credit and debit cards directly from your smartphone
Add receipts, edit your invoices, or take a quick-look at invoices due for the current period
Avoid adding personal transactions from getting included in reports and totals by easily removing them from your record
Pricing
Go Daddy Bookkeeping offers the following pricing packages:
Get Paid – at $4.99/month, best for accepting credit card payments via invoices, create business reports for the current year only
Essentials – at $9.99/month, lets you automatically import sales data, creates unlimited business reports
Premium – at $14.99/month, supports recurring invoices, creates unlimited business reports
Increase security and prevent unauthorized access to all your SaaS apps by using a secure online password manager.
---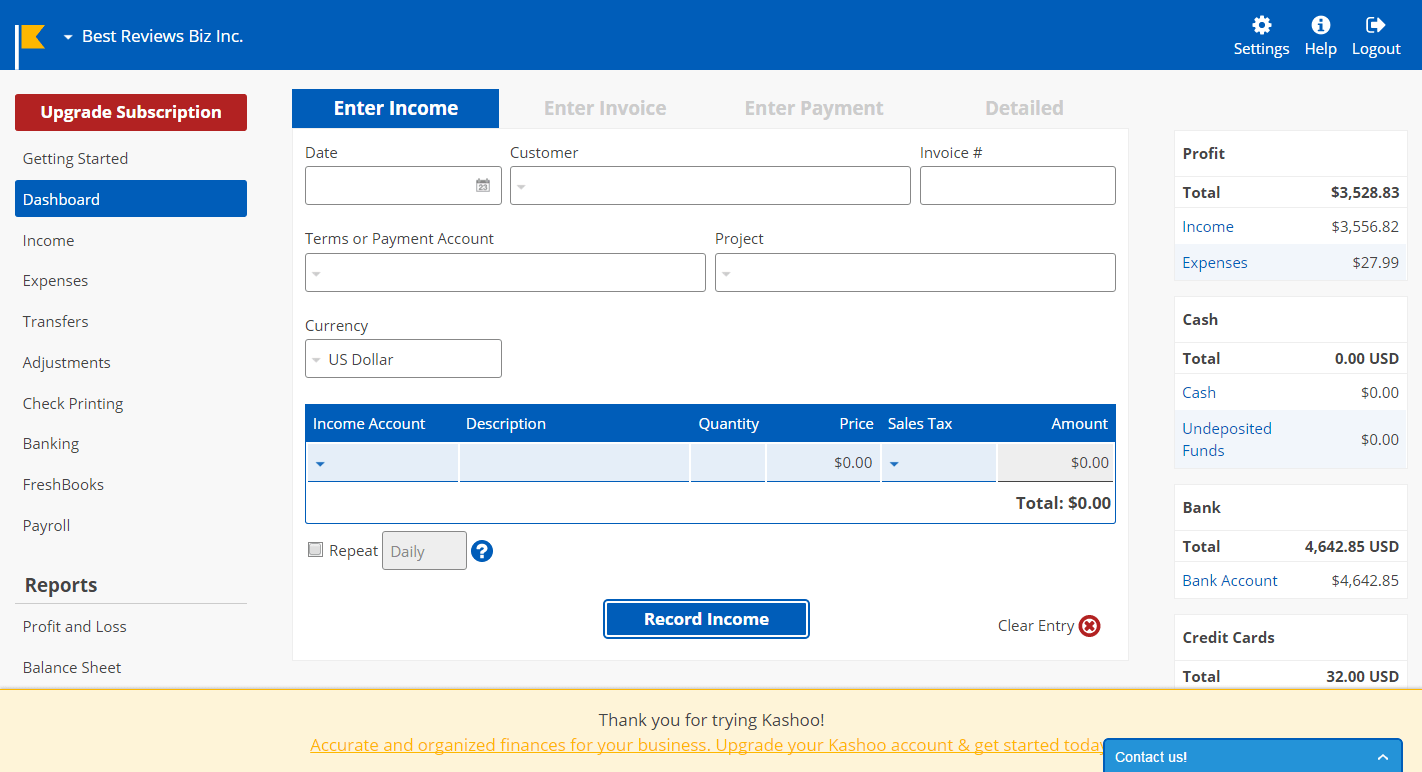 Kashoo is cloud-based accounting software specifically designed for freelancers, small business owners, entrepreneurs, and not just accountants. Ever since its inception in 2008, Kashoo has received positive customer reviews mainly appreciating the simple user-interface Kashoo. It is designed in such a way that even a person without an accounting degree can perform their bookkeeping.
For businesses needing a payroll system, Kashoo provides integration with SurePayroll, which surely makes it one of the best accounting software for small businesses. Other great features allow users to keep an eye on their financials, handle invoices, manage expenses, perform bank reconciliation, and much more.
Features
Set up and organize credit card payments in minutes
Make smart business decisions through one-click financial reports
Ability to sync 5000+ bank data feeds for bank reconciliation purposes
Support for multiple currency rates that save time from manually calculating daily exchange rates
Quickly enter recurring invoices using pre-built templates
Create and print client statements, and e-mail invoices directly from Kashoo
Supports multiple users at no extra charge
Pricing
Kashoo offers a free trial and a premium pricing package:
Free Trial – no charges for the first 14 days, after that the trial period upgrades to the Premium version
Premium – at 19.95/month, all features included
---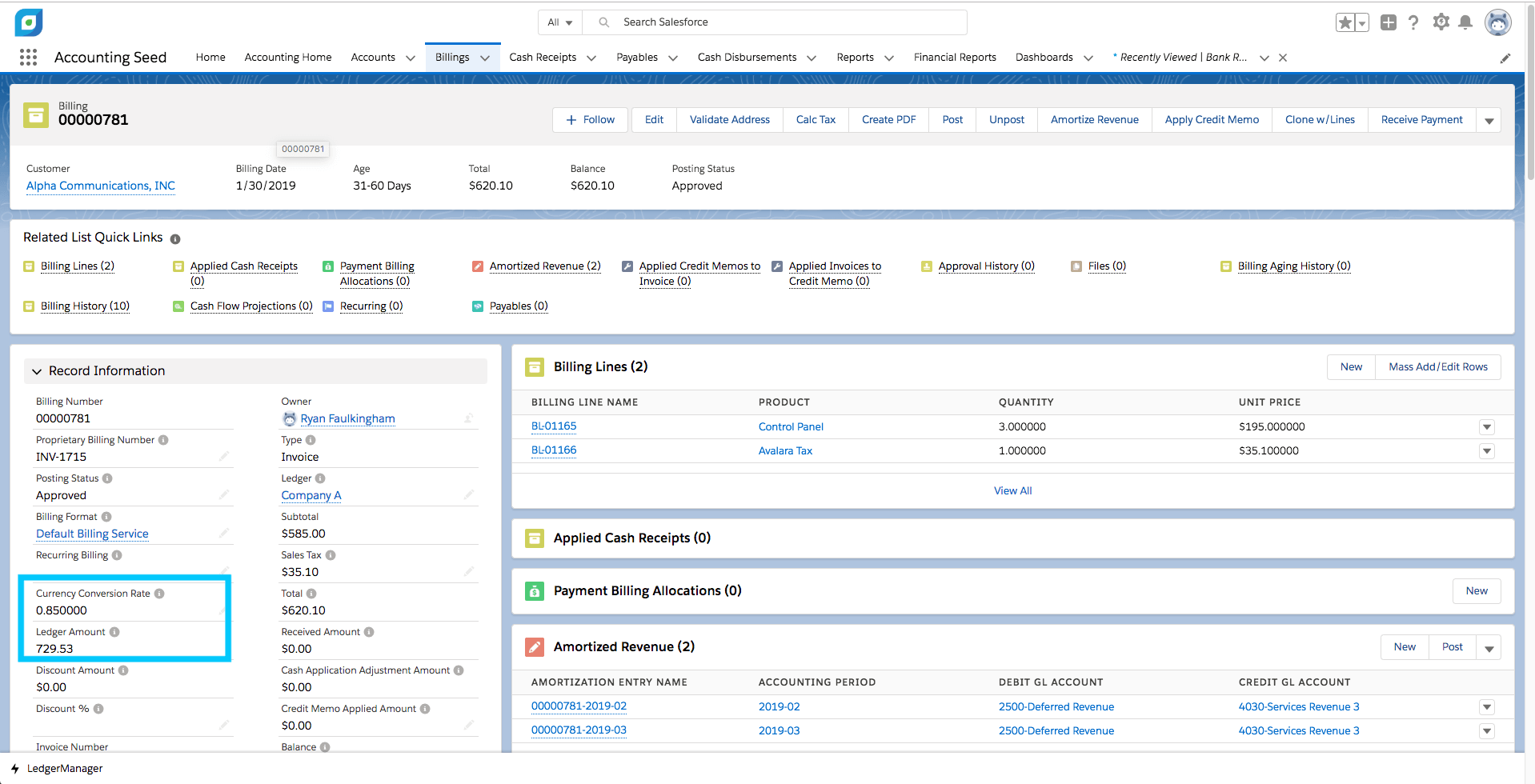 If your business is using SalesForce, then Accounting Seed is must-have accounting software. This is a native-SalesForce app that helps businesses by combining the power of accounting and ERP.
Accounting Seed comes with three core components, i.e., general ledger, ERP, and project accounting. Moreover, you can handle inventory management, payroll, order management, and much more, all within just one platform.
Best-suited for advanced users, Accounting Seed ultimately becomes your complete-package back office. Not only it caters to your accounting needs but it also syncs with other departments such as production, marketing, and sales.
Features
Wide range of editable invoice formats and financial report layouts
Easily configure deferred revenue/expense
Schedule General Ledger transactions by project
Perform managerial accounting, including labor costing, material costing, and work breakdown structure
Forecast project profitability against multiple budgets
Supports PSA management and Contract management
Use ERP function, such as planned resource allocations per project by hour
Pricing
Accounting Seed's pricing is based on customized quotations, contact sales for an inquiry.
---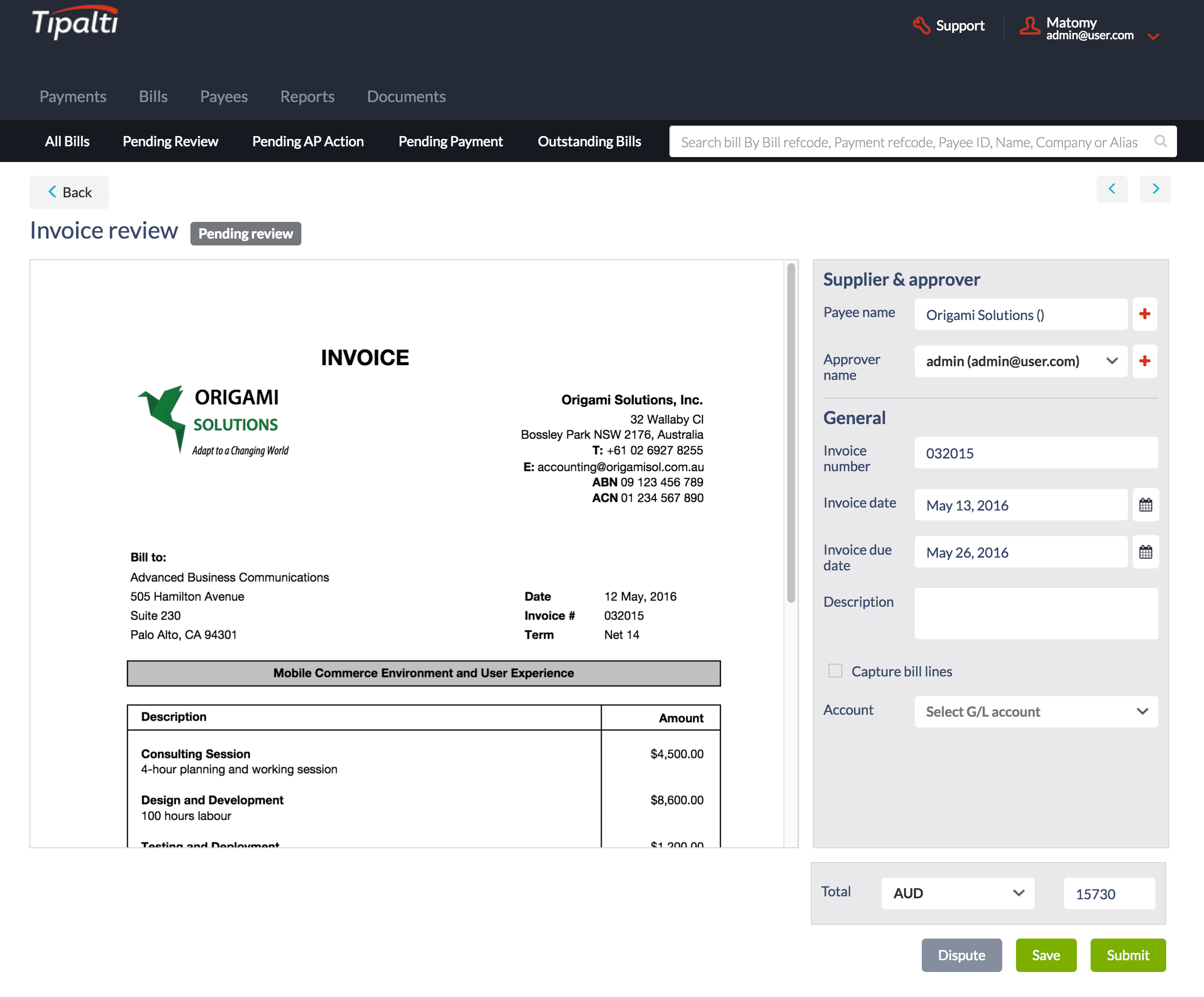 If you are an Oracle user, then Tipalti is a great choice as it integrates well with the Oracle NetSuite platform. With that said, Tipalti is suitable for any type of user, whether freelancers or large enterprises.
Tipalti provides all the right tools needed to handle your day-to-day Accounting Payable process. This product is designed to cut down all the slack and redundant manual work so that business owners can spend more time tracing important financial figures rather than spending time entering a bulk amount of data.
Features
Provides full compliance with American and international taxation standards
A simplified payment process with easy payment acceptance
Reduce dependency on email about payment status as all information is available on the web portal
Fast-track supplier payment workflows and automate invoice collection
Integrate with Oracle, Xero, CAKE, Paypal, Quickbooks, and more.
Wide range of global payment methods and multi-currency support
Ability to schedule payments and provide early discounts
Pricing
Tipalti offers the following pricing packages:
Express – at $299/month, best suited for small and medium-sized business
Pro – at $699/month, suitable for small businesses, as well as corporations, as this is a mid-tier package
Elite – at $1599/month, best suited for large corporations
---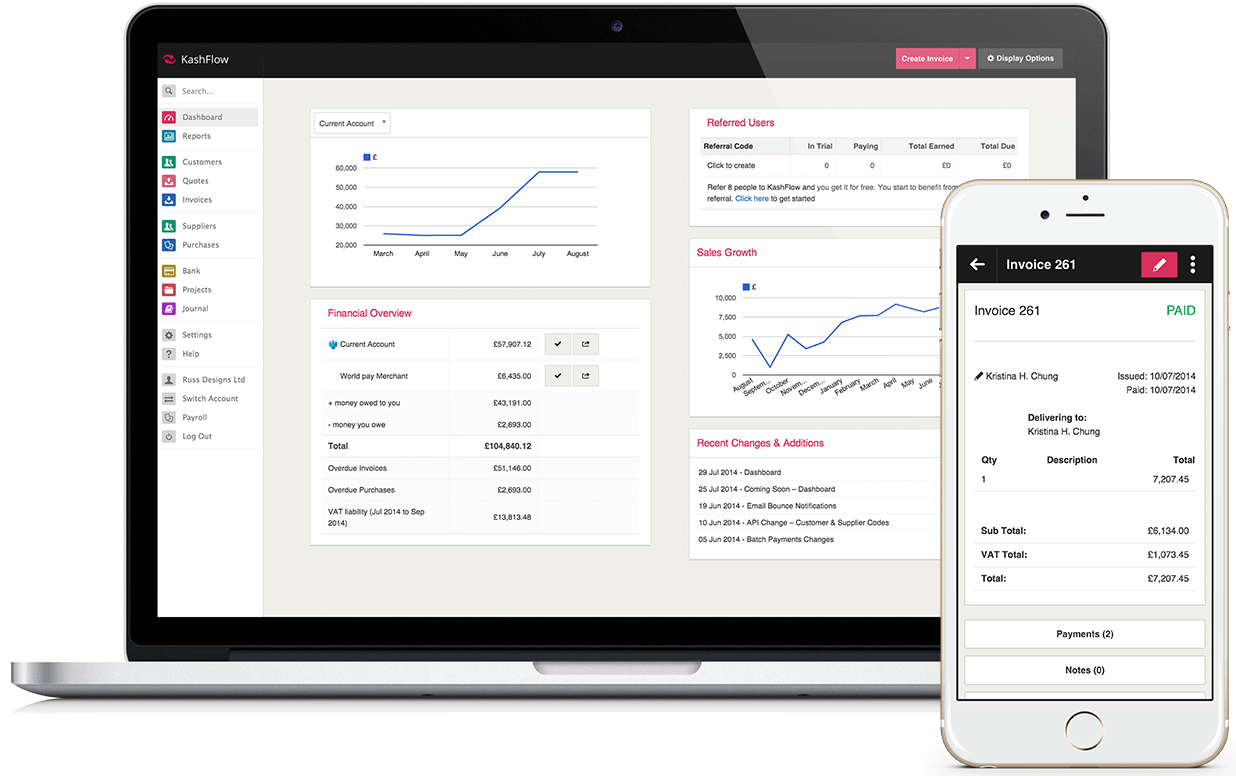 As an accounting software, KashFlow is a top-notch tool for businesses of all sizes. It happens to be a cloud-based that is designed as a simple payroll software to ease the tasks, small business owners, from complex payroll obligations.
This software is one of the best solutions for UK businesses that need VAT support with unlimited users. KashFlow is great for non-accountants since it is jargon-free, and its purpose is to take away the user's stress of the payroll and develop the business.
Created in 2005 by Duane Jackson, who happens to be a self-taught programmer who served time in jail for drug trafficking. This made him want to turn his life around after he was released and turned himself into a successful software developer.
Features
The Invoice process can be customized, edited, and be allowed to be automatically sent. Email push notifications settings can be made to tell the user if they have been paid or if they are overdue.
KashFlow allows Bank accounts to be linked with the software for seamless and accurate financial transaction processing and monitoring.
It has built-in integration with numerous credit card processing services that virtual terminals within the software.
KashFlow allows financial quotations to be created within a few minutes, and users are allowed to create an unlimited number of quotes.
Kashflow integrates seamlessly with Payroll, Dropbox, Google Contacts, and many other tools.
Account security is similar to the ones in Banks, and automatic reminders can be set and reminder letters for the invoices.
It is easier to manage customers and suppliers, and it saves users time and money. CSV files or PDFs can be created and sent to customers as email attachments.
Reporting is also easier since it can generate profit and loss, balance sheet, and various graphical reports.
Pricing
KashFlow allows a 14-day free trial and has different pricing plans:
Starter: The cost is $9.60/month plus VAT. Since it is a single user plan, it is great for sole traders, contractors, and small businesses. The features it has are: send unlimited quotes & 10 invoices, up to 25 bank transactions reconciliations.Subscribers can also manage bank feeds and VAT online submission is allowed. KashFlow Payments allows faster payments, free mobile app, allows access to over 50 reports. The bonus is that it has a customizable dashboard to manage purchases & expenses, track mileage.
Business: The cost is $19.79/month plus VAT. This plan is perfect for growing businesses, and limited companies. It has all the features of the Starter plan, including multi-currency, repeat invoices & purchases.
Business+Payroll: The cost is $26.98/month plus VAT, same great business package features with added payroll. It has all the Business plan features, including a payroll of up to five employees, and it also has add-on features of an automatic enrolment module.
---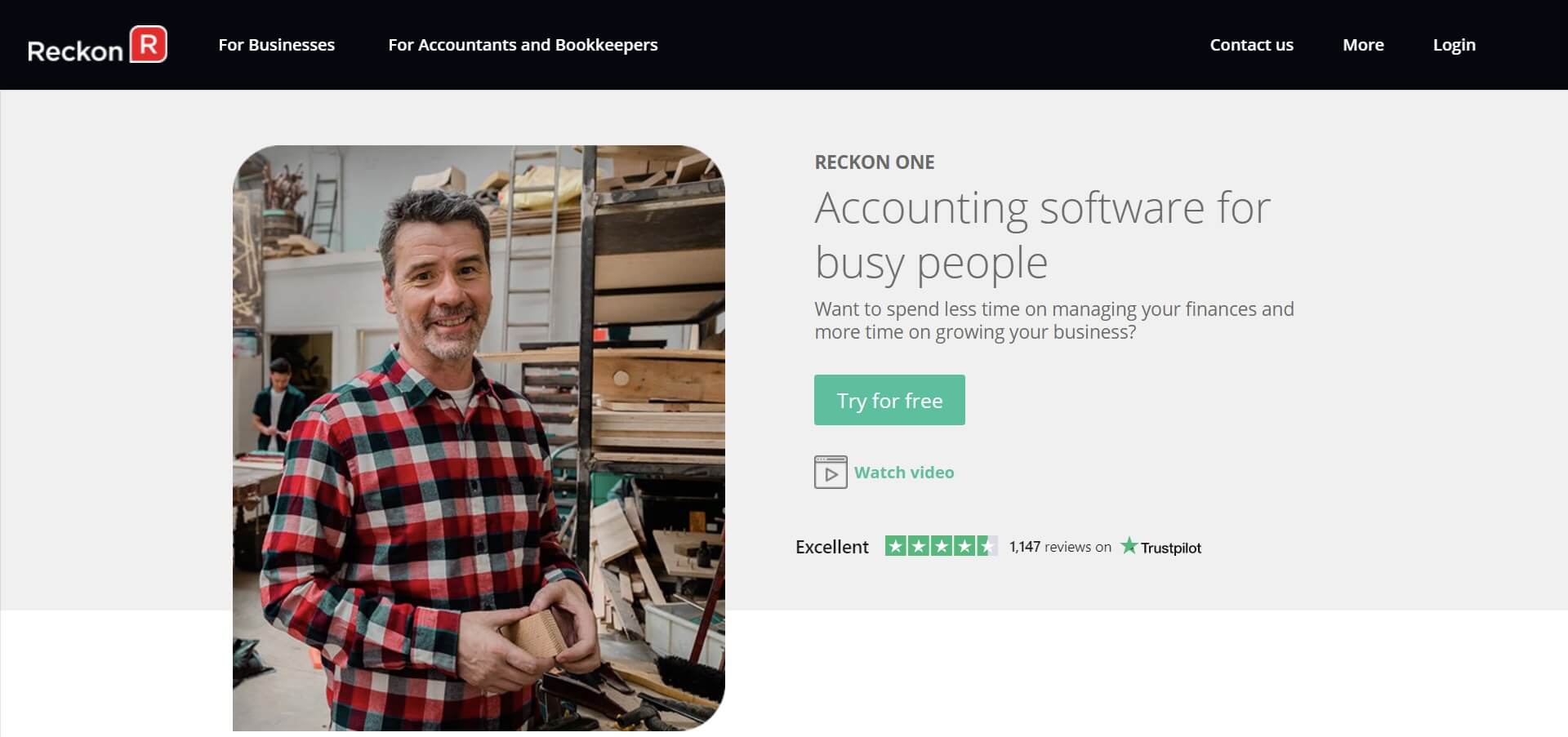 We "Reckon" that this software gives the best features for businesses of all sizes and even for individual traders. It is a complete business management software suite that is used by professional accountants and bookkeepers.
Its users can apply Reckon APS, a practice management software. They can even use Reckon Docs for business paperwork for processes like company registration, compliance, SMSFs, and employment contracts.
There is also Reckon Elite that is great for complete tax, compliance and gives an efficient practice management package. There is SmartVault (for Reckon Accounts) is cloud-based with top-notch security and productivity features.
Users also can use Virtual Cabinet, which is a document management system where they can send and approve files online with clients. Another great attribute is Reckon Loans, which gives loans to businesses.
Features
Reckon lets its users see cash flow in real-time, and gives unlimited bank reconciliations.
It is an efficient software that also offers budget, and GST & BAS reports.
Reckon gives an around-the-clock free support system, and data is stored on AWS servers in Australia.
It also goes out of its way to make sure that the user has their information protected by multi-layered data security and SSL encryption.
Reckon conducts automatic data backups, and it allows to generate more than 20 reports.
It even allows the user to share the data with their bookkeeper or accountant.
Bank statements can be imported, and it even lets the user categorize unlimited transactions.
Pricing
Reckon offers different plans, and it also allows a 30-day free trial experience.
Basic: The cost is $7/month, and this plan is great for beginners.
Lite: The cost is $17/month, this plan helps boost the business.
Medium: The cost is $24/month, and the purpose is to provide an enhanced version of the payroll system.
Advanced: The cost is $36/month, and this gives the optimized account features.
There is an add-on option, where the modules are categorized according to the packages and are charged as an additional cost of $7/month (which is the same as the Basic plan).
---


FreeAgent is known as the best accounting software for small business owners and even freelancers. It seems quite useful for service and project-based businesses.
Since it is cloud-based it can be accessed from anywhere. It comes under the category of one of the best accounting software, and it has a mobile app that can be used on Apple and Android devices.
The purpose of the FreeAgent software is to make accounting easier for non-accountants. It helps them see the financial operations in real-time, which allows them to see the factors that can improve their internal and external business relationships.
More than 35,000 small businesses and freelancers in 80 plus countries apply FreeAgent. It is slowly and sure becoming one of the top financial management platforms. It is user-friendly and efficient for managing books and performing finance-related tasks.
Features
There is a timer that lets the user track the time spent on a client project and generate accurate time slips, which can be added to invoices. It can tracks expenses that can also be invoiced.
Bank and credit card details, along with PayPal accounts can be connected to the software. This feature allows transactions to be automatically downloaded daily, which is a time saver.
It has a smart reconciliation tool, named Guess. It is supposed to foresee which of the user's bank transactions match with those they generated using the software.
High-level financial reports filled with details can be generated. They include aged receivables, customer sales, balance sheets, and profit and loss reports.
FreeAgent keeps estimates, invoices, and payments for a project all in one place. And it manages time and monetary budgets to track project tasks and billable expenses.
One of the best things is that FreeAgent can integrate with PayPal and Stripe, which allows customers to pay invoices online via credit card to make payments faster.
Thank-you emails can be sent to customers after the payment has been received, the software can be configured to do this.
Pricing
FreeAgent offers a 30-day free trial experience, which is one of the best of free small business accounting software. The paid plans have unlimited users, clients, and projects, all with no extra cost.
Sole Trader: The cost is at $11.26/month plus VAT for six months. Then the cost goes to $22.52/month VAT, and it includes self-assessment filing.
Partnership/LLP: The cost is $14.23/month plus VAT for six months. Then the cost is $ 28.45/month plus VAT, which includes profit share calculation.
Limited Company: The cost is $17.19/month plus VAT for six months. Then the cost is $34.38 per month plus VAT, which includes self-assessment filing, dividend vouchers, and corporation tax forecasting.
---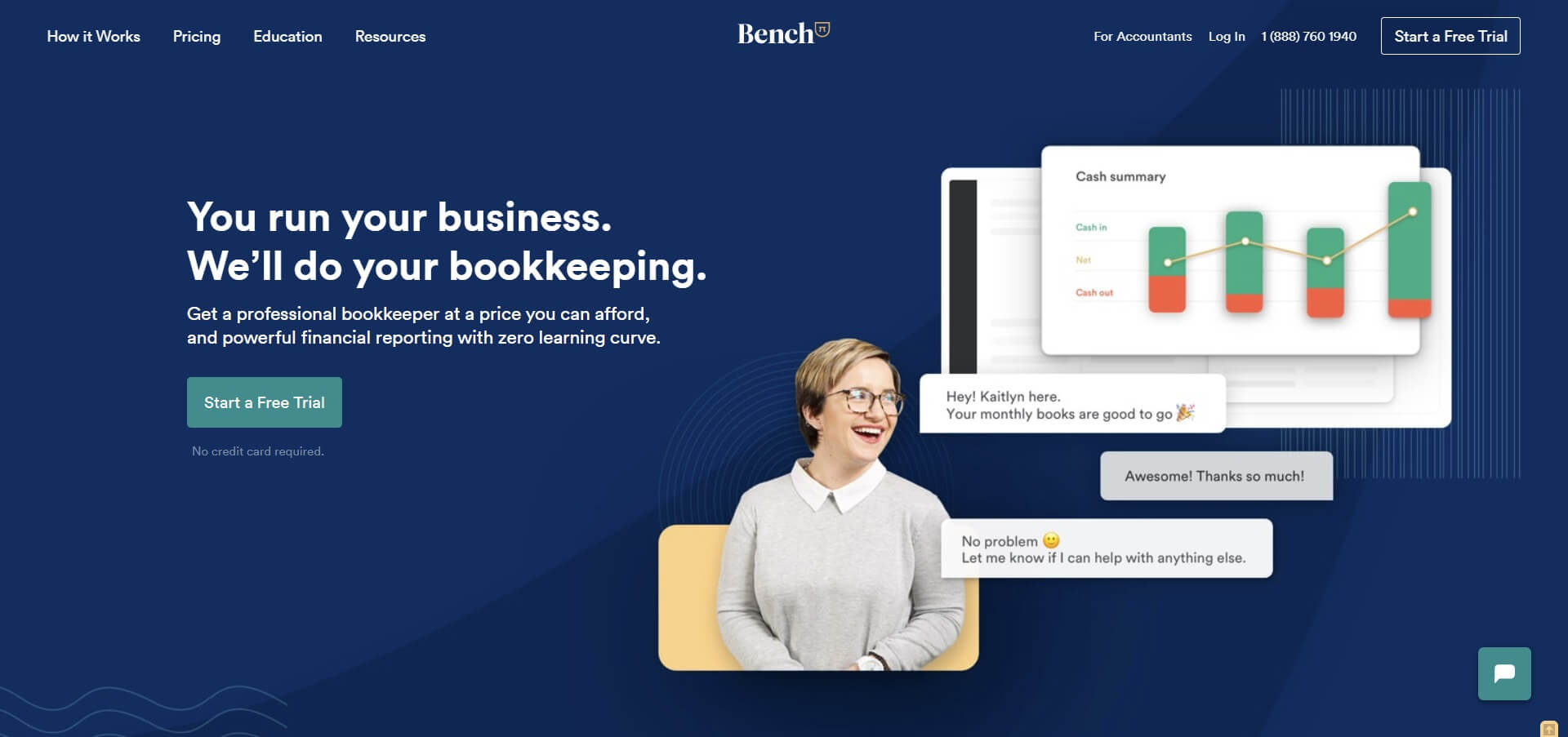 We believe that Bench is a great online bookkeeping platform for small business owners. Every month it automatically collects transaction data from connected business accounts. Then a team of bookkeepers makes sure that the books follow the tax rules and regulations.
Bench has a strong set of accounting tools, and it assigns a team of devoted professional bookkeepers for every one of their clients. This service allows clients to concentrate more on business matters because the accounting and bookkeeping tasks are taken care of.
Users have access to the Bench app via iPhone or desktop app, letting them closely supervise cash-flow and financial health. This can be done through intuitive expense reports, income statements, and much more. This app allows the books to remain up-to-date, which saves a lot of time.
The Bench team can receive a text in the message feed sent by the users of the app. They have a time limit to respond within one working day. And a bonus is that during tax time Bench sends a package, which has everything that needs to be filed.
Features
This software lets users share and upload spreadsheets, transaction documents, and receipts.
Assigned professional bookkeepers aid the users by categorizing their transactions, bank statement reconciliation, credit card, and PayPal accounts, and ensure the accuracy of the accounts.
Receipt management is also conducted by the bookkeepers, where receipts are attached to the relevant transactions in the accounting system.
Bench integrates well with other apps, such as Stripe, Square, Shopify, and Freshbooks.
They even connect their clients to tax professionals, offer CPA support, and over-due or catch-up bookkeeping.
The app immediately connects the user with experts when users communicate with the bookkeeping team. Messages can be sent and received, and users can be notified the minute there are changes.
It has heavy security since the software uses 256-bit encryption to keep financial information safe and far from online malicious attacks.
Pricing
It offers five expense-based service packages with clients having the option to choose between an annual or monthly billing. Bench also offers a free trial.
| | | |
| --- | --- | --- |
| Plan | Average Monthly Expenses | Cost Per Month |
| Starter | Under $1,000 | $139 |
| Micro | $1,000 to $7,500 | $159 |
| Boutique | $7,501 to $25,000 | $179 |
| Venture | $25,001 to $50,000 | $219 |
| Corporate | $50,001 to $1 million | $299 and up |
Each plan has a limit of 15 financial accounts. If the user wants more accounts Bench can be contacted for customized pricing.
The above-listed prices show the annual payment cost. If the user chooses to pay every month there is almost a 15% to 30% increase in cost.
If the user chooses to cancel their subscription during the year, even after they have made an annual prepayment, they can at any time. They will also receive a refund of the advance plan payment.
---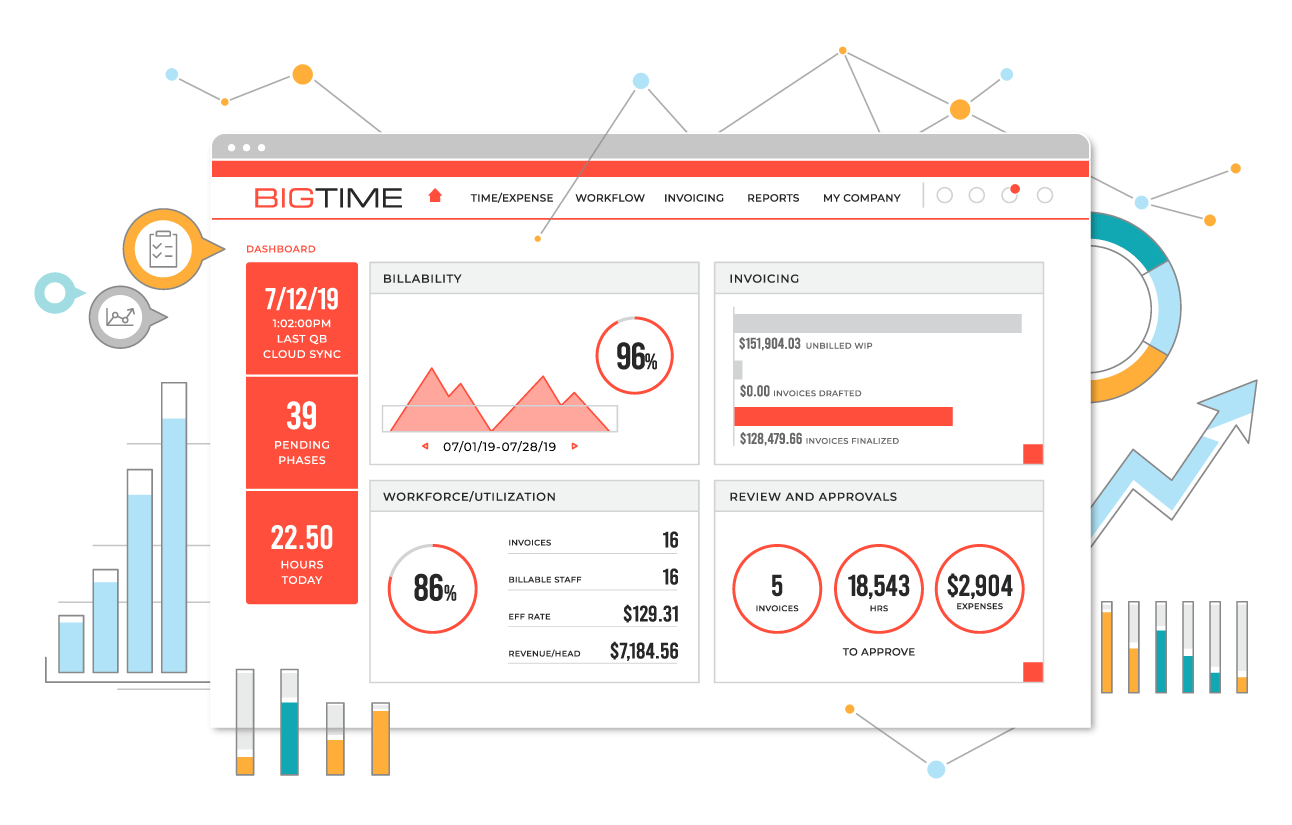 BigTime is one of the best fully integrated time and billing software. It's great for professionals, businesses, and even government suppliers to enhance client-billing and invoicing systems. It is an all-in-one software solution intended to make financial transactions quick, seamless, and increase accuracy.
It has all the features teams need to execute and deliver work on billed time and budget. BigTime shows users an average improvement of 25% in gross margins and a considerable increase in business development and profit-making.
This tool takes care of both major and minor time and billing requirements, such as time and expense tracking, DCAA timekeeping, project budgets, etc. All this gives clients an accurate and properly documented invoice on time.
Features
The mobile app lets the user keep track of and document all relevant information (time, expenses, etc.) that is on-the-go and even when the user is offline.
The mobile timesheet has a user-friendly interface alongside a one-tap timer feature. It gives easy and it allows monitoring from one place of the hours that are supposed to be billed to the client.
Using a smartphone, different types of expenses can be tracked, such as mileage, purchases, etc. Documentation of physical receipts and papers can be kept by taking photos of them and attaching them to the digital expense report.
BigTime lets users set up their billing rates per project task, staff, work codes, and much more. A base rate can also be set and up to five billing rates can also be decided, it doesn't matter if it's per teammate or activity/task or both.
There are many templates available to choose from, and the template editor can be used to customize the invoice according to personal preferences. This personalization of the invoice can be done with the user's company logo and information.
There is a DCAA timekeeping feature, which helps government contractors follow all the rules and regulations of the DCAA and fulfill the requirements. This feature allows the user to set up time log sheets that are in the DCAA approved format.
All the data and analytics can be retrieved and exported in the preferred format (PDF, Word, XLS). The app can be used to customize reports via in-app tools to set up filters, search choices, and much more.
Pricing
BigTime has various price plans all of which come with a 5-person minimum package:
Express: The cost is $10/month/user. The features it has are unlimited clients, transactions, and time tracking. It also has mobile access for all devices that allow: auto-sync, QuickBooks integration (online/desktop), a dashboard, daily or weekly timesheet views, unlimited timers, and much more.
Pro: The cost is $30/month/user. The features it has are budget tracking, expense tracking, and Gantt charts, unlimited user-defined invoice types, unlimited sub-tasks with a budget roll-up, invoice template editor, and much more.
Premier: The cost is $40/month/user. The features it offers are resource allocation, revenue projections and variable cost rates, multi-level workflow, Salesforce/Slack integration, unlimited API access, priority support queue, uptime guarantees (SLA), and much more.
---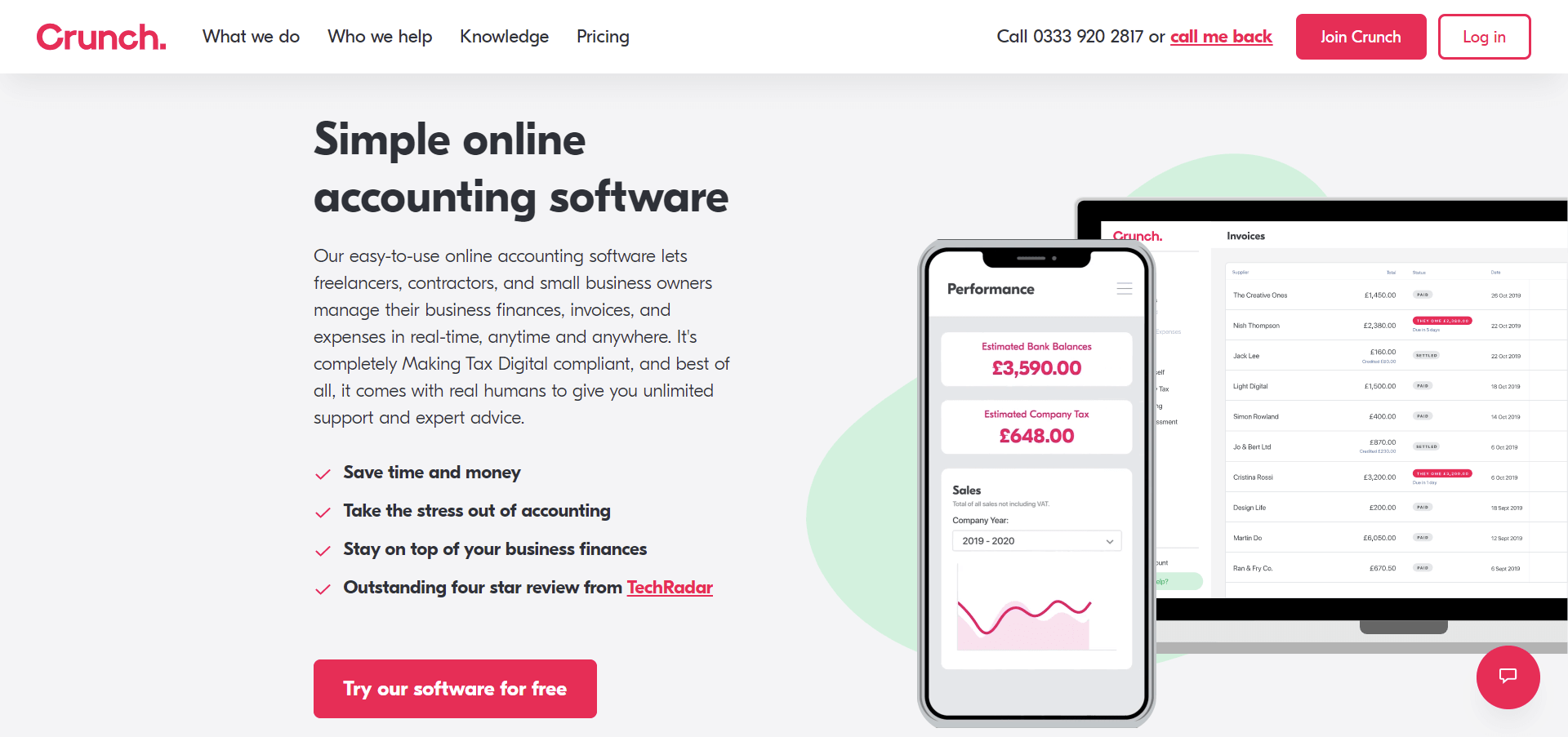 Crunch is a great cloud-based accounting solution that is meant for small businesses, startups, contractors, and freelancers. Founded in 2007, however, it is only accessible in the UK. It allows a maximum number of ten users per organization.
The purpose of Crunch is to let freelancers, contractors, and small businesses maintain complete control of their finances with qualified accountants who are specialists in the field.  All this can be done with this aesthetically pleasing yet easy-to-use online software.
Crunch takes care of the user's bookkeeping needs, which gives them time to enhance their business. The user also has the help of an assigned Client Manager to get them up and running immediately, as well as unlimited access to accredited accountants is also provided.
The customer support at Crunch includes FAQs, a forum, a knowledge base, online support, phone support, and video tutorials.
Features
Users are allowed to send invoices, record expenses, and view their finances on-the-go.
Crunch can file VAT returns and corporate taxes for the users and it also aids them in preparing annual returns and self-assessments.
There is a built-in payroll feature, which lets users pay for themselves and the staff, and they can issue pay-slips.
Crunch also offers tax management, billing & invoicing, bank reconciliation, billing portal, and customizable invoices.
There is a purchase order feature that comes with Crunch as well.
Users can contact the database, and the project billing feature is also on the go.
Crunch also gives many billing features such as hourly billing, billing portal, contingency billing, and subscription billing. It also calculates the tax on them.
Pricing
Crunch has various pricing plans:
Sole Trader: The cost is $34.98/month plus VAT. The features it has are real-time accountancy software and HMRC registration. Subscribers receive unlimited accountancy support and can submit a self-assessment.
Limited Company: The cost is $84.79/month plus VAT. Users can build their ltd package. It has all the Sole Trader plan features, including companies' house filing, IR35 advice, and solutions.
Small Business: It starts from $232.94+VAT per month. It gives the user their very own dedicated accountant and bookkeeper. The features it gives are payroll for directors and employees, face-to-face video meetings, and accountancy health checks.
Besides, Crunch also offers a fixed monthly fee and value packages for complex accounts.
---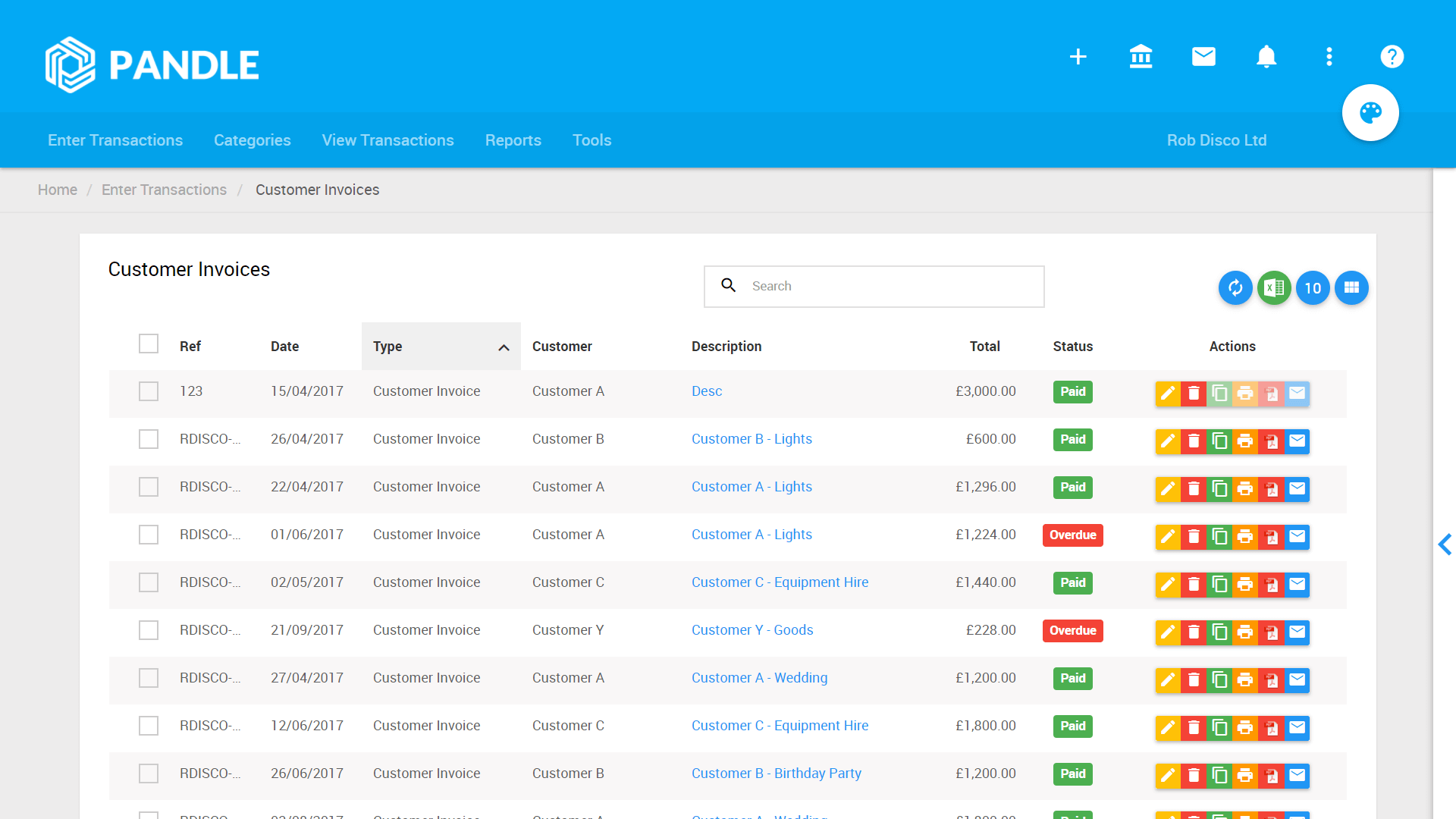 Pandle is great free accounting software for small businesses. Not only is it easy and efficient to use, but it is also helpful in an interactive way by letting the user know if they are making erroneous entries.
To ensure the accuracy of the data, Pandle checks it manually. It has a user-friendly interface along with easy-to-use advanced accounting features. We believe it is one of the best accounting software for small businesses with payroll.
Pandle is one of the easiest cloud accounting software in the industry because it applies different jargon for new and advanced users. This software has the aim to help small businesses that lack experience in bookkeeping but are looking for a double-entry system that they can use with ease.
Pandle helps simplify accounting activities, such as: invoicing, quotations, and receipt uploads, payroll services, and tax estimations.
Features
Pandle syncs bank accounts to immediately import transaction activities. It then categorizes every transaction to efficiently keeping the accounts updated.
Users get a variety of extra accounting tools, to make bookkeeping easy to do and as fast as possible.
The reporting tools Pandle offers allow the user to know how their business is doing financially, which also helps them make more informed business decisions.
Pandle is big on time-efficiency and this can be shown on the numerous sales tax reports that can be generated, leaving more time to run the business.
New users can be added to the current user's account with ease.
Even if the user decides to leave Pandle, they can still access their data for up to six years.
All of Pandle's servers are extremely secure for communication via the HTTPS connection (128-bit SSL), which is also used by banks to encrypt their website communication.
Pricing
Pandle has different price plans:
Free: It is completely free of cost. The features it has are: creates quotes, customer statements, and invoices with logo upload. It also, imports customers/suppliers and custom imports, payment reminders, and recurring transactions. It also gives customer grouping, bank, unlimited customers, suppliers & bank accounts, and much more.
Pro: The cost is $7/month. It has all the free plan features including bank feeds, receipt uploads, cash flow forecasting, unlimited users, multi-company management, PayPal feeds, and much more.
---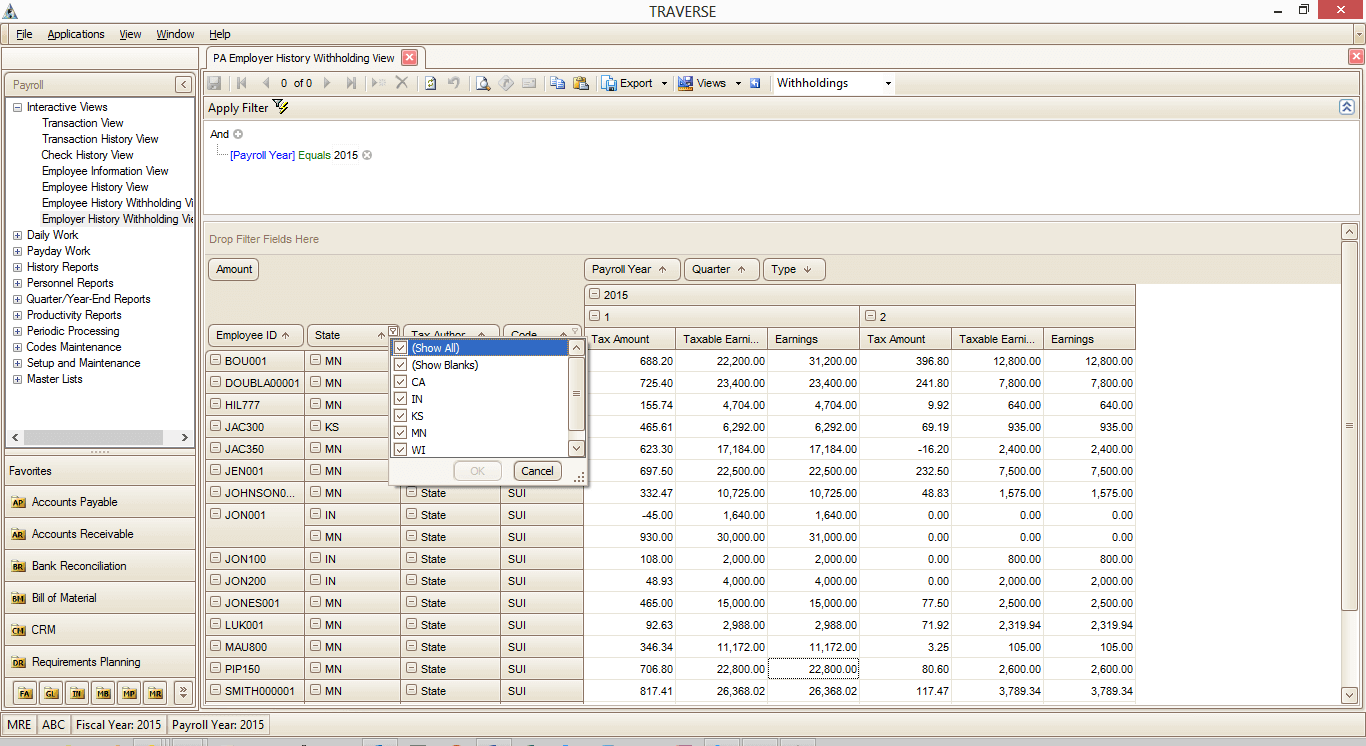 Open Systems Accounting Software (OSAS) is an accounting system with a full range of applications, which are customizable, flexible, and innovative. Users can apply business management, accounting, and e-commerce system to improve and achieve their business goals.
The aim of this business software readies is to enable a company's growth and increase its value. It has a flexible ERP system, which helps a company grow and increase the functionality that the current system wasn't giving.
It is easier for users to collect their financial information from one place, especially with the OSAS accounting software and business management solutions. They can import all of their current financial and tax information into the system and it immediately starts tracking their income and expenses.
It doesn't matter if a business has been running for long or planning to expand, this software can immediately be installed to be up and running quickly. The purpose is to help businesses make better buying & selling decisions, improve customer service, save money, and increase future profitability.
Features
The software is a user-friendly yet powerful integrated system that can be customized and used seamlessly.
It is functional on various operating systems, such as Windows, Novell, UNIX, Linux, Sun Solaris, UnixWare, AIX, Mac, and also offers integrations with leading Microsoft Office apps.
It is an open-source code software that allows full customization to the company's operations.
Users don't have to worry about missing critical information since there is an innovative alert system that helps identify any problem areas immediately.
It has a sophisticated yet easy-to-use mix and matches character-based and graphical (GUI) workstations.
Other than a friendly interface it has fast inquiry functions, and drill-down capabilities to make the tasks simple to finish.
There are new auditing and data encryption features that allow data to be more secure than before.
Pricing
Pricing is available upon inquiry and it is not available to the public.
---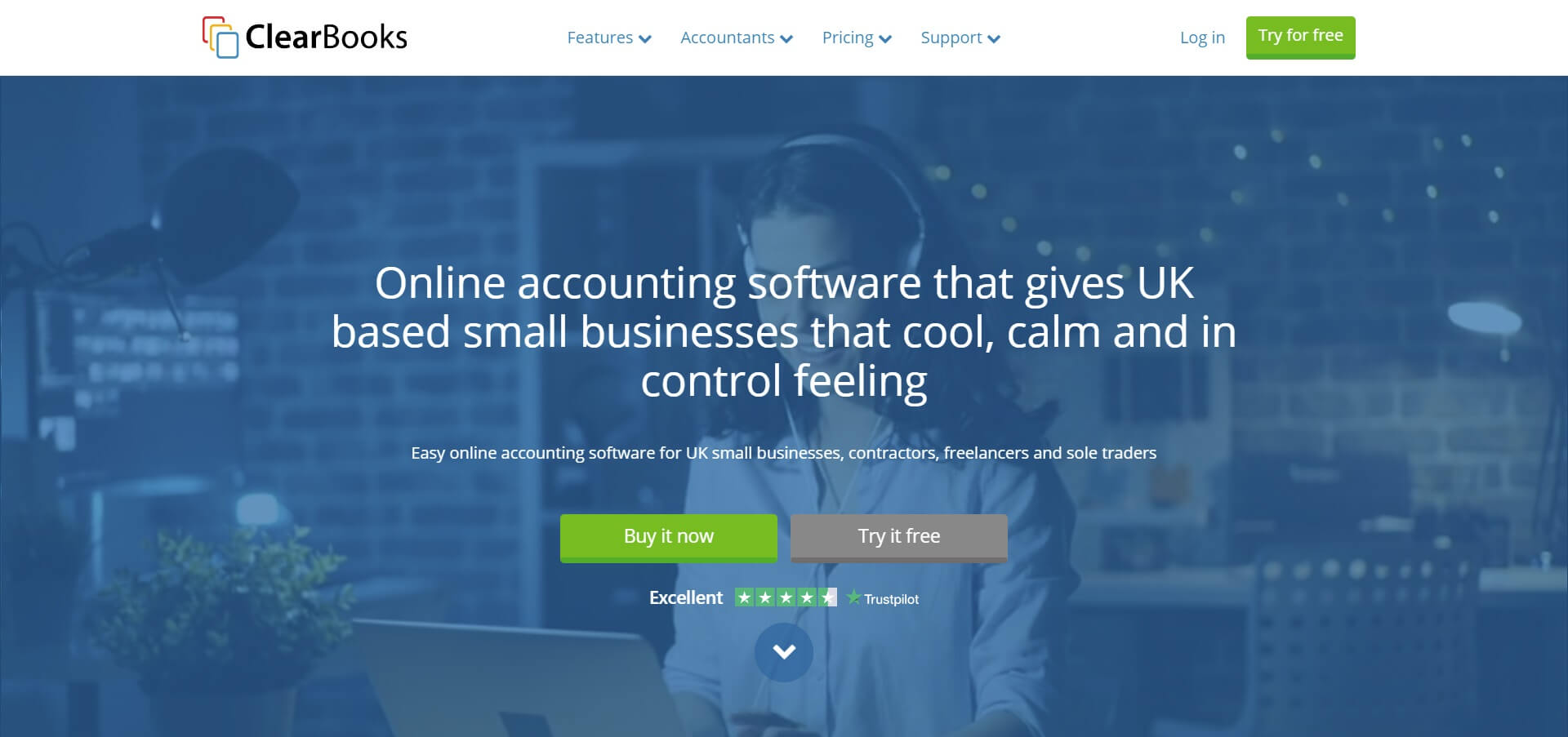 We believe that as accounting software, Clear Books is one of the best online accounting systems for small businesses. The purpose of this tool is to guide the user for daily accounting and booking tasks, and it also gives access to client accounts at any time and place.
Clear Books one of the solutions to error-free and clear accounting. Founded in 2008, Clear Books is a great tool with the whole package for all of its UK users.
This is the good software for small businesses operating in the UK. It has strong accounting, VAT support, unlimited users, and HMRC compliance.
It is true to its marketing stance and no pretenses, and it offers invoicing, project management, contact management, expense claims, and much more. Clear books offer a lot of support to its customers and have recently introduced a free price plan.
Features
Users can generate professional invoices for their customers, and they can also customize invoices using the company logo and organization details.
A tool to automate invoicing can also be provided, and it's a time-saver letting users focus on other business decisions.
Notifications can be set as automatic email reminders for customers to remind them of overdue invoices.
Invoices that have been generated using the Clear Books app can be viewed as HTML or saved as pdf, so they can be sent to clients immediately.
Invoice data can be exported to be viewed in a Microsoft Excel spreadsheet, and customers can be updated regularly about what they owe by sending them email statements.
Clear Books gives customers full access to a list of their paid and unpaid invoices, allowing them to keep track of their payments.
It also gives its users a variety of features, such as employee self-service management, expense management, HR, payroll, and much more.
Pricing
Clear Books offers a free 30-day trial for both paid plans, and credit card information is not required. Subscriptions can be canceled at any time.
Micro: This plan is free of cost. The features it has are: enter sales, bills, and expenses, and it offers a bank transaction list with basic VAT support.
Small: The cost is $5.93/month that is the first three months. The features it has are: invoicing, estimates, contact management, banking, bill and project management, time tracking, dividends, unlimited users, and much more.
Large: The cost is $13.63 per month that is the first three months. It has all the Small plan features, including added VAT support, MTD compliance, Construction Industry Scheme (CIS), and multi-currency support.
There are extra charges for payroll support. The cost for two employees is $6.40/month, and for there more is $3.20/month/employee. VAT is charged to all Clear Books users, as well as the ones using the tool outside of the UK.
---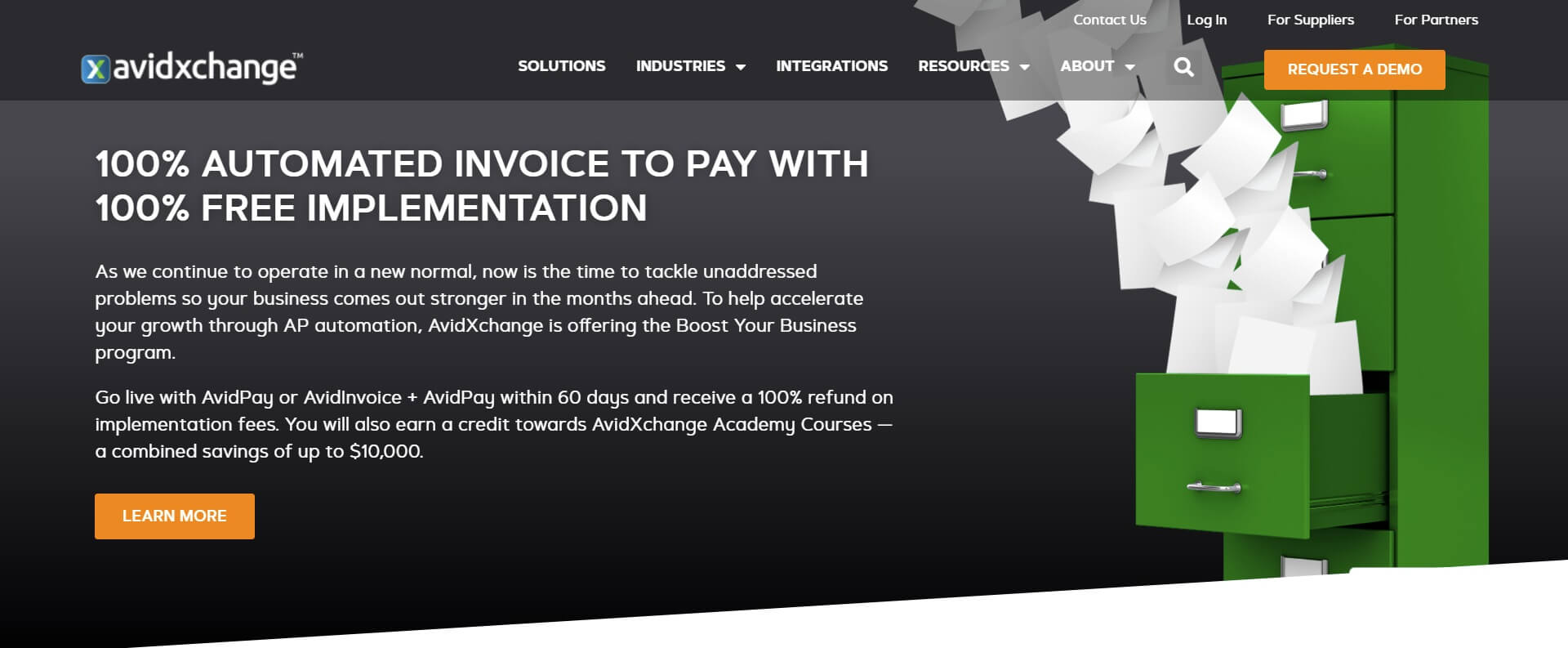 AvidXchange is a detailed and complete account payable and bill payment solution, which is used by over 5,000 B2B companies throughout the United States.
It was developed to put an end to a paper trail of invoices and to automate lengthy payment processes. It reduces processing costs, and it has a full suite of tools with a customizable interface.
Using this software, a wide range of businesses from different industries can easily develop a personalized user experience that goes well with their current operational processes.
AvidXchange has different sections that take care of the tasks involved in bill payments and accounts payable management.
Some of these tasks include a purchase order application, invoice application, and payment application. These three functions give leverage to the users, and they can automate their purchase-to-pay process using electronic invoice capture, automated payments, and intelligent approvals.
Features
Web-based purchase order software solution, which lets users generate official orders for goods or services to make the purchasing process faster.
Lets users select the invoices they wish to pay for in their invoice management software and route them via AvidXchange's e-payment application.
Helps validate the accuracy of the start and end date of the billing continuity.
Easily identify any missing or out-of-cycle bills.
Check the meter reading continuity to maintain billing accuracy.
Supervises the consumption variances, immediately issues alerts, and notifies users of any irregularities.
It monitors rate variances and issue alerts and notifies the user of any irregularities.
Pricing
AvidXchange doesn't have a particular price plan and one can be customized per customer. It is a tailor-made quote-based plan and designed on the services they may need, the size, and the nature of the business.
However, there is a free trial is available and the features it has are purchase order application, bill services, invoice application, payment application, pay services, and much more.
---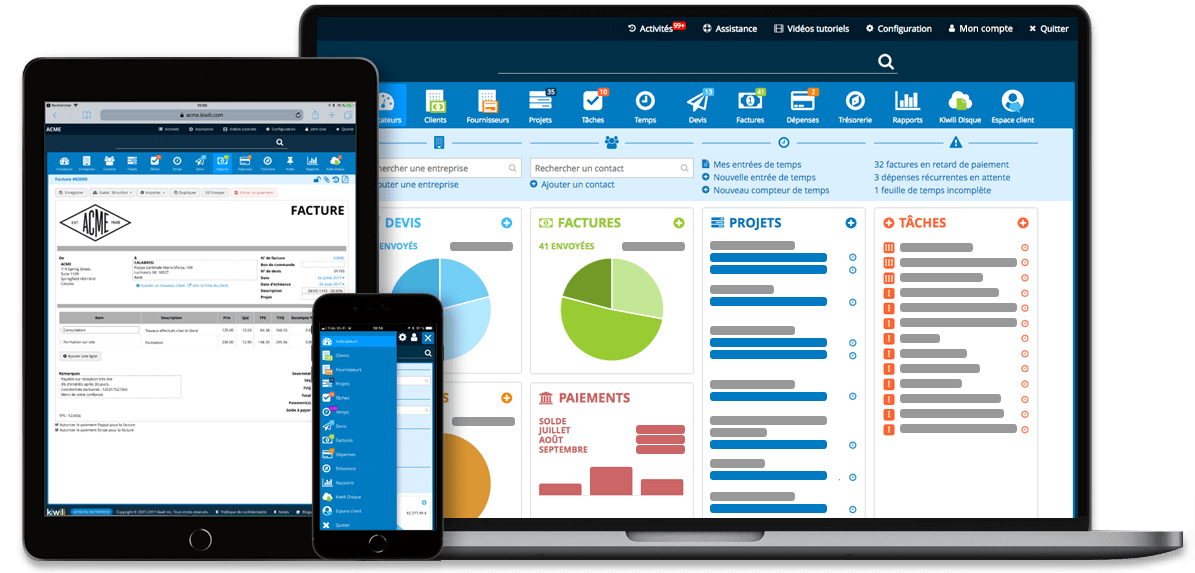 The Canadian developed Kiwili is a great online ERP and accounting management software for the self-employed and small businesses. It is a one-stop-shop solution that organizes and enhances a business and manage finances.
The purpose of this software is to make a business owner's life simple, and they do that by making this app user-friendly and intuitive. Kiwili happens to be the best business accounting software.
It lets the user track expenses, bill clients, create personalized invoices, organize projects, and manage customer relationships, from one place!
Features
Kiwili lets its users create numerous projects at a time.
Multiple tasks can be created within projects and assigned to relevant teammates, and all this can be done from the dashboard.
Time tracking is done as teammates work on their tasks. This allows the user to measure the time used on each task/project, making it easier to bill the clients.
The time spent can be viewed by everyone, including clients, which allows them to check whether have been billed accurately or not.
Kiwili's most important feature is the invoicing. It allows the user to create an invoice using the application, but also send it to the client using the same interface.
The invoice status can be viewed at any time as 'issued', 'delivered', or 'paid'. Using custom settings recurring invoices can automatically be issued to the client.
An automatic report can be generated with summarized results in a single file, and they can be generated monthly, quarterly, yearly, or for any period. Report customization is allowed.
Pricing
Kiwili has various pricing plans, and a customer can save 10% on annual payments.
Free: The cost is completely free, and even though it comes with amazing features it does have its limitations. The features are only 1 user, 3 clients, and 3 projects.
Standard: The cost is $14.95 per month. The features it has are 1 user, online files, and storage of 5GB, invoices, estimates, and much more.
Pro: The cost is $29.95 per month. It has all the Standard plan features, including 1 user, $5 is charged per extra user, and 10 GB of storage.
Business: The cost is $74.95 per month. It has all the Pro plan features, including 10 users, $5 is charged per extra user, and 50GB of storage. It has an advanced management system, such as cash-flow management, advanced reports, and much more.
Custom: This is for a business with larger needs and has a customized plan. The features it has are; business process analysis, personalized software training, and assistance with implementation and migration. They also give the user a dedicated account manager and custom modules.
---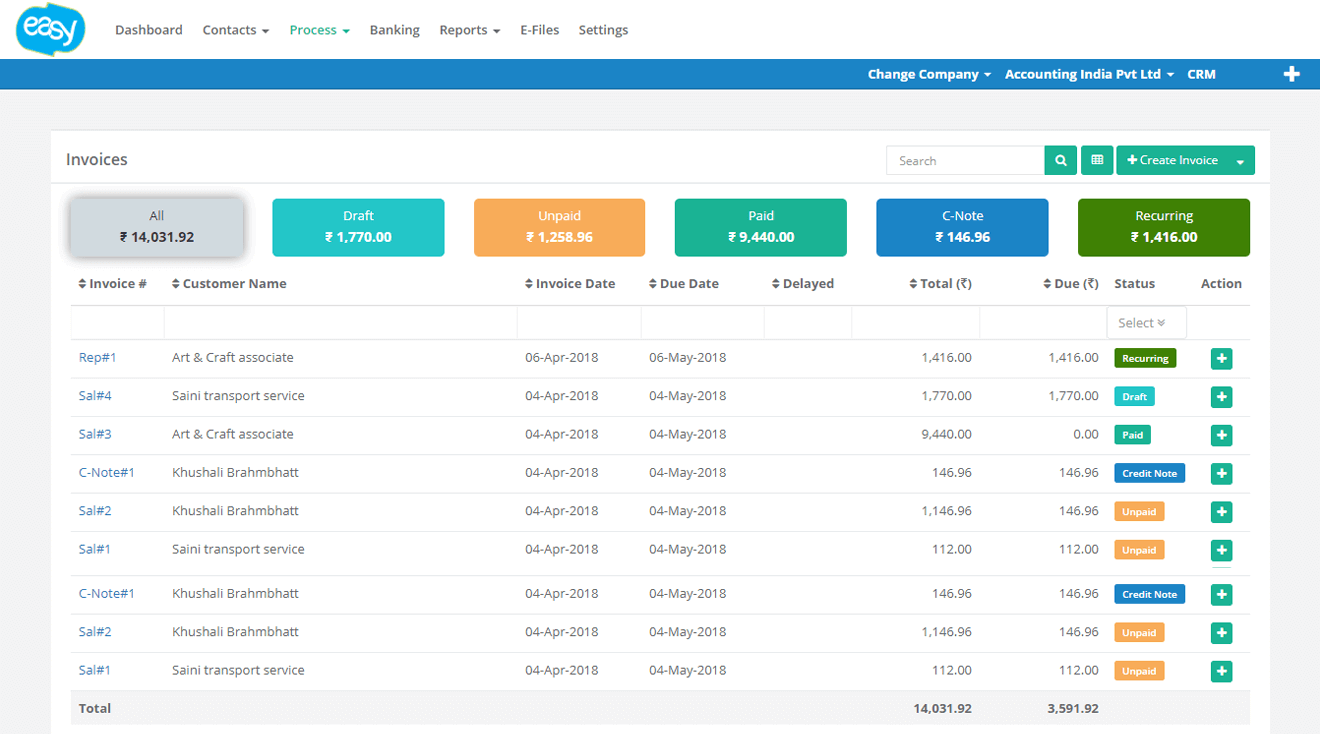 Easy Accountax is great for professional accountants and small businesses that want a feature-rich cloud-based accounting software. It helps them streamline their accounting processes.
This software gives them complete visibility of their finances, which also includes the real-time status of their accounts receivables & payable, incomes & expenses, losses, and much more.
It is far easier to send invoices using Easy Accountax. Users have the perk of using the mobile device to record bills and even scan receipts. This allows the necessary accounting reports to be automatically generated and are within the user's reach.
Easy Accountax is great for working remotely for collaboration with clients and employees. Since this is cloud-based software, accountants and clients can go over the details of their income & expenses, and losses, and much more.
Features
Easy Accountax provides its clients with the best online security because it uses SSL encryption that guarantees complete data security.
It is cloud-based so the information is processed and stored in the system and is accessible in an ISO-accredited data center in the UK.
Easy Accountax software gives its users budgeting, email, and banking integration for seamless financial operations.
To enhance the business financial systems and increase the profit, Easy Accountax has an inventory and financial management systems feature.
This software has a "multi" support system, such as multi-currency, multi-location, multi-user login & roll-based access.
Easy Accountax also offers many features, such as invoice, HR & payroll management, online document storage, product database, time tracking, and much more.
Task management and taxation management are made simple to do with Easy Accountax.
Pricing
Easy Accountax different pricing plans and it also offers a free trial. Price plans can be canceled within one month's notice.
Starter: The cost is $8 /month. The features it offers are: 2 users, sells 50 invoices, and process 50 bills, customer relationship management, inventory, tax return, and file storage of 1GB.
Intermediate: The cost is $12/month. It has all the Starter plan features, including 5 users, sells 200 invoices, and process 200 bills, and file storage of 2GB. It also has quotes/purchase orders, multi-currency, human resource management (HRM), and Payroll.
Professional: at $20 per month. It has all the Intermediate plan features, including unlimited users and invoices and bills, auto bank feed, tax return, and file storage of 5GB.
---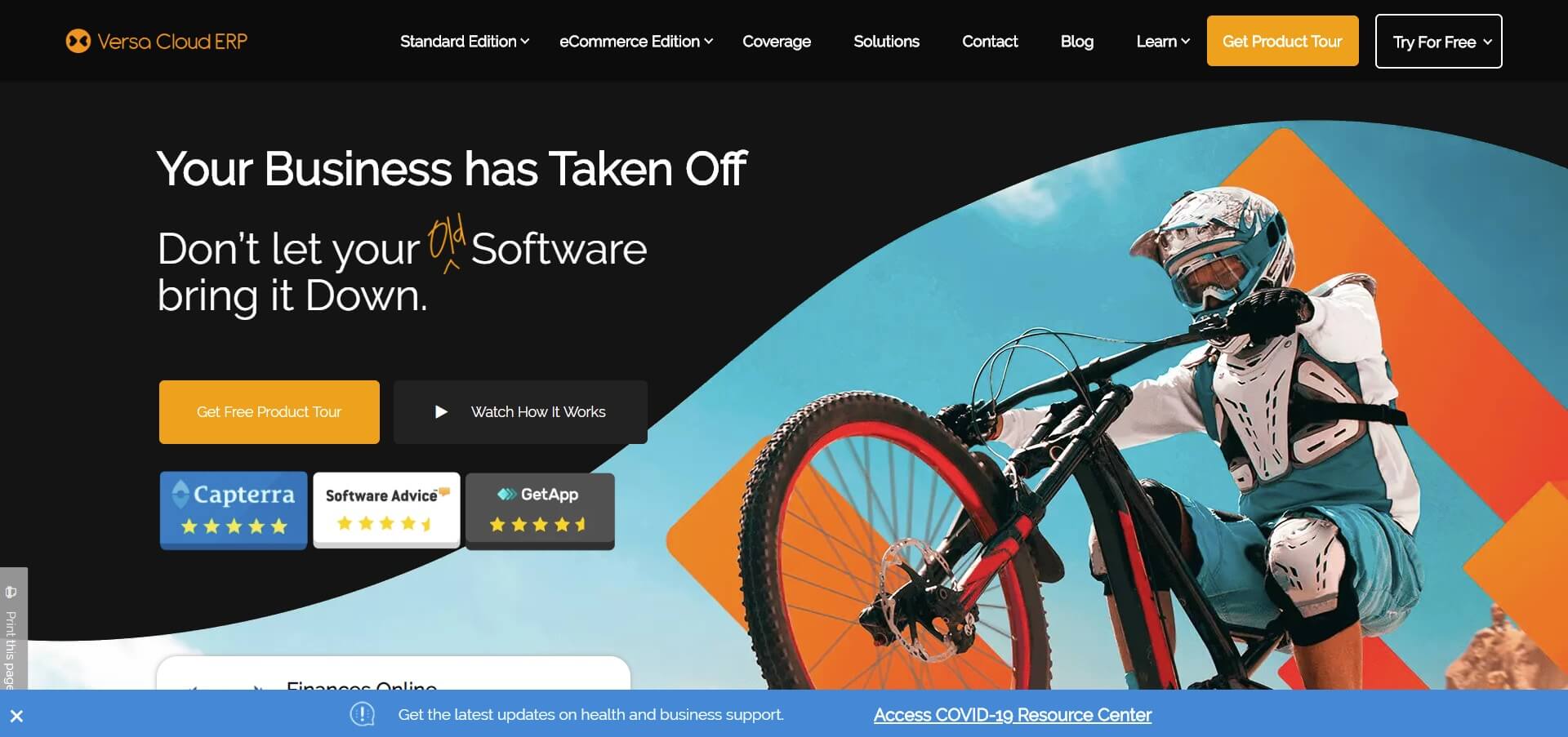 VersAccounts is a cloud ERP and such a strong platform turns a small business into a smooth operating function. It optimizes the functionality by automating processes, streamlining tasks, and be able to collect all the business data from one location.
When data is stored in one place it becomes easy to access it, making it even easier to get real-time insights that help the user make smarter business decisions and take immediate action when needed.
Since it is a cloud-based solution, the whole team can access VersAccounts cloud ERP at any time and place. It is easy to manage the business, keep track of inventories, monitor the status of orders, and all this can be done using a smartphone or a tablet.
Features
The software offers quick and easy customization with the current setup and integrates it into the existing software.
VersAccounts has top-notch accounts receivable & accounts payable systems, and it can manage cash and manage a fixed asset as well.
It has robust features that are necessary, like purchasing & order management, general ledger, distribution, production, and customer relationship management.
It also helps enhance the business sales development by offering e-commerce and multi-channel retail feature.
There are features like project management and advanced inventory that increase accuracy and decrease risk are also provided.
It has many other features, such as reporting, BI, document management, and third-party products.
It manages to integrate with the business's current system and apps seamlessly.
Pricing
Versa Cloud ERP system has two price plan options. One is based on the number of users needed by the customer or the customer's previous 12 months' revenue. Both of these subscription plans offer unlimited access to software functions.
---
Frequently Asked Questions (FAQs)
🌟 What is the Best Accounting Software for Small Businesses?
There are various types of accounting software that are available for small businesses, which have different capabilities and costs. However, some multiple variables and factors help you choose the right type of software. Two major factors are the type of industry and the number of employees.
These applications help you become efficient and decrease large amounts of paperwork and enable you to stay updated in real-time with all the key financial indicators and metrics.
Nowadays, accounting software is adaptive, scalable, with easy automation options, which meet the needs of individuals to corporations.
One of the major reasons that small business is eager to use accounting software, is because the right accounting software applied helps them expand the business. It allows them to shift their focus from number-crunching to business development. Here are our top picks:
QuickBooks Online: Best Overall
Xero: Best for Micro-Business Owners
FreshBooks: Best for Service-Based Businesses
Wave: Best Free Software
Kashoo: Best Integration Software for small businesses.
---
🌟 Which Accounting Software Do Most Businesses Use?
Every business has a different requirement when it comes to needs and development factors. Before selecting the right kind of accounting software, businesses should identify their accounting needs and prioritize them according to the requirements. That means everyone has to agree on the set goals.
It is also wise to set a budget and be honest about it. It is important to recognize how much you can and are willing to spend on the accounting software.
Once the budget has been decided, the research for the right software is done with ease. If the solution costs more than 25% of your budget, do not purchase it.
As you research for the perfect accounting software, make sure it has all the features that meet your business requirements. However, some of the features may be fancy but that doesn't mean you need them, which means you may end up paying more than you need to.
When choosing the right accounting software, businesses need to ask these questions:
How secure is your API?
How do you ensure backup and availability of our data?
What other costs or fees should I expect?
Tell me about customer support. What are your hours, and how quickly should I expect to get a response if I submit an issue or a question?
Can you tell me about a client you've worked with that's similar to my business? What pain points have they experienced with your software?
---
🌟 Which is the Best Accounting Software?
One of the vital factors of your business is managing your finances, and applying the right accounting software can make the world of a difference. It takes a lot of planning, research, and analytical strategizing to construct a business and its operations, the best accounting software makes it easier.
Sometimes the best way to do your accounting software shopping is to read user reviews, watch tutorial videos, and evaluate each feature in detail. It is also a good idea to review the customer resources that are provided. Keep in mind, factors such as cost, user-friendliness, and the app's limitations.
After an in-depth analysis, we have selected the top five best accounting software for you below.
Quickbooks: Best Accounting Software for Small Businesses Overall. Pricing starts at $7 per month.
Freshbooks: Accounting Software for Invoicing. Pricing starts at $15 per month.
Zoho Books: Best Accounting Software for Really Small Businesses. Pricing starts at $9 per month.
Xero: Best for Growing Businesses. Pricing starts at $9 per month.
Wave: Best Free Accounting Software. Free of cost.
---
🌟 How Can Accounting Software Help a Business?
The right accounting software can prove to be a valuable asset for a company, which helps in improving the efficiency of the department. Accounting professionals love using accounting software since it decreases their work ten folds.
With the use of accounting software, business owners find it easier to manage financial processes, carry out financial tasks quickly and correctly.
However, this does not mean that this type of software will replace the role of accounting managers within the organization, just enhance their productivity.
Such software reduces the cumbersome task of creating financial reports and other documents or reconciling bank accounts and statements. Therefore, allowing their efficiency to increase and focus on the company's financial status, so decision-making for business expansion can be made.
Conclusion
We have discussed quite an array in our exclusive list, but before you commit, make sure that you make your decision based on the key features and complete pricing package, that fits right for your business.
For those offering, you can sign up for a free trial to test all the nuts and bolts. Once you make a wise selection, you can be sure that you get relieved from all accounting related woes and take a steep flight toward growth.
---
Other SaaSy goodness on All That SaaS: