In this roundup, we are going to take a look at some of the best inventory management software on the market for tracking inventory levels, sale processes, orders, and deliveries. So, let's get started!
Still, using the conventional method of tracking inventory with Excel spreadsheets? Or are you tired of finding errors in your manual inventory process?
You are in the right place for a long-term solution. In today's modern world the best inventory management software can save you from a lot of hassle.
Poor Inventory Management & Consequences
Poor inventory management has caused many small businesses to fall apart. A small business has a very small margin to tolerate errors like canceling orders due to inventory shortages, which in turn, leads to a fail.
Research by IHL states that around $1.75 trillion is in lost revenue/year due to ineffective inventory management. This makes it a necessity to own efficient inventory management software, making it a lot easy to manage your business by tracking your goods, avoiding stock-outs, and recording sales.
Deciding to ditch the paperwork orders and entering into the modern digital world is surely a big step for any business.
Many questions might have crossed your mind.
From where to start? Which software is best according to your company's needs? Are these software applications worth your investment?
So, here are some of the best Inventory Management Software that will help you keep track of your inventory, alerts you in case of shortage, and most importantly helps you improve your customer relationship.
What is the Best Inventory Management Software in 2023?
1. EZOfficeInventory – Warehouse Inventory Management Software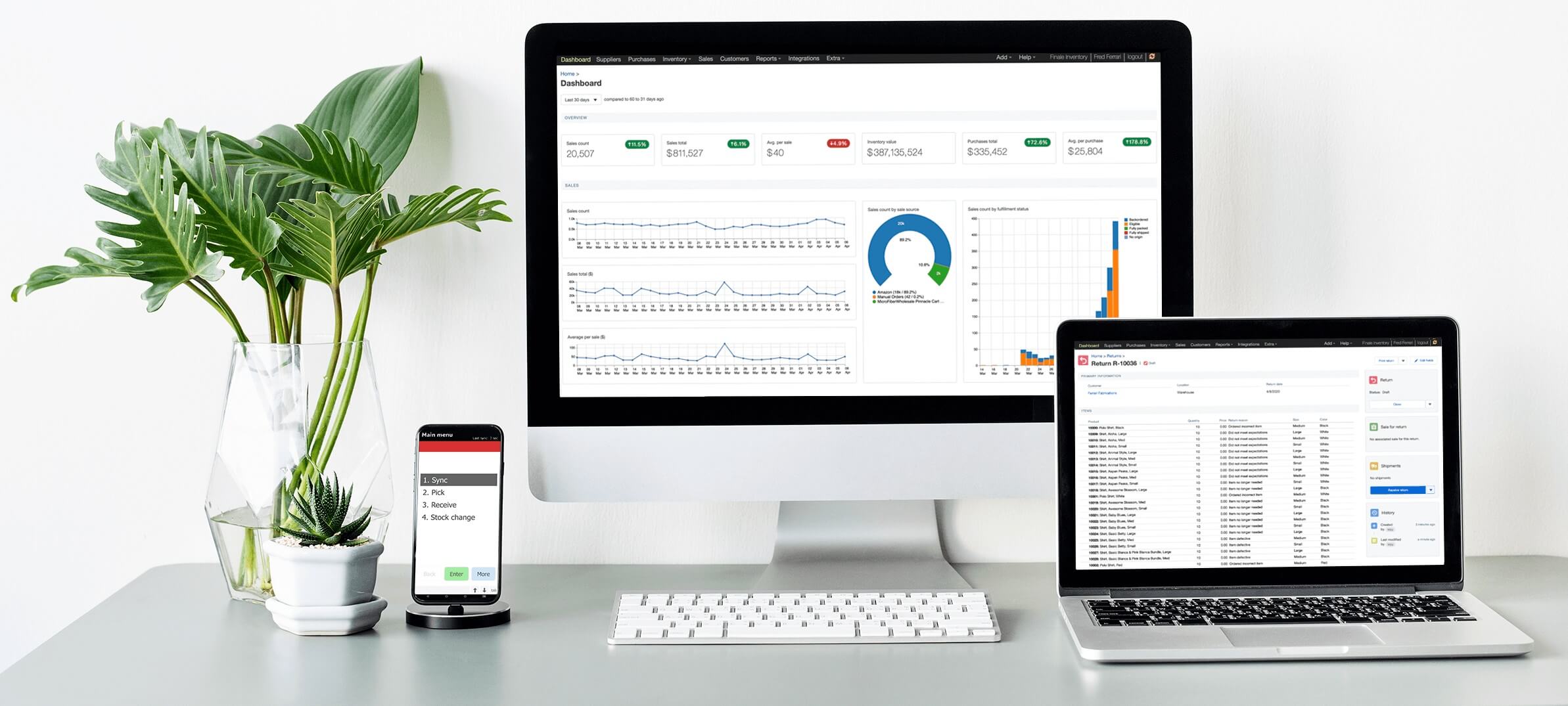 EZOfficeInventory is a cloud-based inventory management app. The fact that EZOfficeInventory works for companies of all sizes are making it to our list of the best inventory management software.
With EZOfficeInventory, you can manage the entire lifecycle from procurement to retirement. The software helps you to regulate stock levels, control your assets and inventory, and manage all the consumables in and out of the company.
The free mobile app enables users to scan barcodes or QR codes to track their inventory from anywhere. While GPS tracking enables users to monitor and track the location of the items on the map. Additionally, it helps you find your lost or misplaced asset by tracking location on GPS.
Key Features
Label Scanner and Designer: designs professional-grade labels of various sizes, styles, and formats. The scanner allows you to scan Barcodes and Codes.
Low stock alert: keeps track of stocks by location and alerts you when the stock is low.
Availability Calendar: enables you to keep a check on your assets by showing if they are available, reserved, checked out, or under maintenance.
History Tracking: keeps a record of all your assets which helps you track the general trend assets usage. This will help in making the improvements accordingly.
Excel Import and Export: add, update, and download your data by importing/exporting it easily.
Depreciation Management: tracks depreciation and generates reports to make improvements accordingly.
Multi-platform access: available for Mobile (Android, iOS, Windows) and Desktop (PC, Mac, Linux).
Pricing
EZOfficeInventory is not available for free but offers a free 15-day trial for its new users.
Essential: $35/month, billed annually for unlimited users. Suitable for small teams getting started. Includes asset tracking, availability calendar, alerts, basic reporting, audits, GPS location, and more.
Advanced: $45/month, billed annually for unlimited users. Designed for growing teams who need a track on complete asset lifecycles. The advanced version offers scheduled services, advanced reporting, carts for projects, external data backups, purchase orders, etc.
Premium: $50/month, billed annually for unlimited users. Best for teams collaborating on asset management tasks. Offers G Suite Integration, work orders, single sign-on, service desk Integrations, and much more. It also includes all the features of the advanced plan.
Enterprise: Available for enterprises with custom needs. You can contact the Office support for pricing details. Offers global private cloud options, custom security, custom integrations, account manager, and more. It also includes all the premium features.
---
2. Limble CMMS – Inventory Management Software for Small Businesses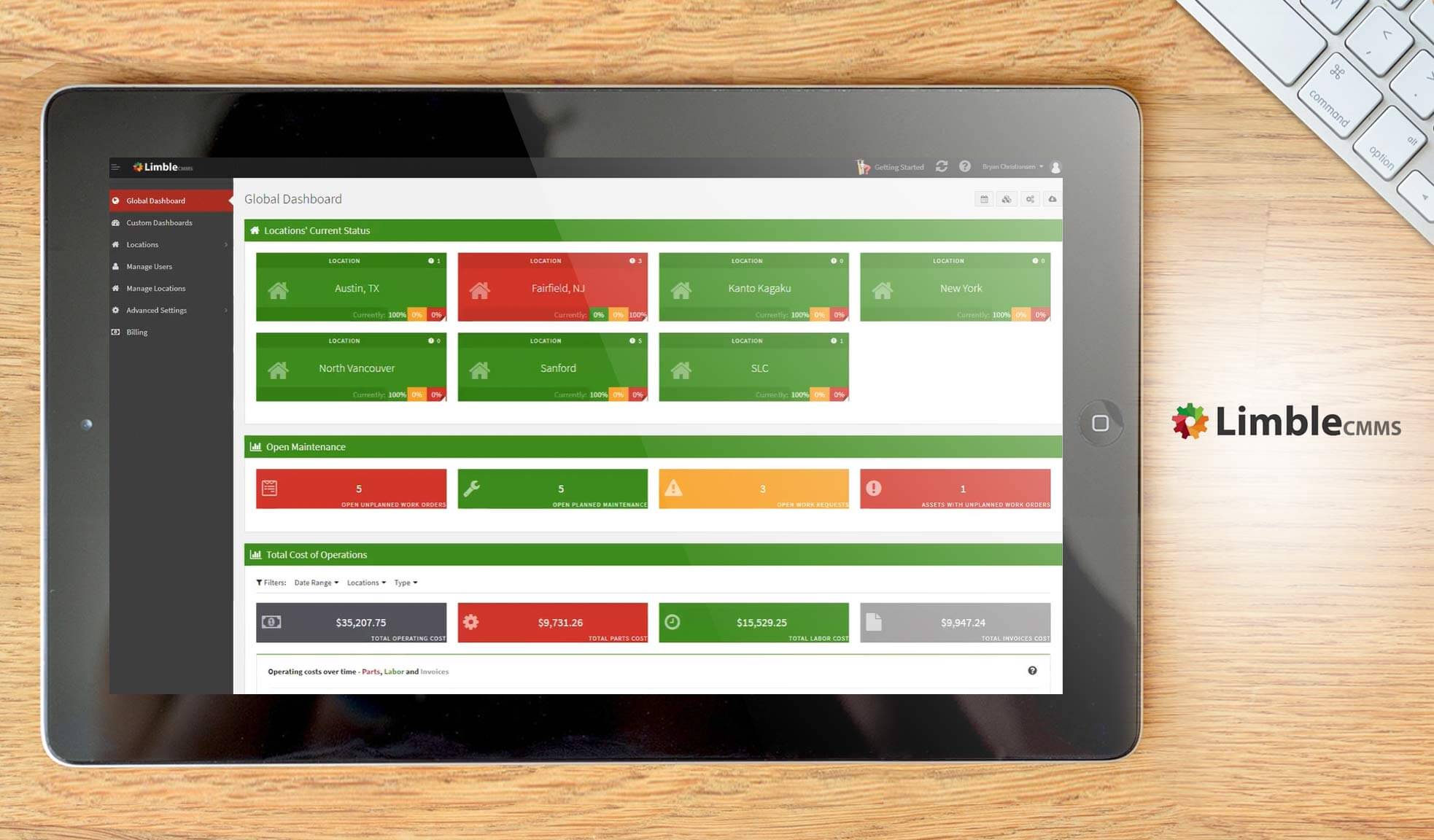 Limble CMMS (Computerized Maintenance Management System) is a cloud-based management system. This is the best inventory management software for small businesses, more specifically designed to cater to SMBs (Small and Medium Business solutions) in different industries.
This simple yet robust maintenance management system packs a punch with its massive number of amazing features. With Limble CMMS, you can schedule preventive maintenance (PM), track work orders, check asset history, and more.
Moreover, the app allows, users, to take pictures, upload documents, track meter readings, note dates, and enter new work orders.
Key Features
Asset Management enables you to track your assets with its easy-to-use and searchable tree structure. Moreover, you can also organize your assets in a parent-to-child hierarchy.
Multiple languages: translates the software into your native language. Additionally, a worldwide network of consultants also helps you in your native language.
Predictive Maintenance Software (PdM): quickly, cheaply, and easily checks if a predictive maintenance strategy will prove to be the best for your faculty.
Reports and Dashboards: allows you to view reports and access where your money is being spent, which asset is costing the most, and why. This results in reduced labor costs and downtime.
Work Orders: quickly organize all your work orders by prioritizing the tasks by order, updates all the tasks on a calendar. It also enables you to view the due date and more.
Vendor Management: stores all the information of your vendors, keeps a check on the amount you are spending on them. Additionally, it simplifies the communication making it easy to manage outside Vendors.
Pricing
This simple inventory management software is not available for free but you can have a 30-day trial to have an insight into the software.
Starter: $40/month per user, billed annually. Perfect for small companies transitioning from manual processes to the management system. Top features include preventive maintenance, work orders, data importing, and work requests.
Professional: $70/month per user, billed annually. Suitable for small to medium size companies. Offers advanced reporting, parts inventory, downtime tracking, multiple locations, scans barcodes/QR codes, and much more.
Business Plus: $105/month per user, billed annually. Features include workflow automation, API access, support team, offline mode, and more.
Enterprise: $185/month per user, billed annually. Offers onsite implementation, Al duplicated Work requests, custom integrations, and more. It also includes all the features in the Business plan.
---
3. Trunk – eCommerce Inventory Management Software
Download: Mobile apps not available. Supported by Amazon, eBay, Square, Etsy, Shopify, and more.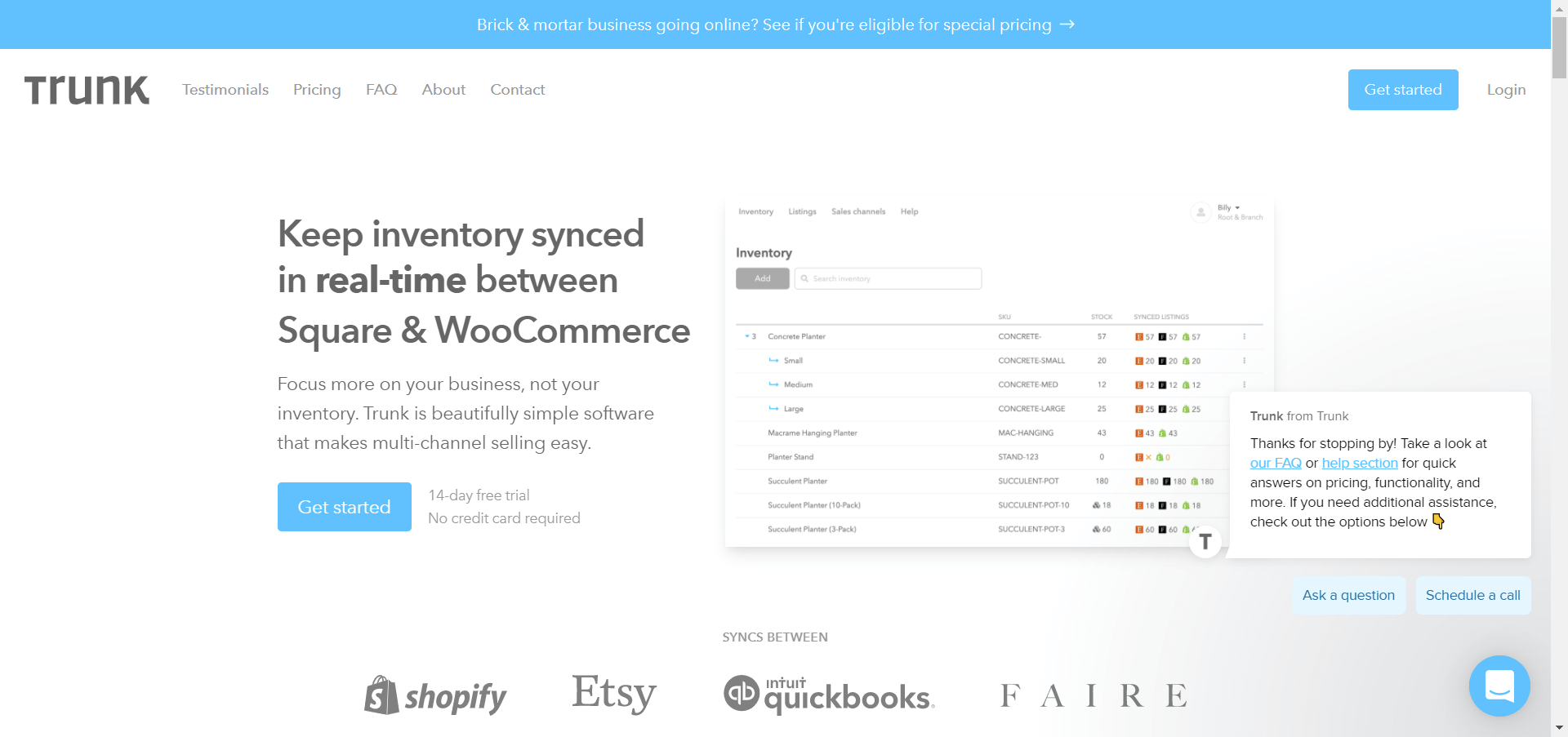 Launched in 2016, Trunk is a maintenance management software that came up with a solution to manage inventory across multiple sales channels. It allows you to keep track of your inventory levels by constantly displaying the updated list.
Designed for small to medium businesses, this eCommerce inventory management software offers some of the most unique features. Its real-time syncing feature avoids the problem of duplicate SKUs by linking to one unique SKU per channel.
The company strives hard for making it easier to sell business across multiple platforms.
Key Features
Real-time Syncing: helps you in centralizing your inventory and tracks stock level synced by the Stock keeping unit (SKU).
Powerful Inventory Kitting: creates quantity packs and categorizes products into customizable bundles.
Multiple sales channel sells online across different channels like Shopify, Etsy, Faire, eBay, Amazon, etc.
Live chats and email support: help the users by resolving their issues clearly and provide all the relevant details for their ease.
Pricing
The app allows its users to avail of a 14-day free trial to make the decision process easy.
Essential: $29/month for 0 -100 orders: all core features including real-time stock level syncing.
Pro: $35/month for 0-100 orders: all features in essential plan and also; smart bundles and kitting, duplicate SKU syncing, and more.
---
4. PartsPal – Simple Inventory Management Software
Download:  Mobile apps not available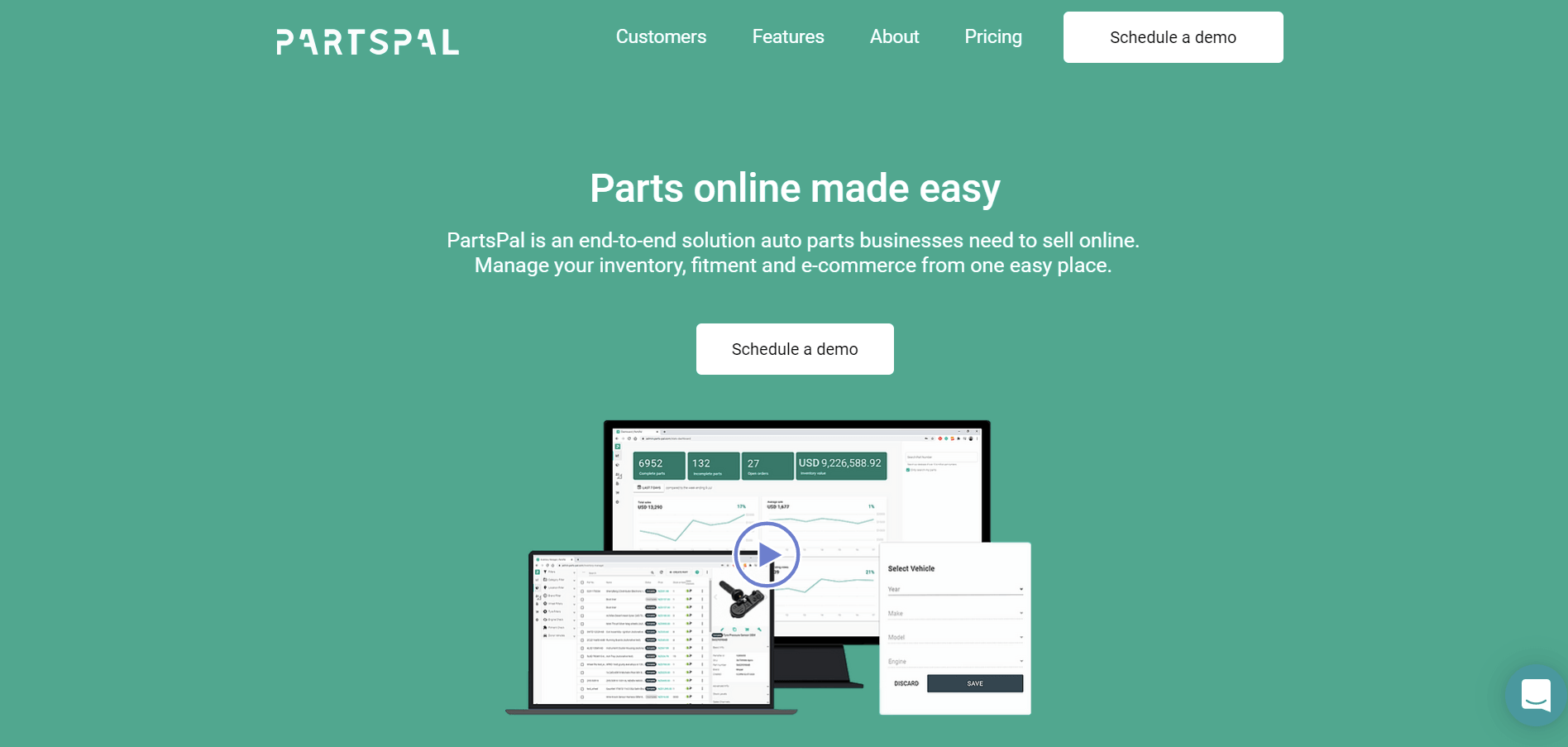 For all the car dismantlers and auto parts sellers out there, this warehouse inventory management software will prove to work the best for your business. Designed specifically for auto parts businesses, PartsPal is cloud-based management software.
No doubt, PartsPal is a market pioneer in auto parts inventory management software. The software manages vehicle fitment and makes it easy to sell products through various eCommerce channels.
Key Features
Inventory management: manages all the stock, fitment, pricing for auto parts businesses.
Multiple team members: enables you to add your team members/workers to the software. This will help in managing your business together.
Advanced filters: categorize the stocks according to their price range, condition, manufacturer, usage, fitment type, and availability status.
Quick-list part upload: allows the users to quickly upload the picture of the auto parts into your inventory.
CSV upload: imports and upload your current stock data from a CSV or Excel Sheet.
Multiple yards or warehouses: manages multiple yards and warehouses. It allows you to ship from different locations that have different stock levels and shipping options.
Part Request System: notifies the customers about the restocked items that were not available when they searched for them.
Pricing
Backyard: $79/month for under $10,000 sales volume monthly. Suitable for a sole trader or small business. Enables 1 sales channel and can manage only 1 yard/warehouse.
Small Business: $349/month for up to $50,000 sales volume monthly. Designed to cater to small to medium businesses. Enables 2 sales channels and can manage 2 yards/warehouses.
Large Business: $899/month for over $50,000 sales volume monthly. Best for large businesses. Enables up to 3 sales channels and can manage multiple yards/warehouses.
Enterprise: Contact the office support for the price. The enterprise plan is perfect for businesses that need custom solutions.
---
5. inFlow – eCommerce Inventory Management Software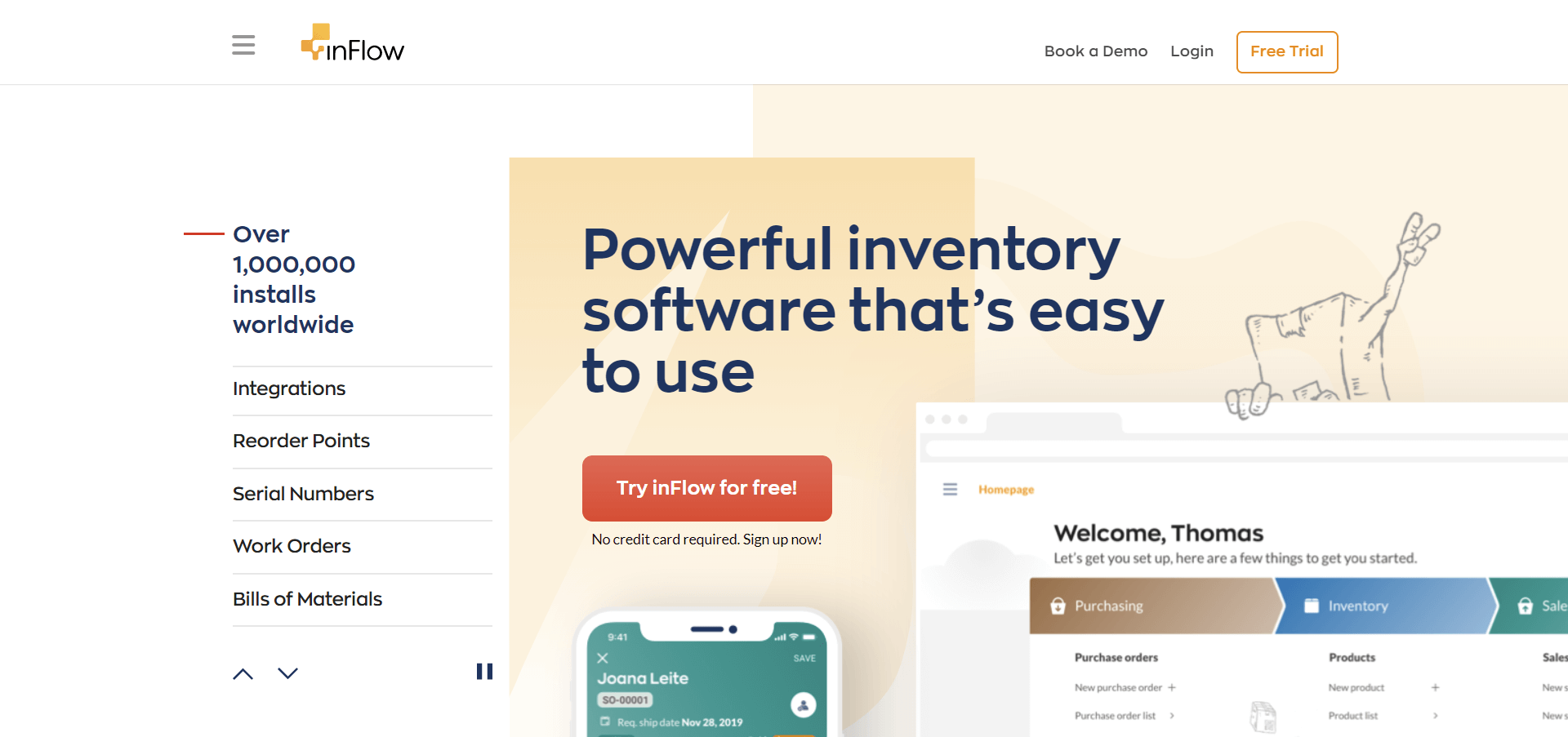 With its user in over 90 countries, inFlow has definitely earned the title of one of the best inventory management software in the industry. What makes inFlow stands out is its massive number of amazing features.
This simple inventory management software allows you to keep track of stock, manage orders, make detailed reports, invoice from anywhere, anytime.
The biggest perk of this app has to be its B2B portal. This portal showcases all your product pictures, description, and prices online, available for all customers to browse.
Key Features
Barcoding: allows you to use existing or generate new barcodes making it easy to adopt barcodes for scanning.
Reports: make reports of the sales, inventory, purchasing, and admin to keep track of the workflow.
B2B portal enables the users to take pictures of the products and showcase the catalog online in the software showroom.
Purchasing and Receiving: keeps an eye on all your payments and vendor balances from any computer or mobile.
Selling and invoice: make the transaction process easy by allowing the customers to pay through their browsers.
Manage Inventory: manages all your inventory to comparing the supply to demand and by reordering the exact quantities, before time.
Pricing
inFlow provides a free 14-day trial to its new users to have a deep look at the features of the software.
Light: $71/month for up to 100 orders. The light plan includes 2 team members, 1 inventory location, 2 integrations, and 2 hours of setup assistance.
Standard: $199/month for up to 1000 orders. Offers 5 team members, unlimited inventory locations, 3 integrations, and 4 hours of setup assistance, and more.
Plus: $399/month for up to 5000 orders. This plan offers 10 team members, unlimited inventory locations, unlimited integrations, and 6 hours of setup assistance, and much more.
---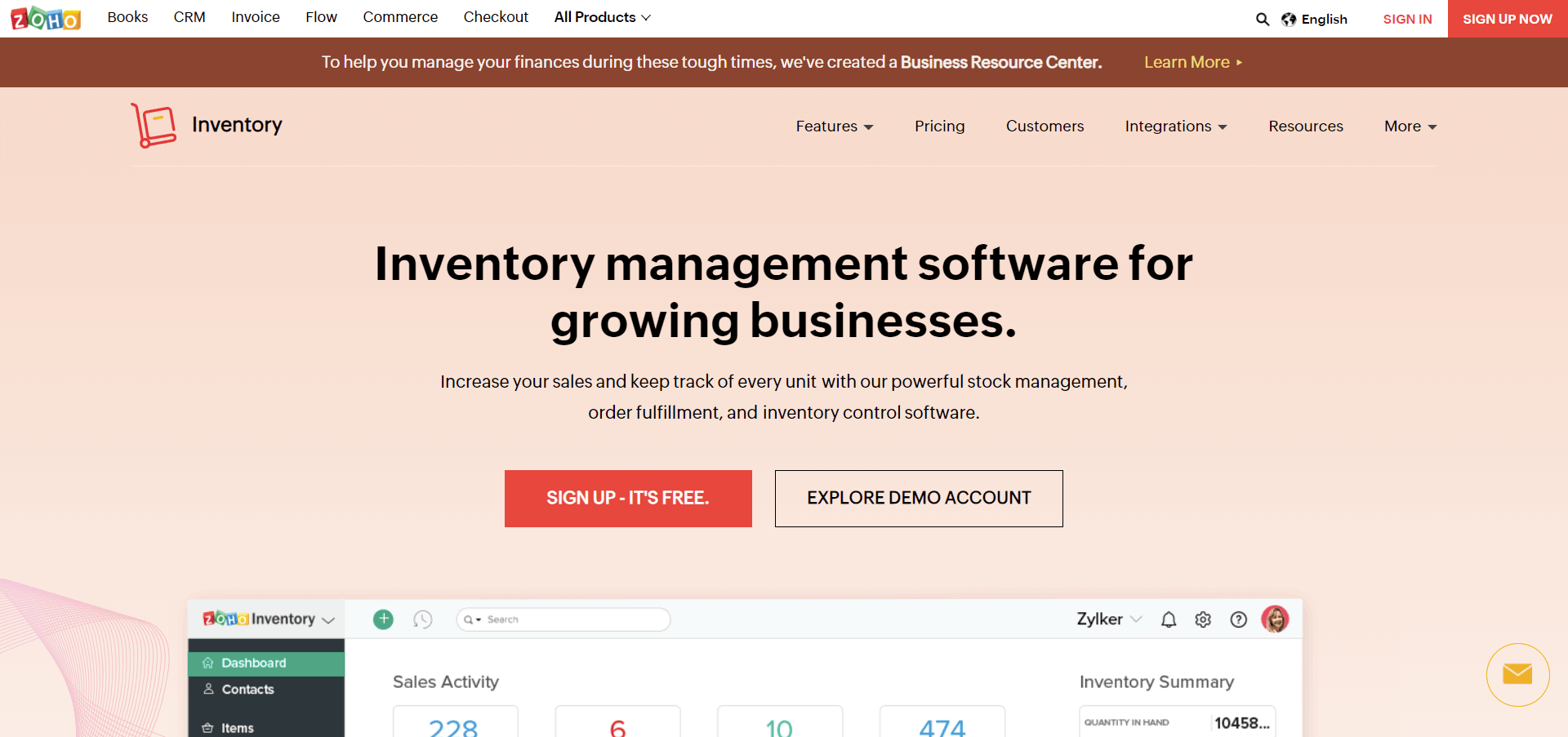 Zoho Inventory is an ideal eCommerce inventory management software for small to medium-sized businesses. Right from purchase to packaging to payments, this software offers end-to-end tracking.
What makes this software stands out is its out-of-the-box features. It offers order fulfillment, inventory replenishment, invoicing/ payments, and so much more.
Key Features
Sales order management: allows you to keep an eye on all the sales activities and create sales orders for your offline sales. While online orders will be updated on the system automatically.
Item management: manages all your item by classifying them. Also, helps in increasing sales by offering product bundles with promotional discounts.
Invoices and payment: enable you to have a quick view of your invoices, accept online payments, and track due payments.
Reporting and analytics: generate detailed, and resourceful reports. This will help you run your business successfully.
Barcode Scanning: scans the barcode and helps you track the stock of individual items or bulk.
Multicurrency transactions: allows transactions globally with ease.
Pricing
Free: The free plan offers 20 (online /offline orders, shipping labels, shipment tracking), 1 warehouse, 2 users, and much more.
Basic: $39/month per organization, billed annually. It includes 1500 online/offline orders, 150(shipping labels, shipment tracking), 2 warehouses, 10 users, and more.
Standard: $79/month per organization, billed annually. It includes 10000 online/offline orders, 1000(shipping labels, shipment tracking),5 warehouses, 15 users, and a lot more.
Professional: $199/month per organization, billed annually. Offers 30000 online/offline orders, 3000(shipping labels, shipment tracking), 10 warehouses, 20 users, and a lot more.
---
7. Sortly – Barcode Inventory Management Software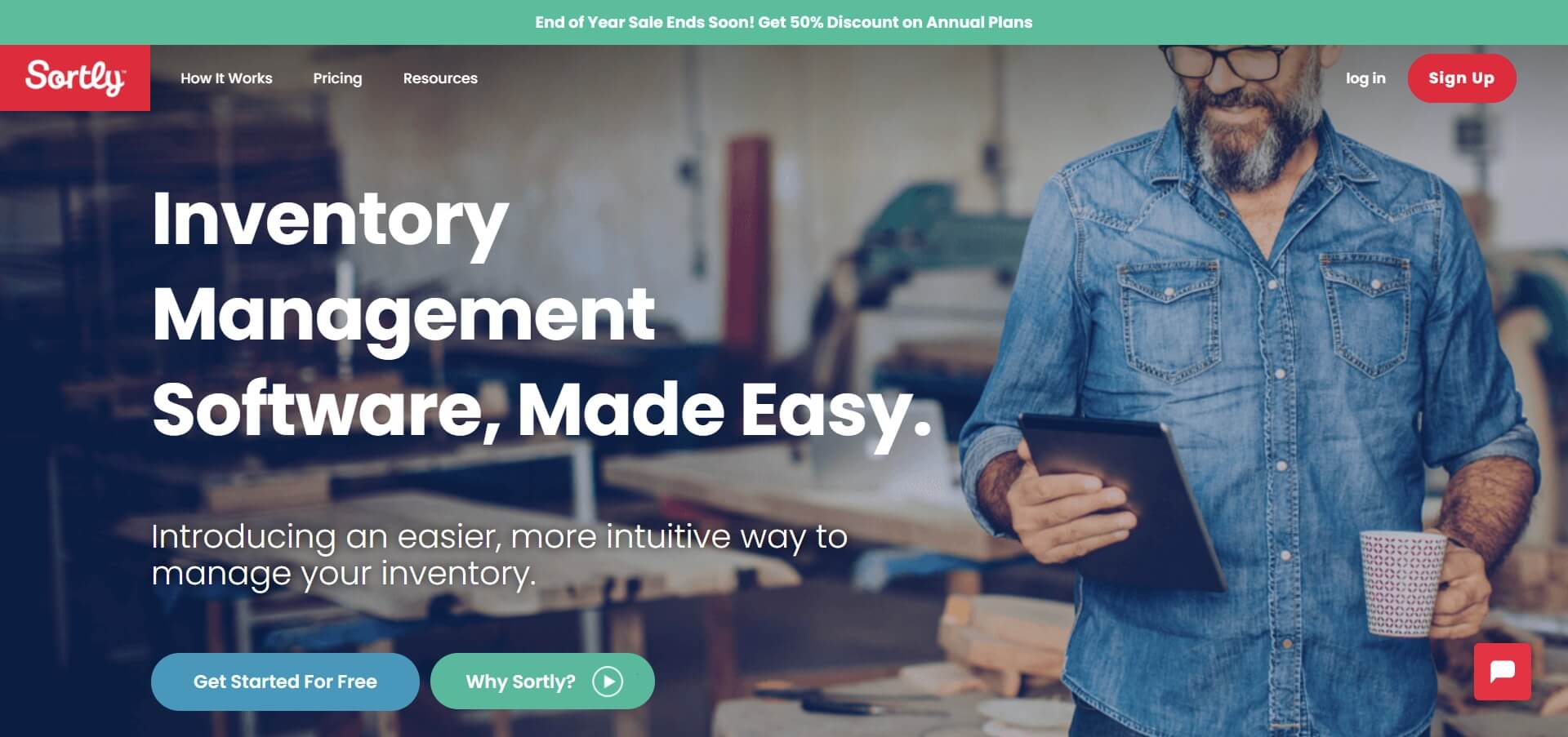 Trusted by thousands of small businesses, Sortly makes it to the list of the best inventory management software for small businesses. This super simple software makes it a lot easy to track your inventories and is accessible from any of your devices.
You can use this barcode inventory management software to make custom barcode/QR labels that easily link to your inventory. You just have to add photos and details of the item and keep track of your inventory.
Key Features
Stock alerts: notifies you when the stock is low by automated alerts, reminders, and dashboards.
Import/Export data: import data by CSV using the import template and export reports via CSV, Dropbox, or PDF.
Custom fields: add custom fields according to your needs and keeps track of price, quantity, location, and notes of all your assets.
Offline mode: saves all your data even when there is no data connectivity and automatically syncs when you get a data connection.
Custom reports: generates customized reports like activity-based or 'current status based'.
Customize branding tool: allows you to add a logo and colors to your web software to give a branded experience to your customers and team.
Pricing
Free: This plan is for a single user. It offers 100 entries, 1 user license, 1 custom field, barcode lookup, in-app scanner, and custom notes and tags.
Advanced: $39/month for multiple users. Includes 2000 entries, 3 user licenses, 10 custom fields, stock alerts, custom QR labels, track user activity, and more.
Ultra: $99/month for multiple users. Offers unlimited entries, 5 user licenses, unlimited custom fields, and much more. It also provides all the advanced features.
---
8. Evergreen – Restaurant Inventory Management Software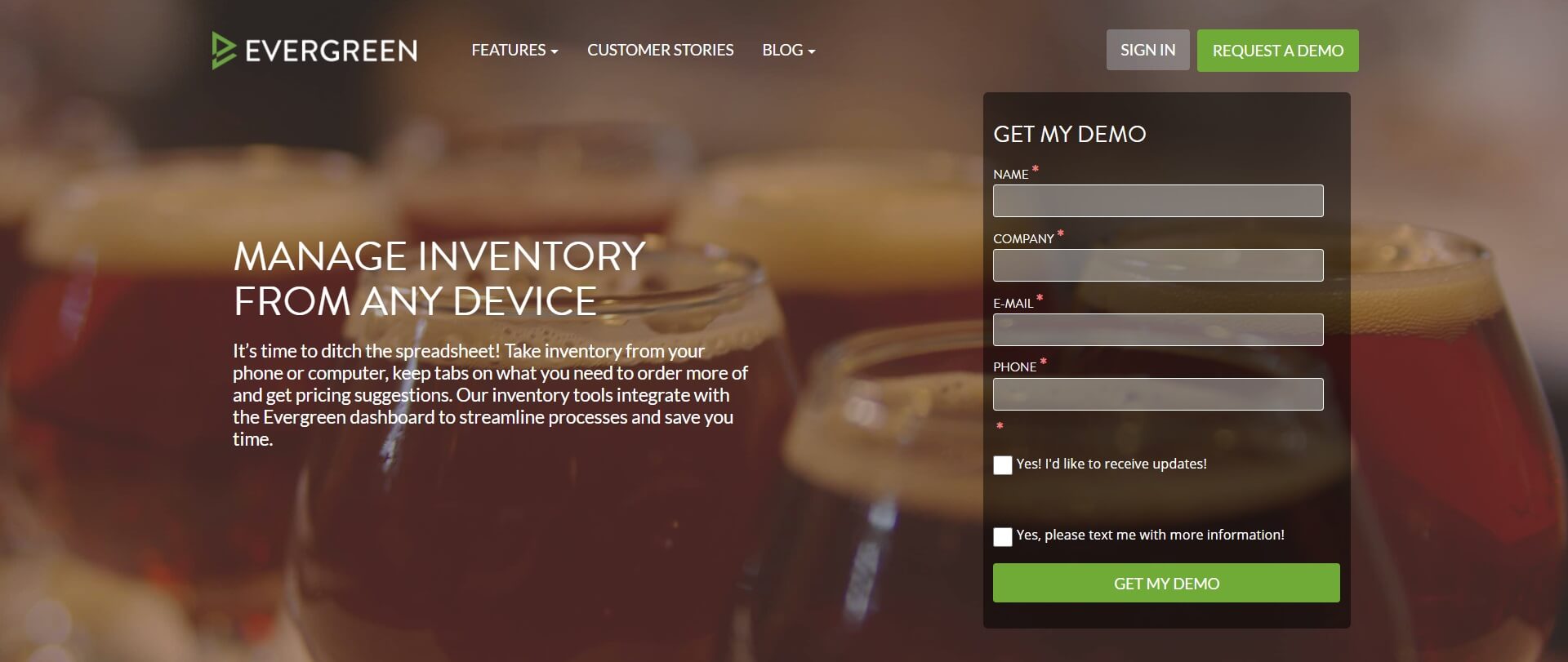 Looking for software that keeps a check on food costs, minimizes food loss, provides a profitable menu and alerts the staff before stocking out? Evergreen is a restaurant inventory management software that makes running a restaurant or a bar easier with its numerous amazing features.
With Evergreen, you can monitor the food items that you have on stock, calculate pricing based on your mark-up and package cost, and review valuable stats on your inventory.
The coolest feature that this restaurant inventory management software offers is 'Contactless Menu'. This feature is a modern solution to the ongoing Covid-19 situation. It helps follow the regulations by offering scannable QR codes for print menus.
Key Features
Digital menu board: provide intuitive layouts, flexible designs, categorized columns. It also allows you to edit menu items from any phone, tablet, or computer.
Print menus: allows you to create and edit eye-catching print menus in just a few seconds.
Manage inventory: quickly makes an order list for suppliers, keep an eye on your inventory. You can also simplify your pricing calculations with this tool.
Contactless menu: works by generating scannable QR codes for website, online orders, and print menus to save paper cost.
Social media sharing: works by engaging with the audience on social media regularly. It makes sharing content easier and attractive. Additionally, it helps to build your brand's reputation.
Multi-locations and chains: allow the users to have a closer look at the engagement at different locations. Moreover, it delivers data across all the chains and compares stats for individual locations.
Pricing
The starting price of Evergreen is $29/month: two free months with an annual subscription. For more pricing details you can contact Office support. The app doesn't have a free version nor do it provide a free trial.
---
9. Ecomdash – Retail Inventory Management Software
Download: Android app not available | iOS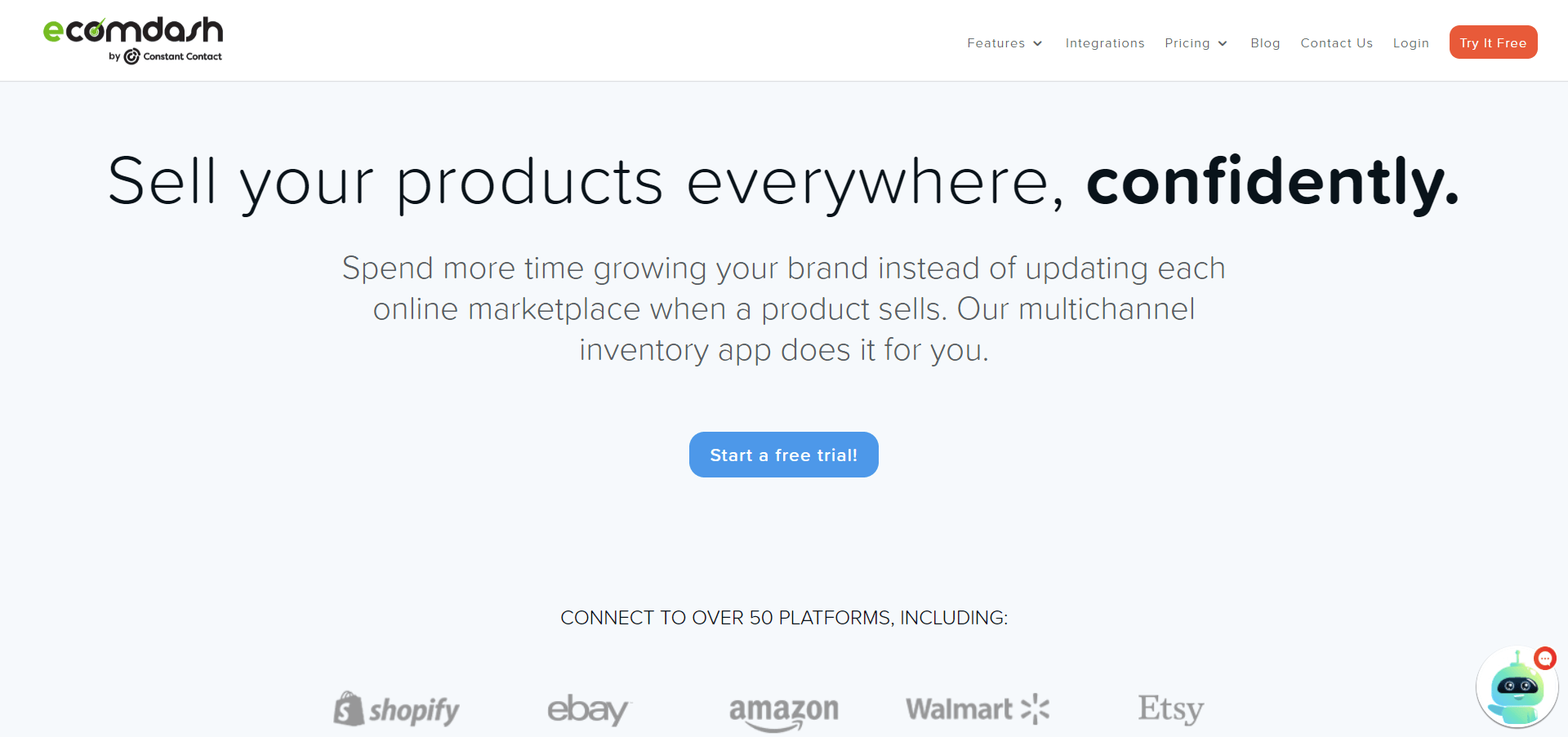 Ecomdash is a complete system that will take care of all your inventory needs. Designed especially for small and online retailers, Ecomdash keeps your inventory in sync across various platforms.
With this eCommerce inventory management software save time, sell more, and grow your online business.
You can manage all your online sales channels from this one dashboard. It also allows its users to organize the products into different groups and categories. Thus, making it a lot easy to find, search, and keep track of your inventory.
Key Features
Multi-channel listing tool: helps you listing your products for sale across various online marketplaces.
Ecommerce reporting: generates various business health reports. This will help you in making smart decisions for your company.
Order Management: manages your online orders from all the integrated sales channels. This will mitigate the risk of overselling.
Inventory Management: improves visibility into your supply chain, sets custom low-stock alerts. It also helps to track product quantities across unlimited integrations.
Purchase Orders: keeps track of things you buy and sell keeping your inventory maintained.
Shipping Management: allows you to have a look at which orders are shipped, canceled, and unshipped. Moreover, it provides shipping discounts and manages multiple carriers.
Pricing
Pro: $25/month for 100 orders. Offers unlimited channels, barcode generation, purchasing management, listing management, and more.
---
10. Primaseller – IT Inventory Management Software
Download: Android app not available | iOS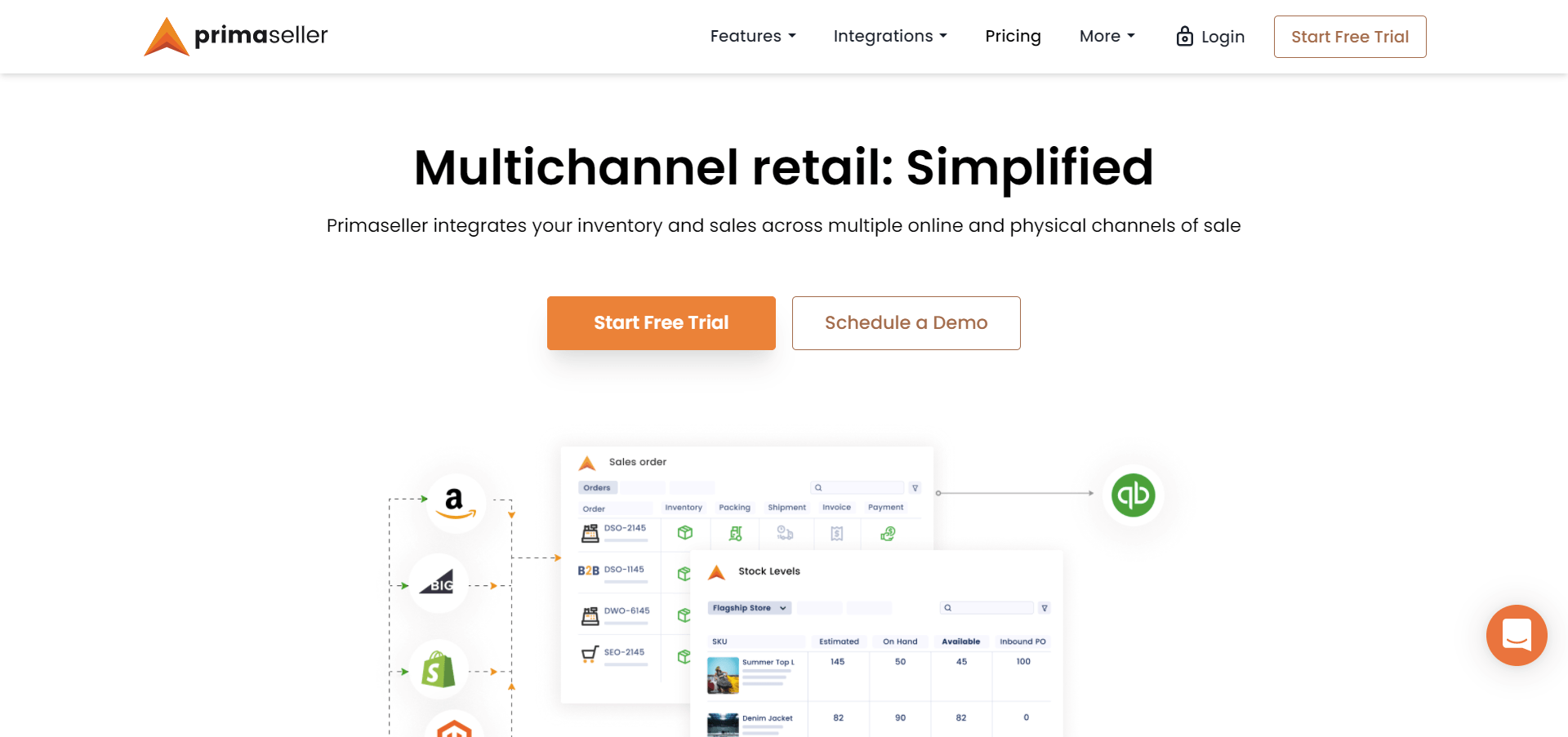 Say goodbye to your manual spreadsheets and manage inventory from any device through this amazing retail inventory management software. Launched in 2013, Primaseller is one of the best software for online and offline retailers.
Primaseller manages your inventory and sales across multiple online channels. It also tracks, fulfills, packs, and ships all the orders with its stunning tools helping your business grow rapidly. The software makes it easy for your company to take care of orders and POS.
Key Features
Point of Sale (POS) software: allows you to sync inventory at multiple retail stores. It works on all platforms and you can access it through any browser. Moreover, it helps you to print receipts and barcodes quickly.
Warehouse Management: manages all the stock in your warehouse. It works by putting newly received stock efficiently into shelves to make searching easy.
B2Border processing software: works by creating customized price plans for different customers, accepts digital payments. It also keeps track of your wholesale inventory.
Quick Books Integration: synchronize your invoices from online platforms. It also allows you to perform inventory and purchase orders more efficiently.
Order Management: manage your orders from picking, packing, and shipping across multichannel through a single platform. Additionally, it uses a picklist to know what to pick from shelves and pack lists for sorting the items into shipments, reducing errors.
Purchase Order Software: automates the purchase process by creating purchase orders, planning re-orders, and tracking suppliers.
Inventory Management: manages the transfer of inventory, keeps an eye on the stock to avoid stock-outs. It also lets you print, and scan barcodes for the products you receive and stock.
Pricing
The app provides a 14-day free trial to its users to have an insight into the app and its features.
Standard: $100/month for up to 20 users. Includes 1 standard location, up to 10,000 SKUs, and 500 online orders a month.
Enterprise: $500/month for up to 20 users. Includes CRM integration, dedicated servers, phone support, API access, margins based on FIFO, multiple Buses, and more. Enterprise plan offers all the features in the standard plan.
---
Download: Mobile apps not available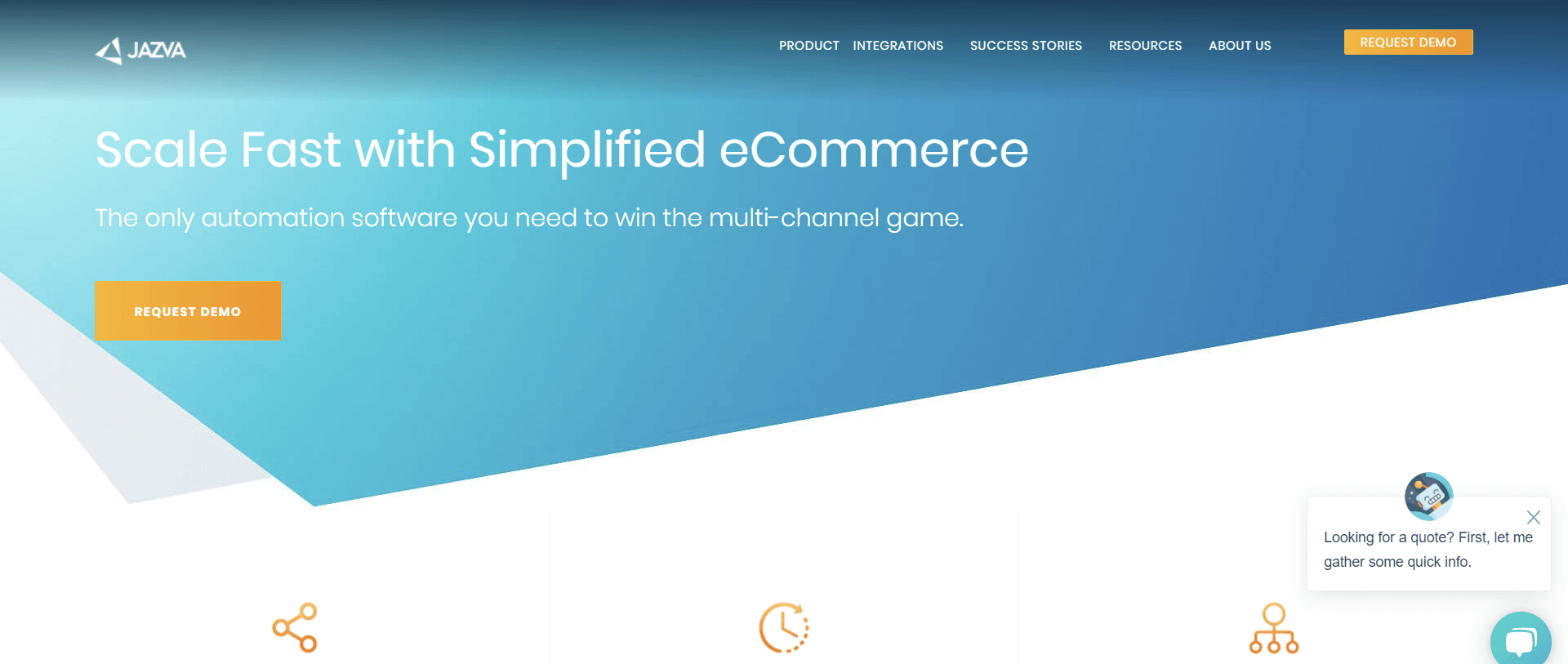 Jazva is an all-in-one multi-channel eCommerce solution perfect for any business type. This app claims to track and manage your stock levels across multiple warehouses. The software aims to accelerate your business growth rapidly with its amazing number of features.
With Jazva cloud-based software, you can customize features according to your customer needs. This will help a lot in managing pricing tax and shipping information accurately. Additionally, it allows you to create and manage bundles and kits.
Designed specifically for small-sized businesses, this software makes managing inventory much easier by streamlining and automating core processes.
Key Features
Multi-Channel listing tool: works to import, sync, and list products across multiple online channels by automating price.
Multi-Warehouse management: works by suggesting bin locations to optimize storage and inventory forecasting. You can also create and schedule purchase orders with suggested line items.
Order Management: works by syncing orders, allow returns/refunds through a single platform. It also provides multi-tier pricing and batch orders in bulk.
Shipping tools: creates shipping labels, packing slips, and invoices. It also tracks order status as soon as you print shipping labels from the system.
Inventory Management: works to manage, and optimize your inventory. It allows you to have a look at your stock by syncing inventory availability across all your channels.
Pricing
Pricing plans are not available on the website. Contact sales to get all the required information.
---
Download: Android | iOS app not available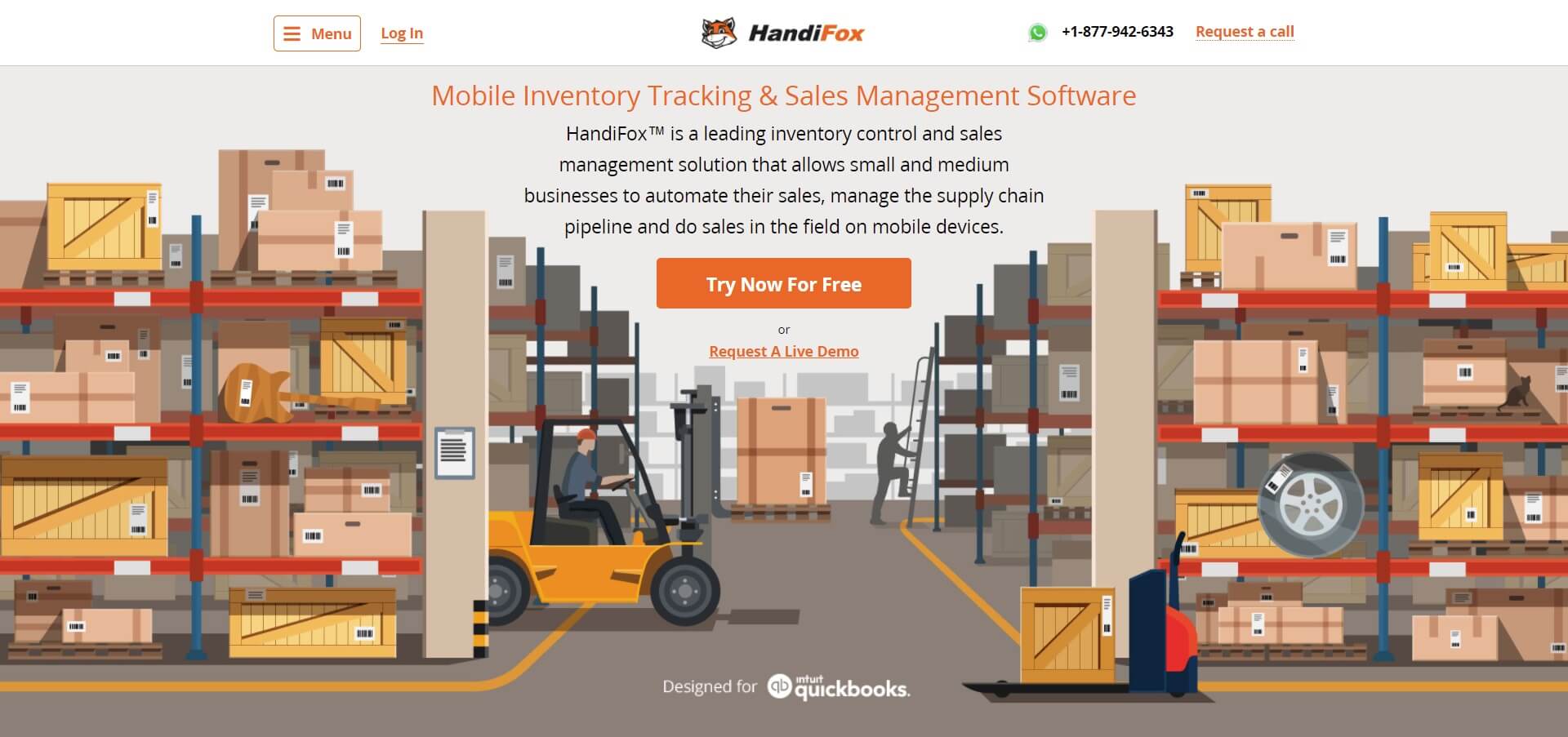 HandiFox makes sure that you spend less time inventorying and more time on your business. The software works perfectly for the self-employed and small business owners, helping them to extend their sales and inventory.
Designed purposely for seamless QuickBooks Data Integration across mobile devices, this software works to track sales, receive payments, issue invoices, and verify your shipments. Moreover, you can scan barcodes to count inventory accurately, and print barcode labels.
Key Features
Purchase Order Management: keeps track of all your orders. Moreover, it helps in preventing unauthorized purchases and increases vendor accuracy.
Service Management: synchronize all the appointment schedules and data across all the devices. You can also print invoices/receipts and process payments.
Barcoding: helps in inventory counts, and transferring purchase orders. Additionally, it allows you to track inventory using barcode scanning.
Inventory Management: generates pick and pack lists to minimize errors. It also provides features such as inventory counting to enter quantities accurately, and management of multiple sites.
Shipment Verification: maximizes the accuracy of shipment by its order fulfillment software. Also, while picking items, a barcode scanner helps to verify that all the items are correct.
Multi-Location Tracking: keeps track of your inventory at a different location such as warehouses, or stores by creating multiple sites. This helps in representing the actual storage layout accurately.
QuickBooks Integration: works by updating your finances whenever you order additional items, selling products, and using up stock.
Pricing
HandiFox offers a free 30-day trial to its new users.
Start: $39/month for 1 device/2users, billed annually. Offers 1 warehouse, integrated with QuickBooks online, barcoding, inventory/service items, inventory counting, new/edit purchase orders, and receive purchase orders.
Optima: $79/month for 2 devices/4 users, billed annually. Includes 3 warehouses, invoices, receive payments, inventory transfers, multi-location tracking, and more.
Pro: $109/month for 3 devices/5 users, billed annually. Offers sales orders, invoices, credit memo, receive payments, sales receipt, picking and packing, Shopify integration, and serial/lot numbers.
---
Open-Source Inventory Management Software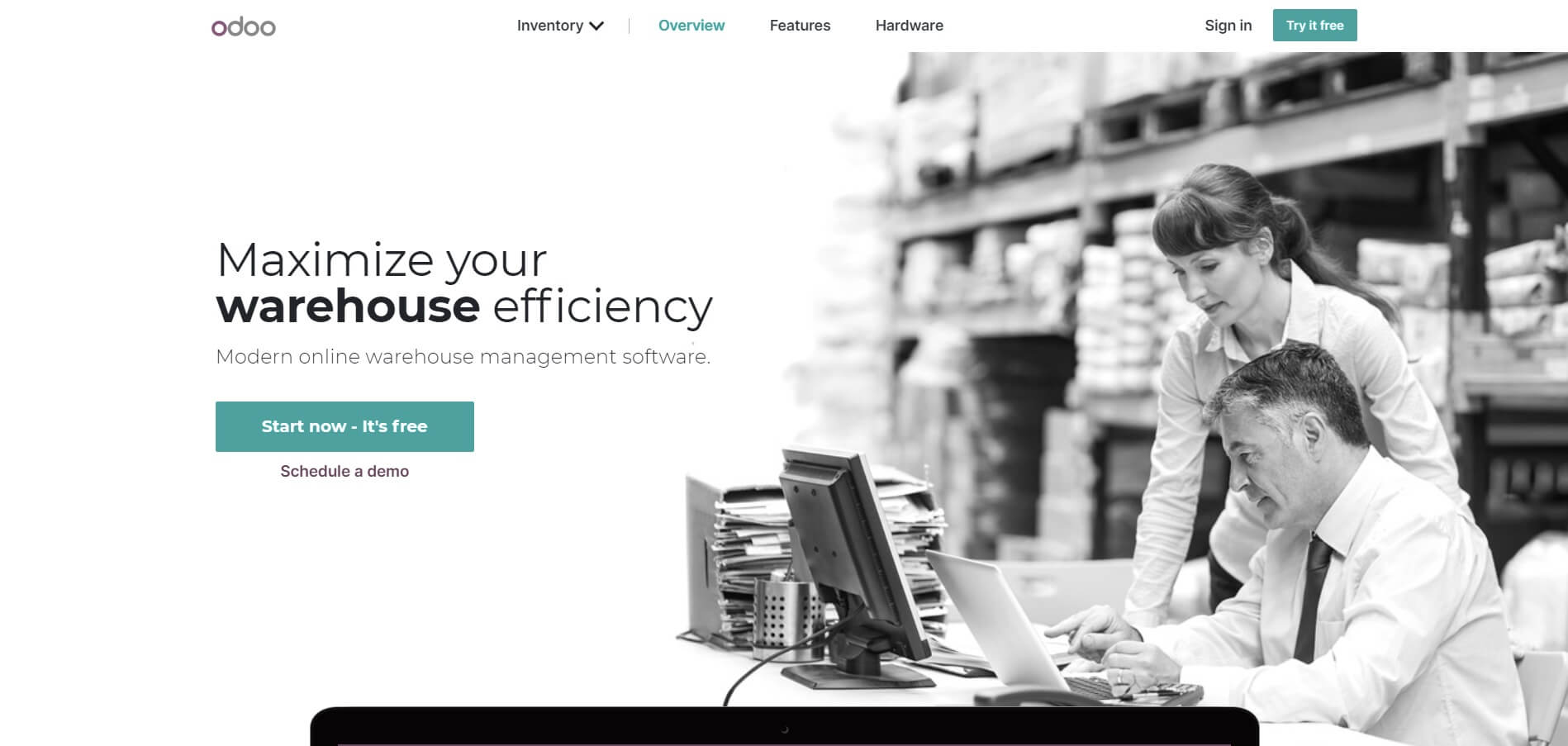 Odoo is the best open-source inventory management software that is for businesses of all sizes. It offers a comprehensive integrated suite of business modules such as eCommerce, inventory management, manufacturing, customer relationship management, and much more.
If you are running a large business, it's a tedious process to keep a check on all of your employees. This app makes your work easy by gathering all their information in one database. It will help you a lot to keep a check on all your employees.
With over 30 main modules, this free inventory management software is highly customizable. It provides you features according to your organization's requirements.
Key Features
CRM: works to retain your customers by scheduling activities based on your sales script. Moreover, it organizes your work efficiently.
eCommerce: helps to boost your sales with cross-selling/ upselling techniques on product pages. It also keeps your customer's data organized with customer portals.
Inventory: keeps track of the products from the supplier to the customer by its double-entry inventory feature. Additionally, it replenishes your stocks to avoid stocking out.
Manufacturing: manages all the assembly and manufacturing operations. Also, it optimizes your inventory level by its scheduler to avoid shortages. It also keeps a quality check for the manufacturing department.
Accounting: synchronizes your bank statements with banks automatically. It also gets a clear forecast of your future bills to pay and manages recurring bills.
Employees: gathers all your employee's data (status, job title, contract type, salary, and time spent per project) in one database.
Pricing
Community: This is a free basic plan and includes one app (CRM). Includes basic models for accounting, project management, human resources, inventory, manufacturing, and eCommerce.
Enterprise: $28/month per user, billed annually (with a $4 discount for new customers) and the cost of applications starting from $12. It offers a free 15-day trial. It offers mobile apps (Android/iOS), unlimited functional support, public/private cloud hosting, report designer, menu editor, planning and forecasting, and much more.
---


ERP (Enterprise Resource Planning) Next is an open-source system that offers many effective solutions, perfect for small to medium-sized businesses. The software supports multiple businesses such as manufacturing companies, educational institutes, healthcare businesses, and much more.
Use ample features jam-packed in a single tool to enhance your customer experience. With ERP Next, you can offer your customers a vast number of useful features integrated into a single platform.
You can manage your assets, projects, sales/ purchase, accounts, and more, all in one common platform.
Key Features
Accounting: allows you to review every component of your business with the accounting dashboard. It also provides a multi-currency accounting tool, maintains bank accounts of your suppliers and customers, and more.
Customer relationship Management: works by tracking business opportunities from leads and customers, automating mundane tasks, and connecting with your prospects.
Asset Management: tracks asset movement, sell or scrap assets that you no longer need, records the assets when it increases or drops off by using Asset value adjustment and manages serialized assets and capital work-in-progress accounting.
Help Desk: provides customer support by making reports to help you streamline service issues, tracks fulfilments and failures to enhance your support, generates help articles and FAQs to provide the best solutions to your customers.
HR and Payroll: manages hiring by planning manpower requirements with a recruitment tool, scheduling training events for your team with the software HR Training Program module, track your employee's performances, and defines the period for payroll processing.
Sales and Purchase: track your inventory levels, replenish stocks for minimizing stock-outs. Moreover, it efficiently manages sales orders with third-party app sales, tracks the receivable balance of customers by using the sales invoices, and a lot more.
Projects Manager: helps you keep track of your project deadlines. The manager breaks down the project into different tasks and assigns it to the entire team. Also, it generates to-do lists, and plan for upcoming projects.
Pricing
Cloud: $25/month per user or $225/annually. Includes hosting, all modules, standard support, and 5 hours of onboarding support. It offers a free 14-day trial.
Self-Hosted: contact the sales for pricing. Offers server management, all modules, priority support, and enterprise onboarding.
---
Download: Mobile apps not available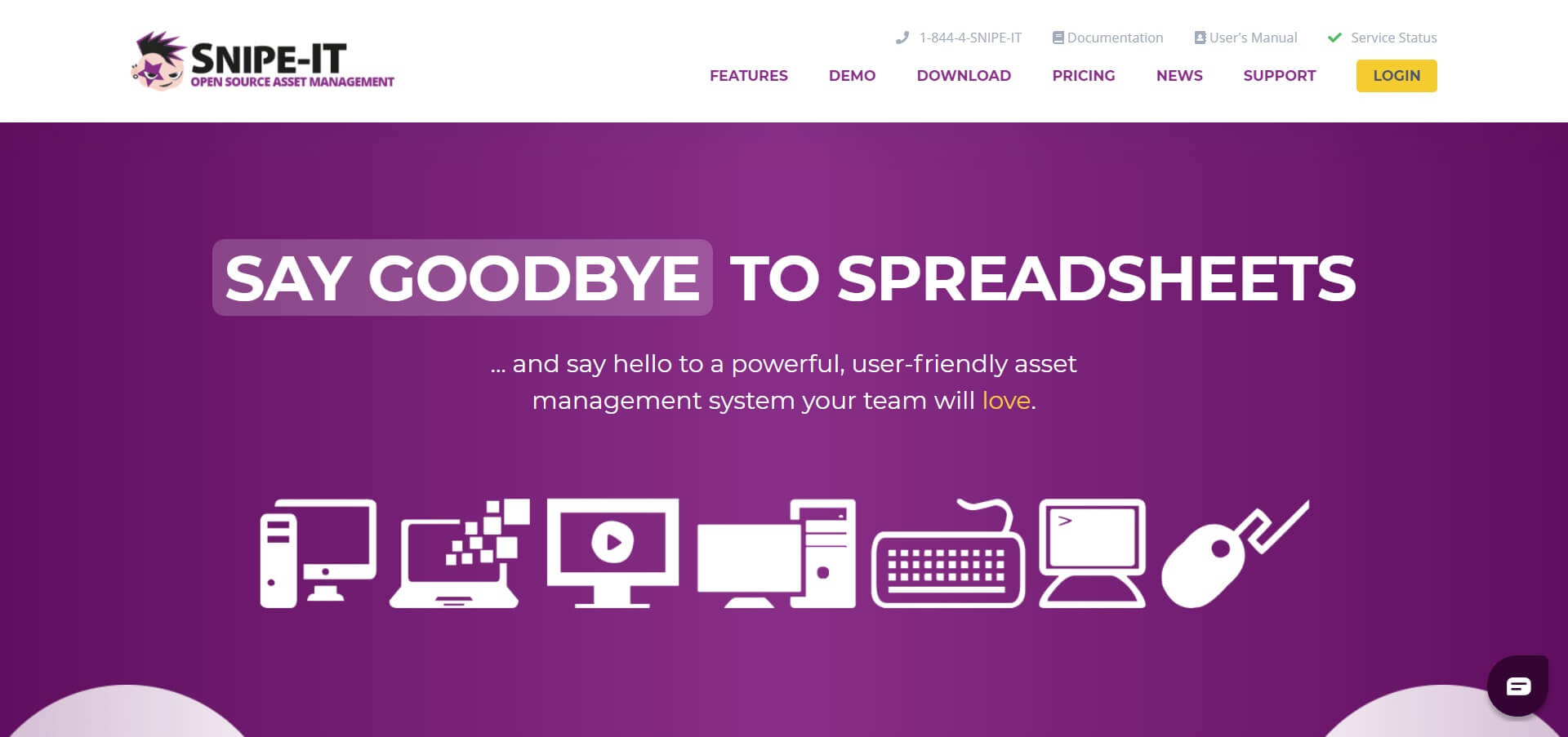 Snipe-IT is possibly the best IT inventory management software available in the market. This open-source software is quite simple to use and comes up with some amazing features.
From keeping track of your licenses/consumables/hardware assets to providing complete security to your system. This app has all you demand from IT management software. With its servers located in multiple locations worldwide, Snipe-IT offers speed and reliability.
Key Features
Asset Management: tracks your assets with a single click, easily import/export your assets. It generates QR codes for scanning labels and enables you to check the full history of your asset lifecycle.
Admin Dashboard: enables you to have a look at your recent activity, consumables, components, assets, items checked in/checked out, and more.
Email Notification: send email notifications to the users/admins for asset checkout/check-in, low inventory report, deadlines approaching, and more.
Multiple Languages: translates the software into multiple languages for easy localization.
Web-based software: runs on (Linux/Windows/Mac webserver).
Security Features: protects your data with a two-factor authentication code. Also, it provides continuous detailed monitoring of the system, secure all connections through TLS(SSL), and much more.
Pricing
Free: Offers features such as unlimited users, unlimited assets, and GitHub support. The free plan is self-hosted.
Hosted Plan: $39.99/month or $399.99/year for unlimited users. Includes phone/email support, automatic backups/upgrades, priority features request, and server maintenance
No doubt it is a difficult task to choose the most suitable option as per your business requirements. But remember by only selecting the right software will help you grow your business. So, choose your pick wisely.
We hope we have helped you choose the best inventory management software according to your business needs.
Also, have you ever used any of these inventory management software? If yes, then which one? Which feature do you like the most?  Let us know in the comments section below.
---
Other SaaSy goodness on All That SaaS: