Ayoa - Mind Mapping Software
$10 per user/month
🧐 A Closer Look:
Features and Functionality
😊 Key Takeaways:
Offers a Free plan - everyone can use Ayoa
Supports Web, Desktop, Mac, and Windows
Intuitive & easy-to-use for new users
Easy-to-use dedicated apps for both Android and iOS
😷 Some Let-Downs:
Users have to pay extra for Google Calendar/Zoom integration
Cloud-based; working offline has its limitations
Completed tasks are not archived
The task board can be a little confusing when planning future tasks
In this Ayoa review, we will look at OpenGenius's powerful mind mapping and online collaboration platform.
Ayoa gives its users the speed and consistency to work, all while instantly recording their ideas for execution and providing them with better work practices. It doesn't matter what the size of the team is, they can do it all, plan projects, conduct meeting, and multi-task.
Working remotely has become many organizations culture for 2023. Teams need to collaborate for ideas, execute projects, and increase knowledge to cultivate stellar work.
Remote teams would need online collaborative tools such as whiteboards, which aid in creating and blending ideas seamlessly, manage tasks and collaborate teams. This is why teams and organizations prefer Ayoa because it takes online collaborative whiteboards to a new level.
What is Ayoa?
Ayoa has been called a "unique twist on task management" by CBS. It is a powerful and compact platform – Ayoa acts as a one-stop-shop whiteboard solution, allowing teams to work together to create ideas and achieve their goals.
We believe that Ayoa provides its users with the right features to create one unique software. It has whiteboards, mind-mapping, task management, and collaboration tools. There is also no restriction on the size of the team that is using Ayoa.
It has a great innovative approach and is steadily gaining popularity across the world. The best part about Ayoa is that it helps teams, and even individuals, increase their productivity and unlock their potential.
Ayoa does have a nice and aesthetically pleasing user interface, which provides users by giving them the tools they need for planning, managing, and achieving set goals seamlessly.
---
Ayoa Review (2023) – Mind Mapping & Whiteboarding Software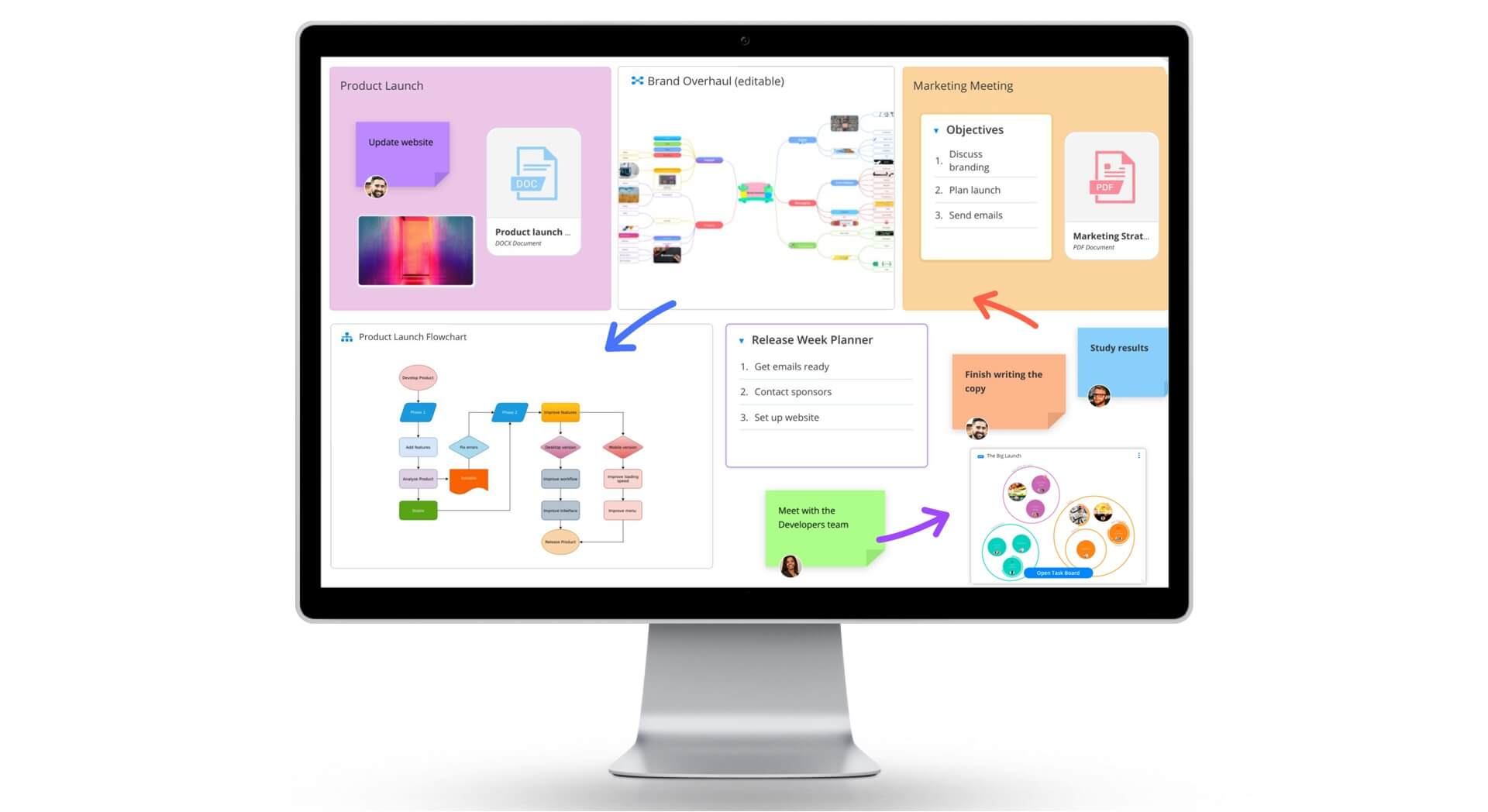 1. Pricing
🔥 Special Offer: Save 23% when you choose an annual plan and you'll also get a FREE e-book of The Creative Thinking Handbook ($19.95 RRP) by author & CEO, Chris Griffiths. This offer is exclusively available on annual plans.
Plan
Pricing
Features
Basic
Free

Up to 5 boards
Up to 50 elements per board
Real-time collaboration
Personal planner
Ayoa chat
Whiteboards

Pro
$13/user/month or $10/user/month billed annually

Everything in Basic, plus:
Unlimited boards & elements
File storage (up to 20MB per file)
Gantt timeline view
Task assignment
Tags & filters
Priority support

Ultimate
$17/user/month or $13/user/month billed annually

Everything in Pro, plus:
Google Calendar and Zoom integration
File storage (up to 60MB per file)
Team pulse
Live share
User groups
Video conferencing
Mind map present
---
2. Features and Functionality
In this Ayoa review, we will share with you features and functionality that are an important part of Ayoa's mind mapping software offering. Let's start.
2.1. Collaborative Online Whiteboard
The collaborative online whiteboard tool is a great feature that comes with Ayoa. It allows users to hold meetings, plan projects, which is perfect for remote teams.
Teams that are scattered all around the country or even globally, can use the collaborative online whiteboard to brainstorm ideas, create an analysis, and generate effective plans.
Users can start these sessions on a blank canvas or even use Ayoa's templates, which we felt were helpful to get started immediately.
2.2. Video Chat
The video chat and calling features are exclusive to Ayoa Ultimate. We felt that this feature is vital for teams working remotely since they need to stay in touch and brainstorm via connectivity.
Ayoa has a built-in Zoom integration and end-to-end encrypted video conferencing capabilities. This means not only is the connection secure, but it also has top-notch video call features, and teams can meet and communicate without having to leave the app.
No extra apps would be needed and there would be no unnecessary interruptions either.
2.3. Radial Maps
Ayoa's mind mapping software is great for brainstorming ideas, and it helps in achieving goals set by the user via the feature radial maps. In this Ayoa review, we felt it was necessary to highlight radial maps since not many apps provide this feature.
Radial maps help the user provide structure to their aims and ideas, and they can do so by visualizing them in a pie-chart.
Not only is it easier to figure out the priority of each goal, but it also gives them a sense of structure, which also helps them make adjustments to each task, segment, etc.
2.4. Public Mind Map Sharing
One of the features that intrigued us was the public mind map sharing. We found it helpful that this feature allows users to share their mind maps with many people.
This was something that had to be shared in the Ayoa review since it makes it easier for people to collaborate in meetings or even events. All the user has to do is set the map settings to 'public', this then allows them to share the link with multiple people at once, even if they don't have an Ayoa account.
When the settings are for public view, people can see everything and no information is hidden. This could be anything, from documents to images, comments, and even tasks. Teachers have even used Ayoa to provide lecture notes to their students. Ayoa provides fast sharing without limitations.
Apart from allowing users simple mass collaboration, it also allows them to have complete control. They have the option to choose whether who is allowed access to vote on branches, add and comment on branches, view the map, and much more.
This feature is coming soon to Desktop. Unfortunately, public mind map sharing is not currently available on Android or iOS.
2.5. Mind Mapping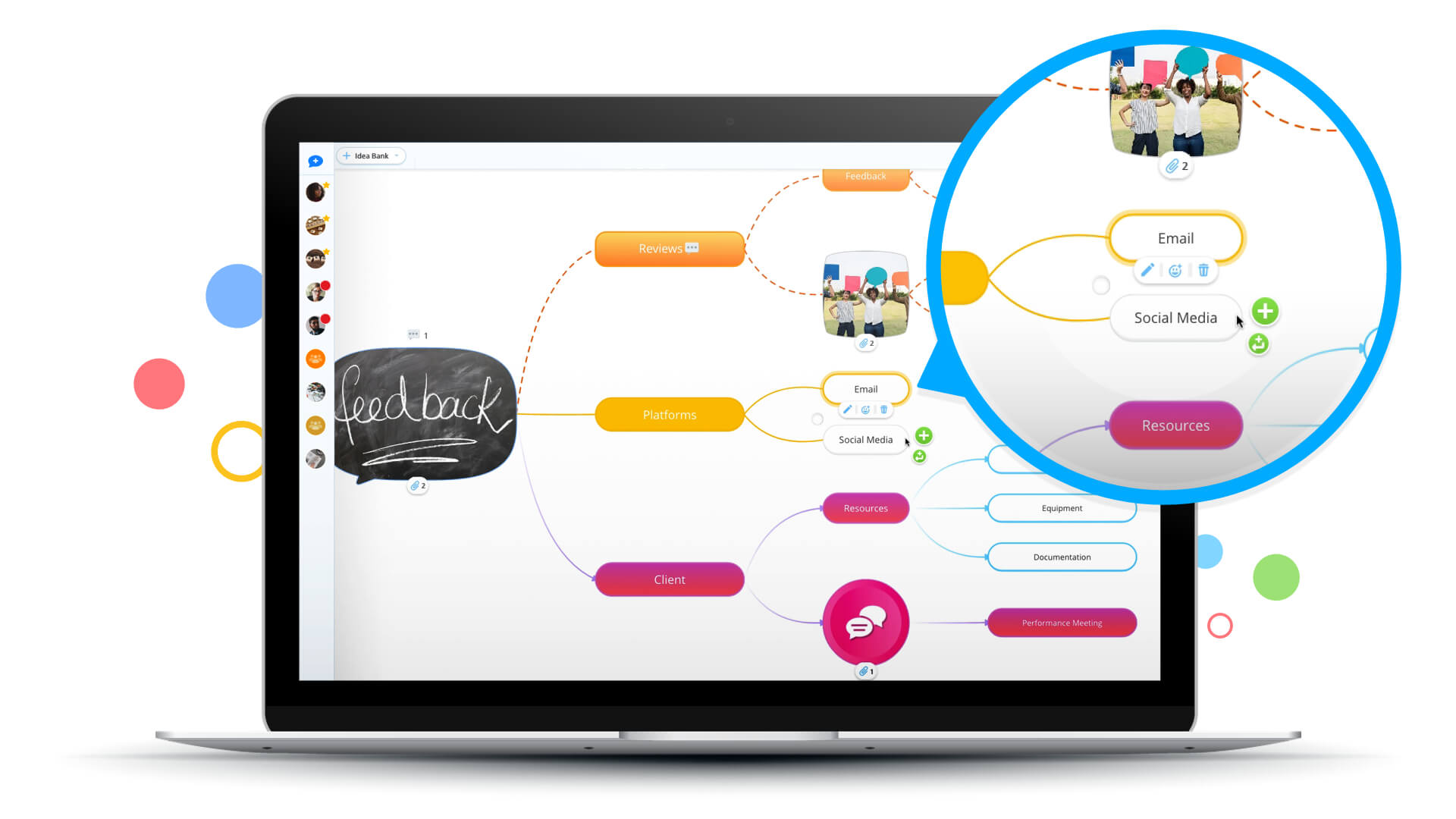 Ayoa mind mapping software enables users to take their creative thinking to a new level. They can create new ideas with visual thinking tools that are not only loved by millions of users around the world, but also by us.
Users can choose speed mind maps to quickly put ideas together. They can also use organic mind maps that are super creative with highly customizable features such as, branches with placement, color, images and more.
2.5.1. Mind Map Present
This is a great feature in Ayoa that lets users grab the attention of their teammates, by revealing the branches of the map one after another. This increases the focus of the whole team and helps build the idea for them one step at a time.
2.5.2. Brainstorm Solo
Let's face it, there are times when we brainstorm the best when we are working on our own. It doesn't mean we can't work as a team, it just means brainstorming ideas need a little finish before we are ready to share and collaborate with the rest of the team.
We have to present in our Ayoa review that it has just such a feature called the brainstorm solo. This tool makes sure that only the user can see the ideas they have added to the mind map until they are ready to collaborate with everyone else.
Brainstorm solo not only helps refine the user's idea, but it helps them provide clarity to it before looping everyone in. In short, brainstorm solo does help cut the disturbing noise.
2.5.3. Flowcharts
Our whole team loves using flowcharts, which is why we loved the fact that Ayoa has a flowchart template. This template can be applied to put workflows, projects, and other processes that can be visualized in an easy-to-follow format.
Though the flowchart template is pretty standard and is set in the traditional style of the process chart. It is customizable allowing the user to add and remove elements to their liking of the preferred flowchart.
Flowchart creation is great to formulate data together especially for industries that require an in-depth analysis, such as: engineering, development, and marketing teams.
2.5.4. Whiteboards
The online whiteboard is one of the major features of Ayoa. It lets users to take meeting notes, or plan a project, and more. Ayoa provides many templates from its extensive library, or users can start from a blank canvas if they want.
More about the whiteboard and all its tools in a bit.
2.5.5. Organic Maps
While conducting the Ayoa review, we were happy with what the organic mind map feature had to offer in Ayoa. It has devised a step-by-step process for its user.
They took the inspiration from the hand-drawn mind-map, and have turned it into a super-creative mapping system, which uses curvilinear branches to support and stimulate the natural thinking processes. We have briefly shared the steps below:
Start with a central idea, in which an image is used to amplify the central idea and stimulate the memory and aid the creative process.
Thoughts can be expanded with curvilinear branches that stem out from the central idea to build a detailed overview and reflect the natural thinking processes of each project.
Branches throughout the mind map can be customized via Ayoa's branch editor tool. The color and formatting can be adjusted with ease to boost creativity and keep tabs on different areas.
Images and files can be added to branches, to help power-up creative thinking with proper representation, and boost the user's memory and creative process. This helps the user amplify key themes and spark ideas.
It supports one idea per branch, with the use of keywords it is possible to expand the branches as far as possible without restrictions.
It allows branch voting of the user's favorite ideas by clicking on the thumbs-up icon. This helps to narrow down the best ideas and focusing on them.
Ideas can be made actionable by adding tasks directly to the branches and assign them to the relevant person. It goes from being a big idea of becoming executed.
2.5.6. Team View
This Ayoa review would be incomplete if we didn't mention the Team View feature. Since Ayoa is a team collaboration tool, and communication is the base for every strong team, it provides seamless features to strengthen team contact.
Team View has features such as chat, task assignment and comments. It also provides a quick team overview of everyone's availability to see who is doing what.
2.6. Whiteboards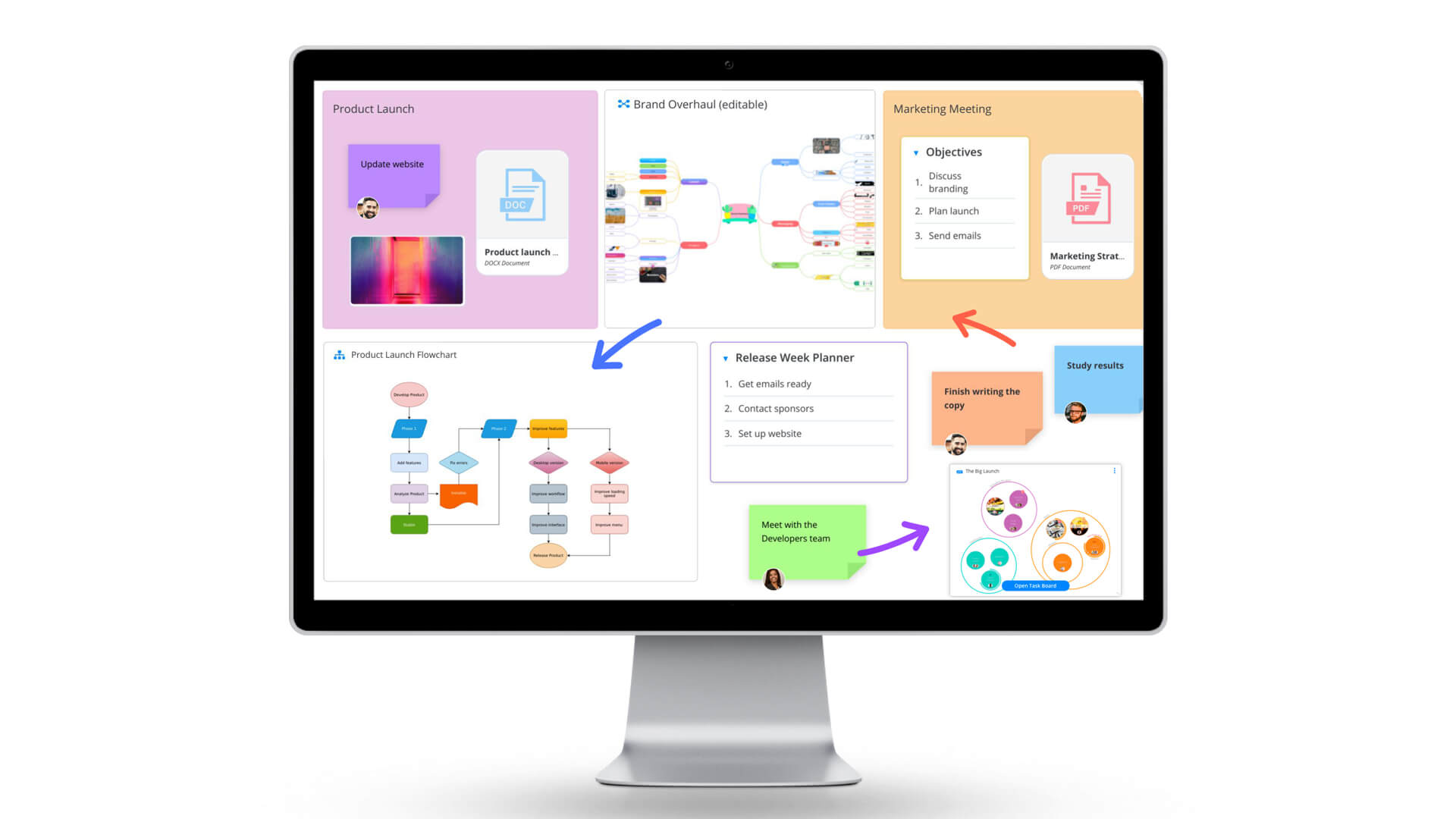 Ayoa online whiteboard tool is one of the top-notch collaborative software in the industry. It seamlessly blends in idea generation, task management and team collaboration features.
Below are the features the whiteboards have, which strengthen teams to work together and cultivate knowledge for success.
Sticky Notes: Teammates can quickly capture quick ideas and comments onto the whiteboard with the help of sticky notes. They come in a variety of colors and styles, which is great for labelling the idea or comment.
Freehand Drawings: We loved that it had a freehand pen tool and allowed us to customize and personalize our ideas much like a physical whiteboard. It gives the user a sense of control and some find this quicker to work with.
Attachments: File attachments can easily be placed on whiteboards inside Ayoa and users can attach files and documents from their computer, Dropbox or Google Drive.
Sections: It is easy to stay organized by dividing the content into sections or containers. These sections can, later on, be turned into an idea board or a task board.
There's More!
Images: We managed to turn our boards into much more by adding inspiring images to the board from the Unsplash library. These images can be uploaded from the computer or one can be drawn using a sketch.
Text & Shapes: Add variety to the board with ease. Users can add text and a variety of shapes to the board to keep it organized, aesthetically appealing and productive.
Flowcharts: We spoke about flowcharts in detail earlier, and the same flowchart processes apply here. Processes need to be mapped out step by step, the creation of a flowchart helps the user visualize the process in chronological order.
Lists: Some of us like using lists to increase project efficiency. Thankfully, the whiteboards have this feature. All one has to do is add some detail to the project by using numerical lists, which is great for instructions, to-do lists, and indicate order or priority.
Whiteboard Templates: We were thrilled that Ayoa online whiteboard tool has a vast variety of templates, which opens up endless possibilities. In this Ayoa review, we decided to share some brief details of the type of templates given in this feature.
2.6.1. SWOT Analysis
This is great for helping build a business strategy, idea generation, marketing & sales, and planning. The SWOT Analysis template is divided into four color-coded quadrants that represent strengths, weaknesses, opportunities and threats, these are ready to be filled in.
2.6.2. Daily To-Do List
This template was helpful for personal planning, task management, and to-do lists, and writing. The workload can be managed effectively and days of the week can be planned efficiently.
The Daily To-Do List template is designed with boxes for each day of the week, which makes it easy to schedule tasks. It also has extra boxes for miscellaneous notes or priority notes.
2.6.3. Design Brief
This template helps with design & creative, marketing & sales, planning, retrospectives & feedback. The Design Brief template helps manage every part of a design project, it can be for an external client or an in-house project.
The template used for the document can be as detailed as the user wants, and it saves time and is cost-effective. They can create a detailed document, however, branding guidelines, goals, target audience and many other factors also have to be taken into account.
2.6.4. One-Page Marketing Plan
We thought this template was helpful for business strategy, marketing & sales, and planning. This tool is great for marketing professionals because it helps them create effective and straightforward plans.
These plans with the help of the template take into consideration business objectives, focuses, goals, strategy, key actions, and dependencies. Apart from having all the key components, it is also easy-to-use.
2.6.5. Meeting Agenda
This template is very helpful for human resources, managing teams, meetings, remote working, and retrospectives & feedback. The Meeting Agenda template provides clarity in developing structure and goals for each meeting, to increase productivity and efficiency.
People can prepare well in advance for what to discuss at the meeting since the agenda is prepared ahead of time.
2.6.6. SMART Goals
This template is similar to the previous one and is helpful for business strategy, human resources, managing teams, planning, prioritization, project management, and task management.
It helps set SMART (Specific, Measurable, Attainable, Relevant, and Timely) goals, therefore, allowing the user to achieve much more. It can be effective in the long-run. Please keep in mind, it is not used to set personal goals but rather project management and team objectives.
2.7. Task Boards
Our team was happy that there were task boards as one of the features. However, initially, when we started using them they felt a little confusing. Eventually, we got the hang of it and loved the fact that they can be used to organize not only large projects but also individual tasks.
The task boards can be viewed in a format that suits the user to set deadlines, add checklists, and even attach files to the task. People can also be invited to view or delegate tasks to them.
2.8. Gantt Timeline View
While our team was meticulously going through the features for the Ayoa review, we were relieved to see the Gantt Timeline View. Not only is it effective in the time management of tasks, but it also helps visualize upcoming deadlines for any project in Ayoa.
Unfortunately, it is exclusive to the Pro & Ultimate plans.
Users can manage their projects seamlessly by creating a Gantt Timeline. If they want they can even switch their current Task Boards into Gantt Timeline View. It makes it easy to see the upcoming deadlines in an interactive and flexible chart.
There is a drag and drop the tasks option onto the timeline. This makes it easy to immediately adjust the deadlines according to their importance. Once the tasks start moving in the timeline, the due dates are automatically updated.
There is a sub-feature called 'Milestones', which marks important dates that the user may be working towards. This is great for campaign launches and project deadlines.
Gantt Timeline also lets the user schedule their unplanned tasks along with the current tasks on their timeline. Users can see the whole picture of their workload, and it helps them plan how to manage their current and pending tasks.
The Planner can also be switched to Gantt Timeline, which helps the users have clarity and stay focused for future deadlines and ensures they will not be missed.
2.9. Visual Task Management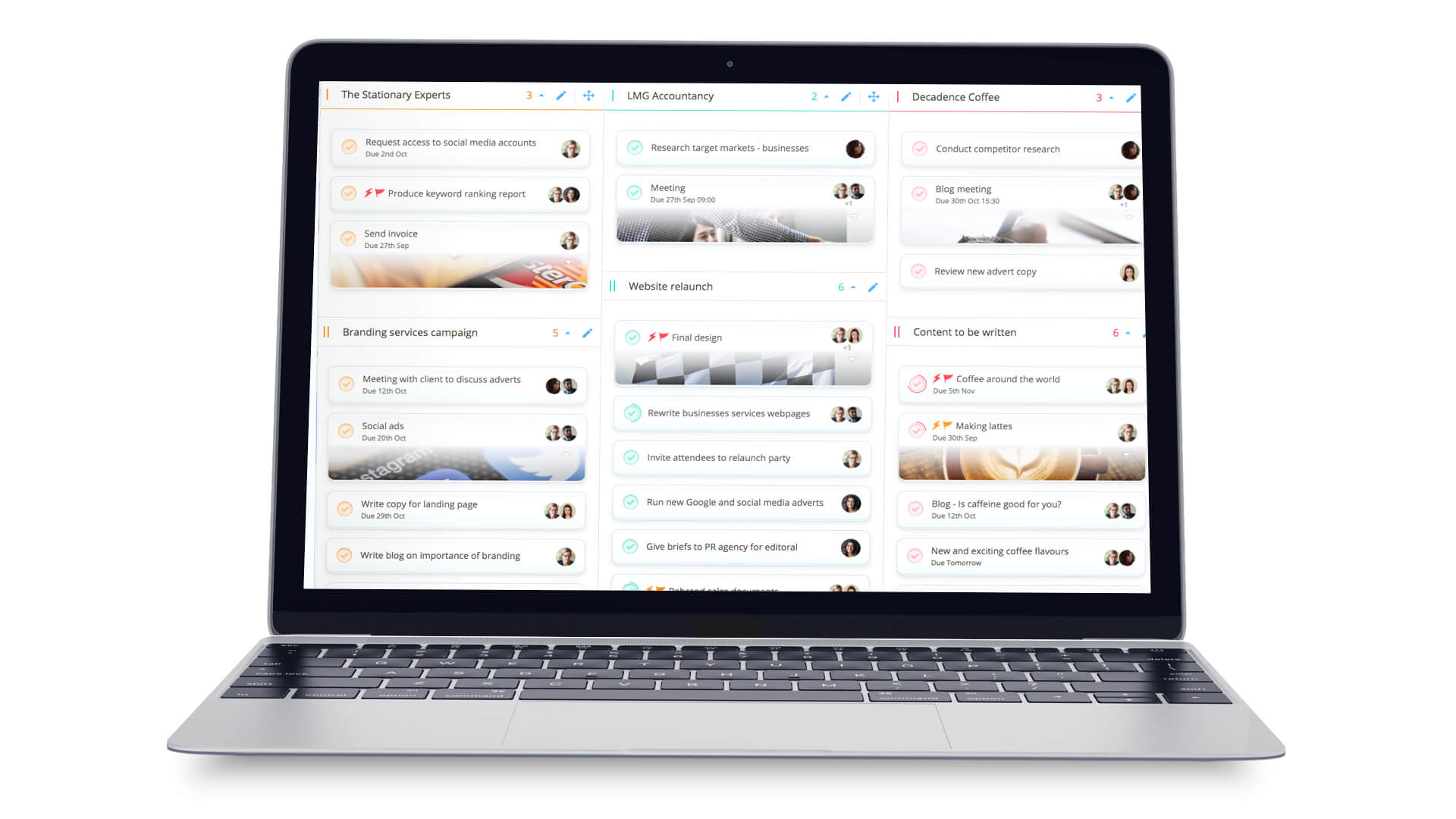 The visual task management feature helped us gain a quick birds-eye view of the whole team's availability, and see what everyone is working on in Ayoa's team pulse.
2.9.1. Kanban Board
For effective agile project management, the Kanban Board is the way to go. It is a project management tool that lets the user place the tasks in a visual format via cards and columns. This is great for managing personal workloads and workflows.
With the help of Ayoa's Workflow View for Task Boards, a personalized digital Kanban Board can be created and shared with everyone. Which means there is no need for sticky notes or whiteboards.
2.9.2. Canvas View
We also really liked the Canvas View, since it displays tasks and projects in a colorful bubble canvas, we felt it inspired creativity.
2.9.3. Gantt Charts
We mentioned the Gantt Timeline View or Gantt Chart in detail earlier. It is indeed a great way to manage tasks effectively and foresee any upcoming project deadlines for Ayoa. It is also available on the web and desktop.
2.10. Real-time Team collaboration
The Ayoa online whiteboard tool and Ayoa mind mapping software are great for real-time team collaboration. This software not only makes remote teamwork possible but also amplifies the strength of a team to generate creative solutions. This is great for decision-making and projects.
Friends and colleagues can be invited to collaborate on mind maps and task boards while working simultaneously and boosting creativity. Team users can take notes, plan projects, hold meetings, brainstorm ideas, and build strategies.
2.11. Visual Interface
The Visual Interface feature was a real treat. Sometimes it is easy to lose focus on the overall goal of the project when the team is busy working on details.
Ayoa gives users the benefit of using the visual interface and allows them to gain an overview of the projects. They can see all the details as they want or very little as they deem fit.
2.12. The Task Side Panel
Sometimes it is difficult keeping all of the ongoing project tasks in one place. The Ayoa task side panel keeps everything in one place. It combines idea generation, task management and instant messaging, all the work is placed in one space, and it saves time from switching between apps.
This powerful feature stores all of the vital details users may need, such as: due dates, file attachments and checklists.
2.13. Ayoa Chat
Chat inside Ayoa is a great way for teams to communicate with their colleagues. Users can send direct messages or create group chats whenever teamwork is required.
It also shows teammates' current availability status to see who is online or not. Tasks can be sent straight to any contacts within Ayoa chat. Conversations can also be turned into actions by creating tasks inside the chat.
The Ayoa Chat feature also makes it easier to take accountability and task ownership, which means there are no follow-up emails or lost work. Due dates and notes can be added to tasks as well, providing clarity to the execution.
Contacts can be invited via email addresses or imported from Google Contacts or CSV upload.
2.14. Progress Tool
It is easier for team managers to focus on the progress on the whole, which is great for team morale. It updates the progress percentage of tasks that are being worked on, allowing everyone to stay on track and immediately inform others that the task is close to completion.
Our team felt this was great since we all could see who was working on what, what still needed to be done, and helped us keep our priorities in order.
---
3. User Experience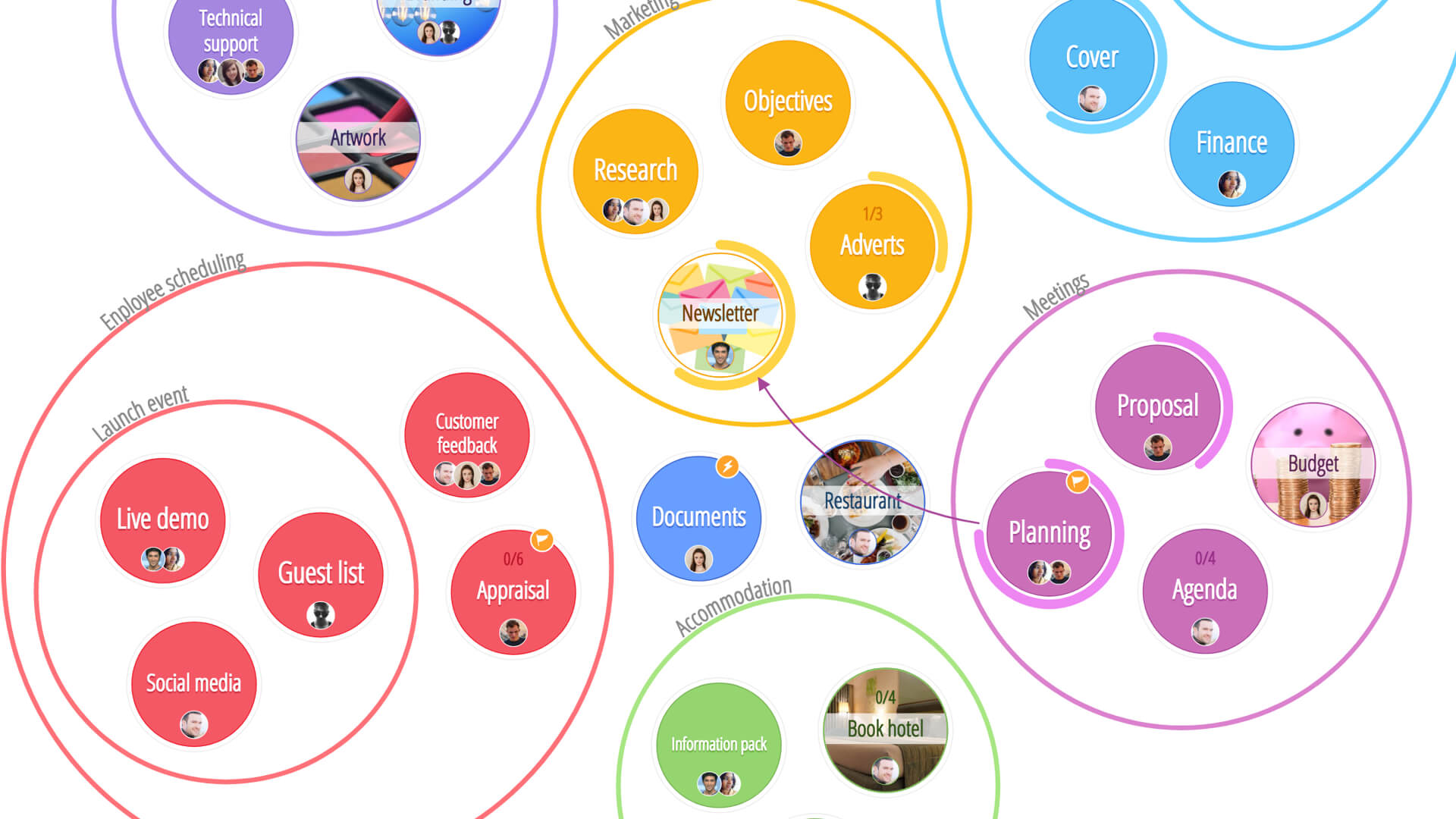 3.1. Design
We are big on experience since it is an iterative problem-solving process that comes up with the solution. Customer experience is one of the major factors that drive design thinking.
However, this practice isn't just for designers, it's the core of user testing and user experience (UX) data. All of this helps define a customer's needs.
The Ayoa online whiteboard tool and mind mapping software has all the features a person may need to create ideas, and manage teams seamlessly. It is the ultimate user to experience an innovative solution.
3.2. Apps


Ayoa is an amazing online collaboration platform, and an important reason why is because its easily accessible on any platform. Users can work online or even offline, anywhere at any time. Ayoa supports the following platforms:
Web: available online and can be accessed using all browsers.
3.3. In-app Onboarding
The Ayoa in-app onboarding is the fastest way for new and old users to walk through the key features or dive into one of the templates. The top it off, Ayoa has a friendly support team that is always ready to help the team to understand how to use certain features of Ayoa.
3.4. Ayoa "My Planner"
Ayoa's My Planner helped all of our teammates keep our tasks organized in one place. Every team member was able to see all the tasks they were working on when they were due even if they were scattered across various task boards in Ayoa.
3.5. My Calendar
Strategists love planning, and those that have to work on large projects thrive by what they have set on the calendar to see what they have planned daily or weekly.
The My Calendar view is a great way to schedule and visualize to-do lists, meetings, events, and more. It is a built-in calendar app for the Ayoa platform.
The user has to find the calendar, add tasks to it that could be daily or even some particular days, and tasks can be edited in the calendar. Unfortunately, the My Calendar is only available for users that have subscribed to the Pro or Ultimate plan.
3.6. Team Pulse
The Team Pulse dashboard is an added treat for Ultimate Plan users. It is a quick way to check what each teammate, using Ayoa, is working on daily and how are they handling priorities.
We liked the fact that we could share our plans for the day with every one of our teammates since it gave us insight into what each of us was working on. However, if users are not on the Ultimate subscription plan, they cannot see each other's team pulse updates.
The Team Pulse dashboard can be accessed in the blue menu on the new icon, in-between the Home and My Planner icon. All the user has to do is type in the plan for the day, give details of what they are currently working on, and if necessary share news with the team.
Status updates can be made and they are shown as a thread, emojis can be used, and other users can be mentioned, and attachments can be added. Discussions can be conducted with these updates via comments, and private conservations can also be started in Ayoa Chat.
Updates from user groups can also be created.
3.7. Completed Tasks View
Ayoa has made sure that no task gets skipped, users or teammates do not lose focus, priorities are kept in order, and steady progress is shown. They have proven that to us through the rigorous use of Task Boards.
To remain focused on the tasks, once completed they are removed from the Canvas, Workflow and Calendar views, and appear in the Completed Tasks View. In this tab, the user can review all past accomplishments in one place, this makes performance reviews effortless.
Completed tasks can be shown on the Task Board for a week. This helps make a comparison of what tasks are done and what needs to be finished. Therefore, completed tasks can be viewed in two ways:
Task Board Completed Tasks
My Completed Tasks
3.8. Integrations
3.8.1. Google Drive
Users can immediately access files from Google Drive, which means they can retrieve and upload files with just a click. It is easy to share documents in the workspace since Task Board members are allowed to access task-related files from one space.
Google Drive files are actionable, users can create tasks to see which particular document needs to be actioned at what time. It is easier to capture the best ideas, ideas can be elaborated and expanded via powerful Mind Mapping.
3.8.2. iMindMap 11
It is easy to import all the mind maps from iMindMap (or from iMindMap Cloud) into Ayoa. It just takes one click of a button, iMindMap creations start appearing in Ayoa's exclusive mind map view.
The minute .imx files are imported into Ayoa, ideas can be transformed into actionable tasks
3.8.3. Evernote
Notes created in Evernote can be turned into actionable tasks. Once the notes have been imported, the Evernote and Ayoa connectivity has been activated, and all it takes is one click to turn those notes into actions.
Luckily there is a two-way sync, Ayoa's important to-dos can be sent to Evernote and develop the ideas further there. Then use Tags in Evernote, which update a task's Status in Ayoa.
3.8.4. Dropbox
It is easy to manage work with Dropbox since files can be uploaded and shared within Ayoa. Ayoa also has a built-in file chooser and files can instantly be attached to tasks.
It saves time to share supportive documents, photos and videos from a Dropbox account with others in a collaborative Ayoa Task Boards. Files can be accessed from anywhere, mobile, tablet, and computer etc.
3.8.5. Google Contacts
It is easy to sync all of the Google Contacts and collaborate with them. They can be delegated work, and maintain communication via Ayoa chat. It also allows for real-time collaboration. The synchronization of both Google Contacts and Ayoa helps keeps all the data in one place.
3.8.6. Google Calendar
Once the Google Calendar app has been synchronized with Ayoa Task Boards, events and tasks are an incomplete view of the overall schedule. This helps manage time and never miss anything.
It also has the drag and drops feature, which allows the person to reschedule and automatically update.
3.8.7. Exports
This is exclusive to Pro and Ultimate plan subscribers. Mind maps can immediately be imported in various formats, and they can just as easily be shared. They can be exported as PDF, Word Document or image (PNG or JPG).
Task boards can be exported to CSV file, and they are ready to be quickly copied for important data and project plans, ready to be edited and shareable.
3.8.8. Zoom
This is exclusive to Ultimate plan subscribers. As we mentioned earlier Zoom is integrated with Ayoa video, which means quick video chats can be made and efficient team meetings conducted without leaving Ayoa.
---
4. Security
When we asked Ayoa about the security best practices they had in place, we were impressed. Ayoa keeps their user data safe by adopting a bunch of security features, the details of which can be found by clicking here.
Here is a brief rundown of all things security with the Ayoa platform:
Secure Data Centers: The server infrastructure is hosted on Amazon Web Services (AWS), and it highly-regulated by the most trusted organizations worldwide.
Data Encryption: Payment details and any other information is encrypted through TLS/SSL, top-notch technology to keep data secure.
Regular Backups: The database provider schedules automatic backups daily, so work can be restored in a jiff if something happens.
Payments Protected: Payment details are safe when once the user subscribes to Ayoa. All the payments are handled by Stripe, which is known as one of the most secure payment processors.
Custom Permissions: Ayoa gives the user control over who the work can be shared with. Individuals are allowed access to view or edit permissions for boards.
Complete Data Privacy: The account can be deleted, along with the information that was stored. Work that was stored can be downloaded and exported.
Two-Factor Authentication: Adds an extra layer of security to your Ayoa account by requiring a verification code besides the password to log in. Great for teams that want to keep their data safe from unauthorized access.
End-to-end Encryption: There is end-to-end encrypted for Ayoa video, which means that any information sent can only be decrypted by the user it has been sent to.
---
5. Customer Support
We found Ayoa's customer support team to be super friendly, knowledgeable, and hands-on. They will even book a demo for the user for a more customized support preference.
Video Tutorials: click here
Knowledgebase: click here
FAQs: click here
Demos Available: click here
Sales Inquiries: click here
Phone Support: call +44 (0)203 818 8245 for support
Live Chat: not available for customer support