In this roundup, we are going to take a look at some of the best invoice apps available in 2023 for small businesses, freelancers, and SOHOs.
No doubt, maintaining a streamlined cash flow is quite difficult, especially if you are just starting up a new business. According to a survey, almost 27% of small businesses have trouble generating invoices for their clients.
In the world of continuous headway, many people are moving towards digital technology. Not only do manual efforts cost you time but also come up with a lot of errors.
Research by HubSpot claims that around 50% of businesses are paying for using an invoice app. By the time we reach 2024, it is expected that e-invoicing will be at US$17.4 billion markets globally.
No more manual billing efforts, and shuffling through papers. Here we have got the best invoice apps in 2023 with which you can have professional invoices on the go.
There are dozens of invoice maker apps available in the market. But to find out the best according to your business can be a mundane task. With this in mind, we have compiled some of the best invoicing software that will make creating invoices easier.
What Are the Best Invoice Apps in 2023?
1. Bonsai – Best Invoice App (Editor's Pick)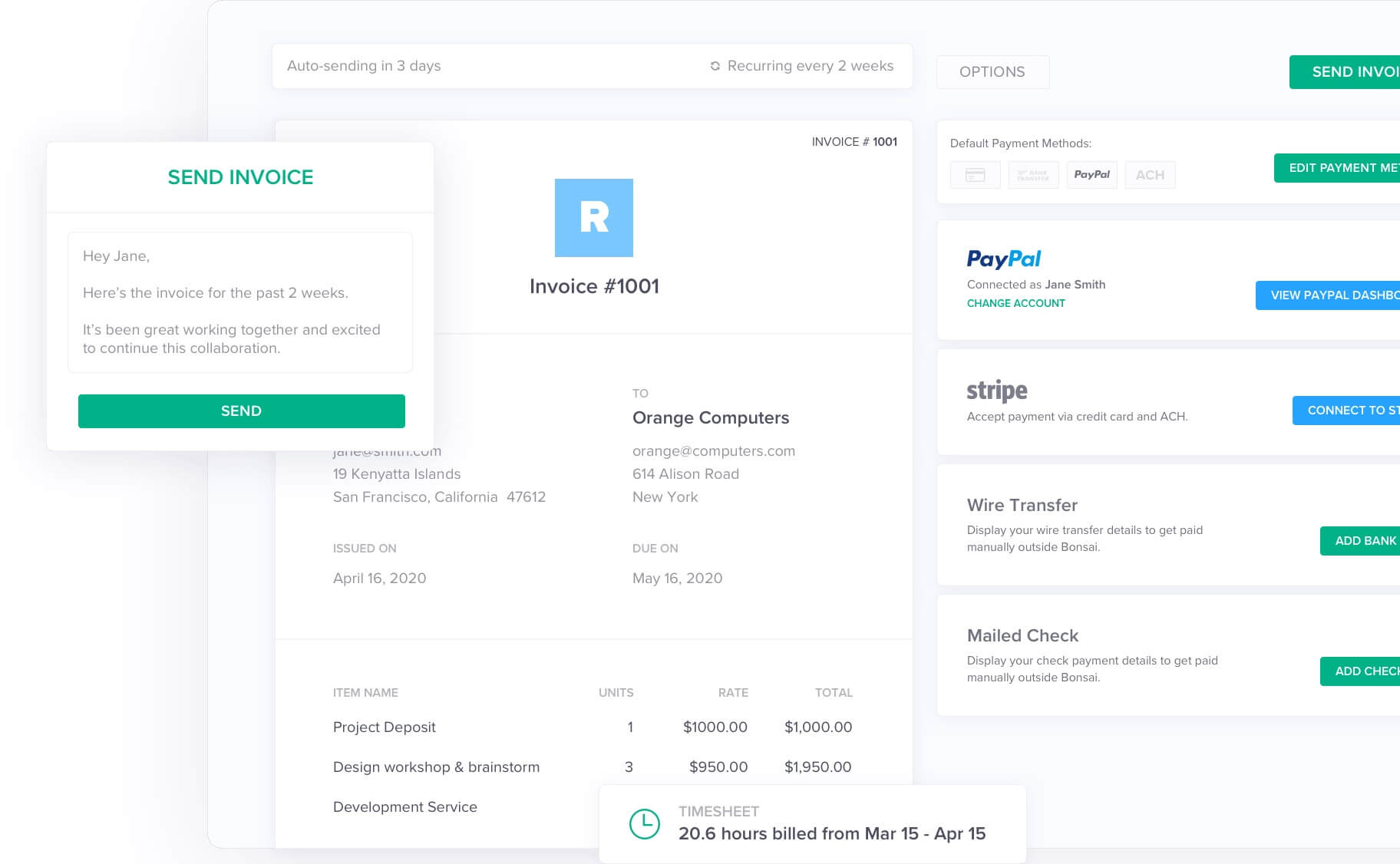 First up on our list, we have Bonsai. This is more than just an invoicing app – Bonsai is the productivity suite for the modern-day digital workforce and freelancers.
From invoicing to taxation, expenses, contracts, time tracking, proposals, e-signatures, and more, Bonsai takes care of it all for you. I've been hearing about this app for quite some time but never took the time to use it until recently.
Now that I have, I couldn't think of a better invoicing and expense management suite that doesn't overcomplicate things.
What is appreciable about Bonsai is the simple, decluttered user experience. From signing up to sending your first invoice, it takes only a few minutes to get started.
The onboarding is quite smooth and self-explanatory. Their smartphone apps are a breeze to use as well; I tested both Android and iOS. Overall, using this invoice app was a delight and I might keep using this one for the foreseeable future until I come across another app that has it all.
Key Features
A decluttered but powerful dashboard view of high-level activity and income
Easily implement time-tracking across your team, whether you work with freelancers or with a remote team
Comes with an interactive invoice builder that lets you:

Add invoice items (billable hours and project pricing)
Include tax rate, discount amounts, and late fees
Add your tax ID number and other business details

Supports multiple payment methods for invoice payments – PayPal, credit/debit cards, and ACH
Easily add, view, bill, and manage your expenses
One-click view of your available cash balance, envelopes, and recent transactions
In-app chat functionality for live customer support if you need assistance
Pricing
The following plans are available with Bonsai:
Starter: costs $17 per month (or $24/month if billed monthly). Includes all templates, unlimited clients and invoicing, proposal and contract management, a client CRM, expense tracking, and 5 collaborators
Professional: priced at $32 per month (or $39/month if billed monthly). Includes custom branding, forms, and questionnaires, integrations with Zapier/Calendly, and supports 15 collaborators
Business: costs $52 per month (or $79/month if billed monthly). Includes subcontractor onboarding and management, agreement templates, unlimited collaborators, 3 team members, and more.
---
2. Zoho Invoice – Invoicing & Billing Software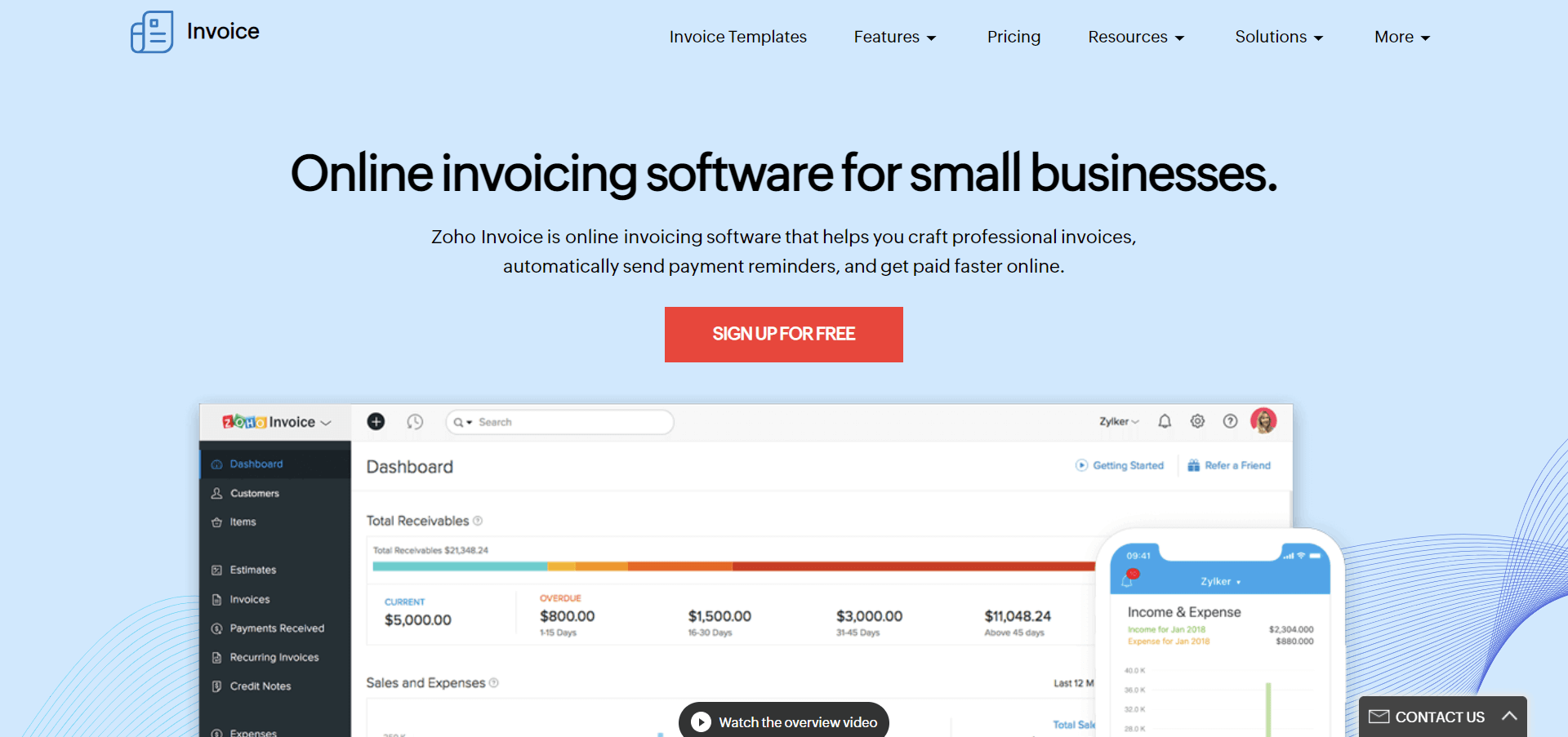 Launched in 2008, the Zoho Invoice provides businesses with a versatile and innovative billing solution. Due to its massive number of awe-inspiring features, it is one of the most used apps around the world.
With an easy-to-use client portal, unique templates, time tracking tools, recurring invoices, and the ability to convert invoices in 14 different languages, the Zoho Invoice app is perfect for all your needs.
Not only Zoho Invoice helps you create and manage invoices, but it also has a lot to offer. You can manage your projects by assigning tasks to your team, keeping track of their work hours by time tracker, and setting up reminders for due payments.
Moreover, it has a digital tool for signing invoices, reducing the chances of forgery. Zoho Invoice maker app even allows you to decide your own choice of payment gateway.
Key Features
Expense tracker: creates custom expense categories that organize your finances efficiently.
Estimates generator: converts estimates to invoices, or projects. Moreover, you can also add an expiration date to your estimates.
Reports: generates reports that give you an insight into your sales and business activities.
Multiple Currency: supports more than 170 currencies. It has 14 different languages, making communication easy with your clients.
Project Manager: keeps track of your budgets, and assigns tasks to the team members. You can also view the time progress of a project with charts and graphs.
Item List: record the name, unit, rate, and description of a particular item.
Pricing
Free: includes unlimited invoices/estimates, invoices for 5 customers, client portal, expense tracking, project management, reports, and more. A free plan is perfect for freelancers and business owners.
Basic: $9/month. Offers invoices for up to 50 customers, and 5 automated workflows. Have everything from the free plan.
Standard: $19/month. Provides invoices of up to 50,000 customers, 10 automated workflows, 3 users, and Twilio integration.
Professional: $29/month. The Professional version offers invoices to unlimited customers, 10 users, and a custom domain. Includes all the features in the standard plans
---
3. Wave – Powerful Invoicing Software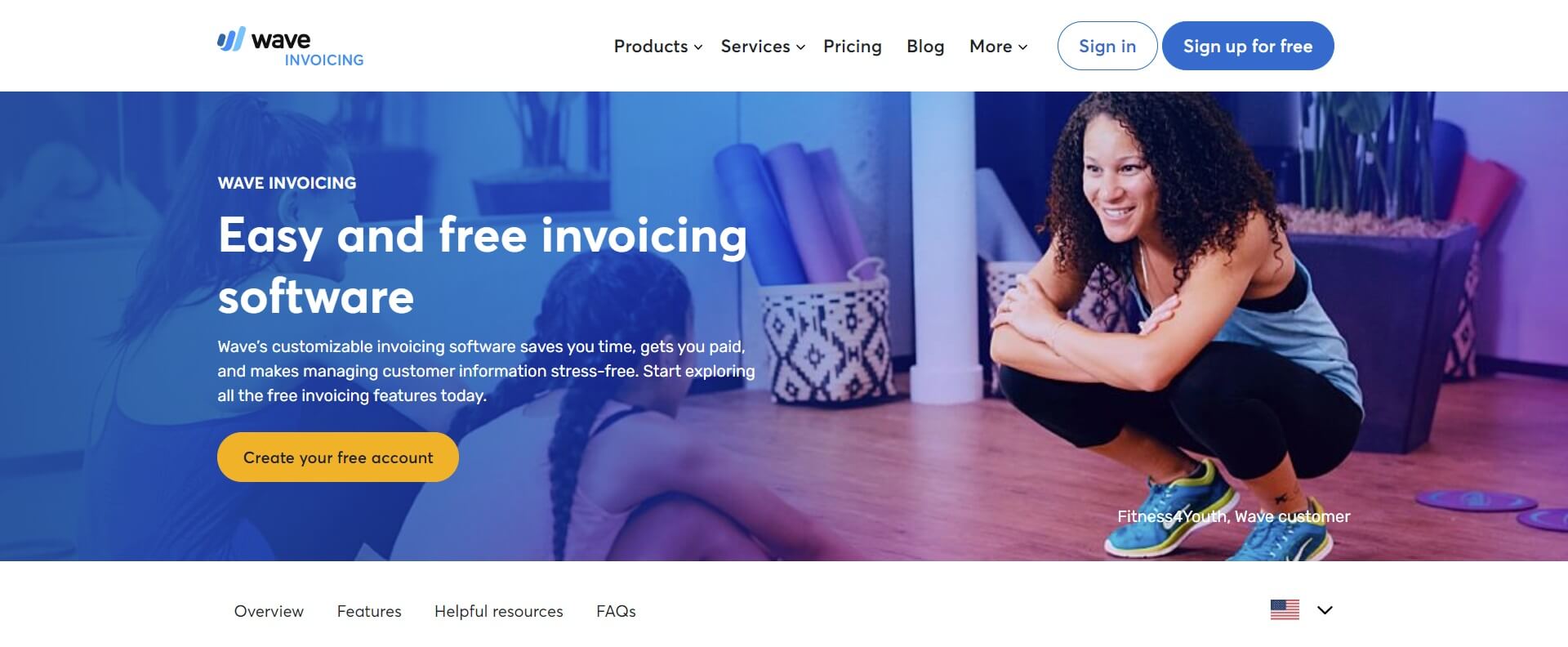 Next up on our list of the best invoice apps, we have Wave. This app assists businesses in various financial services especially, businesses that are set up on a small scale. Founded back in 2009, Wave offers tons of features perfect for your business needs.
Wave is a user-friendly software, and unlike other apps, it provides all of its features for free. It offers features including invoicing, accounting, receipt scanning, billing, and much more. It allows you to send unlimited customized, professional invoices for free.
With its many amazing features, the company needs to look after some important features that Wave is lacking.  Features such as limited-time tracking, limited inventory, and poor mobile apps need improvements.
Key Features
A double-entry accounting tool enables users to keep an accurate record of every transaction.
Invoice Status: This lets you view the status of your invoice (sent, viewed, paid, or overdue).
Payments by Wave: accepts credit/ debit cards, and bank payments to get the payments faster.
Customized Invoices: This allows you to create invoices of your choice. You can add your business logo and your favorite template.
Recurring billing: sets up recurring invoices and credit card payments for your regular customers.
Tax calculations: automatically calculates the tax before the generation of your invoices.
Backups: regularly backups the data in the cloud. It also duplicates invoices to save time when billing.
Pricing
Wave is available free of cost.
---
4. Invoice Ninja – Open-Source Invoice App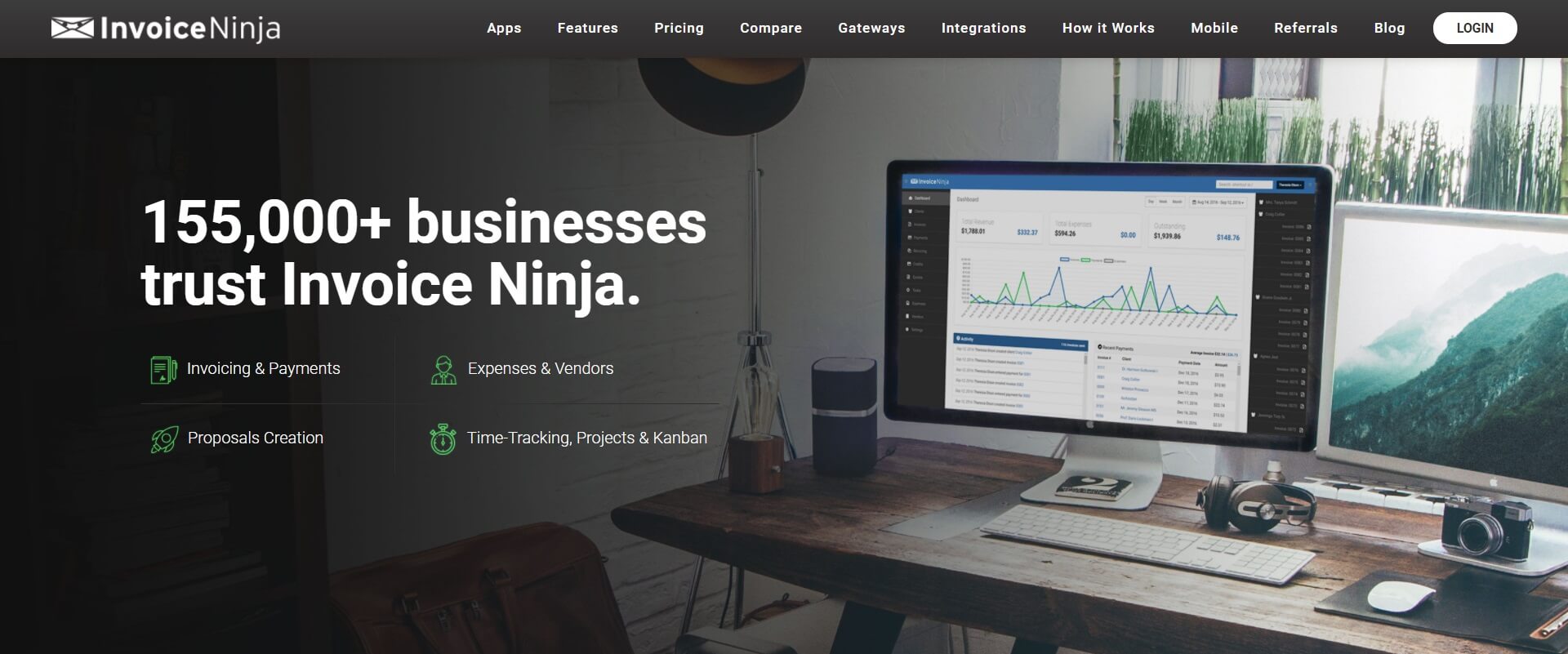 Shalom Shark is the co-founder of the open-source invoice app called Invoice Ninja which was launched in 2014. This invoice creator app consists of two main tools; list pages and action pages.
The list page helps summarize transactions and invoice history, whereas the action page helps in invoicing activities.
Many people prefer and recommend using Invoice Ninja, due to its availability of cloud software. These features sync all your data across multiple platforms and devices.
Invoice Ninja has been designed to help freelancers and small business setups. It also notifies its users when invoice payment is done. Through this app, you can easily develop branded invoices. It requires minimal effort which is an eye-catching quality of this invoicing software.
Key Features
Recurring Invoices: automatically generates invoices for long-term customers to save time.
Invoices history: keeps a record of all the invoices of your clients with the help of the client-side portal. This helps your clients view all their transactions with your company.
Customized Emails: this allows you to tailor your emails with customized subjects' lines and body text. This can increase the chance to catch your customer's attention your company.
Invoice Approval Checkbox: generates a pop-up box displaying all your terms of the agreement before payments. It asks the customers to approve terms by clicking a checkbox or creating a digital signature.
Library system: saves all the predefined services and products by creating a library. You can then simply choose the required service/product with the dropdown menu while creating an invoice.
Reports maker: groups, filters, and sorts all your data according to the content of the report.
Pricing
Invoice Ninja provides a free 14-day trial for its paid plans.
Free: The free version offers an exciting number of features. Includes 100 clients, unlimited invoices, 4 professional invoices, auto-billing, and a lot more.
Ninja Pro: $10/month, paid annually for 10 months + 2 free. Offers unlimited (clients, invoices, quotes), custom (URL, invoice emails, subject lines), and more. It includes all the features in the free plan.
Enterprise: $14/month, paid annually 10 months +2 free. Allows you to attach 3rd party files to invoices/quotations, fully-branded client portal links, and more. It includes all the features in the free and pro plan.
---
5. Vyapar – Invoice App for Small Businesses
Download:  Android | iOS app not available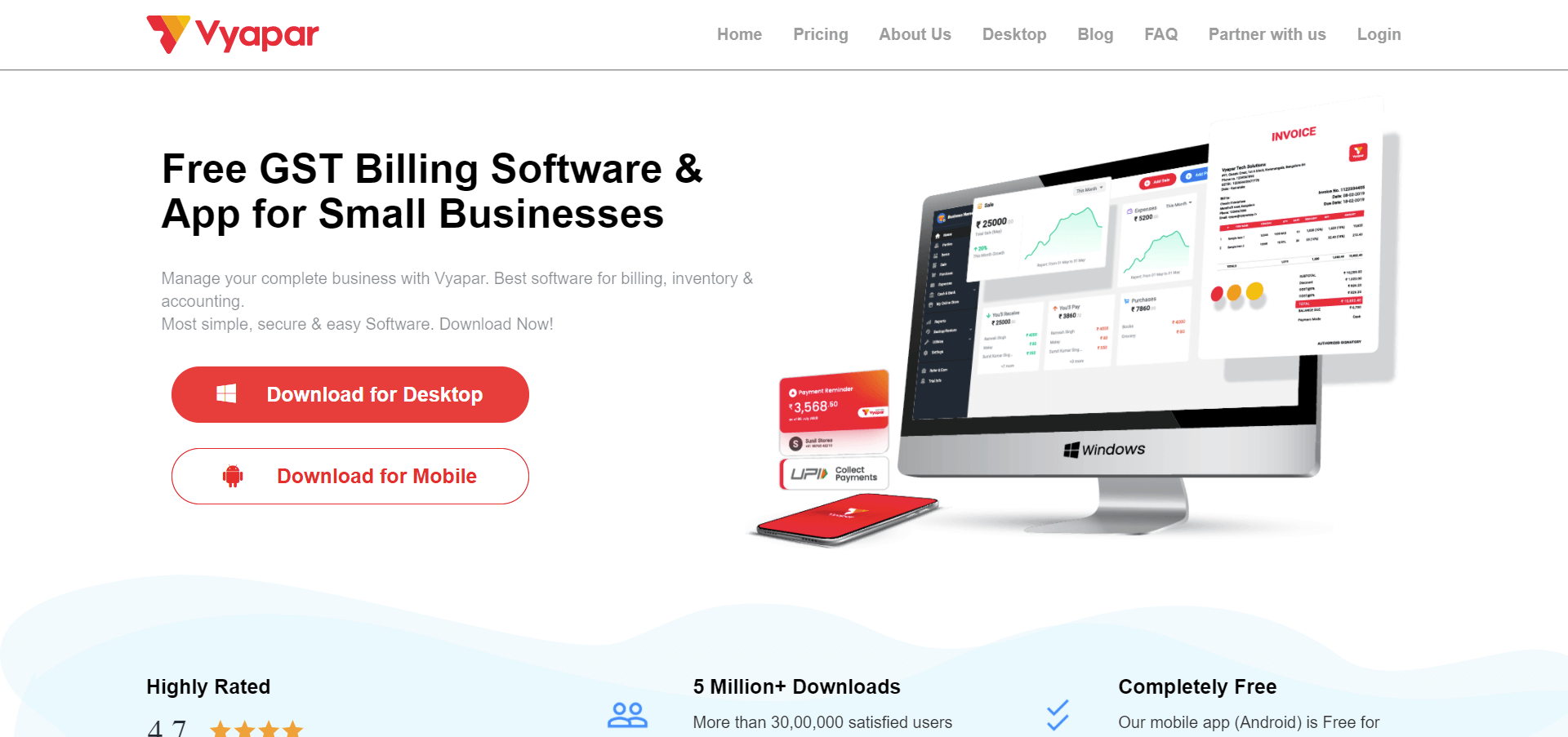 Specially designed to support small businesses in India, Vyapar is one of the best small business invoice apps in 2023. This app aims to help businesses by removing the burdens that come with manual invoicing. It shows a clear picture of what assets, and liabilities a business requires.
Undoubtedly, Vyapar is one of the best invoice apps available in the market. It comes up with a lot of features that made organizing business activities a lot easier.
The best feature of this app is that it keeps track of your stock status and gives an alert in case of low stock. Additionally, it doesn't require an effective internet connection; it works offline as well.
This GST app has made life easier for small ventures usually those running departmental shops, pharmacies, mobile shops, restaurants, etc.
Key Features
GST Bills: Create, share, and print bills according to the GST law. Additionally, it allows the owners to print their online invoices in various sizes (A4, A5, etc.).
Inventory Manager: lets you have an insight into your stock levels. Notifies you when the stock is low and keeps a complete track of your inventory including parameters like expiry dates, and slot numbers.
Expense Recorder: keeps track of your expenditures including purchases, taxes, and more. Moreover, it helps you to optimize your expenditures by creating reports.
Receivables and Payables: This keeps you aware of the payments you have to receive, and what you need to pay.
Delivery challan: generates delivery challans, and attaches them with your consignment. Moreover, it also converts challans to bills and you can share it with your customers.
Customized Invoices: offers you a variety of themes, and formats to make your invoice unique.
Pricing
Free: Android mobile app offers all of its features for free. Offers full customer support from the Vyapar team.
Premium: $29/year per user. You can avail of a 3month trial for $14. The premium version allows you to sync your data across multiple devices, removes the Vyapar logo from your invoices, and more.
---
6. Bookipi – Free Invoice App for Small Business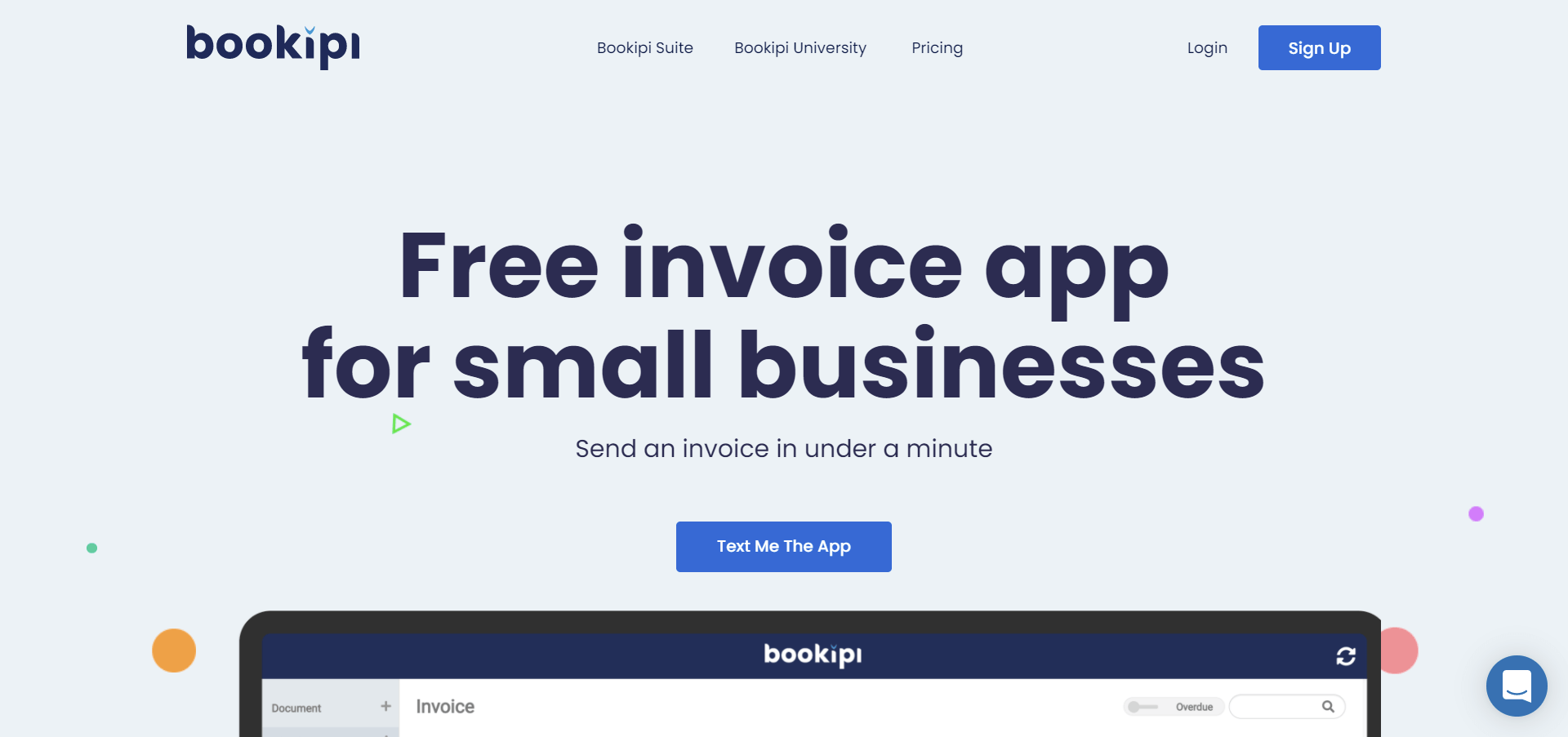 Are you a small business owner? If yes, then Bookipi is one of the best free invoice apps perfect for all your needs. Designed by Tim Lee, this invoice creator app is used in more than 179 countries worldwide.
This free invoice maker app aims to save both the time and money of its customers. With Bookipi, you can export PDF reports, send payment alerts to your clients, and ensure a faster payment method.
Key Features
Overdue Reminders: this allows you to send a reminder to your clients in case of any overdue payment.
Faster Payment: gives access to several payment methods. Users can pay through Paypal, American Express, Visa, Master Card, and more.
PDF Reports: generates PDF reports for invoices, estimates, and payments. It organizes them according to months, items, or customers as per your needs.
Customer Support: replies to all your inquiries within 12 hours.
Data Backup: keeps your data backed up on the cloud with its cloud accounting solution.
Receive client Signatures: clients can sign directly on the screen or by email. These signed documents are then saved in the cloud.
Pricing
This app provides all of its features for free.
---
7. PayPal – Best Invoice Creator App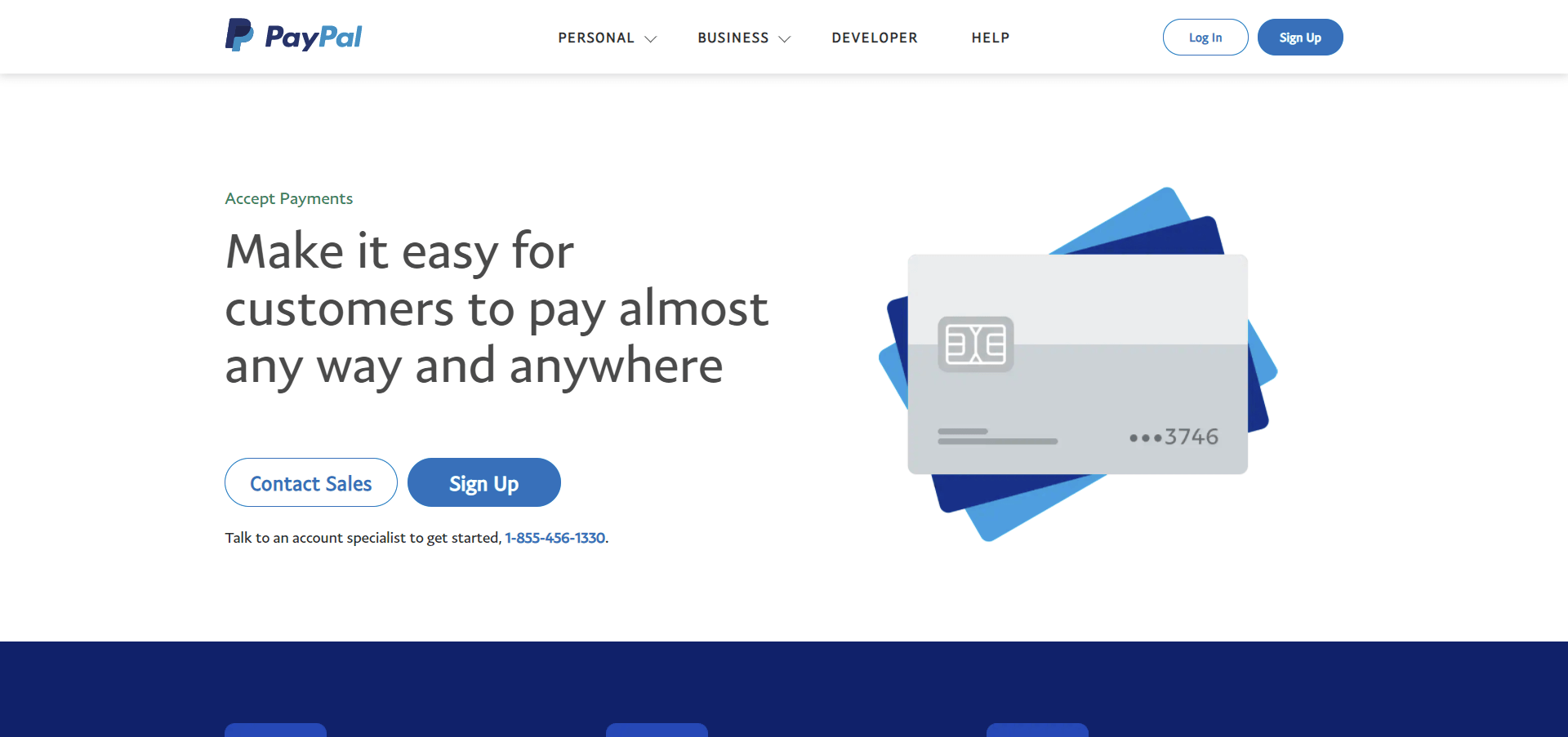 PayPal is one of the most popular invoice apps out of all the other apps we have covered in this roundup. This online invoice app is mostly used for paying online shopping bills.
PayPal allows its customers to link their credit cards and pay invoices instantly. You can also log in within seconds and pay your bills through PayPal.
It also assures the complete security of its users by keeping an eye on their every transaction. A notification is sent to your device with every transaction made.
Moreover, PayPal instantly sends online invoices to your customers' mailboxes. Upon clicking on the link in the email you are led to your invoice payment form.
Key Features
Multiple Payment Methods: this gives access to a variety of payment options. You can pay through a debit card, prepaid card, or other credit products.
Secure payments: keeps track of your payments by allowing notifications. Alerts you whenever you use PayPal to pay, send, or receive money.
PayPal QR code: scans barcodes of invoices to check the authenticity of an invoice. You can also set up a QR code for the product you are selling to get paid faster.
Worldwide money transfer: allows you to send money globally. With its Xoom service, you can send directly to bank accounts and cash pickup locations.
Online Money Pool: this allows you to collect money online from your friends and family securely.
Pricing
Buying is free if you purchase in the US. But in the case of selling, it's 2.9% + $0.30 per transaction.
---
8. Invoice Home – Invoice App for iPhone

Next up, we have Invoice Home, a powerful invoicing software. If you are looking for an app that is not just limited to invoices, Invoice Home is the one. This invoice generator app packs a punch with its massive number of stunning features.
The biggest perk of this app is that it provides a variety of amazing templates, making your brand's invoices unique. From modern, to traditional to patriotic, Invoice Home provides all the designs according to your business type.
Invoice Home also has cloud-based storage, which automatically backs up your data. The PCI compliance security standards validate that your data would never be stolen or used by other people.
Moreover, it has partnerships with apps like PayPal and Stripe so that its users do not fear that their credit/debit card information is leaked or misused.
Key Features
Customized Invoices: provides over 100 different professional designs for your invoices. Also, offers templates that have a variety of colors, a gallery of 500 pre-designed logos, and more.
Various payment options: this allows you to choose your preferred payment method. You can also pay through PayPal, credit card, cash, check, and Stripe.
Delivery Tools: this allows you to send PDF invoices to your customers through emails, making it easy to download them on their phones.
Automatic Backups: this gives access to unlimited cloud storage, saving all your data and invoices securely.
Multiple languages: works to send PDF documents in different languages. Additionally, it has over 150 currency symbols, and formats, making it easy to send your invoices worldwide.
Sync data: automatically syncs your invoices/data among your different invoices. You can write your invoice on your phone and send a PDF from your computer.
Pricing
Invoice Home provides a free trial for its paid plan.
Free: perfect for small businesses and freelancers. The free version of Invoice Home offers $1000 worth of invoices for the past 30 days. Also, it provides over 100 easy-to-use invoice templates.
Unlimited Invoicing: $5/month. This paid plan offers unlimited (customers, emails, documents), and no contracts.
---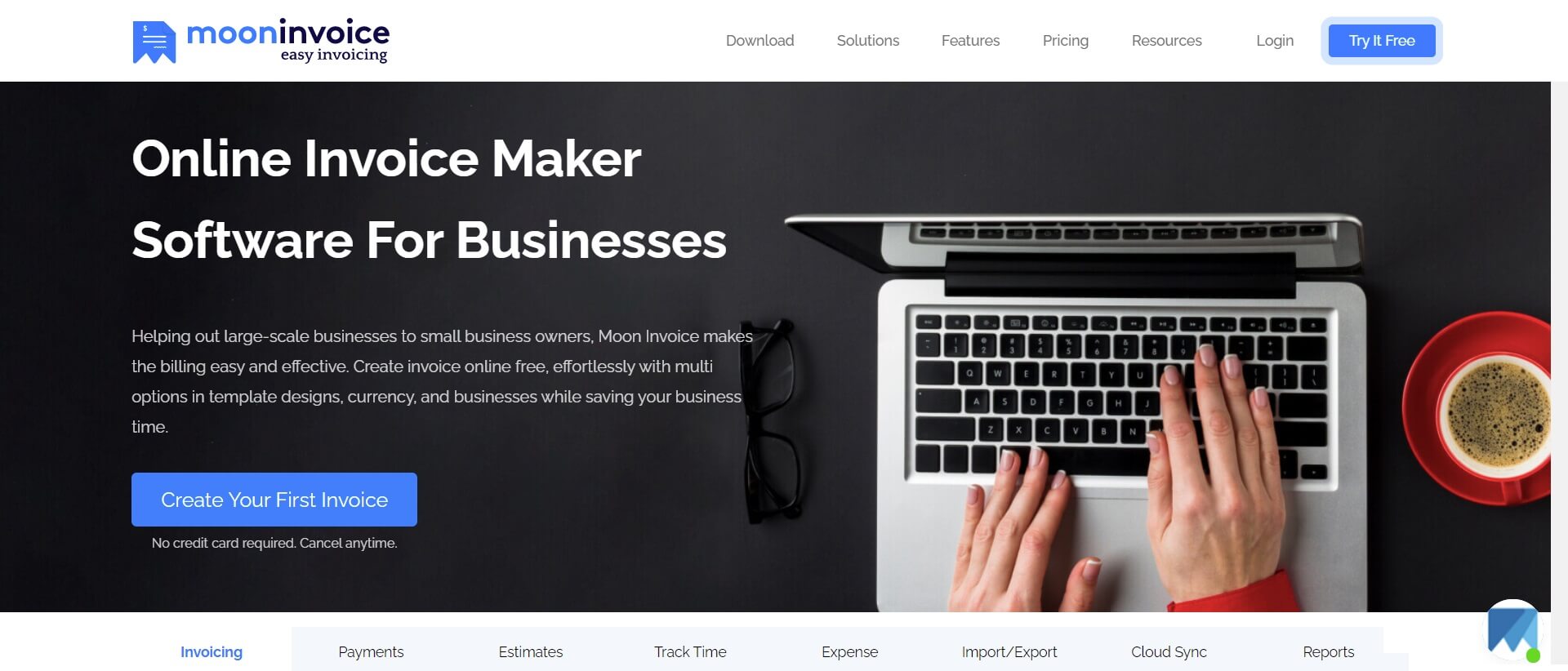 Moon Invoice is one of the best invoice apps available in the market. Founded in 2009, Moon Invoice is a complete invoicing solution. From managing your invoices/taxes to viewing invoices, and keeping track of your orders, this app has it all.
This handy invoicing software lets you customize your invoices by providing plenty of templates/designs to make your identity unique. One feature that makes Moon Invoice stand out is that it converts the invoice into any currency to make sure that you don't miss any international customers.
Moon Invoice is not only for small businesses but also supports vendors. Also, it allows you to add multiple businesses which is a feature that many companies are looking out for.
Key Features
Recurring Invoice: quickly generates invoices for long-term customers to save time. It also sends a reminder about overdue invoices.
Multiple currencies: converts your basic invoice currency into any currency to work worldwide.
Multiple Businesses: adds unlimited companies and generates unlimited invoices for them.
Customized Invoices: provides 2 different signatures with name, title, and date options.
Account Statements: This lets you view and send account statements filtered date-wise. This feature is available for customers as well as vendors.
Timer: captures time log with the timer. It can work even if Moon Invoice is not being used.
Pricing
Lite: $4.99/month for 5 active clients. Offers unlimited (invoices, estimates, time tracking, projects, tasks), native platforms, web apps, and more.
Bronze: $7.49/month for 25 active clients. Accept payments from Debit/Credit cards and all the features in the lite plan.
Silver: $9.99/month for unlimited active clients. It also includes all the features in Bronze plans.
Silver Plus: $12.49/month for unlimited active clients and 5 users. Provides all the features in the Silver version.
Gold: $19.99/month for up to 3 businesses.
Gold Plus: $24.99/ month for 3 businesses and 15 users.
---
10. Invoicely – Simple Invoice Creator App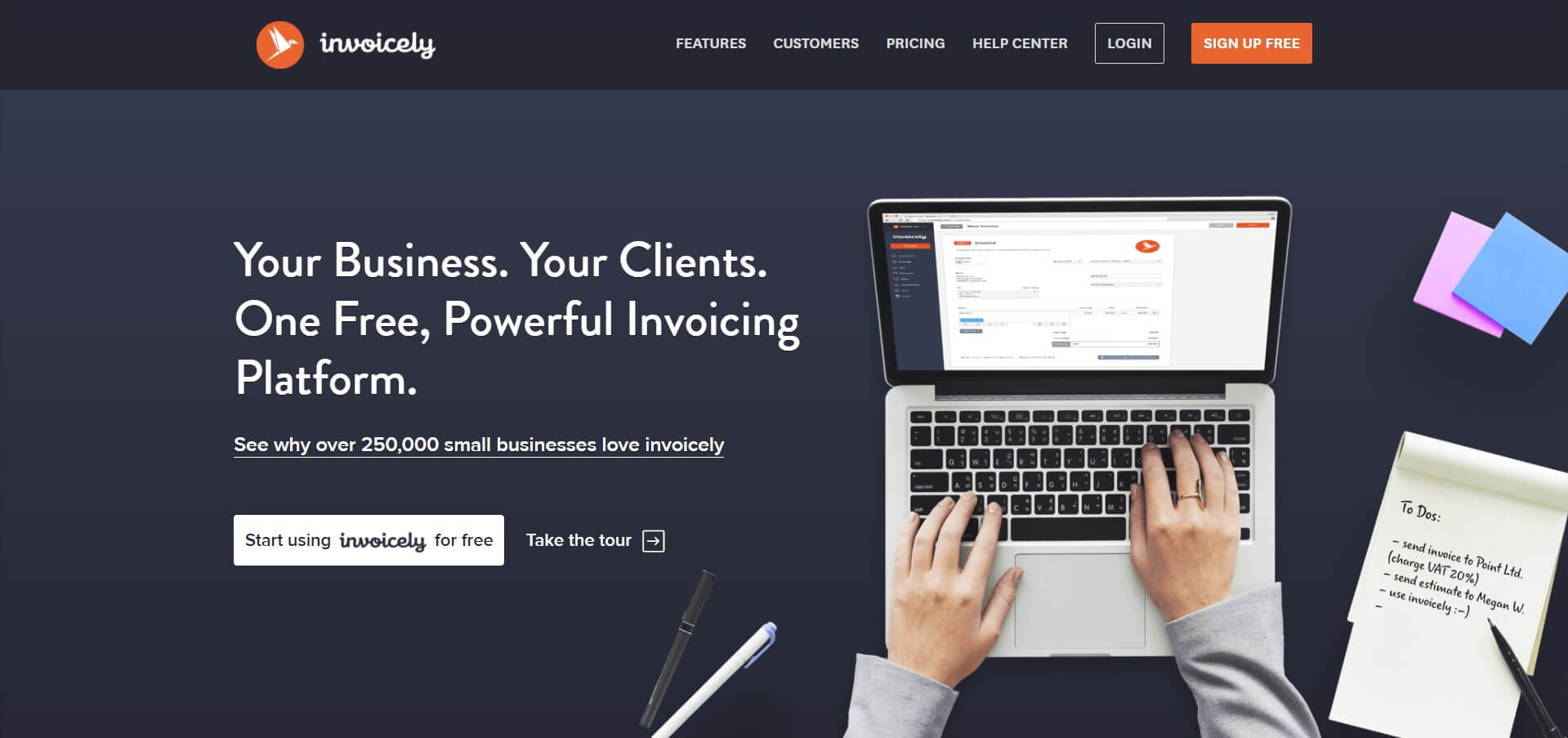 Invoicely is one of the best invoice apps for small businesses. Making invoices manually on paper is tiring and consumes a lot of time. To save yourself from unnecessary hard work, this business invoice app will make you free from any mundane hassles.
Invoicely easily keeps track of tasks and deliverables that are billed hourly, and expenses with just a few clicks. It provides a powerful yet easy-to-use platform that is ideal for all your invoicing needs.
Its color scheme feature allows you to insert your logo, customized statements, and stamps on the respective invoices you make.
Key Features
Online payments: accepts online invoice payments from any currency around the world.
Track time/Expenses: keeps track of the time/expenses you have spent on your clients. This helps you to have total control of your time.
Multiple Businesses Manager manages the team by adding admin and staff as your business expands. Also, manages your clients from anywhere, and anytime.
Reports: gives you a bird's-eye view of your company by creating useful reports. Generates reports on income, expenditures, receivables, and payables regularly.
Taxes/shipping keeps your client aware of what they are paying by adding taxes and shipping charges to the invoice.
Customized Invoices: makes invoices, and estimates representing your brand logo.
Pricing
Free: offers 5 monthly invoices, 3 saved clients, and accepts payment through PayPal only.
Basic: $9.99/month for up to 2 team members. Accommodates 100 monthly invoices, and 25 saved clients.
Professional: $19.99/month for up to 10 team members. Provides 250 monthly invoices, and 100 saved clients.
Enterprise: $29.99/month for up to 25 team members. Offers unlimited invoices, and clients.
All the paid plans offer estimates, recurring invoices, credit card payments, tracking time/expenses, and full business branding.
---
11. Invoice Simple – Invoice App for Android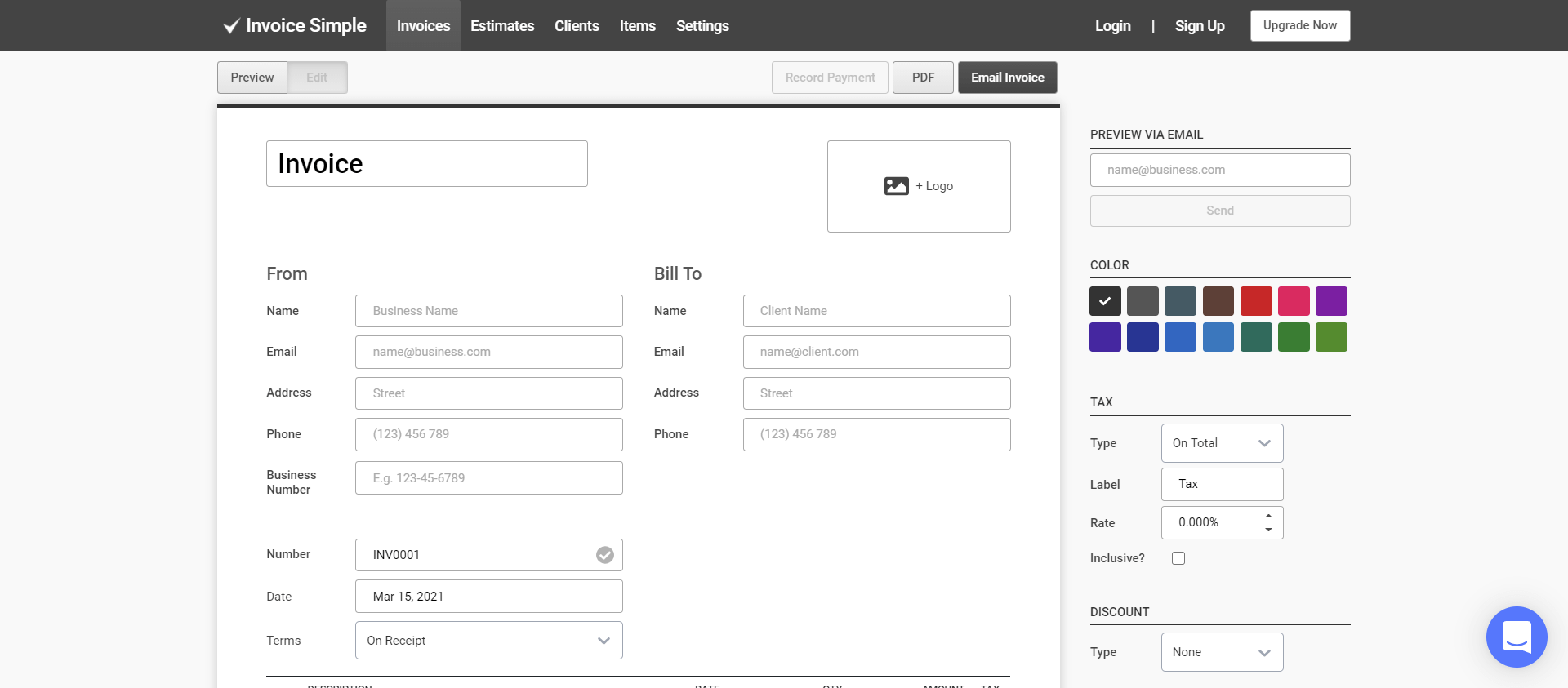 Invoice Simple is a web-based invoice-generating app designed purposely for small business owners and dealers. It allows you to make an error-free professional invoice and sends estimates to your customers.
To avoid the hassle of storing stacks of paper invoices, you can email the invoices to your clients with just a few clicks. It accepts numerous modes of payment such as credit cards, cheques, and cash.
Invoice Simple is one of the best invoice apps for small businesses because it provides features, such as bill management and a built-in expense tracker. These amazing features make your payment management processes faster and more efficient.
Key Features
Income Tracker: keeps track of your income with its built-in billing reporting tool.
Multiple payment methods: provides access to several modes of payments such as credit/debit cards, cheques, and cash.
Customized Invoice template: adds your company logo, or attach images to your invoices and estimates.
Notifications: Notify you every time your estimate or invoice has been read.
It automatically generates invoices from estimates with just a single click.
Offers an efficient time tracking facility to track your order in time.
Pricing
Free: offers the first three invoices without any cost after which it charges for subscriptions lasting a month or year.
Premium: starts at $9.99 per month and $29.99 per year. For features and customized plans, you can contact office support.
---
12. InvoiceQuick – Online Invoice Generator App
Download: Mobile apps not available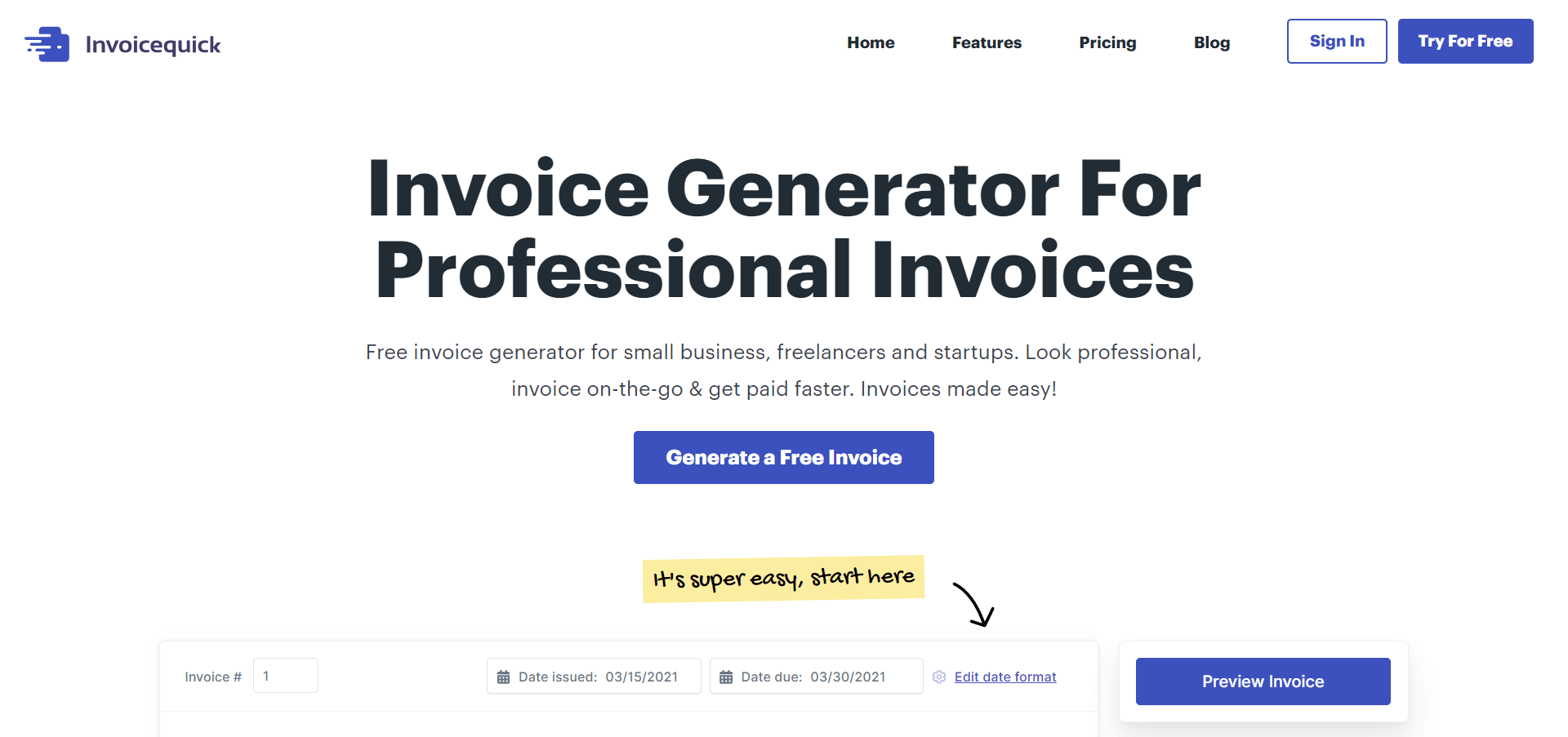 Developed in the USA, Invoice Quick is an efficient invoice generator app for small businesses and freelancers. It incorporates a host of effective features. With InvoiceQuick, you can easily create, print, and send invoices to your customers.
InvoiceQuick has in-built eye-catching templates that make your invoice represent your brand and look professional. It helps you engage with your customers and expand your business.
It effectively saves time by saving the products and services that will save the record of how much you charge each customer.
Moreover, the billing history is always available so to detect any error easily. Invoice Quick also shows which payments are seen by the customers, and which payments are due.
Key Features
Reminders: auto-reminds your customers when they are behind on their payments.
Notifications: notifies you whenever your clients view your invoices.
Recurring Invoices: this saves the invoices of your regular customers. It saves you from making a new invoice every time.
Professional invoice: provides templates that fit according to your business type.
Online Invoice Payment: this allows you to pay with your PayPal and Stripe accounts with its 'Pay Now option.
Save Items: saves products and services you provide so you don't have to remember how much you charged.
Pricing
Free: also called a standard plan. This plan offers 3 active customers, dashboard reporting, invoicing, accounting, customization, and more.
Professional: $12/month for unlimited active customers. Offers recurring invoices, templates, user permissions, email reminders, custom fields, and much more.
---
13. ZipBooks – Free Invoice App
Download: Android | iOS app not available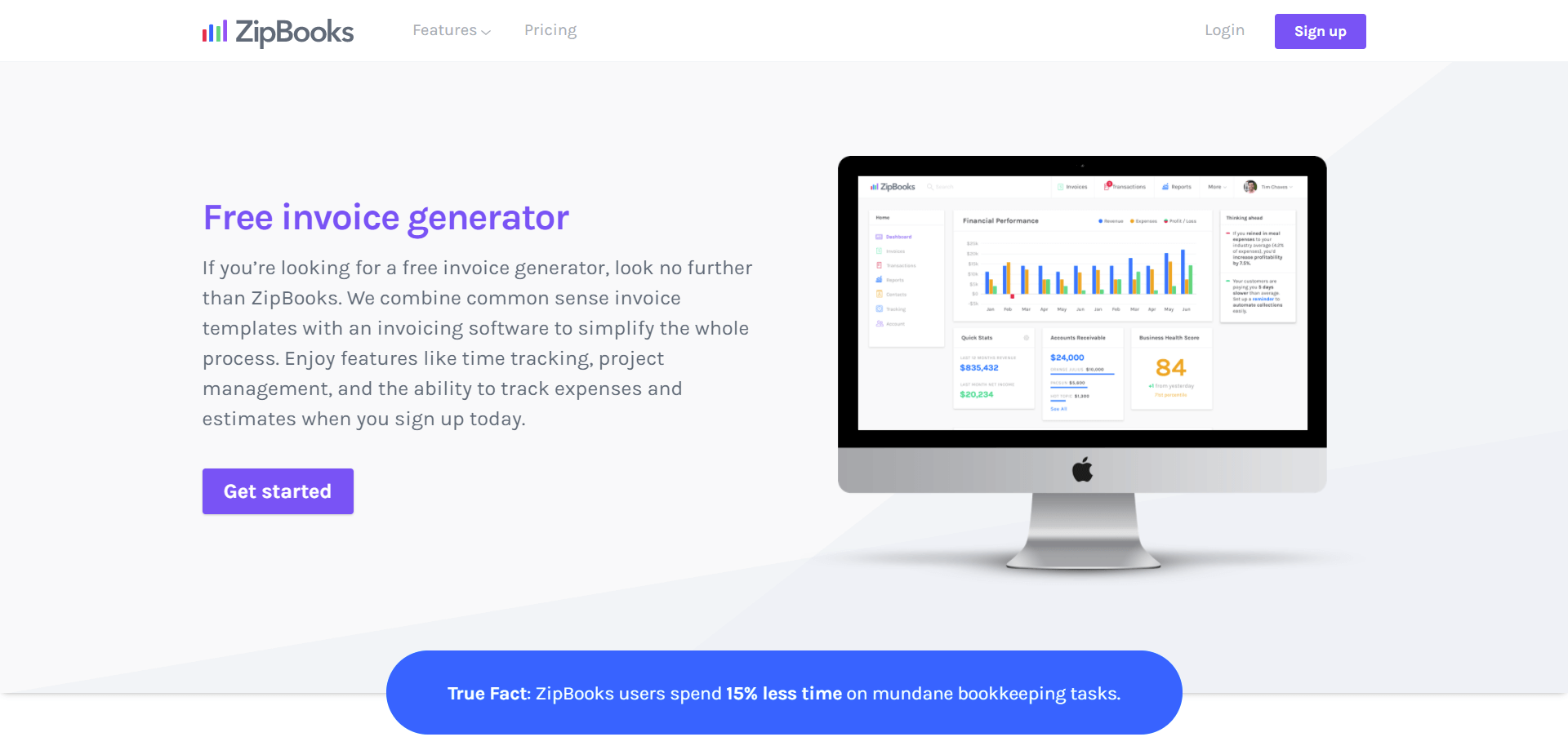 ZipBooks is one of the best time tracking and invoicing software designed specifically for small businesses. It provides a customizable experience by offering some eye-catching templates according to the type and style of your business.
ZipBooks has made managing your projects a lot easy. With its time tracker, you can keep a check on your team members and can track their working hours. You can also add team members as your business grow and can assign projects to them.
It is a common practice of almost every business to reuse their goods/services across many clients. ZipBooks introduced a feature that works to save items/services that are used repeatedly. This avoids the hassle to enter the descriptions manually every time.
Key Features
Time Tracking: setups a timer to keep an eye on your customer, or a project. Also, helps you calculate the time you are spending on your work.
Recurring Billing: this allows you to create, pause, and set live recurring invoices. You can also set start dates and end dates, and schedule discounts.
Discounting and taxes: let you handle up to two separate taxes per line item. For discounts, you can apply them throughout the invoice or just to certain line items.
Saved items and inventory: lets you save description, price, and a name for items/services that are used repeatedly.
Reminders: Work by setting up automated emails to send to your clients about the due payments.
Estimates and Quotes: This allows you to convert the forecast into invoices within seconds.
Pricing
ZipBooks provides a free trial for its paid plans.
Free: sends unlimited invoices, manages unlimited customers, accepts digital payment, and more.
Smarter: $15/month for up to 5 team members. Offers recurring invoices, automates reminders, track time, account notifications, and more. Includes all the features in the free plan.
Sophisticated: $35/month for unlimited users. Organize books, customize categories, share documents, generates reports, and more. Have all the features in the free, and smarter plan.
Accountant: custom pricing. Text clients directly from ZipBooks, edit transactions, manage clients, export financial packages, and more.
---
14. InvoiceReady – Free Invoicing Software
Download: Android | iOS app not available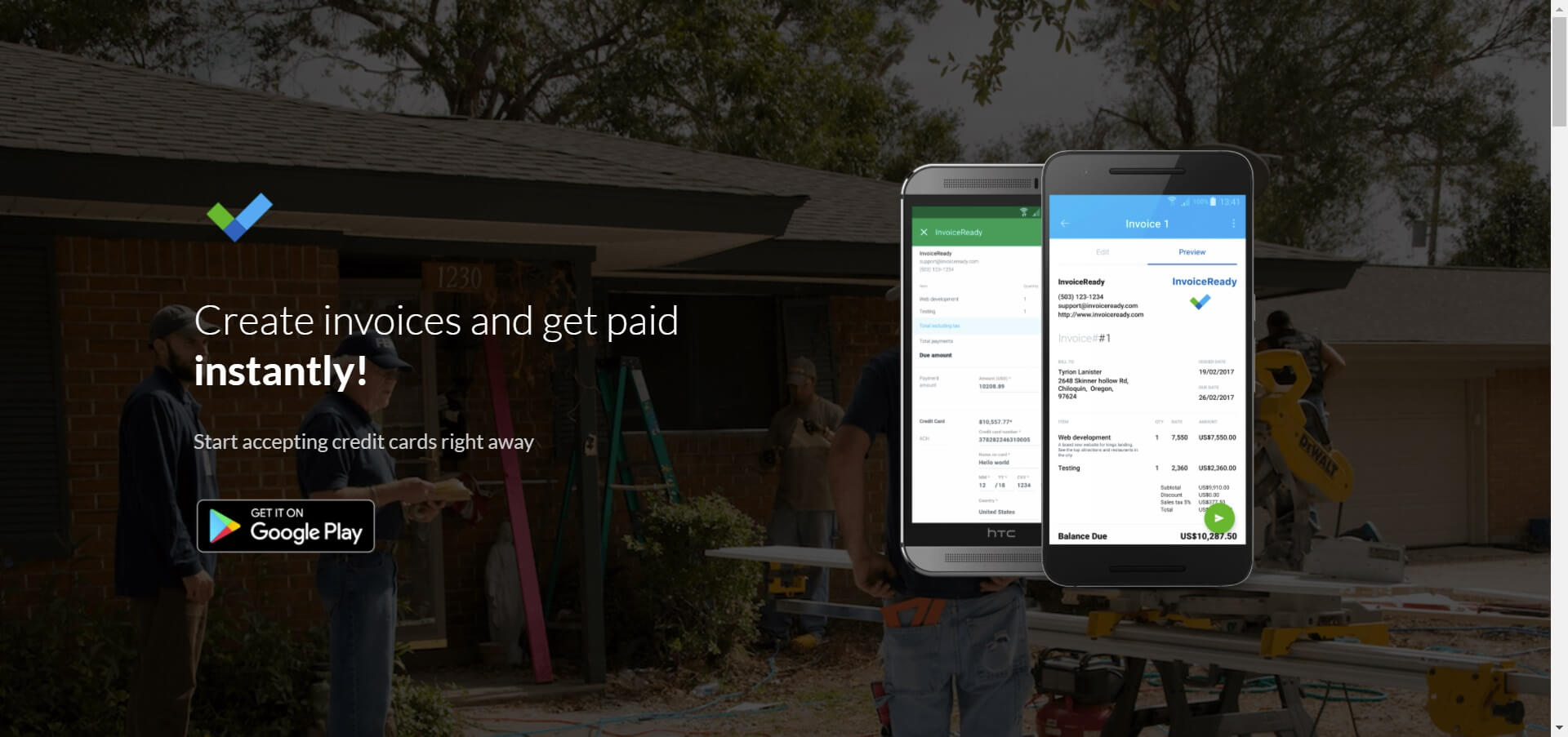 InvoiceReady is one of the best invoice apps for Android. This user-friendly app generates professional invoices and collects payments in no time.
Mobile data can be unreliable at times so InvoiceReady also works offline. Invoices can be made without any internet connection and they are later synced with the cloud for backup.
InvoiceReady saves line statements that include the name and address of the company so that in the future you don't have to rewrite these types of details. With this app, you can attach various documents or files with every invoice you make for the business.
Key Features
Payment notifications: get instant updates whenever your payment is received or sent.
Support: powerful customer support to help, and reach out to customers 24/7.
Multiple payment options: allows the clients to pay through credit card or eCheck/ACH.
Taxes: manage or add multiple taxes to any item. Moreover, you can also print tax registration numbers on your invoice.
Items/Services: automatically saves your line items for future use.
Offline mode: allows you to work even when you have no internet connection. Backups all the data to the cloud, whenever you connect to the internet.
Pricing
Free: Offers 5 invoices/month, 40 invoices/year, unlimited (customers, attachments), accepts credit cards, works offline.
Monthly: $7.99. Offer unlimited (invoices, estimates, customers, attachments), accept credit cards, and work offline.
Yearly: $79.99 (2 months free). Includes all the features in the Monthly plan.
---
15. Invoice2go – Invoice App for iOS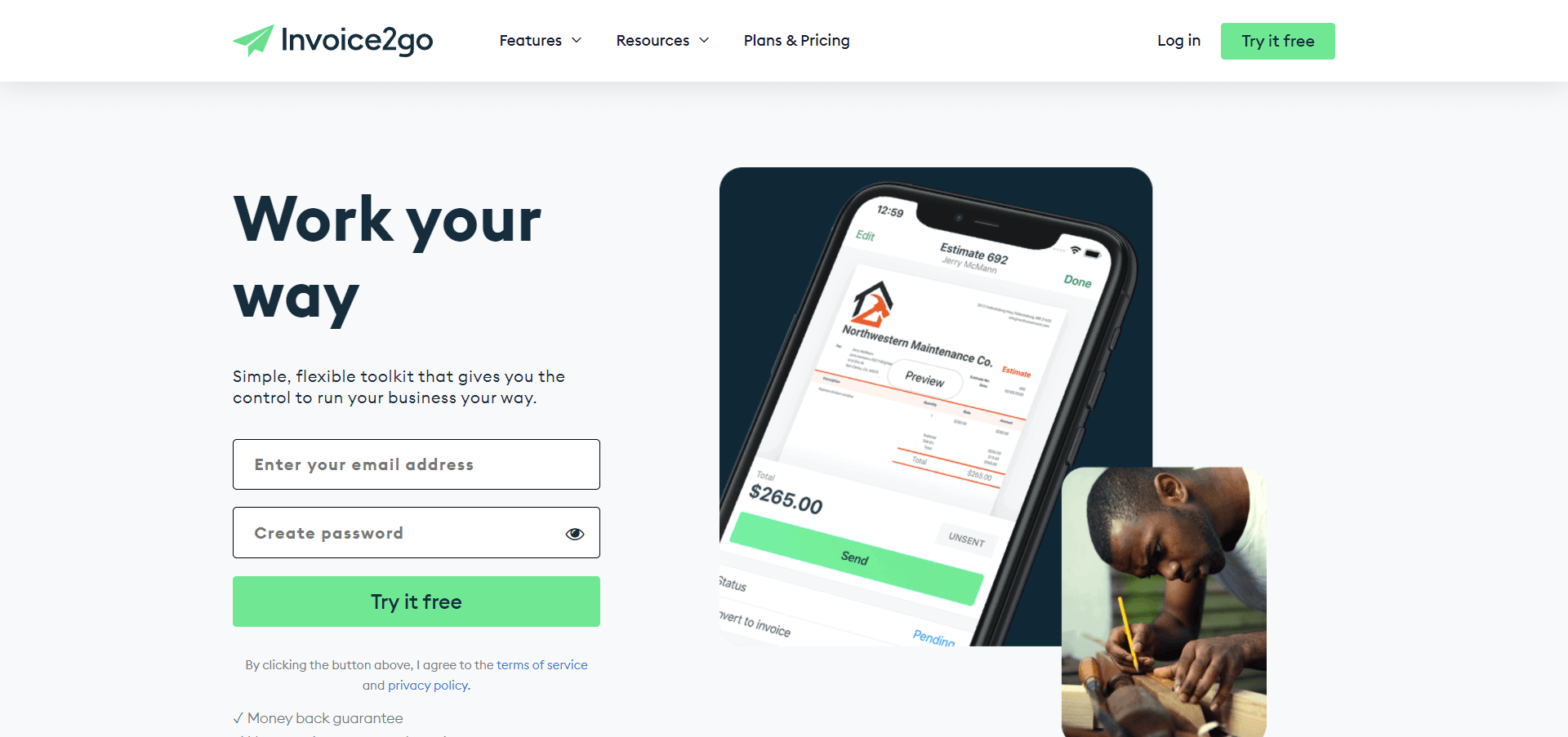 Launched in 2002, Invoice2go makes it to the list of the best invoice apps for iOS. This app provides all the billing and invoicing features that your business needs. From invoice management, scheduling appointments, and finance management to expense tracker, it has all.
Invoice2go makes the creation and sending process of invoices and professional estimates a breeze. With its time-saving and organization features, it has become quite popular among freelancers, entrepreneurs, and small business owners.
You can keep track of all your invoices by setting up reminders. Invoice2go allows you to have a bird's eye view of your business performances by generating detailed reports.
Key Features
Sends Invoices: builds and transmits invoices via text, email, WhatsApp, etc.
Customized Invoices: generates personalized invoice templates. Allows you to add your company's logo, and format the style, text, and color according to your choice.
Evaluates invoices for independent contractors and dealers to make it easy for them.
Business Reports: creates detailed reports by using charts and graphs to have a better insight into your business.
Estimate Maker: tracks your expenses and converts an estimate into an invoice with a single click.
Payments Manager offers multiple and convenient ways of payment to your clients. Accept payments online or in person and send friendly reminders to your clients about the payment status.
Schedules Appointment: schedule appointments according to your work and send them to your clients.
Pricing
Invoice2go provides a free 1-month trial to its new users.
Lite: $3.00/month, billed annually per user. Works to generate up to 50 invoices, and can store up to 5 clients.
Standard: $6.67/month, billed annually per user. Includes 200 invoices, 200 estimates, and stores up to 25 clients. Provides time tracking, invoice status tracking, expense tracking, client activity, and more.
Advanced: $15.00/month, billed annually for 2 users. Provides 400 invoices, and 400 estimates, and stores up to 100 clients. Includes all the features in standard versions and appointments.
Unlimited: $33.34/month, billed annually for 5 users. Offers unlimited invoices, and total estimates, and stores unlimited clients. Have all the features in the advanced plan, and also provides phone support, payment receipts, and recurring invoices.
Invoice apps have made invoicing on the go possible for many freelancers, and small business owners. So, do give it a try to enhance your competency in the business world.
There is a wide variety of invoice apps available in the market and you are free to choose any of these according to your preferences. Before using any of these apps, make sure to review each of them carefully.
As every app has its pros and cons. Let us know in the comment section below that which of these invoice apps works the best for you.
Other SaaSy goodness on All That SaaS: